Create a perfectly shaped hair bun using a sock. In a few easy steps you can style a beautiful donut bun perfect for everyday wear or going out at night.
find a clean sock. You want a large, stretchy tube sock that's easy to roll. Use an old pair because you will be cutting the toe off.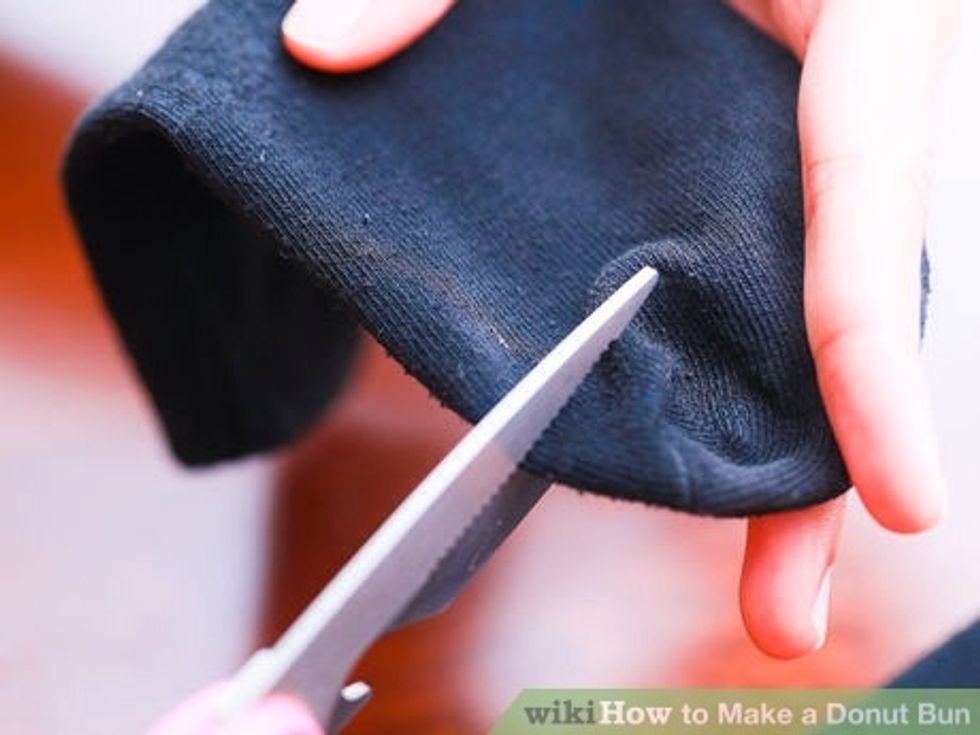 It should look like this so far
Roll the sock down. Take the top edge of the sock and roll it down toward the bottom edge. The sock will begin to form a doughnut shape. Make sure it's tight and evenly shape.
The ponytail can be high or low, depending on what style you like. If you want your bun to look full, tease your ponytail a bit to create more texture.
Pull the ponytail through the hole in your sock donut. Make sure all of your hair gets through the hole. Slide the sock donut a few inches down your ponytail.
Spread the tips of your hair around the sock or donut form. Tuck the tips under so that your hair is evenly spread in a donut shape, covering the sock or form. This step takes the longest.
Roll your ponytail into the sock or form. Begin rolling it down toward the base of your ponytail to create a growing donut shape. Make sure your hair is getting neatly rolled into the donut.
Use bobby pins and hairspray to hold it in place. If the donut seems a little loose, pin it against your head using a few bobby pins. Use firm-hold hairspray to keep your hair from getting messy.
And there you have it a perfect hair bun