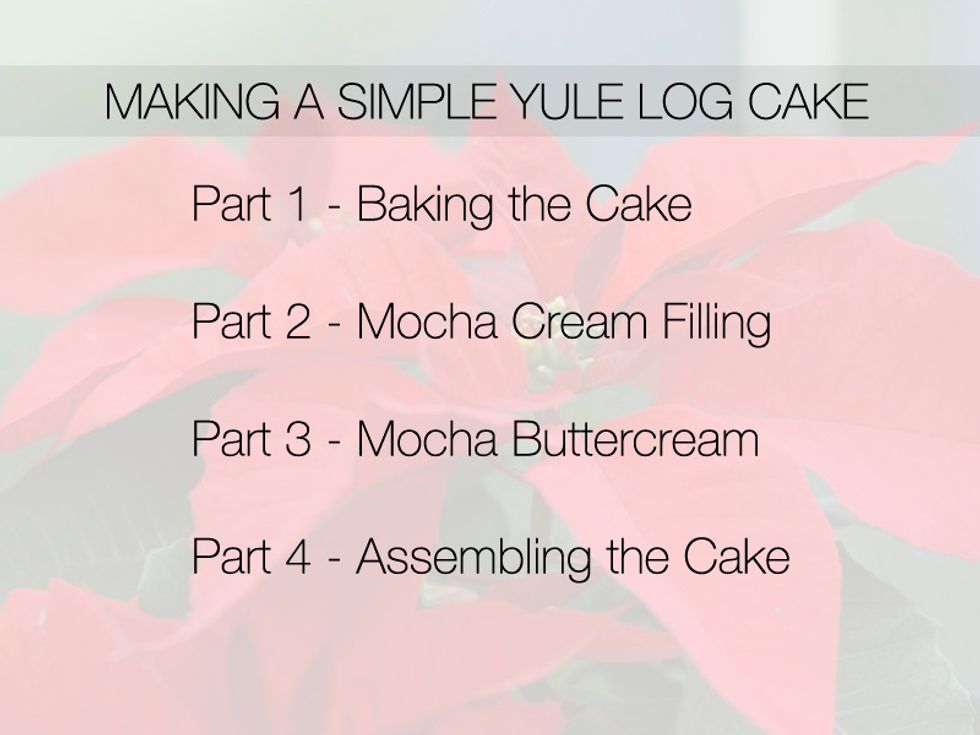 This recipe is broken into four parts - making the cake, making the Mocha Cream Filling, Making the Mocha Buttercream & Assembling the Cake.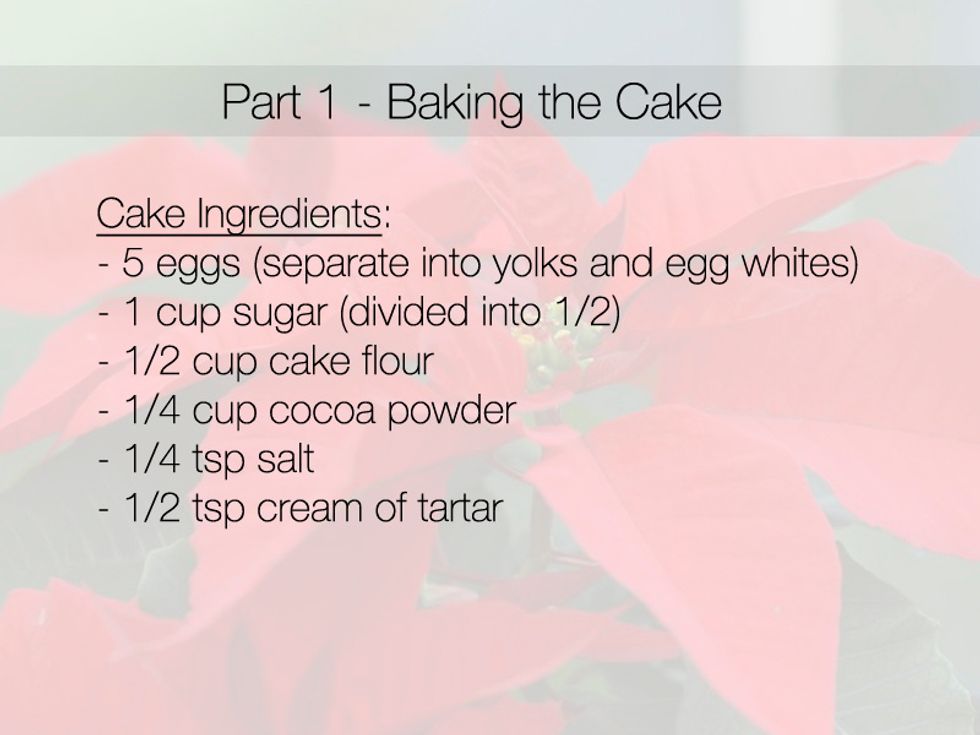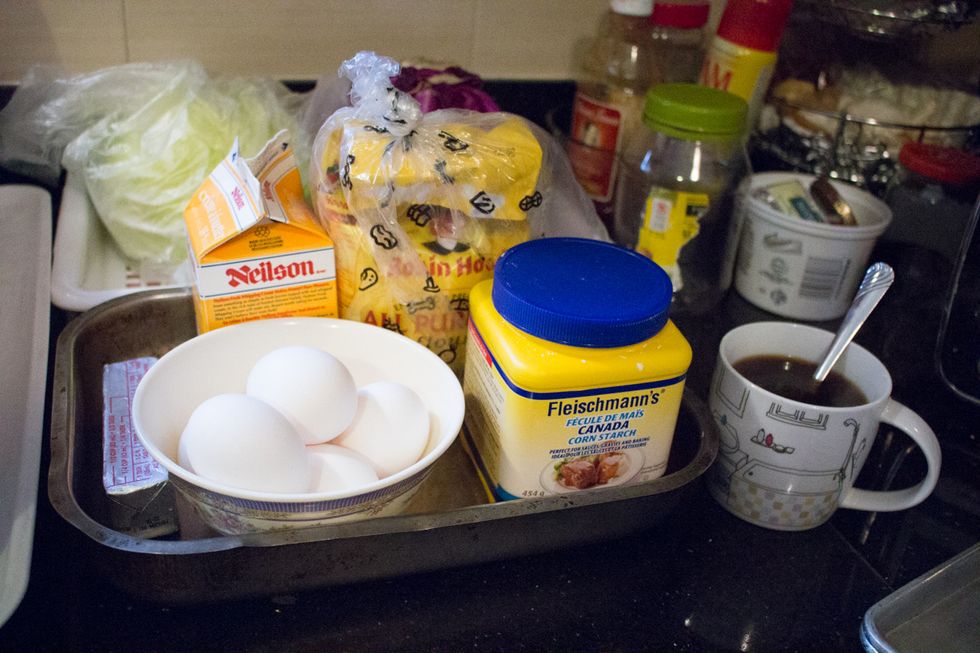 Gather your ingredients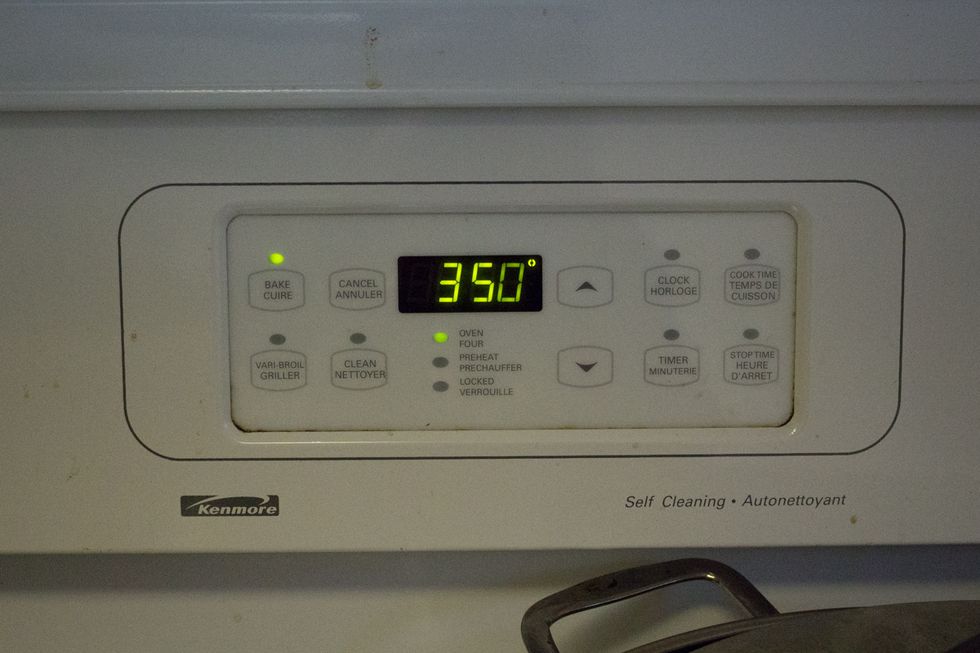 Preheat your oven to 350 degrees F (or 180 degrees C).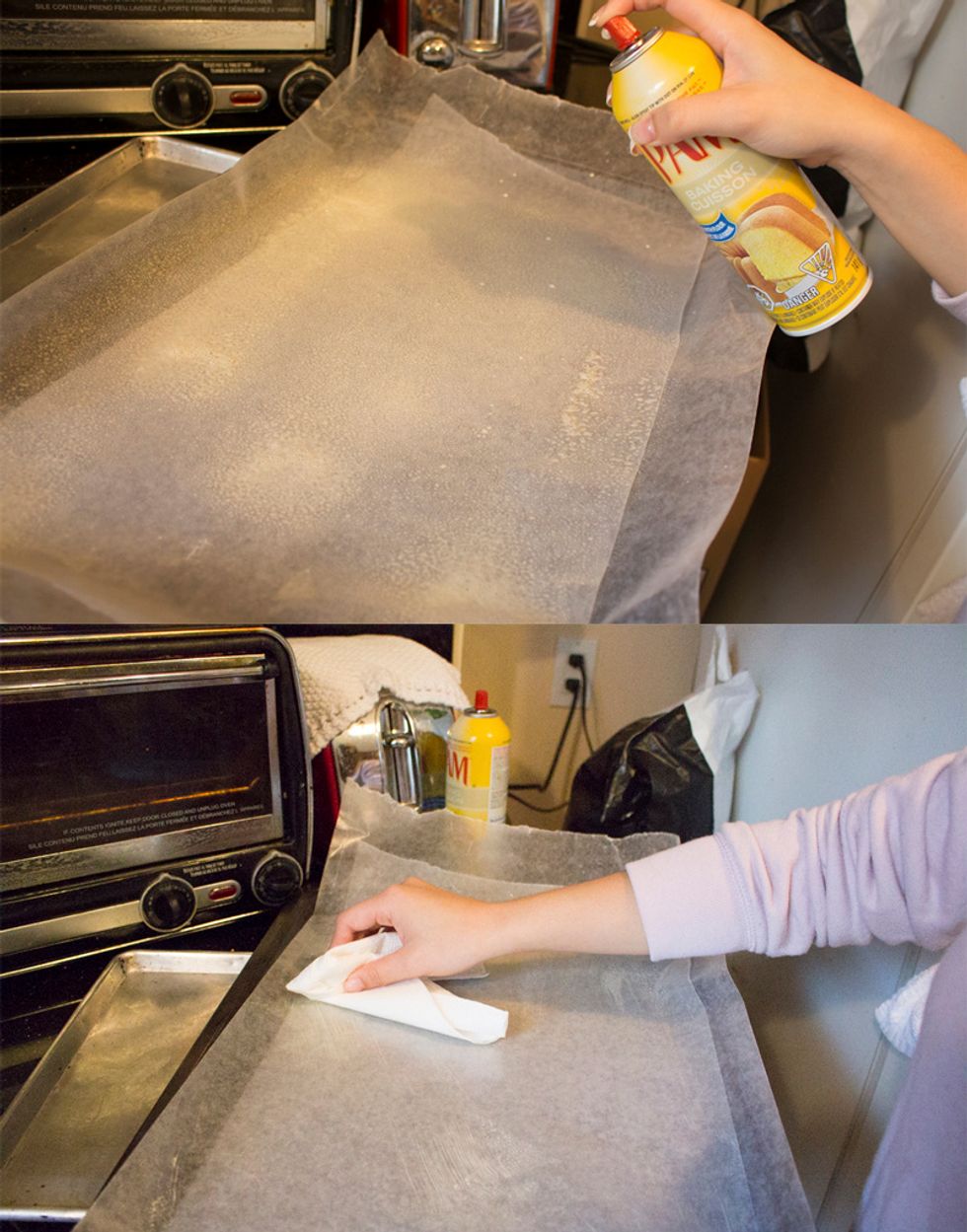 Then line a 10 x 15 inch x 1 inch deep tray with parchment paper and grease with butter, shortening or baking oil spray.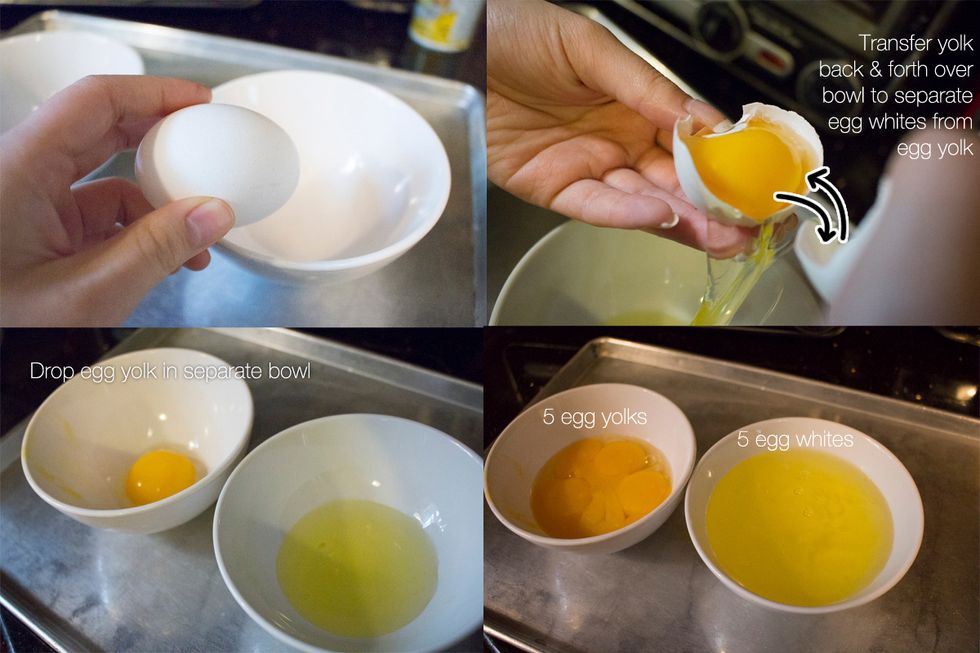 Separate eggs into a bowl for yolks & another bowl for egg whites. Crack an egg in 2, transfe yolk back & fourth between egg shells as egg white drips through into a bowl below. Repeat for other eggs.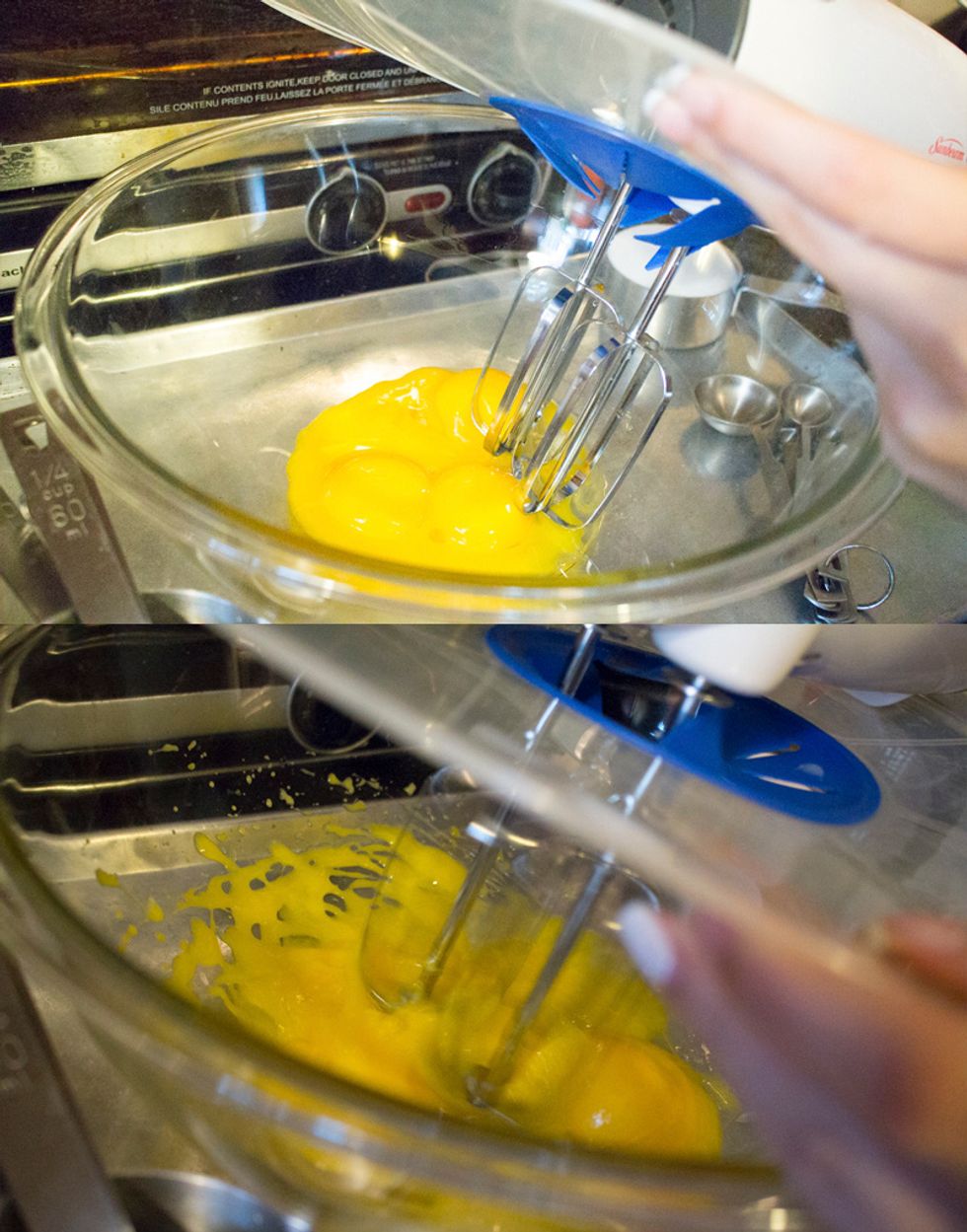 Pour your egg yolks into a large bowl, and beat until thick.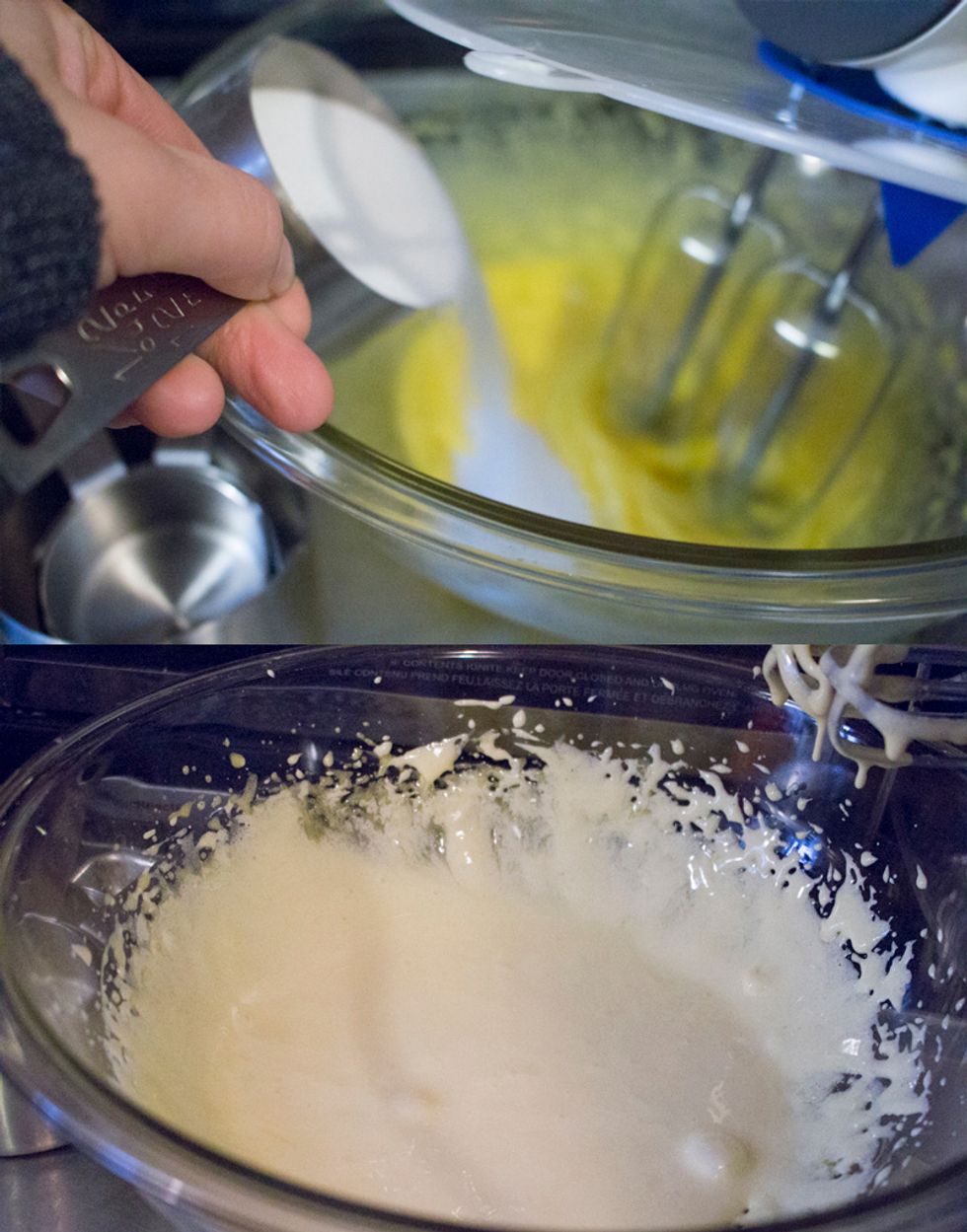 Gradually add 1/2 cup sugar into egg yolk mixture, beating until thick and well blended. Set aside.
In a separate bowl, whisk together 1/2 cup cake flour, 1/4 cup cocoa powder and 1/4 tsp salt.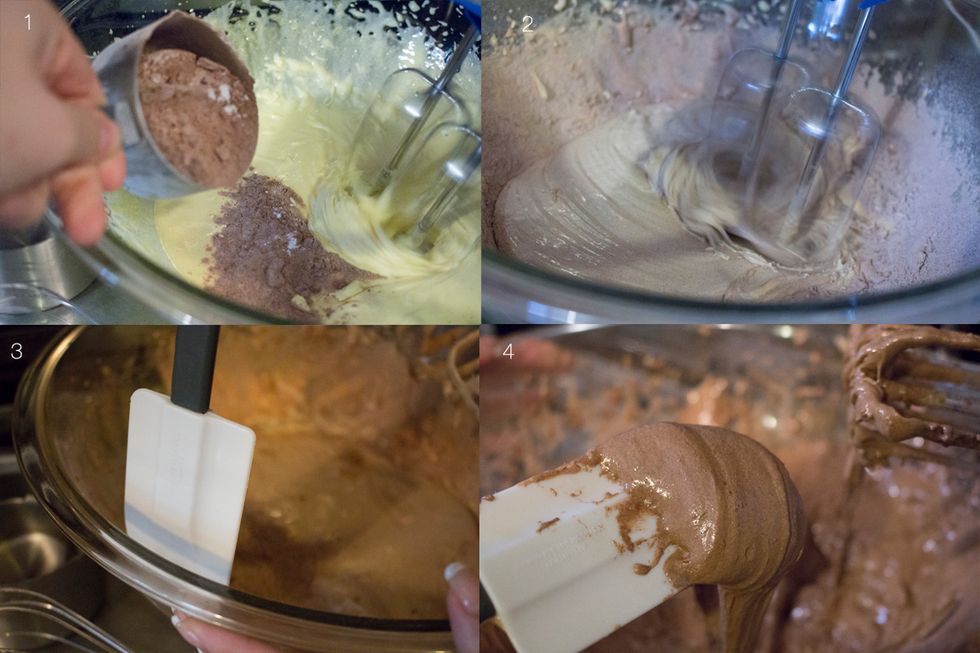 Next gradually add cocoa mixture to egg yolk mixture, beating between additions until you get well blended mixture. Set aside.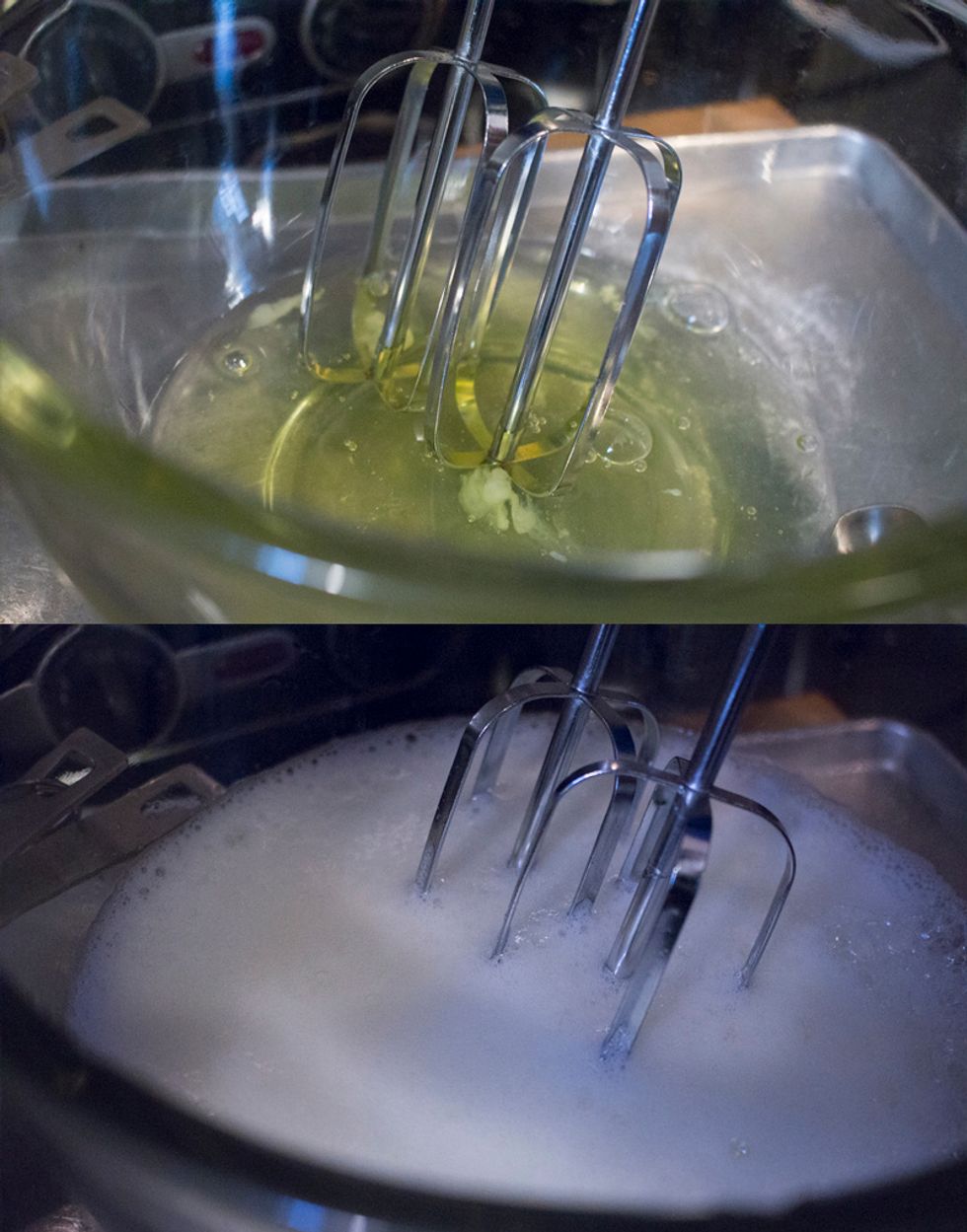 In a separate bowl, beat egg whites until foamy.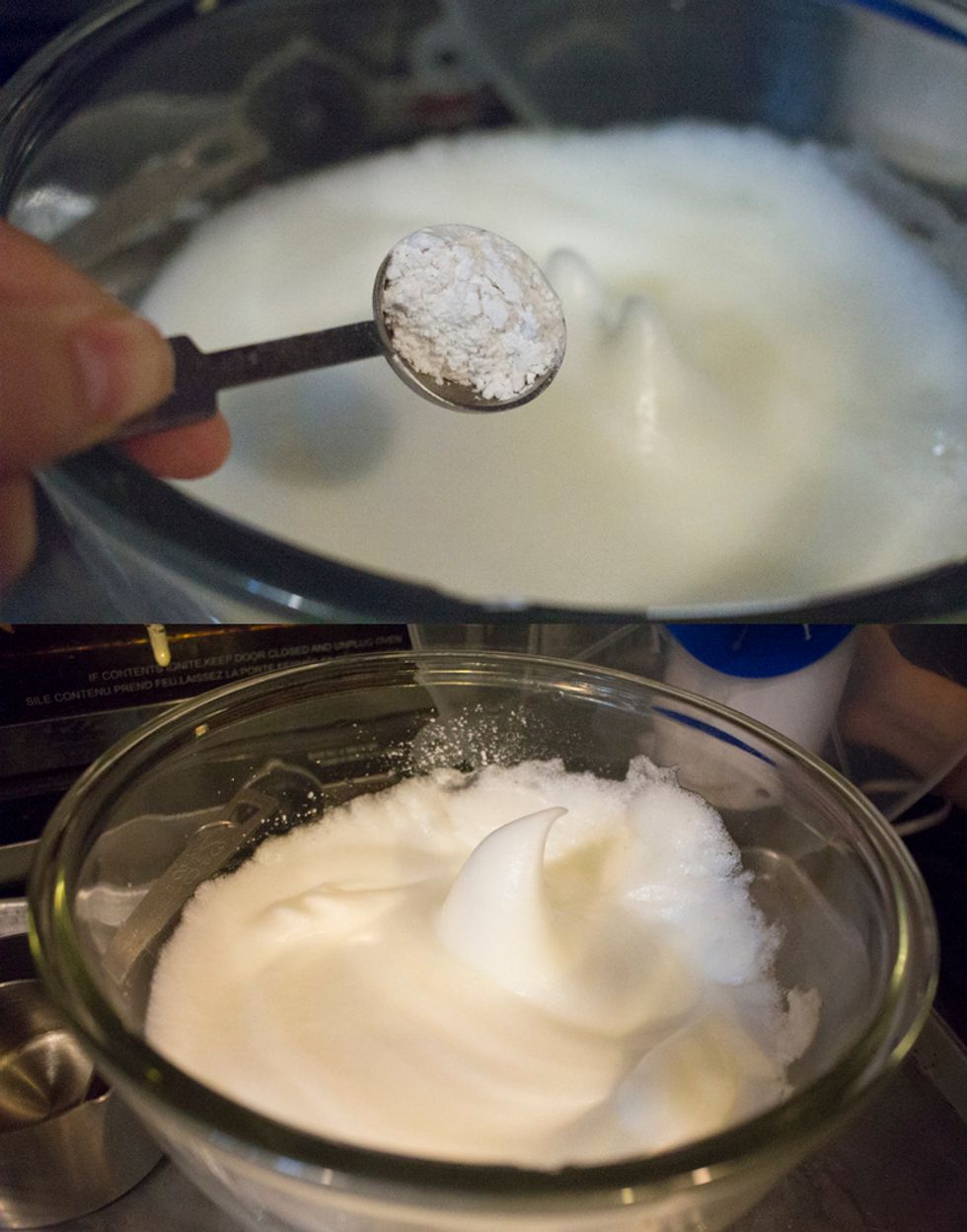 Add 1/2 a tsp of cream of tartar to the egg yolks and beat until soft peaks form.
Next add 1/2 cup granulated sugar into egg yolk mixture and beat until stiff peaks form.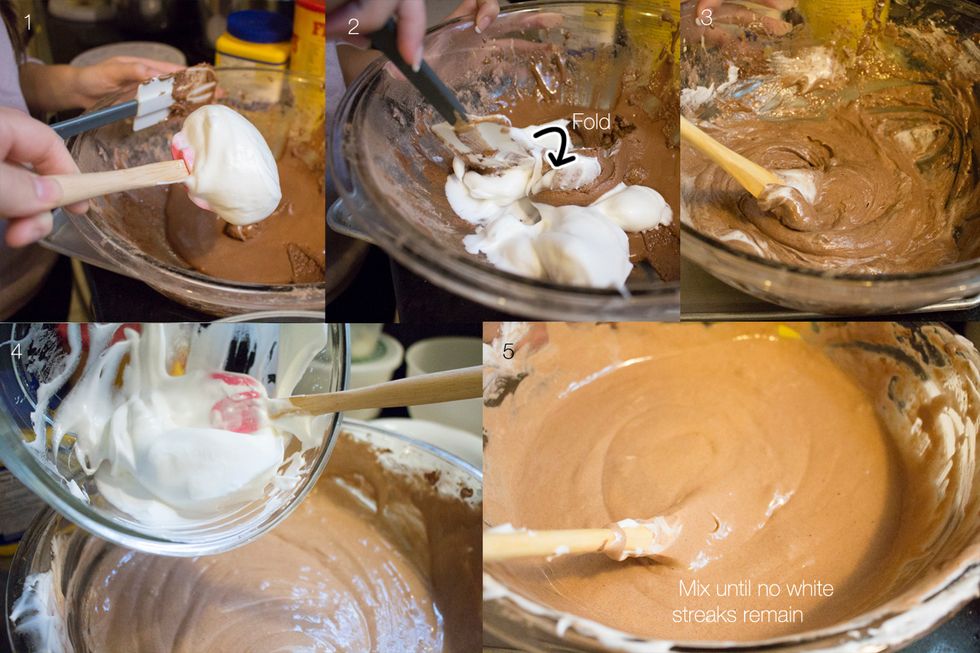 Fold egg white mixture gradually (in four parts) into chocolate mixture, and mix until no streaks remain.
Pour mixture into your parchment lined tray, and use a spatula to spread evenly.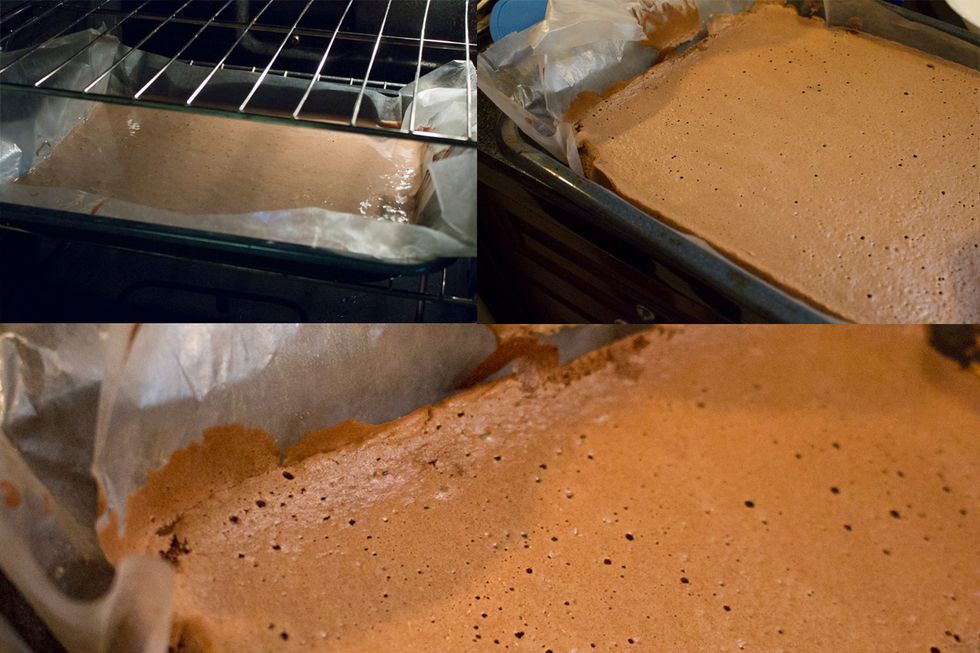 Place in oven and bake for 12-15 minutes or until cake springs back when you gently push on it.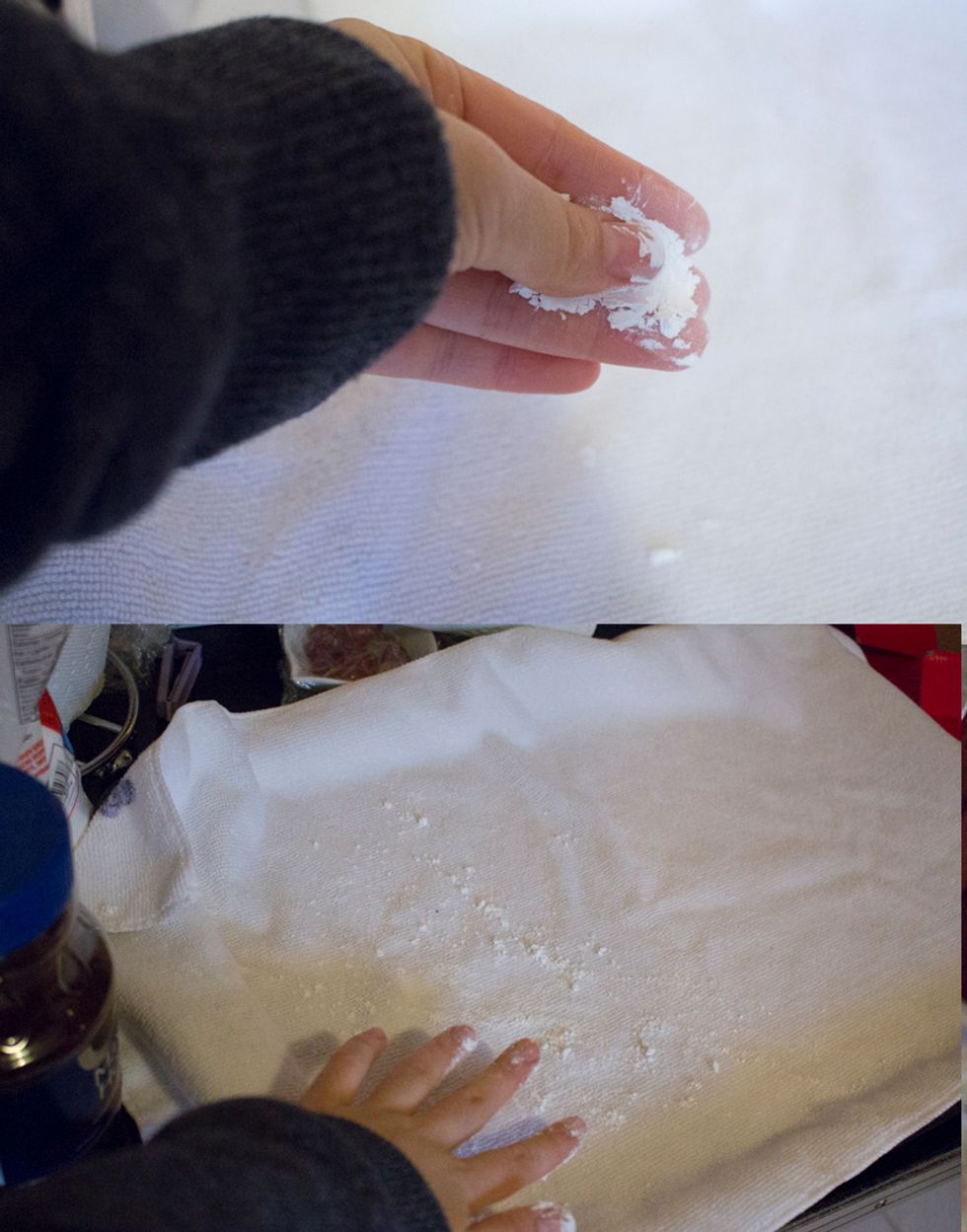 While the cake is cooling, grab a linen cloth and dust a generous amount of icing sugar onto the linen cloth.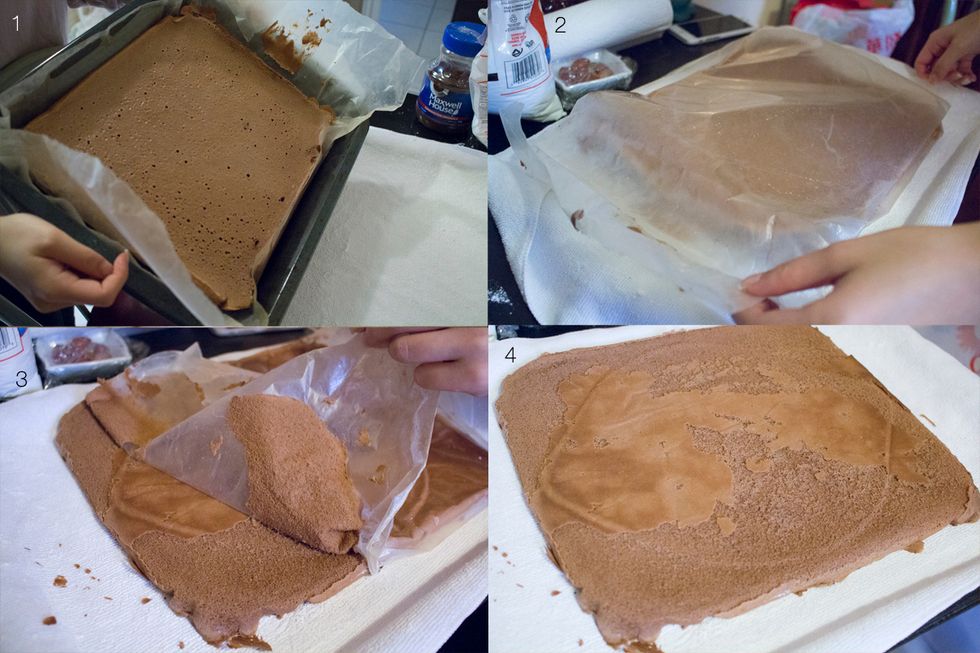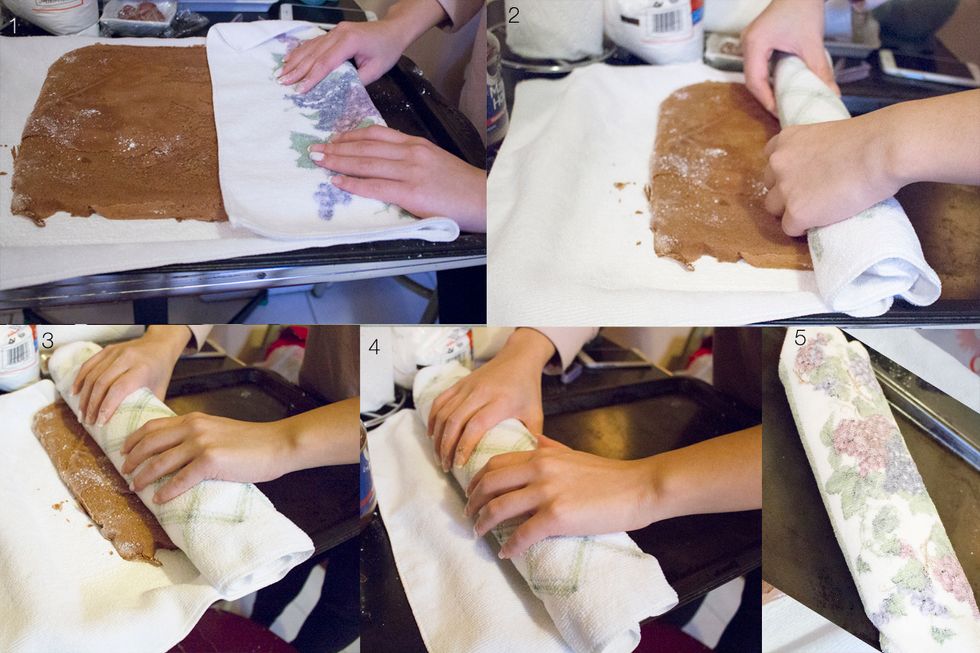 Starting at the shorter width, roll your yule leg with cloth overtop. Set aside.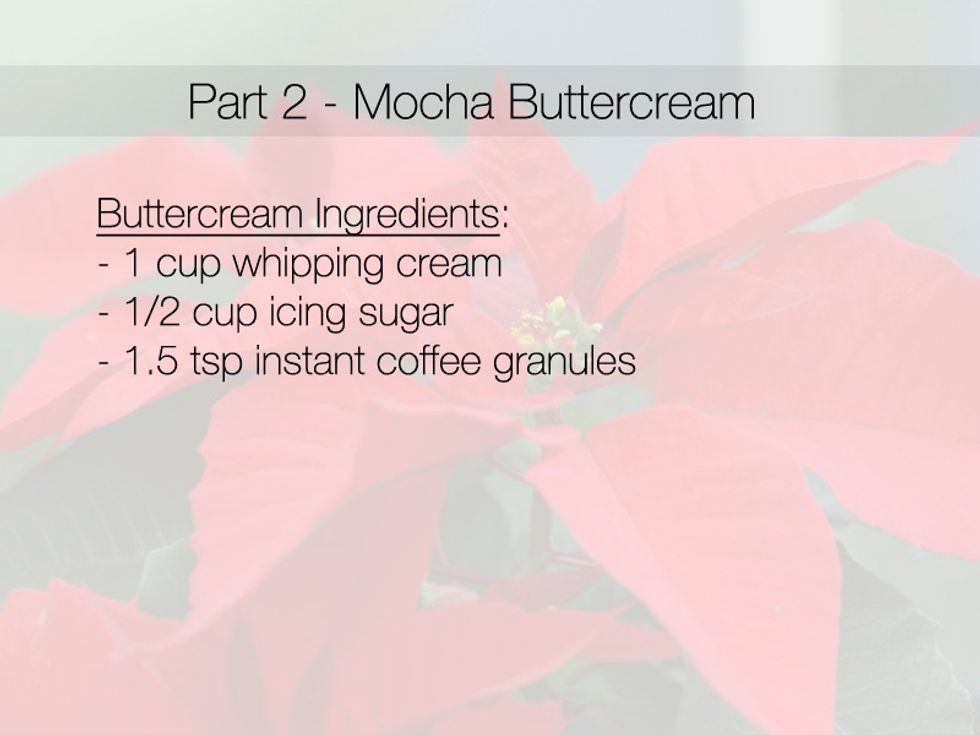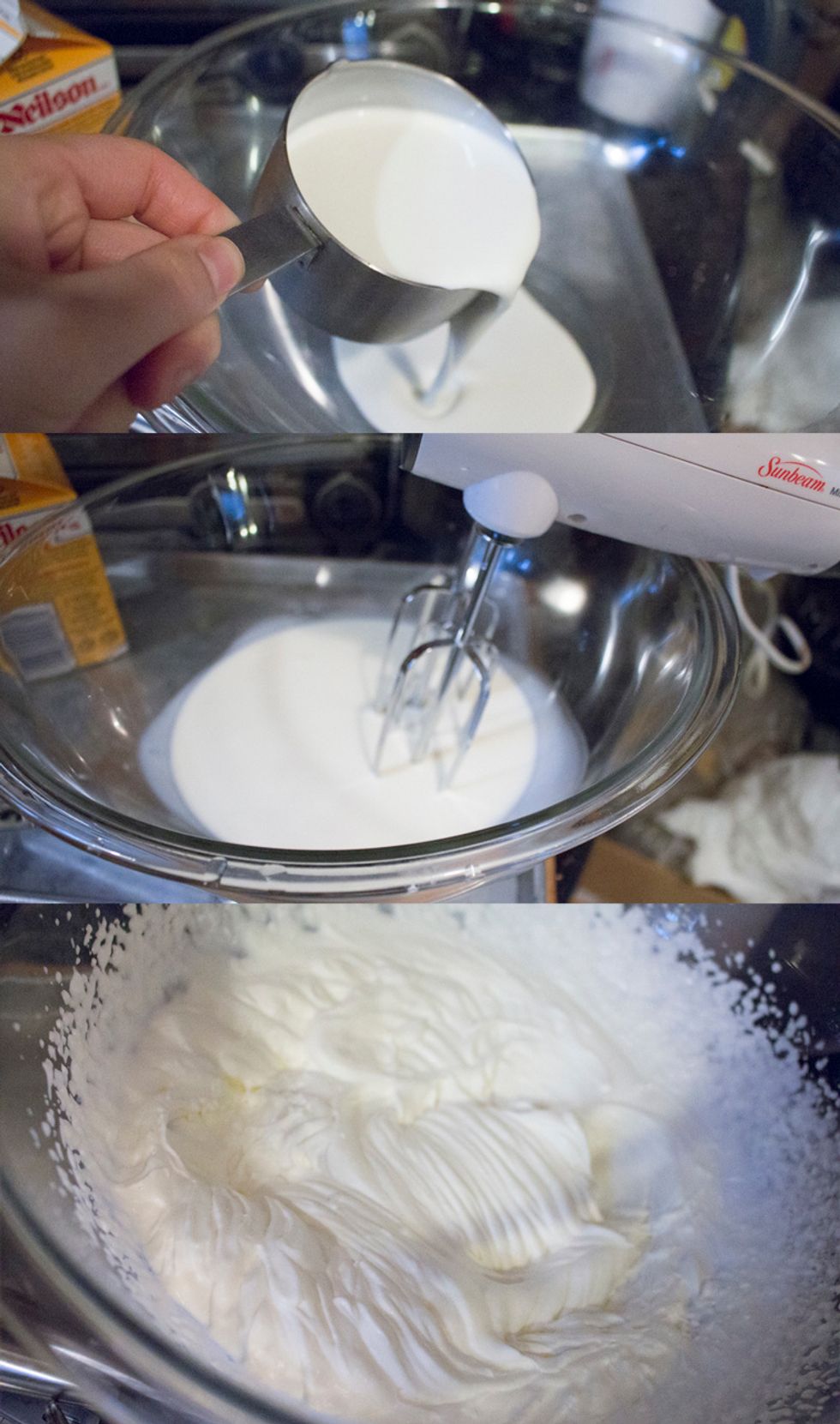 Next we are going to make the Mocha Cream Filling. In a separate bowl, beat 1 cup heavy whipping cream until thick.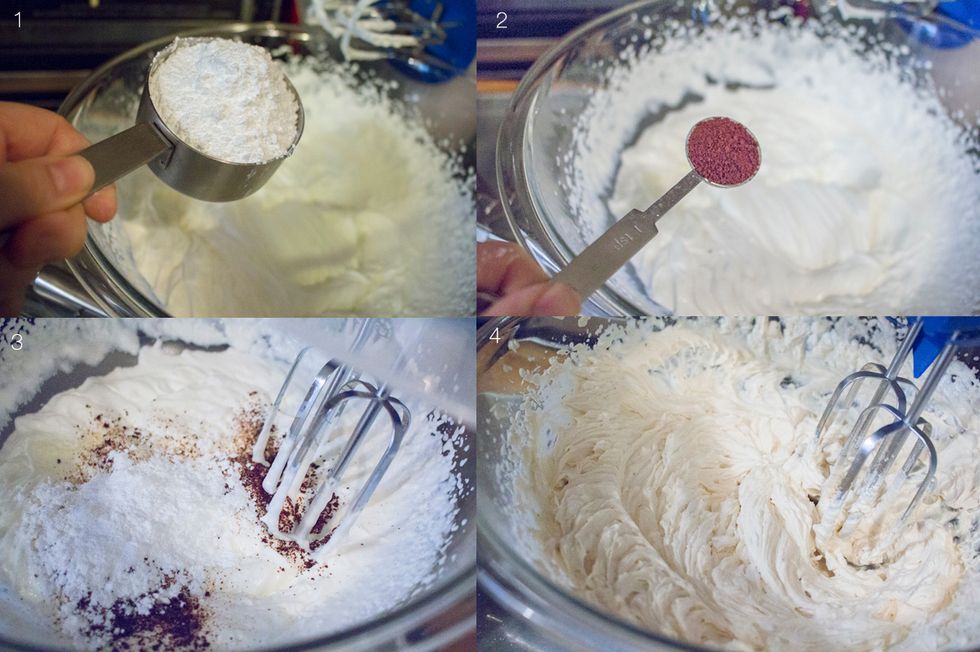 Add 1.5 cups of icing sugar, 1.5 tsp of instant coffee granules and beat together. Our mocha cream filling is now done!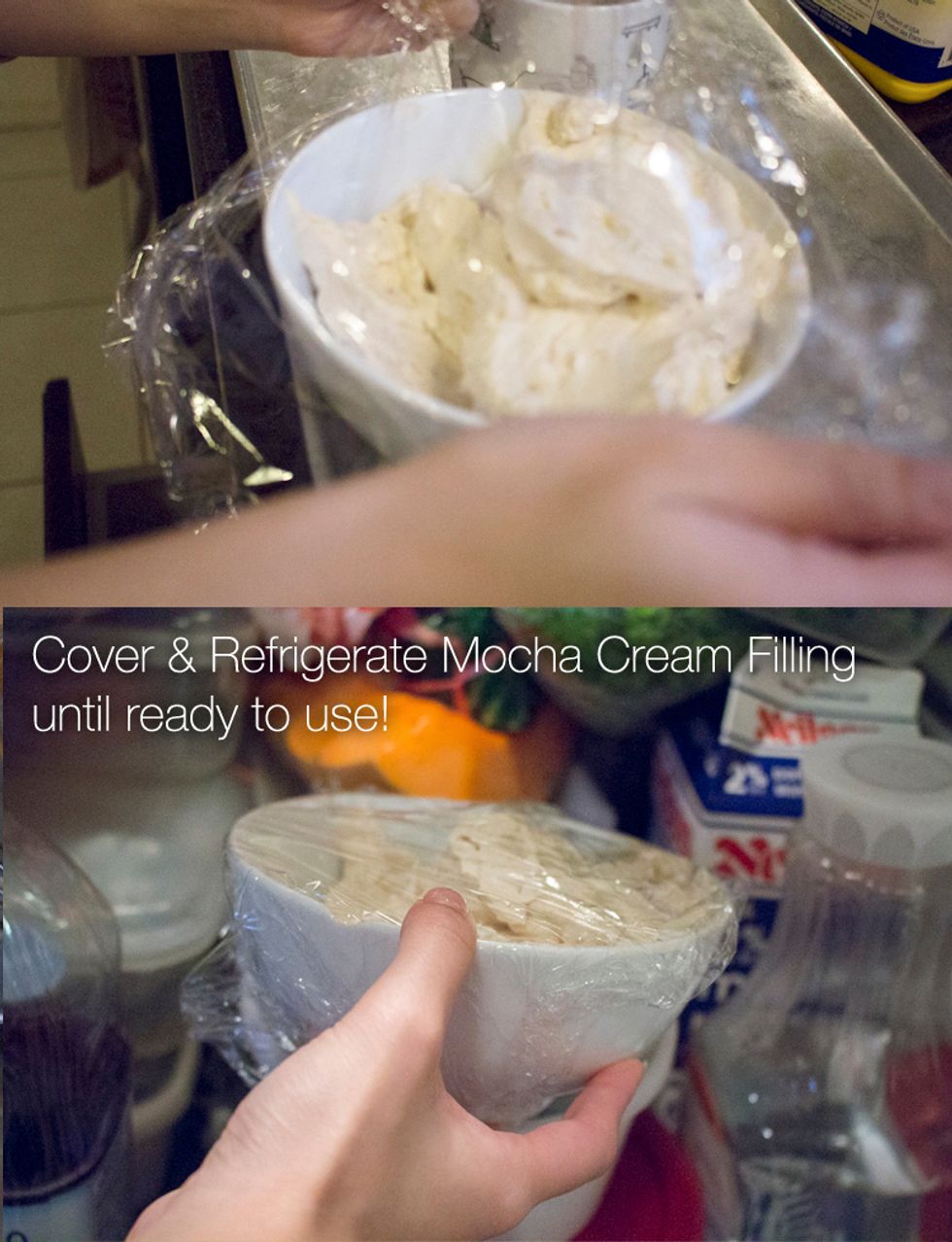 Cover your Mocha Cream Filling and Refrigerate until ready to use!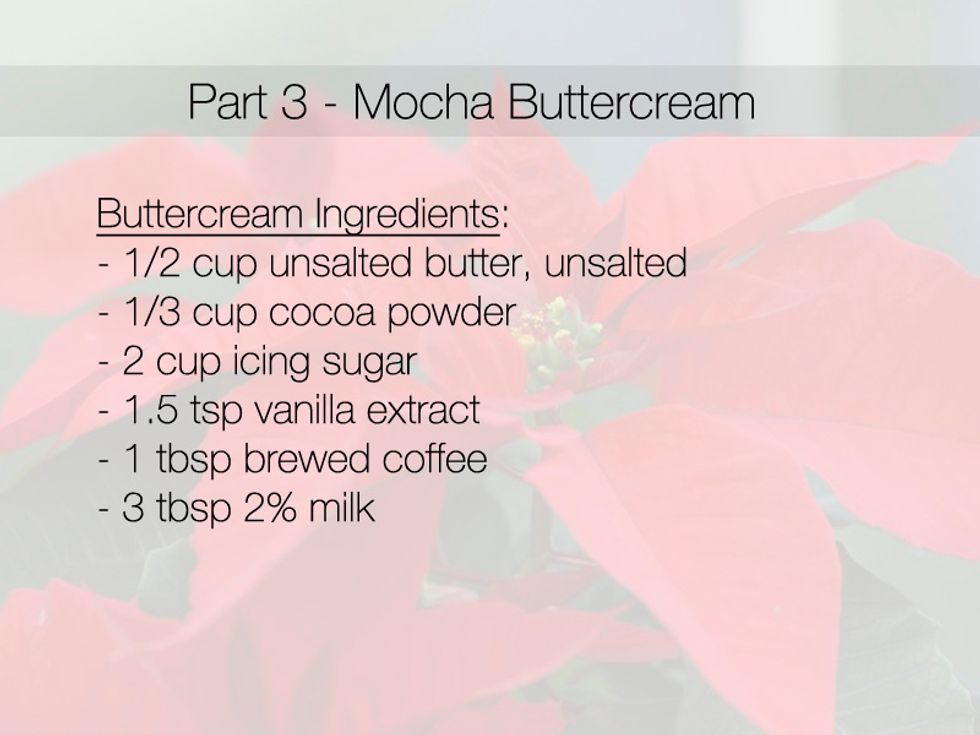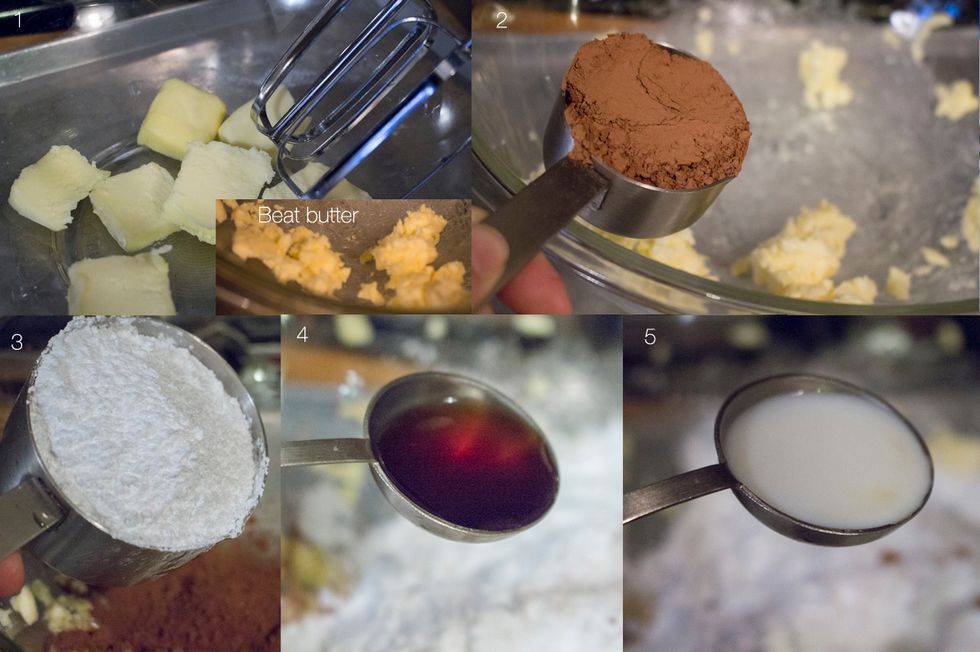 Next we are going to make Mocha Buttercream. In a large bowl, beat 1/3 cup butter, add 1/3 cup cocoa powder, 1.5 cups icing sugar, 1.5 tsp vanilla, and 3 tbsp milk.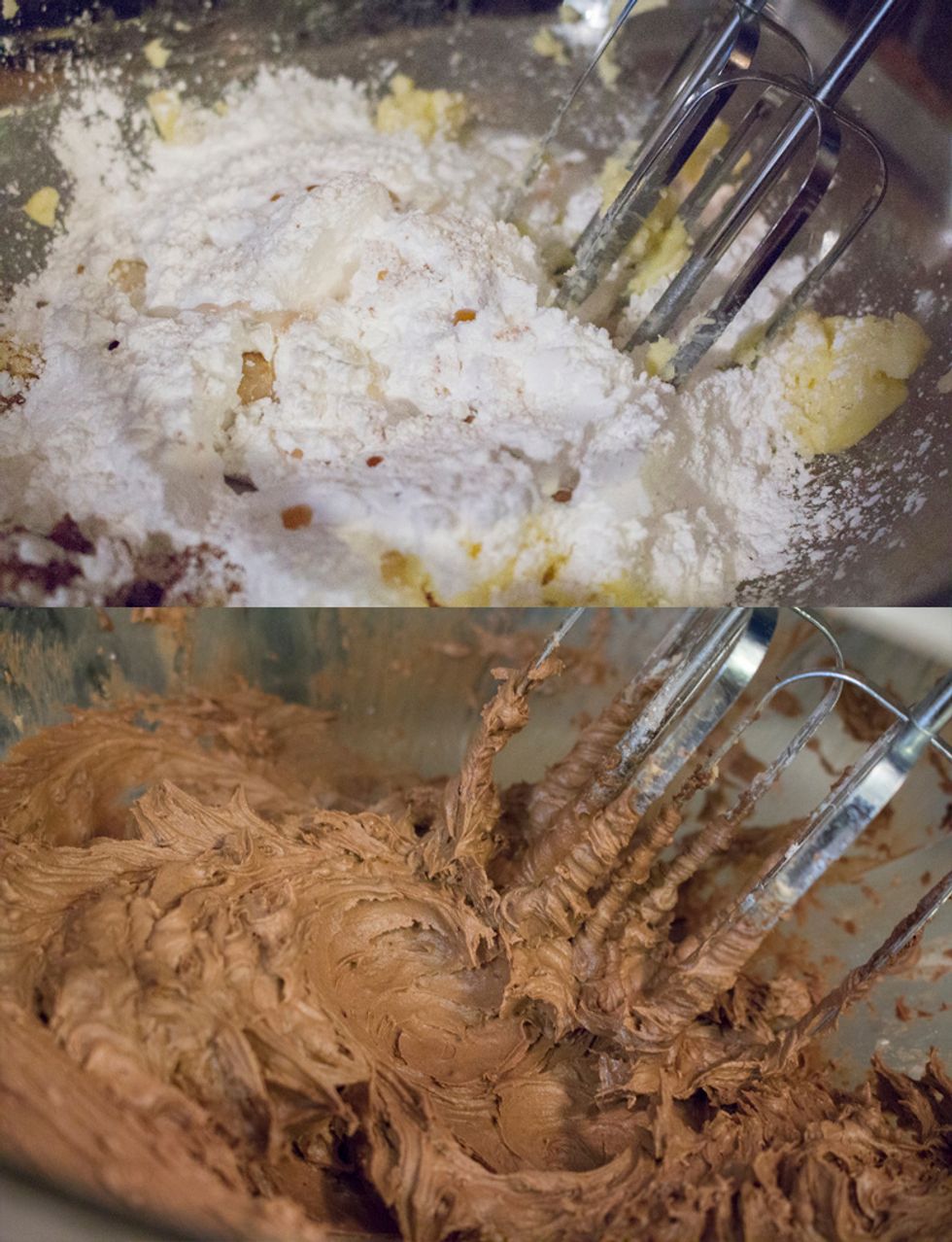 Beat ingredients until well combined - you should have a rich Mocha Buttercream! Set aside.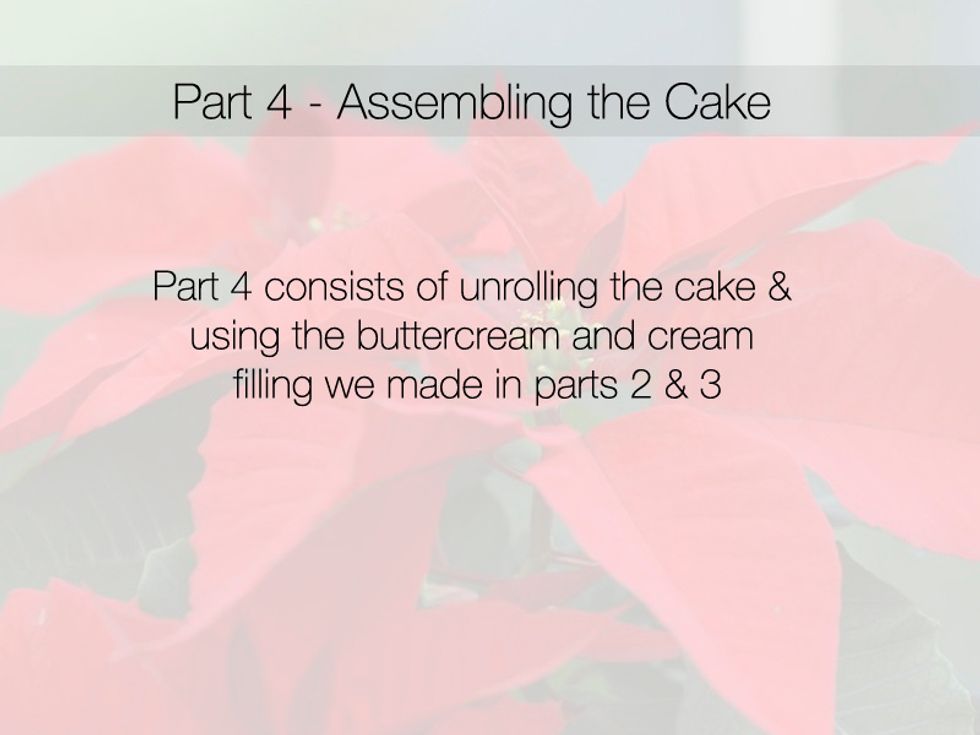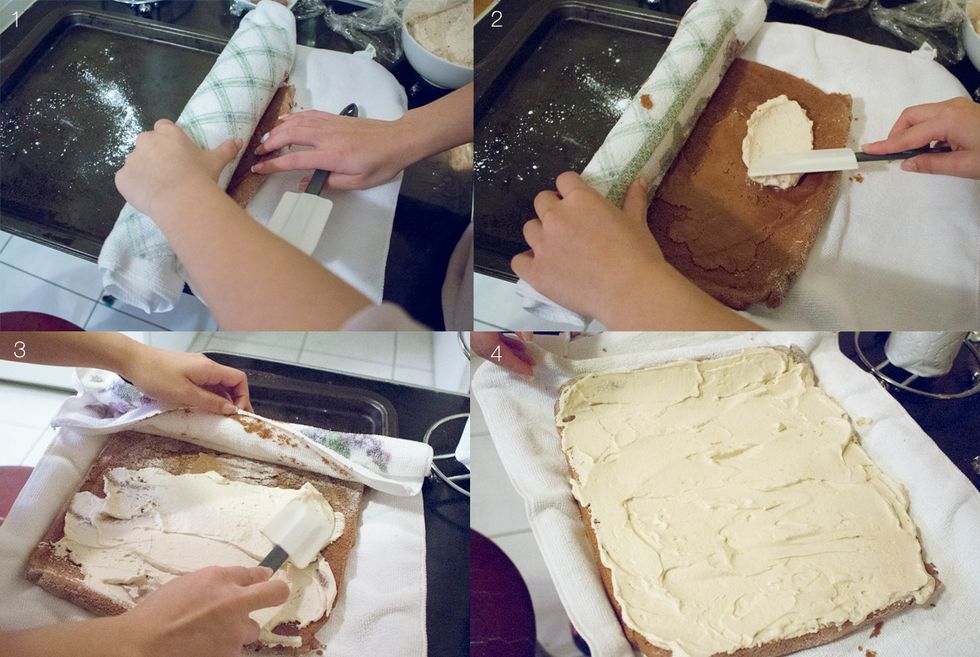 Unroll your cake and apply the Mocha Cream filling evenly. Leave about 1/2 inch border around the edges.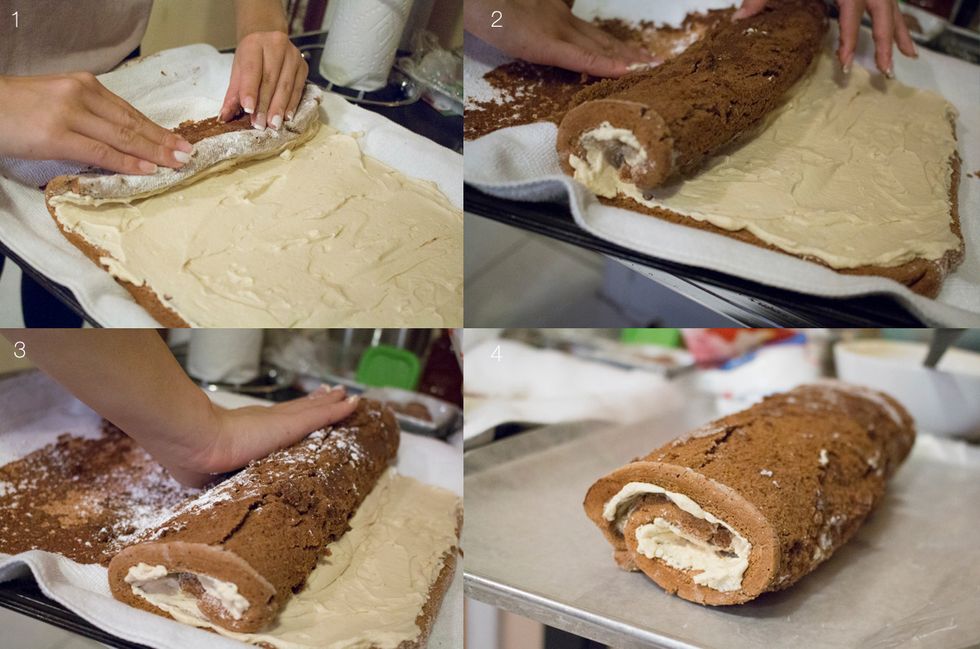 Next roll your cake again, starting the shortest width of the cake without the linen towel this time. You might notice parts of the cake stick to the cloth, add more icing sugar in that case.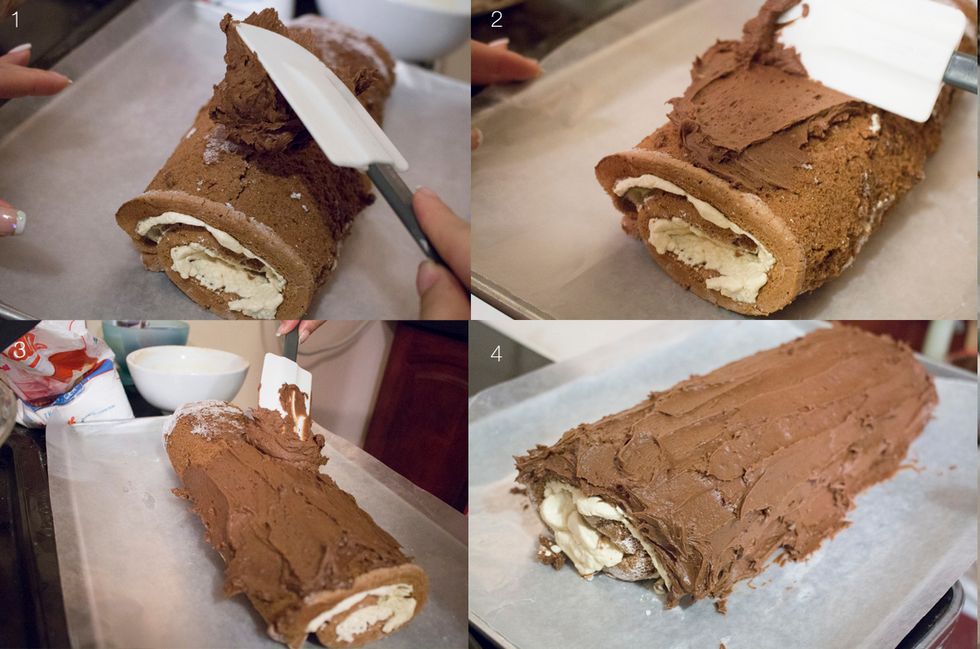 Take your mocha buttercream and use a spatula to spread around your cake. You can use the spatula to create a bark like texture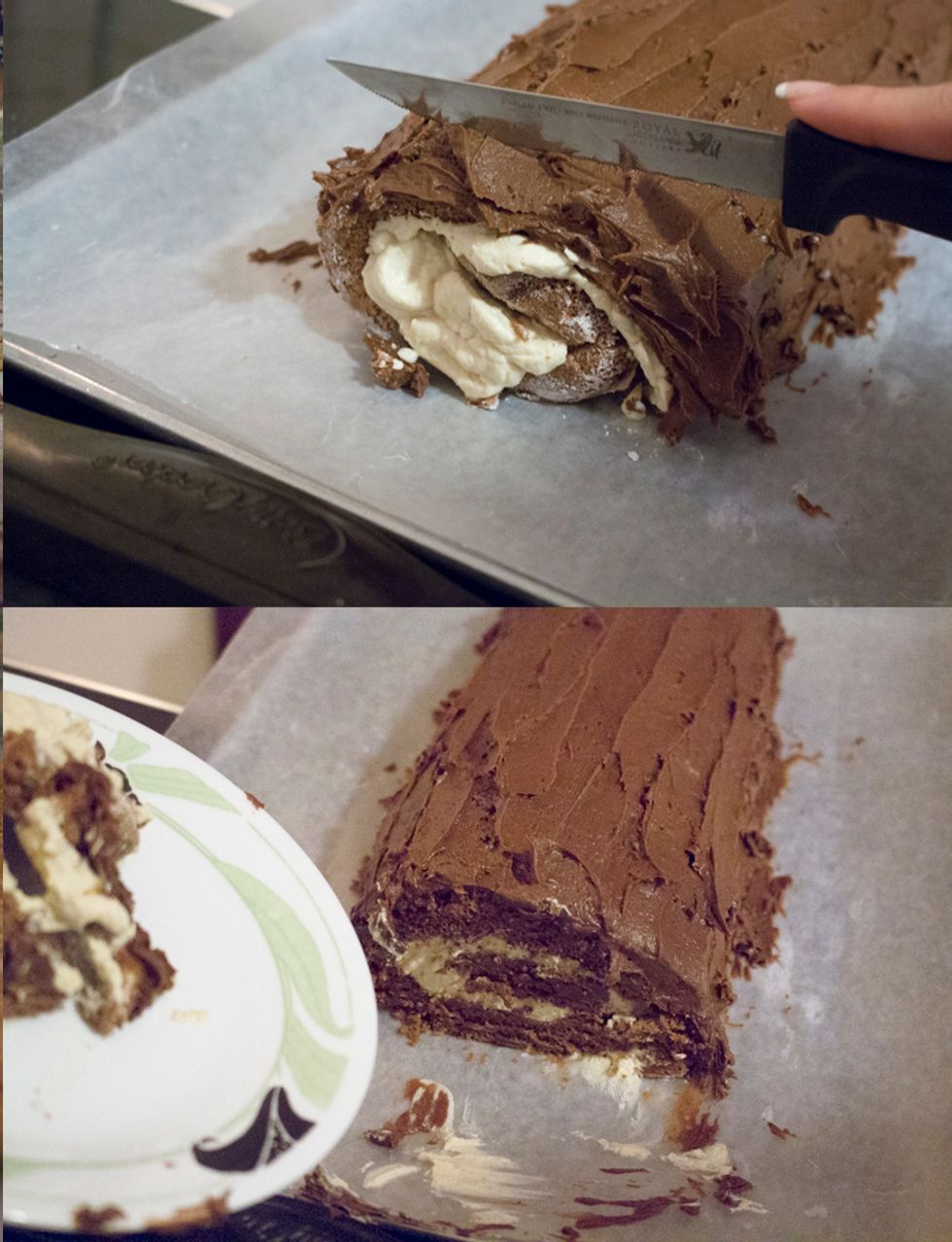 The end is a bit droopy, so we decided to slice the end to give the edge a much cleaner look.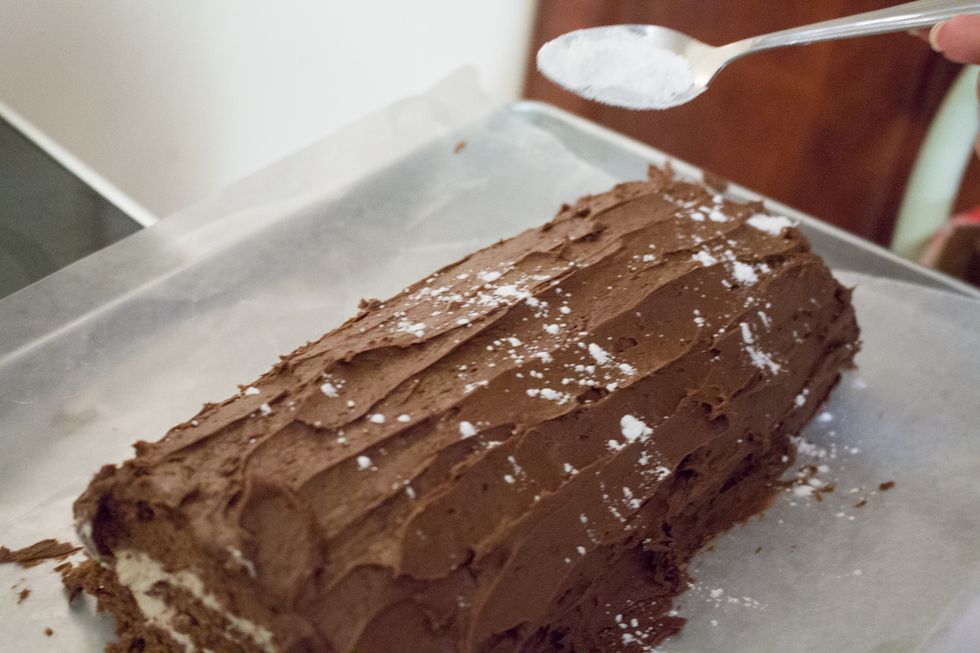 Sprinkle icing sugar on top to give it a "snowed-on" like feel.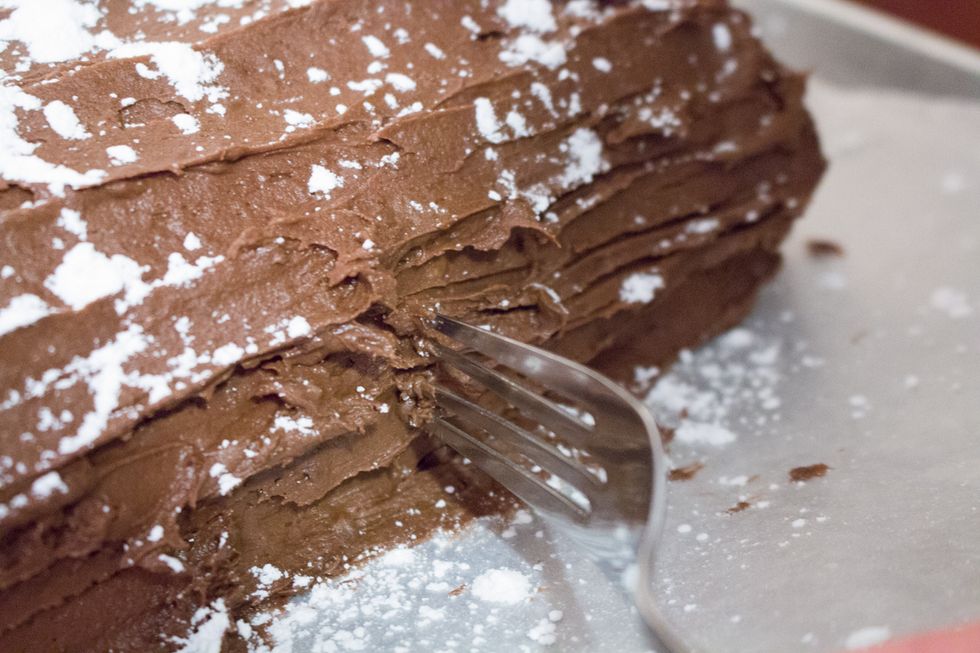 You can use a fork to create bark like texture.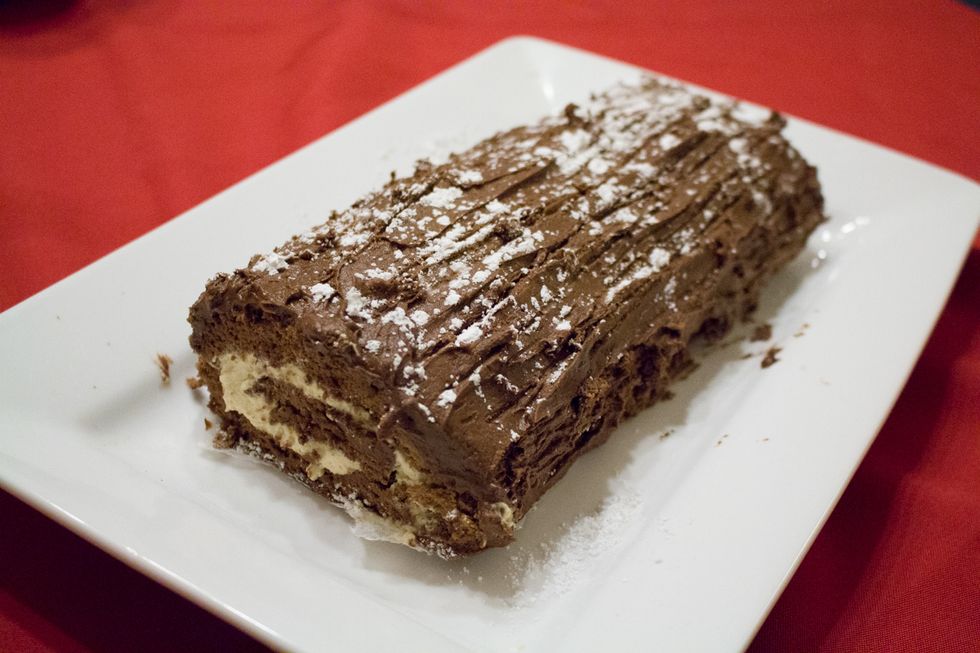 Transfer your cake to a serving tray, and voila you are done!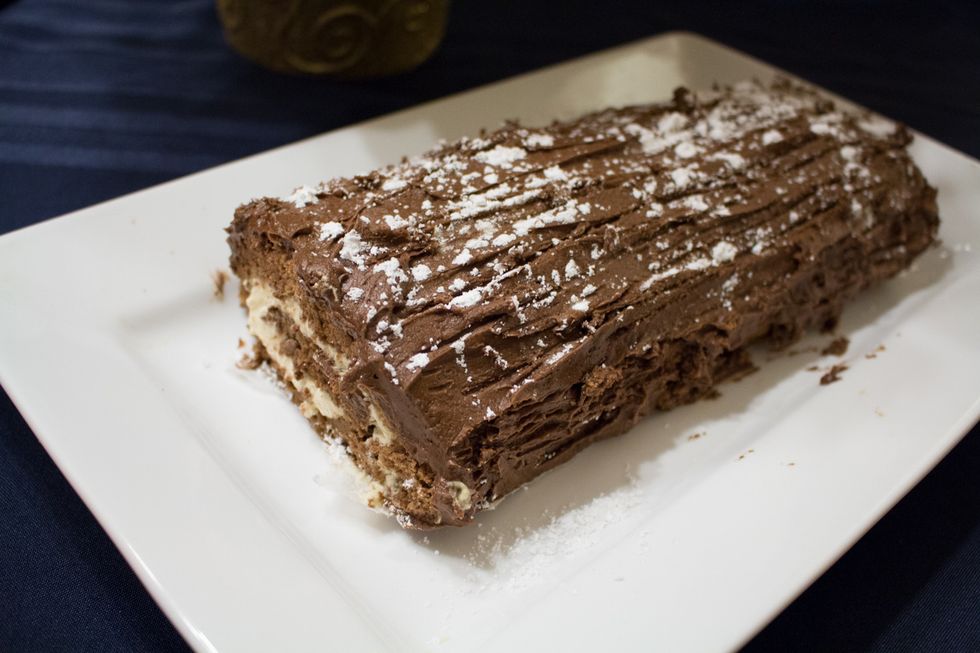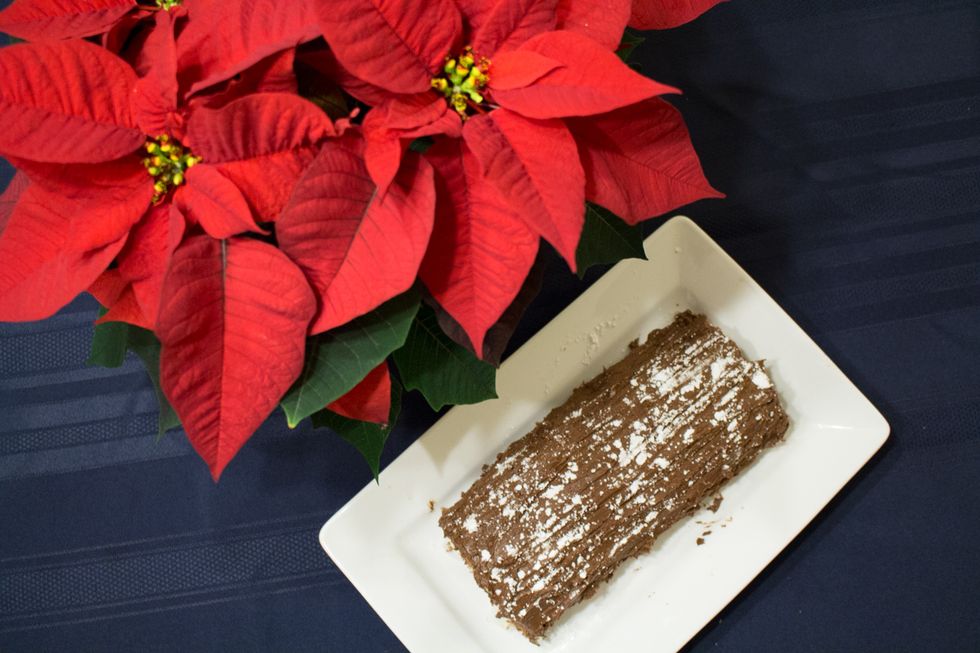 5.0 Eggs, separated into 5 yolks & 5 egg whites [cake]
1.0c Granulated Sugar (divided in half) [cake]
1/2c Cake Flour [cake]
1/4c Cocoa Powder for Baking [cake]
1/4tsp Salt [cake]
1/2tsp Cream of Tartar [cake]
1.0c Heavy Whipping Cream [for mocha cream filling]
1/2c Icing Sugar [for mocha cream filling]
1.5tsp Instant Coffee Granules [for mocha cream filling]
1/3c Unsalted Butter, room temperature [buttercream]
1.5c Icing Sugar [buttercream]
1.5tsp vanilla extract [buttercream]
1.0Tbsp brewed coffee [buttercream]
3.0Tbsp milk [buttercream]
Annie Ai
Canadian girl that loves travel, dance, cooking and baking! I used to eat out a lot before I realized homemade was easy, fun & MORE delicious to do!