Make a Lemonade Stand Mini Album/ Treat Box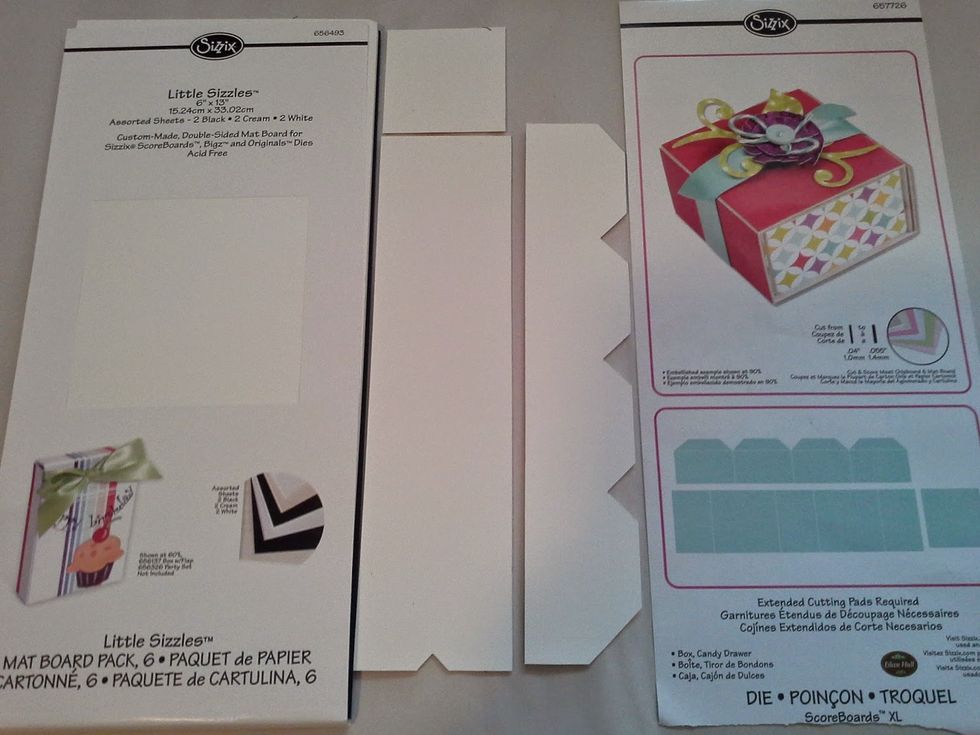 Using Sizzix Eileen Hull Candy Box Die I cut one out of the mat board from Sizzix and may I say I can not get enough of this!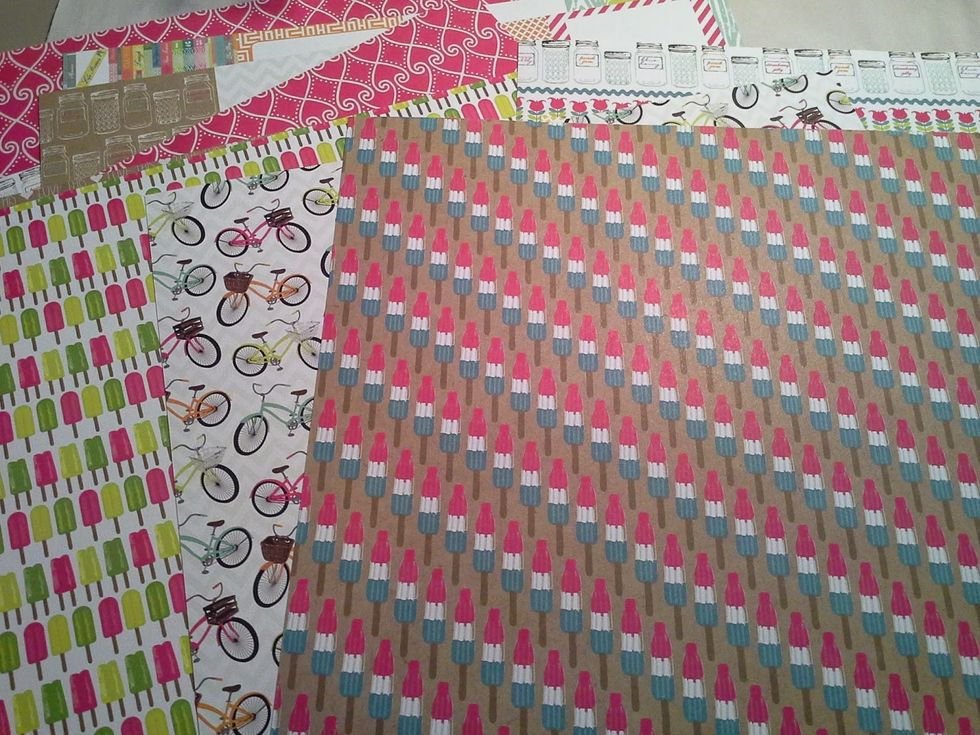 I am using Webster's Pages Alison Kreft line. It just screams summer!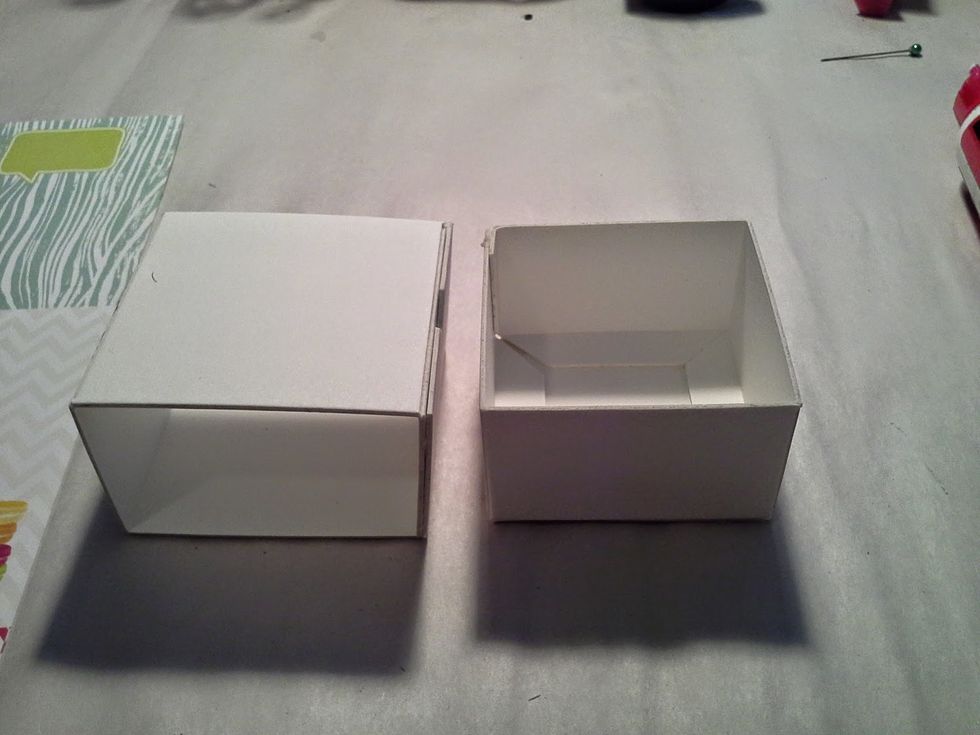 First start by putting your box together. I use a combination of wet glue and double sided tape.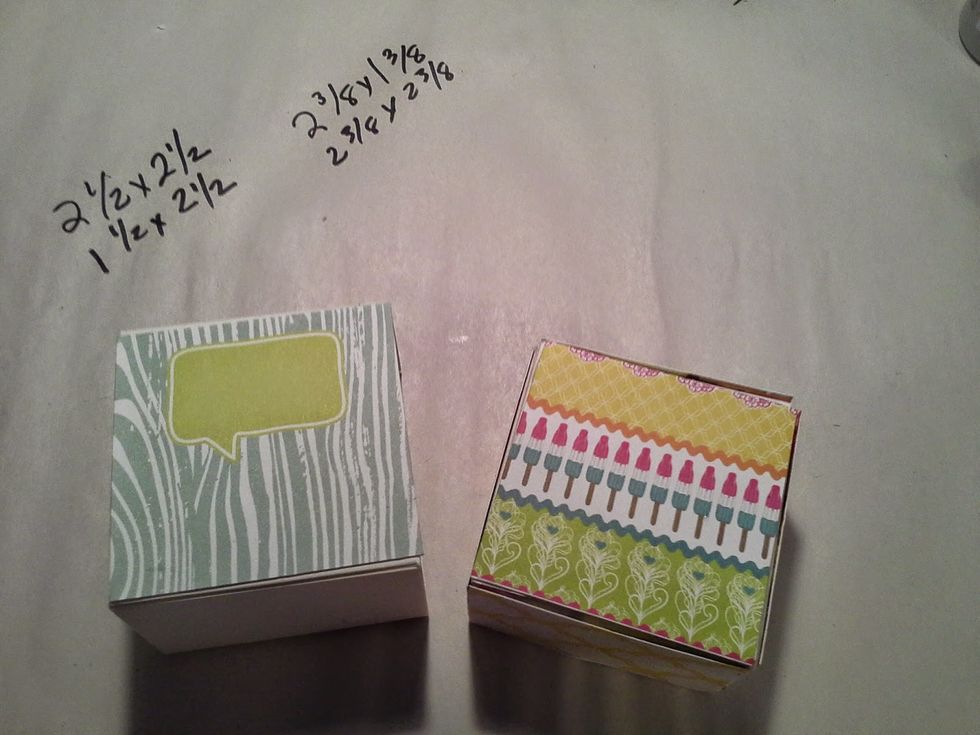 Then cover with paper. Outside measurements: 2 1/2 x 2 1/2(front), 1 1/2 x 2 1/2(sides) inches Inside measurements: 2 3/8 x 2 3/8, 2 3/8 x 1 3/8 inches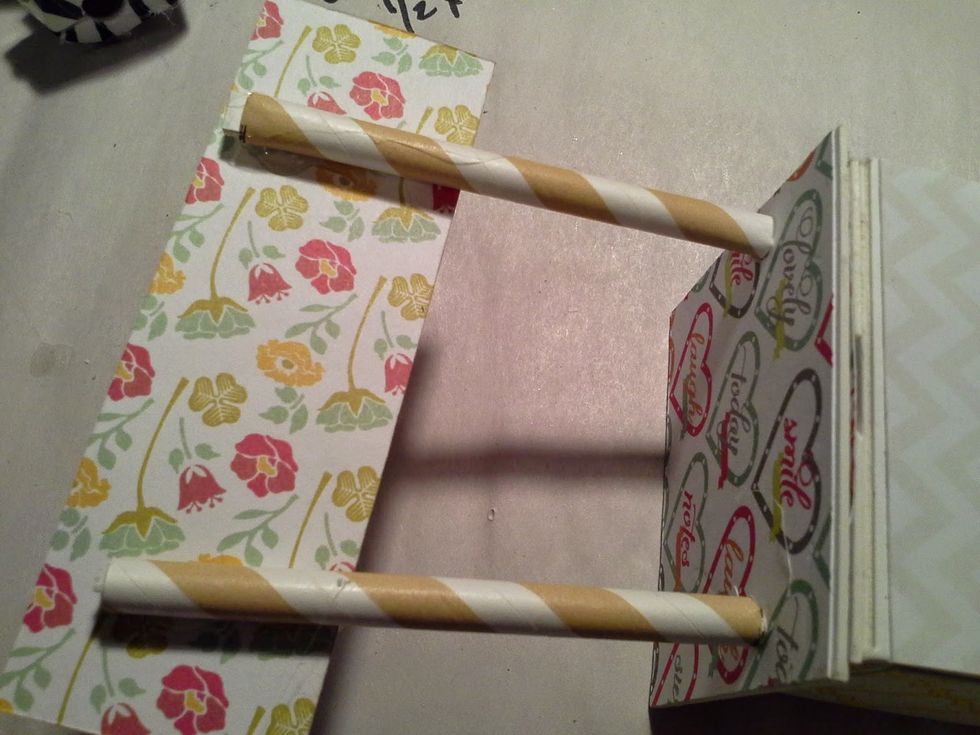 To attach poles, take a straw cut into 3 inch pieces. Cut a strip of light weight chip board 1/4 inch wide and slide down through straw on one end bend over at 1/2 inch.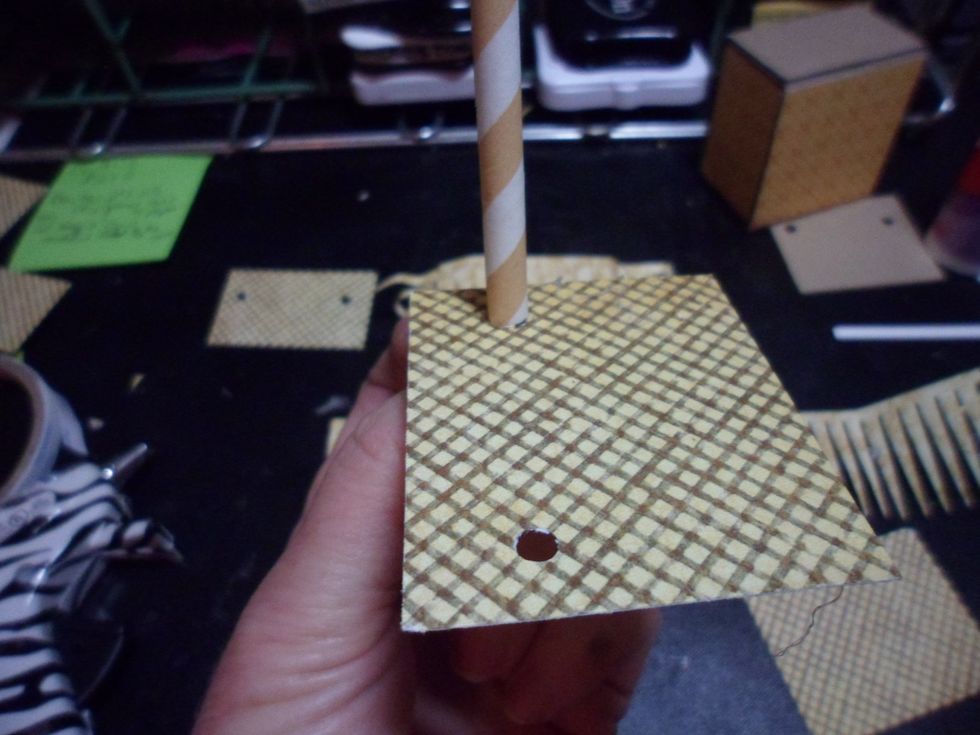 This is from the tiki bar because I forgot to snap photos when I was making the lemonade stand. Punch holes 1/4 inch in from sides of the top and 3/4 inches from the back of the top of stand.
Take a hot glue gun and put some glue in the hole of the top quickly slide the cardboard strips through the hole bend over and adhere it down. Take double sided tape and attach top to box.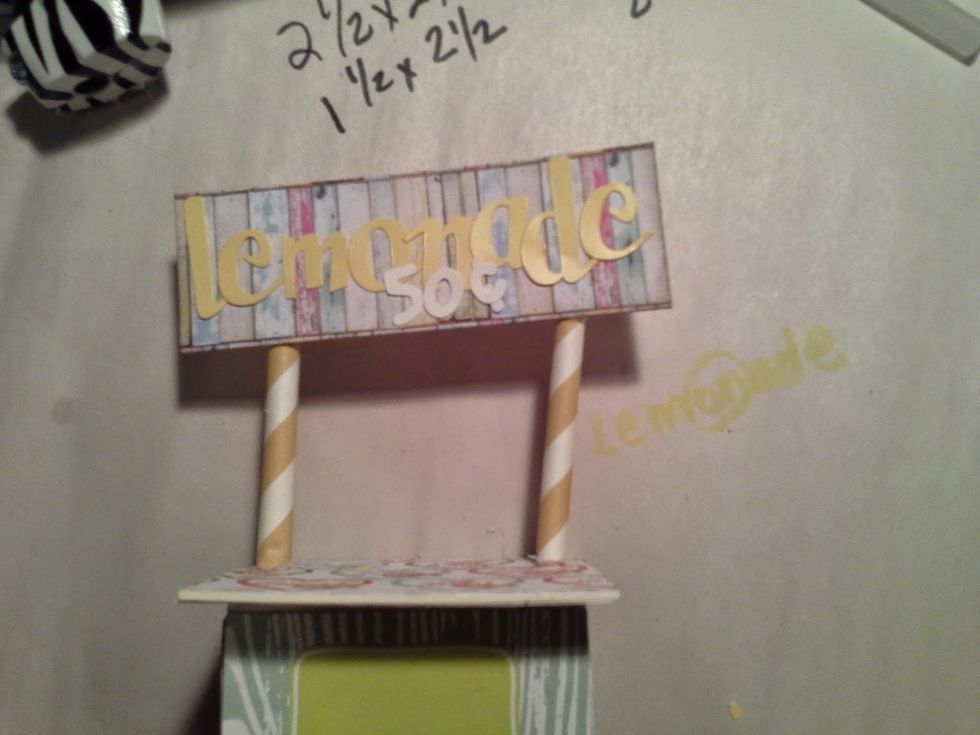 Cut 2 pcs. of cardstock 4 x 1 1/4 inches. I used stickers to spell out lemonade 50 cents. You could stamp the sign if you wanted.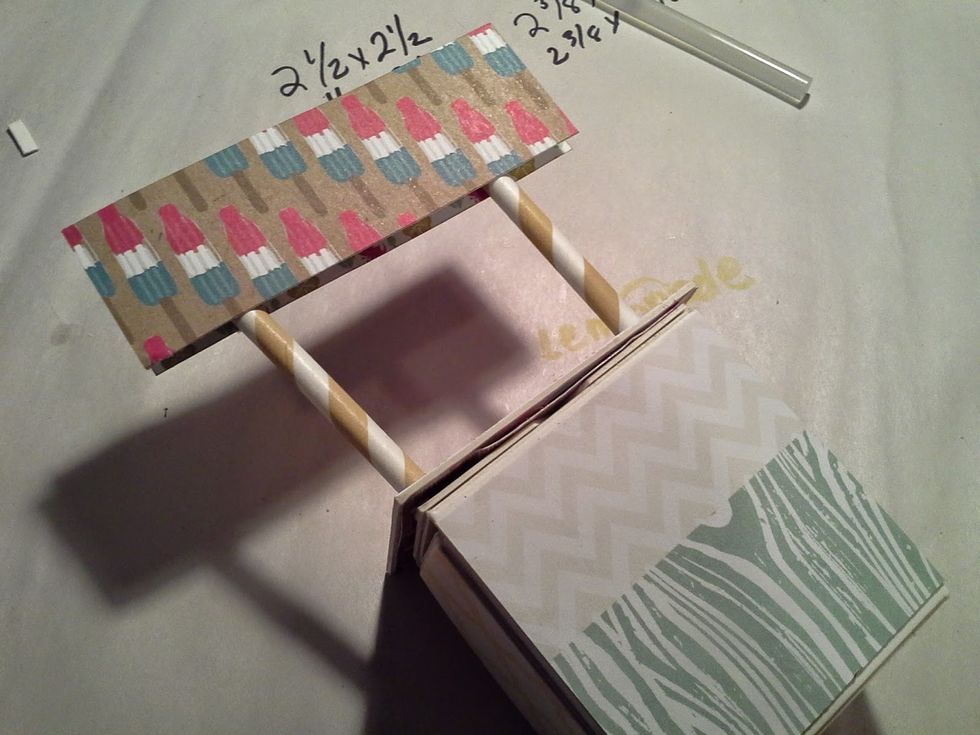 Glue to the top end of the straws and back with the other piece of cardstock.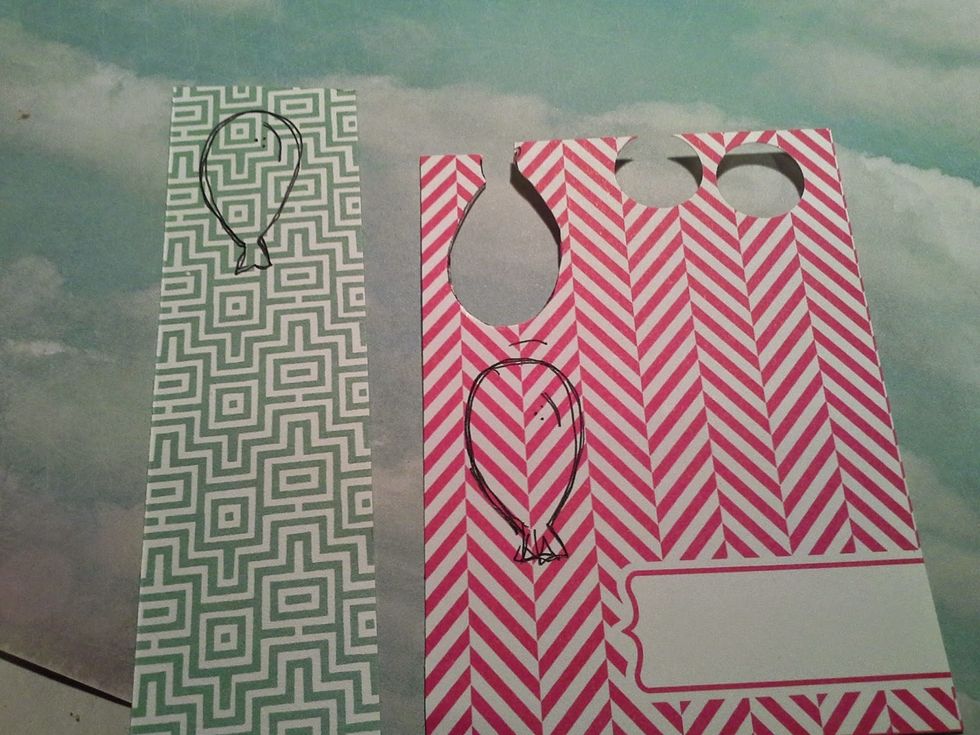 I sketched out balloons on the double sided paper and cut them out.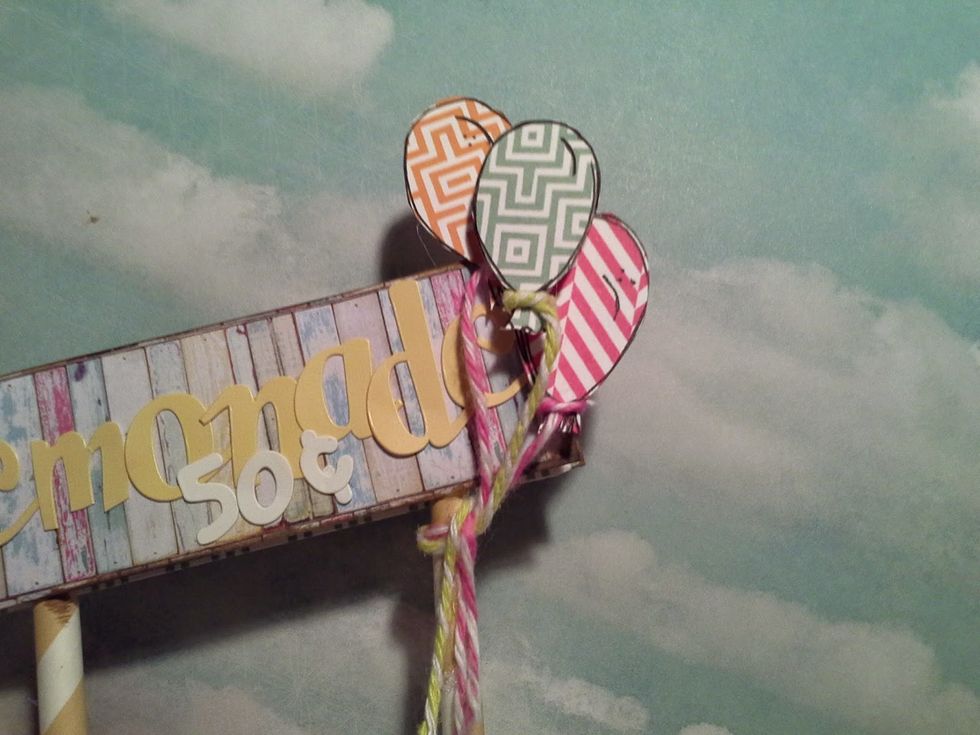 I tied some baker's twine around the balloons and then tied them to the lemonade stand as shown. after adhereing them with pop dots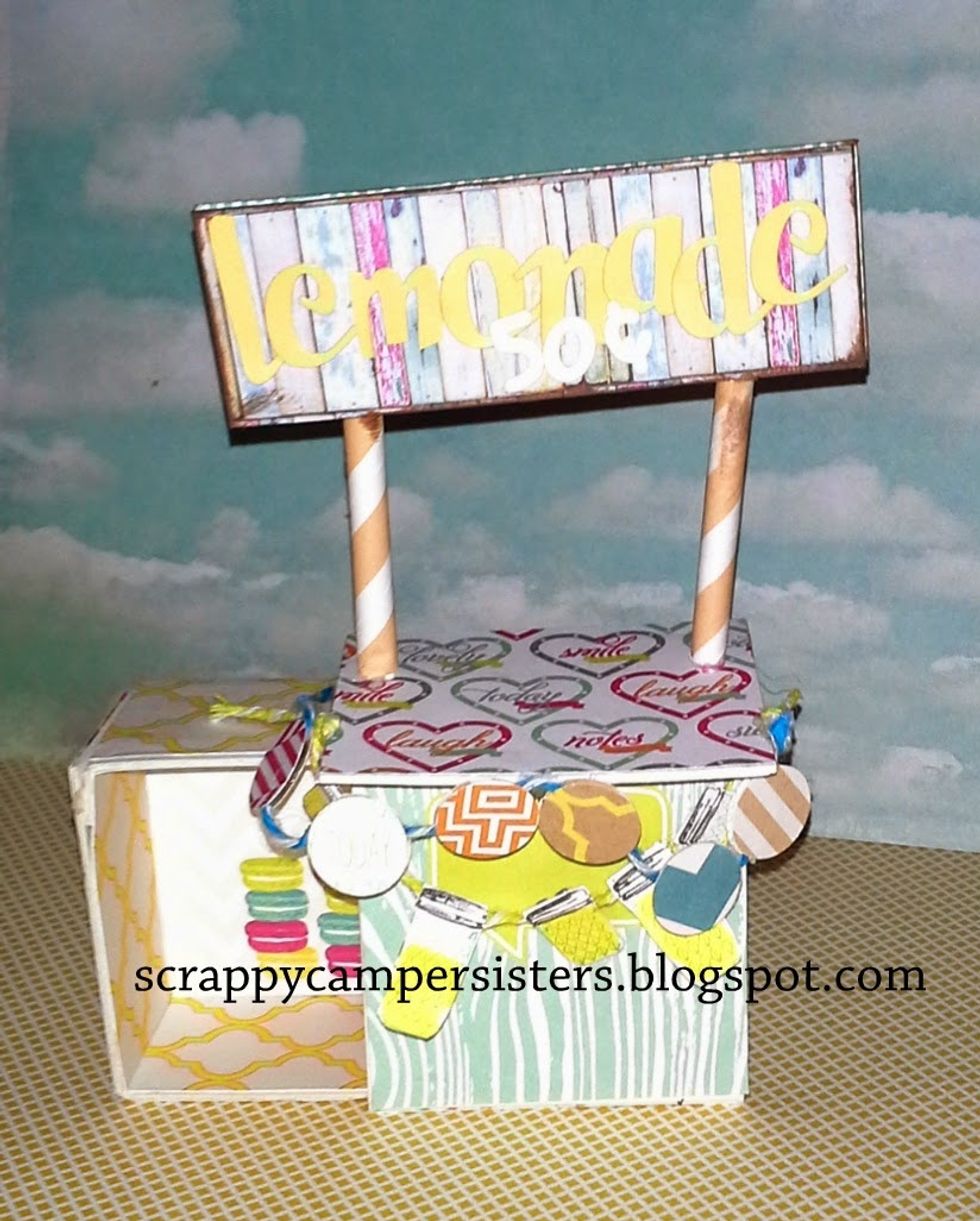 Next add a piece of baker's twine and fussy cut out mason jars with lemonade in them and adhere to the twine with a Tiny Attacher (mini stapler by Tim Holtz)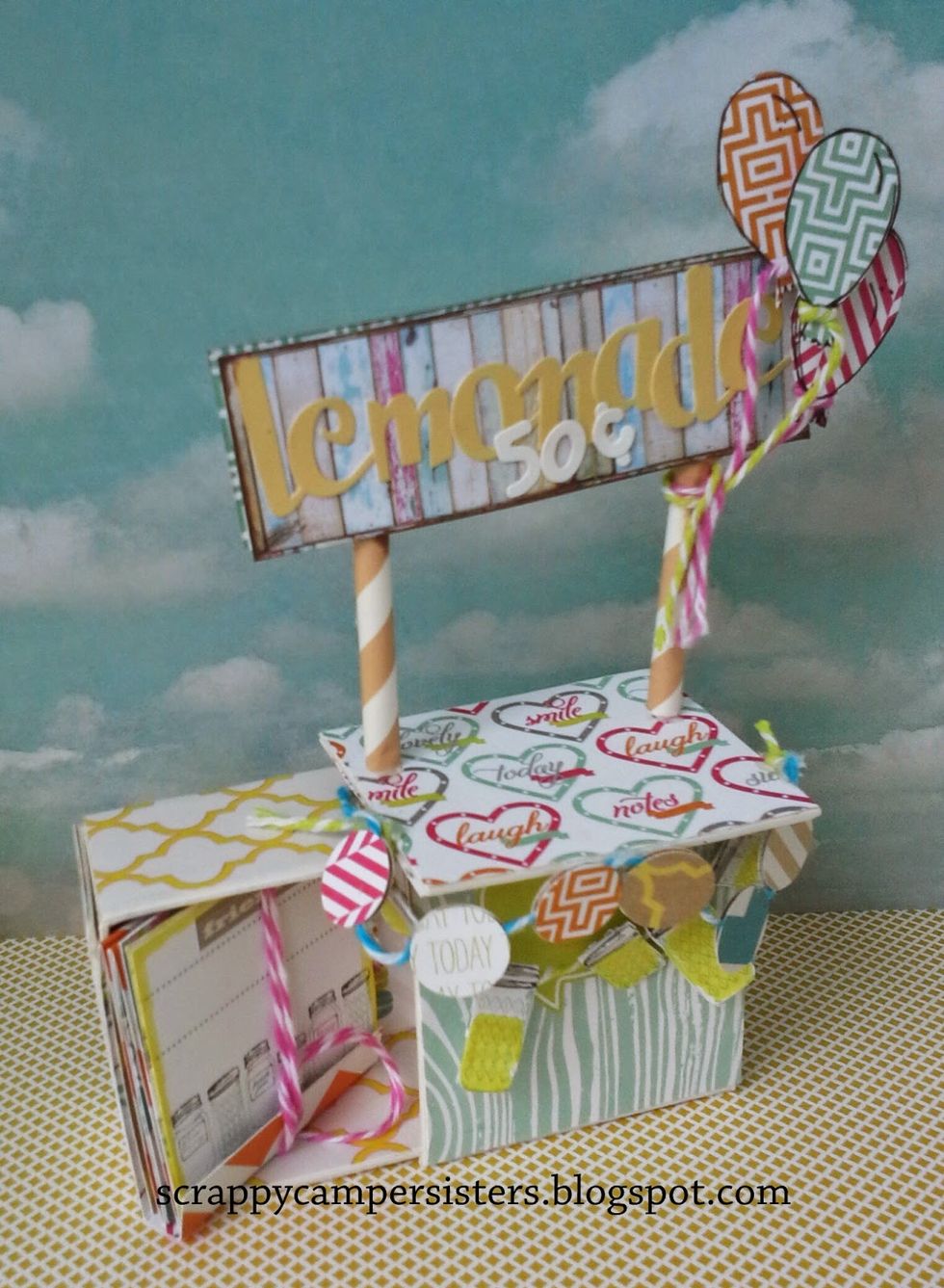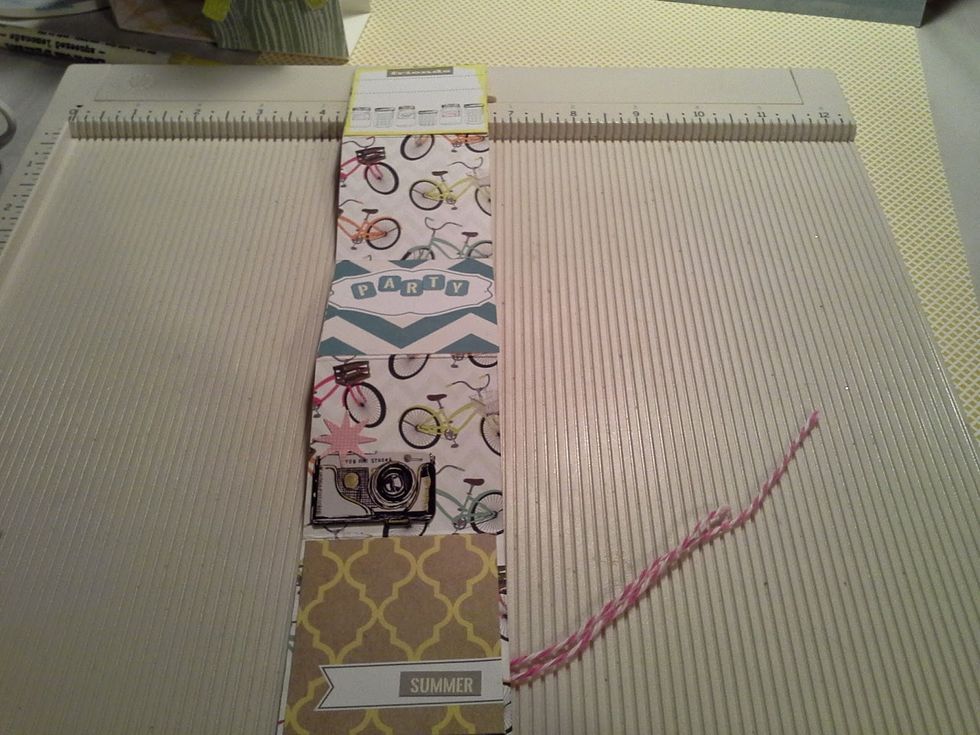 For the mini album that goes inside you will need a 12 x 2 1/4 inch pc. of pattern paper. Score every 2 1/4 inches on the 12" side until the 11 1/4 inch then score 1/4 inch. This will form the flap.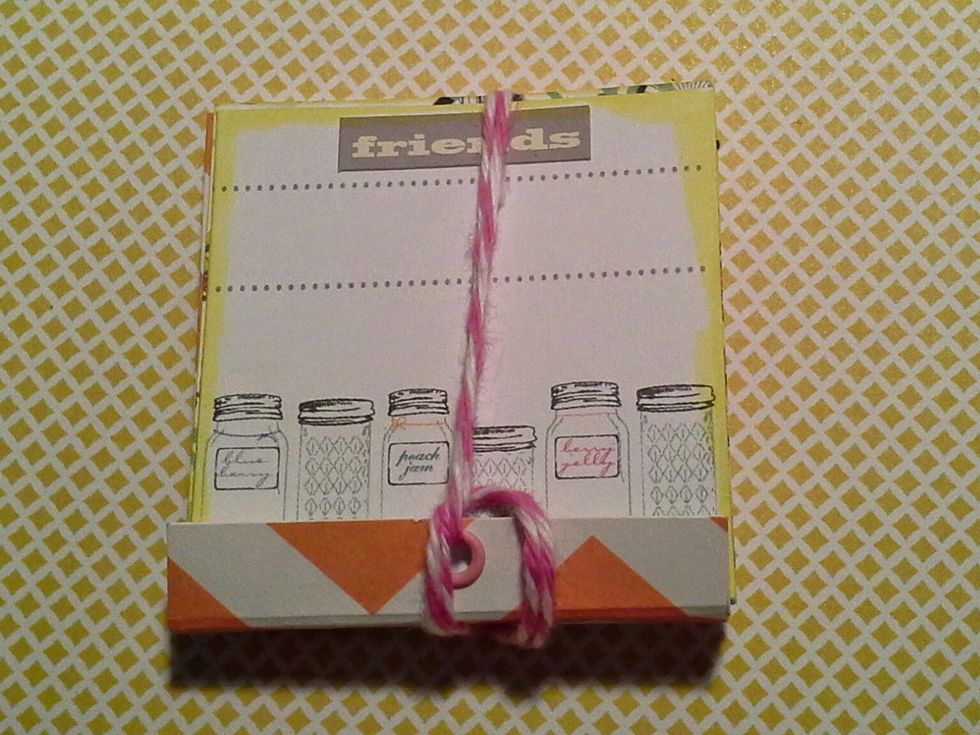 Accordian fold then on the flap punch a hole and set an eyelet. Thread twine through eyelet. Decorate album and add small photos like Zinks. Close by folding over flap and wrap twine around.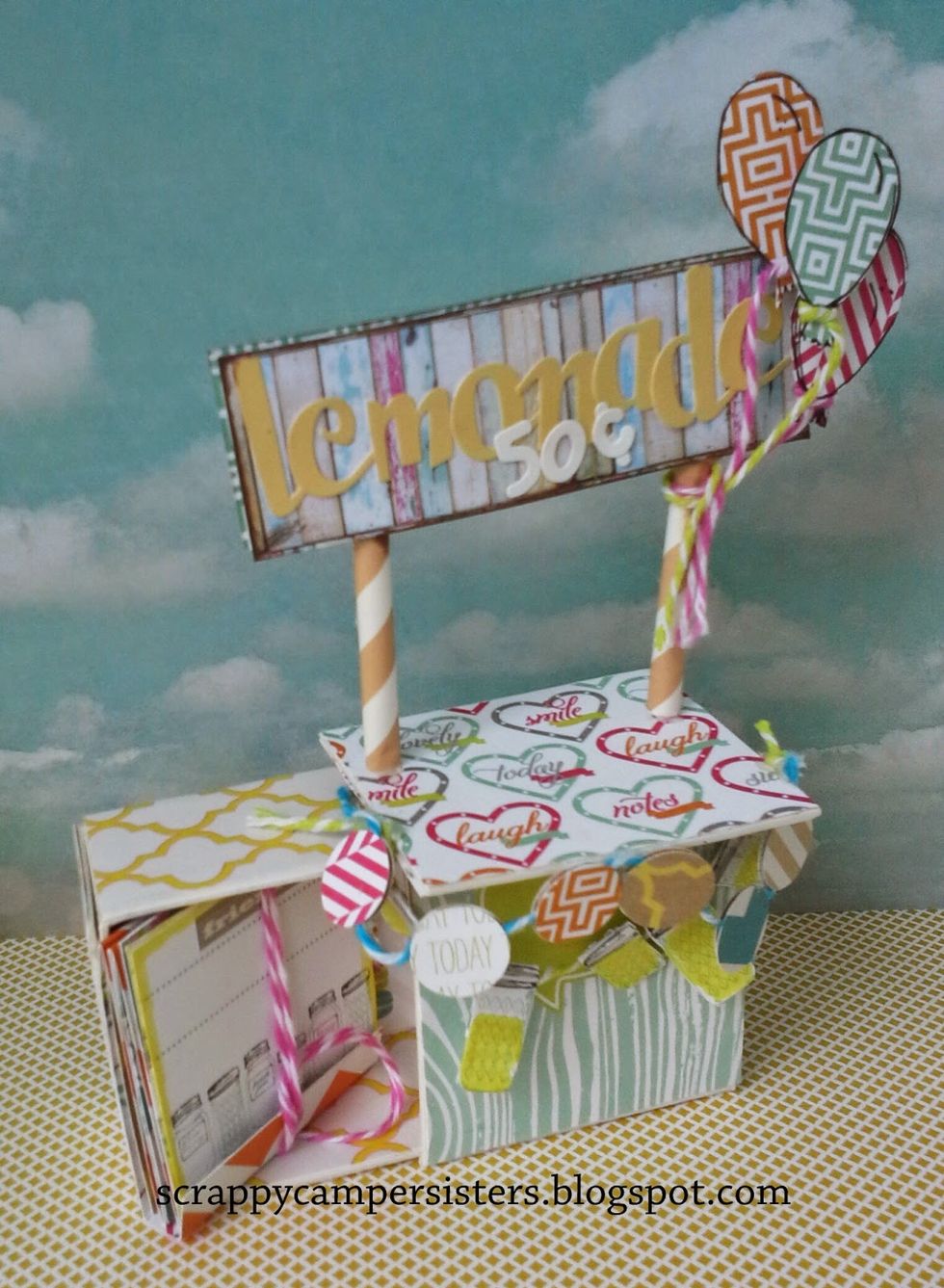 Place in box and slide into your lemonade stand. You are all ready. For a larger version (Tiki Bar) go to www.scrappycampersisters.blogspot.com or join us on ustream.tv/channel/scrappycampersisters
Eileen Hull for Sizzix Candy Box Die
Medium weight Chipboard 12 x 12
One Paper straw
Assorted patterned paper I used Webster's Pages
Hot glue gun
Glue
Adhesive foam dots
Baker's Twine
1.0 Eyelet
Letter Stickers
a pc of chipboard for the top (2 1/2 x 2 inches)