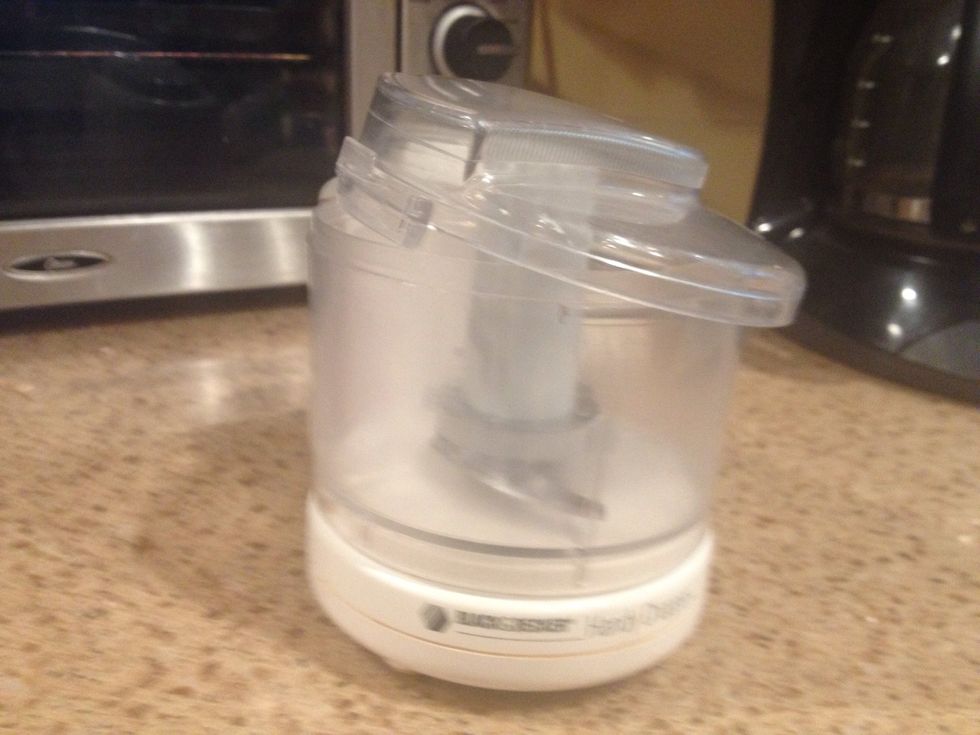 I got this chopper for 8$ at Walmart and have had it for 15 years- this along with a steamer makes this recipe a breeze.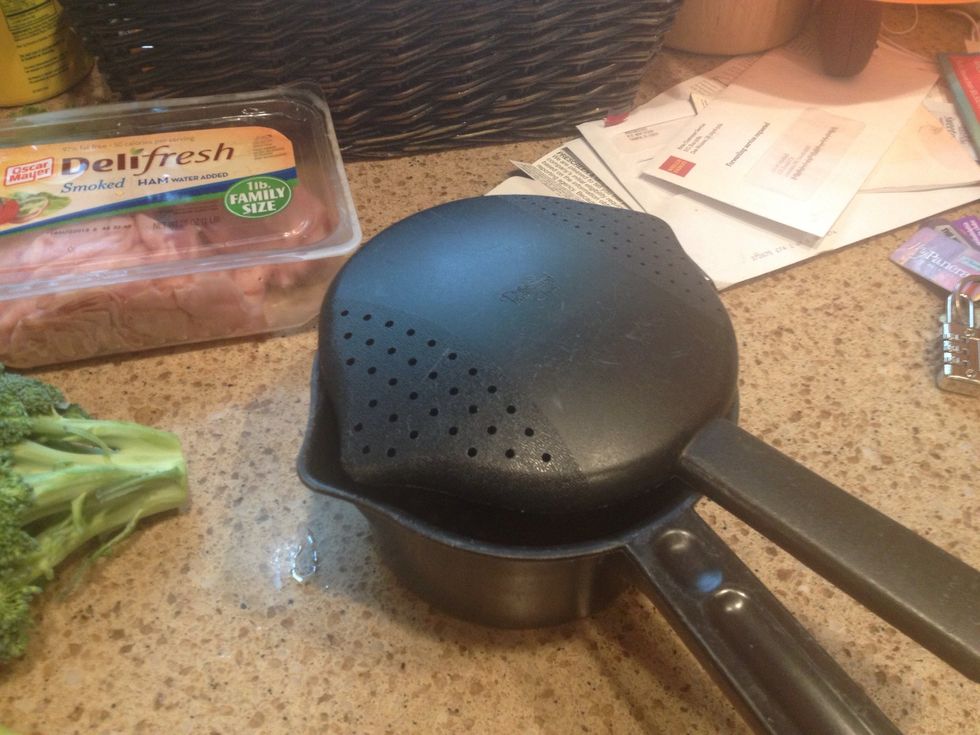 I use a microwave steamer as well ( this is pampered chef). With the chopper and this, you can whip this casserole together in 10 minutes or so.
Preheat the oven to 350 degrees and raid your kitchen for leftovers!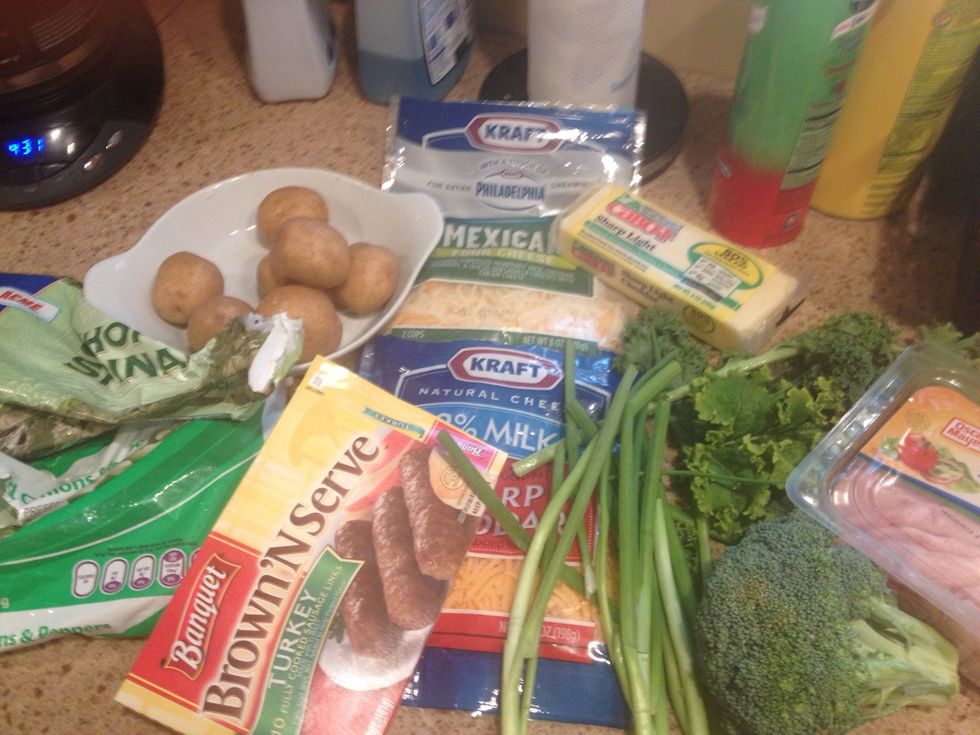 This is what I found in my fridge and pantry. As long as you stick with the basic ratios of supplies, everything else is your choice as far as the types of meat, cheeses and veggies used.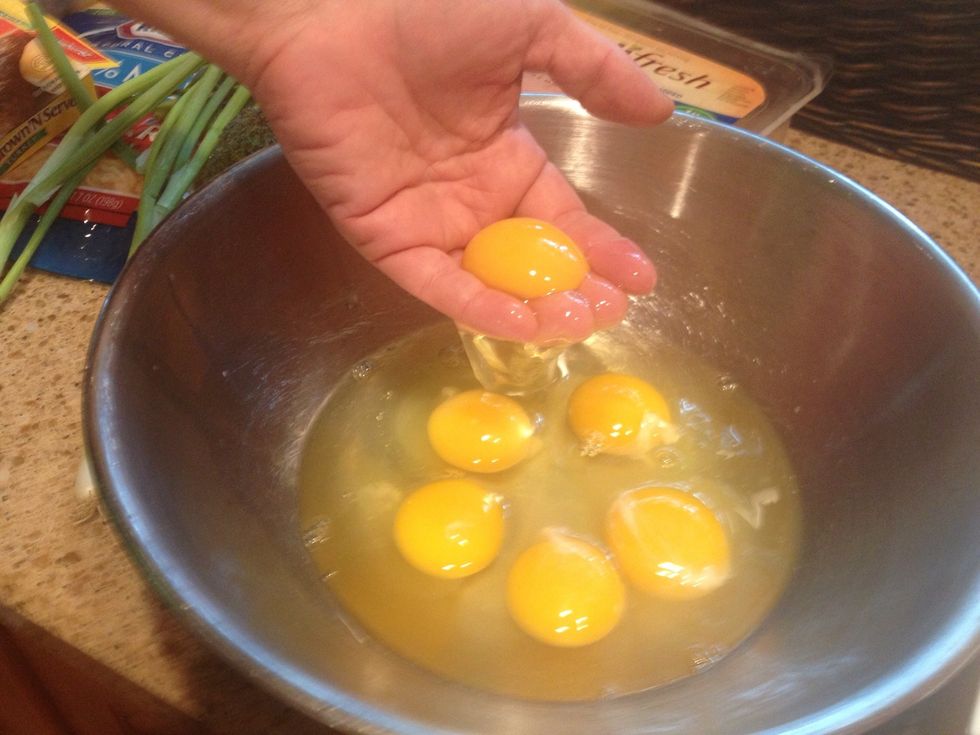 Start adding the ingredients into a mixing bowl- there is no particular order-I started with the eggs - 6 full eggs in, and pulled two yolks back out.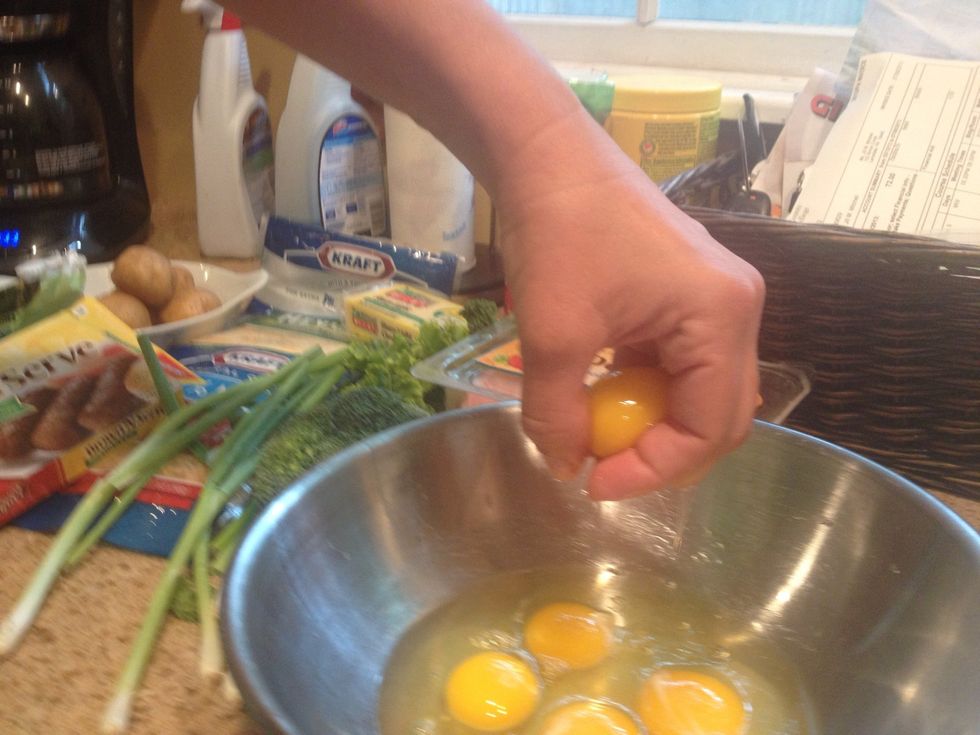 Easiest way I have found to separate eggs is Just to grab the yolks. Second yolk adios!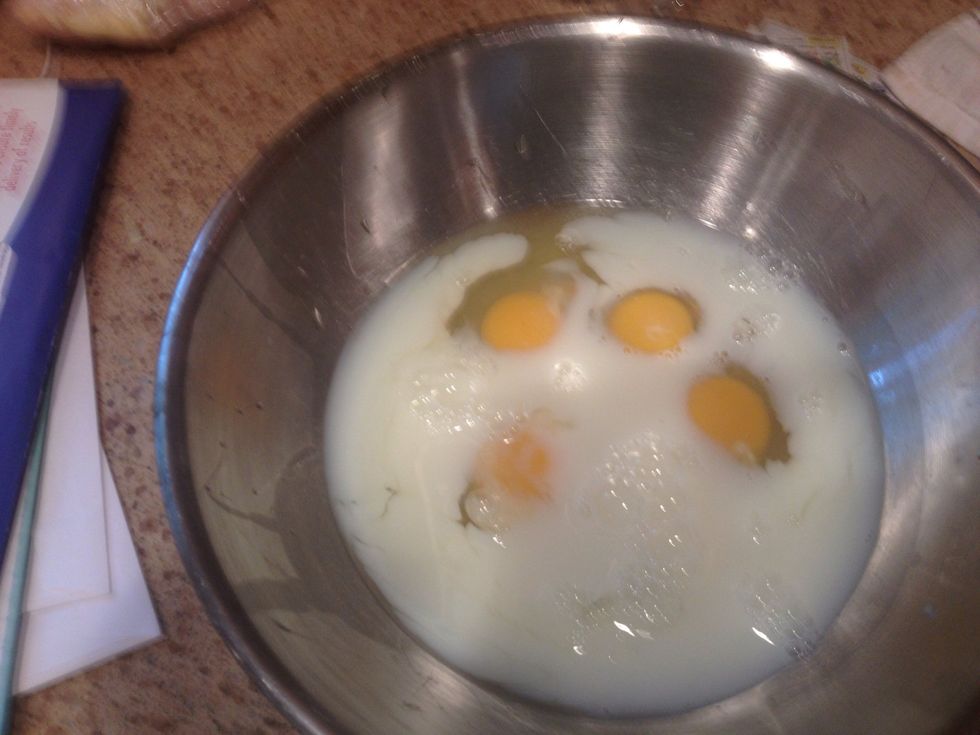 I added the milk next- I use skim but you can choose 2% or full fat f you prefer.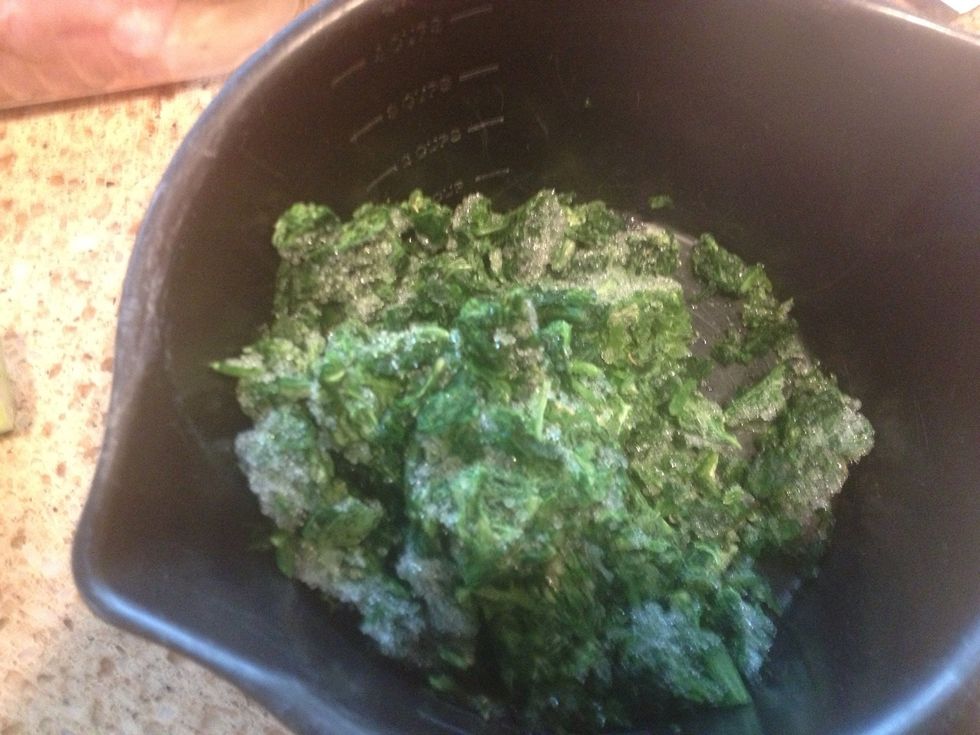 This is about a cup of old frozen chopped spinach. I steamed it for a minute to remove the ice crystals and added it.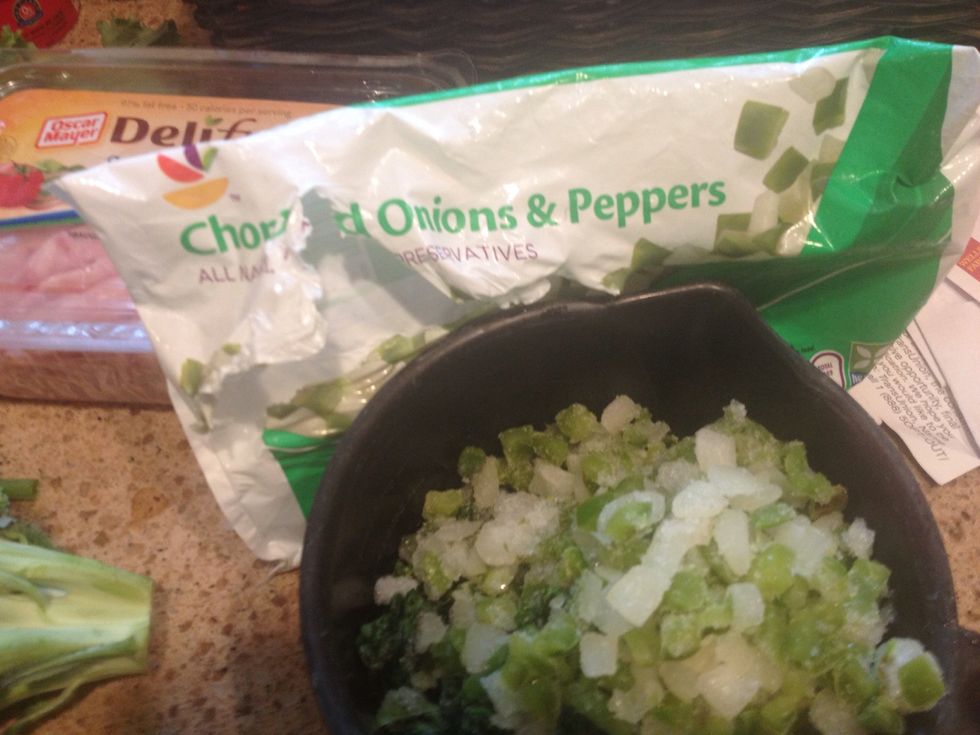 I found about a cup of frozen, ice covered onions and peppers- steamed those and threw them in- awesome product for chili making by the way!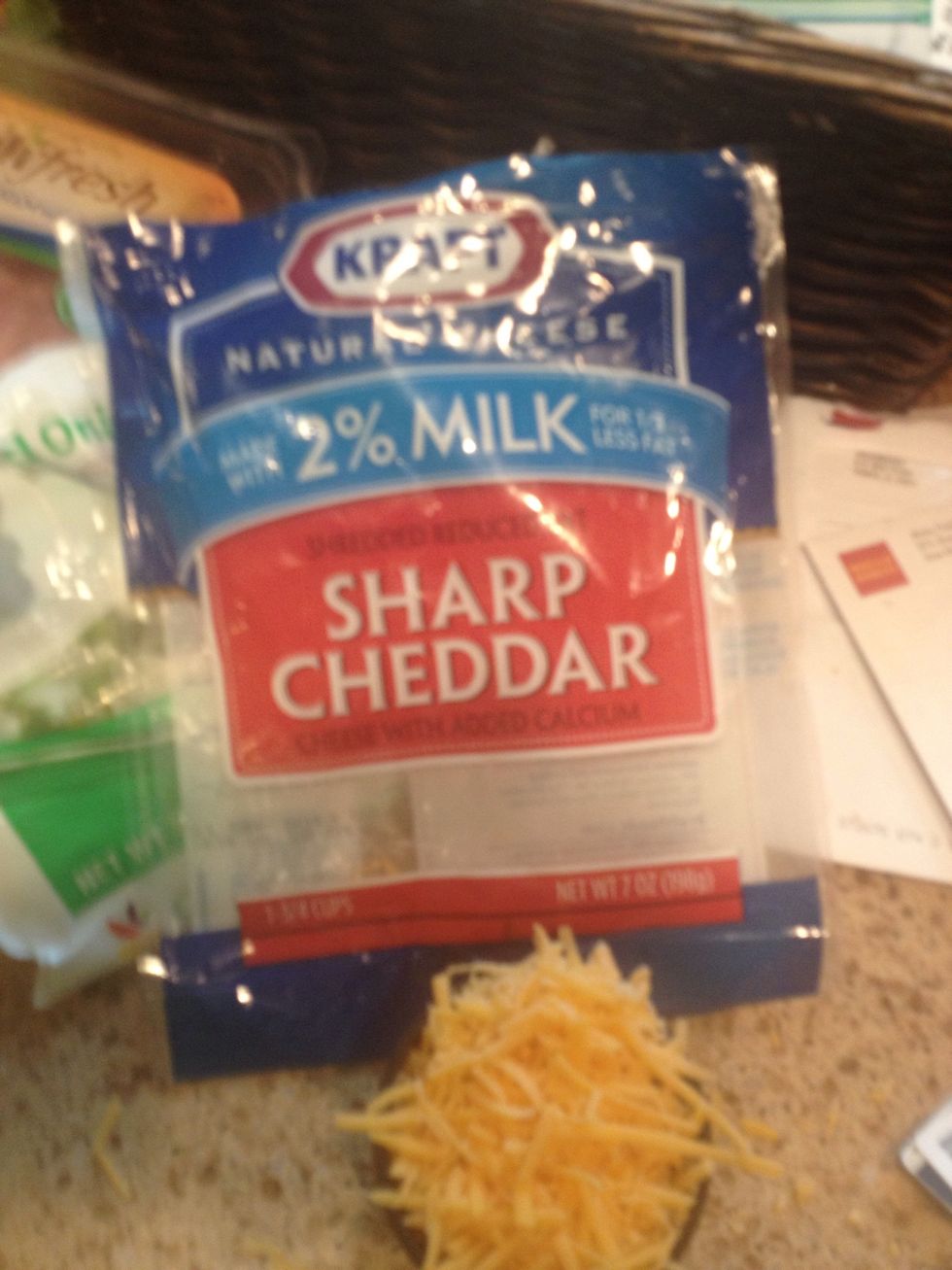 I had a half cup of leftover cheddar to throw in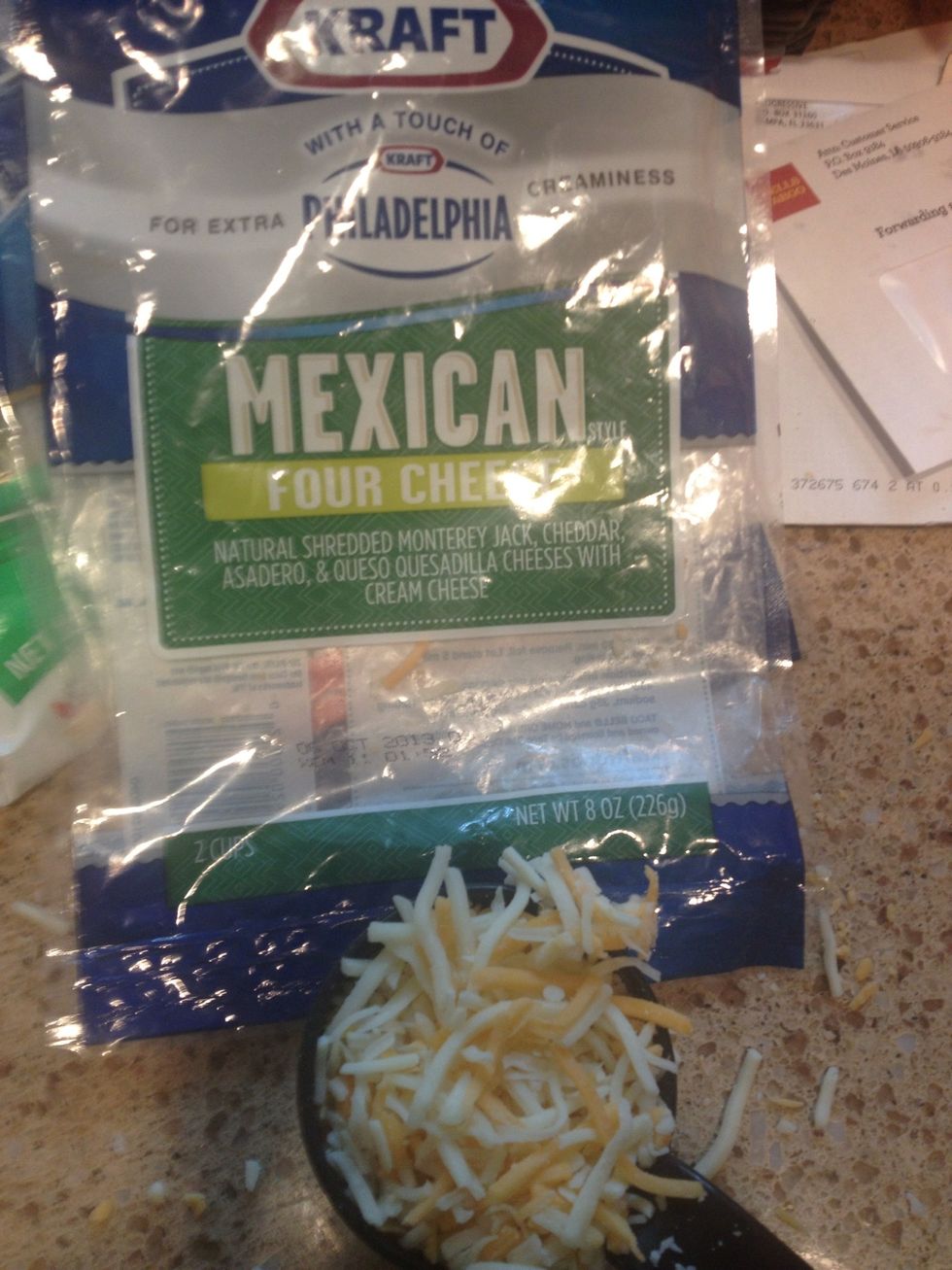 I had half a cup of leftover Mexican- threw that in as well.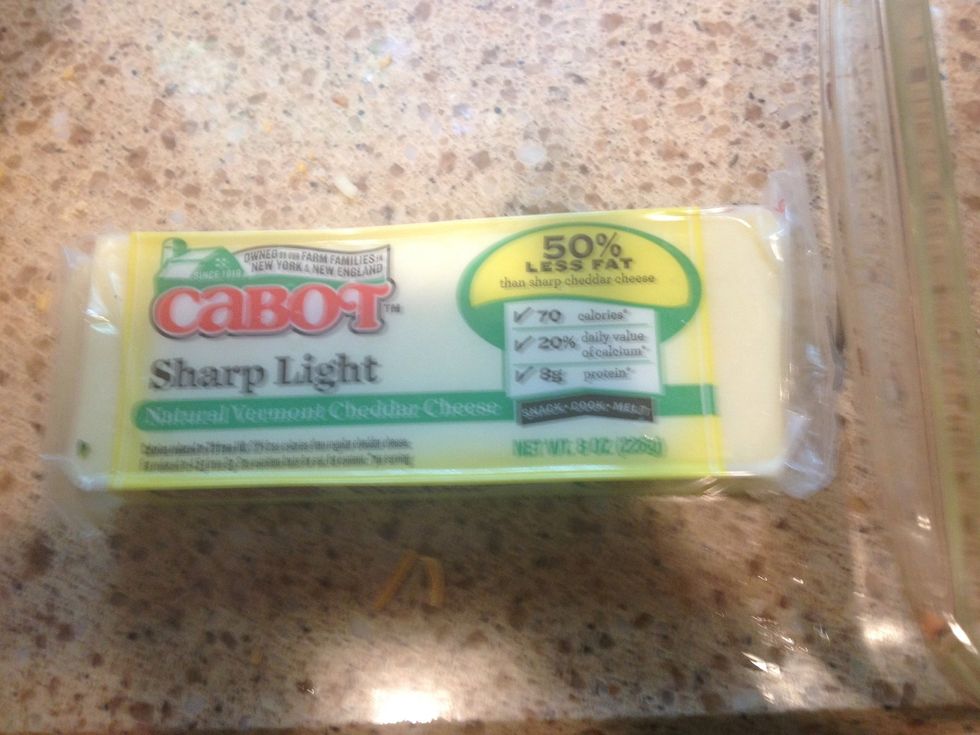 I needed another cup of cheese. I had this so I shredded half the package (one cup) and added it.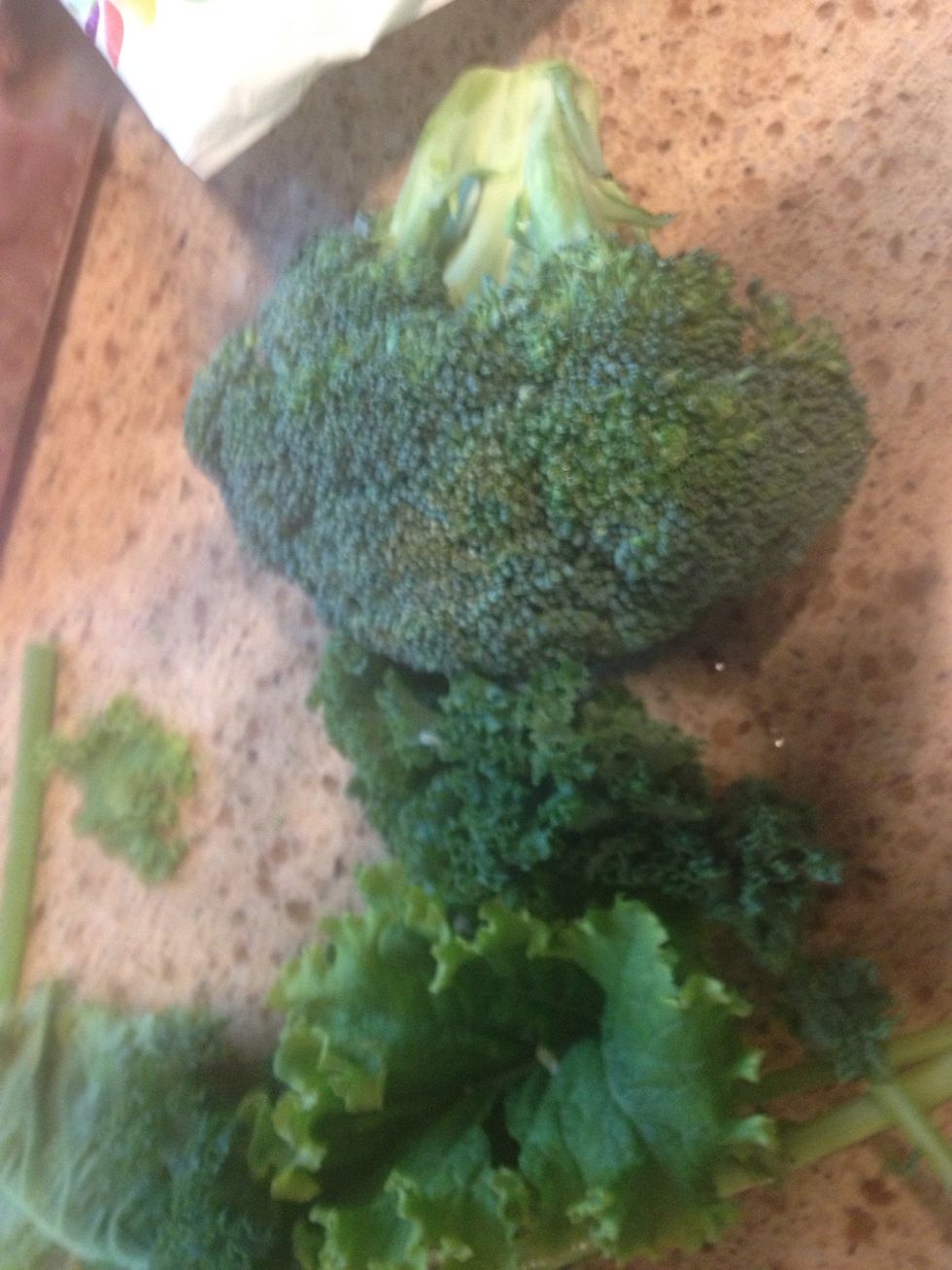 Some kale that had seen better days....as well as broccoli that was starting to take on that "been too long in the fridge brownish hue." Chopped them up and added them too.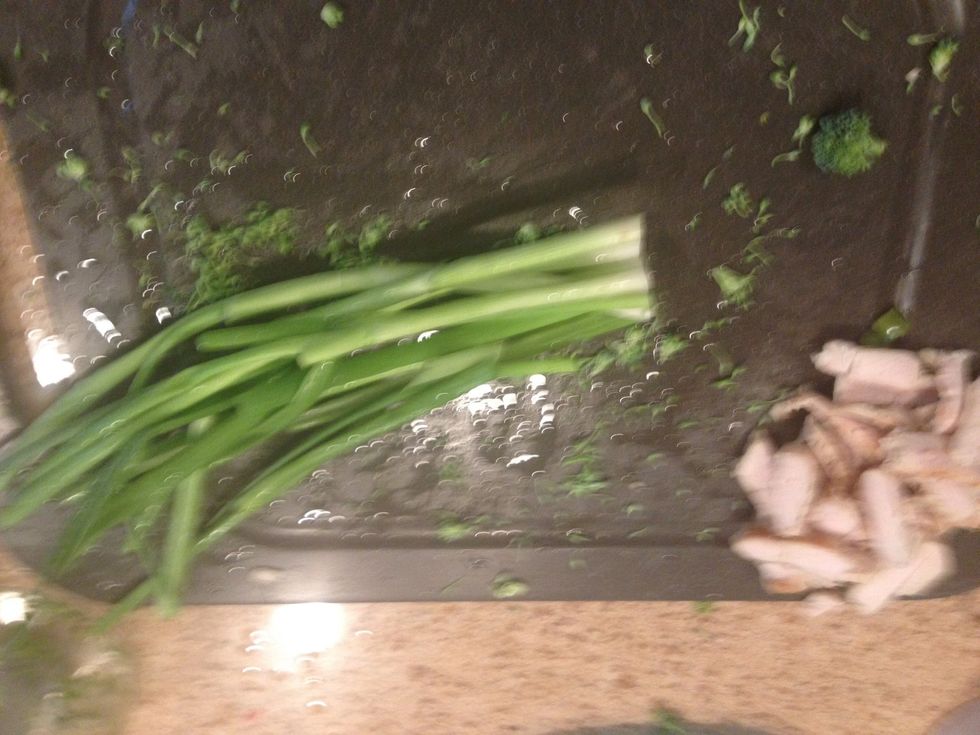 Green onion found in the back of the veggie keeper- not too bad looking..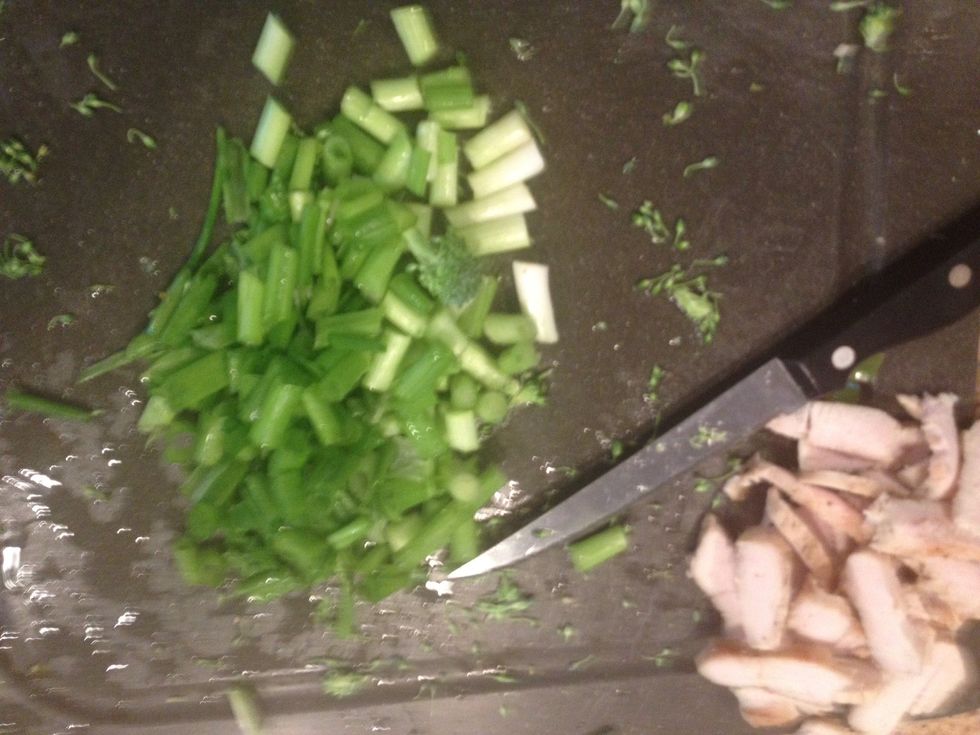 Chopped that up and threw it in..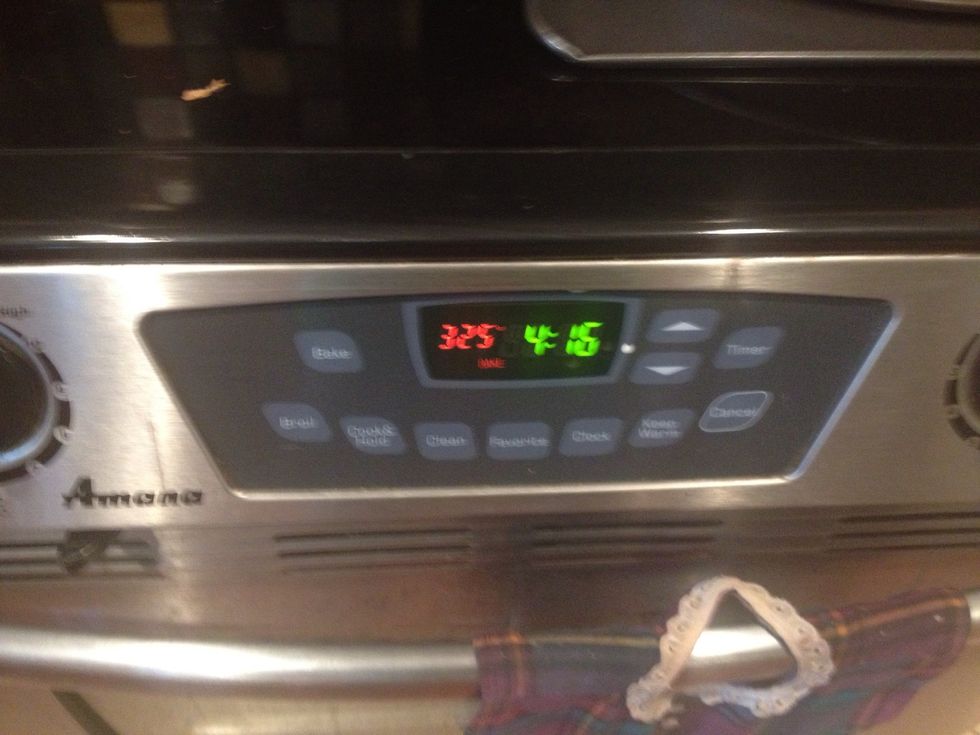 Oven is still preheating...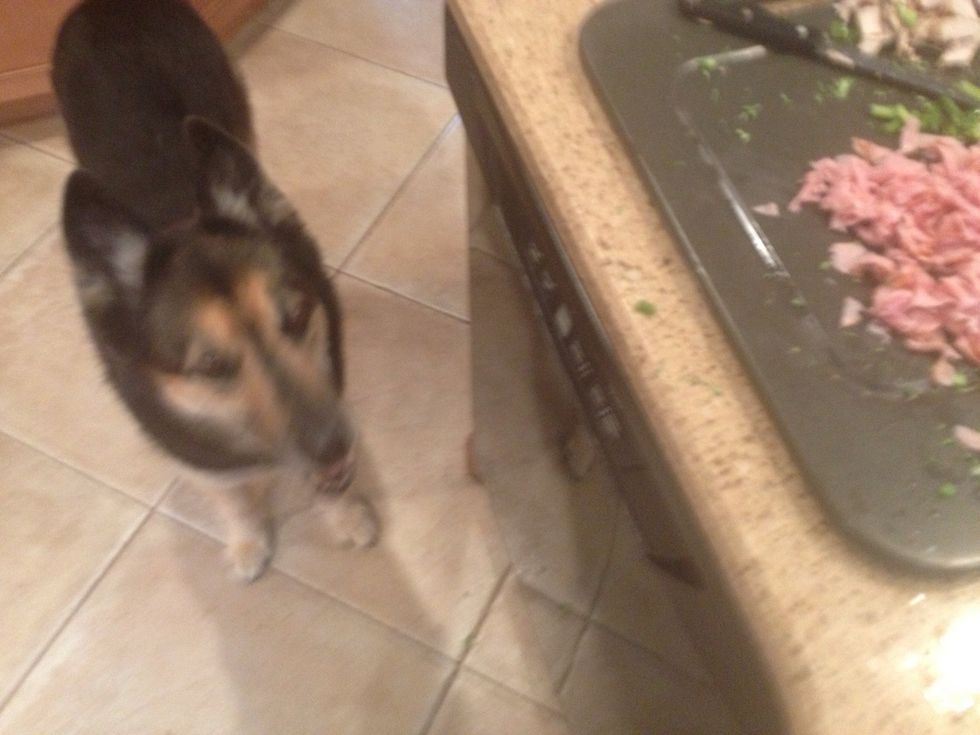 Helper number one prepared to assist with any extra meat or cheese disposal...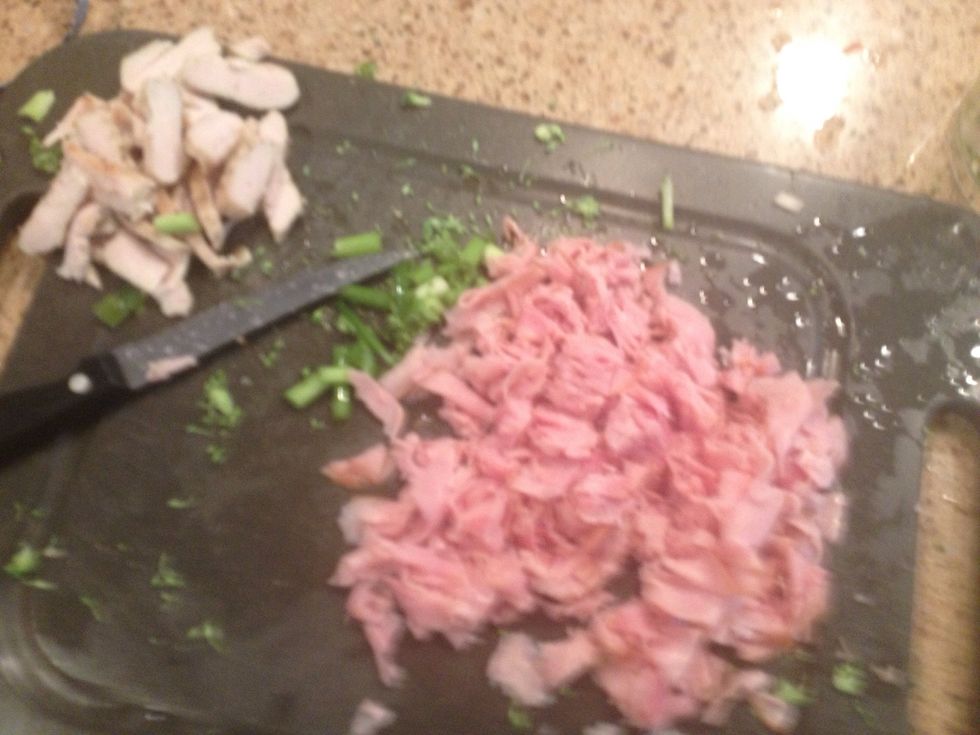 I had Deli Select ham so I chopped up 12 slices. Any meat can work. I sometimes use a whole bottle of Hormel real bacon bits instead of sausage.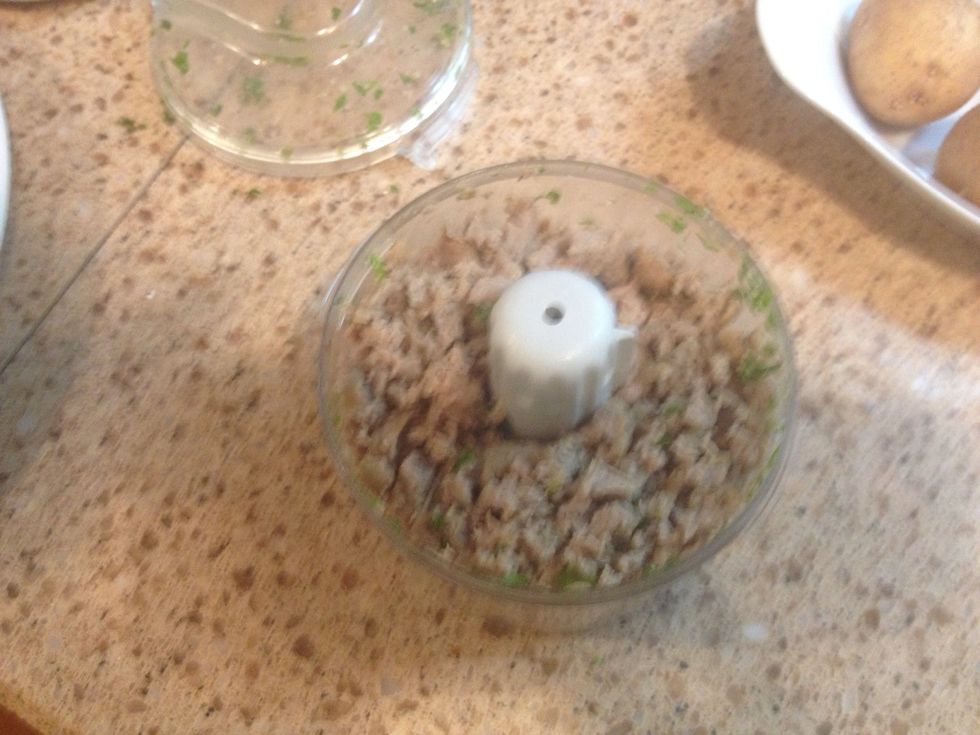 Cooked the sausage links according to package and chopped them up.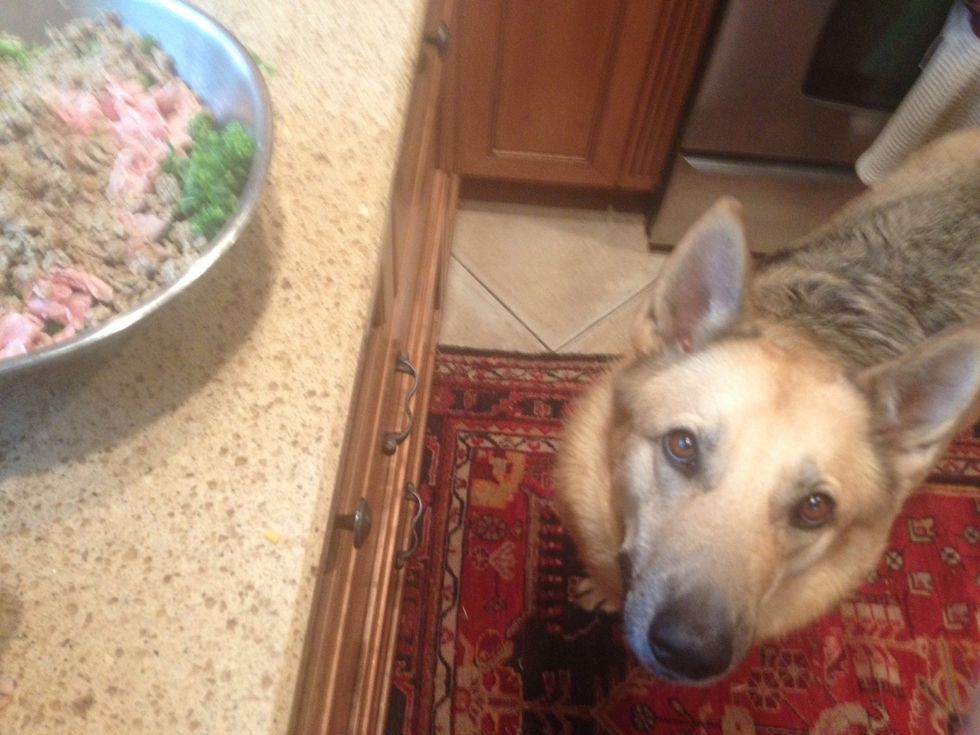 Only used 9 turkey sausage links, the 10th in the package went to helper #2!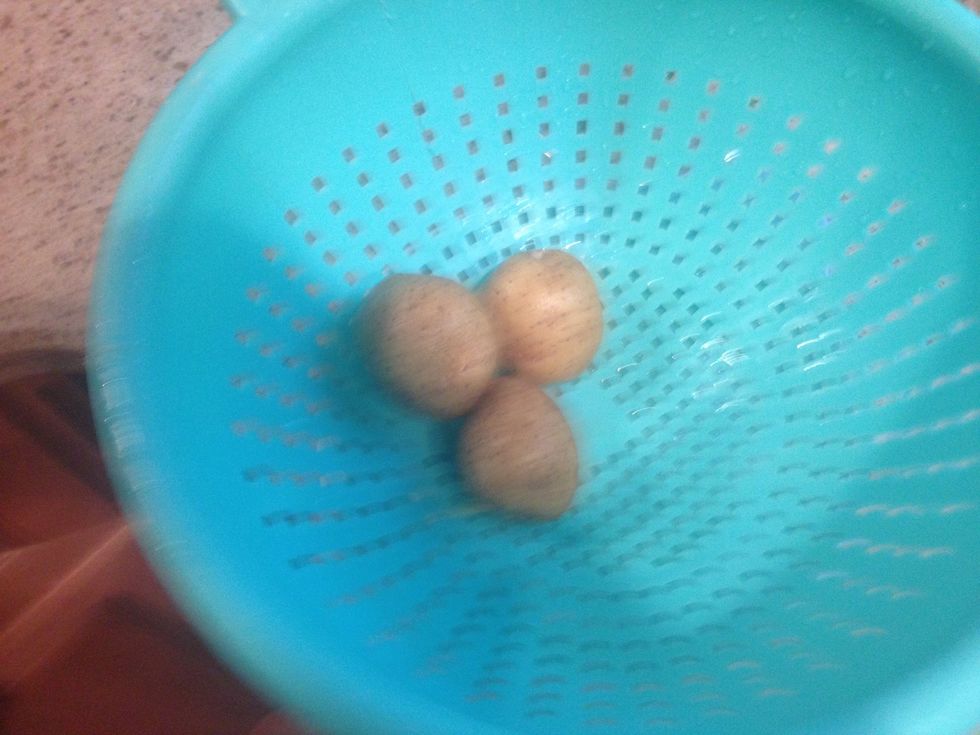 I had about 8 little potatoes to get rid of, and I love hashbrowns so I washed, shredded and microwaved them for a few minutes. I ended up with 8 oz cooked and added them as well.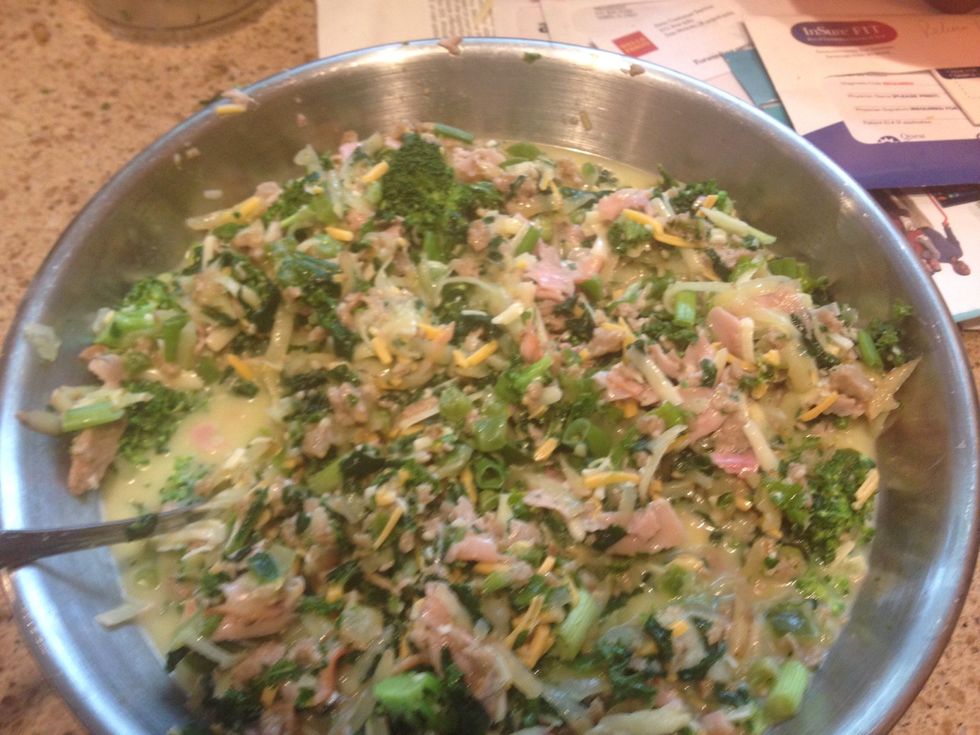 This is what my bowl looks like with all ingredients added and mixed.
I normally use a 13 by 9 pan and make 6 servings but my pan is MIA so I am using two smaller pans which I have sprayed the bottoms with cooking spray.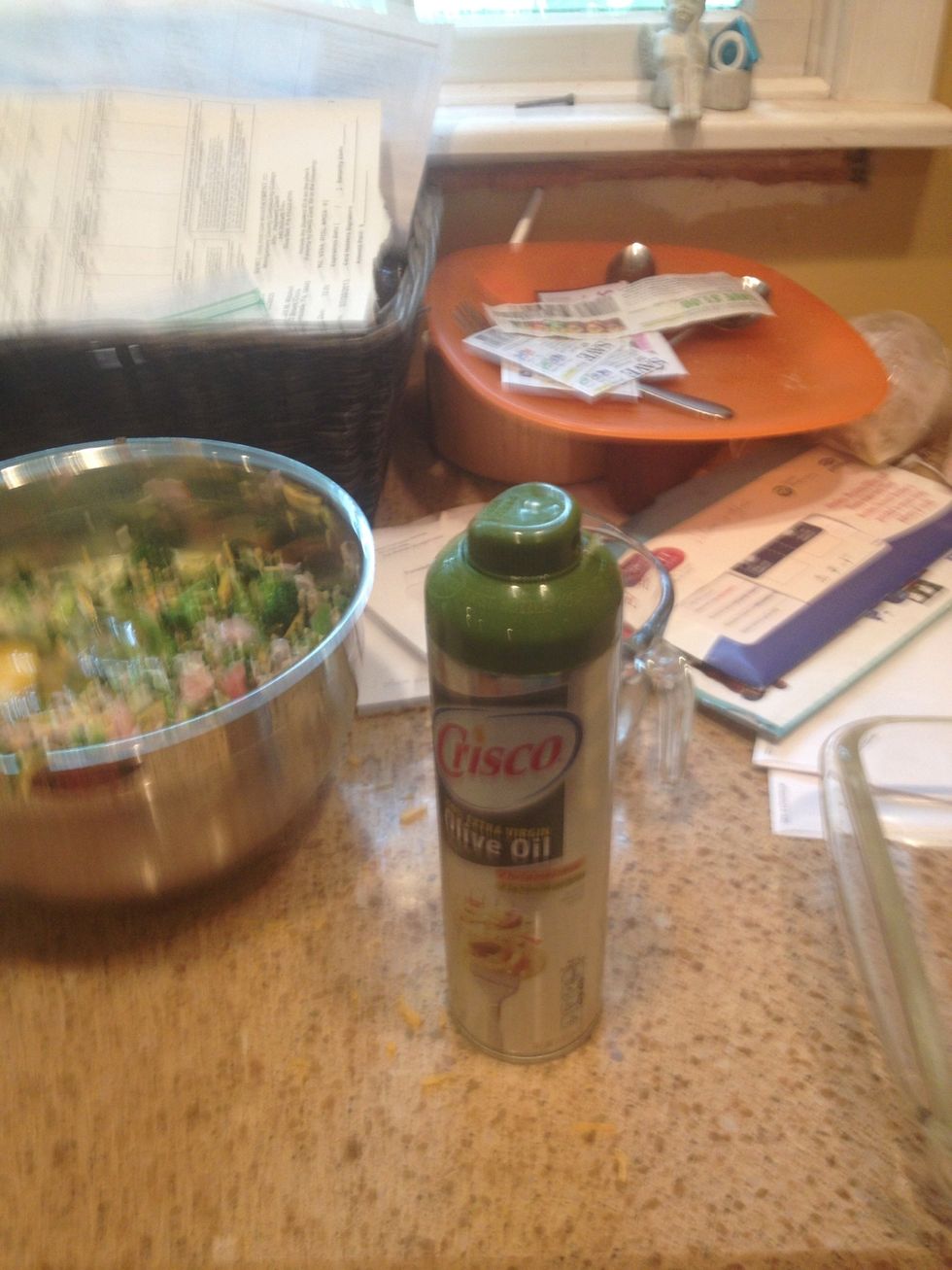 This is my go to. You can use whatever you wish.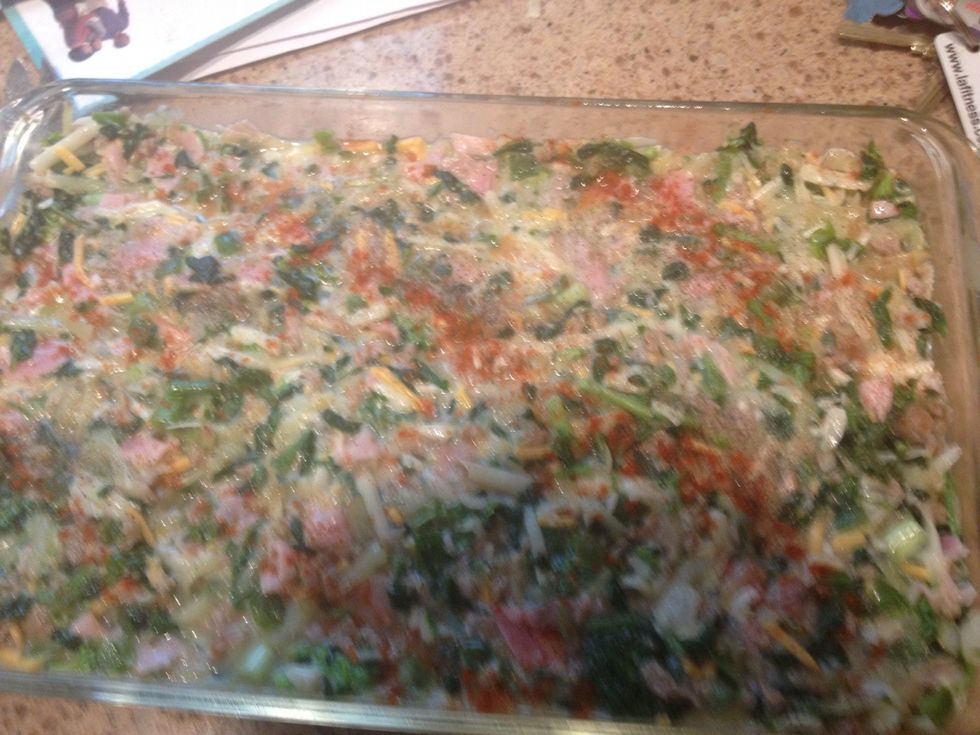 This is what it looks like before it goes into the oven. I have added salt, pepper and paprika.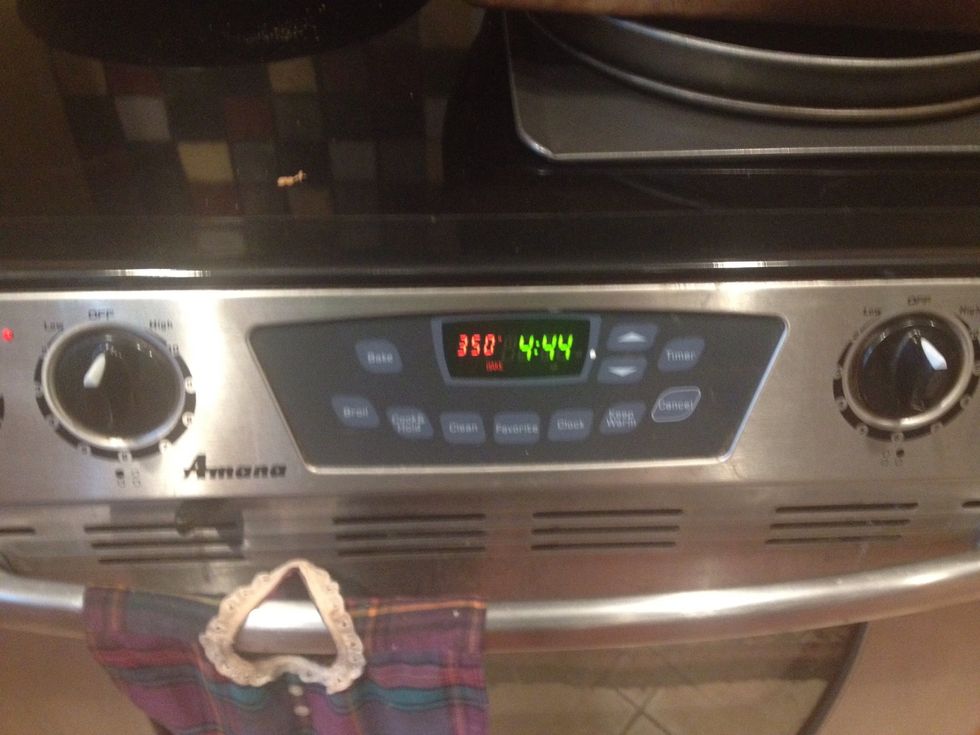 Oven is ready to go- both casseroles go in on middle rack, uncovered for 1 hour...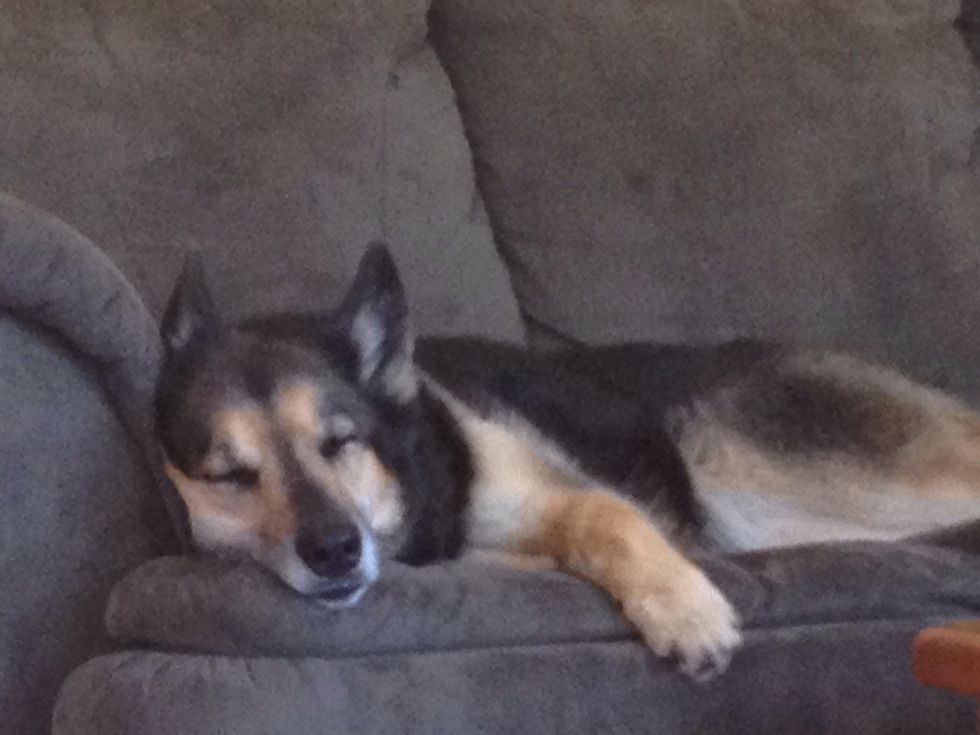 Helper #1 has ditched me for the couch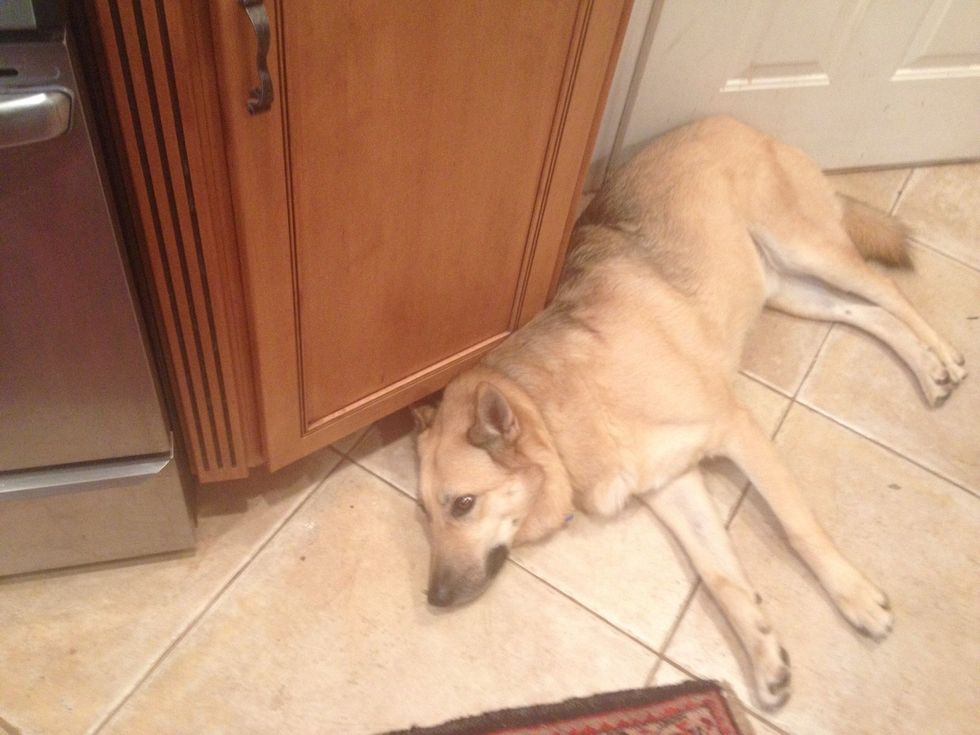 Helper#2 guards the oven while they cook.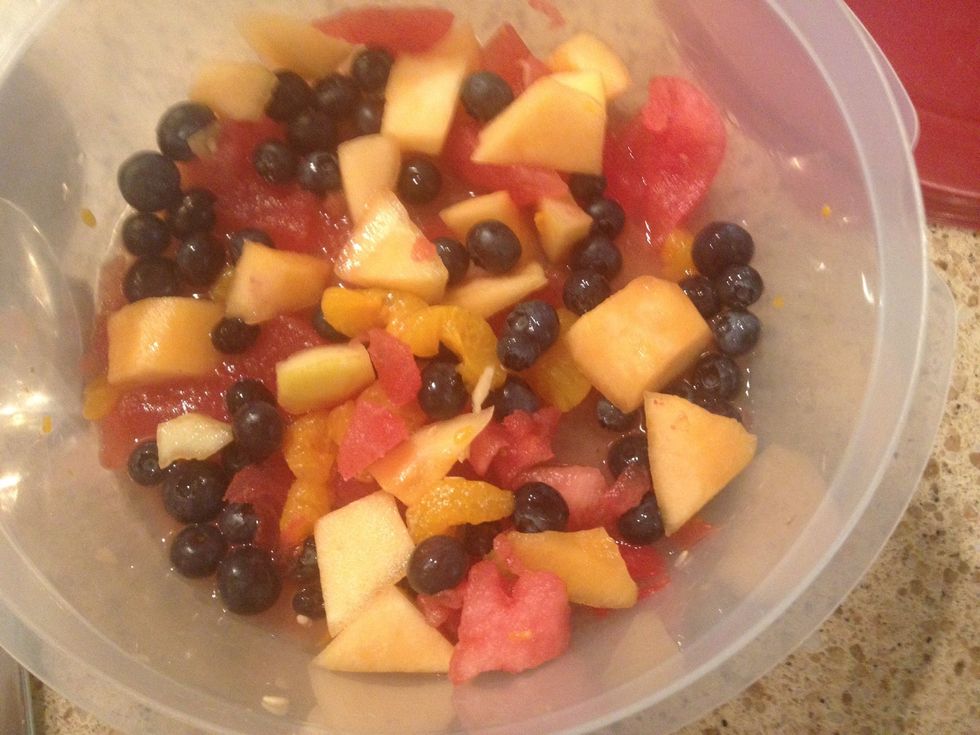 I spend the time cleaning up and salvaging a fruit salad that has seen better days...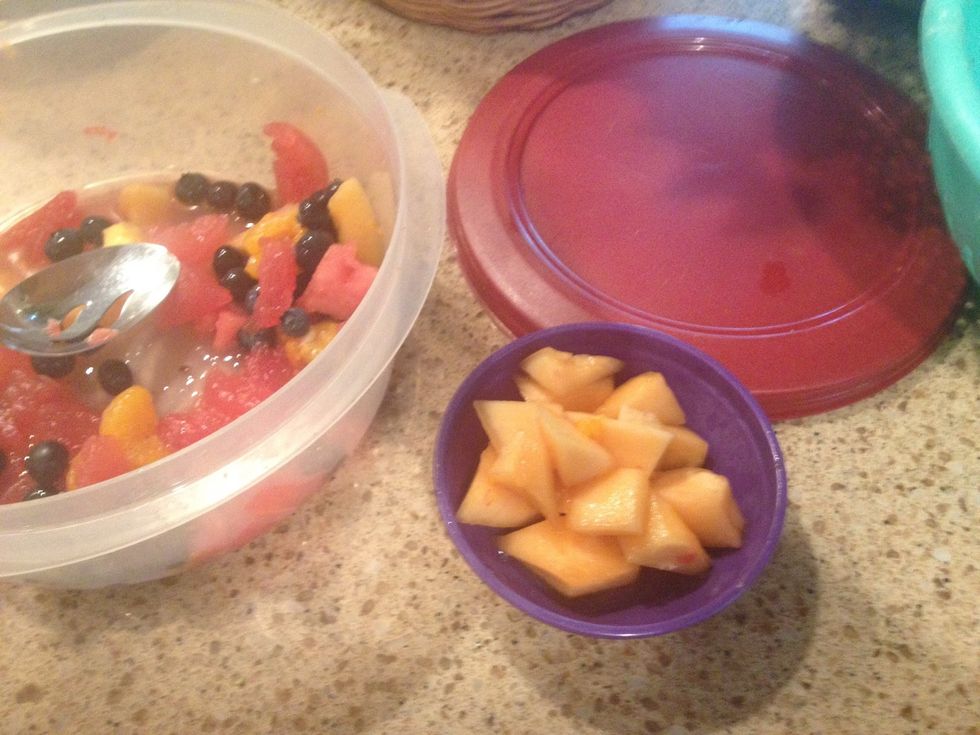 Cantaloupe was still in decent shape...made the rest into a fruit smoothie.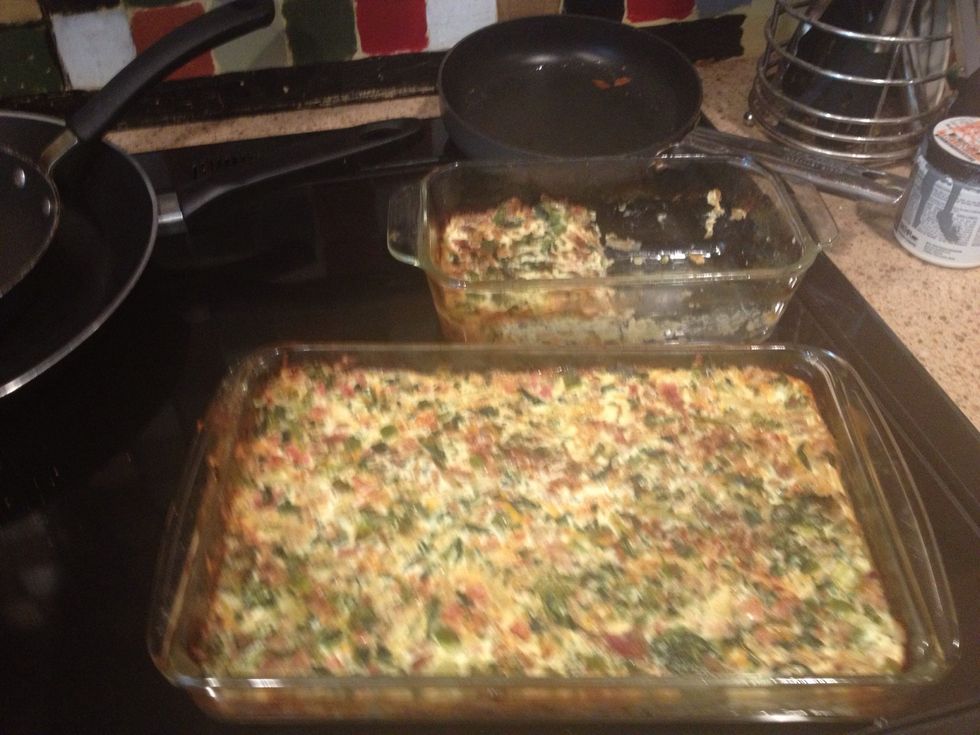 These are the casseroles done after an hour- I cut a piece from the smaller pan.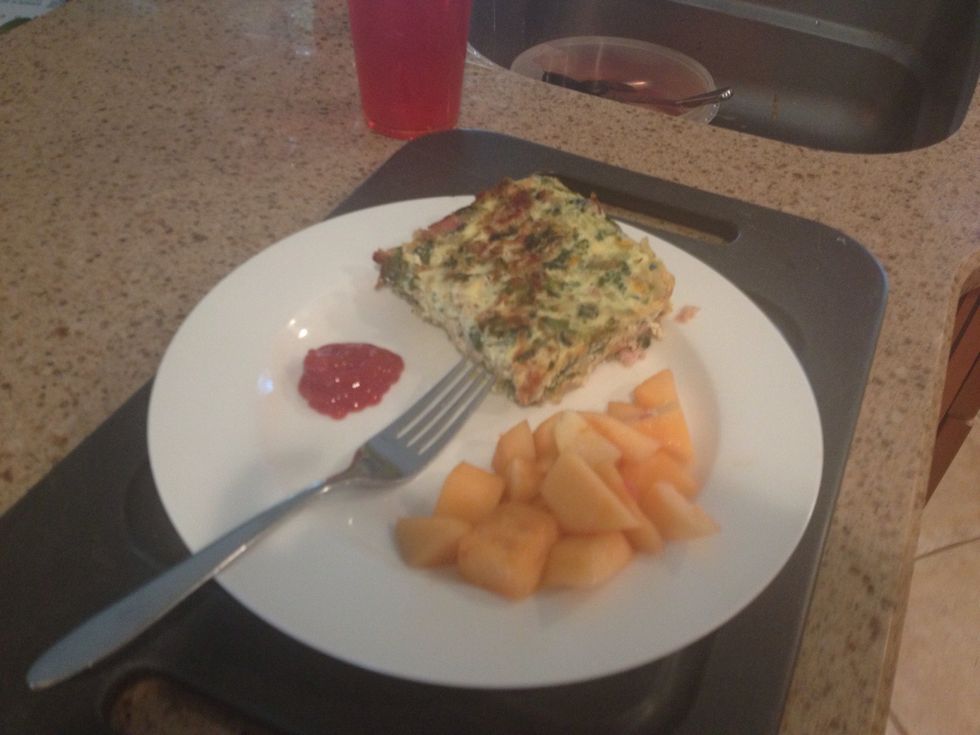 I added the salvageable cantaloupe...and not too shabby!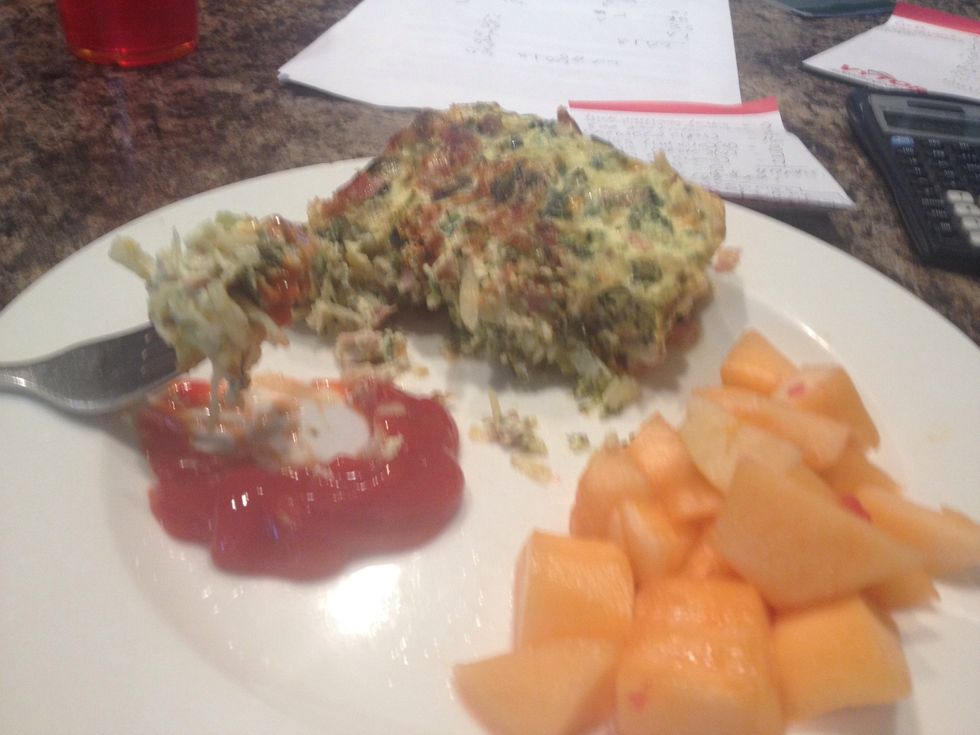 Leftovers used- high protein breakfast, lunch or dinner! It's very hearty as you can see! Enjoy!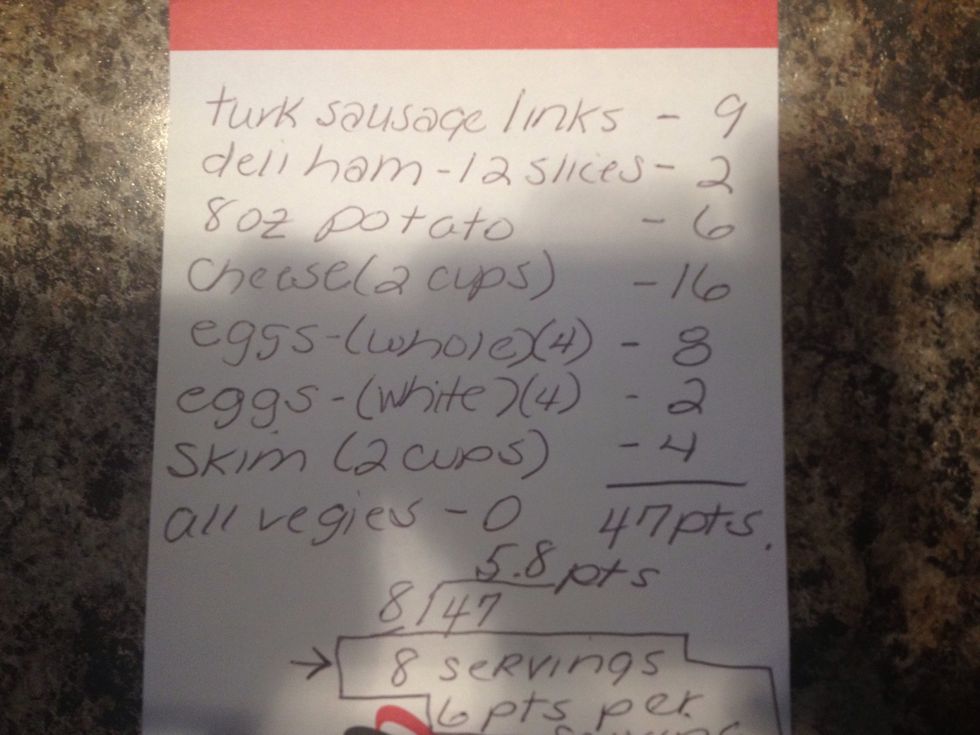 Weight watchers info as prepared. Because of the extra veggies in this recipe( almost 4 cups), i had to use two additional egg whites and an additional cup of skim. Standard recipe makes 6 servings.
4.0 Eggs + 2 egg whites
1.0c skim milk
2.0c shredded cheese
4.0oz 12 slices deli ham
10.0 turkey sausage links
8.0oz shredded potato
2.0c Leftover veggies
Salt, pepper, paprika