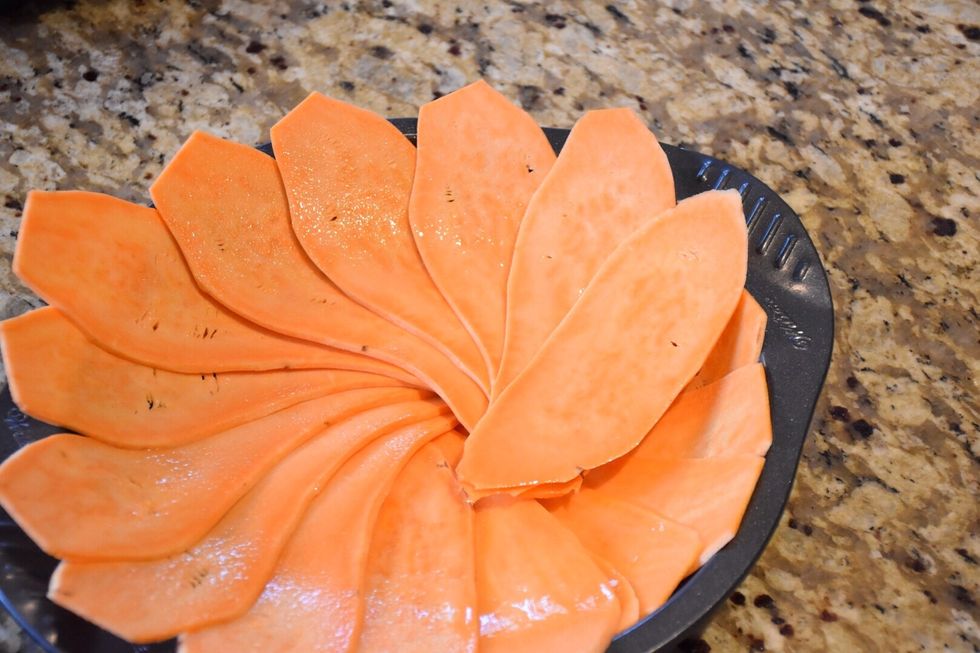 Preheat oven to 400F. Meanwhile, lay sweet potato slices in a shallow baking dish. I used a mandolin. Fan slices to cover the bottom and sides. Spray with cooking spray. Place in oven for 20min.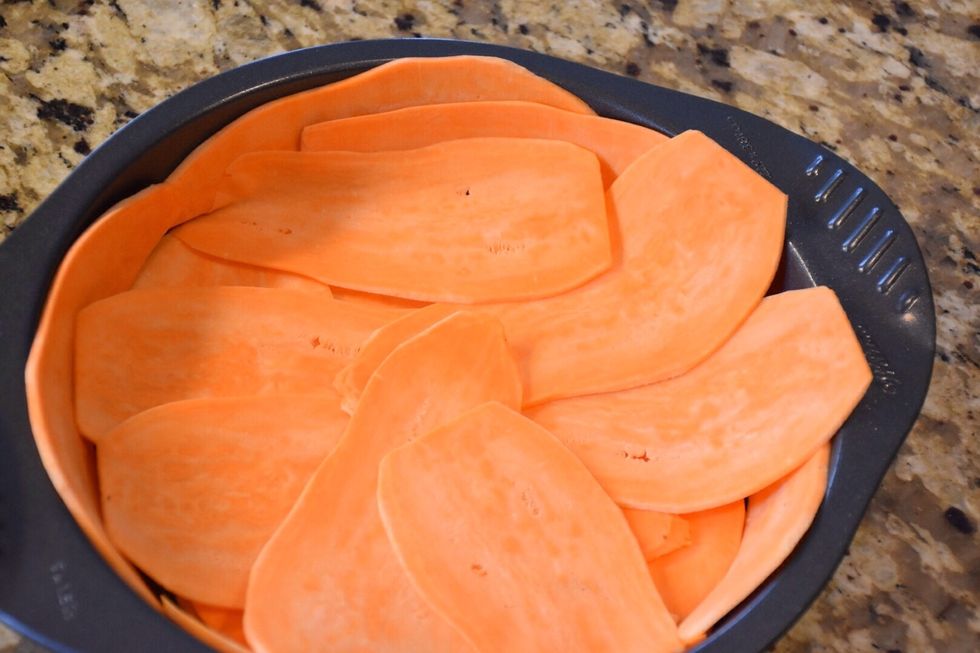 Here I'm using a different technique to cover a second baking dish. Spray with cooking oil.
While sweet potato crust is in the oven prepare the meat mixture. With a sharp knife slice sausage to remove casing.
Diced potatoes, diced onions and diced red sweet pepper.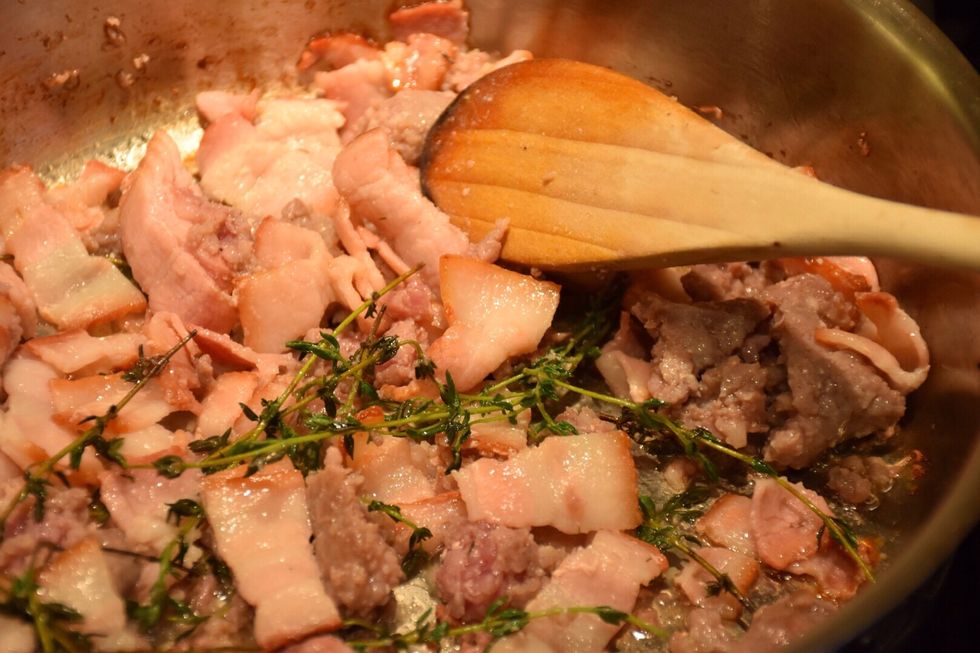 Cut 6 bacon slices into 1" pieces. In a frypan over medium high heat add a few sprigs of thyme, cook bacon and sausage together. Constantly mix to break up sausage.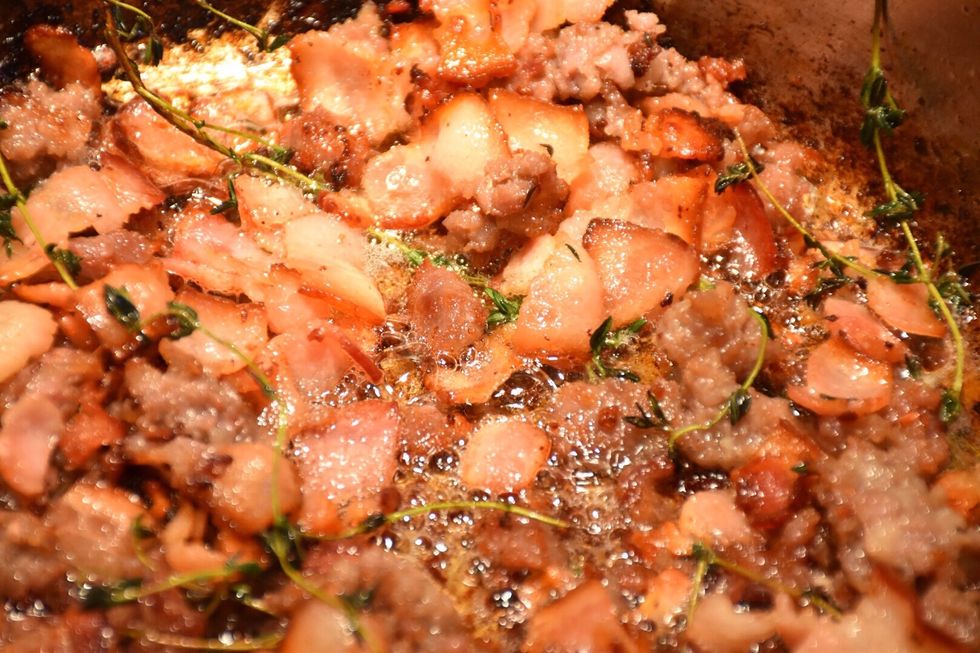 Constantly mix until bacon is crispy and sausage is done.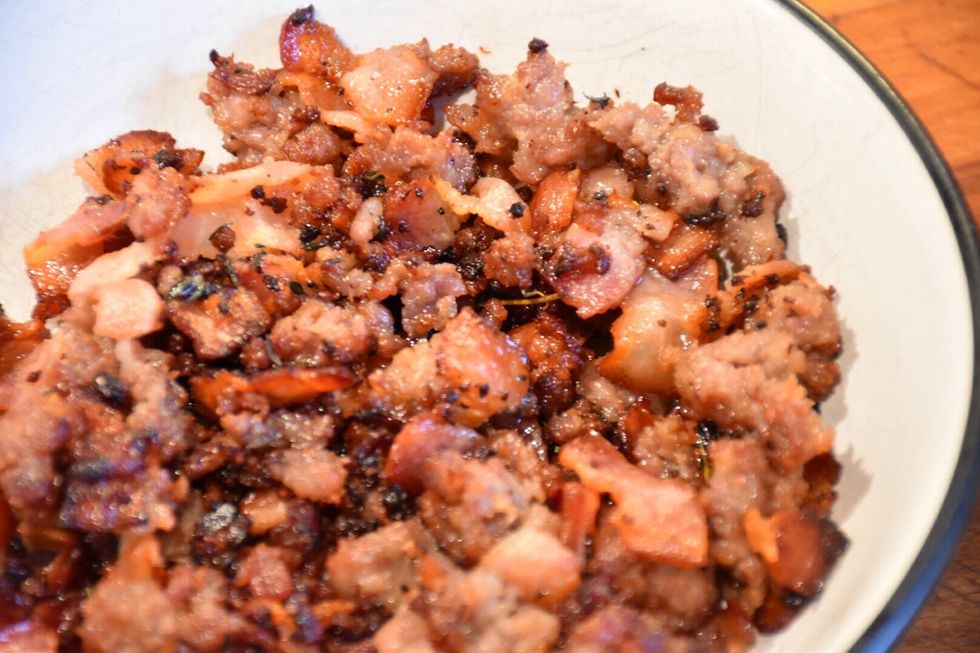 Using a slotted spoon remove bacon and sausage from pan into a bowl. Let cool. Discard thyme sprigs. Leave bacon fat in frying pan.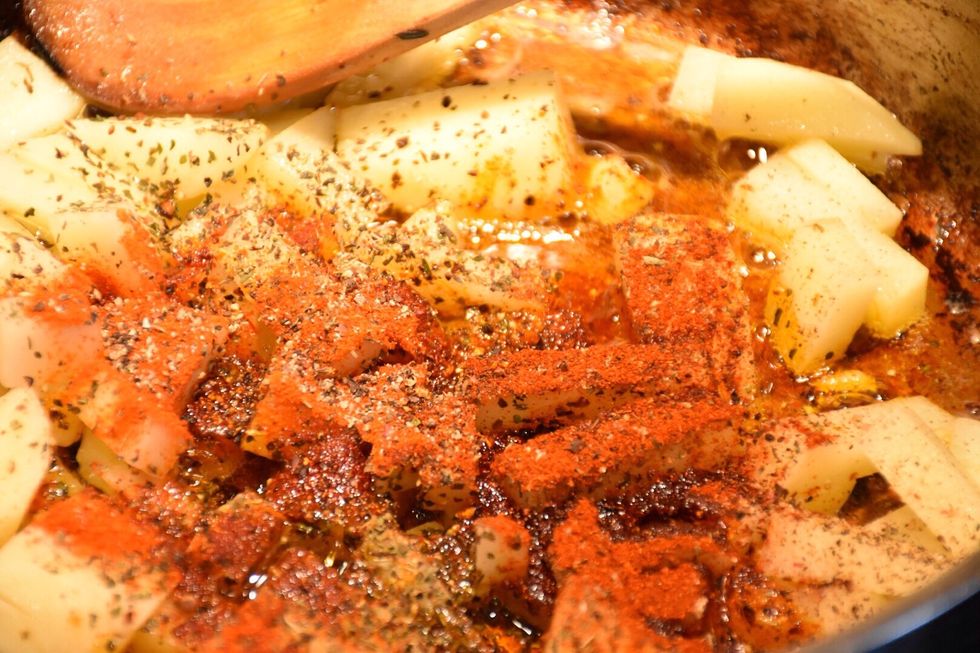 Add diced potatoes to bacon fat as well as dried basil, pepper and 1tbsp cayenne pepper. Cook and stir over medium heat for 15min until potatoes are cooked.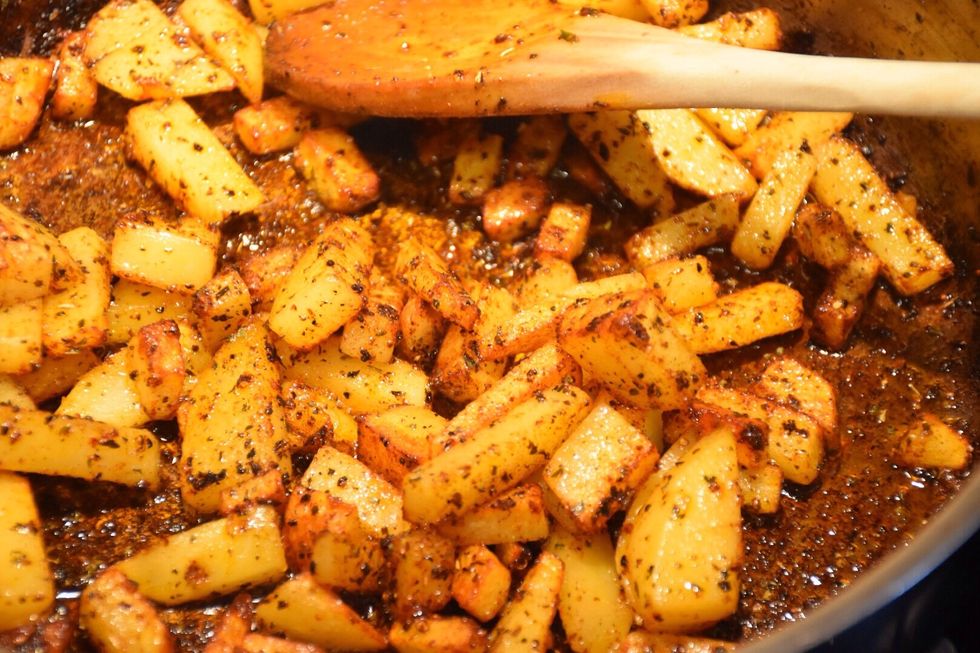 Potatoes need to be crisp and firm after 15min.
Next add diced onions and red sweet peppers. Stir and cook over medium heat for 2-3 min.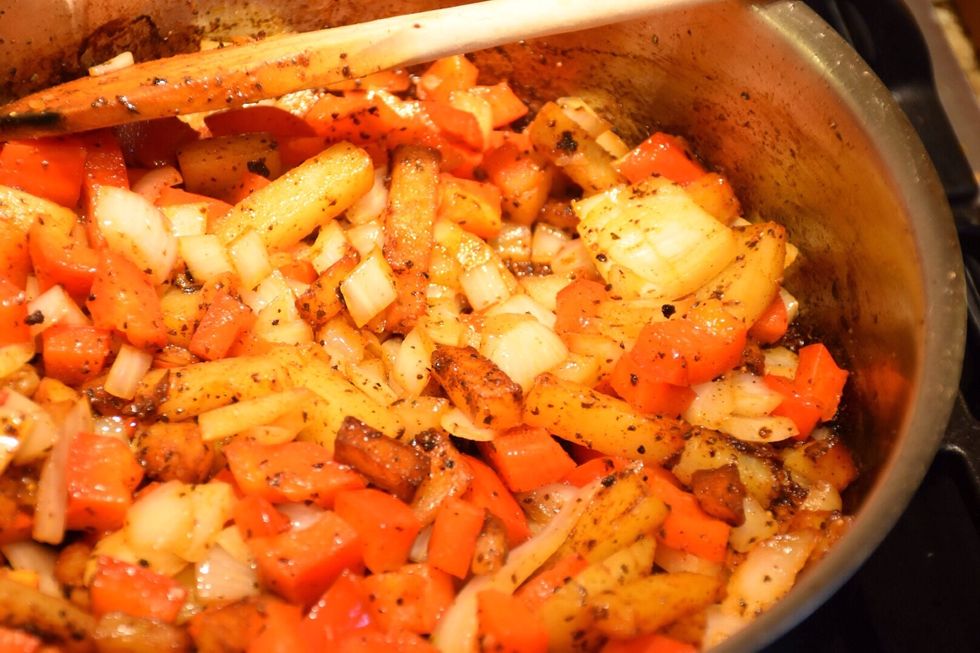 Let the onion, red sweet pepper and potato cool down while the sweet potato crust is in the oven.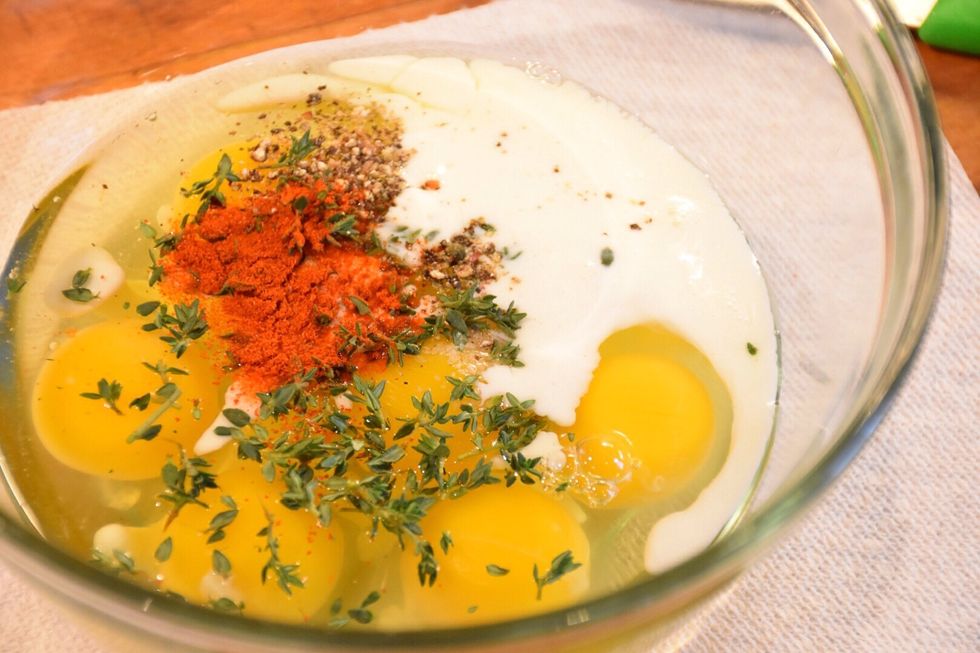 In a bowl crack 6 eggs. Add thyme leaves, pepper, 1/4 cup cream, 1 tbsp cayenne pepper and a pinch of salt.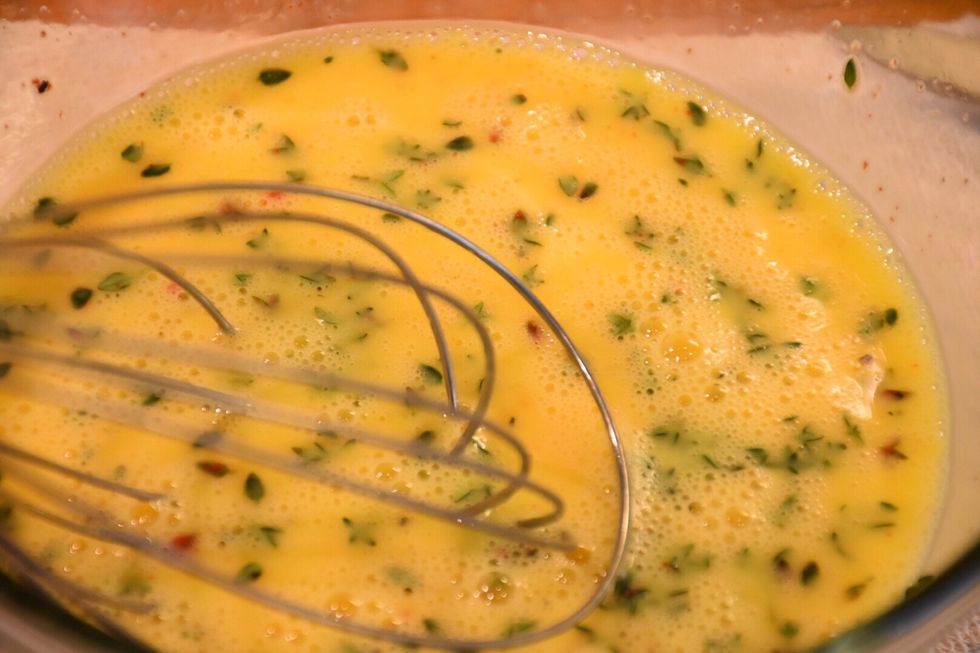 Using a whisk mix well.
After 20min remove sweet potato crust from oven.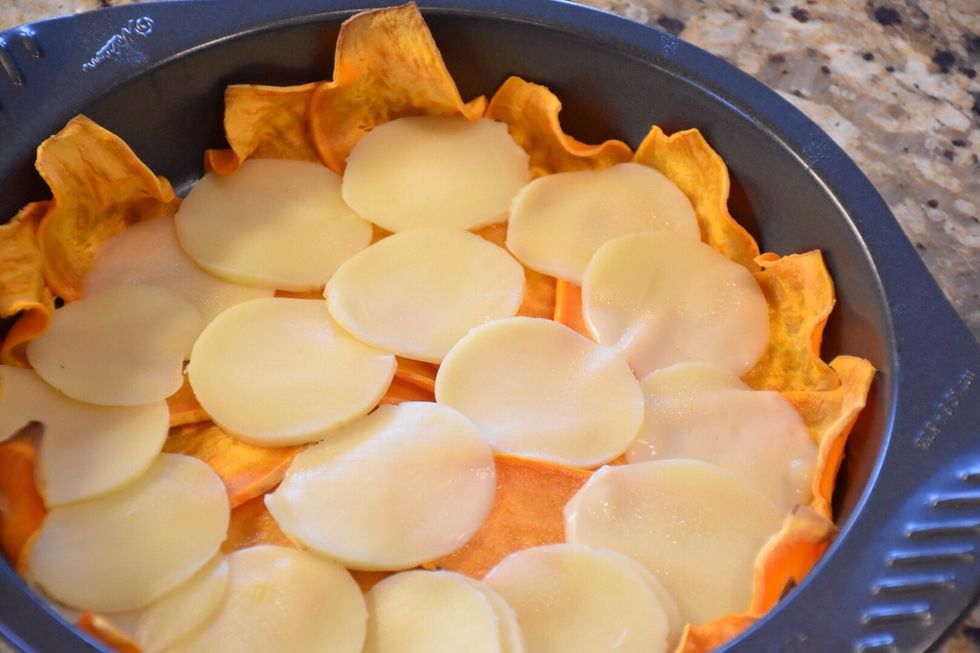 Lay provolone cheese on the bottom.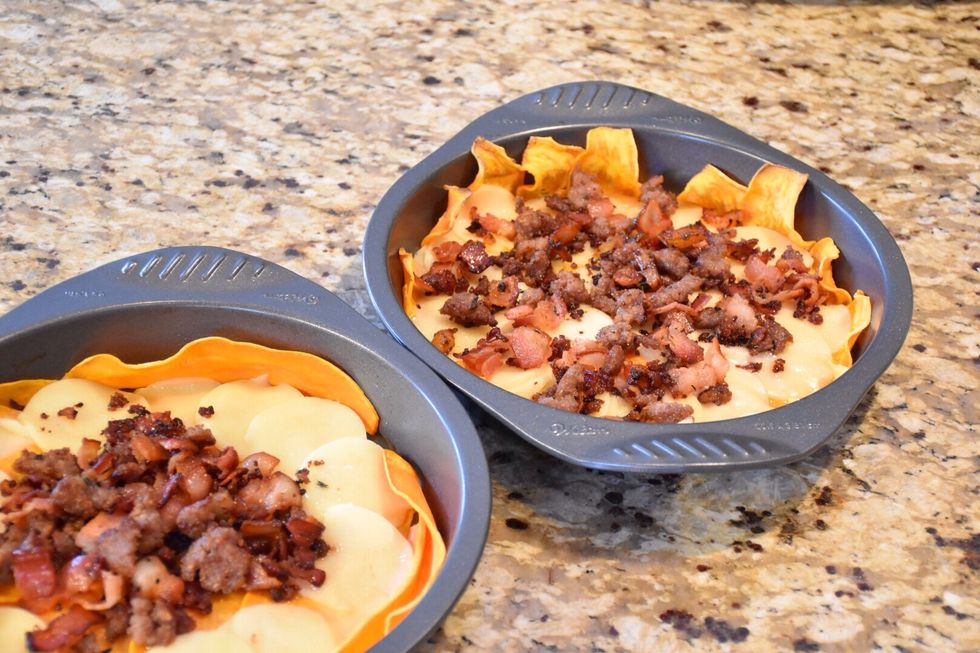 Add the bacon and sausage mixture. In the left pan I placed the meat mixture in the center. In the right I spread the meat over the entire bottom of the pan.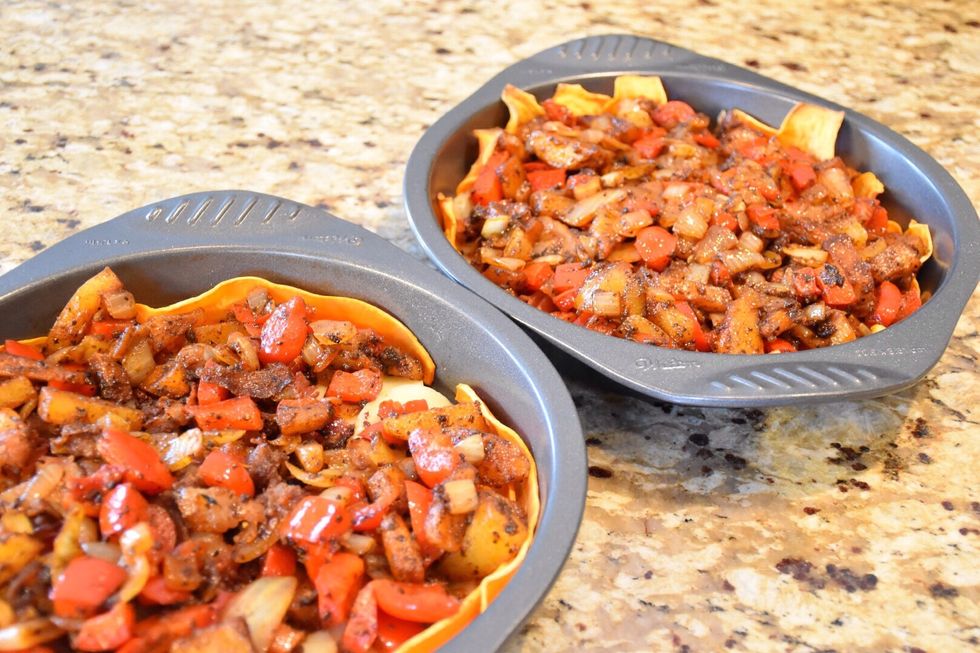 Top with the potato, onion and red sweet pepper mixture.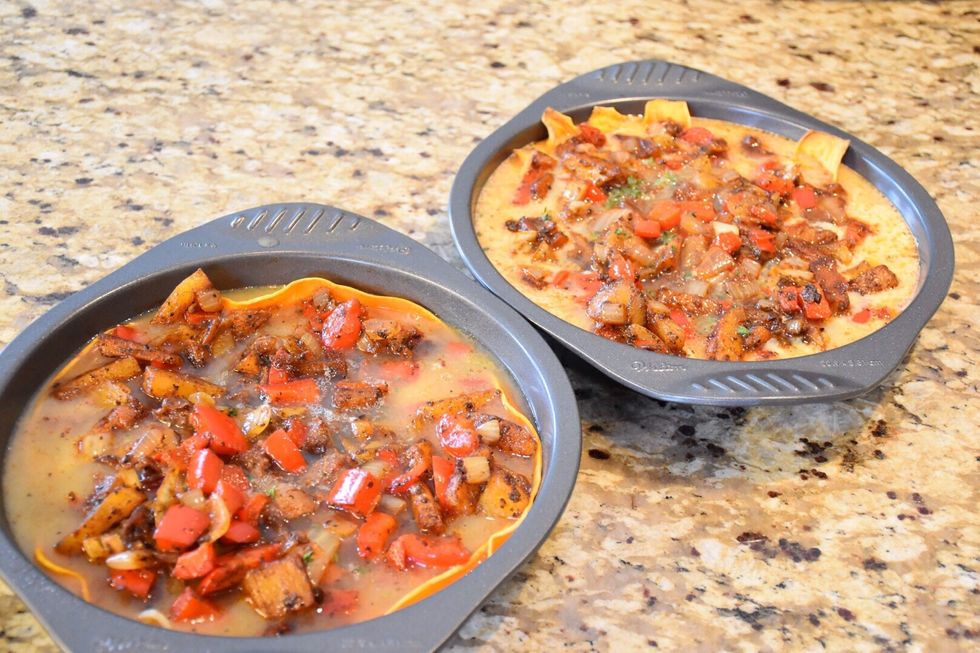 In the left pan I poured egg whites straight from the carton. In the right I poured the egg mixture into the dish.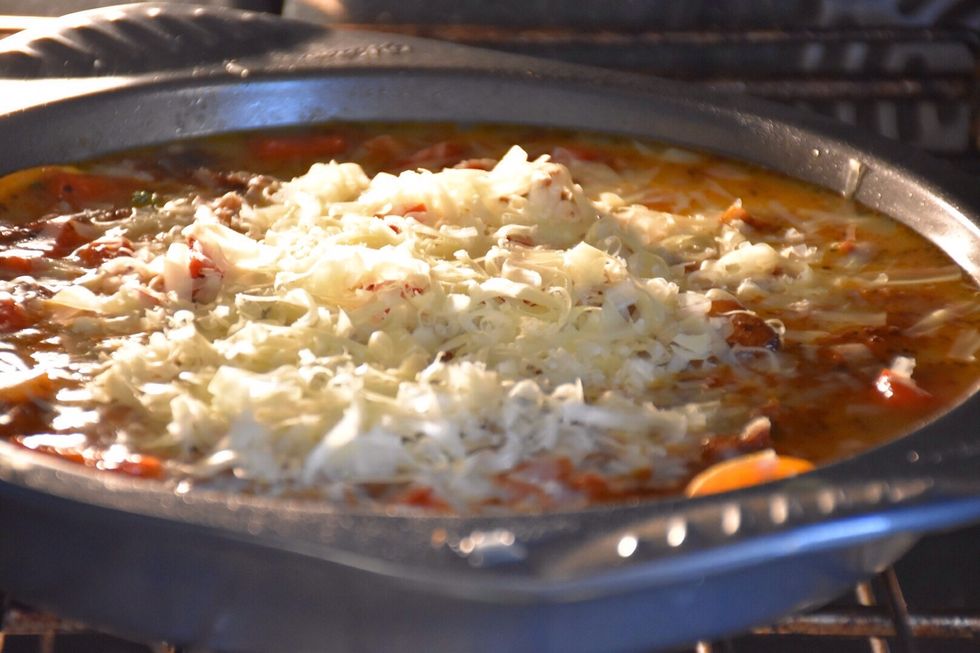 Grate Gruyere cheese on top of both dishes and bake at 375F for 35min.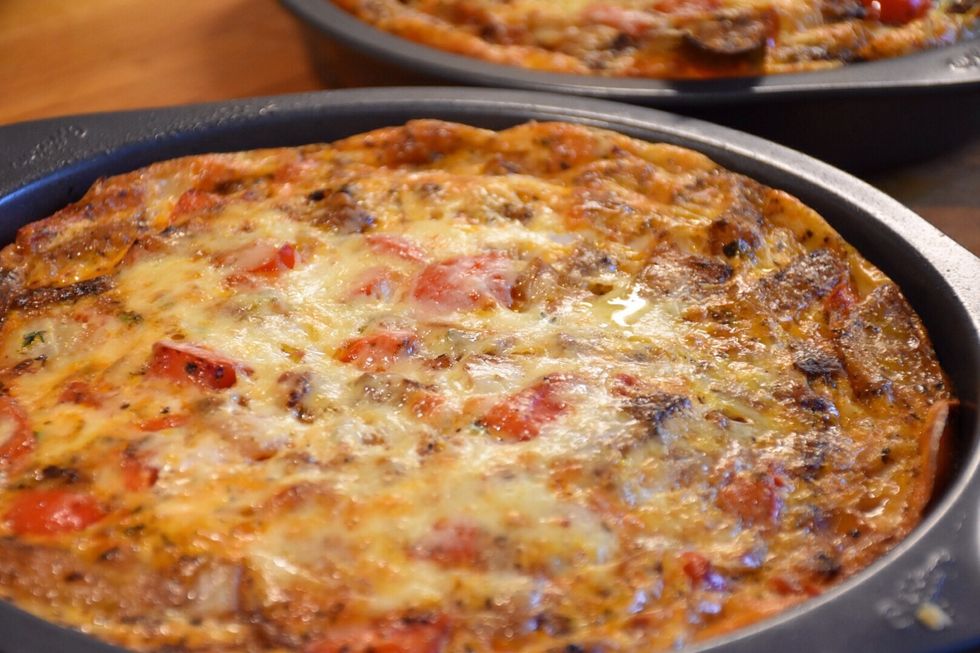 Let quiche cool for 10min before slicing.
A hearty quiche served with baked beans and fresh strawberries. Enjoy!
2.0 Lg sweet potatos peeled slice thin, Use a mandolin
1.0 Onion diced
1.0 Red sweet pepper diced
1.0 White potato peeled and diced
6.0 Bacon strips cut into 1" pieces
2.0 Pork sausages
6.0 Eggs
2.0Tbsp Cayenne pepper
2.0Tbsp Dried basil
4.0 Thyme sprigs
1/4c Fresh thyme leaves
1/4c Light cream
1/2 Carton egg whites 500ml
1.0c Grated Gruyere cheese
Chef Dad
Chef Dad cooking for his amazing sons and wife. New camera from the fam and I love to cook. Watch me now...