Make a Faux Encaustic Background With Art Anthology
45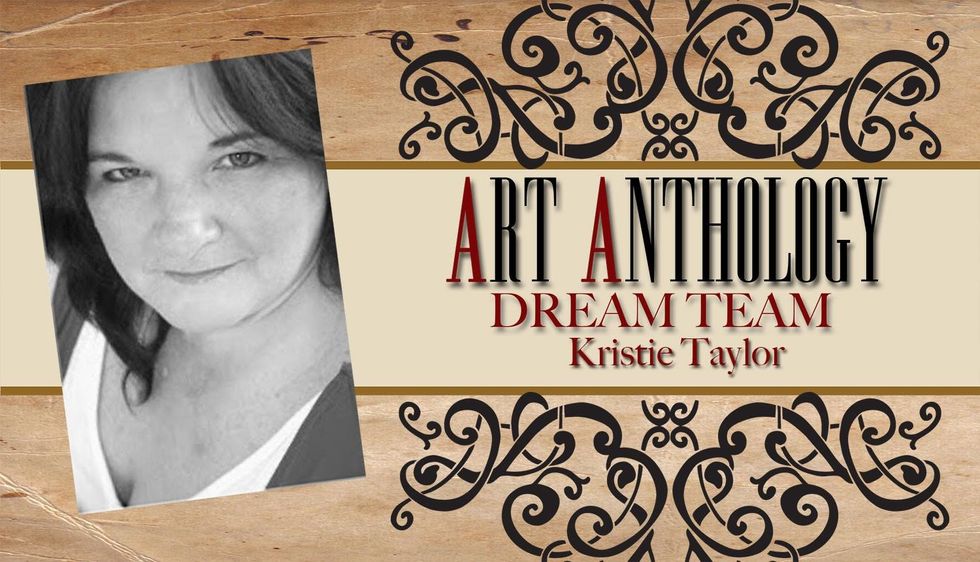 Hi everyone! Kristie Taylor here with another Art anthology tutorial. Our challenge this month was "Layers". so I decided to try to achieve an encaustic look using AA products.
Encaustic art is where you build layers of paint and beeswax to create a project this has great depth, but each layer can be viewed independently. This beeswax is melted/painted on top of each layer.
Lets get started! this first step is to prepare your surface. I was working in my art journal, so I applied masking tape to the seam, and to a few other places for unity.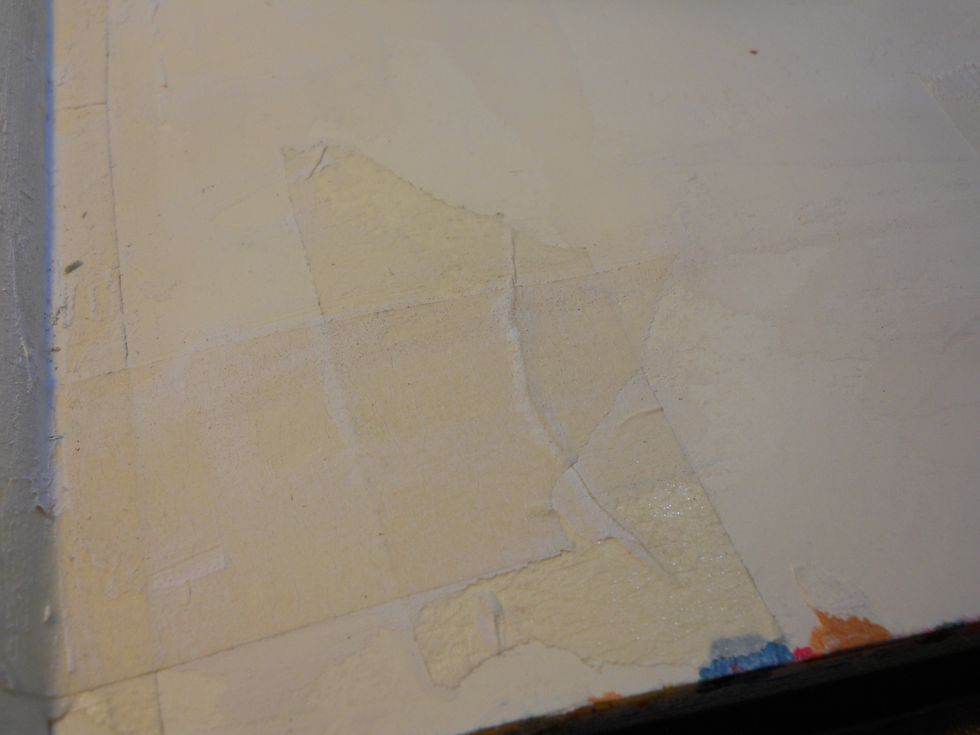 Once that is done, apply some Gesso to the pages. Gesso is a surface prep kid of like a primer, it will give the paper "tooth" so that the paint with stick better.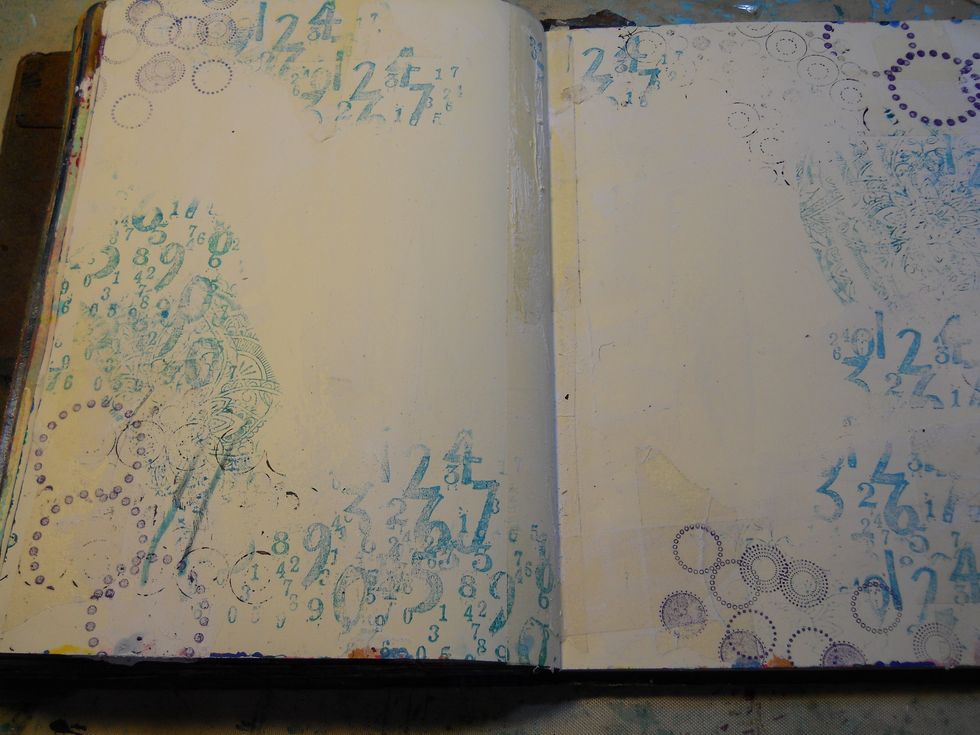 Next I used an archival ink and did some random stamping onto the background. I then used a heat tool to set the ink and prevent running.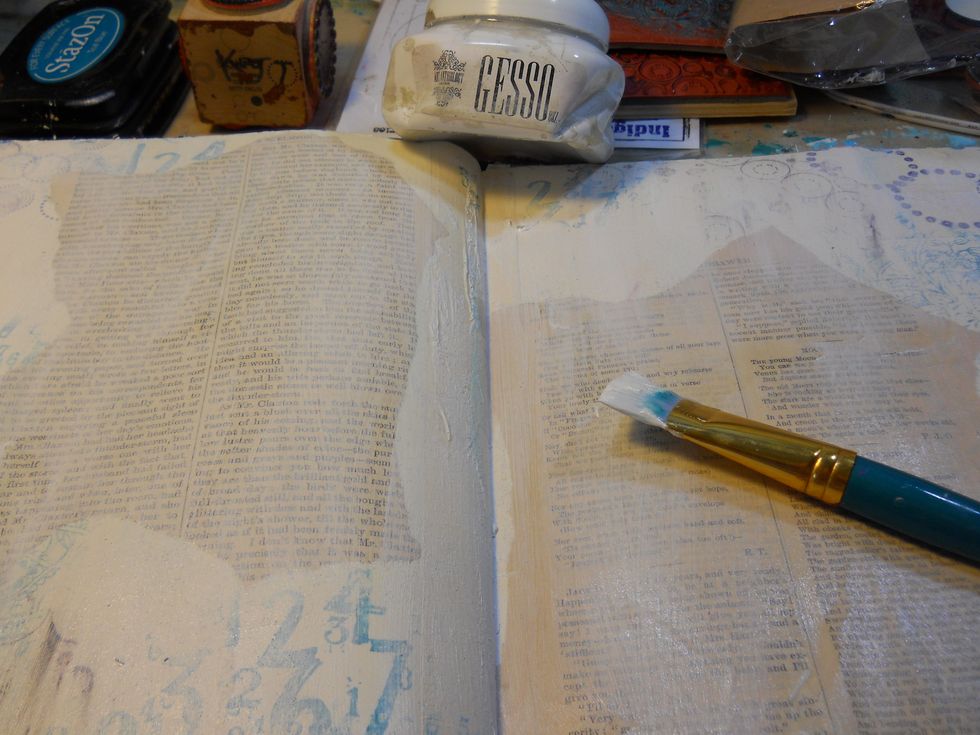 Next, I used Gesso to adhere some book pages. then do a dry brush technique over the paper. Dry brushing means to get paint on your brush, then wipe most of it off, applying whats left onto the paper.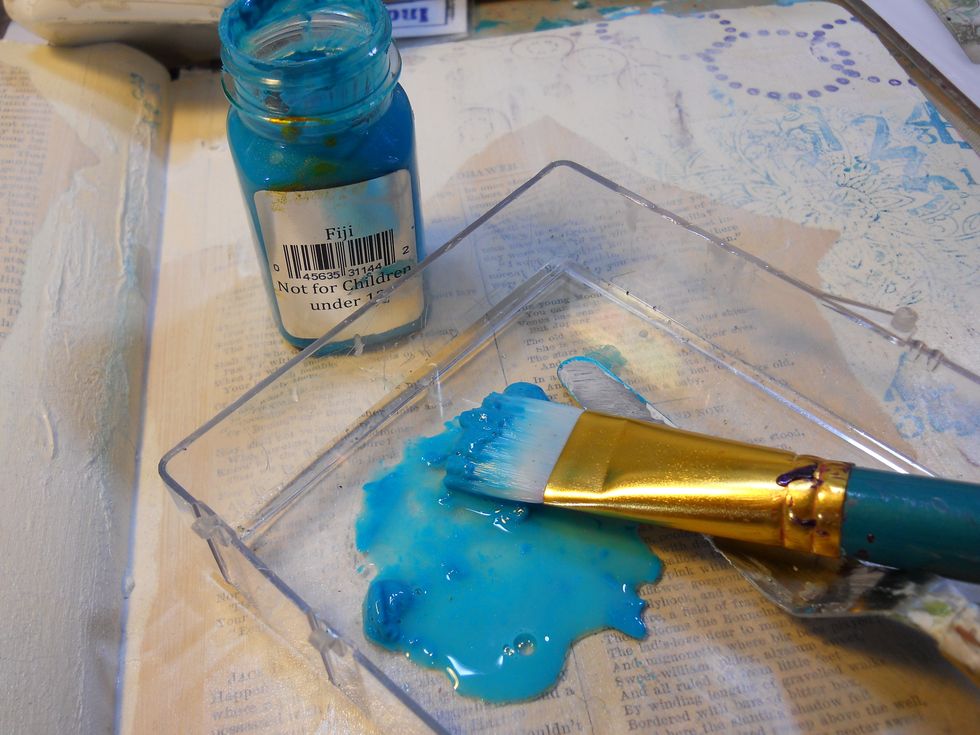 Next, Mix some Art anthology Fiji into some pouring medium
Brush this mixture over the entire surface. Use a heat tool to dry this layer before moving on.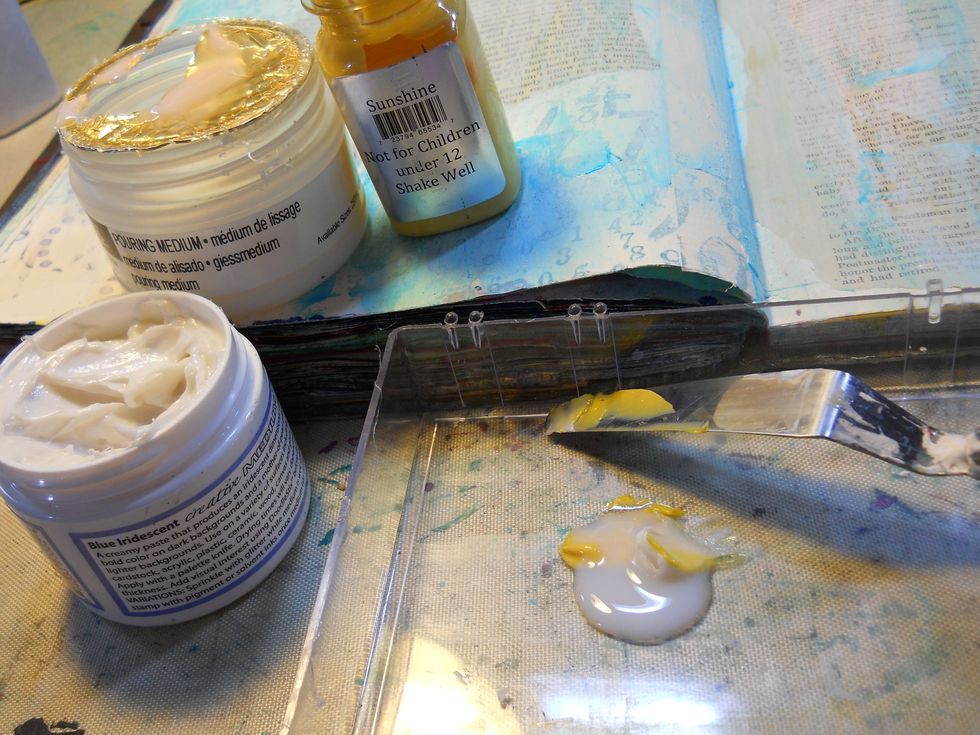 Next mix some AA "Sunshine" ,AA "Gold" and pouring medium, this will be called the "Beeswax mixture" from here on out. Paint this mixture over the surface and allow to dry.(or you can use a heat tool.
Dry brush some Gesso in random places, and allow to dry.
Apply another layer of the "Beeswax mixture" and dry.
Brush some AA "Leaf" onto the background in random places and allow to dry.(or ya know..... heat tool if you are impatient like me).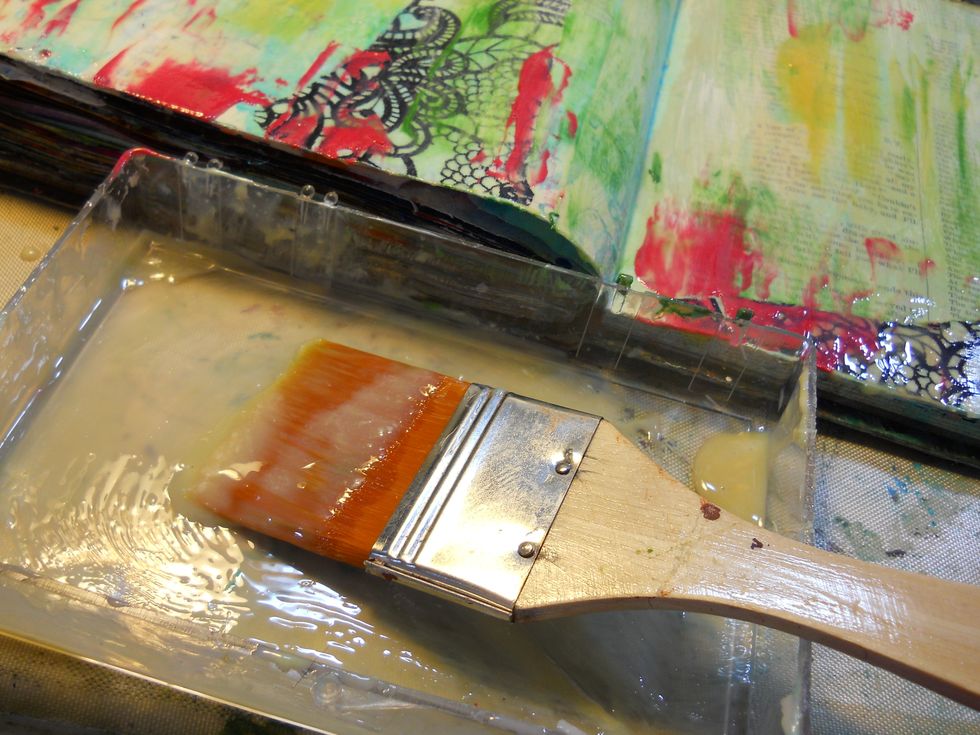 apply another layer of the "Beeswax mixture" and dry.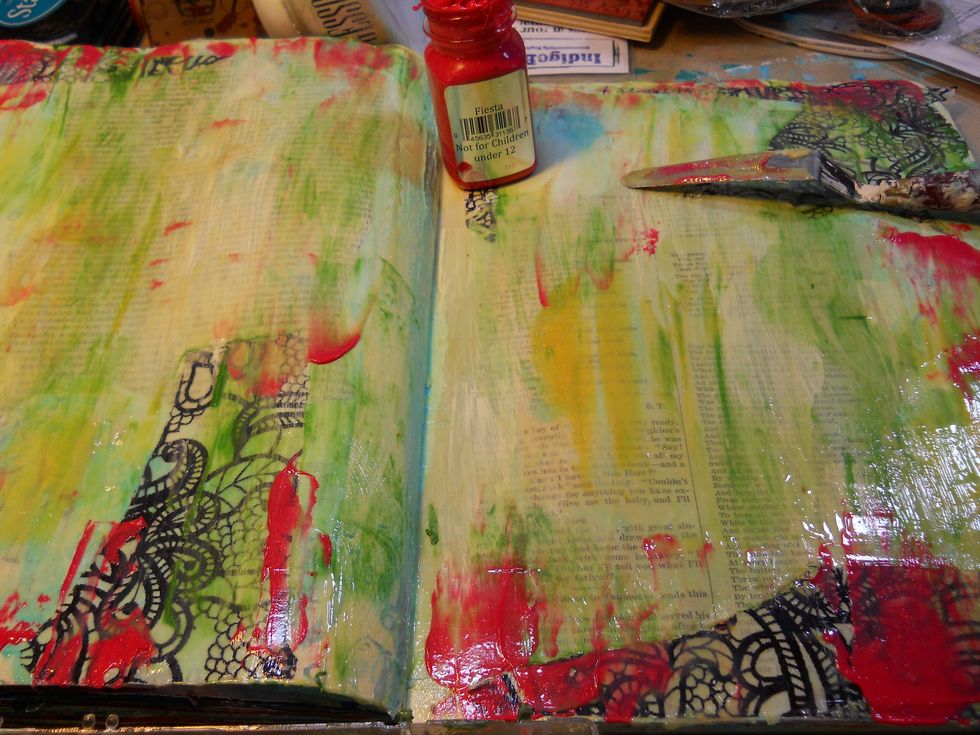 apply some AA "Fiesta" to random places and dry.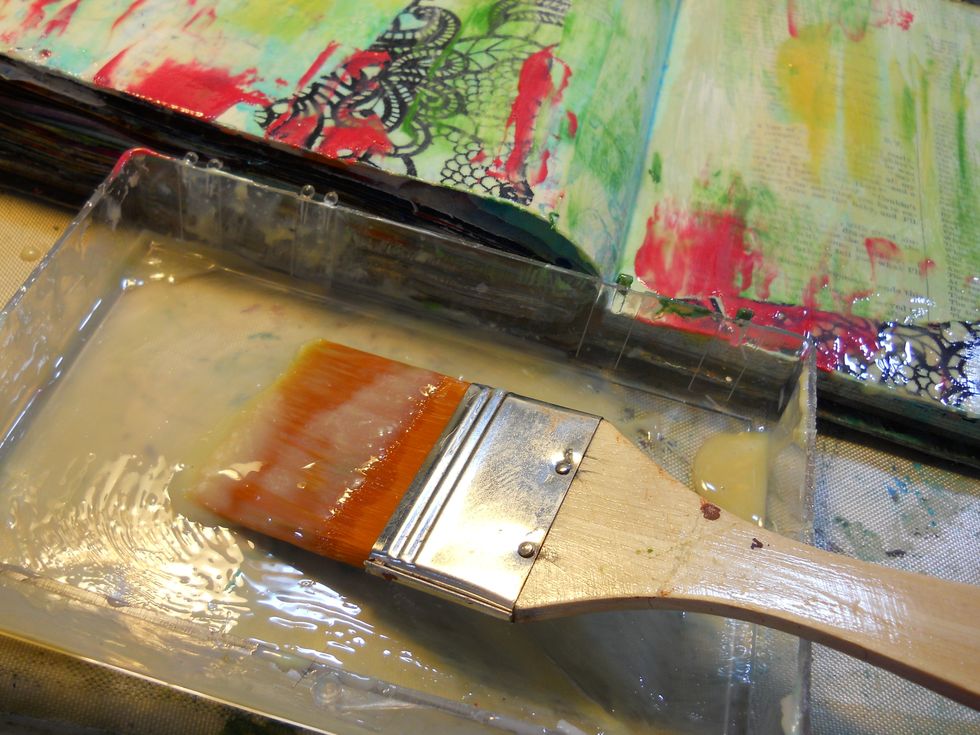 You guessed it... More "Beeswax mixture" and dry.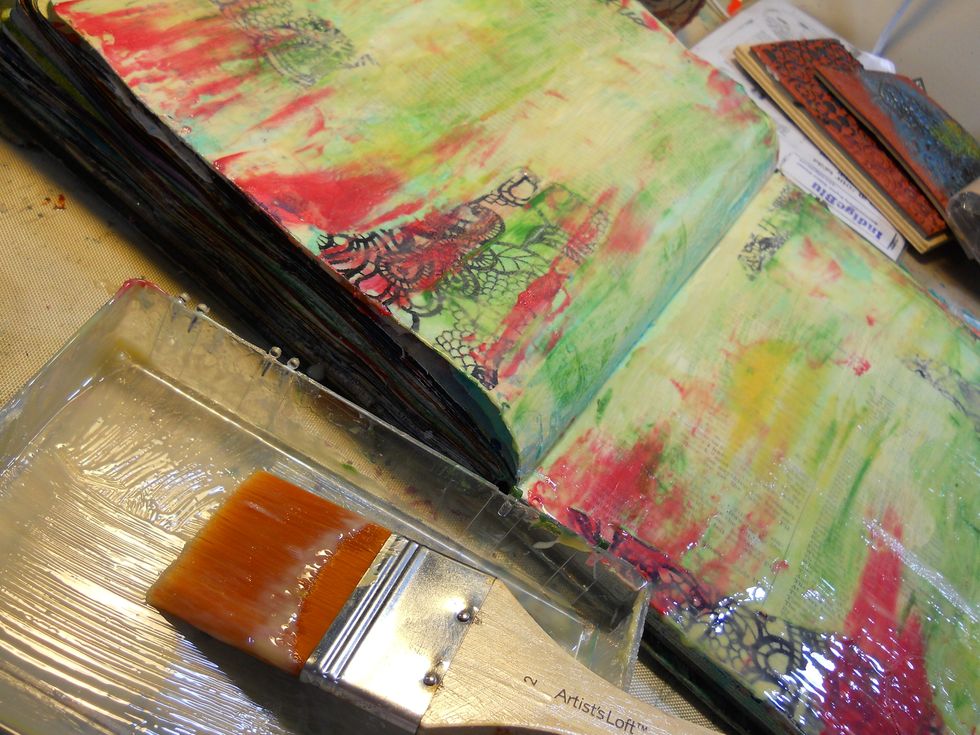 Paint another thicker layer of the "Beeswax mixture", but dont dry it. you can see the layers showing already..... cool!! :)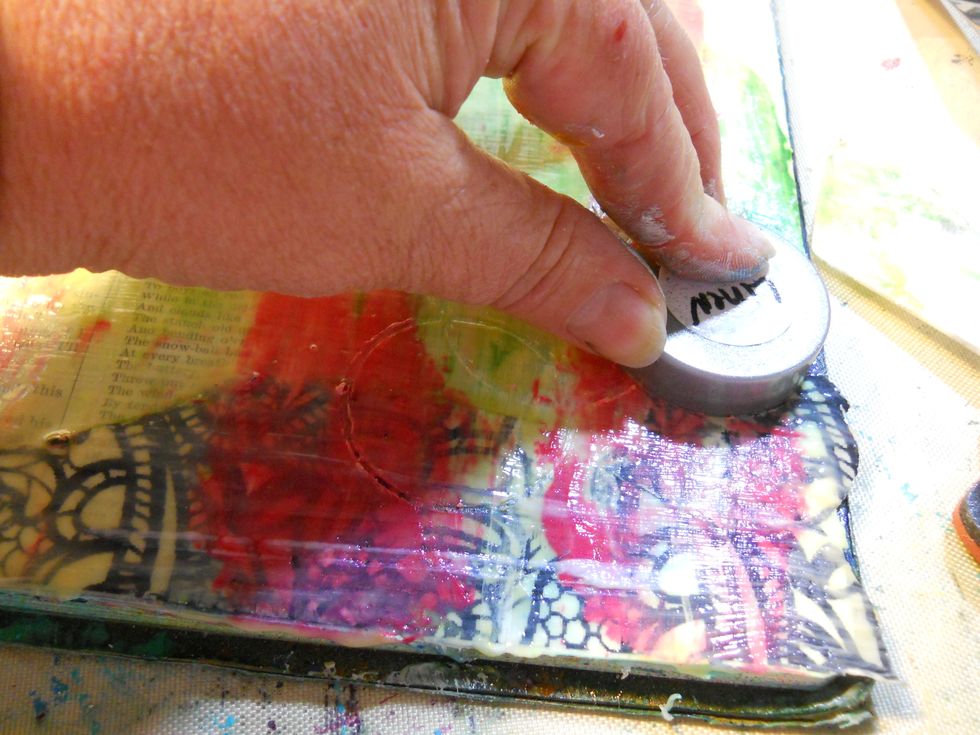 Now, while that last layer is still wet, use items to "engrave" into the wet medium. I used the lids from my paint jars.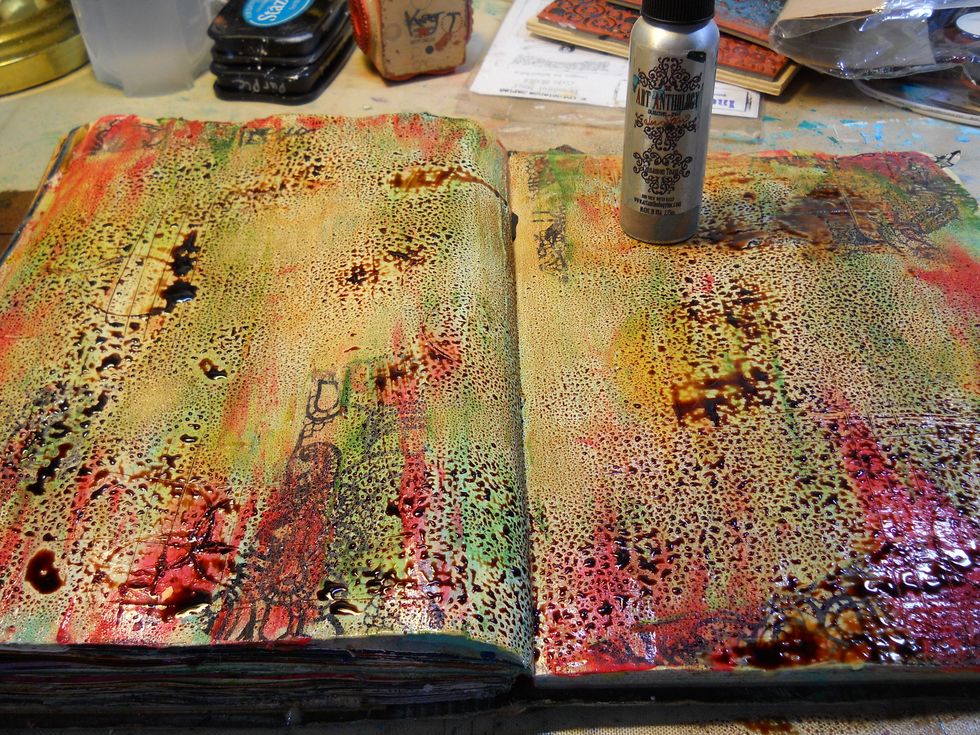 Spray on top of that a nice layer of AA "Sandcastle" , allow this to sit for a few minutes then dab off the excess with a paper towel.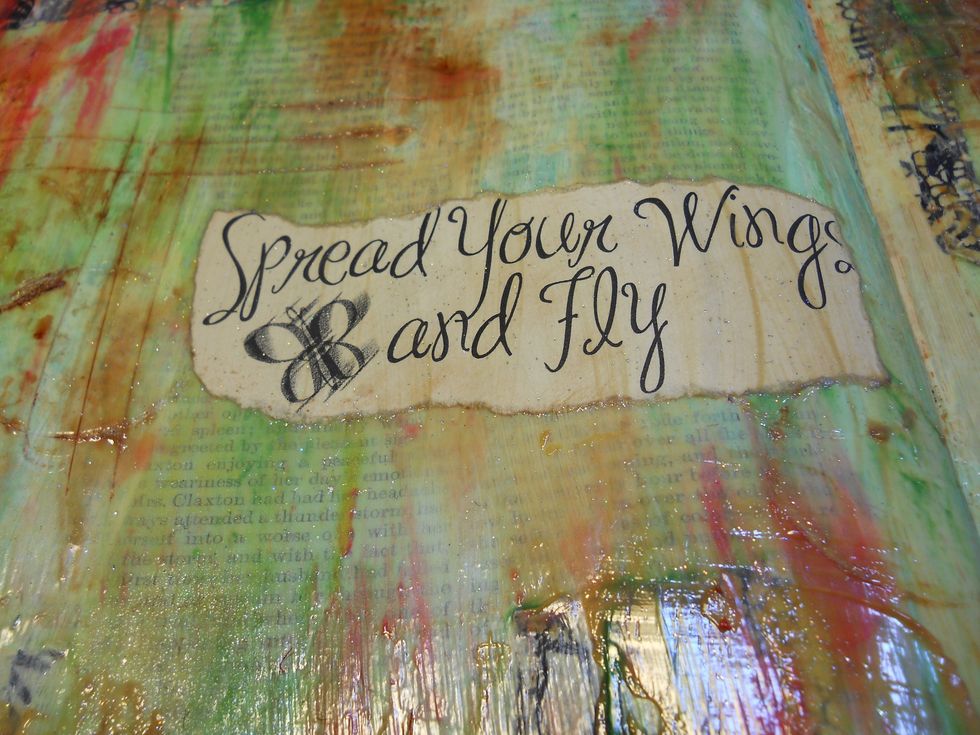 Stamp the image onto paper, tear the edges and apply to the page with AA "Dazzle".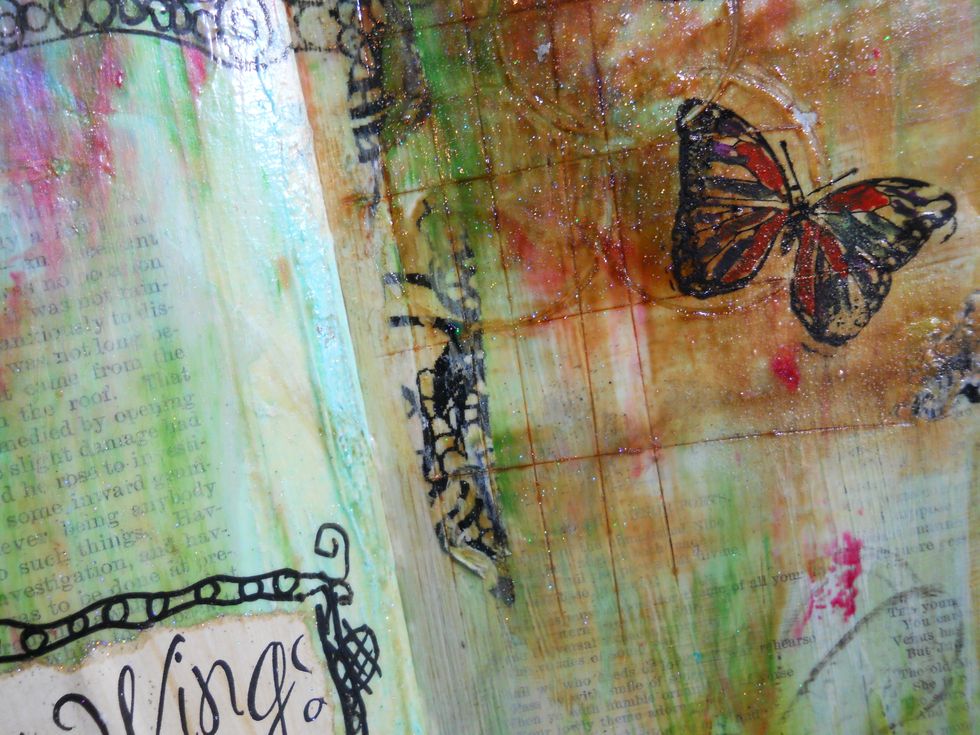 jUst look at all those layers!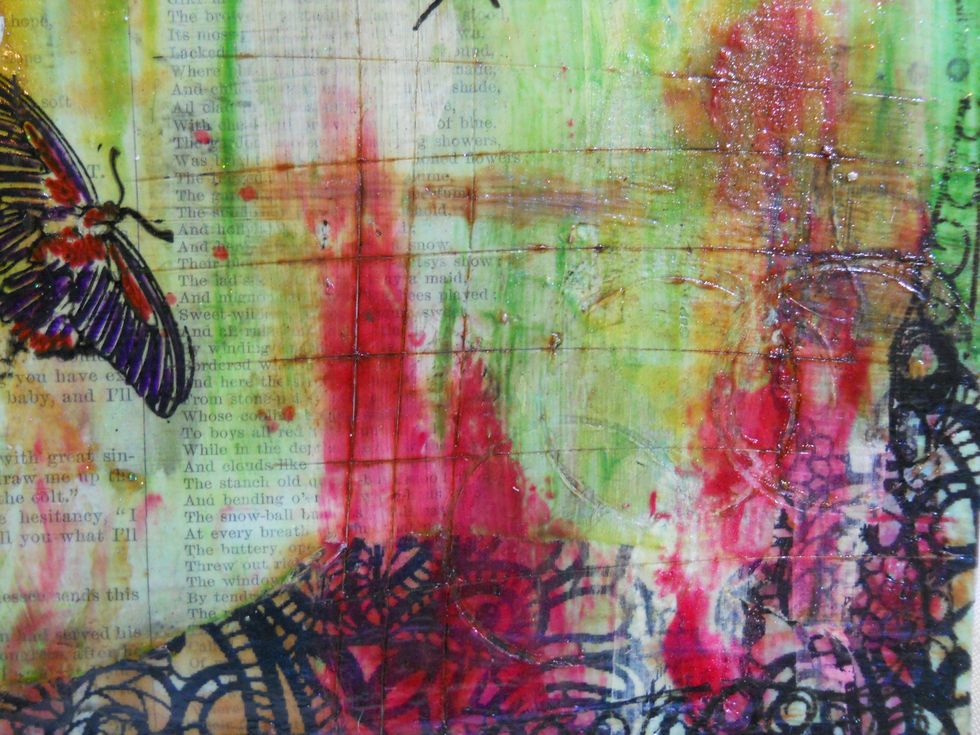 I love the way each layer shows up, and compliments the one beneath it without competing or covering up anything.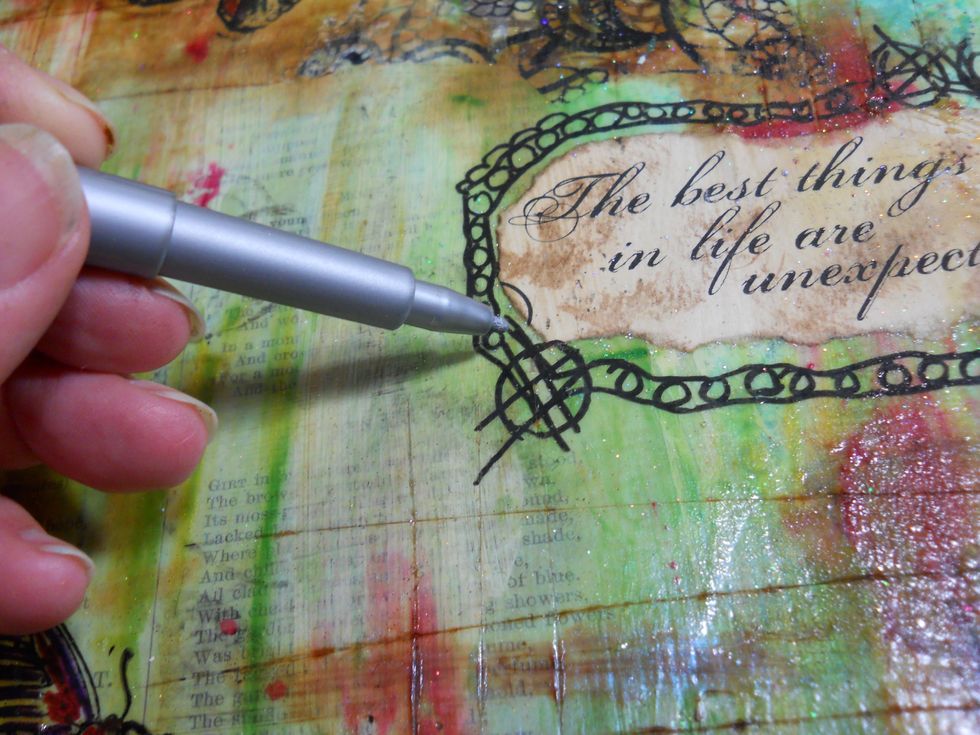 Add doodles with a permanent marker, I like Faber Castell Pitt pens for this because they write on all surfaces.
Paint over the entire page with AA "Dazzle" and allow to dry.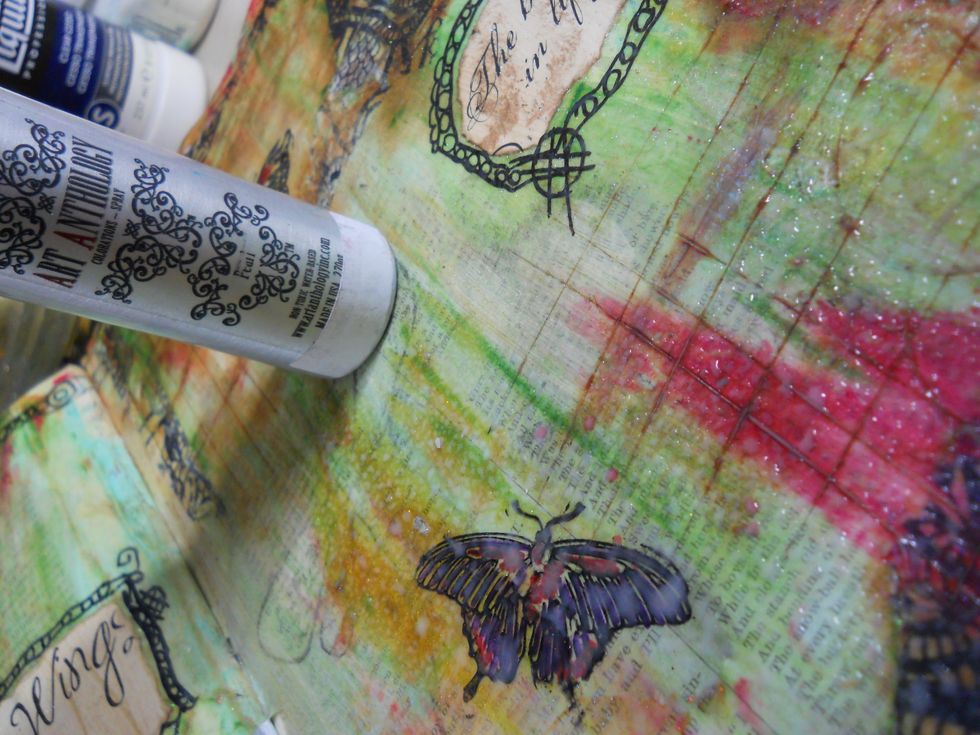 once that is dry, spray the page with AA "Pearl" which will give the whole thing more sparkle and shine.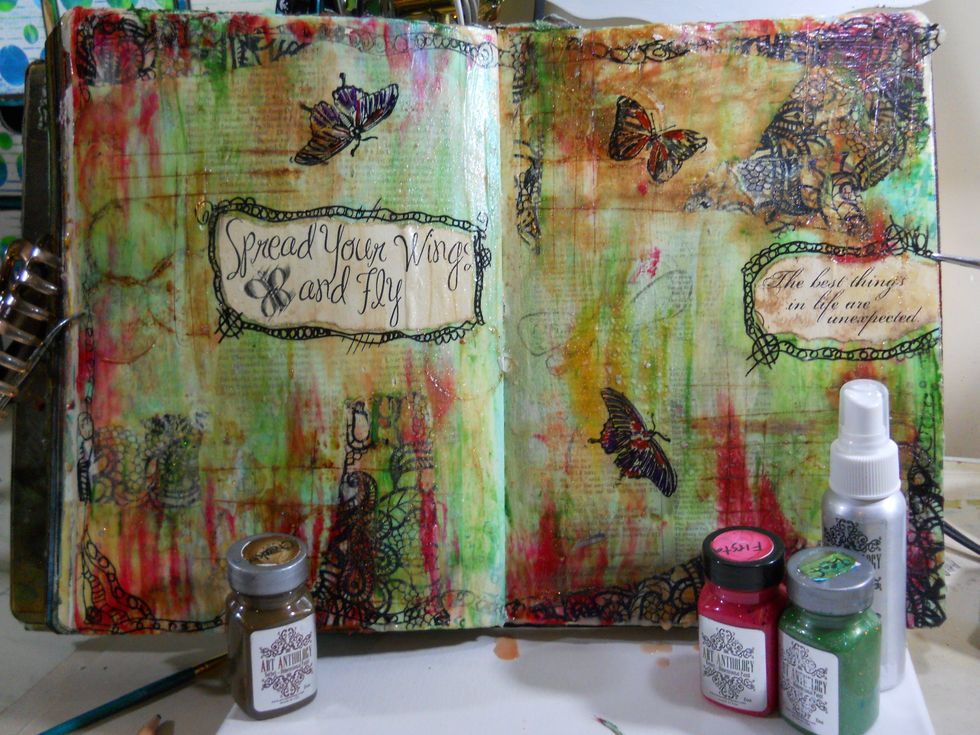 I hope you like my Faux encaustic technique!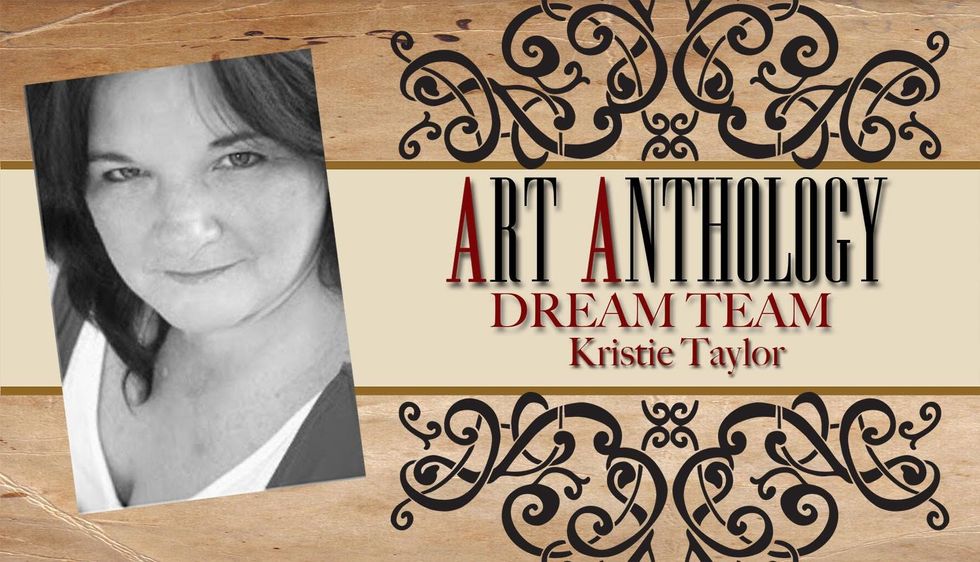 Thanks so much for stopping by, please leave me a comment and tell me what you think! Please visit my blog http://kristietaylor.blogspot.com/ and Art Anthology at http://artanthologyinc.com/blog/.
AA Fairy dust "Pearl"
AA Craft mat
AA tool kit
AA colorations "Sandcastle"
AA clearcoats "Dazzle"
AA sorbet "Sunshine"
AA sorbet "Leaf"
AA Velvet "Fiji"
AA Metals "Gold"
Pouring medium
Art Anthology
Art Anthology is a manufacturer of dimensional mediums.\n\nCome chat with us in our Facebook Group: Art Anthology Adventures in Art