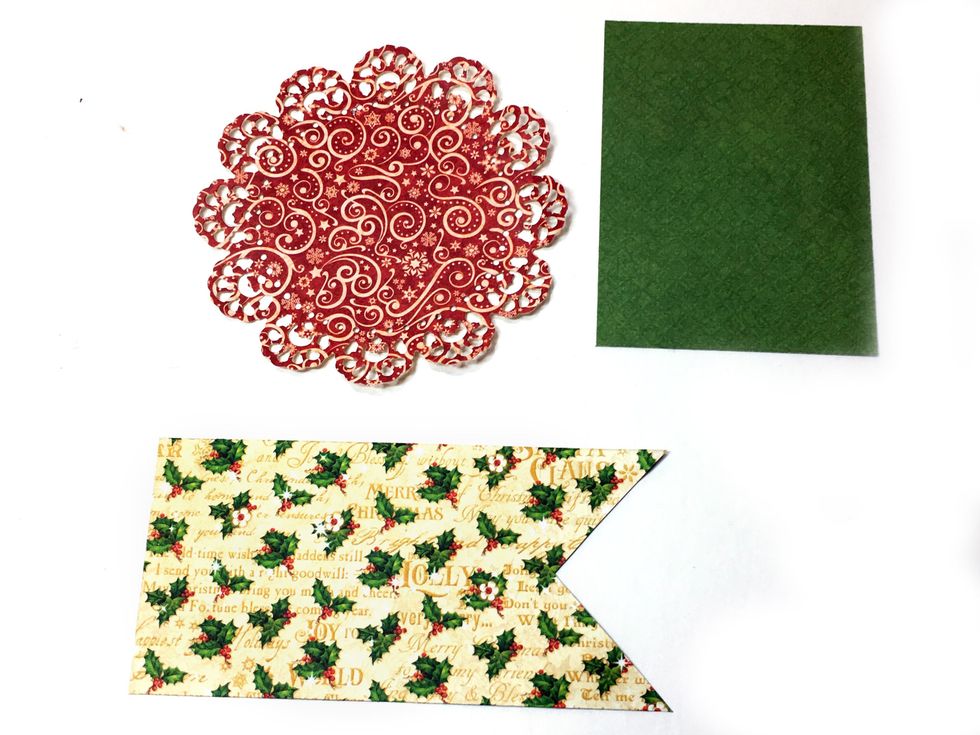 Cut a 4 to 5" doily & a 4 x 3" rectangle from the 6 x 6 Patterns & Solids pad or from design paper. Cut a banner at least 4" long and 3" wide from Bells and Bows.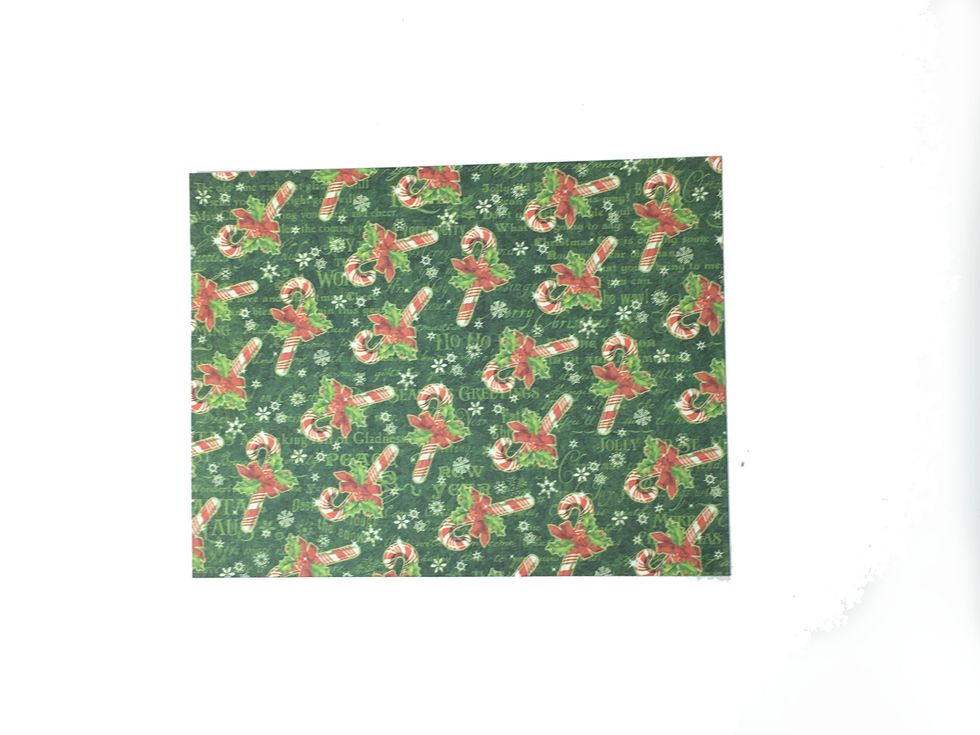 Cut a rectangle 7 1/2" x 5 7/8" from Candy Cane Wishes.
Adhere the solid green rectangle about 1/2" from the top and 1 1/2" from the right side. Adhere the banner over top of that, about 1 1/4" from the top and off the right side as shown.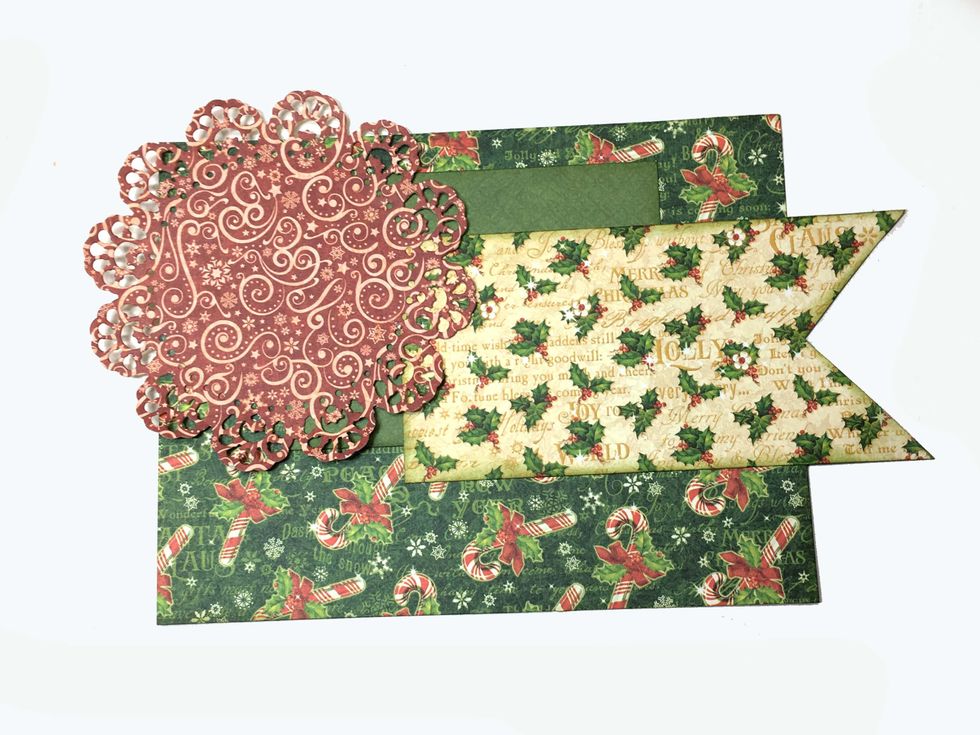 Add a doily as shown on the upper left corner.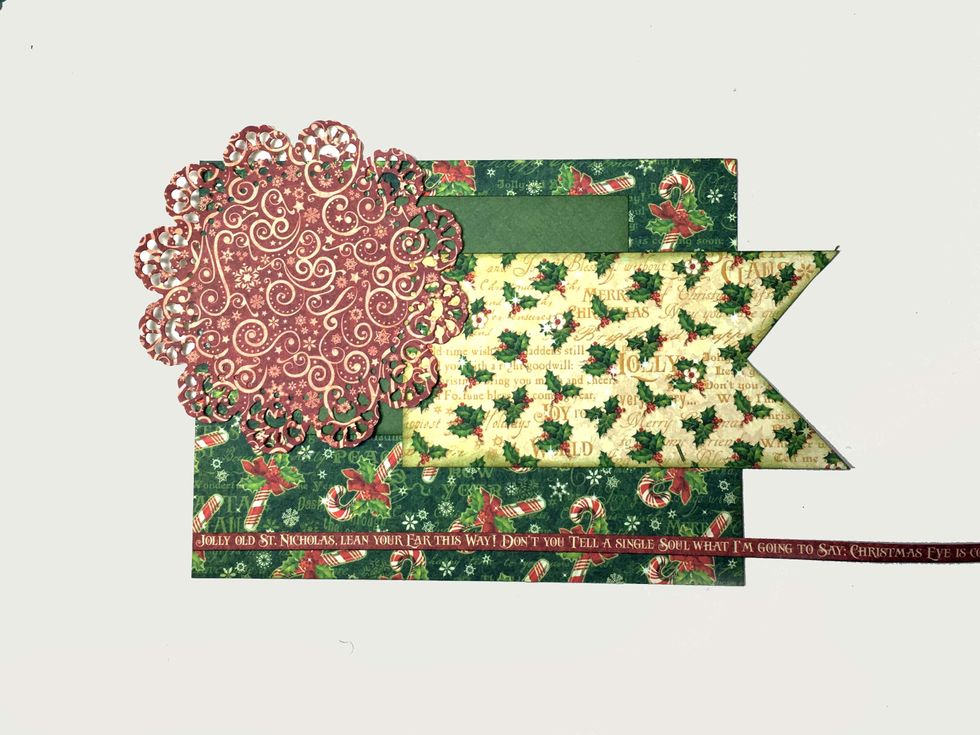 Cut the "Jolly Old St Nicholas..." strip from Seasons Greetings and adhere about 1/2" from the bottom as shown. Trim to fit.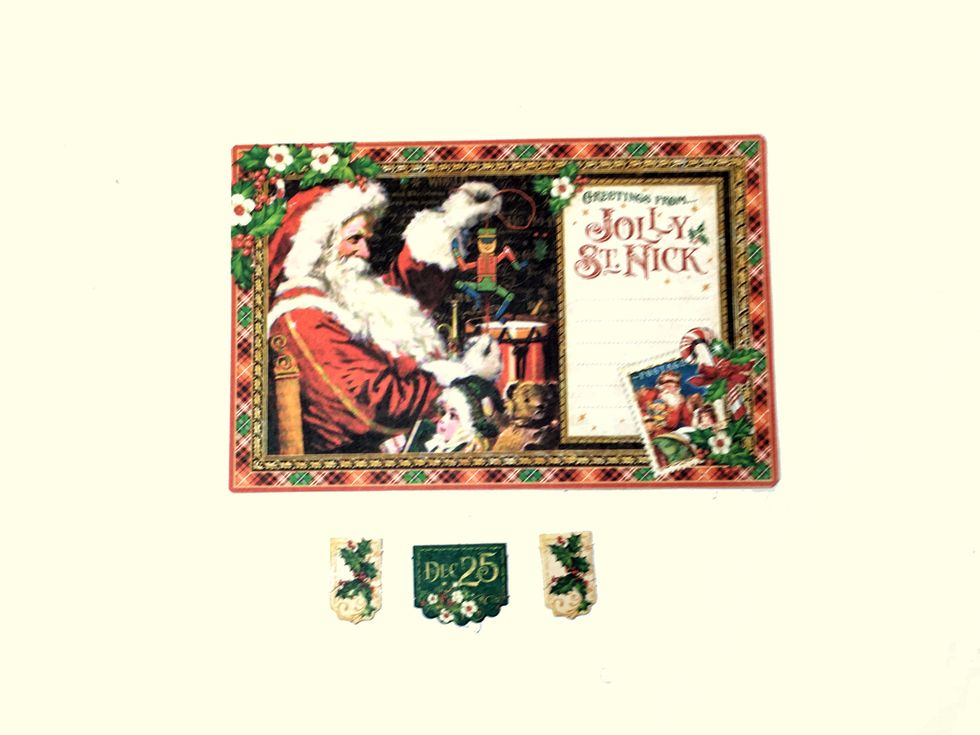 Locate the Santa cut-apart shown on Be Jolly! paper or in the ephemera cards. Also locate and punch out the shown banners from the Banners.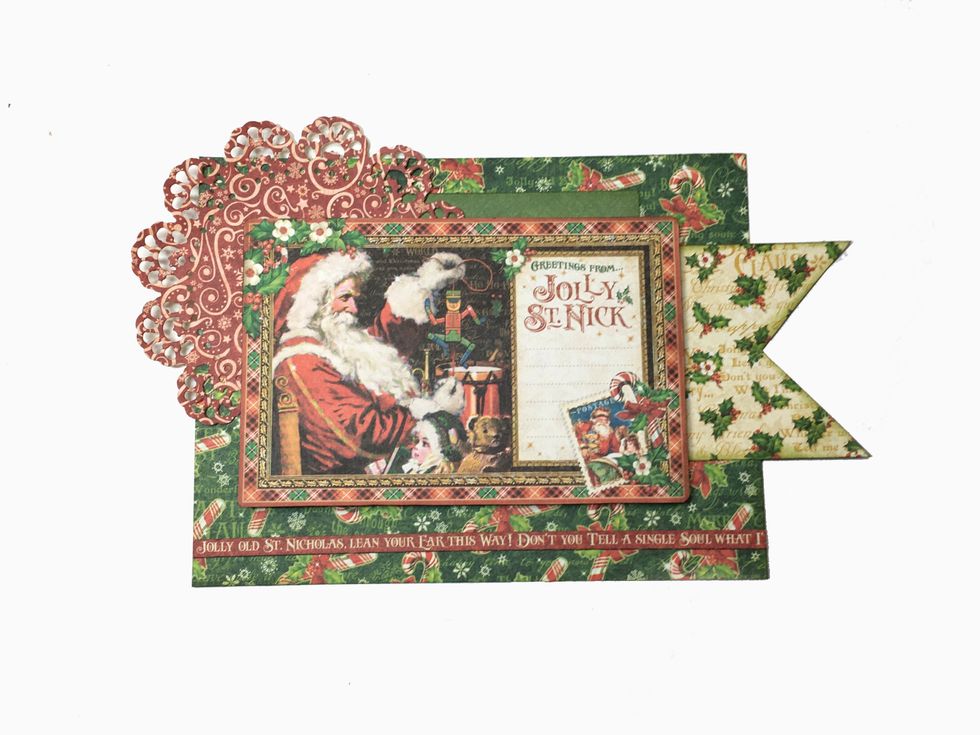 Use foam tape or cardboard to pop up the Santa image and position as shown on the card, about 3/4" from the left side and 7/8" from the top.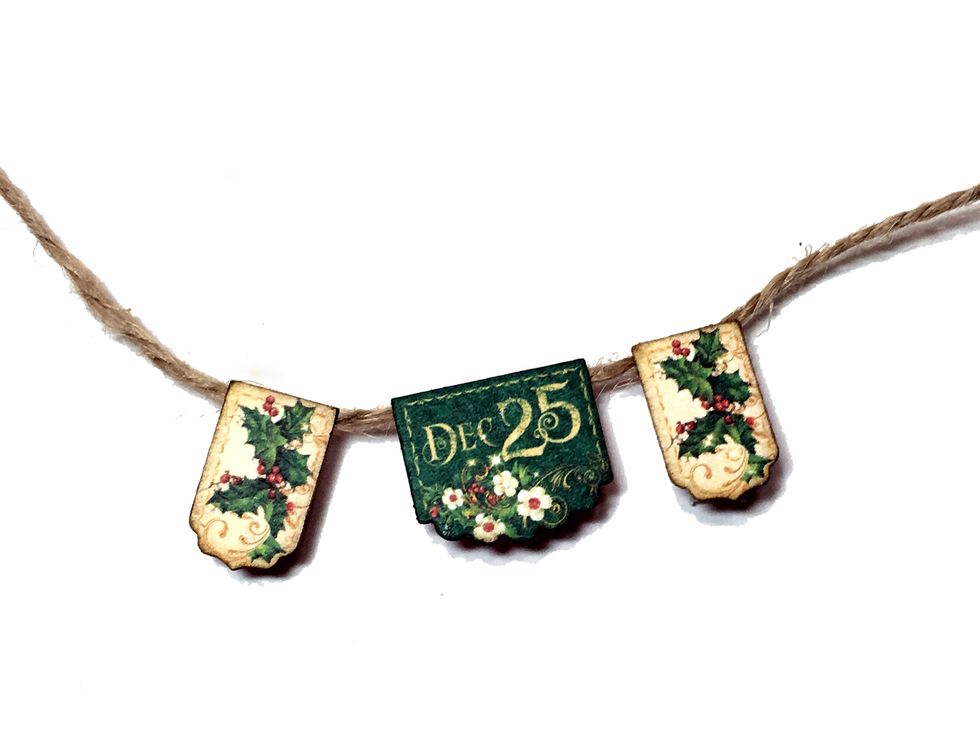 make the banner by gluing the banners onto 4" of twine.
Add foam squares to the back to pop up the banners.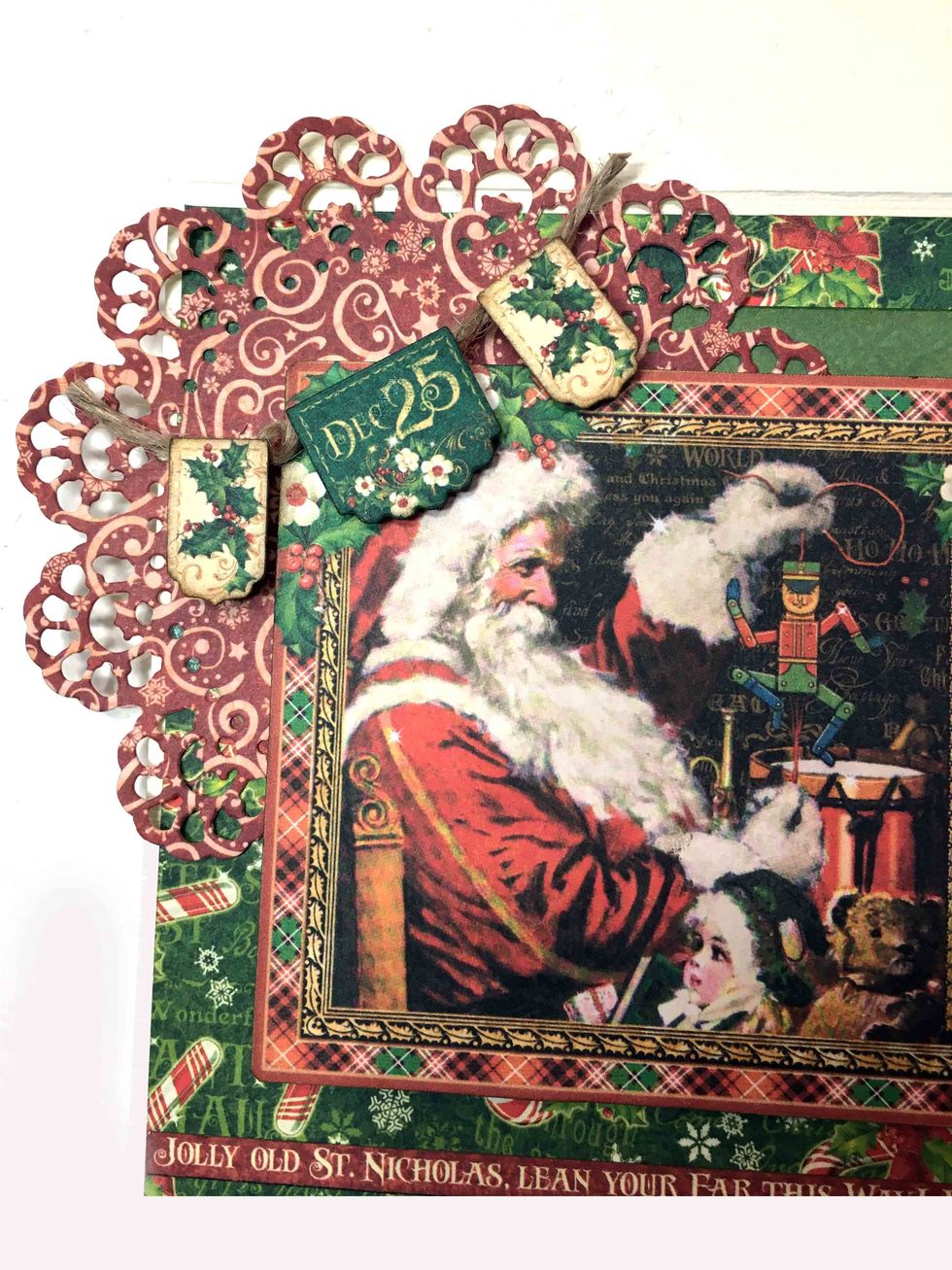 Position the banner in the upper right corner as shown, trim the twine as necessary.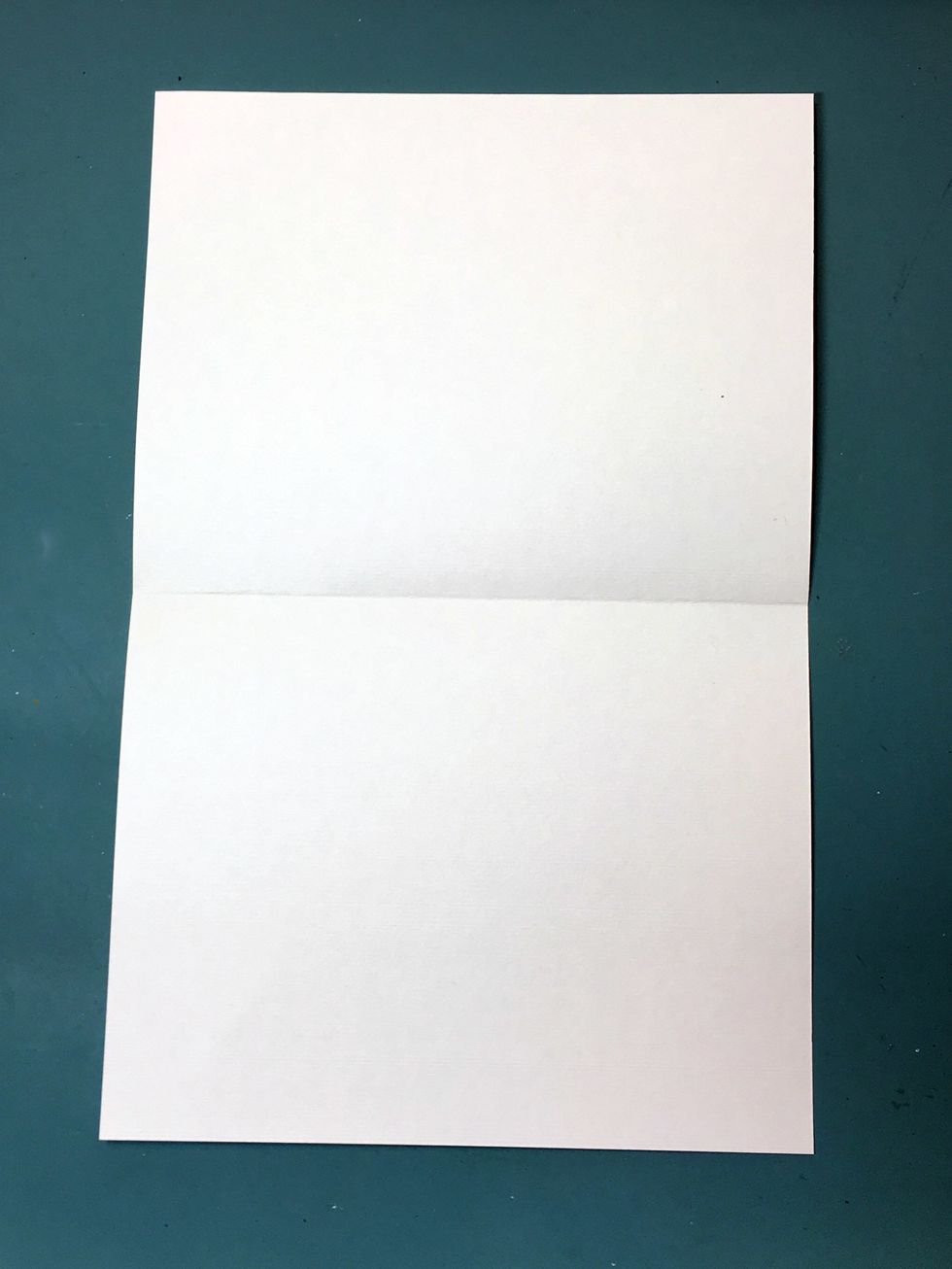 Cut a card base 8" x 12" and score at 6".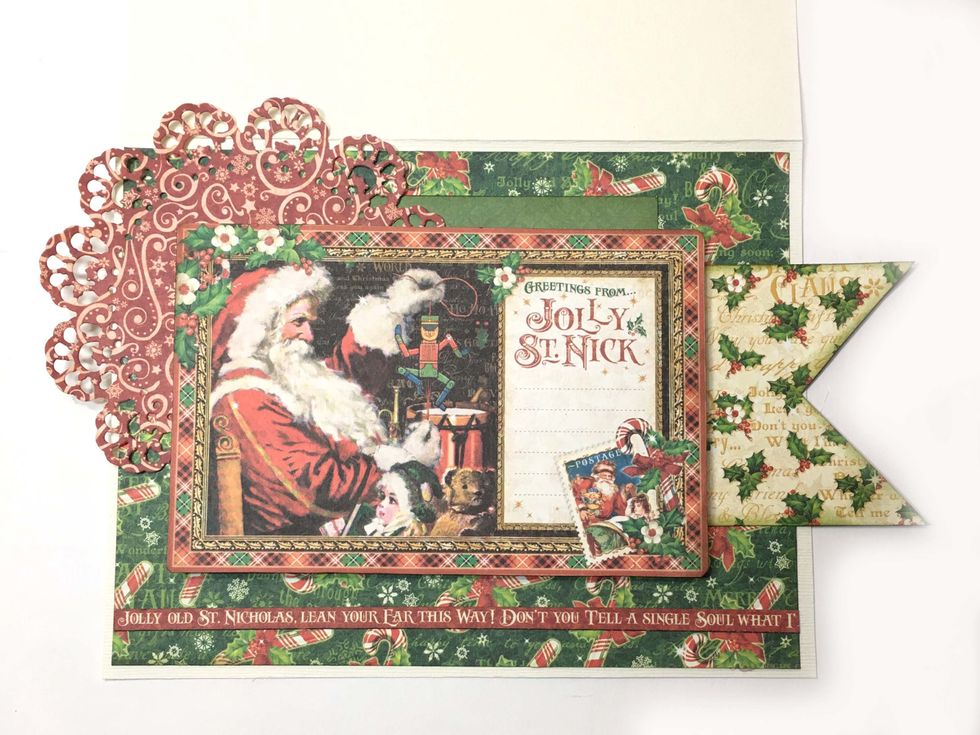 Adhere the card front to the card base.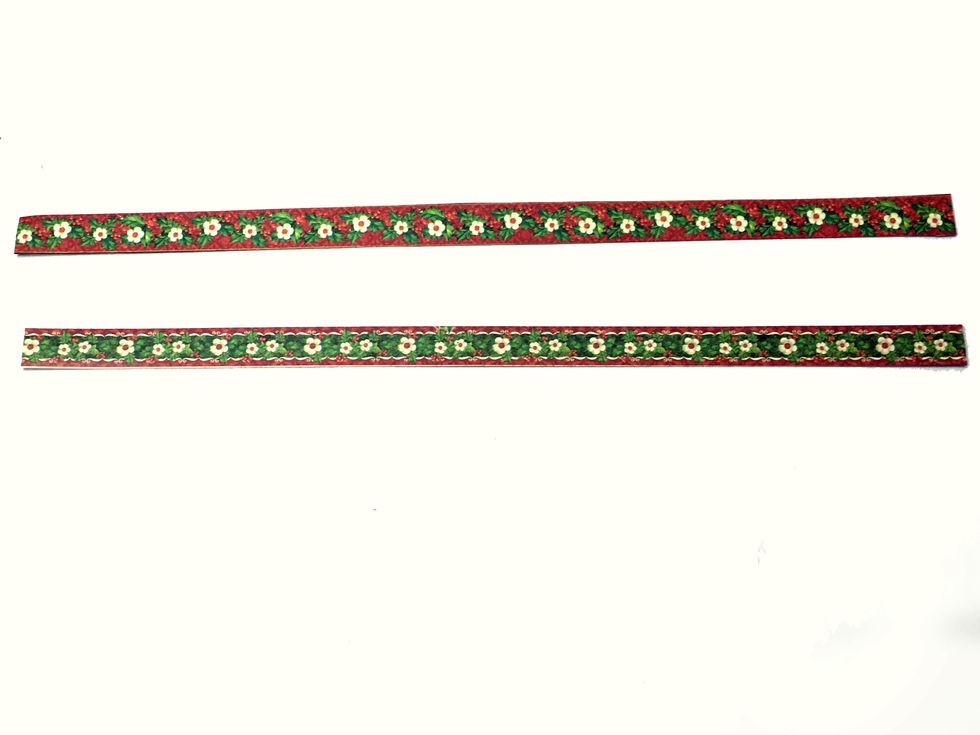 Cut the top strip from North Pole. Cut the bottom strip from Season's Greetings. Alternatively, you could cut both strips from North Pole. Trim to 7 1/4"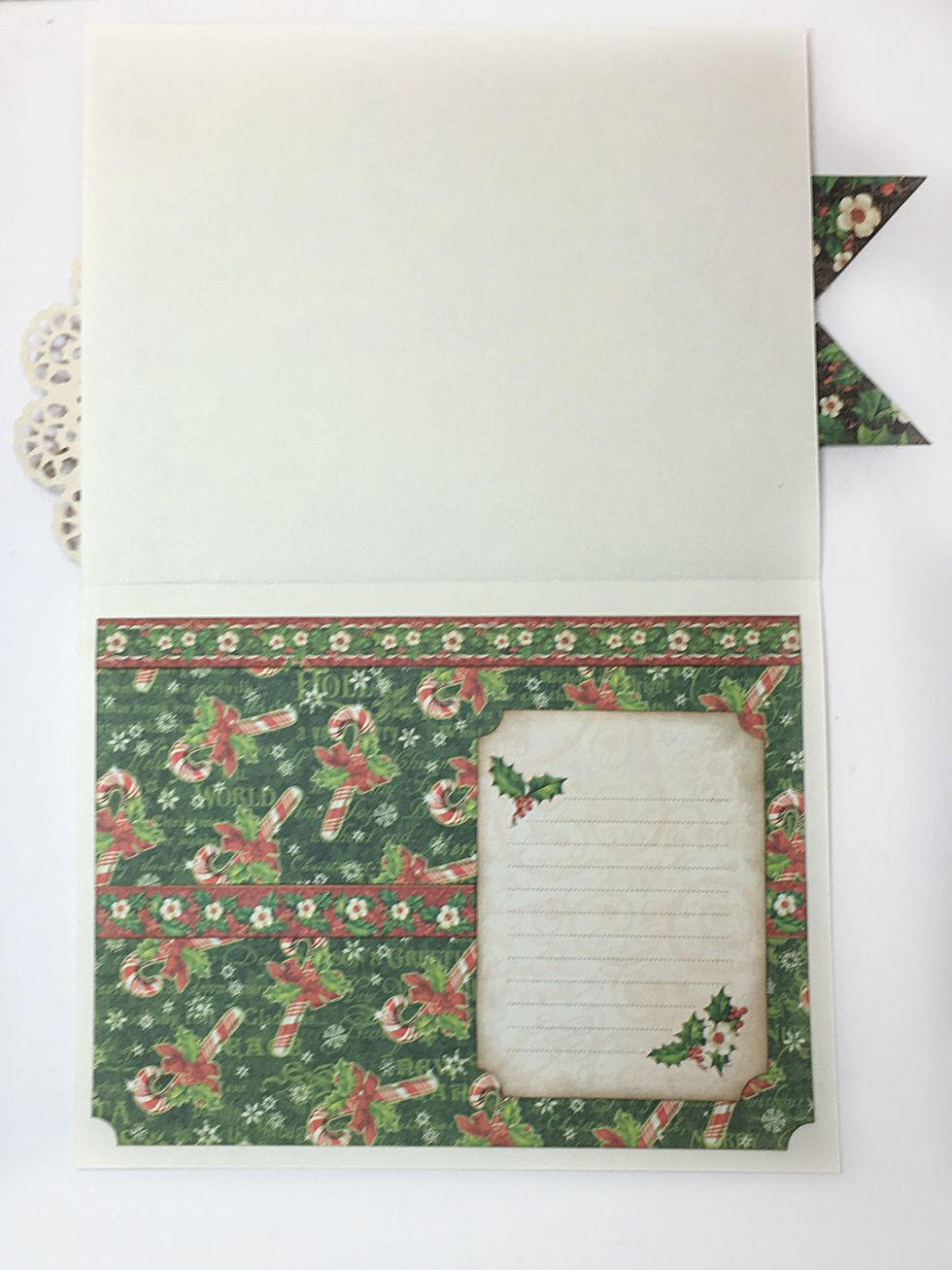 Cut a rectangle 7 1/4 " x 5" from Candy Cane Wishes. Notch bottom corners if you wish. Glue to the inside of the card. Adhere one of the strips along the top & the other in the middle. (Con't)
Select an ephemera card and glue to the right side as shown. Notch the edges or round the corners for visual interest.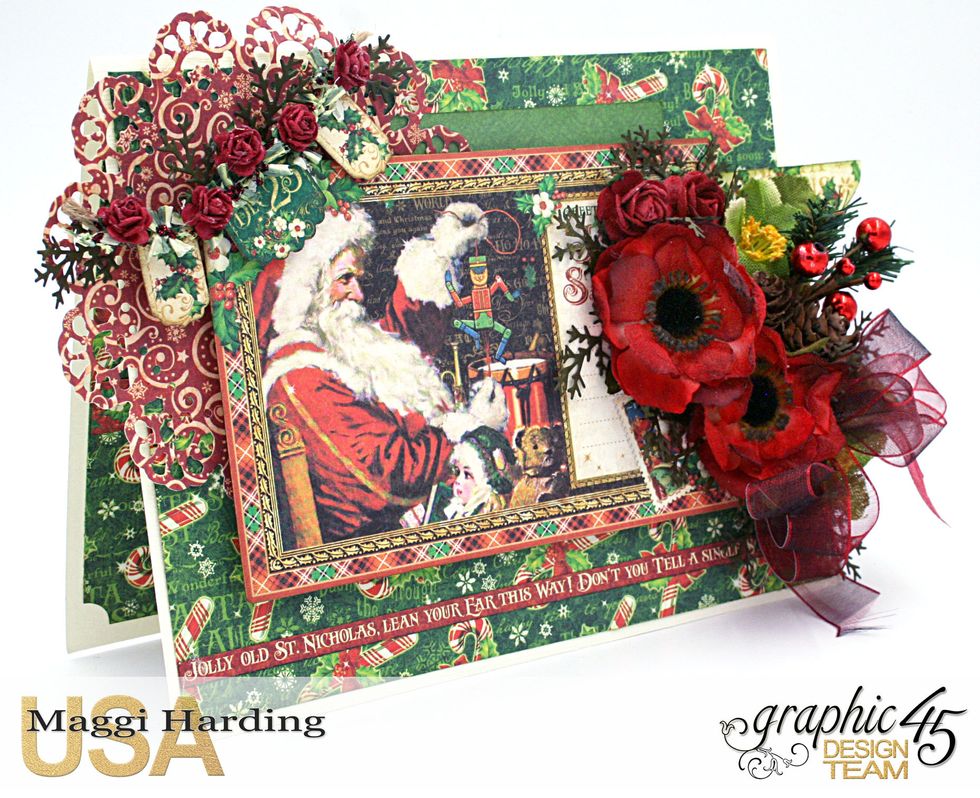 Now, embellish as you wish with flowers, greenery, ribbon etc.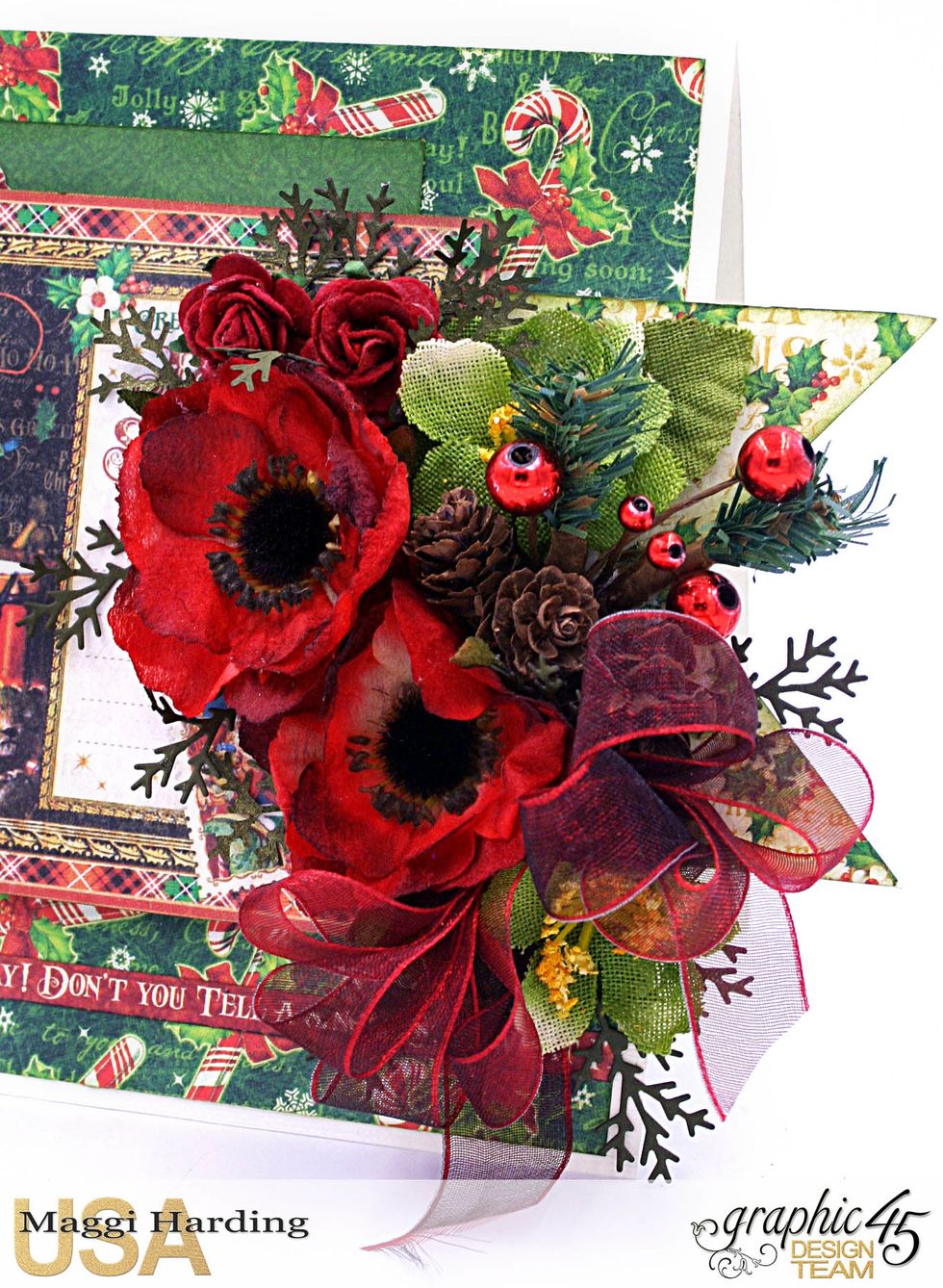 Closeup detail.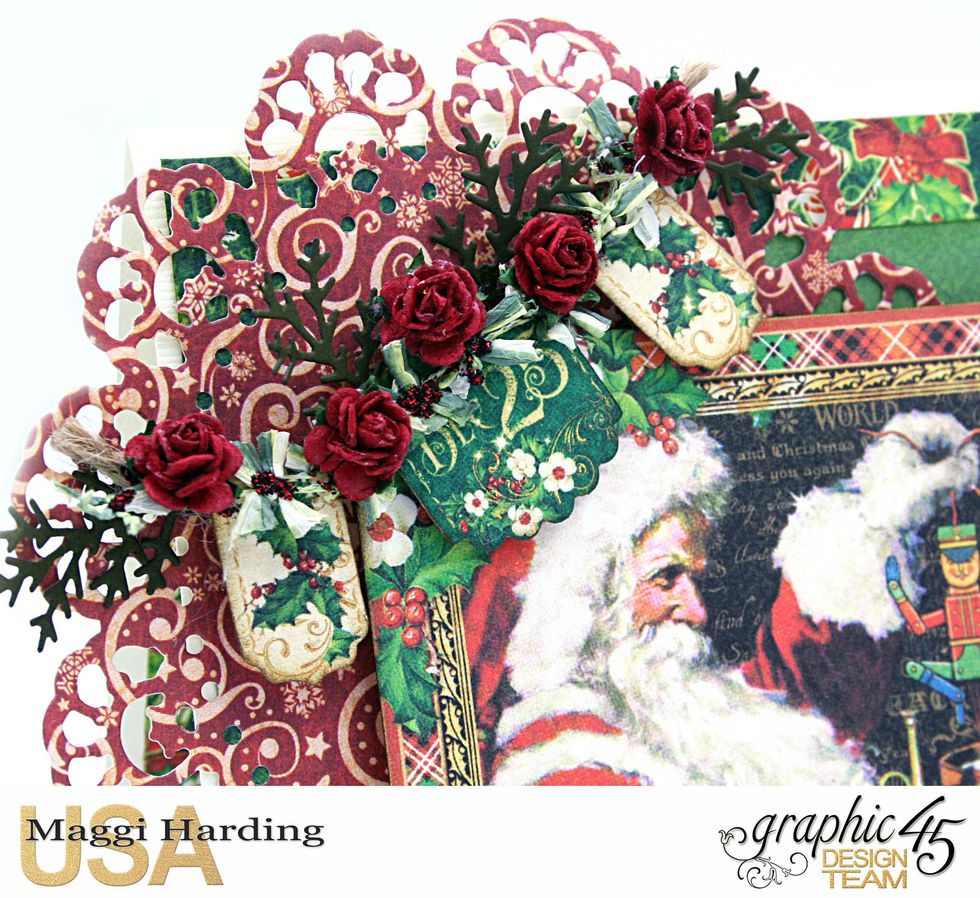 Closeup detail.
Inside
I currently design for Graphic 45, Creative Embellishments, Petaloo, & Cheery Lynn Designs. Tutorials on my blog:bit.ly/1Sem2J0. Follow me on Pinterest:bit.ly/1HhWvOx Thanks so much!
Graphic 45 St Nicholas Collection 12 x 12:
Bells and Bows 4501398
Be Jolly! 4501401
North Pole 4501400
Candy Cane Wishes 4501405
Season's Greetings 4501407
Banners 4501414
Patterns and Solids 6 x 6 4501409
Ephemera Cards 4501418
French Vanilla Bazzill cardstock
Petaloo Anenome x 6
Petaloo Pine Pick w/Cones & Berries
Petaloo Briar Rose Canvas Holiday Mix
RRR Sheer Iridescent Red Ribbon
Maggi Harding
I am a paper crafter and I like to do it all, tags, layouts, cards and altered art. Follow me on Pinterest: https://www.pinterest.com/maggi43/