How to make a classic caprese with a twist
The beauty of this dish is the fresh and slightly firm heirloom tomatoes. But it's our blends that give it a twist. We used #1 French Made Easy, but any of our 9 blends would be amazing!
97
Wow... We won the summer sides contest but now we want to share our winnings around. If you want to purchase any of our blends, use the code "brit+co" when checking out and you will save 30%...!
This offer will be good until the 4th of July - so take advantage of it today and make this awesome "summer side" at your next BBQ! Thanks - from us here at World Seasonings. www.worldseasonings.com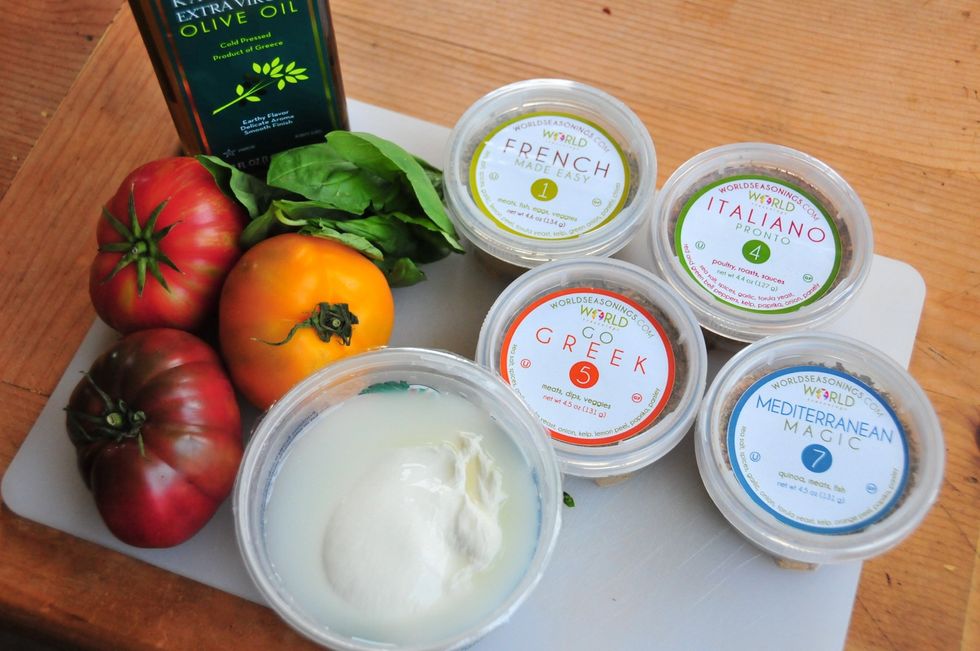 The four blends in the picture are my favorite for this dish. #1 French Made Easy and #7 Mediterranean Magic are amazingly tasty! #4 Italiano Pronto adds a perfect amount of heat!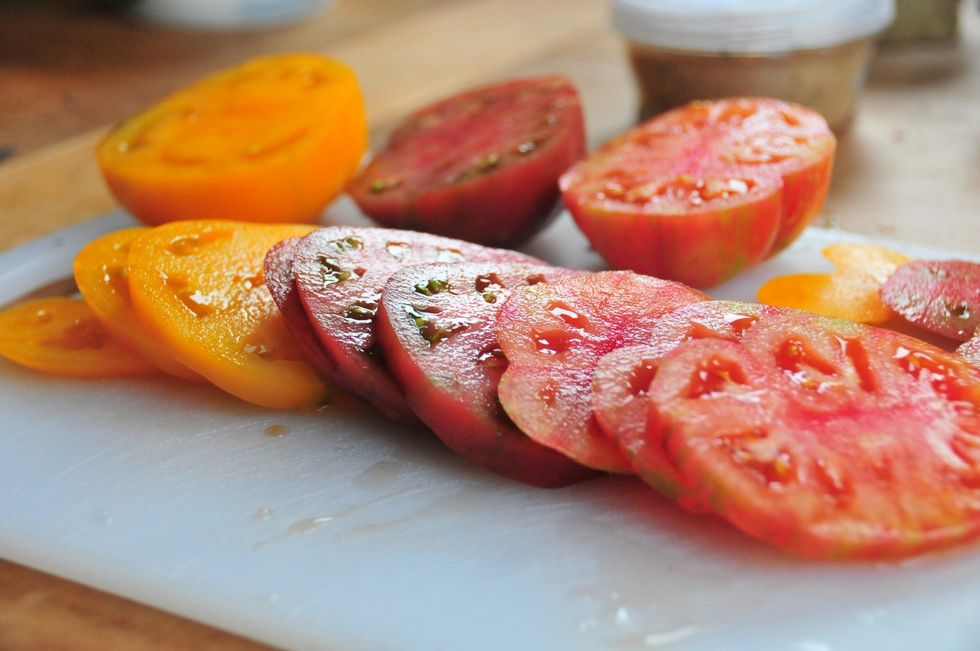 Slice the tomatoes about 1/4 inch thick, the same with the mozzarella. I used 3 different color tomatoes and only 3 slices each for this guide. Use the entire tomato if you're making it for others!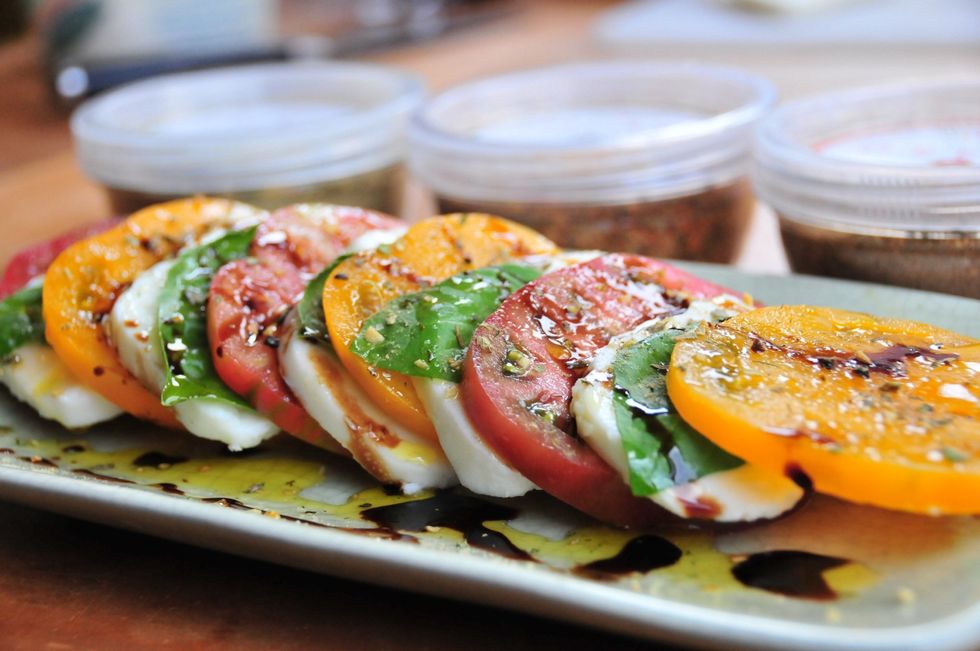 Layer tomatoes, mozzarella and basil. Drizzle olive oil and basalamic vinegar over the top and sprinkle on seasoning. Let it sit in the fridge for about 15-20 mins. to let the seasoning do its magic.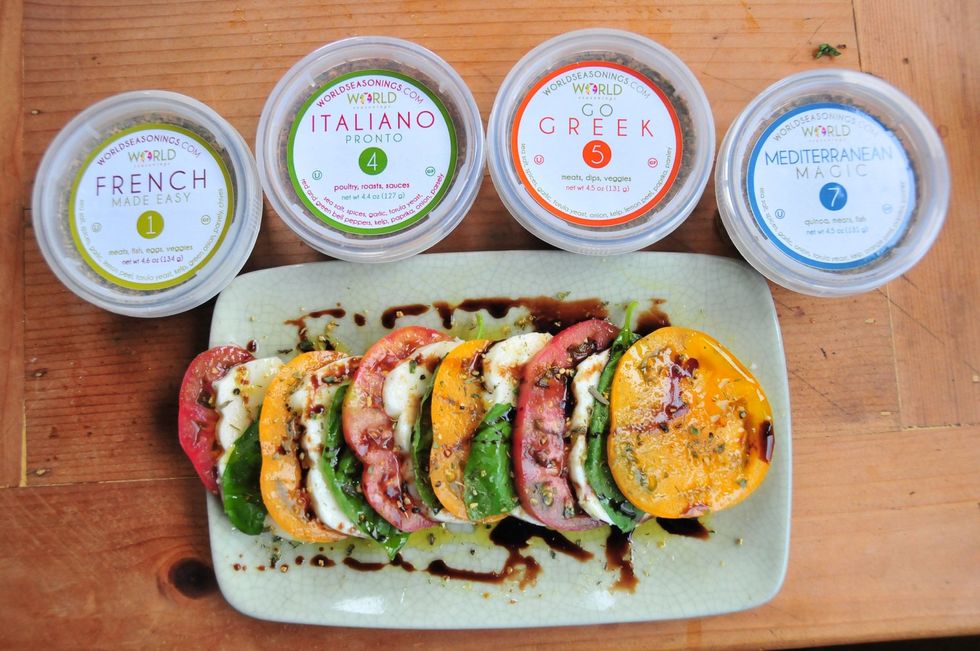 #5 Go Greek adds a nice flavor of mint to the dish. If you don't have ouour blends, visit our website and use the code "snapguide" for a 20% discount. We ship them out immediately. :)
Fast, fresh and healthy! That's our goal - to help you all cook fast, fresh and healthy dishes to share with friends, family and loved ones! Hungry yet? I am...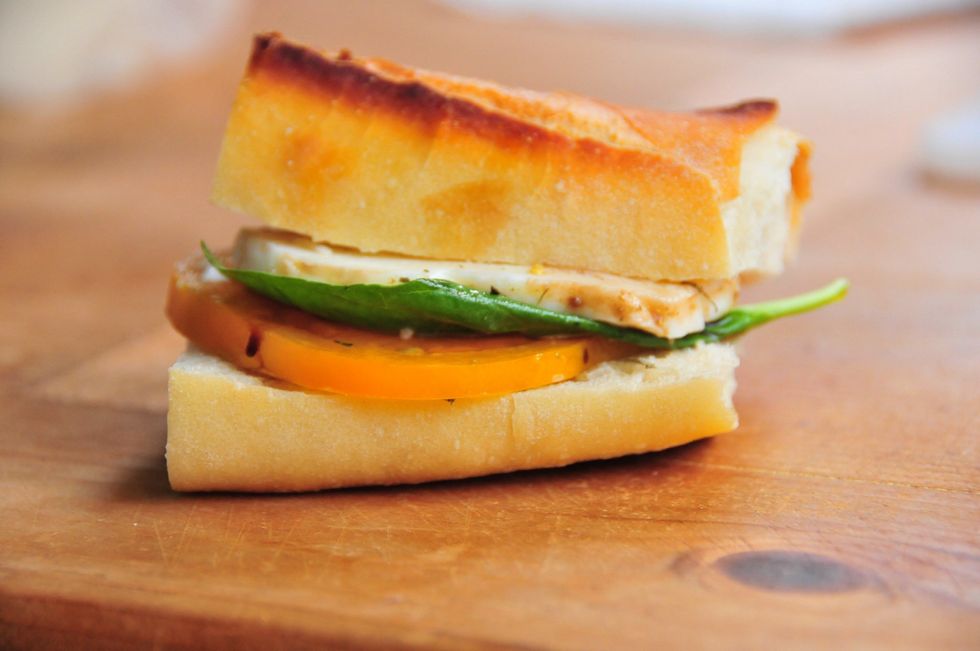 Grab a rustic baguette, cut in half, drizzle olive oil and sprinkle on the same blend you used in the recipe. Toast under broiler. Grab some of the Caprese and make a perfect sandwich for a snack,
Thanks for reading my guide. If you love to cook, are learning to cook, or already know how to cook, you will love my seasoning blends. They are only available online at www.worldseasonings.com. Thx
Don't forget to checkout out Brit+Co! http://www.brit.co/category/food/
1/2tsp Any blend from World Seasonings
3.0 Firm heirloom tomatoes, sliced
1.0bnch Fresh basil
1.0 Fresh mozzarella ball, sliced
1.0Tbsp Olive oil for drizzling
1.0Tbsp Aged basalmic vinegar for drizzling
World Seasonings
World Seasonings offers 9 amazing gluten free, kosher and all-natural seasoning blends that will make breakfast, lunch and dinner extraordinary.
San Diego, CA - everywhere