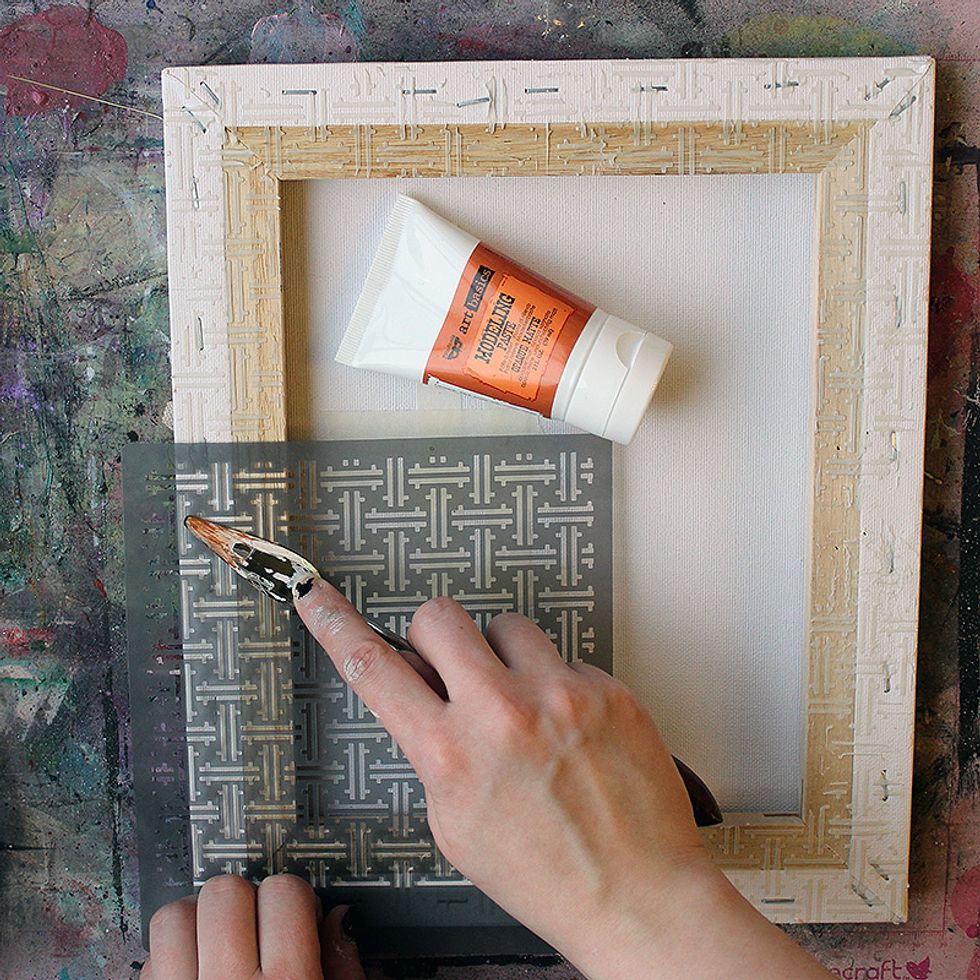 Flip the canvas over and start by adding Modeling Paste through a stencil to the frame of the canvas.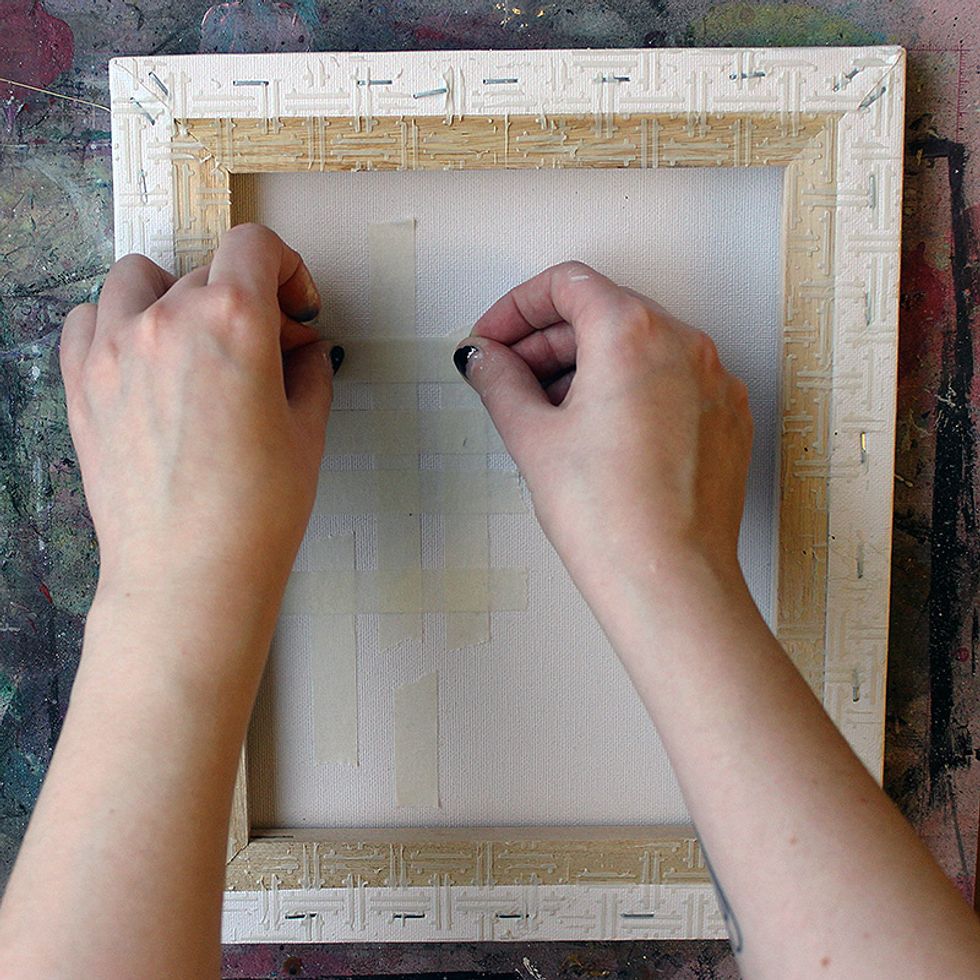 Then add some masking tape to the canvas to create a little texture to the background.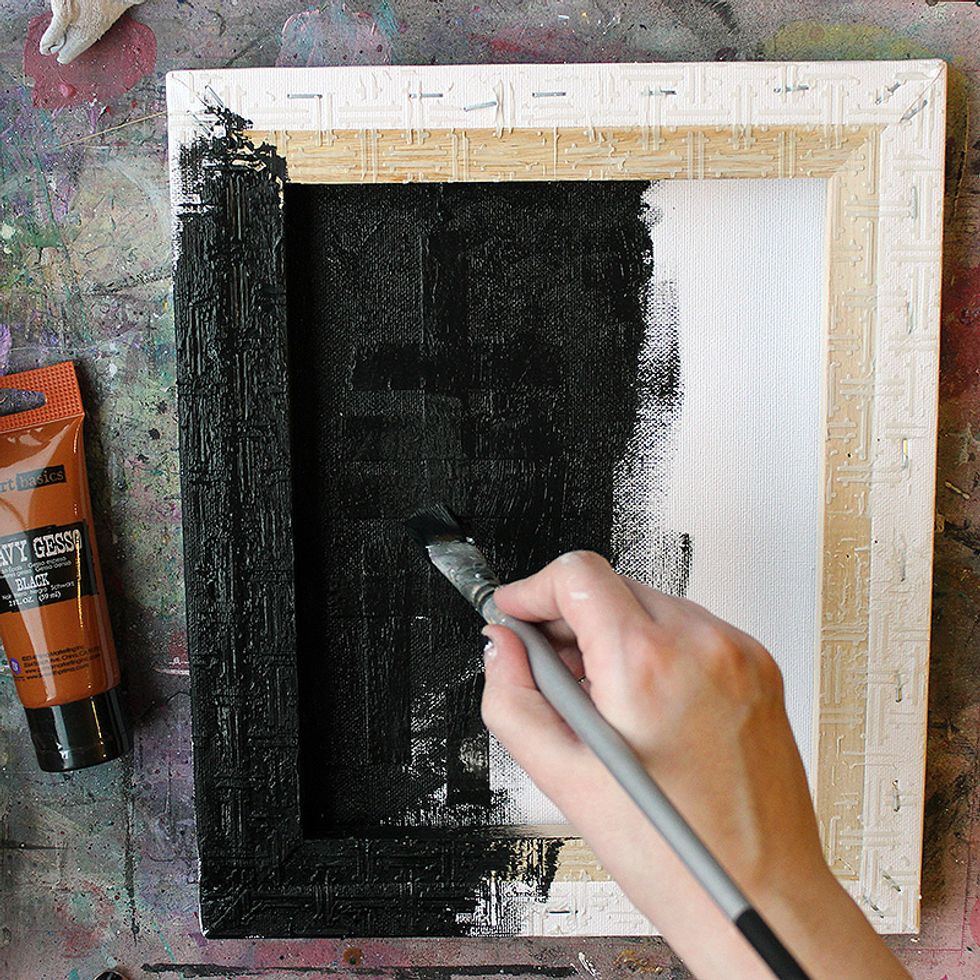 Paint the whole canvas black using Finnabair's Black Gesso.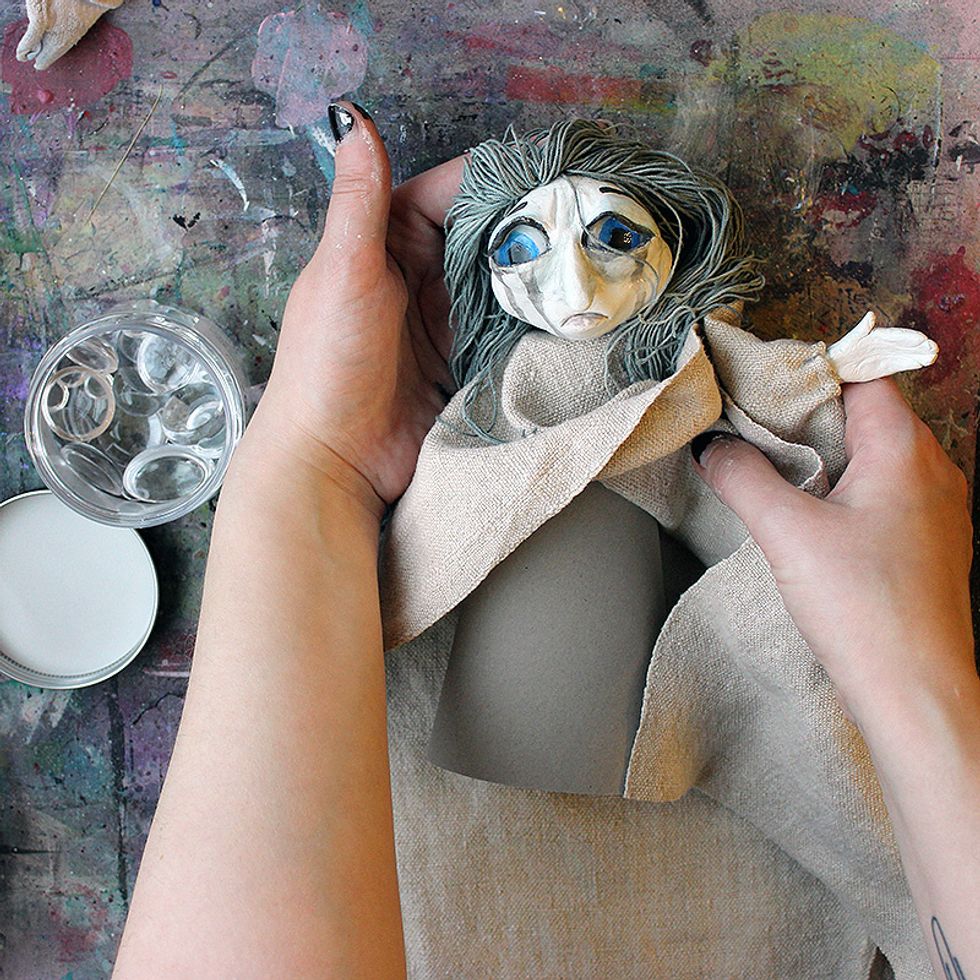 Make your art doll. Use clay, cloth, cardboard and twine or any other material you wish. I made my doll's eyes using Prima Pebbles.
Adhere your doll and the main focal point to the canvas using 3D Gloss Gel.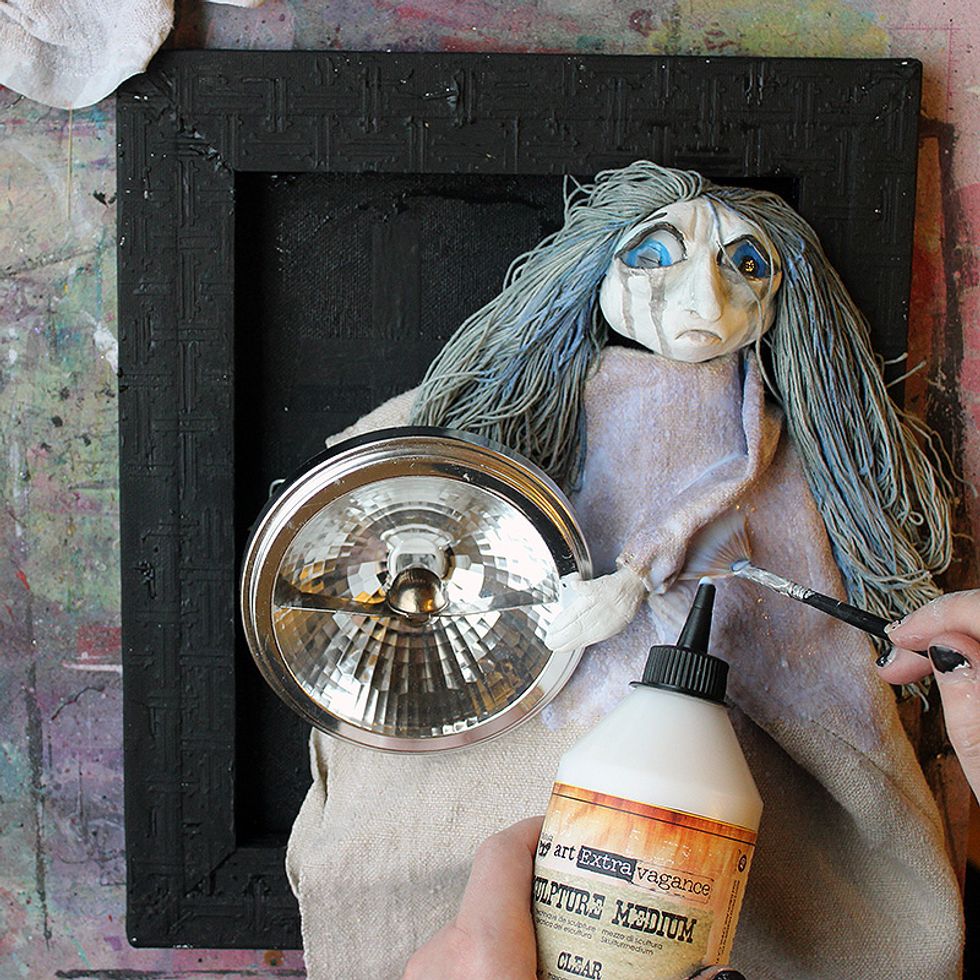 Soak the fabric with the Clear Sculpture Medium. Use a brush to push the medium into the fibers. Let dry a bit and arrange all the pleats as you wish. Let the medium dry over night.
Color the fabric with black gesso and/or Art Alchemy paints.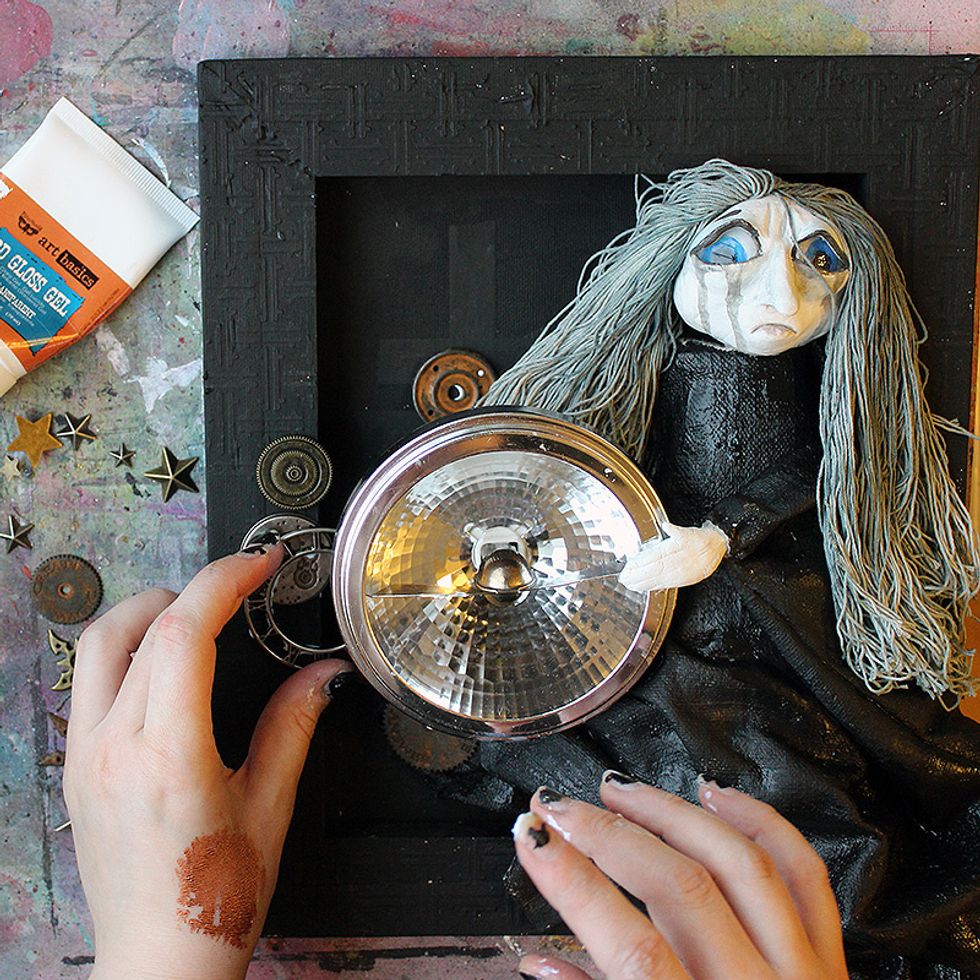 Using the 3D Gel as your adhesive, add more embellishments to the piece. Cluster around the main focal point.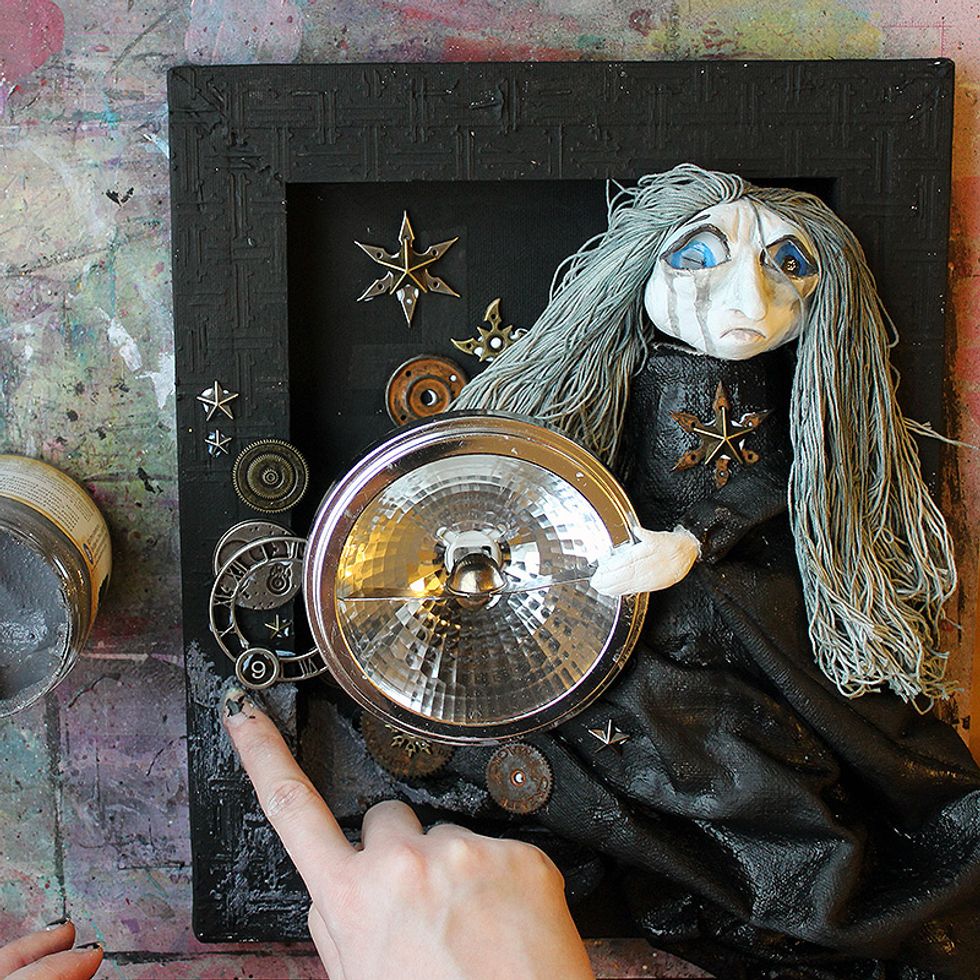 Add touches of the Graphite Texture Paste here and there. You can use a brush or palette knife also.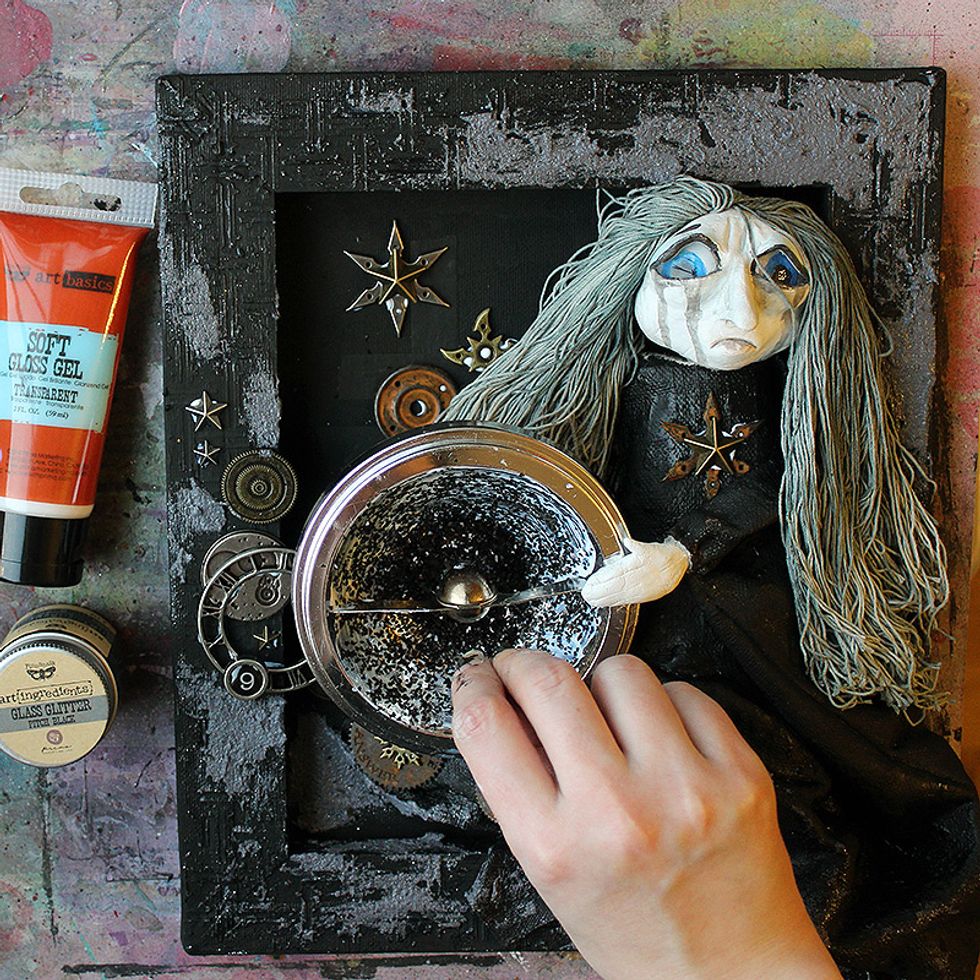 Paint a layer of Soft Gloss Gel inside the light and then sprinkle black Glass Glitter on it. Let the piece dry thoroughly.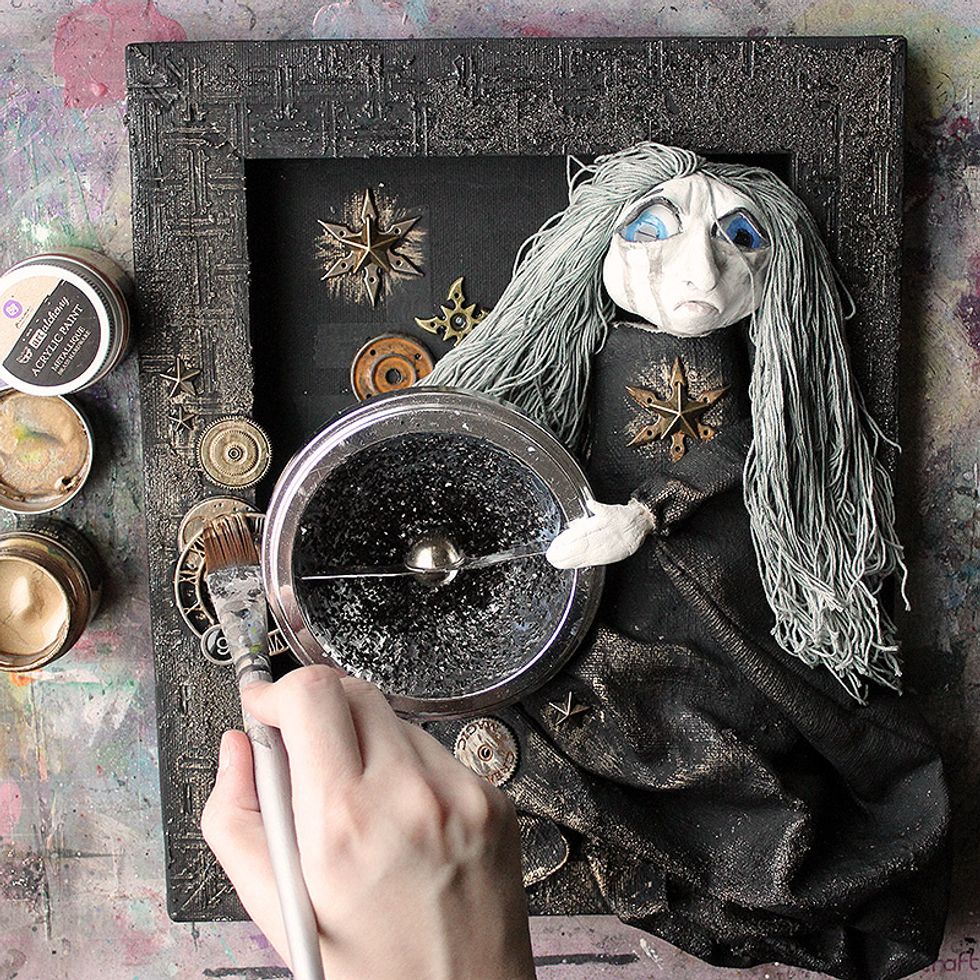 Add touches of metallic using the Art Alchemy paint.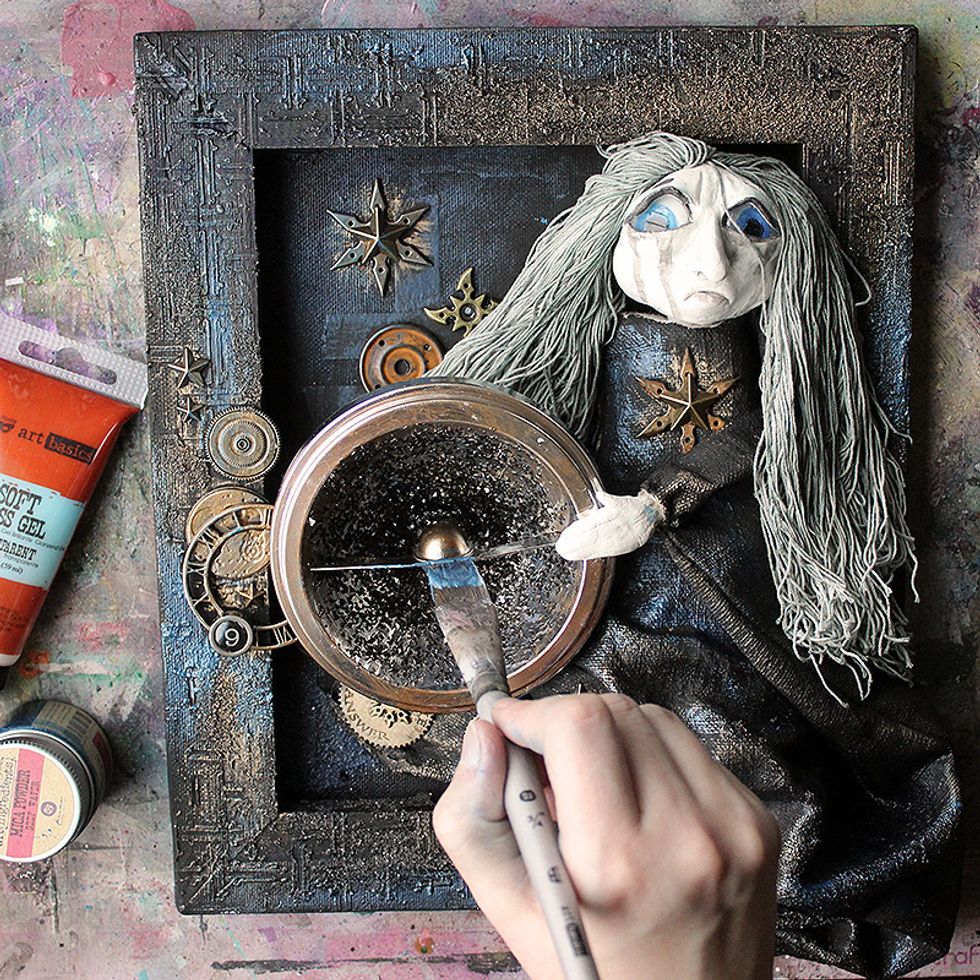 Add a different color and different kind of shine using a custom paint out of Soft Gloss Gel and Mica Powder. Just choose the color you like and mix in to the Soft Gloss Gel.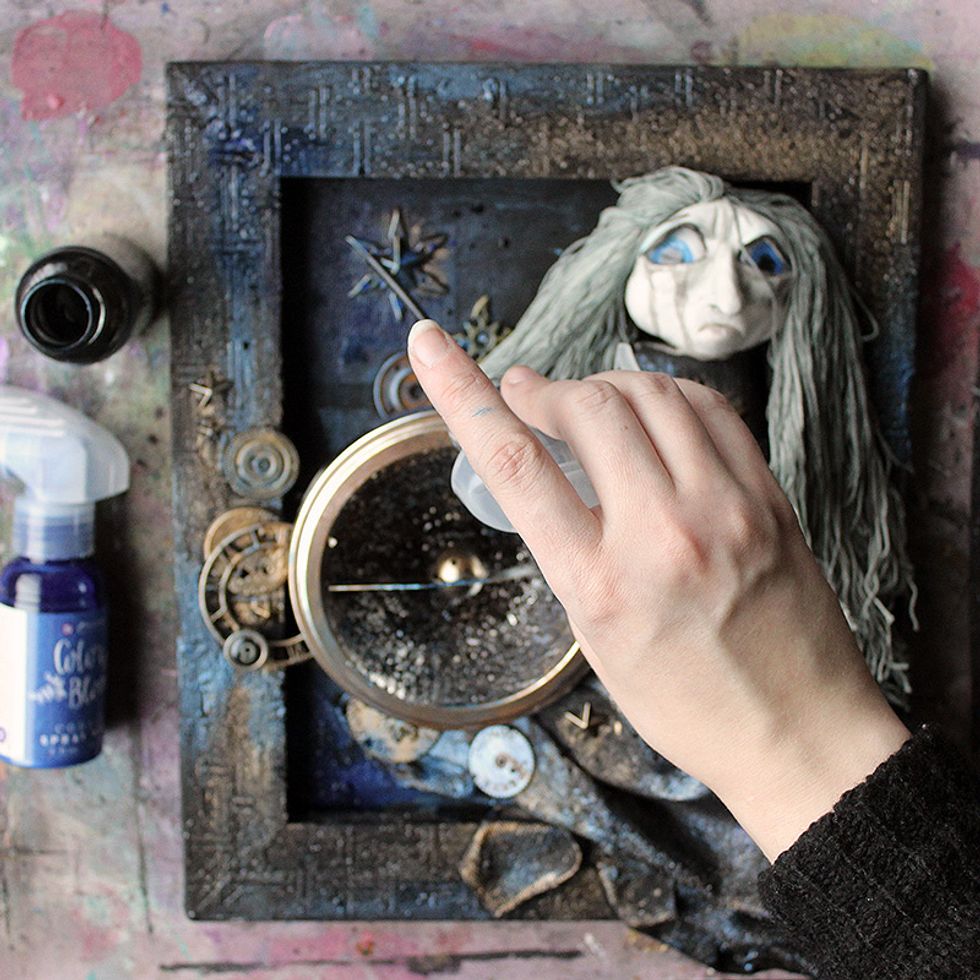 Add some touches of Color Bloom spray here and there. I sprayed Cobalt on the piece, and used the nozzle/tube to flick Precious Stone on the piece.
Finish the canvas with glitter. The glitter will stick to the paints/sprays on the canvas, but you can also use Soft Gloss Gel for a stronger hold. Just apply gel, then sprinkle glitter on top.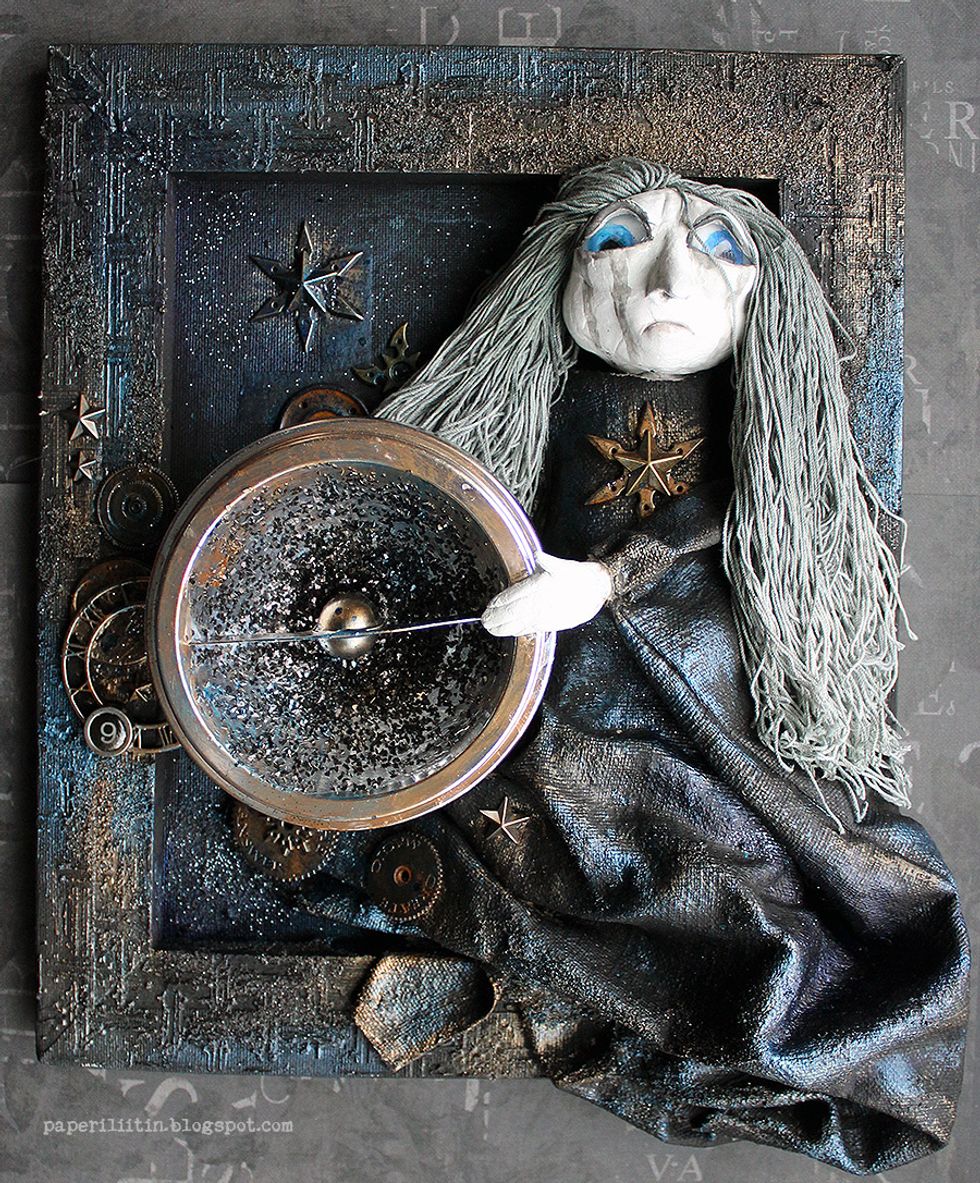 Your piece is finished! You can personalize your piece by choosing gesso and paints in the colors you like!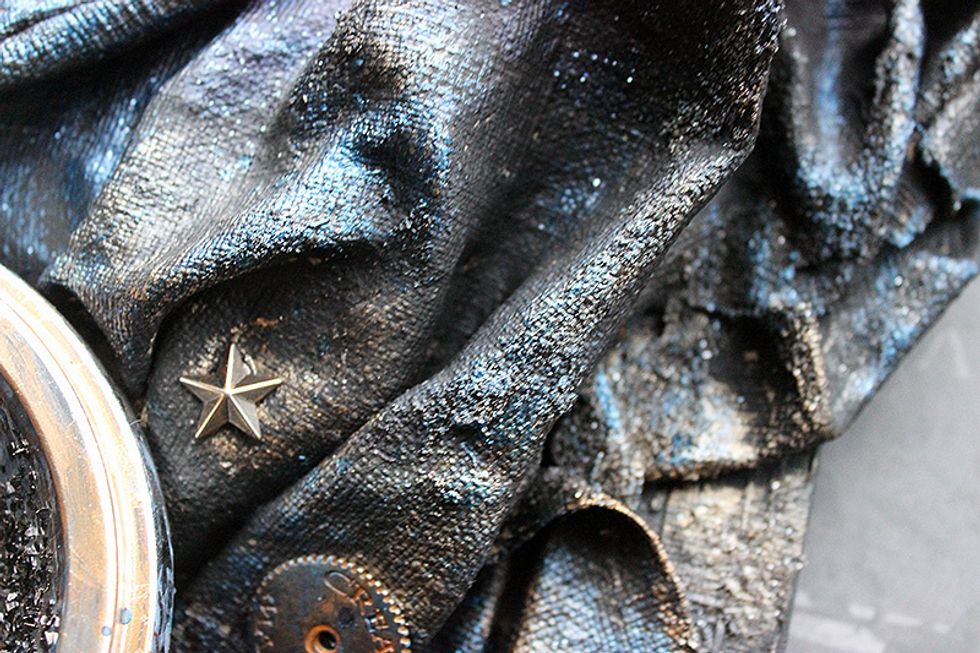 See the beautiful texture the sculpture medium adds to fabric?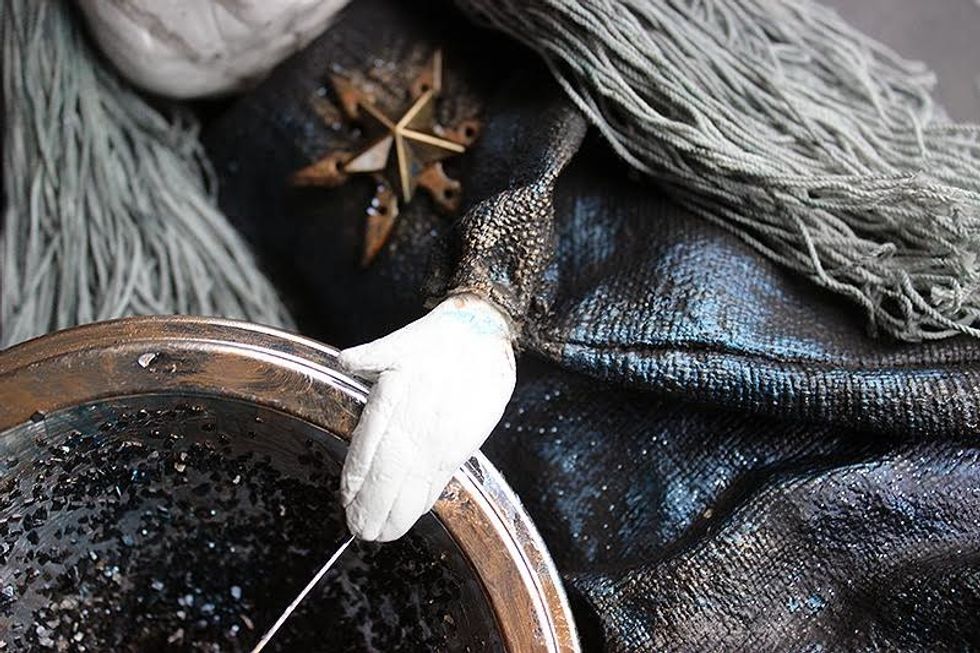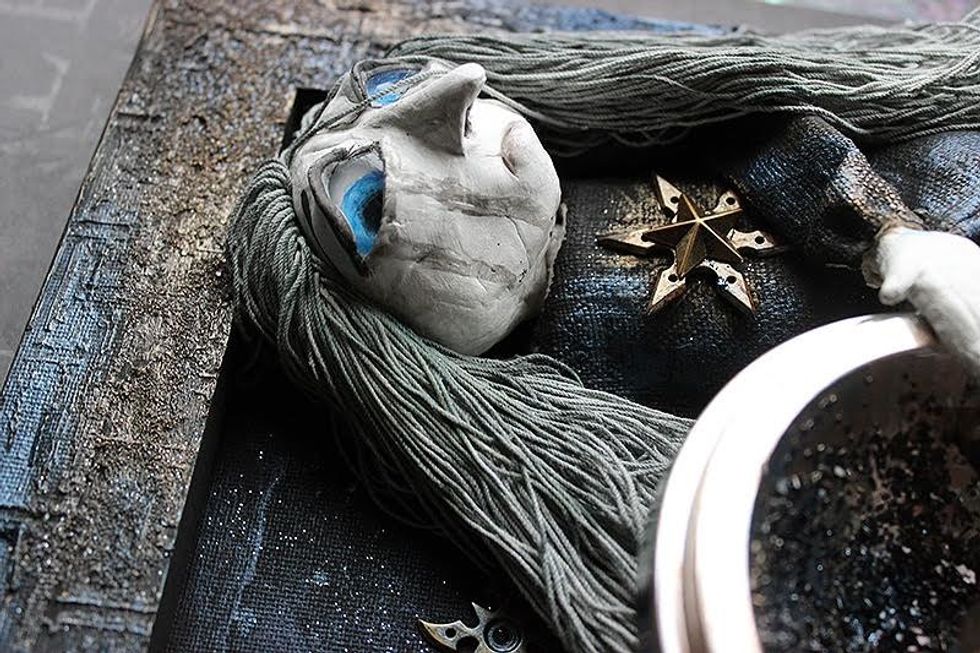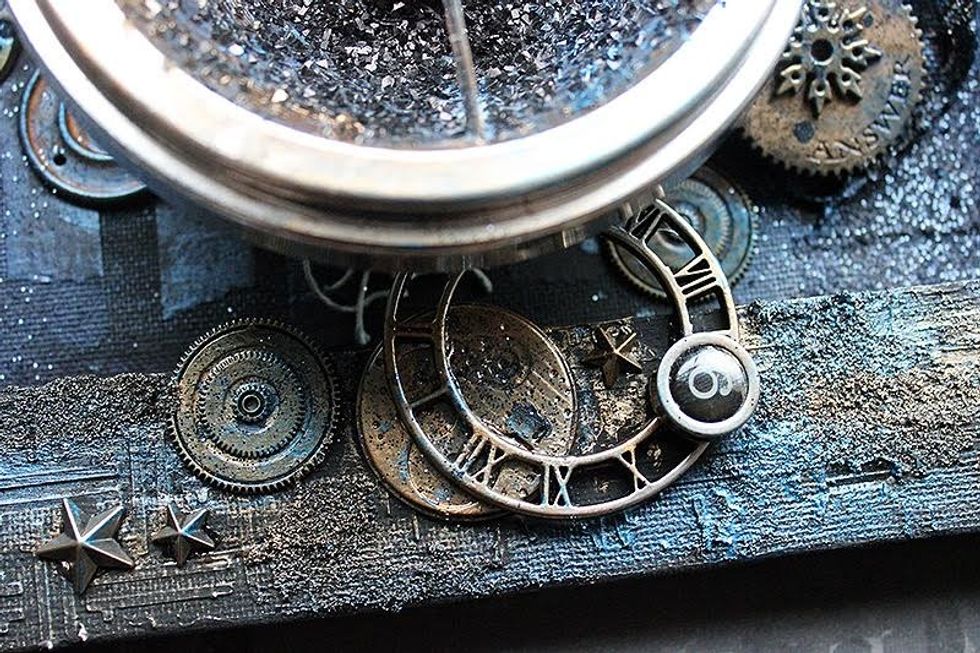 963019 – Prima Finnabair-Sculpture Medium Clear
962975 – Finnabair-Modeling Paste
962982 – Finnabair -3D Gloss Gel
962999 – Finnabair- Soft Gloss Gel
963064 – Finnabair-Art Alchemy Steampunk Copper
962845 – Finnabair-Mica Powder Deep Water
963323 – Finnabair-Art Pebbles
584559 – Stencil 6x6
963354 – Finnabair-Mechanicals Mini Stars
963422 – Finnabair-Mechanicals Rustic Washers
963446 – Finnabair-Mechanicals Steampunk Blades
960285 – Finnabair-Mechanicals Vintage Clock Face
961077 – Mechanicals Vintage Centers
961138 – Finnabair-Mechanicals Type Writer Num.
961497 – Finnabair-Texture Paste Graphite
962708 – Finnabair-Glass Glitter Pitch Black
573812 – Prima -Color Bloom Precious Stone
573898 – Prima-Color Bloom Cobalt
961602 – Finnabair-Glitter Set Ebony and Ivory
Prima Marketing
Prima Marketing, Inc. is an established leader in flower embellishments in the scrapbooking and crafting industries!