How to make a butterfly garden w/the sept swirlydoos kit
Make a Butterfly Garden W/the Sept Swirlydoos Kit
29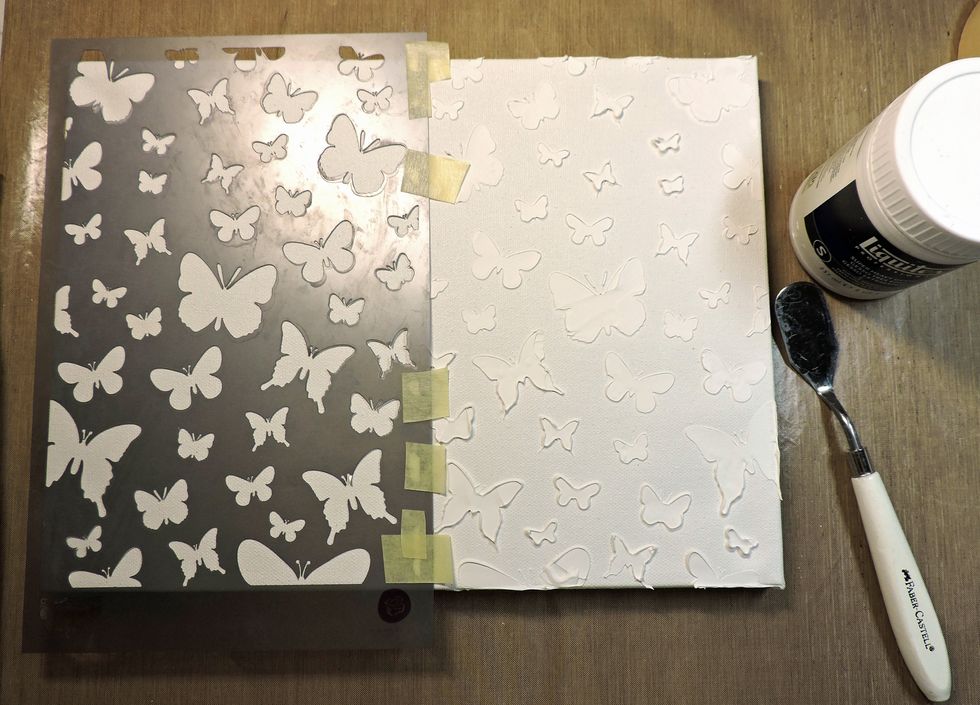 Create your background using Super Heavy Gesso and a butterfly stencil. (Tip: The masking tape not only holds the stencil down, it also covers the spots I didn't want to use.) Allow to air dry.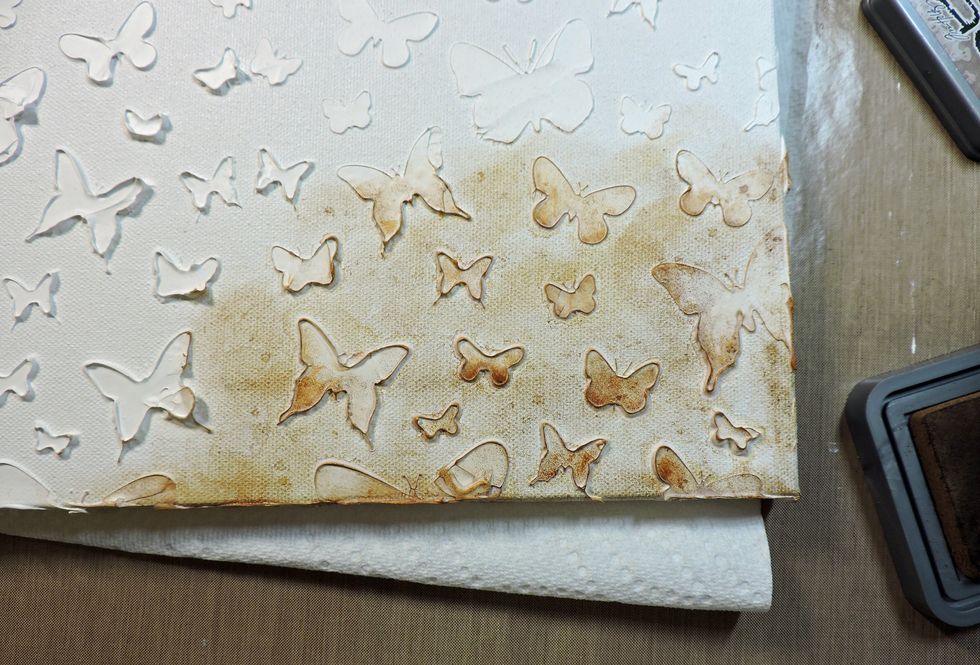 Apply the Vintage Photo Oxide Ink in the lower right corner of the canvas.
Mist with water.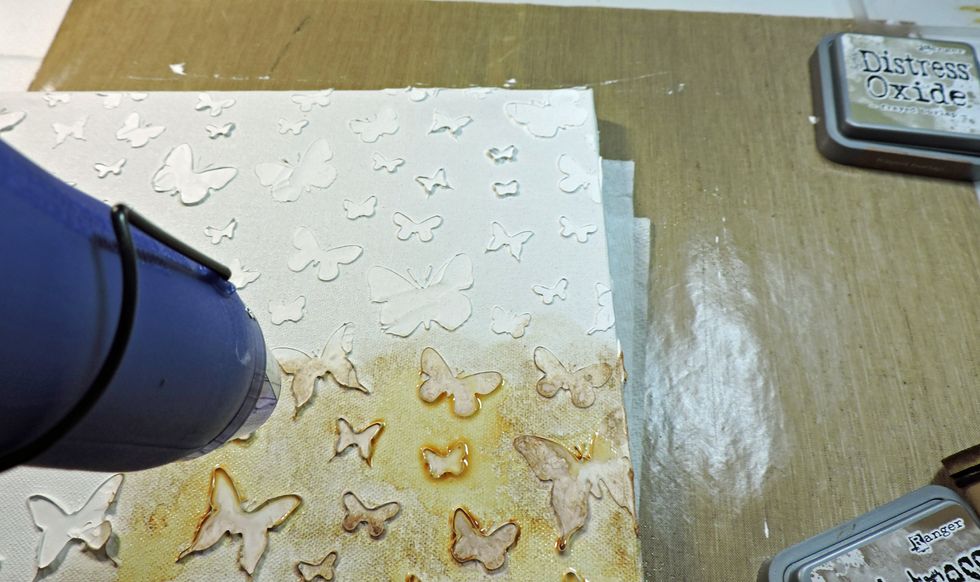 Dry with your heat tool. Using this method, add several more layers.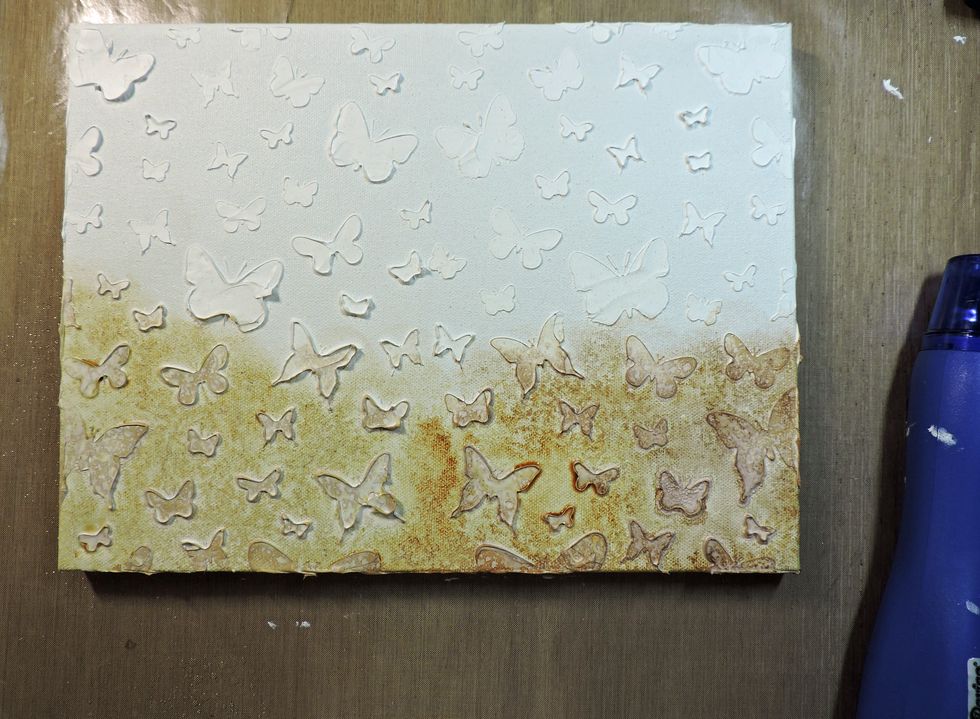 Color the lower left corner with the Frayed Burlap Oxide Ink, again using layers of ink and water, drying in between applications.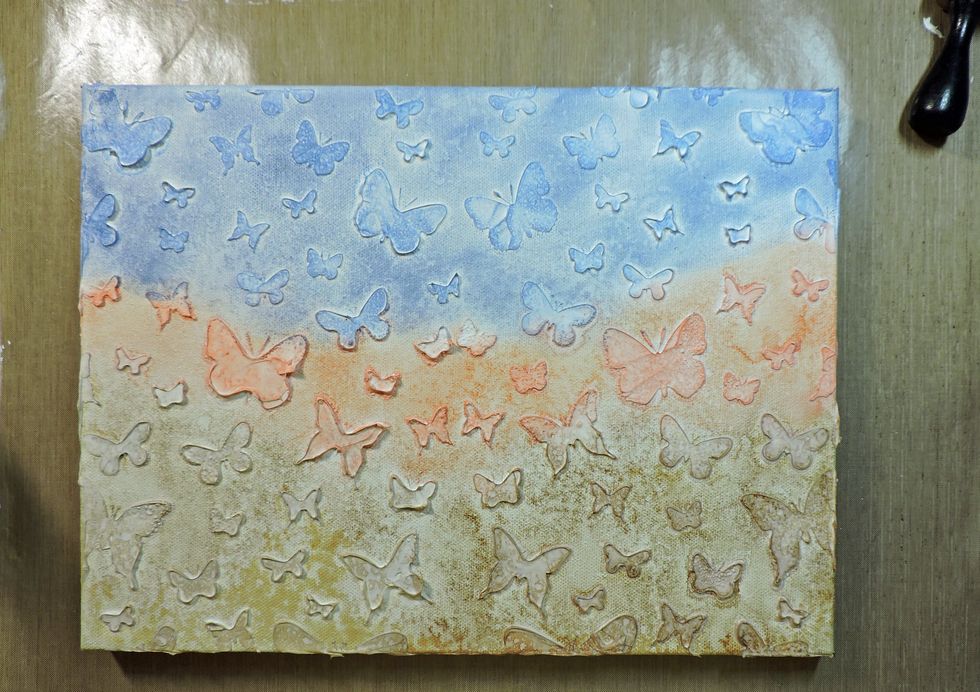 Using the same layering method, add the Abandoned Coral Oxide Ink through the middle (note that colors are laid down in a rough "V", rather than straight across), then the Faded Jeans on top.
Color the blue butterflies with the Night Sky Glitter Paint. Use the Sugar Cube Glitter Paint from the Project Kit on the Coral images.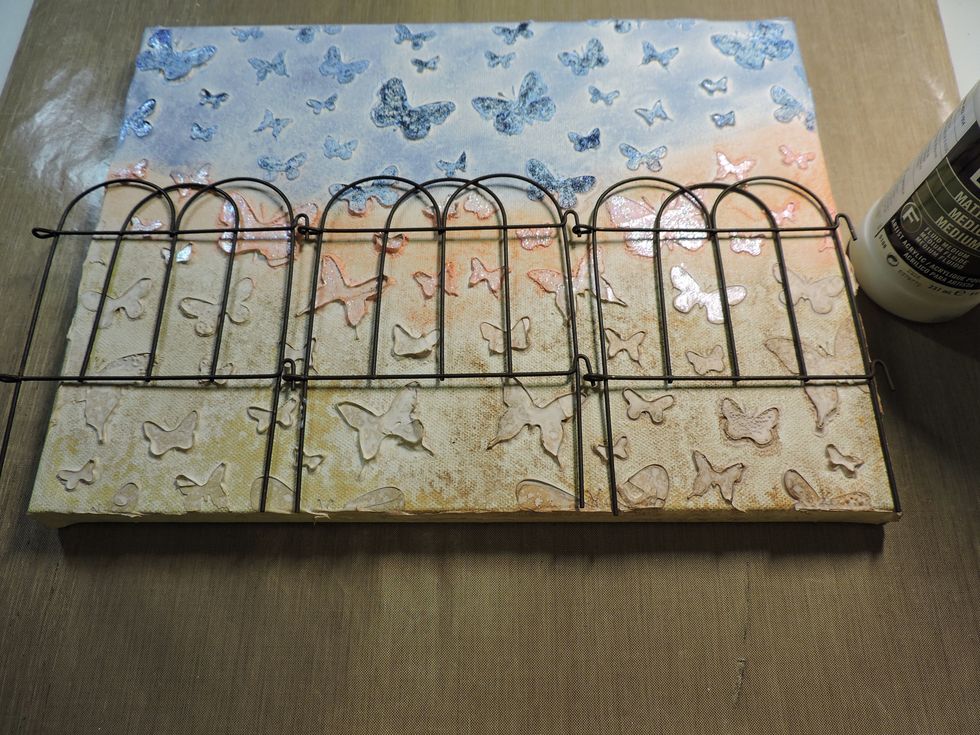 Using matte medium, adhere the fence to your canvas. (Yes, it WILL stay glued; matte medium is a wonderful adhesive.)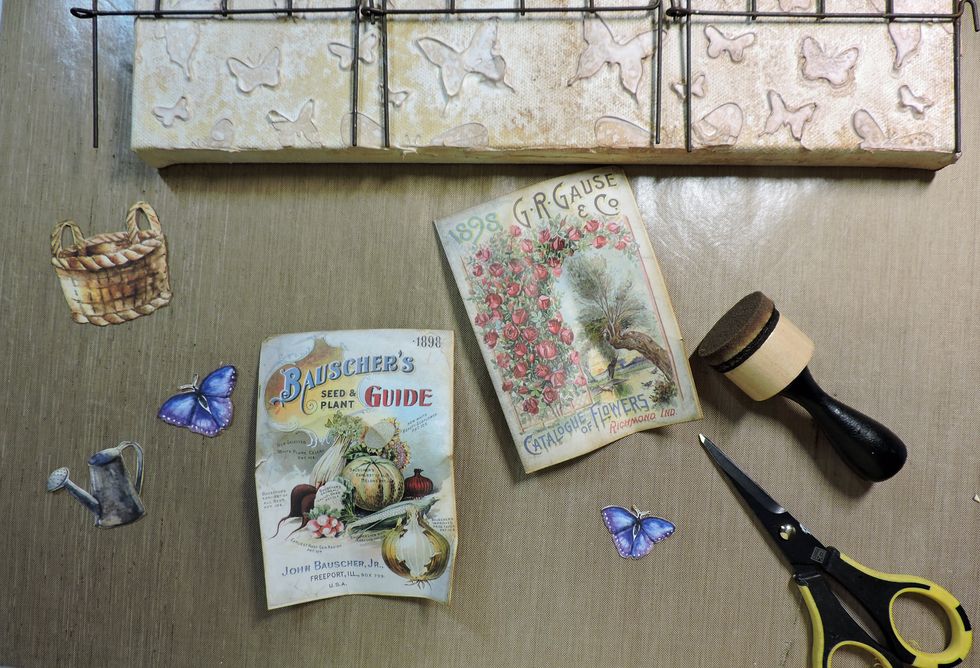 From the Cottage Cut Outs paper, fussy cut two of the seed packet images and a few embellishments. (Tip: Cut through one side of the handles to get at the middle.)
Again using matte medium, adhere the "seed packets".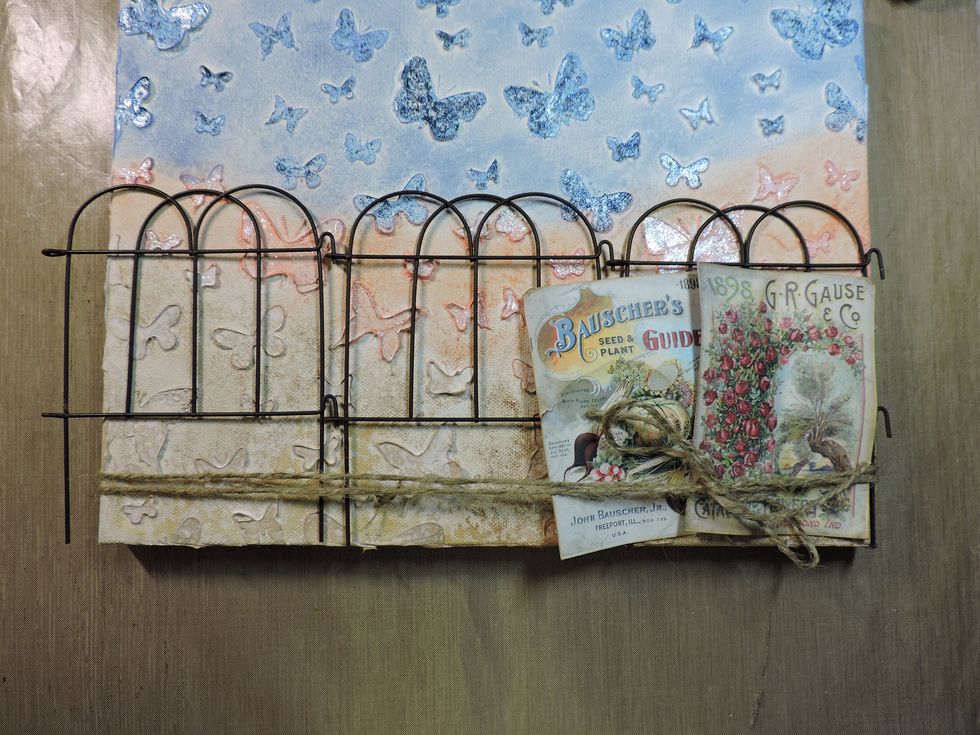 Wind the jute around the canvas twice. Knot tightly and make a rough bow.
Begin to add the blooms and foliage, using matte medium. I added some of the greenery that came in the other flowers to fill my spaces.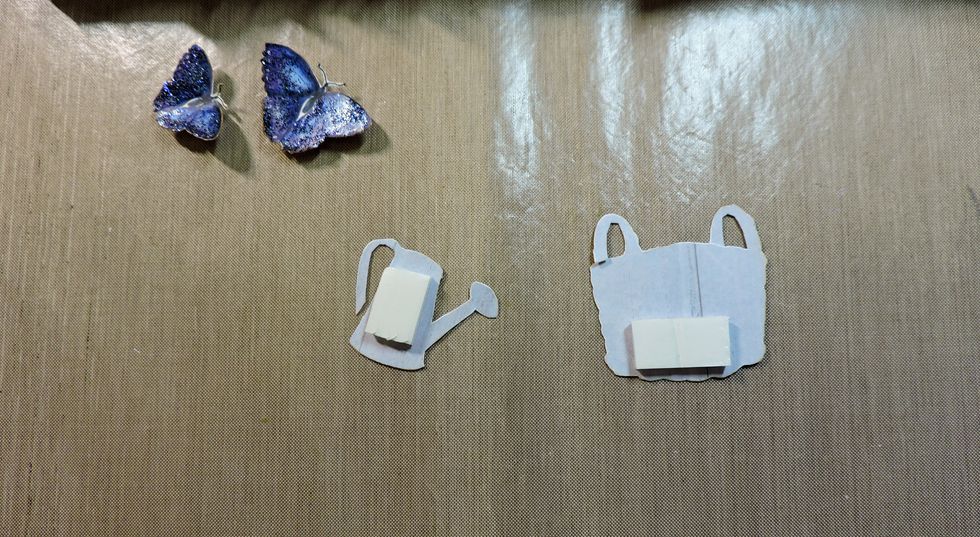 Glam up the butterflies with Glitter Paint. When dry, apply foam tape to all of the cut-outs.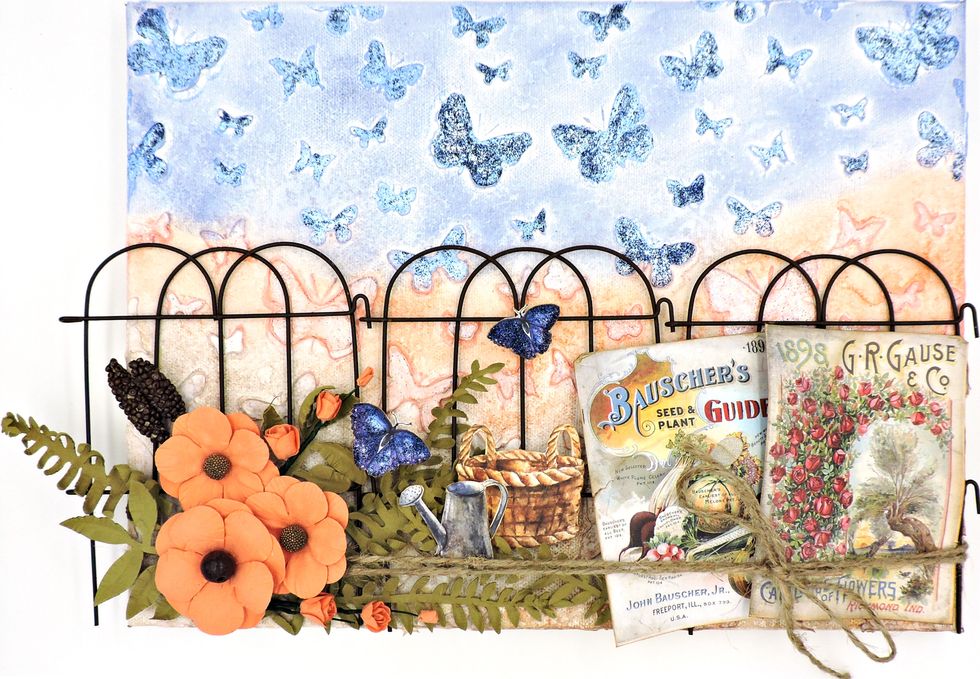 Add the cut-out embellies and you're done!
Swirlydoos September 2017 "Autumn Bloom" Kit
Swirlydoos September 2017 Flower Add-On
Swirlydoos September 2017 Embellishment Add-On
Swirlydoos September 2017 Project Add-On
Swirlydoos September 2017 Mediums Add-On
9" x 12" Canvas
Butterfly Stencil
Super Heavy Gesso
Matte Medium
Foam Tape
Heat Tool
Water Mister
Small Paintbrush
Distress Ink Applicators