How to layer mediums using the gel press by kathy adams
Layer Mediums Using the Gel Press by Kathy Adams
7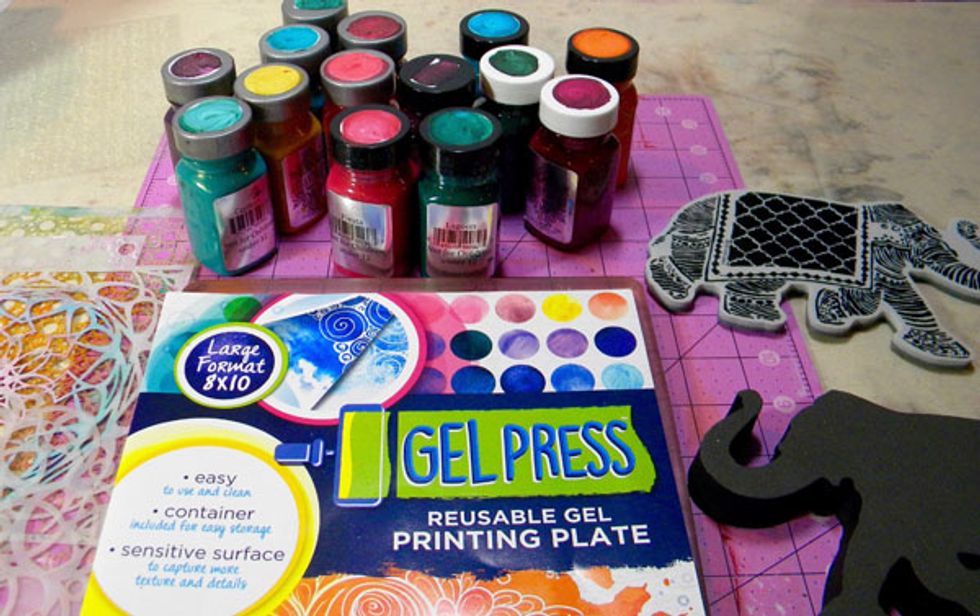 If you have never used a Gel Press printing plate, you need to and you will be addicted! I love using Art Anthology mediums with Gel Press because they are best when layered.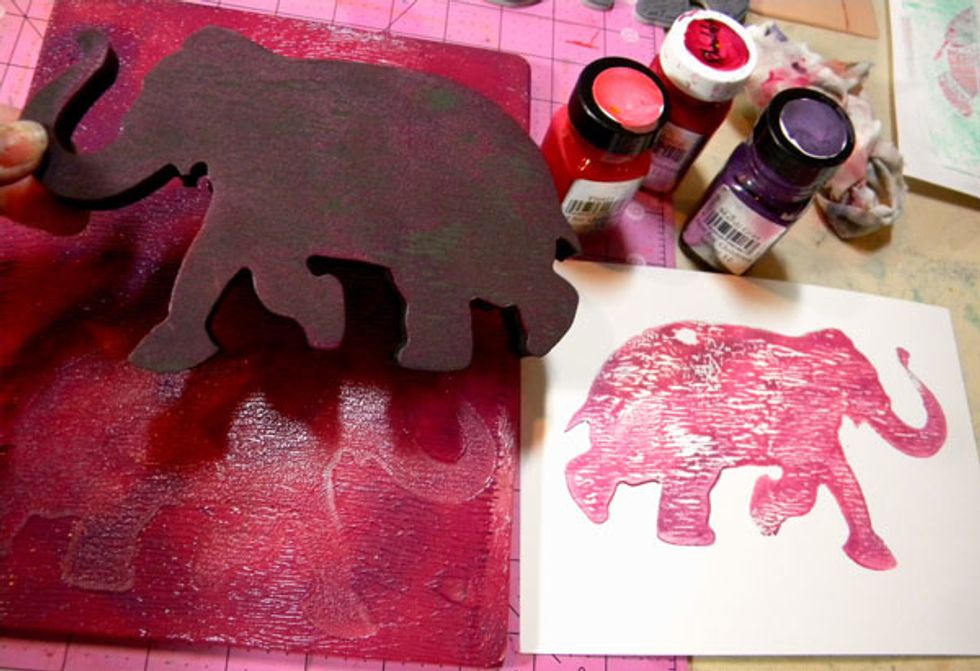 Add a small amount of Fiesta and Mardi Gras Velvet and Rhodolite Gemstones to the Press and use a brayer to smooth out. Stamp the foam elephant stamp onto the plate and print using mixed media paper.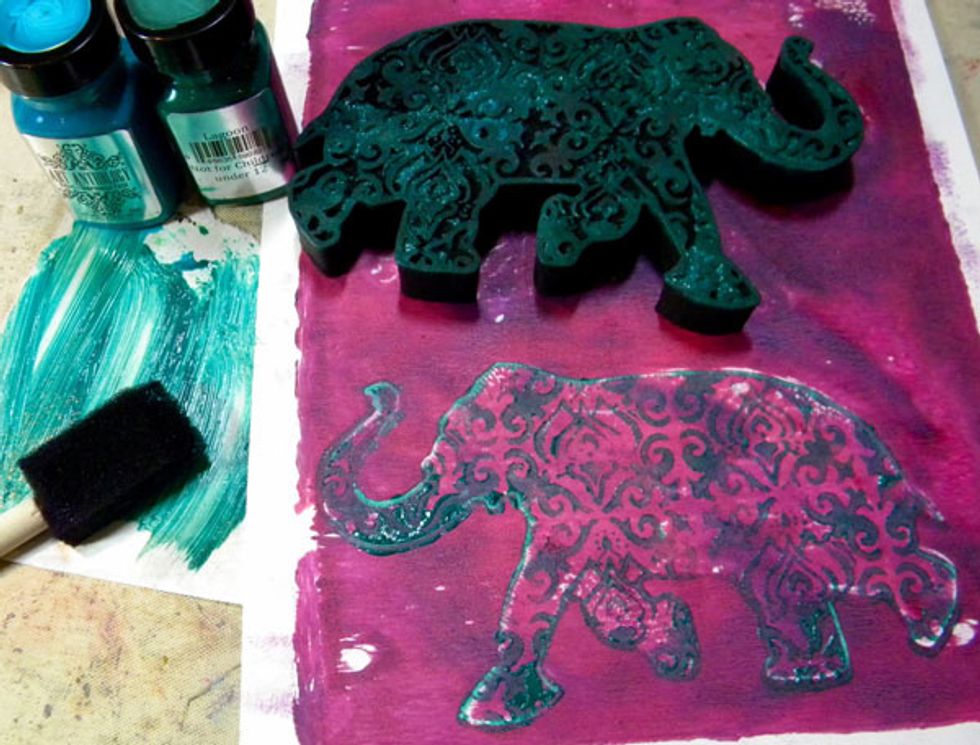 I printed several of this color using the solid side and the decorative side of the elephant stamp. Then I used Lagoon and Fiji Velvets to stamp the pattern onto one of the solid elephants.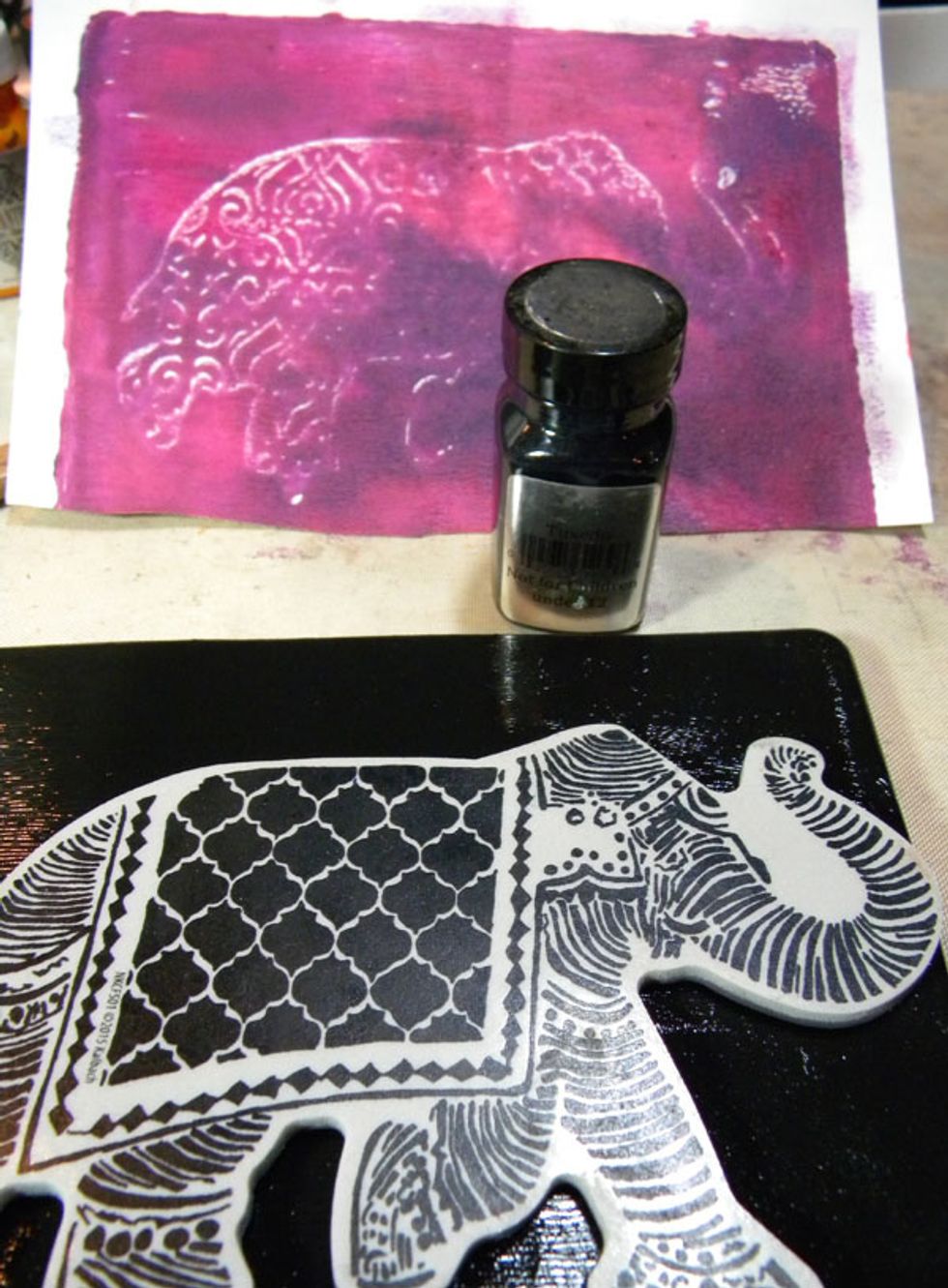 Use Tuxedo Velvet on the Plate and press the elephant rubber stamp onto it to "ink" up. I love to use the Plate in this way. Then pull a print and you have a mirror image of the stamp.
Stamp it onto another purple elephant. Later I will cut them out.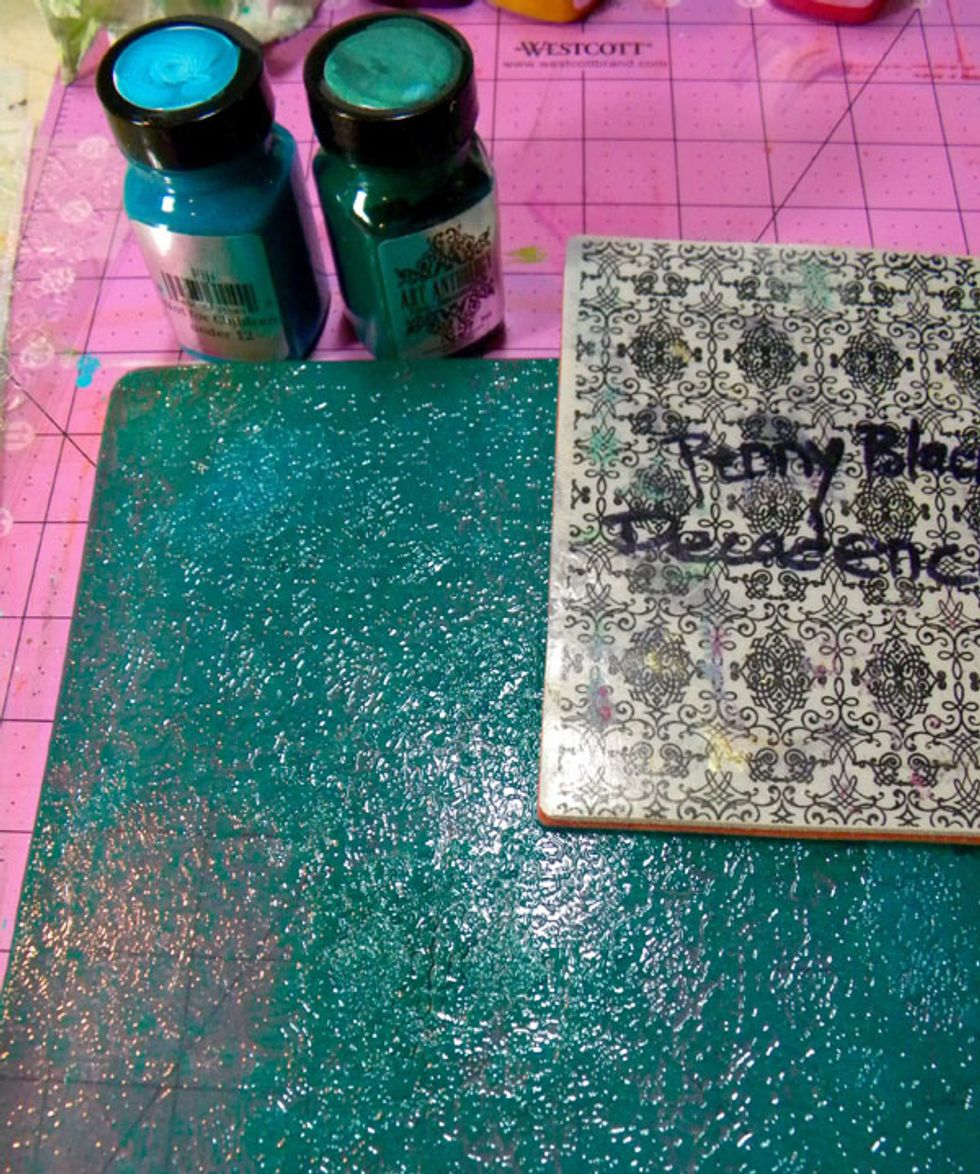 To embellish the elephants. I used a decorative background stamp and Lagoon and Fiji Velvets to make a pattern on the Gel Press. I stamped onto card stock after making each impression on the plate.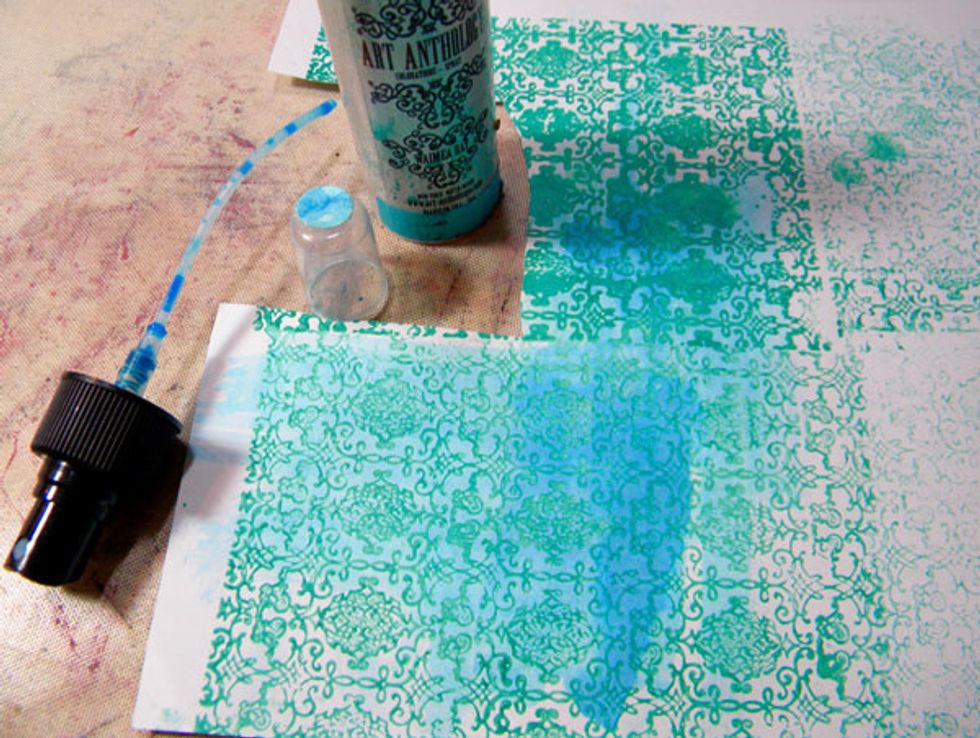 Using the card stock that I stamped off onto, spray Waimea Bay Colorations Spray to color the background. The paint resists the spray and makes a pretty background against the green pattern.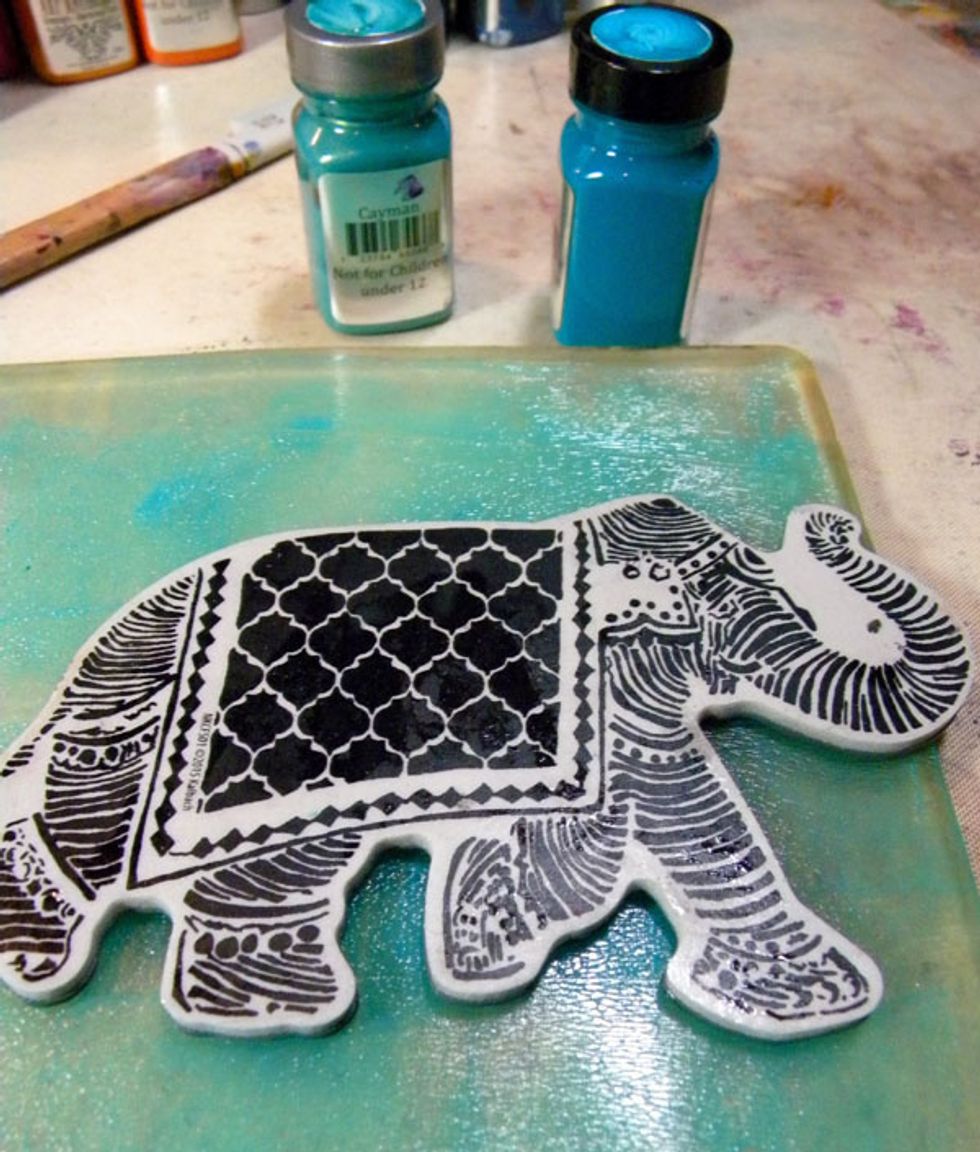 Brayer Cayman Sorbet and Fiji Velvet onto the plate and stamp the image. Use the elephant rubber stamp to make the image on the plate. I used this to embellish one of the elephants for the canvas.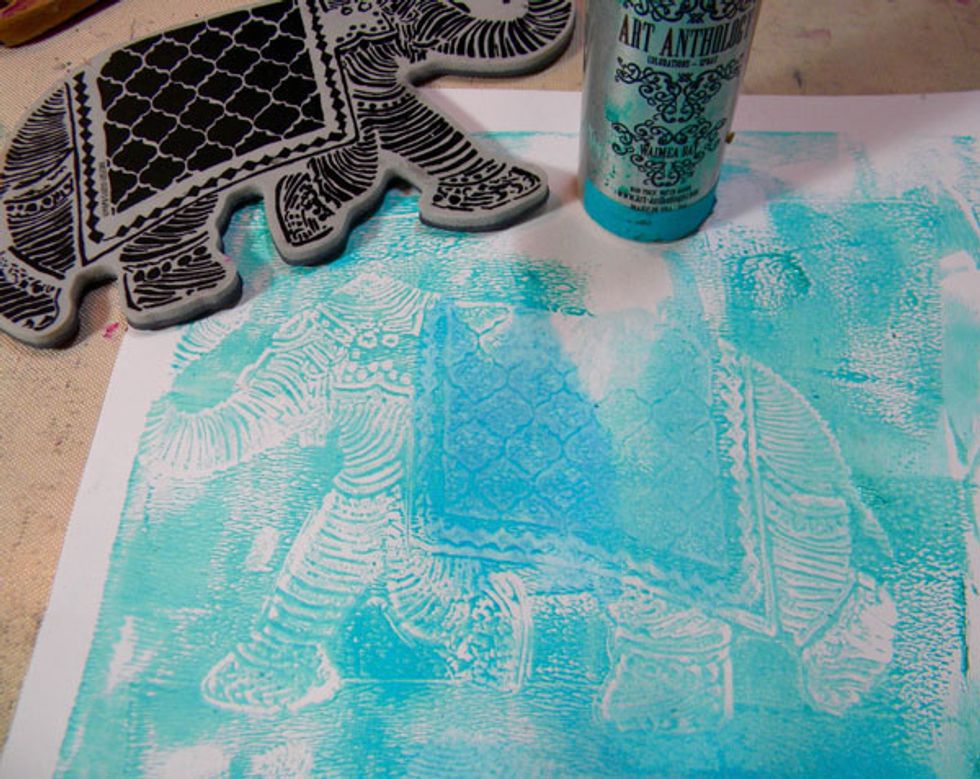 I did the same thing to this print and sprayed it with Colorations Spray.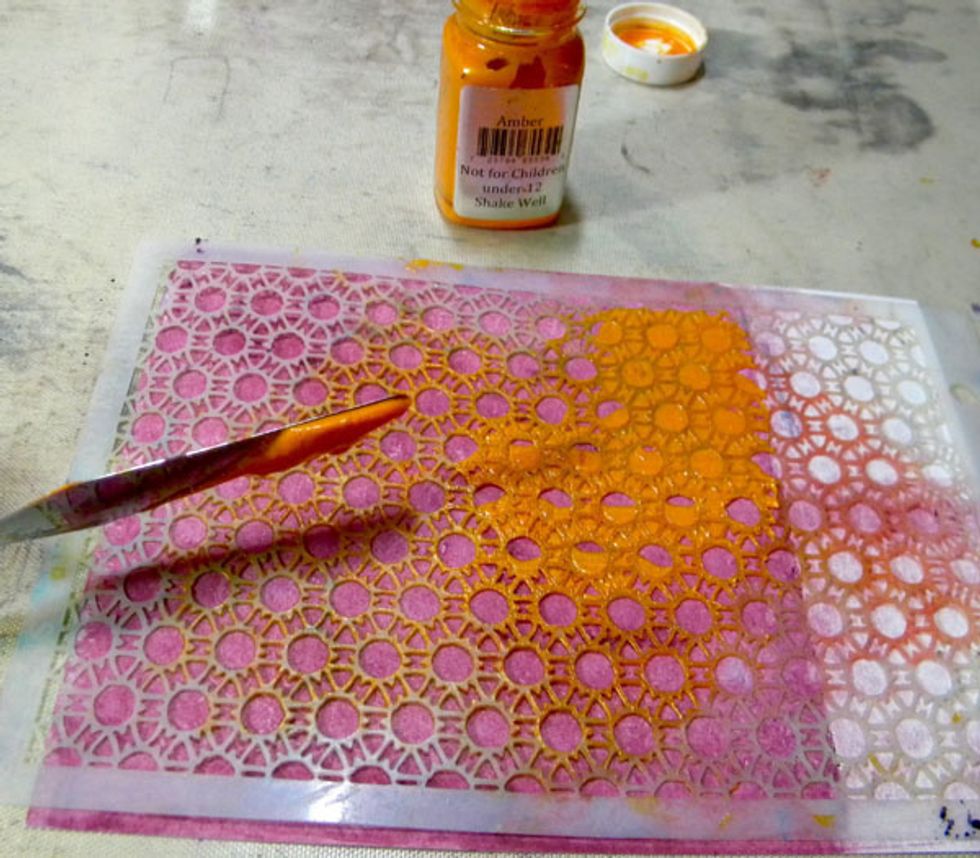 Next, spray mixed media paper with Wild Orchid Colorations Spray and then spread Amber Gemstones through the Retro stencil.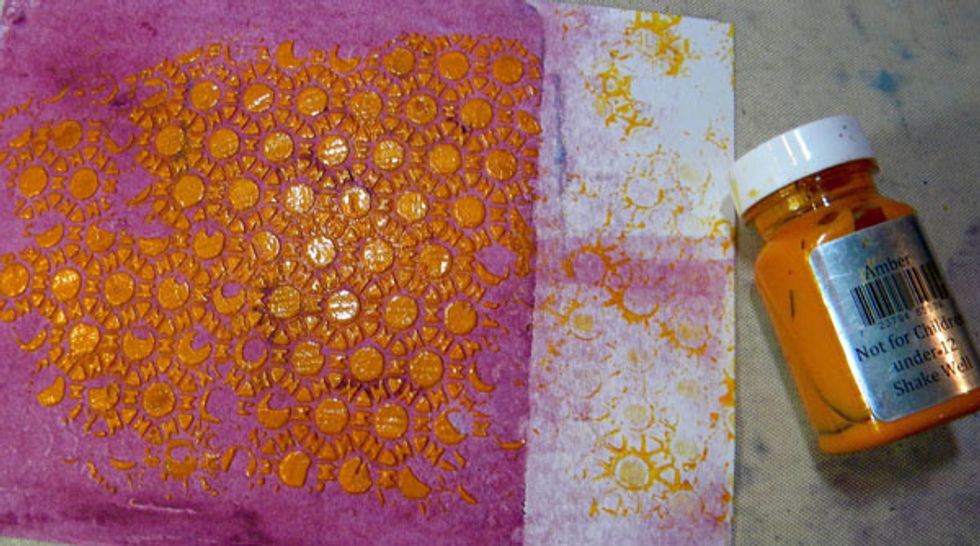 I love this combination! Let it dry completely.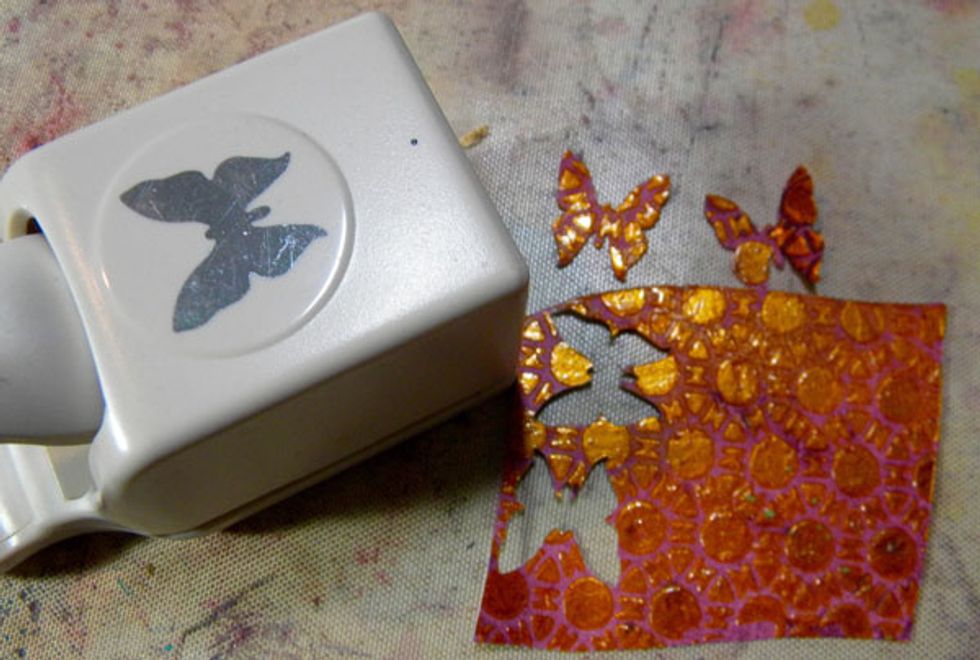 Punch butterflies out of this pattered paper.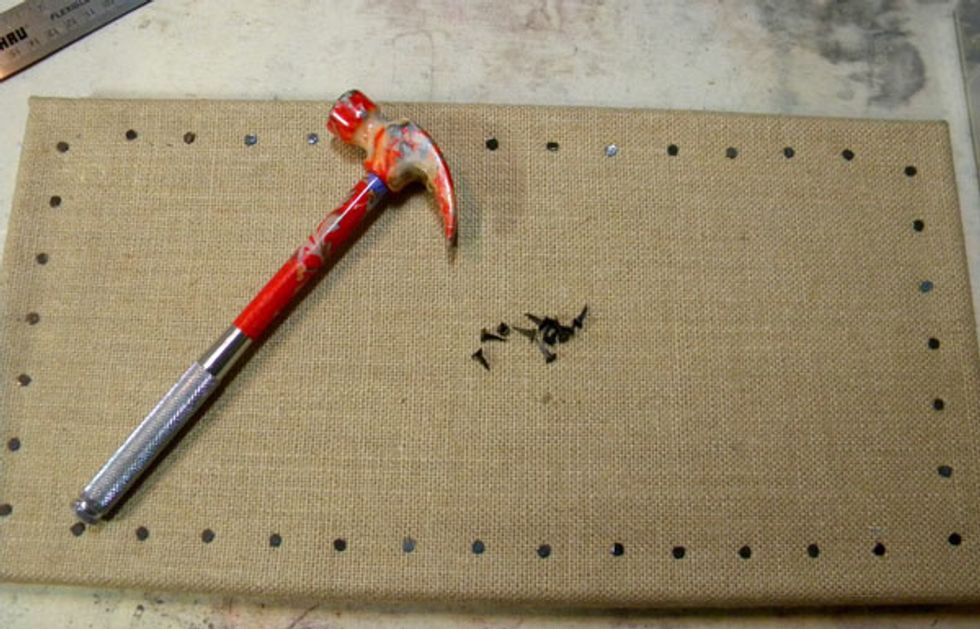 Add black tacks to the perimeter of the burlap canvas. I spaced them an inch apart.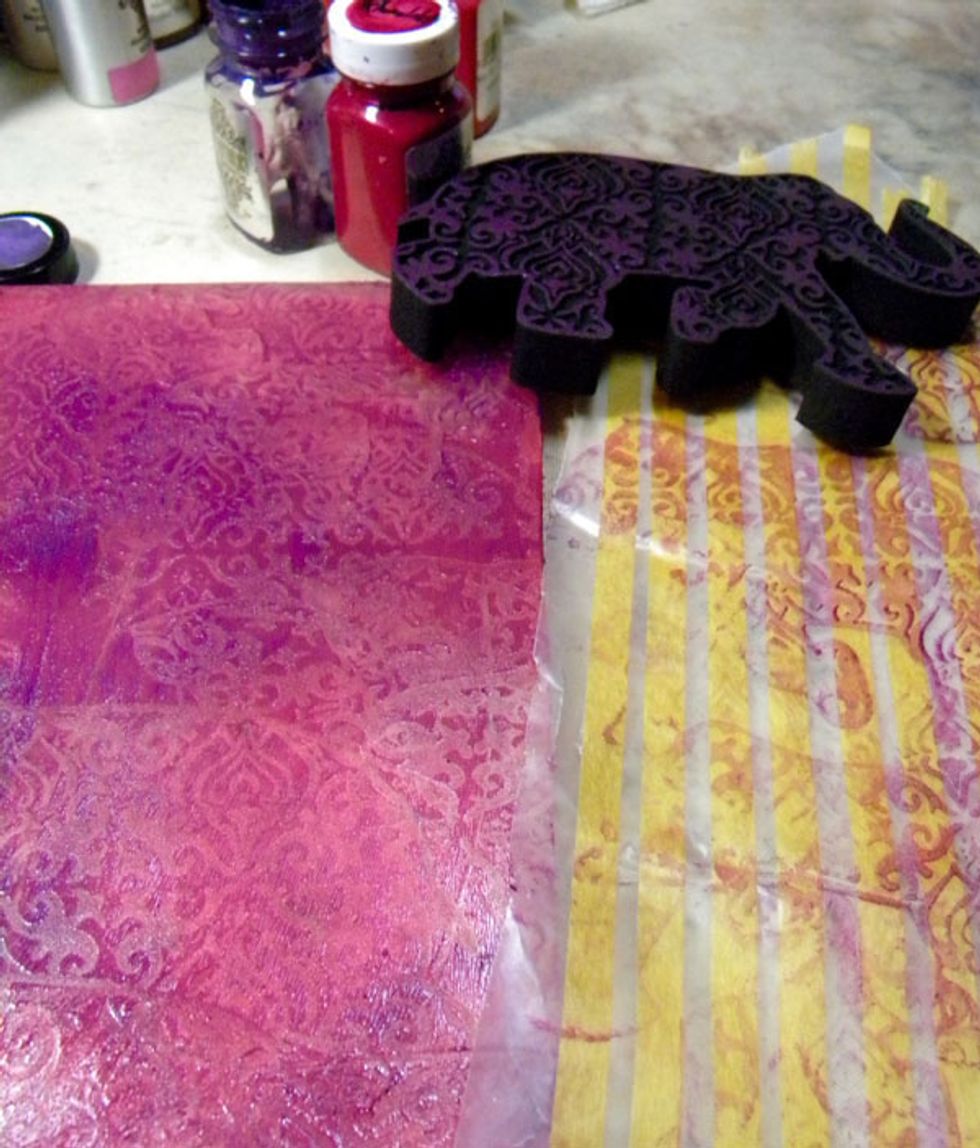 Add Mardi Gras and Rhodolite onto the Press and pressed the elephant foam stamp to make the patterns.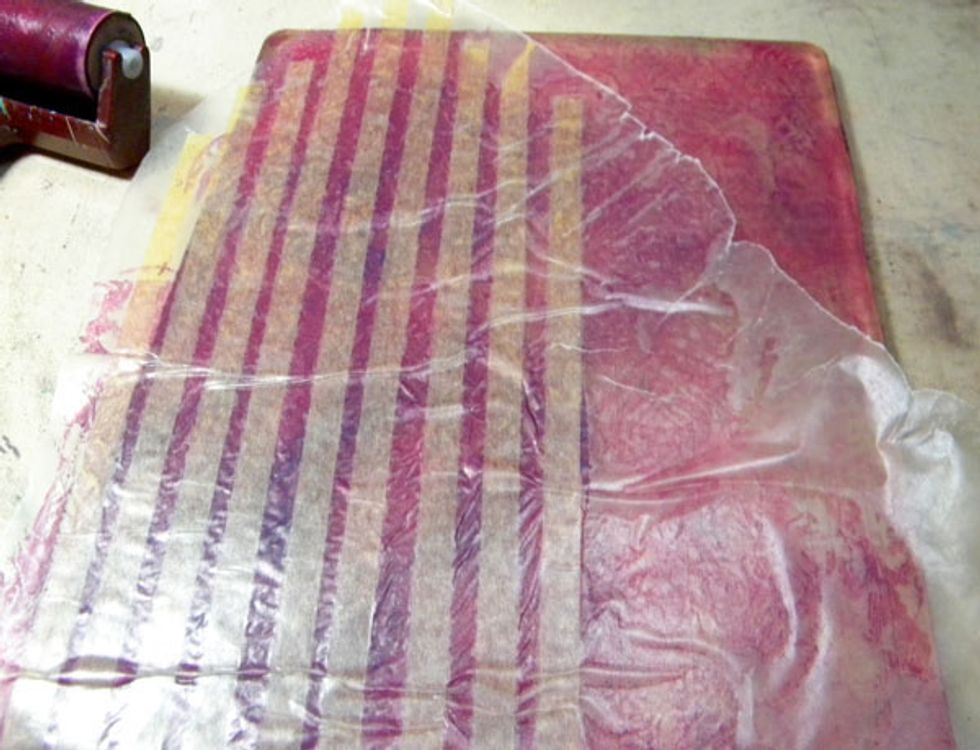 Press the tape onto the Plate. The result was very light. It needed more layers, of course!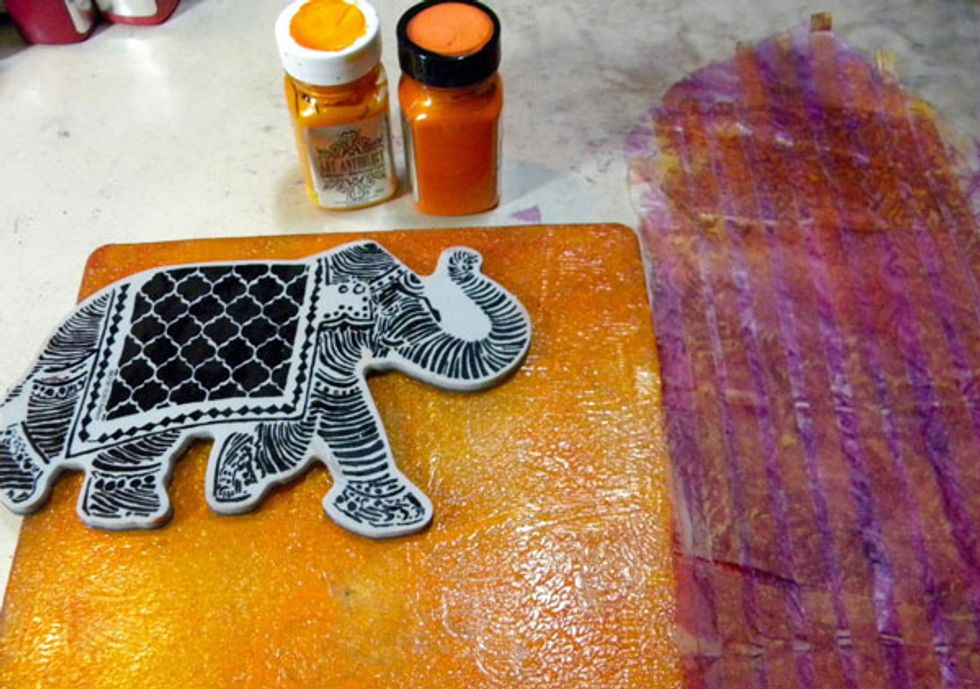 For the next layer, I used Tango and Amber and the rubber stamp to add the pattern.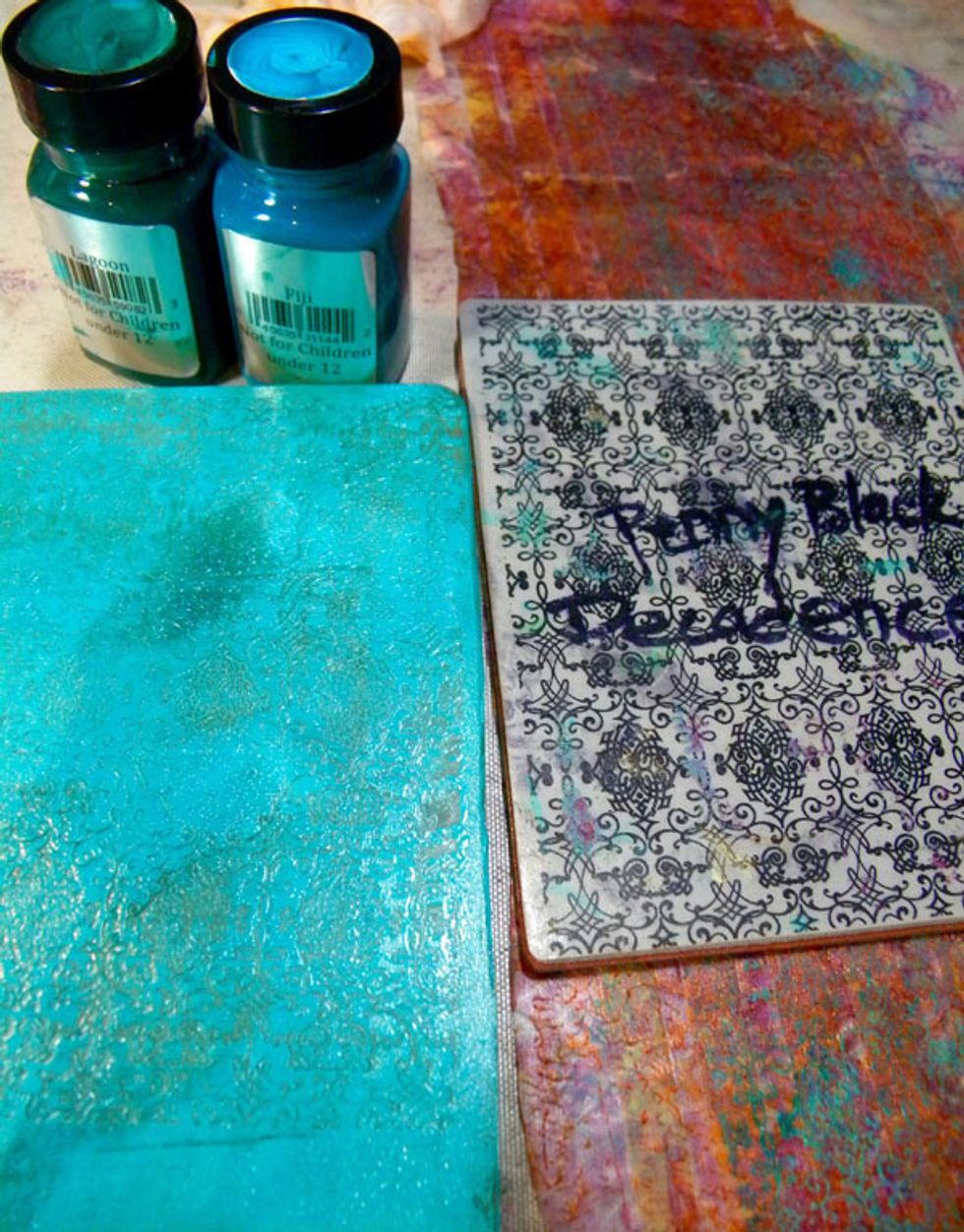 The next layer I added blues with the decorative background stamp. I also added some gold to the tape.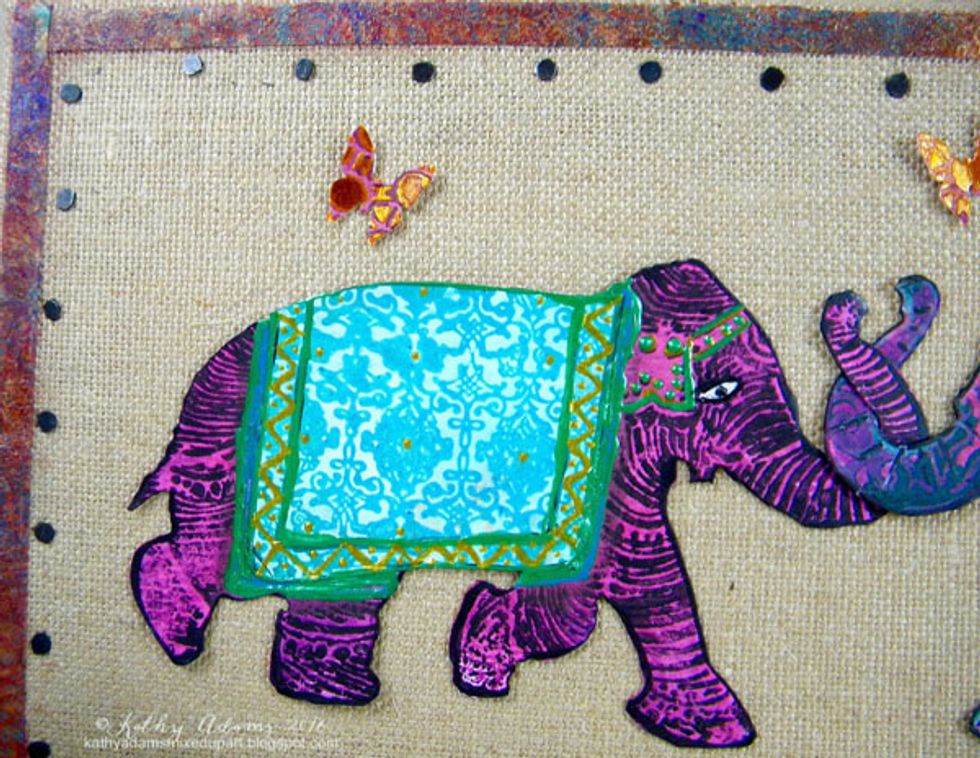 Time to put it all together. I used paint pens to add some embellishments to the elephants and added the eyes.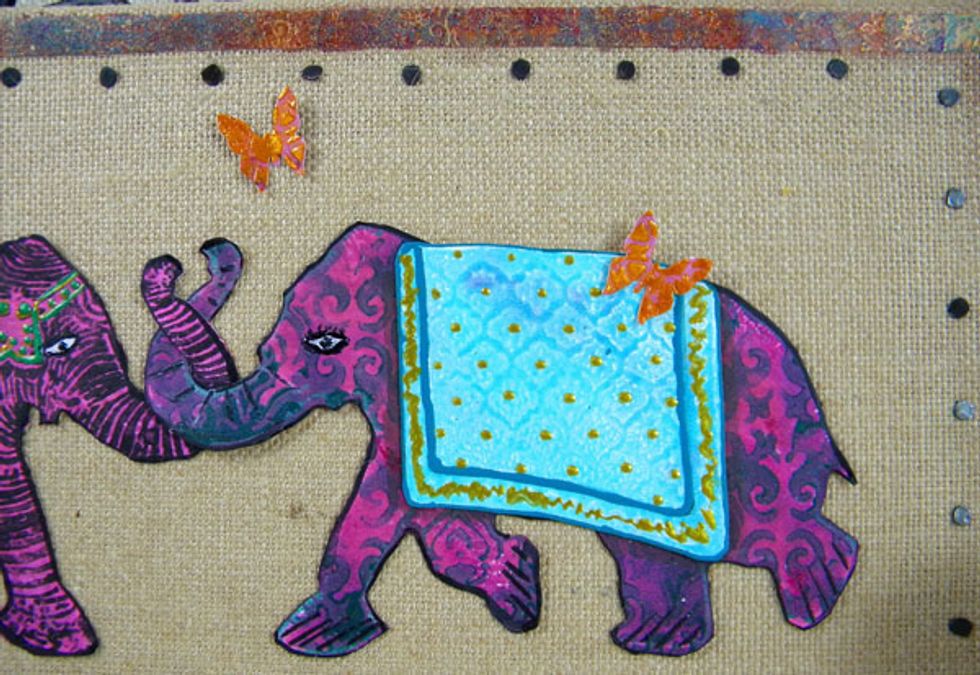 The tape had lost some of it's stickiness so I attached it with matte medium, which dries clear. Everything else was glued down with Beacon 3 in 1 liquid glue.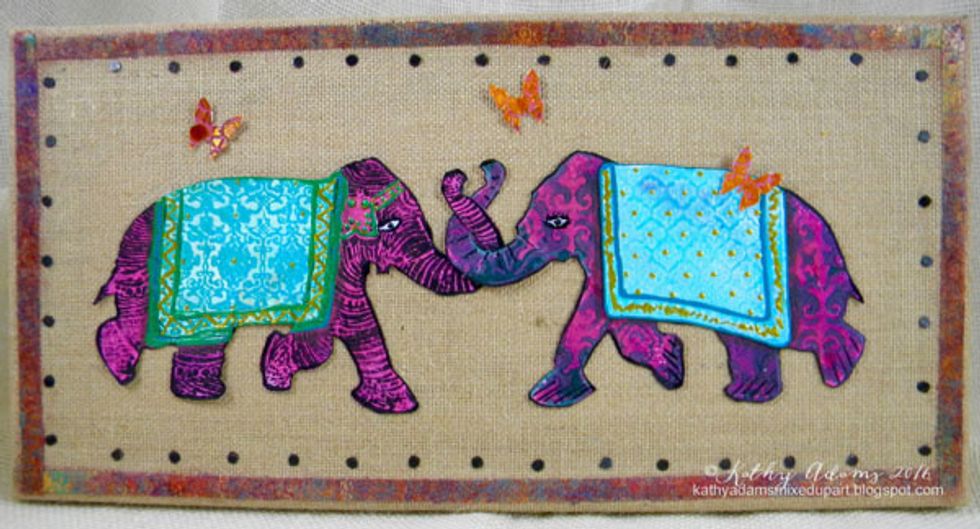 I love how this canvas turned out and I hope that I have inspired you to use Art Anthology mediums on your printing plate.
Fiji Velvet
Lagoon Velvet
Mardi Gras Velvet
Tango Velvet
Fiesta Velvet
Cayman Sorbet
Viridian Sorbet
Amber Gemstones
Rhodolite Gemstones
Juicy Colorations Spray
Waimea Bay Colorations Spray
Patience Colorations Spray
Wild Orchid Colorations Spray
Gel Press Plate 8" x 10"
Mixed Media Paper
1/4" Masking Tape
8" x 16" Burlap Canvas
Natalie Kalbach "N Studios" Elephant Stamp Set
Butterfly Punch
Art Anthology
Art Anthology is a manufacturer of dimensional mediums.\n\nCome chat with us in our Facebook Group: Art Anthology Adventures in Art