There are different numbers of players on each team depending on the location and the gender of players. Men's Lacrosse- 10 players (on each team) Women's- 12 players. Indoor Lacrosse- 6 players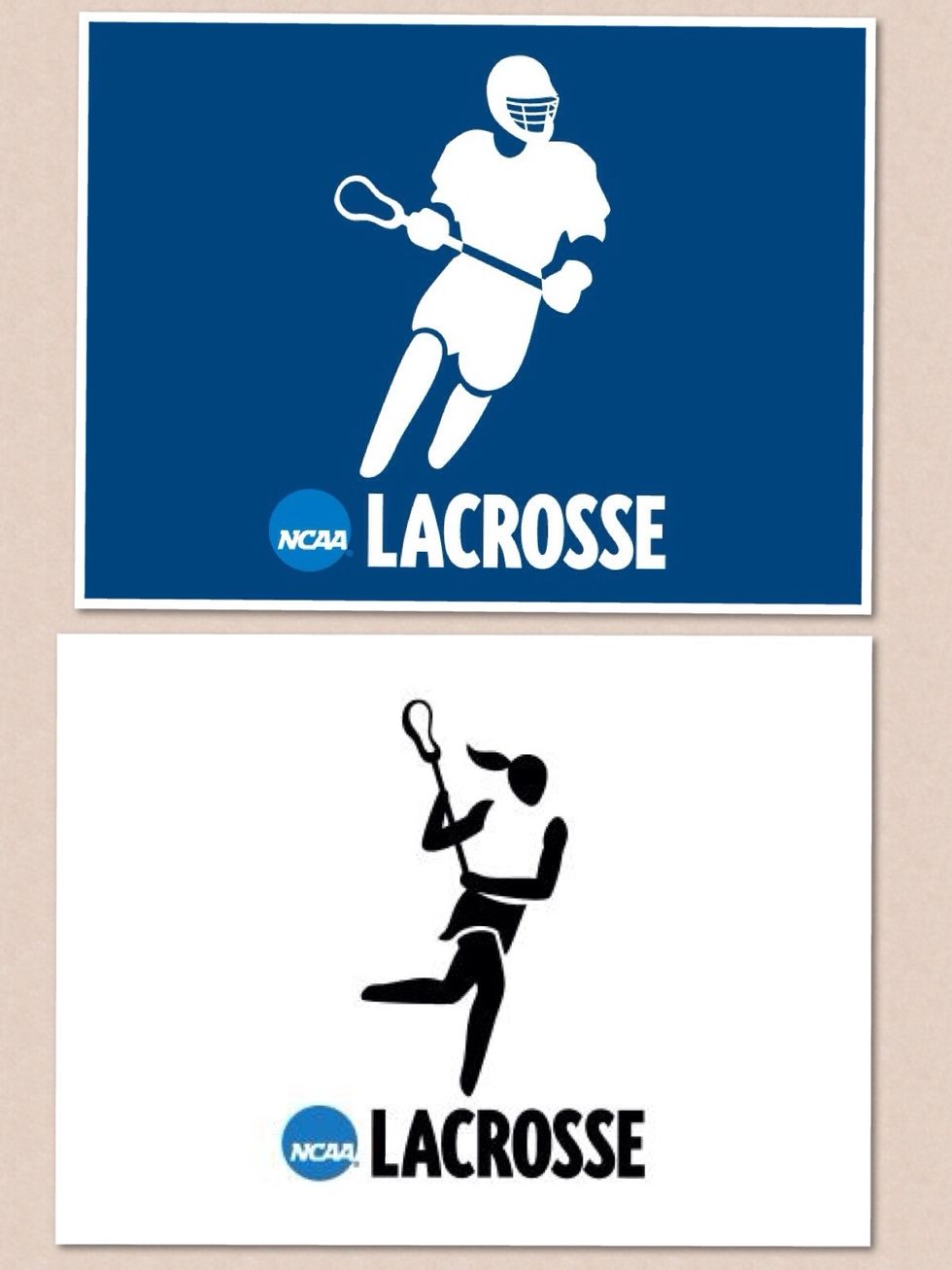 Men's and Women's Lacrosse teams.
Positions: Midfielders-Move around the whole field pass the ball to attackers.They may also score goals Defenders- Equipped with long poles and block opponents from scoring into their goal.
Attackers-Stay in the offensive zone and try to score goals for their team. Goalies- Last line of defense.Blocks the ball from entering the goal. Goalies use bigger special lacrosse heads.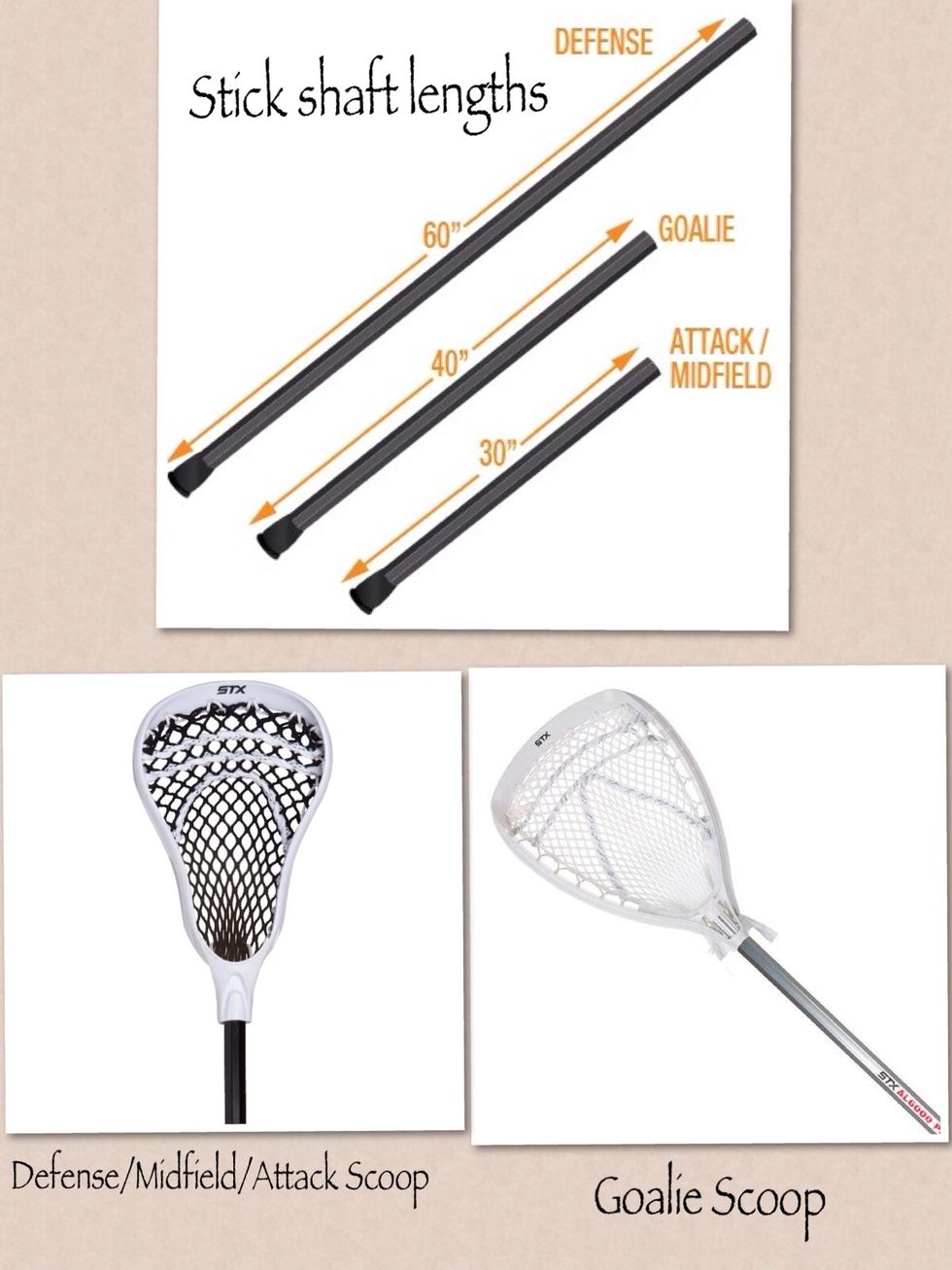 Differences in lacrosse sticks according to positions.
Similar to soccer, defenders and attackers stay within their areas.Only midfielders can move anywhere in the field.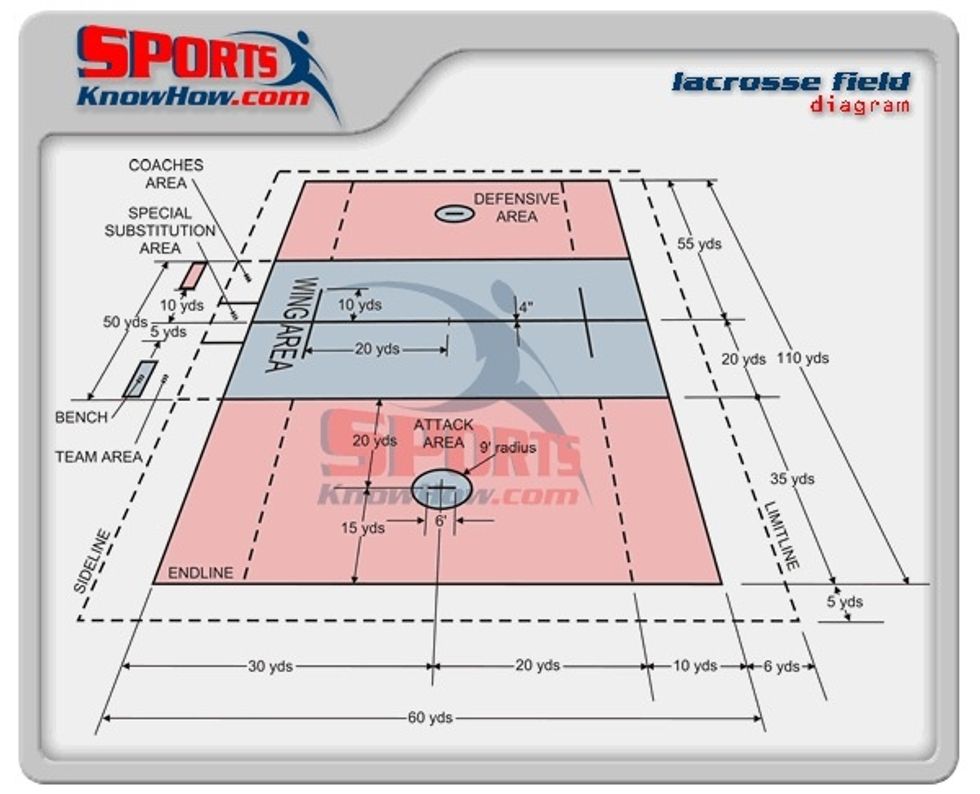 Diagram of a typical lacrosse field.The field is divided into specific zones which players have to stay in.Notice that there is an area behind the goals where attackers and midfielders can move in.
There are 4 quarters or 2 halves in a game.Each quarter lasts for about 15 minutes.This all depends on the league and gender of players.The game can either be paused every half or quarter.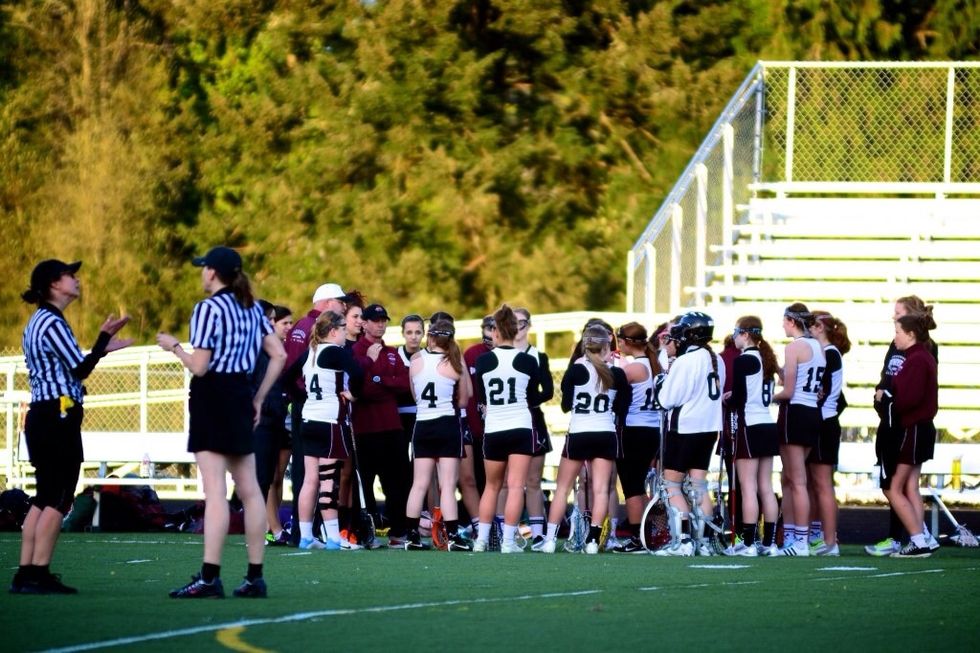 Girls' Lacrosse Halftime Huddle
There is a faceoff at the center circle of the field after every goal is scored.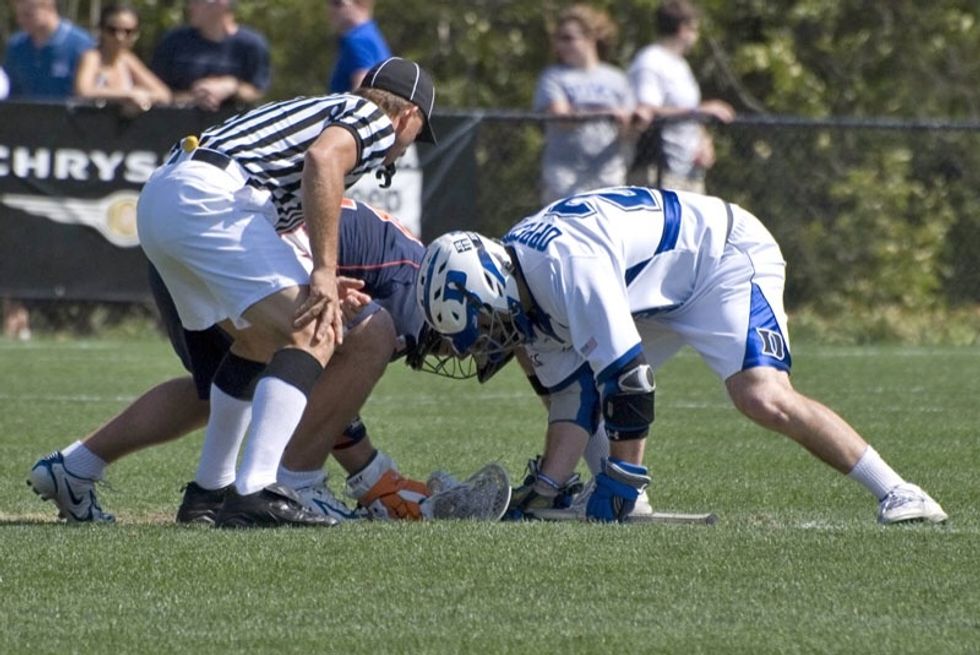 Lacrosse Faceoff
If there is a tie between the two teams, a sudden death overtime period will be announced.The team that scores the point first wins the game. Teams never tie against each other in Lacrosse.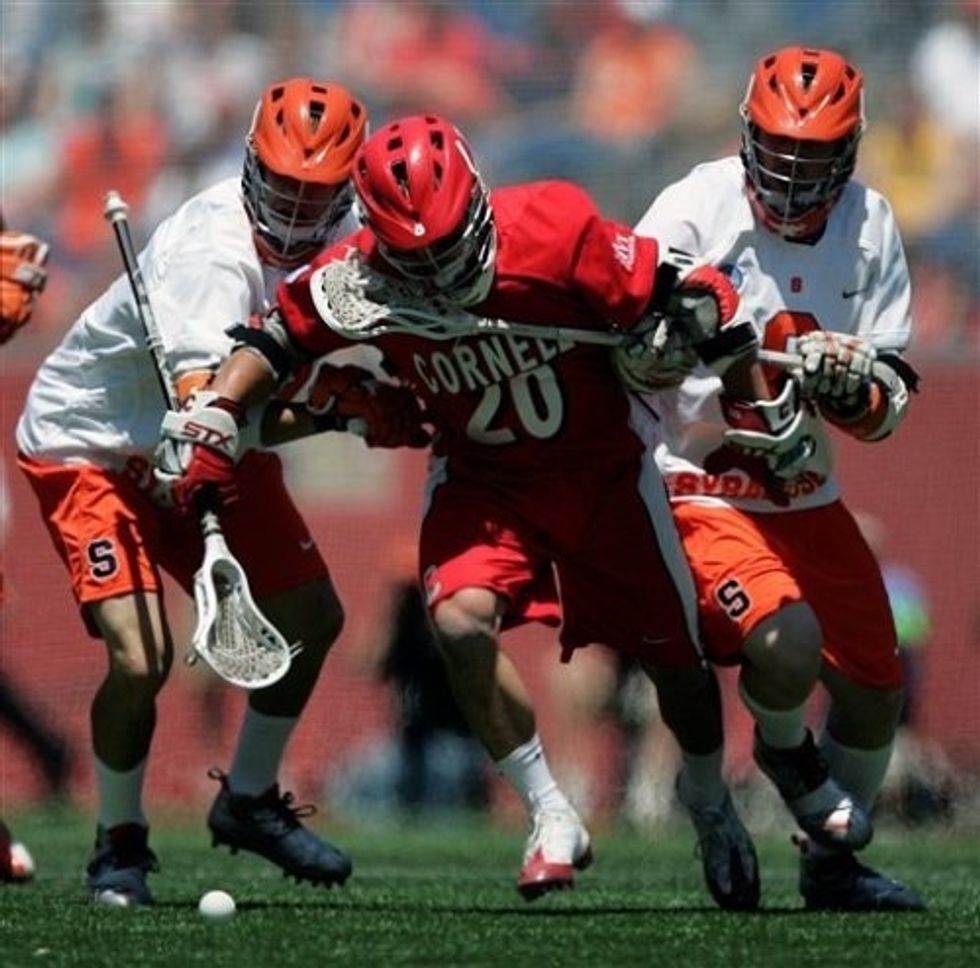 Lacrosse player going for the ball during sudden death overtime period.
Any offensive players cannot go into the crease, which is the half-circle that are in front of the goal posts.This is the goalie's area, similar to soccer.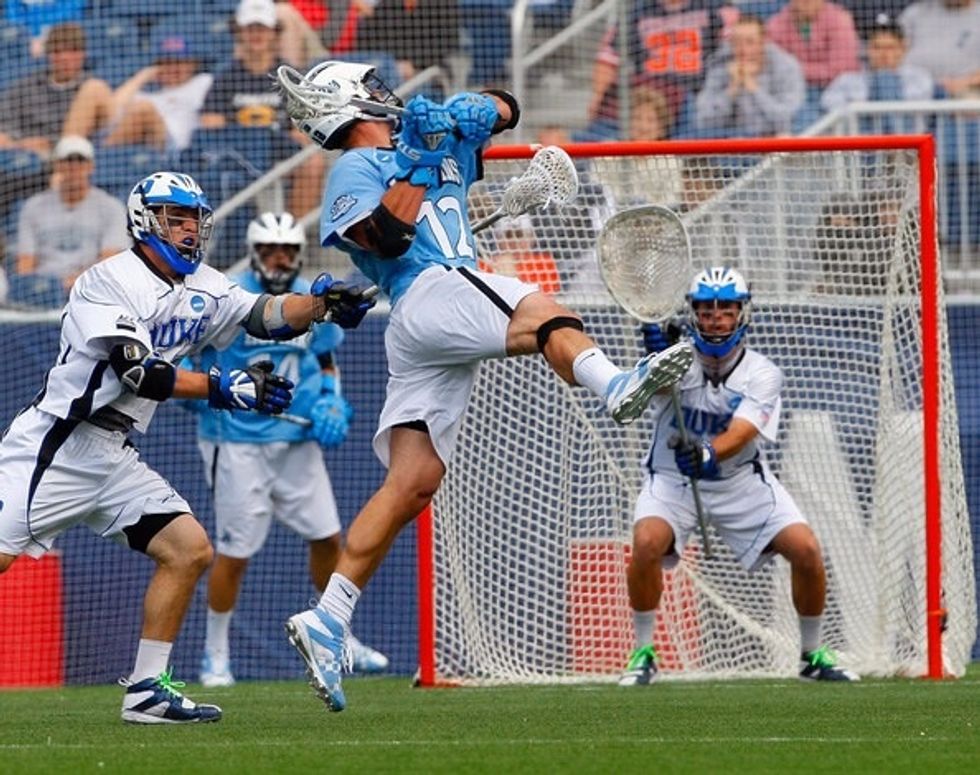 Goalie's area of lacrosse.
Men's lacrosse teams are made up of: 3 Attackers, 3 Midfielders, 3 defenders, and one goalie.Tennyson is an attackman in the book called Bruiser.
Lacrosse team cheer before game.
The End
Lacrosse Stick
Certified Lacrosse Helmet (NOCSAE)
Mouth guard
Shoulder pads
Arm pads
Protective Cup (Optional but recommended)
Lacrosse cleats/Soccer cleats/Football cleats
Rib pads (optional)
Gloves