Ingredients --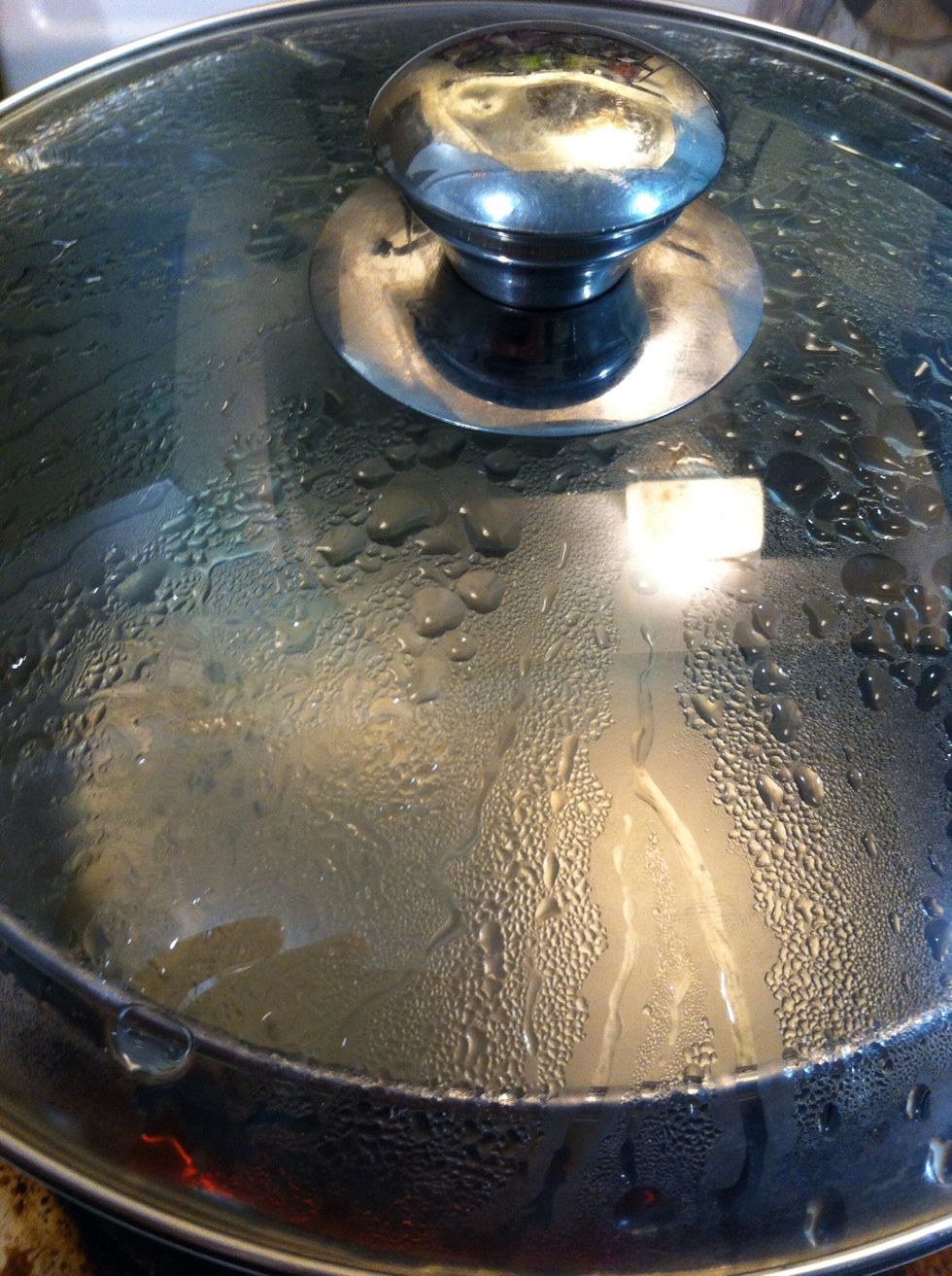 Set your pot boiling for your potatoes since that will take a while - once boiling drop in your potatoes with a handful of salt until soft (about 20 minutes)
Find where you can lift up the skin of the chicken without pulling too much of it off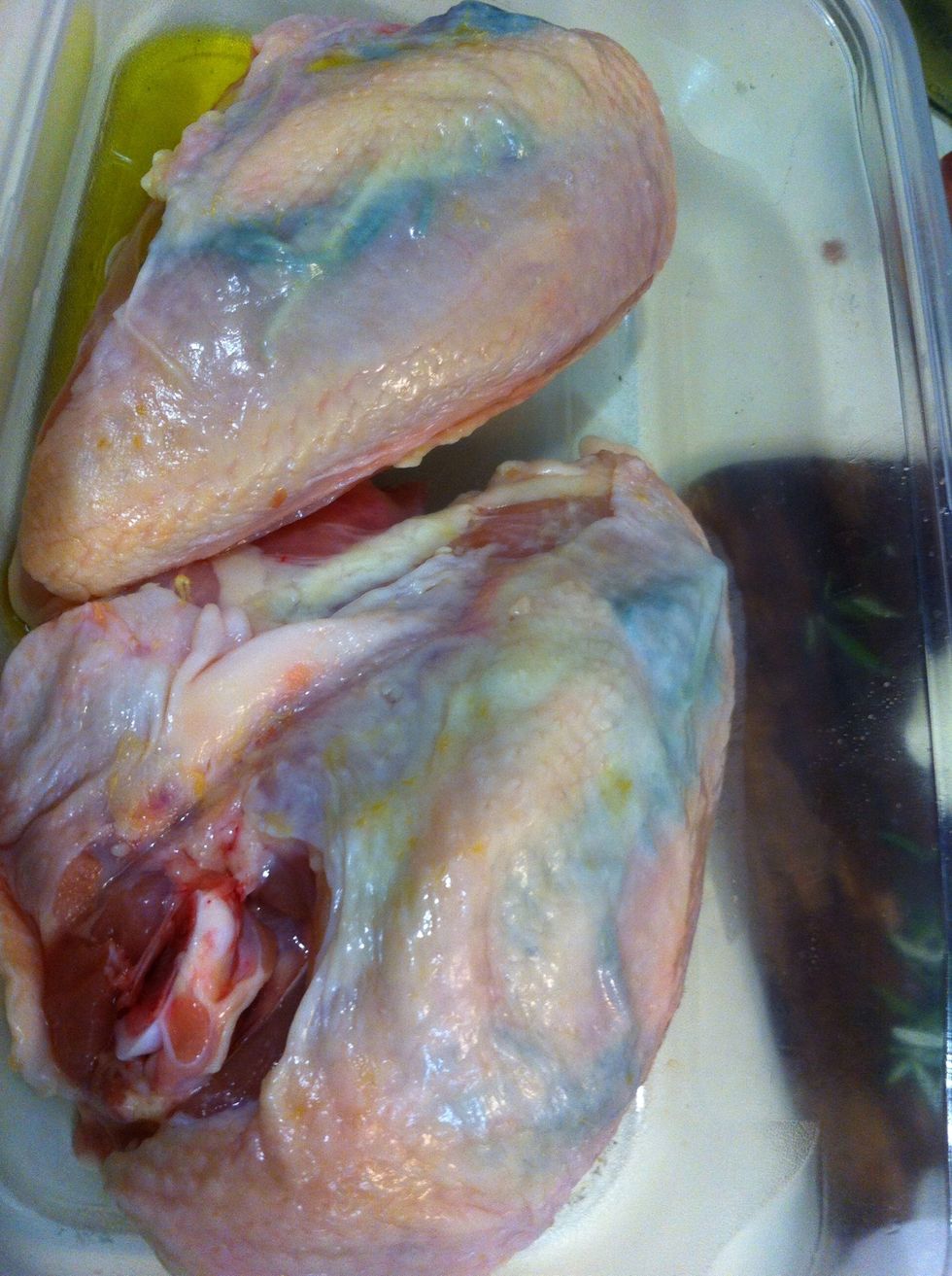 Push a whole sprig of rosemary beneath the skin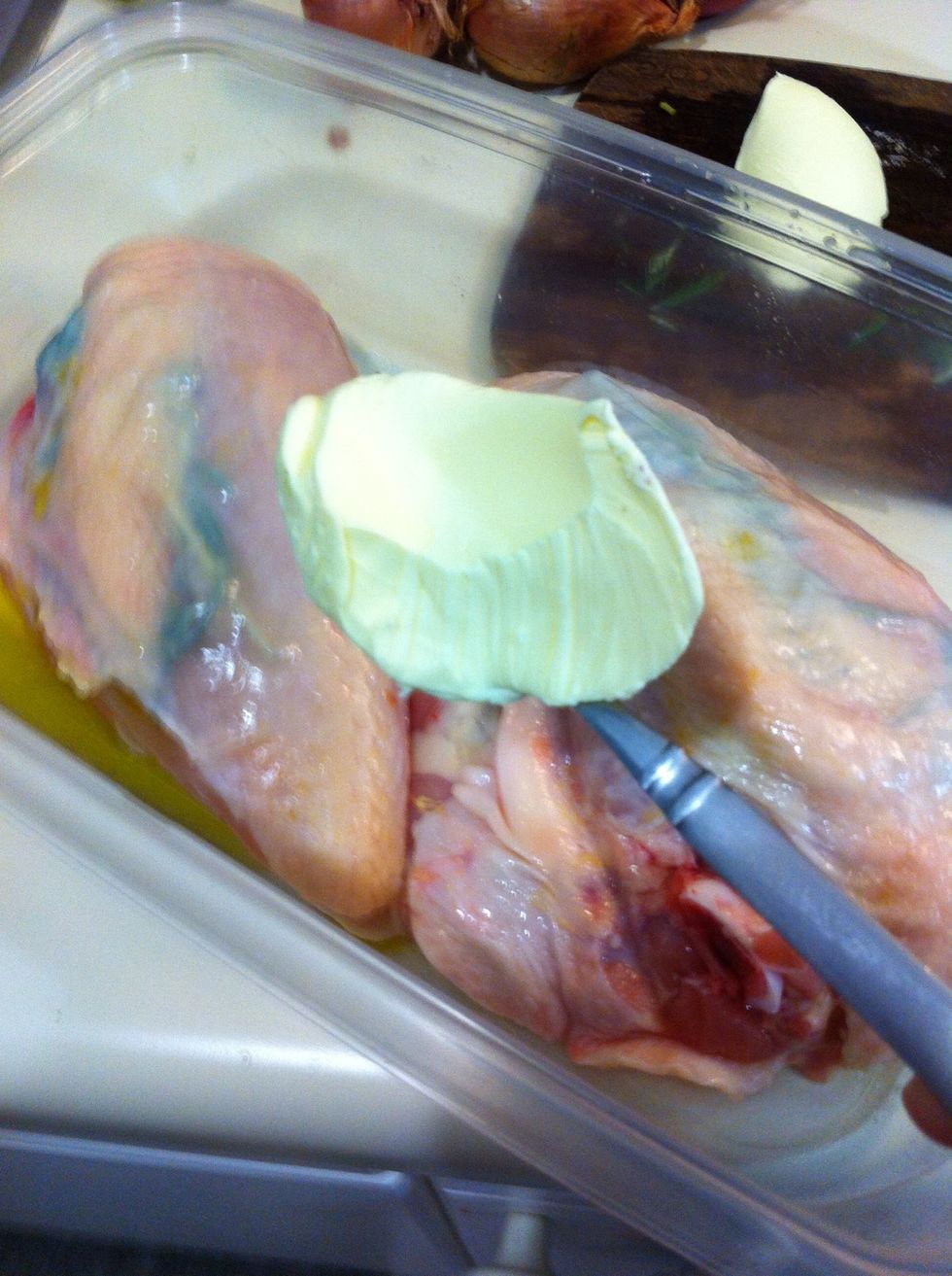 I was feeling French so I decided to shove a spoonful of margarine/butter in there with the rosemary as well
Mmm, butter. Coat the exterior of your chicken breast with EVOO then sprinkle with salt and pepper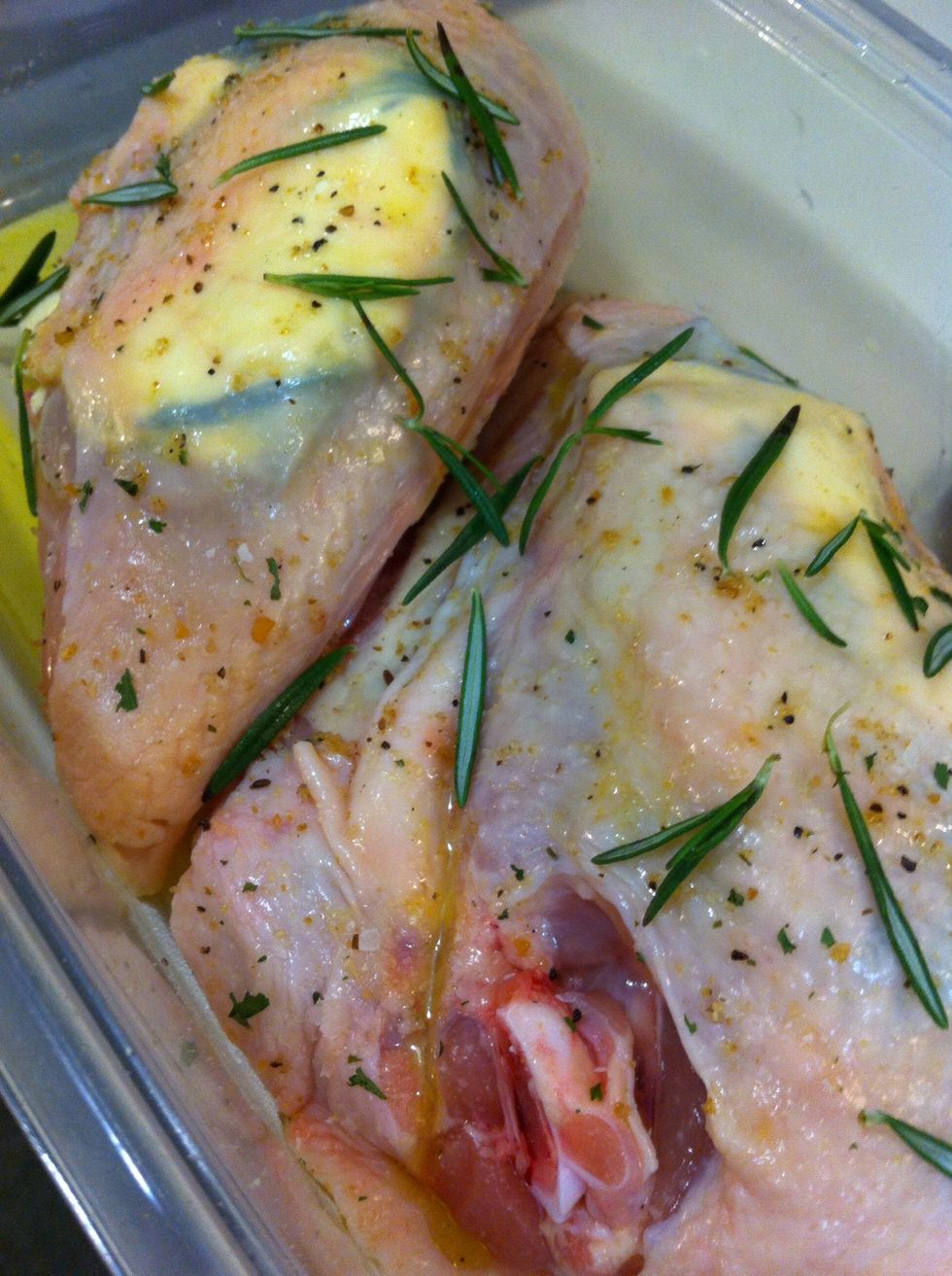 And rosemary...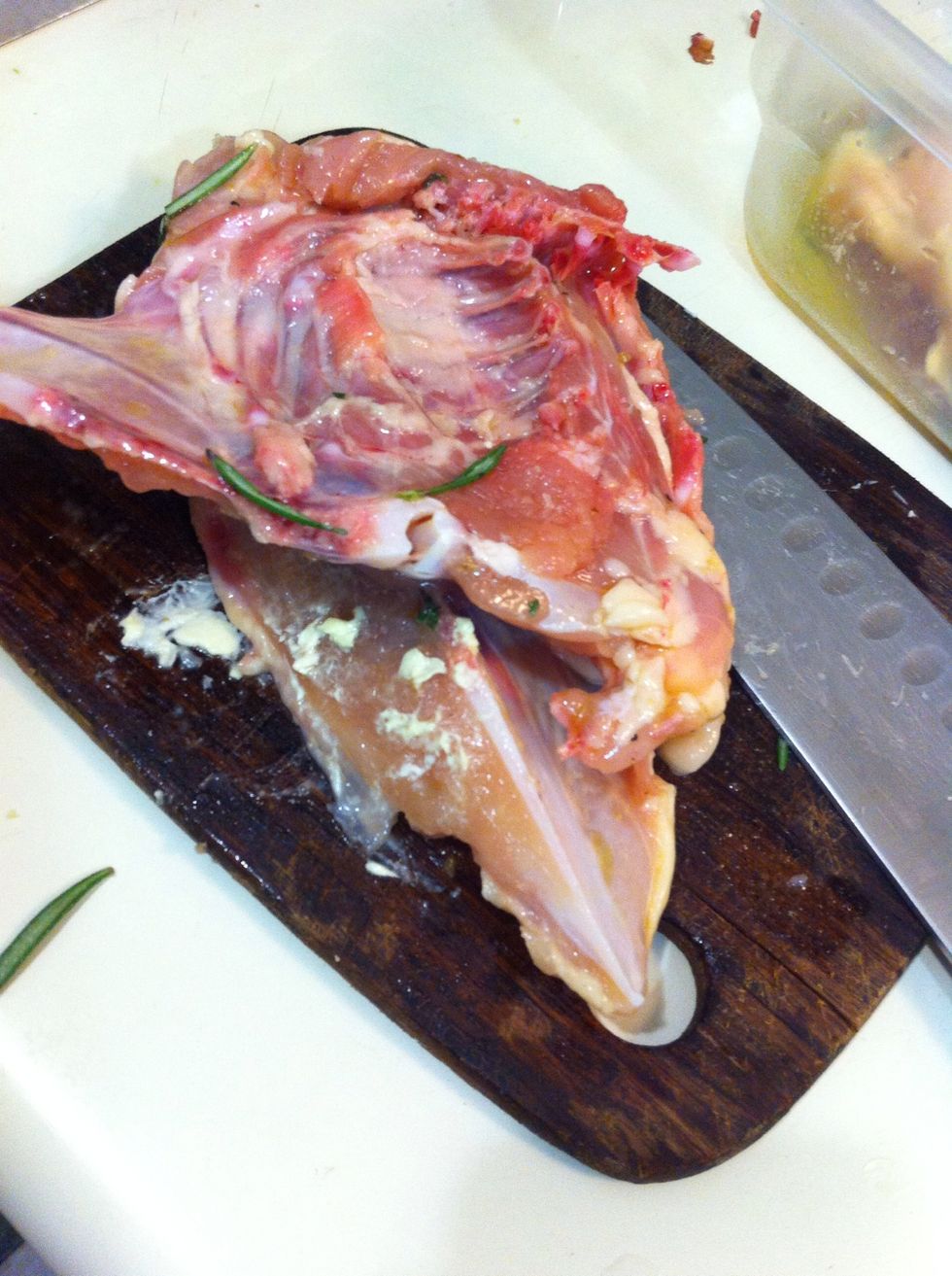 I decided I wanted to cut the breasts in half so they would cook through faster and realized that I first had to remove the bones - the part you throw away should look something like this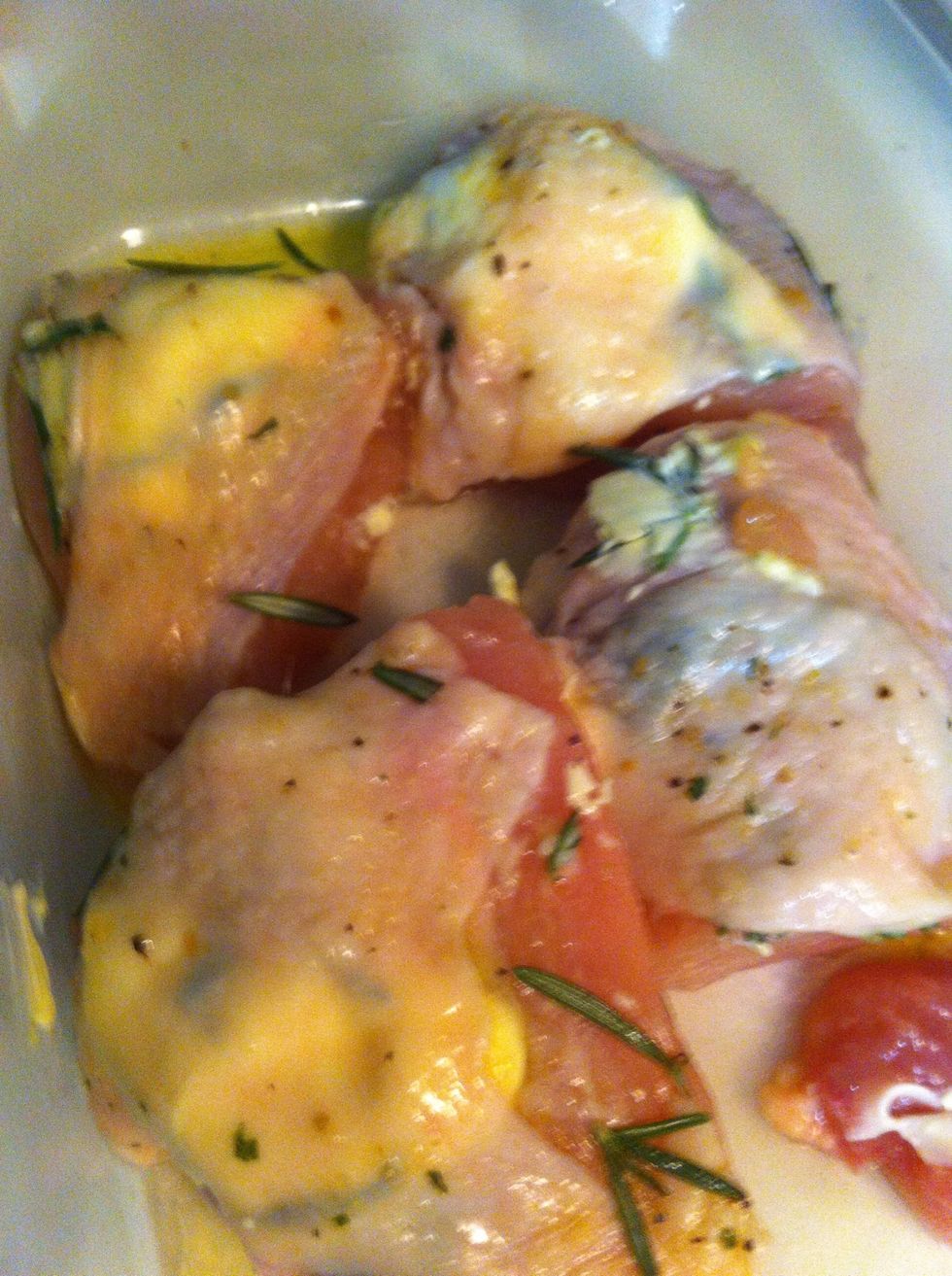 Here are my halved breasts - I reseasoned to get EVOO, salt and pepper everywhere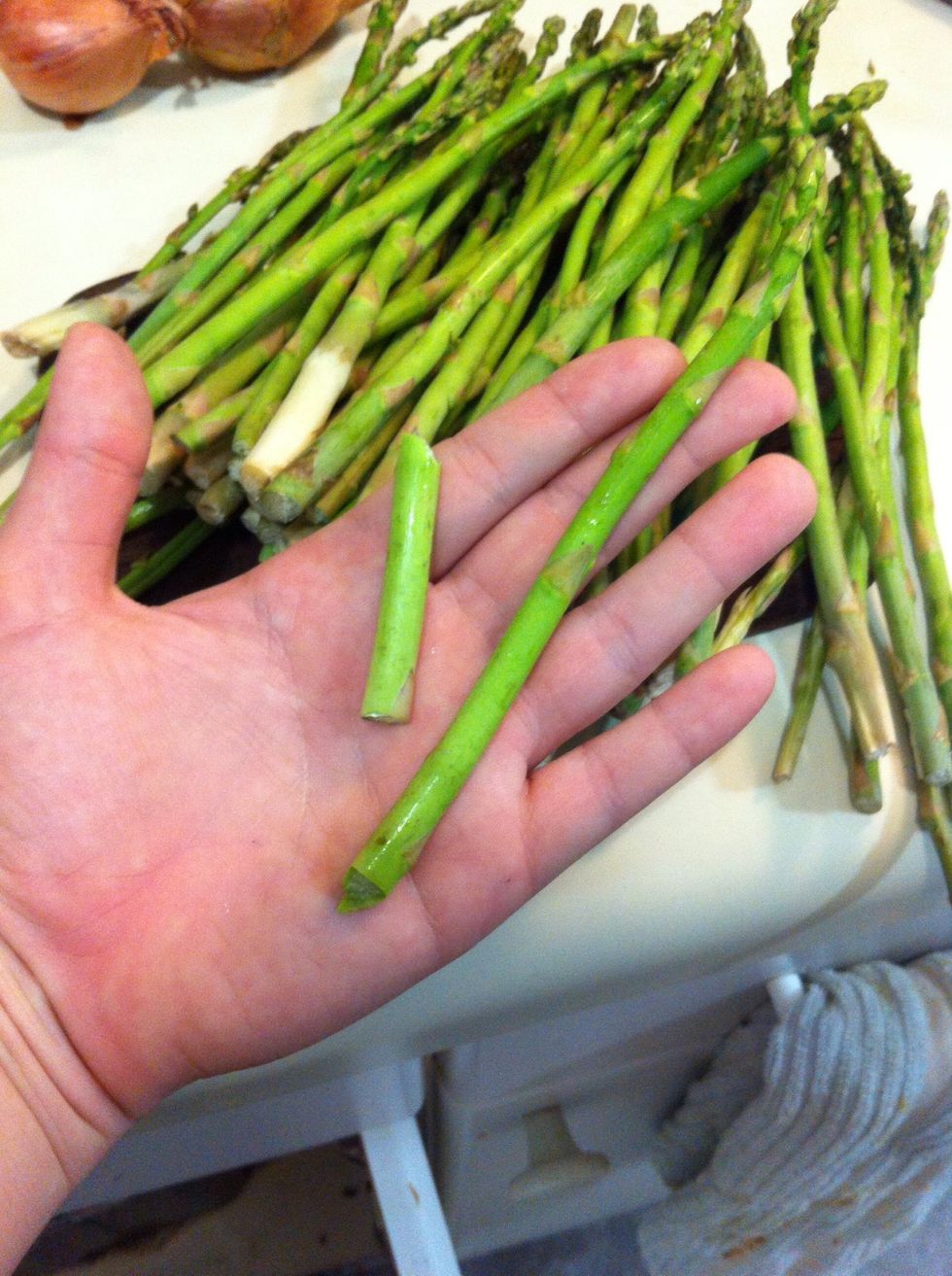 Snap the hard ends off of your asparagus then rinse them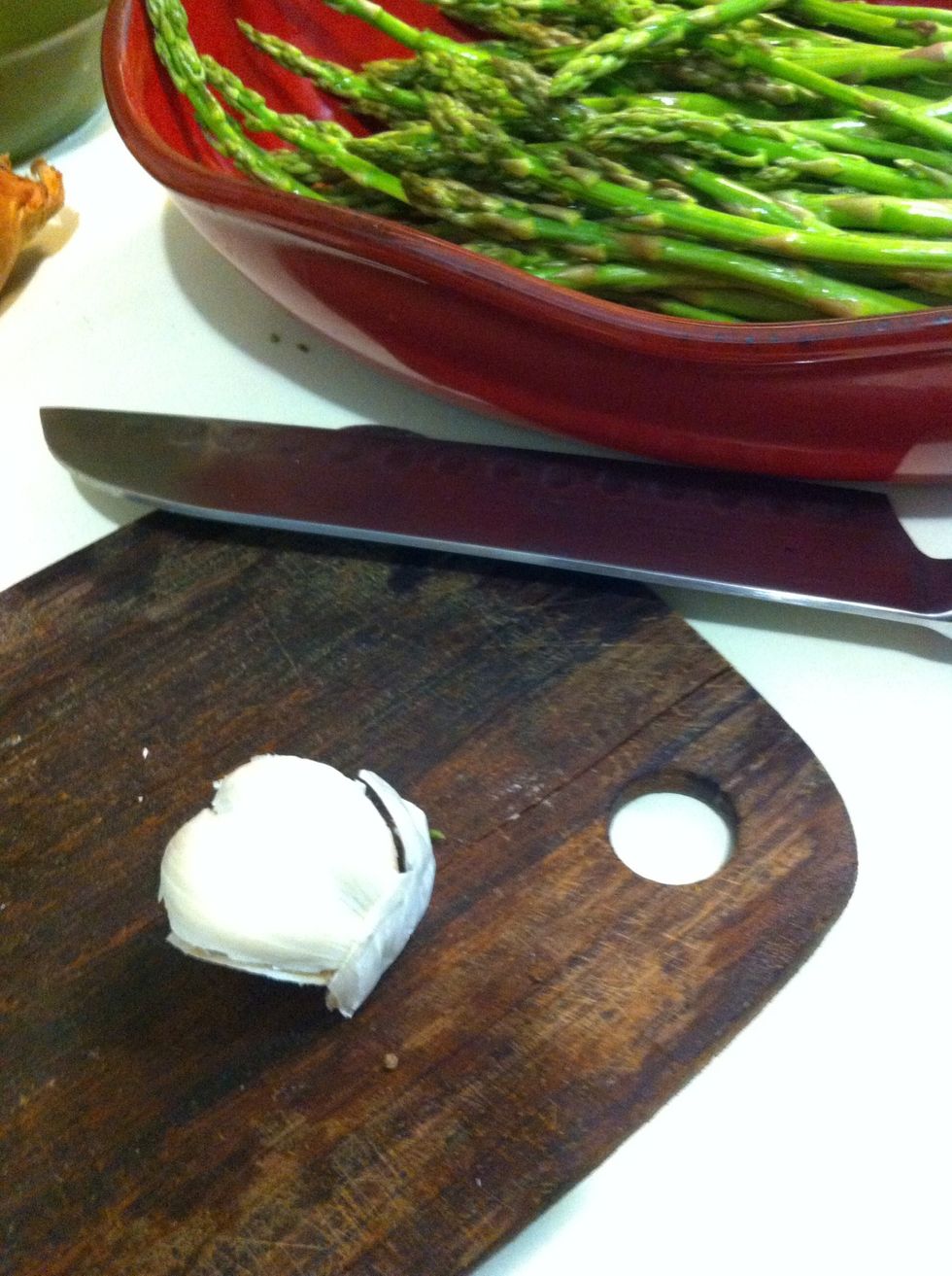 2 cloves garlic...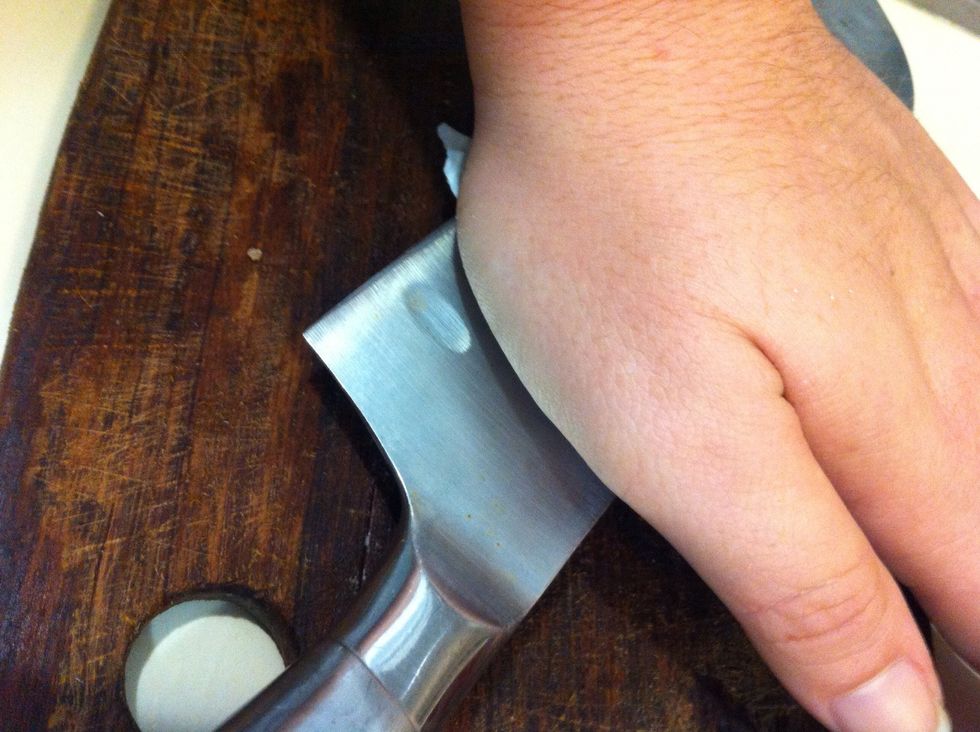 ...smashed! (*stress reliever)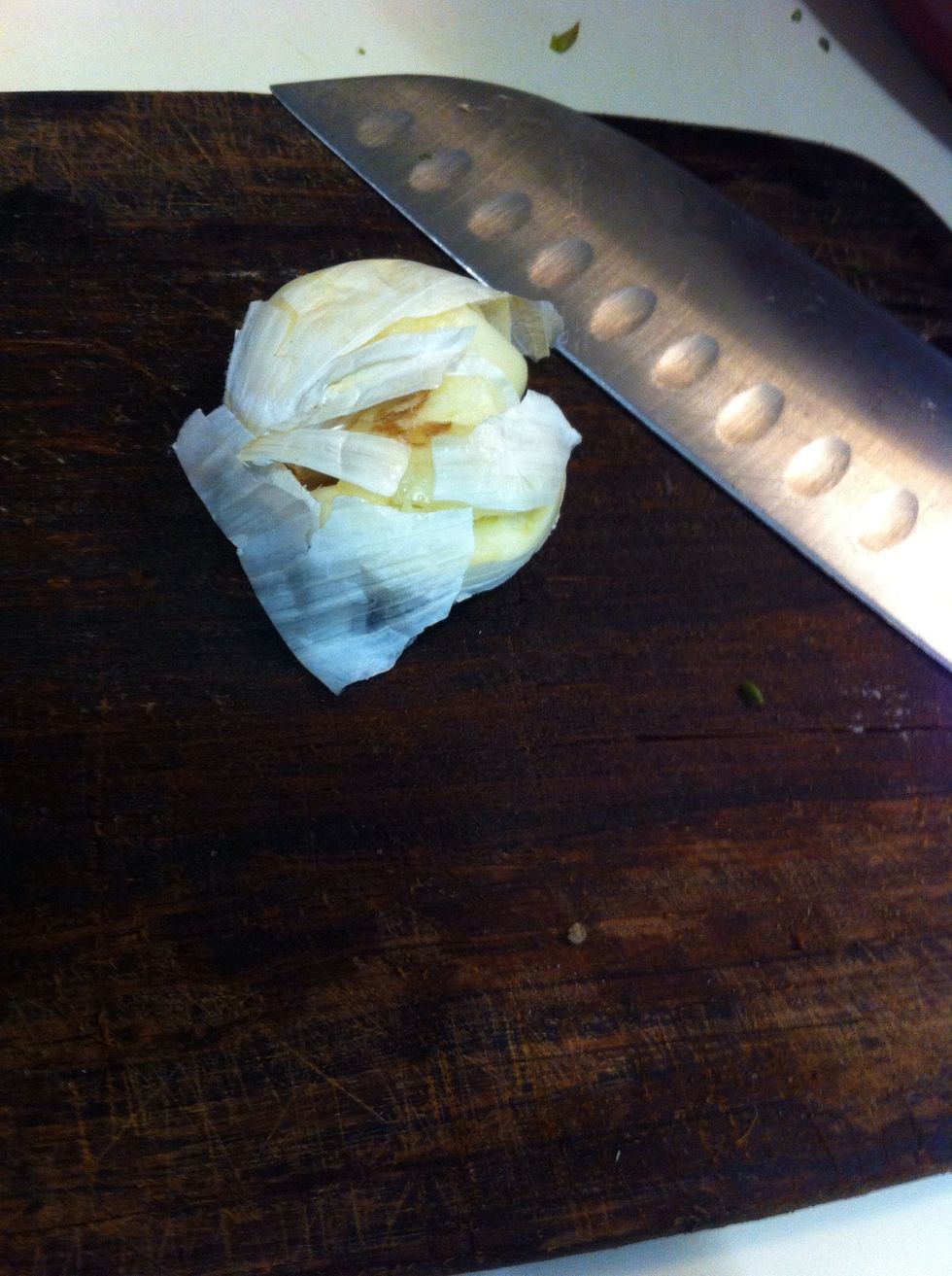 The peel will come off easily
Break the cloves up - you don't want to cut them as you're putting them on high heat. You don't want them to burn !
In with your garlic !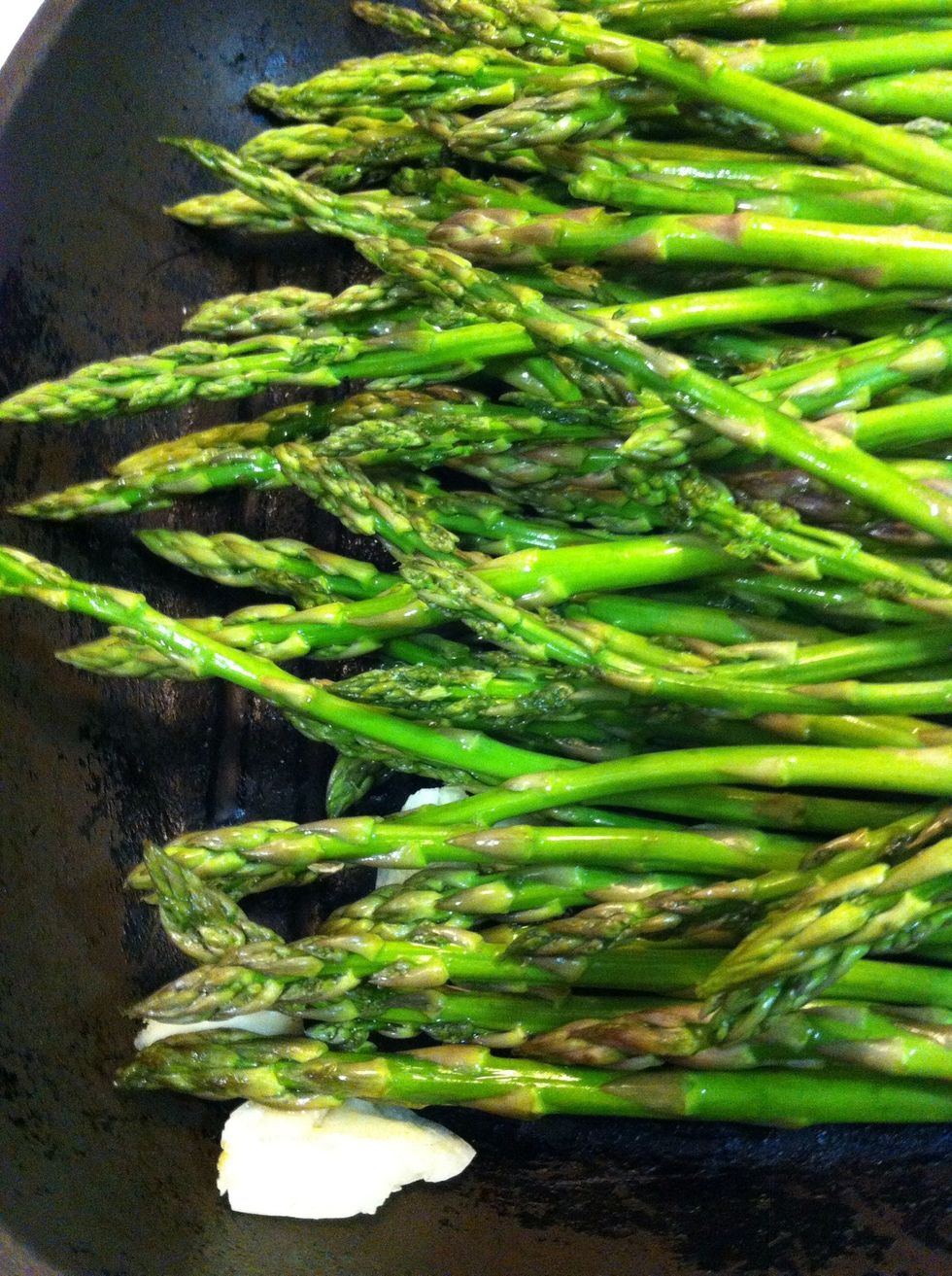 Then your asparagus - no oil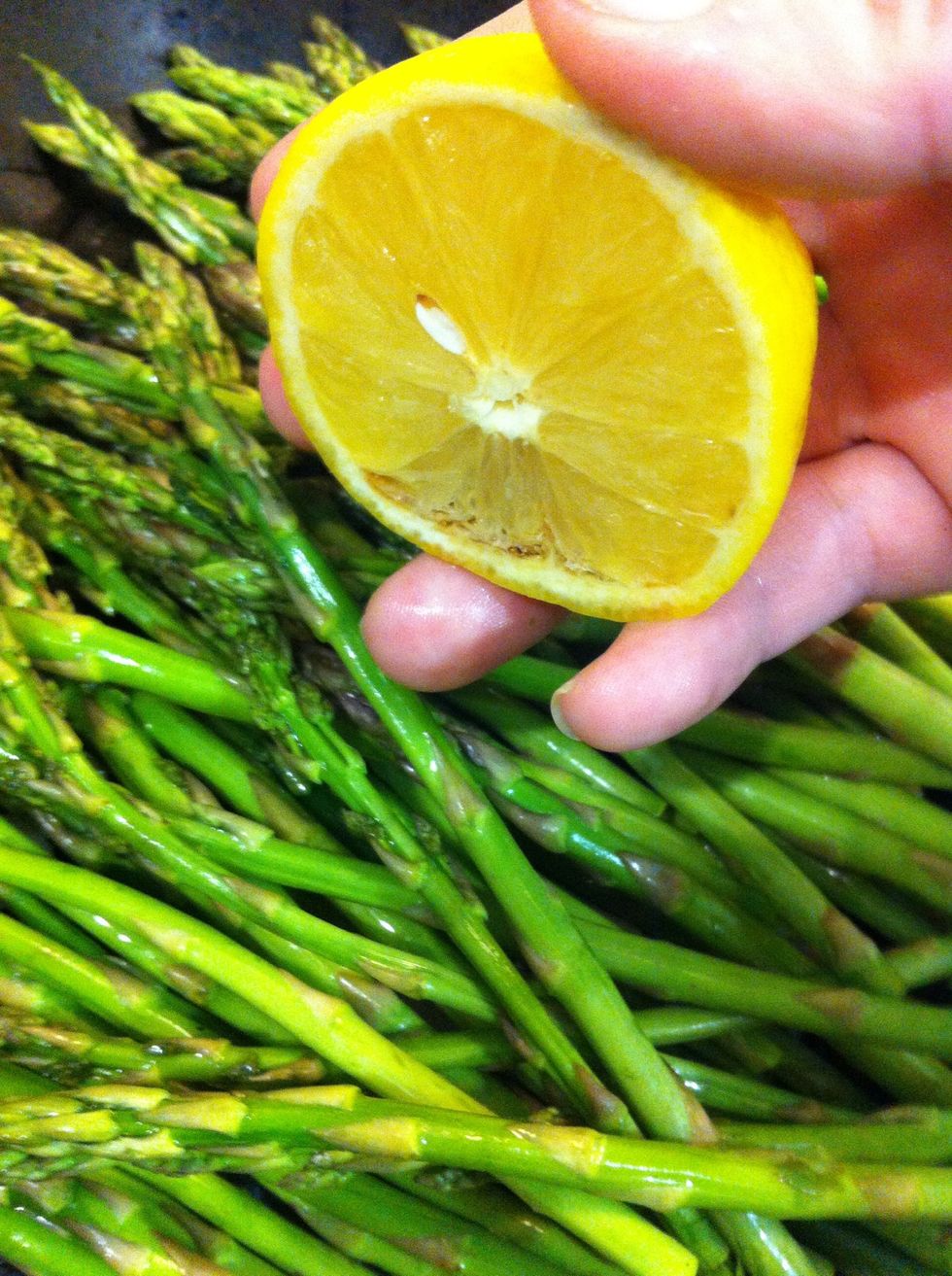 Just salt and lemon juice on high heat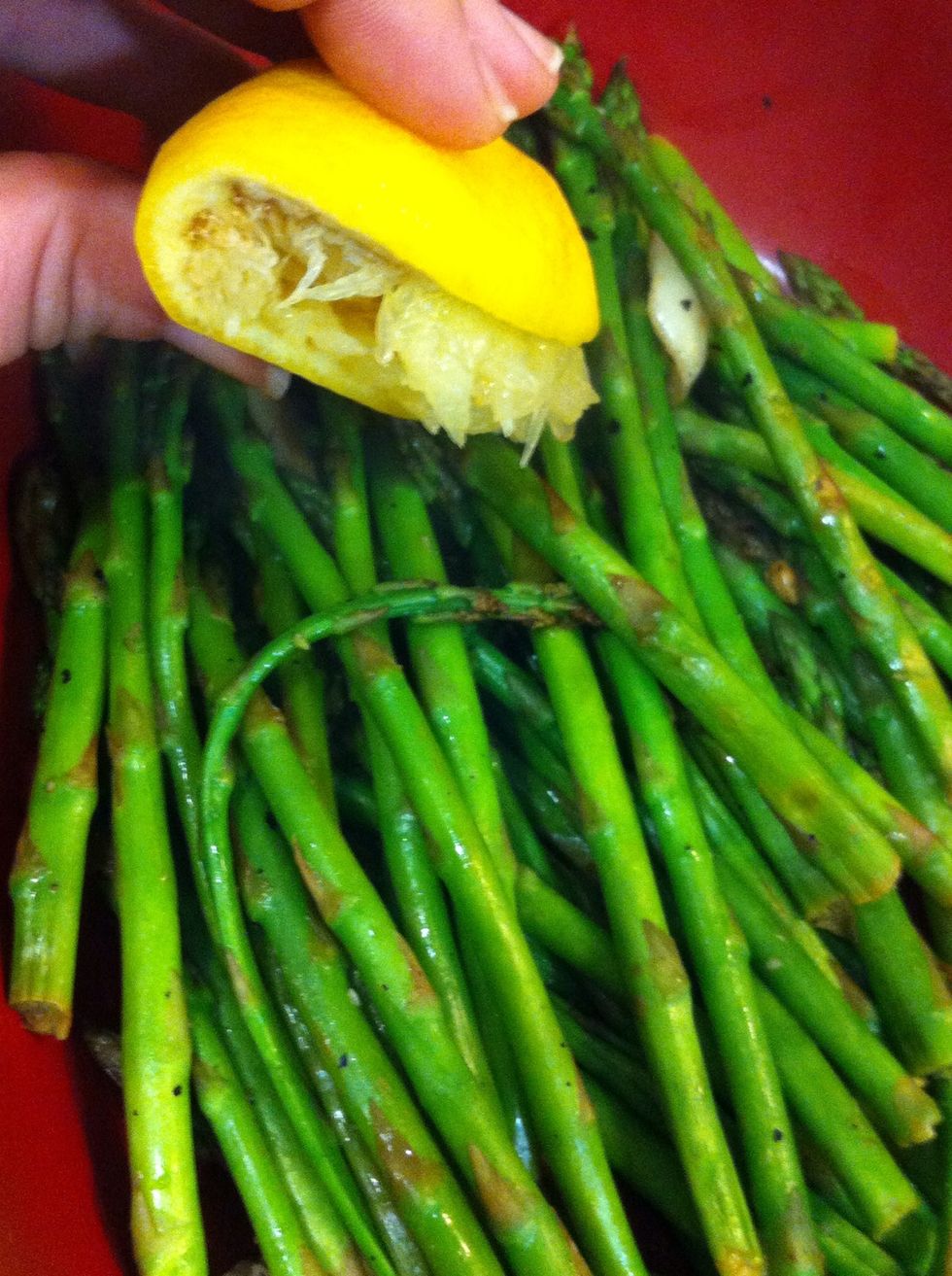 Once vibrant green (tips will begin to turn a purple color) remove and dress with more lemon, salt and olive oil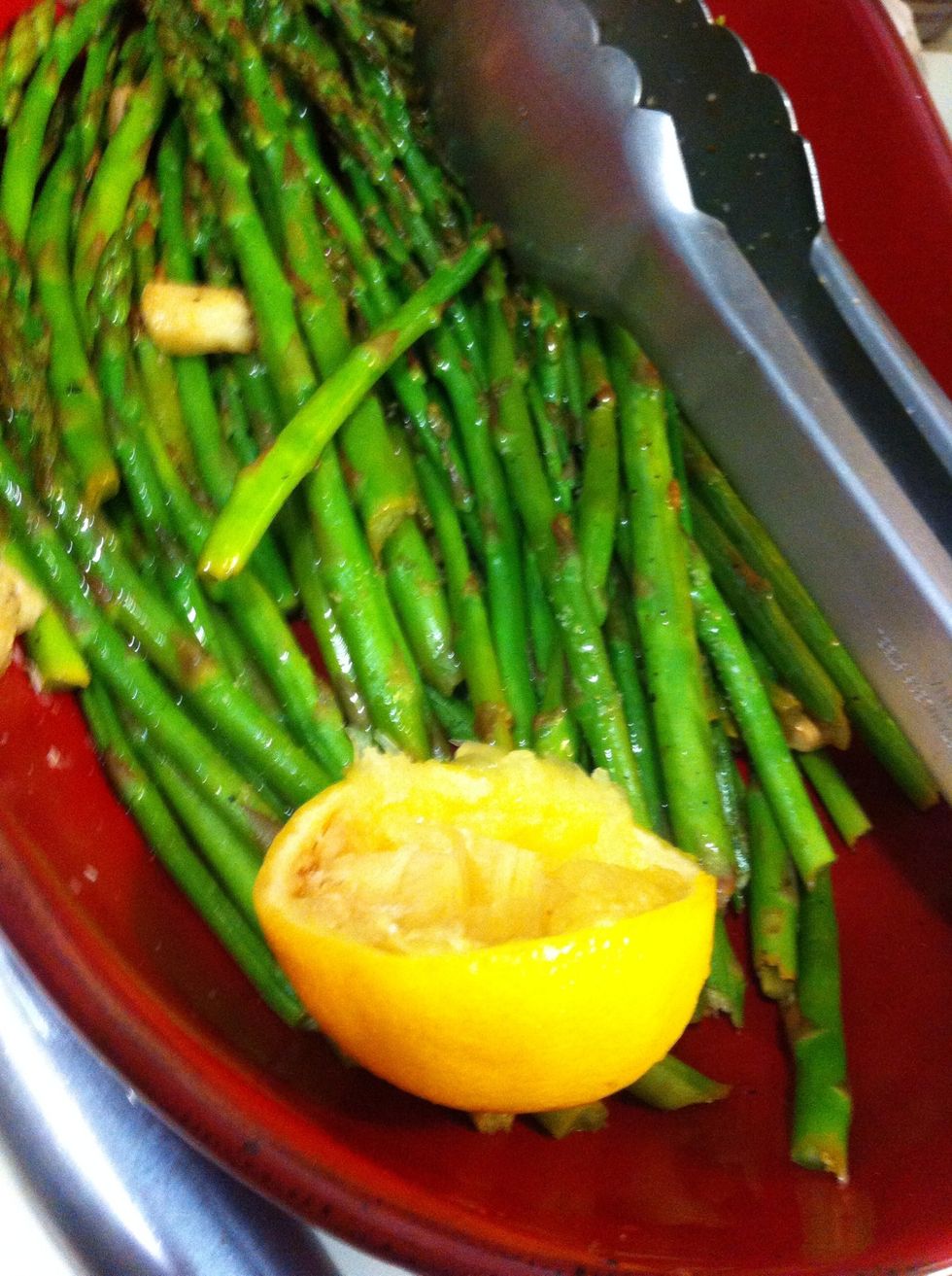 Cover and set aside to wait on your chicken
Once soft, drain potatoes (save a bit of the water, you'll use it later to make your pan sauce starchy)
Blend potatoes (skin on - that's were all the nutrients are!), goat cheese, spinach, EVOO or margarine, one clove garlic, and salt and pepper to taste
Blend until smooth (my husband likes them this way - I prefer them mashed and lumpy...however you prefer will work!)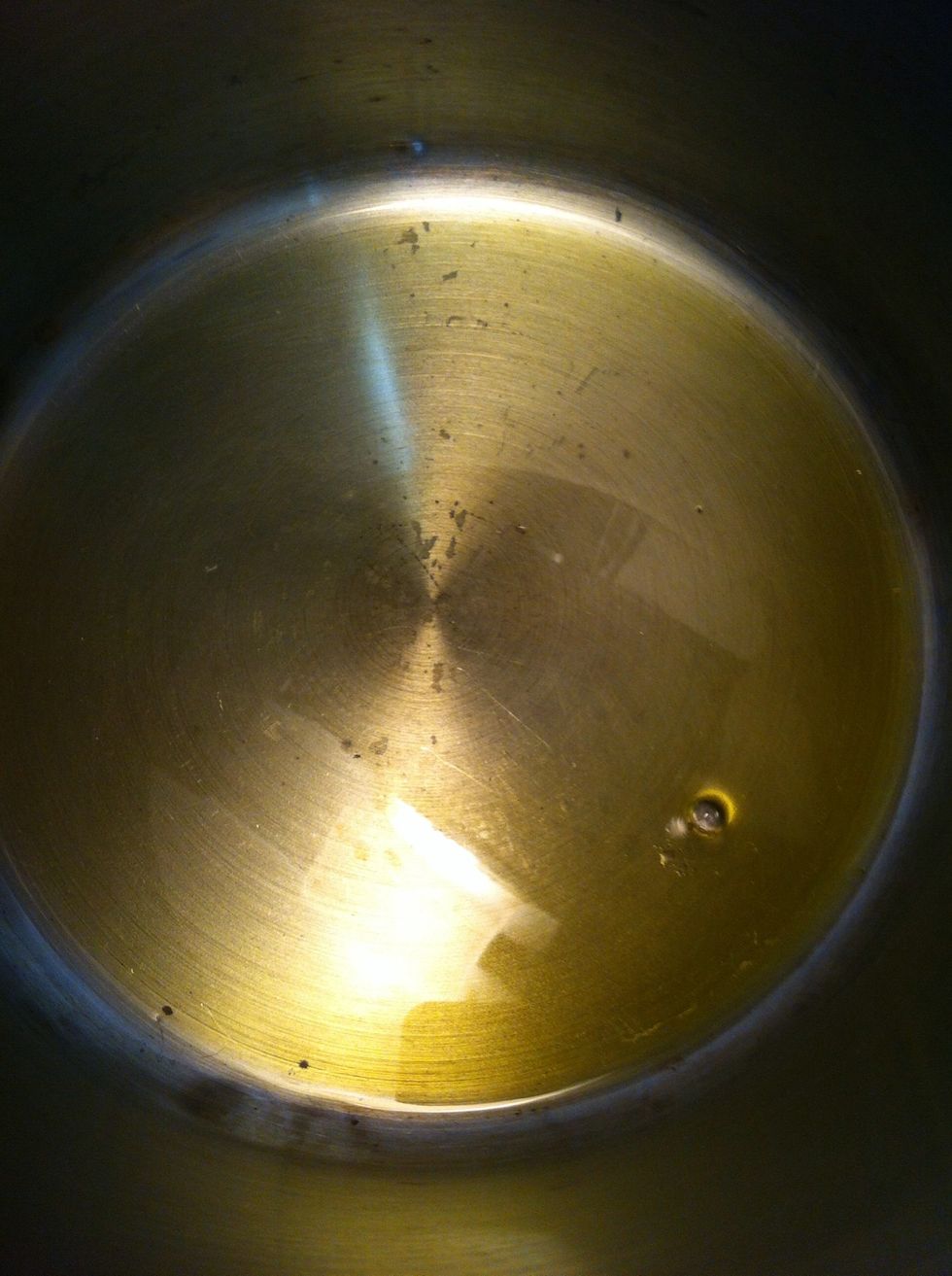 Heat oil in oven safe pan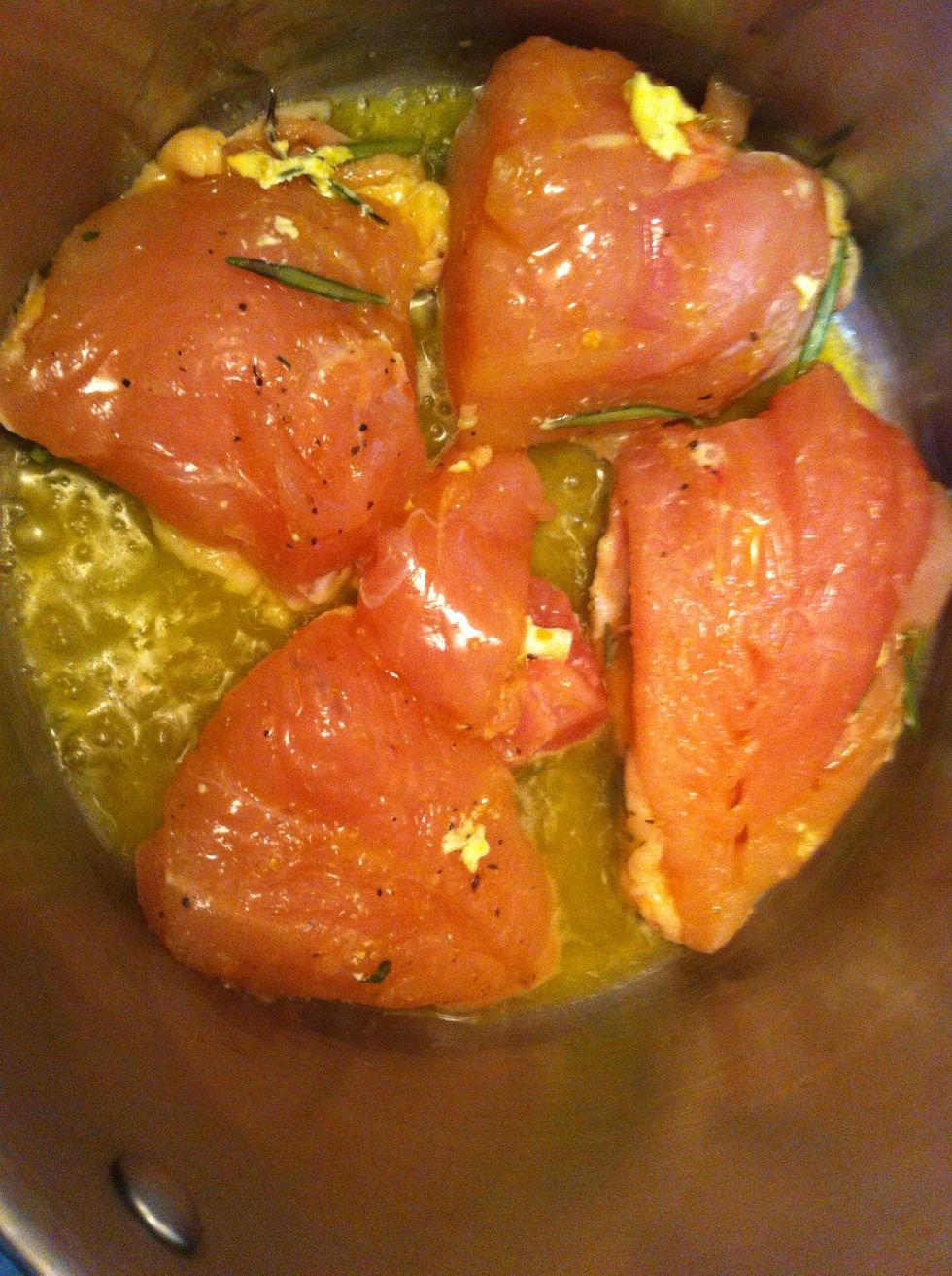 Place breasts in, skin side down and LEAVE THEM ALONE for near 10 minutes until the pan RELEASES them - otherwise you'll tear the skin
Flip chicken over in pan, sear for a few minutes then transfer pan to oven at 350F for 15-20 minutes until cooked through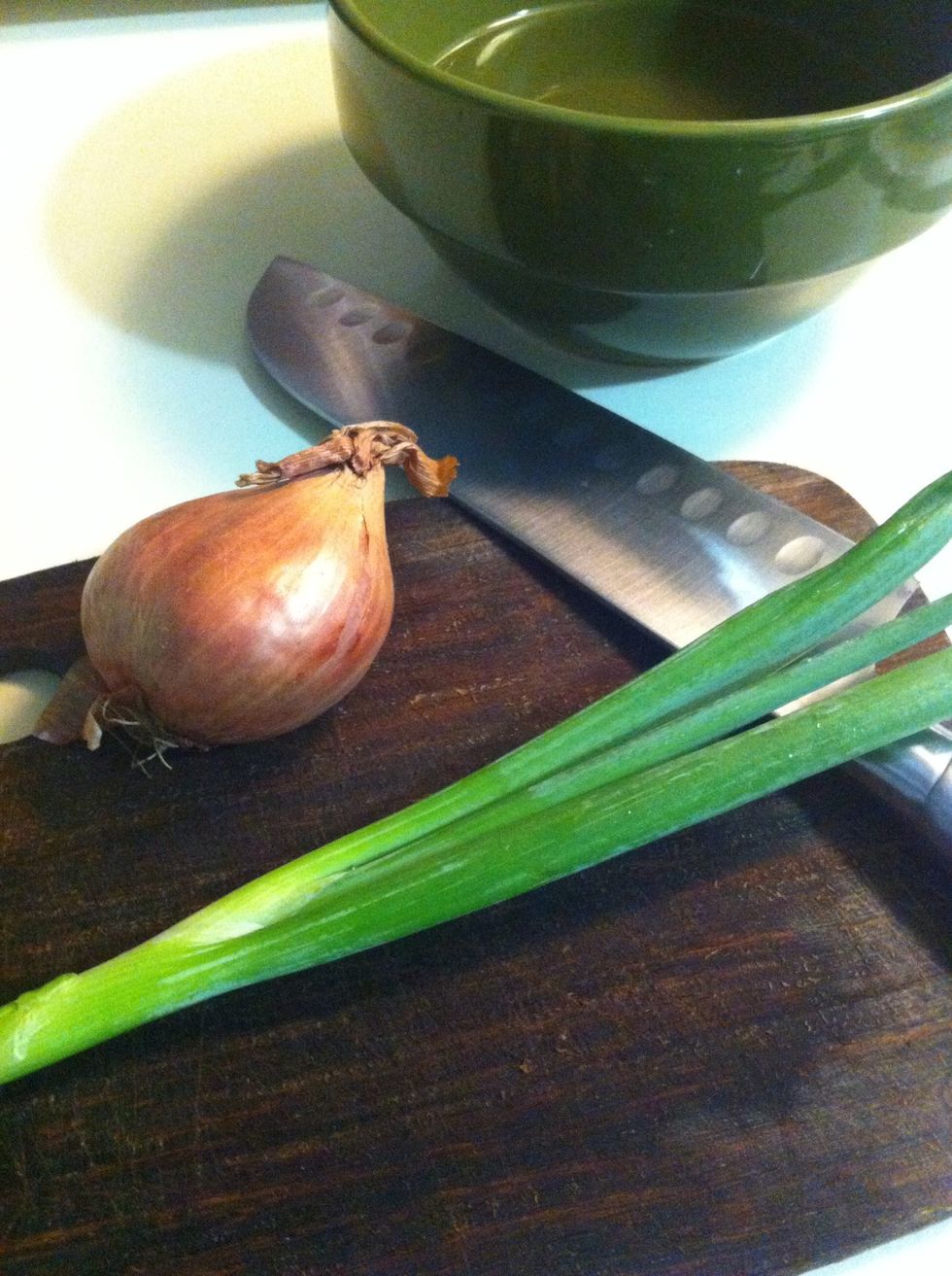 Prepare ingredients for sauce
Slice shallots and scallions into rings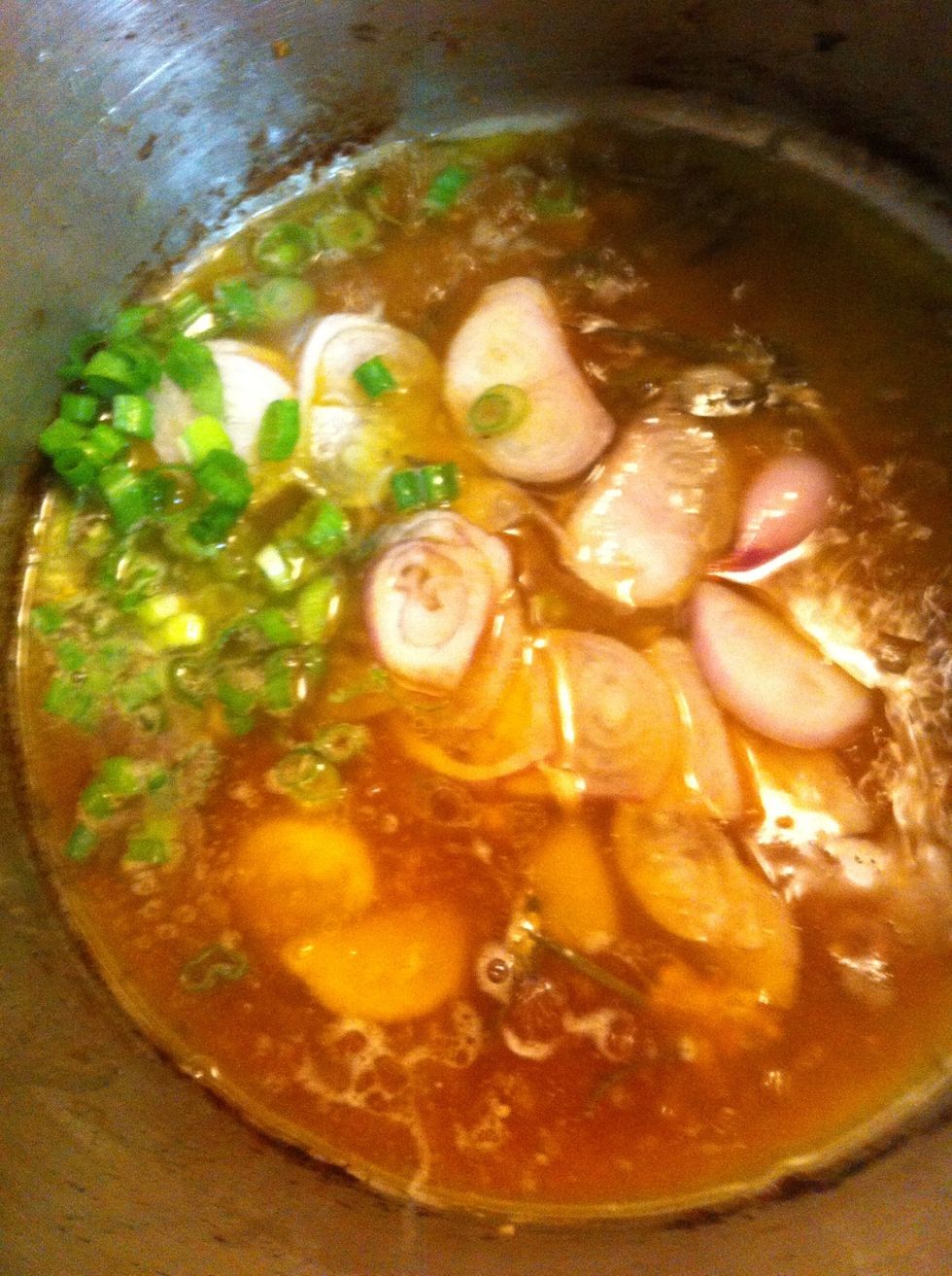 Make the sauce from the chicken breast drippings by adding white wine, sprig of rosemary, shallots and scallions to pan along with a bit of potato water - boil down to a thicker consistency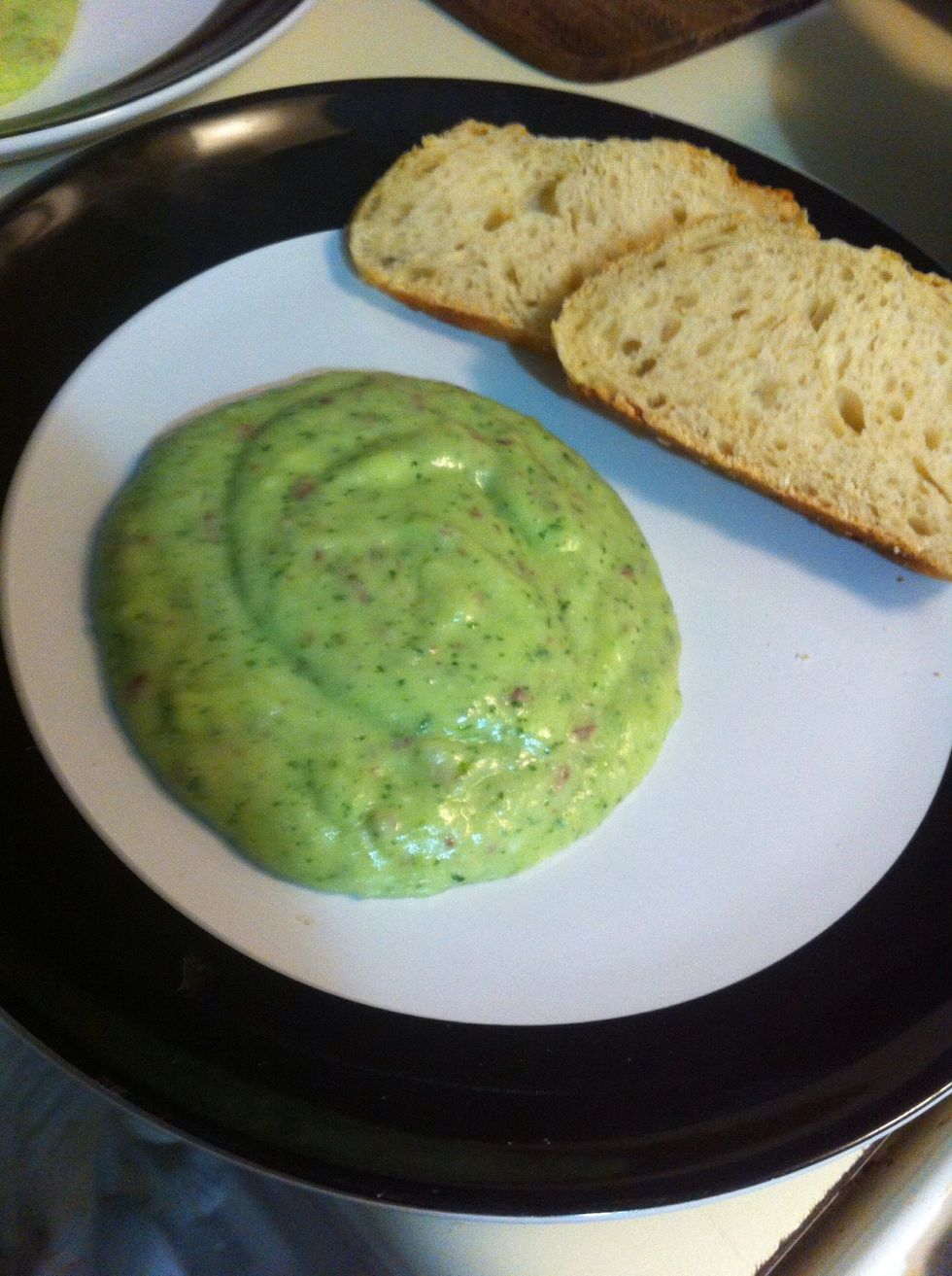 Place big dollop of spinach mash on plate along with a few slices of your favorite crusty bread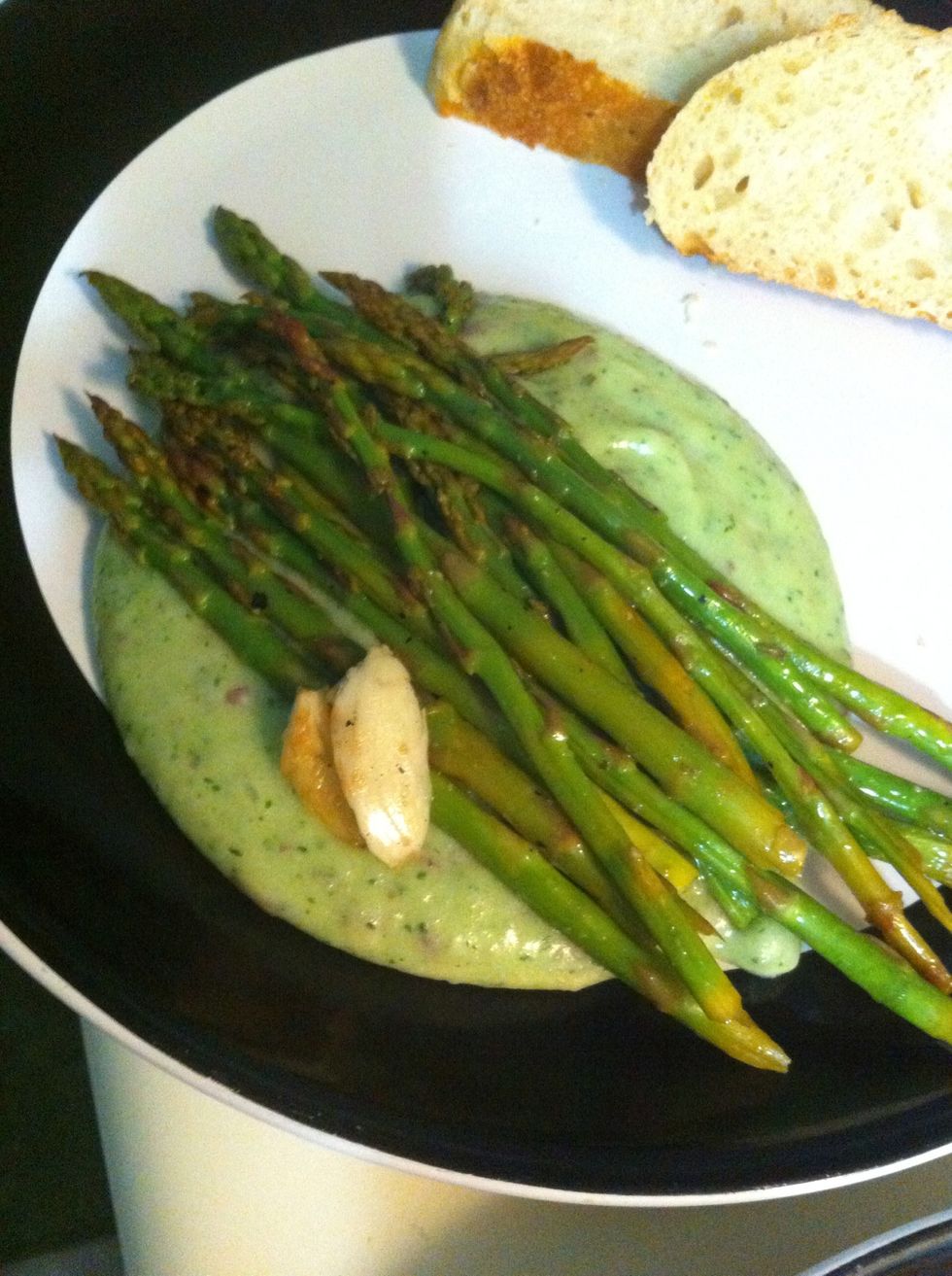 Lay asparagus across your bed of mash along with a chunk of garlic for good measure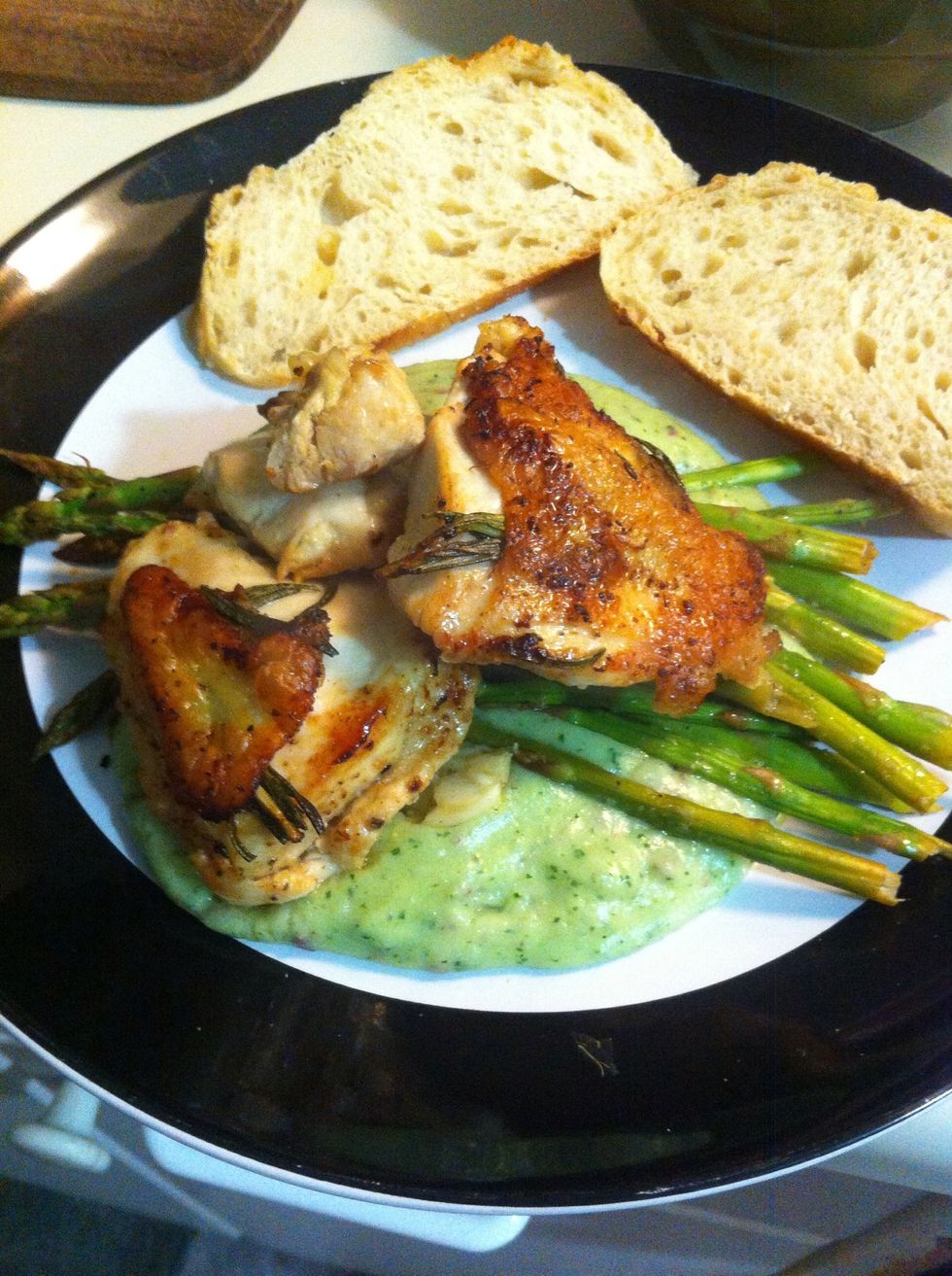 Top with your chicken breasts and transfer whole plate to oven to keep warm while you finish off the sauce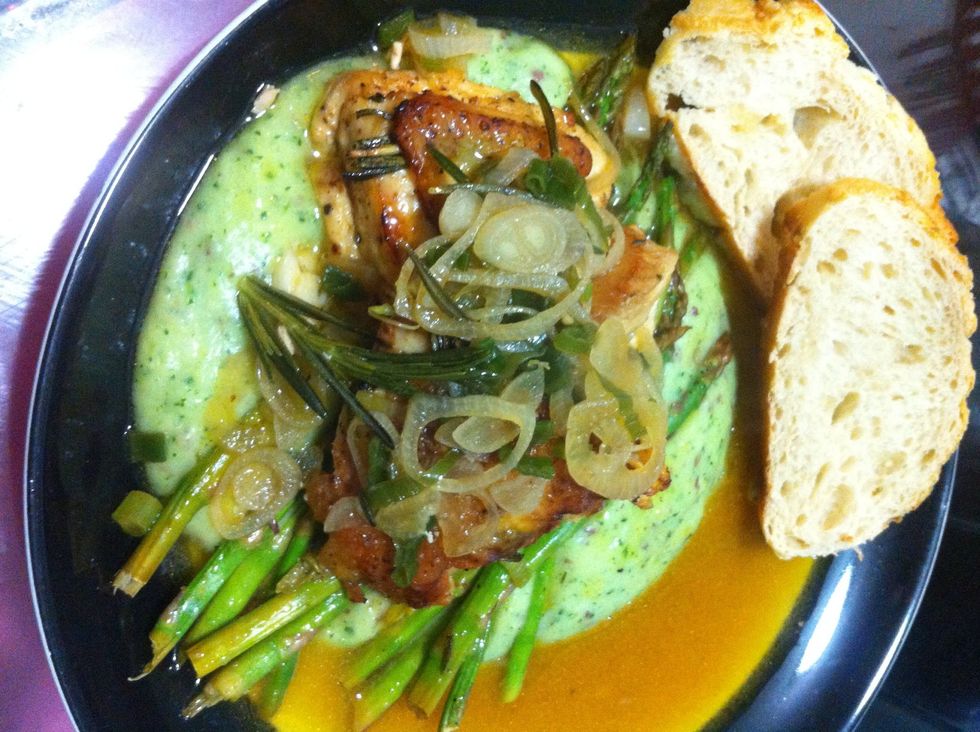 Pour generously over your artistic plating job and give yourself a gourmet pat on the back ! You're awesome =] (Just don't tell your significant other how easy it was...!)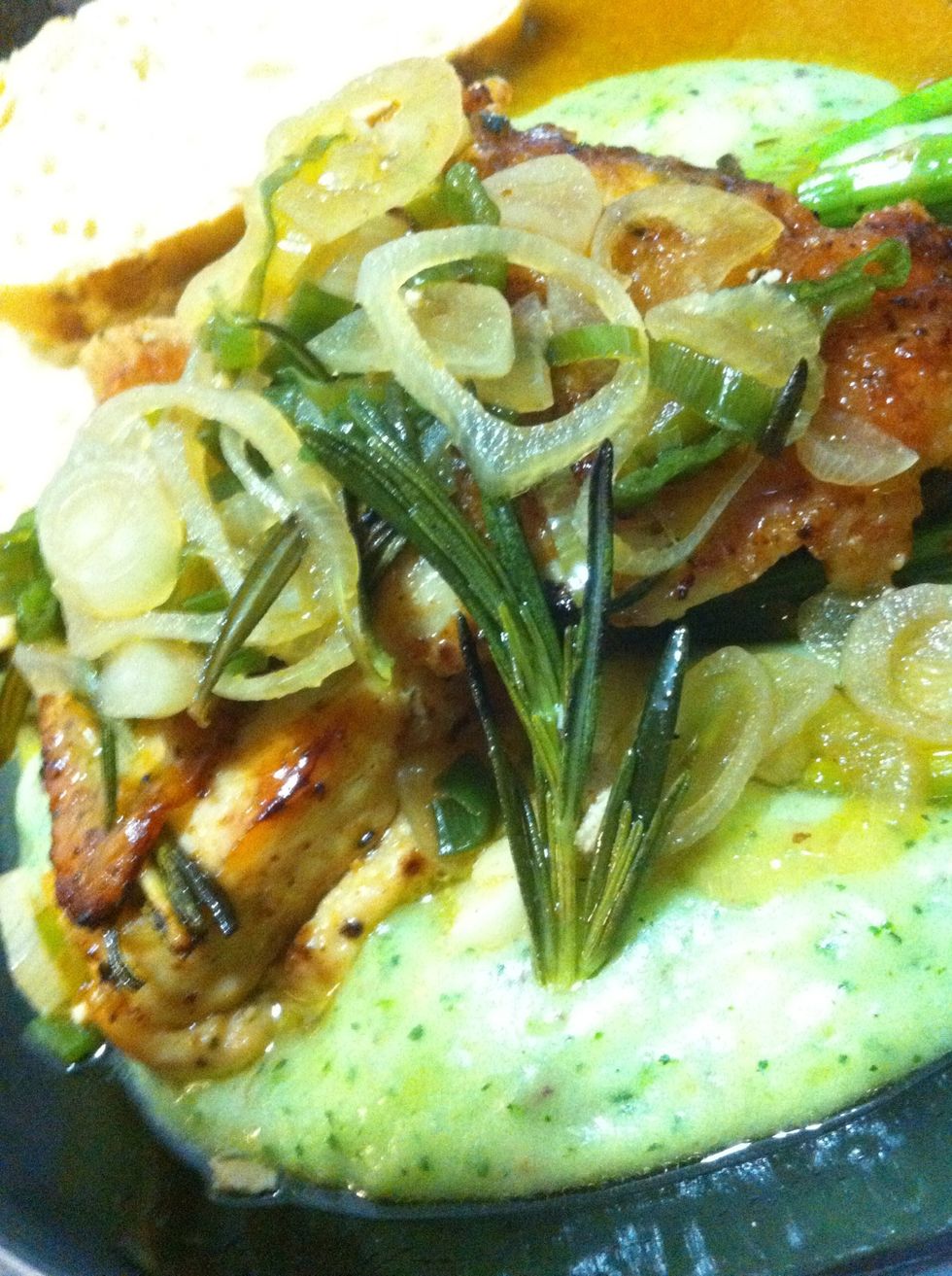 I hope you enjoy it! As always, feel free to like, comment or follow for more inspired recipes. Also, check out my website for your South Florida real estate needs http://www.TalktoSamantha.com !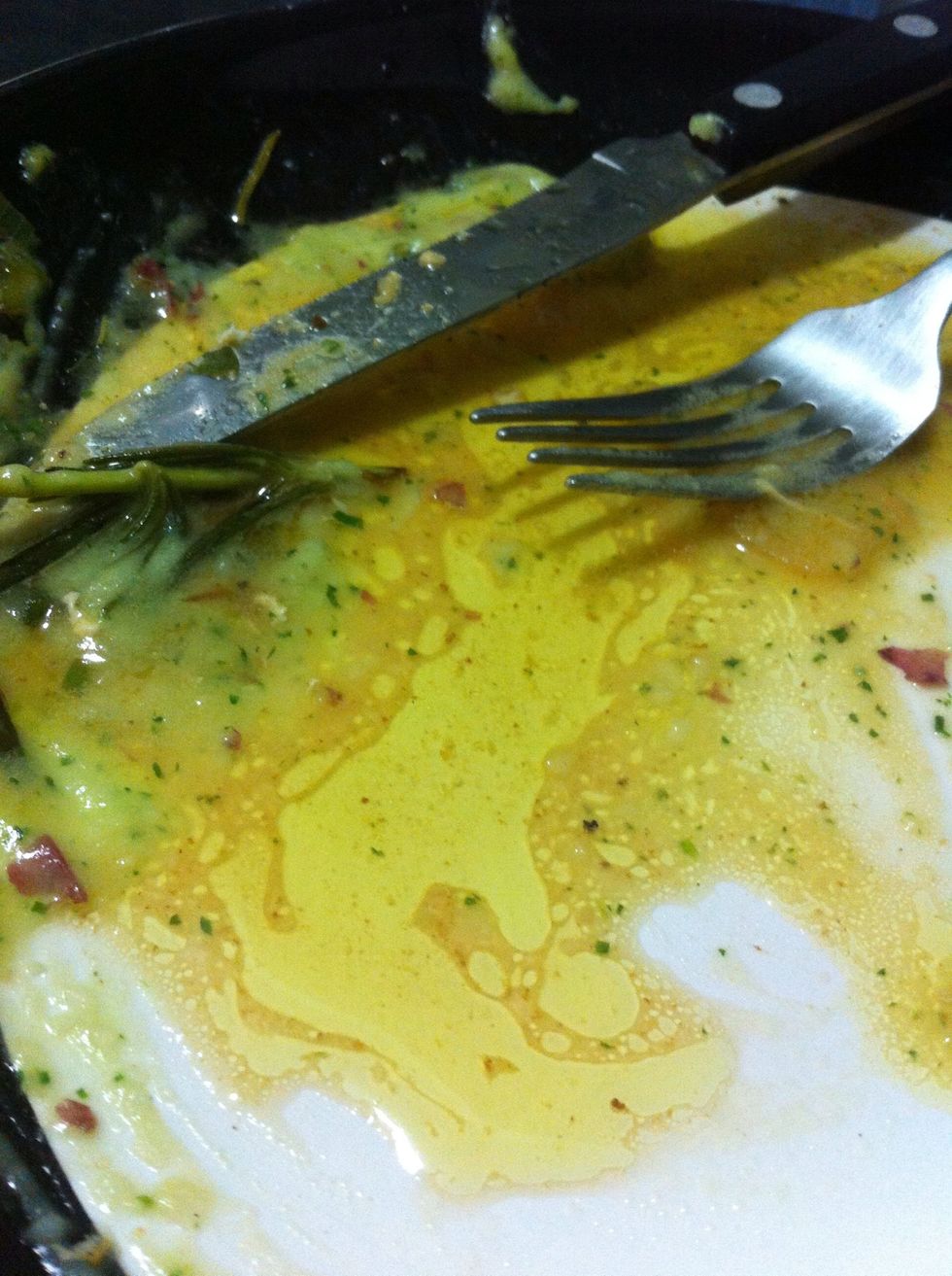 I won't tell if you don't leave a bite 😜
2.0 Split chicken breasts (skin-on)
4.0 Red potatoes
1.0bnch Asparagus
1.0 Lemon
1/2c Spinach
3.0 Garlic
1/4c Goat cheese
4.0 Rosemary
1.0 Scallion
1.0 Shallot
Olive oil
Salt
Pepper
White wine
Margarine