How to grill spicy steak in an oven
This is a simple spicy grilled steak that you can scale up as needed. It is great if you are planning to host a house party whilst having no BBQ grill or just a steak for one or two people.
37
I am not a pro so do not over-expect things here. ☝ You need to prepare the marinade four to five hours prior to grilling the beef. The steak takes about two hours to grill at 150-170 degrees(celsius)
Prepare by cleaning up your ingredients thoroughly and having them ready at hand. The preparation bowls and place should also be cleaned off gems and dust. You do not want to end up with a bad stomach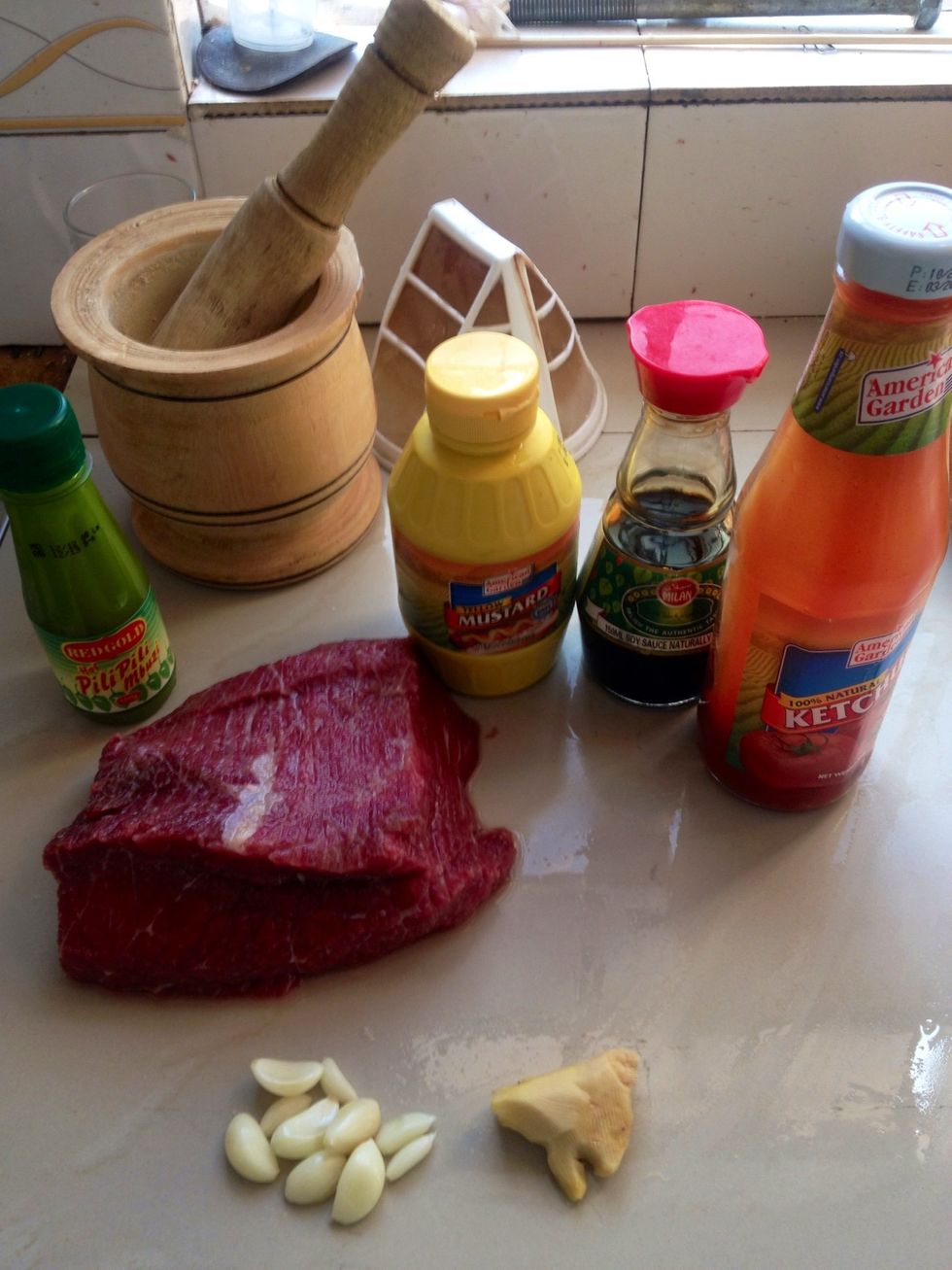 These are all my ingredients. Ready to go now. The pestle and mortar in the background are for pounding the ginger and garlic if not using a food processor.
Grind the ginger and garlic separately (or mixed, it doesn't matter). You can put them in a food processor and zap them for 10 seconds or pound them anyhow till tender and mushy.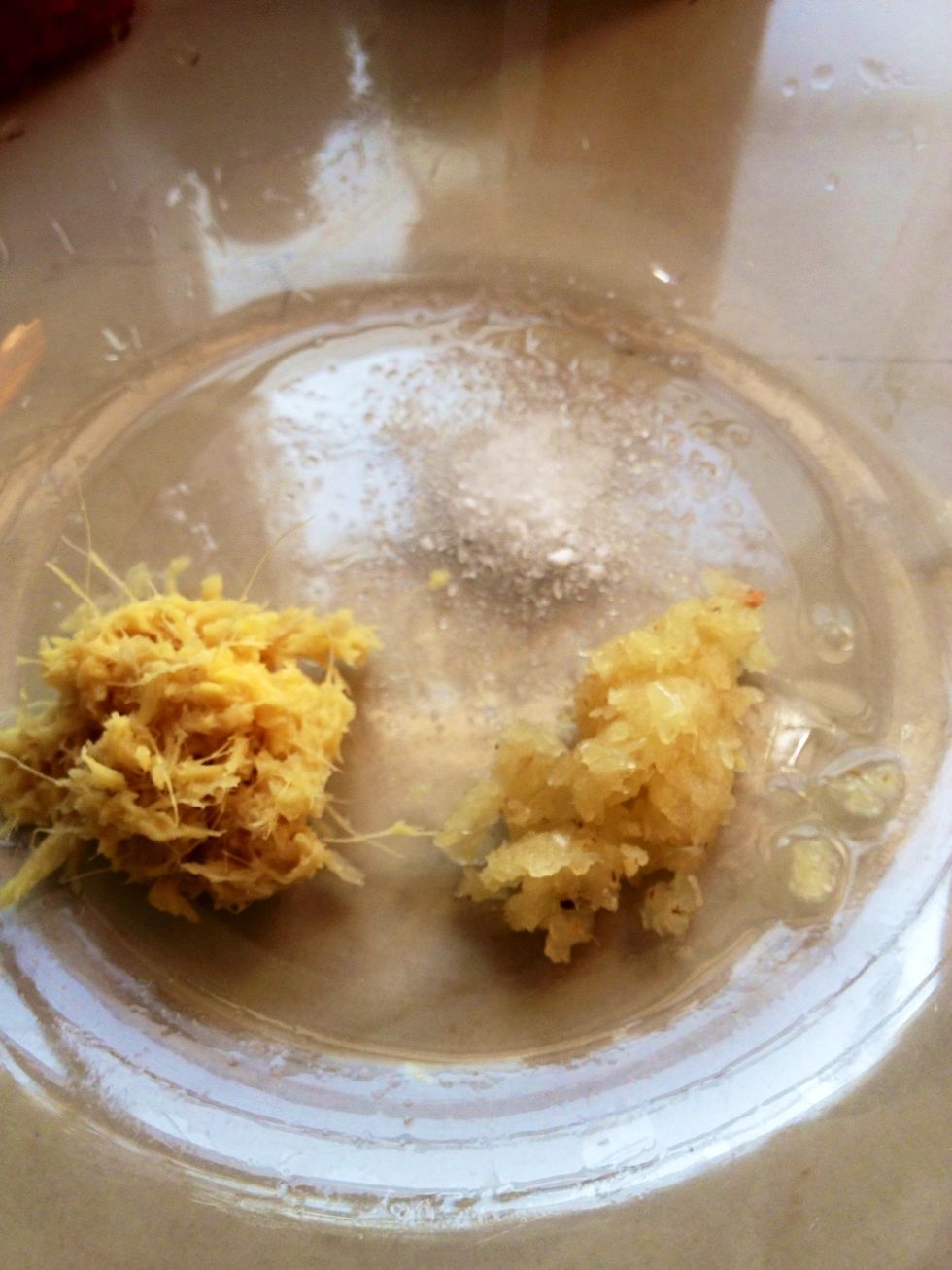 On the left is pounded ginger, on the right is pounded garlic an the salt is on the top. You can mix them while grinding or not. Be careful with the salt as there is soy sauce.
Mix all the ingredients in a bowl. Do that by adding in the garlic mixture the Ketchup, Soy sauce, Hot Sauce and Mustard.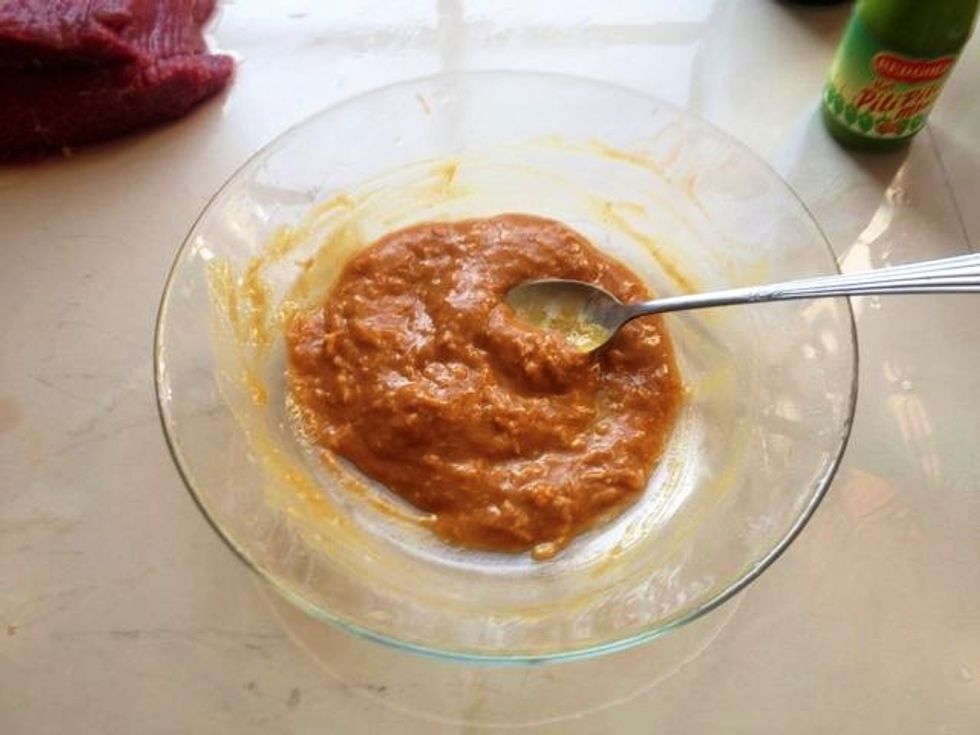 The Soy sauce, Hot sauce, Tomato ketchup, Garlic, Ginger and salt mix. Looks awful but taster great.
Meat tenderizers tend to have an awkward taste. I like to pound my steak using any heavy metal. In this case you can use a hammer, a large bolt or even a metal rod.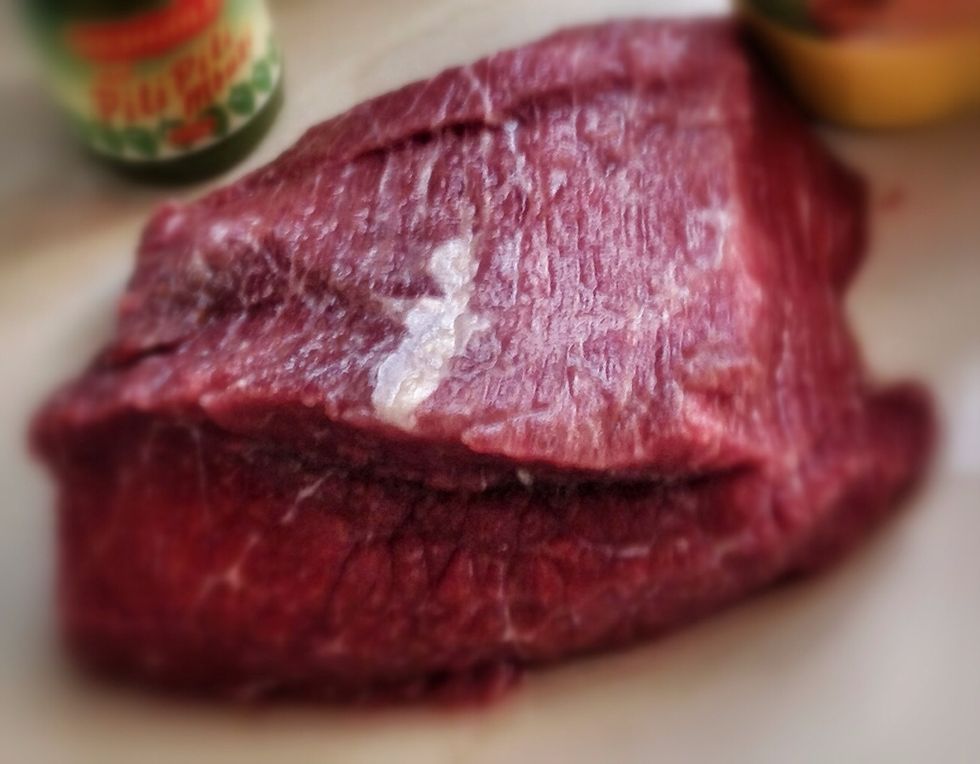 Pound the steak till rough on the outside and floppy when held. When picked up it should wiggle like a big boo*y 😜
Smear your steak with the marinade mix making sure that it is coated evenly. You can set some mixture aside for adding it to the steak while cooking or use all of it. It's yours.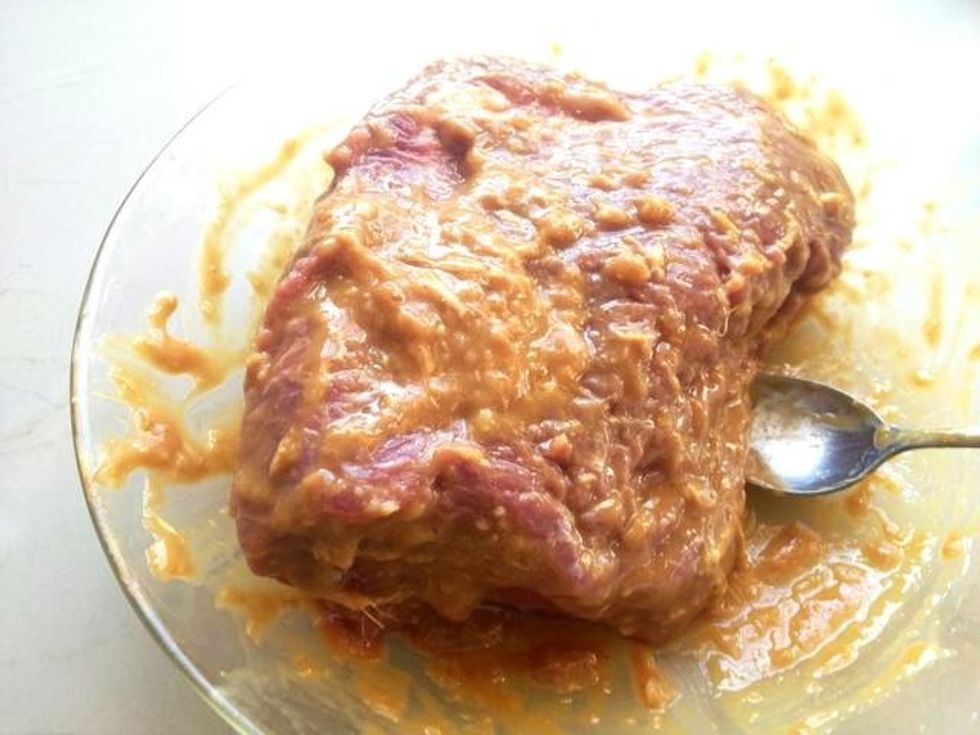 Pat and smear the mixture all over you steak. I used a spoon as dirty hands wouldn't go well with the phone.
Put your steak in a bowl and cover it with a cling wrap airtight then set it aside for five hours. If in a refrigerator leave it overnight. Yes; a refrigerator takes longer.
In the final 15 minutes preheat your oven to 150 or 170 degrees celsius. In a grilling pan fill it with water halfway to preserve moisture and ease the cleaning later on.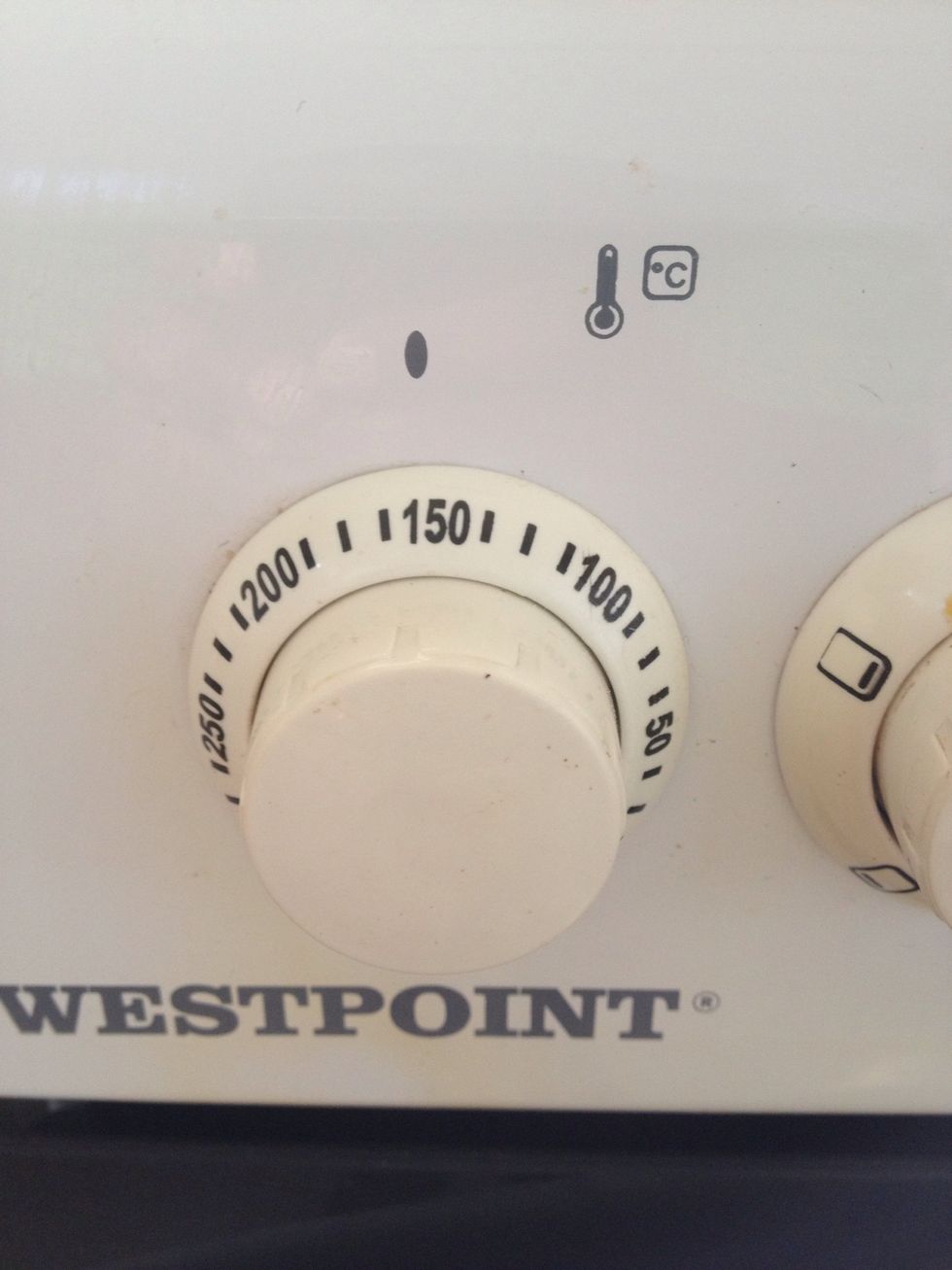 The settings are for slow grilling and it will take 2 hours for your steak to cook medium rare. In the final 15 minutes crank the heat to 250 degrees celsius.
NOTE: If on a charcoalBBQ grill, skip the salt till cooked and then add to taste. Salt tends to absorb sugars and when they are fire burnt, they create a plasticky boring skin to the steak.
Look at mine, it is tender and medium rare. Cranking the heat in the final stages helps to give it that medium rare quality and bring out the spices.
The water will help the steak reserve liquids and everything that drips from the steak wont dirt you oven pan as it will just hang on in the water.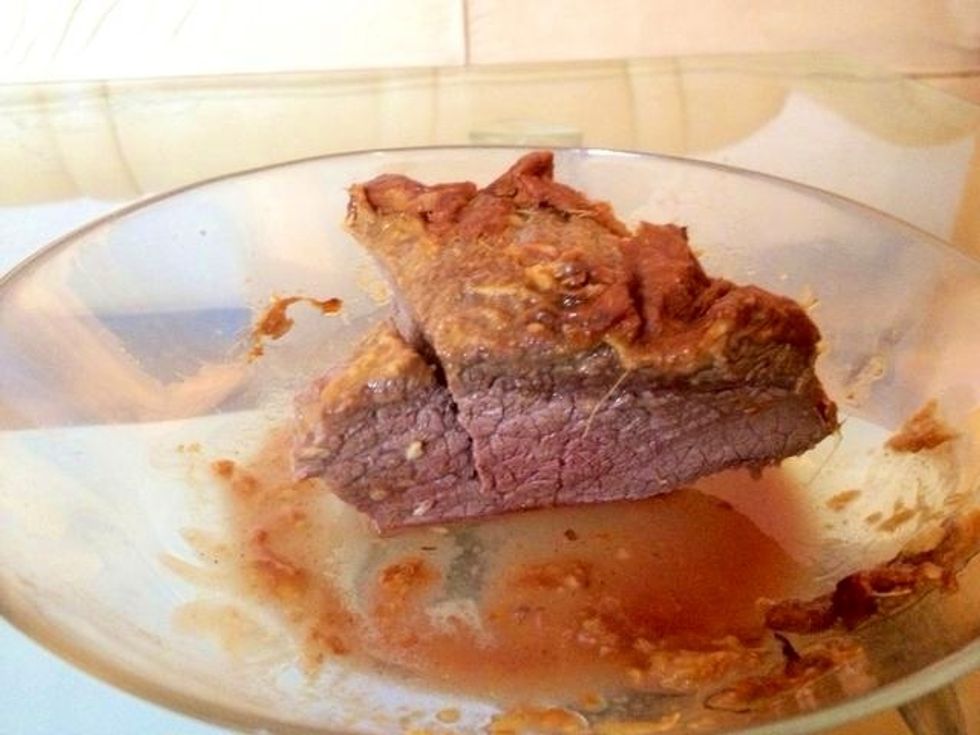 Here is my steak eaten halfway through. If grilled a large amount, make sure to chop it into smaller pieces after grilling so that everyone can get a piece. Enjoy!
NOTE: THIS IS MY VERY FIRST POST/GUIDE SO IF YOU CAN, DONT MIND THE TYPOS AND THE MISTAKES. I SHOULD REITERATE THAT I AM NOT A PRO. THIS GUIDE IS INTENDED FOR NORMAL FOLKS LIKE ME.
1/2kg Beef Steak
50.0g Garlic Cloves
1/4c Tomato Ketchup
1/8c Mustard
1.0tsp Soy Sauce
50.0g Ginger
1.0tsp Salt
1.0Tbsp Hot Sauce
1.0 An Electric Oven
1.0 Blender or Mortar
5.0 Hours marinating time
2.0 Hours grilling
2.0 Bowls