Graphic 45 Masculine Birthday Card W/Pockets
8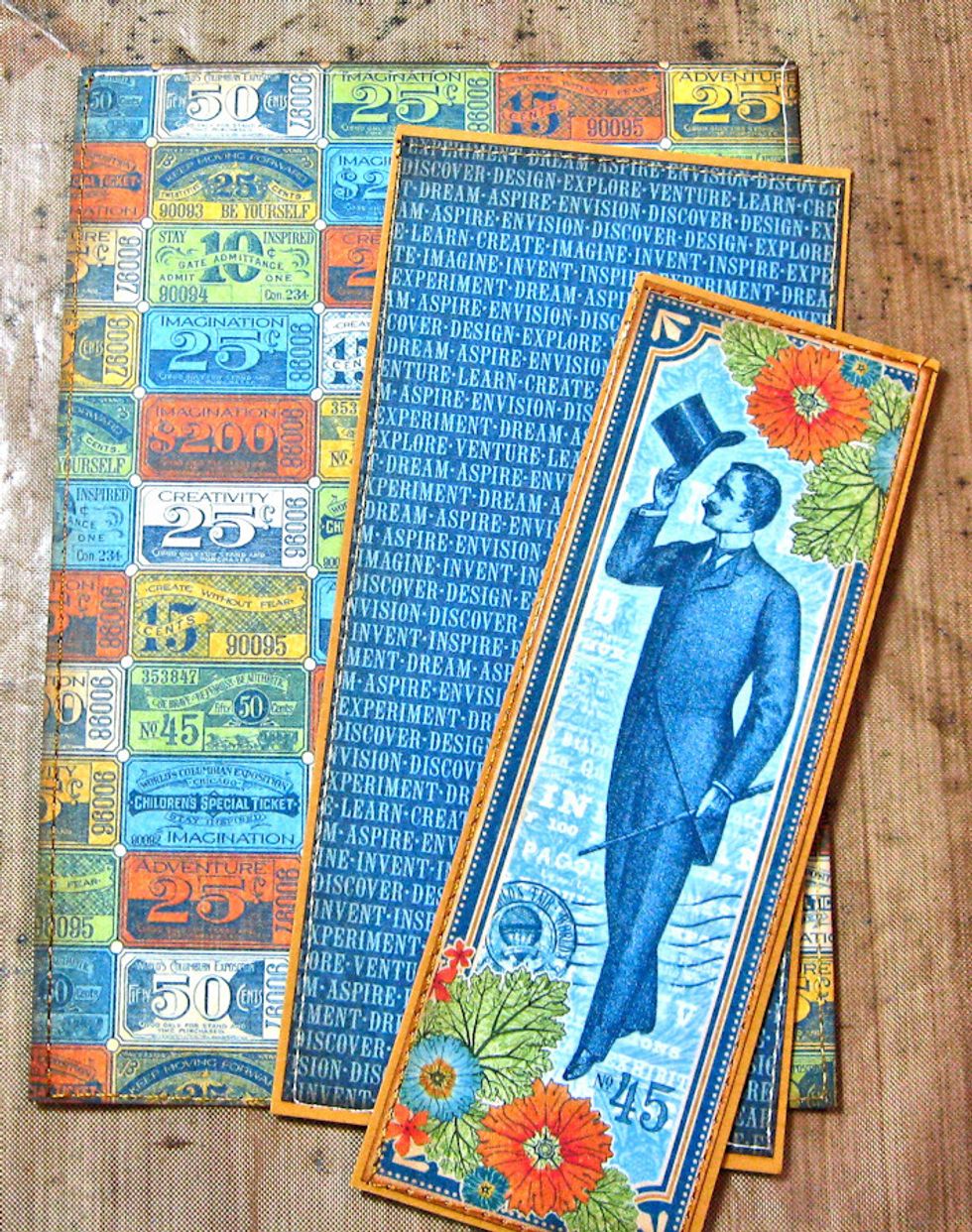 Ink all cut edges with Vintage Photo Distress ink. Cut man from 12 x 12 Wonder Works. Mat. Cut Cut 8x8 Ticket to Ride to measure 3" x 6.25". Mat. Cut Ticket to Ride to measure 4 7/8" x 6 7/8". Mat.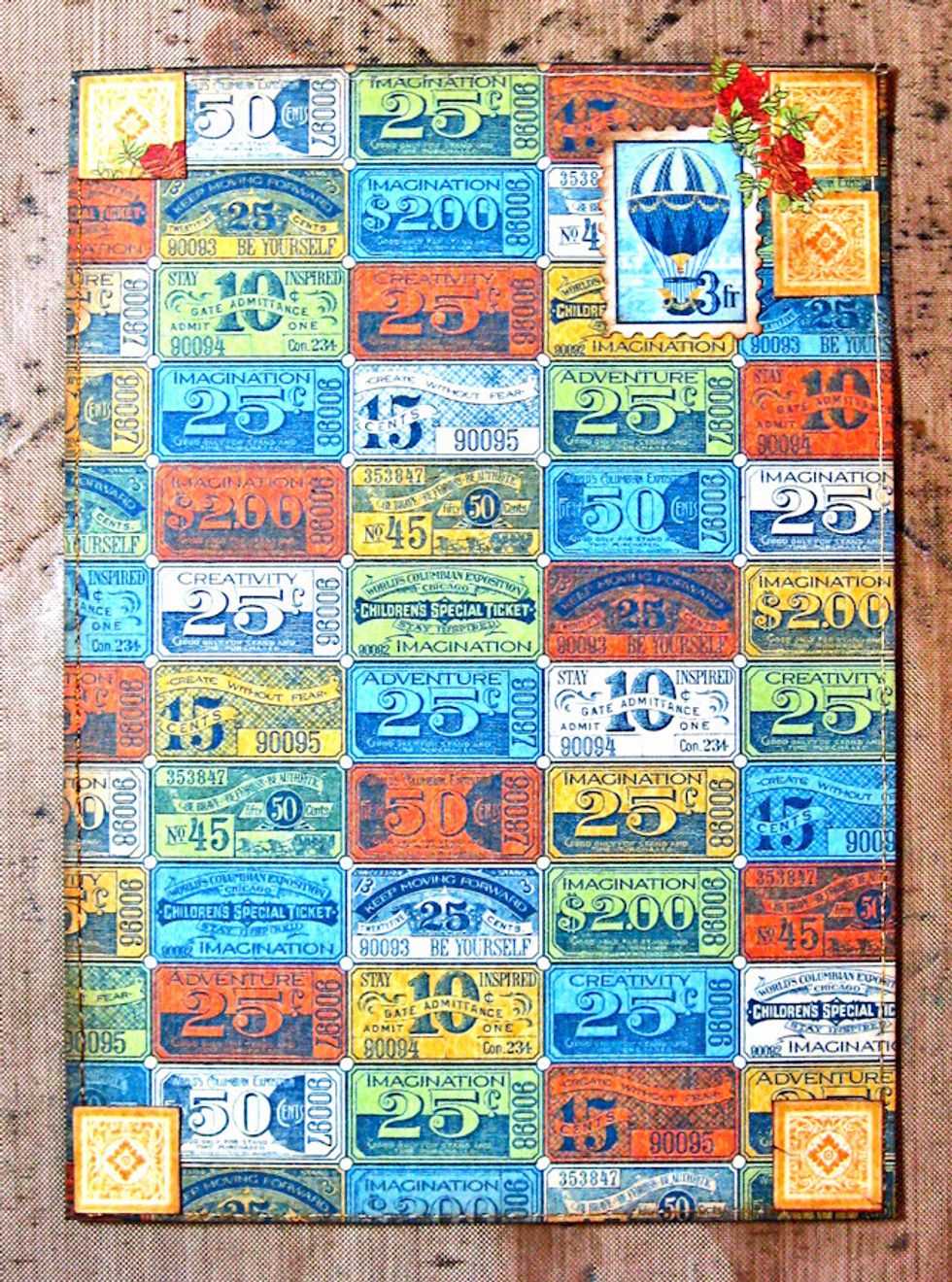 Stitch all matted panels with ivory thread on sewing machine. (Optional) Prepare a 5" x 7" top fold card base. Set aside. Do not glue card front to base until interior is complete.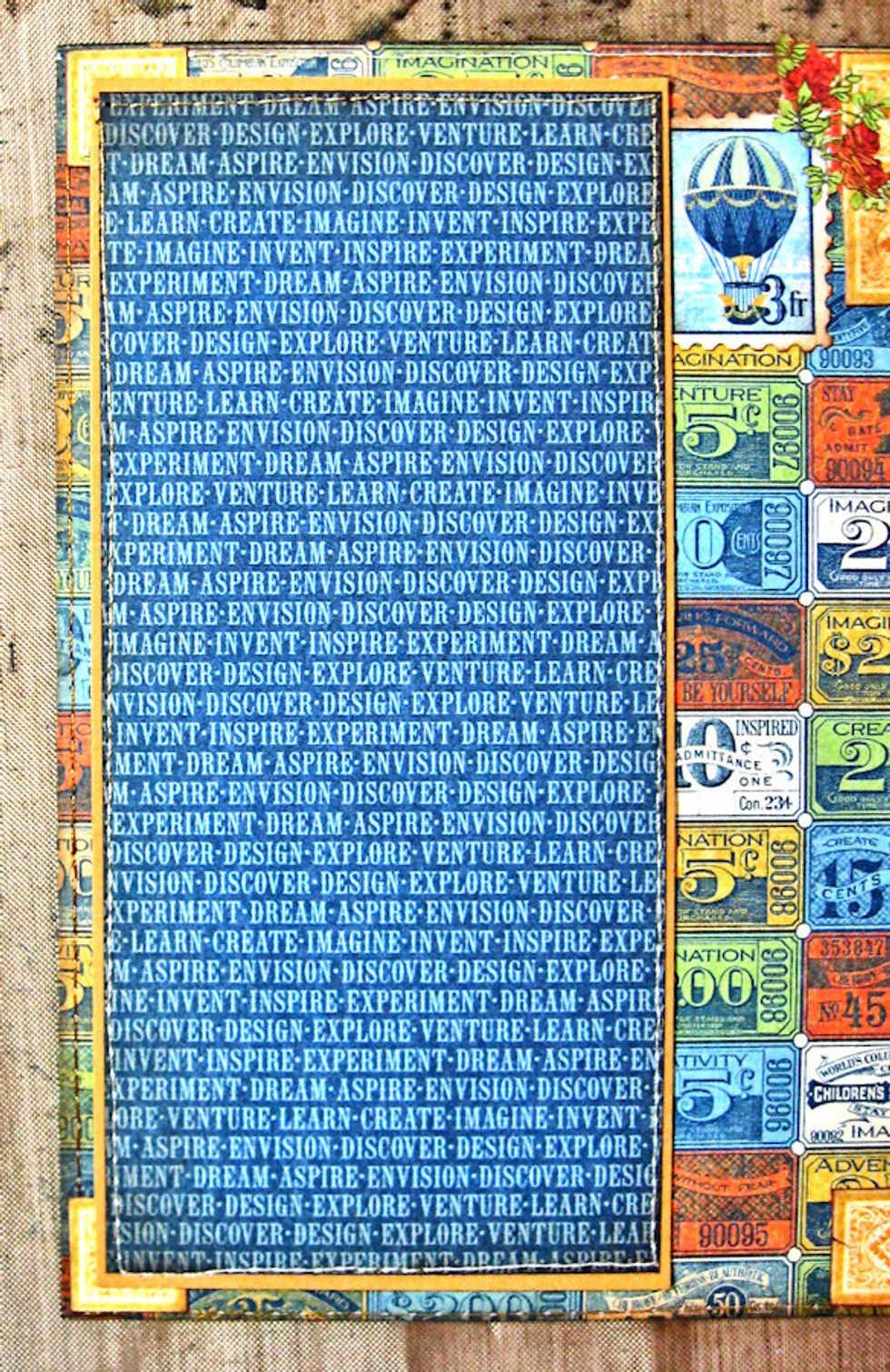 Layer blue panel over ticket panel.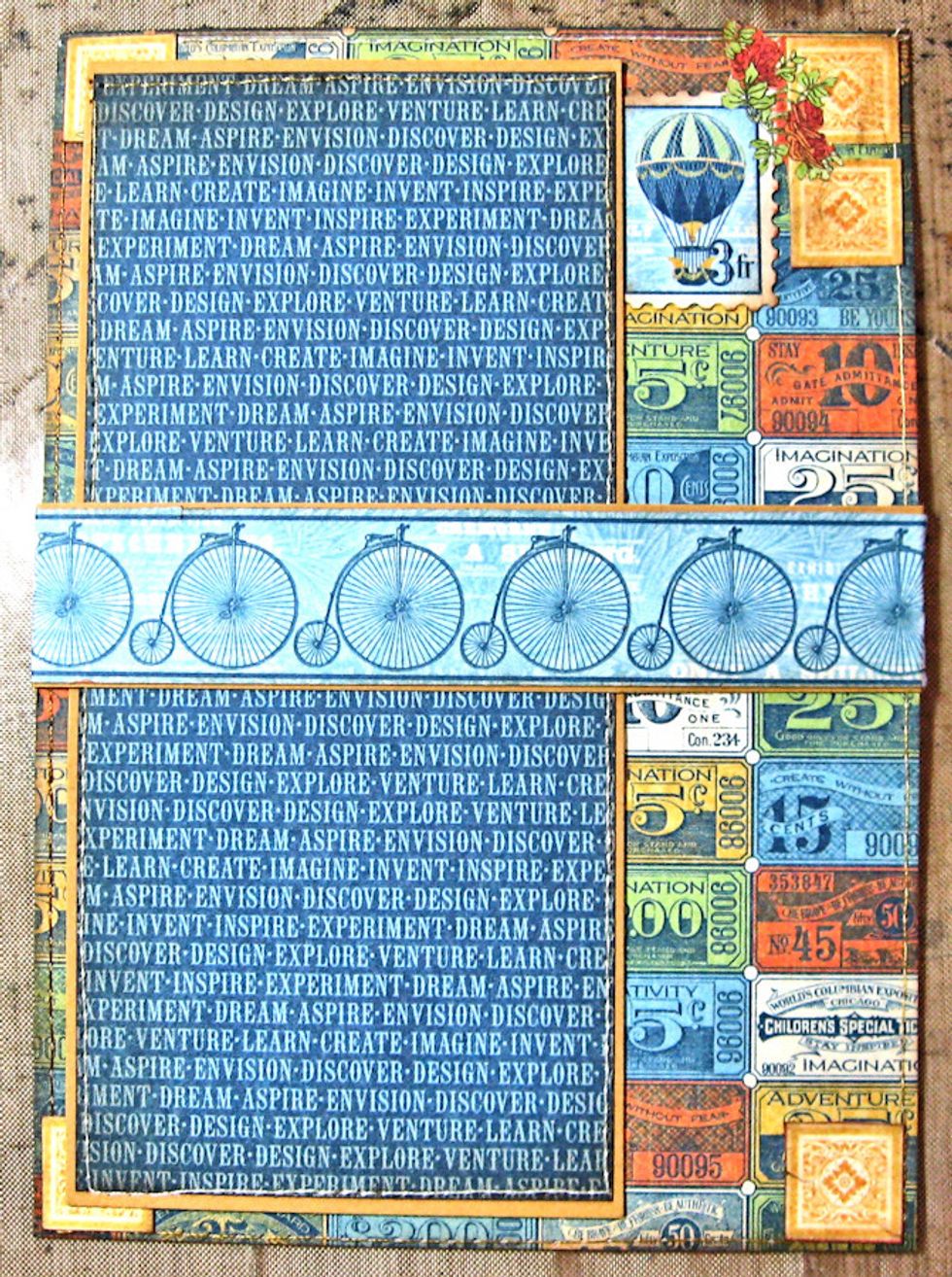 Fussy cut stamp and gold corners from Envision Expo. Glue in corners as seen here. Use postage stamp scissors on stamp. Mat bicycle border from 12x12 Wonder works and blue over blue panel.
Use foam dimensionals to add gentleman panel as shown.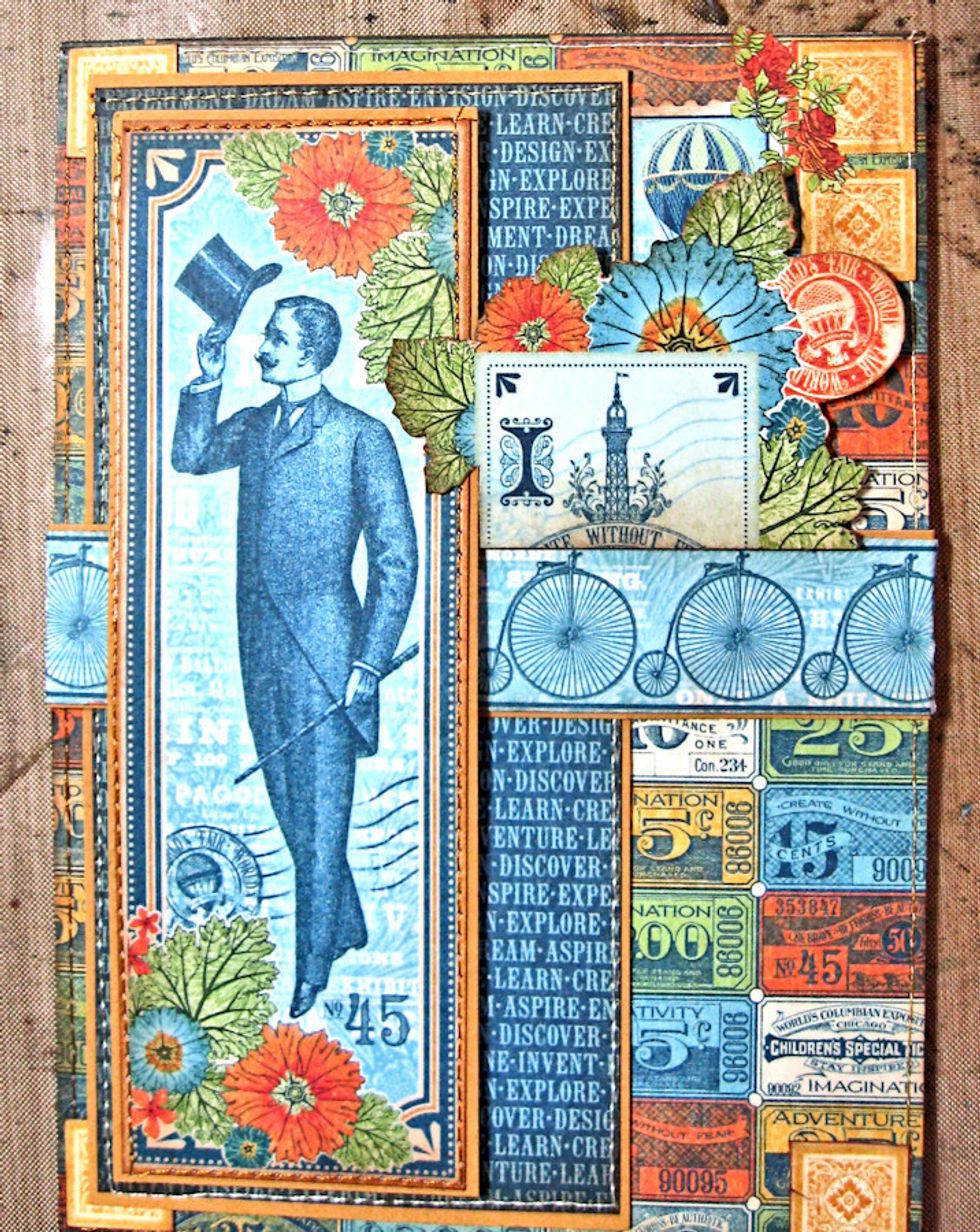 Fussy cut flowers, postmark and top half of Eiffel Tower from 12x12 Envision Exposition. Layer leaves over gentleman panel. Line up with bicycle border.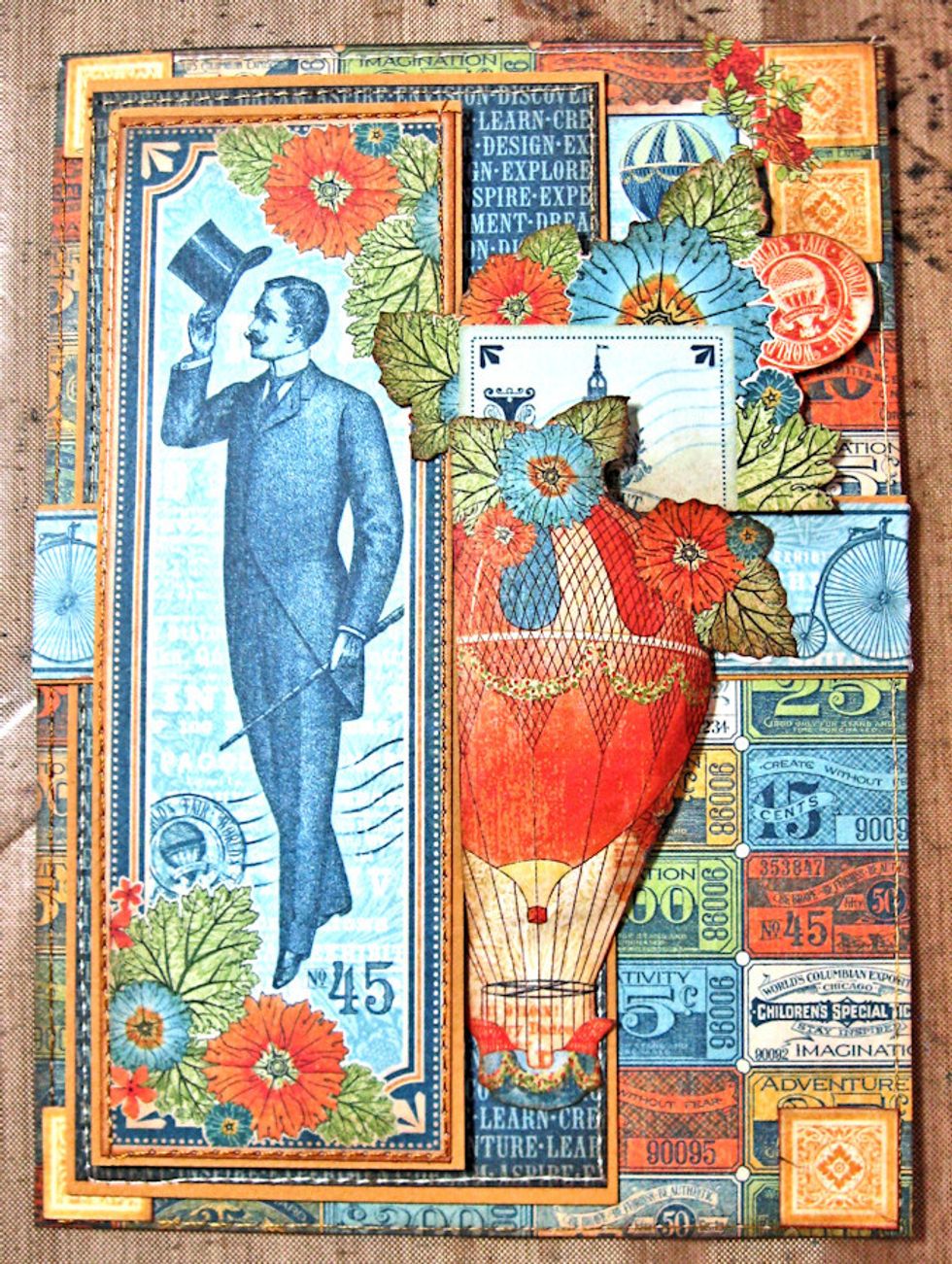 Fussy cut balloon from 12x12 Balloon Bouquet. Lightly round the balloon with ball stylus. Add foam dimensionals to center. Glue in place, leaving open edges so you can tuck in more elements.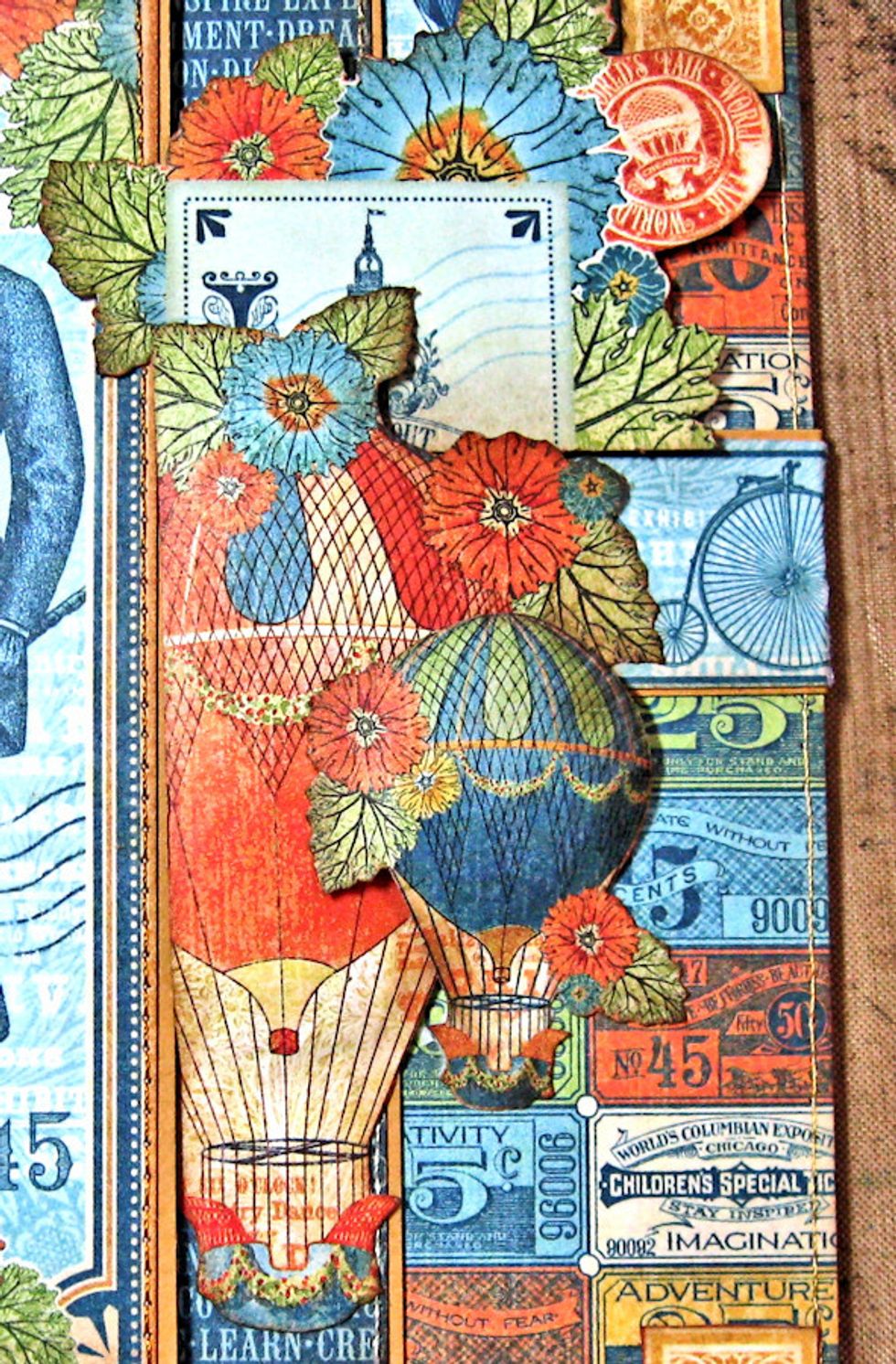 Fussy cut blue balloon and add to card.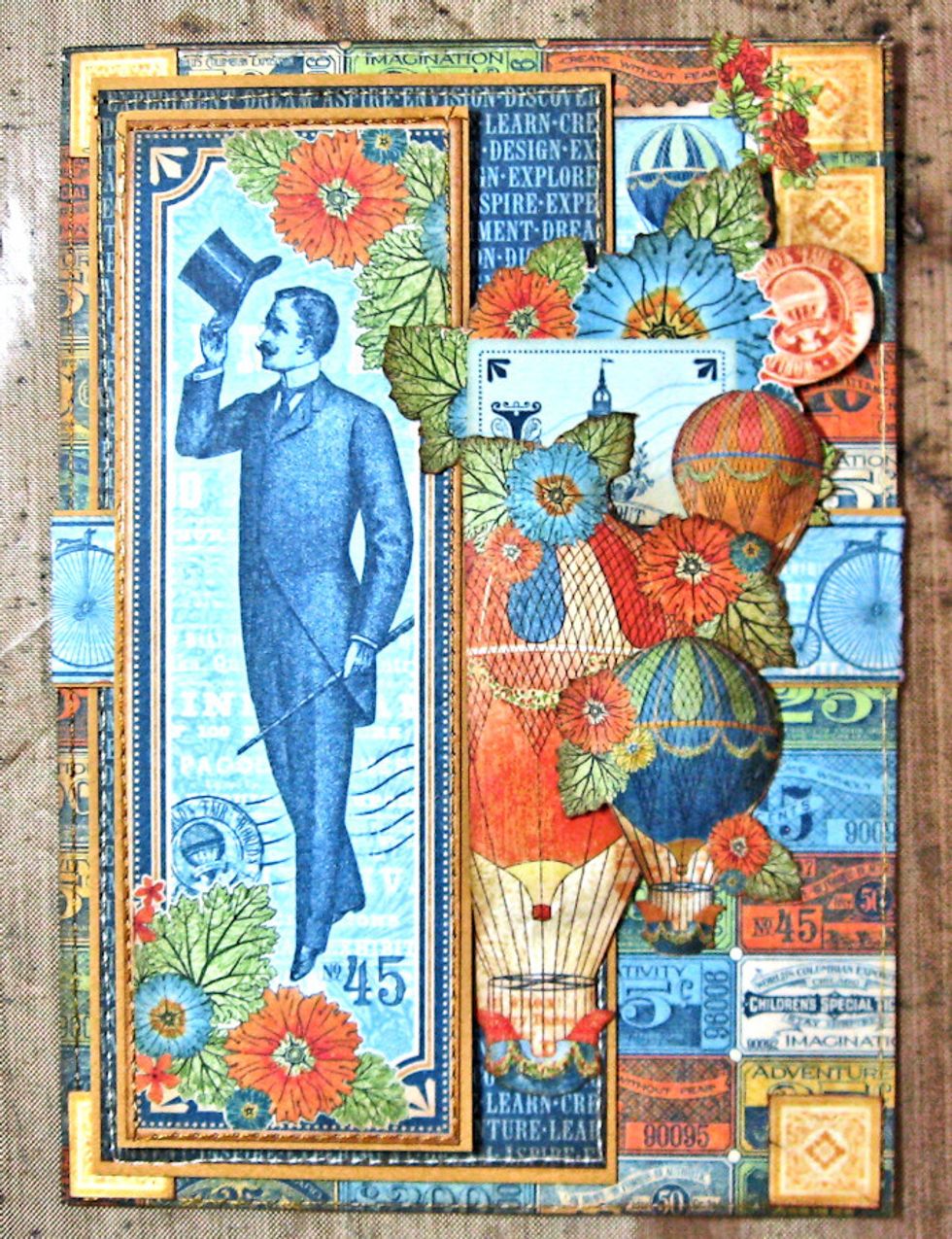 Tuck orange fussy cut balloon behind largest balloon.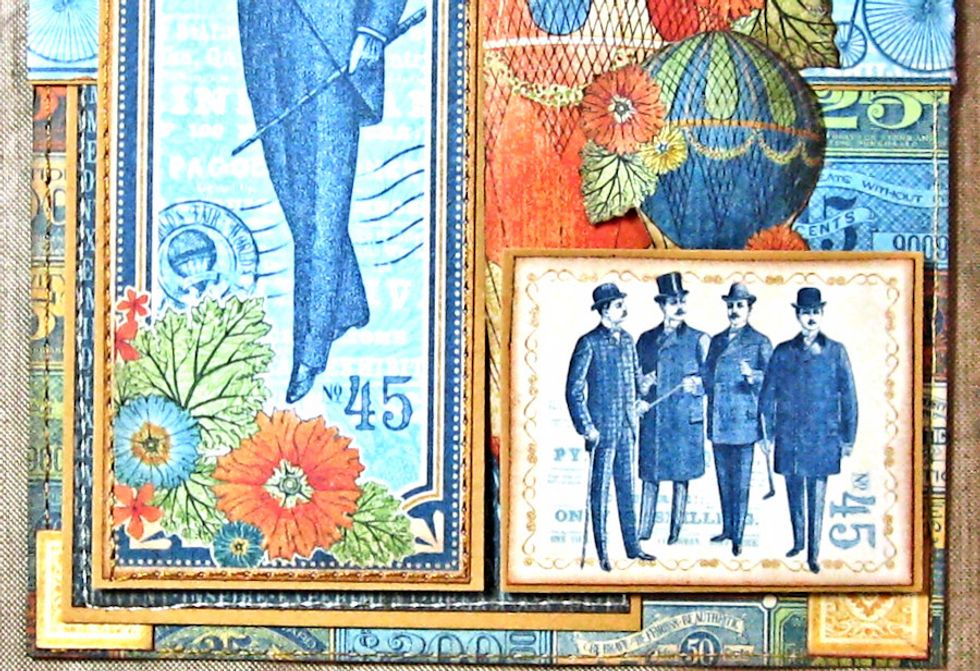 Fussy cut handsome gents from 12 x12 Envision Expo. Mat on cardstock. Attach with foam dimensionals.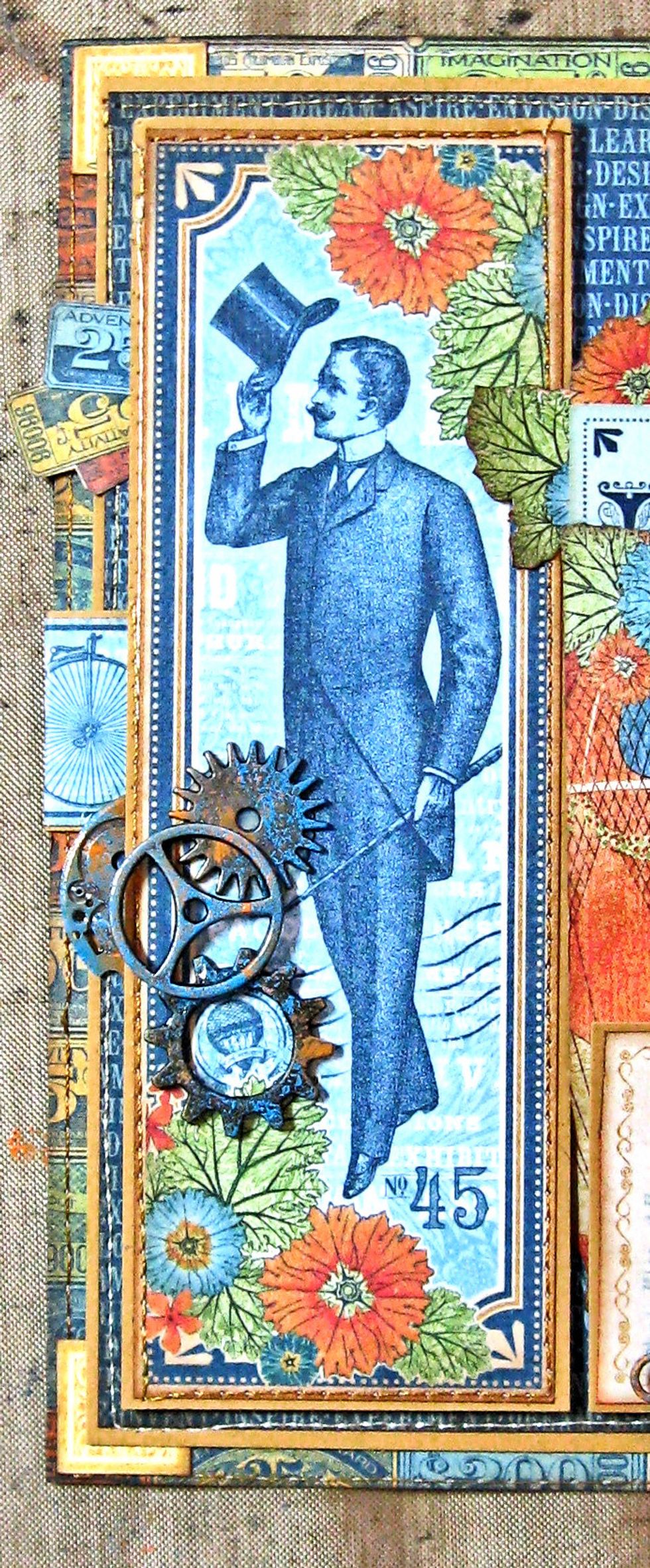 Dab gears with Ripe Persimmon and Salty Ocean Distress Paint. Attach with Glossy Accents. Fussy cut three tickets and tuck between panels as seen here.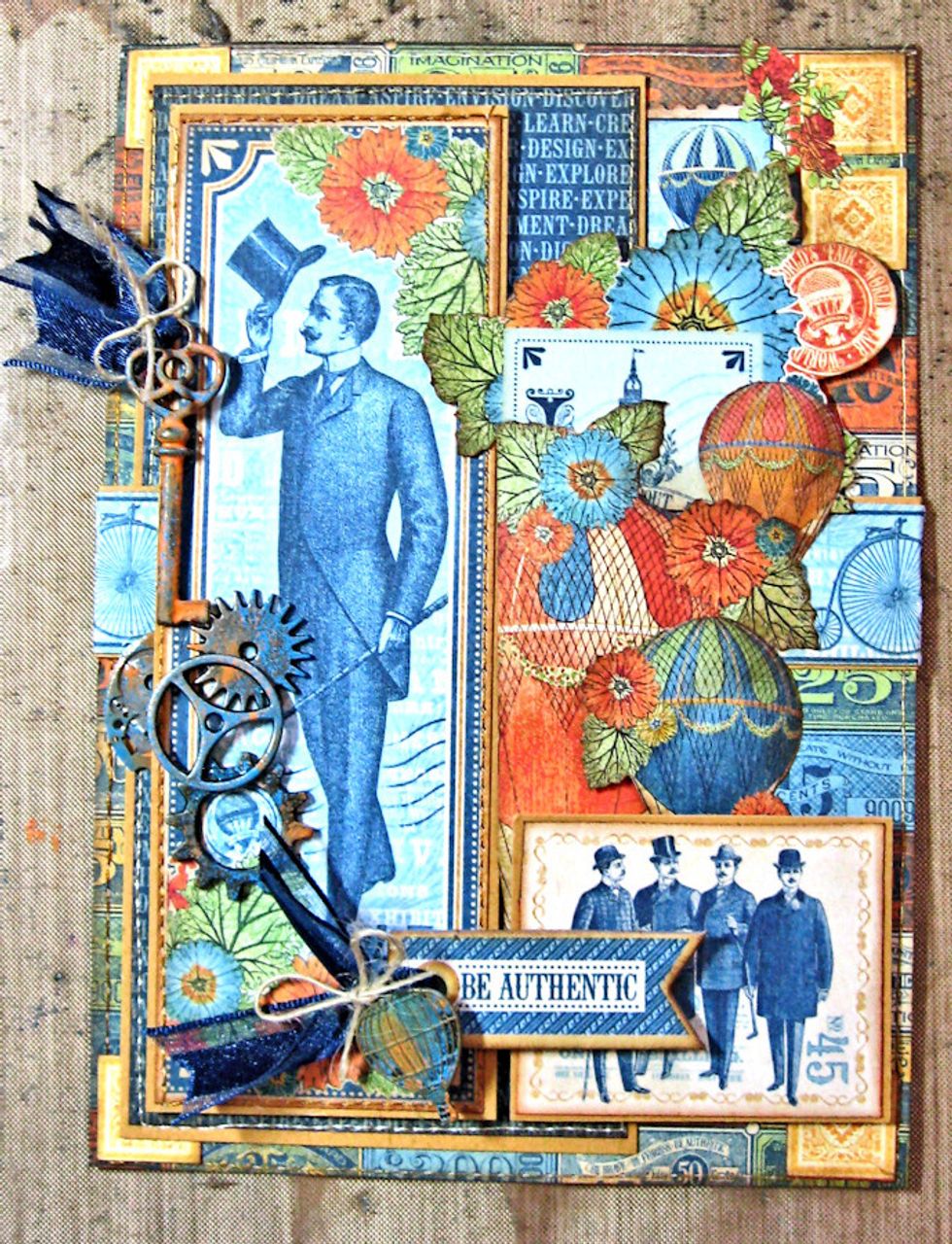 Paint key. thread with scrap of navy ribbon. Tie with burlap string. Glue in place with Glossy Accents. Paint balloon charm. attach to chipboard with burlap string. Attach chip w/foam dimensional.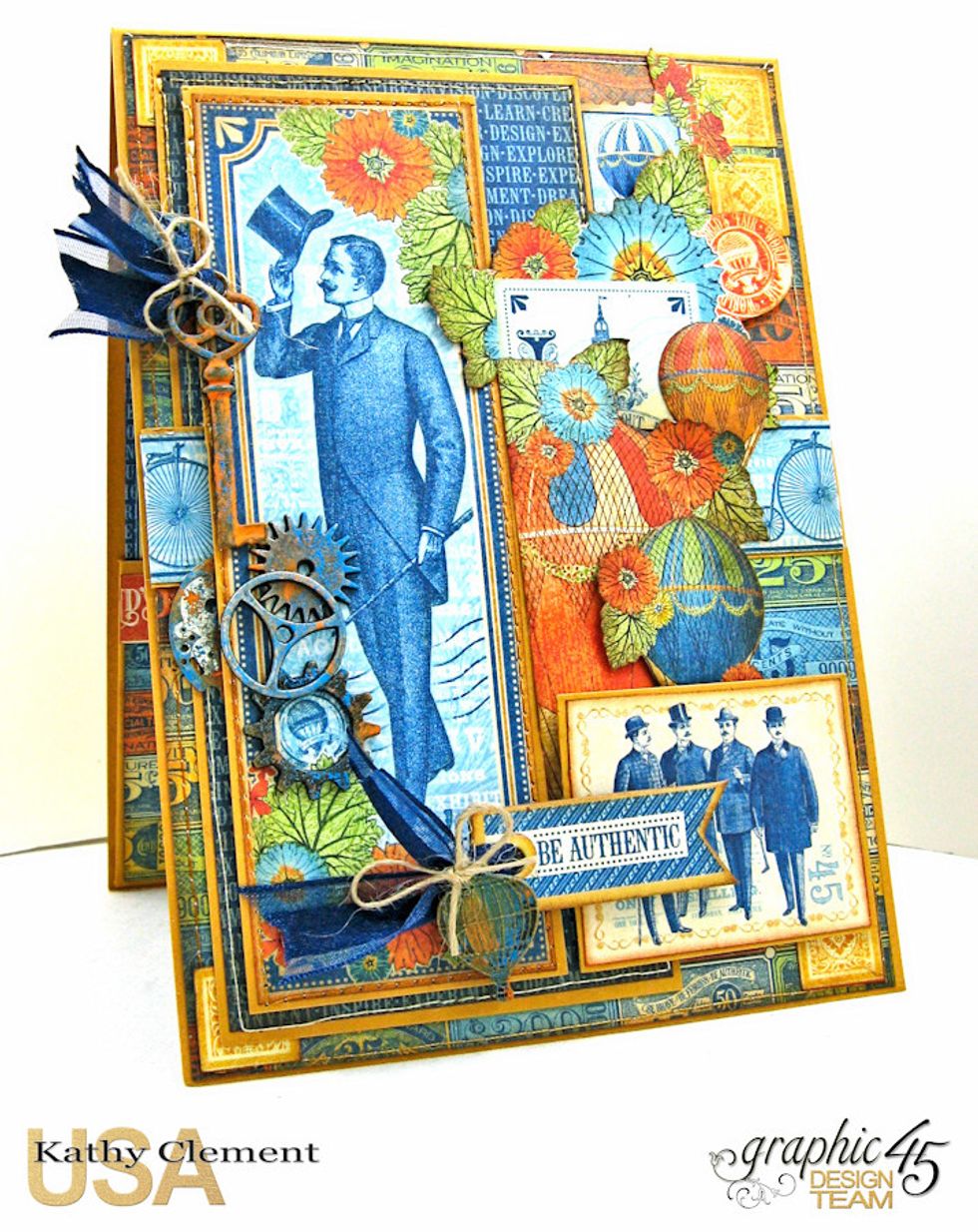 The outside of the card is now finished. I will show you how I finished the inside, but there is no tutorial. You will need to build a simple pocket. I have shown how to do this in other tutorials.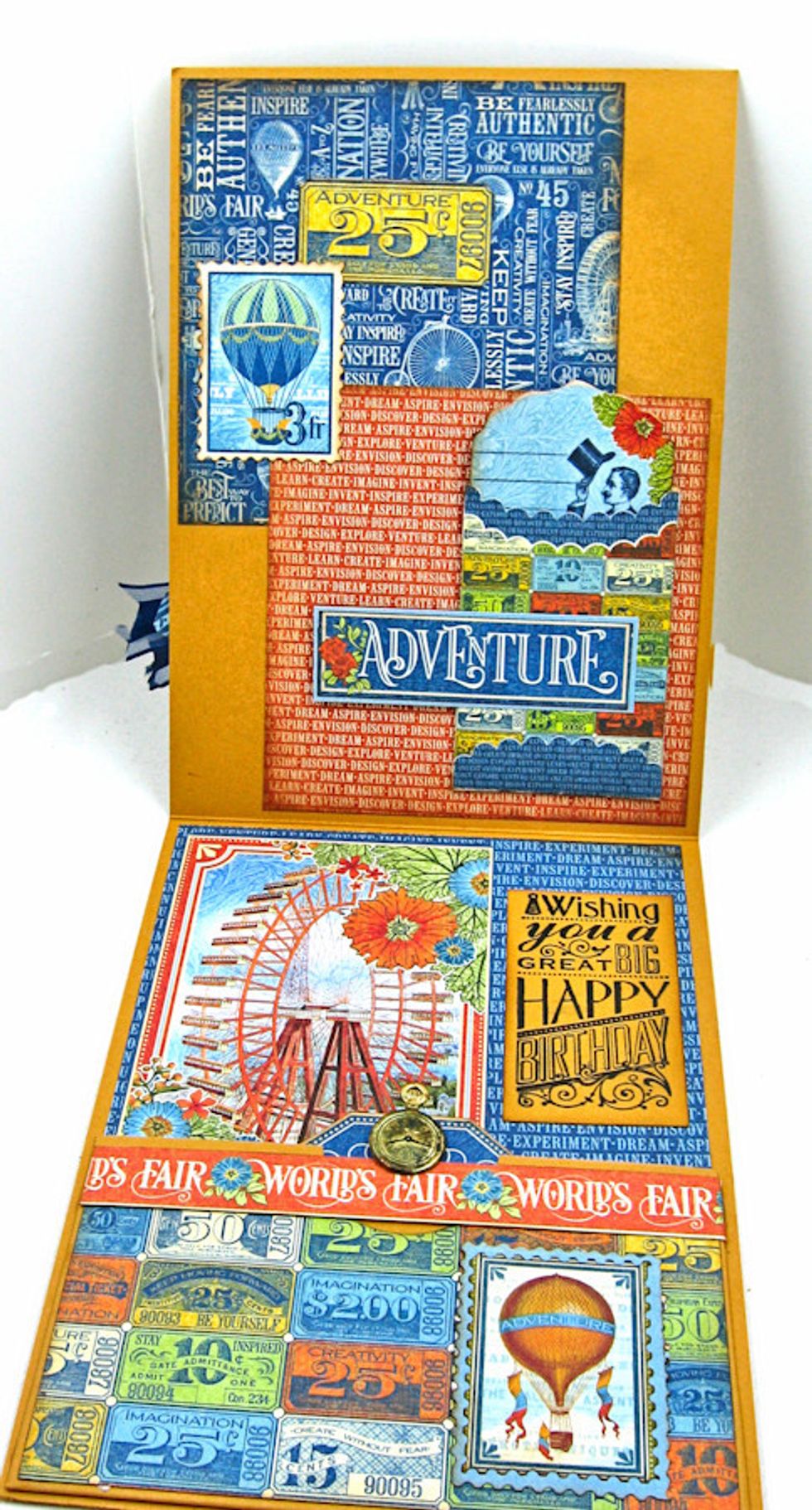 Use 6x6 prints to add blocks of color. Decorate with fussy cut elements from paper collection. Add a tag and pocket. Place adventure title partially over the top.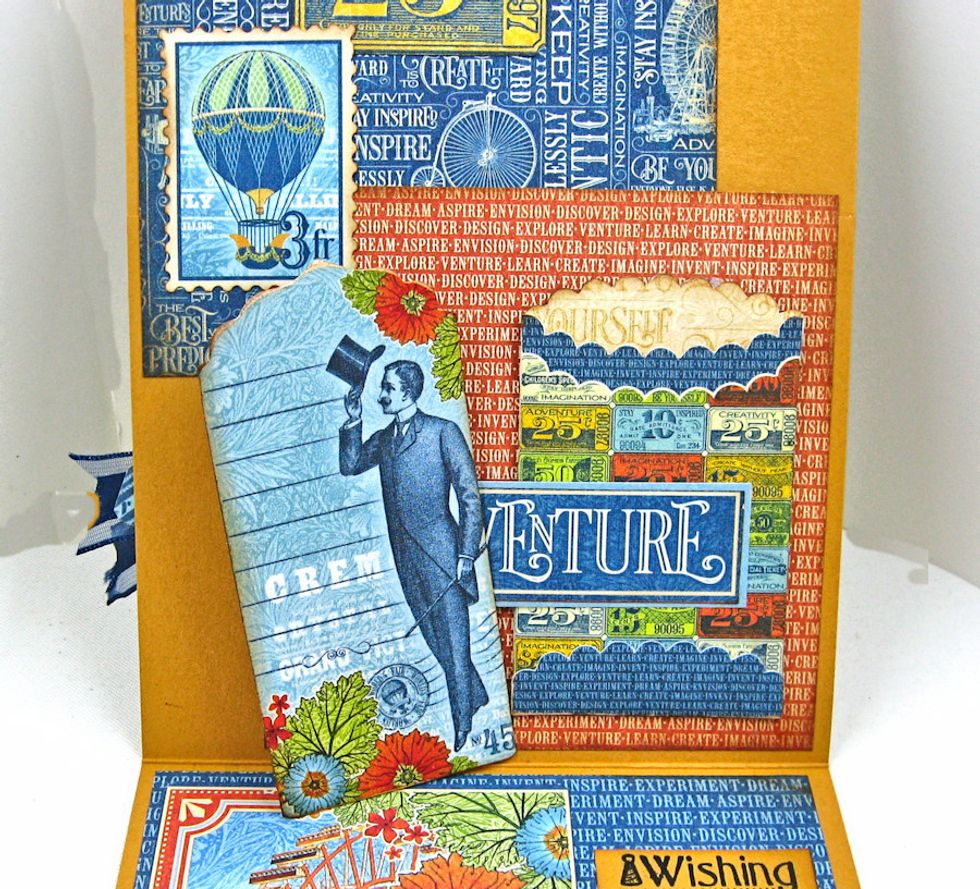 Here is a close up view.
Build a pocket on the bottom half. Add images and a stamped sentiment. Tuck a tag from the collection into the pocket. I topped the tag with a little clock brad.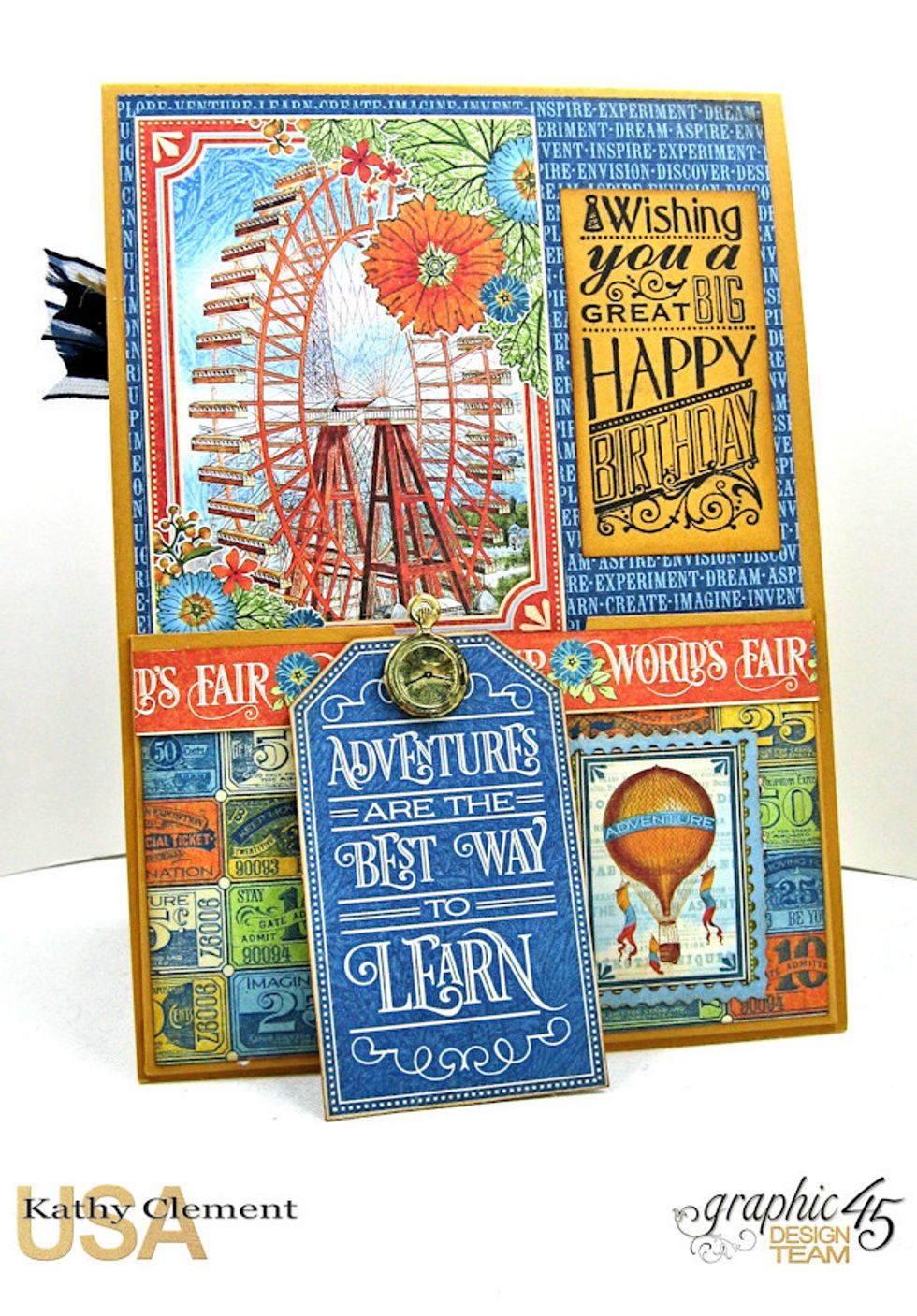 Here's the tag, made with a shaped sentiment block. You can also tuck a gift card or cash into the pocket so that the card becomes the gift. Thanks for joining me. Now go get your craft on!
G45 World's Fair 12x12 papers
G 45's World's Fair 8x8 papers
World's Fair 6x6 Prints and Patterns
World's Fair Chipboard
World's Fair Tags and pockets
Metal gears
metal key
hot air balloon charm
Ripe Persimmon Distress Paint
Salty Ocean Distress Paint
Stampin Up More Mustard Cardstock 2 sheets
navy ribbon scraps, burlap string
brad
birthday sentiment stamp (Paperwishes)
Ball Stylus
glue, scissors, Glossy Accents, foam dimensionals
Kathy Clement
I'm a wife, a mom and a Nana who loves to play with paper. Married for 40 years, I am a full time designer, life long learner, and pretty darn good cook.