How to give new life to a very old photo album. part 1
Give New Life to a Very Old Photo Album. Part 1
6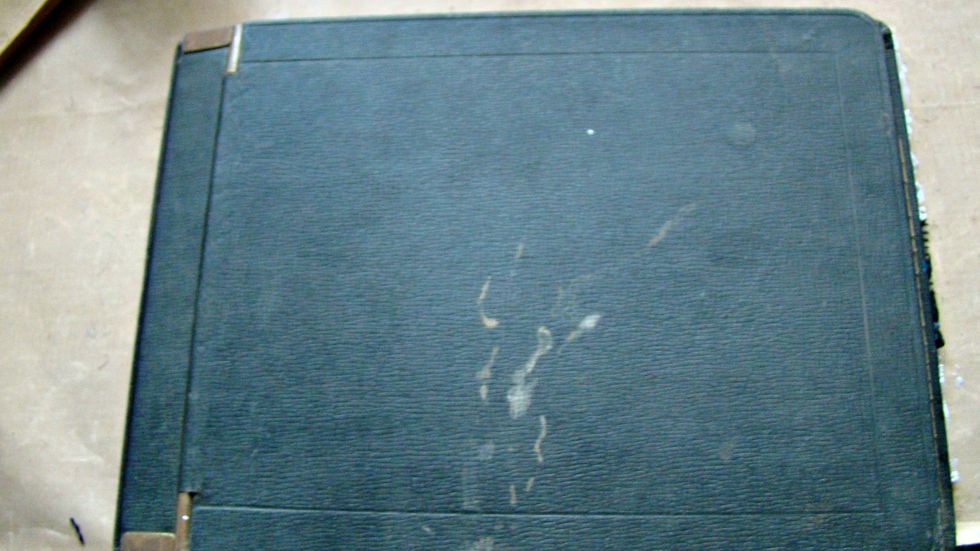 Here is my antique find that and I'm going to prep it for altering.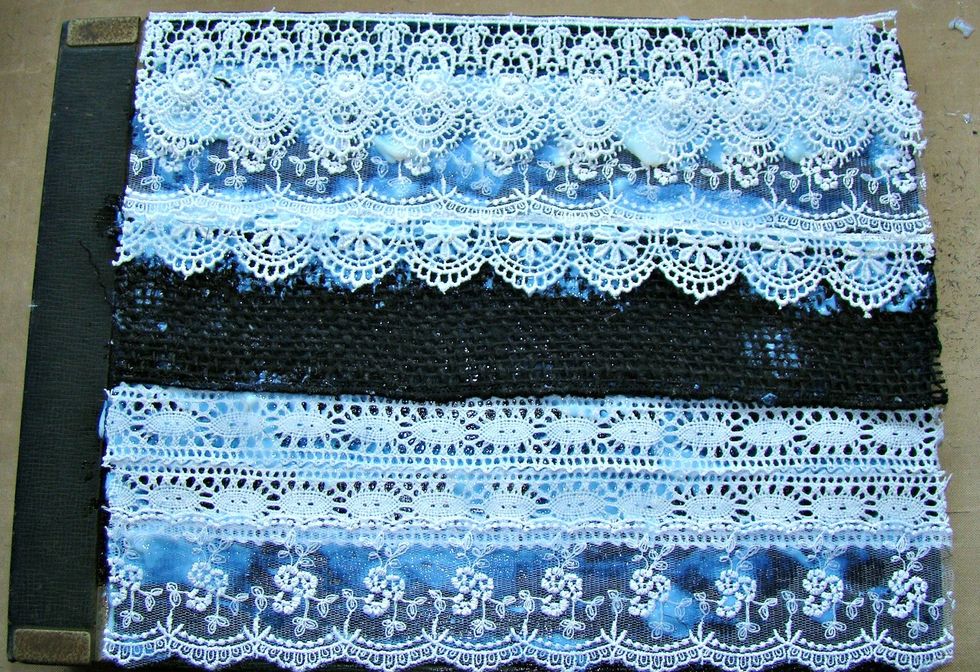 First off to provide some interesting texture adhere assorted laces, burlap to cover and allow to dry.
Give a coat of black gesso on one side of the cover and remainder is prepped with white gesso, Allow to dry. I think this was the hardest part about the project because there is a lot of drying time.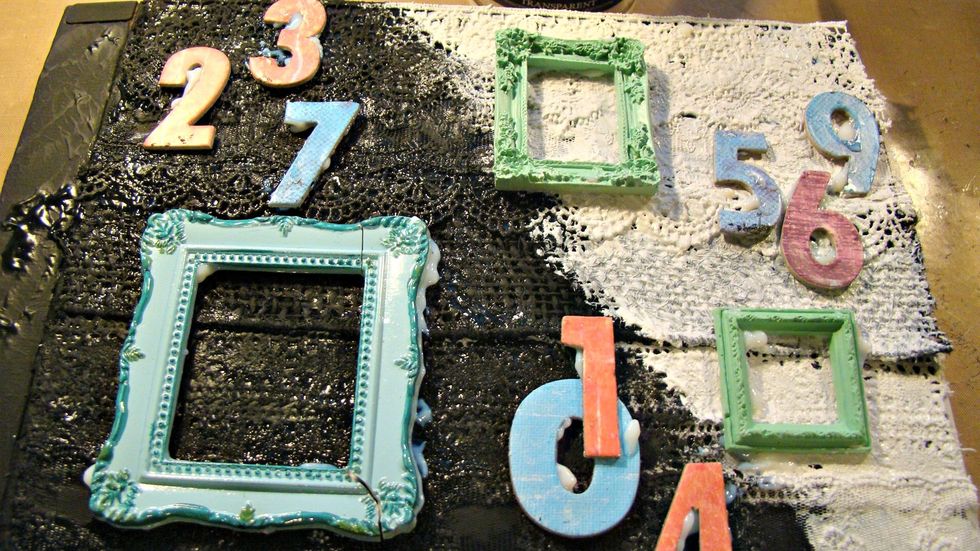 Add elements to your page such as chipboard, picture frames, buttons, metal embellishments, flowers etc. Adhere.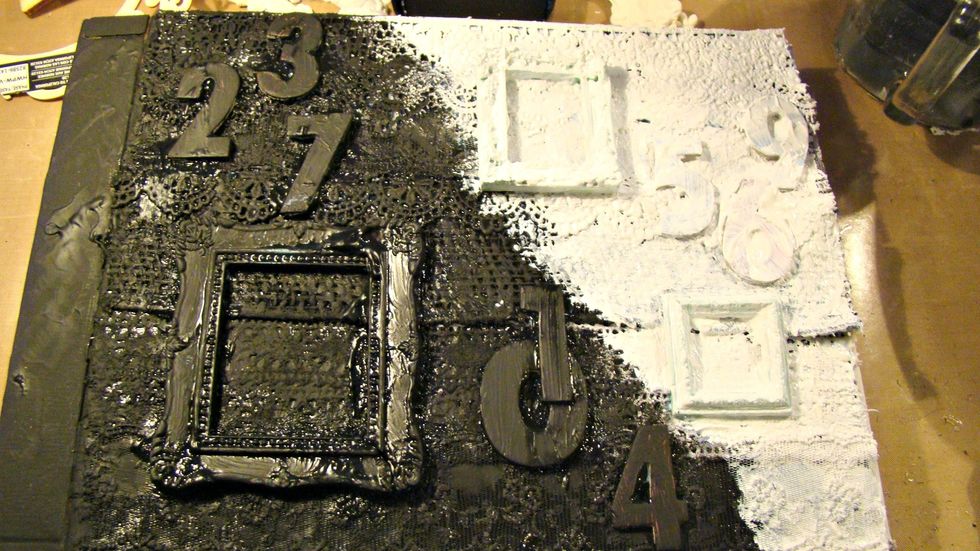 Cover with black or white gesso.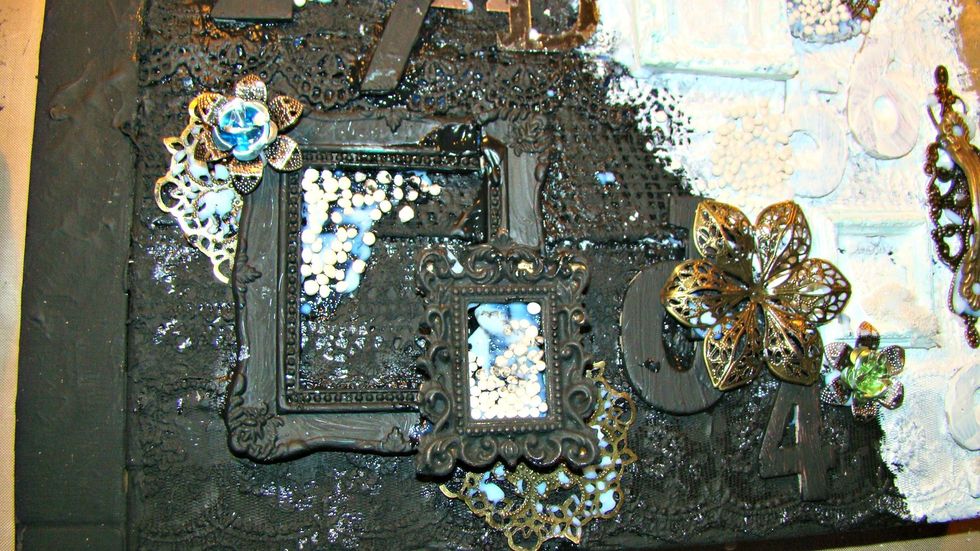 Add some more texture with rocks, sand, or here I used Art Stones Mini and Regular size adhere with gel medium.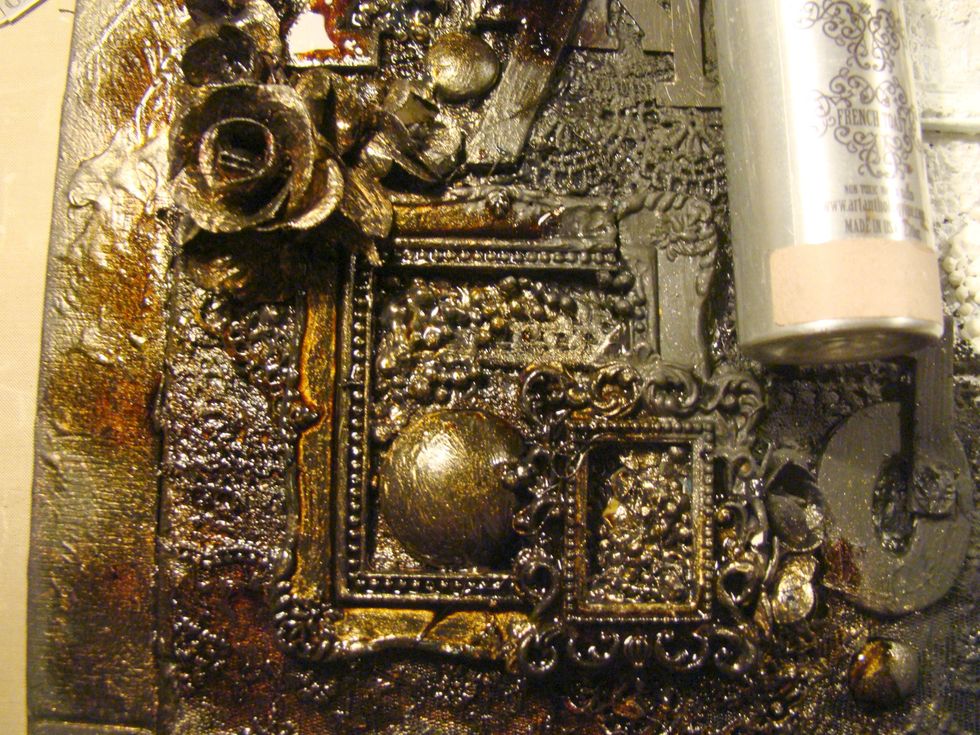 Now the fun part, let's start spraying. Pick 2 or 3 colors for your project and randomly spray the areas. I used Metal Effects Gold watered down in a spray bottle and Colorations French Toast.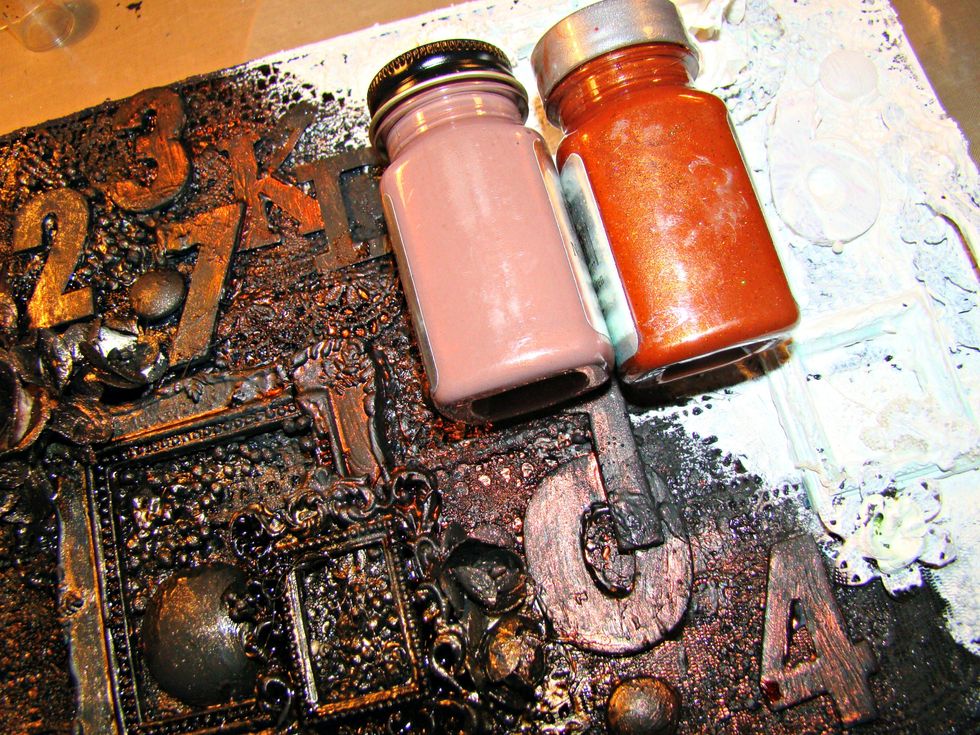 I next added Kenyan Copper in a spray bottle and smeared Stone Effects in Sandstone here and there for added texture and color.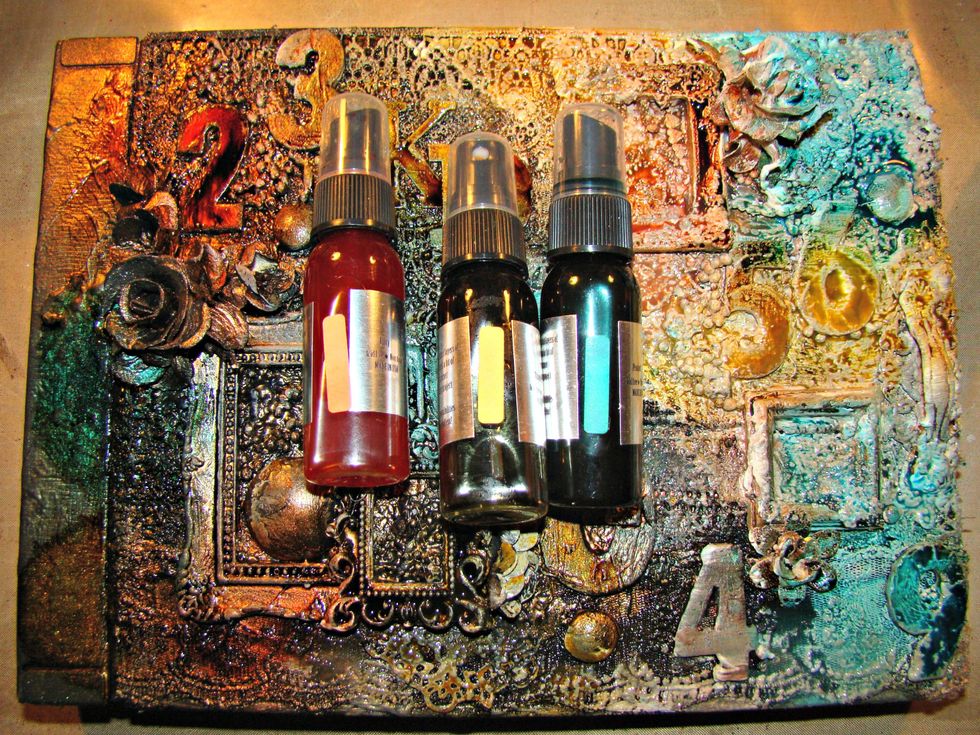 I found that the other two colors were a bit darker than I wanted so I sprayed over them with Colorations in Timeless and Juicy and added to the mix Peacock Feathers.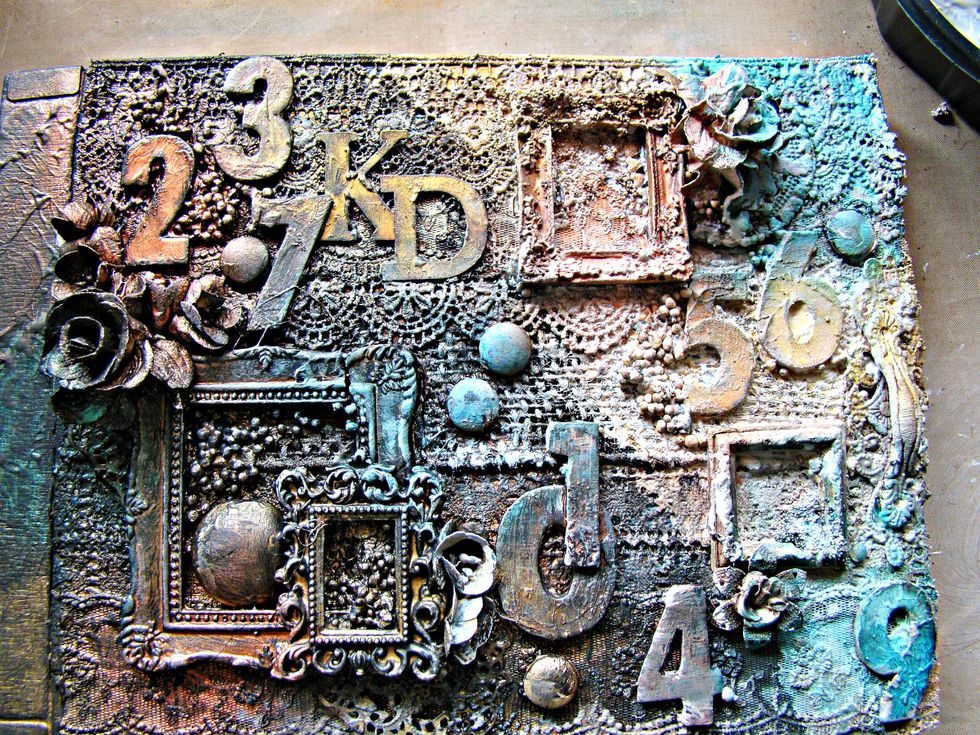 Now to tone down the whole piece, now remember to dry in between all your spraying and painting, I told you there was a lot of drying time involved.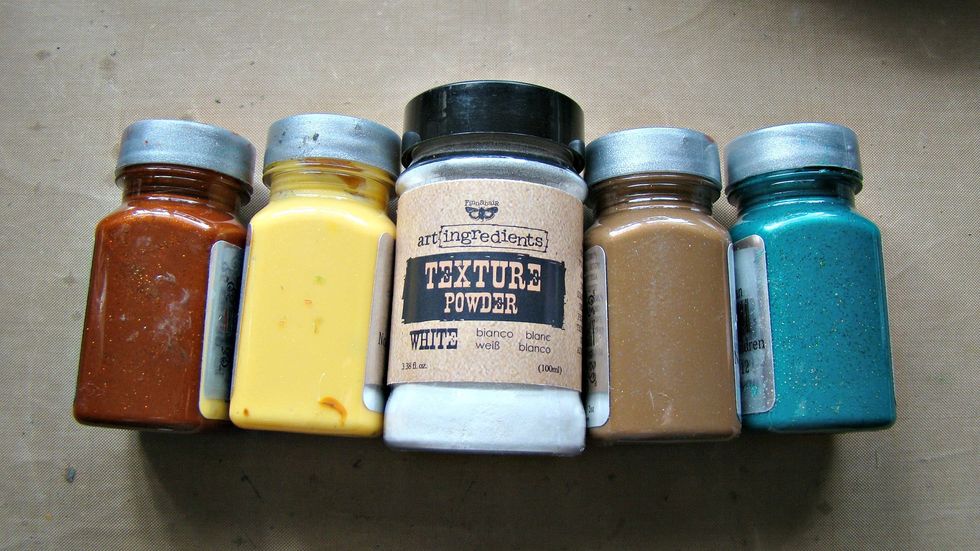 Using each color mix a little bit of texture powder t create a paste, I also added some mini art stones (not pictured) to create a rusty texture appearance to the paint.
Here is a closeup of the paint with texture powder, does provide some nice rusty texture.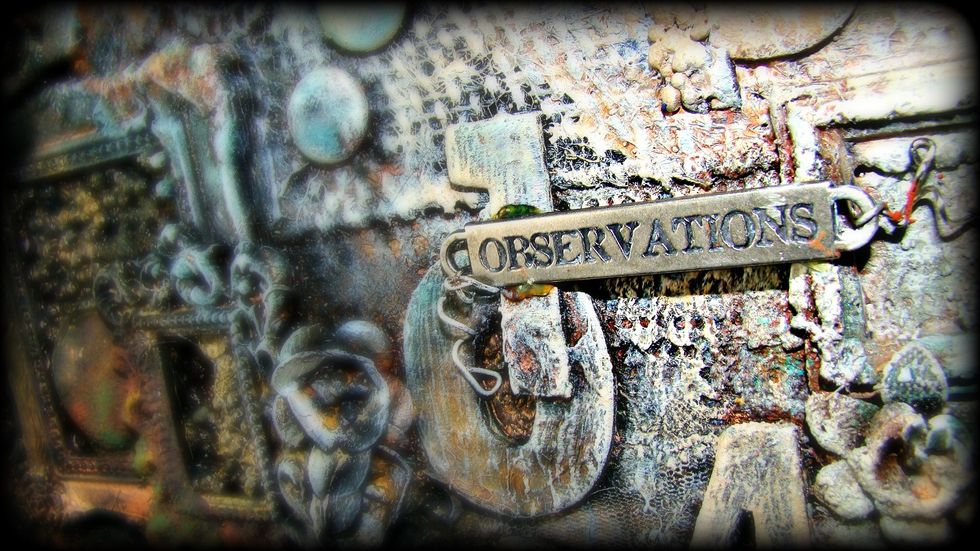 The ideology trinket was painted with black gesso and then wipe away the top portion and the gesso fills in the letters on your metal piece.
And there you have it, my photo album cover is complete and now it's time to get started on all the inside layouts. Hope this has inspired you.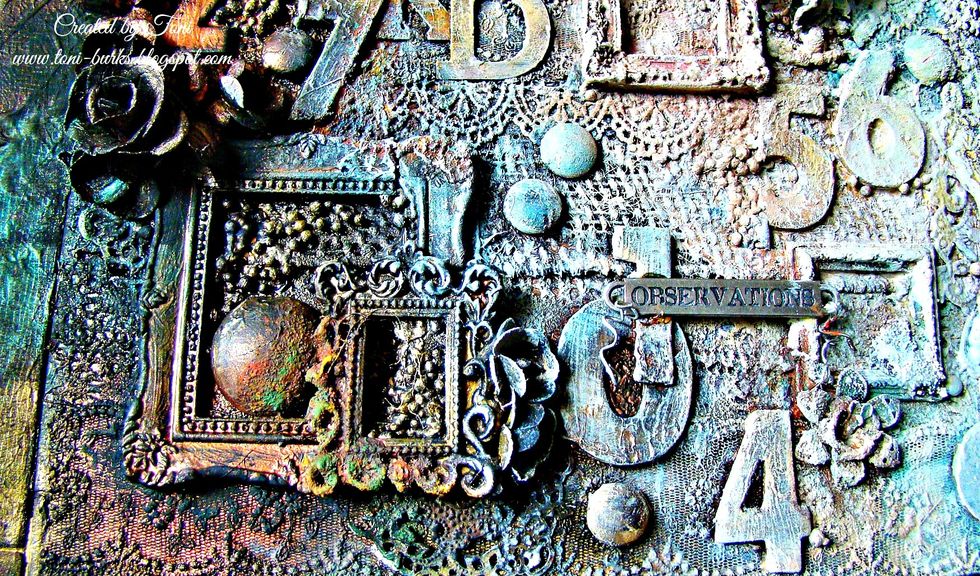 For more inspiration please follow me on http://toni-burks.blogspot.com/ https://www.pinterest.com/tonilburks/ and https://www.facebook.com/toni.burksgrijalva
Photo Album
Adhesive of Choice
Black and White Gesso
Assorted Laces
Assorted Chipboards
Assorted Metal Embellishments
Assorted Flowers
*Sorbet-Chocolate Sunshine Kenyan Copper Viridian
*Metal Effects-Gold
*Colorations-Timeless, Peacock Feathers, Juicy
*Stone Effects - Sandstone
Texture Paste
Ideology Trinket for Title
Toni Burks-Grijalva
♥ getting messy with my inks & paints. I hope I can provide some fun tutorials for your creative journey. Visit my blog @http://www.toni-burks.blogspot.com/
Rancho Cucamonga, California