How to fix sweet & moist 🍊orange juice🍊 cake
Once you've had Orange Juice Cake..you get to craving it from time to time. I've included how to make recipe with Homemade Yellow Cake Mix and Homemade Vanilla Pudding Mix.
2462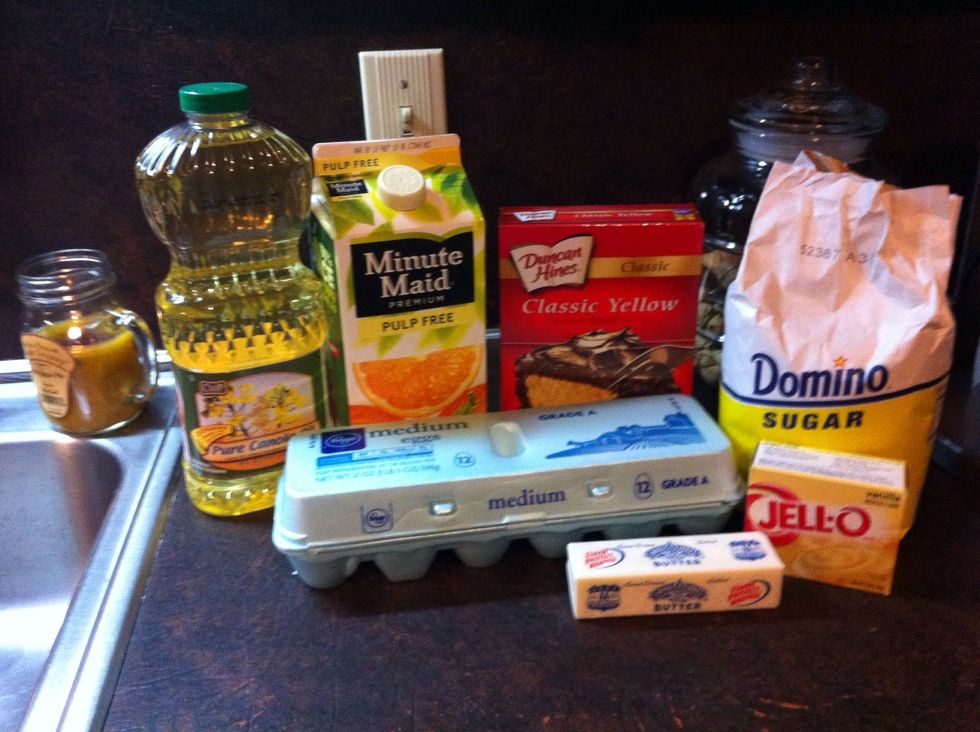 Gather store bought or homemade yellow cake mix, store bought or homemade vanilla pudding mix, eggs, oil, orange juice, butter, and sugar. There is a science in how things should be mixed.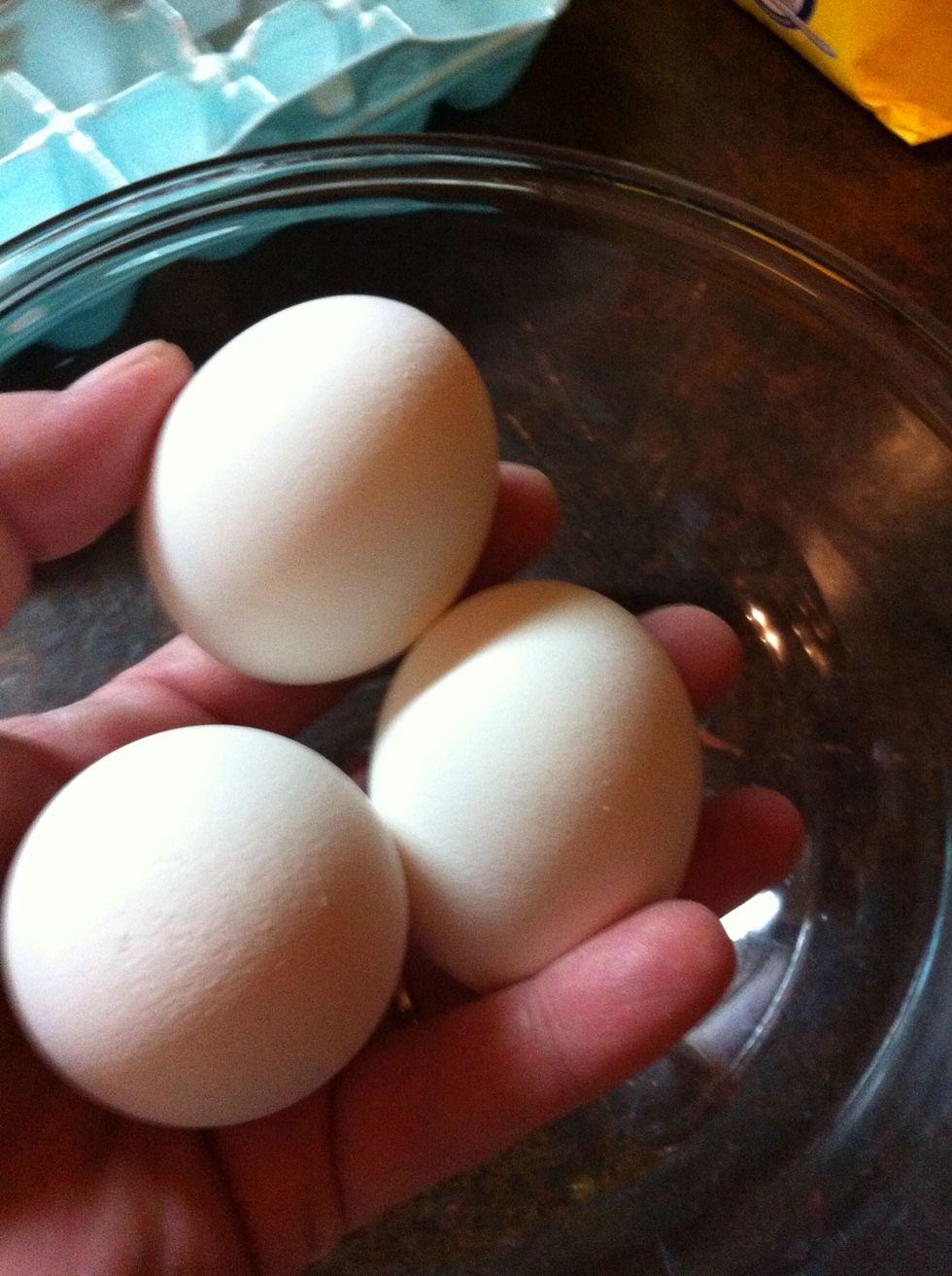 Always mix dry and wet ingredients separate. Always, always start wet with eggs. Crack 3 eggs in a bowl.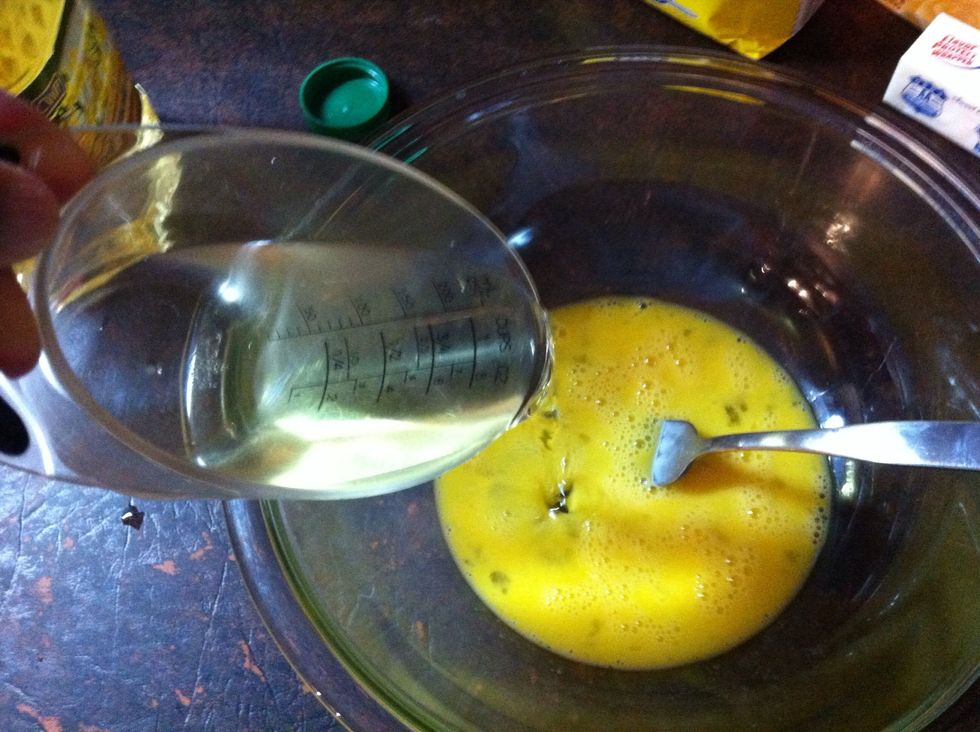 Add 1/2 cup cooking oil. I'm using vegetable oil here. Next to eggs, oil is the next dense that is why it is added next.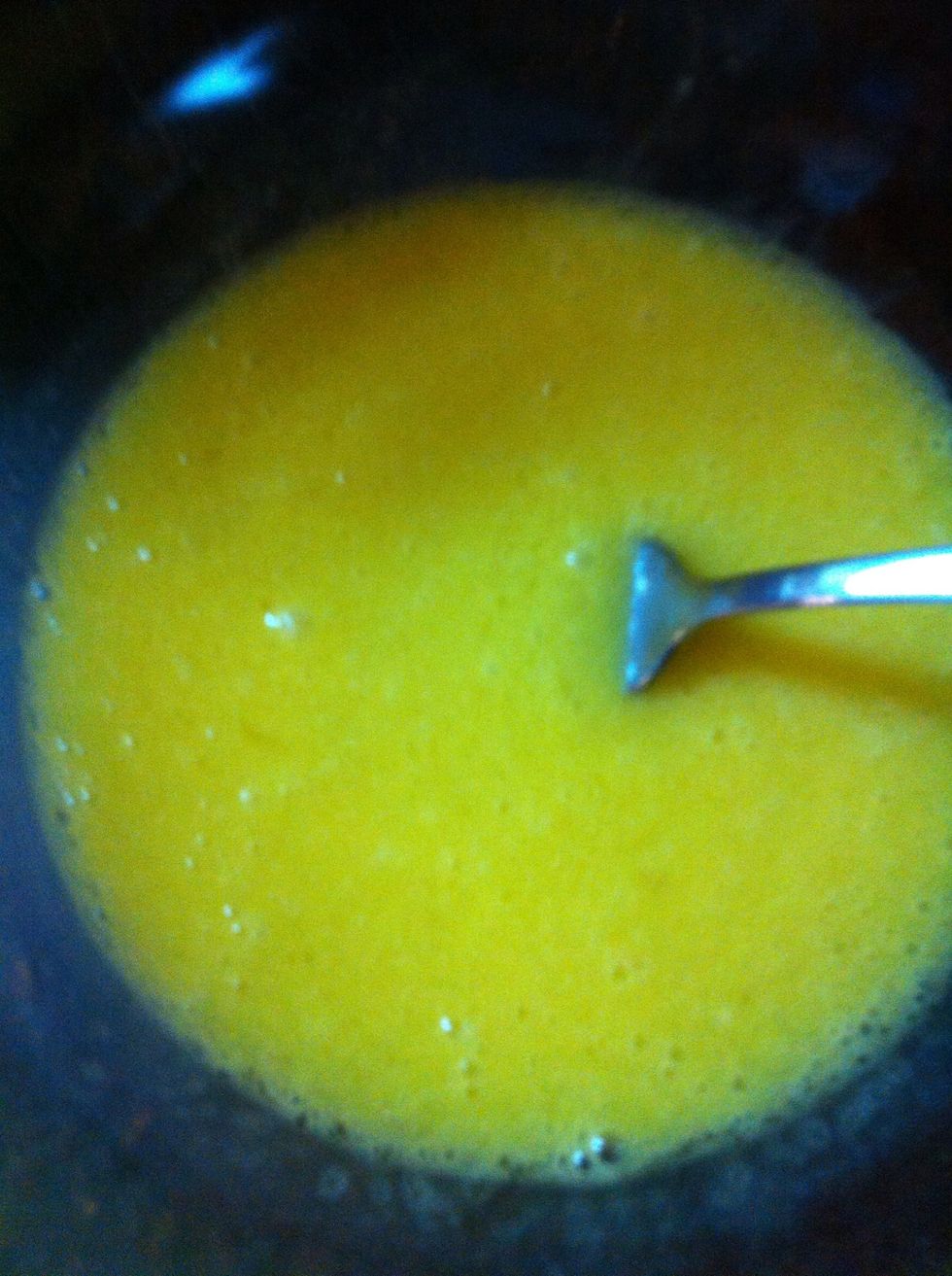 Mix well.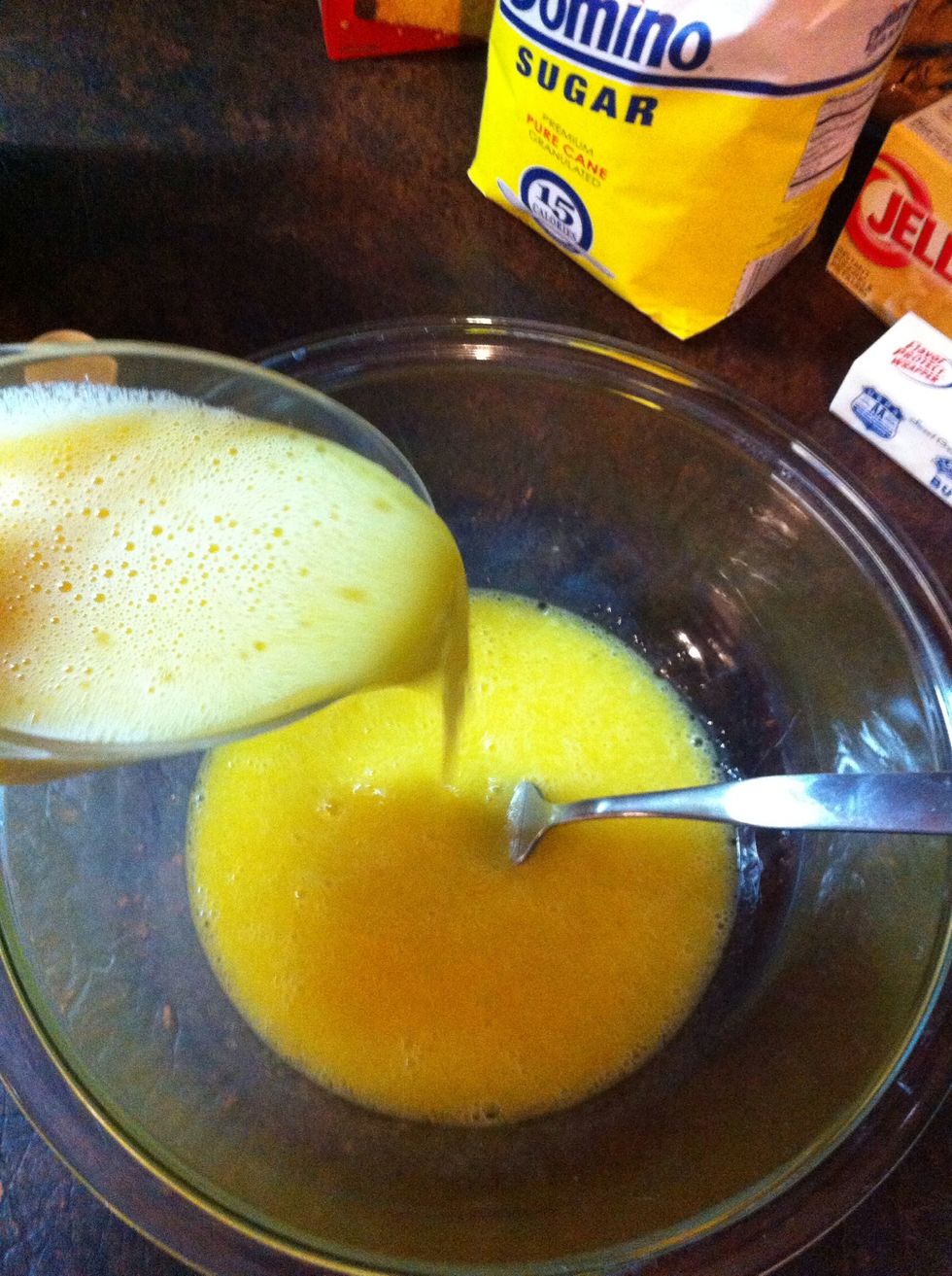 Add 1 cup orange juice. Being the less dense of the wet ingredients, it goes in last.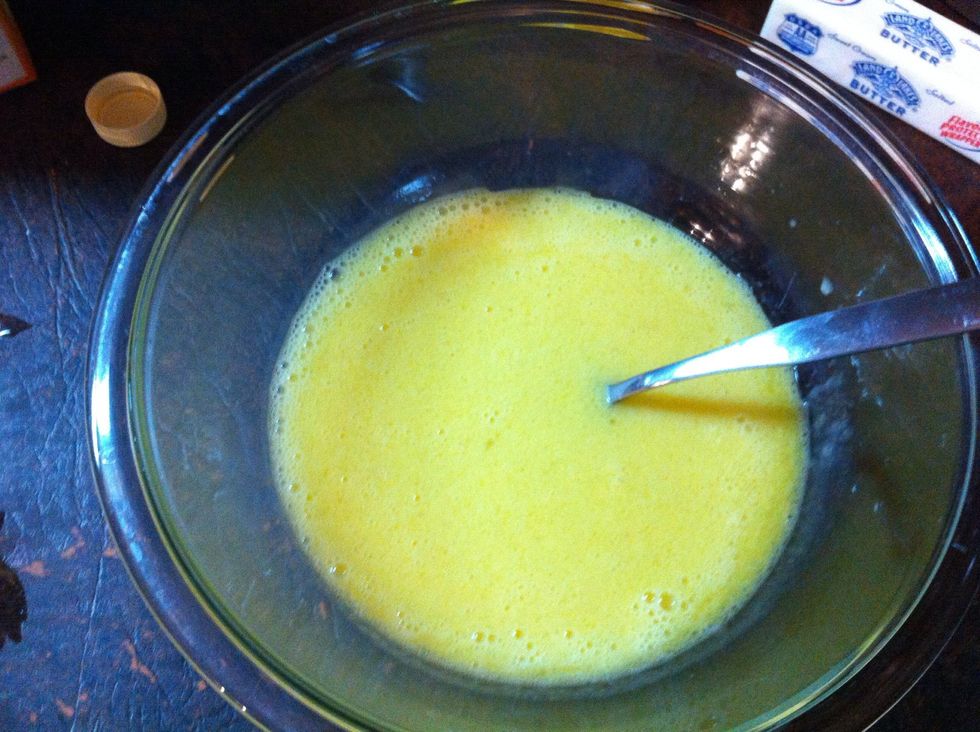 Mix well. (For those using Homemade Yellow Cake Mix: add 1 tsp vanilla now. For Homemade Vanilla Pudding add another teaspoon of vanilla)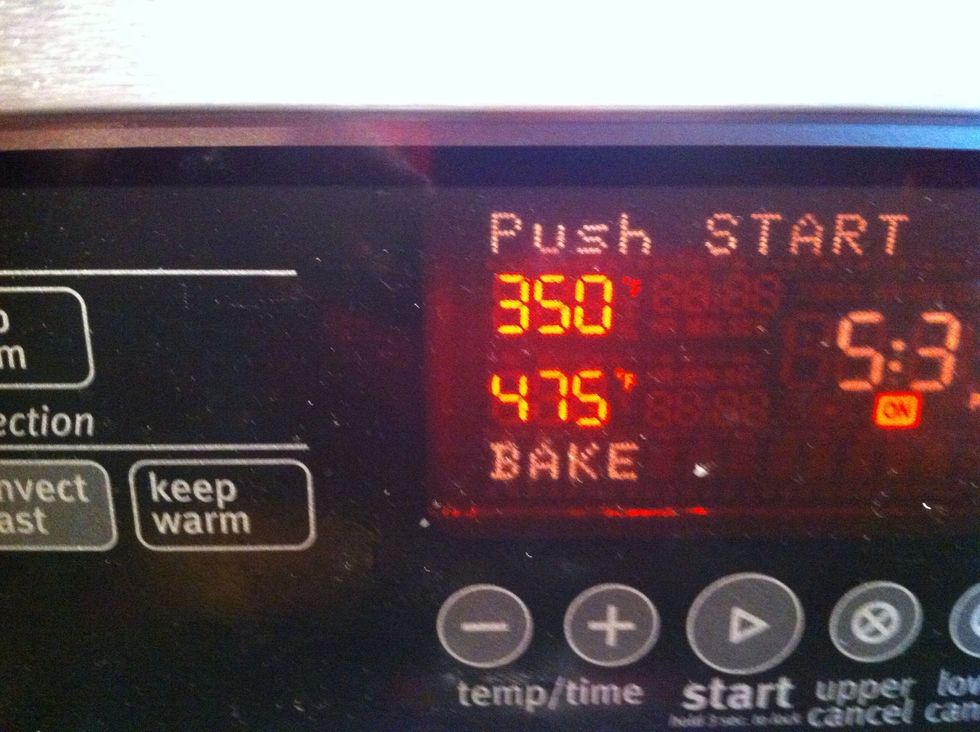 Preheat oven to 350 degrees F. ( I was baking cornbread in bottom oven.)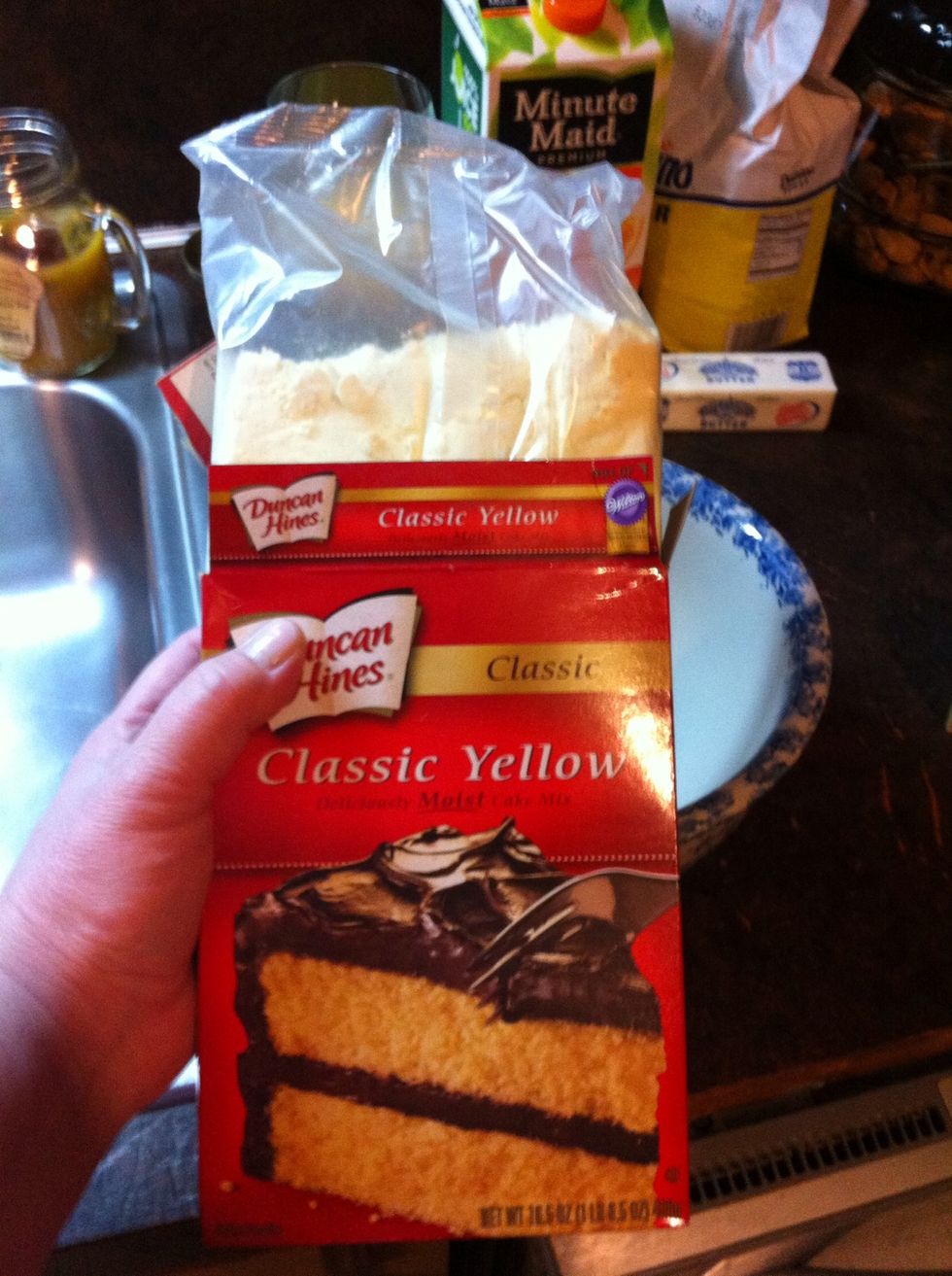 Take out bag of yellow cake mix and separate bowl.( For Homemade Yellow Cake Mix: Add and mix..2 cups all purpose flour, 1 1/2 cups sugar, 1 tablespoon baking powder, 1/2 cup non-fat dry milk. )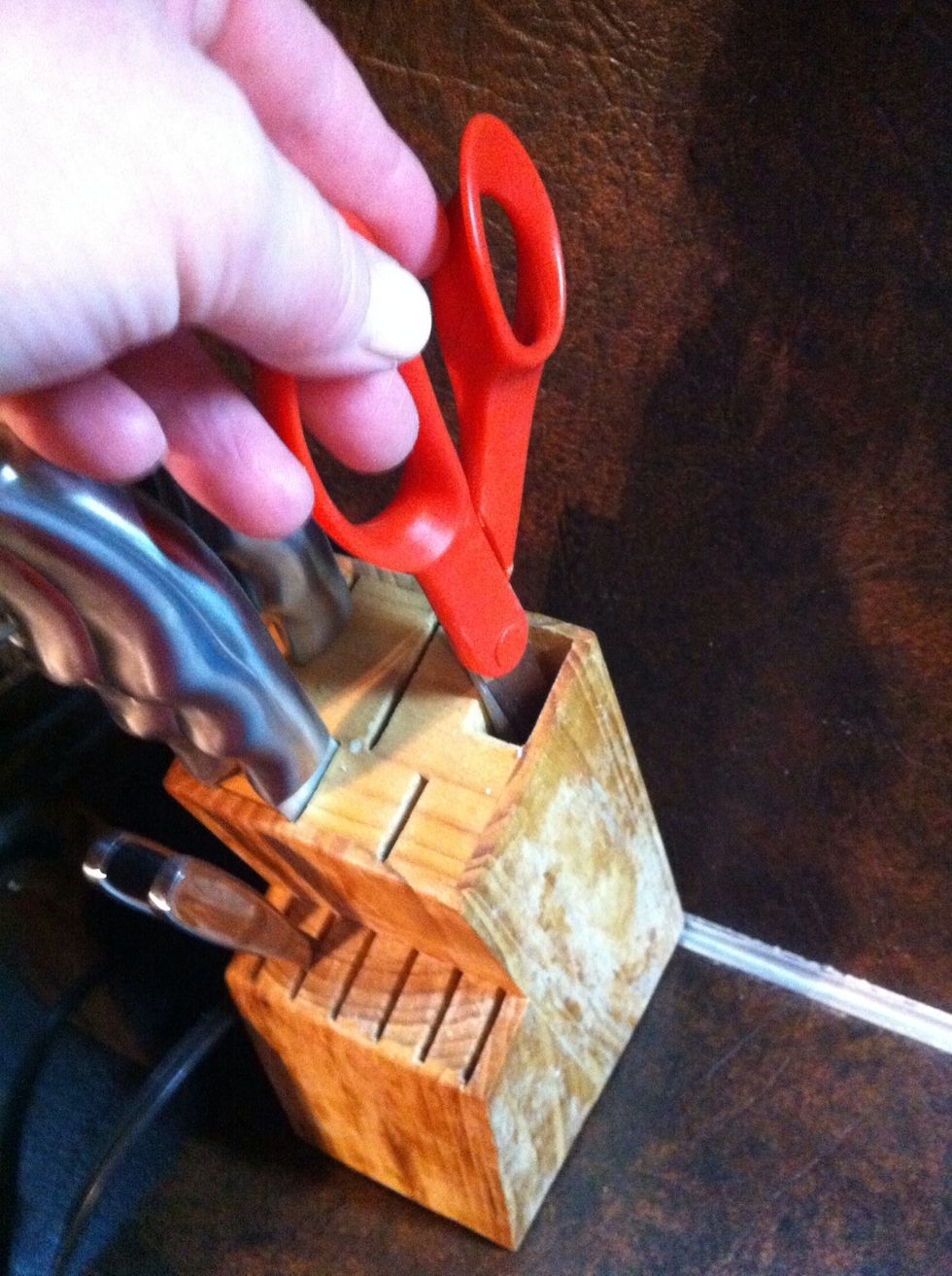 Grab scissors from extra knife block...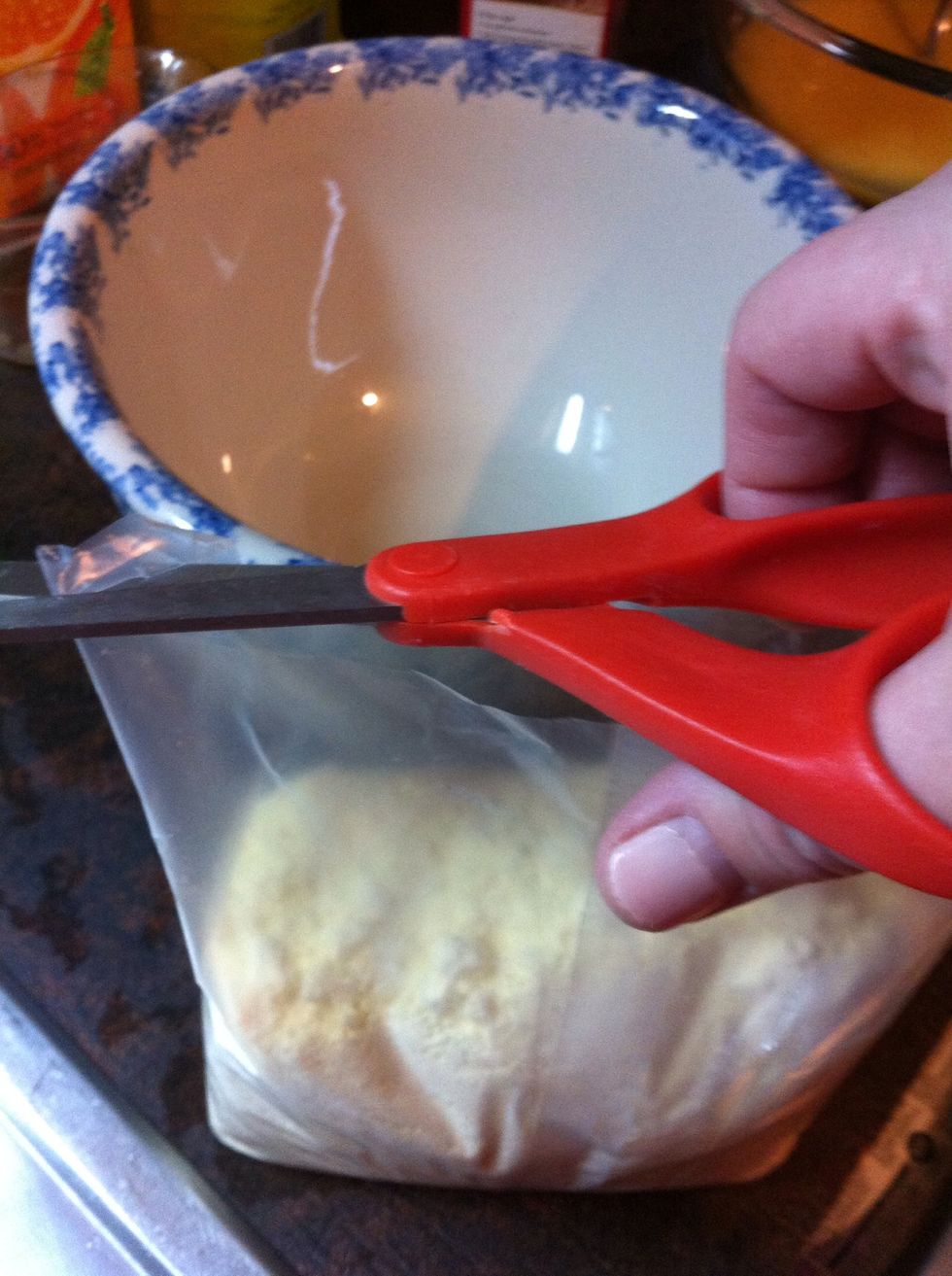 ...and cut top for easier emptying.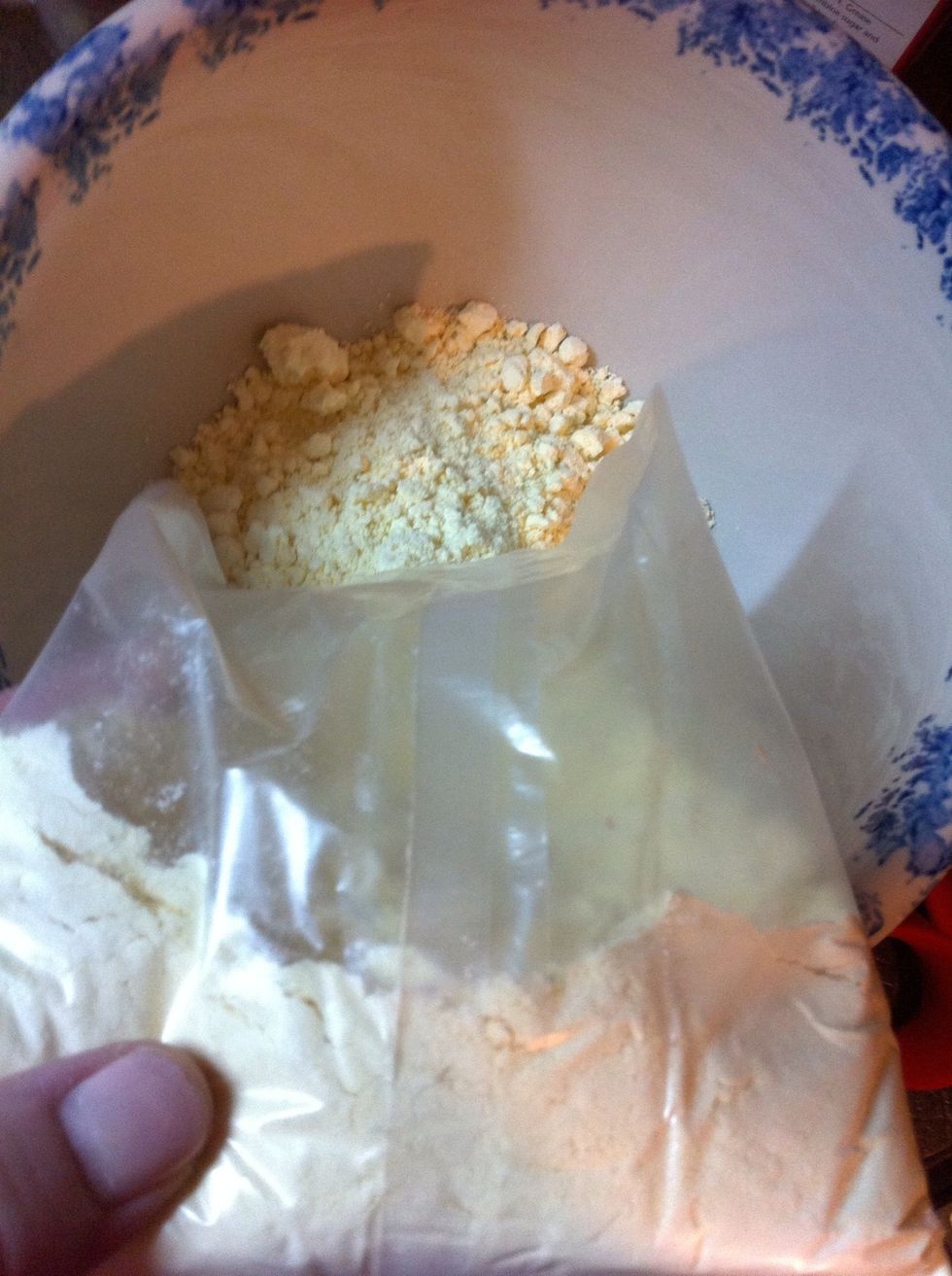 Pour into bowl.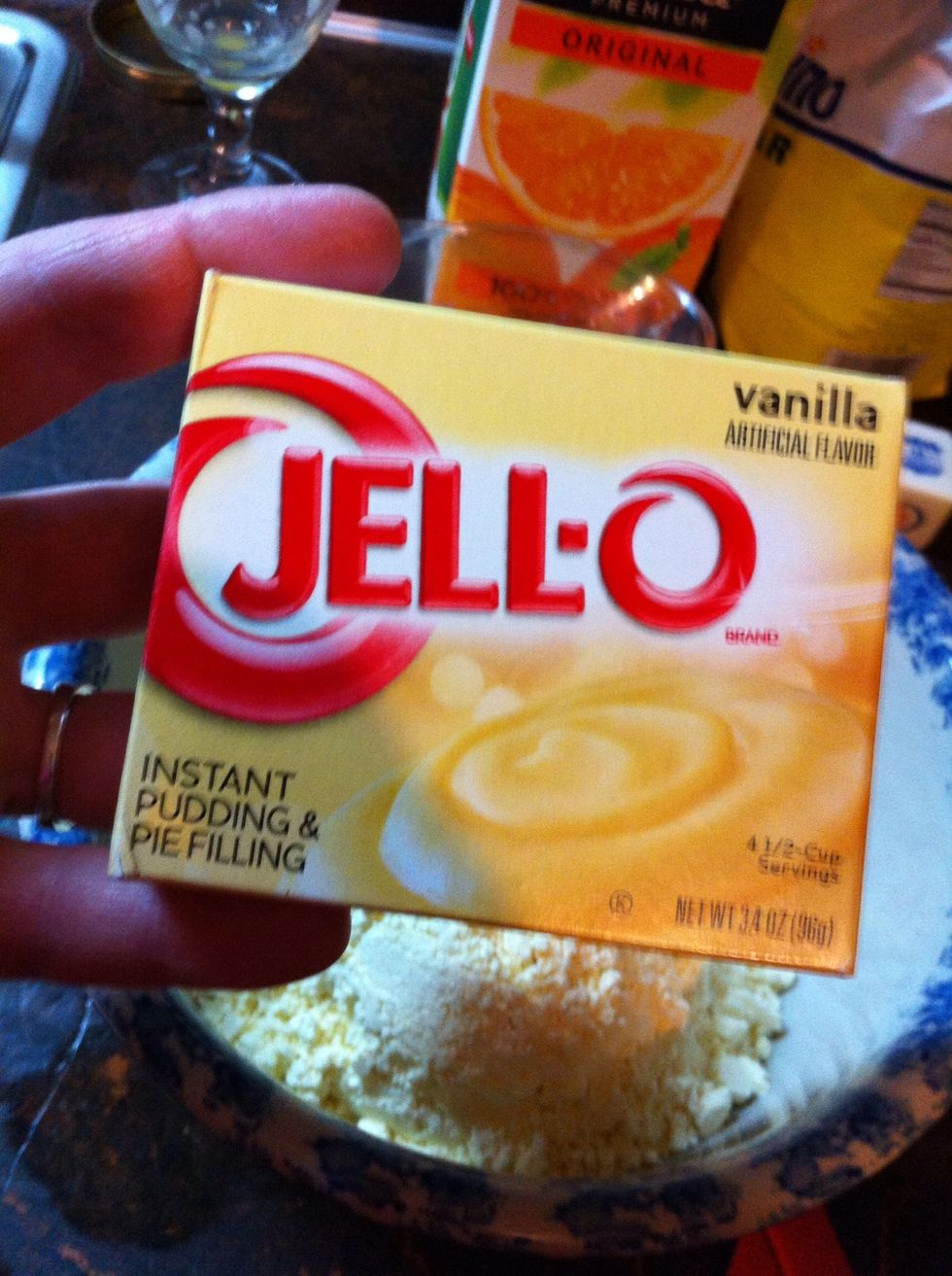 Get Vanilla Pudding Mix. ( For Homemade Vanilla Pudding Mix: Mix, separate and place in covered jar in fridge: 1 cup sugar, 3/4 cup cornstarch, 3/4 cup nonfat dry milk, 1 tsp salt.)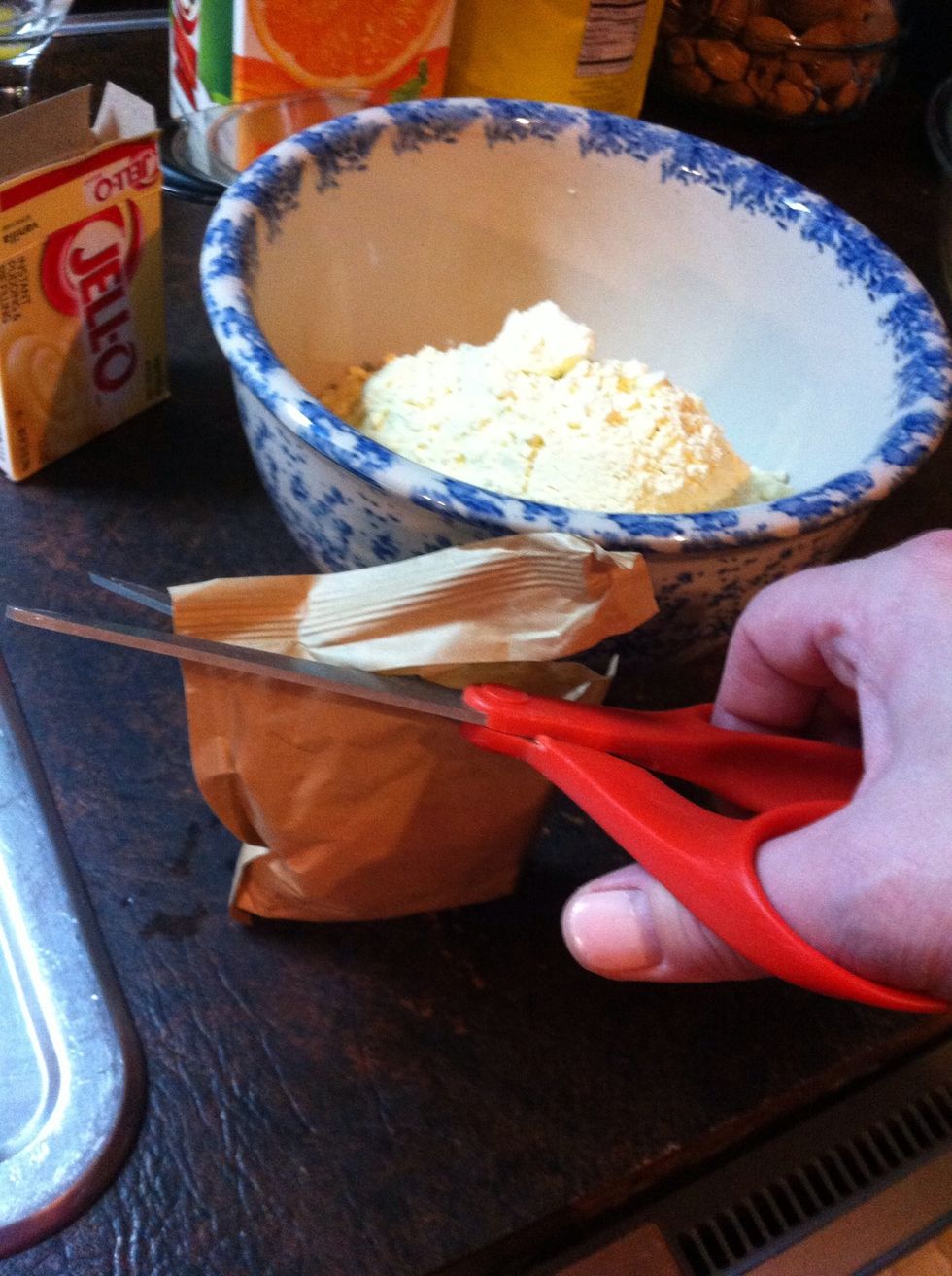 Cut top off. ( For Homemade Vanilla Pudding: Only use 1/2 cup of the mix.)
Add to cake mix.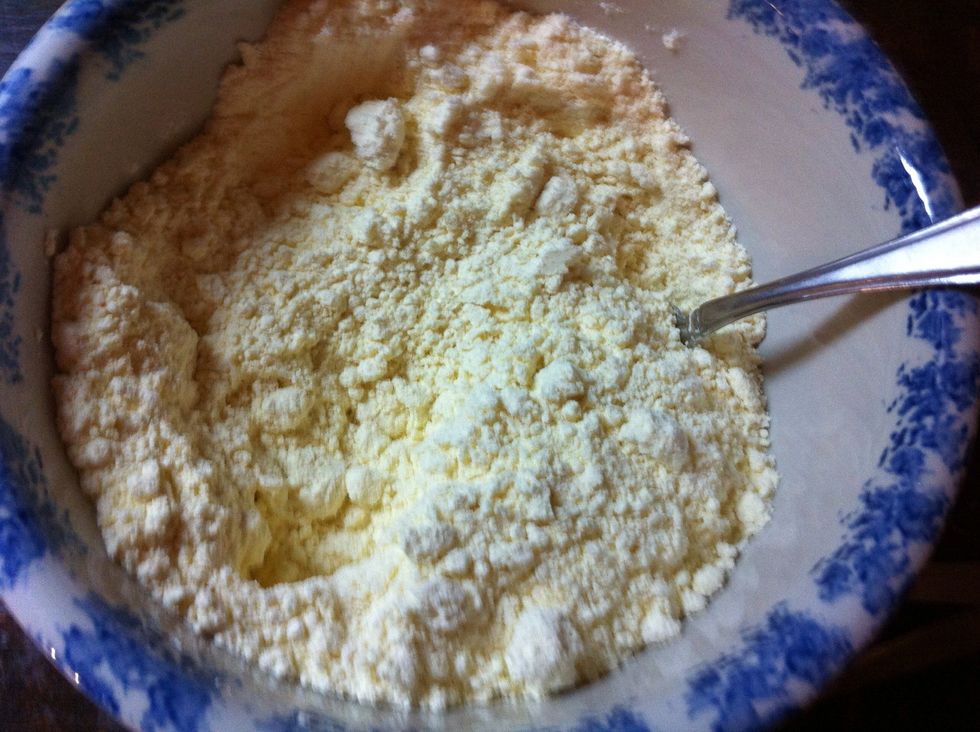 Mix well.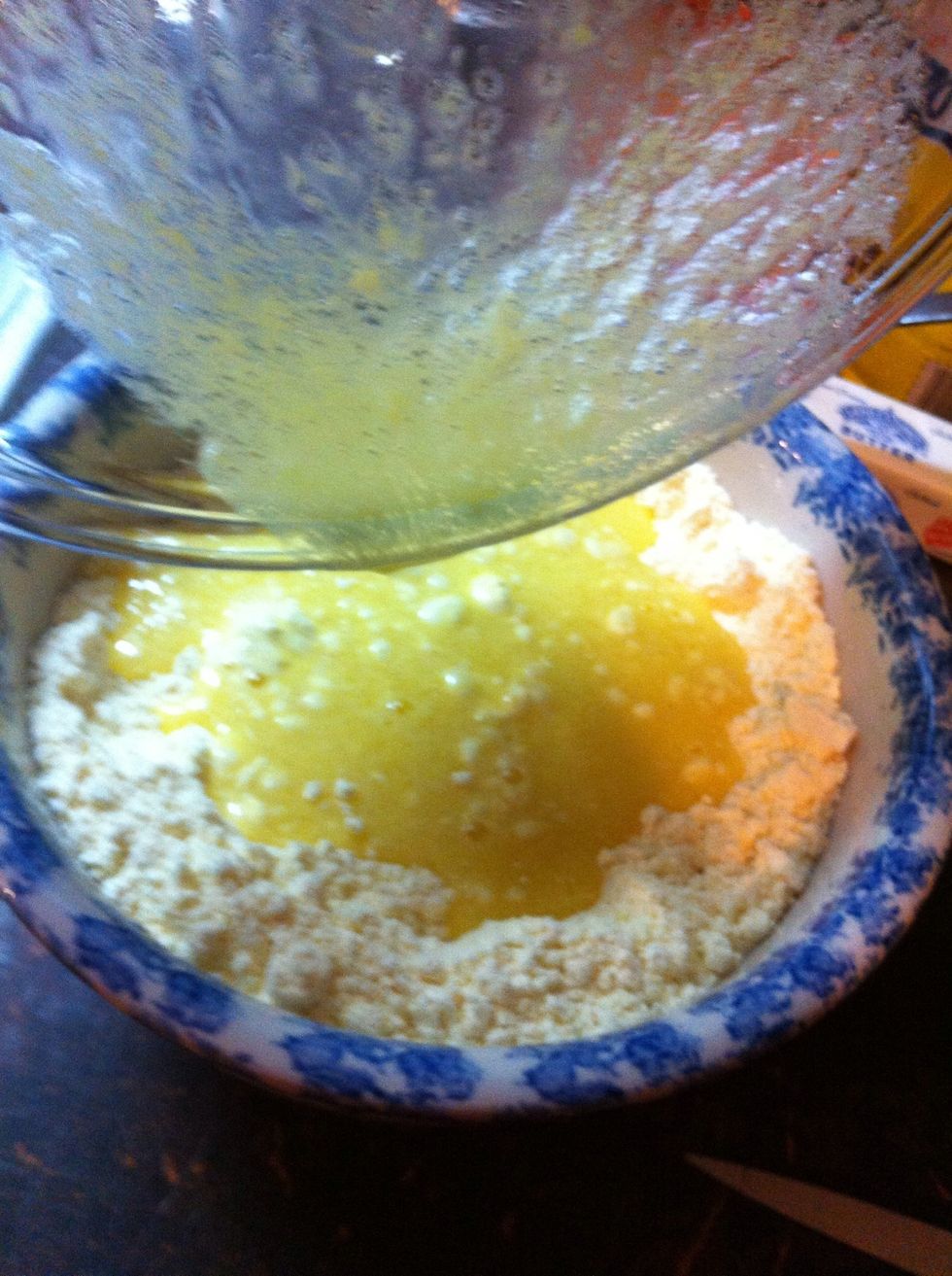 Pour in.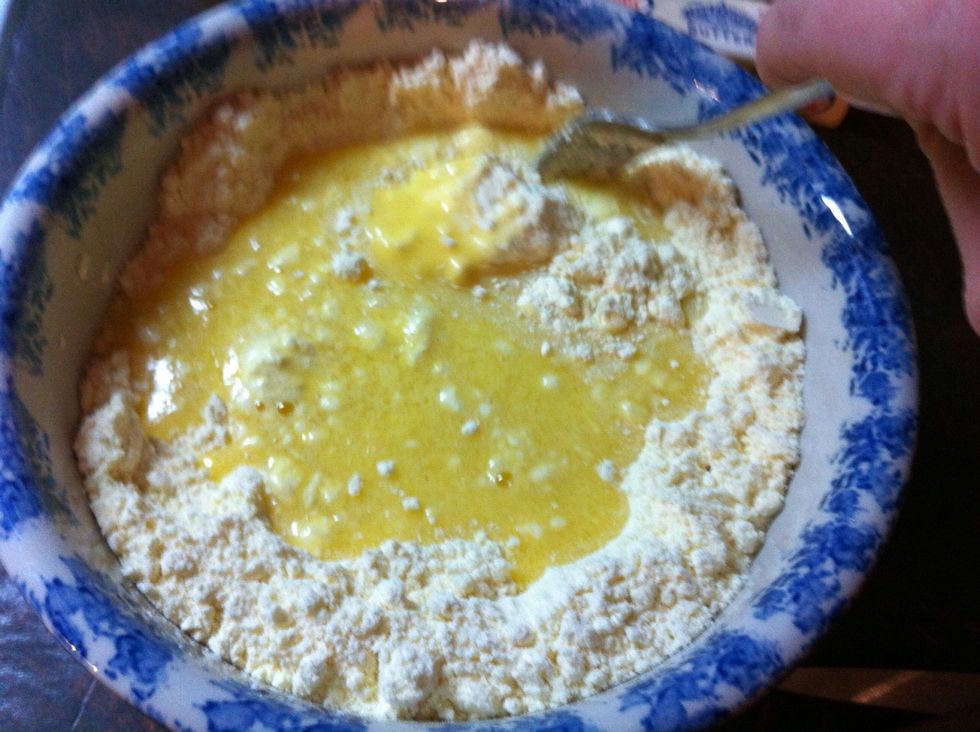 Mix well.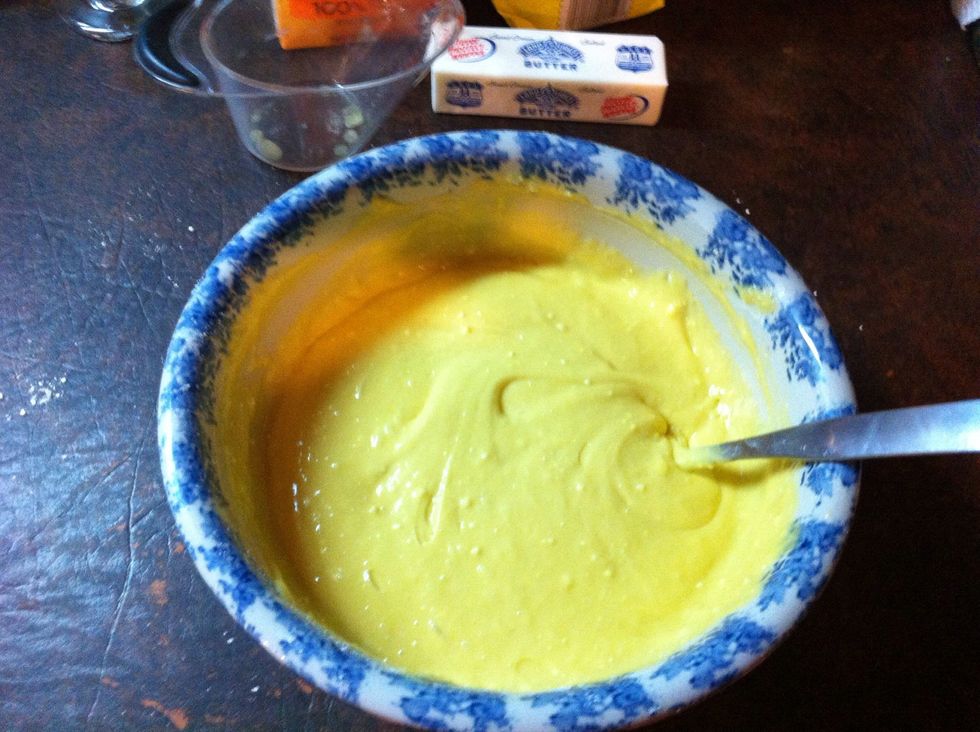 Till lump free.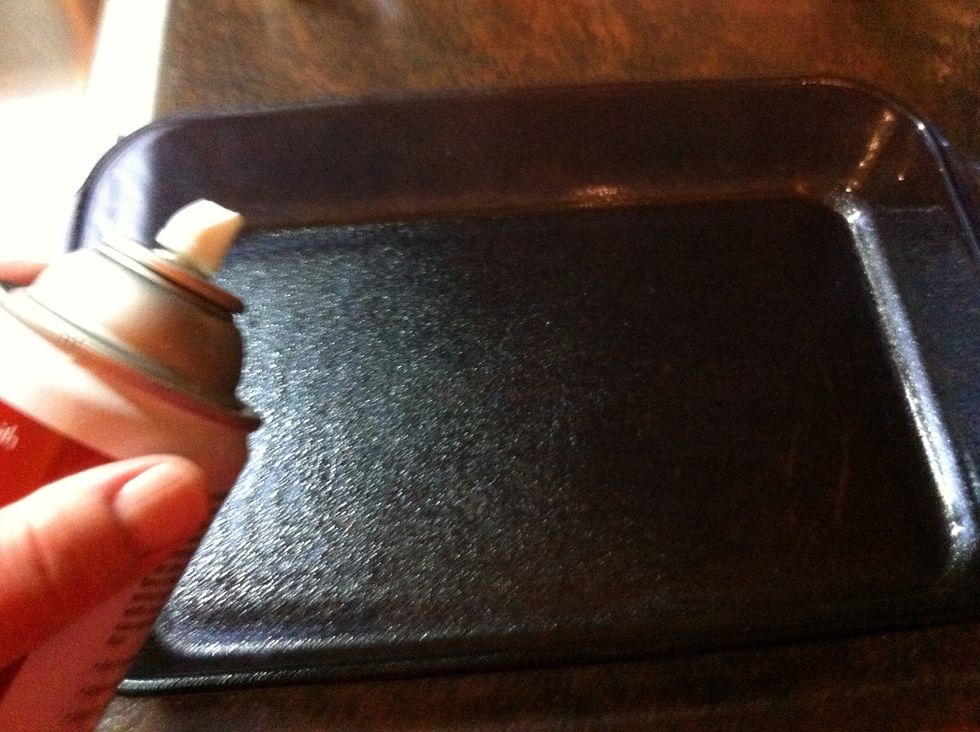 Prepare pan. You can use a bundt pan, 2 square pans, round pans, muffin tin, loaf pans or just large rectangle pan. I'm using 13 x 9 rectangle. I sprayed with generic Pam spray. Or just oil the pan.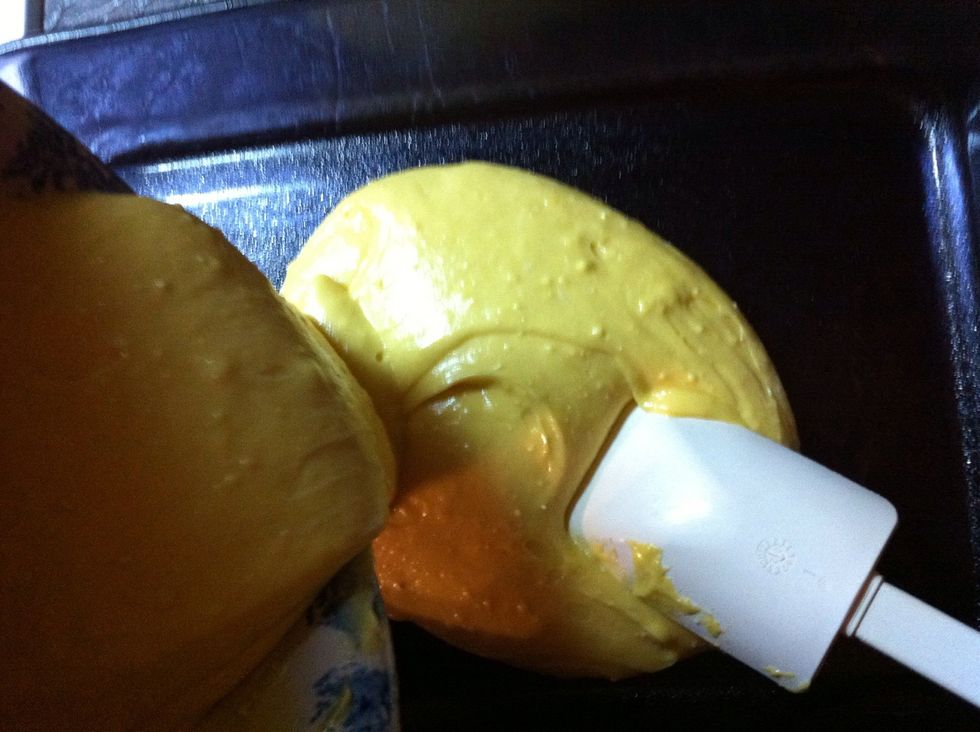 Pour into pan.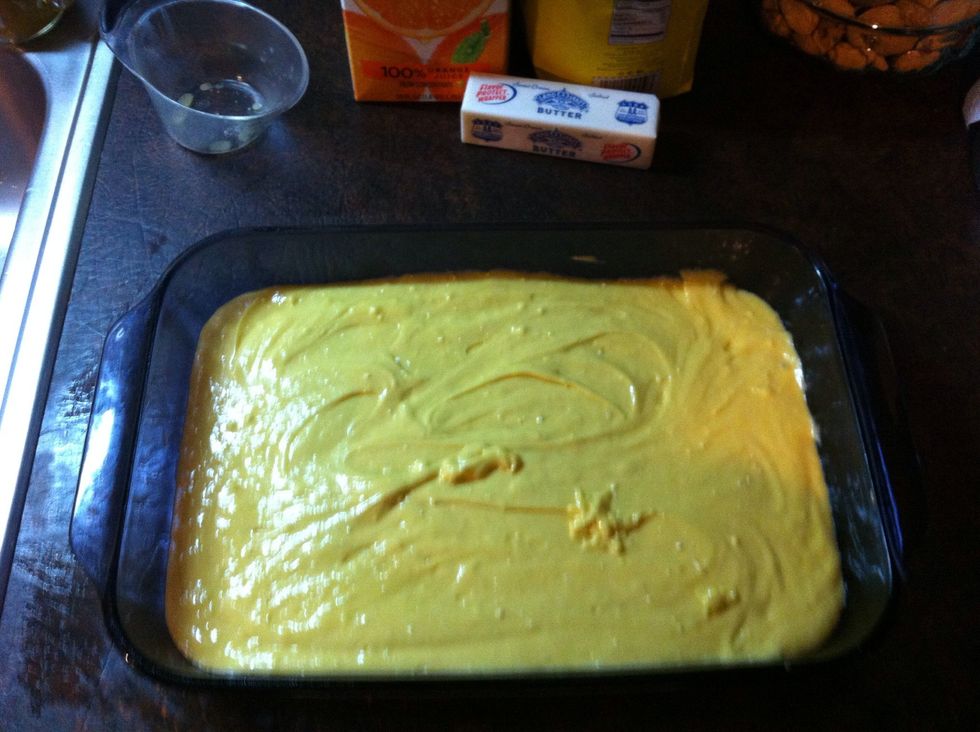 Shake out bubbles. Put in oven. Bake in preheated oven at 350 degrees for 30 min.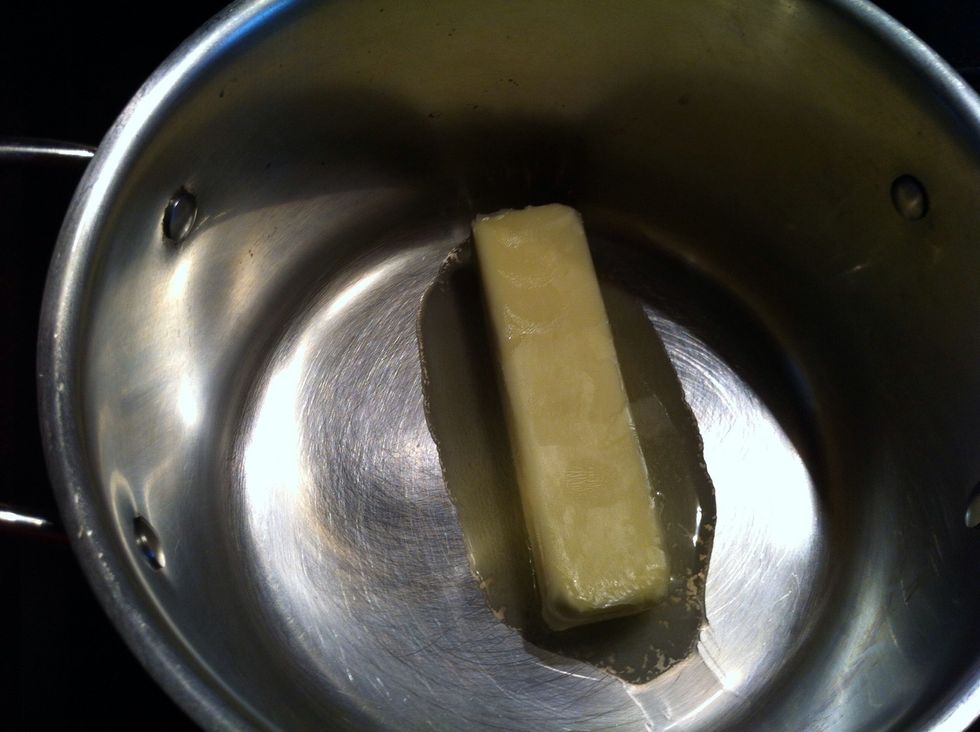 While that is baking, let's make the sauce. In a pan on medium heat, melt 1 stick of butter.
Once about melted, add 1/2 cup orange juice.
Stir till butter is all melted.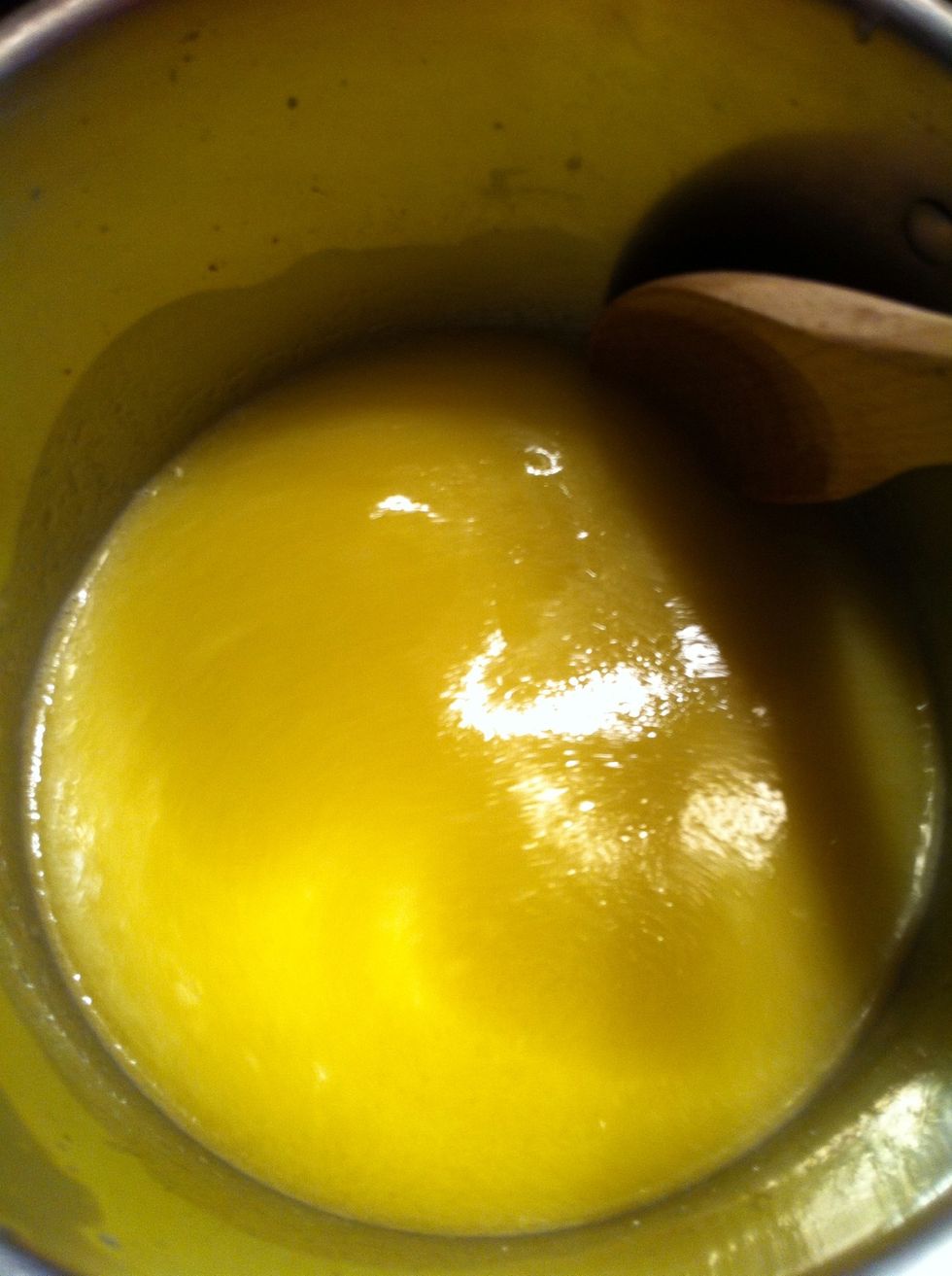 All melted.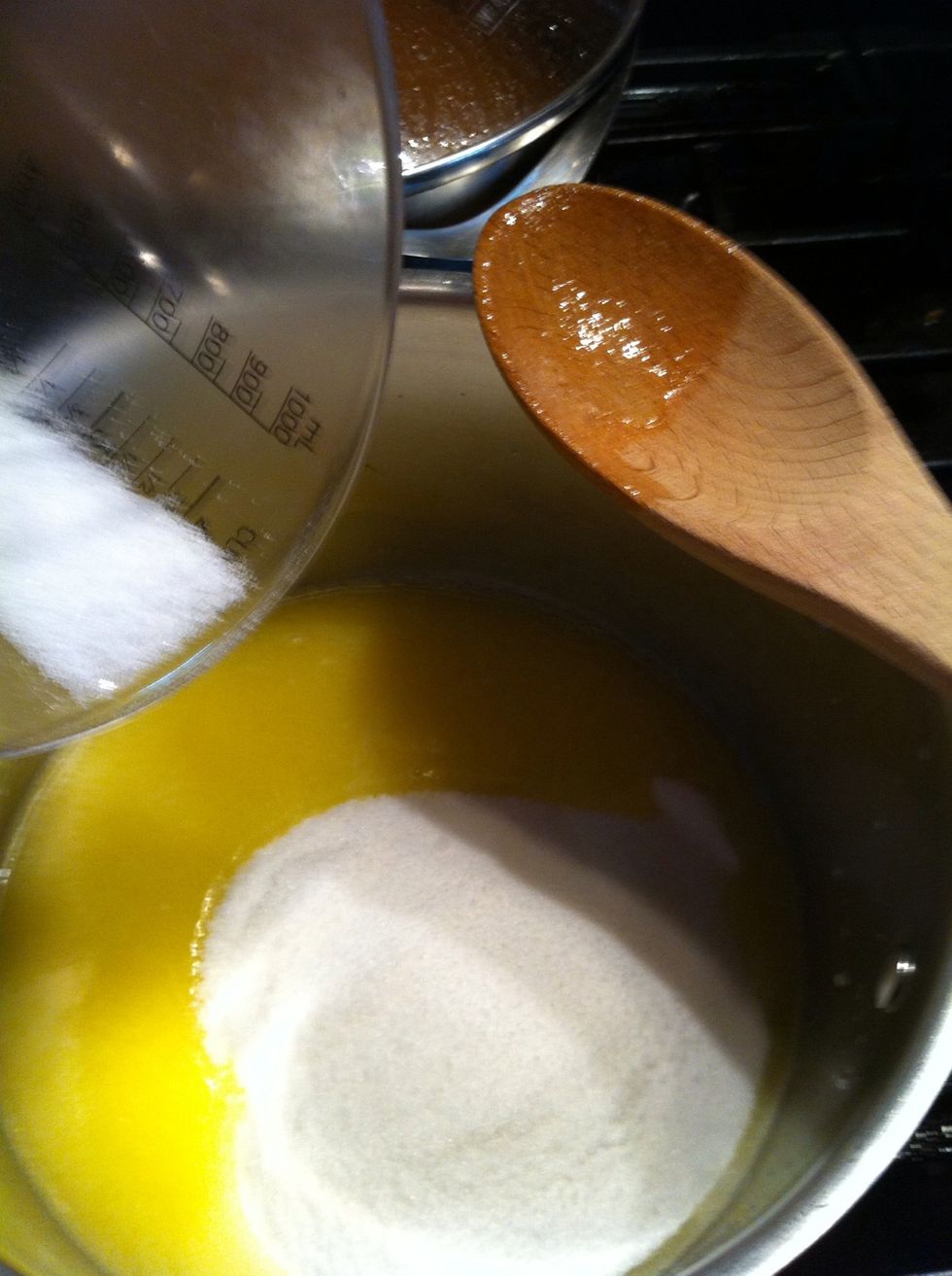 Now add 1 cup sugar.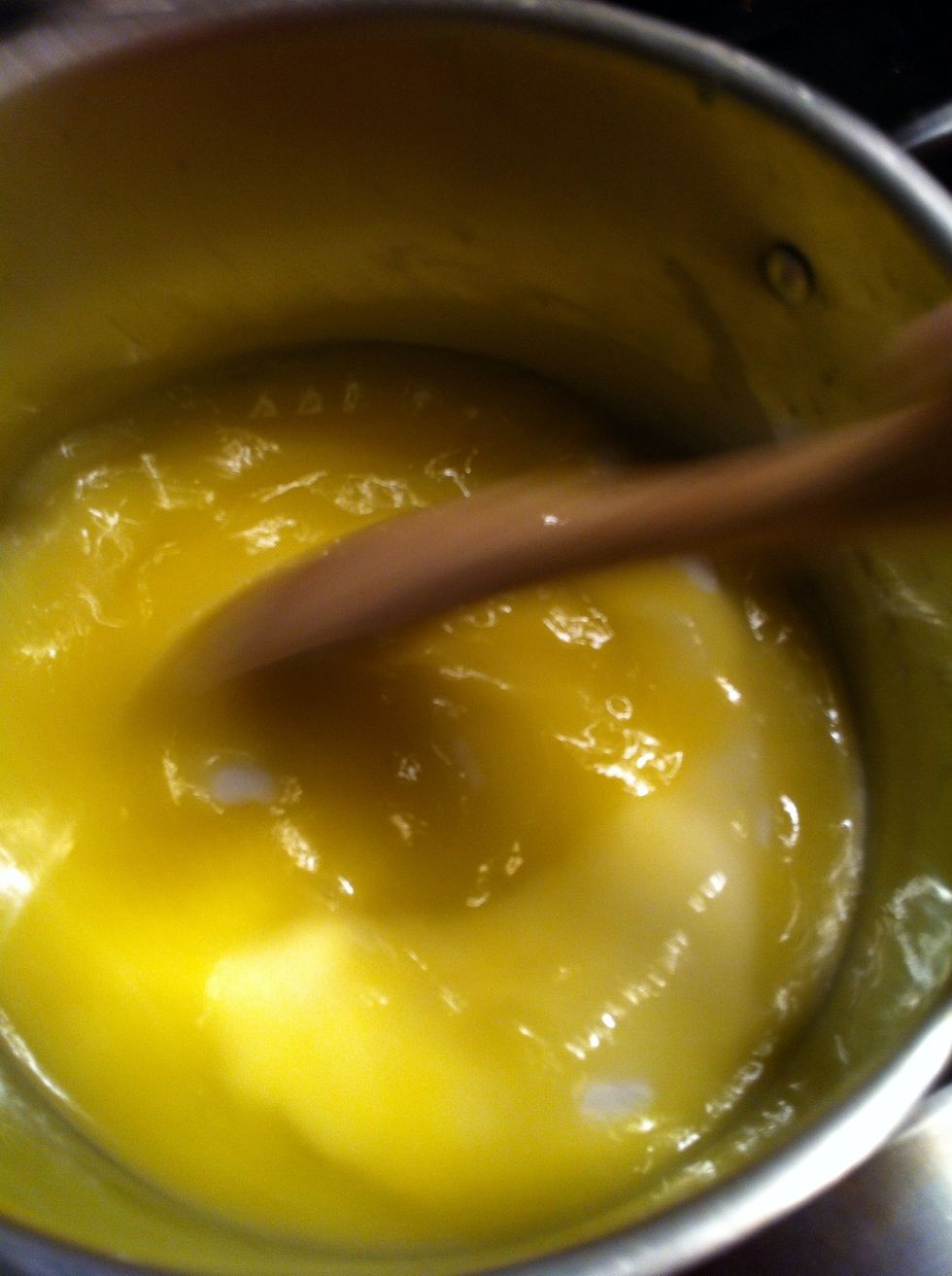 Mix in well.
Be sure all sugar is dissolved.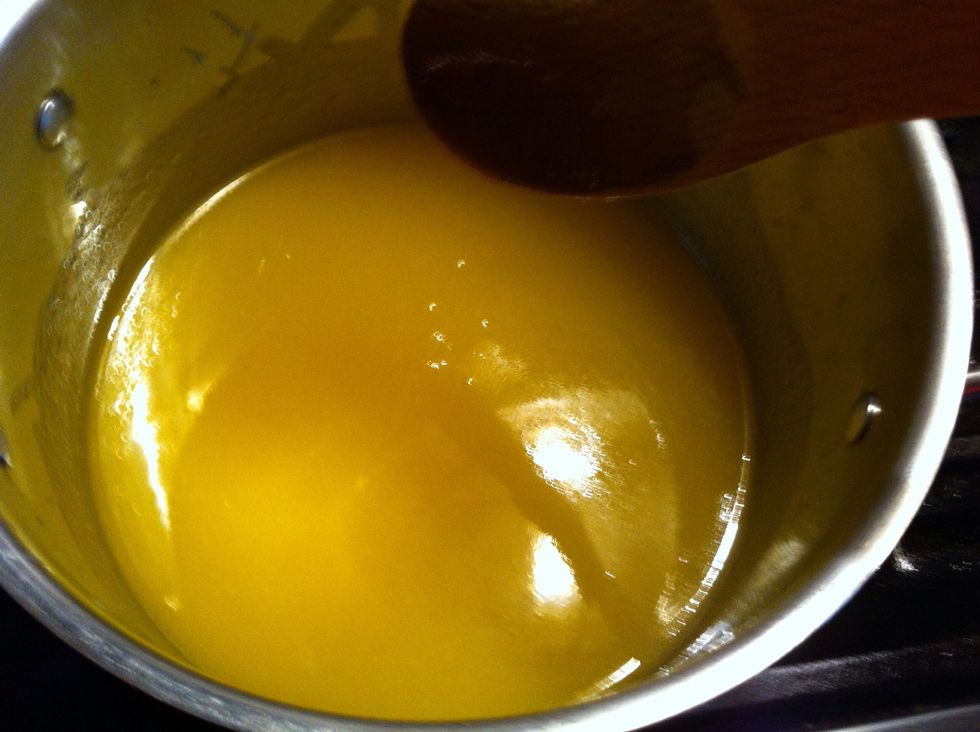 Like so. Now let's bring up to full boil.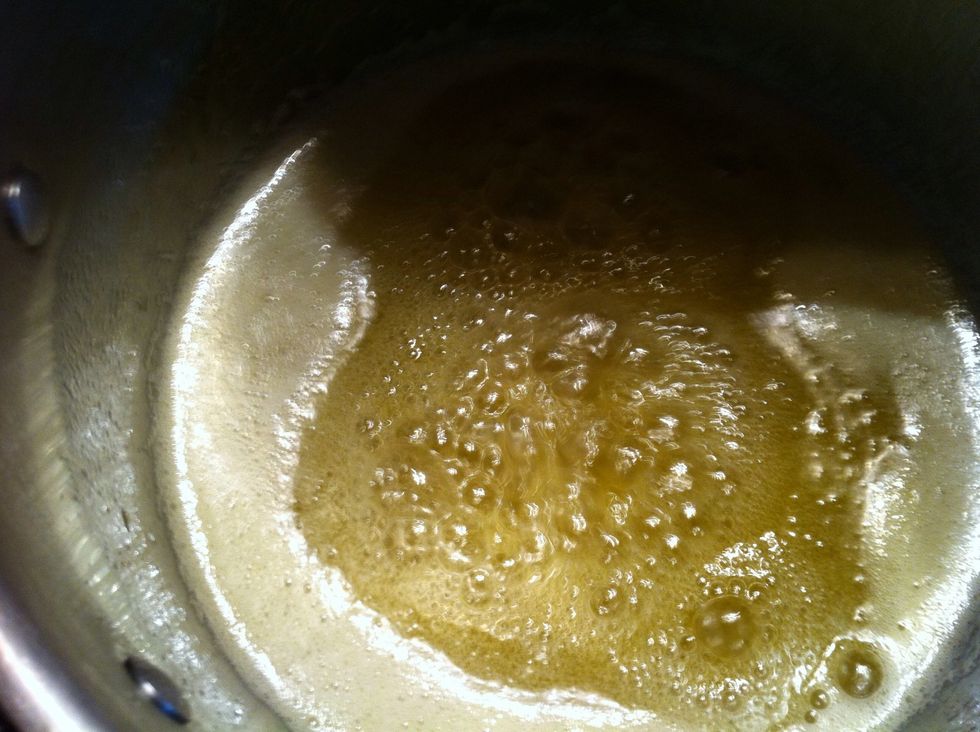 See all those bubbles? That's a full boil. As soon as gets to this point, turn off heat.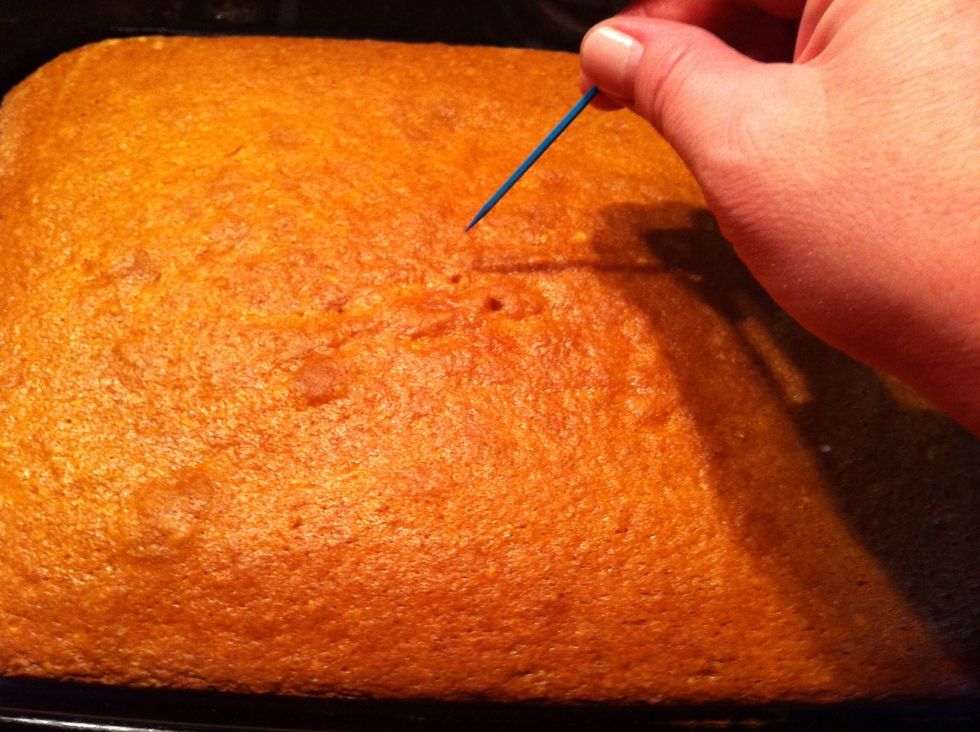 Once cake is done, (toothpick that has been stabbed in middle comes out clean), set out for sauce while warm.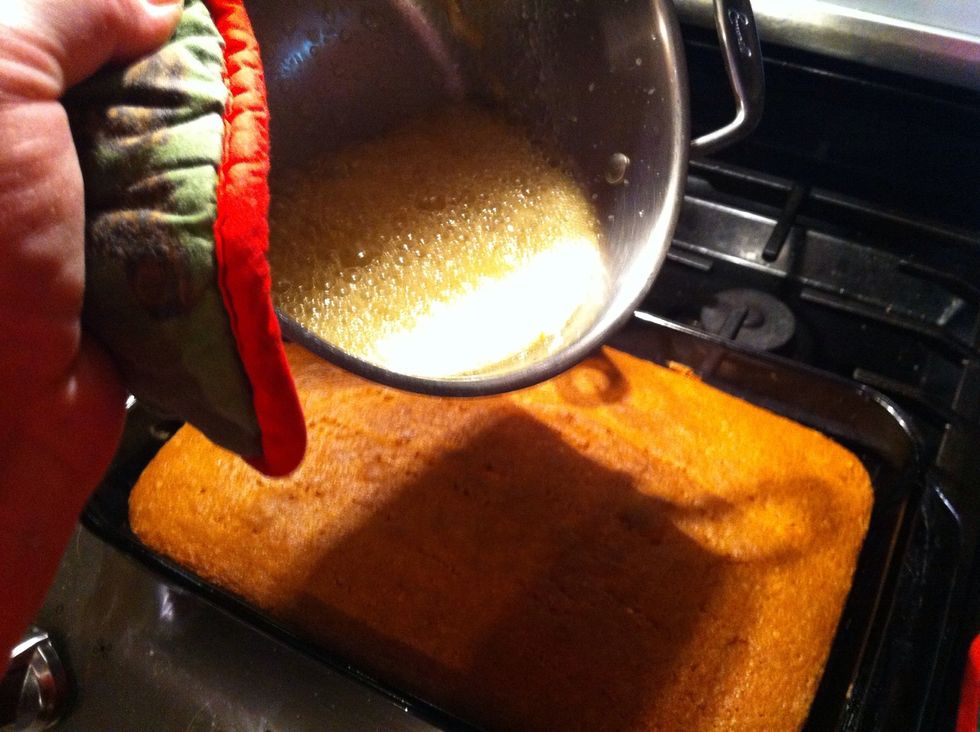 Now pour sauce all over top.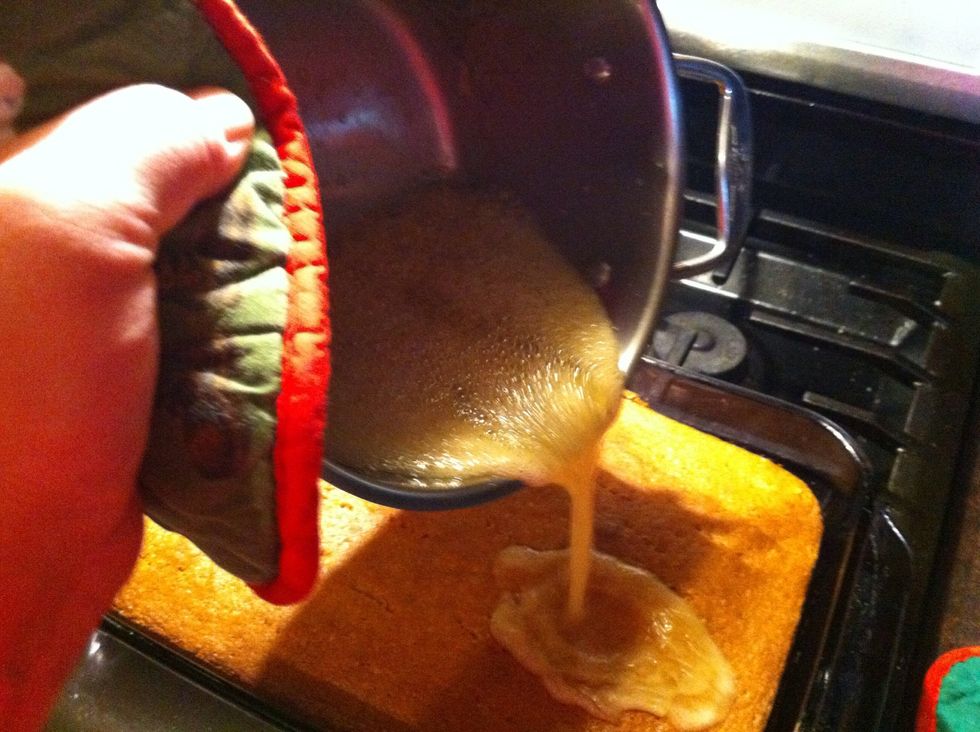 Pour all over the cake.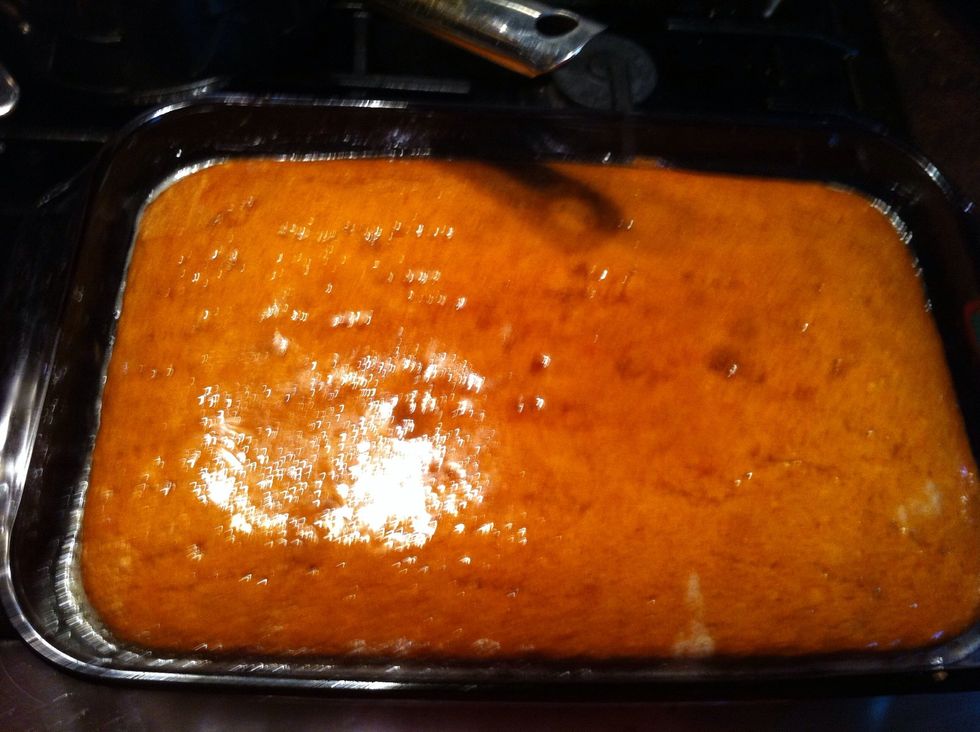 Should look like this. Allow a few minutes to soak up the sauce.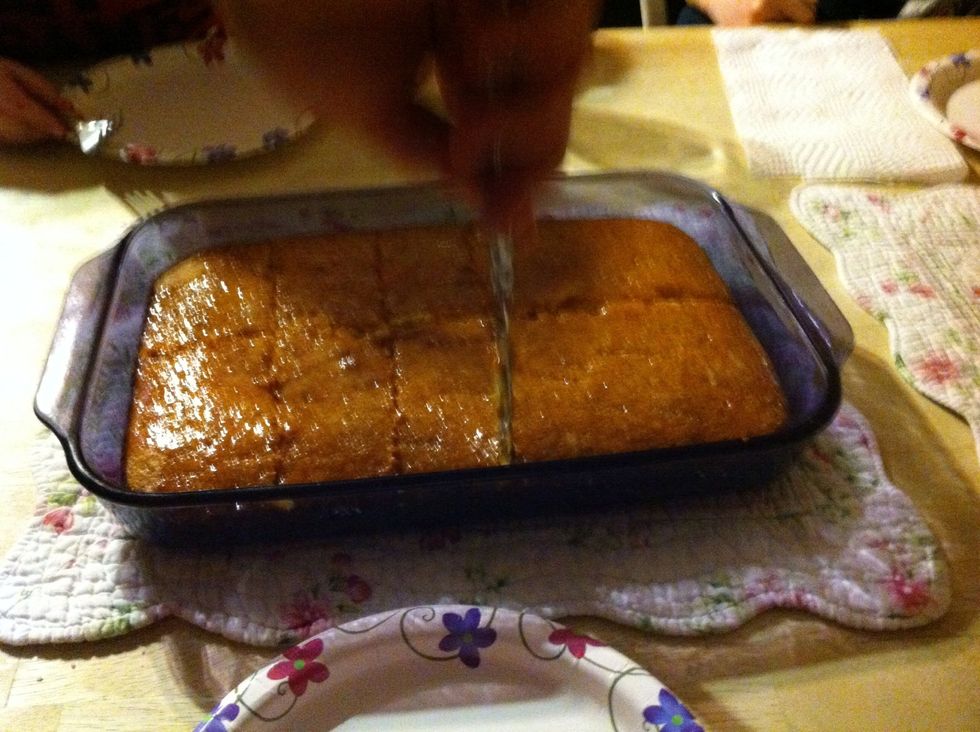 Serve at table, after supper, family style!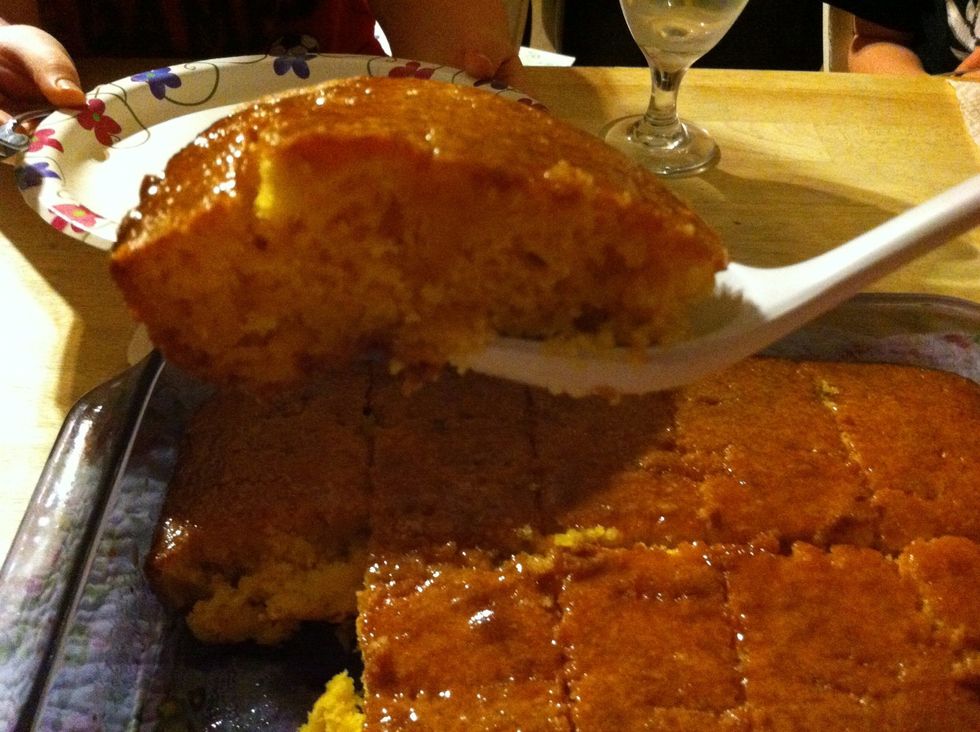 Wanna piece?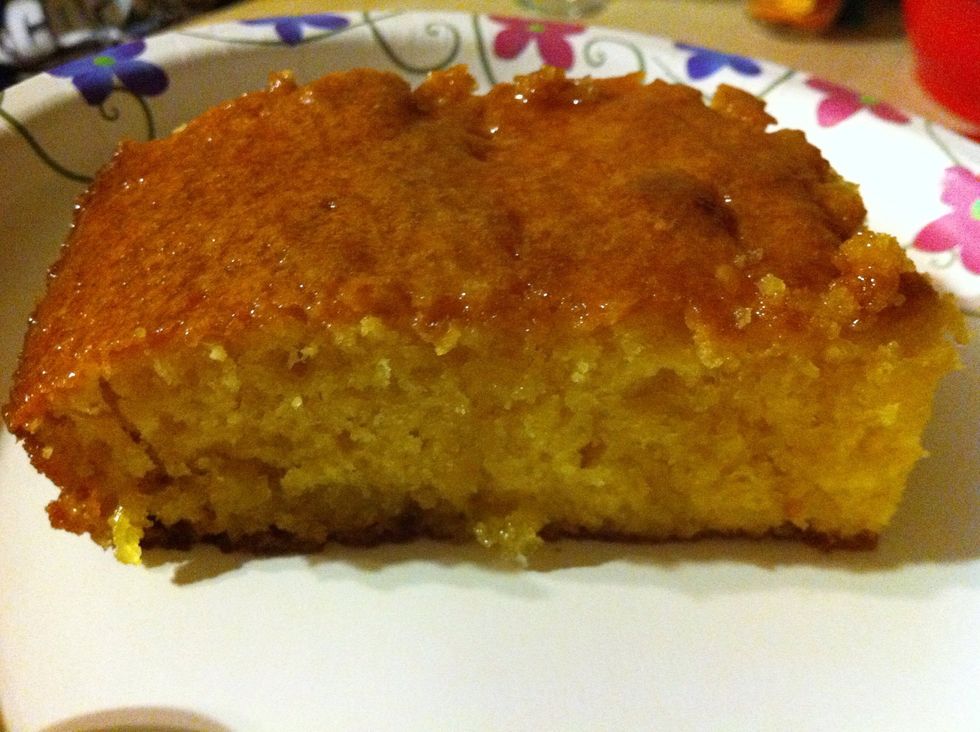 So good!
Yummers! Enjoy!
Yellow Cake Mix
Vanilla Pudding Mix
3.0 Eggs
1/2c Orange Juice
1/2c Cooking Oil
1.0 Stick Butter
1.0c Sugar
Lucy Hudnall
If you can't explain it to a 6 year old, you don't understand it yourself. -Albert Einstein