Guide is NOT intended for instruction. This is a guide to understanding what goes into making a bead so that folks can select the best & safest bead for the price.
15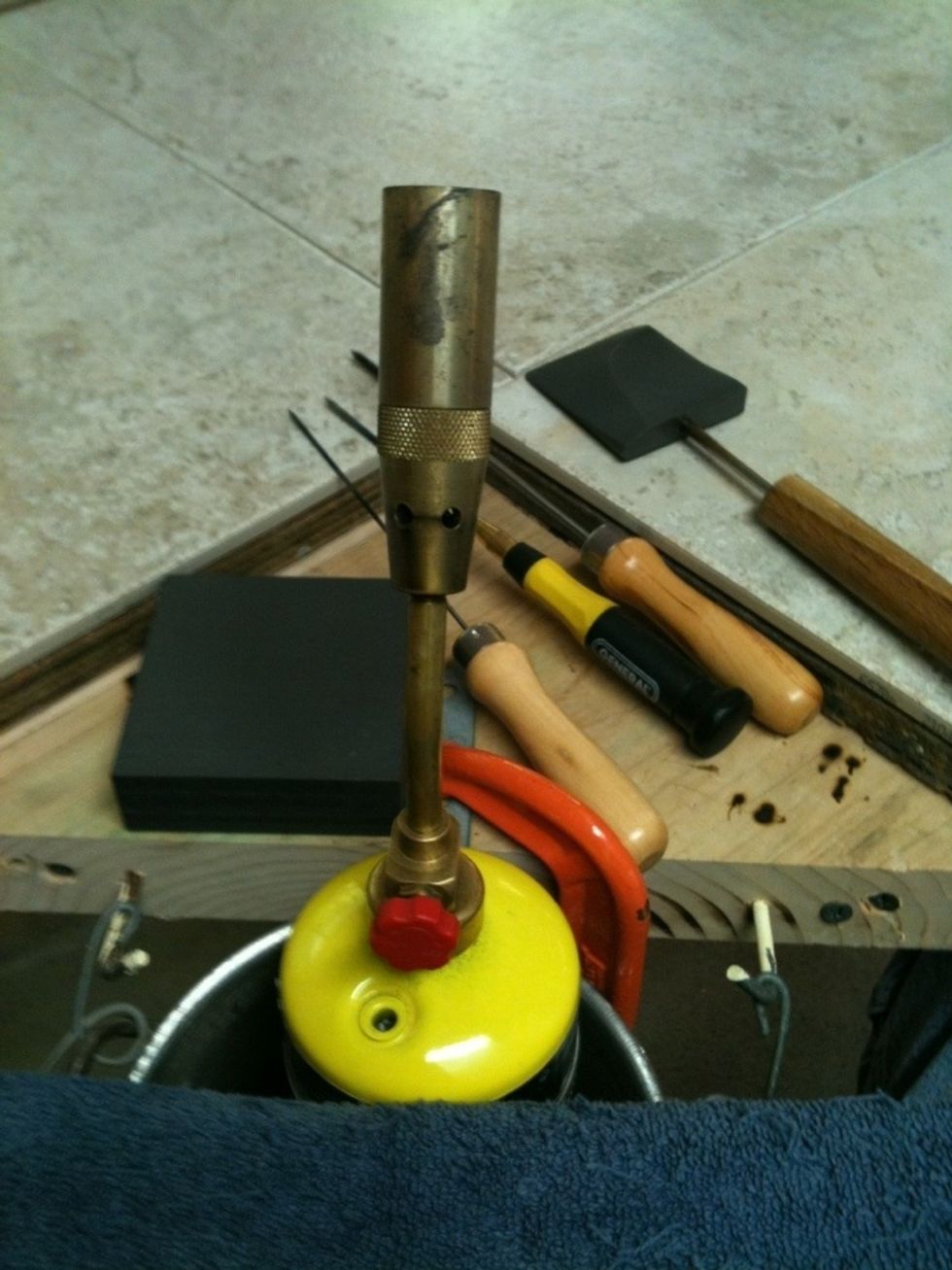 Basic "Hot Head" torch, uses MAPP gas canisters. Black block on left is graphite marver, 3 hand tools are pokers, rightmost is graphite tool. Worktable surfaced with ceramic fireproof floor tiles.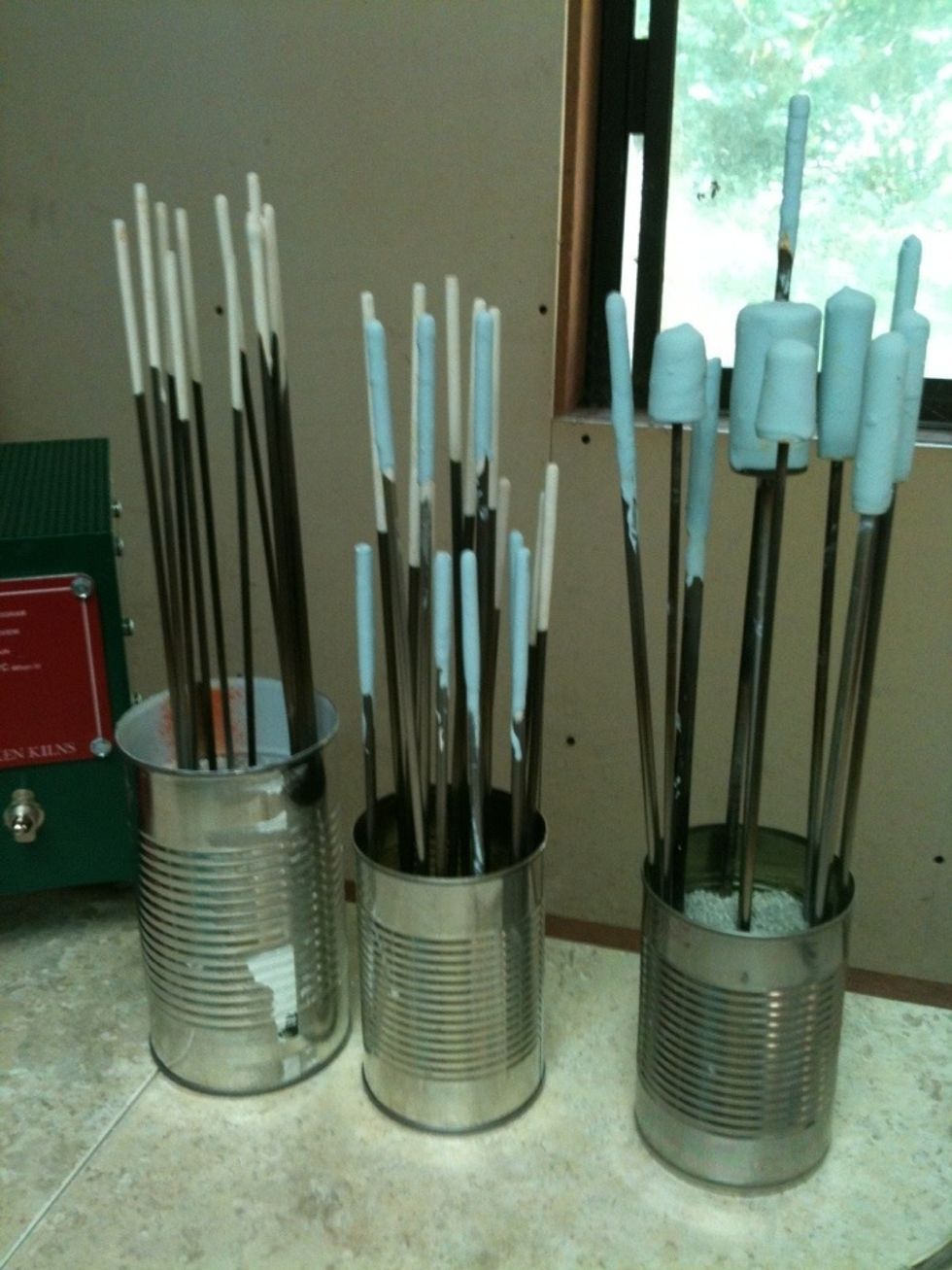 Stainless Steel Mandrels dipped in Bead Release. The molten glass will be wrapped onto the bead release, then when cooled, the bead release melts/cracks off the glass & mandrel. Mandrels are reused.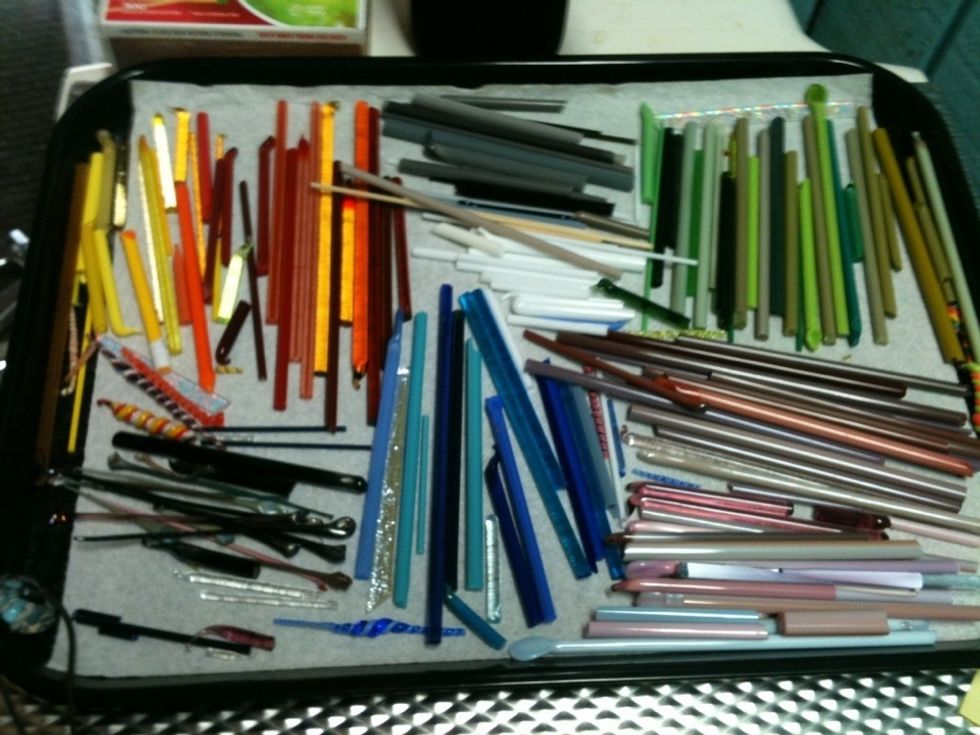 Sample of glass rods, "dichro" strips (iridescent glass), twisties (multiple colors twisted together into rods) & stringers (thin rods). These are working bits, when purchased they are 14" long.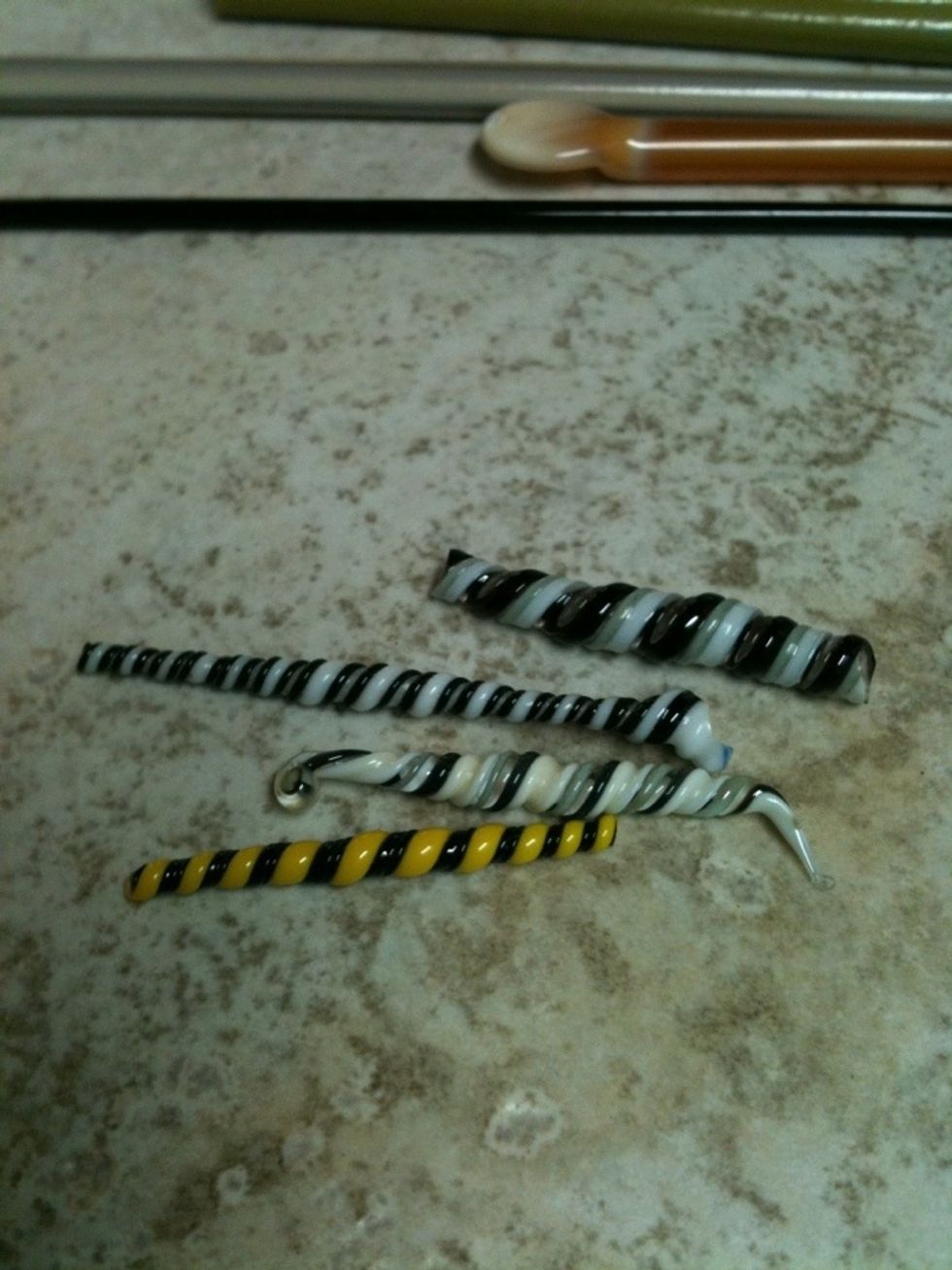 Twisties using stringers of black, white, grey, ivory, & yellow. These are purposely not uniformly sized as this adds to the design & interest of the finished bead.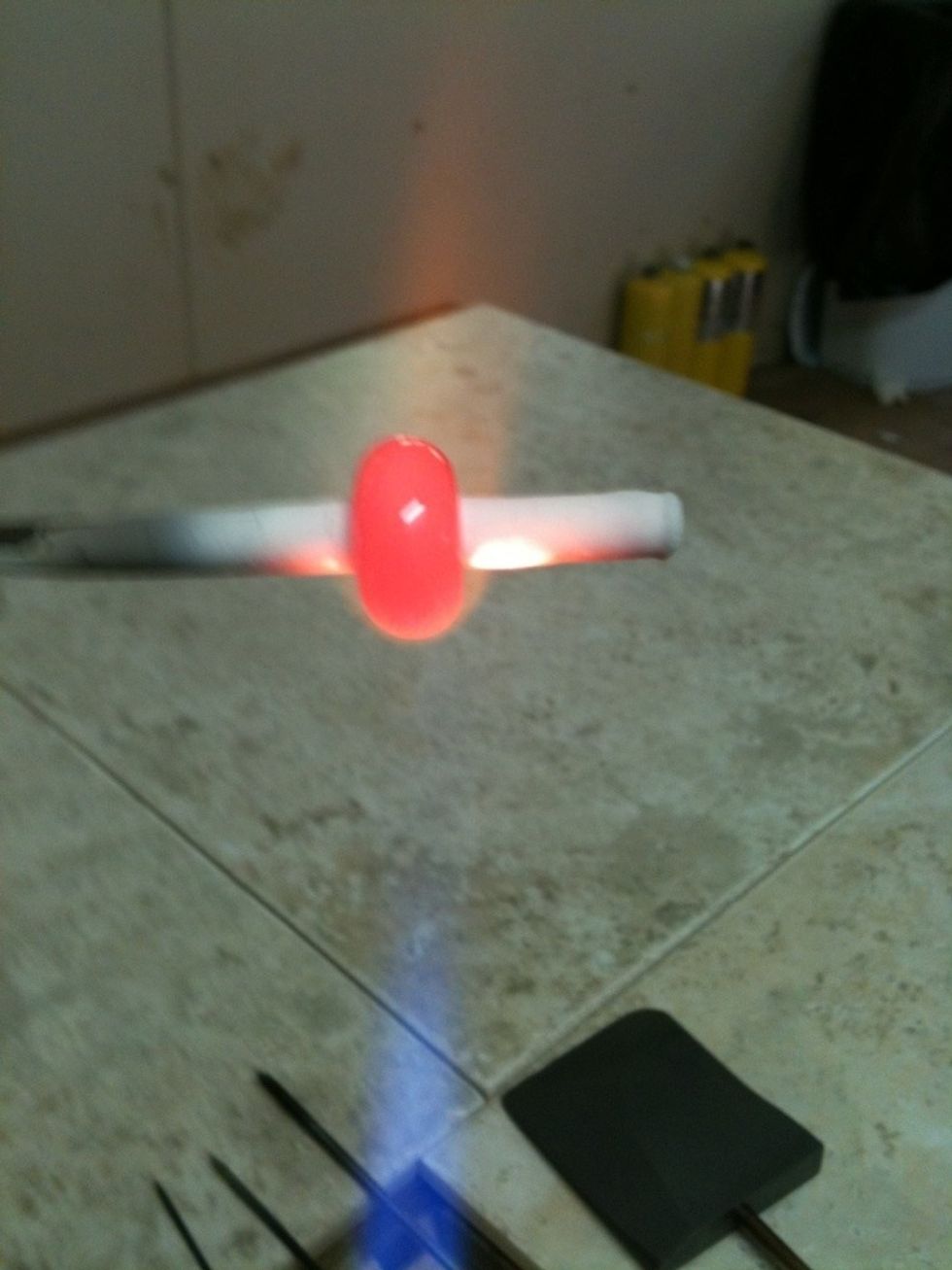 Photographing a spinning molten glass thru safety glasses is tough! This is the core layer of hot black glass being worked onto the coated mandrel in the torch's flame.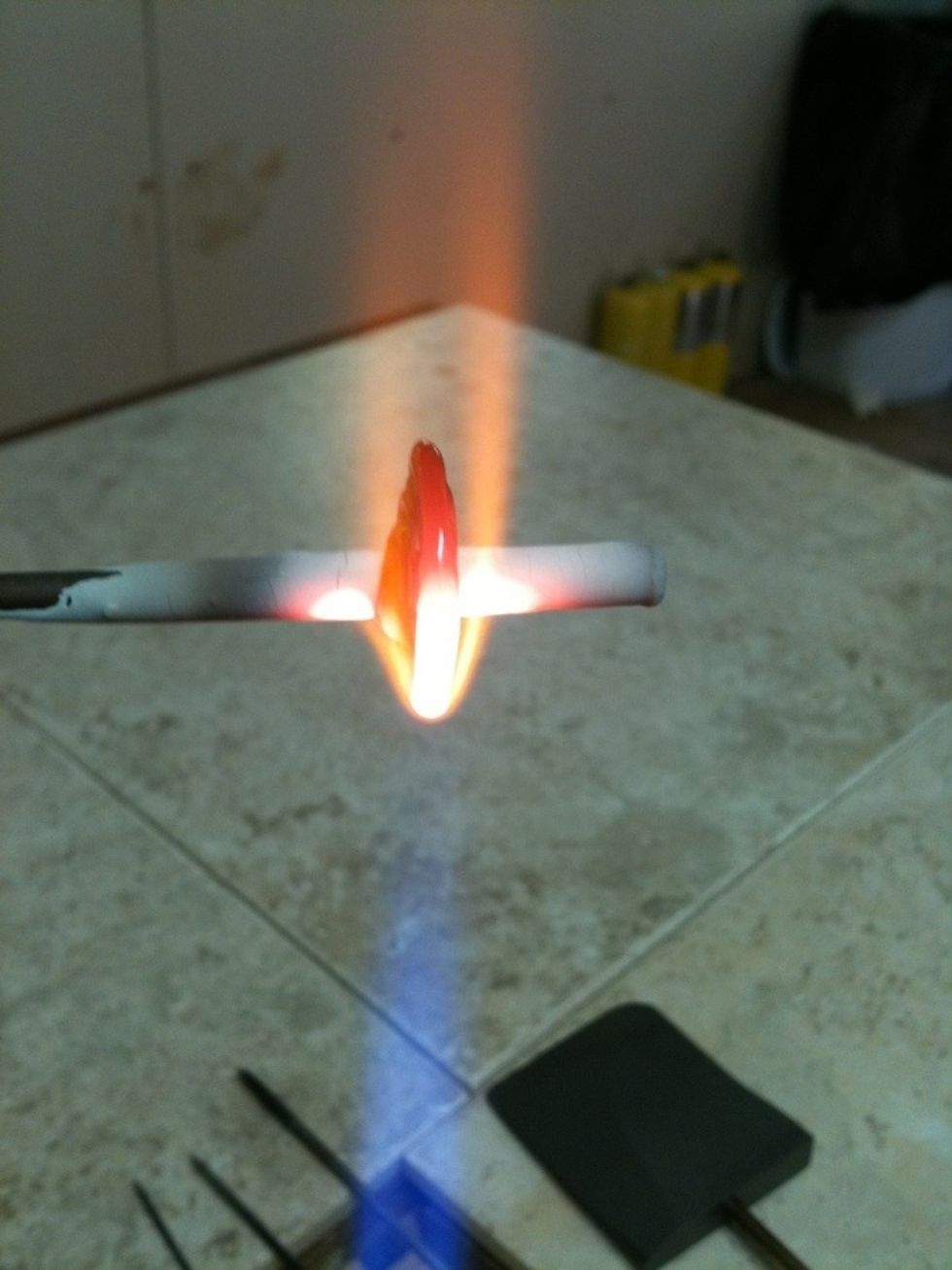 Laying on the first twistie. I will use one of the pokers to reshape the core black bead and move the twistie. The mandrel is constantly turned by hand throughout the process to keep the bead round.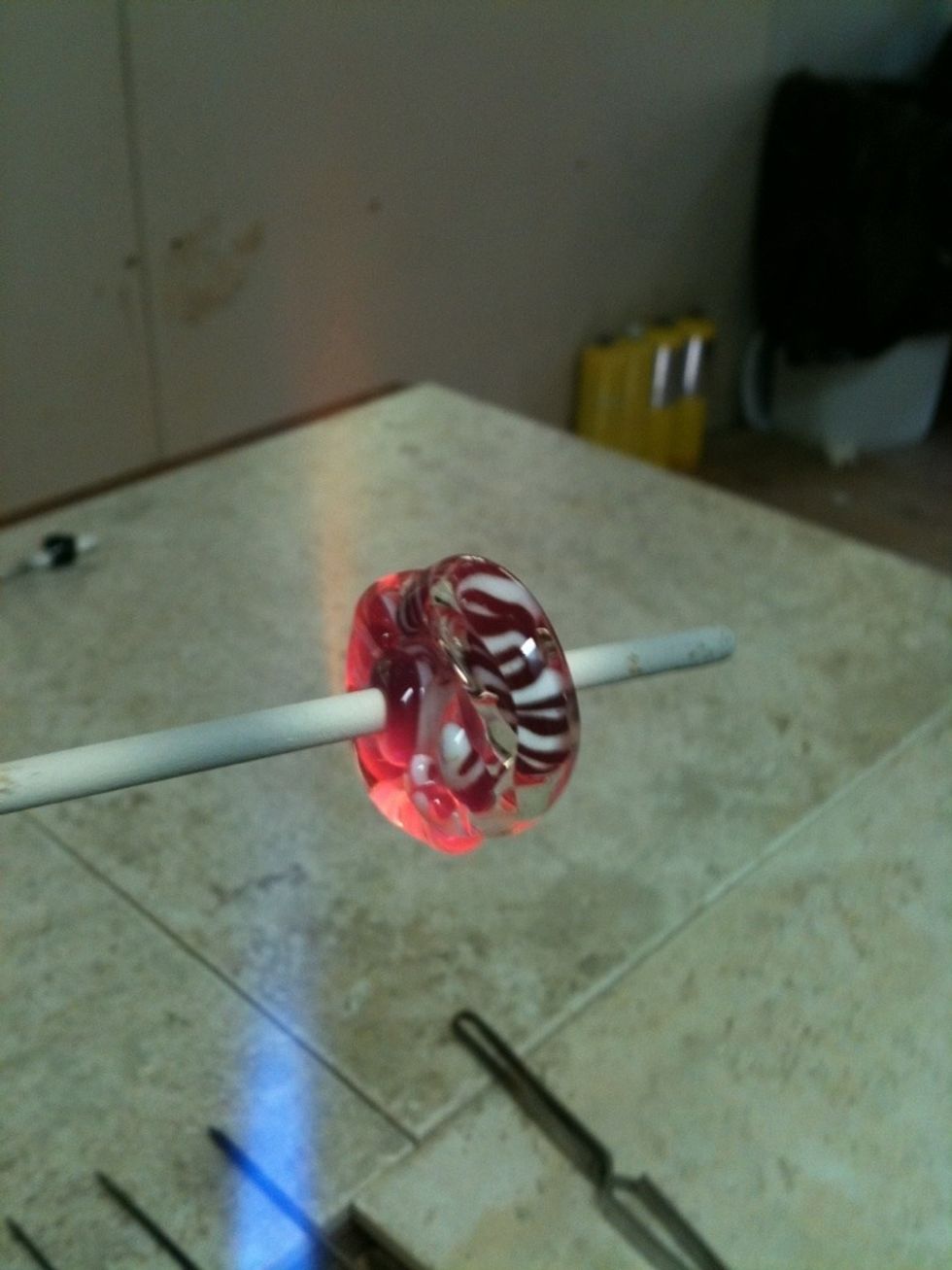 One side of the almost completed bead, showing the initial black core and layers of twisties. I will continue to use the pokers/marvers to align & mold the molten bead.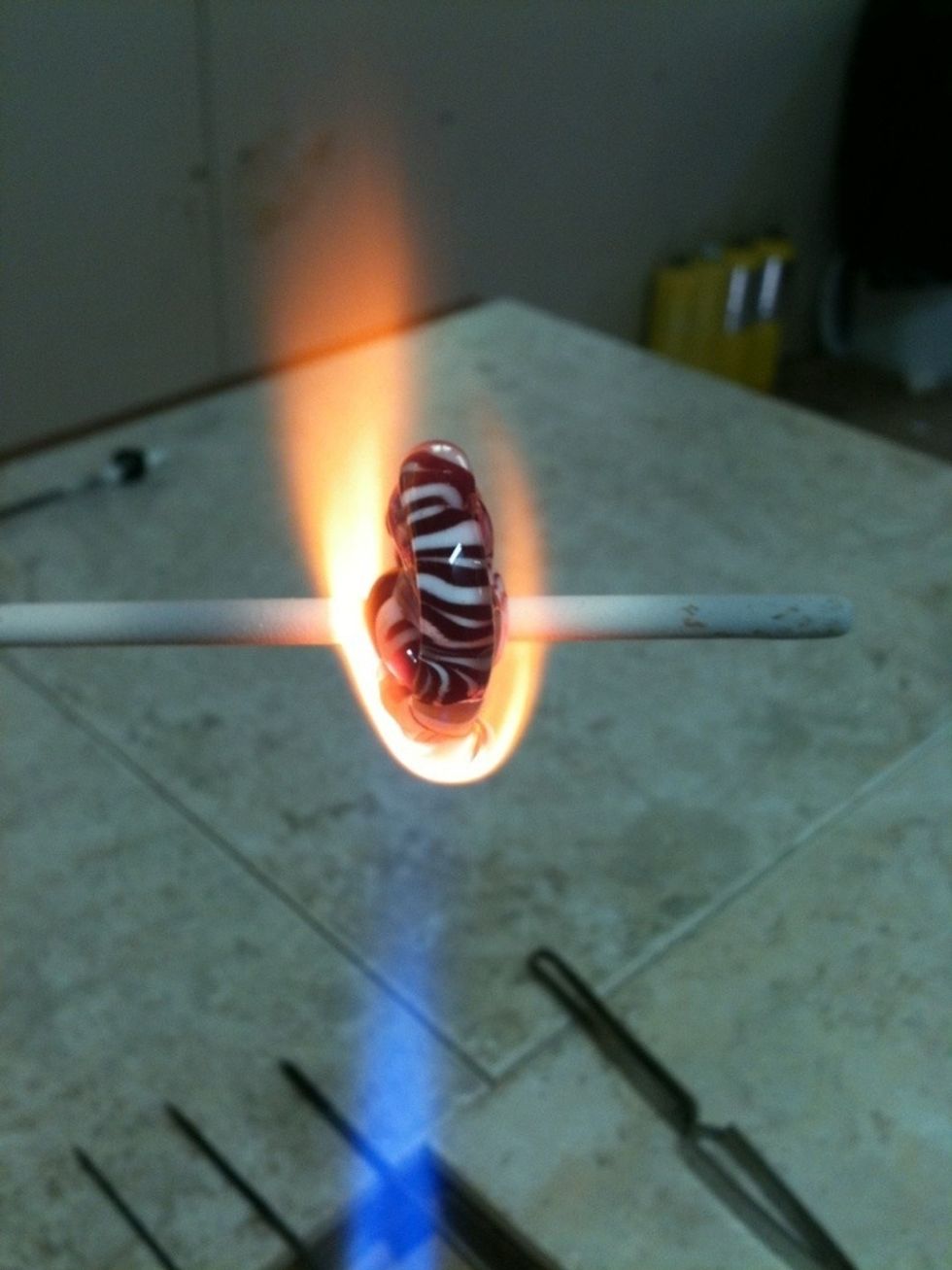 Final coat of clear glass to add depth, and view of the texture of the sides of the bead - on which I will use a graphite marver to balance and slightly flatten.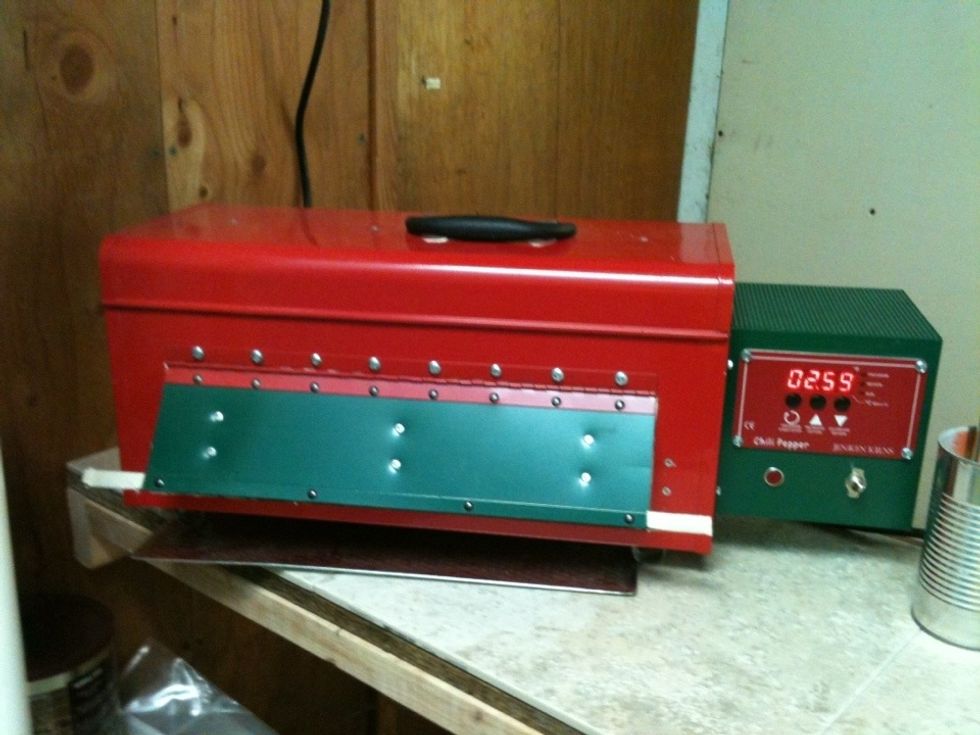 Example of bead maker's annealing kiln (running for 2:59 minutes @ 960 F.) The green flap is lifted & the hot bead/mandrel is laid on fiber blanket inside & left for at least 4-6 hours to anneal.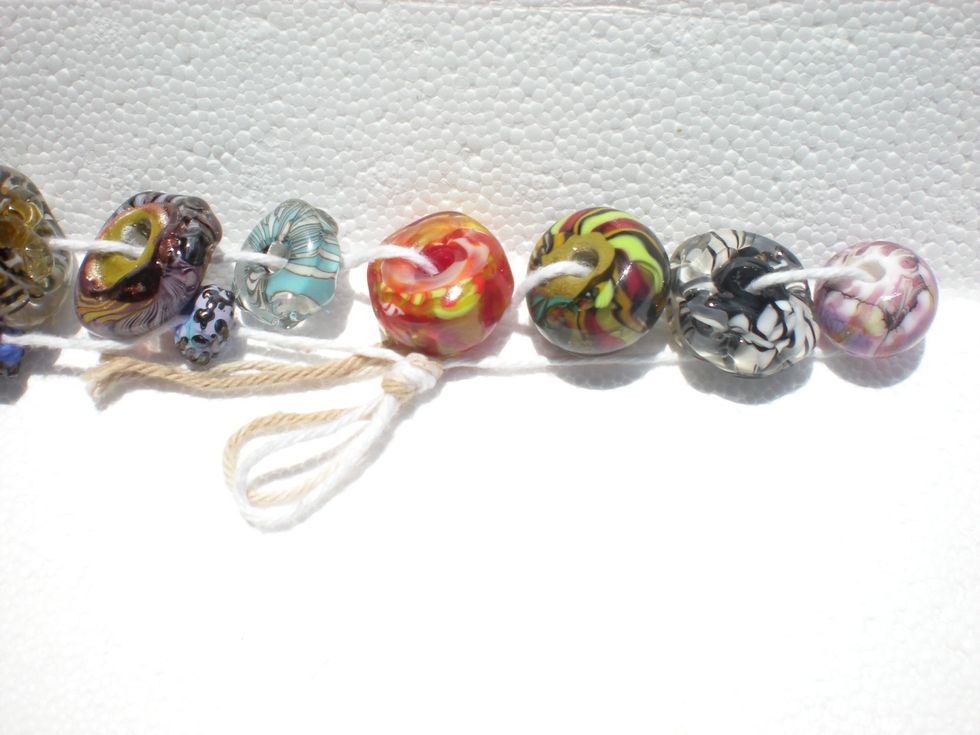 Group of large twistie beads (most bigger than a $0.25 coin), second from right is black/white bead worked in demo.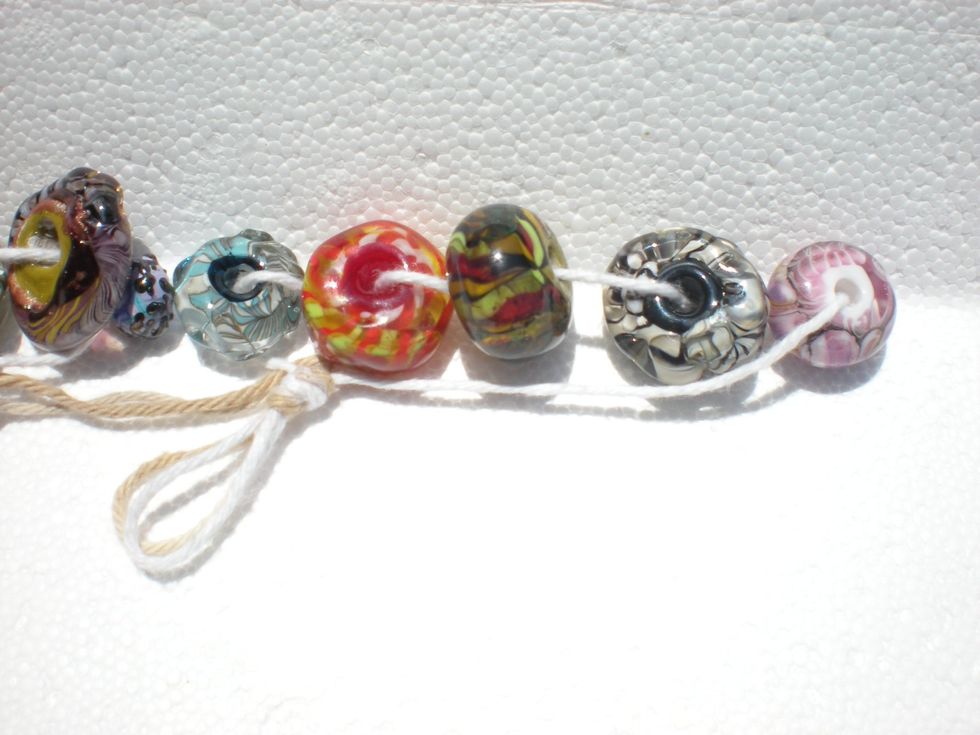 Pink & Green beads are smoothed round beads with flat bead holes. Compare bead holes with deep 'innies' of black/white & red beads. Deep innies make stronger bead & don't fray jewelry cord/findings.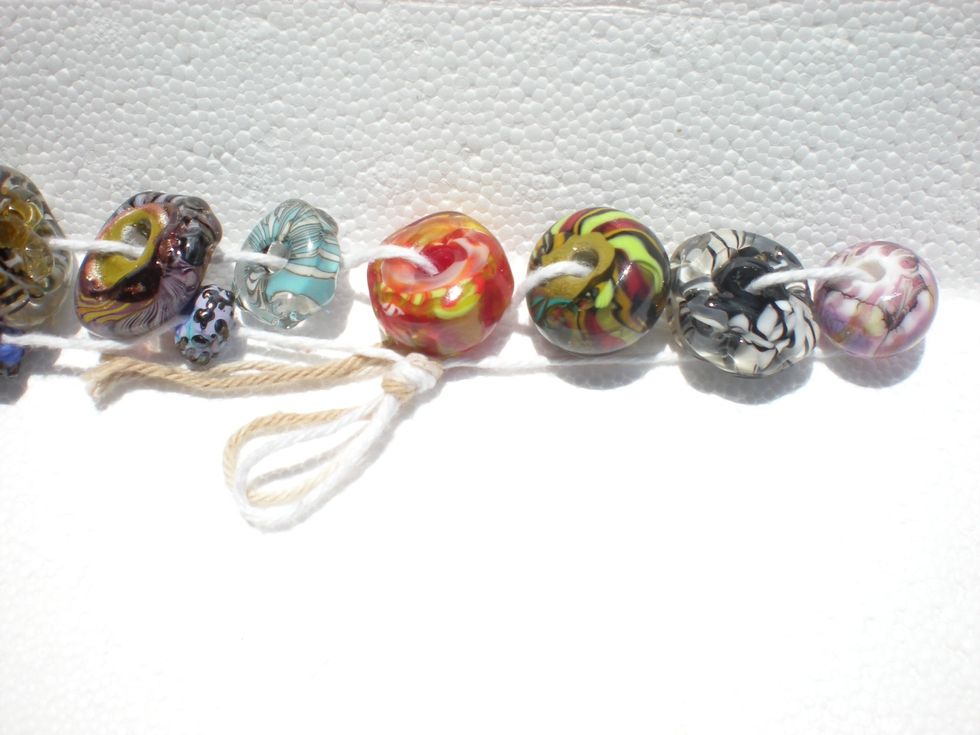 Left side Turquoise & Olive/purple beads have out-of-round holes, which retain bead release (toxic!!!) in pits/pockets. The cord/wire these are threaded onto will erode the bead release onto wearer.
Summary - Ensure bead holes are at least slightly innies (for strength & won't chip or fray cord), and that holes are round and have NO traces of bead release.
Classes with a qualifed instructor.
Safety Glasses, mitts & handling tools
Gas/Oxygen Torch setup, range $50 to $,$$$.00
Fireproof worktable, graphite tools, cutters, etc.
Annealing Kiln prices start @ $500 for used ones.
Bead release & stainless steel mandrels.
Glass Rods, frit (glass granules), powders, etc.
Iris Ward
Flame worker (a.k.a. torch worker, lamp worker, or obsessive person using gas/oxygen fed flames on meltables to make beads, buttons, fobs, knobs & watzits.)