Before we start anything, you need to get in the mood! Turn on some music! I prefer a speaker rather than earbuds so you don't have to worry about them being pulled out while your working.
I really get pumped up by the song "Everytime We Touch" by Cascada, "Good Girls" by 5sos, and so many more. Just turn on the radio!
Ok, so, in order to have fun in your room, you need to clean it up! I always start with picking up all the laundry on the floor because it the easiest to pick up, and it's most of the mess.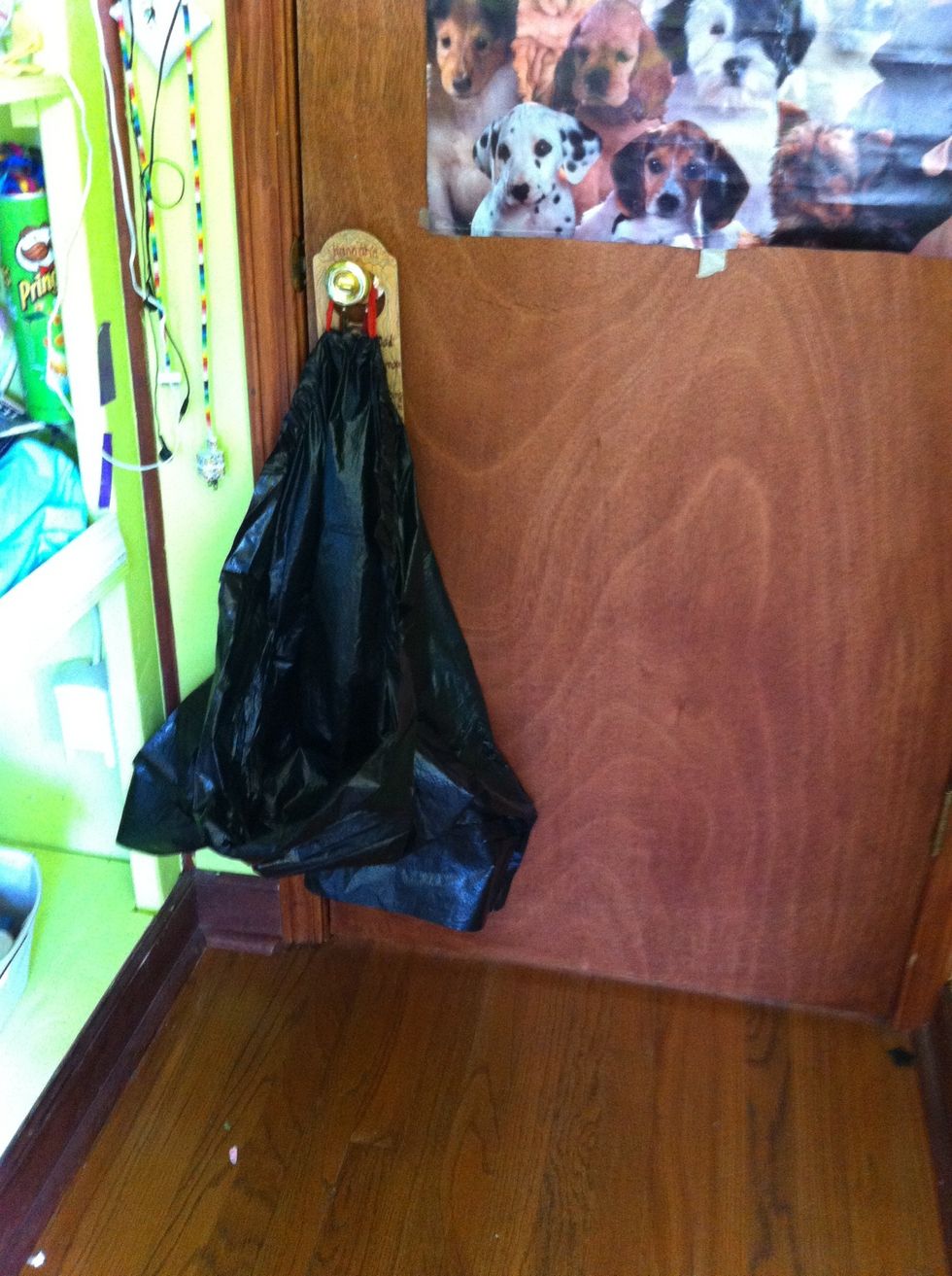 I always go grab a trash bag because I always have a lot of trash in the trash can, on my desk, and on my floor.
Then, I will clean up the rest of the stuff off my floor such as papers, wrappers, cords and chargers, shoes, hair bands, etc. , and put them where they belong.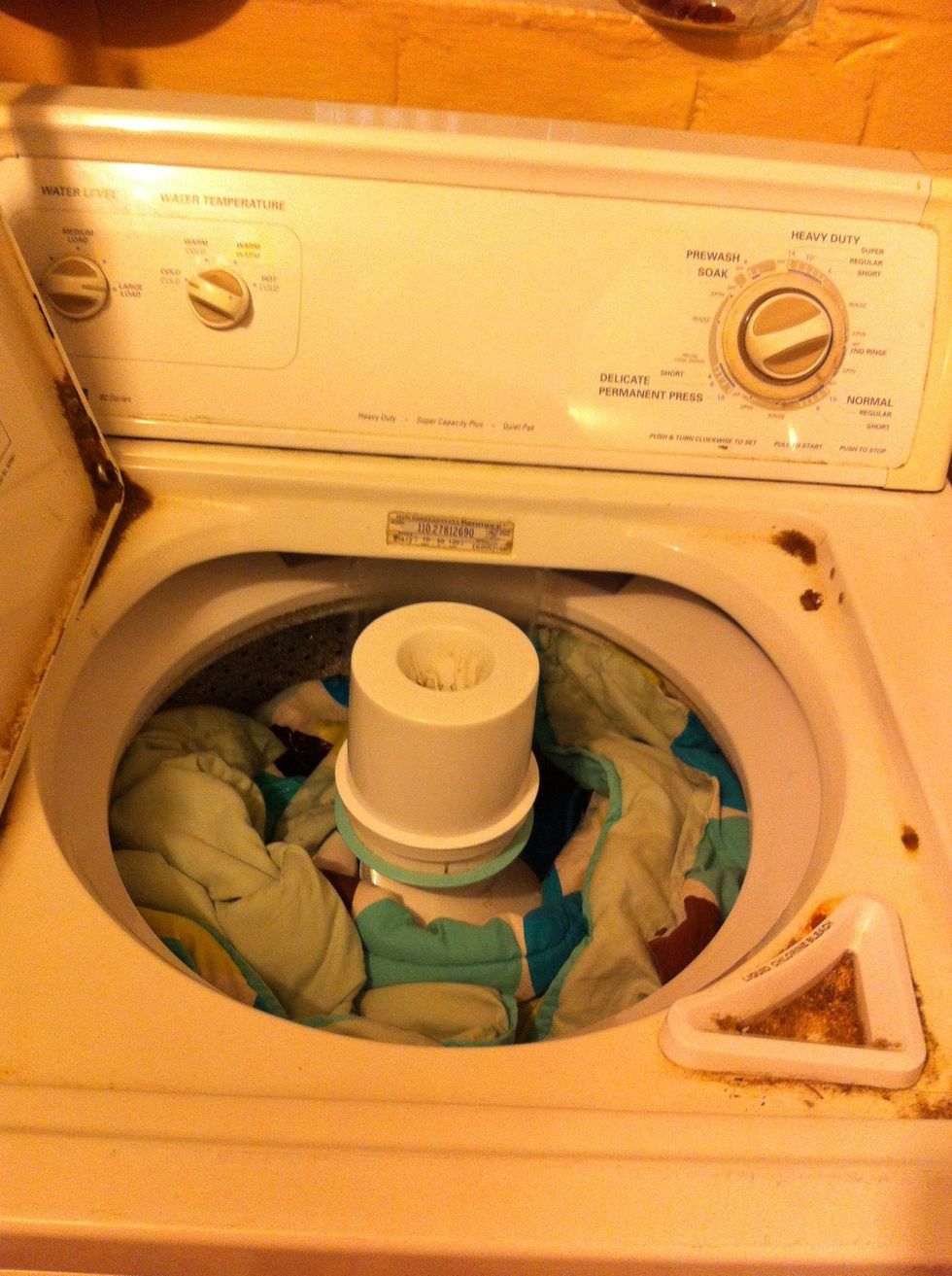 You're going to need to wash your comforter... because when was the last time you washed it? Exactly...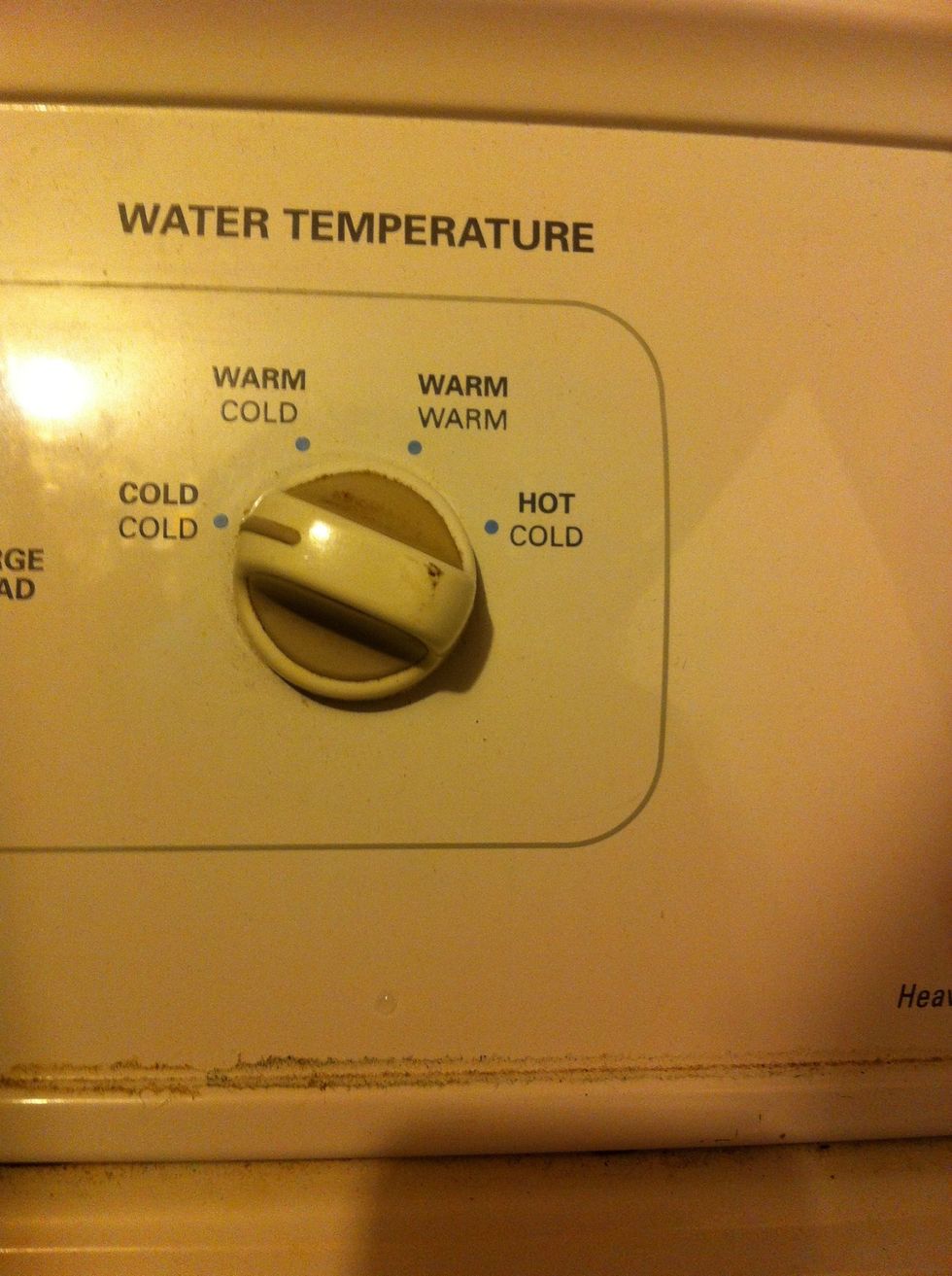 Make sure you wash it with cold water because it will fade, lose softness, or shrink and deform.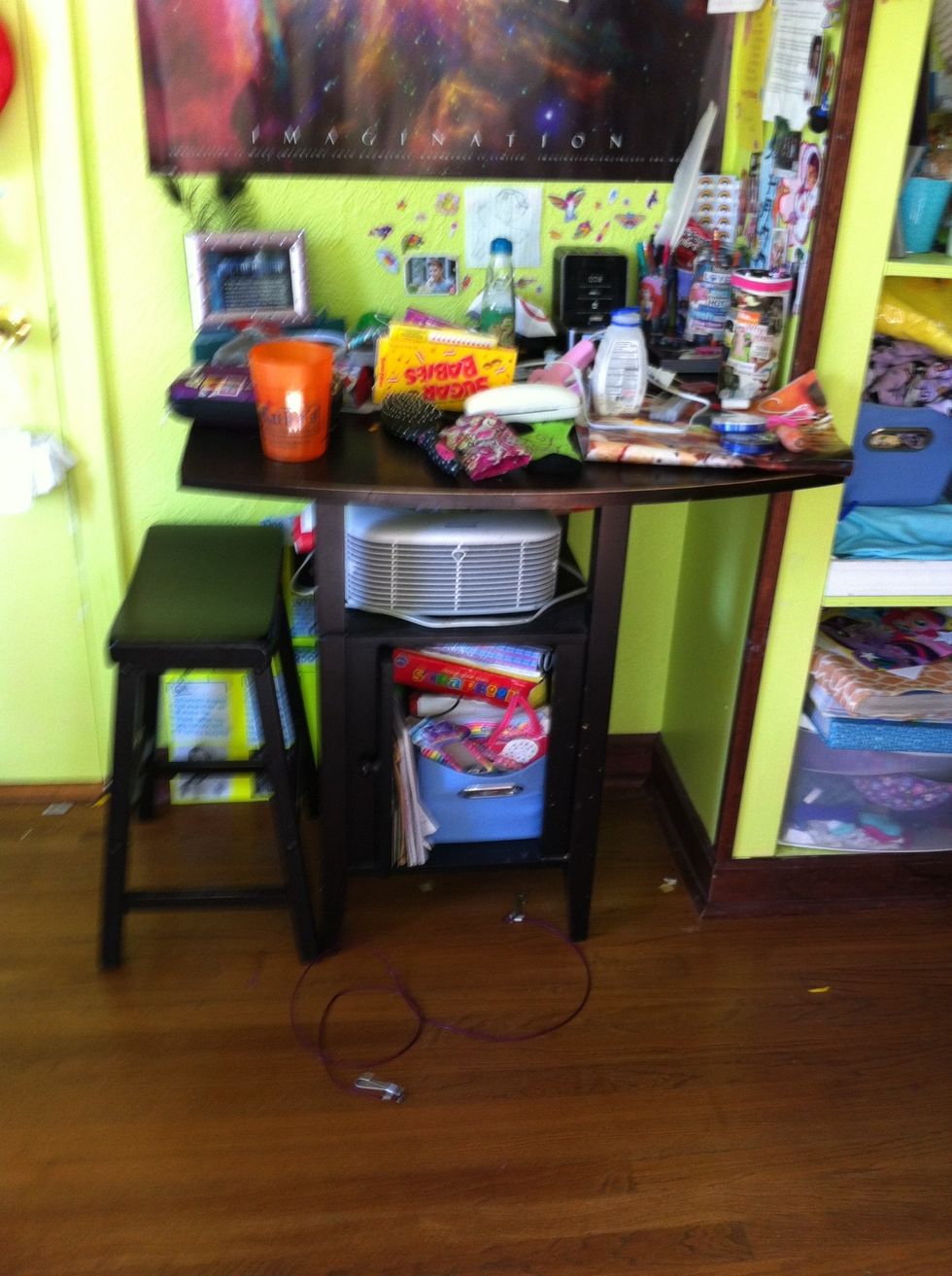 Here is my messy desk area... Messy! :P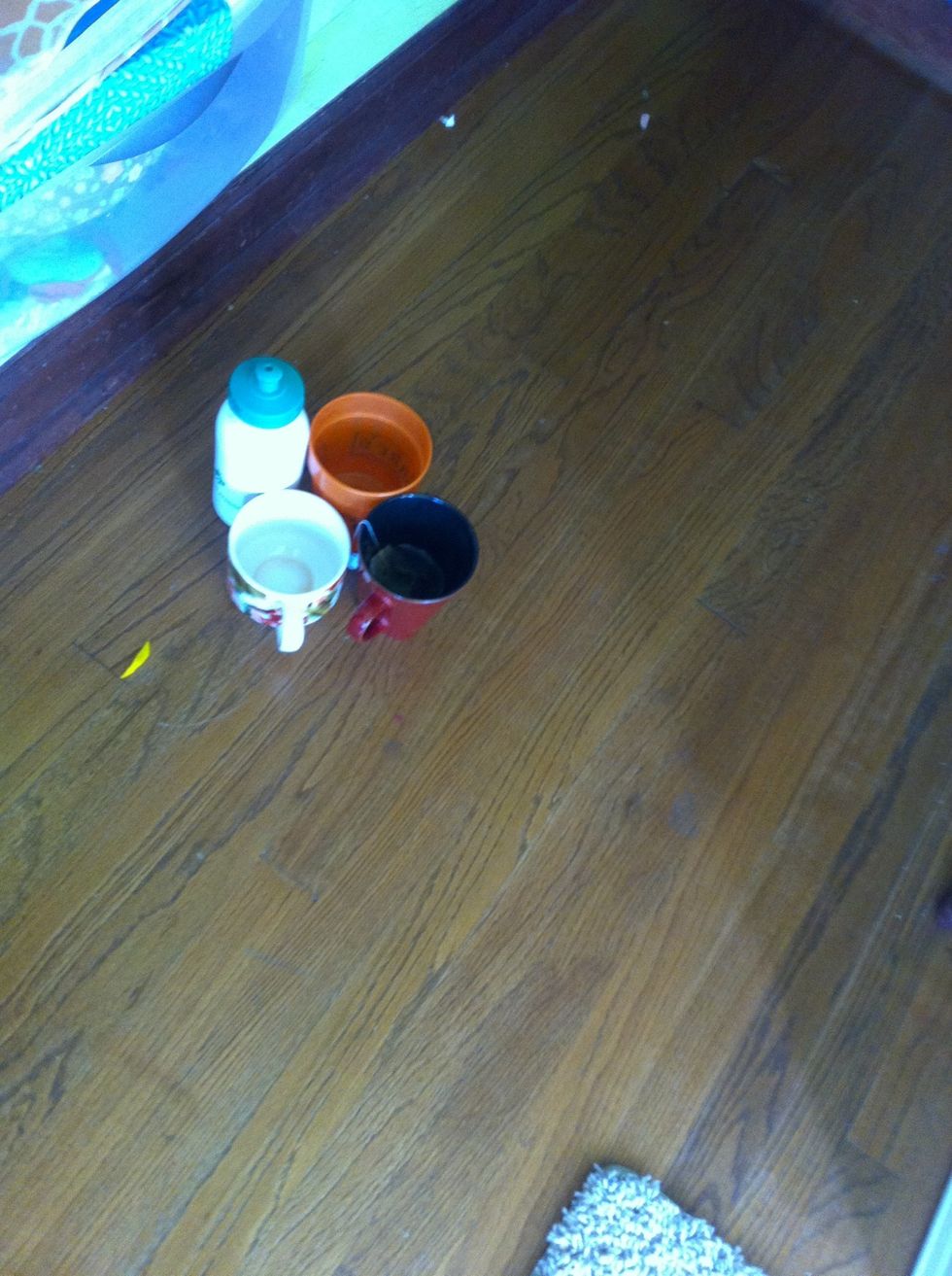 Make a pile of things that don't belong in your room, so you can put it all away later. (Cups, pens, papers, etc.)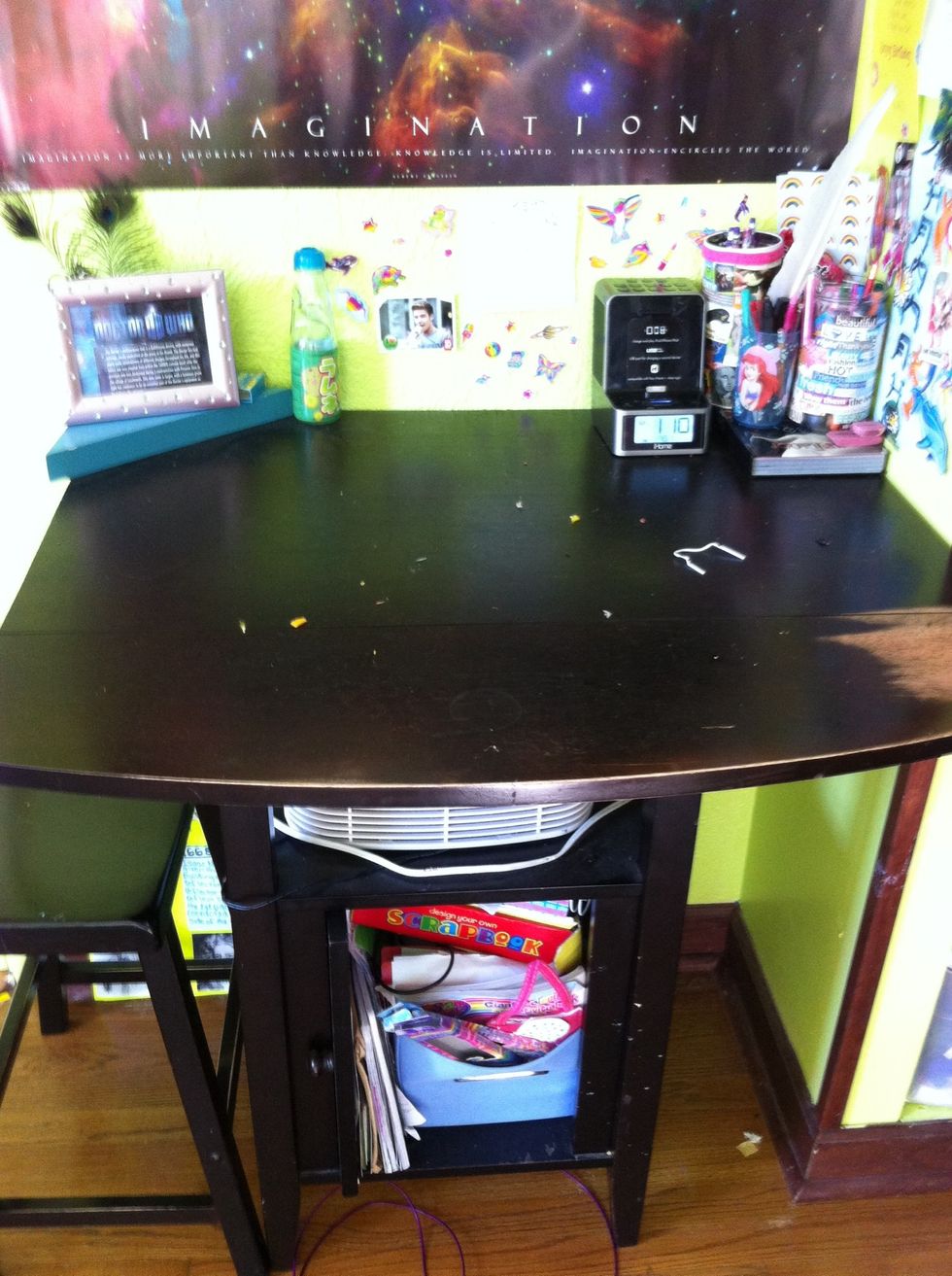 Here's my desk after I've cleaned it all up, but still needs a dusting.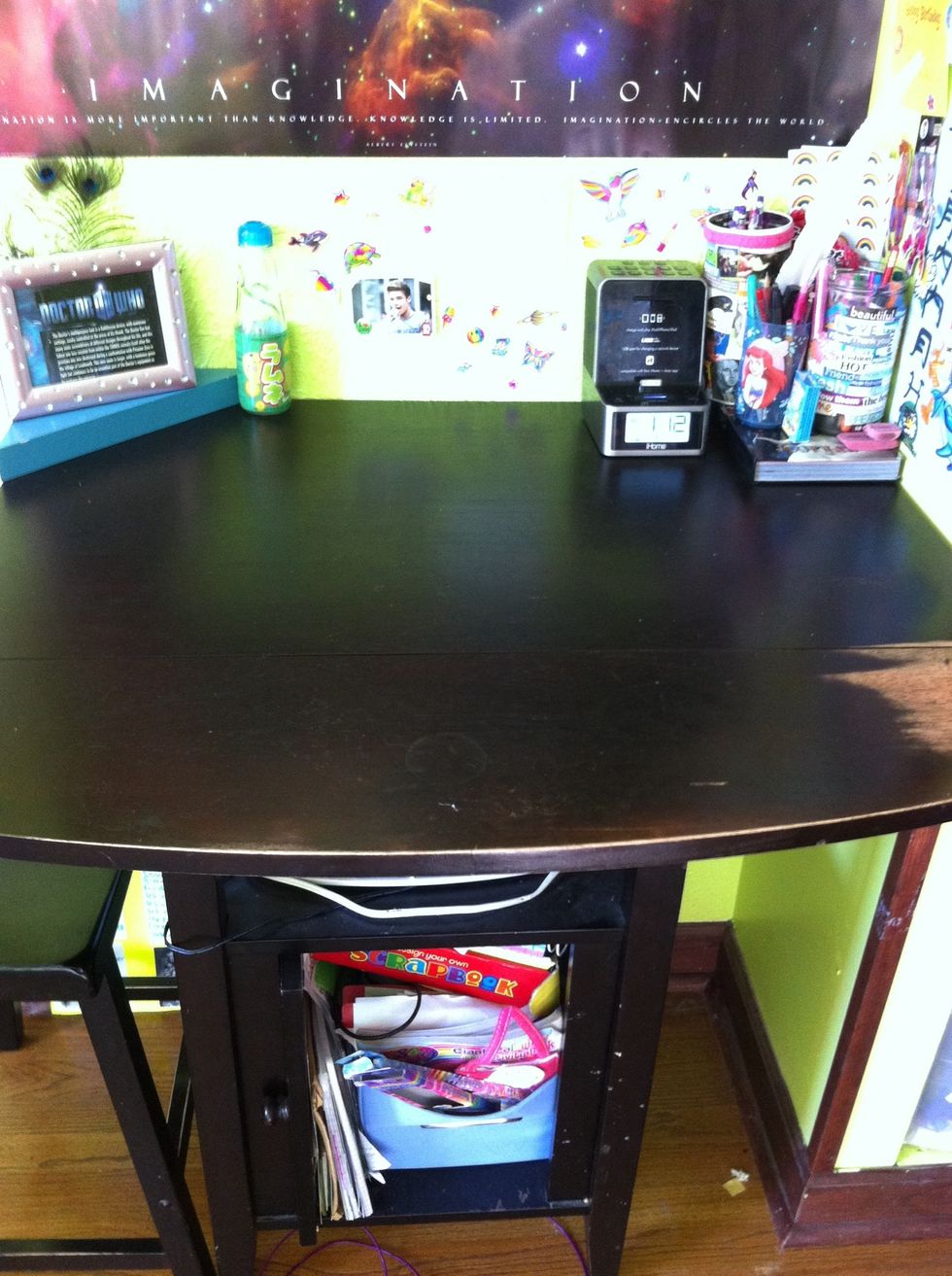 Perfect!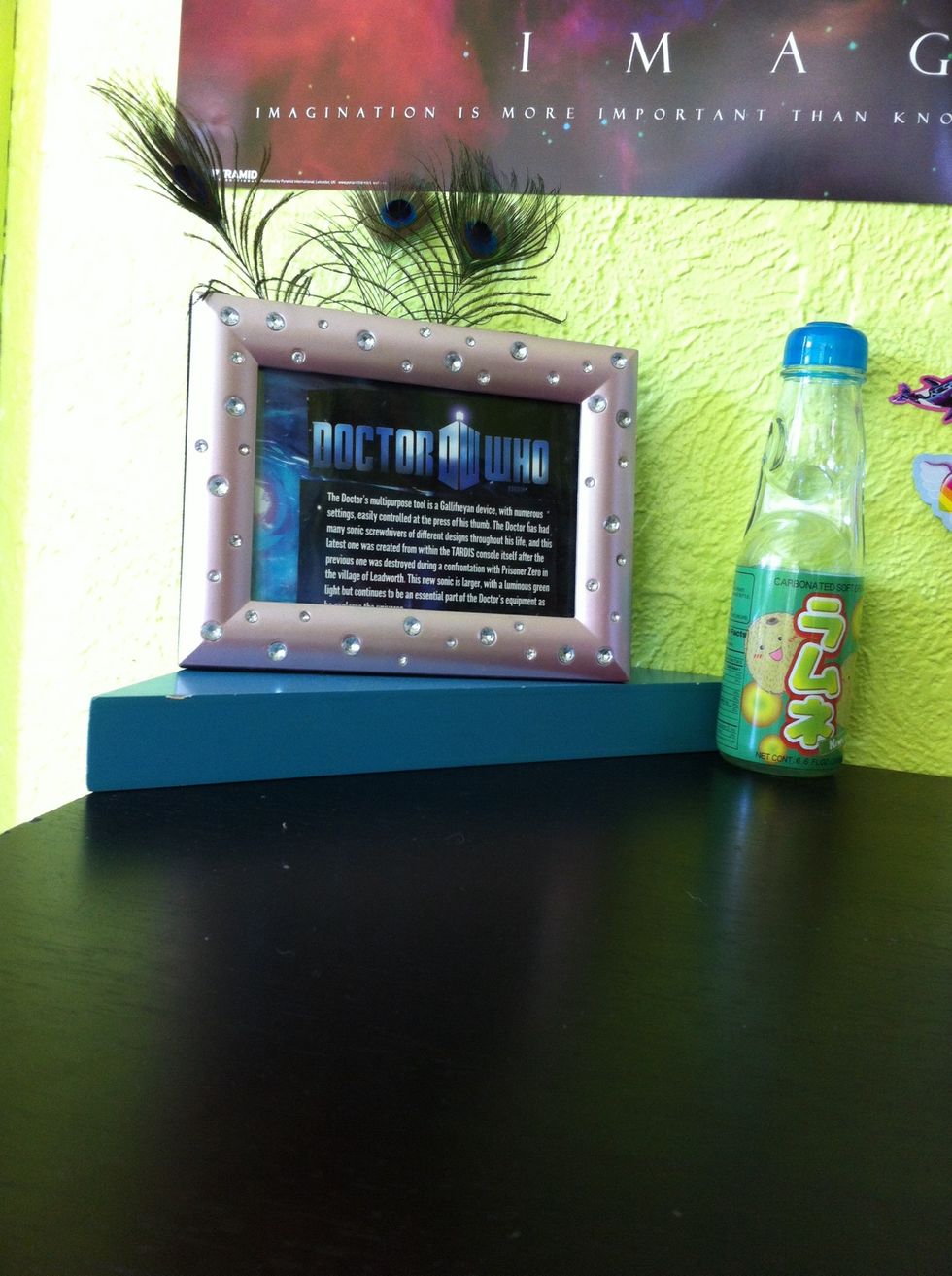 Might as well show you my desk while we're here. Here's my doctor who framey thing I made and some peacock feathers from a farm on a blue corner shelf. Next to it is my foreign kiwi soda bottle.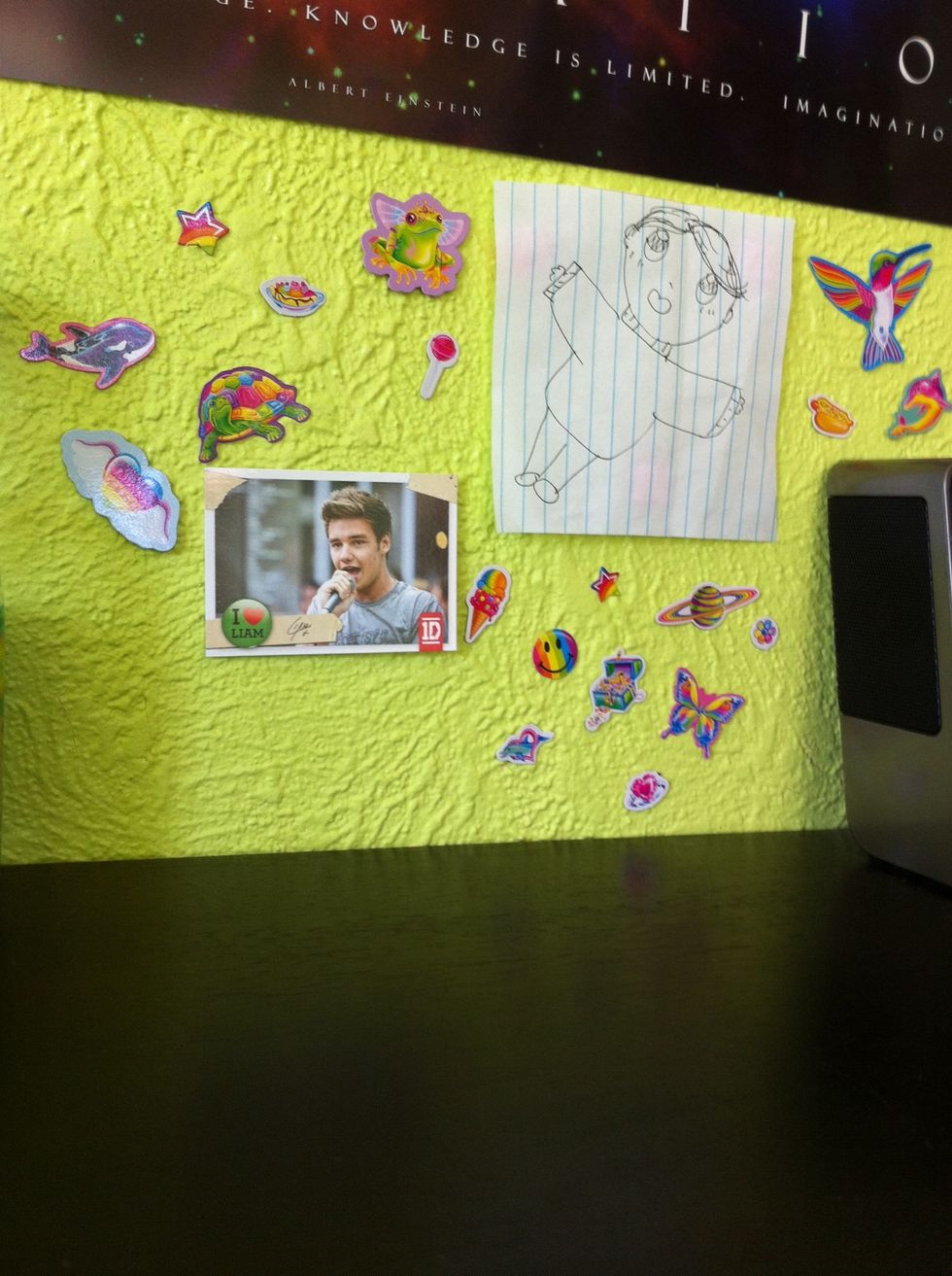 On the wall, below my poster and above my desk, I have a drawing my friend made me, some Lisa Frank stickers, and Liam Payne. <3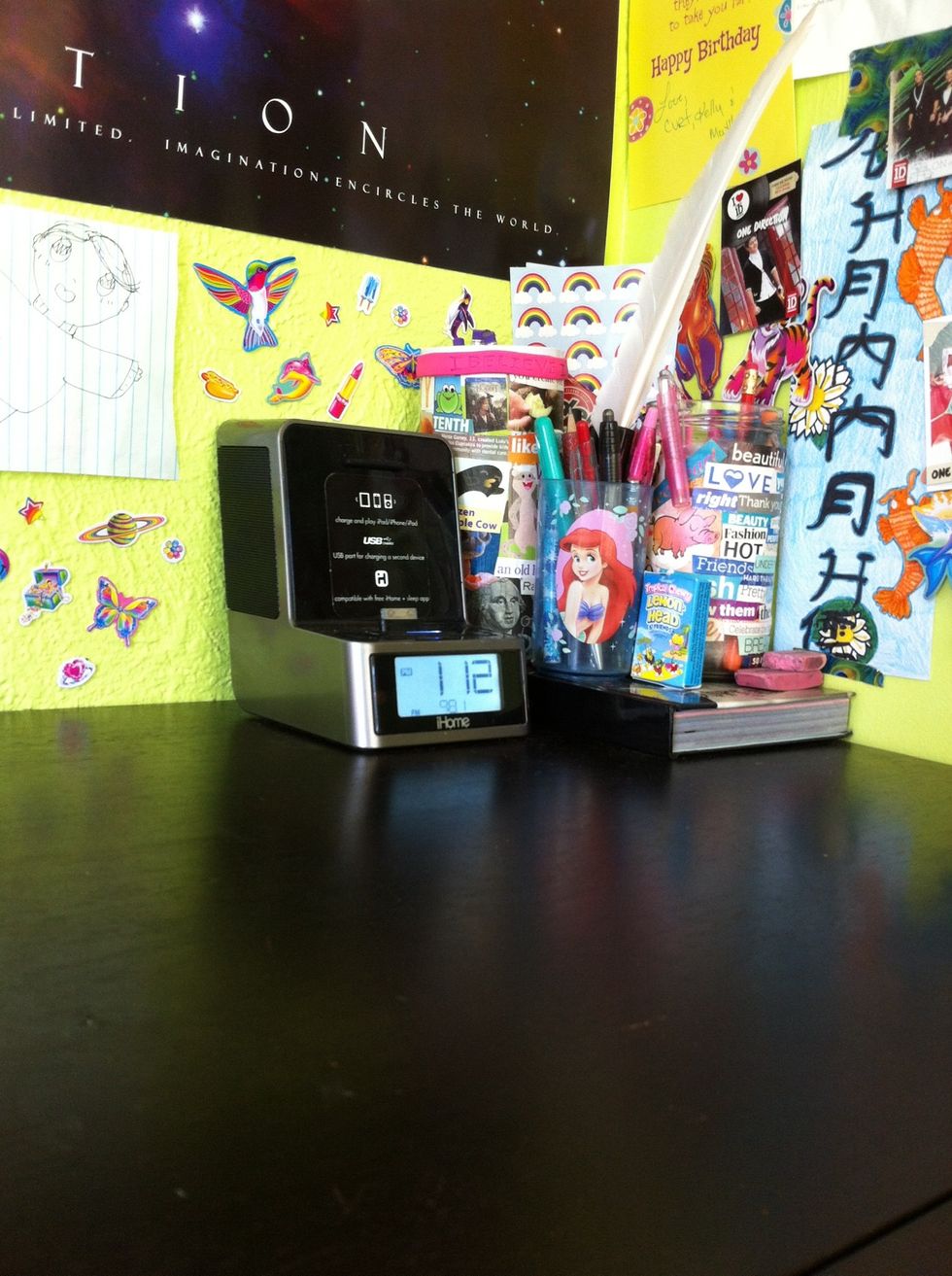 And lastly, I have all my writing utensils in cute containers I made/found. And my radio/charger for my phone.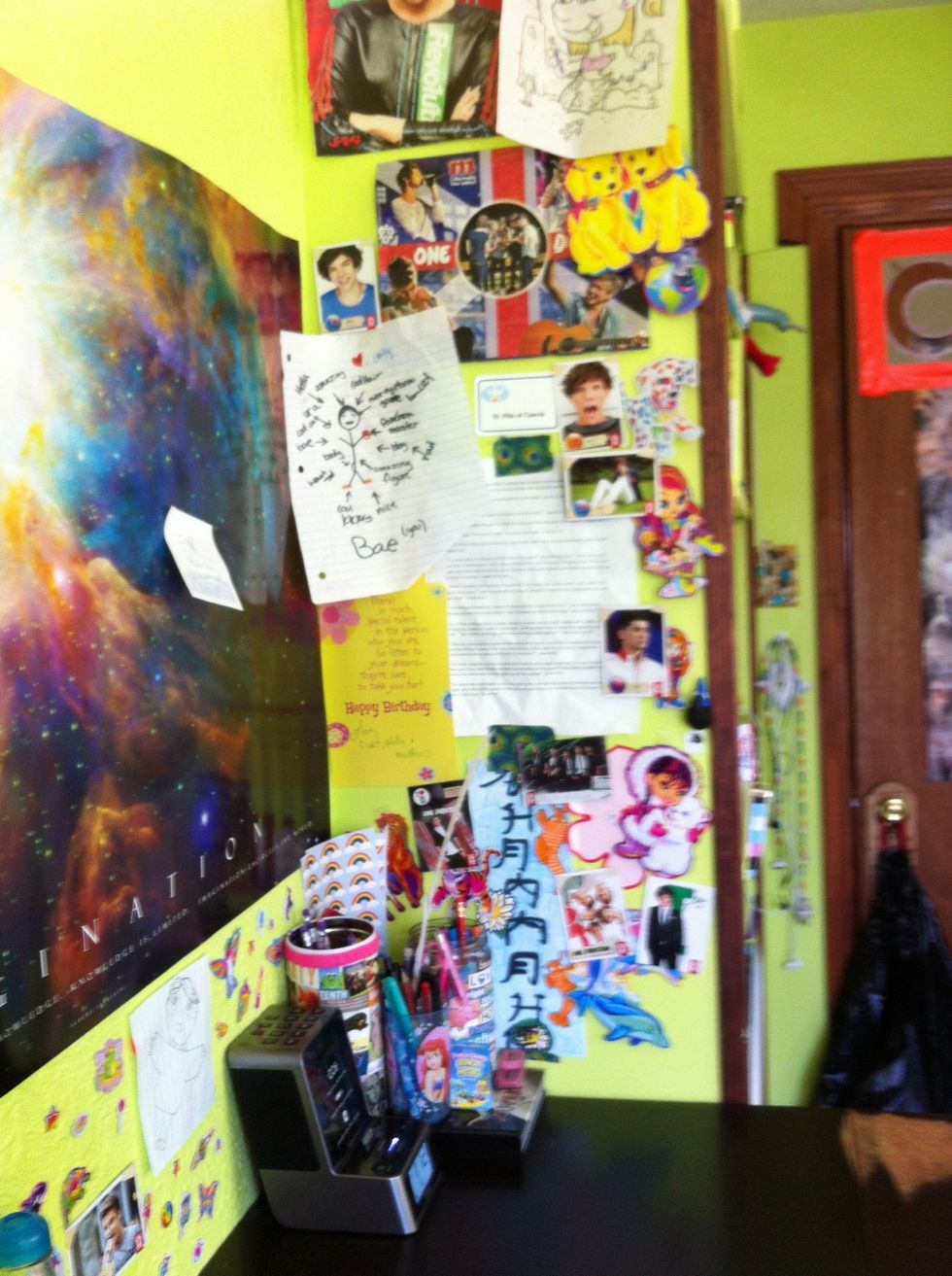 On the wall next to my desk, I have loads of random stuff. I put it all here because it's the only place in my room with drywall, everywhere else it falls because it's plaster.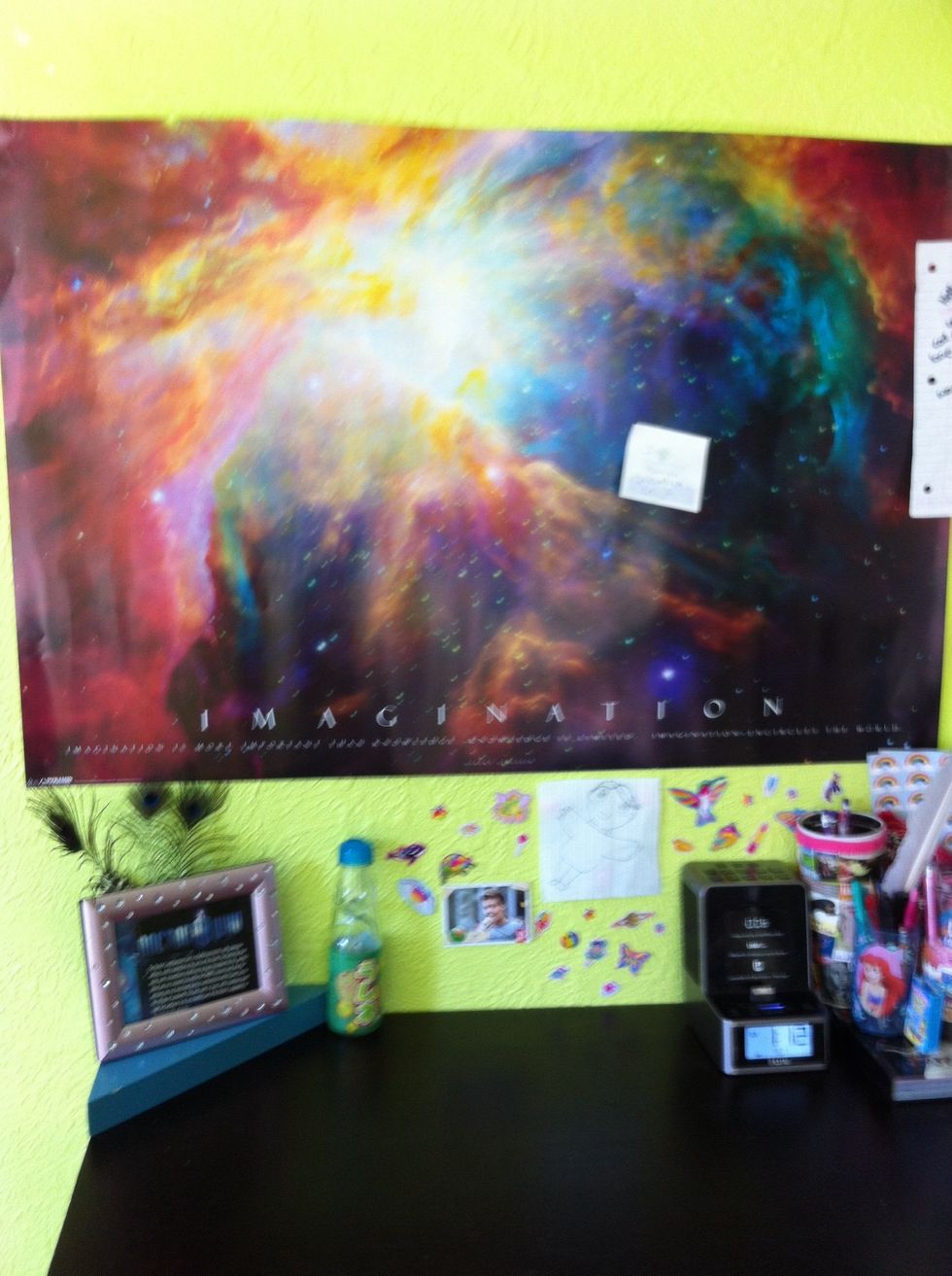 And last, I have my giant galaxy poster with an Albert Einstein quote on the bottom. I recently bought it from Amazon.
I just added a bamboo plant and a kitty for Halloween to my desk. Bamboo makes better desk plants rather than window plants.
Wipe down your room with disinfecting wipes so you don't get sick or germy. ;P (Doorknobs, light switches, buttons, etc.)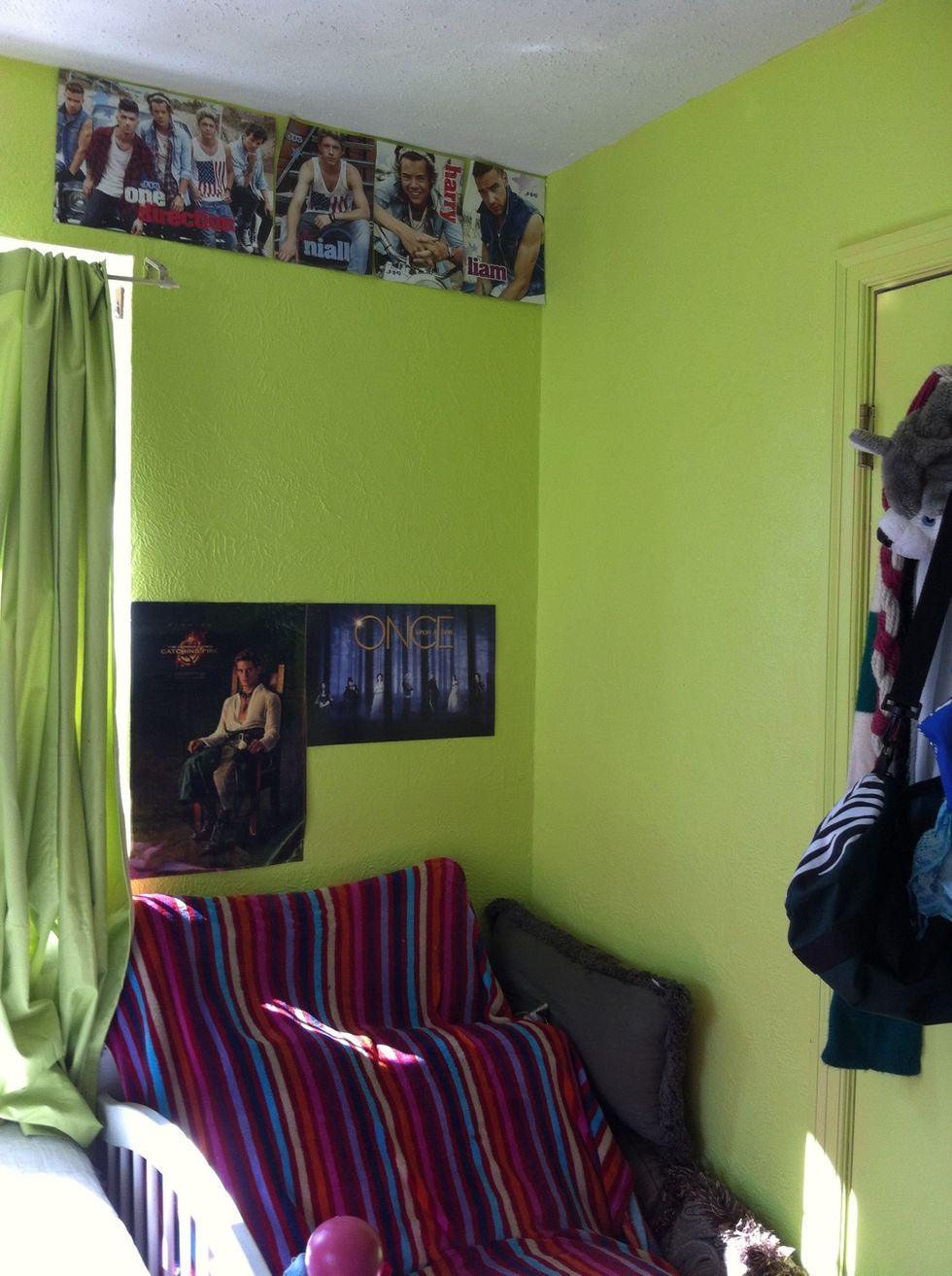 Here's my very sad poster wall. Again, I have plaster walls and typically EVERYTHING falls down. These managed to stay in place, though. I really need to add more posters brb.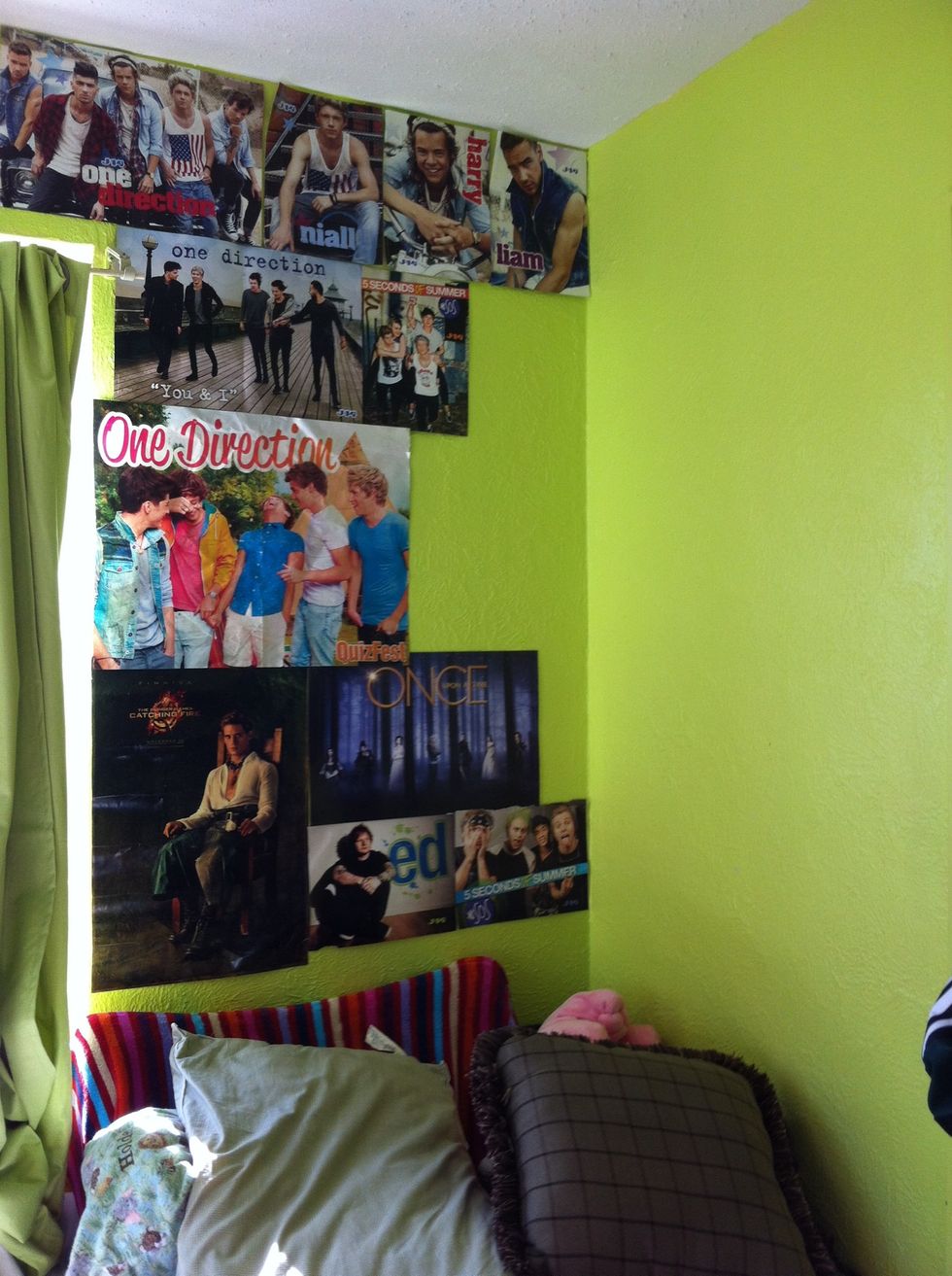 Yes! I found some more posters and I put them up with some duct tape. (Cross your fingers, hoping they won't fall) ((Yes, I do love one direction, please no hate))
Here's the shelves where I keep my lotions, makeup, Chapstick, etc. It's right next to my mirror.
I recommend getting some sort of shelf or box to add organization to this area. I turned over a tissue box, and put my small makeup stuff in a cute halloween organizer on top of that with some lotions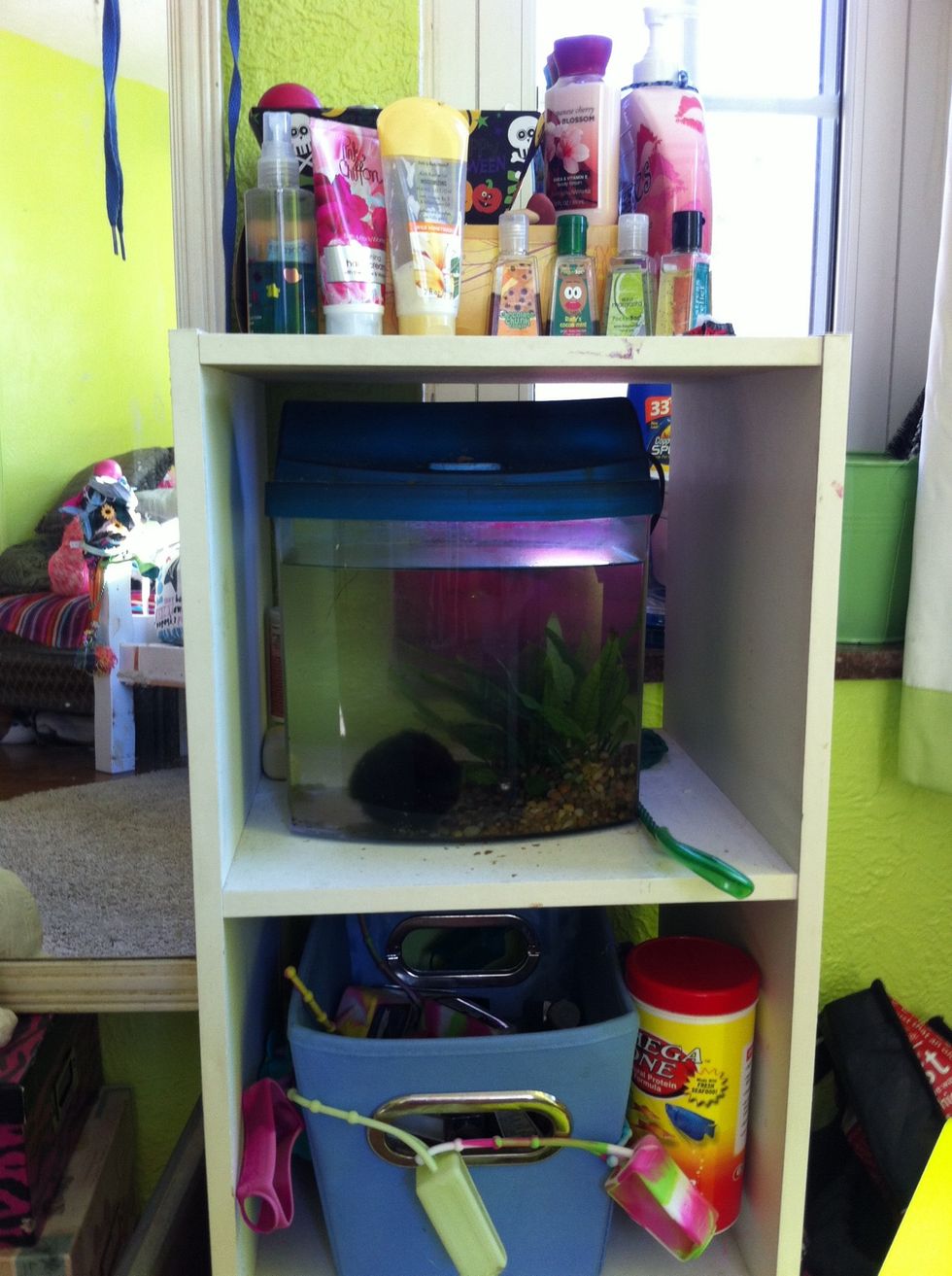 Below it, I have my fish tank. I used to have 2, but one recently died. :( Now I have a purple fancy guppy named Eridan.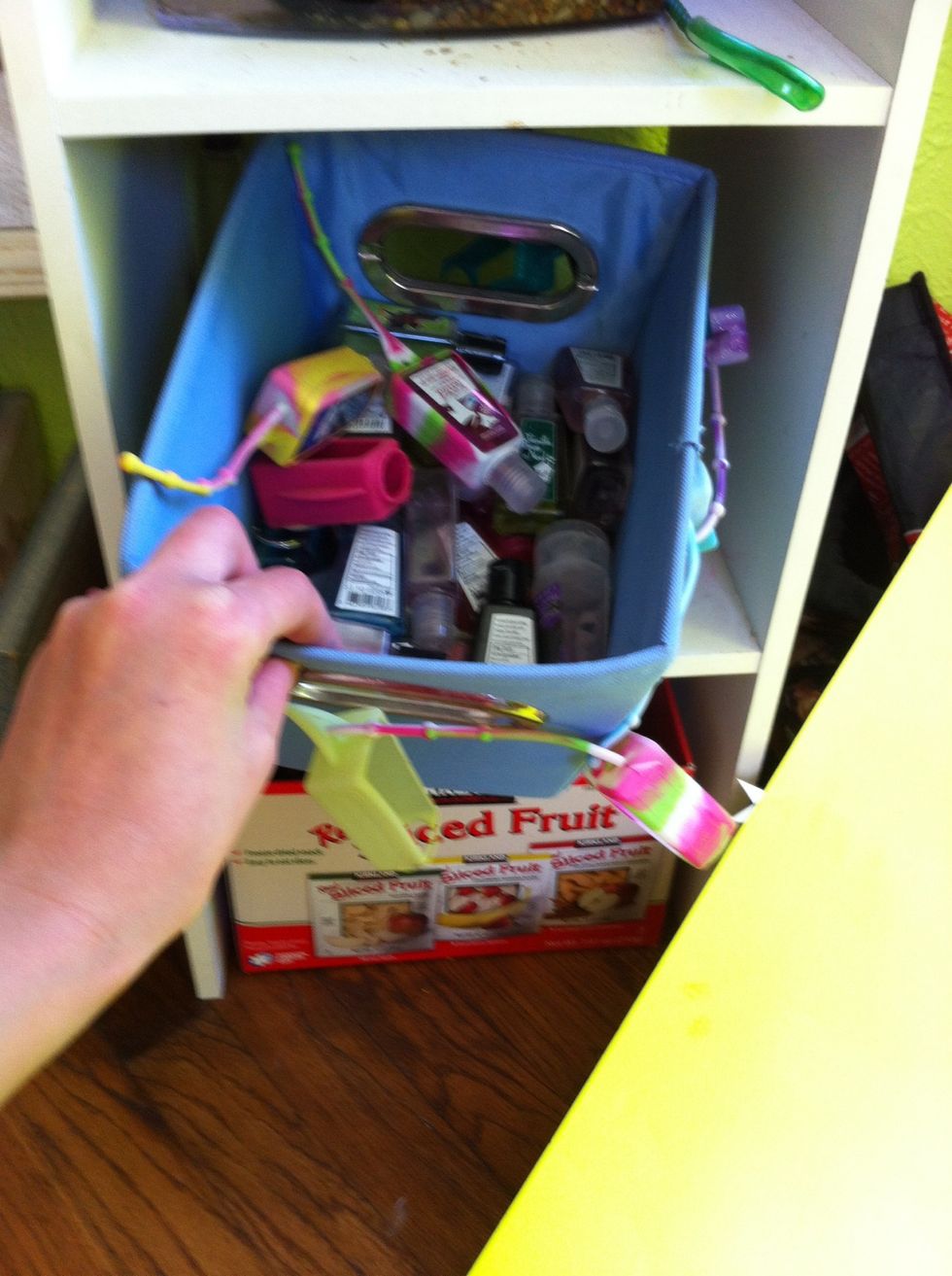 Below that, I have all my B&B hand sanitizers. And on the bottom, I have a "dried fruit" box full of dog shampoo, treats, leashes, etc. (we just got a new puppy!)
Well, I've been meaning to cover the "Dried Fruit" box with a cute fabric. If you guys want me to learn and make a guide on how to do it, comment "Dried Fruit" ;D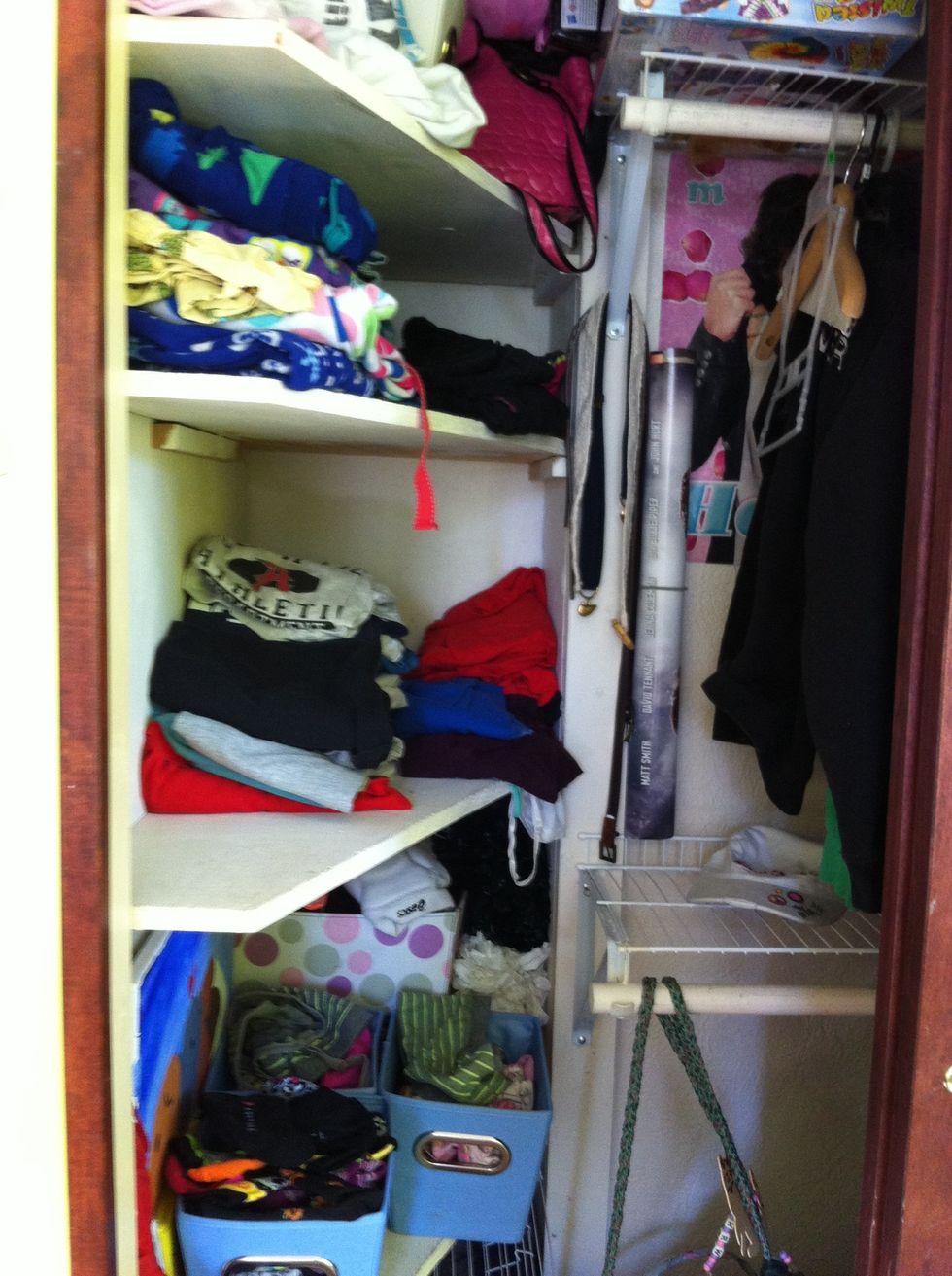 Since I don't have a dresser, all my clothes go in my closet. It's pretty organized most of the time.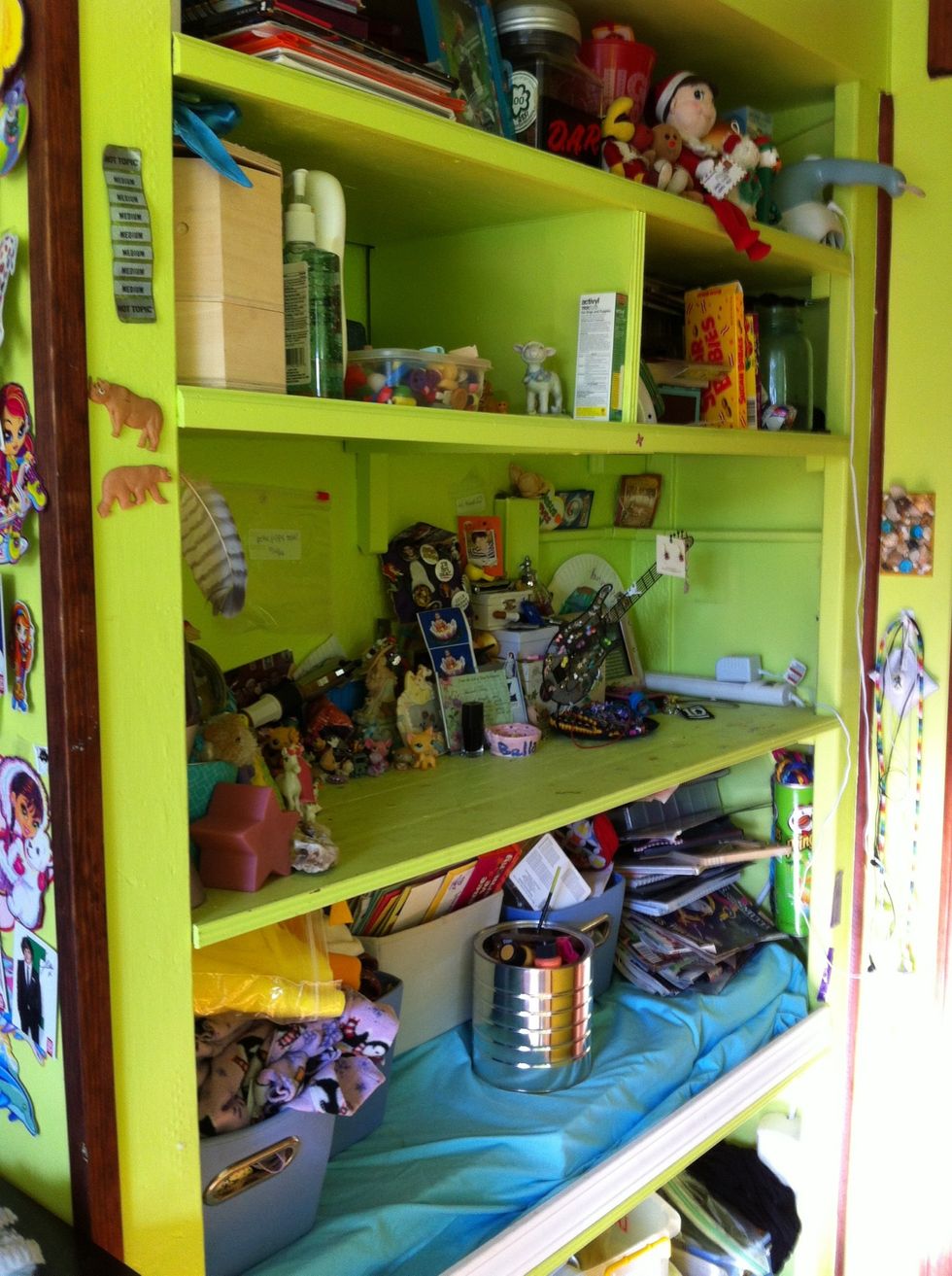 Here's the shelves by my door. They just hold trinkets, books, craft supplies, and cosplays. (You can see my seashell light switch that I made in another guide!)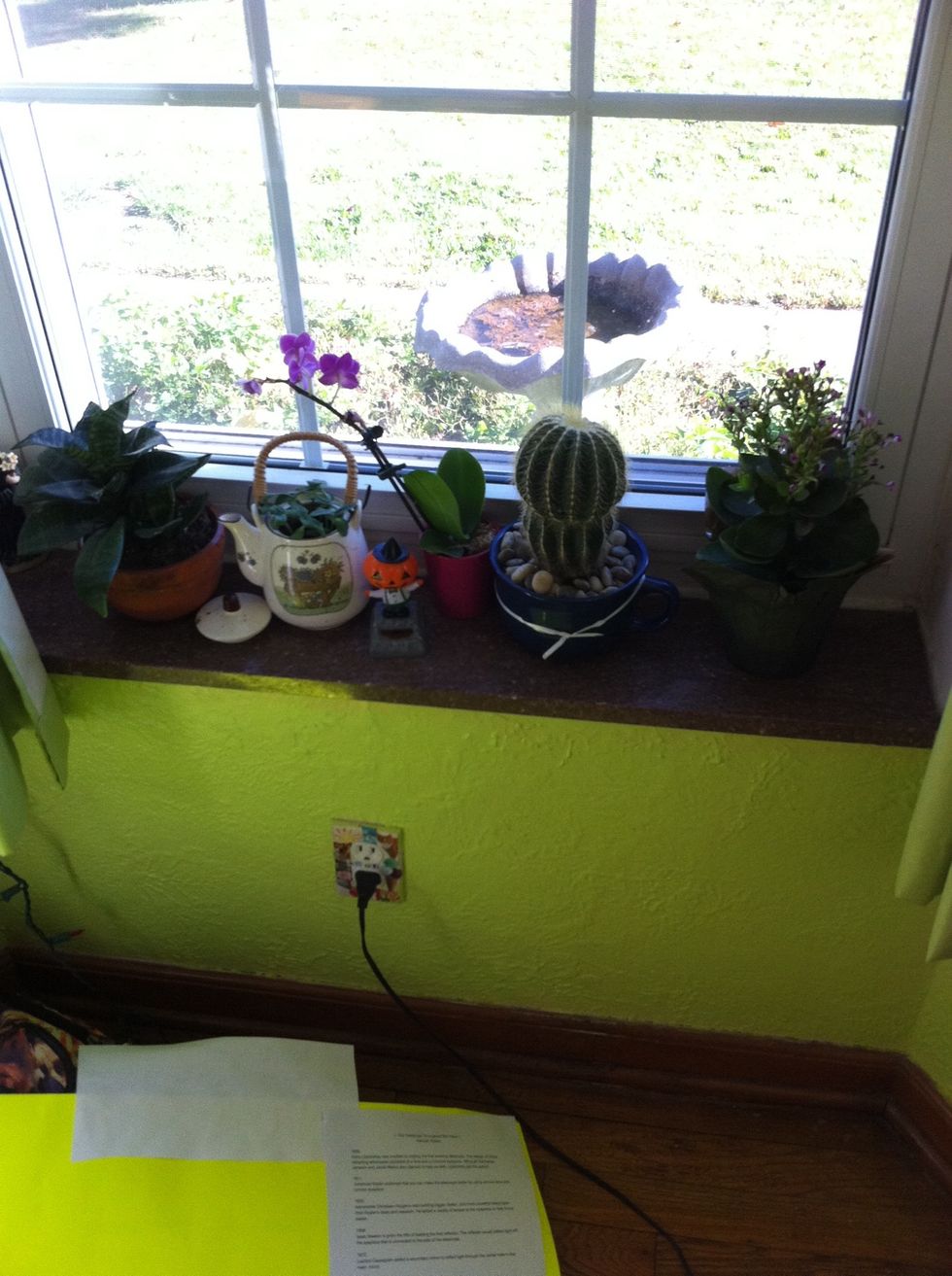 I have a lot of plants in my room! They really add happiness and good vibes to the room. (You can see the outlet cover I made in another guide aswell)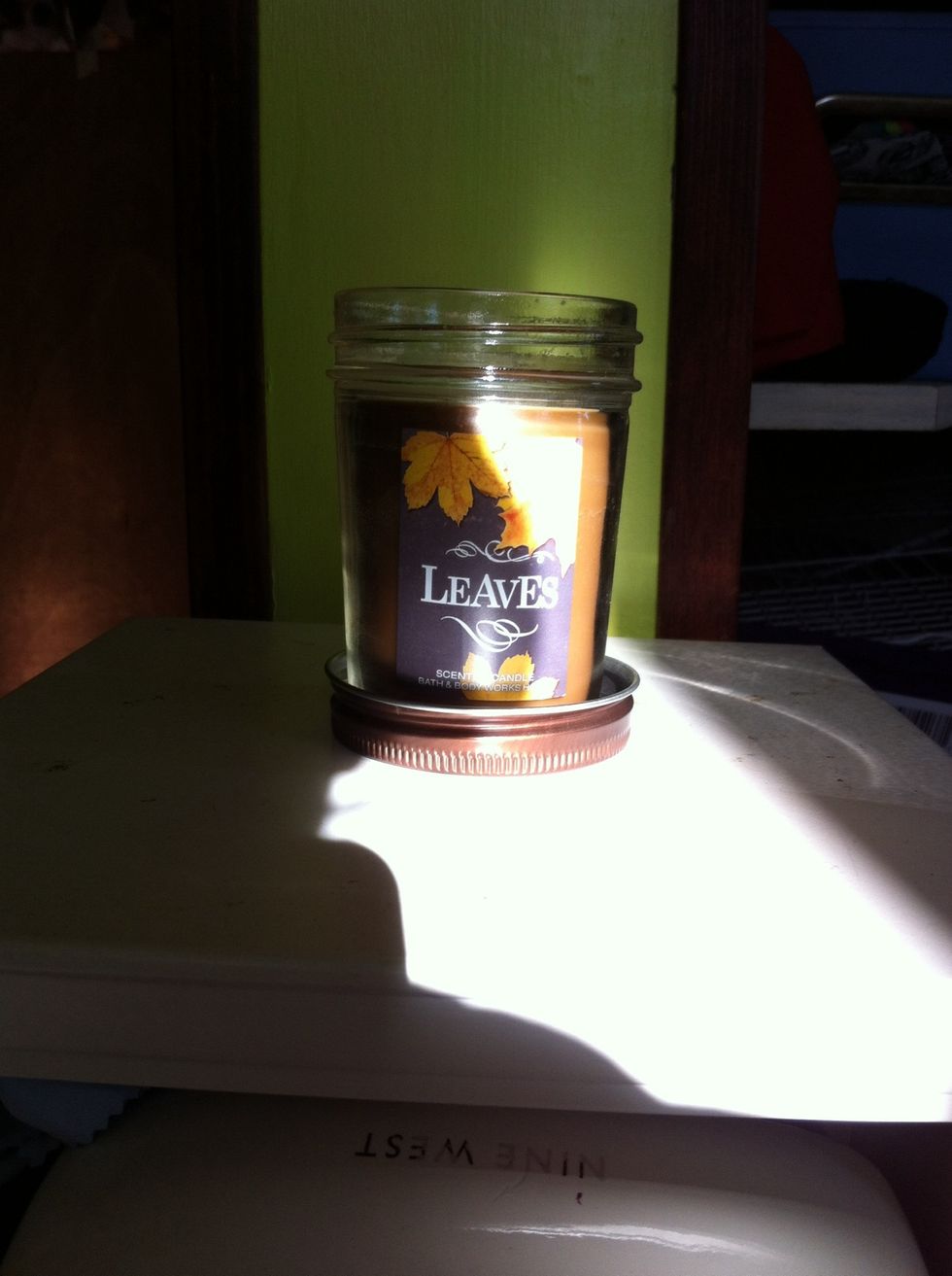 I recently got this candle from B&B and it smell soo great and it gives out that autumny feeling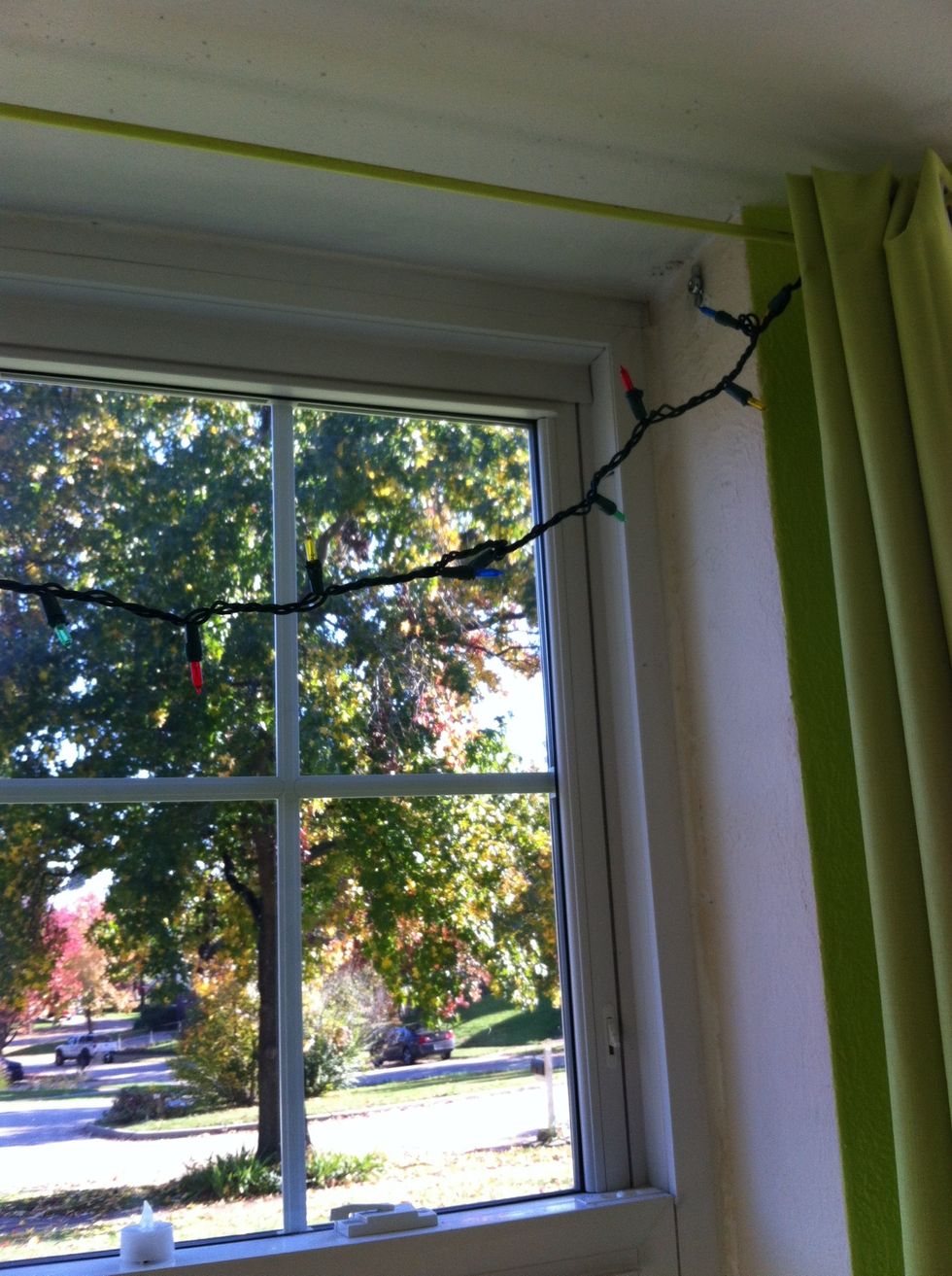 I have christmas lights in my room, but I can't really turn them on since it's daytime.
If you don't have another light in your room othe than the one in the ceiling, I suggest you get one. They're just so relaxing and cute. I have a bedside lamp and Xmas lights.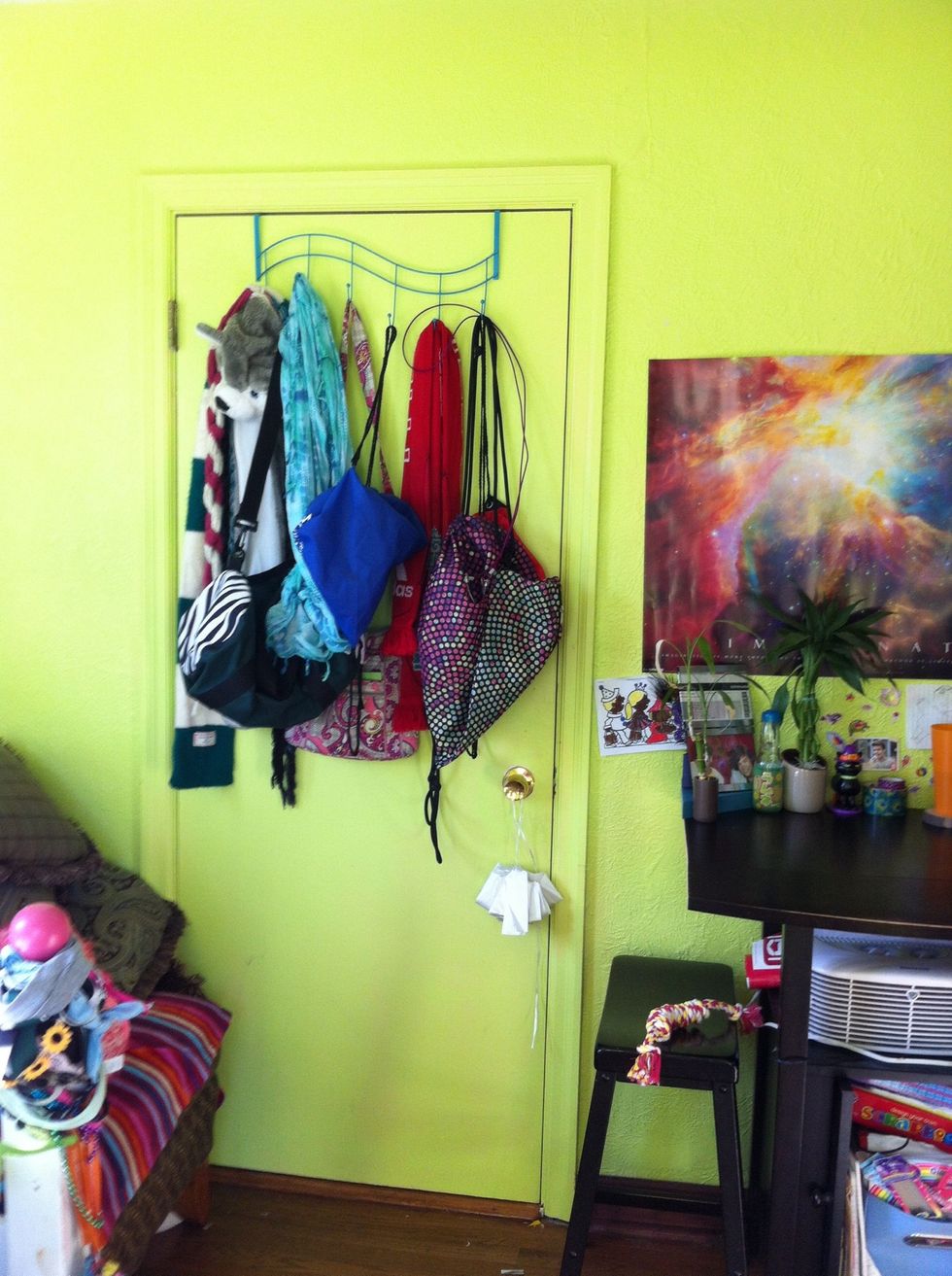 I have a door that separates my room between my younger sisters. There's a door hanger on it that I hang all my bags on. I got it at target about a year ago and it hasn't broke yet!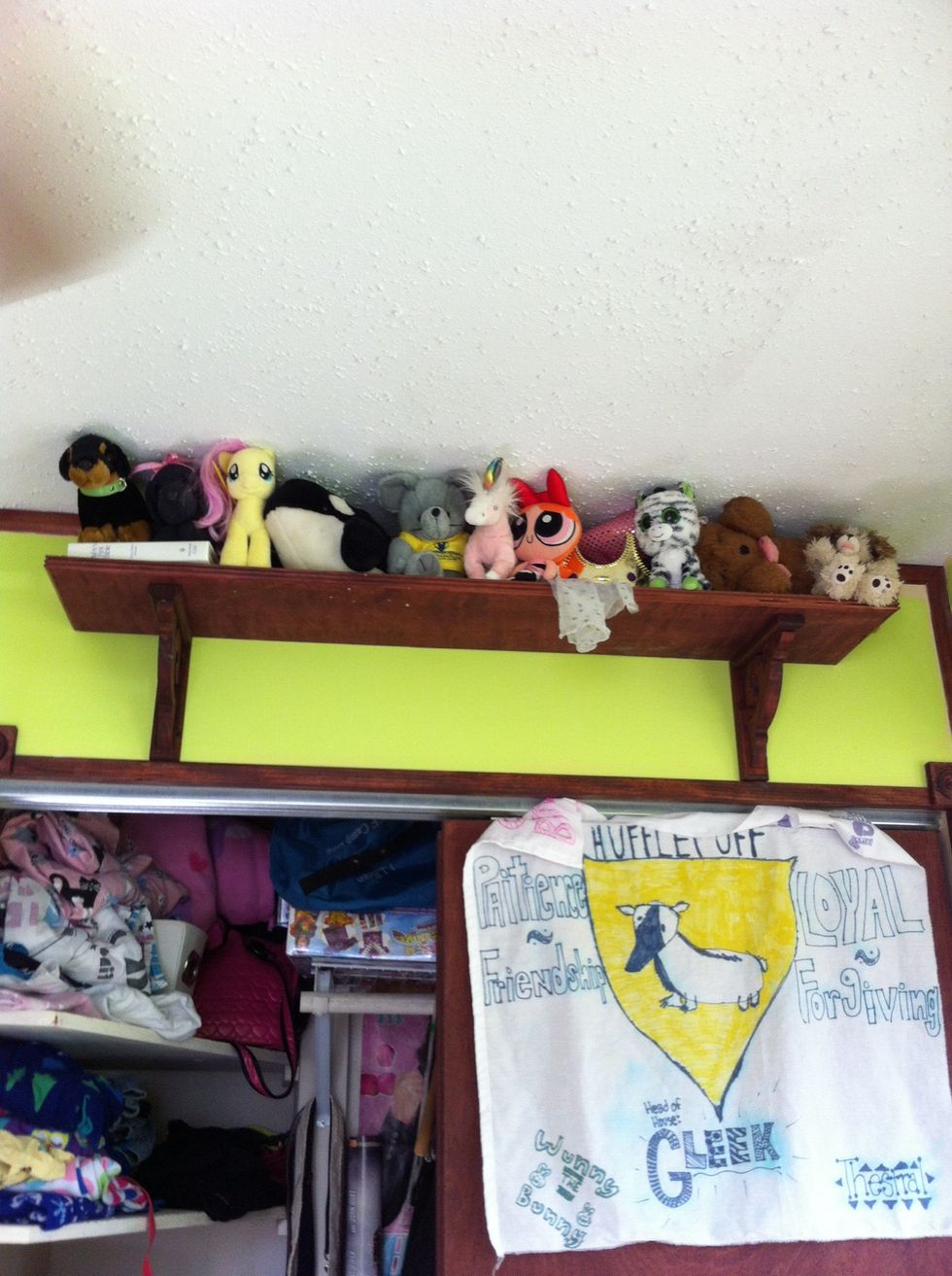 Since I'm a bit old to have stuffed animals on my bed, I have a shelf above my closet with my childhood buddies resting on it. :)
(Since my comforter is still being washed, I will post some bed pics later)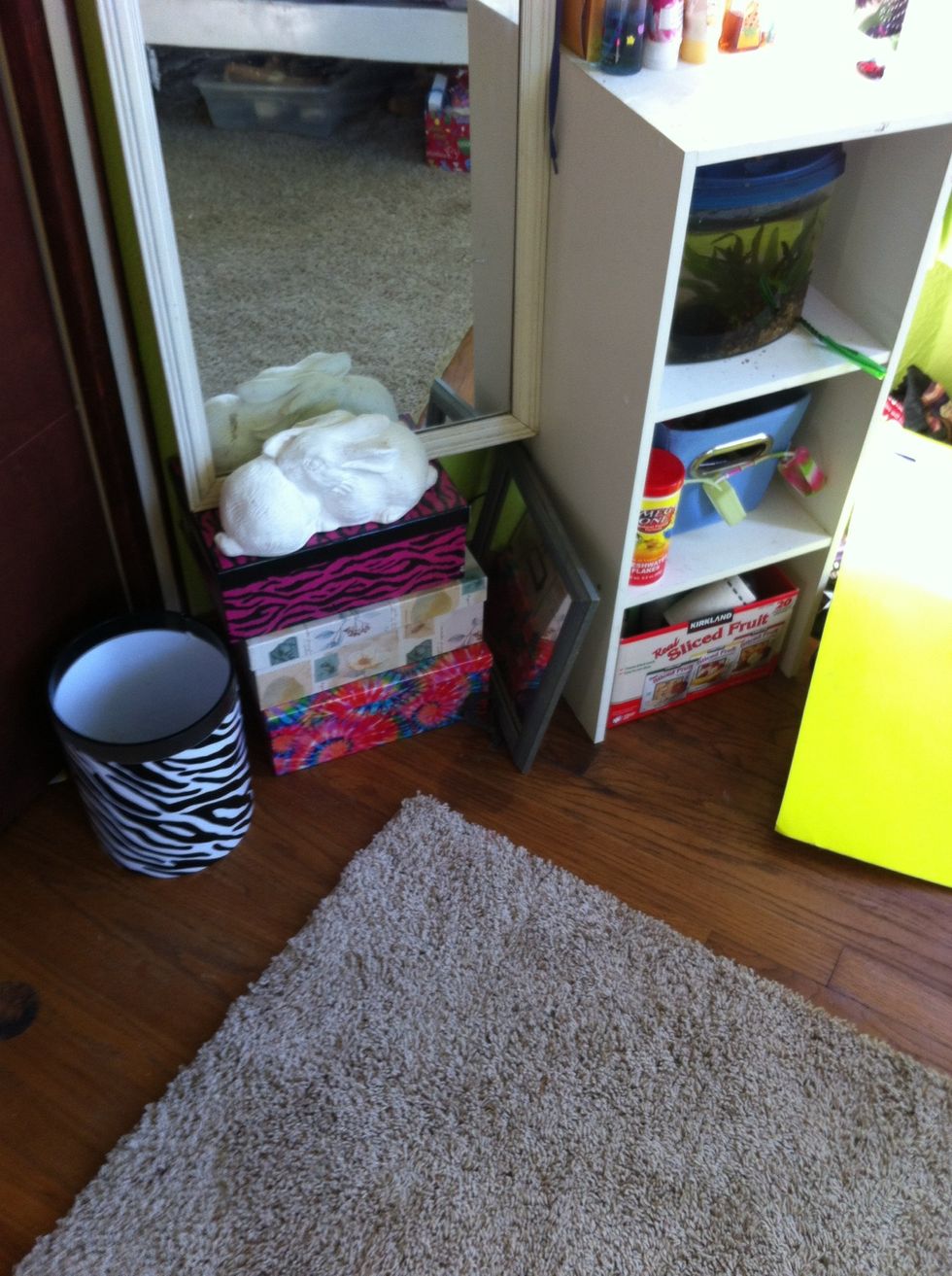 ((extra pics))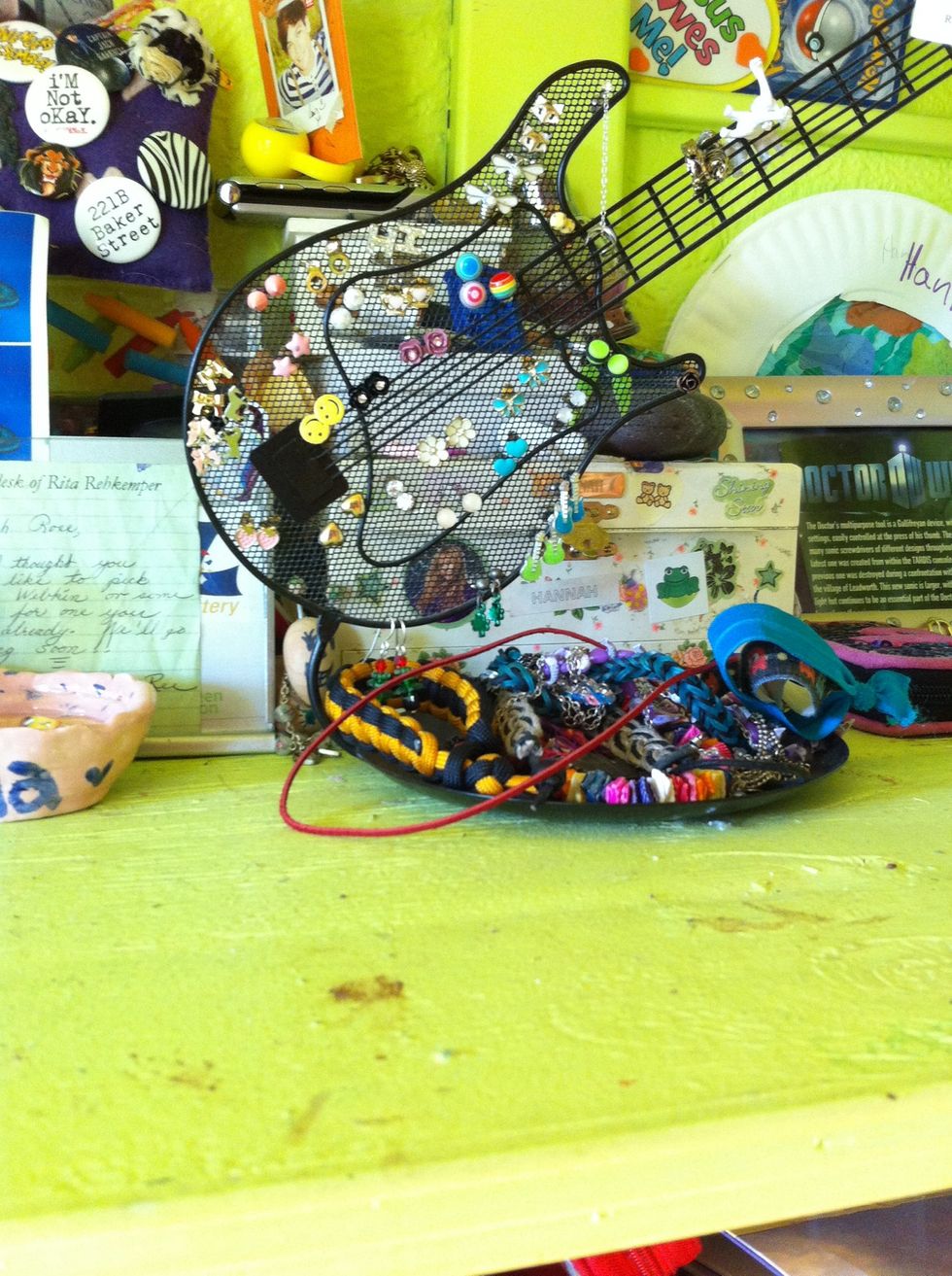 My earring organizer
I hope you get some sort of inspiration from this guide! Message me for questions! Don't forget to like, comment, and request another guide if you wanna hear more from me! Have an amazing day!!;)
duster
sanitizing wipes
laundry basket
tape/tacks/sticky tack
season-fitting decorations
Hannah W
♥︎ 390 little butterflies ♥︎ 2015 is here! Who's excited? Requests welcome for crafts and diys!