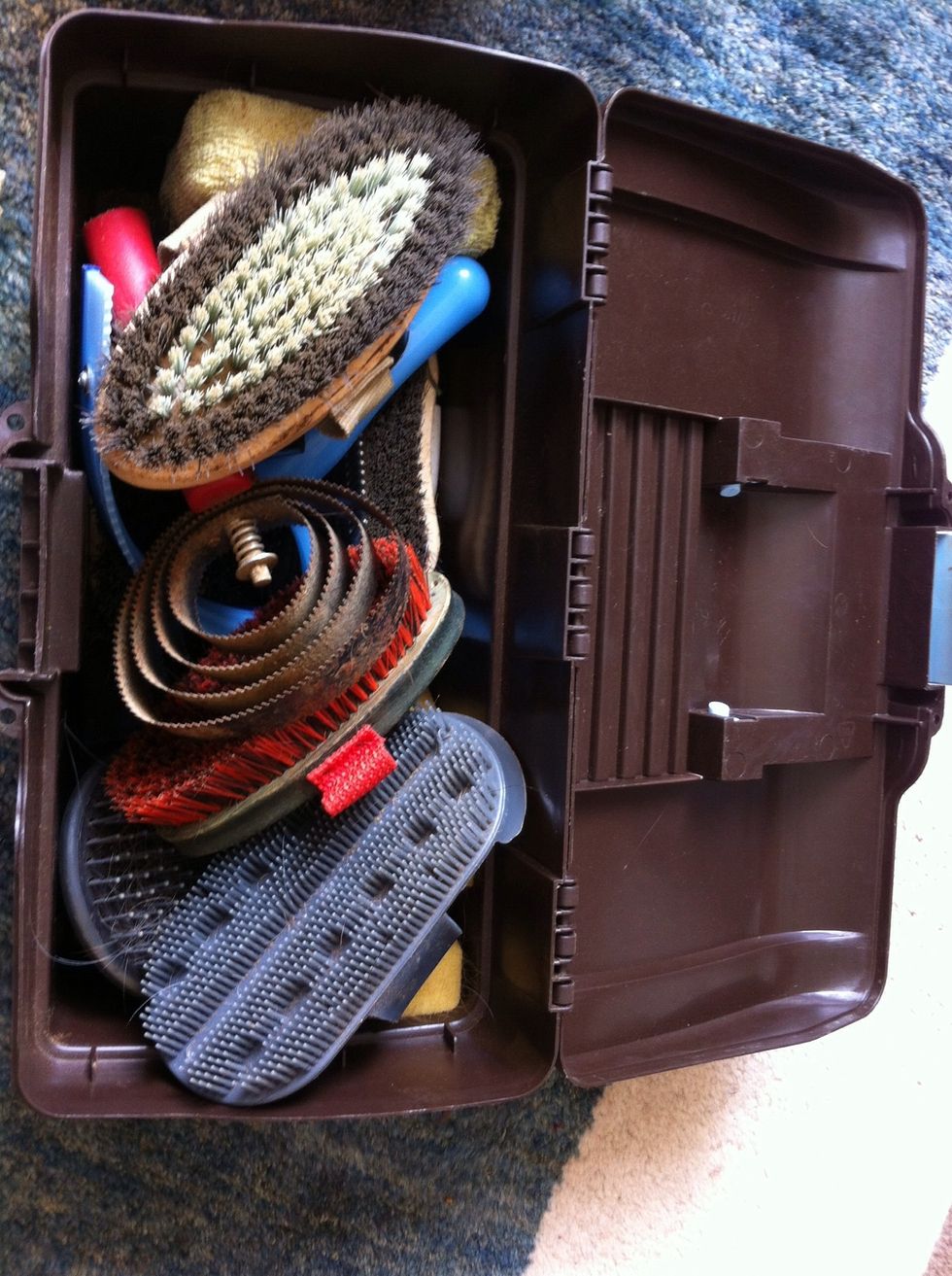 Grab your horrid dirty brushes and get some lukewarm water with persil (or whatever you have) in it
Like this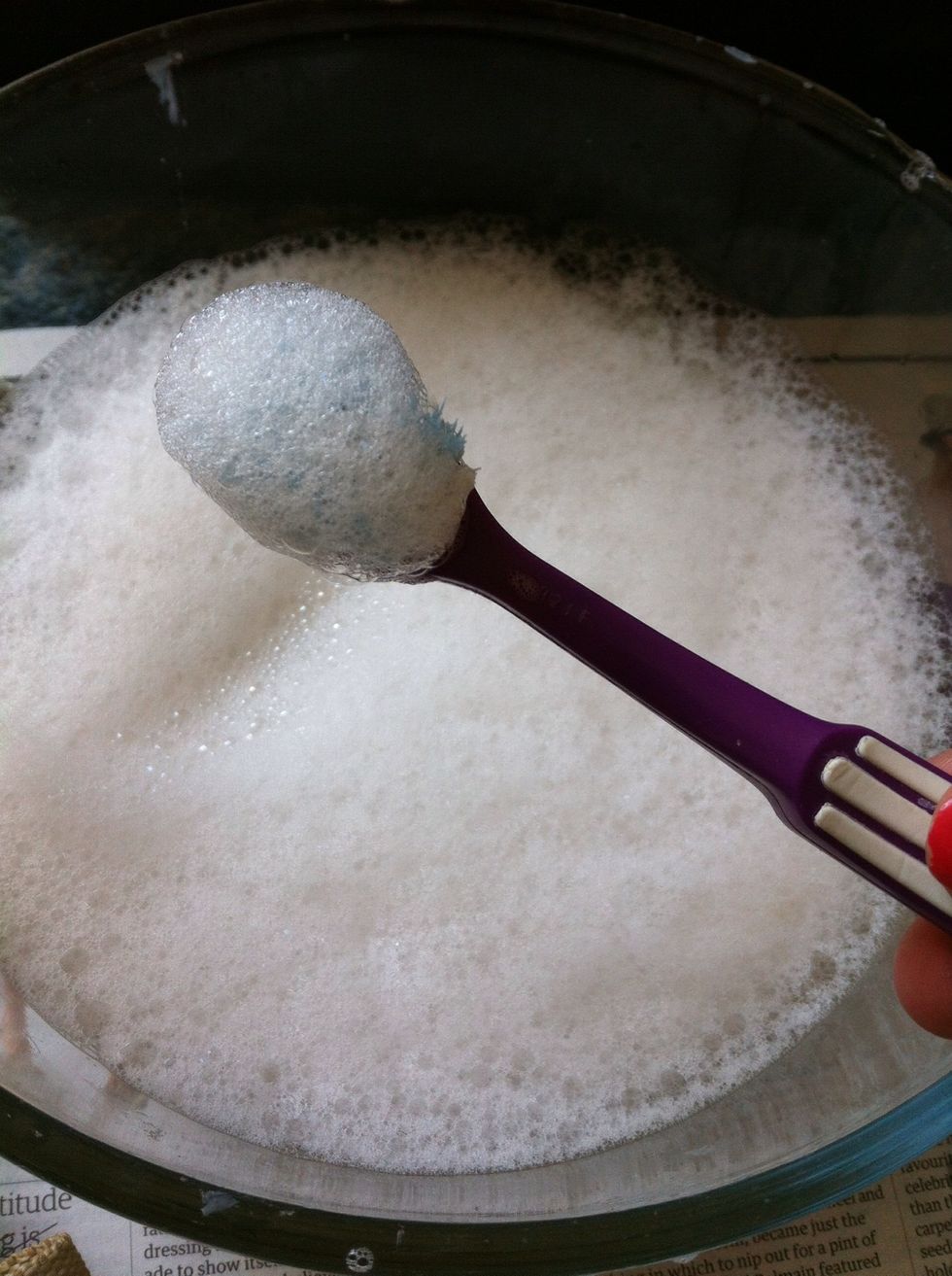 Grab some bubbles on your toothbrush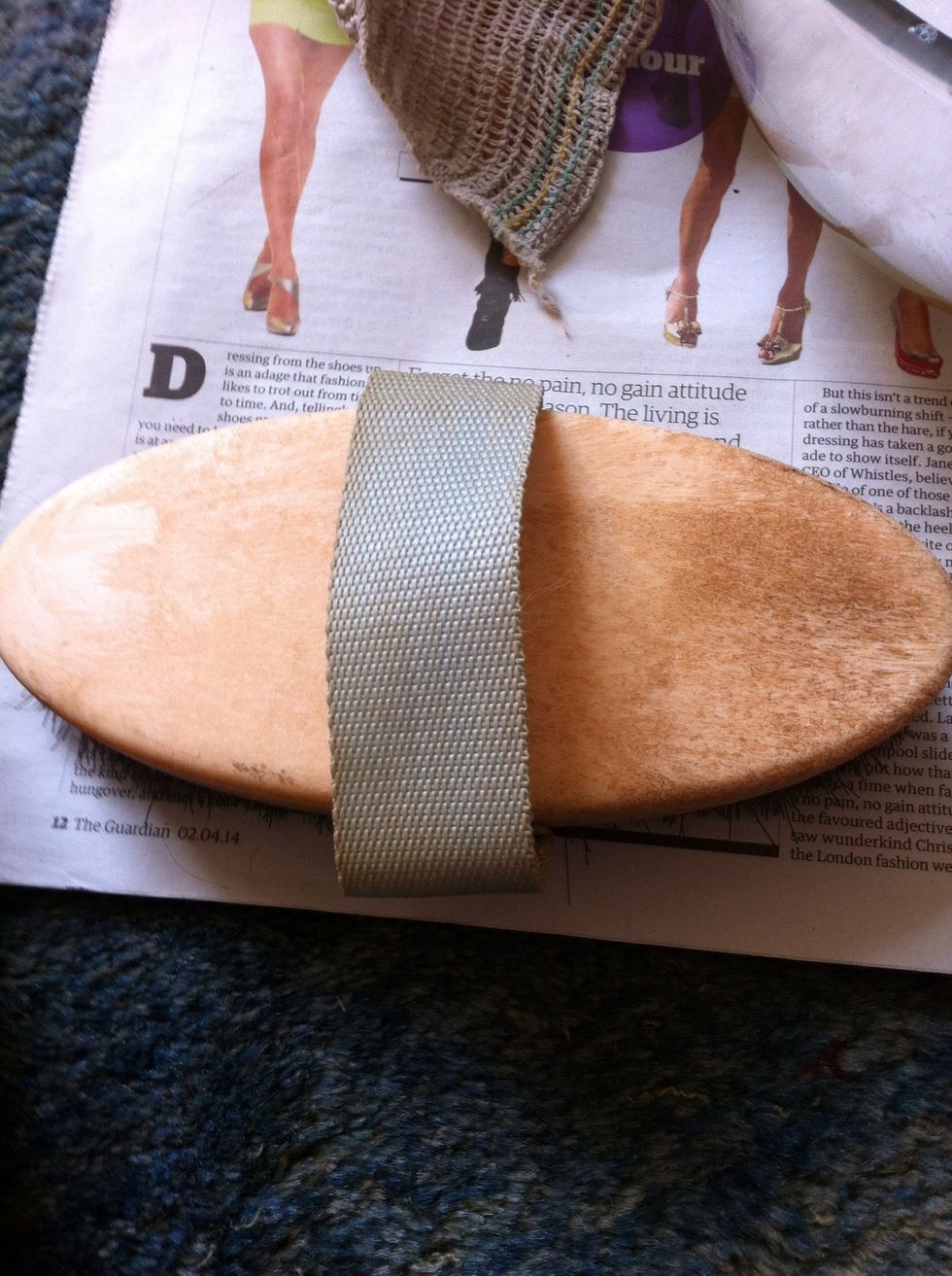 On your newspaper, scrub the back of your brush and wipe off the bubbles with your cloth to see where the dirt still is left: after right: before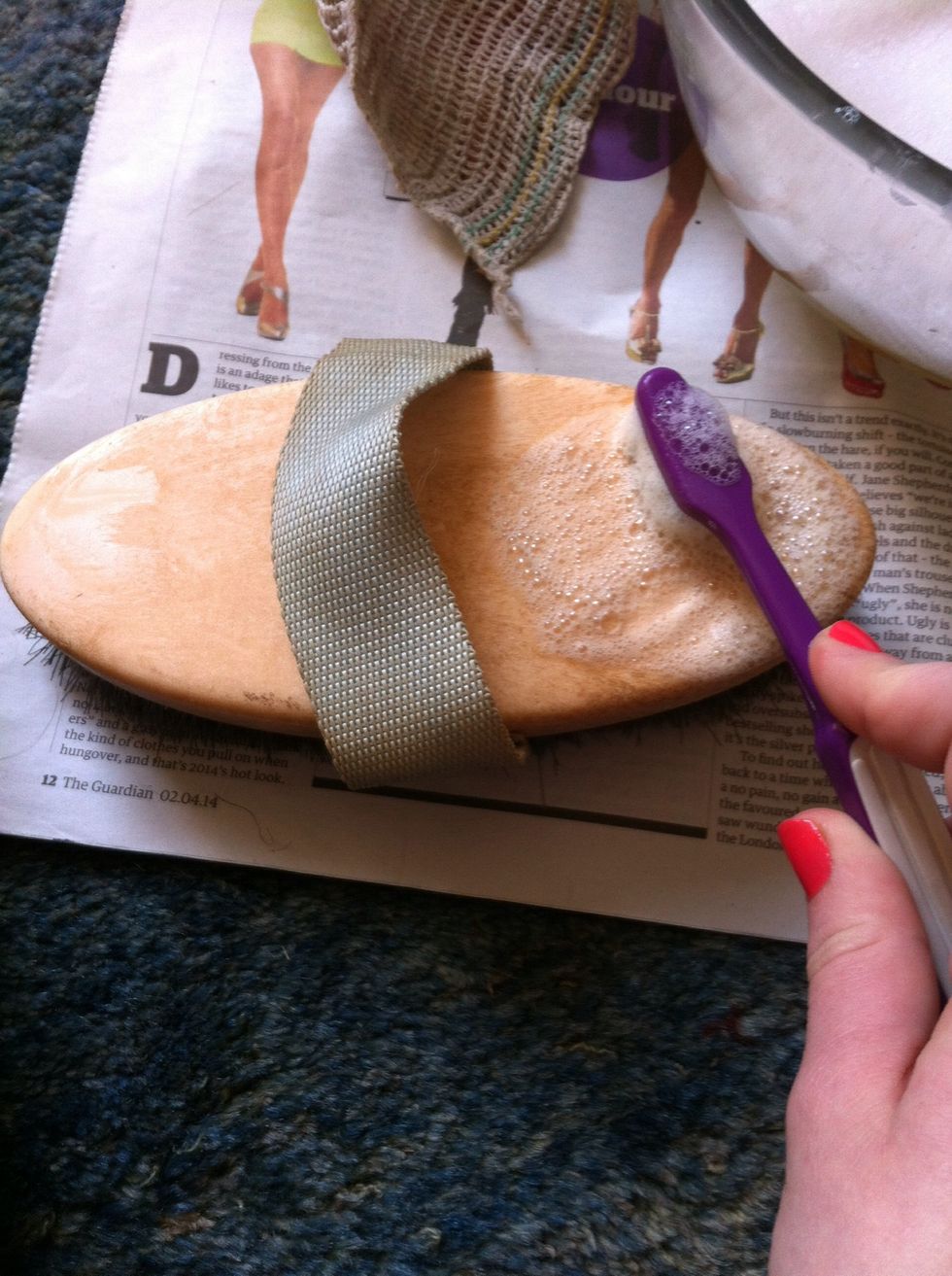 Like this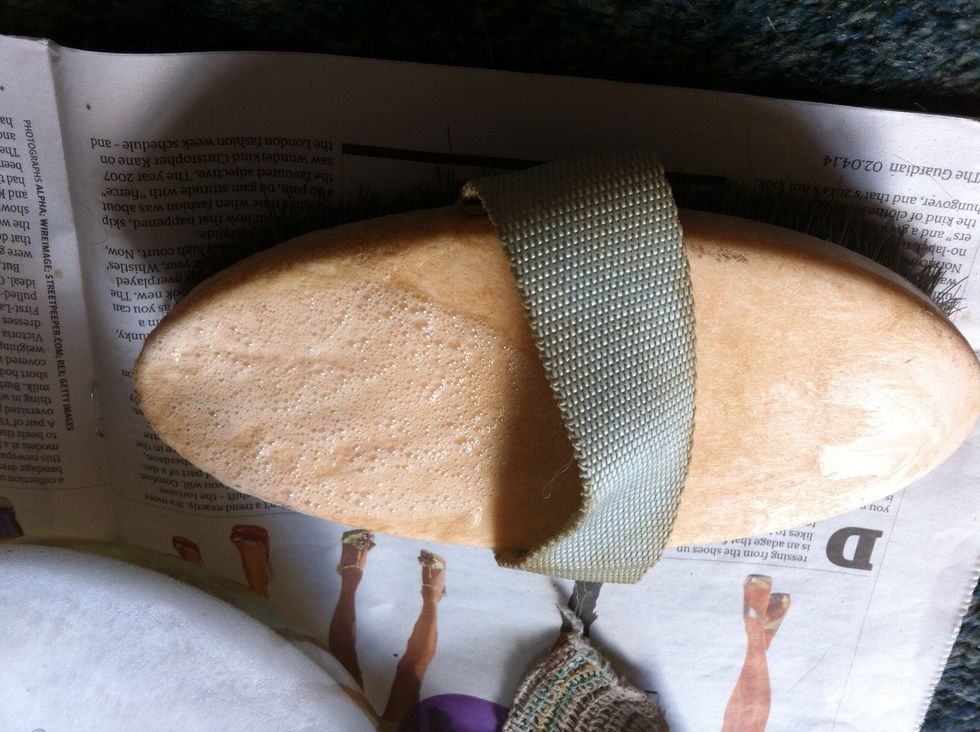 And again...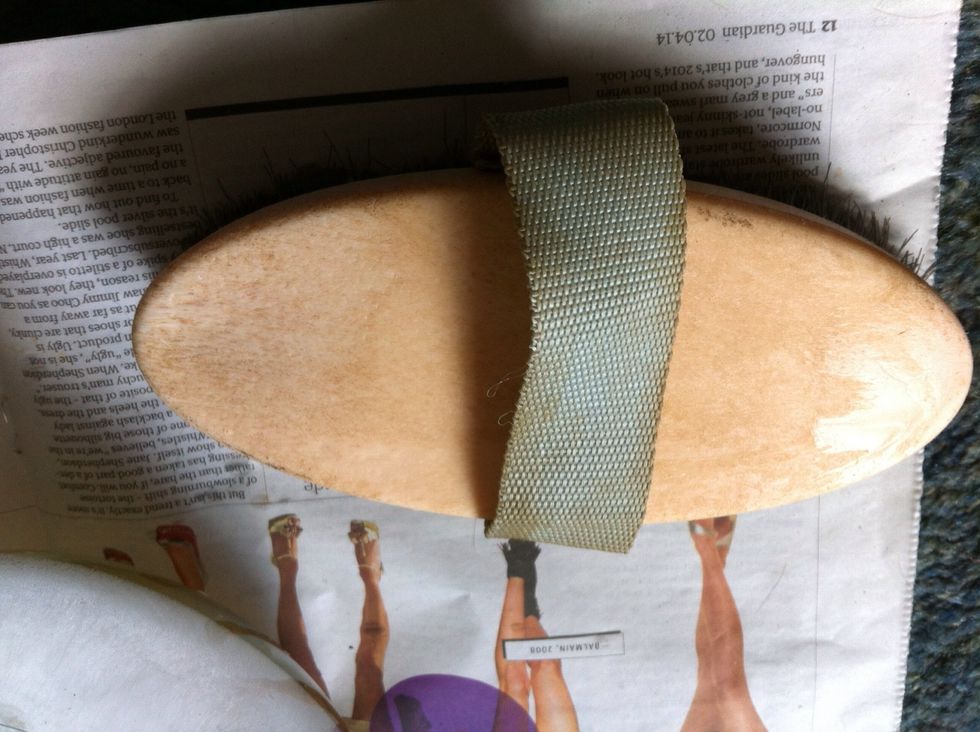 All clear! Don't do this if your brushes have a wooden back because the wet will get into them and they will rot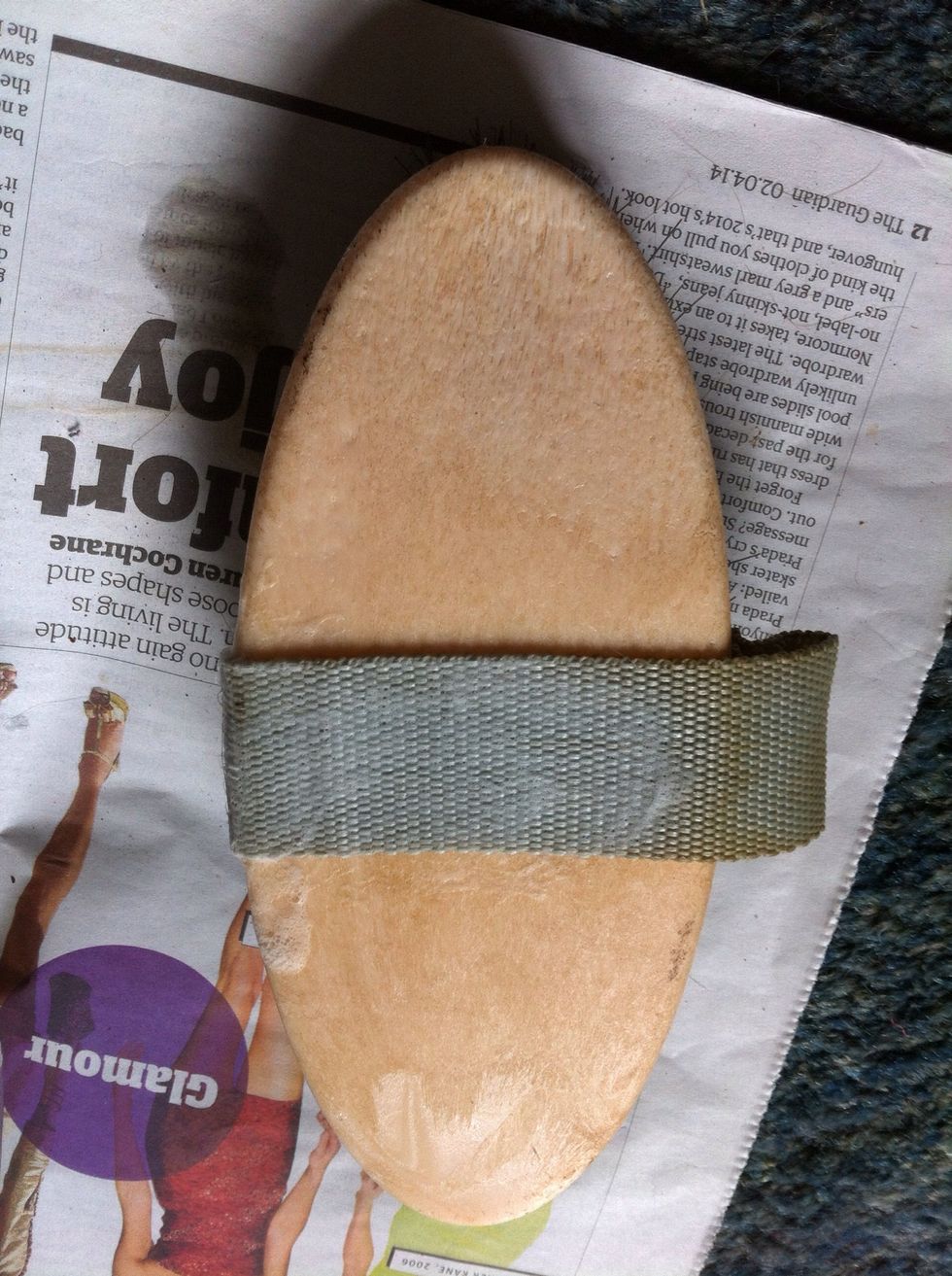 Go for the strap! Flatten it down and scrub along that too, don't forget the underside because that's where your hand will be :)
A note on lavender oil: if you have this, add it to your water now. It really helps to lift the dirt and leaves your brushes smelling lovely!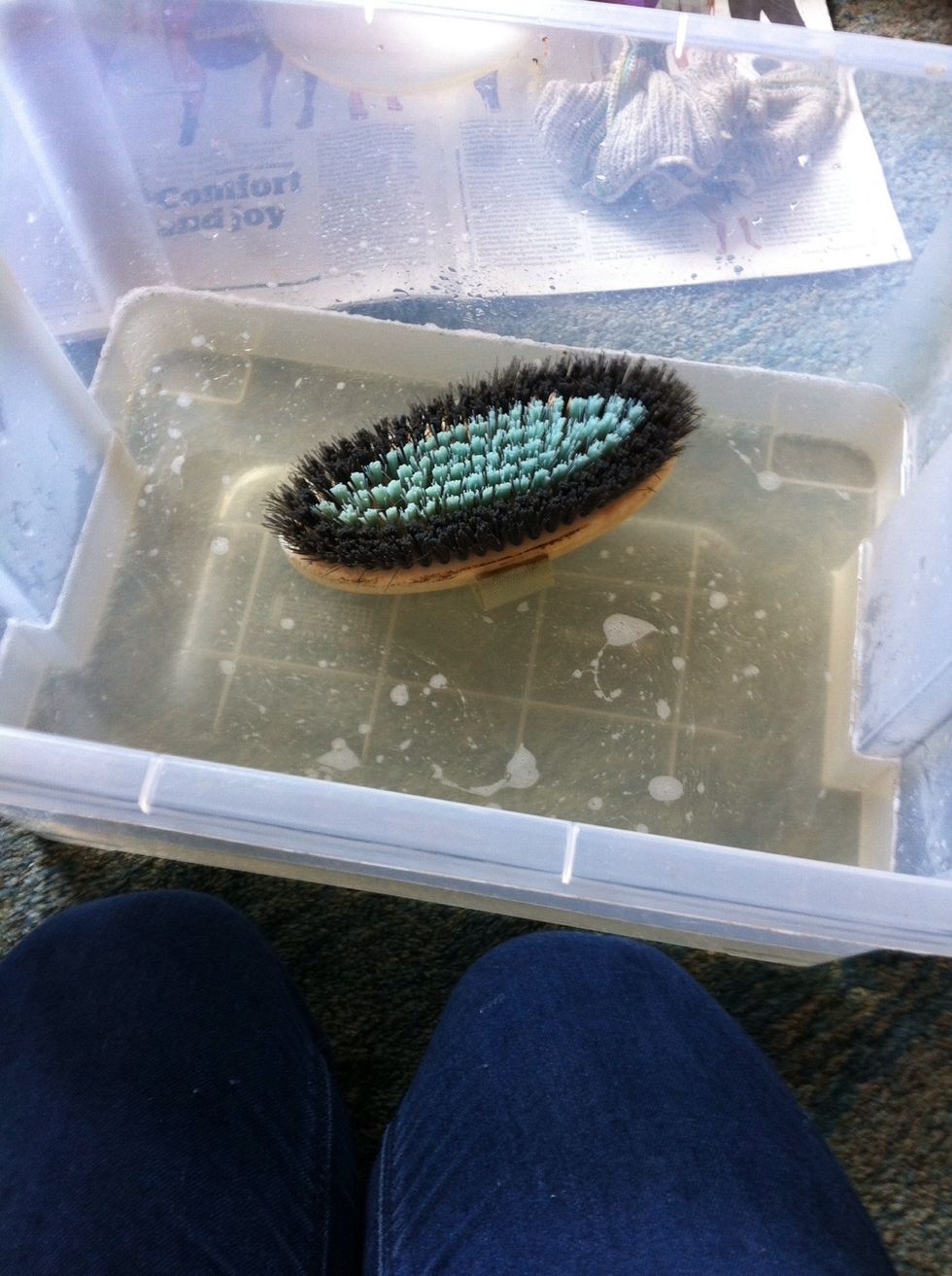 Put it in your bucket of water (with or without lavender) and rinse any exess soapy bits off. Again, not for wooden backs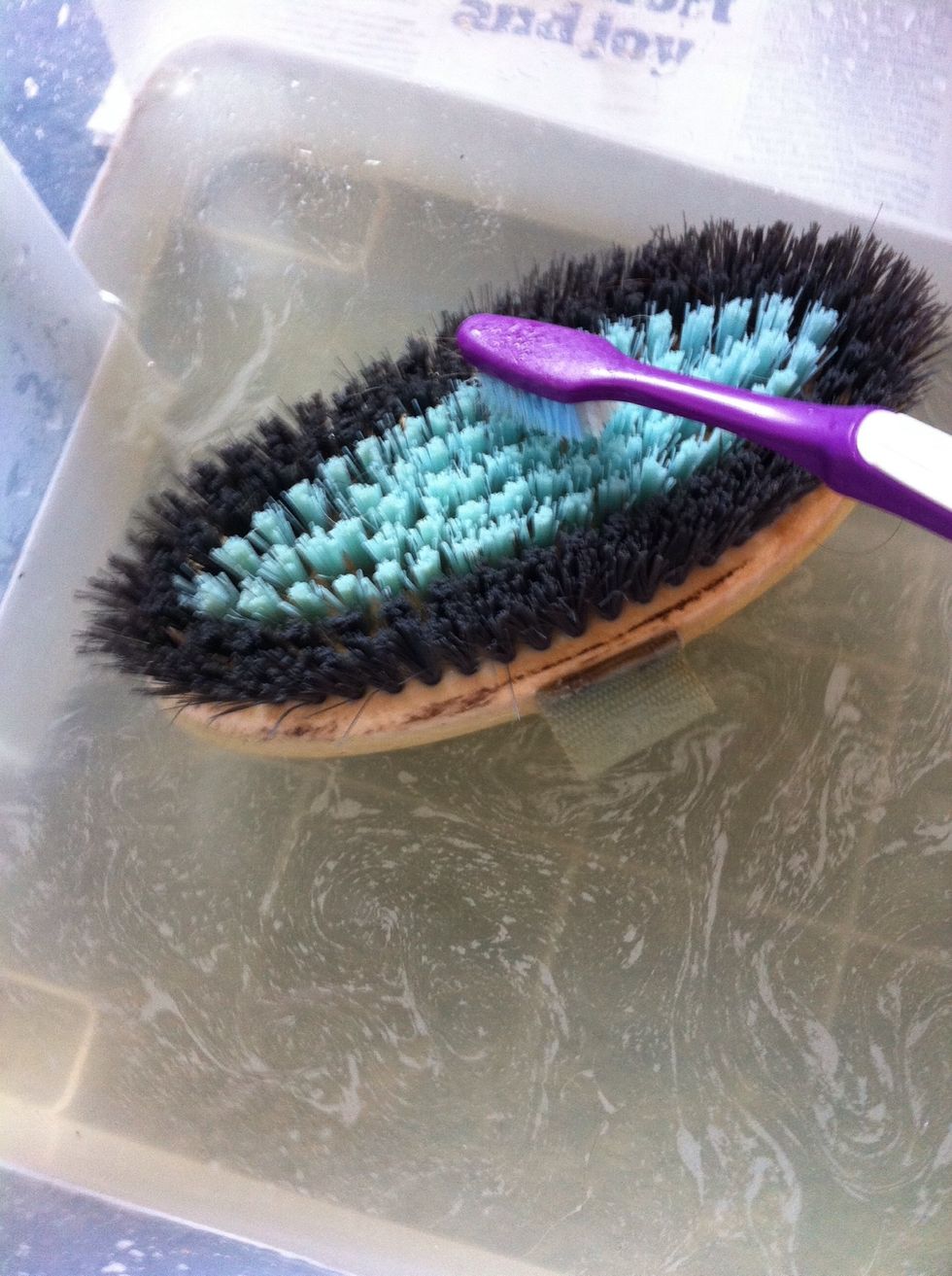 Submerge your brush in the water now and push the toothbrush right into the bristles. You want to clean the muck off the 'board' right at the bottom of them, so be firm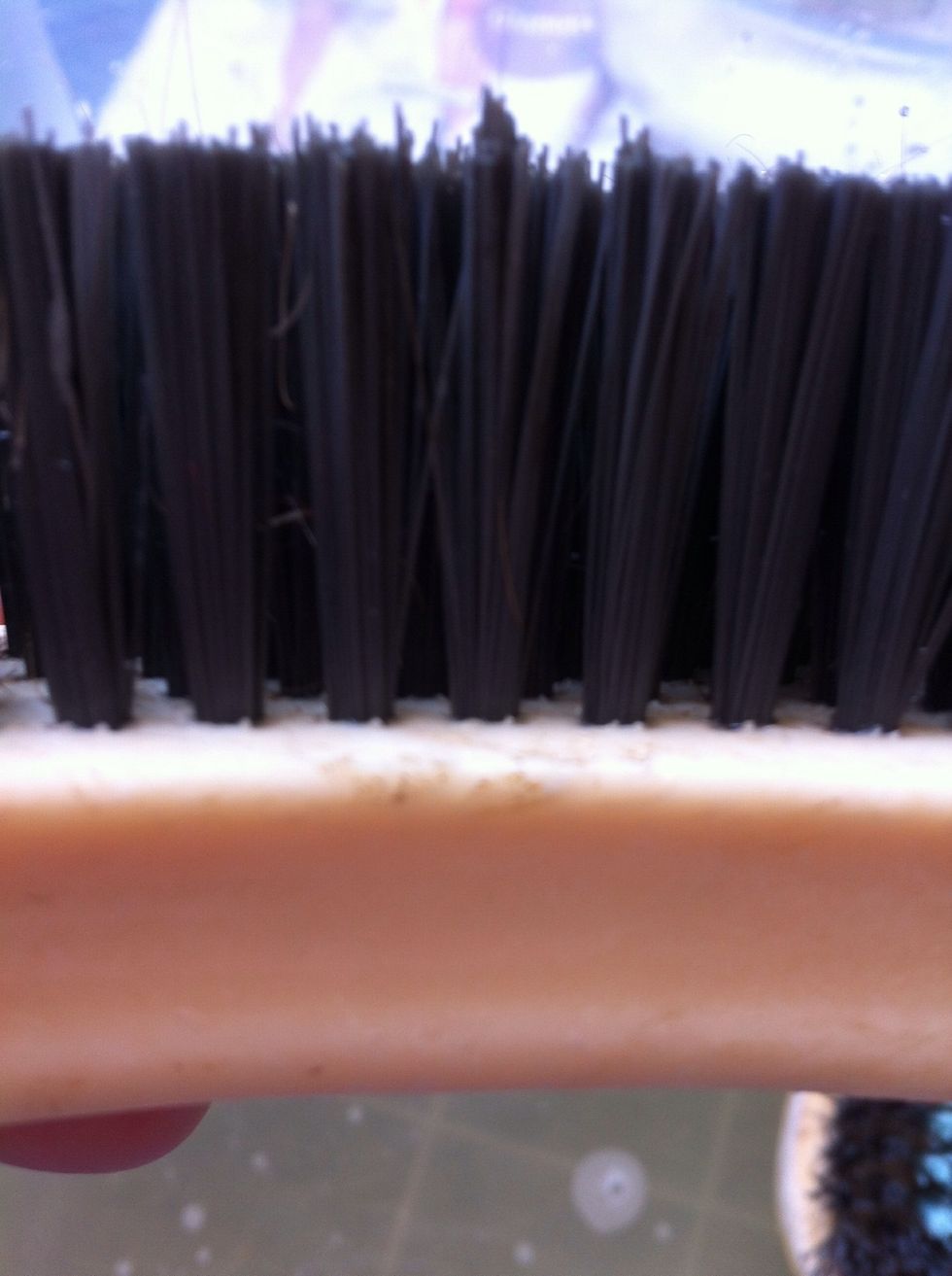 Clean at the base of the bristles now!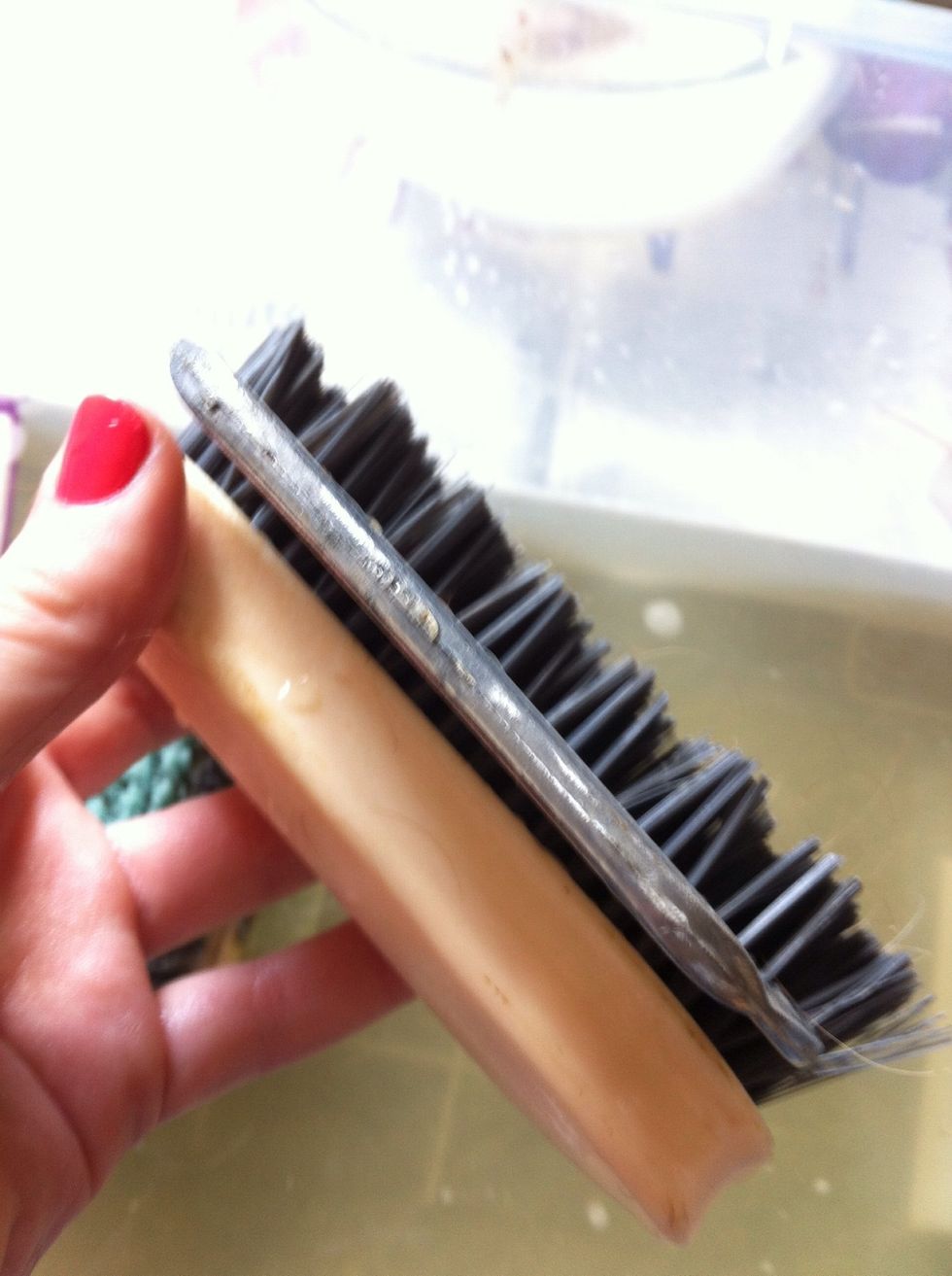 Use a mane and tail comb, and push it into the bristles and pull upwards to separate them and get any hairs out. Don't worry too much about hairs, they can come out later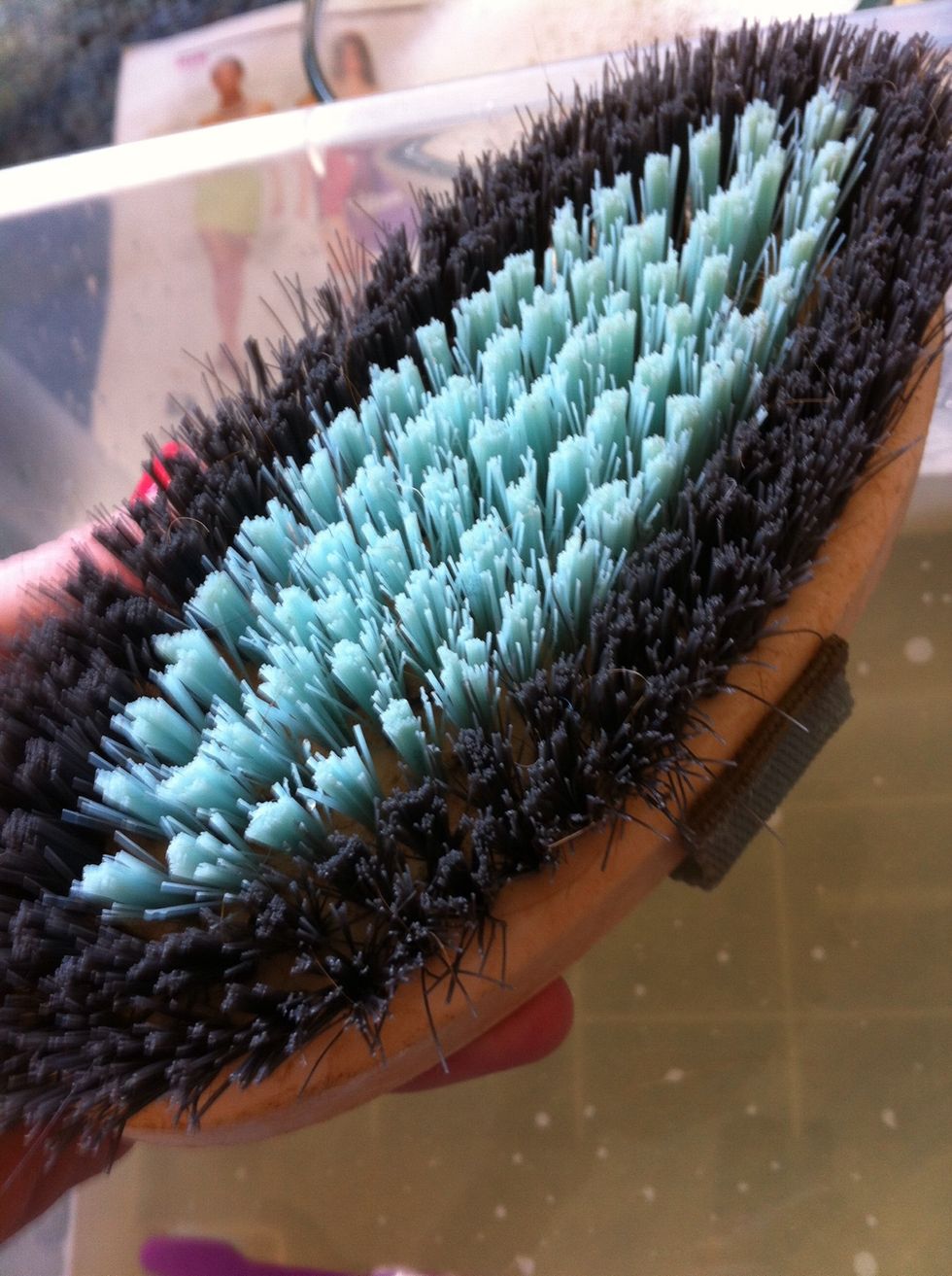 1 clean body brush!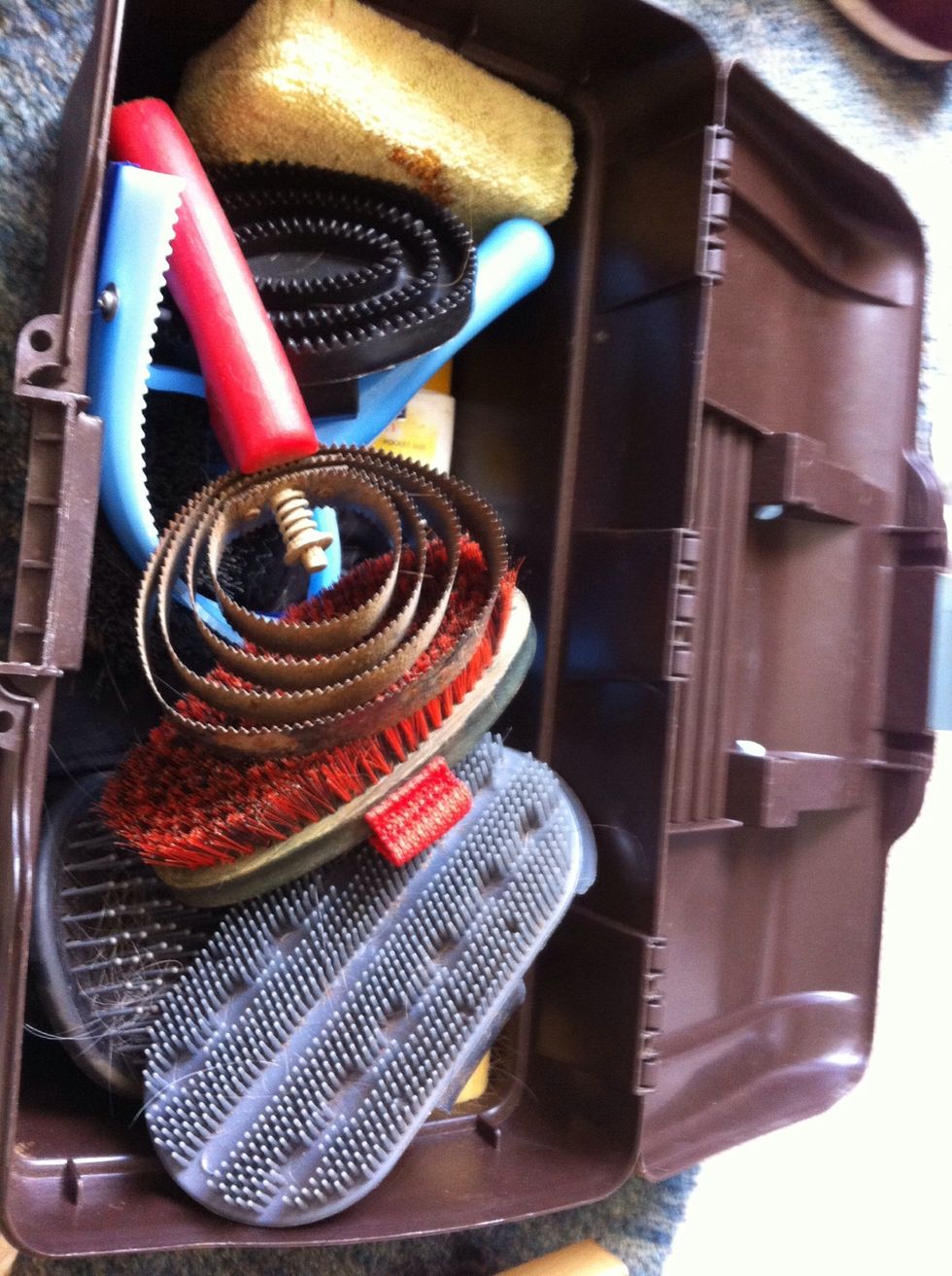 Now, for the rest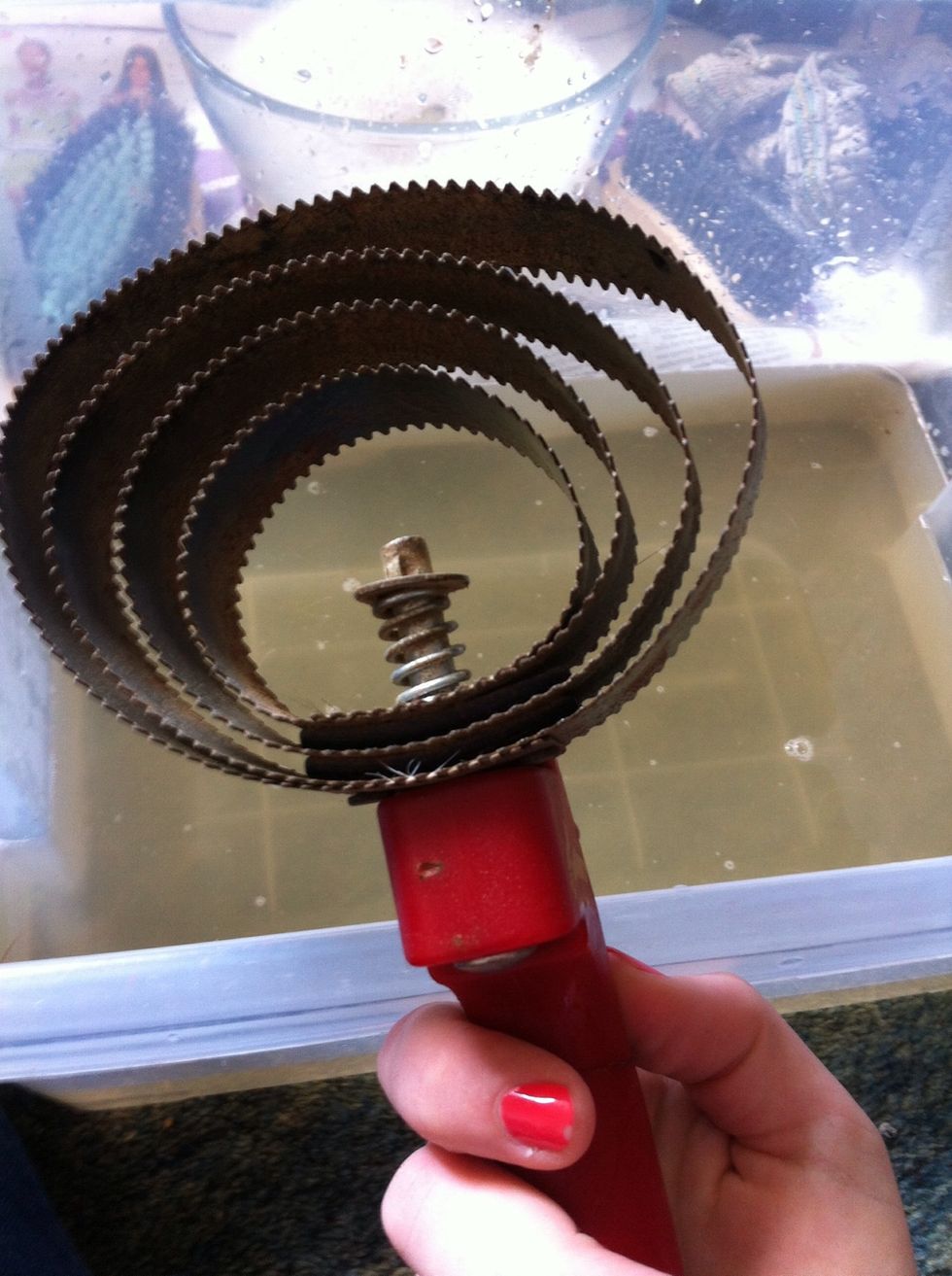 With a metal curry comb, get the toothbrush all the way round it. This is what you use to clean your other brushes so what is on them will be all over it. Dry it soon afterwards to avoid rusting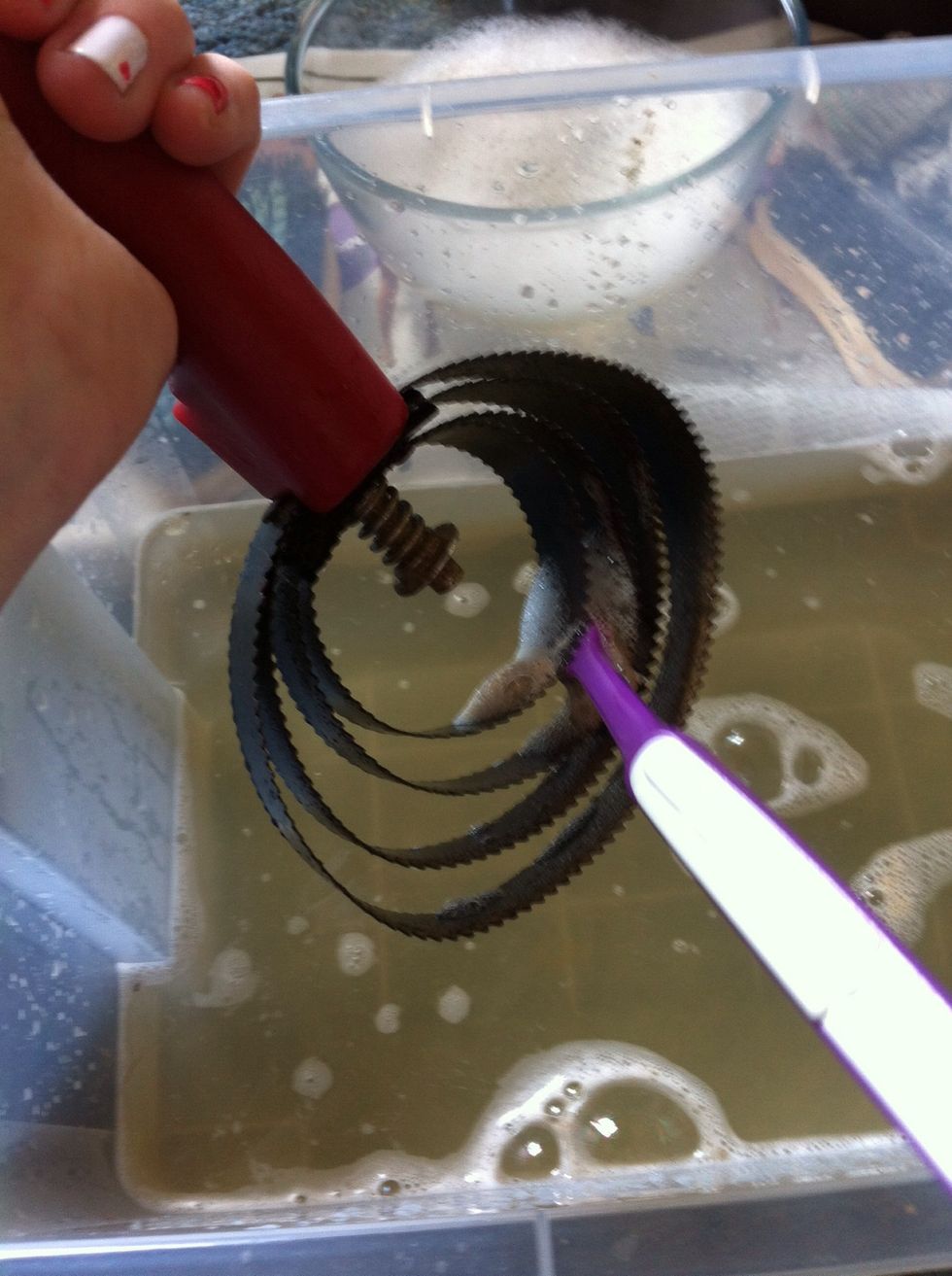 Get all of it clean!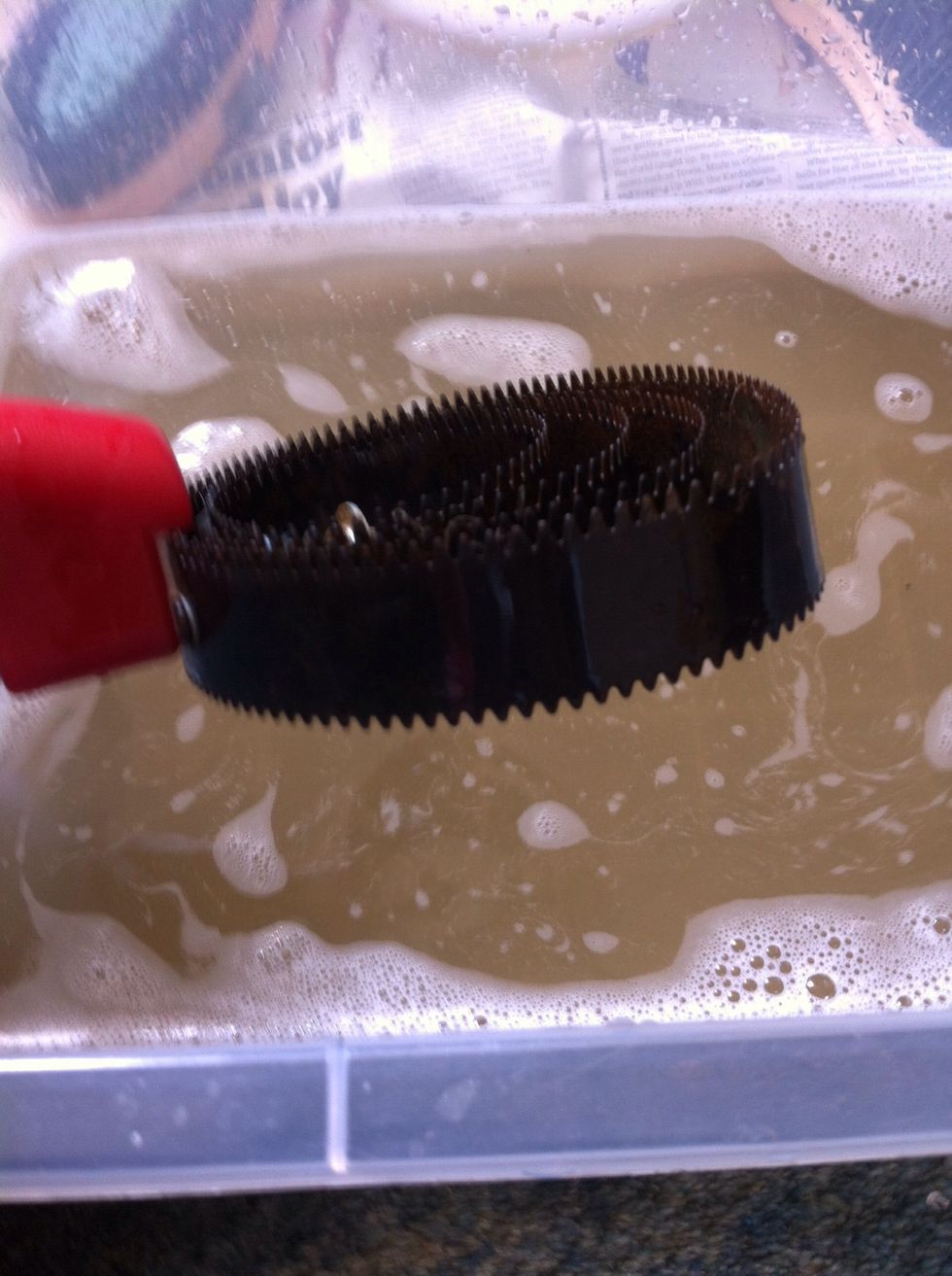 Much better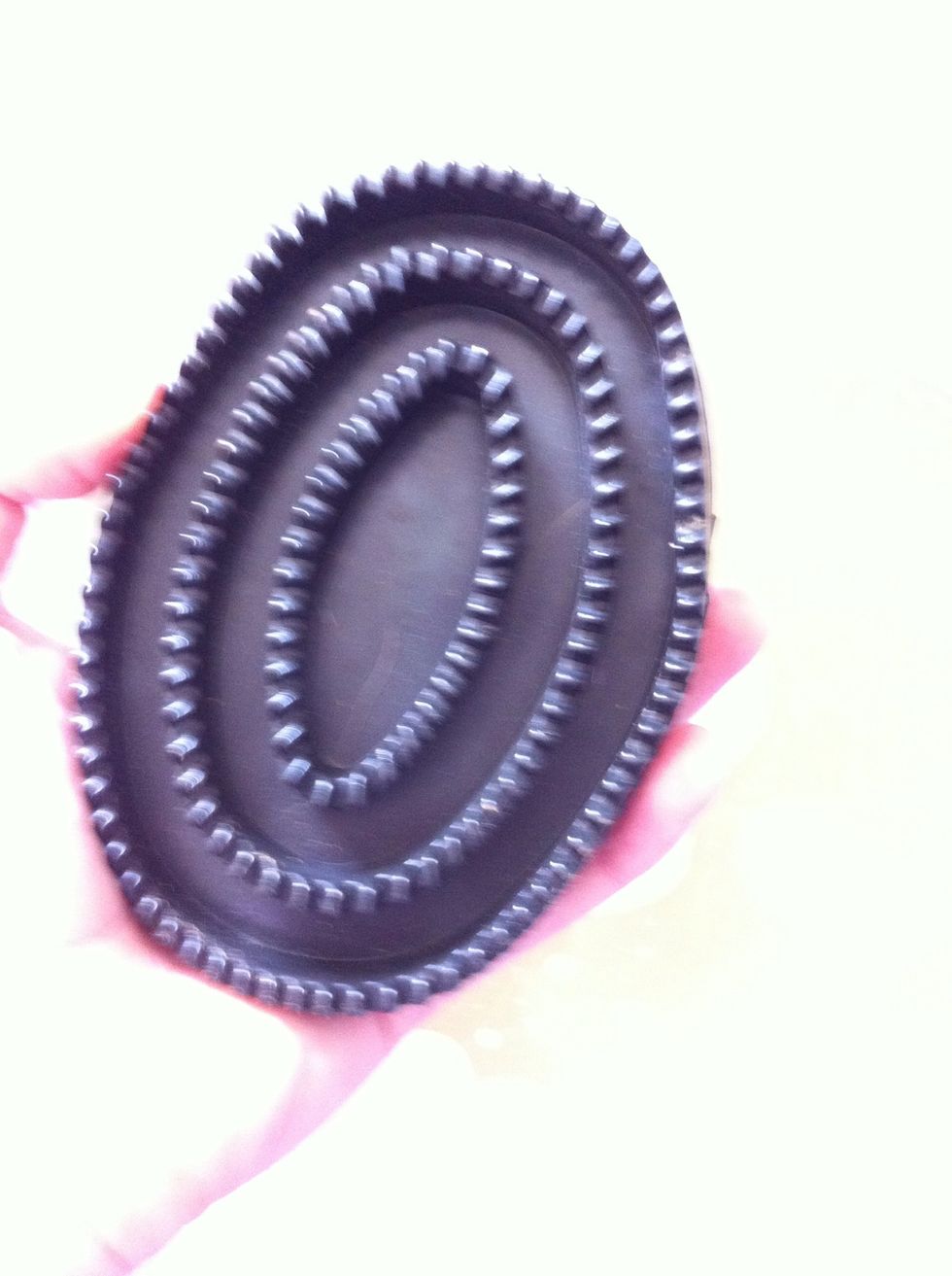 Rubber curry comb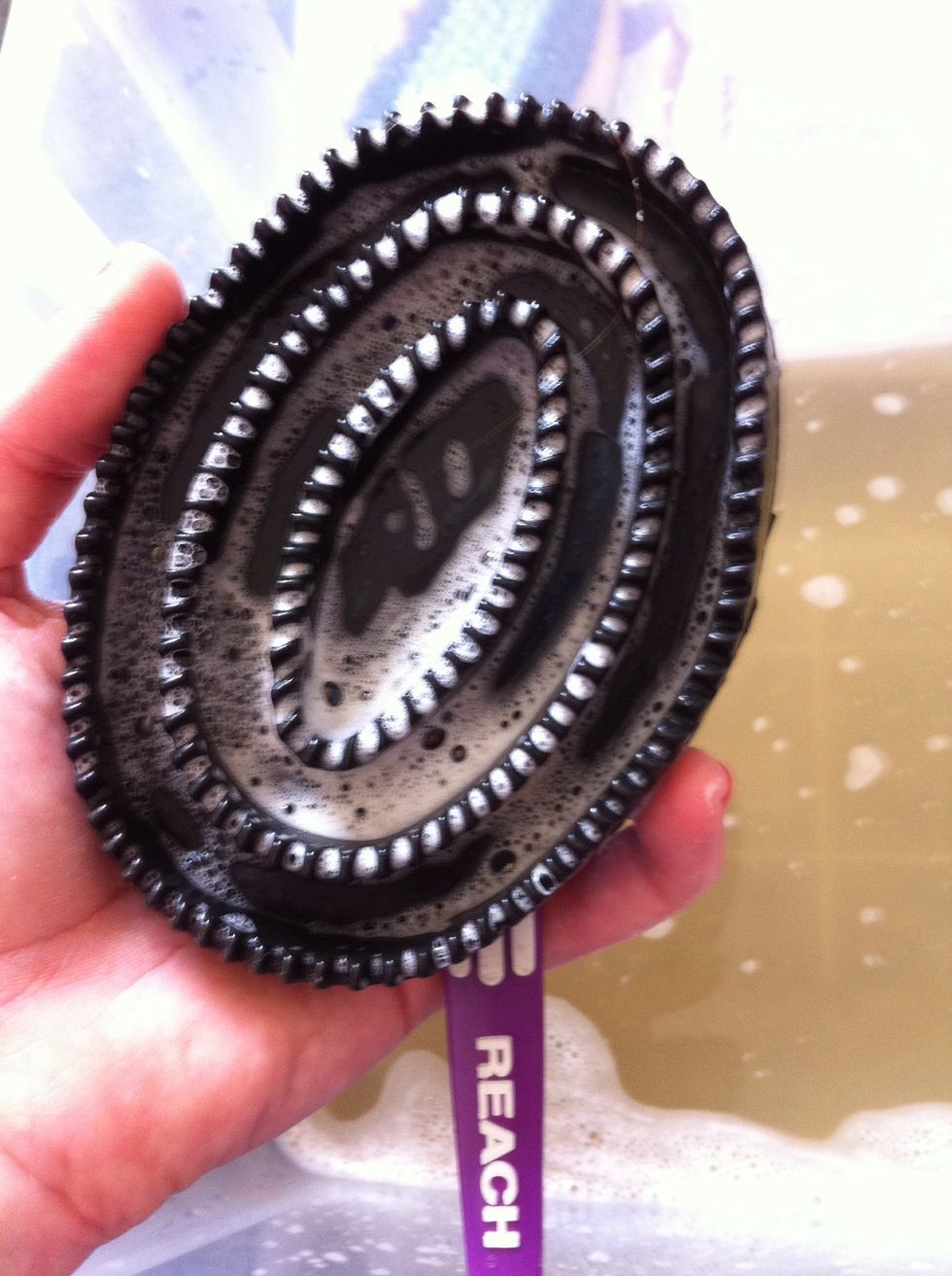 Push the brush between the 'rows' of teeth. Don't forget the back!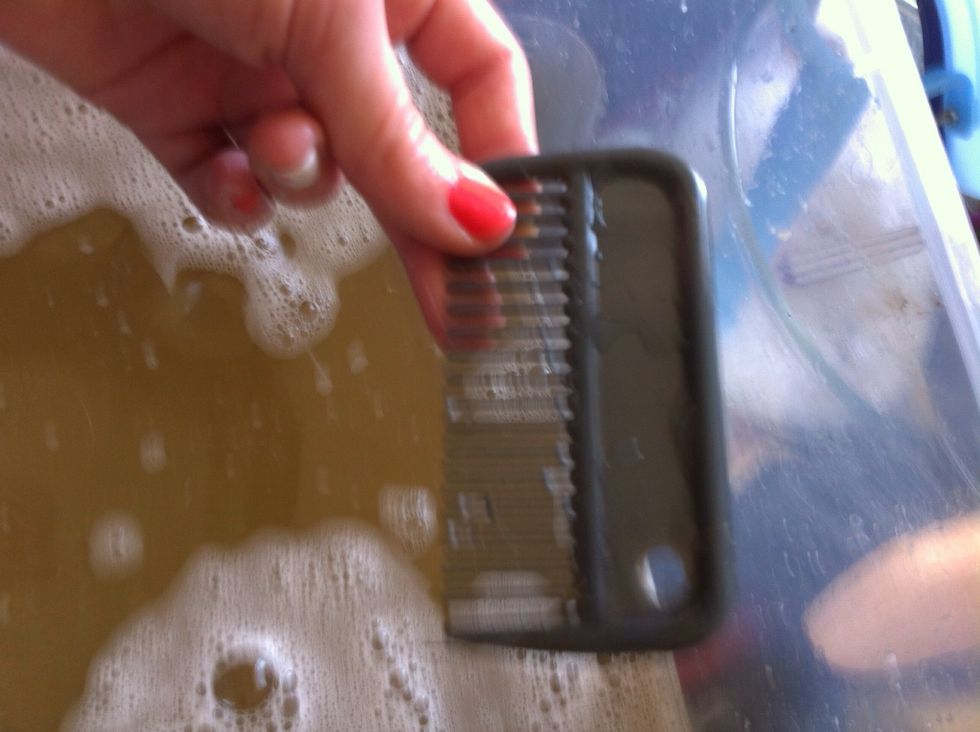 Mane and tail comb (my other one). This doesn't need so much, I find a little scrub and a rinse and its fine
See the dirt??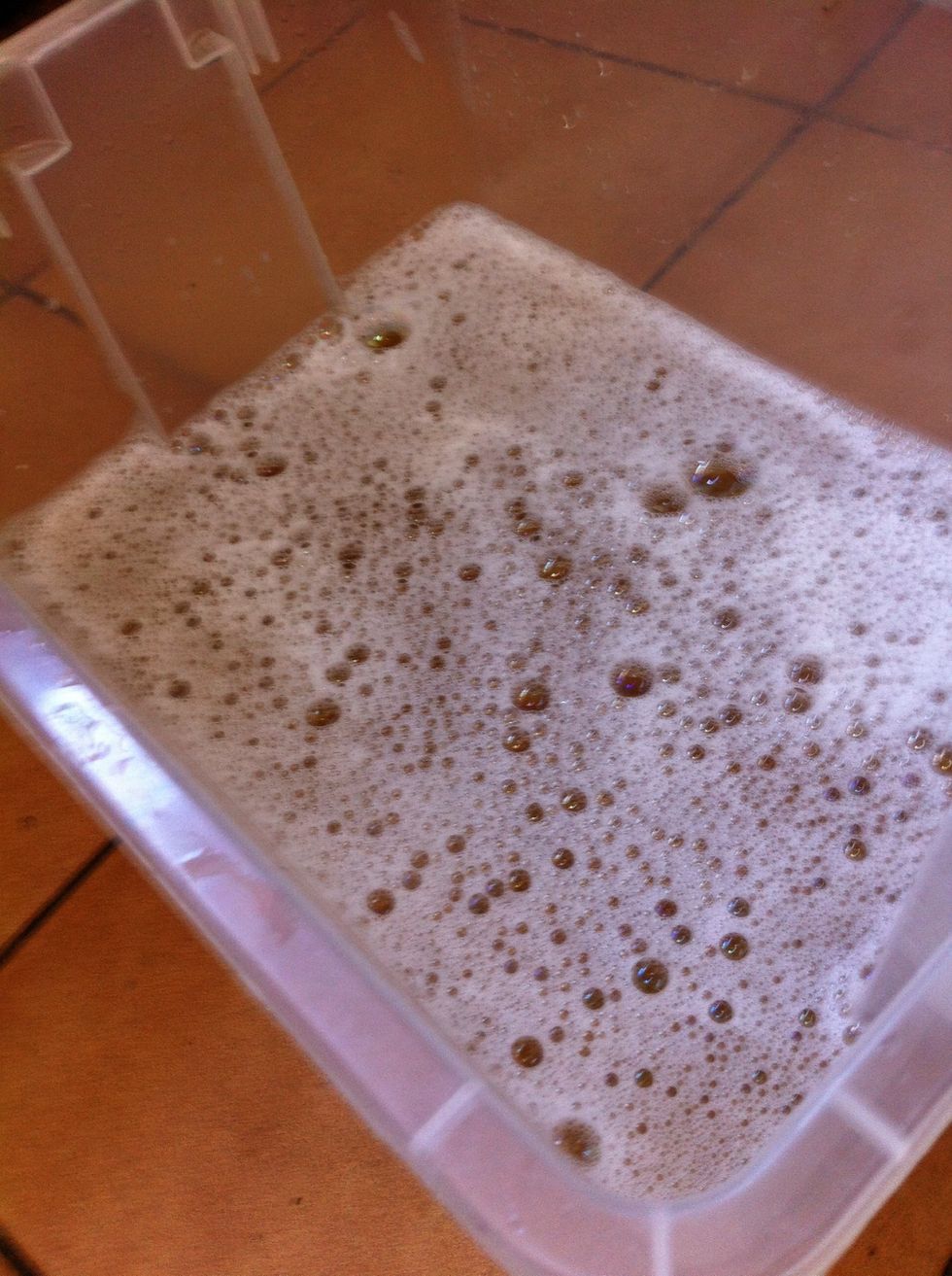 The bubbles off the brushes should now all be in the water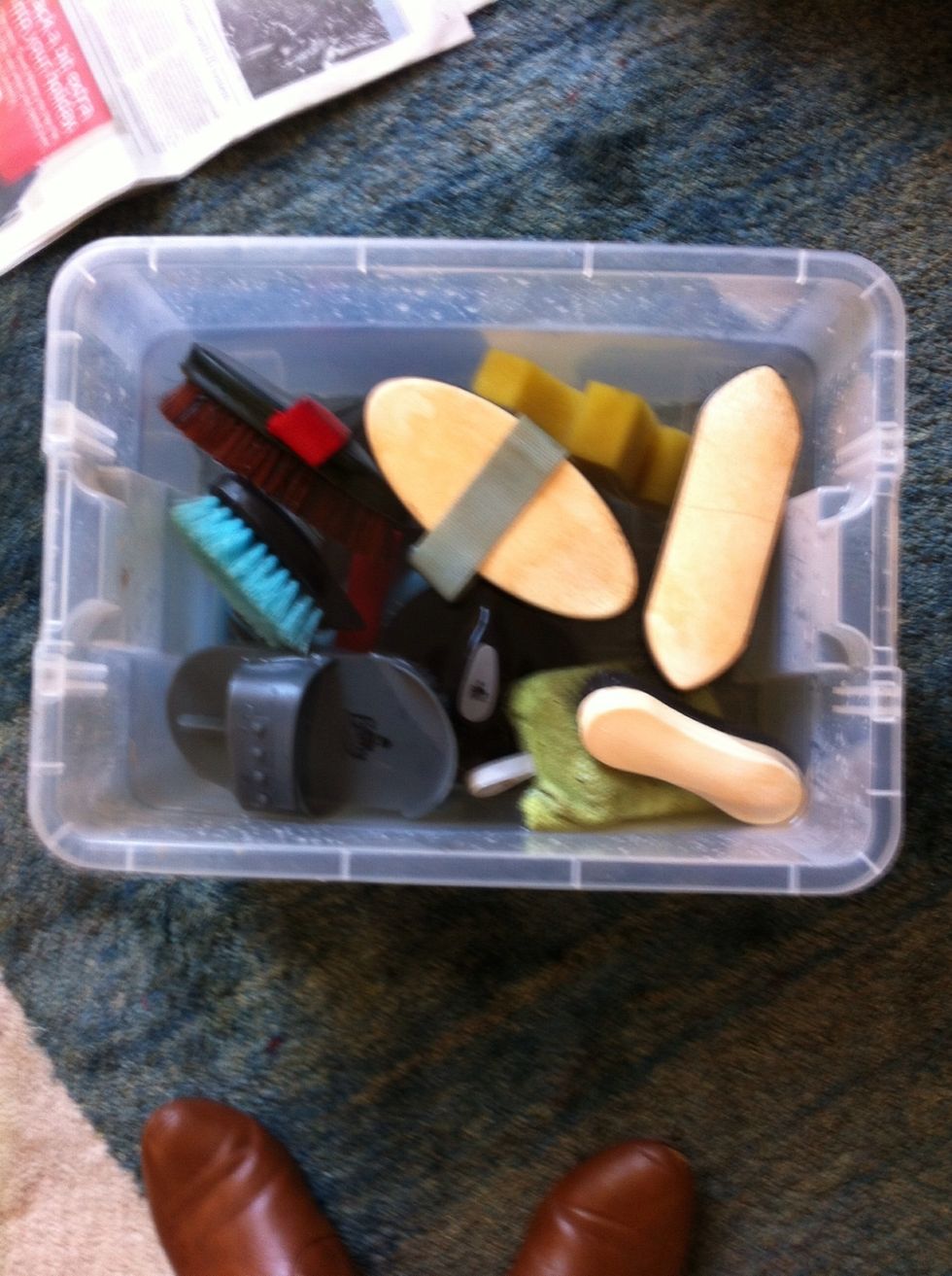 Get rid of the water and refill it with clean for a final rinse! I skipped out how to clean the others but they can all be done the same way as one of the ones I did show
Don't put lavender in your water this time, you want to rinse anything left off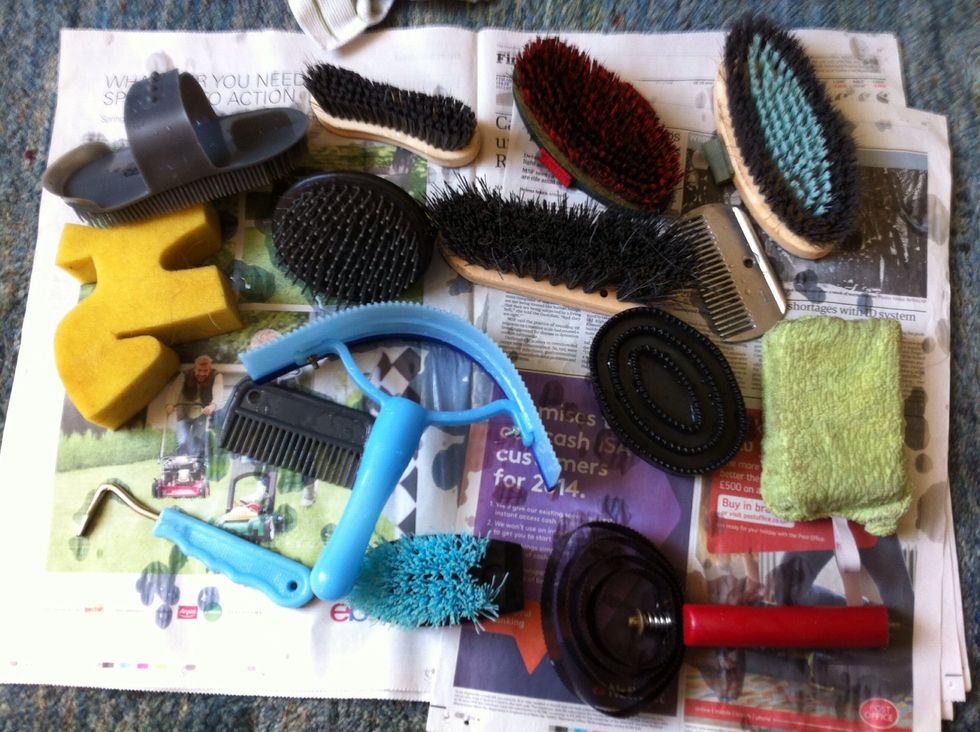 Lay them out on your newspaper to dry. Put brushes bristle side DOWN (not like above) so the water drains off them
Leave to dry overnight and put them away in the morning. It is a good idea to wash brushes regularly and do it well, for your horse and your comfort when grooming.
They are likely to still have some hairs in them but you can clear these out with a metal curry comb once they are dry Thanks for reading! Like and comment :)
washing up liquid
dirty brushes
toothbrush
bucket
water
(optional) lavender oil/ essence
cloth
newspaper
Alex Westlake
I love baking and music and I spend a lot of time experimenting with different recipes and methods , as well as horse riding!!