Create Spring Canvas Using Art Anthology Paints
19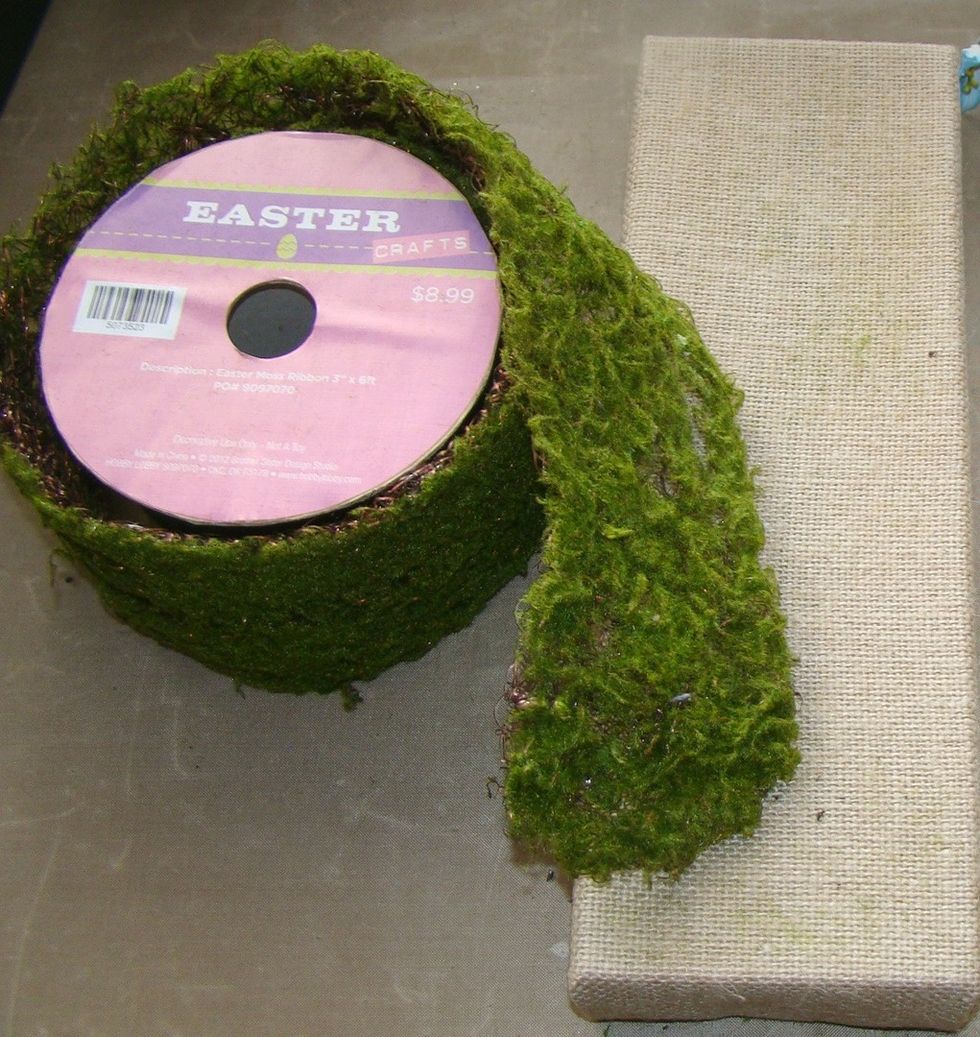 I found this cool wired grass at my local craft store. Measure your piece and using adhesive and glue gun, adhere it to your canvas. It provides a nice texture for your background.
This is what it looks like once glued down.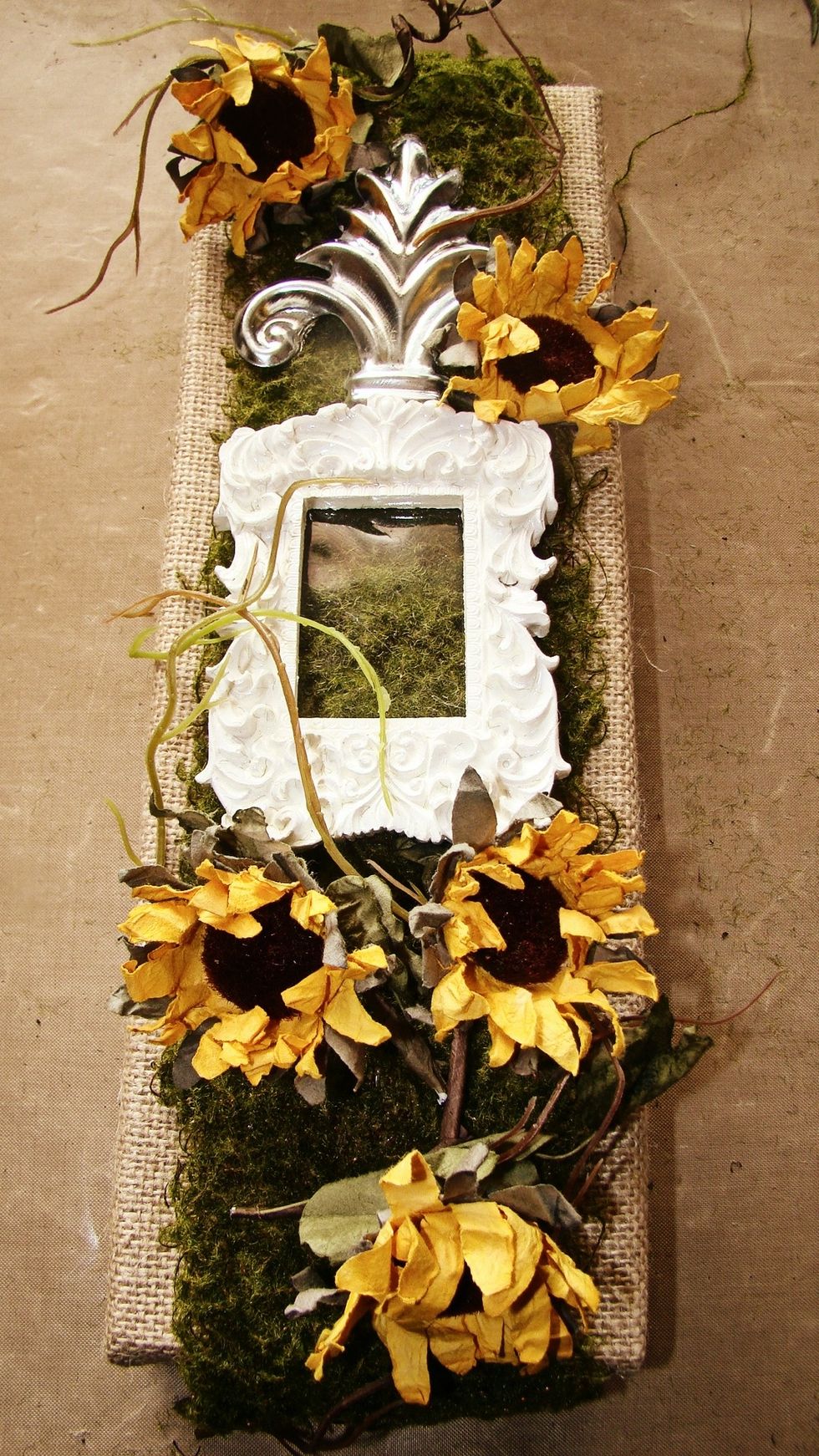 Arrange your flowers, picture frame and Melissa Frances metal Applique where you want it to make sure it fits properly.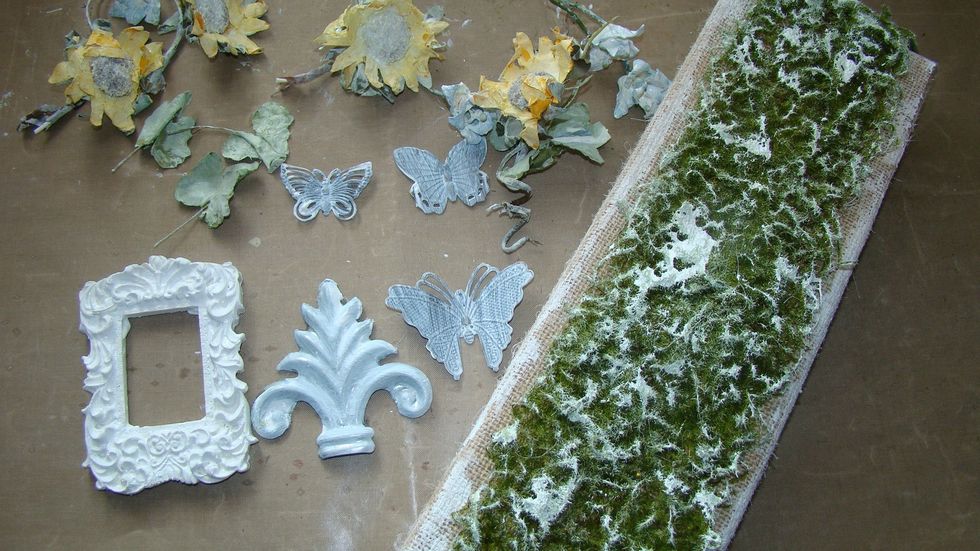 Prime your pieces with gesso first, I added a light coat to the grass and the canvas also. Allow to dry.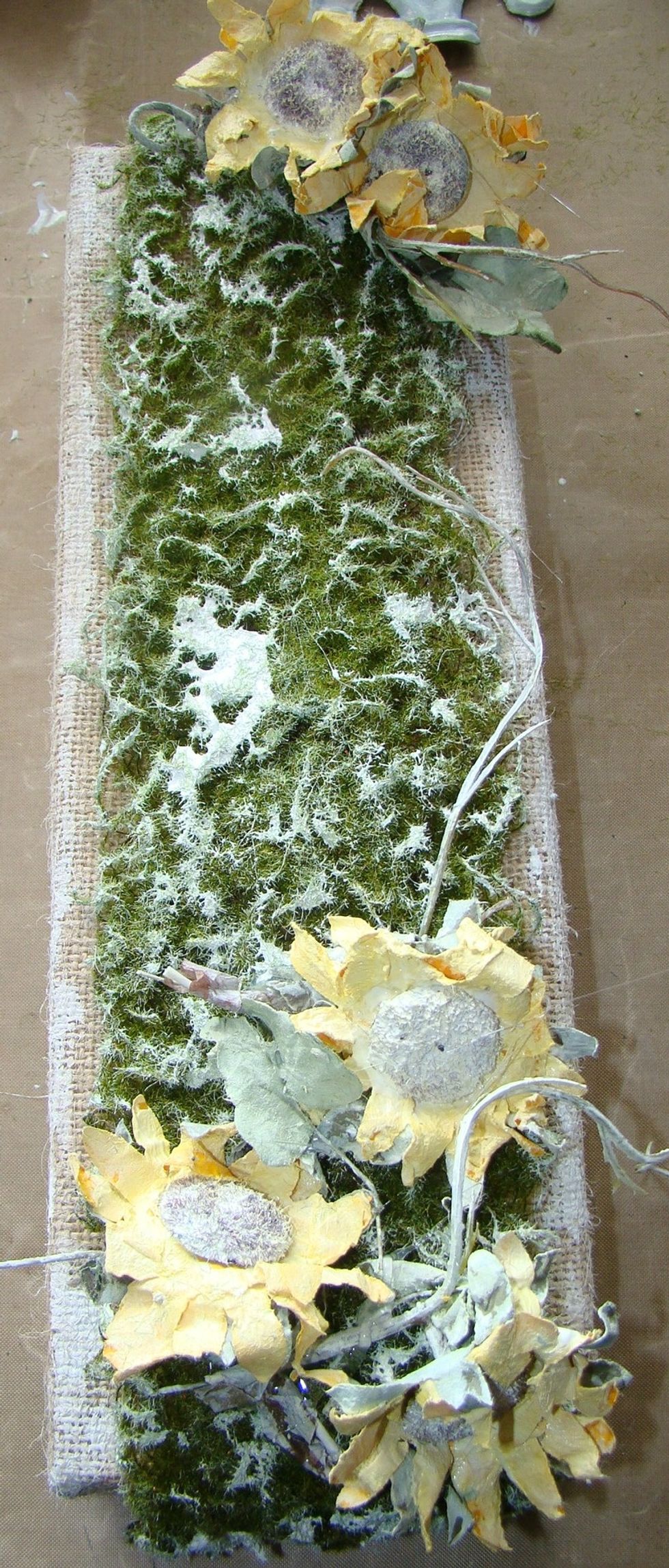 Glue down your flowers.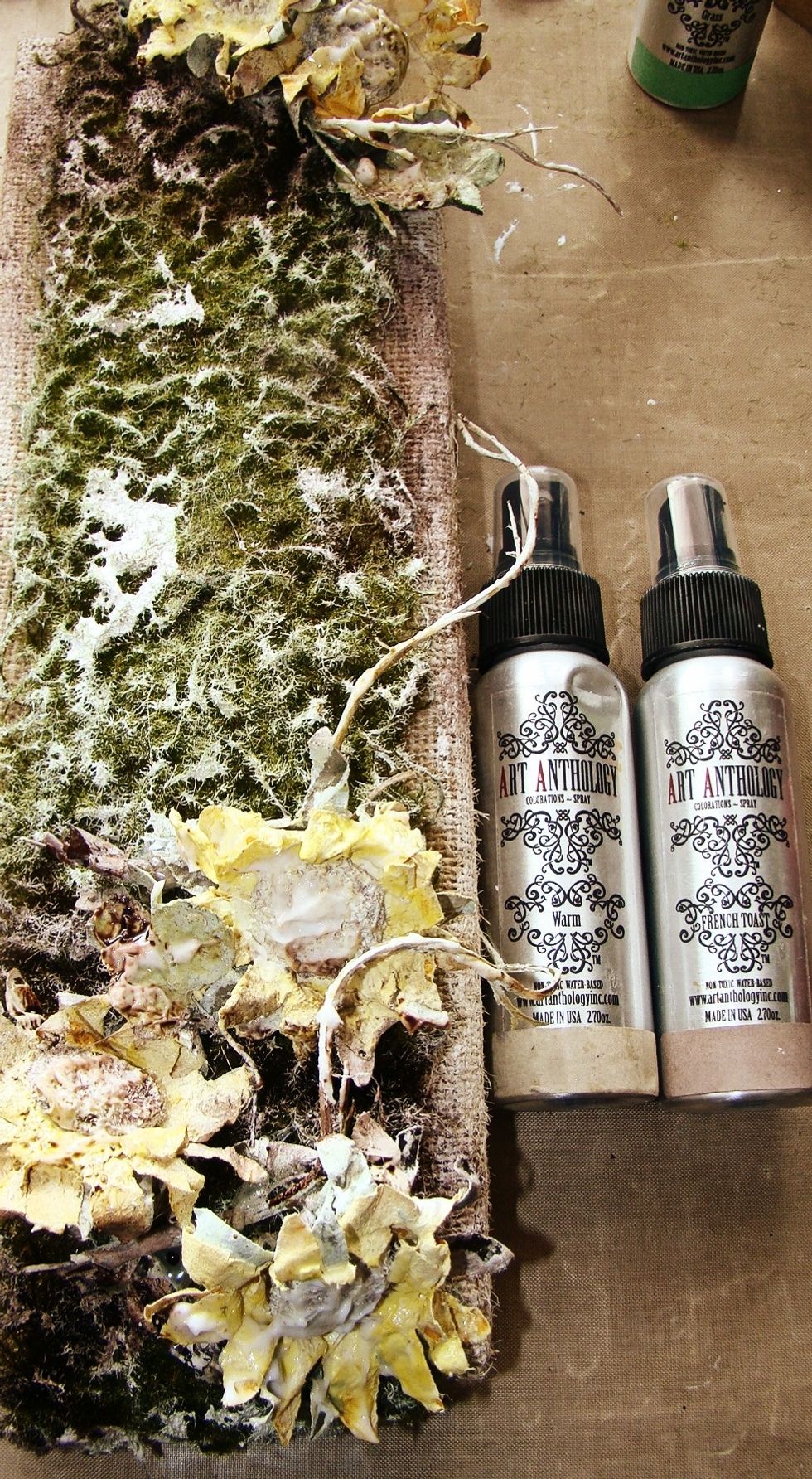 Using your Colorations Spray in Warm, spray the sides of random spots on the front. I sprayed French Toast under the flowers to provide shadows on the canvas. Heat set.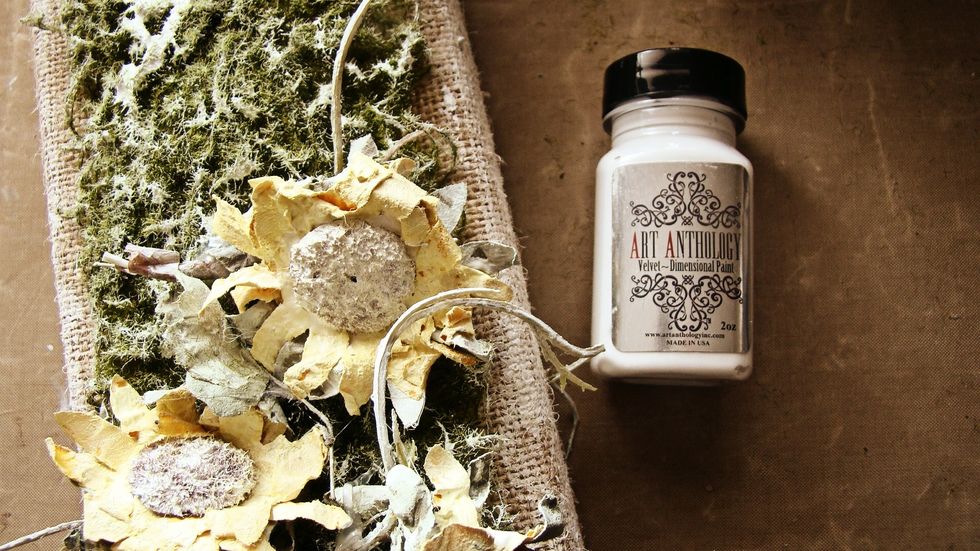 I added Velvet paint in Cotton to the branches, tips of the flowers and the centers. Allow to dry.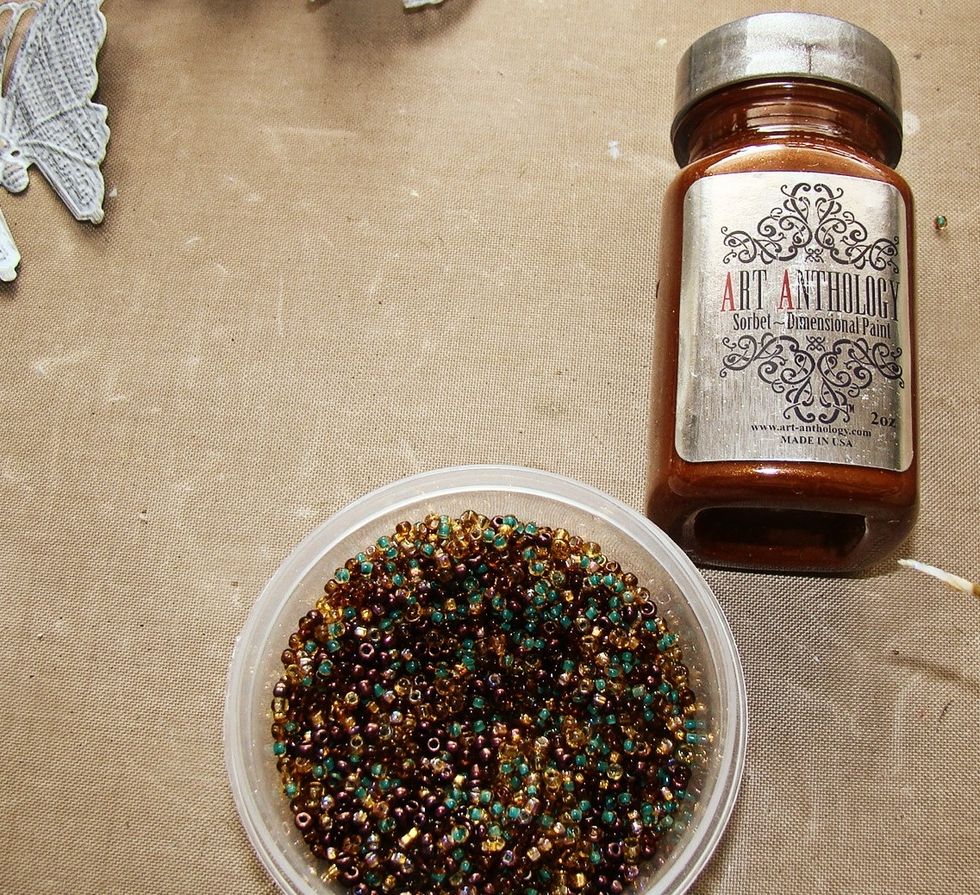 Using Sorbet in Copper and Red Velvet I dipped my paint brush in the seed beads and applied to the centers of my sunflowers. Allow to dry completely.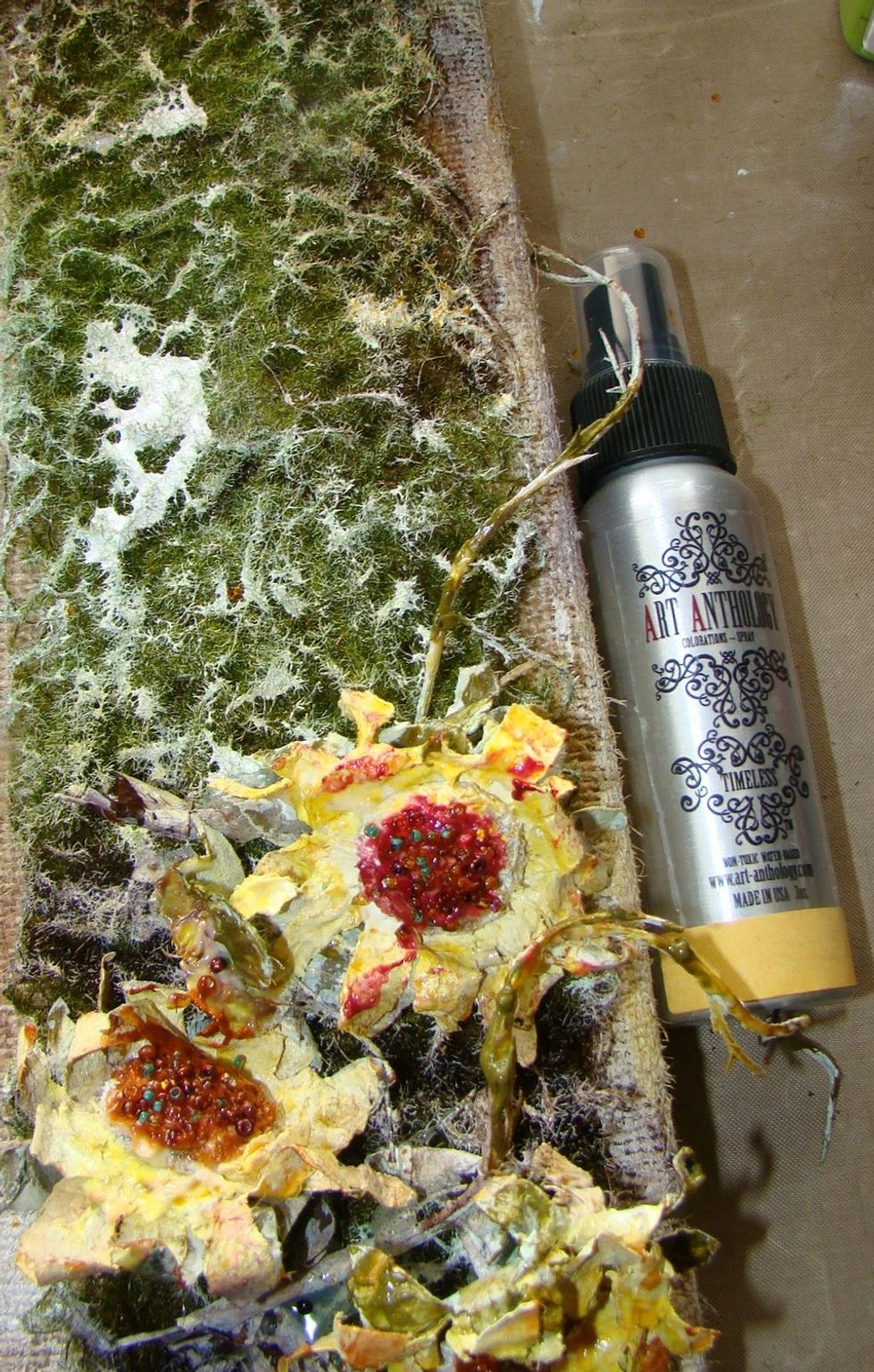 Using Colorations Spray in Timeless, I highlighted my petals on the flowers as well as the sides of the canvas.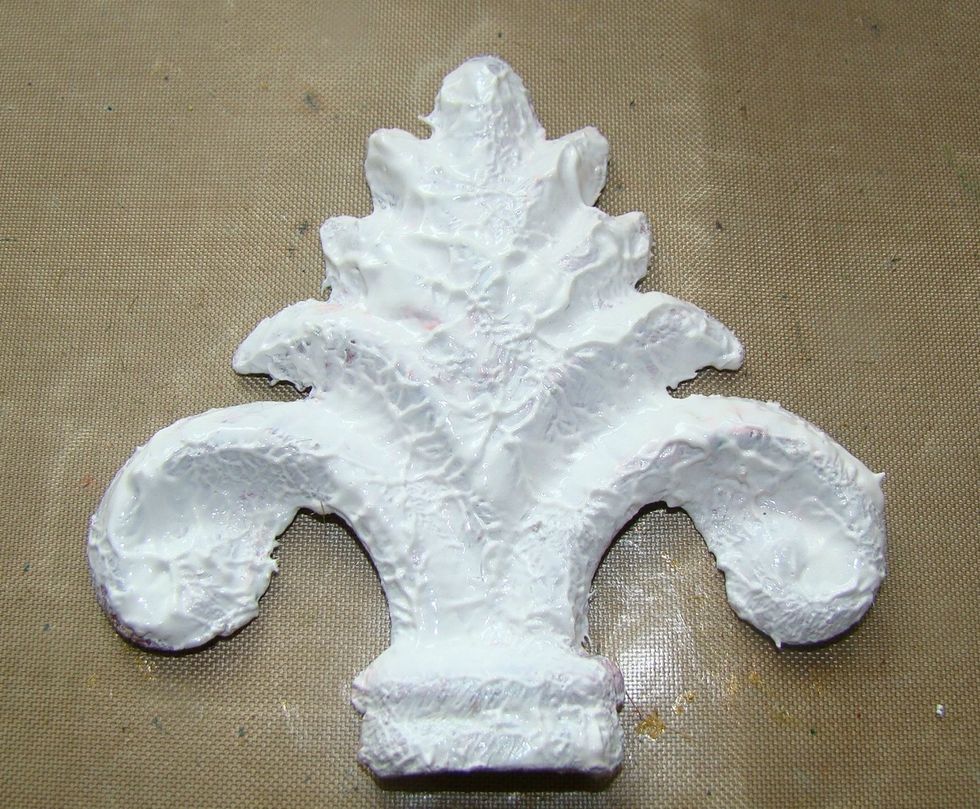 To alter my Melissa Frances Appliques I applied Sorbet paint in Splash using a sponge to get that wonderful texture. Allow to dry.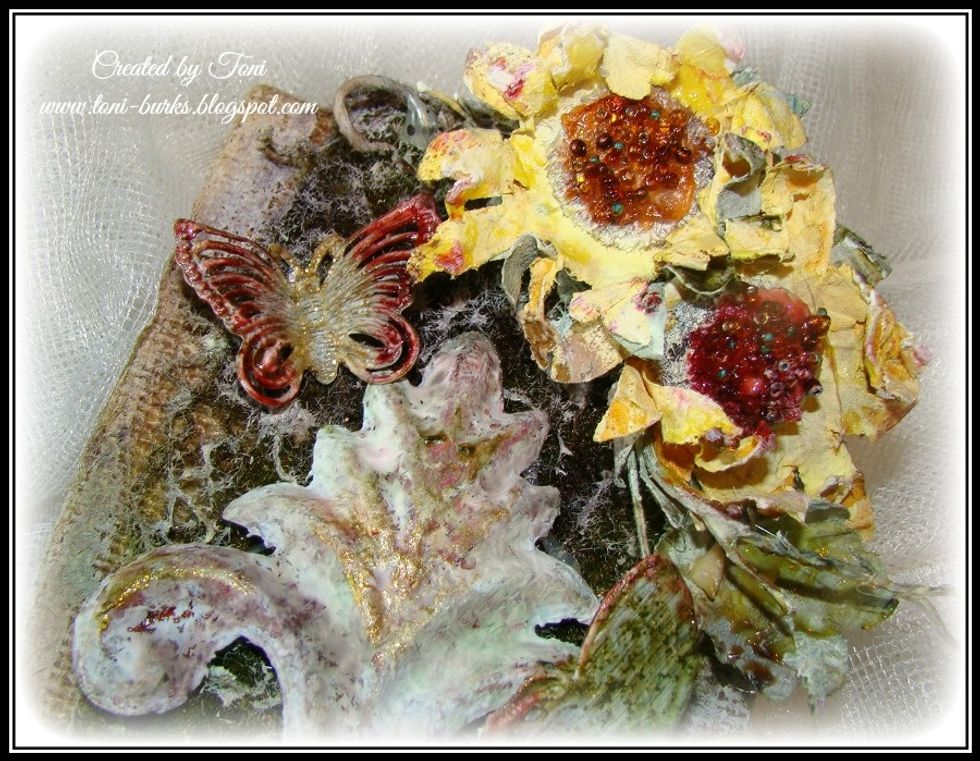 Butterflies were painted using Sorbets in Sunshine, Chocolate, Red Velvet, Coloration Spray in Peacock Feathers, and Velvet paint in Basil and Limeaid.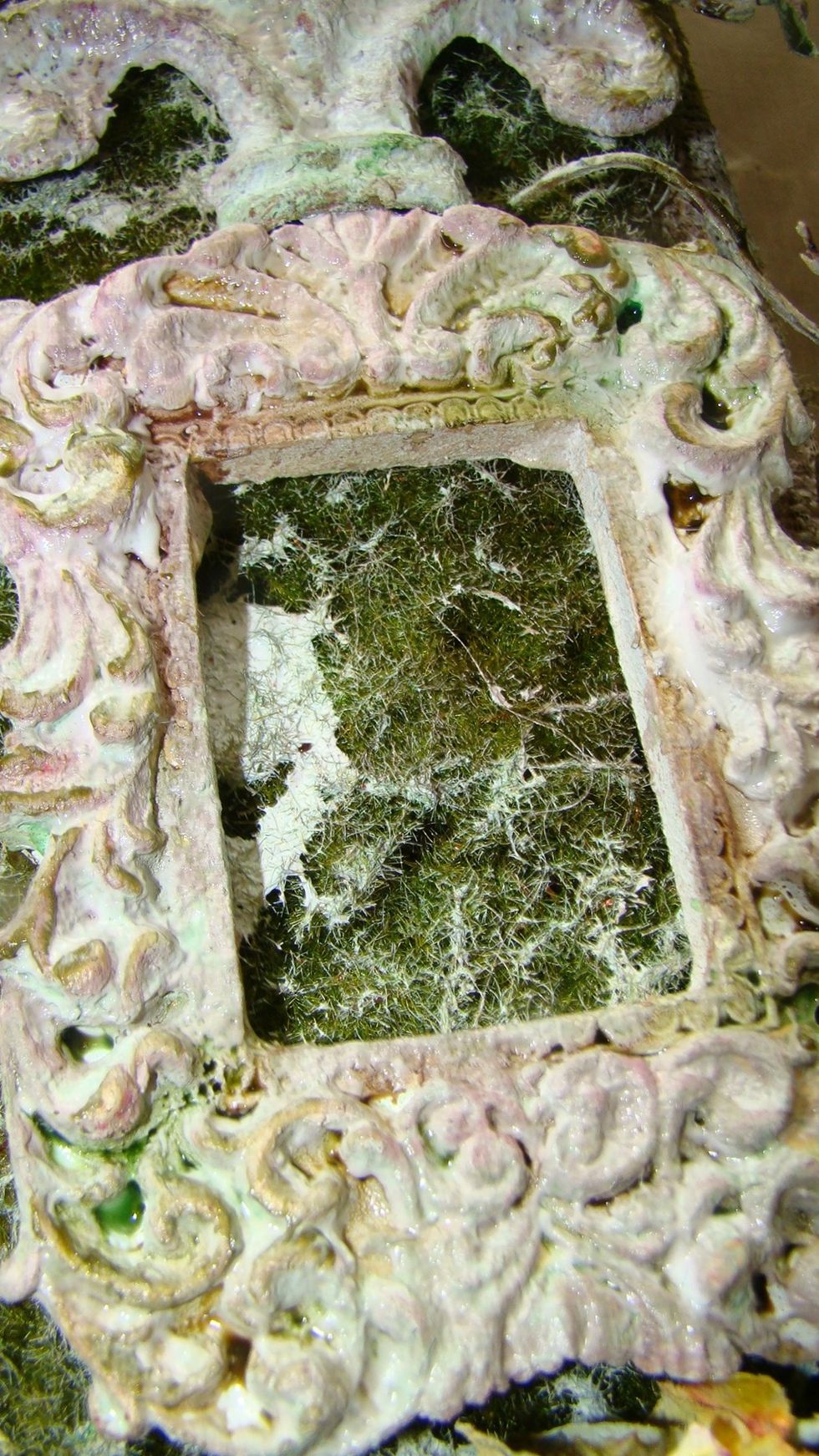 Use Colorations Spray in Warm and French Toast. Allow to get into the crevices. Using my finger I rubbed Sorbet in Parakeet & Velvet paint in Basil on the tops to give it that mossy look. Add title.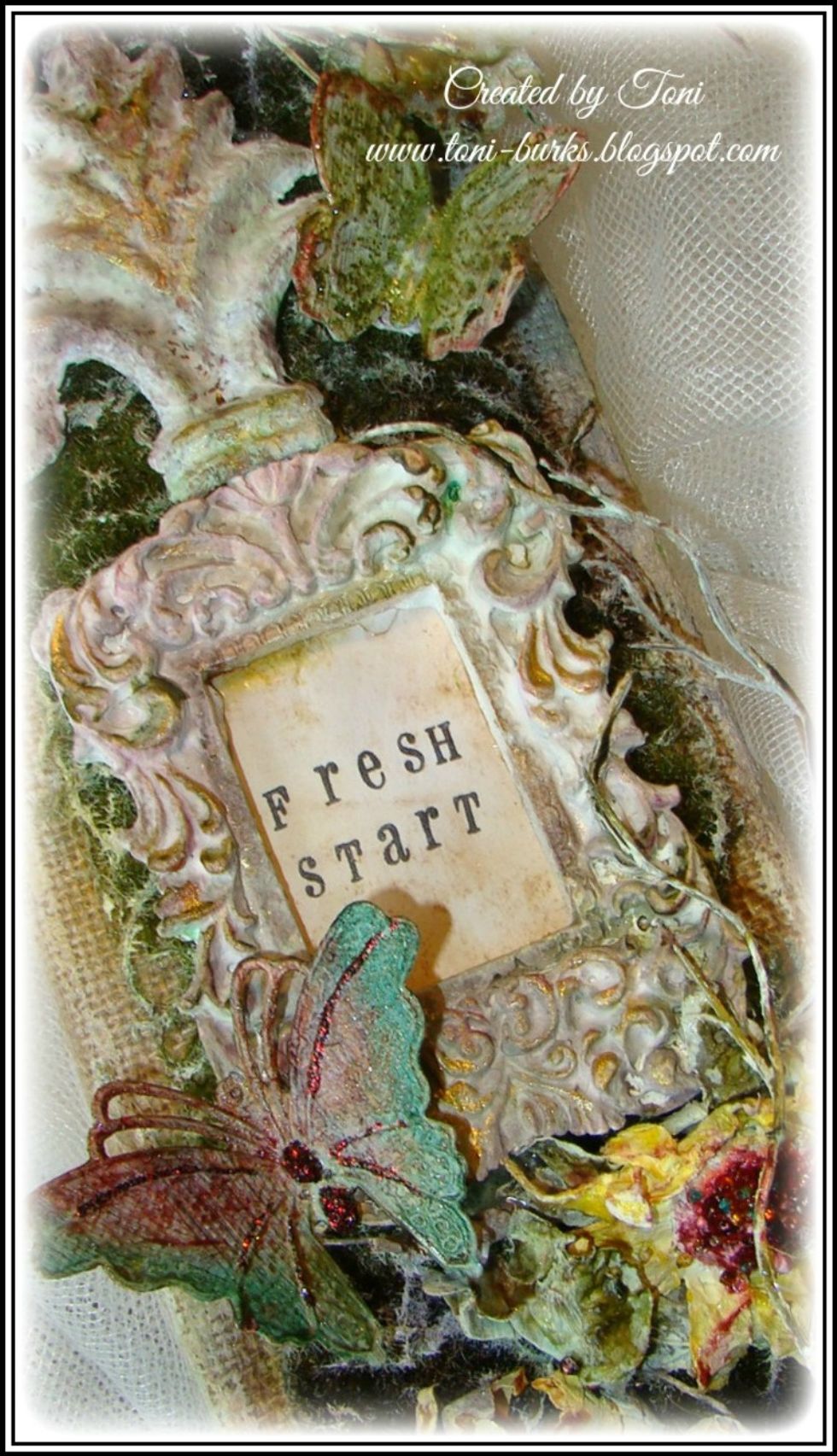 I decided to title this "Fresh Start" as spring always reminds me of a new beginnings, a rebirth... flowers are blooming, birds are singing. Everything seems clean and fresh, I ♥ this time of year.
I hope you were inspired to try out these gorgeous products.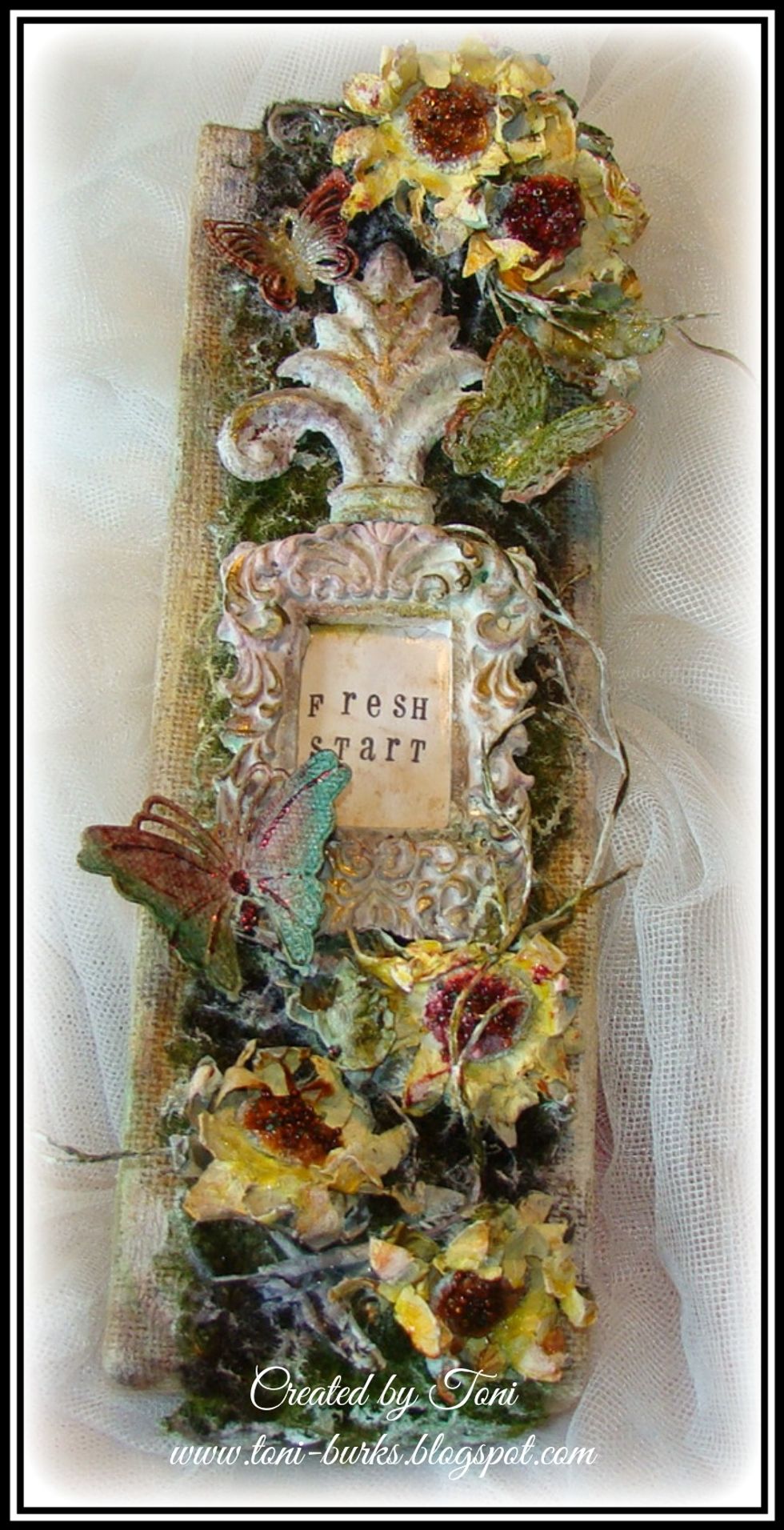 For more wonderful inspiration, please visit our blog at http://artanthologyinc.com/blog/ and our store at http://www.artanthology.net/
www.toni-burks.blogspot.com www.facebook.com/toni.burksgrijalva www.pinterest.com/tonilburks/
Colorations Sprays- Sandcastle, Grass French Toast
Colorations Spray Timeless, Warm, Peacock Feathers
Sorbets-Splashed, Sunshine, Parakeet, Red Velvet
Sorbets-Copper, Chocolate
Velvets- Basil, Limeaid, Cotton
Gemstones- Garnet
Mixed Metal-Gold
Burlap Canvas
Gesso
Assorted Flowers
Metal Butterflys
Melissa FrancesFlea Market Finds Applique
Seed Beads
Adhesive
Picture Frame
Art Anthology
Art Anthology is a manufacturer of dimensional mediums.\n\nCome chat with us in our Facebook Group: Art Anthology Adventures in Art