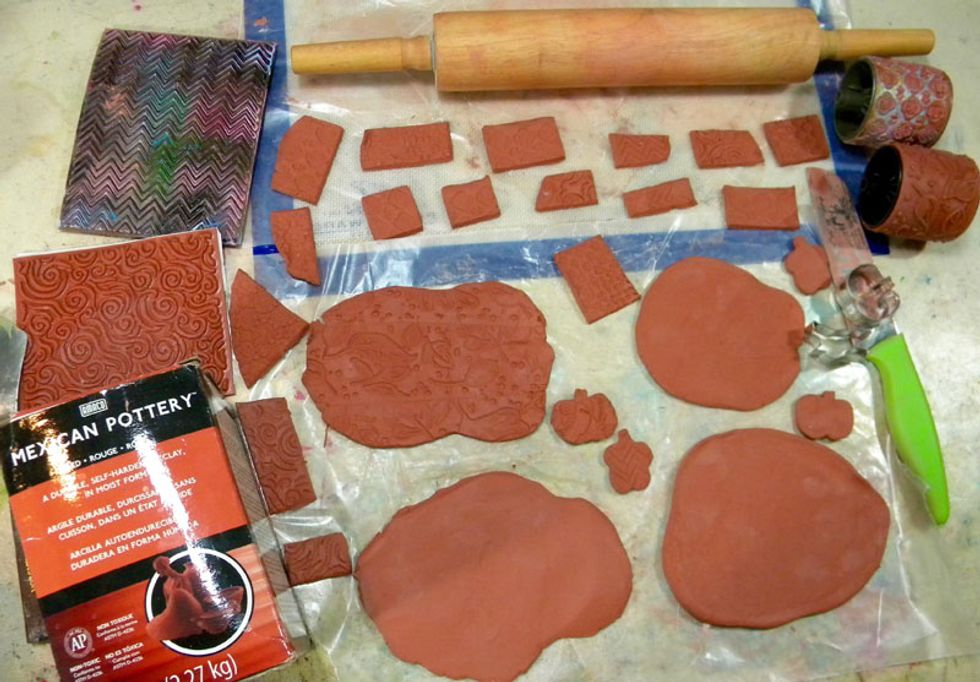 This is a messy project! Work the clay in small batches and roll flat using a rolling pin. I rolled mine too thin so I would recommend about 1/4" thick. I cut some into strips and left some whole.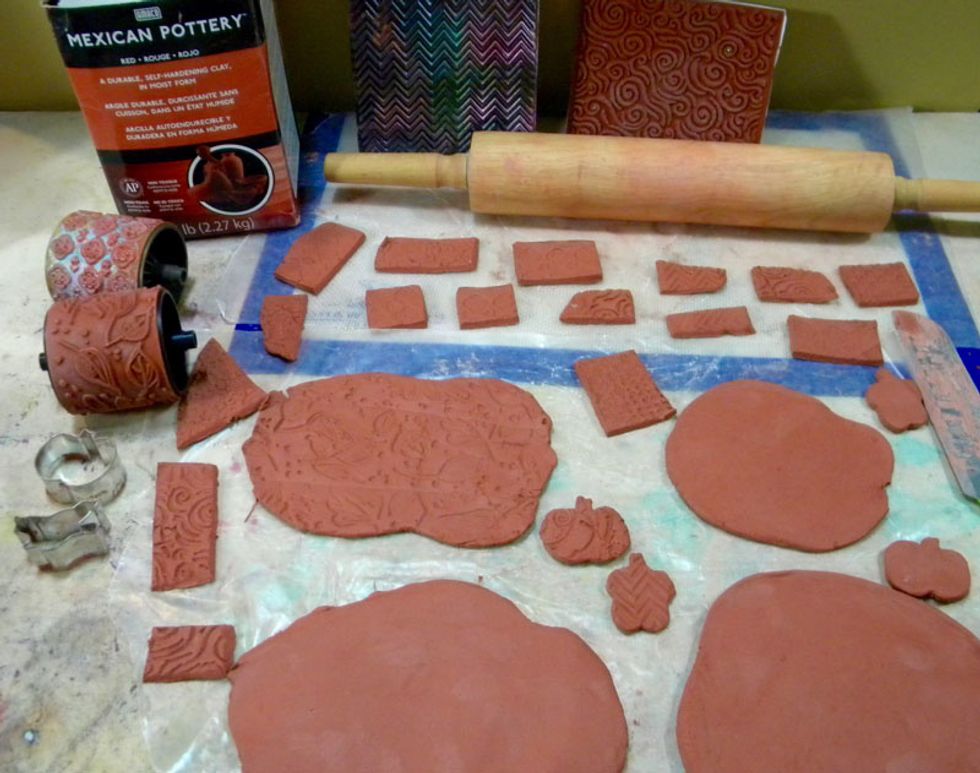 Rubber stamps work well for making shapes in the clay. Also try embossing folders and even stencils. I used a few clay shape cutters to make the pumpkins but cookie cutters would work great too.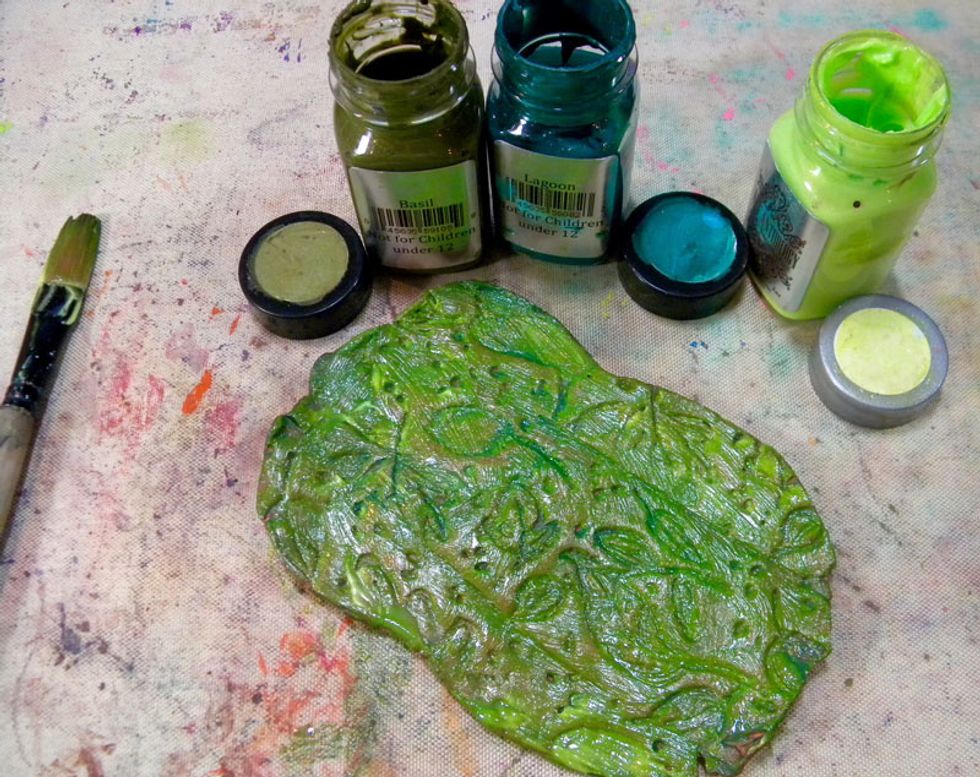 Let the clay dry overnight before painting. Paint the clay pieces with darker colors first so they get into the embossed areas. I used several greens for this piece since it has leaves on it.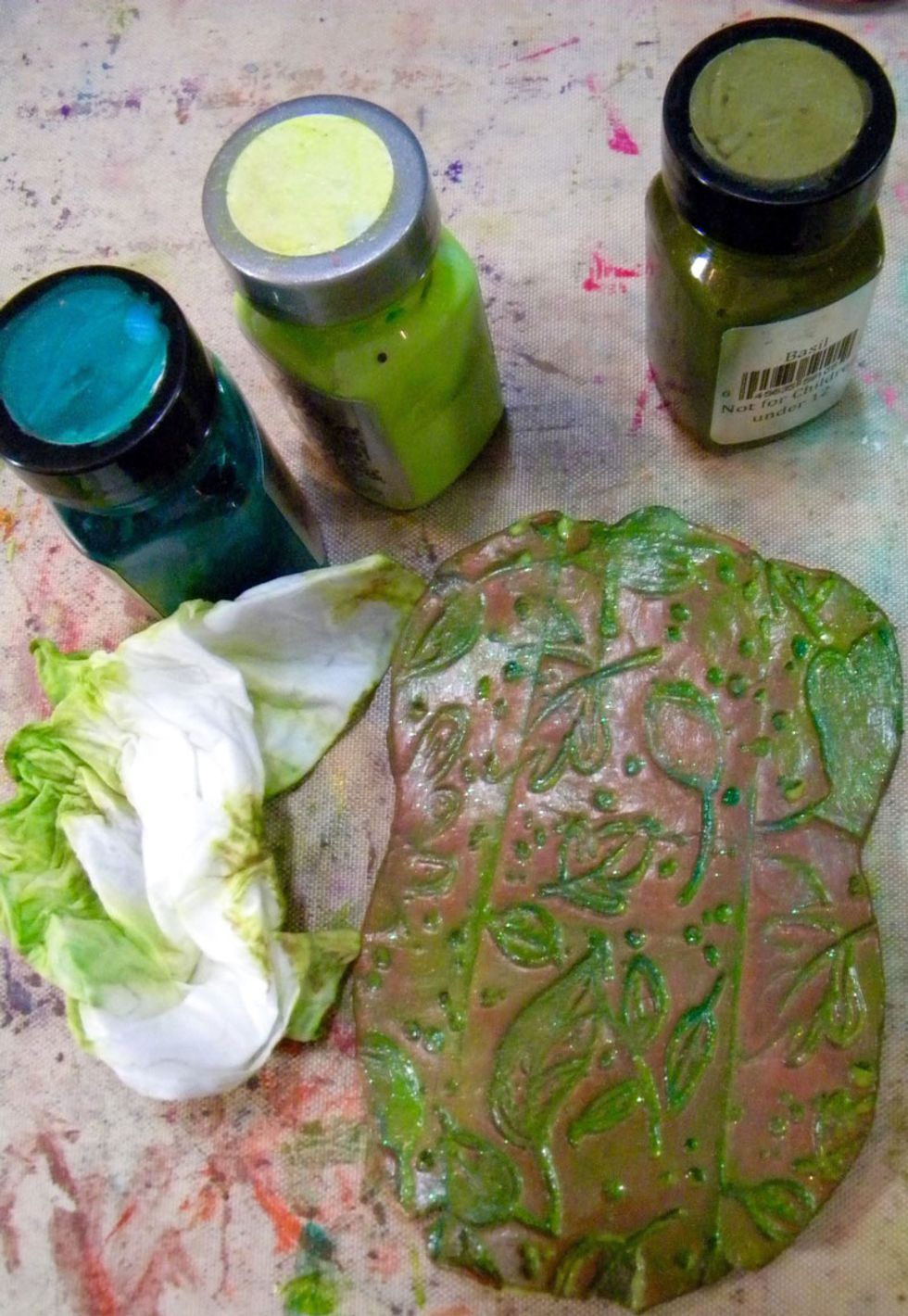 Wipe some of the paint off with a baby wipe to reveal the terra cotta color underneath. I love these colors together. Add a bit of Cotton Velvet for a white washed look.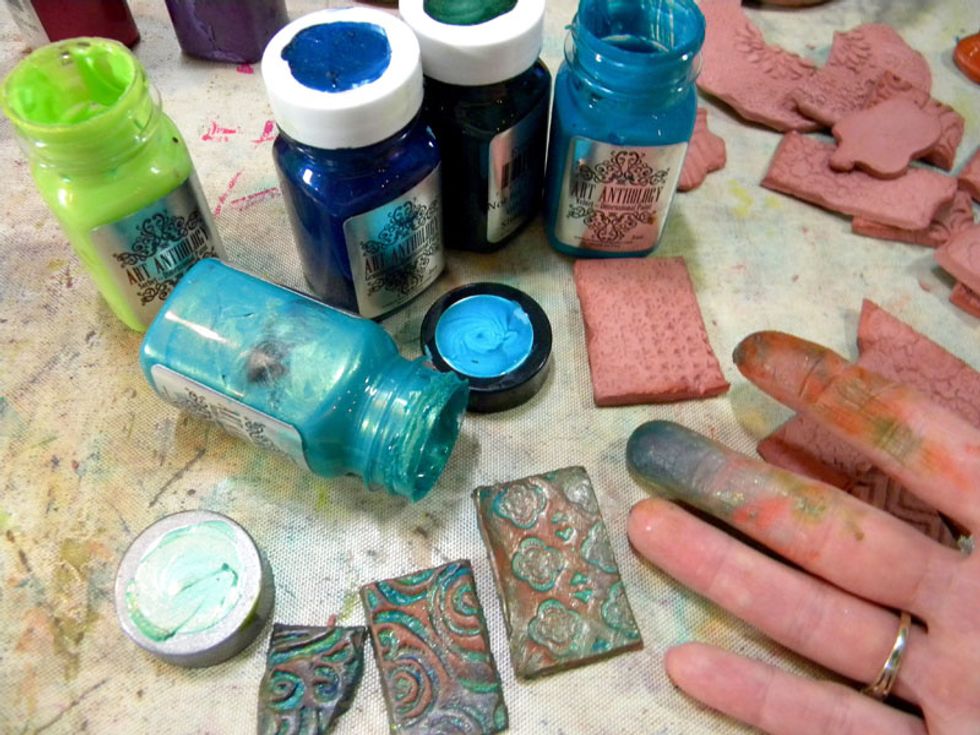 I used my fingers to apply Sorbets and Gemstones in layers, making the clay shimmer. Layering similar shades gives these clay embellishments lots of depth. Work the paint into the embossed areas.
I layered warm colors together with a touch of metallic on some of the pieces.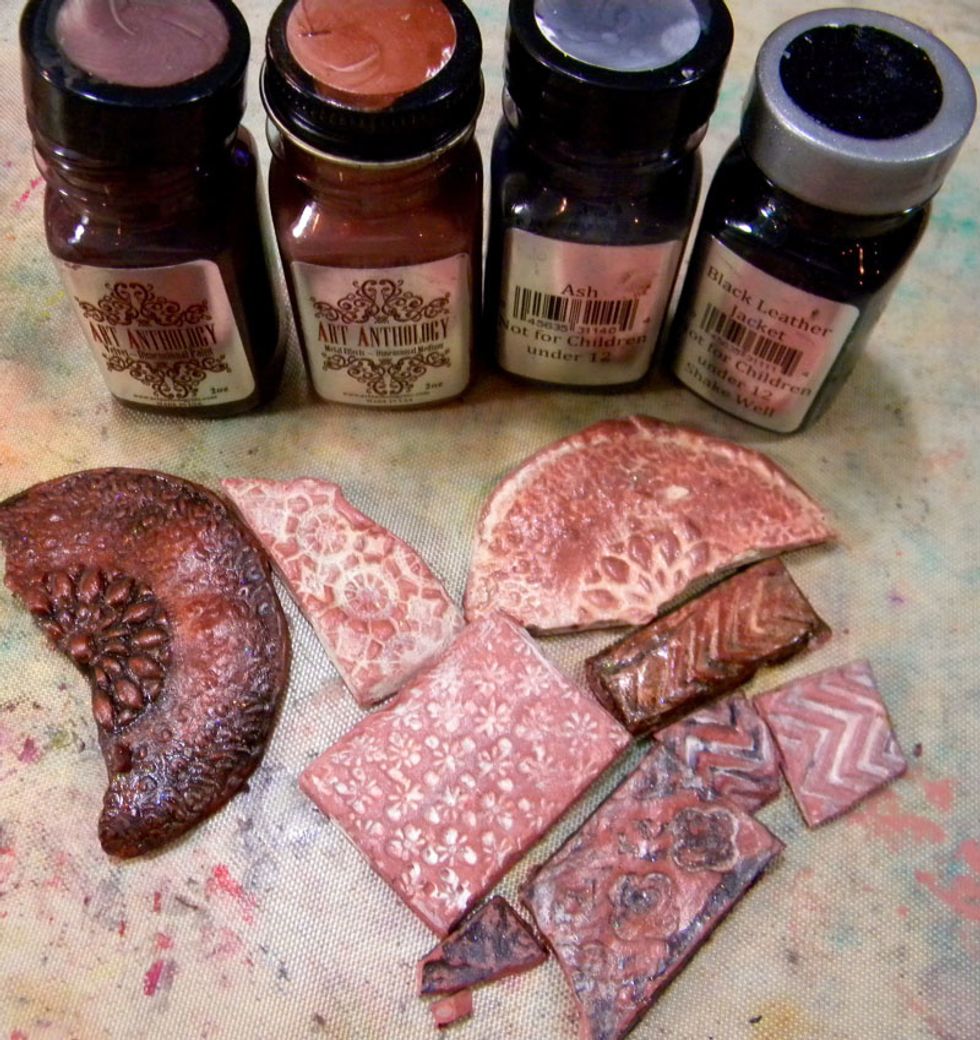 Don't forget about neutrals. Add white, gray, black and brown with a touch of Copper metal Effects, wiping some of the color off to show the terra cotta clay underneath. White is one of my favorites!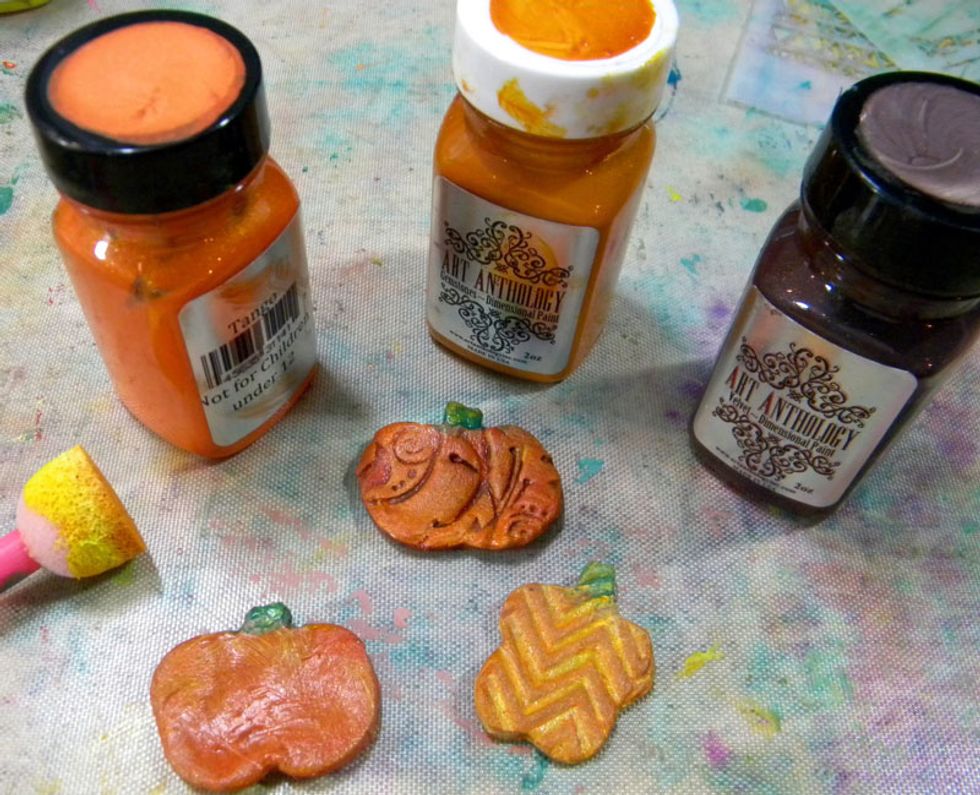 For the pumpkin shapes, layer Truffle and Tango Velvets, and Amber Gemstones for shimmer.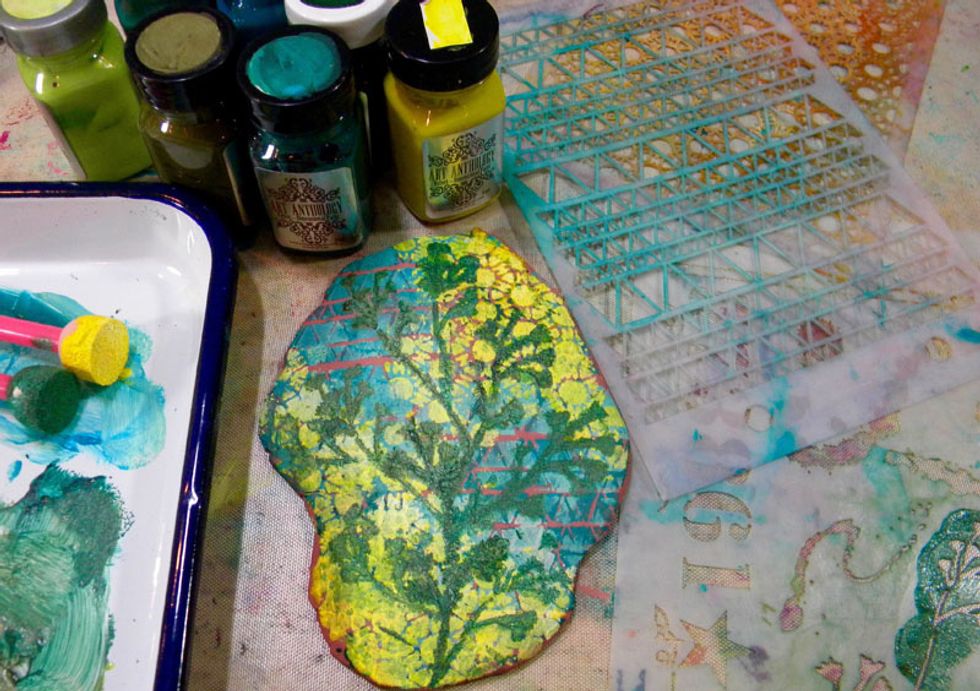 I left some of the clay smooth, in larger pieces so that I could layer bright colors and create patterns with stencils. I wanted to create a broken china look.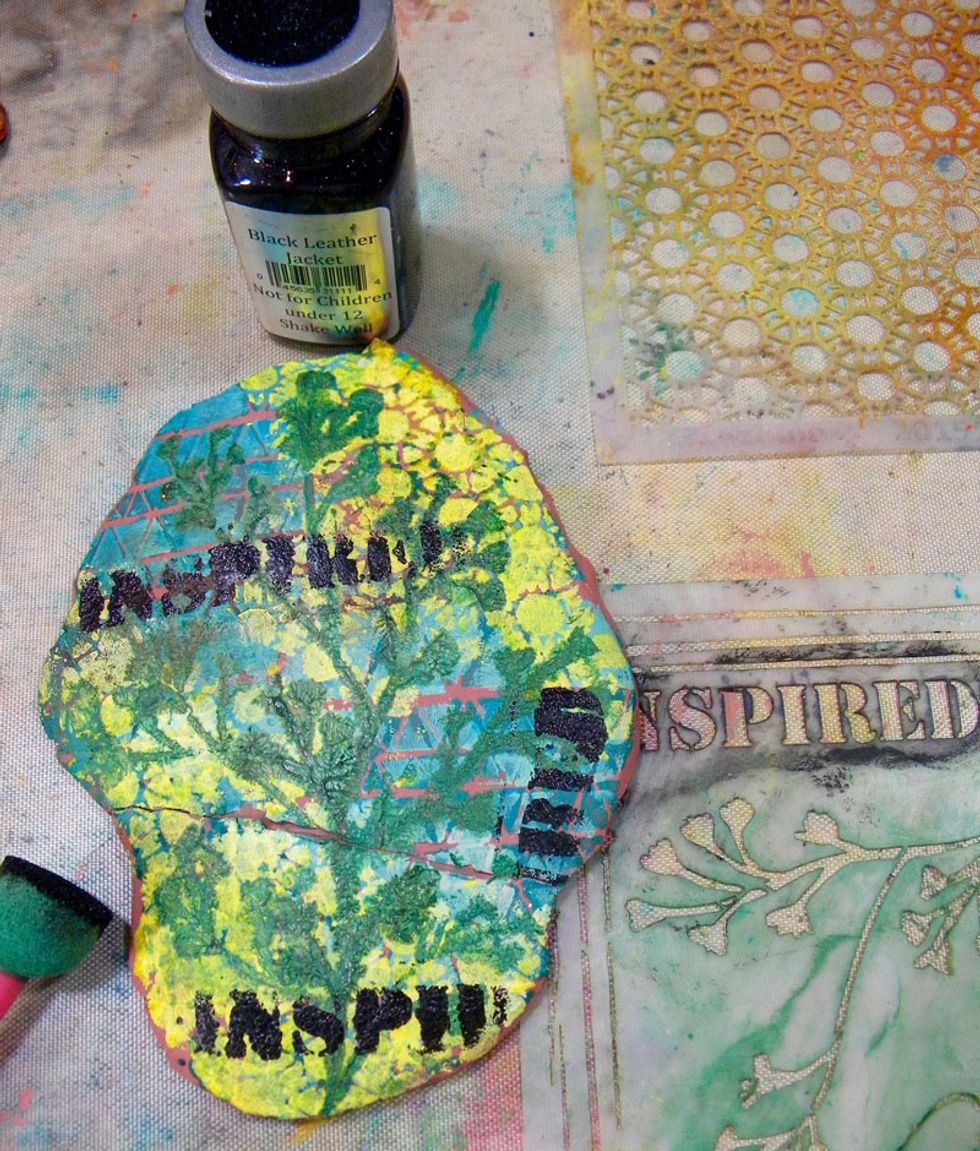 I added words here and there with contrasting Black Leather Jacket Sorbet. I didn't care that it was imperfect because I was going to break it apart anyway.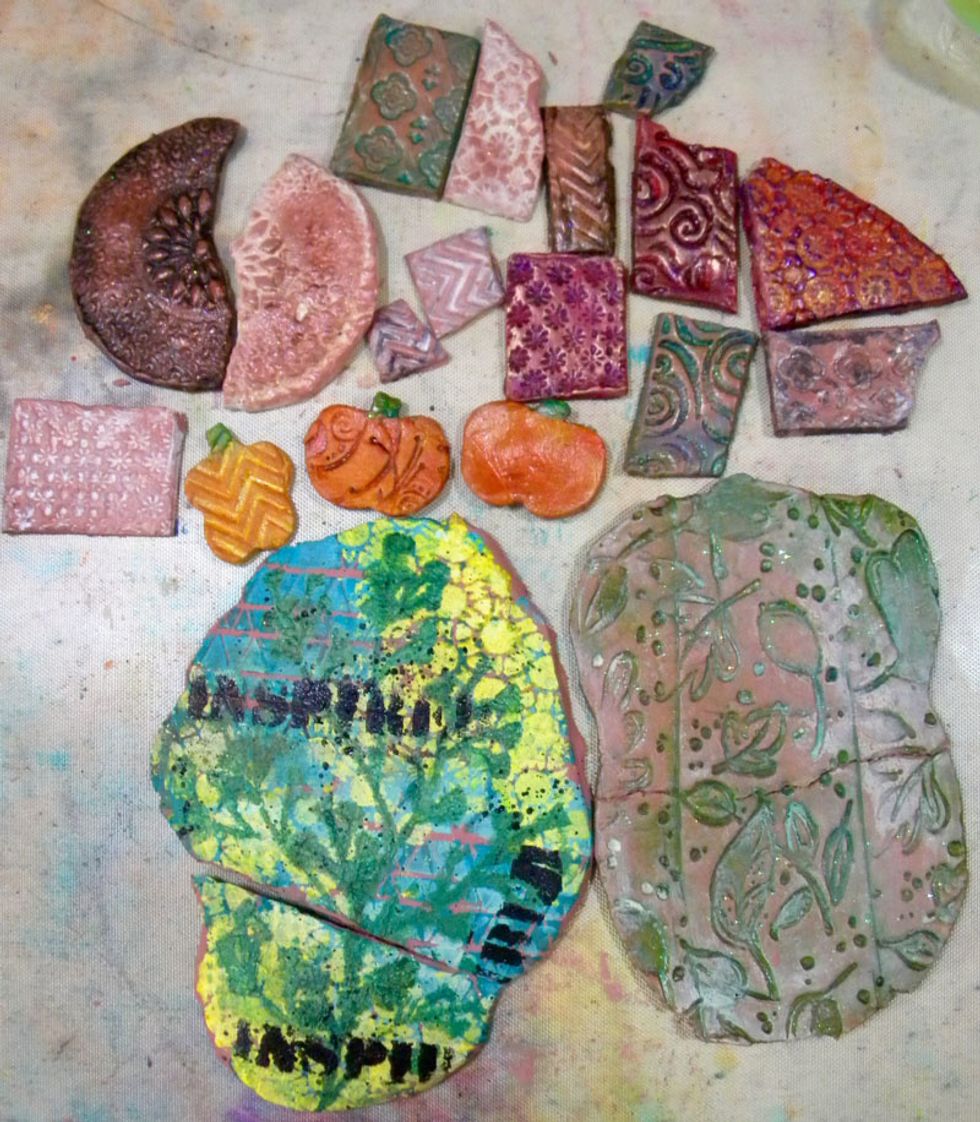 Here are all the pieces that I painted with Art Anthology mediums. Now, what should I do with them???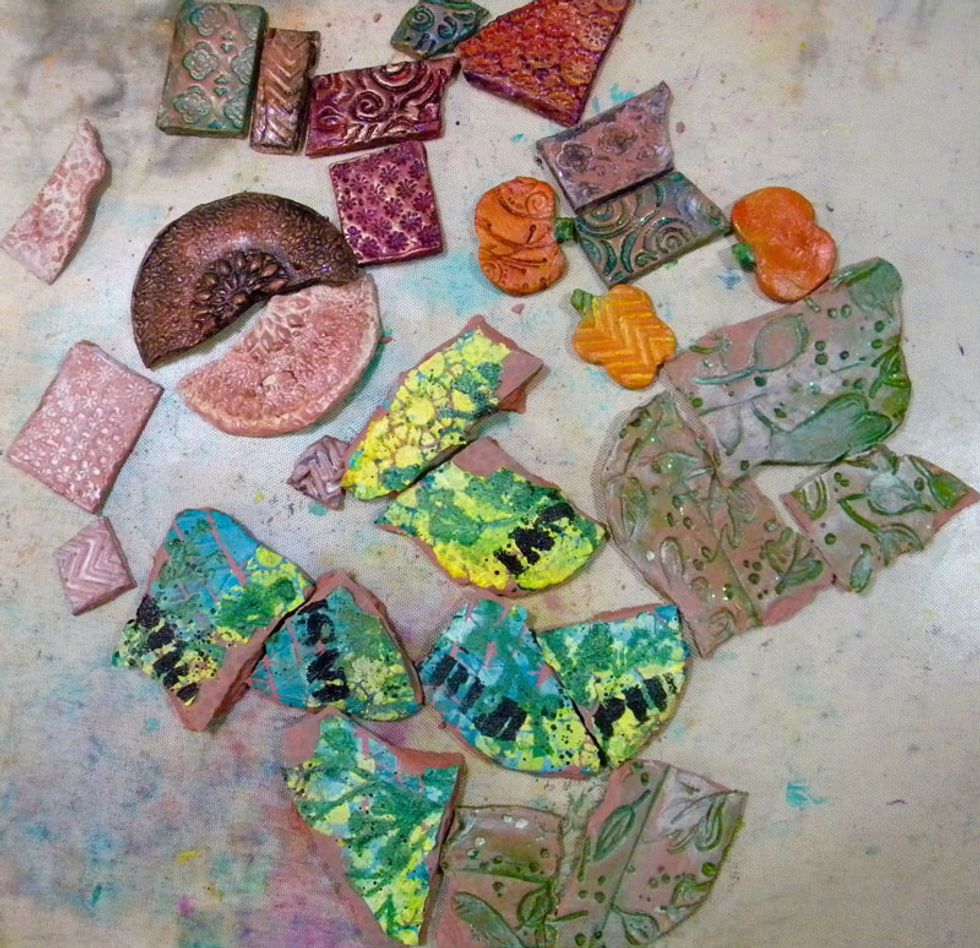 I broke apart the larger pieces for that broken china look. Painted a coat of clear acrylic varnish to keep them from crumbling or flaking. I recommend making them a bit thicker for more stability.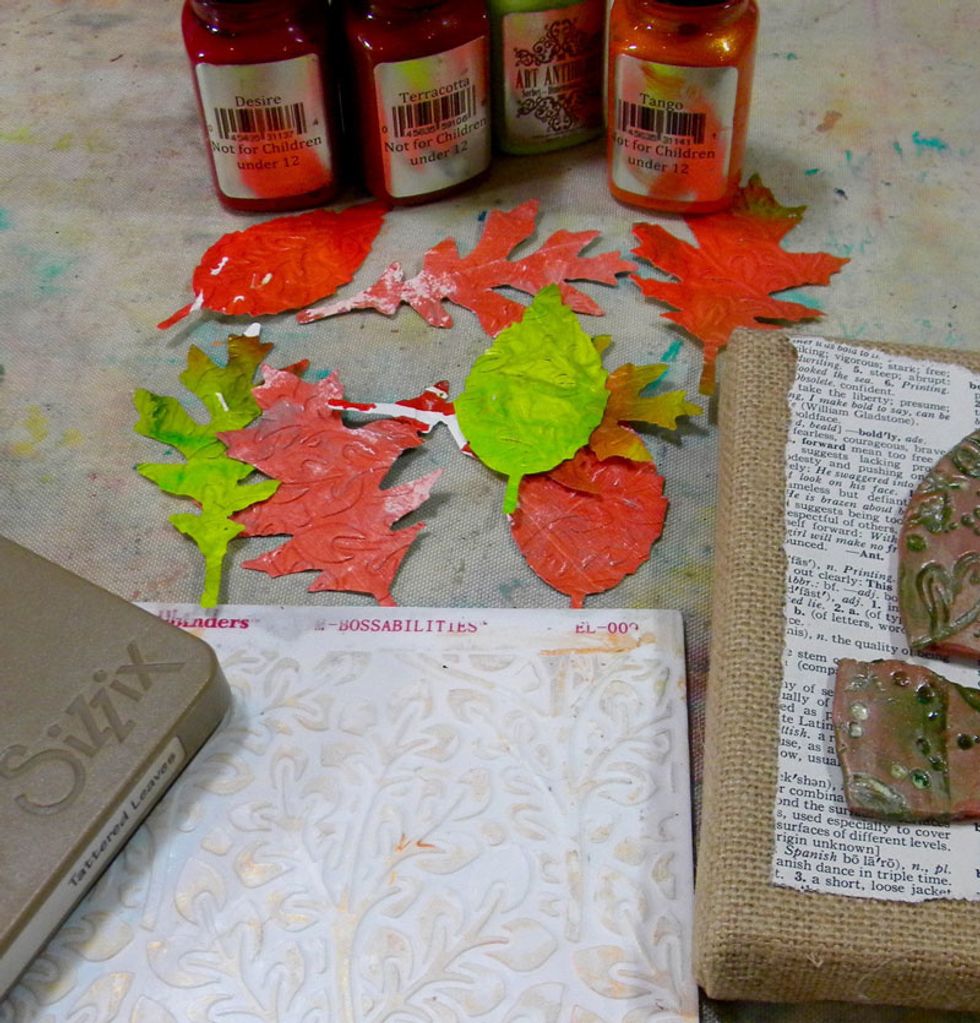 I die-cut and embossed leaves from painted cardstock and added some fall colors. Amber Gemstones, Tango Velvet and Pumpkin Spice Sorbet are great colors for fall. Add a touch Copper Metal Effects too!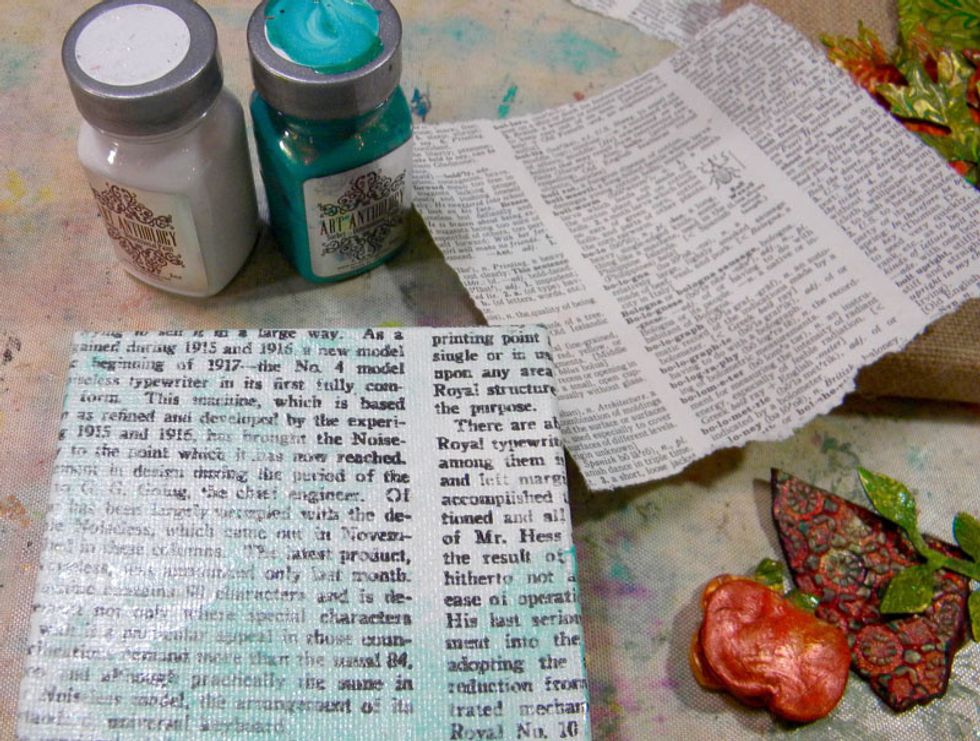 I purchased two of these pre-printed canvases from Michaels on clearance, added a wash of Cayman and Splashed Sorbet for a subtle sky blue background. I also painted a piece of dictionary paper.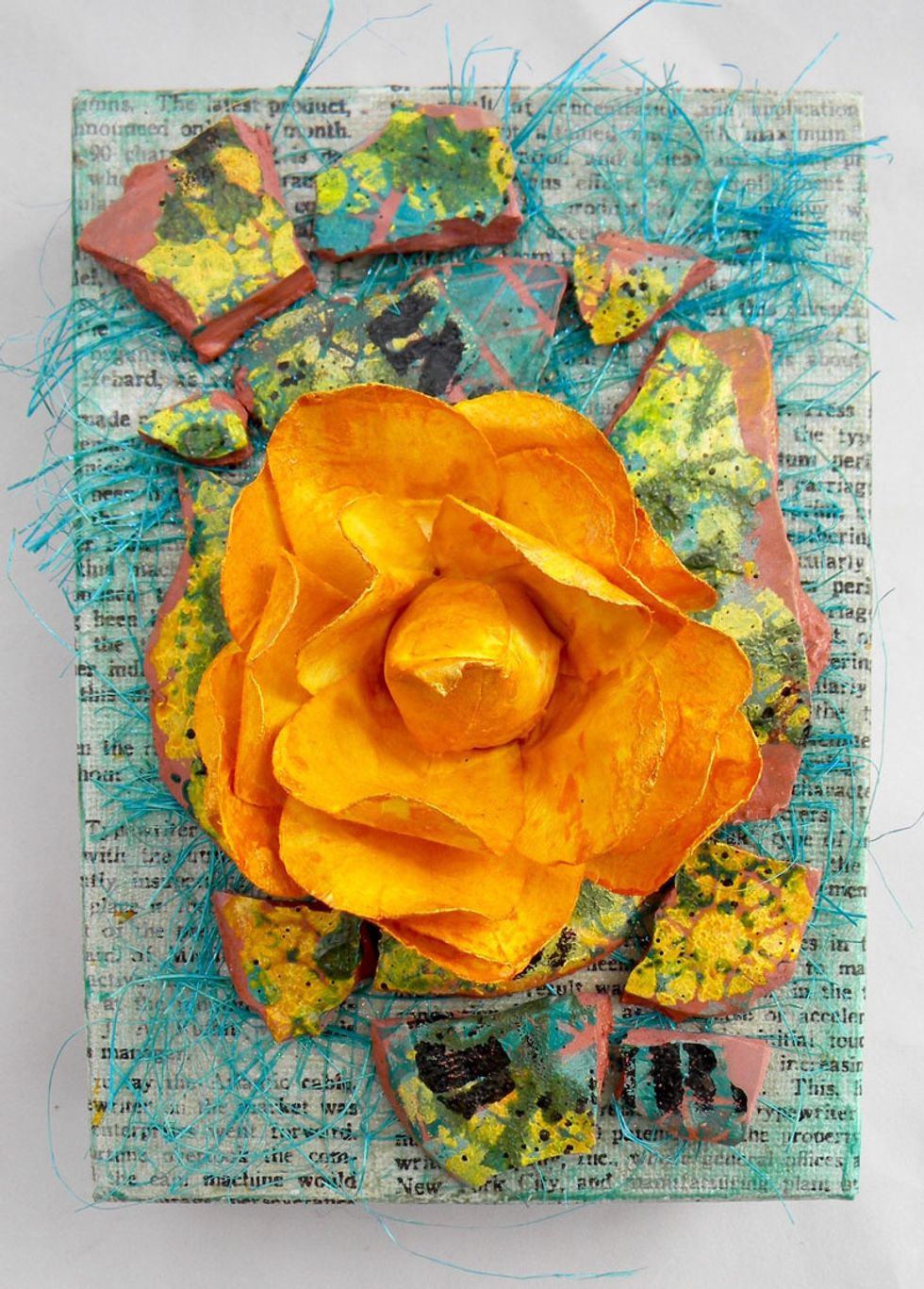 This canvas is 5" x 7" with a large flower sprayed with Timeless Colorations Spray. I also highlighted the edges with Amber Gemstones. The clay is glued with Beacon Zip Dry liquid glue.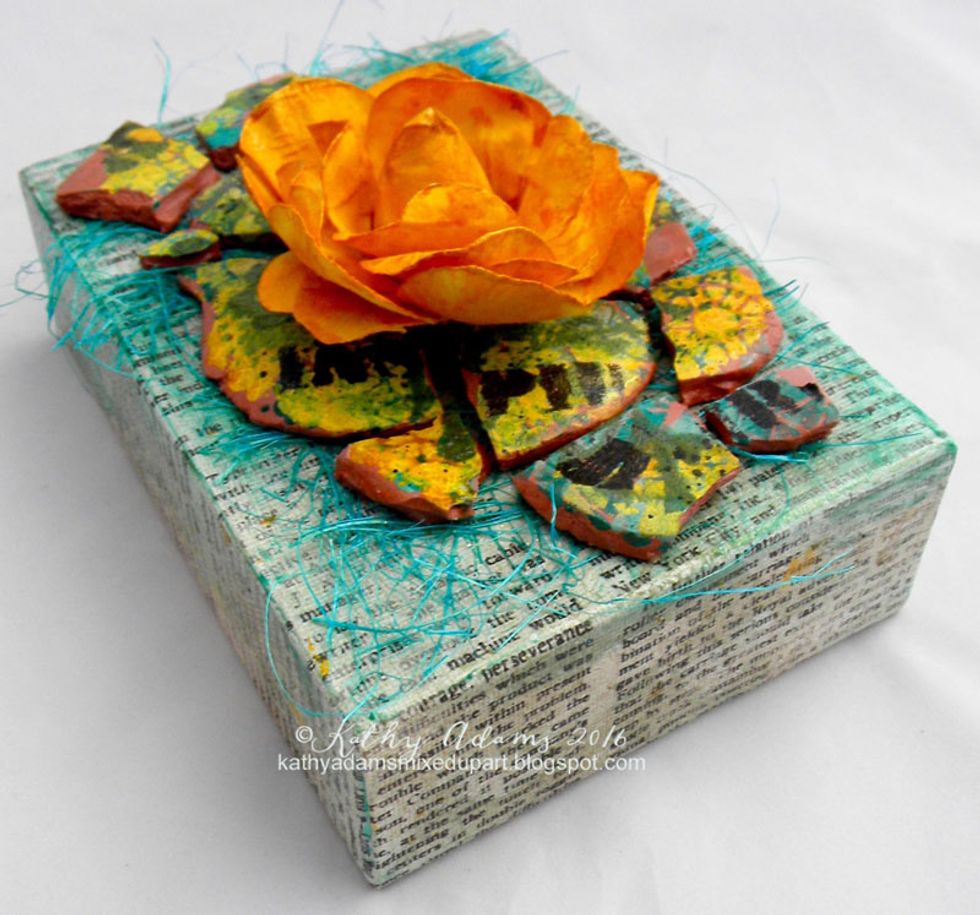 I love to use deep edge canvases because you have the option of hanging them or sitting them on a shelf. Consider creating a small canvas for someone special instead of a card.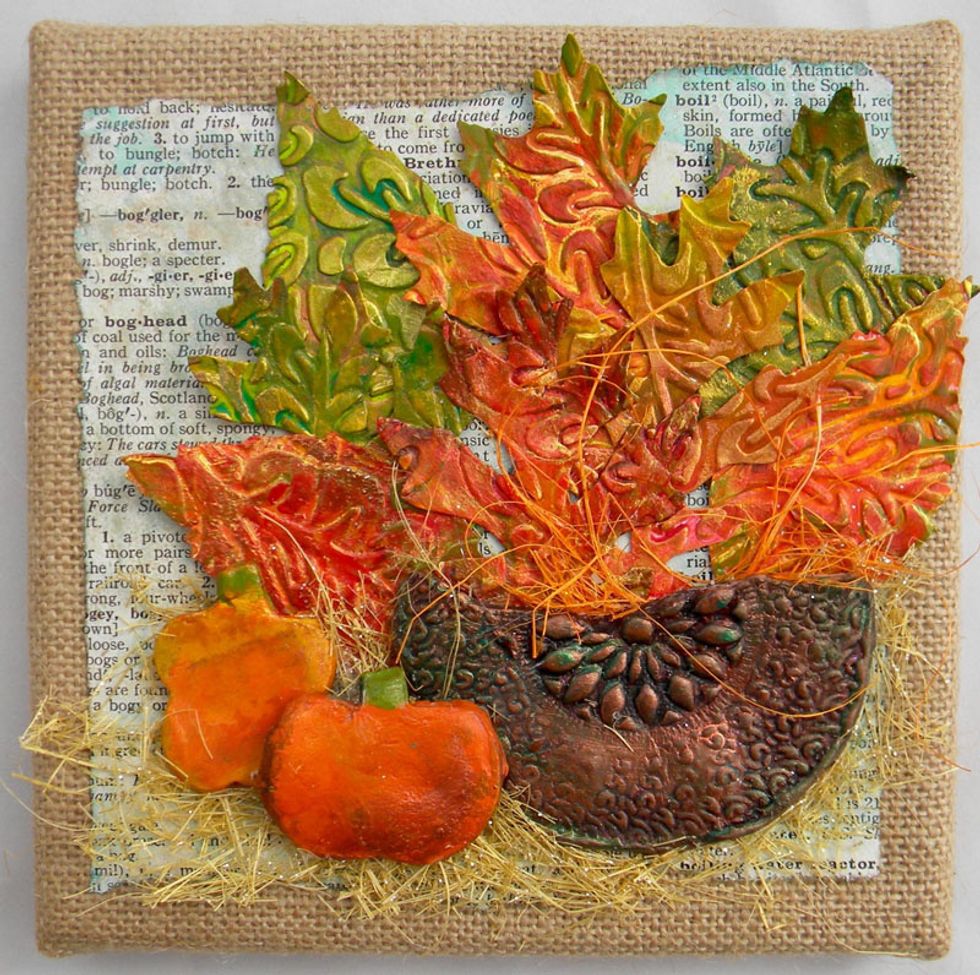 This canvas is 6" x 6" burlap with the dictionary page glued to the back. The clay medallion broke in half and looked like a vase to me so that's what it became! The fibers add much needed texture.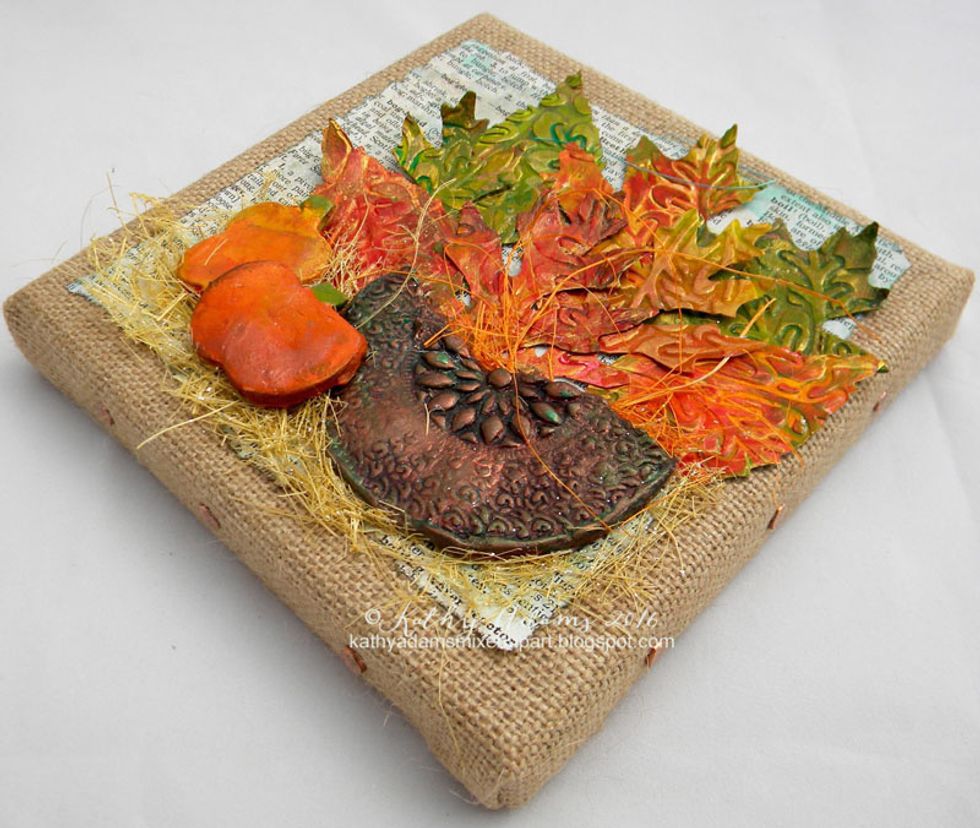 Copper tacks added to the sides pick up on the copper in the clay "vase". This will make a great hostess gift for someone. I love getting homemade gifts, don't you? It's a great way to share your art.
The third canvas is 4" x 4" with die-cut chipboard leaves painted with Velvets and Sorbets. For contrast, the "vase" is painted with reds, oranges and a touch of purple and gold.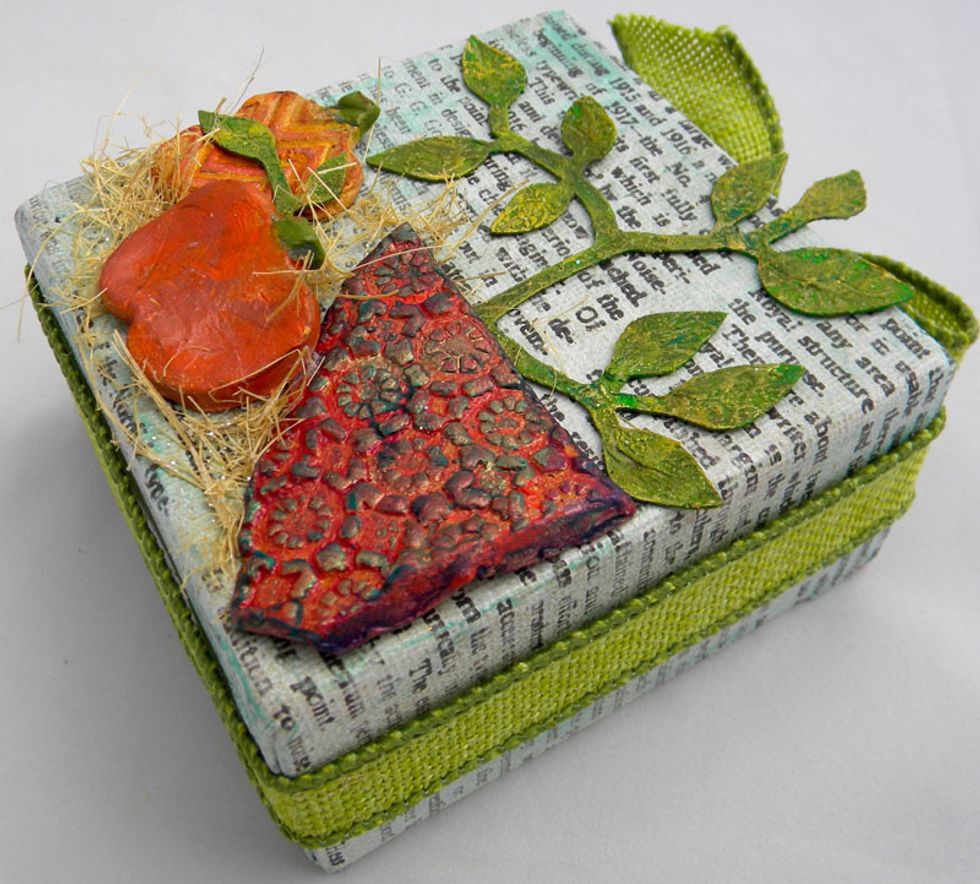 Art Anthology mediums are perfect for clay and I can't believe how easy it was to create these little pieces of art. Since the clay is air-dry, there is no baking or firing necessary.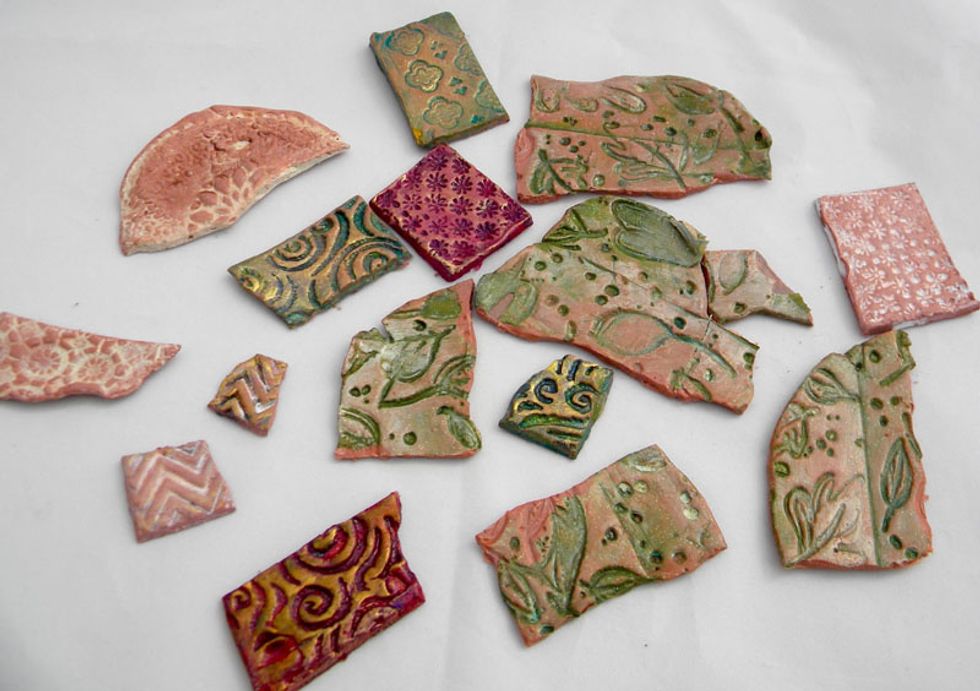 I have all of these little homemade clay embellishments left to add a touch of my art to future projects. Ideas: wrap with twine, layer with flowers, buttons or metal, add beads and make jewelry.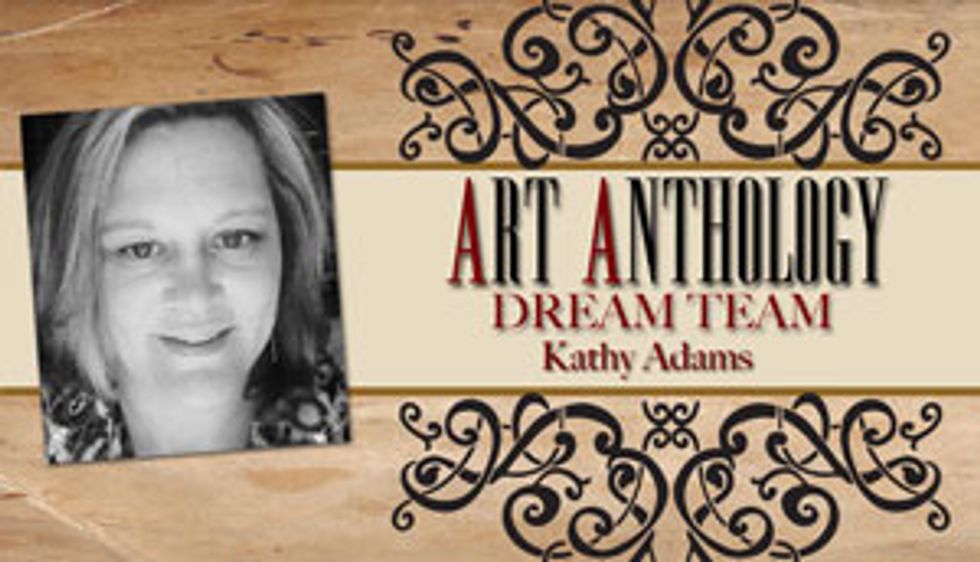 Thanks for visiting today. Check out artanthologyinc.com for more ideas and to purchase mediums used in this tutorial. Now go make something with clay!
Art Anthology Sorbet, Velvet and Gemstone Mediums
Timeless and Sandcastle Colorations Spray
Mexican Air Dry Clay - 5lb box at Michaels ($10)
Rubber Stamps, Cookie Cutters
Rolling Pin
Craft Mat
Stencils: Triangular, Retro and Inspired Grunge
Art Anthology
Art Anthology is a manufacturer of dimensional mediums.\n\nCome chat with us in our Facebook Group: Art Anthology Adventures in Art