Create Mixed Media Shabby Chic Home Decor
1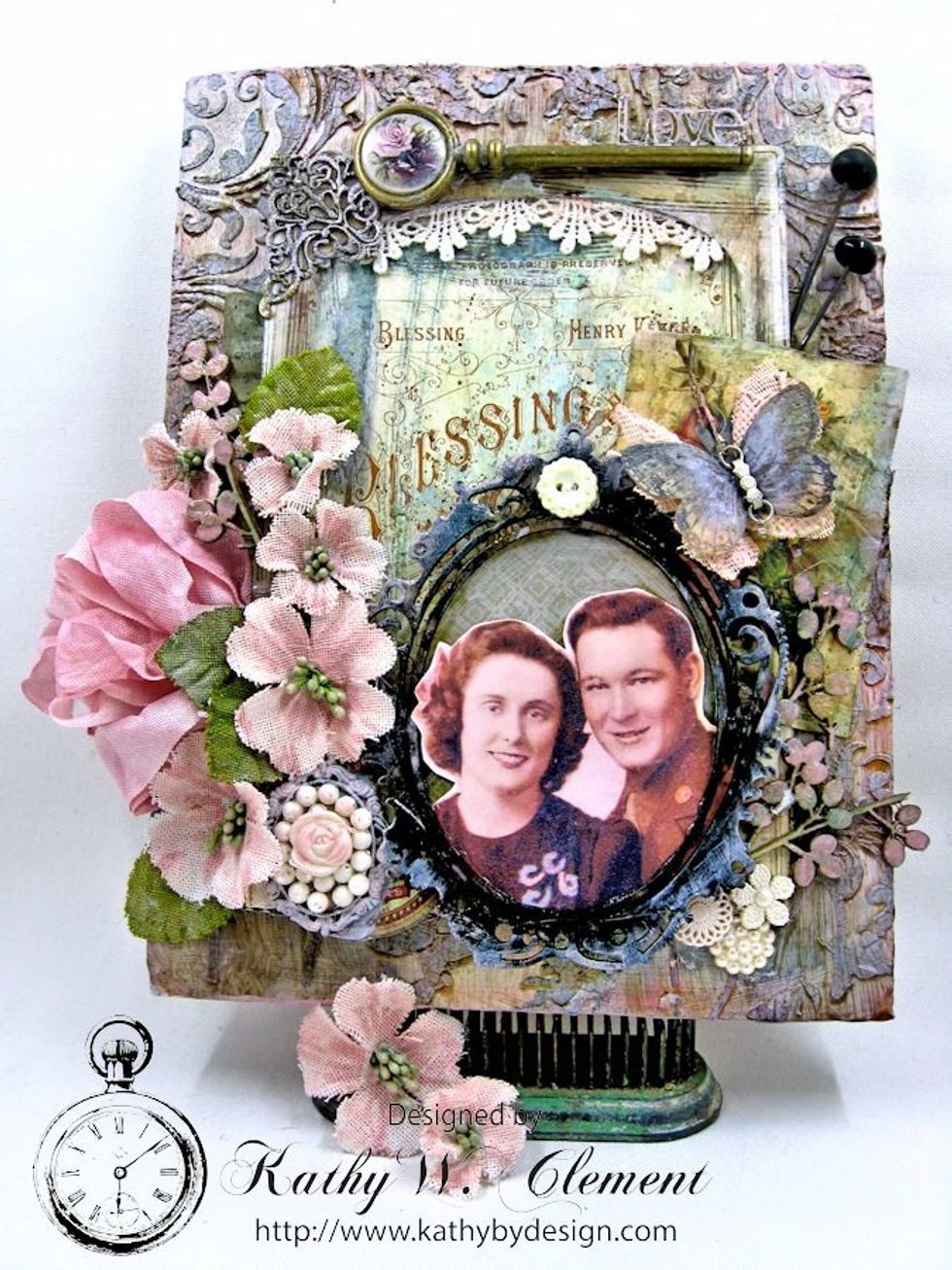 Use corrugate packing material and an old family photo to create this shabby chic home decor. Cut three 6" x 8" panels of sturdy cardboard and glue them together with strong white glue. Sand lightly.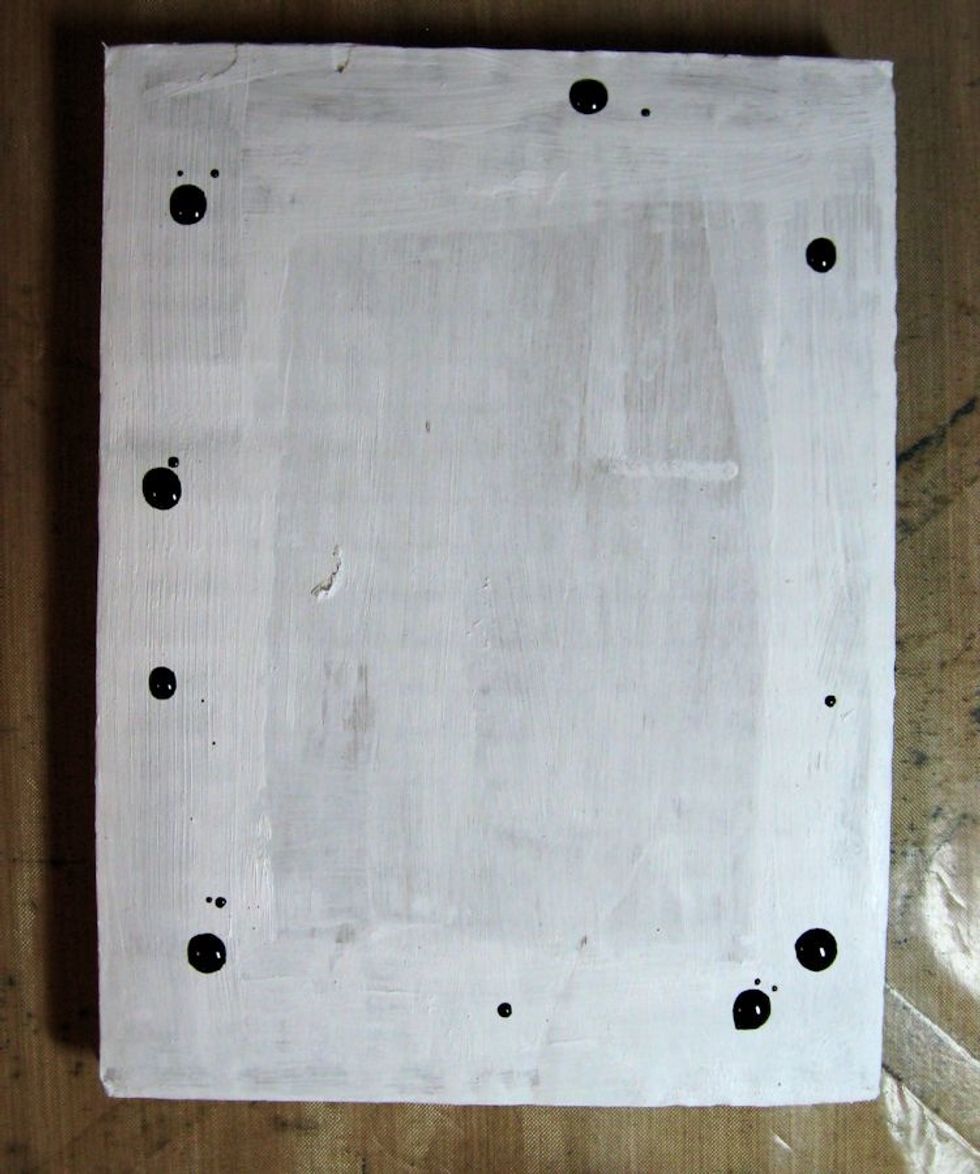 Paint the top and sides with white gesso. When dry, add droplets of Tattered Rose Distress re-inker randomly around the edges of the panel.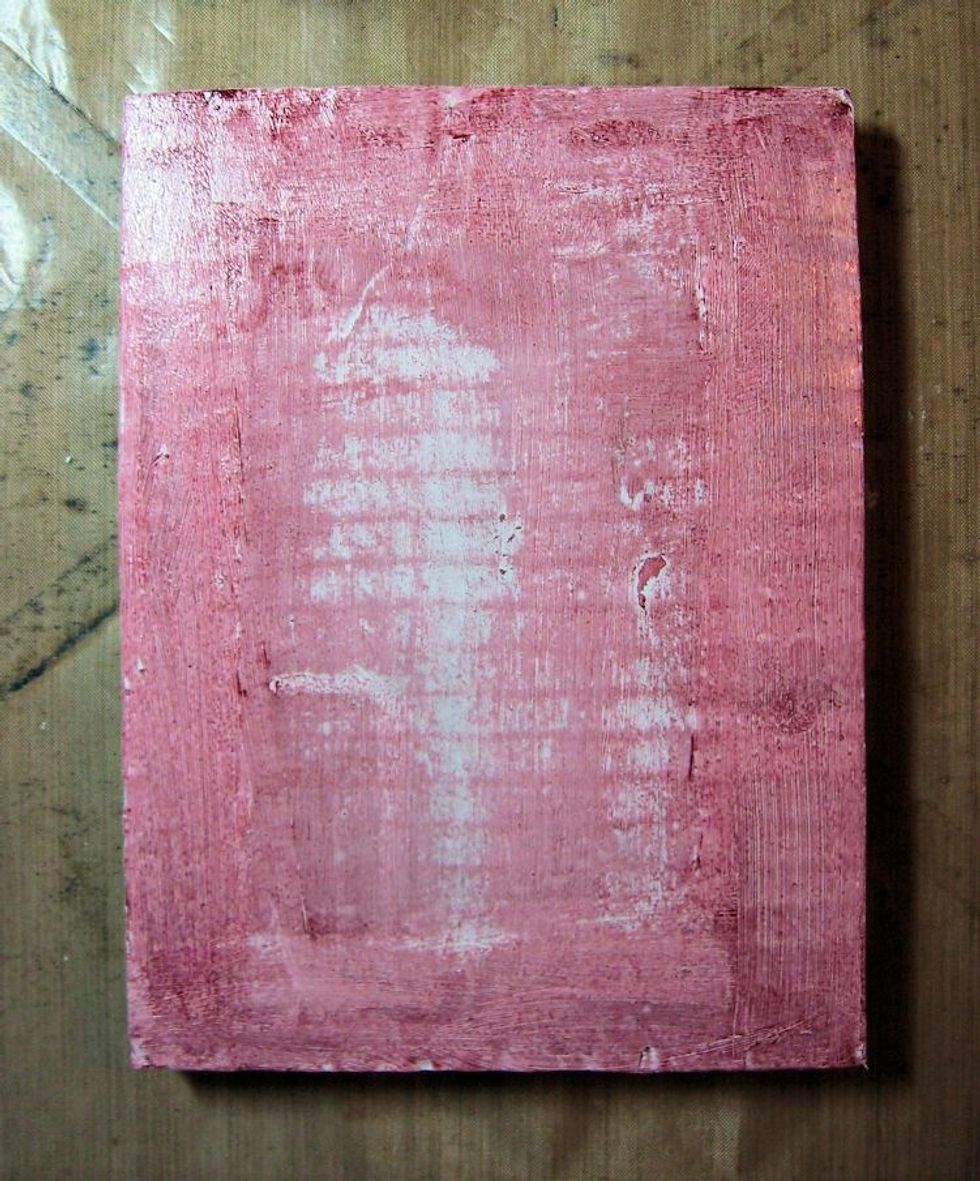 Spread the droplets with a 1" brush.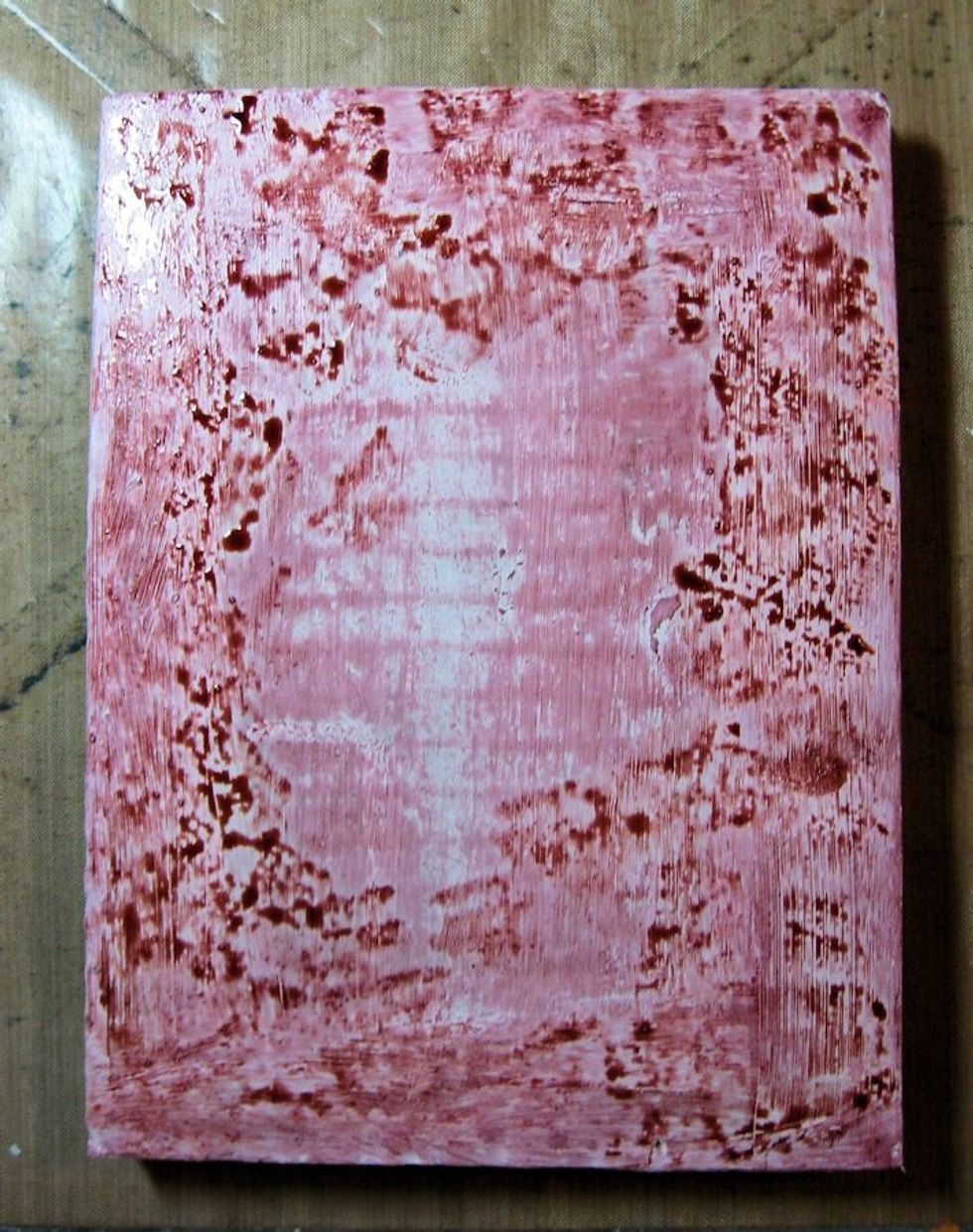 Add some droplets of Victorian Velvet reinker over the dried surface. Use a foam brush to blot the ink around the edges. Heat dry, using a clean paper towel to blot up any excess ink.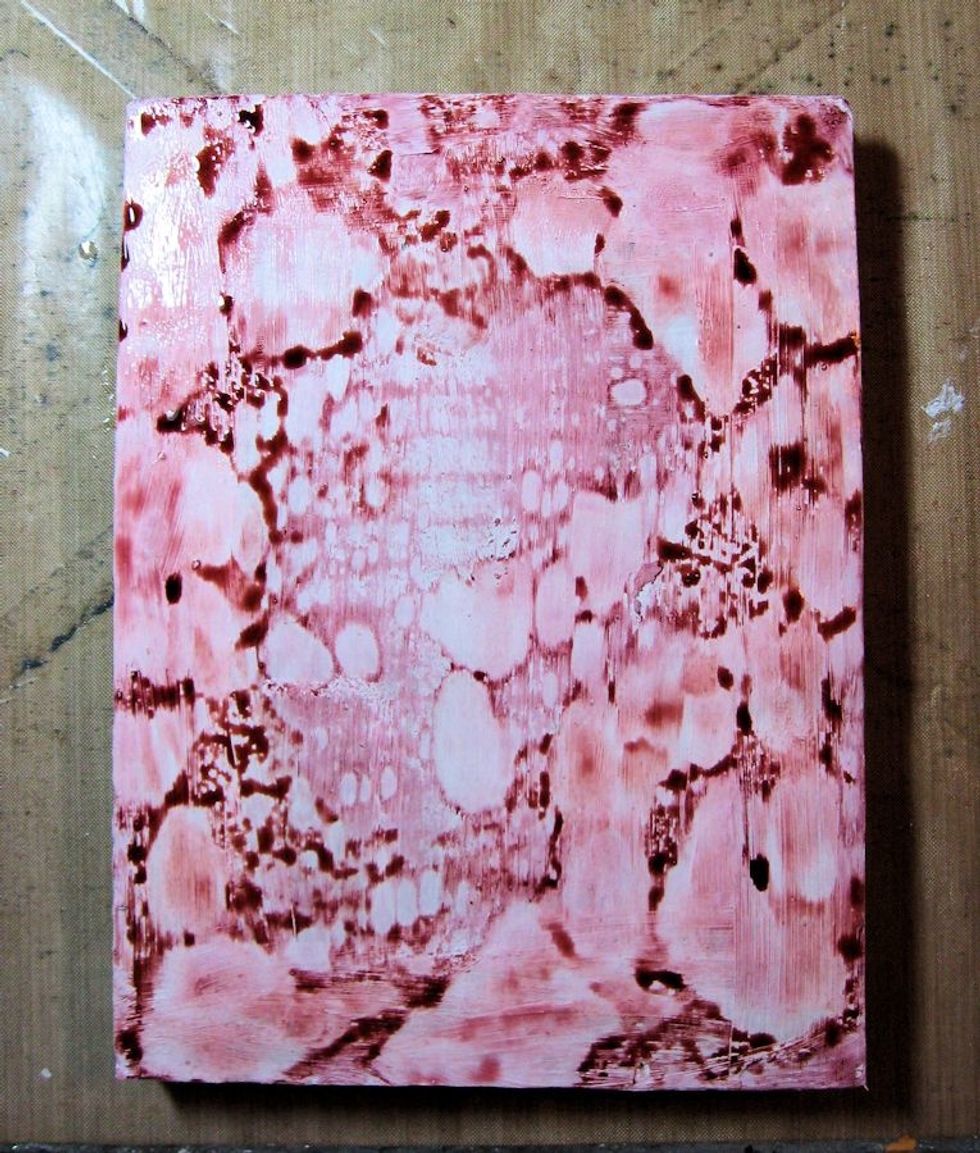 Place a TBSP of rubbing alcohol in a small plastic cup. Use a clean eyedropper to add droplets of rubbing alcohol over the surface. Wait for the ink to react with the alcohol.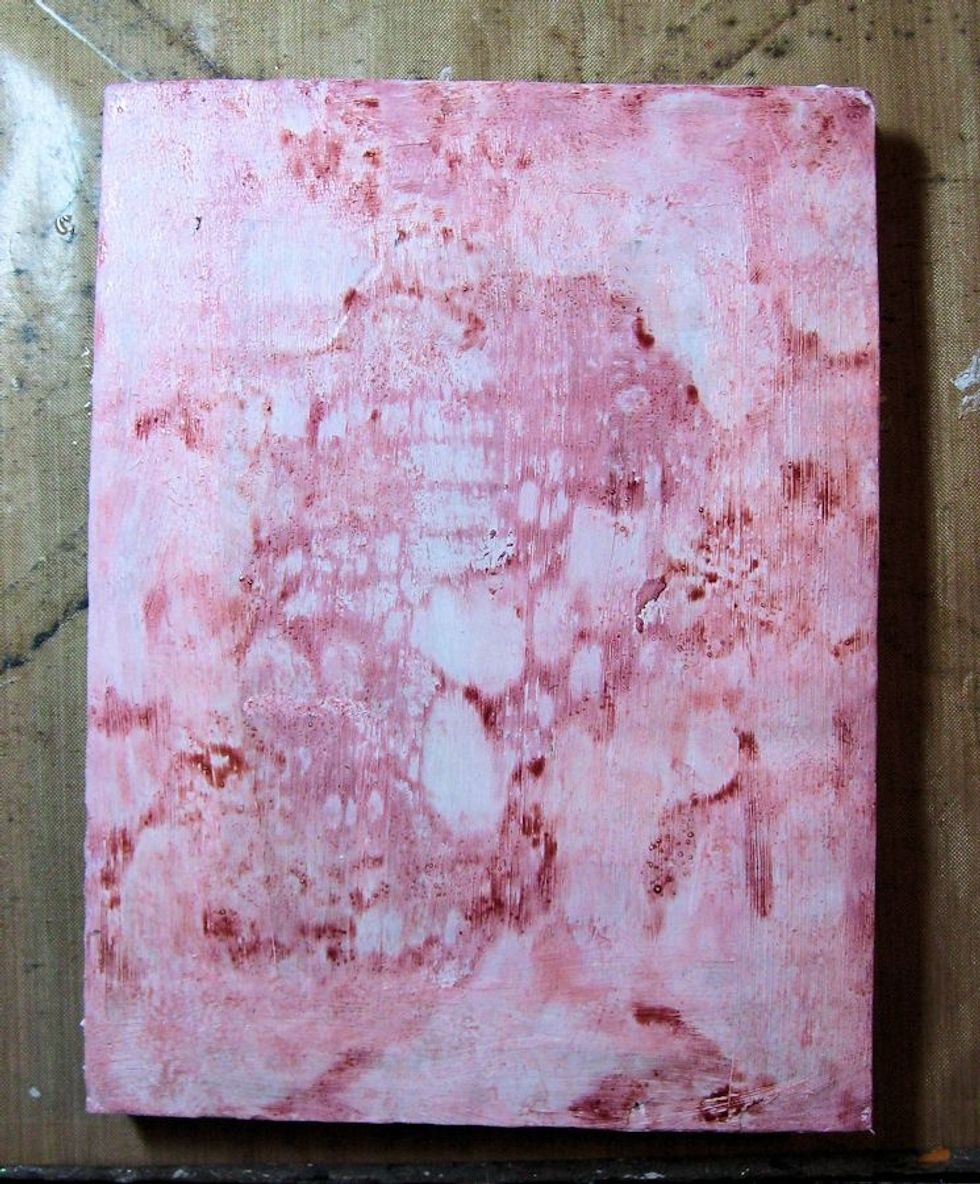 Blot excess ink with a clean paper towel. Let the ink air dry, or very gently dry with a heat gun.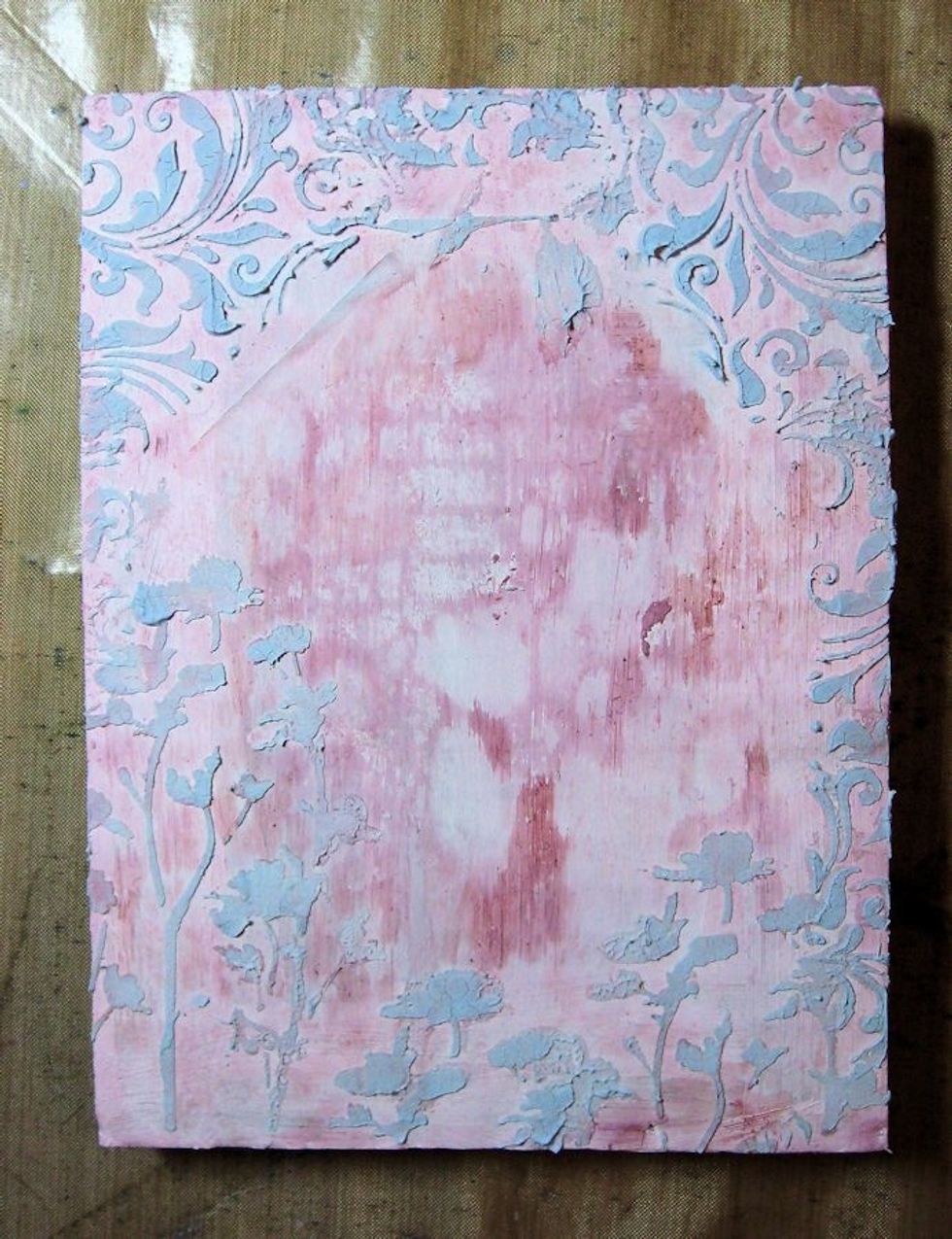 Place 1/4 cup crackle paste in small plastic cup. Add a drop or two of weathered wood re-inker. Stir with palette knife. Spread paste with knife through floral and flourish stencil. Let dry.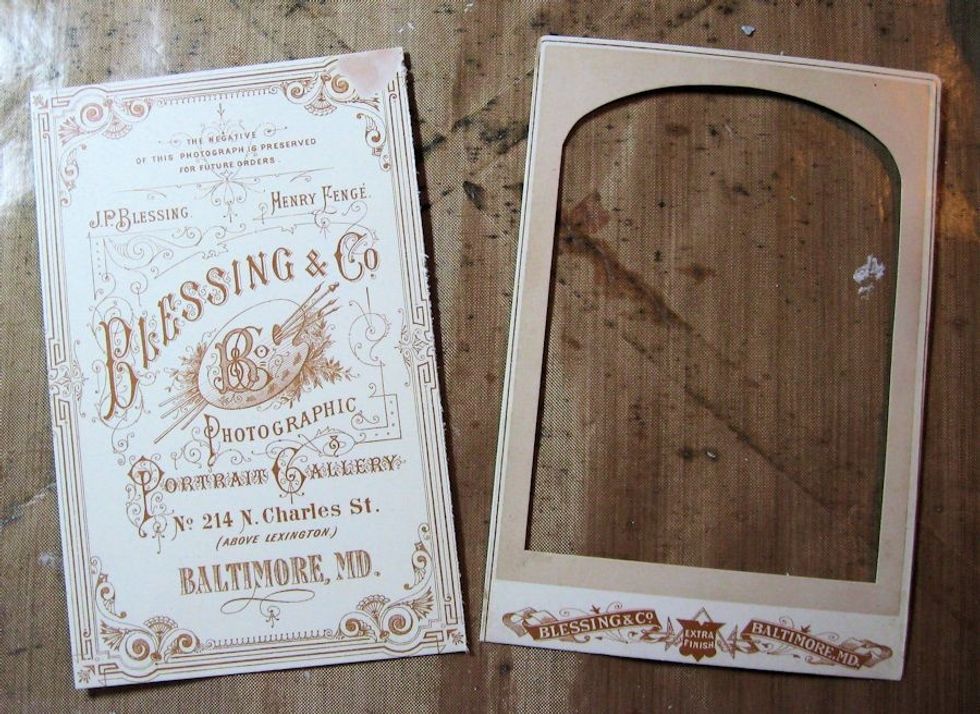 Cut the Blessing & Co Cabinet card down the side and carefully remove the front frame as seen in this photo.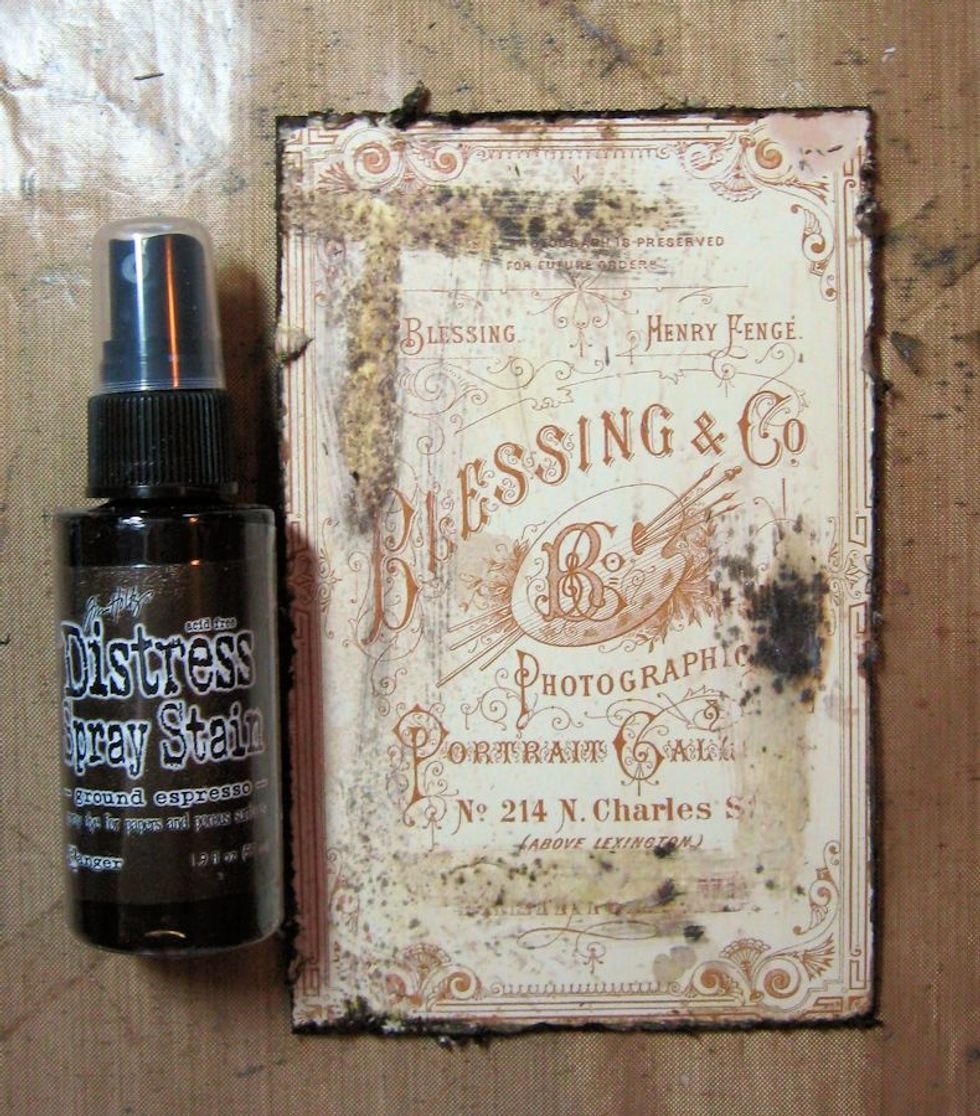 Use the distressing tool to age the edges and text area of the cabinet card. Spritz lightly with Ground Espresso Distress stain spray. Move the spray with a damp paper towel, blotting up excess.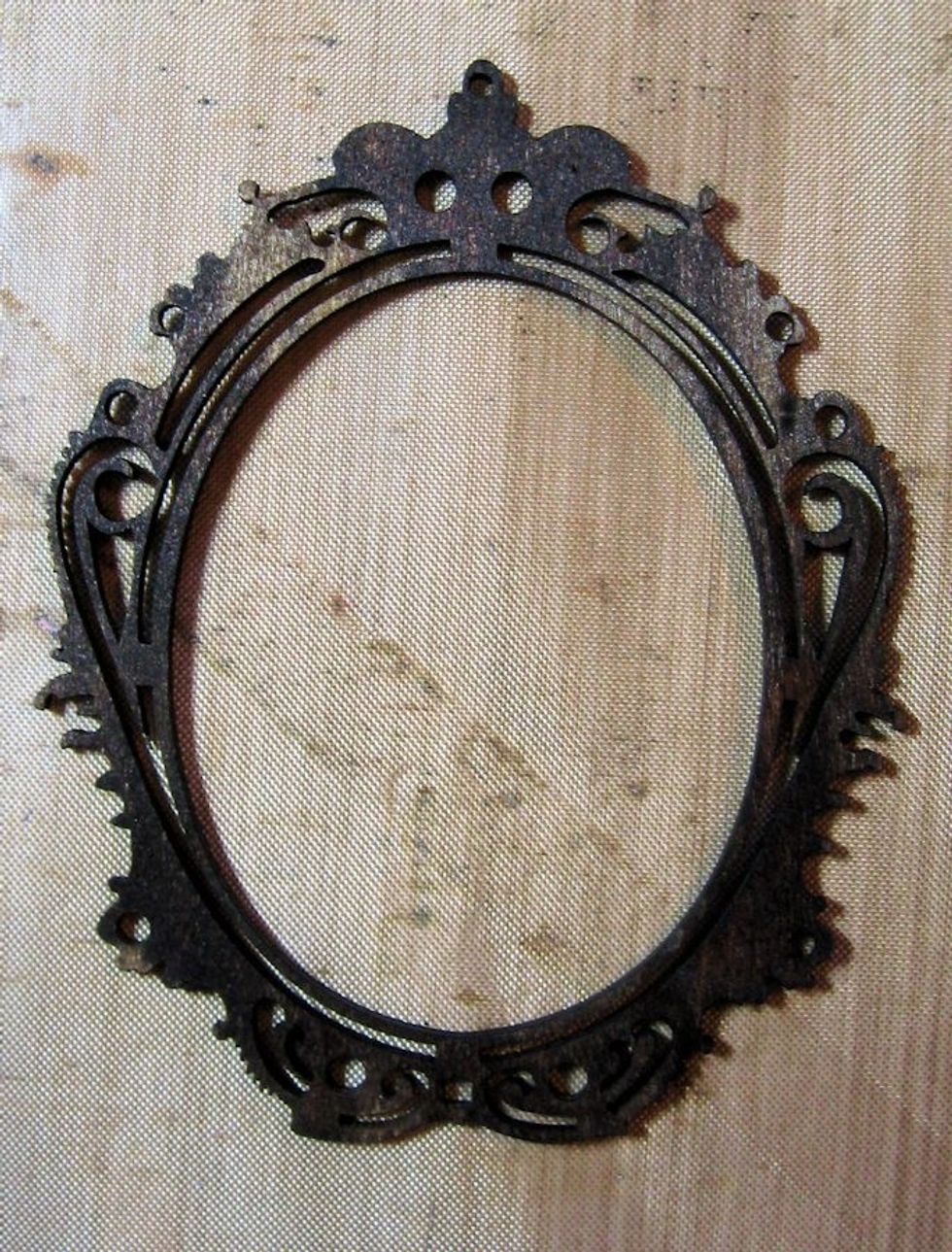 Spray the wood frame with Ground Espresso. Blot with paper towel. Add Weathered Wood Distress Stain to create an aged look on the frame. Paint with Clear Rock Candy Distress Paint. Set aside to dry.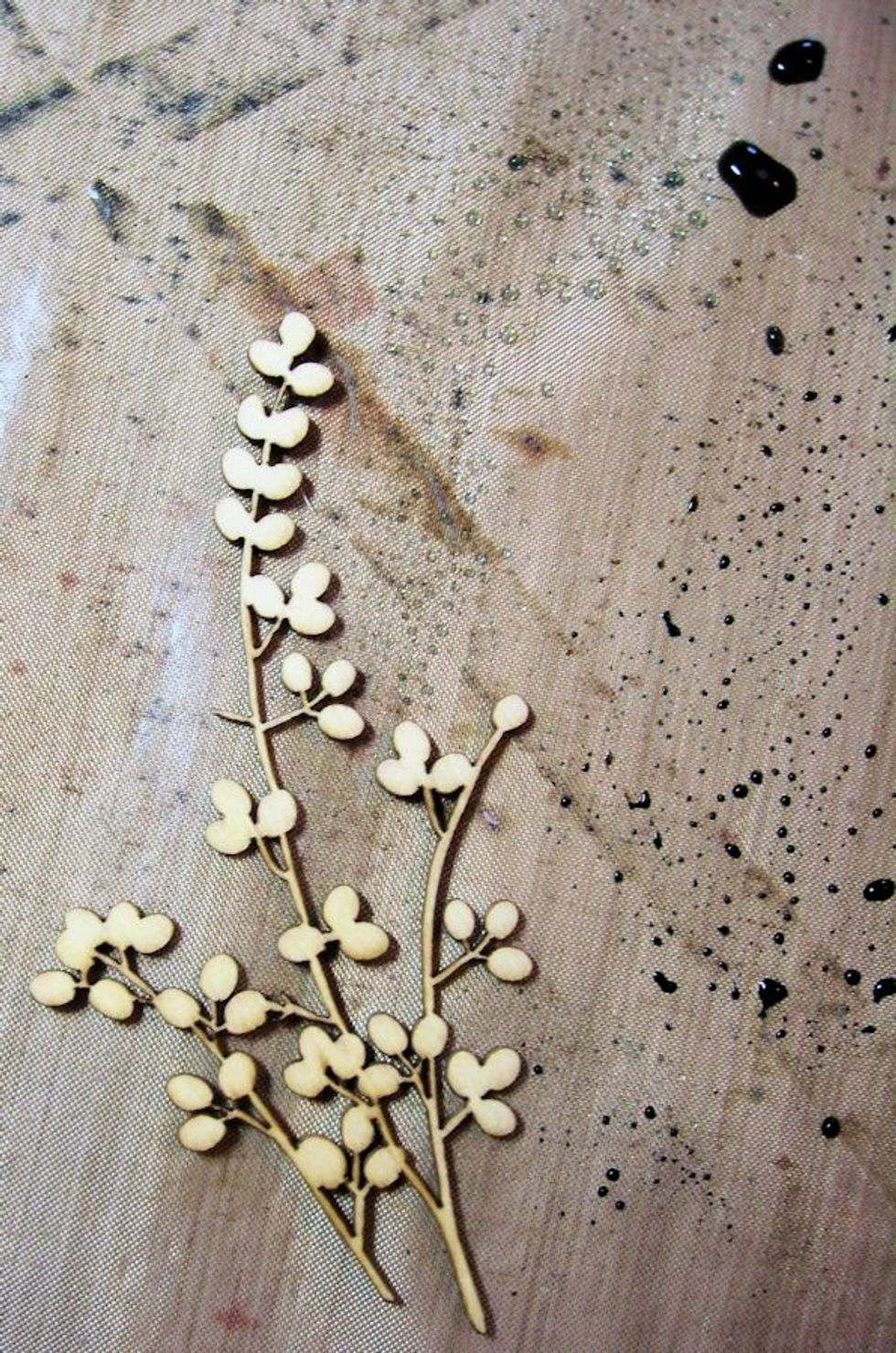 Swipe Faded Jean Distress Stain on craft sheet. Spritz with Distress sprayer and dip the wood berry flourish into the ink.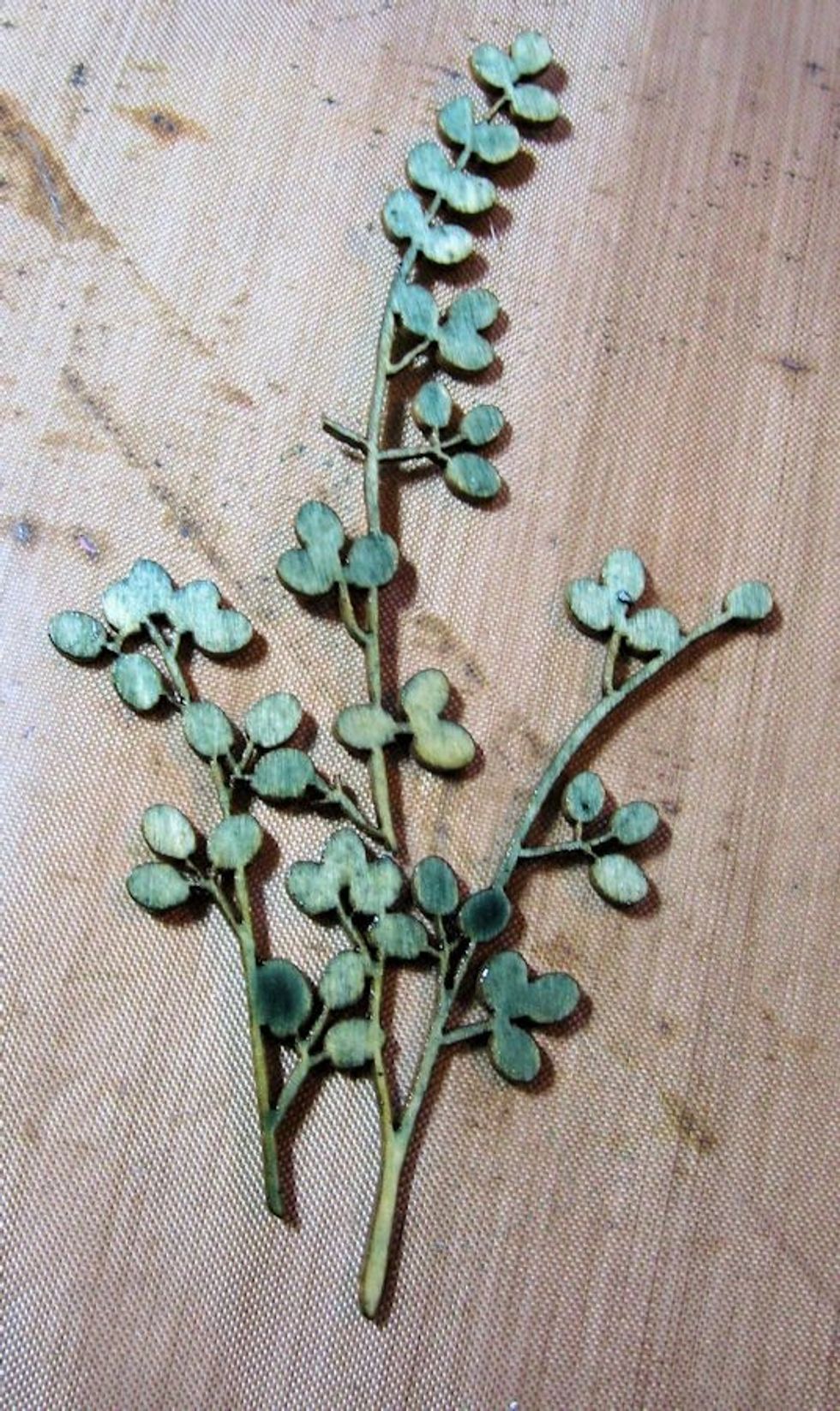 Heat dry wood flourish. Use a small paintbrush to add Tattered Rose Distress Paint to the tips of the berries. Dry. Paint with Clear Rock Candy Distress Paint. Set aside to dry.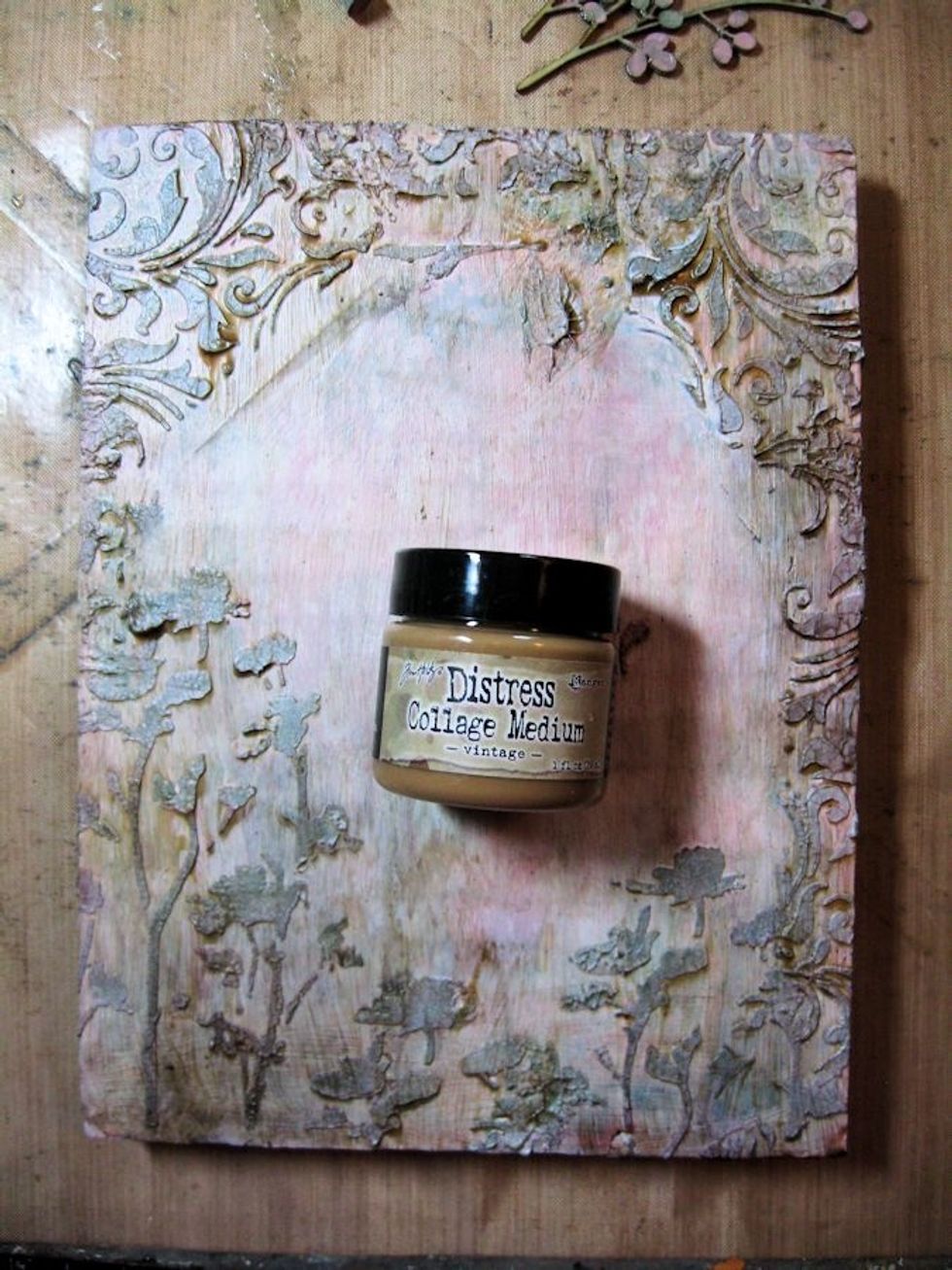 When texture paste is dry, brush on Weathered Wood Distress Stain. Use collage brush to add a layer of Distress Vintage Collage Medium over the entire surface. Add more to corners for aged effect. Dry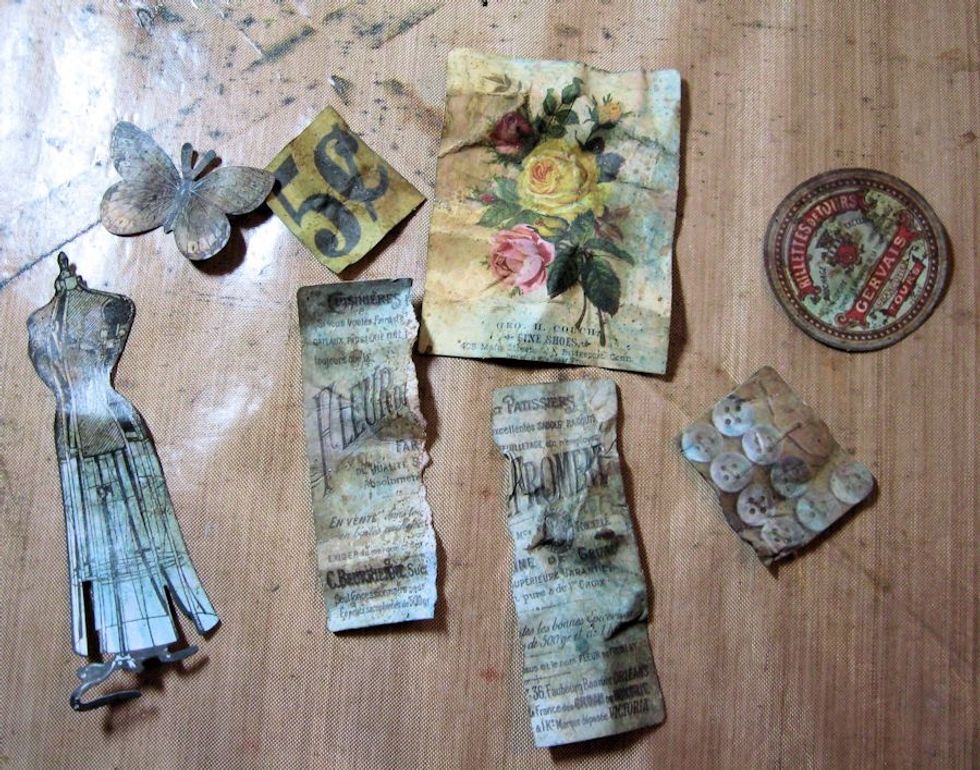 Age Thrift Shop Ephemera by brushing with diluted Ground Espresso Spray Stain. Crumple and set aside to dry. Don't be afraid to tear elements in half. Shape butterfly wings with fingers while wet.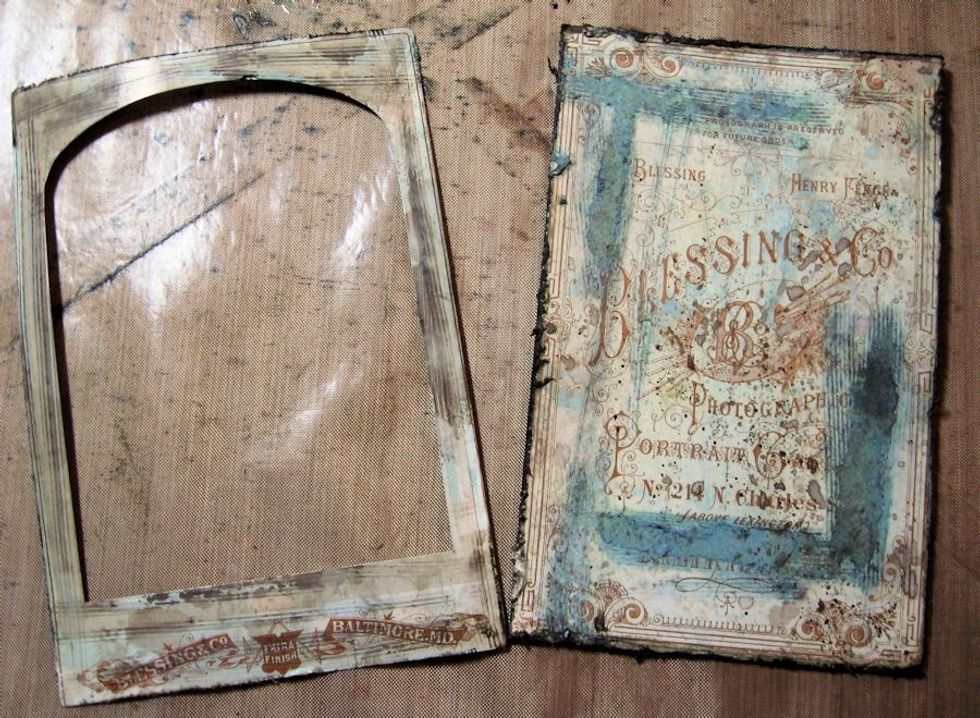 Distress Cabinet Card Frame. Swipe Faded Jeans Distress Stain over Blessing Cabinet card and frame.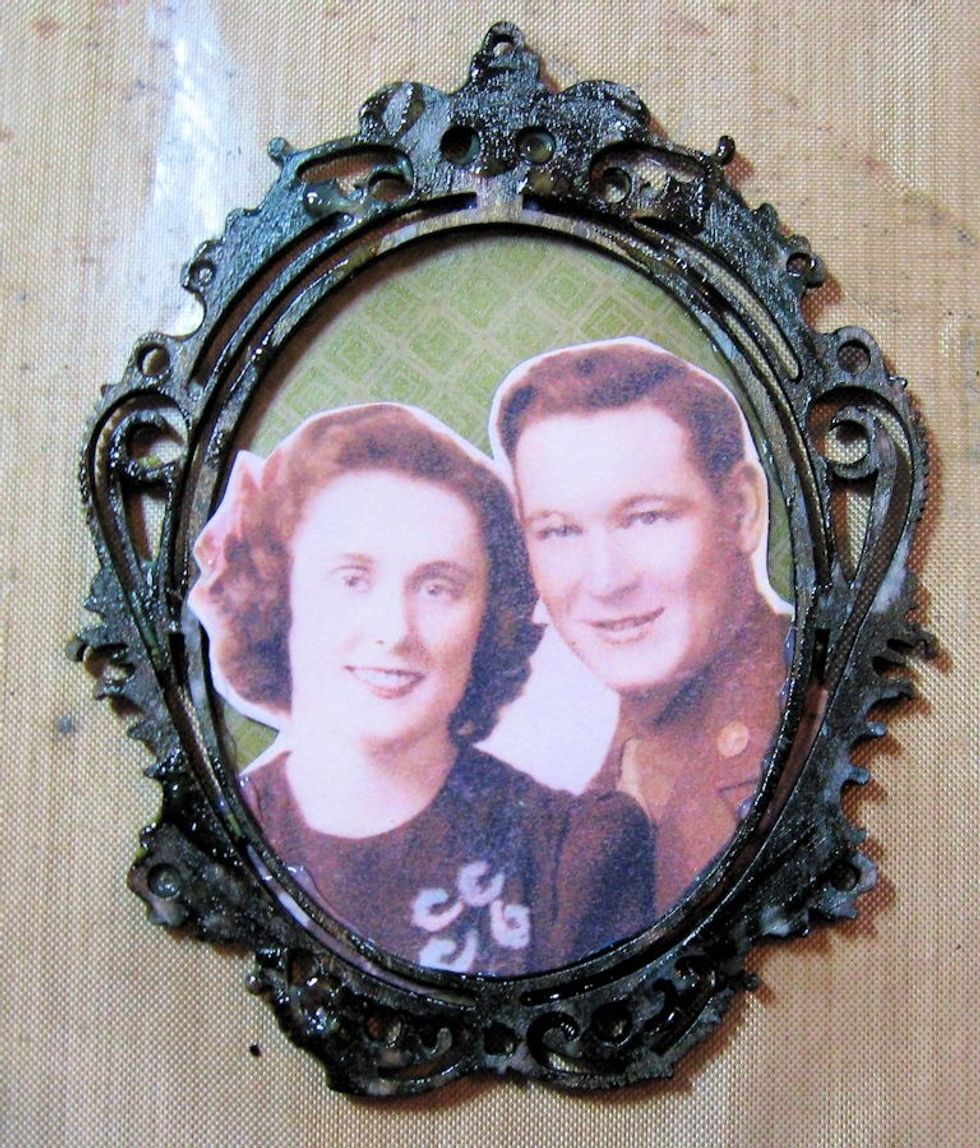 Trace inside of frame onto vellum paper. Cut out. Add family photo to vellum with foam adhesive. Use glossy accents to glue into frame allowing some areas to come outside frame as seen in photo.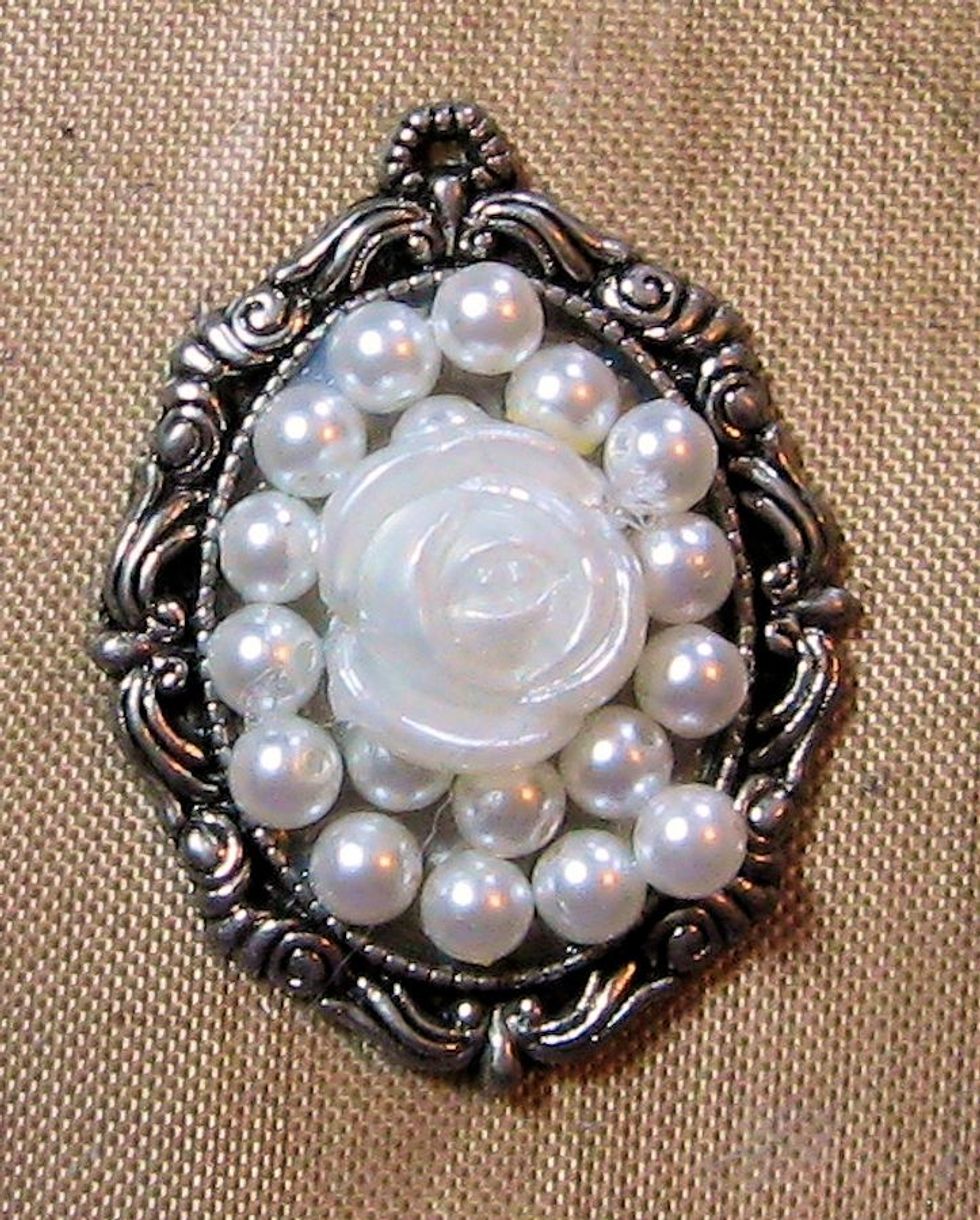 Fill cameo frame with Glossy Accents. Add pearls. Glue vintage pearl button on top. Set aside to dry. When dry, paint with Tattered Rose/Victorian Velvet Distress Paint.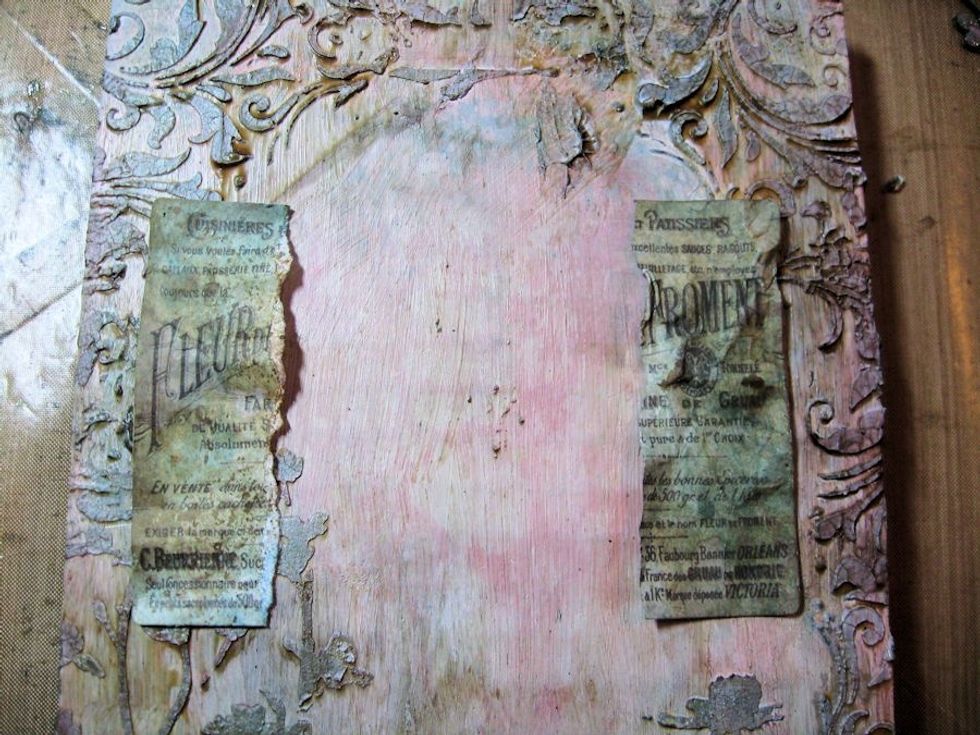 Now that all our elements are prepped, we will begin to build our layers. Use glue gun to secure torn ephemera on either side of surface.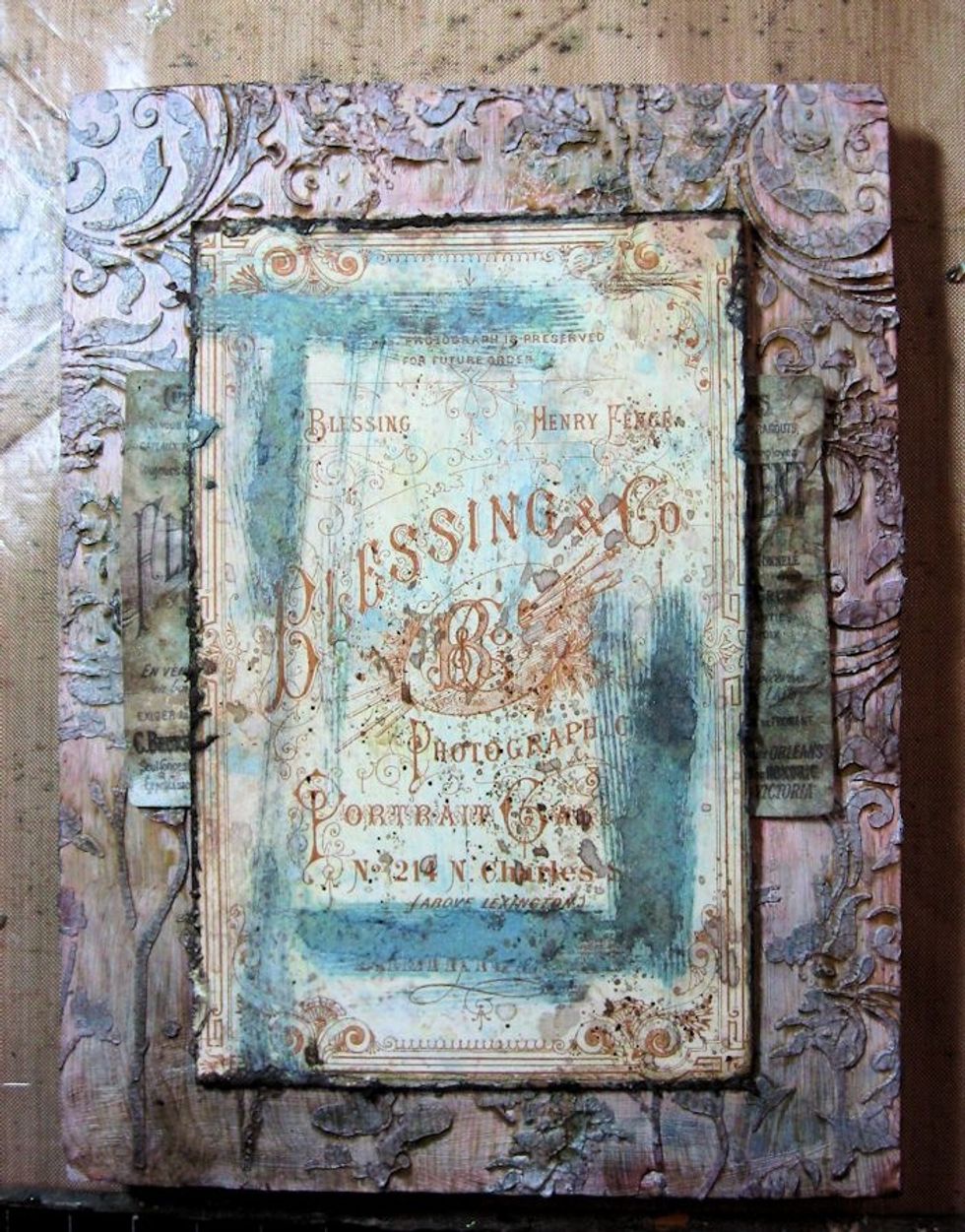 Glue waste corrugate to back side of cabinet card and glue in place on surface.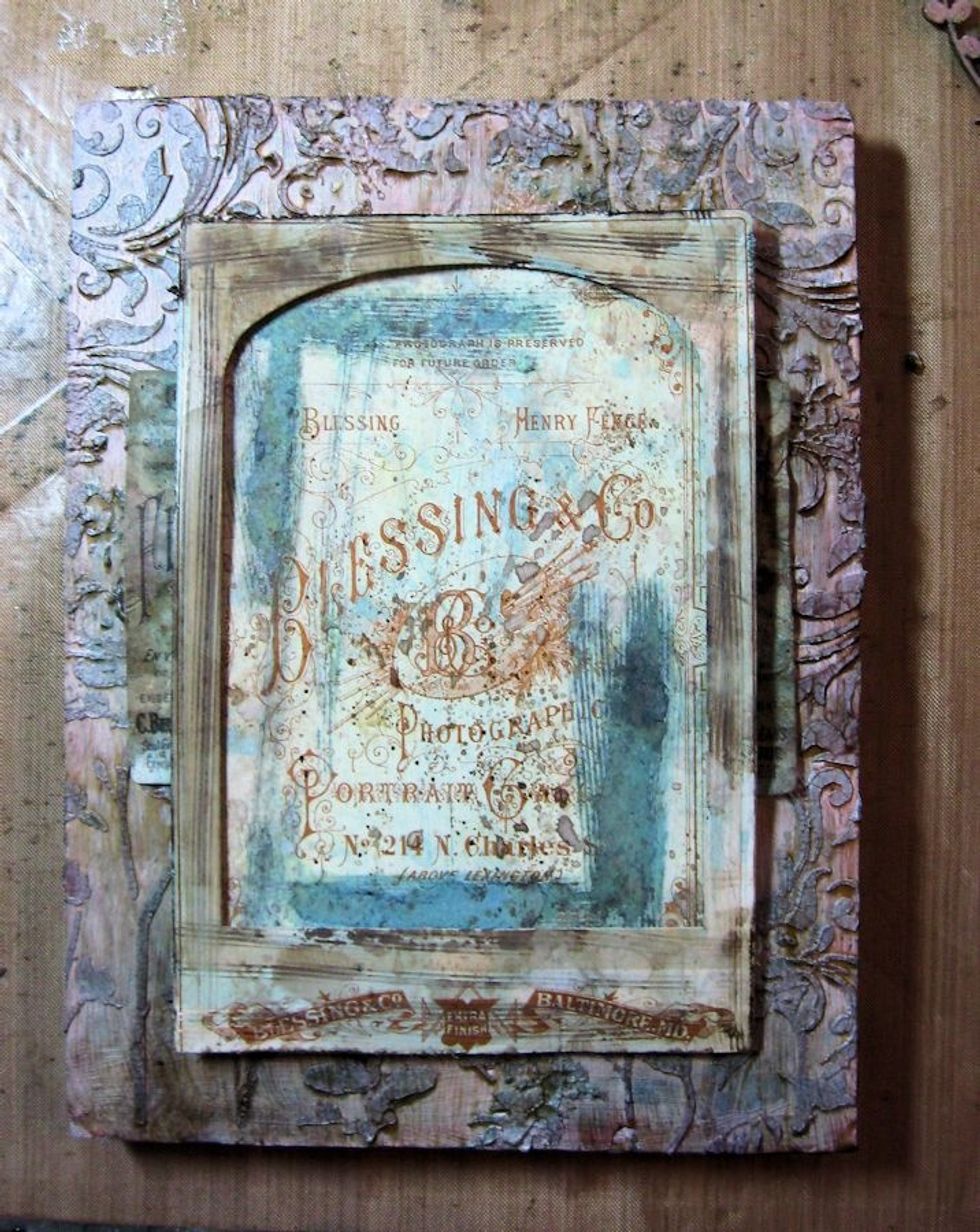 Add foam dots to back side of frame and place over cabinet card.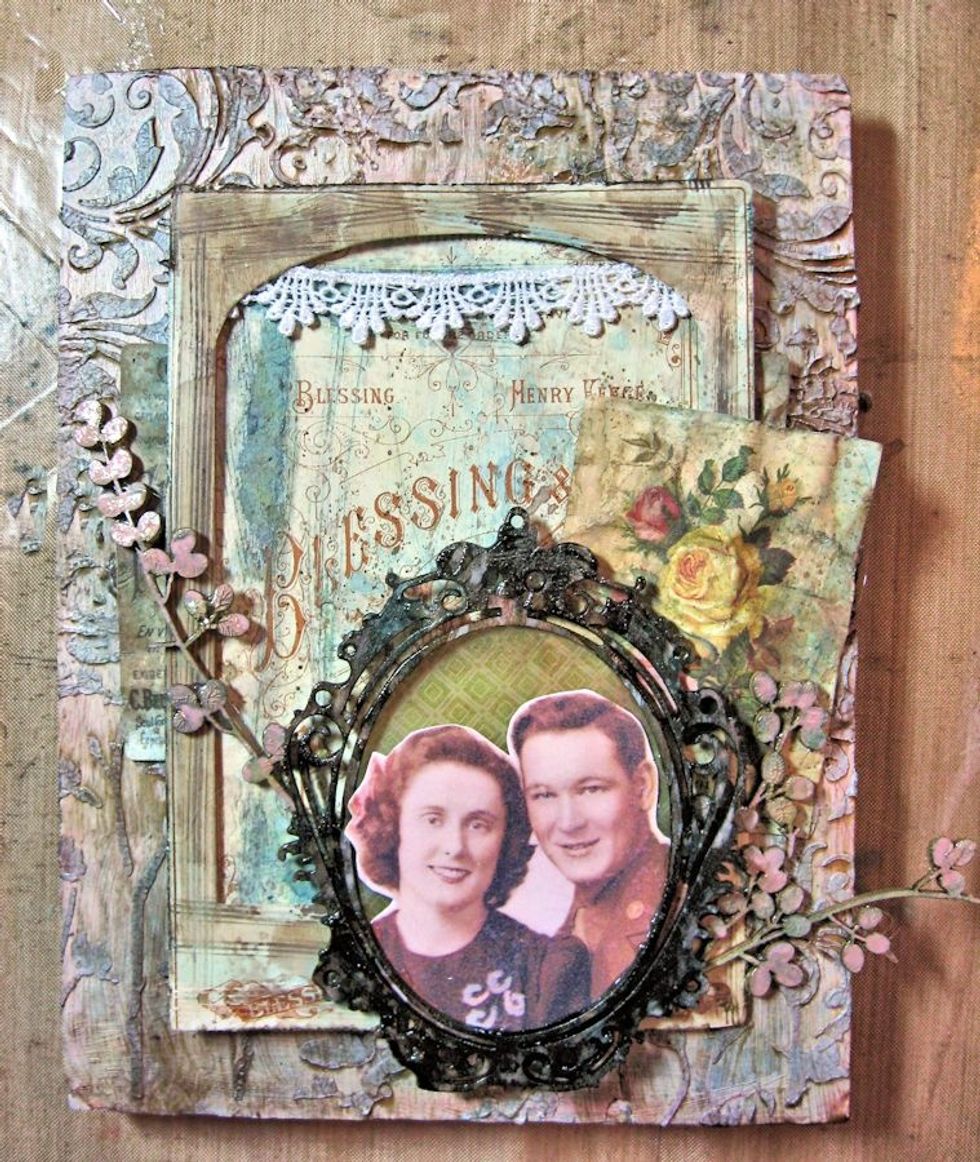 Place ephemera on surface. Add lace to top. Break berry flourish and glue on either side of surface. Add waste corrugate to back of frame and glue in place.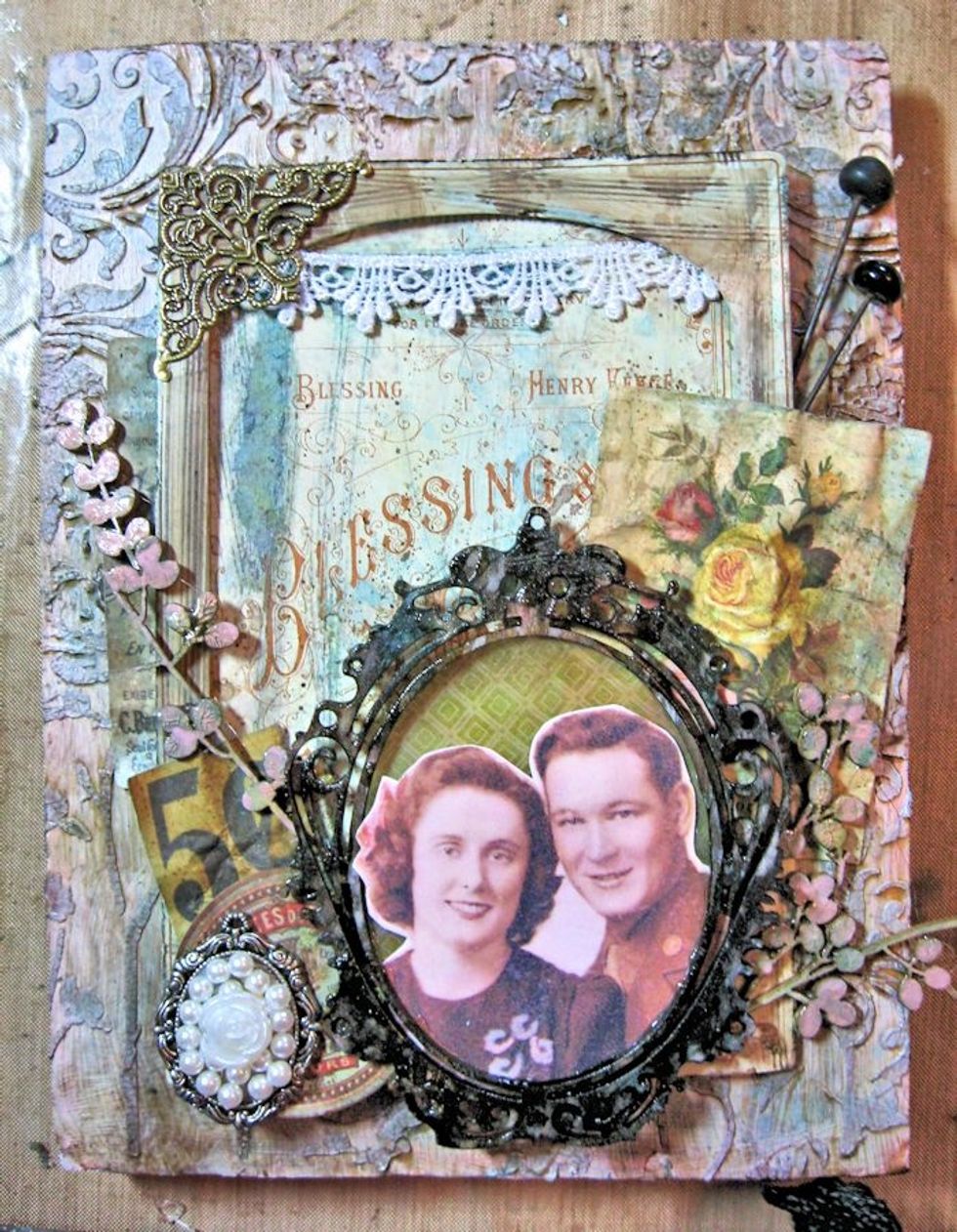 Layer ephemera beneath frame. Use Glossy Accents to secure cameo charm and metal corner.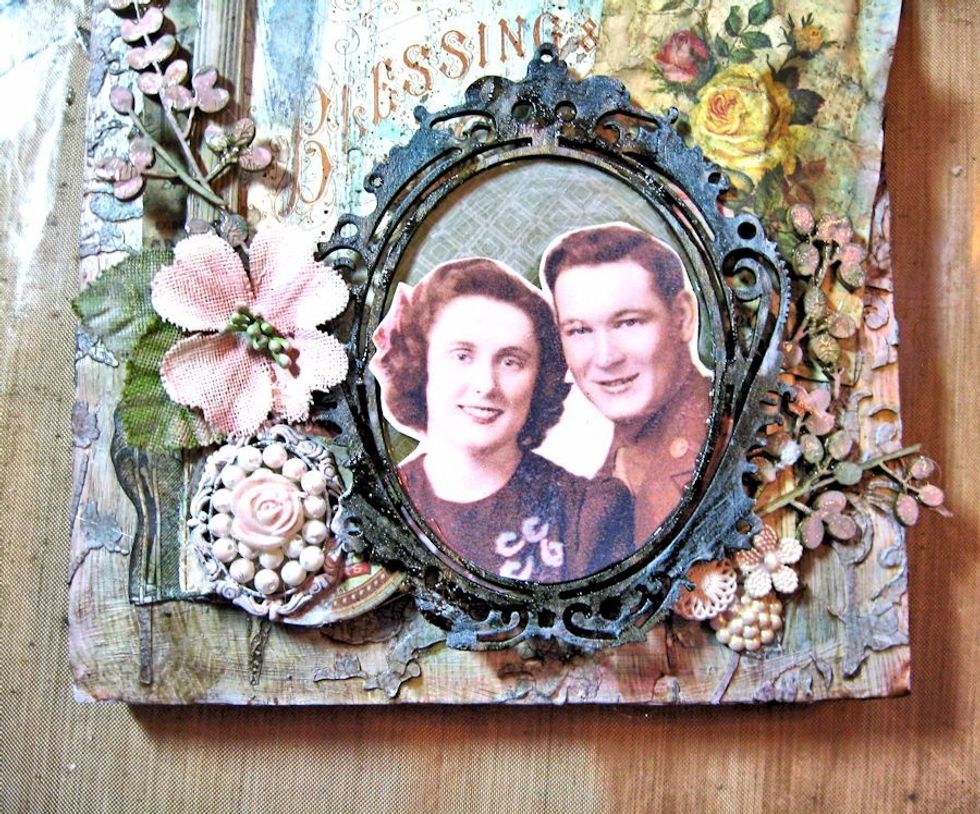 Paint DIY Dogwoods and leaves with Distress Paint and glue in place. Use hot glue to add cluster of vintage buttons below frame.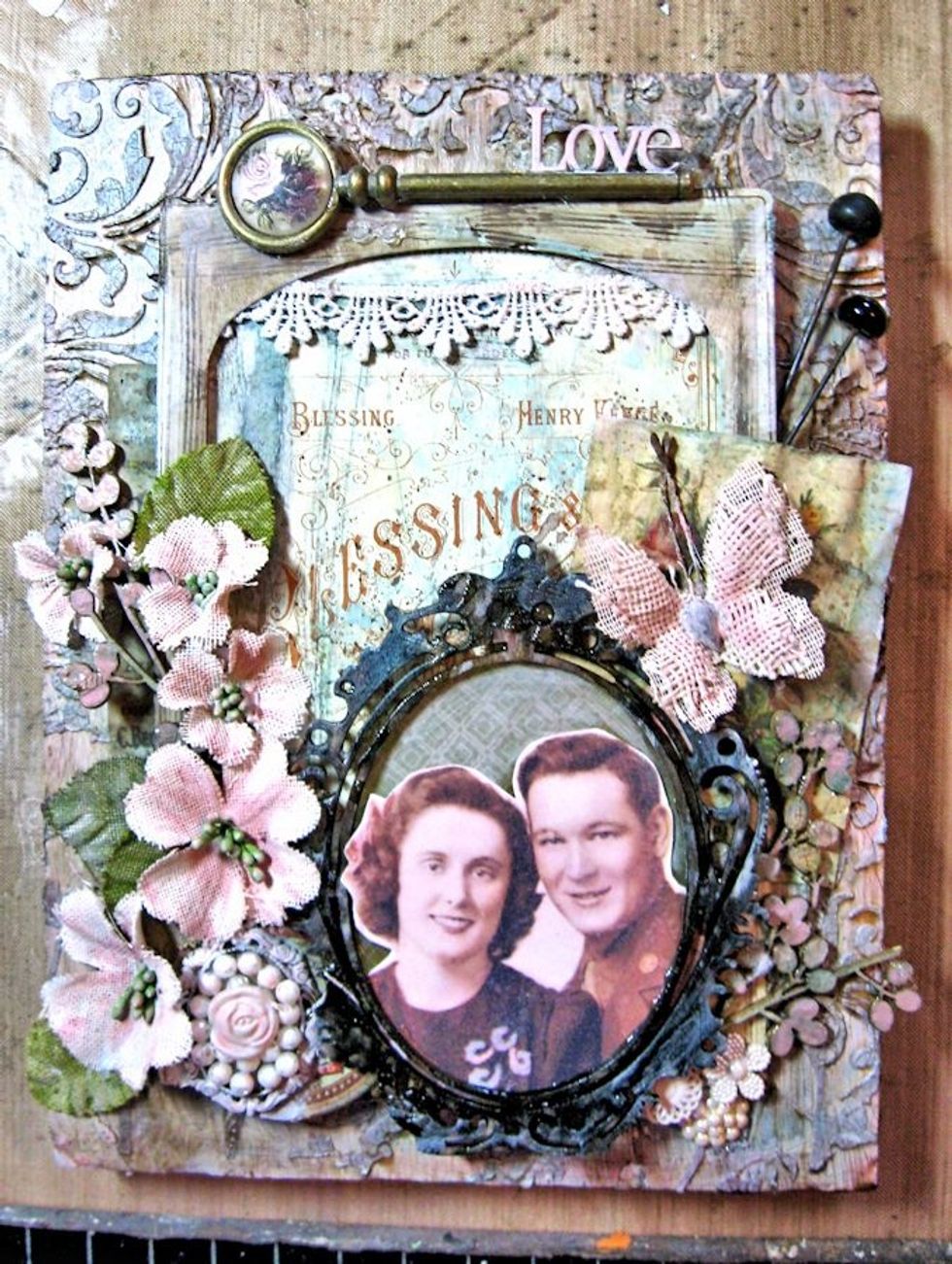 Continue to add flowers and burlap butterfly. Glue the LOVE key above the frame. Fill the center with an old earring or cabochon charm. Paint the letters, let dry partially and wipe off.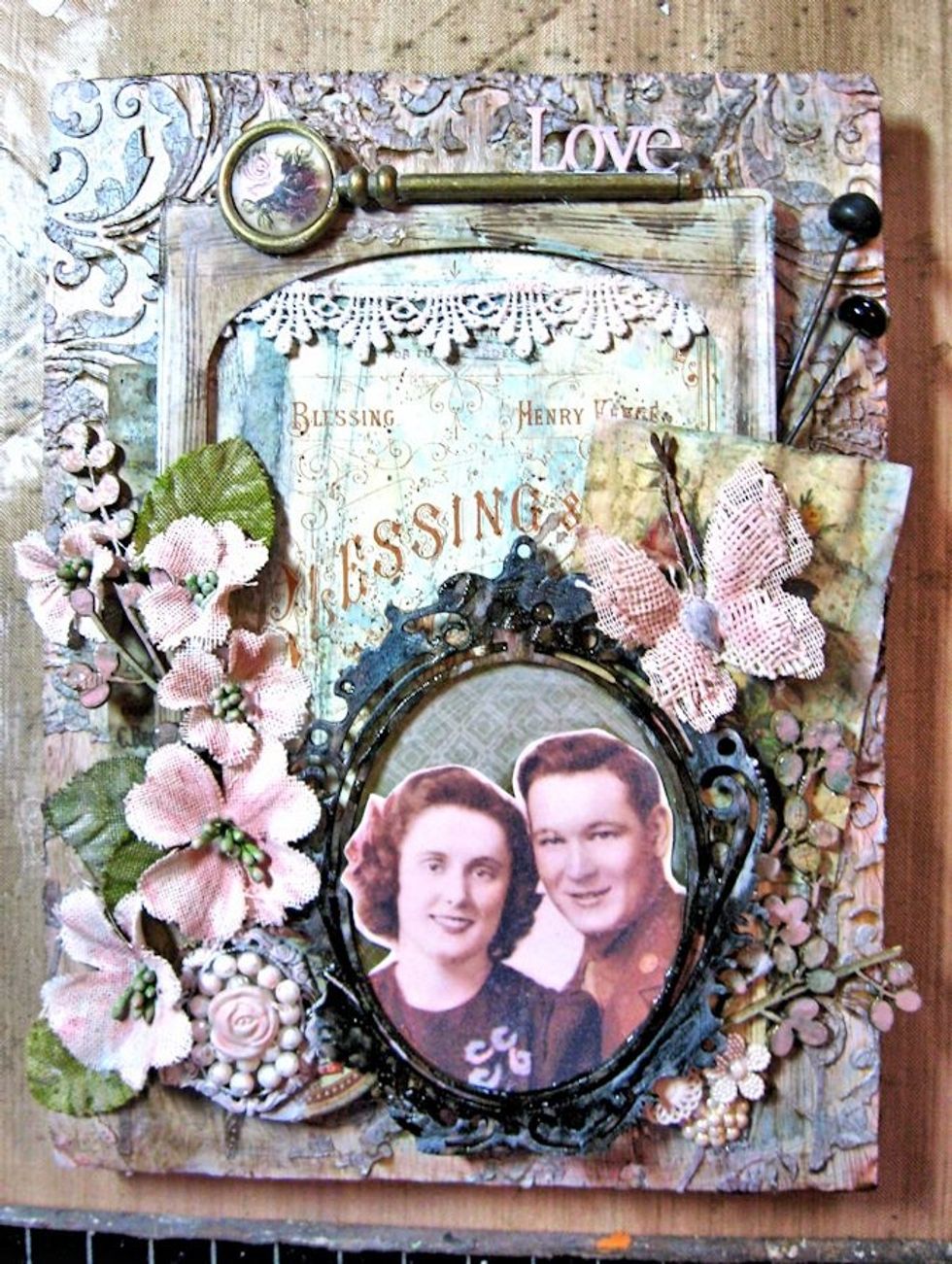 I decided I did not like the Venise lace hanging down, so I added white glue to the space between the frame and pushed it in place with the point of my scissors. Hold a few seconds to let it dry.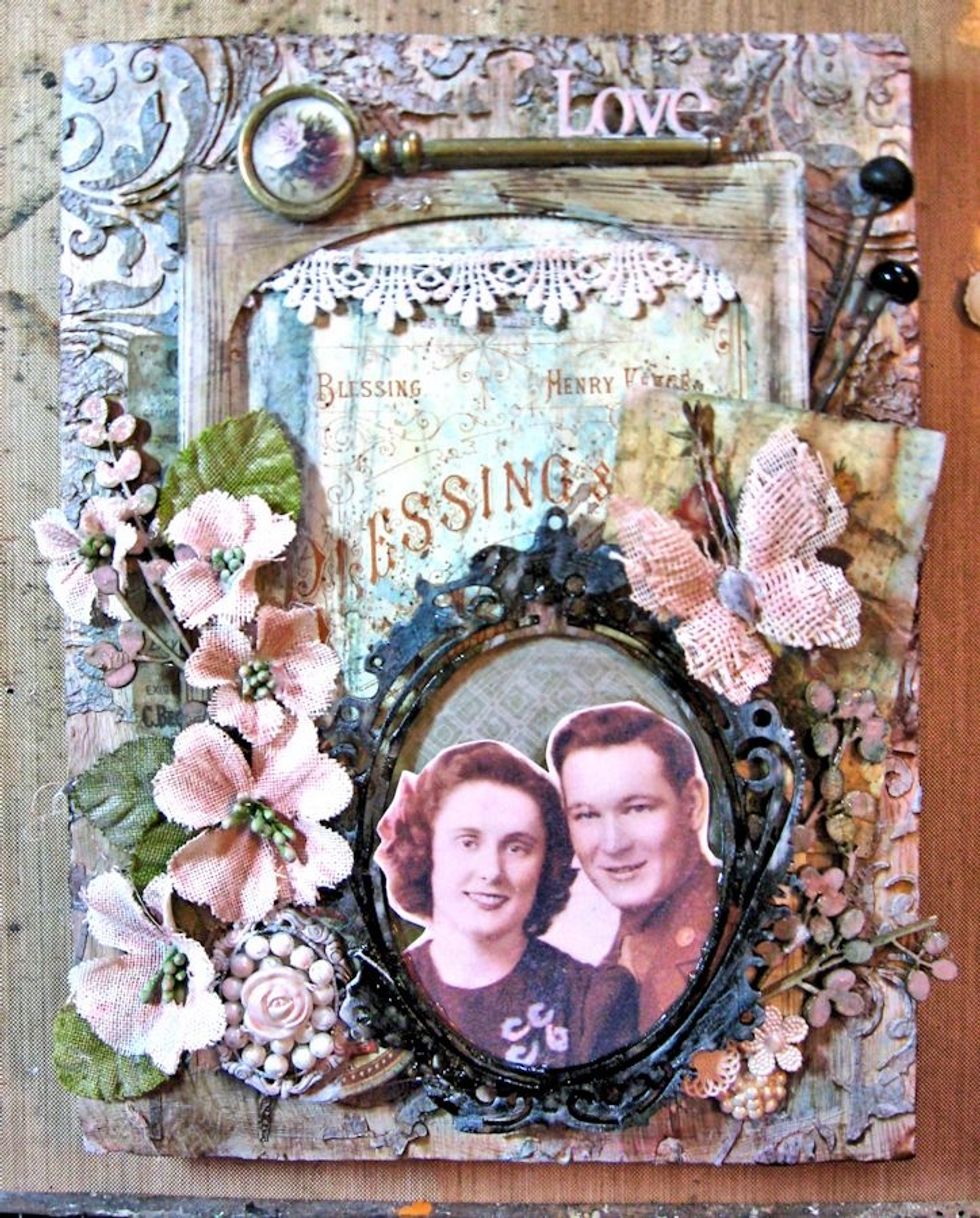 Dry brush Weathered Wood Distress Paint onto the edges of the wood frame and around the edges of the surface if desired.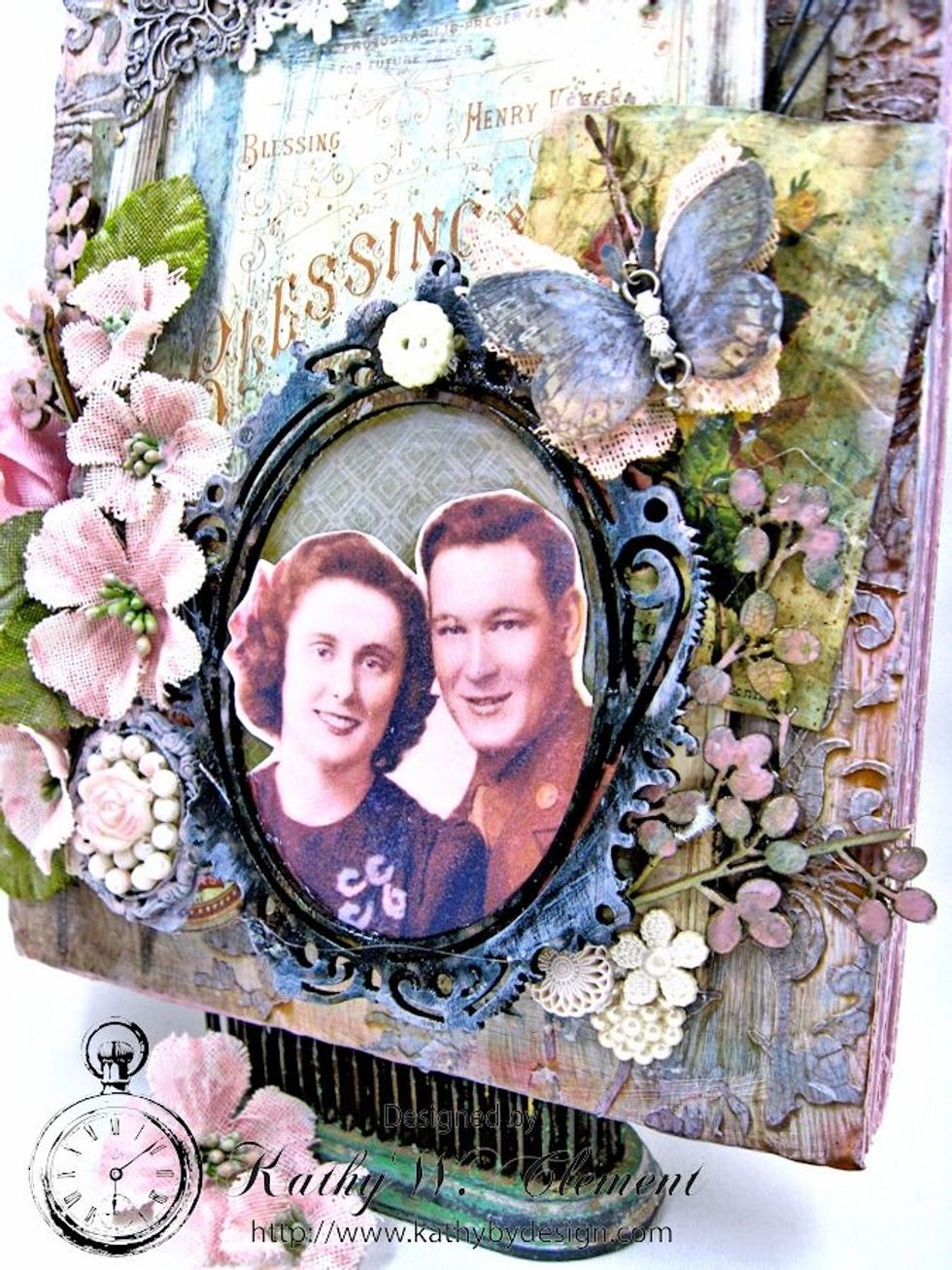 Glue the butterfly from Thrift Shop Ephemera over the burlap butterfly. Add jewelry finding as butterfly body. Paint with Tattered Rose. Glue a vintage button to the top of the frame.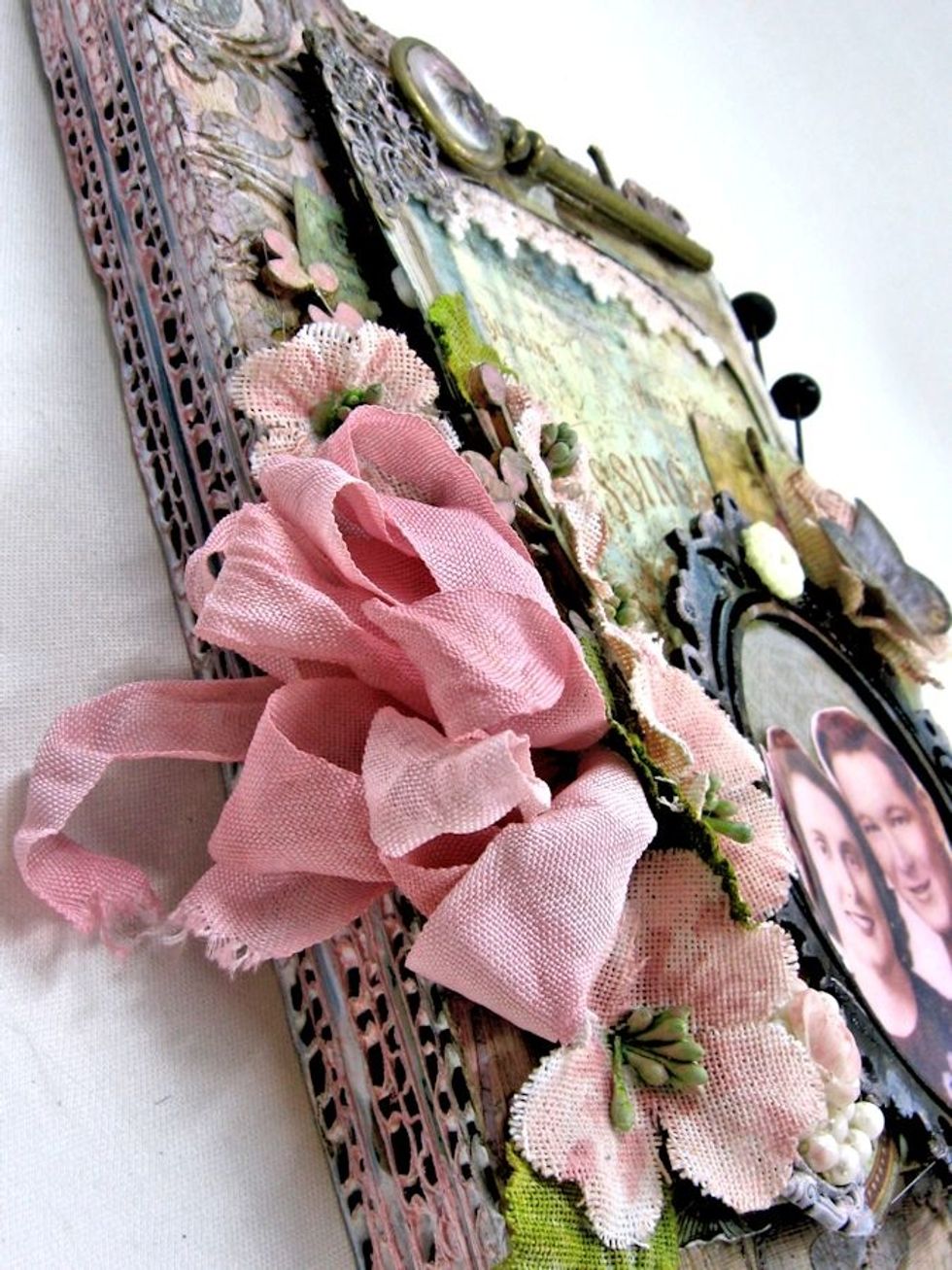 Dye rayon seam binding with Tattered Rose Paint that has been diluted with water. Crumple to spread the color and heat dry. Tap with Victorian Velvet. Tie a shabby bow and tuck behind the flowers.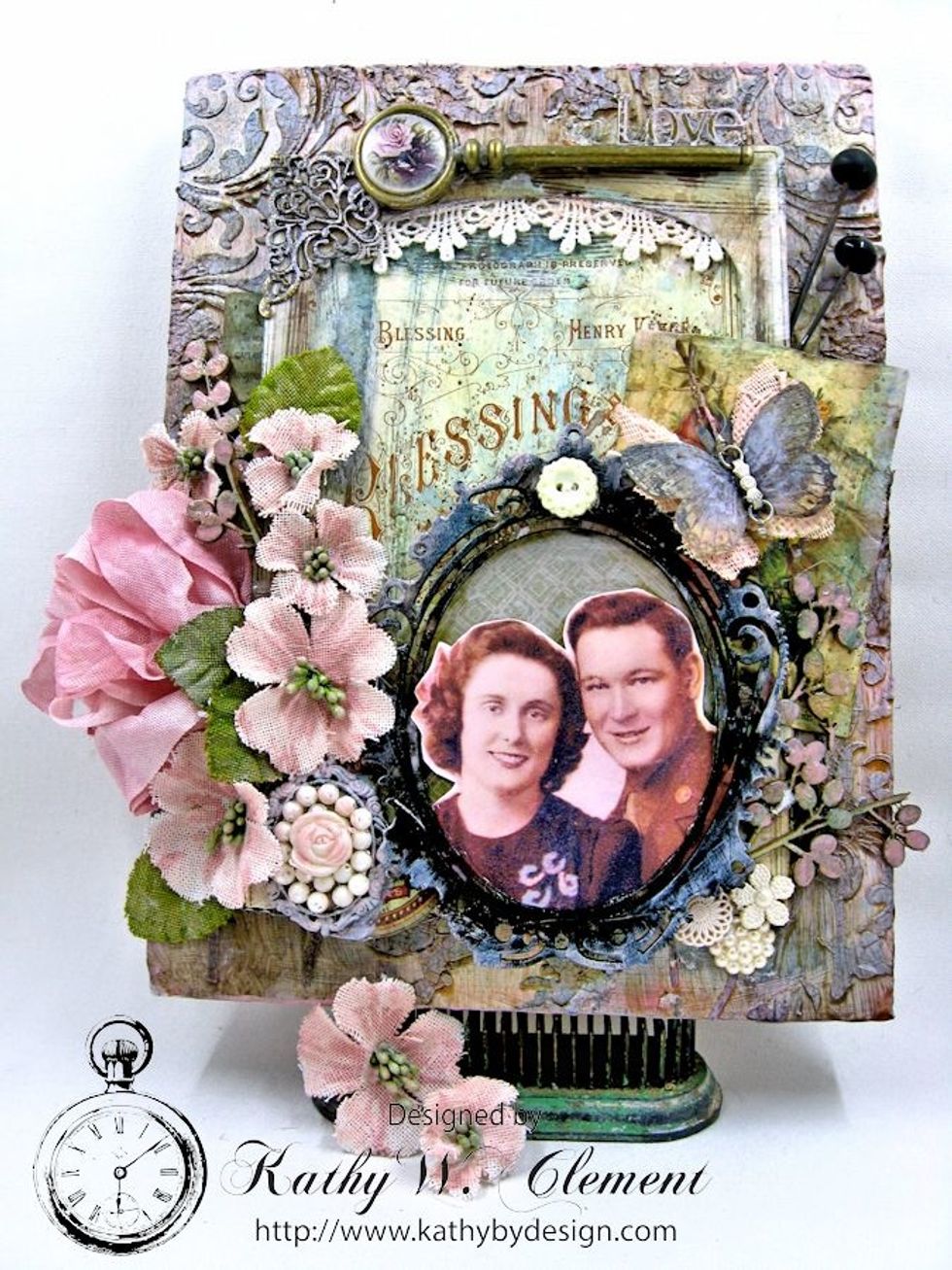 Paint the filigree corner with Tattered Rose paint.
Tuck vintage hat pins behind the frame. Your mixed media home decor is now ready to display.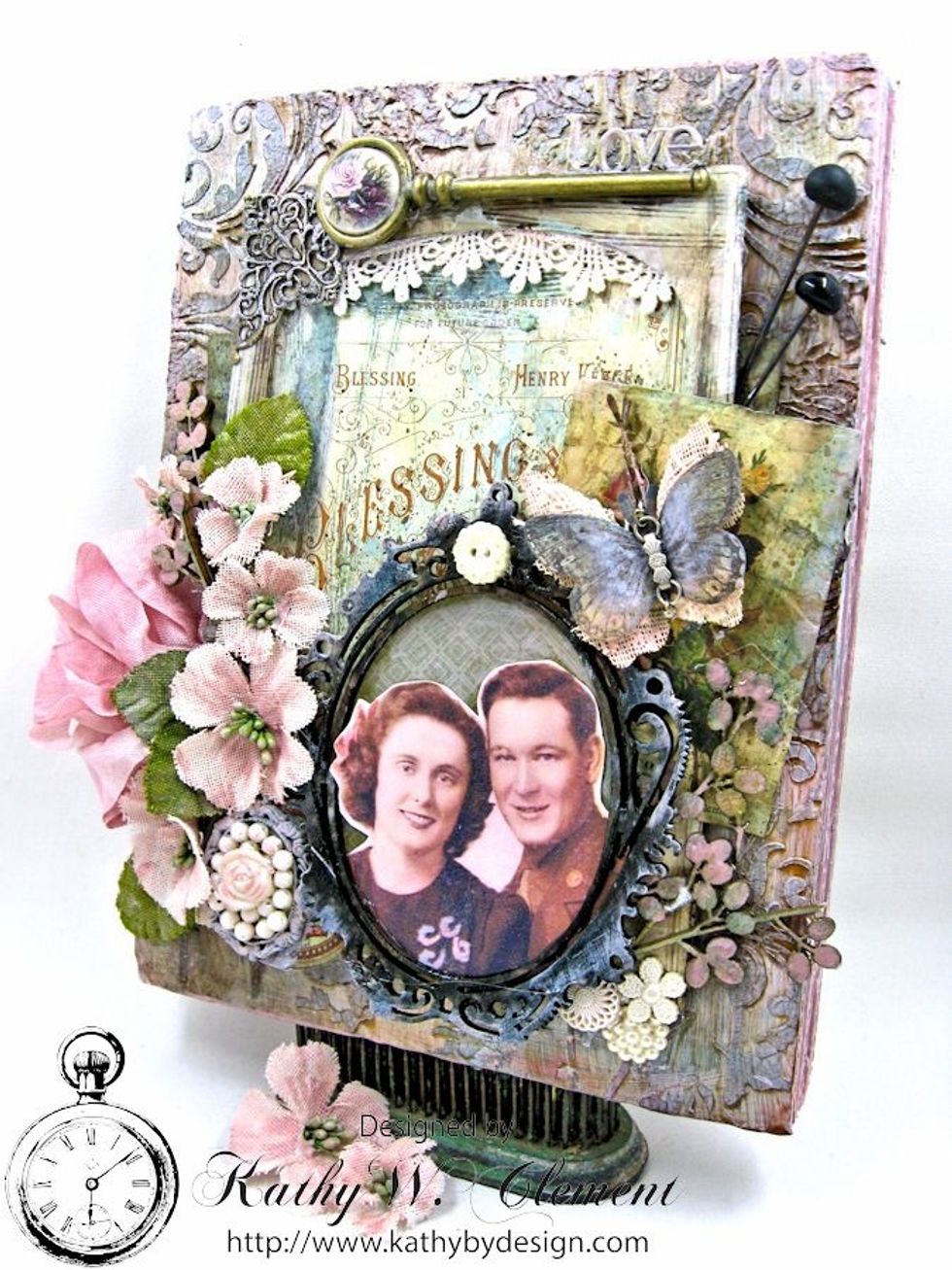 Isn't it amazing to see how a few mediums can transform waste cardboard into a lovely bit of home decor? I found most items in the Funkie Junkie Boutique. http://www.thefunkiejunkie.com/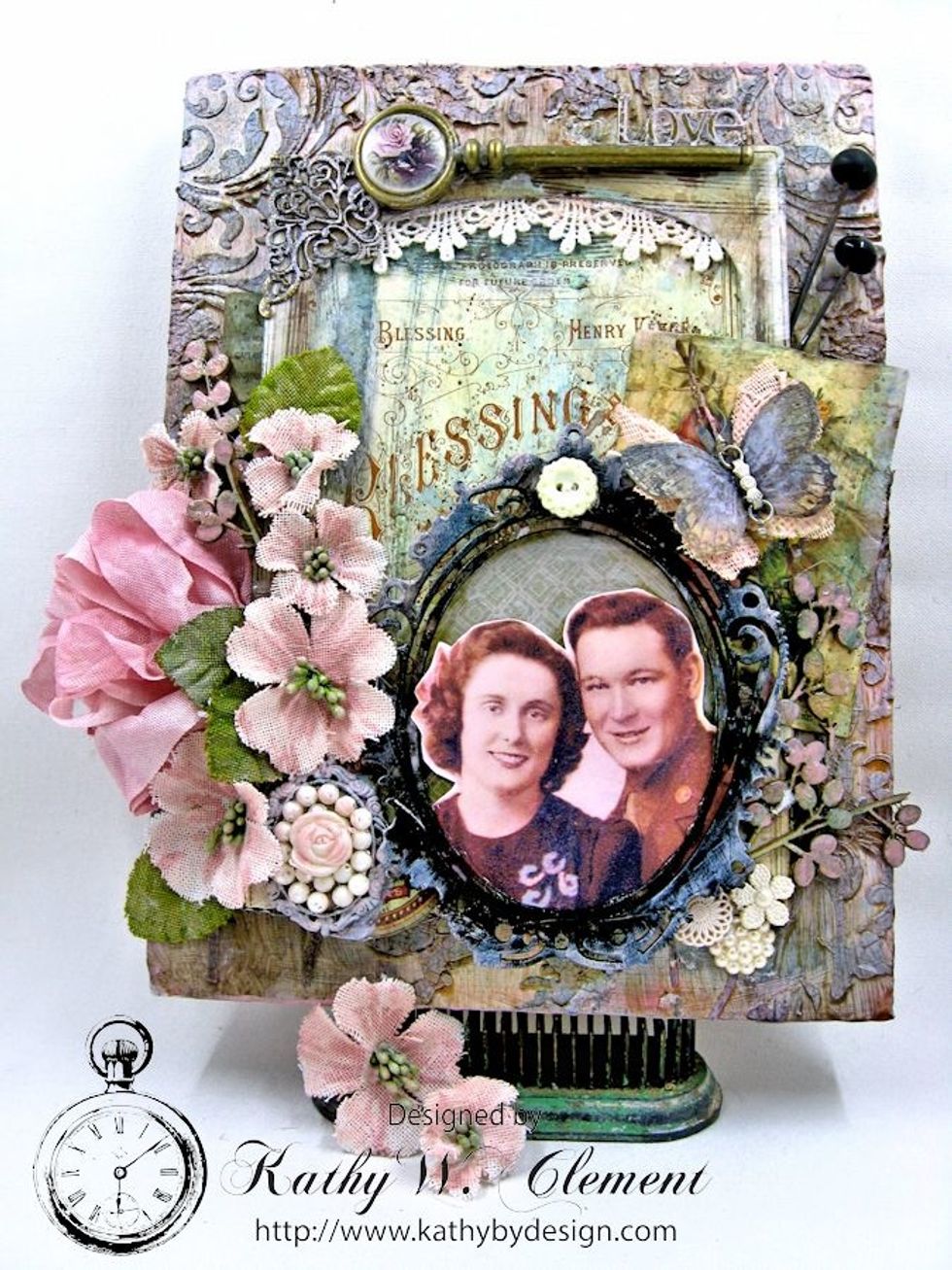 Thanks for joining me today. I hope you'll give this technique a try! Visit me at http://www.kathybydesign for more inspiration and free tutorials. Now go get your craft on!
Three 6" x 8" panels corrugate cardboard, glued.
Tim Holtz Wallflower Vellum paper pack
Tim Holtz (TH) Thrift Shop Ephemera pack
TH Ideaology Cameo Frame
Th Mini Layering Stencil Set 10/flowers & flourish
TH Distress Sprayer
TH Distress Collage Medium Vintage
TH Distress Collage Brush 1.25"
TH Ground Espresso Distress Stain Spray
Tattered Rose Distress Paint
Tattered Rose Distress Re-Inker
Victorian Velvet Distress Paint amd Re-inker
TH Weathered Wood Reinker
white gesso (Dina Wakely)
Crackle Embossing Paste (Wendy Vecchi)
Ranger Palette Knife Set
Faded Jeans Distress Stain
1/2 wide Venise Lace trim
Ranger Glossy Accents
White Rayon Seam Binding
Tim Holtz Ideaology Cabinet Cards
Kaisercraft Berry Vine wood flourish
Corner Filigree Metal piece
Clear Rock Candy Distress Paint
Antique Bronze Charm Pendant Love Key
Petaloo DIY Canvas Dogwood Blooms
Petaloo DIY Ivory Burlap Blossoms
ivory vintage buttons
family photo
vintage hatpins
Old earrings
glue gun, heat gun, white glue, foam adhesive
Prima Distressing Tool
Oval wooden frame to fit your image
1 tablespoon of rubbing alcohol
small plastic cups
Kathy Clement
I'm a wife, a mom and a Nana who loves to play with paper. Married for 40 years, I am a full time designer, life long learner, and pretty darn good cook.