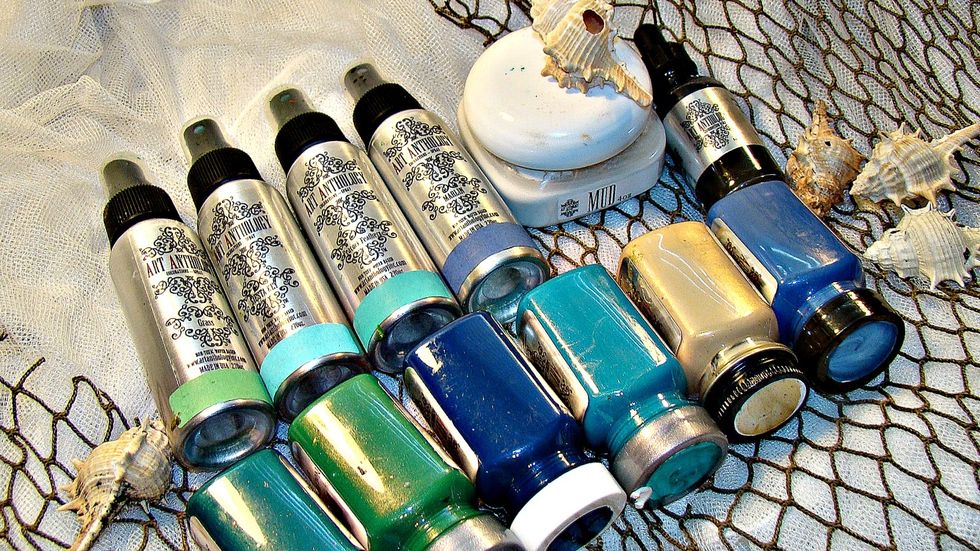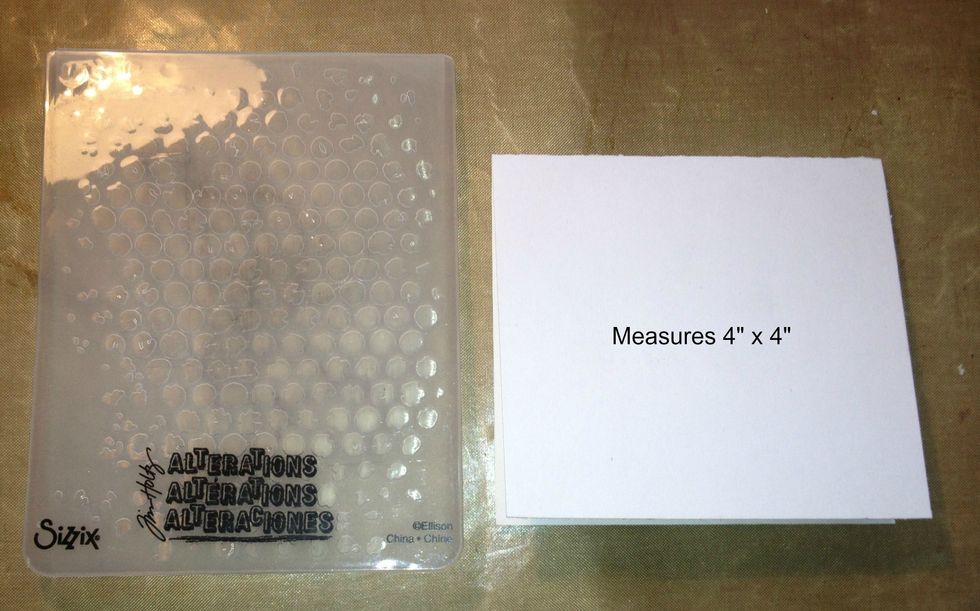 I started with a card measuring 4"x4" but to make them all customized, I changed all the other cards to different sizes . Ran my cardstock through the texure fade.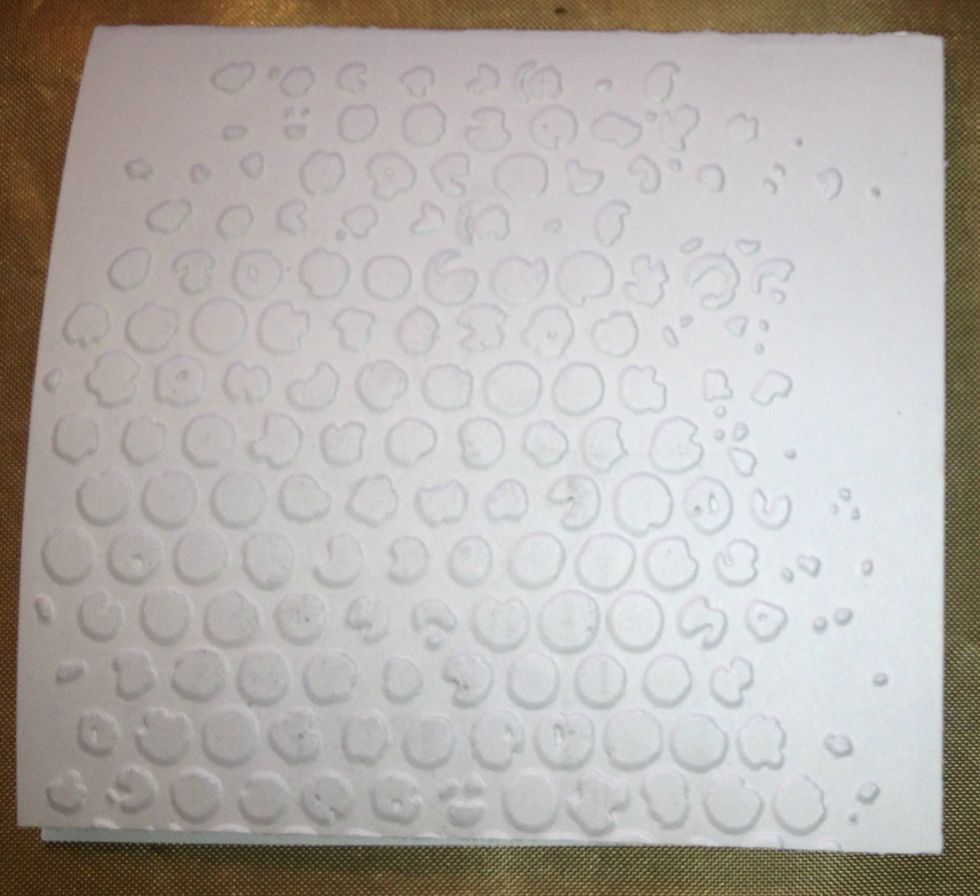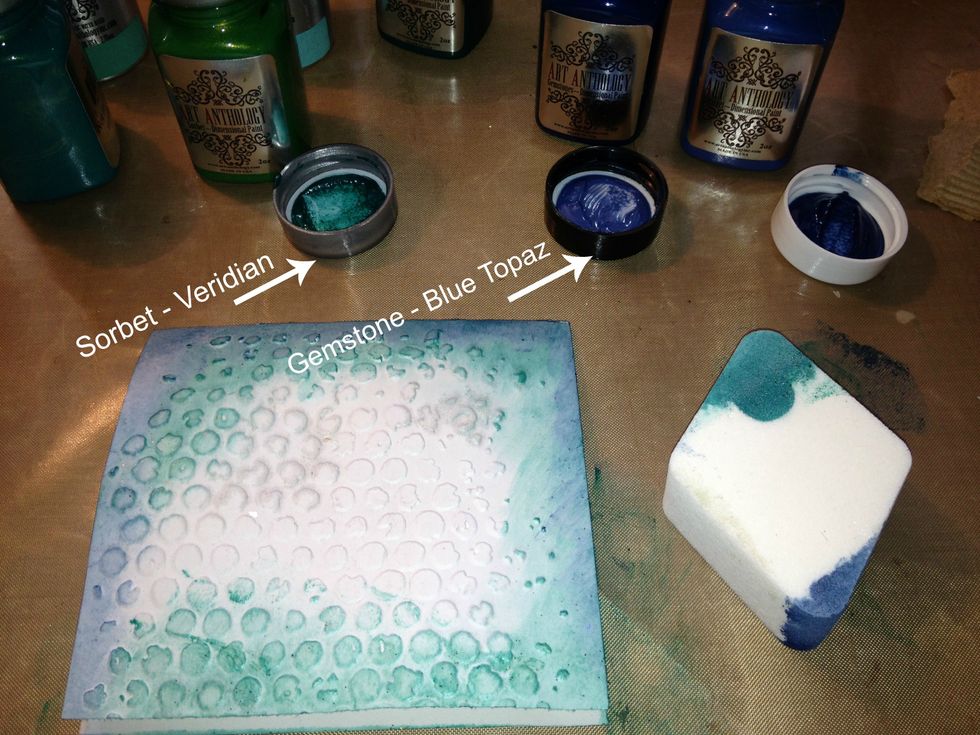 Using a makeup sponge I applied my paints to the edges of the card... You can add more or less as you desire.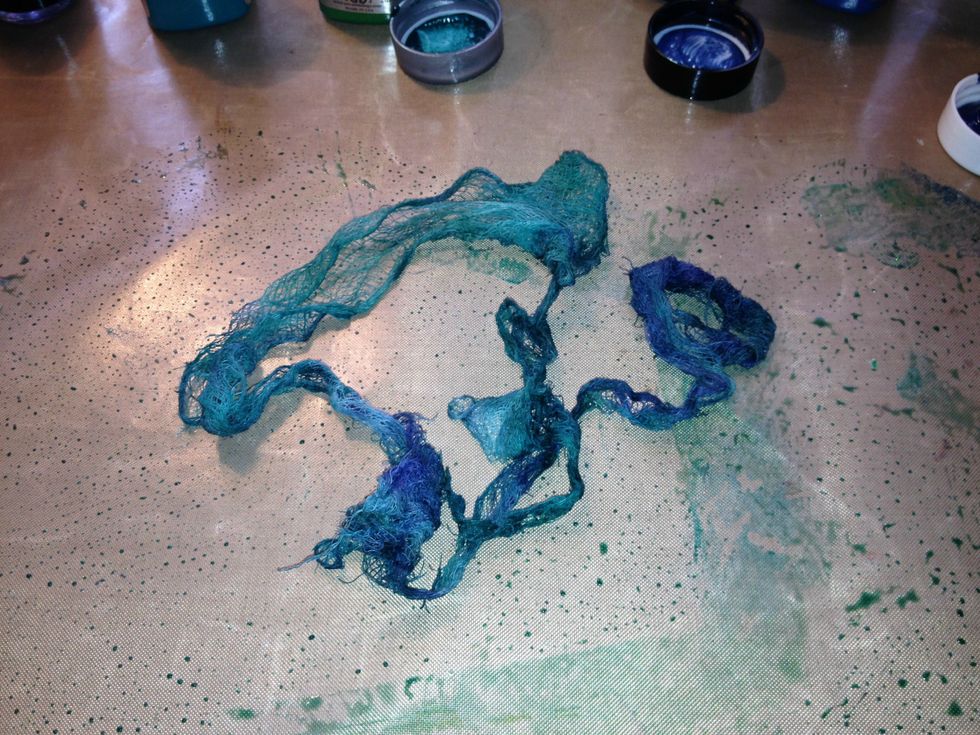 Cheesecloth is an inexpensive way to provide wonderful texture to your projects. Cut off a piece and saturated it with Gemstone-Blue Topaz and Sorbet-Veridian... allow to dry.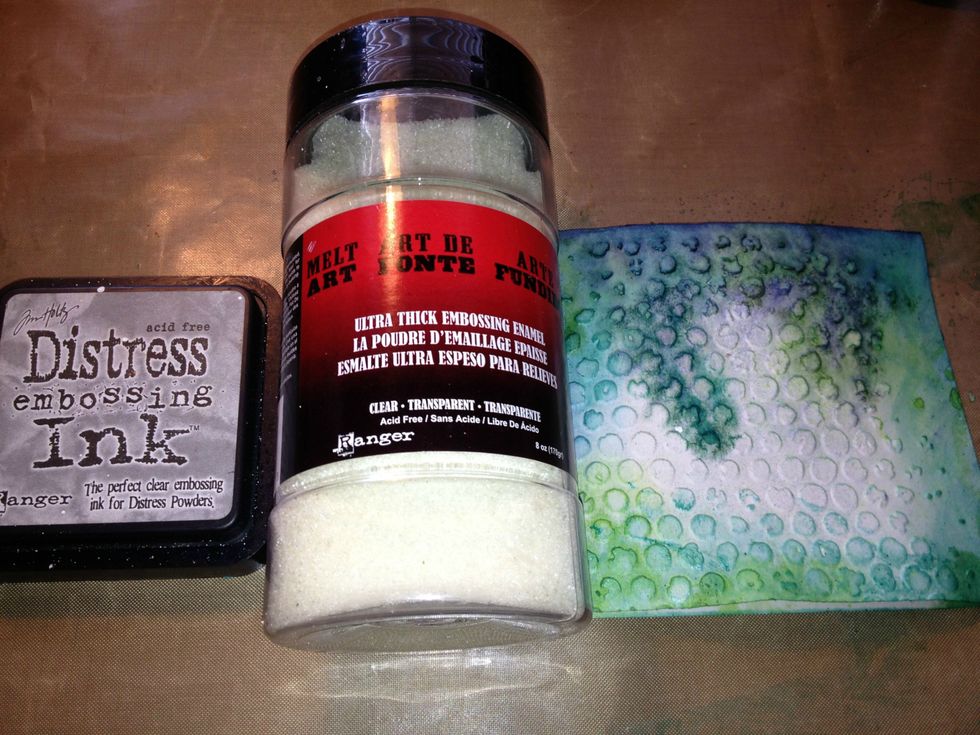 Run your textured side of card over embossing ink and apply Utee and heat set for a nice wet look.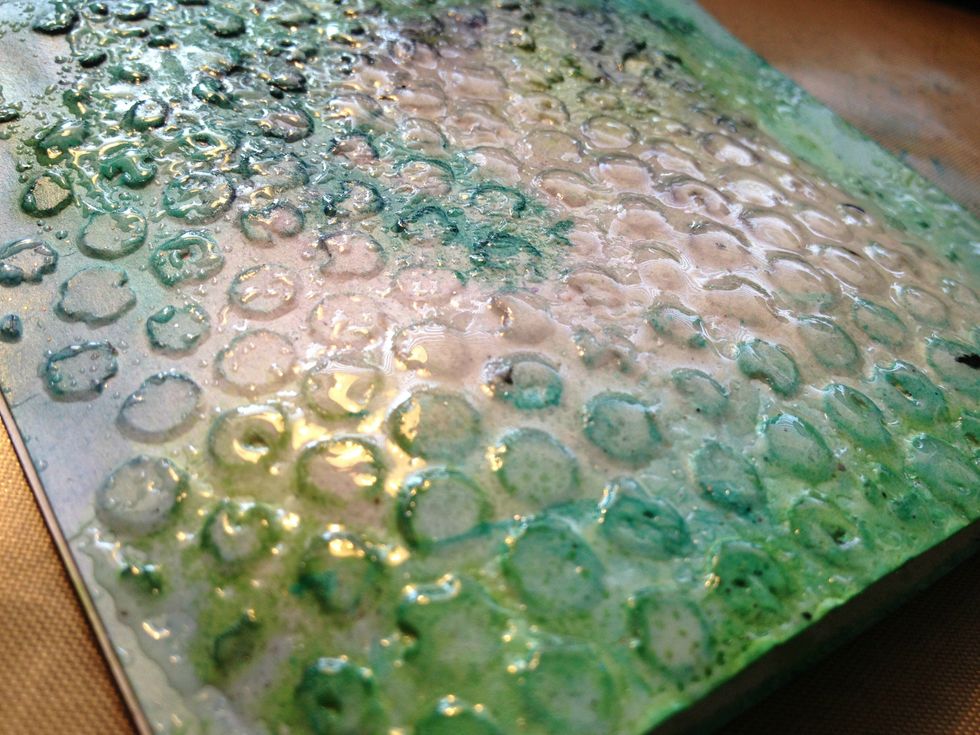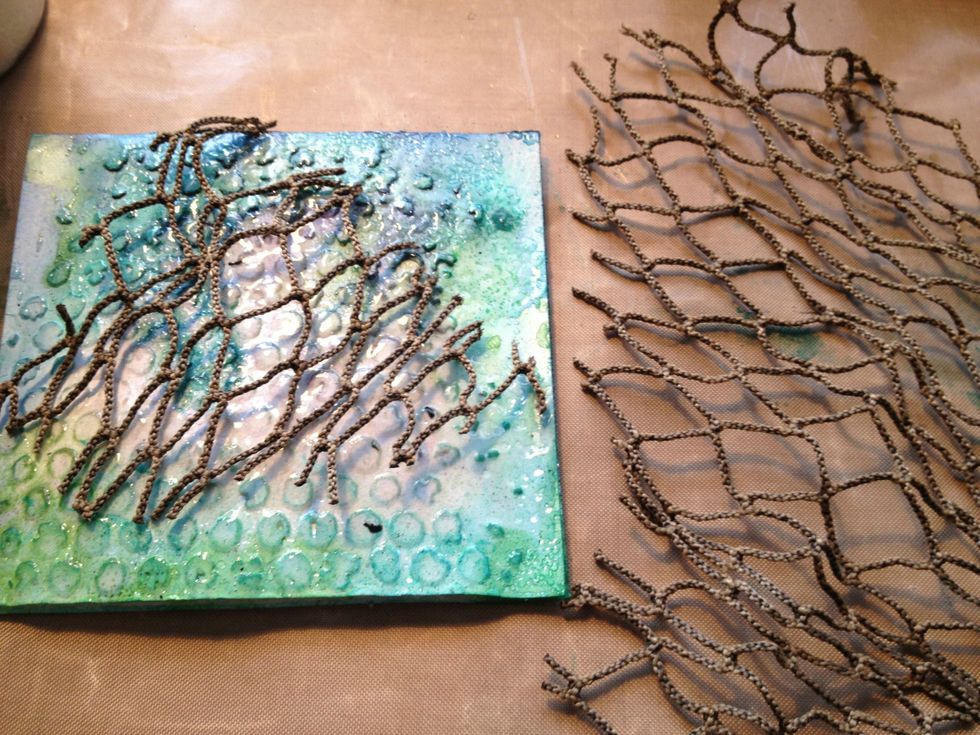 Cut of a piece of fish net. I purchased this at my local craft store.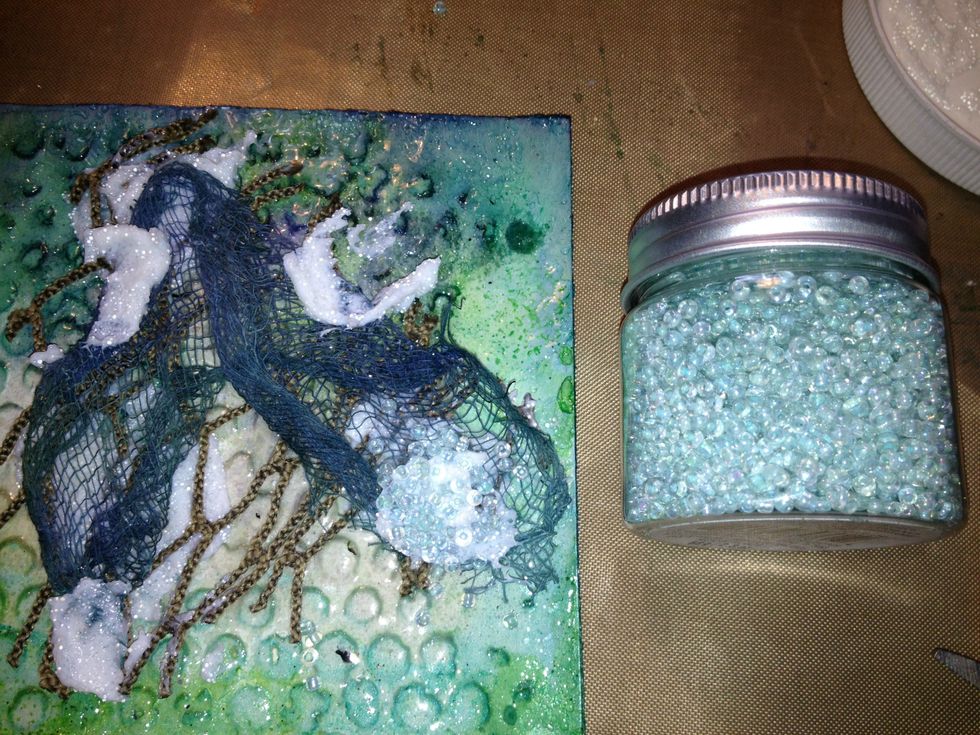 Cut off a piece of your cheesecloth and using gel medium I added that to the card and sprinkled seed beads over the gel medium while still wet.
I forgot to take a pic of this chipboard starfish, but I applied gobs of Mud Texture Paste and allowed to dry, then using a glue gun I applied beads of glue to the top. Then gesso it.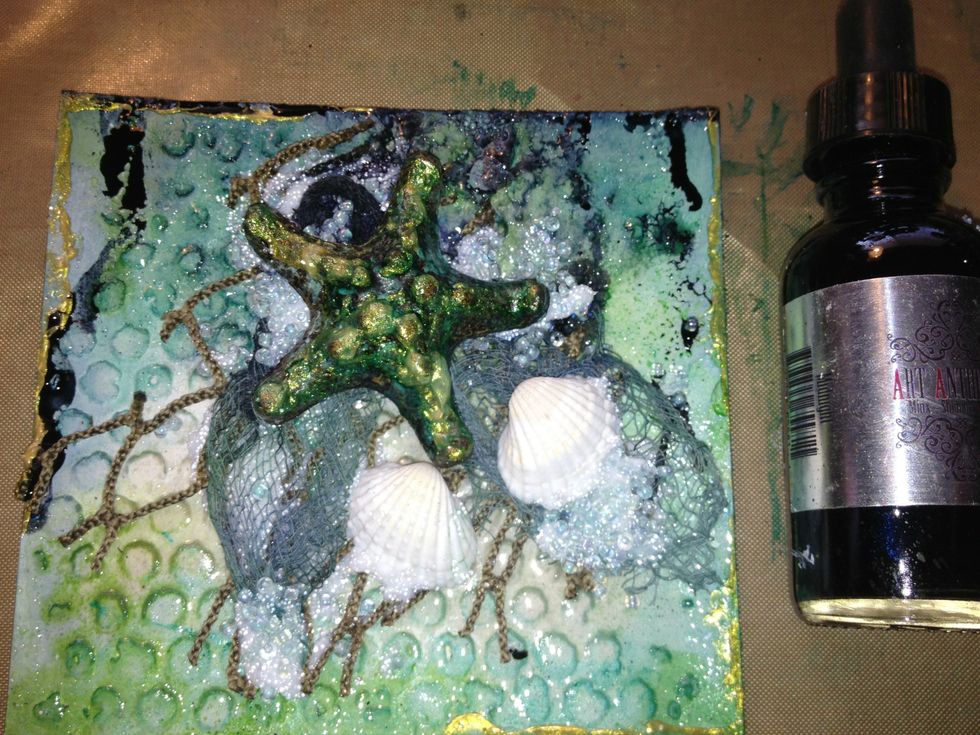 Once gesso is dry I applied Colorations spray in Grass and Marlin drying in between coats of spray. and topped it off with Metal Effects in Gold. I also applied Gold to the edges of the card.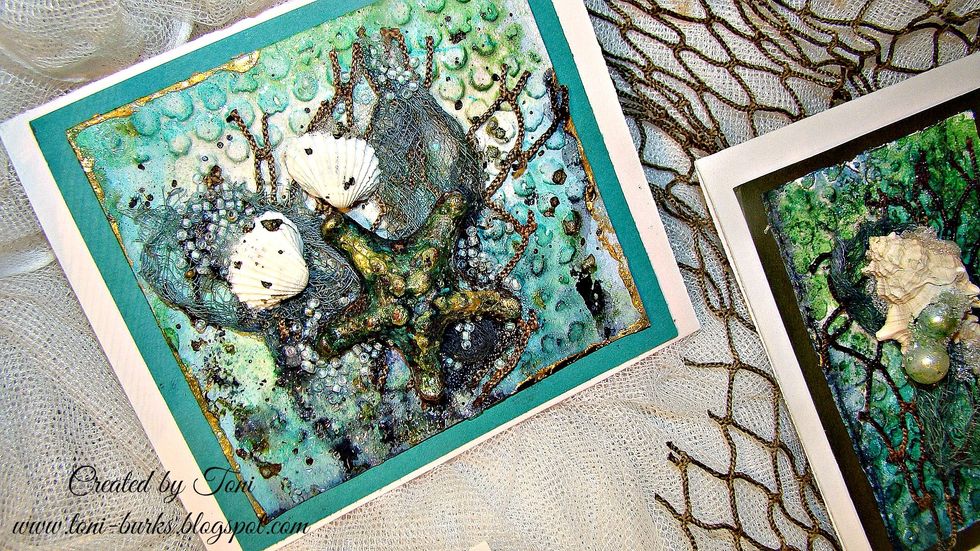 Finally I splattered Minx Ink in Midnight with a splatter brush to the top and allowed to dry and then adhered this little piece of art to a coordinating mat cardstock and then to the white card.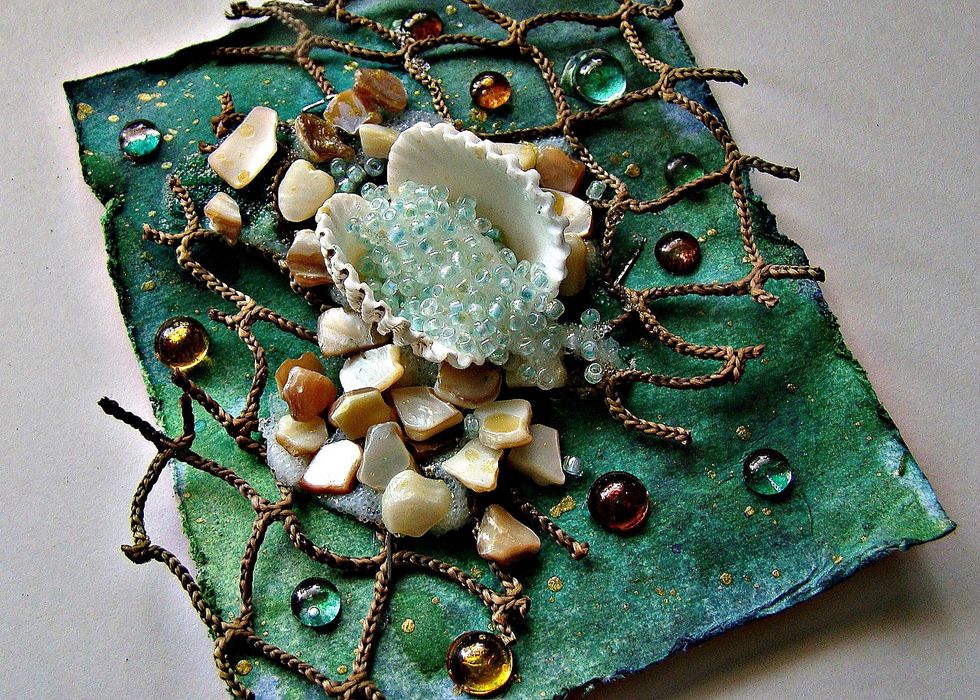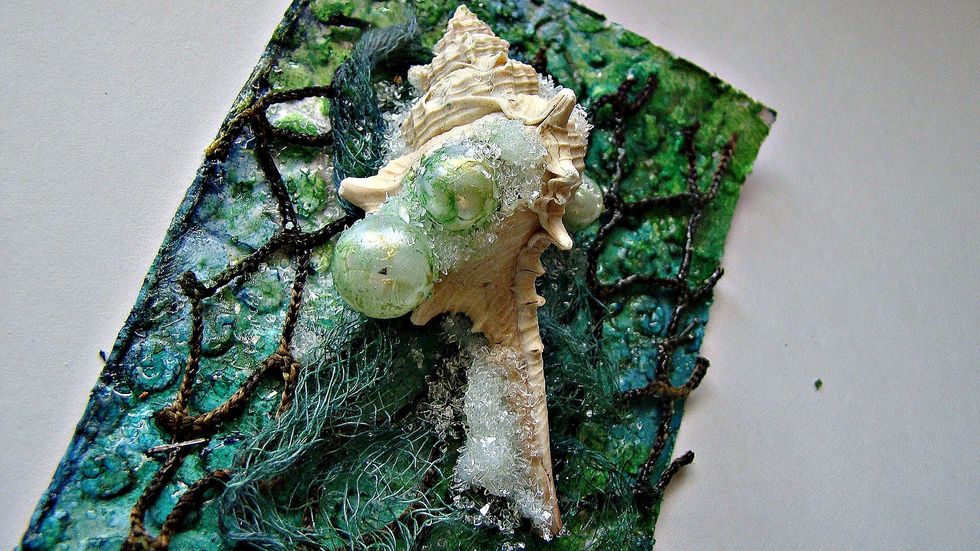 The pearls were dabbed with Sorbet-Parakeet and crystal sugar glitter was applied using gel medium.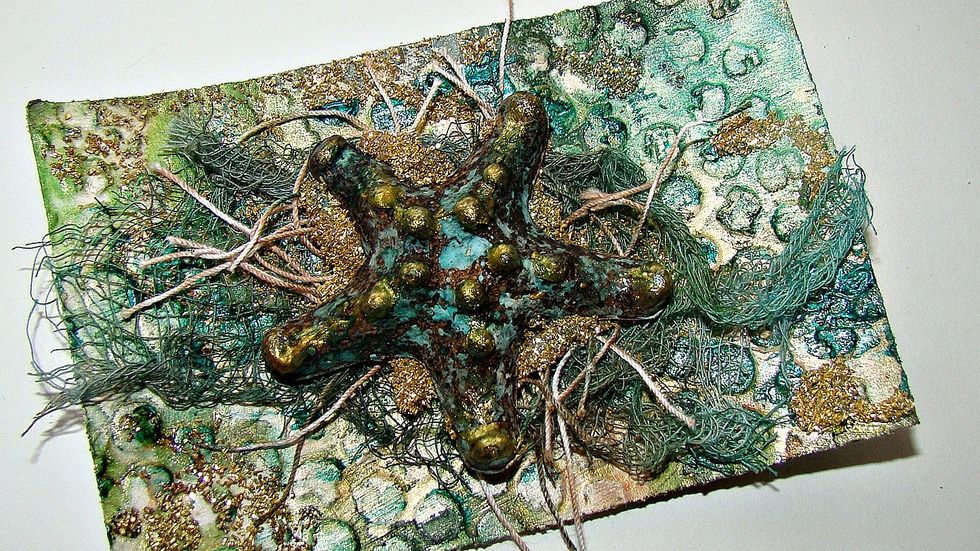 Another starfish was altered and Colorations Spray Siesta Key and Warm were used, as well as Metal Effects in Gold. Glass glitter and hemp twine stained with Warm were used to achieve this look.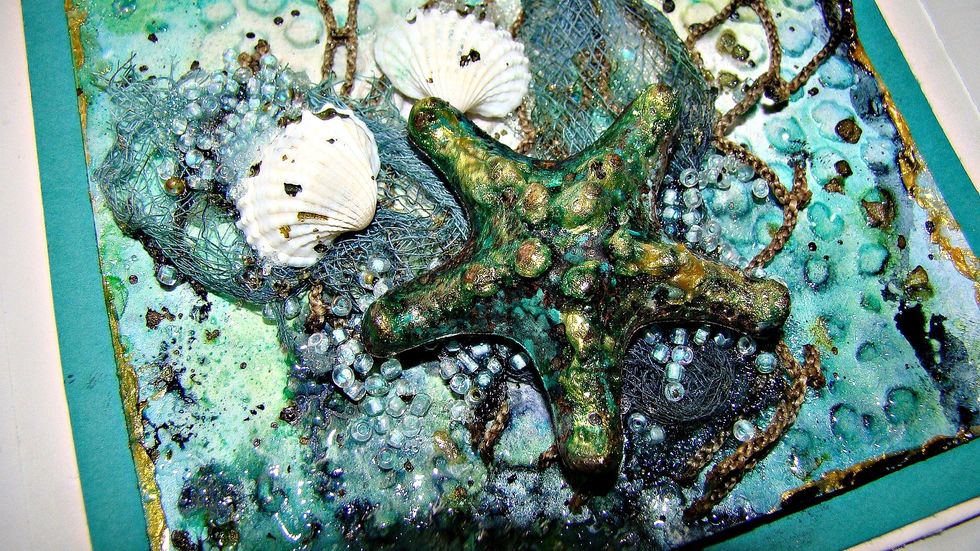 Mini shells were applied using gel medium.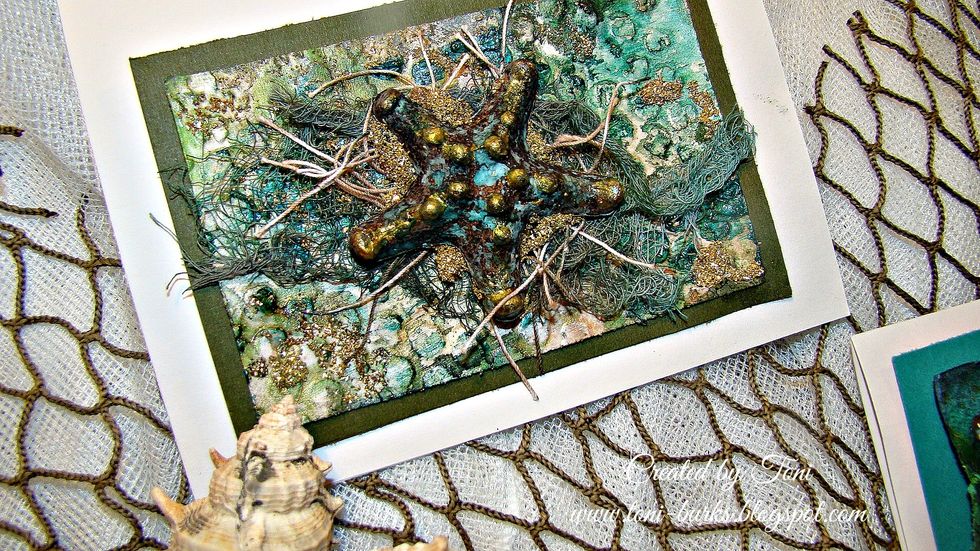 Finished card #2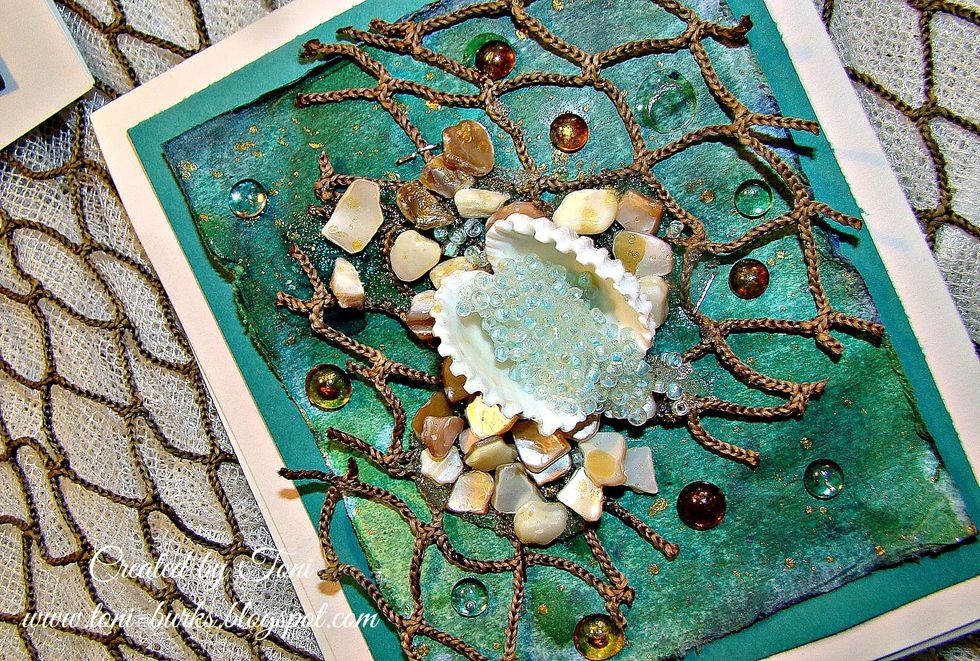 Finished card #3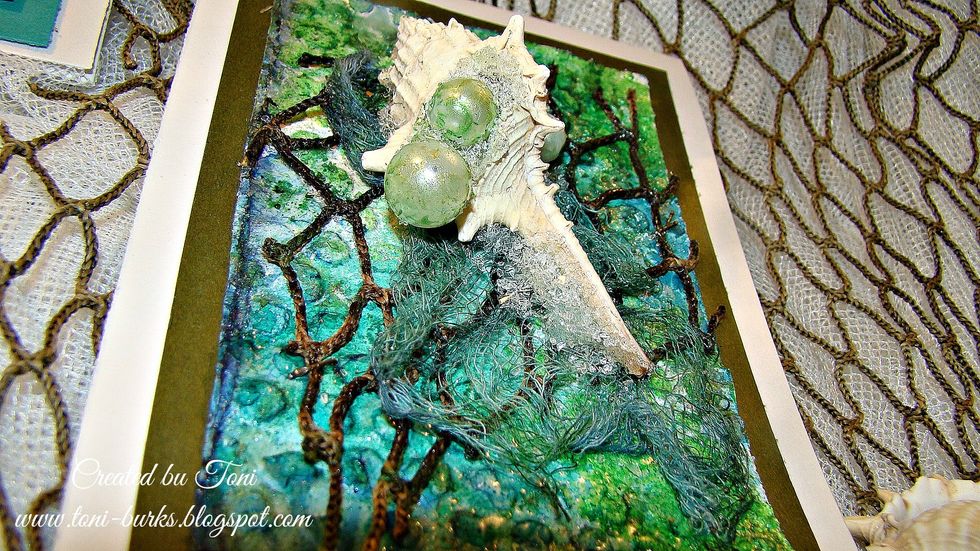 Finished card #4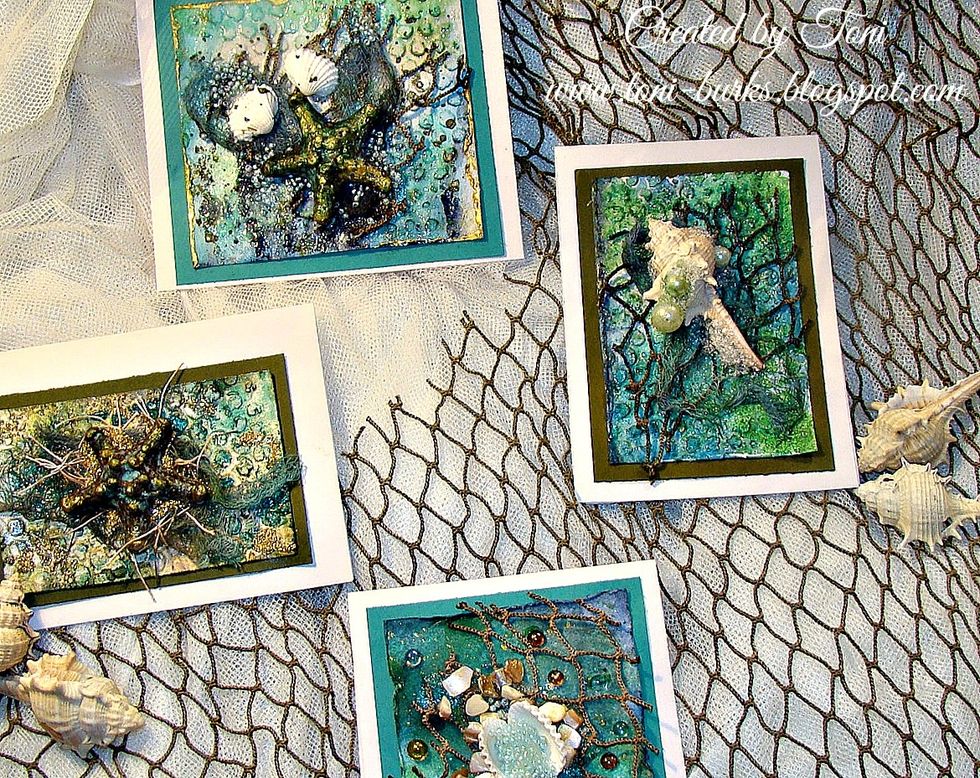 I hope you enjoyed this tutorial and it has inspired you to create a little set of masterpieces to give away...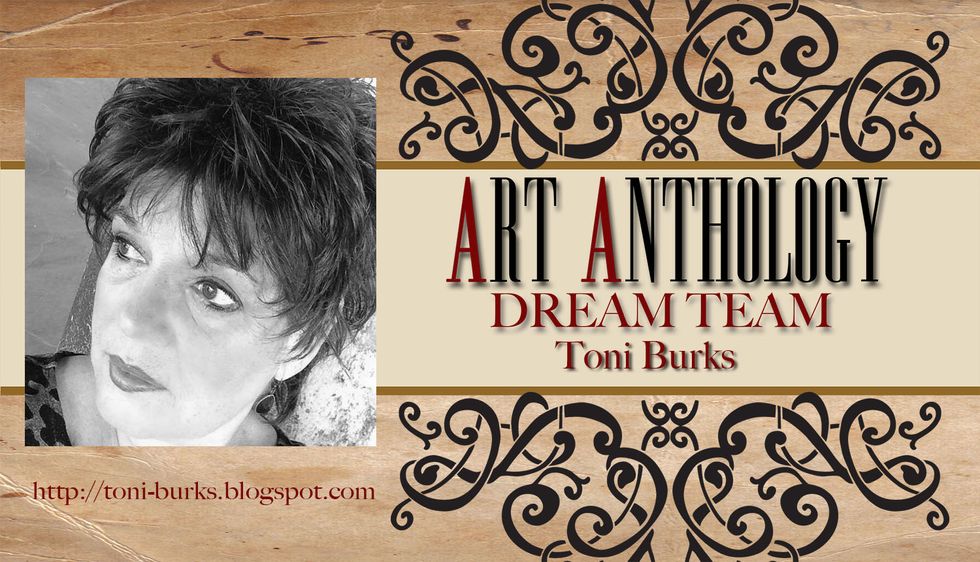 For more inspiration visit our blog @ http://artanthologyinc.com/blog/ and follow us on Facebook https://www.facebook.com/groups/741057632686564/ and Pinterest https://www.pinterest.com/artanthology/
Cardstock
Adhesive
Asst. embellies
Glitters
Pearls
Cheesecloth
Fishnet
AA Sorbet-Viridian, Parakeet, Cayman
AA Velvet - Reef
AA Metal Effects - Gold
AA Gemstone - Blue Topaz
Coloration Spray - Siesta Key, Peacock Feathers
Coloration Spray - Warm, Marlin, Grass
AA Mud Texture Paste
AA Minx Ink - Midnight
Glue Gun
Utee
Heat Gun
Texture Fade
Die Cut Machine
Art Anthology
Art Anthology is a manufacturer of dimensional mediums.\n\nCome chat with us in our Facebook Group: Art Anthology Adventures in Art