How to create matchbook style notebooks with graphic 45
Create Matchbook Style Notebooks With Graphic 45
64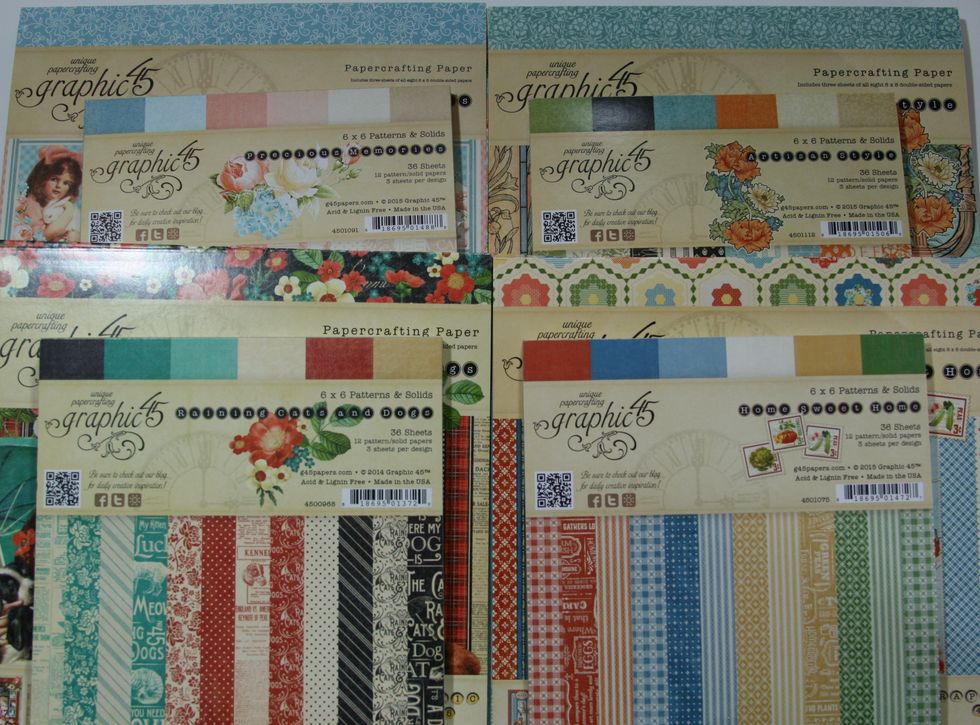 Use the smaller patterns from the 8x8 inch and 6x6 inch paper pads for these little bitty notebooks.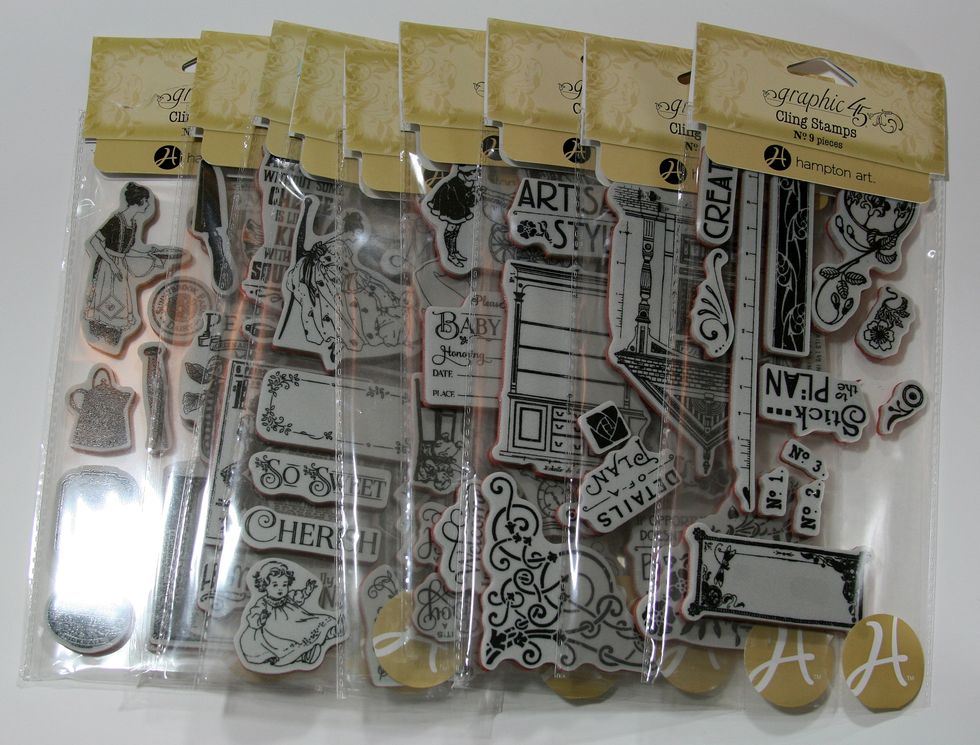 Choose a variety of Graphic 45 cling stamps. Use lighter colored inks so you can easily see what you've written on your note pages.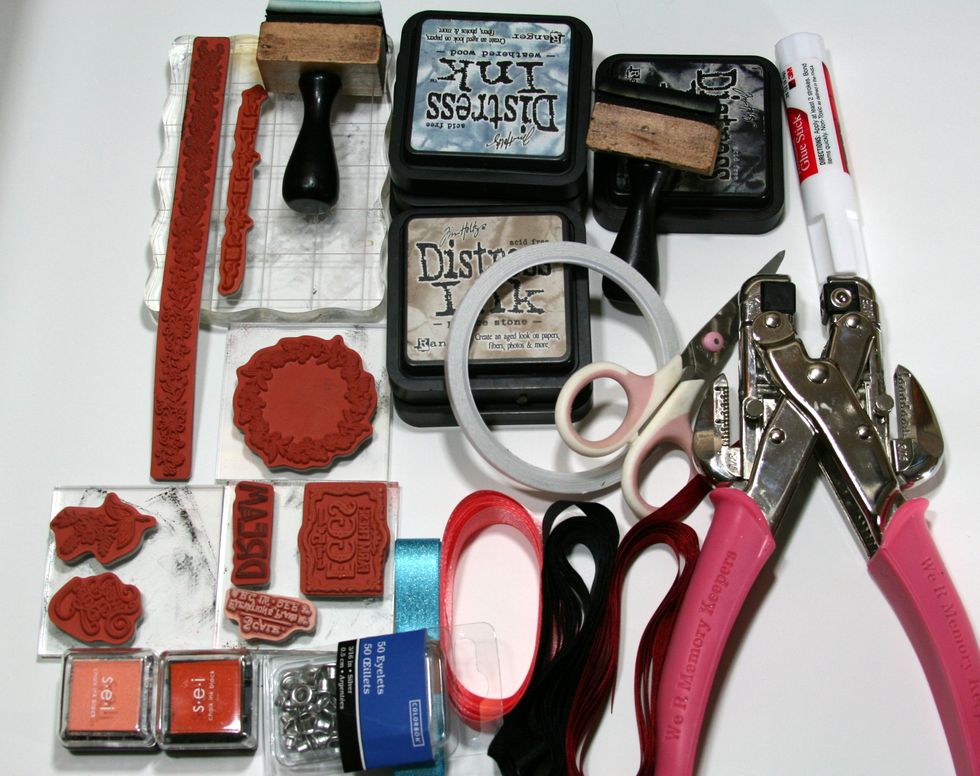 I'm using a selection of Distress and chalk inks. You will also need sharp scissors, double sided adhesive tape, cropodile, glue stick, ribbon trims, blending tools, multiple stamp blocks.
Cut cardstock to 6 3/4 x 3 inches. Score at 2 1/2 , 2 3/4, 5 3/4, and 6 inches. Cut patterned papers...2 at (2 7/8 x 2 7/8),2 at (2 7/8 x 2 3/8) 1 at (2 7/8 x 5/8 inch. Also a variety of fussy cuts.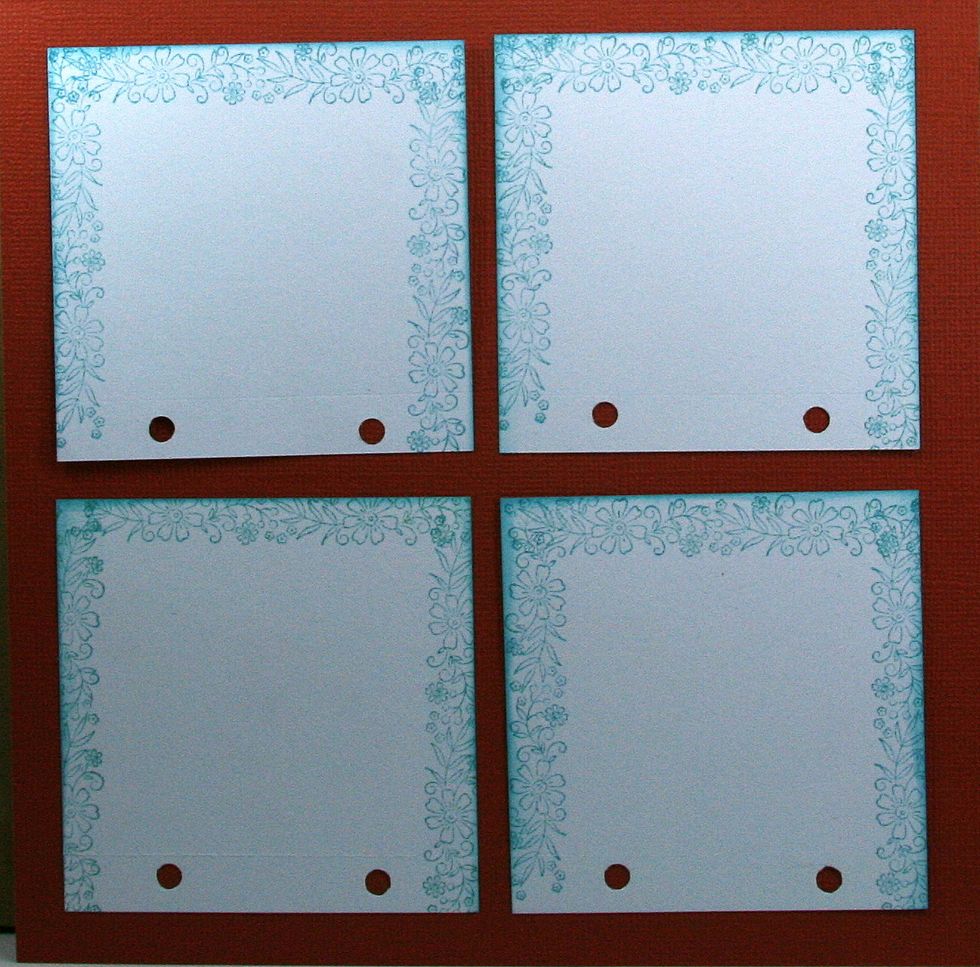 I've cut 25 inside pages 2 7/8 x 2 7/8 inches. You can perforate 1 side 3/4 of an inch in if your paper cutter has that attachment...but it's not absolutely necessary. begin stamping around edges.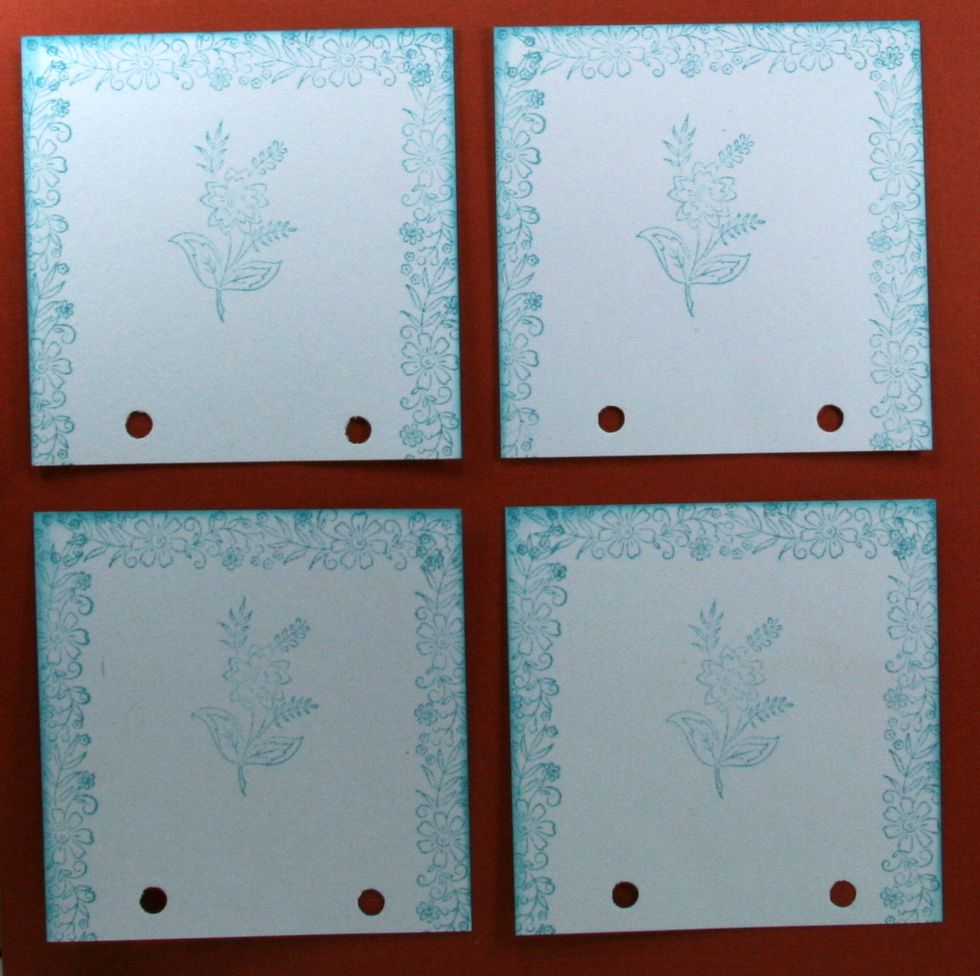 Punch holes 3/4 inch in from each outside edge. Stamp additional images if desired. Ink outside edges with blending tool. Having multiple stamp blocks will help this process go very quickly.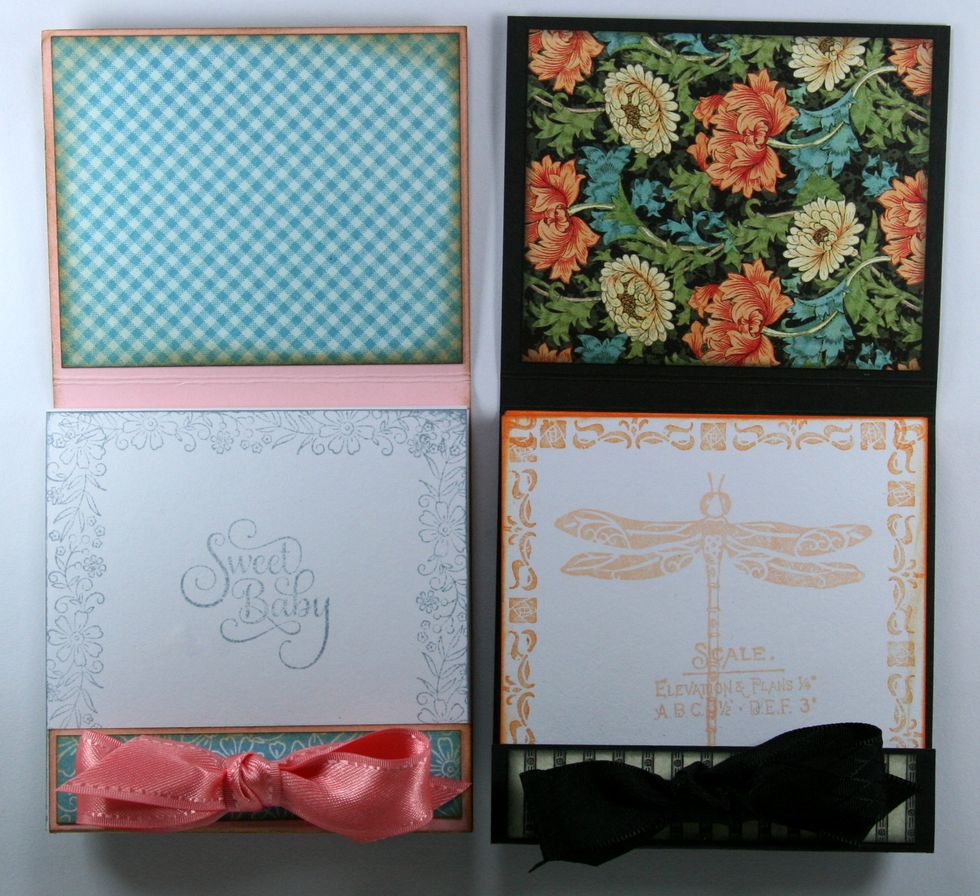 Remember to use the smaller patterns of Graphic 45 papers so you'll get full images on your cut papers.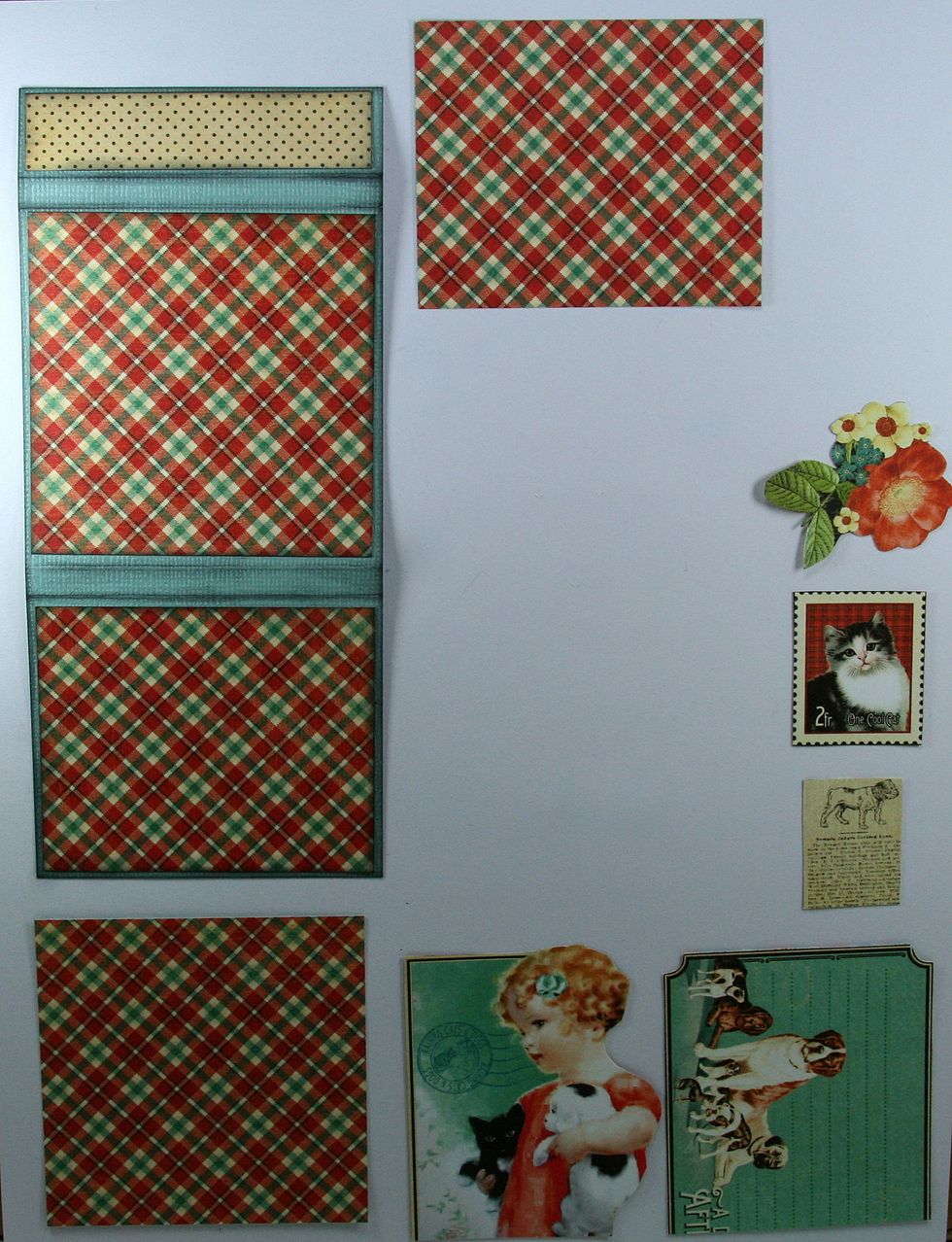 Ink all edges on outside of notebook and attach patterned papers to corresponding sections on cardstock.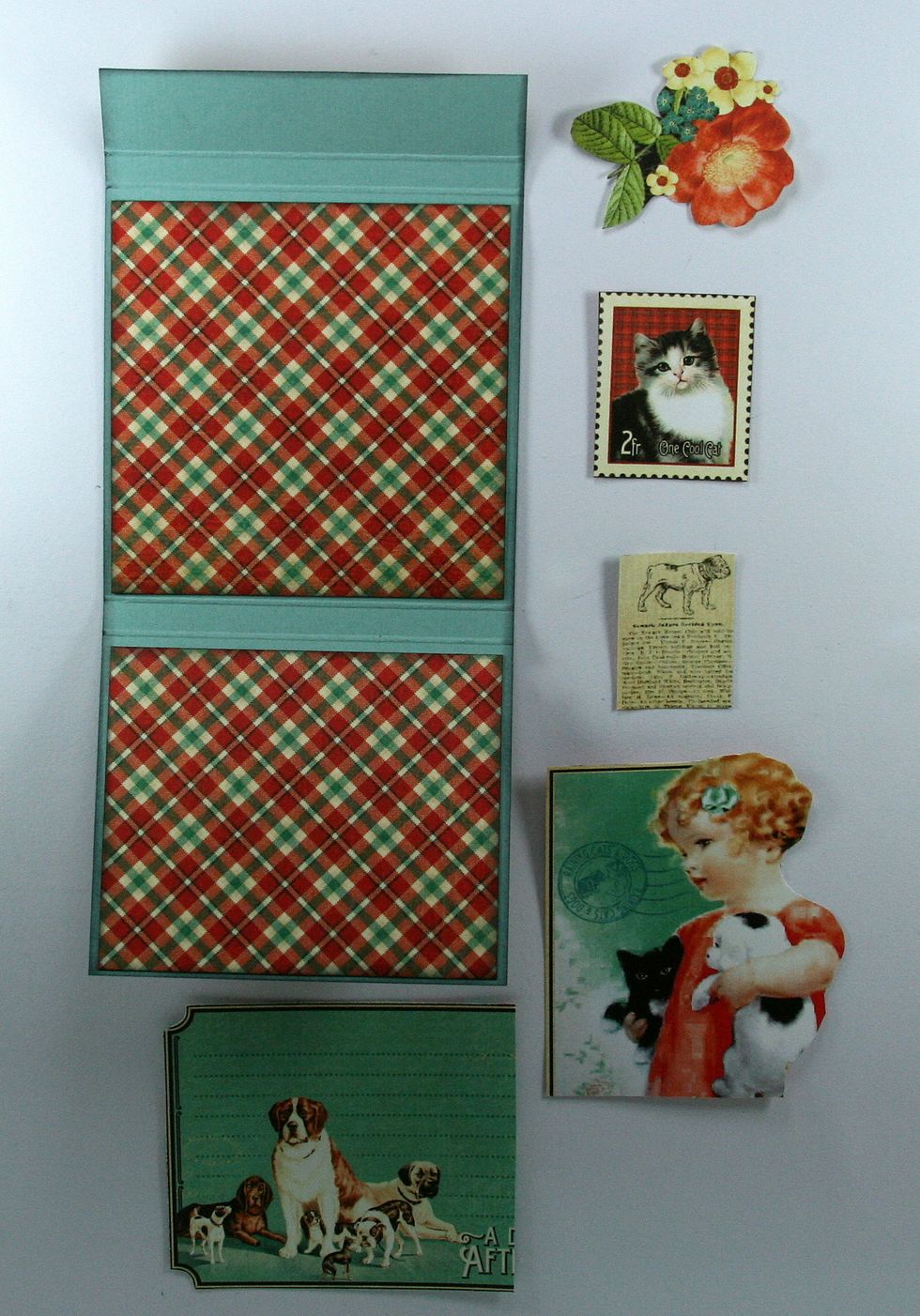 Ink all edges on inside of notebook and attach patterned papers to corresponding sections on cardstock.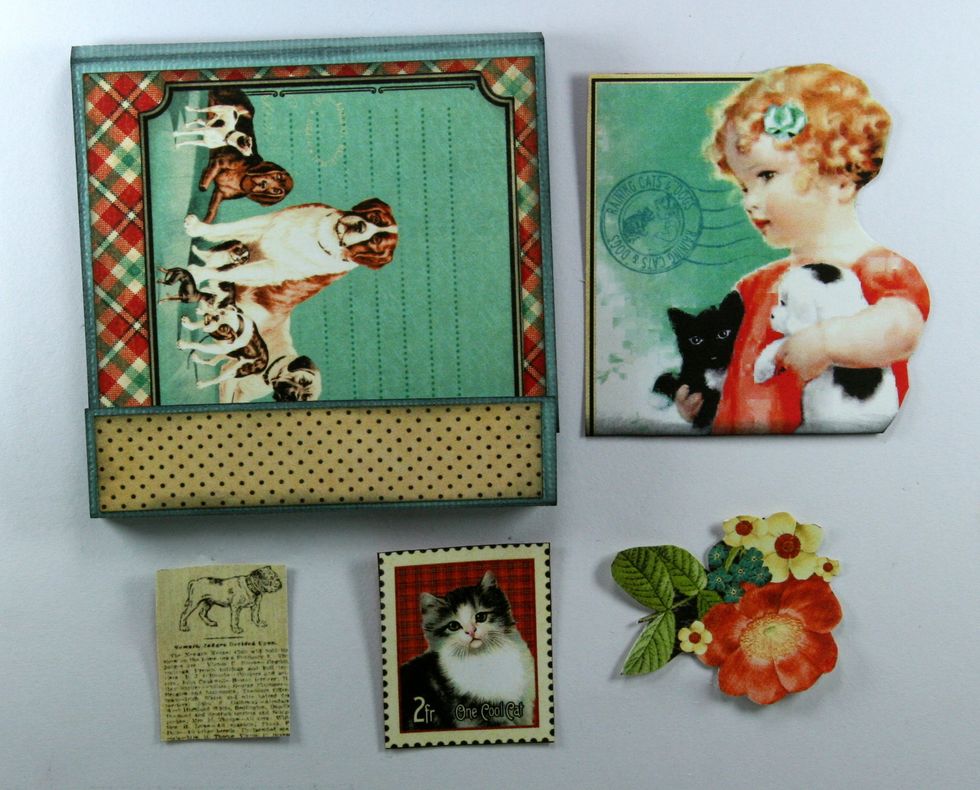 Attach background piece.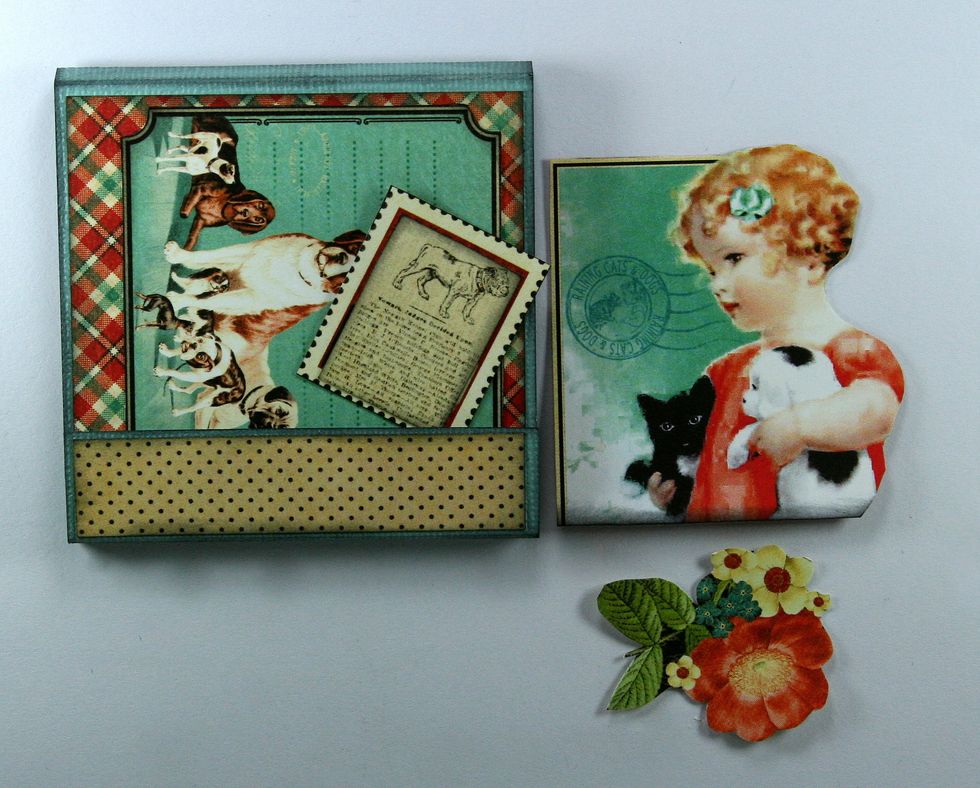 Next add stamp image being careful not to overlap edge by too much.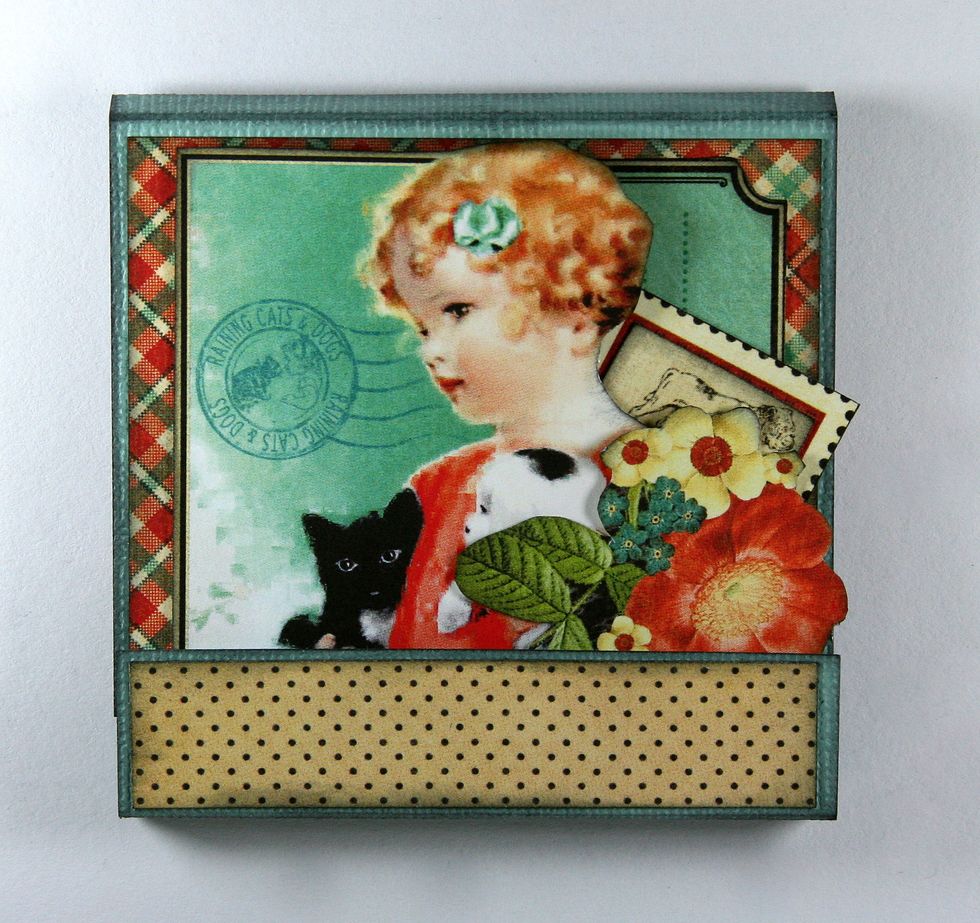 Add vintage girl image and top with fussy cut flowers.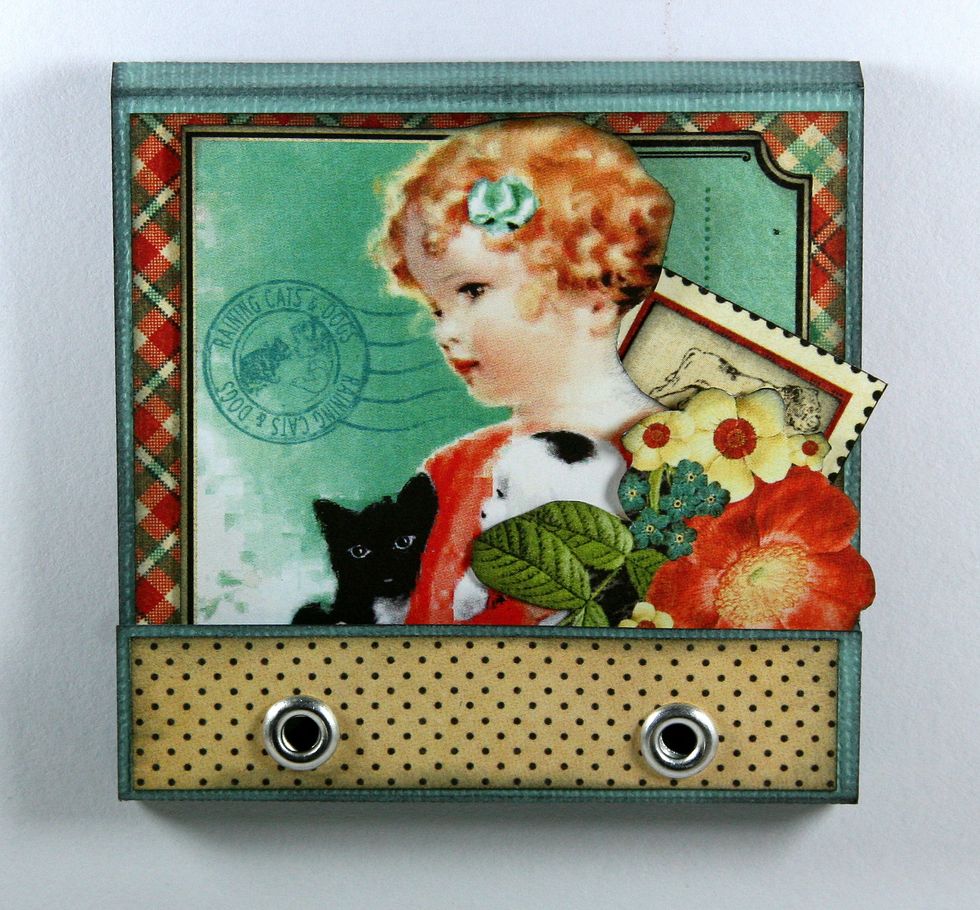 Insert metal eyelets to insure the trim does not pull through and tare the cardstock.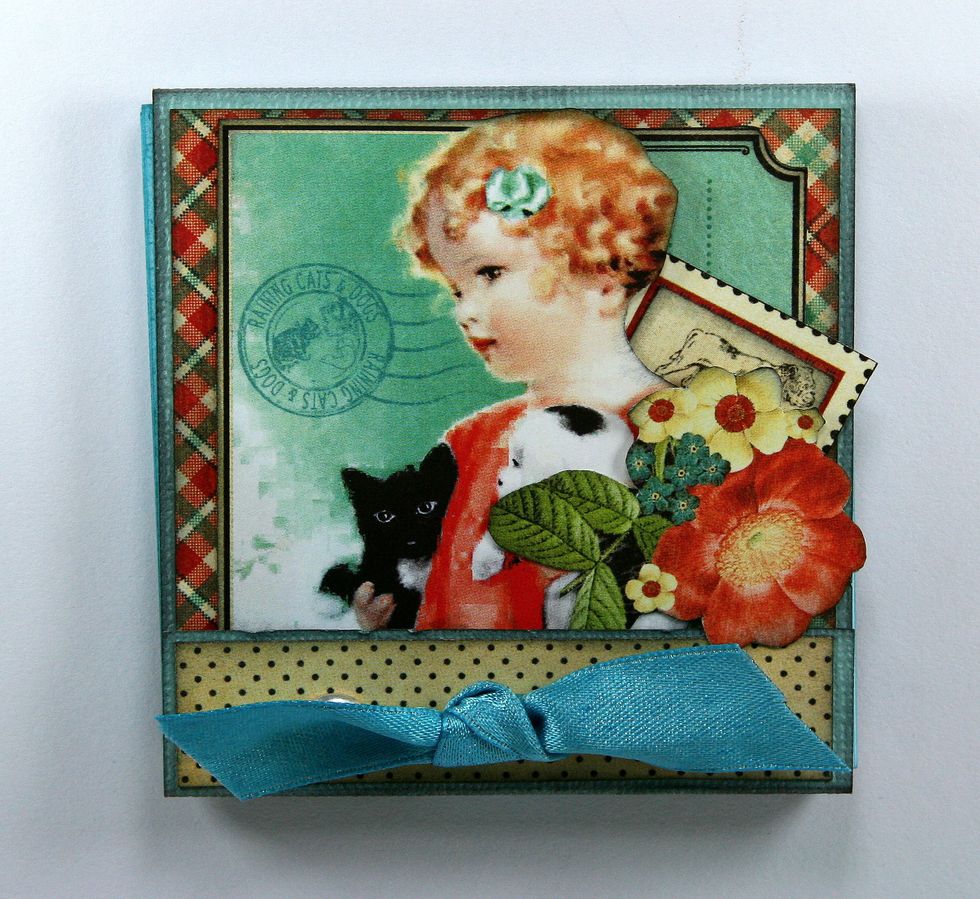 Thread coordinating ribbon trim through the book securing on top with a bow or double knot.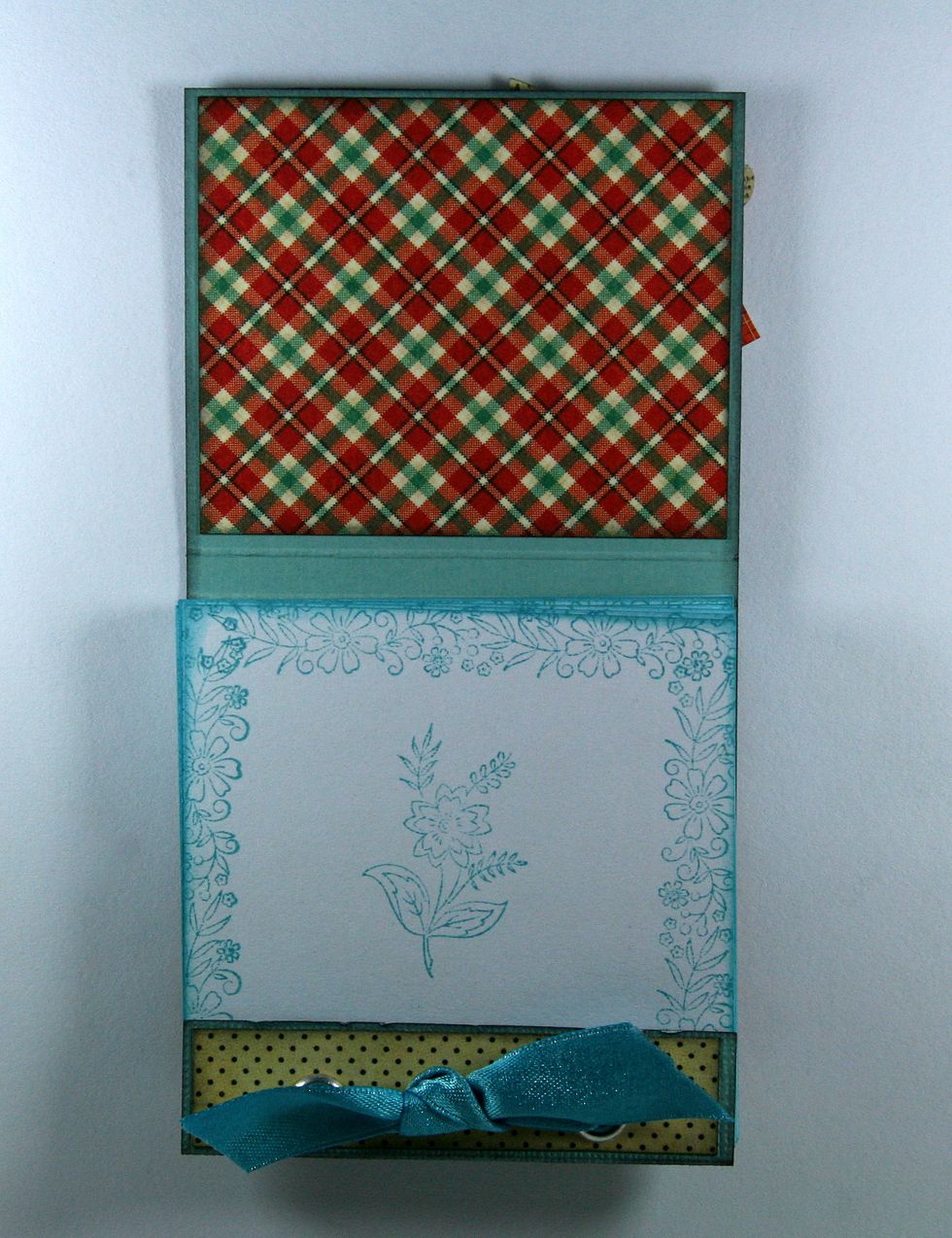 Add notes inside book and tare off sheets as needed. To refill simply undo trim and add additional pages.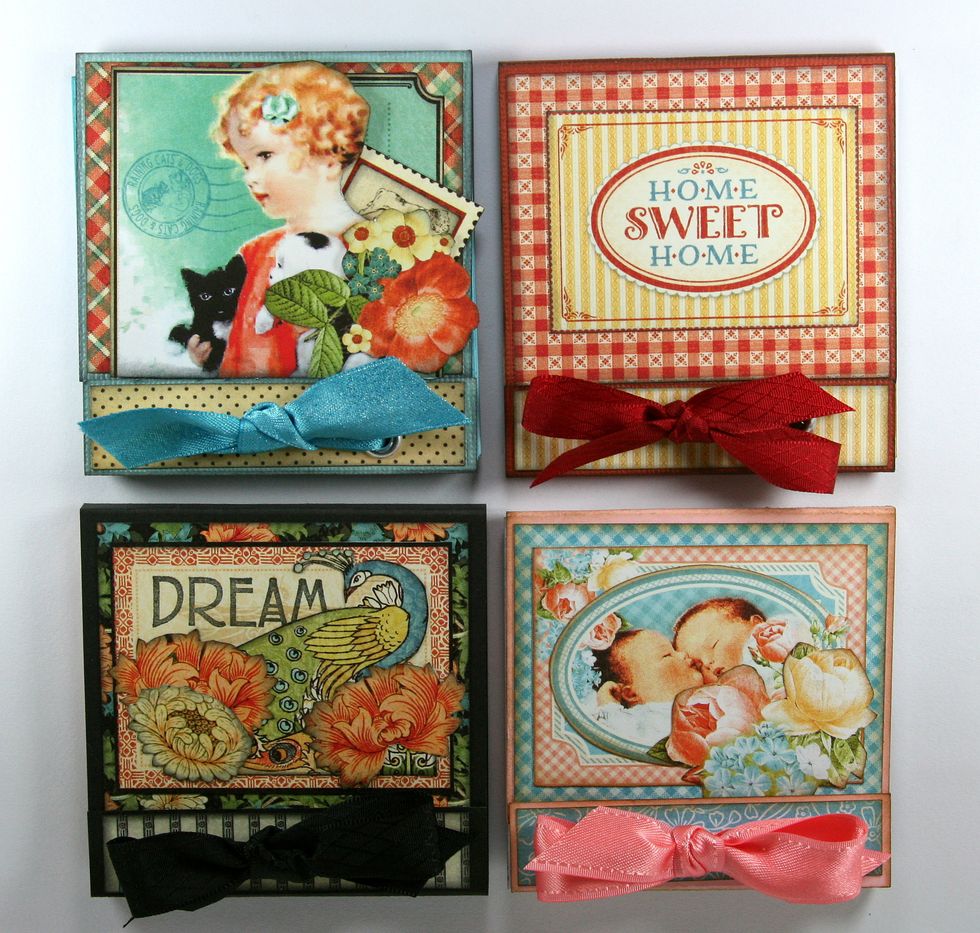 Make these little matchbook style notebooks for every occasion to keep in your purse and to give away. Great little hostess gift or stocking stuffer. Also a lovely random act of kindness gift.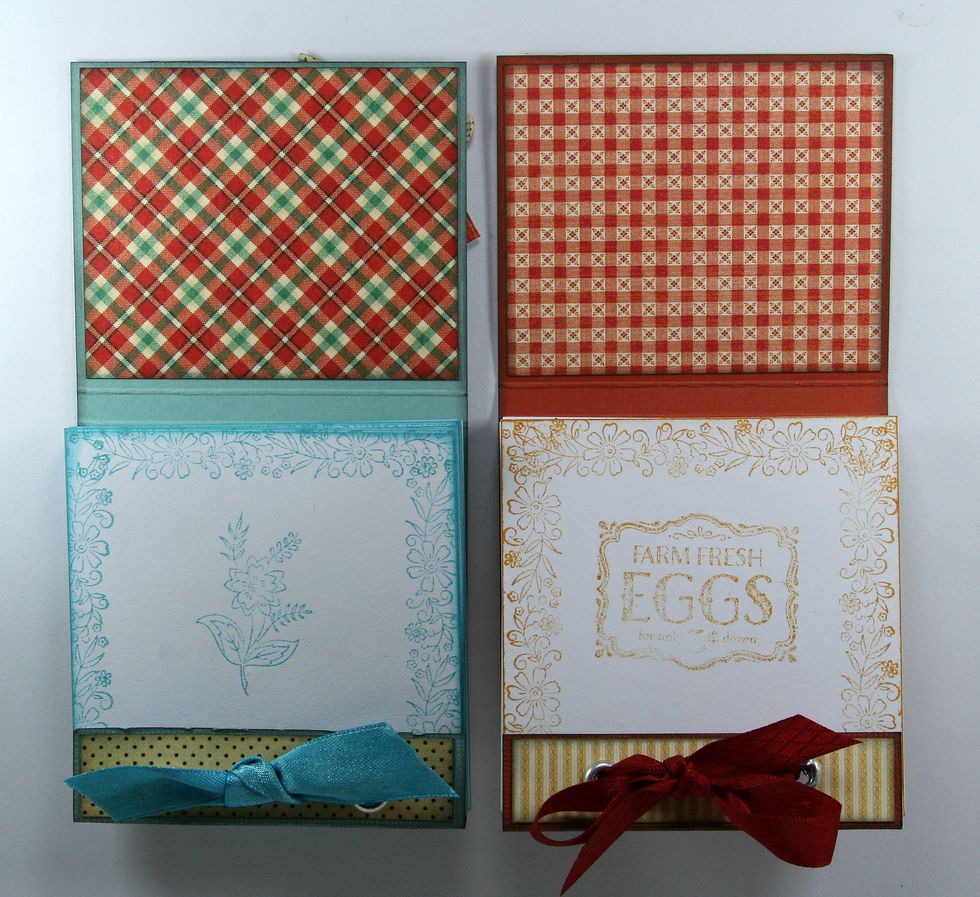 Use a variety of stamps inside to personalize the pages to the cover.
G45 Raining Cats and Dogs 8x8 Paper Pad
G45 Raining Cats and Dogs 6x6 Paper Pad
G45 Artisan Style 8x8 Paper Pad
G45 Artisan Style 6x6 Paper Pad
G45 Home Sweet Home 8x8 Paper Pad
G45 Home Sweet Home 6x6 Paper Pad
G45 Precious Memories 8x8 Paper Pad
G45 Precious Memories 6x6 Paper Pad
G45 Artisan Stlye Cling Stamps 1
G45 Artisan Style Cling Stamps 2
G45 Artisan Style Cling Stamps 3
G45 Precious Memories Cling Stamps 1
G45 Precious Memories Cling Stamps 3
G45 Home Sweet Home Cling Stmaps 2
Colorbok Silver Eyelets
Really Reasonable Ribbon
Tim Holtz Distress Ink~Black Soot
Tim Holtz Distress Ink~Gathered Twigs
White Cardstock
Pink Cardstock
Black Cardstock
Rust Cardstock
Blue Cardstock