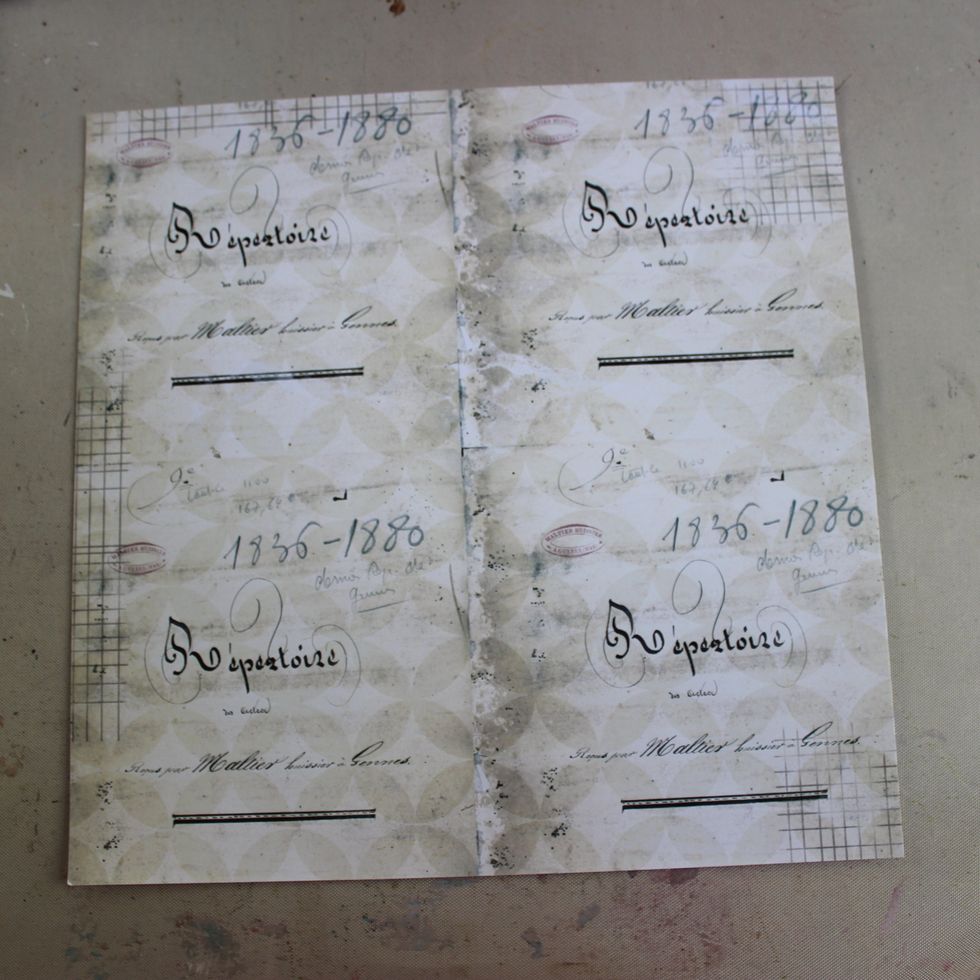 I have had these Mis-Ta-bles sheets for years. So I decided to use one today! I thought it would be perfect for layering since it already has the 1st layer!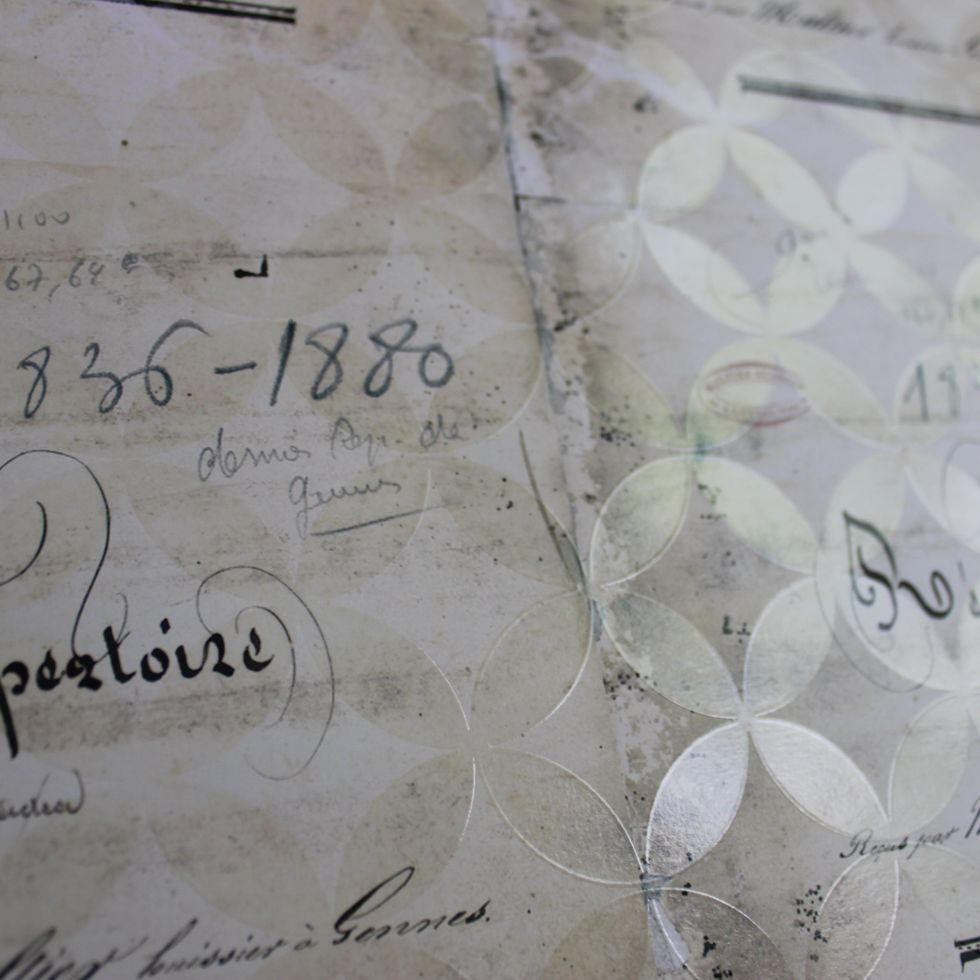 As you can see, they already have an area that resists any color. (shiny part)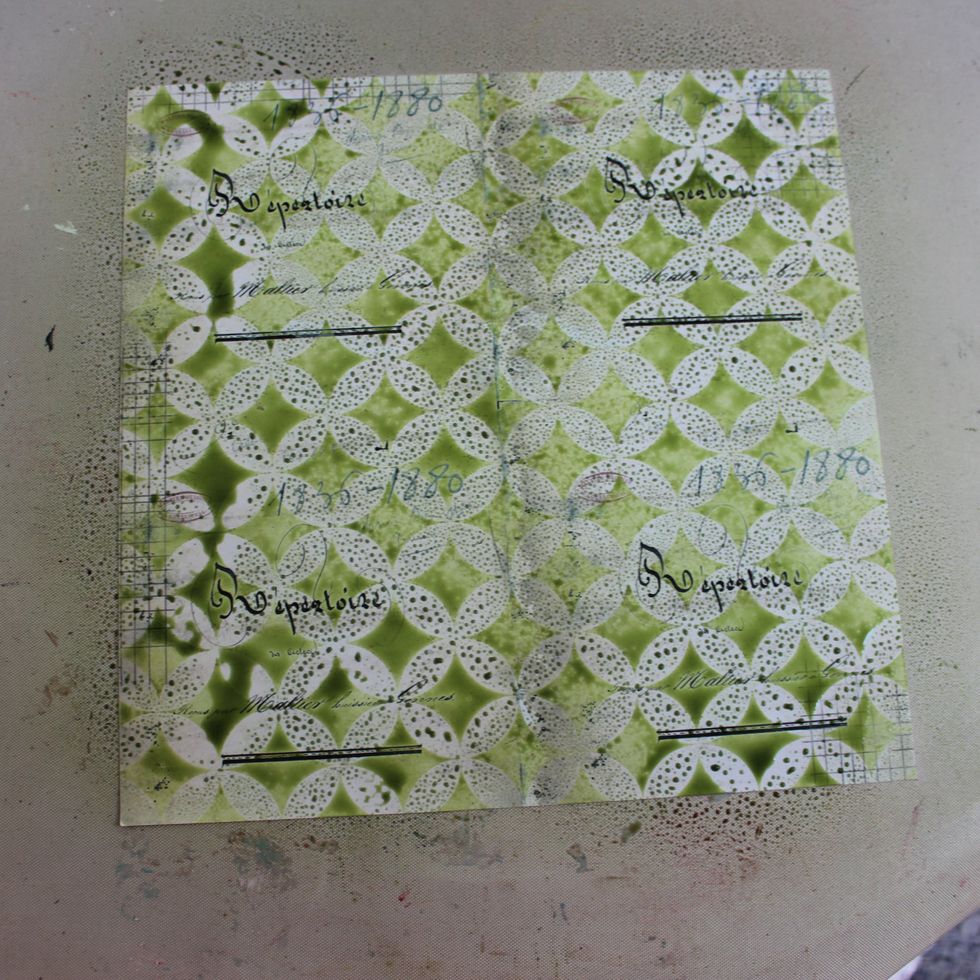 My first step was to mist it with one of our new colors of Colorations, Avocado!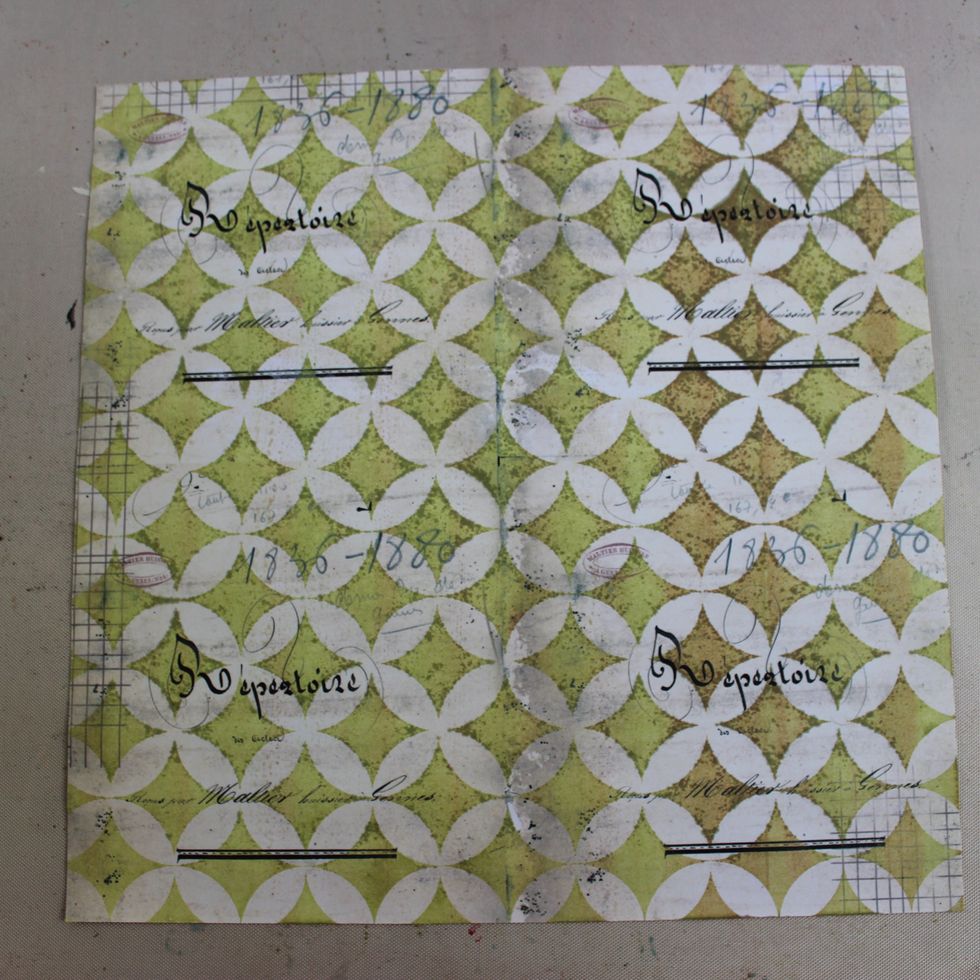 Then I wiped with a paper towel and the color comes off the resist areas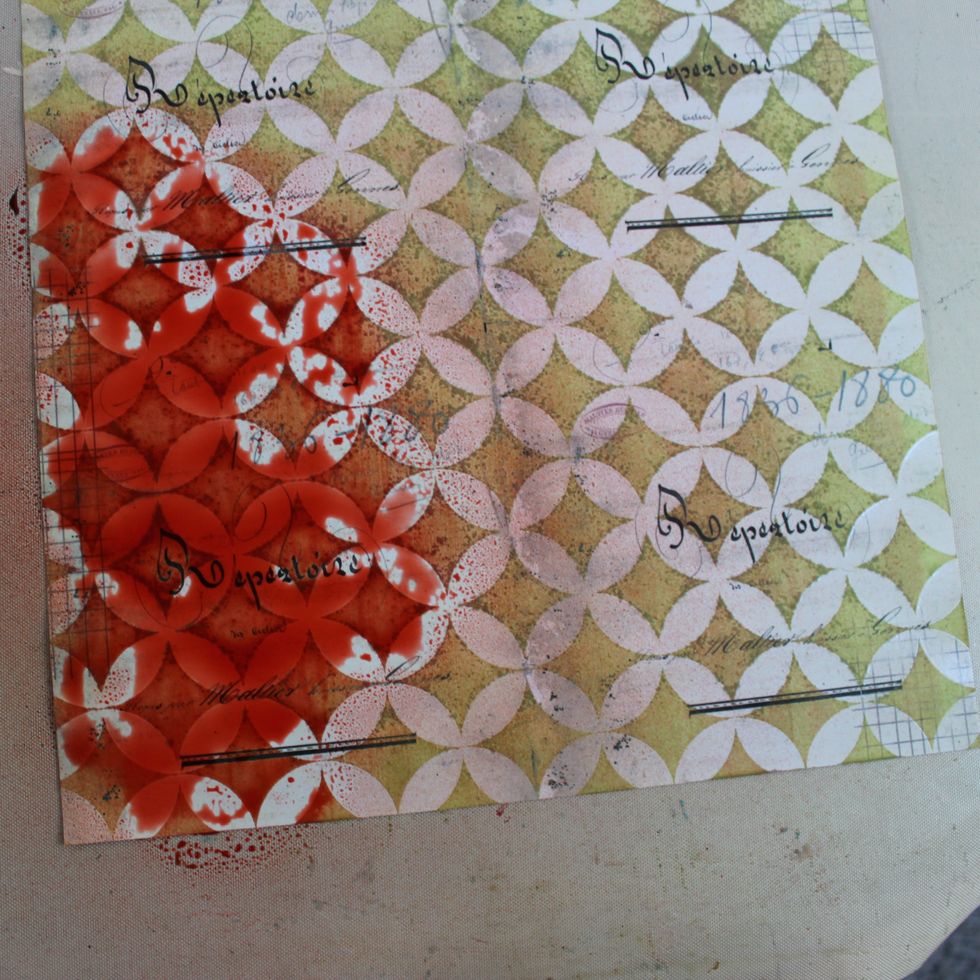 Now I sprayed some areas with our other new color, Salmon!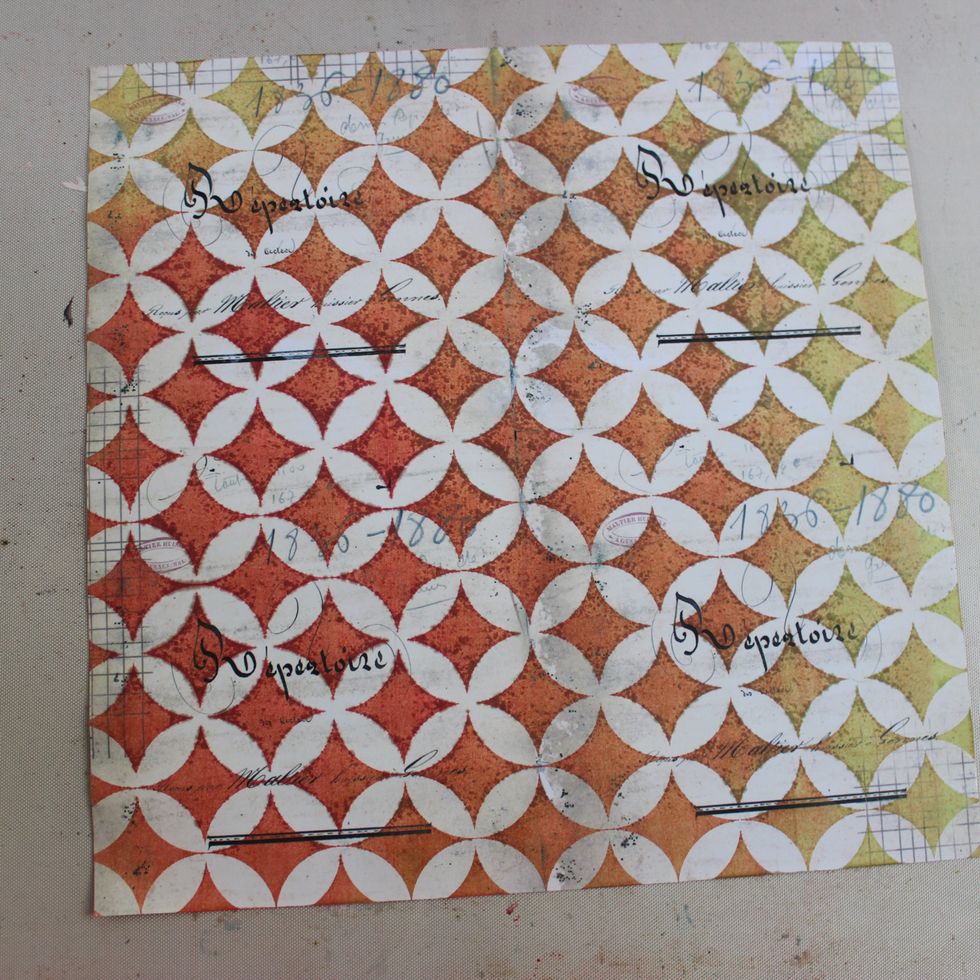 Wipe excess off with a paper towel.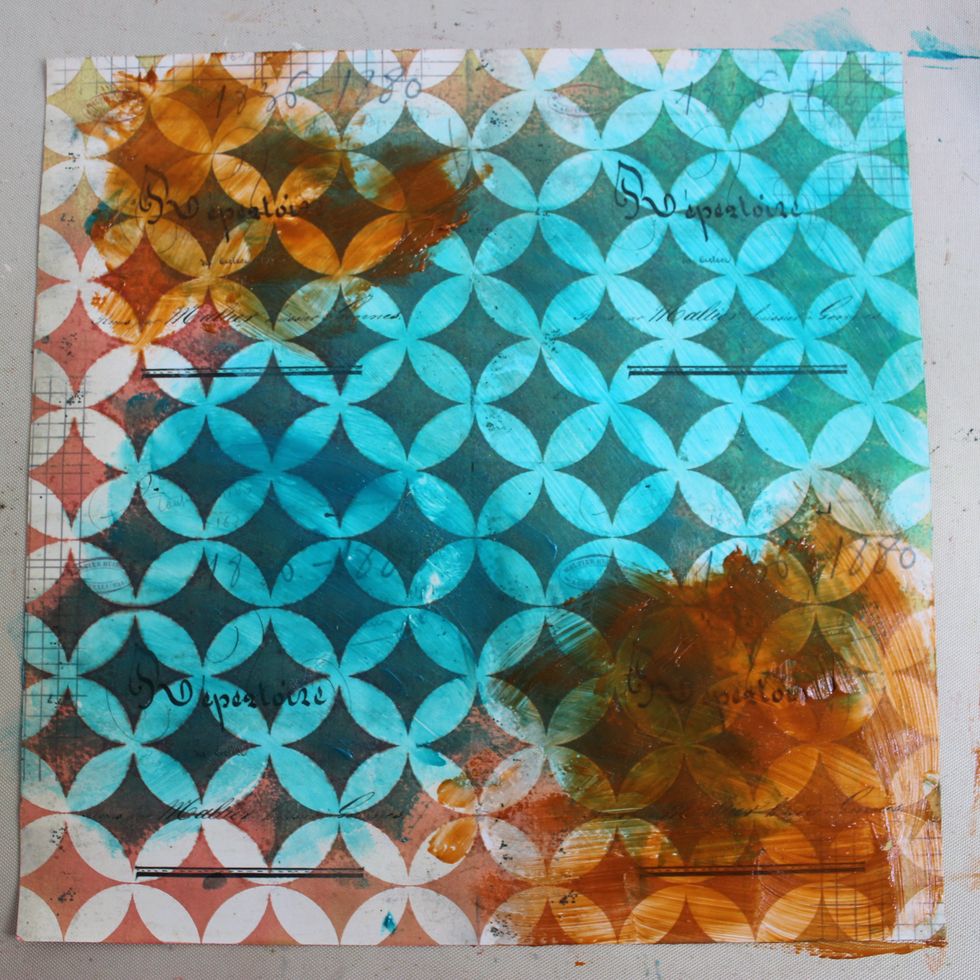 Fro this step I used two new colors of Sorbet, Cayman and Pumpkin Spice! I just painted with a brush randomly.
I used a Catalyst contour tool to add squiggles to some the areas I painted with the sorbet. You must do this immediately after applying the color. Our paints dry pretty quick.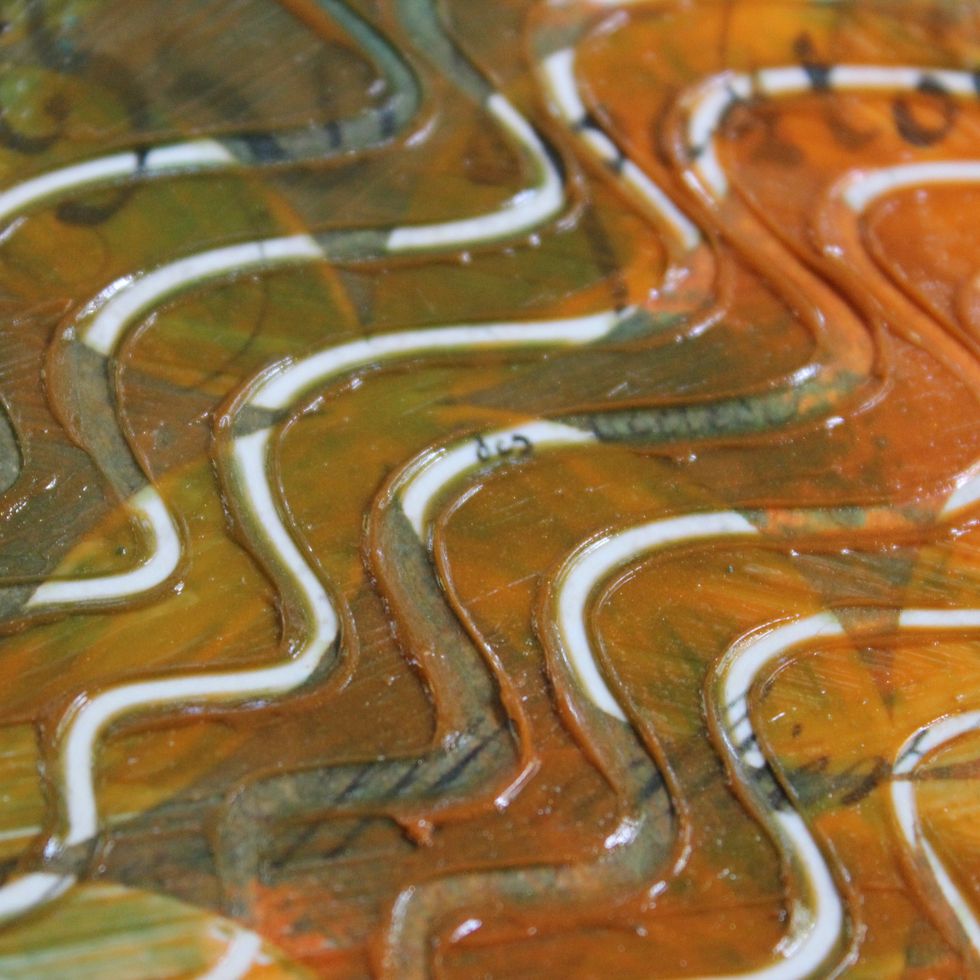 Here is a close up of the squiggles. See how now you can have a peek at the first layer of the page.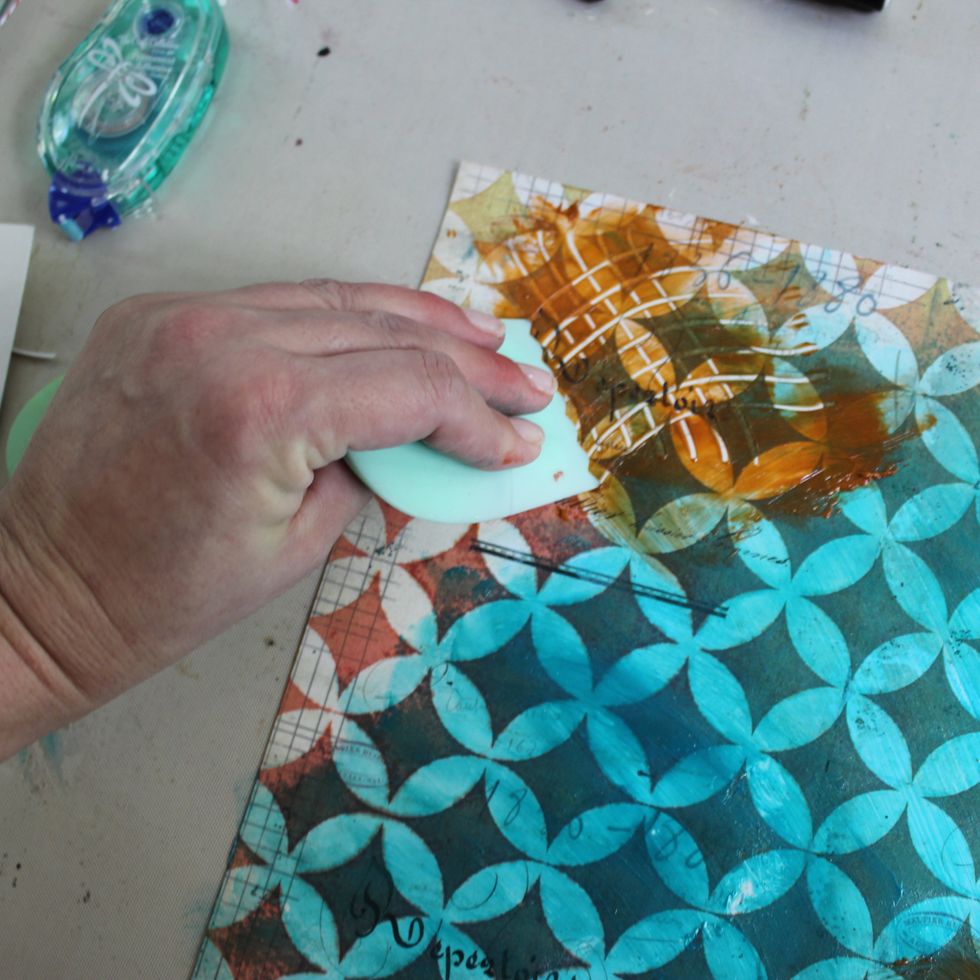 I continued to add squiggles to other areas off the paper. This time I created squares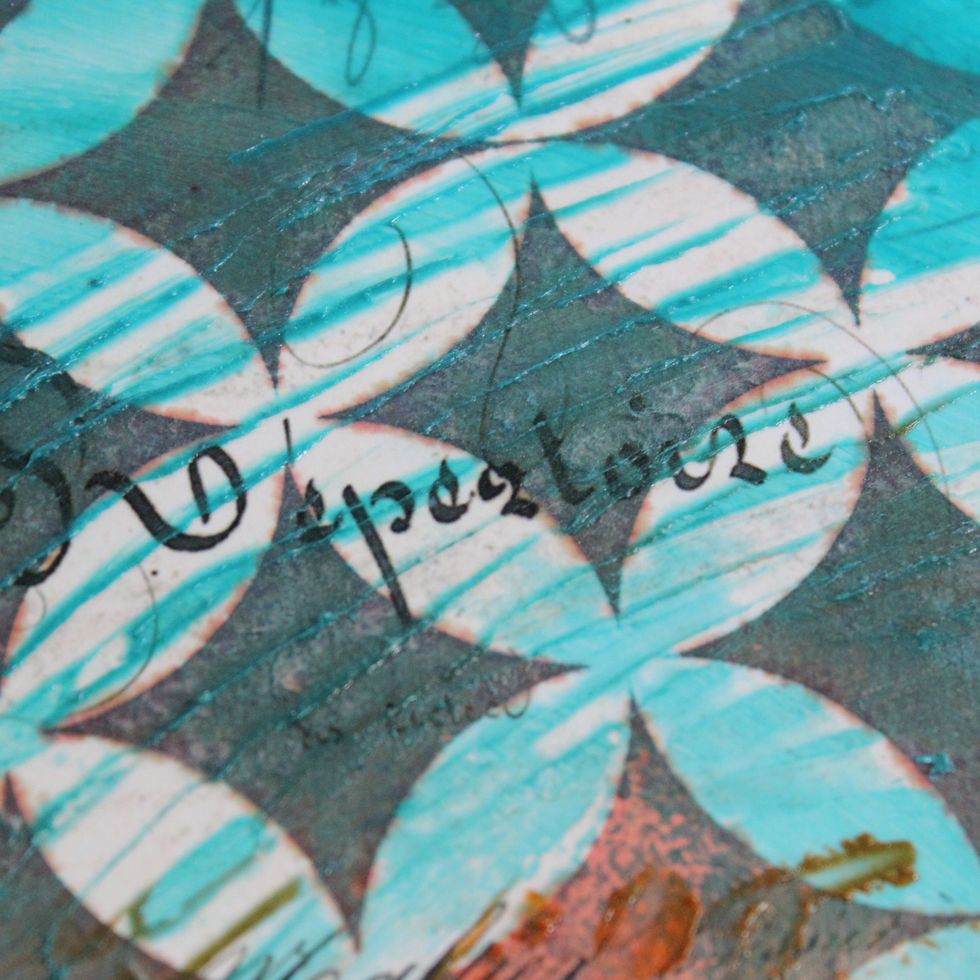 This is a close up of another area I used the tool on.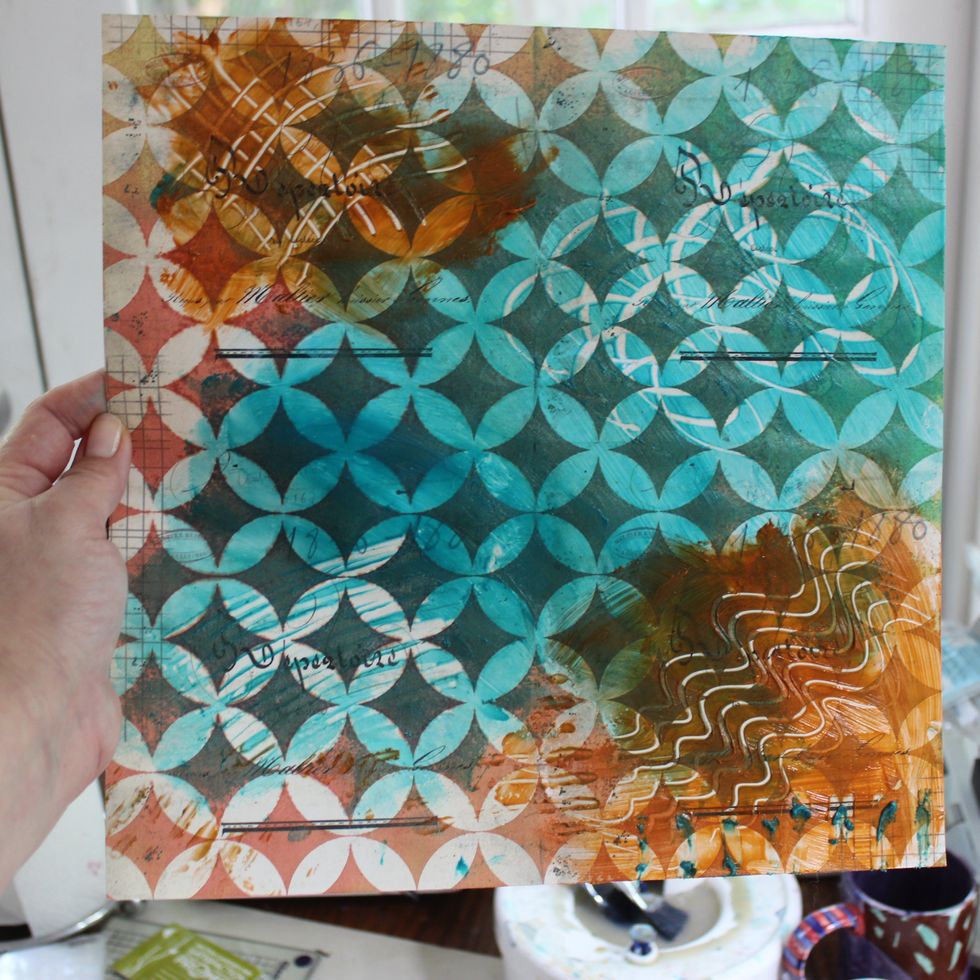 Here is a shot of what the page looks like so far. I did give it about 5 minutes to dry before the next step.
For the next layer, I used a Technique Junkies stamp. This one is called Plaster Swirls.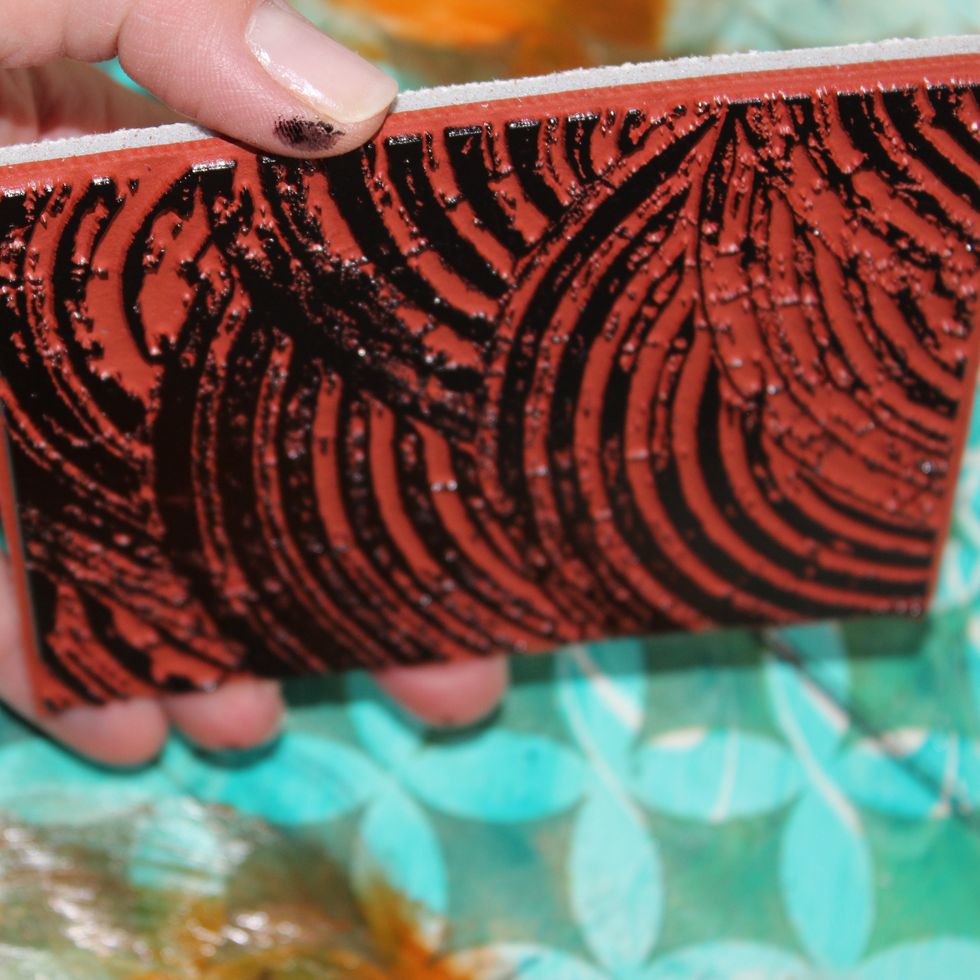 I like to use StazOn ink. This time I used black.
I just randomly stamped the image on a part of the layout.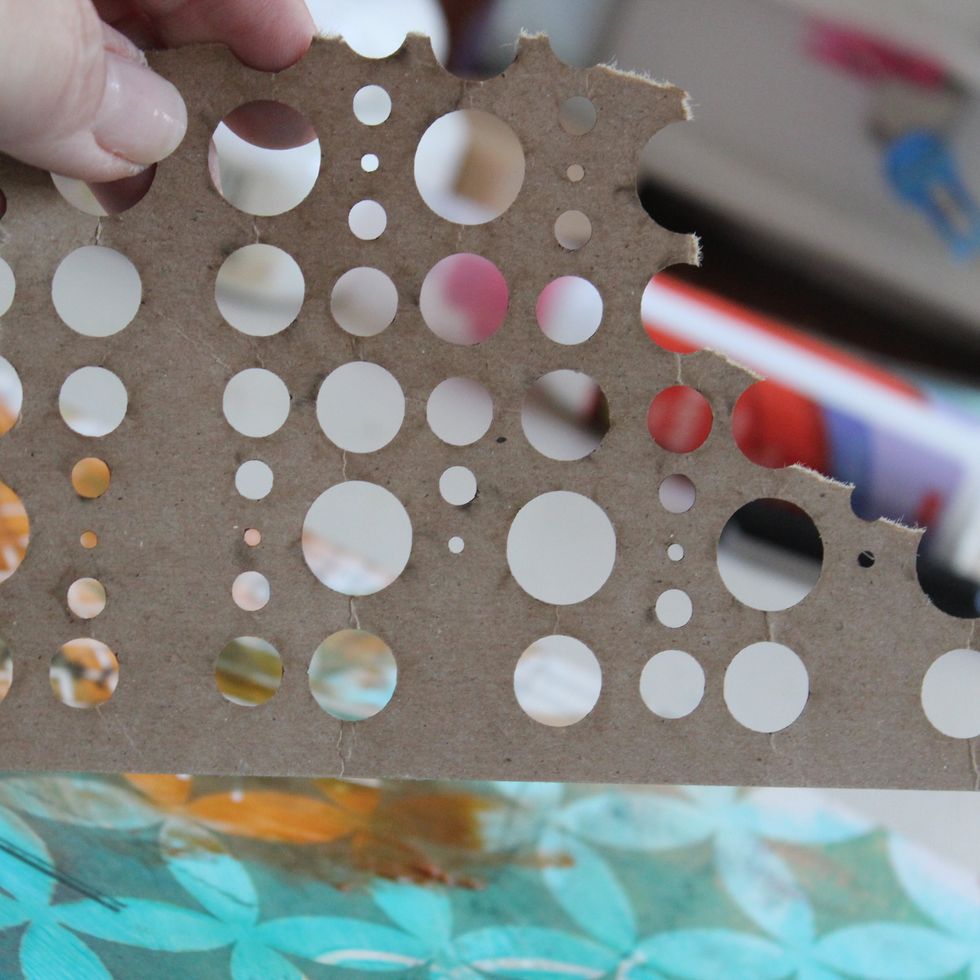 I also have these cut outs of our stencil, Bubbles. It basically is a piece of heavy cardstock.
I put some of our Mud Texture Paste on a brush.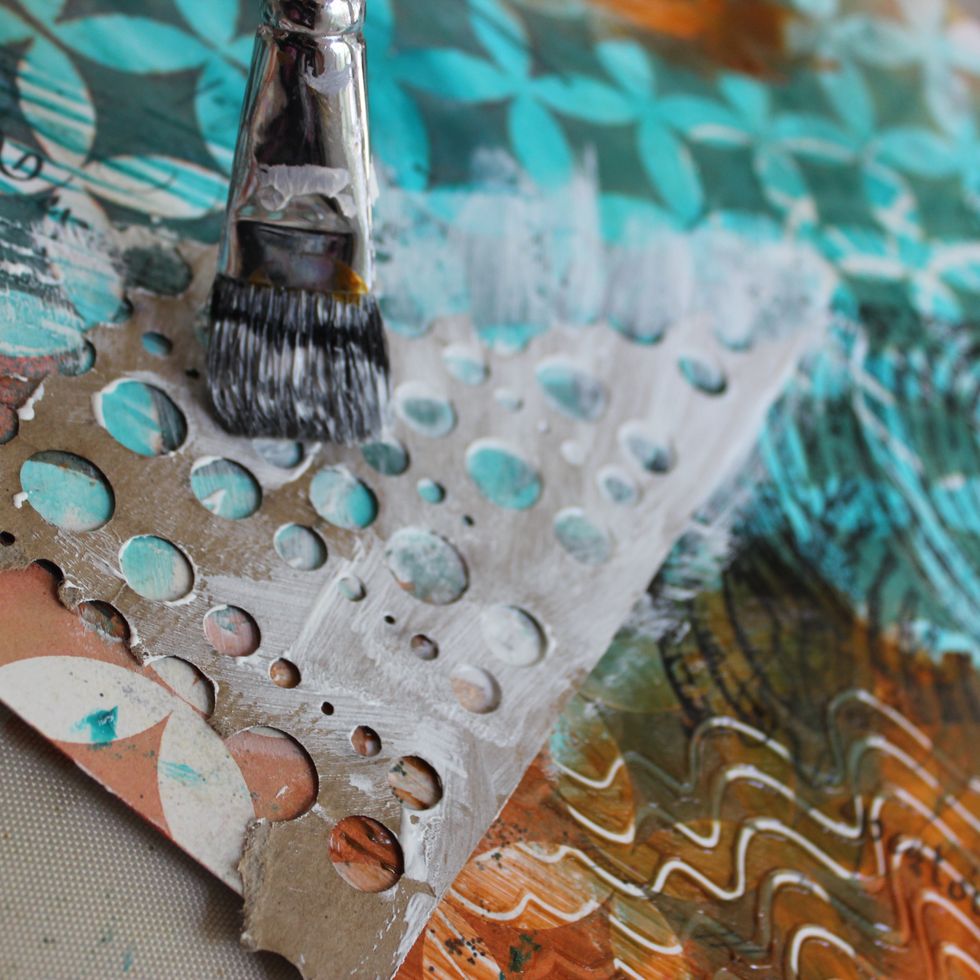 I placed the cardstock on a part of the layout, and applied the Mud on top.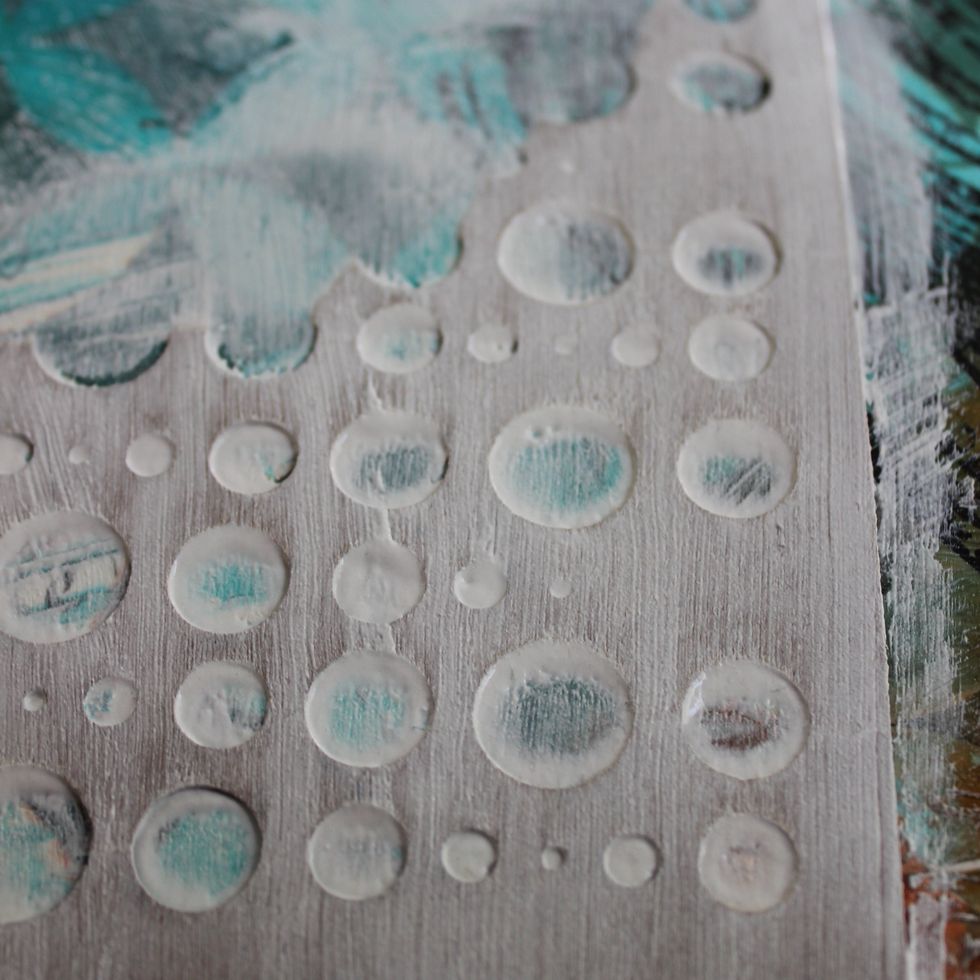 I did apply a lot! I let it sit for a little while I did the next step. But keep in mind that I am going to be removing this piece and placing it on a different spot.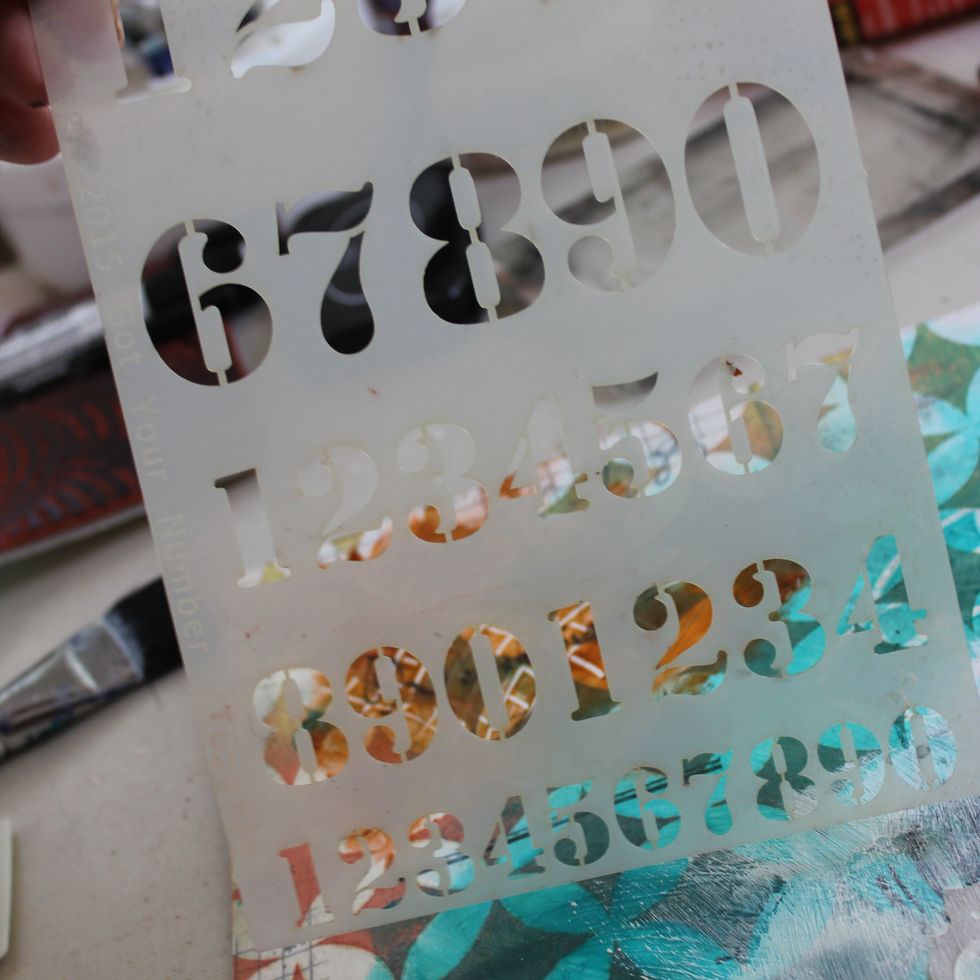 For the next step I used the Art Anthology stencil, Got Your Number.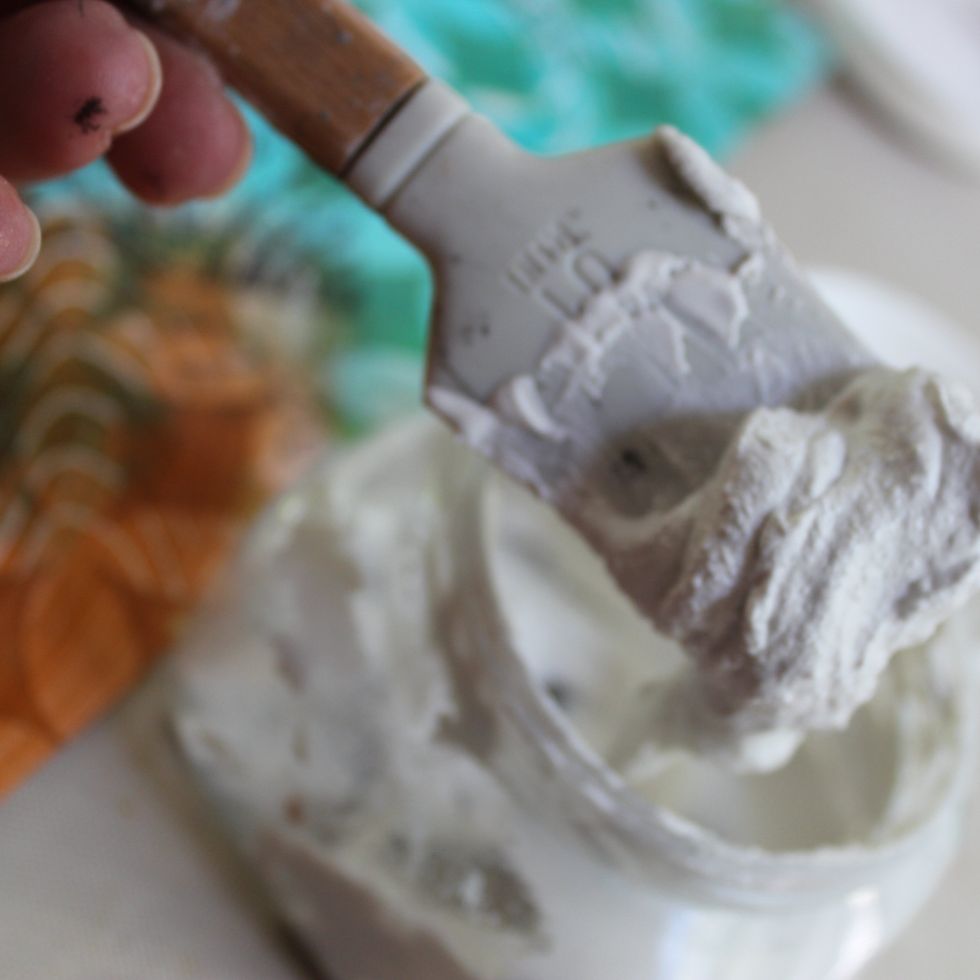 And I used our Texture Paste, Stucco.
I applied the Stucco with a Catalyst Palette Tool that is included in our Tool Kit.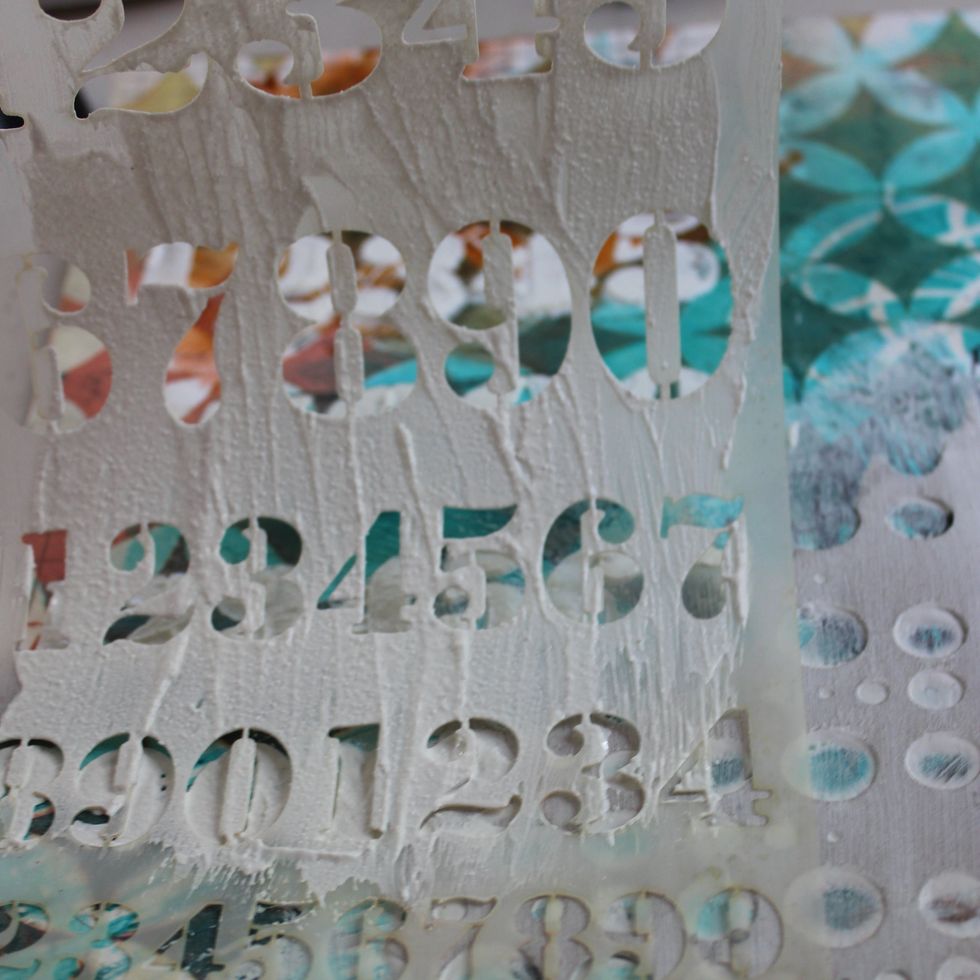 After applying the Stucco, remove the stencil and wash immediately.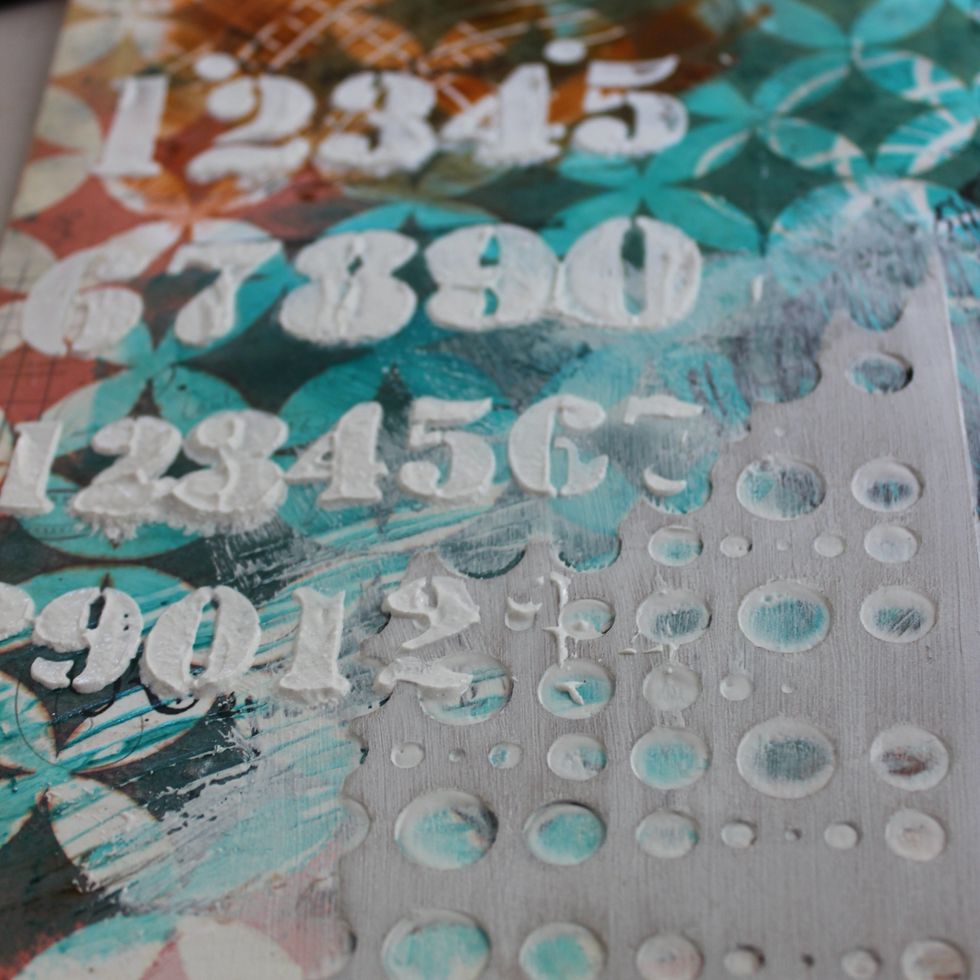 This is what it will look like on the layout.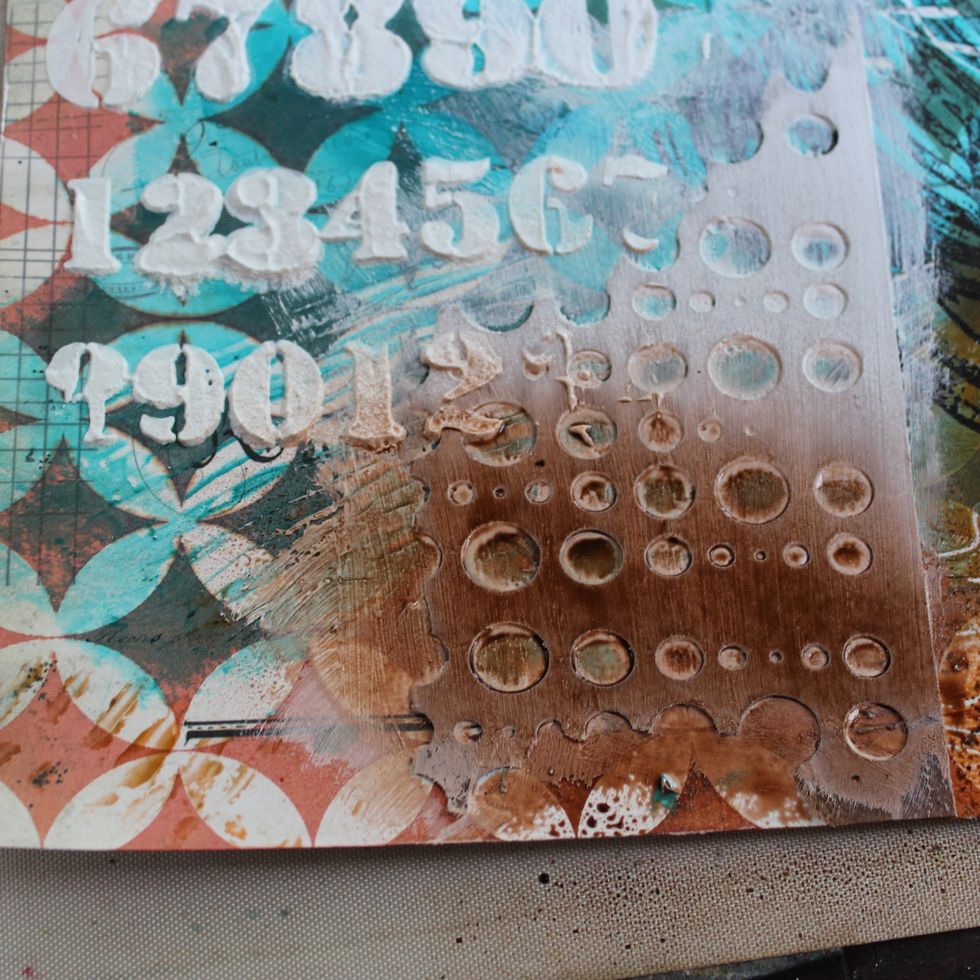 I sprayed the cardstock and layout with French Toast Colorations.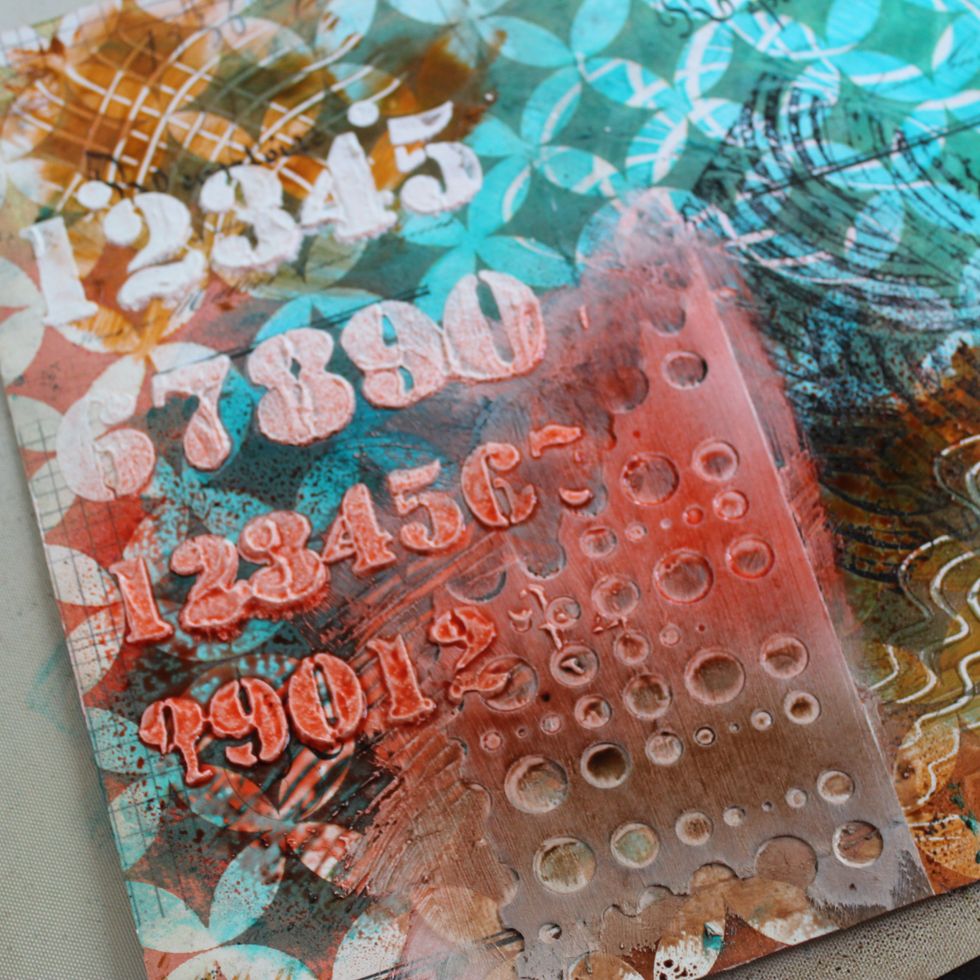 and with a little bit of Salmon too.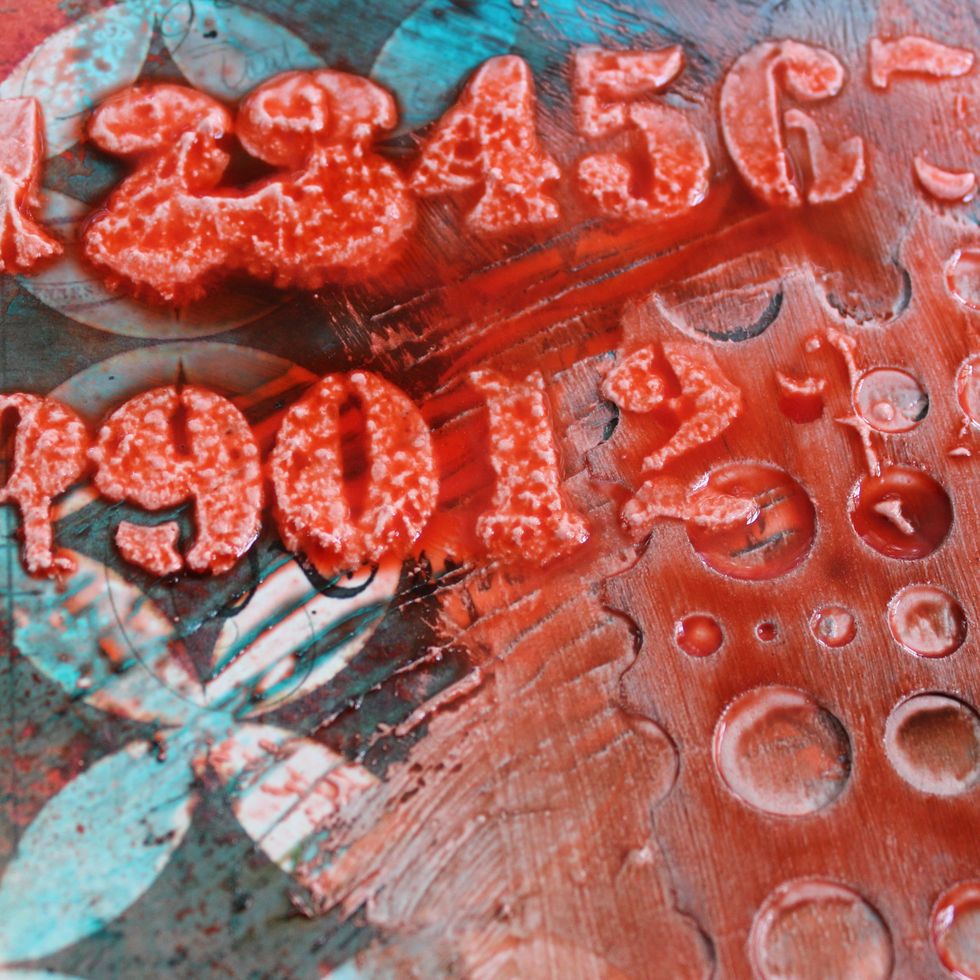 I saturated some areas with a lot of the Colorations.
Then I dried it with a heat tool.
Now I removed the piece of cardstock. So basically you will be using this as a stencil. But you will also have another layer to add to another piece of the layout.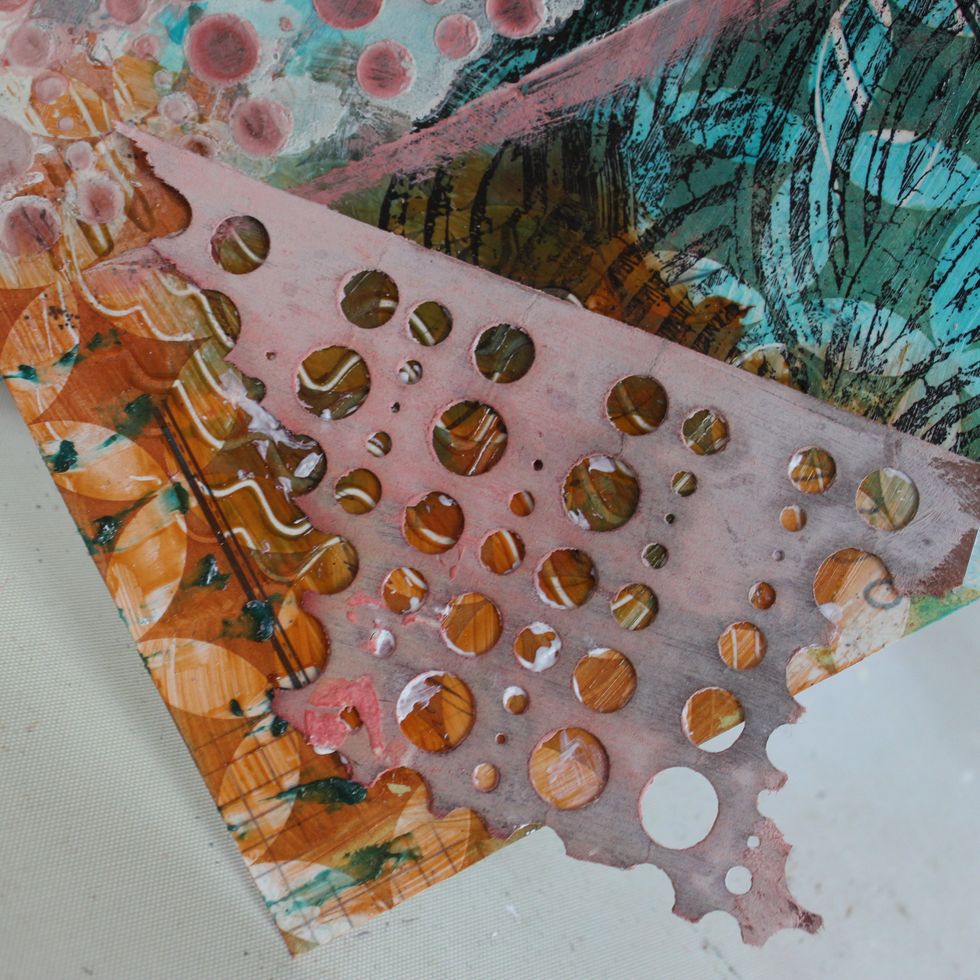 This is what it looks like after its all dry.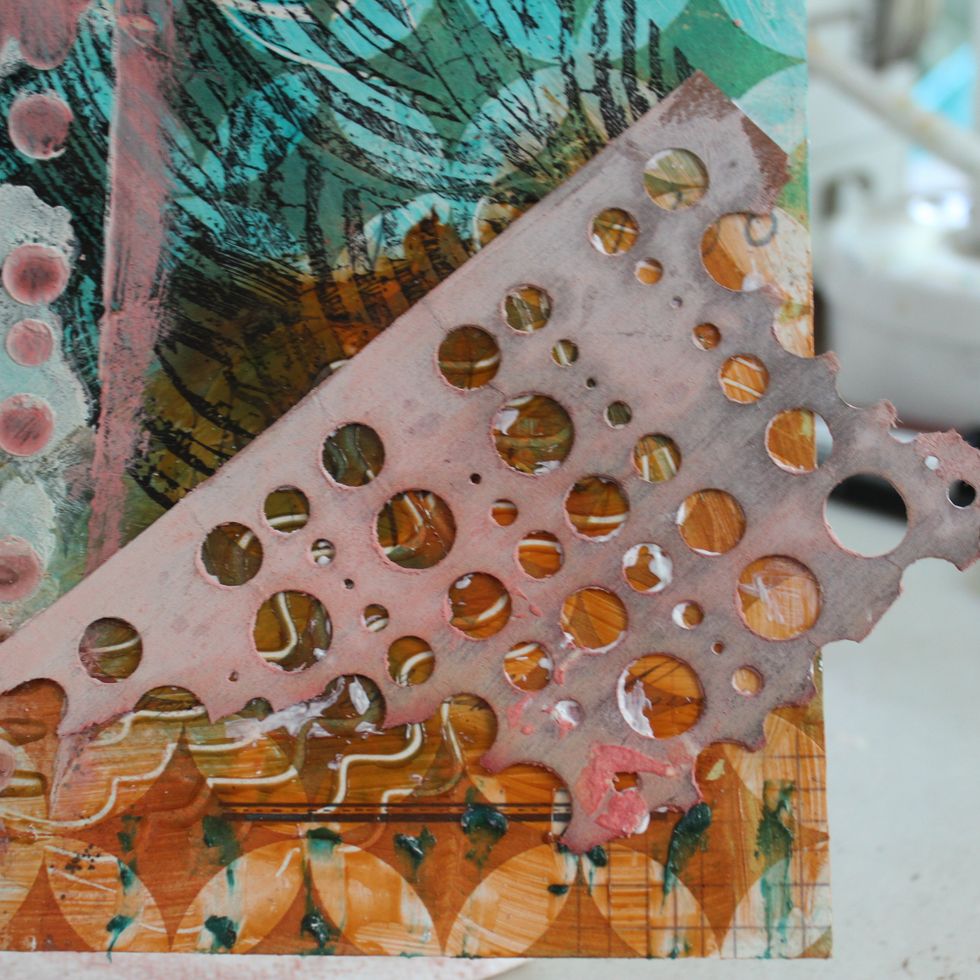 I then applied some glue to the backside and adhered it to the layout!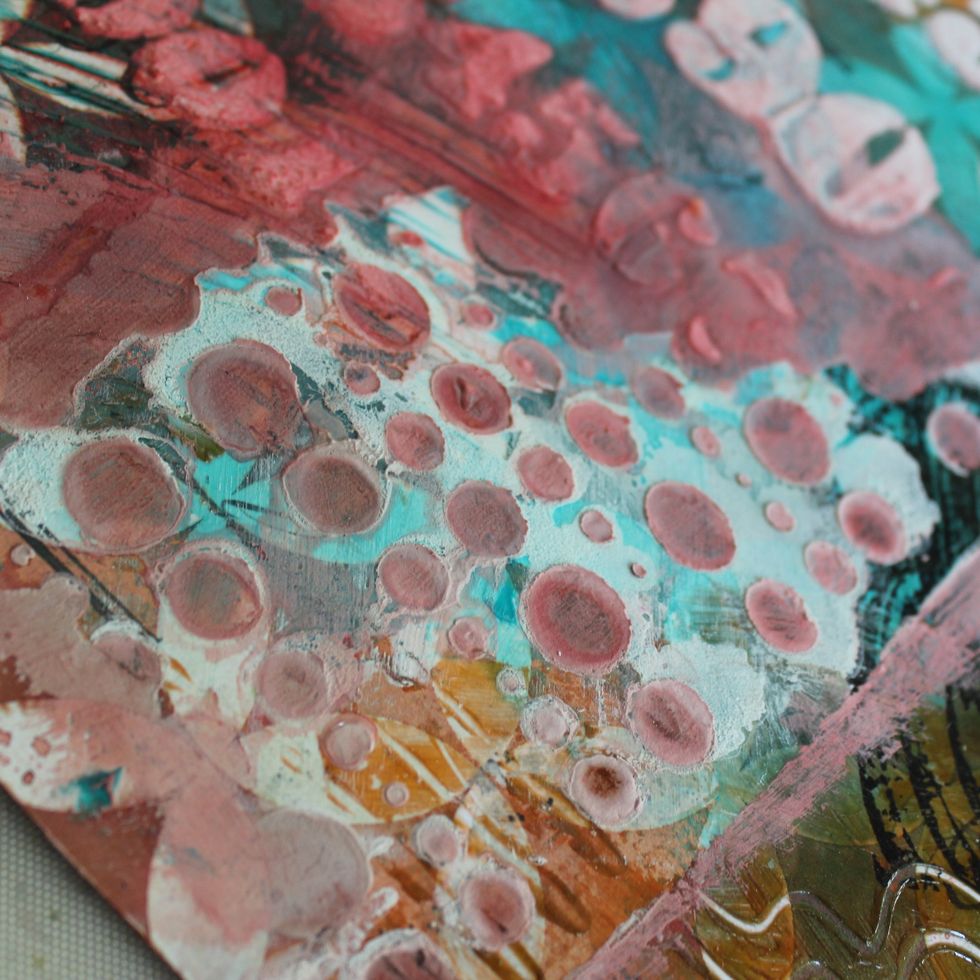 This is what the area where the cardstock was removed from looks like.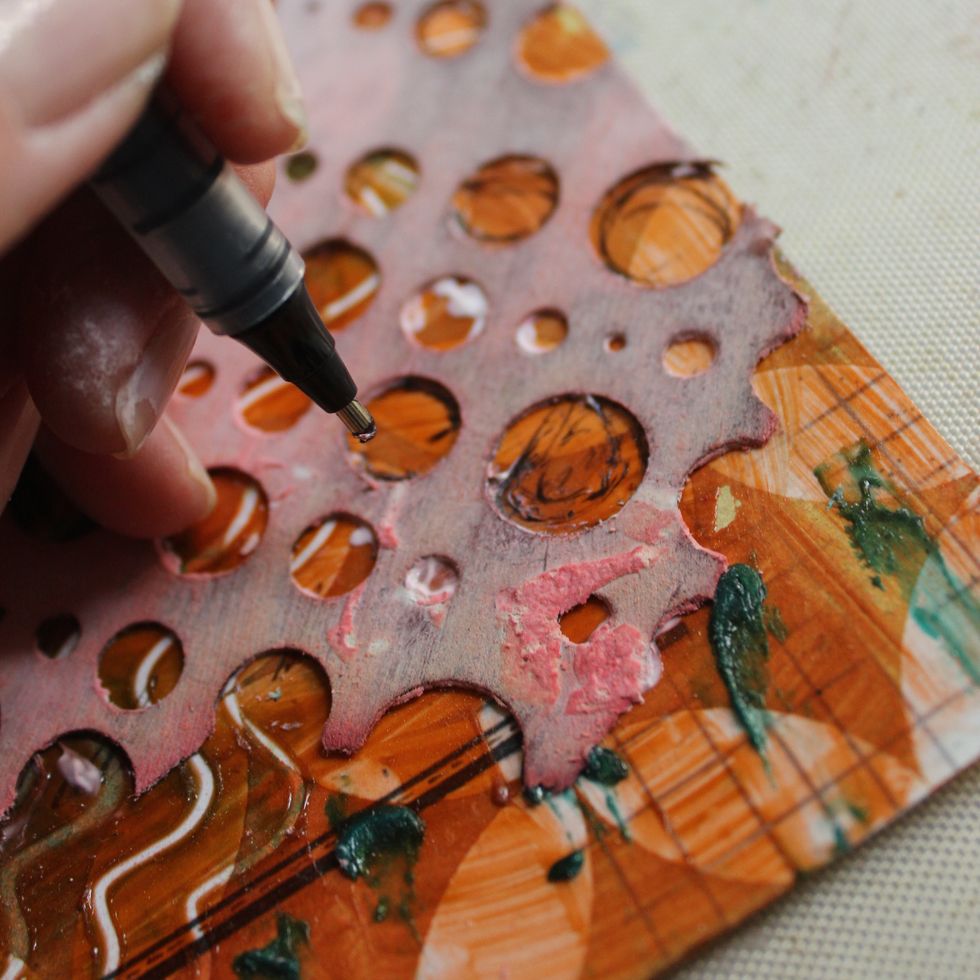 Now that everything is dry, I wanted to add some black and images to the layout. So using a Fude Ball 1.5 pen I applied circles randomly.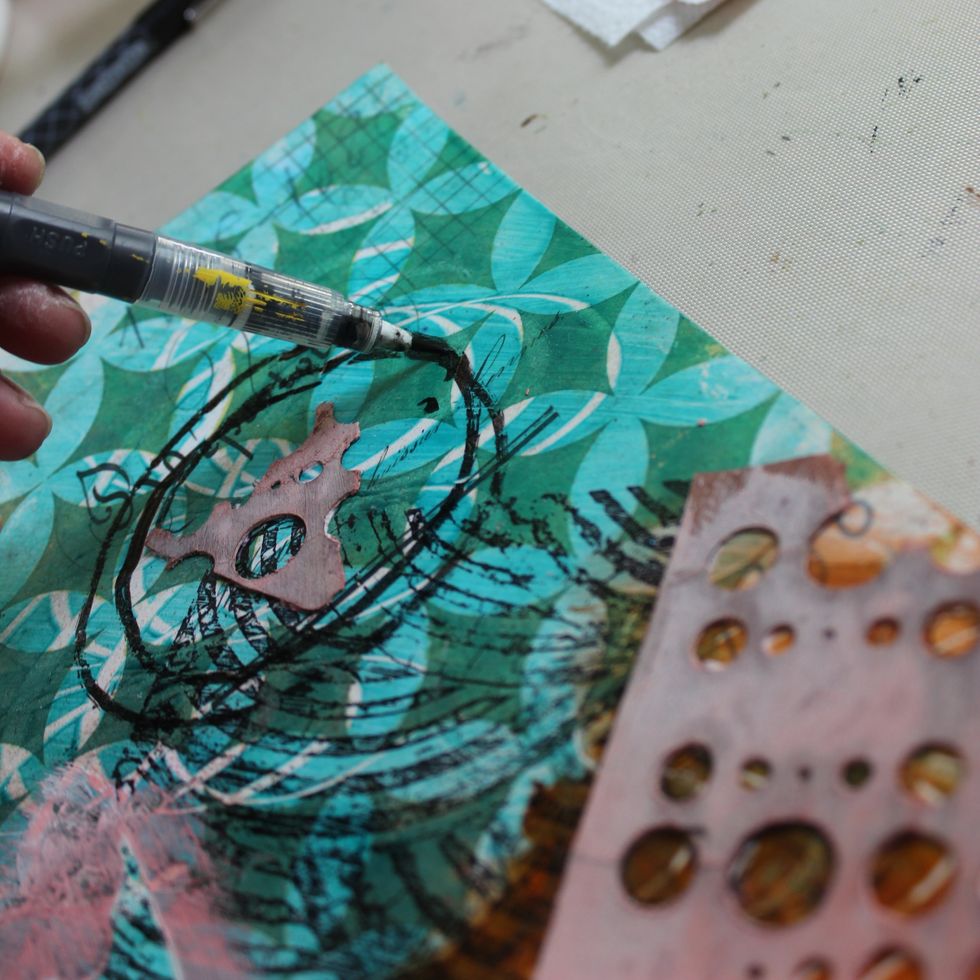 I added a little bit of ink to my brush pen and added circles and scribbles to the rest of the layout.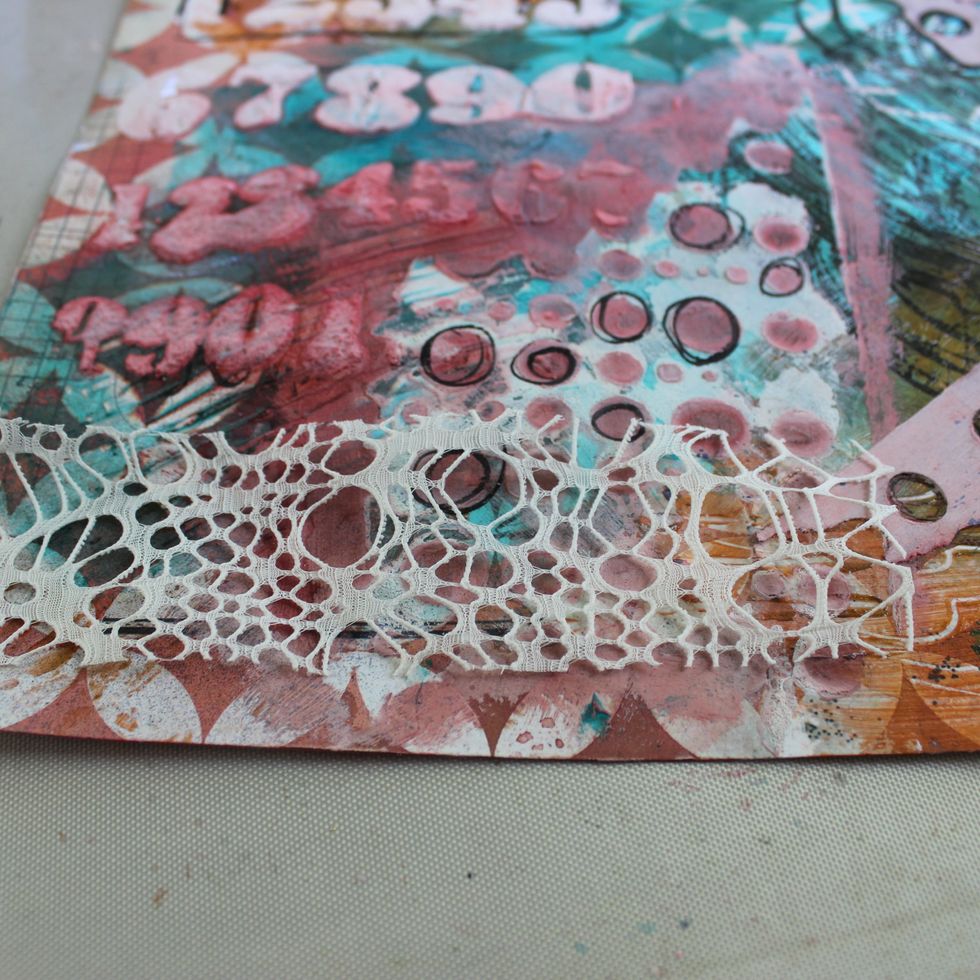 Then I took a little piece of ribbon and added another layer.
You don't even need glue to add the ribbon, just apply paint on it and it will glue it! I used Dimensional Gems in Emerald.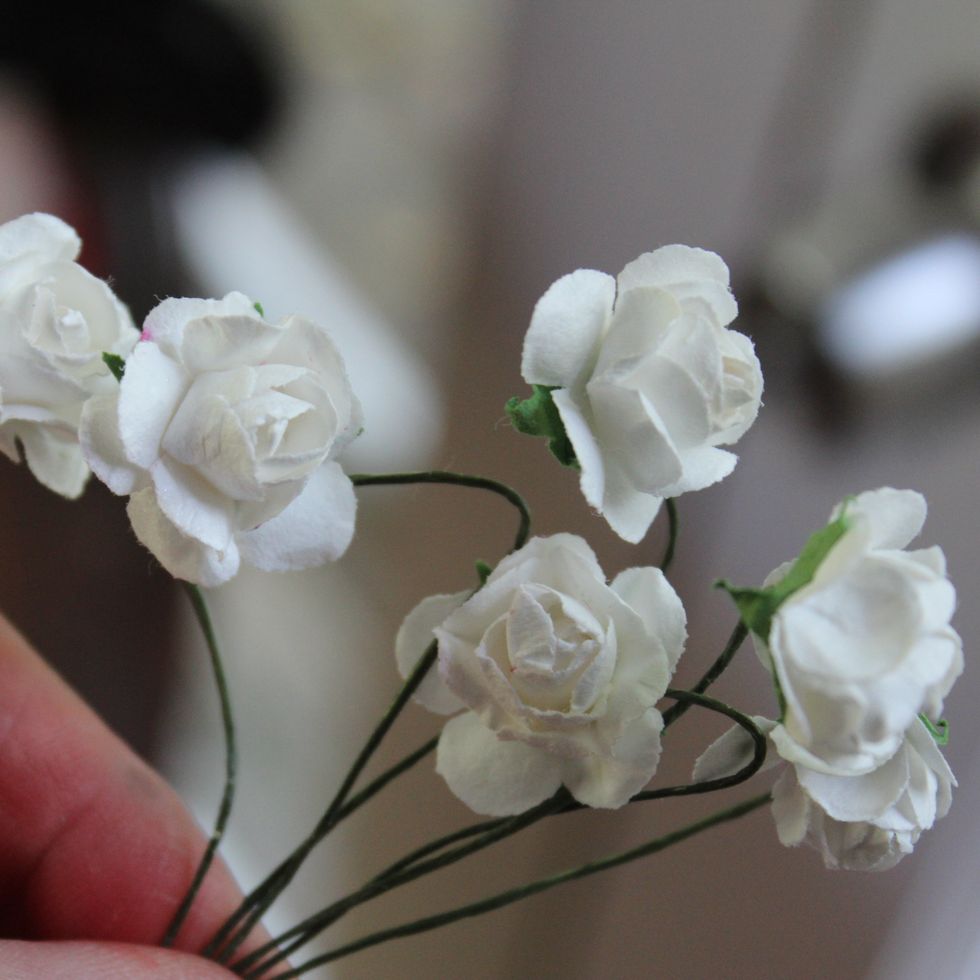 I set aside the layout to dry. In the meantime go ahead and spray all the following embellishments we will be using. I started with these white paper flowers.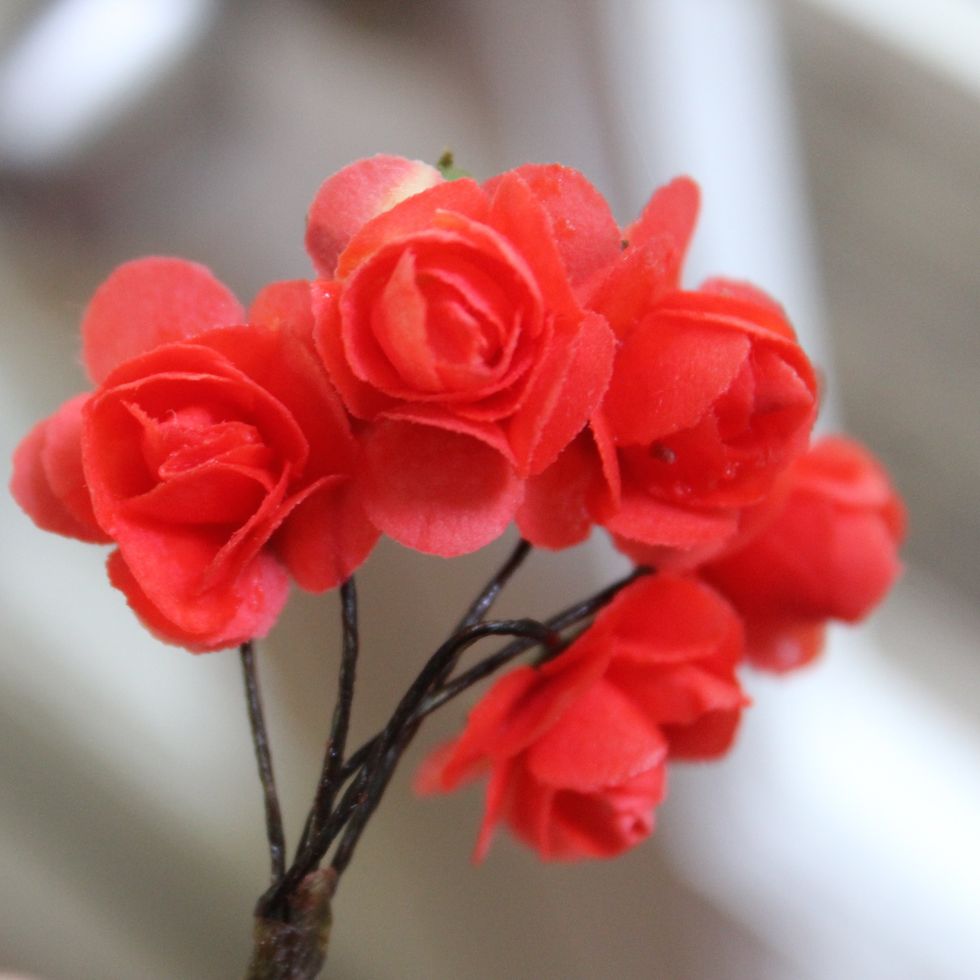 I used Colorations in Salmon for all the embellishments.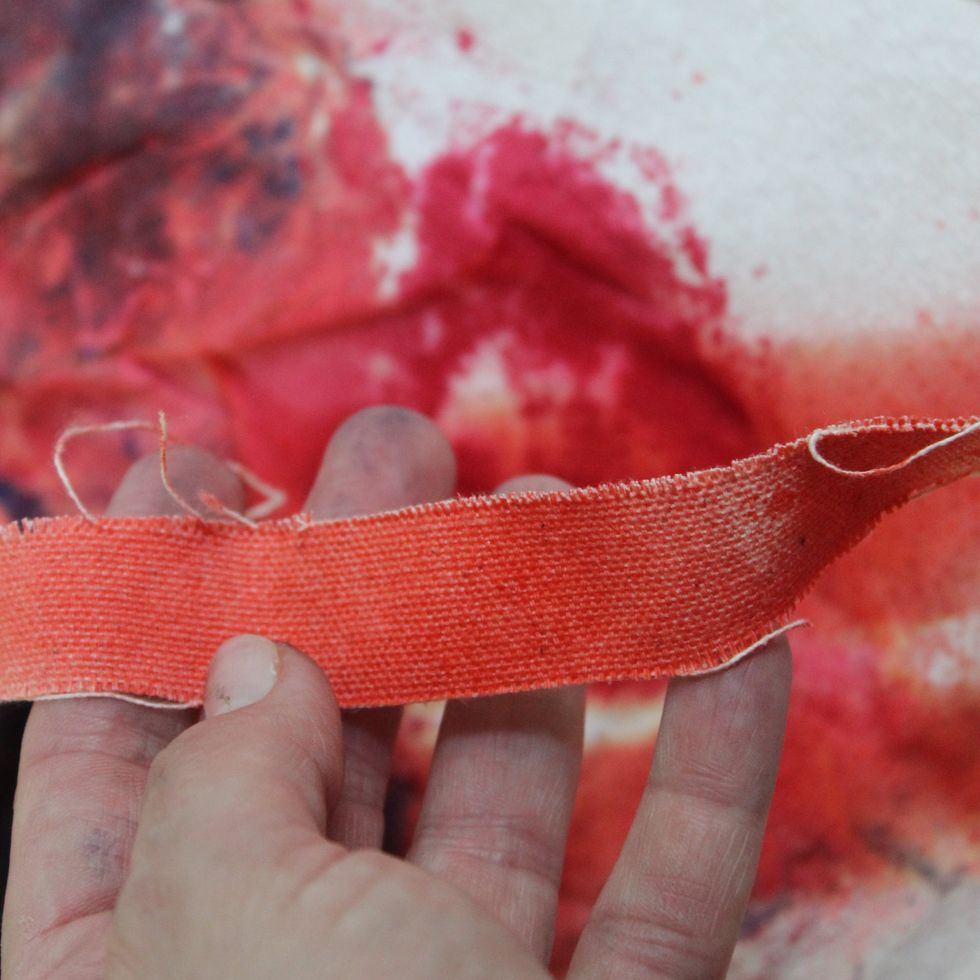 I also sprayed some canvas strips I had laying around.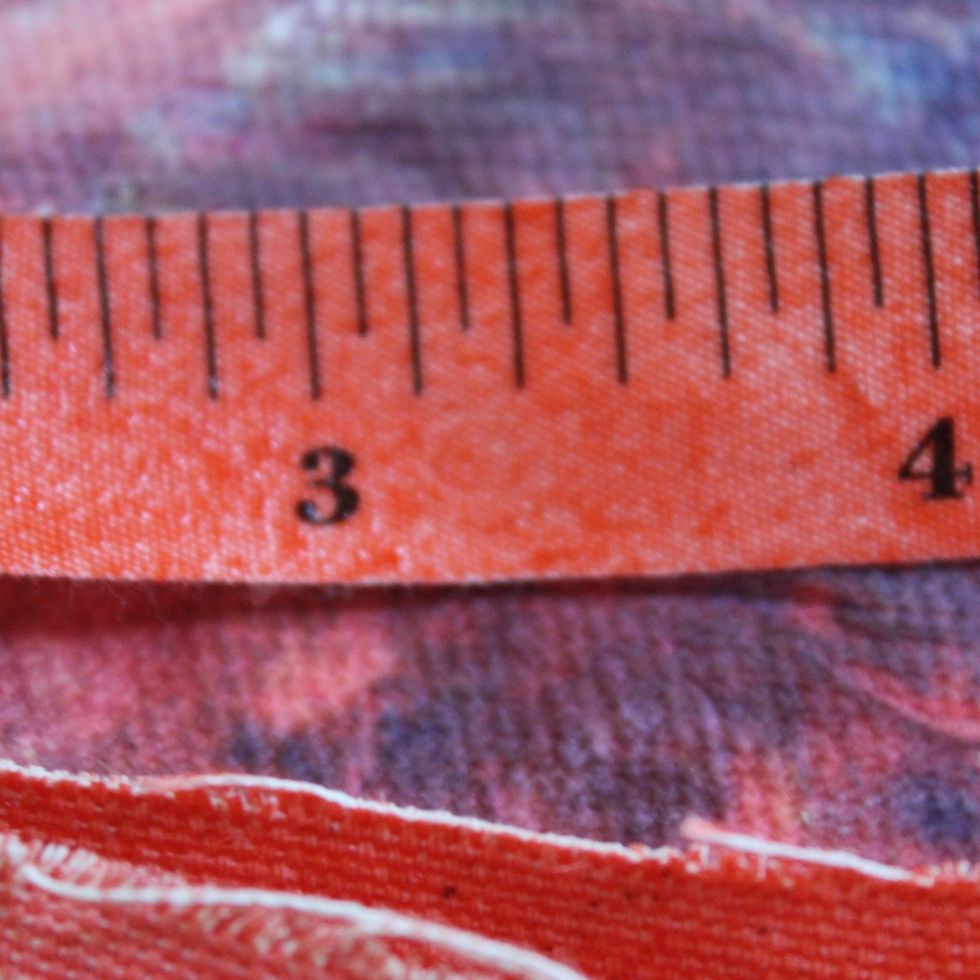 And some May Arts Ribbon pieces.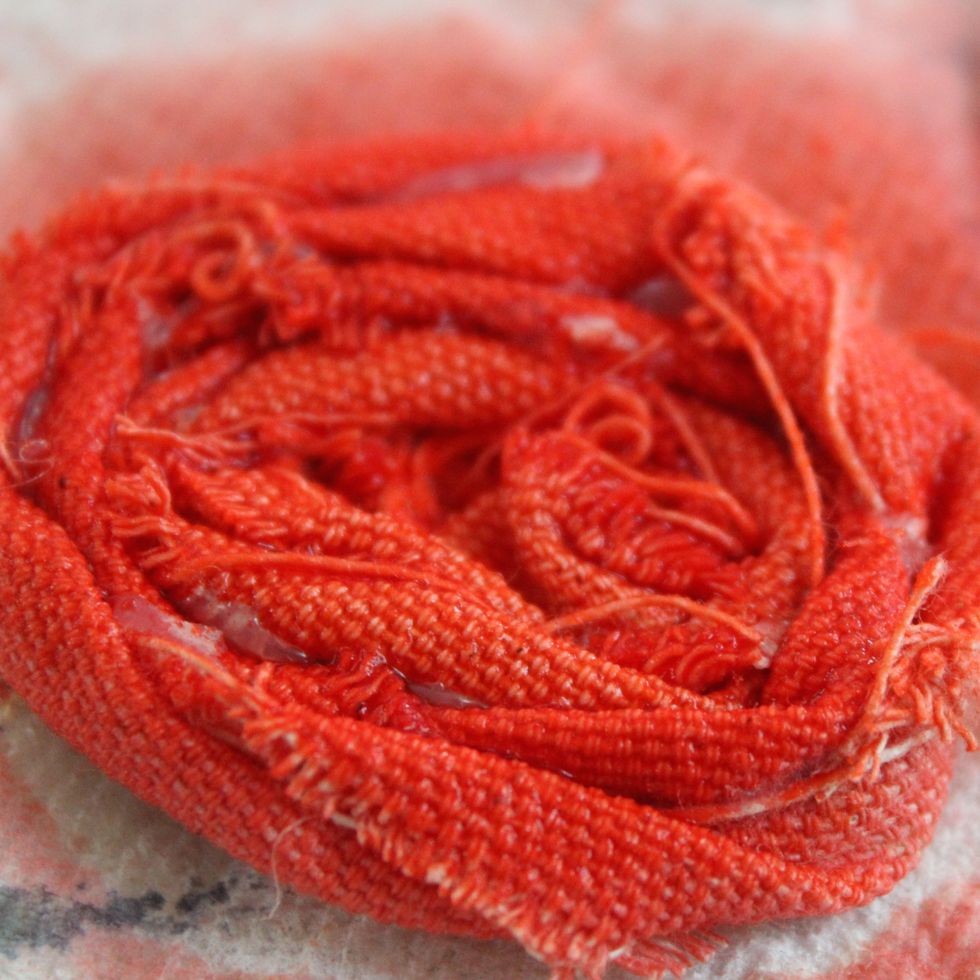 With the canvas, I made some round flowers.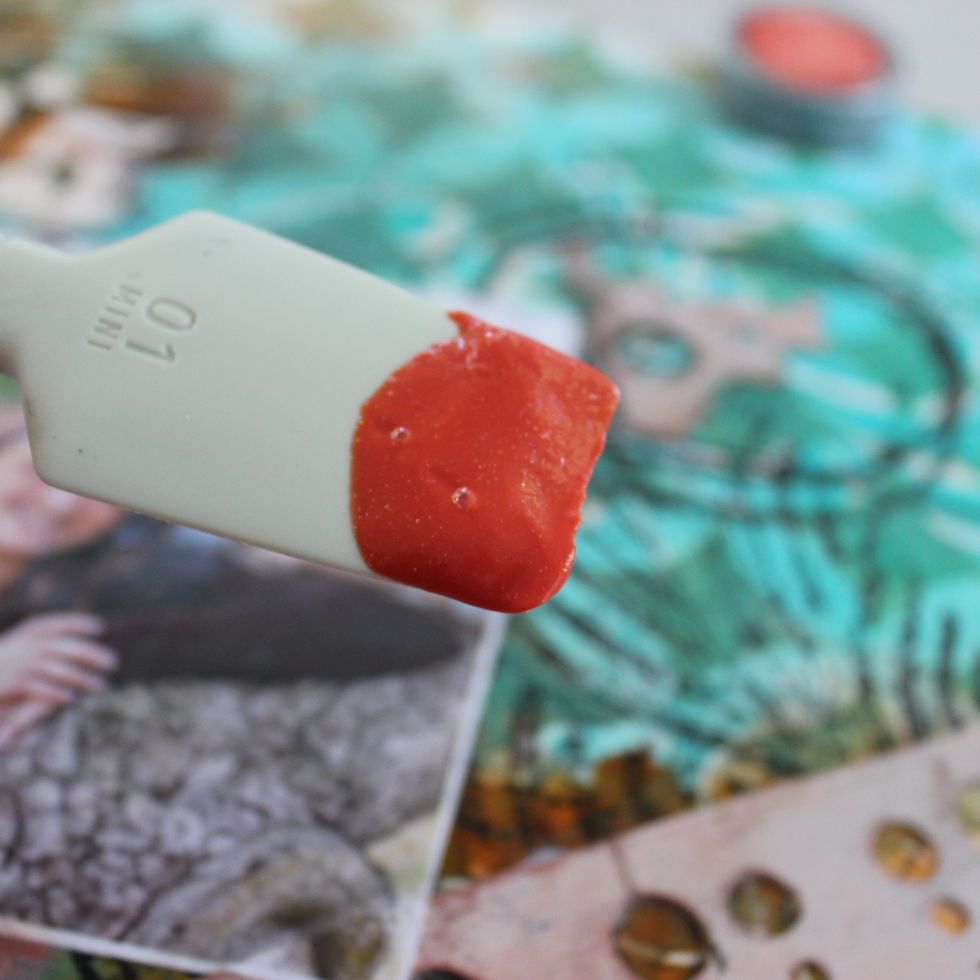 While all that other embellishments dried I looked at the layout and decided to do another layer! I used Sorbet in Coral. I put some on a Catalyst palette knife and...
applied it randomly to areas of the layout. Leaving it in thick dimensional areas.
I also put some around the picture.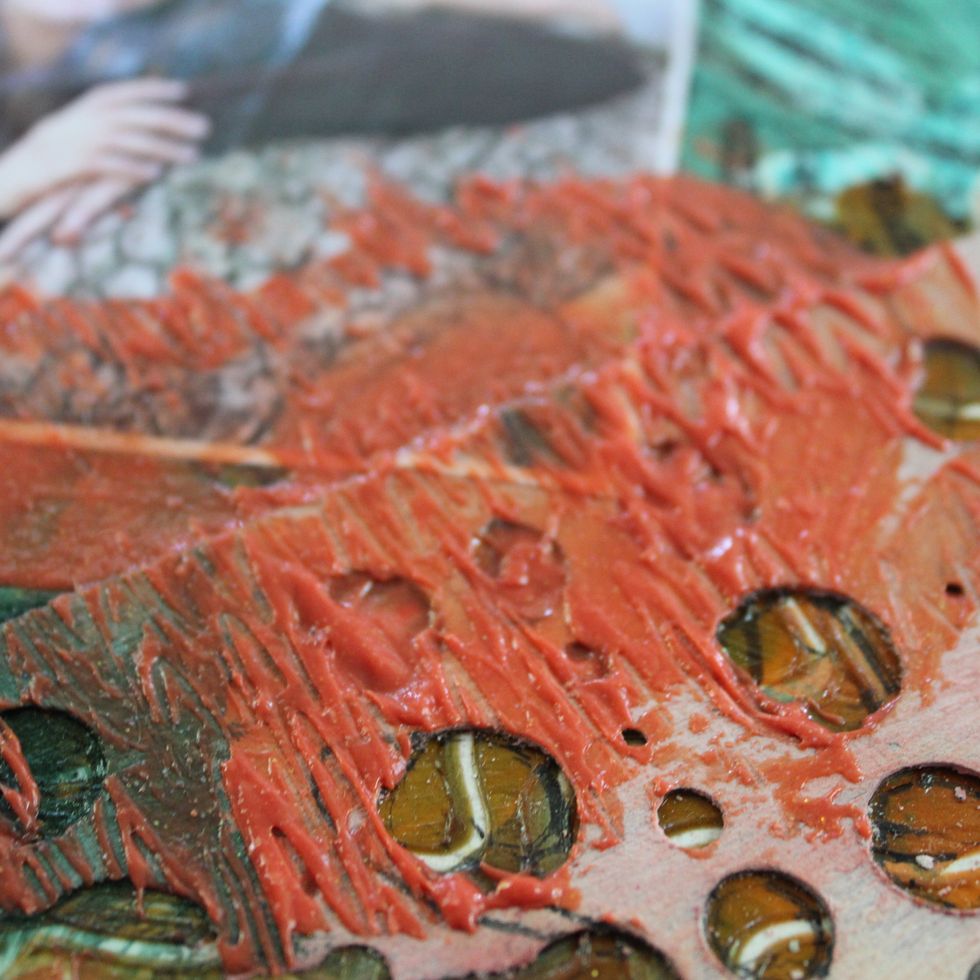 And used a contour tool to add squiggles.
and lines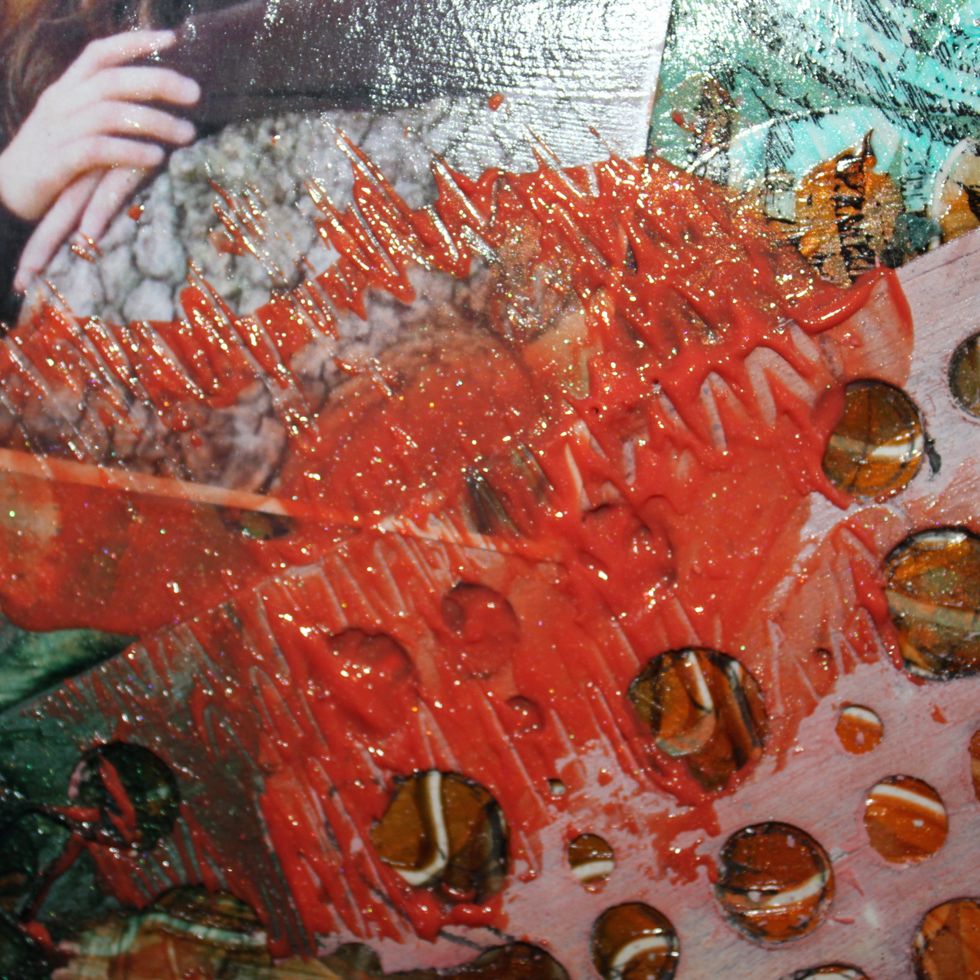 This is a close up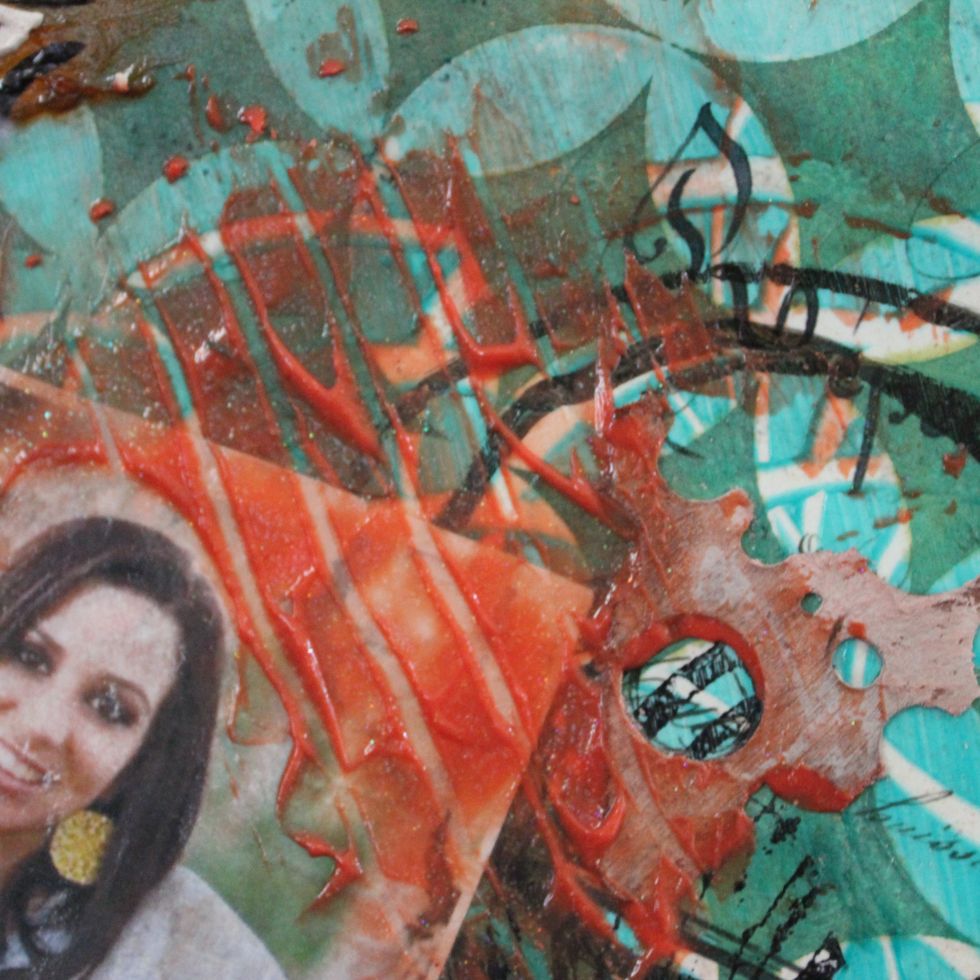 Another close up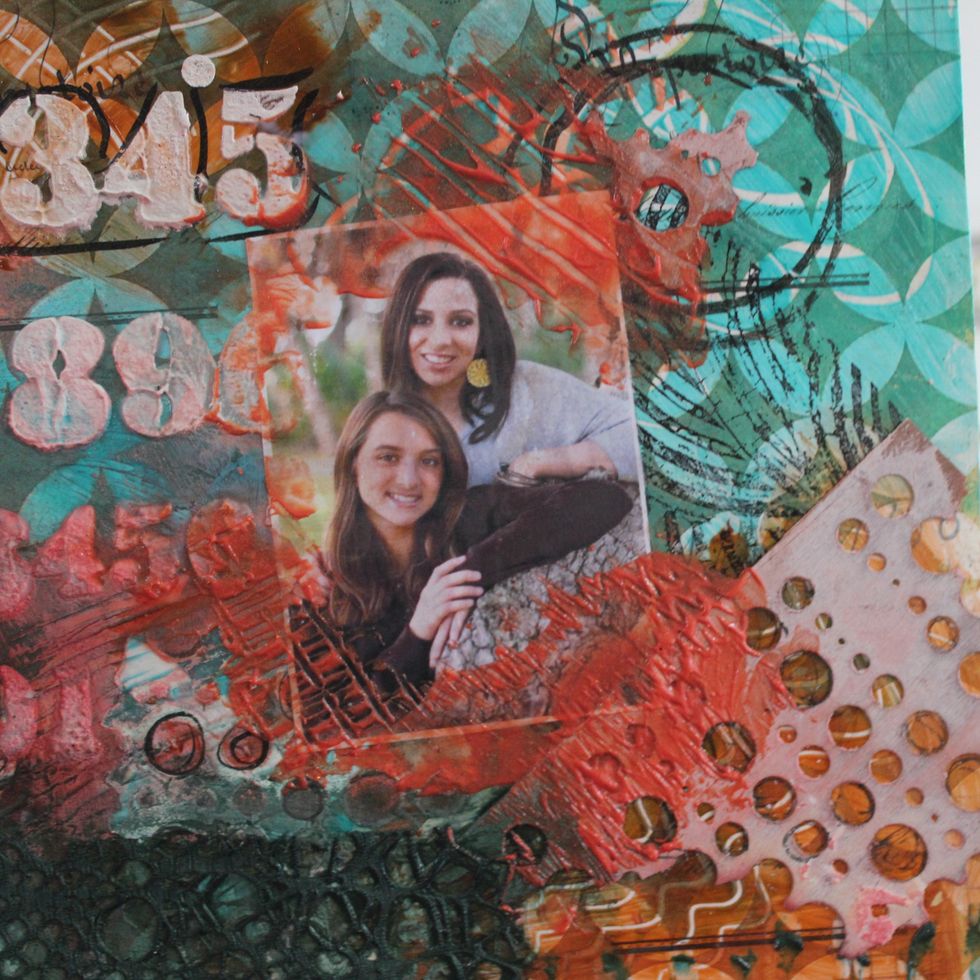 This is what the layout looks like now.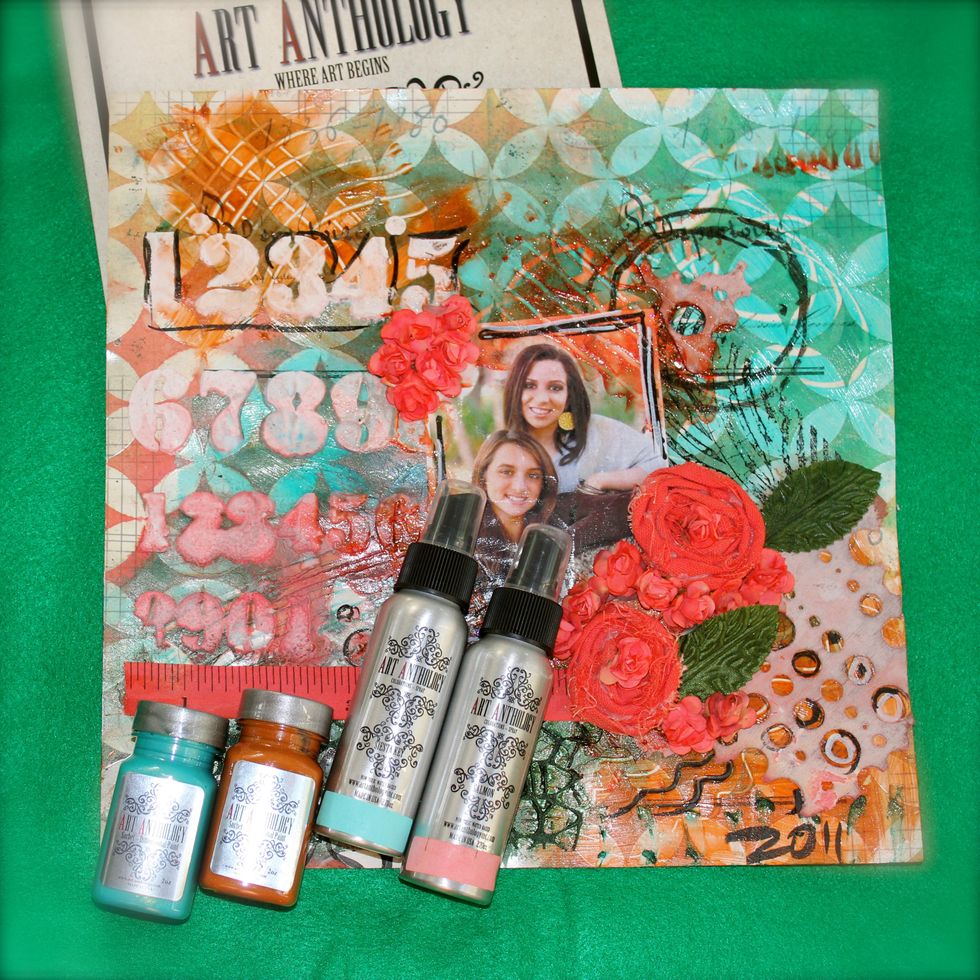 Once that's all dry go ahead and glue all your embellishments and your layout is all done!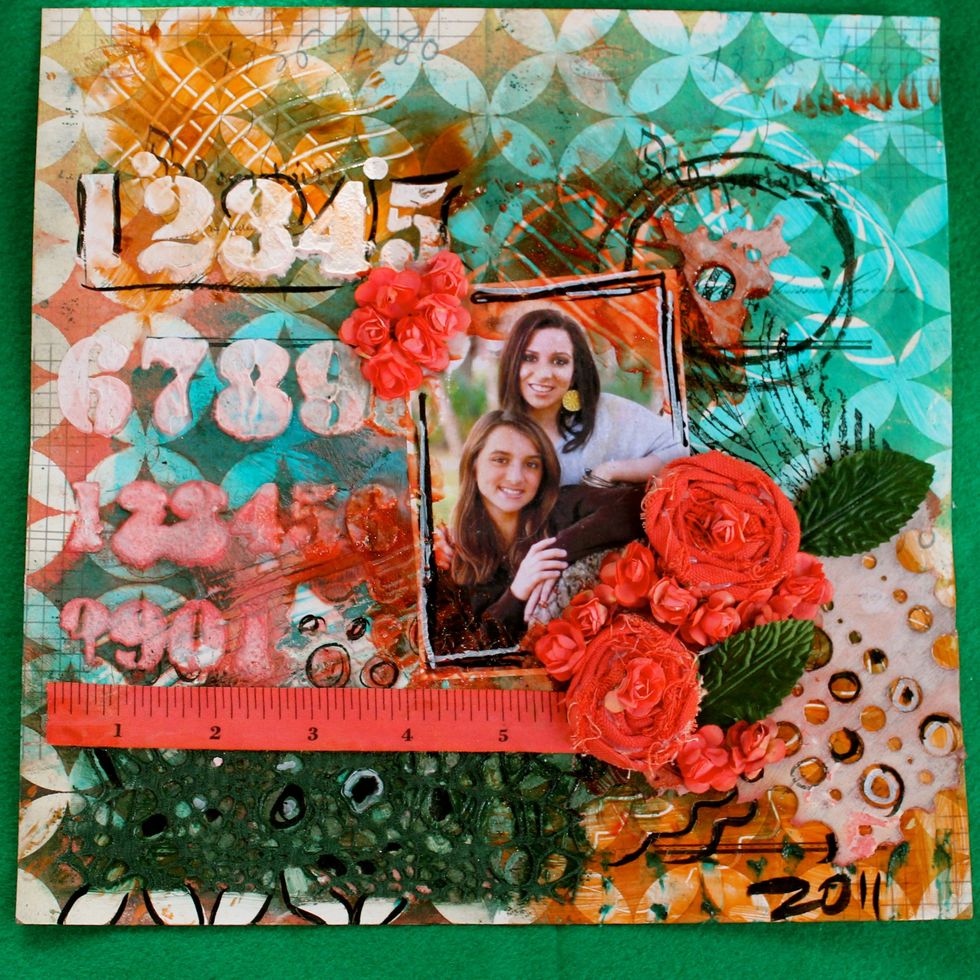 Here is the final image!
12x12 Mist-a-bles Cardstock by Pink Paisley
Colorations in Salmon
Colorations in Avocado
Sorbet in Pumpkin Spice
Sorbet in Cayman
Dimensional Gems in Emerald
Stucco Texture Paste
Mud Texture Paste
Sorbet in Coral
Got your Number Stencil
Art Anthology
Art Anthology is a manufacturer of dimensional mediums.\n\nCome chat with us in our Facebook Group: Art Anthology Adventures in Art