Create Dressing Table Set With G 45 'Gilded Lily'
8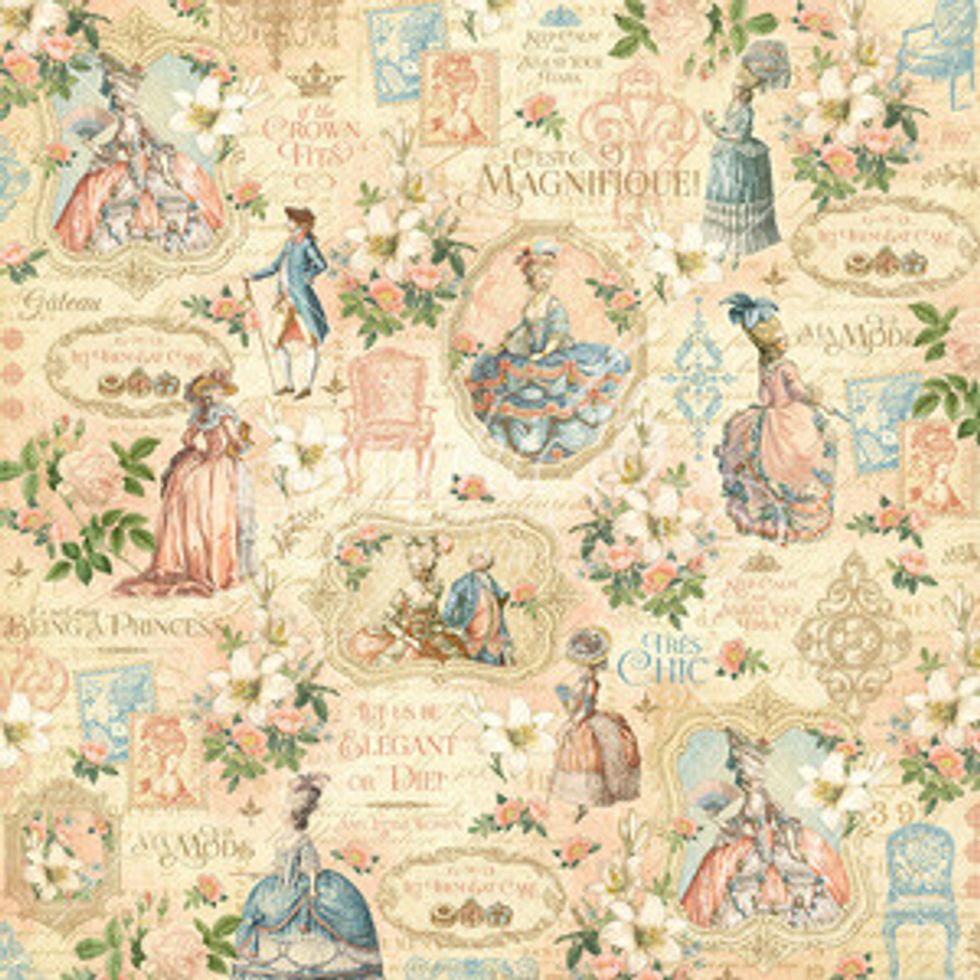 These beautiful 'Gilded Lily' papers from Graphic 45 captured my imagination the second I saw them. I immediately began picturing what objects and trinkets these ladies may have loved to own.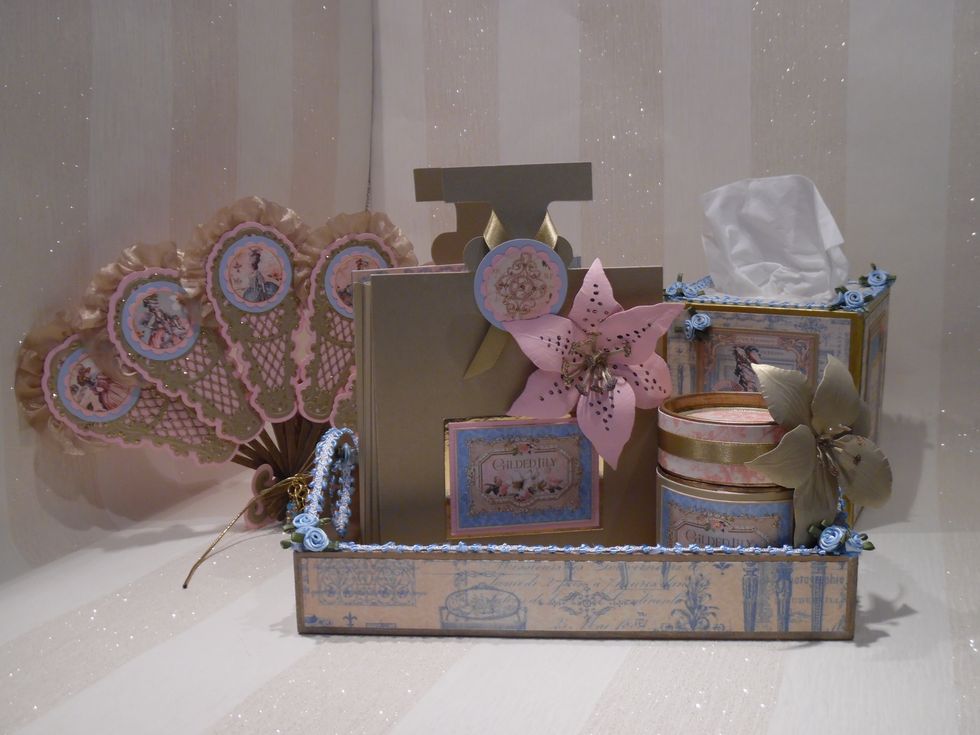 I saw a lady pampering herself in her boudoir with items from a dressing table set. Perfume bottle, powder puff, covered tissue box and a fan (obviously!). All presented on an ornate tray.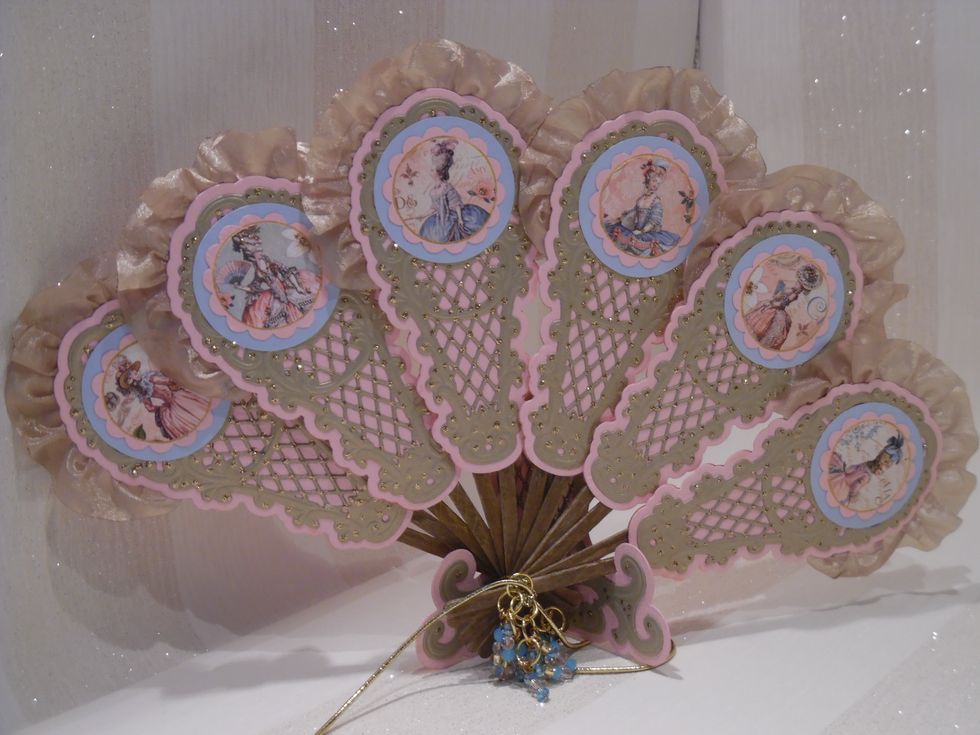 Two base panels cut from pink card using a Marianne fan die. Ornate latice top cut from antique gold card with Marianne die and attached to one pink panel. Add glitter dots with Stickles (to taste).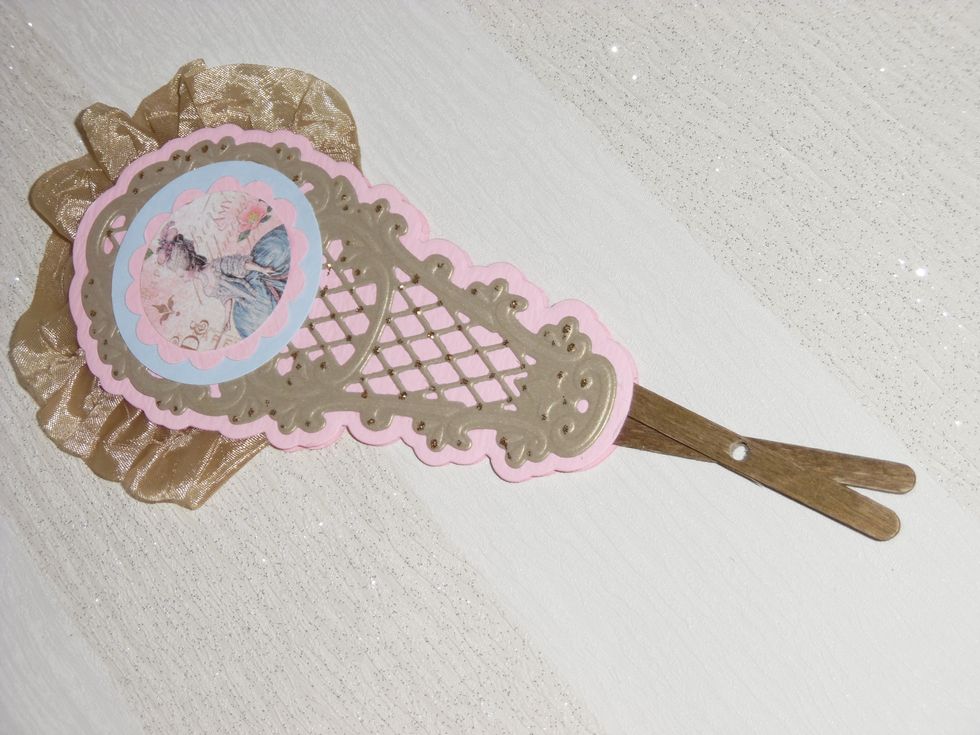 Image of Lady punched out and layered with pink and blue card as a motif for each panel. Two wooden coffee stirrers painted gold and silky crush ribbon sandwiched between the two pink layers of card.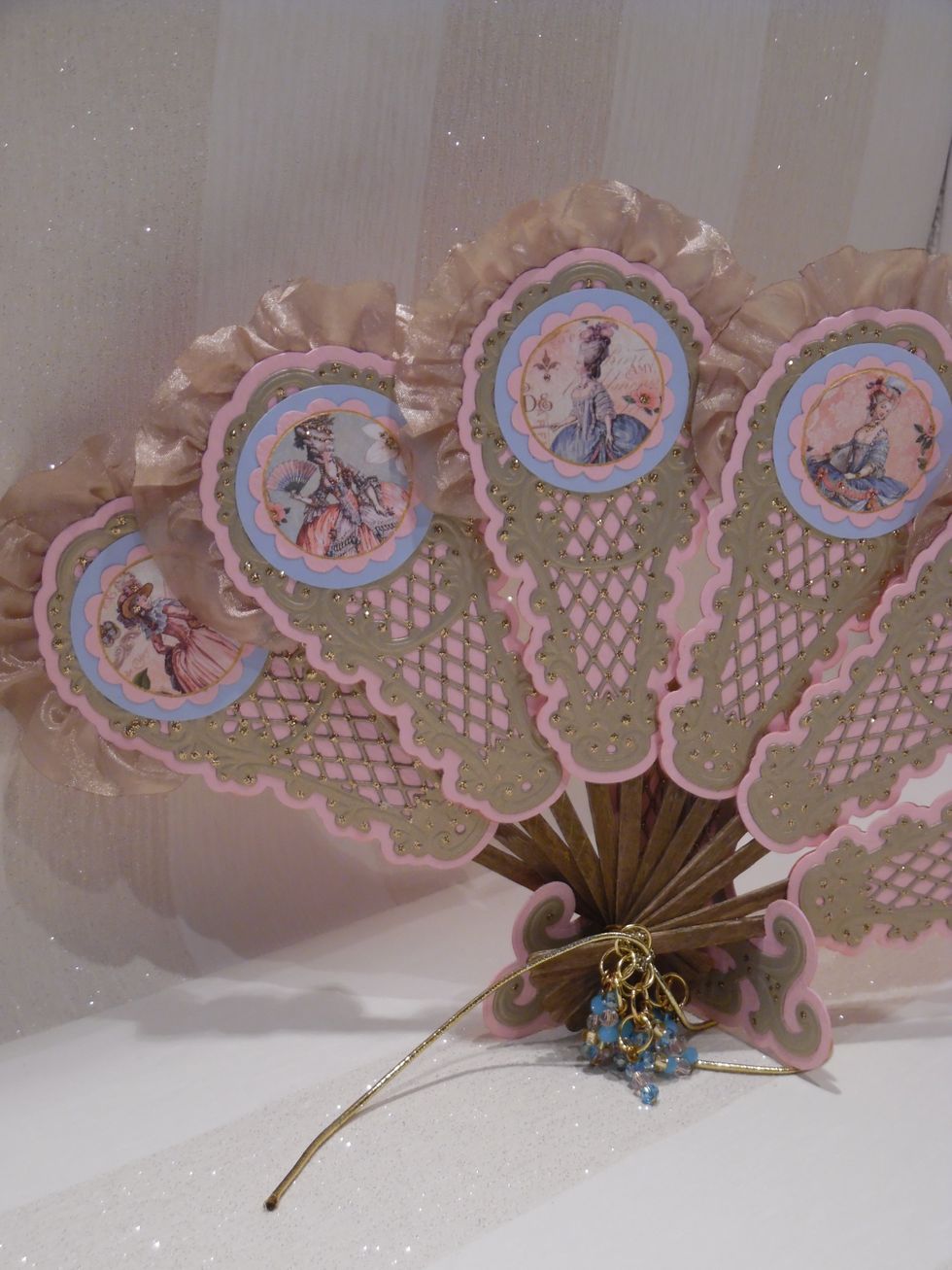 Coffee stirrers pierced with Crop-A-Dile. Gold elastic threaded through holes and tied tightly. Attached tassle made from jump rings, Swarovski crystals and beads in co-ordinating colours.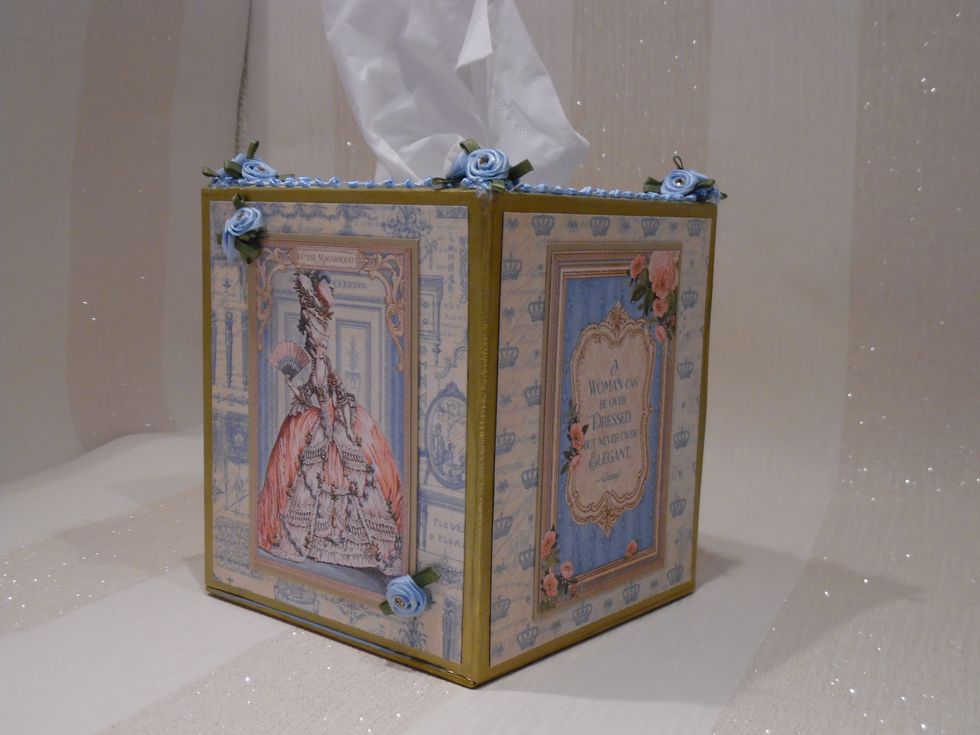 Measured a facial tissue box. Created cover box from greyboard. Edges and corners secured with Gumstrip. Painted with antique gold paint.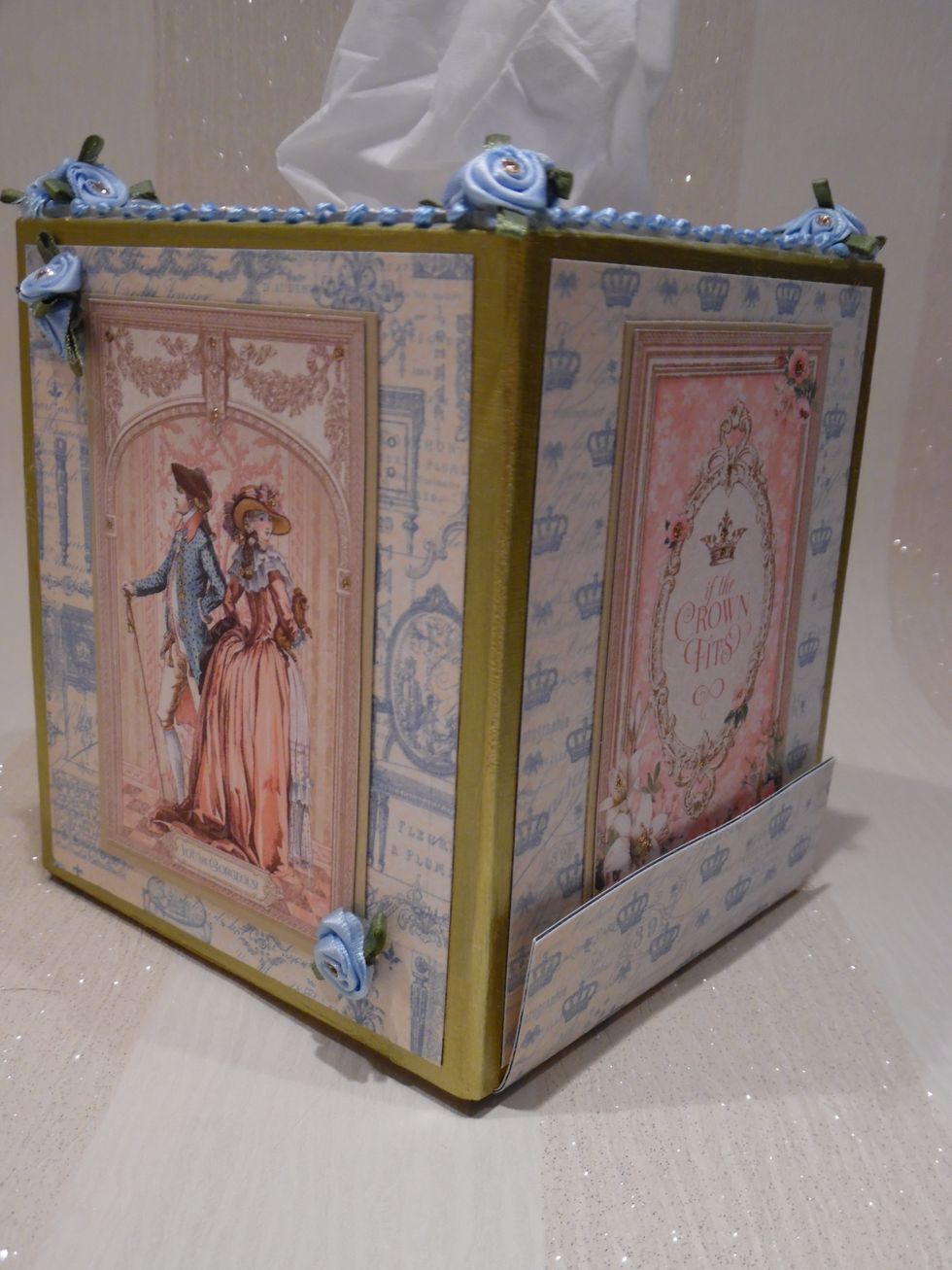 Adorned with Gilded Lily papers. Trimmed with Blue & white braid, blue silk roses and glittered to taste. Base held closed by magnetic strip hidden under decoration. Base covered in self adhesive felt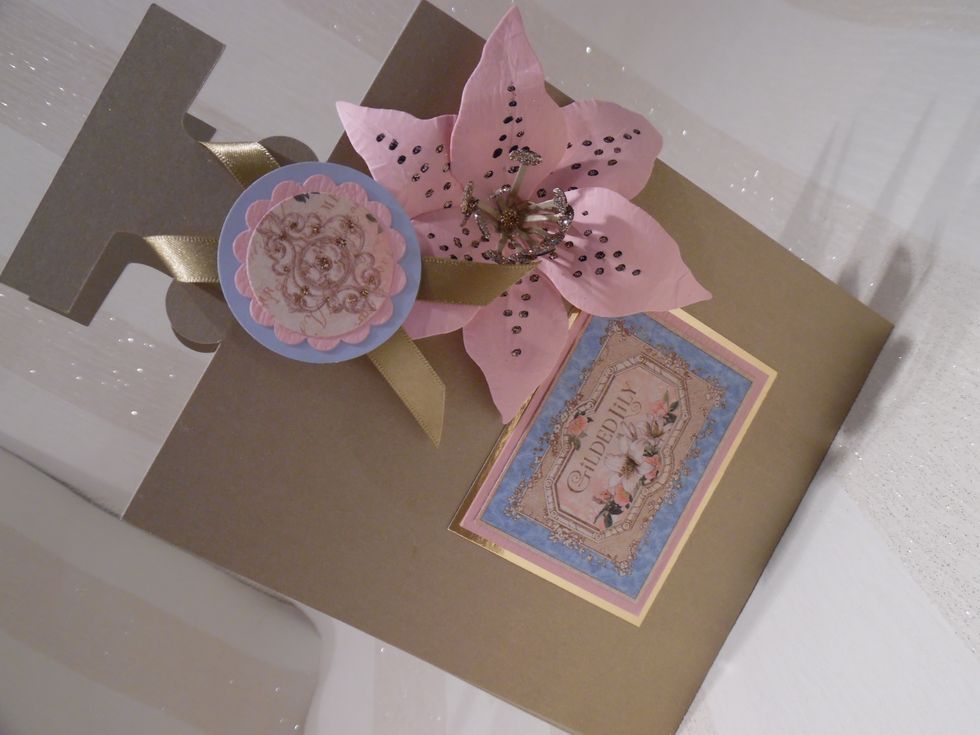 The perfume bottle album has greyboard covers that were covered in gold card. A cutapart was used as the label for the perfume bottle. Layered motif used at the neck. Flower die cut and hand embossed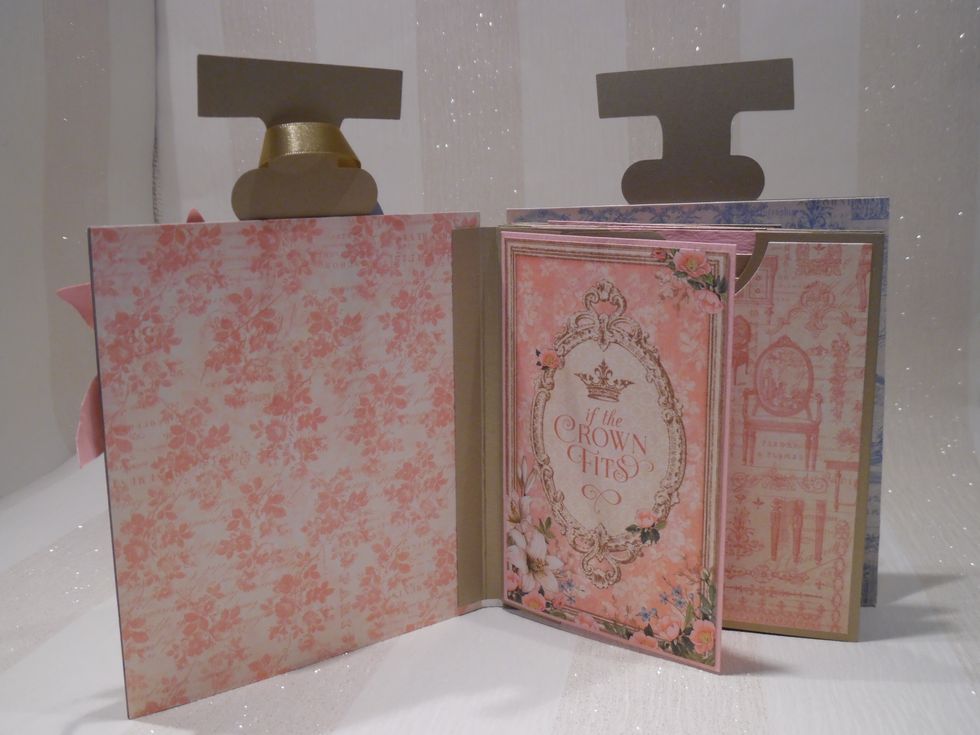 Album pages created in colour themes from Gilded lily papers.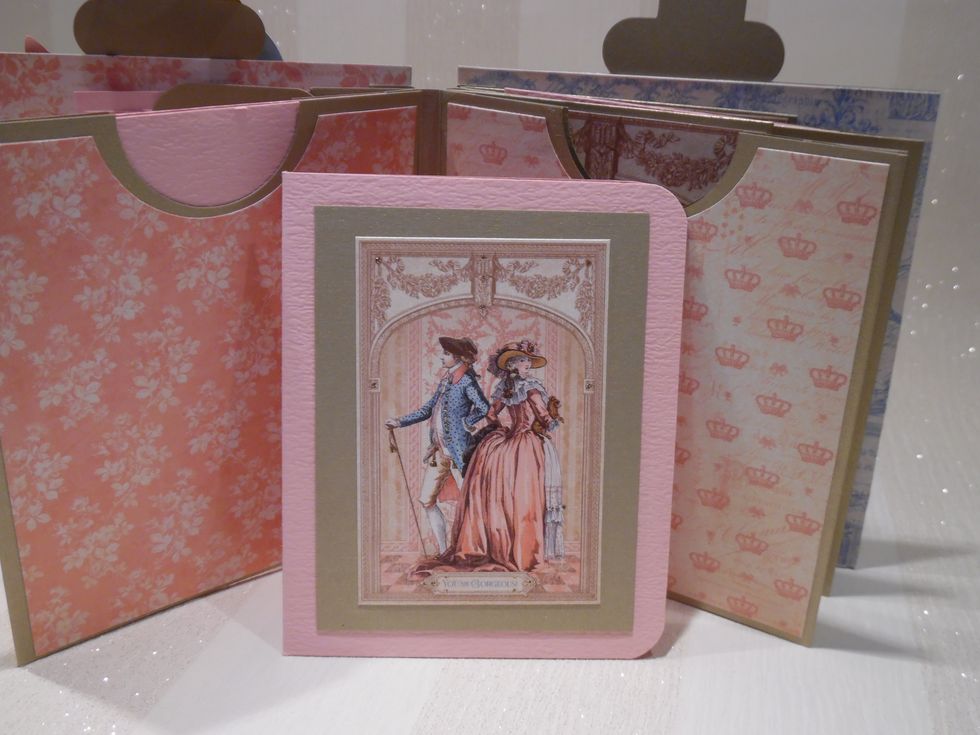 Most pages include pockets many containing mini folders.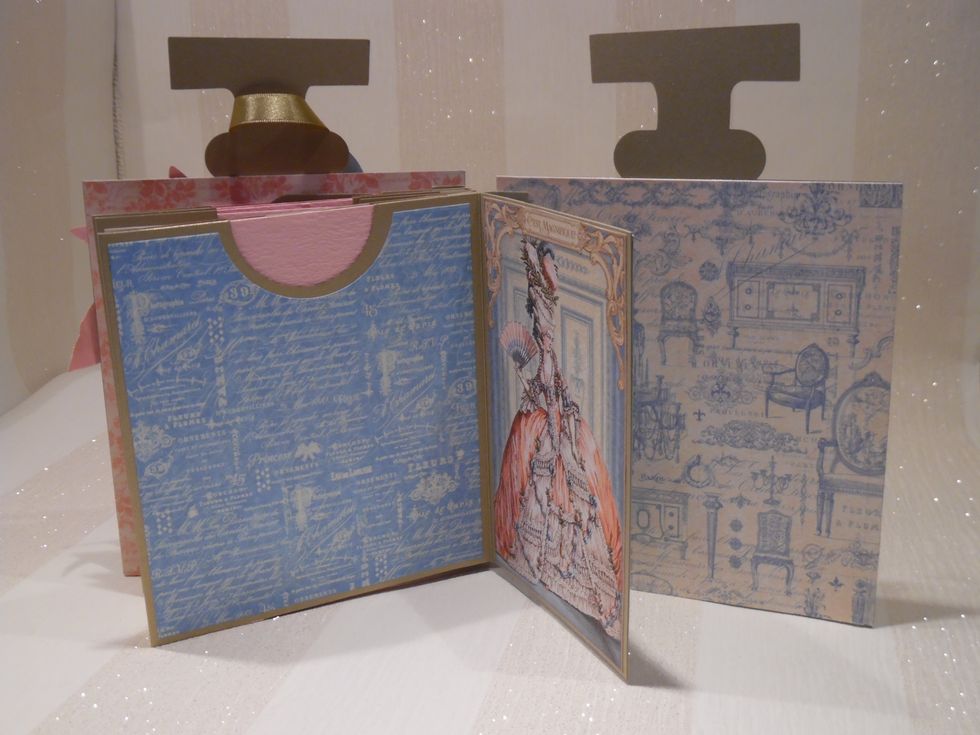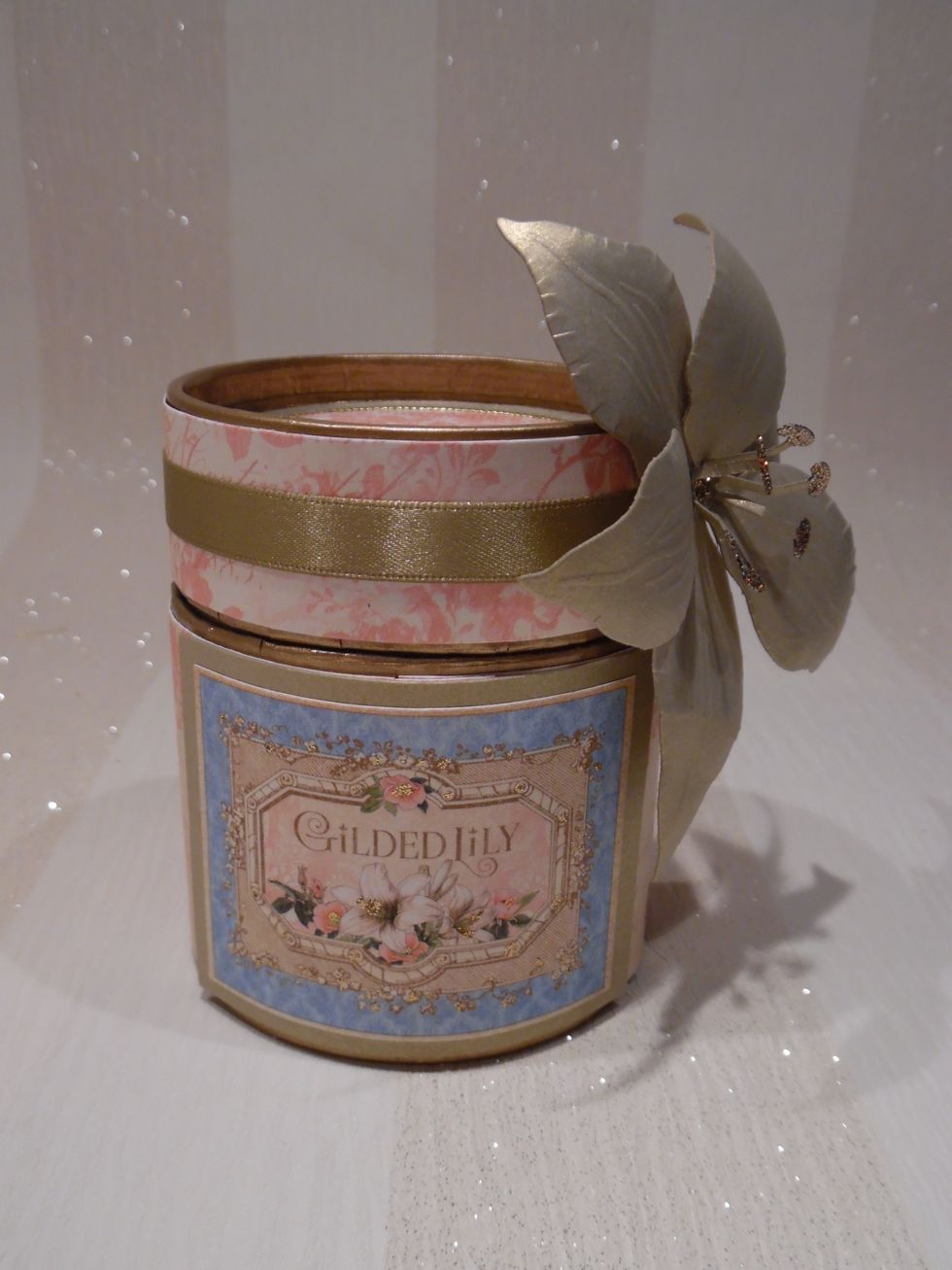 Powder puff was created from two cardboard sauce mix containers. That were cut to size. Raw edges were wrapped with Gumtape. Whole item painted gold.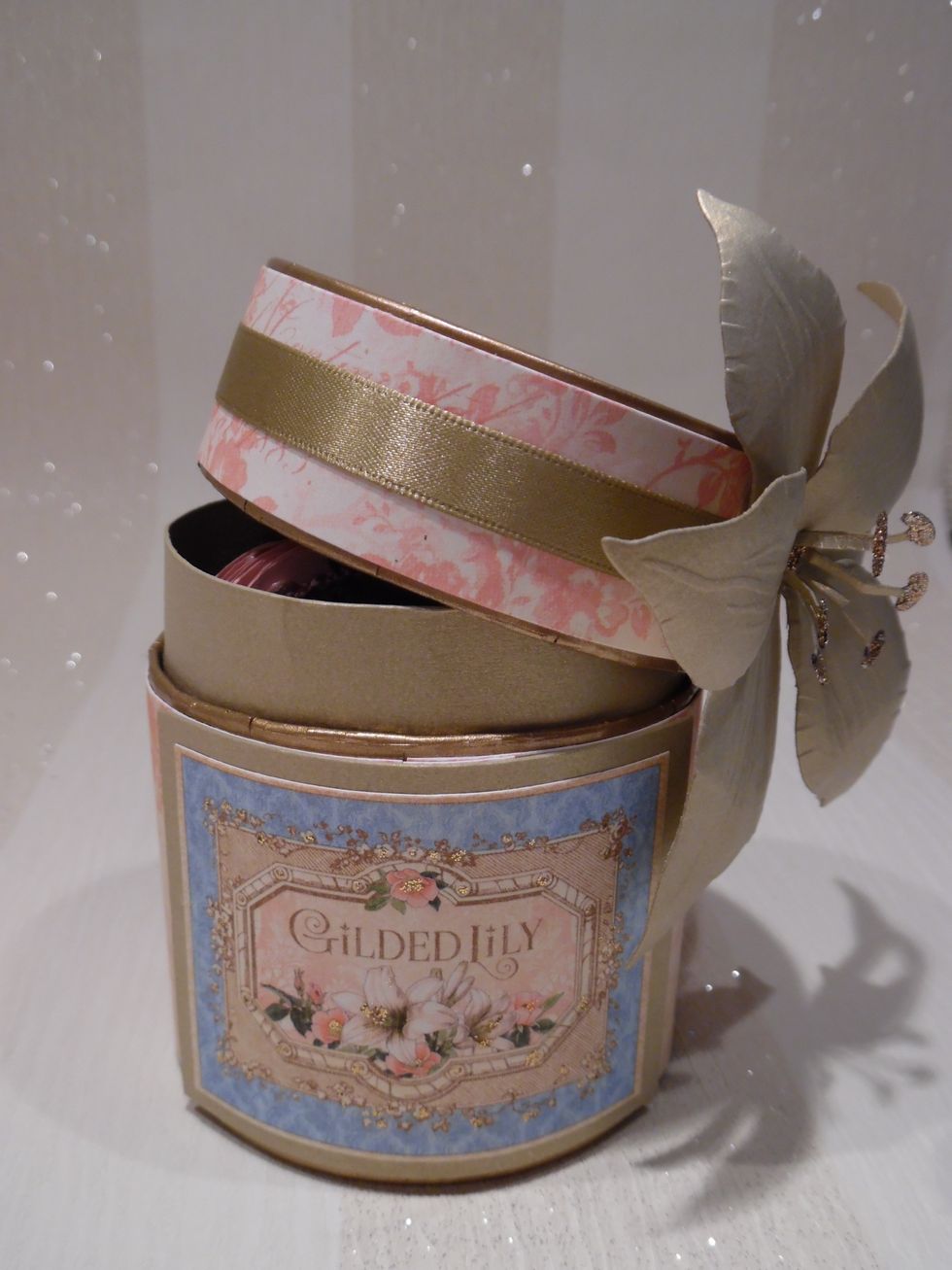 Band of card used to form lip between the two halves. Ribbon added to the lid. Flower cut from card with Sheena Douglas die. Petals curled by hand and detail added with embossing tool.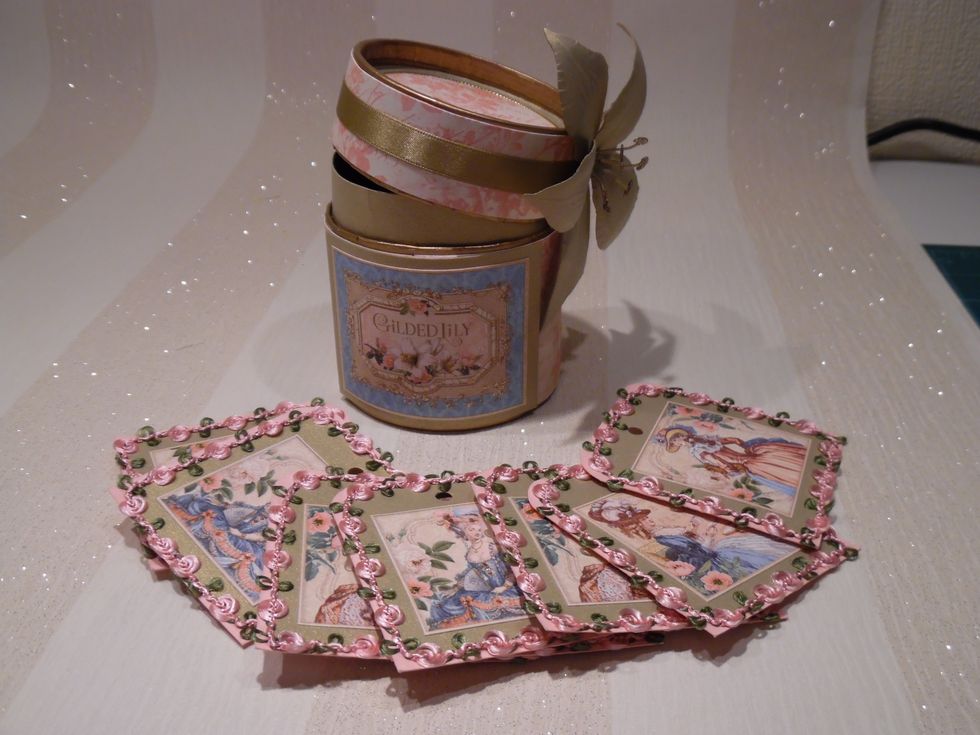 Gilded Lily papers used to decorate container. Tags cut from gold card. Cameos added and trimmed with pink rose braid.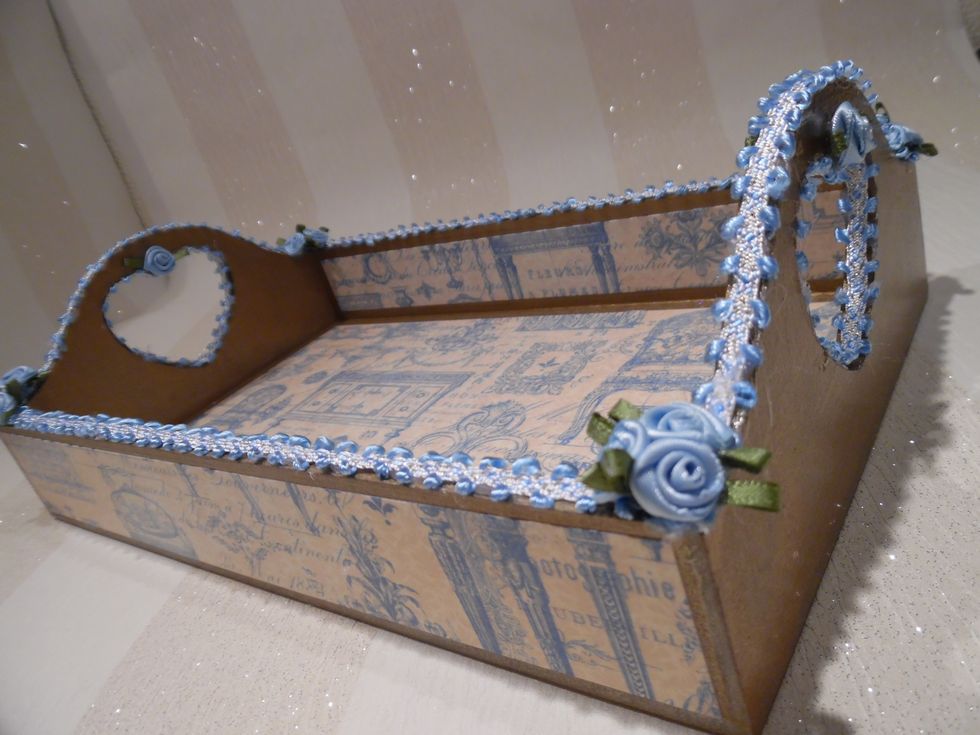 MDF tray was painted gold. Covered in blue themed Gilded Lily paper. Tray was then sealed using decoupage varnish. Trimmed in blue & white braid and satin roses. Finished with a sprinkle of glitter.
This completes my Graphic 45 Dressing Table Set project share. Thanks for taking the time to look.
1.0 12x12 Gilded Lily Pad (Graphic 45)
1.0 8x8 Gilded Lily Pad (Graphic 45)
1.0 6x6 Gilded Lily Pad (Graphic 45)
1.0 Gold, pink & blue card stock (my stash)
1.0 Blue satin roses (British Trimmings)
1.0 Blue & white trim (British Trimmings)
1.0 Pink rose trim (British Trimmings)
1.0 Stickles 'Champagne' glitter glue (Ranger)
1.0 'Millionaire' Gold paint (Crown, tester pot)
1.0 Self adhesive felt (internet purchase)
1.0 Deco Mache, Glue & Varnish (First Edition)
Tess Godwin
Hi, I'm happy that you found your way to my SnapGuides. I hope you enjoy them.\n\nPlease have a look on my new blog page for more Project Shares and Tutorials.