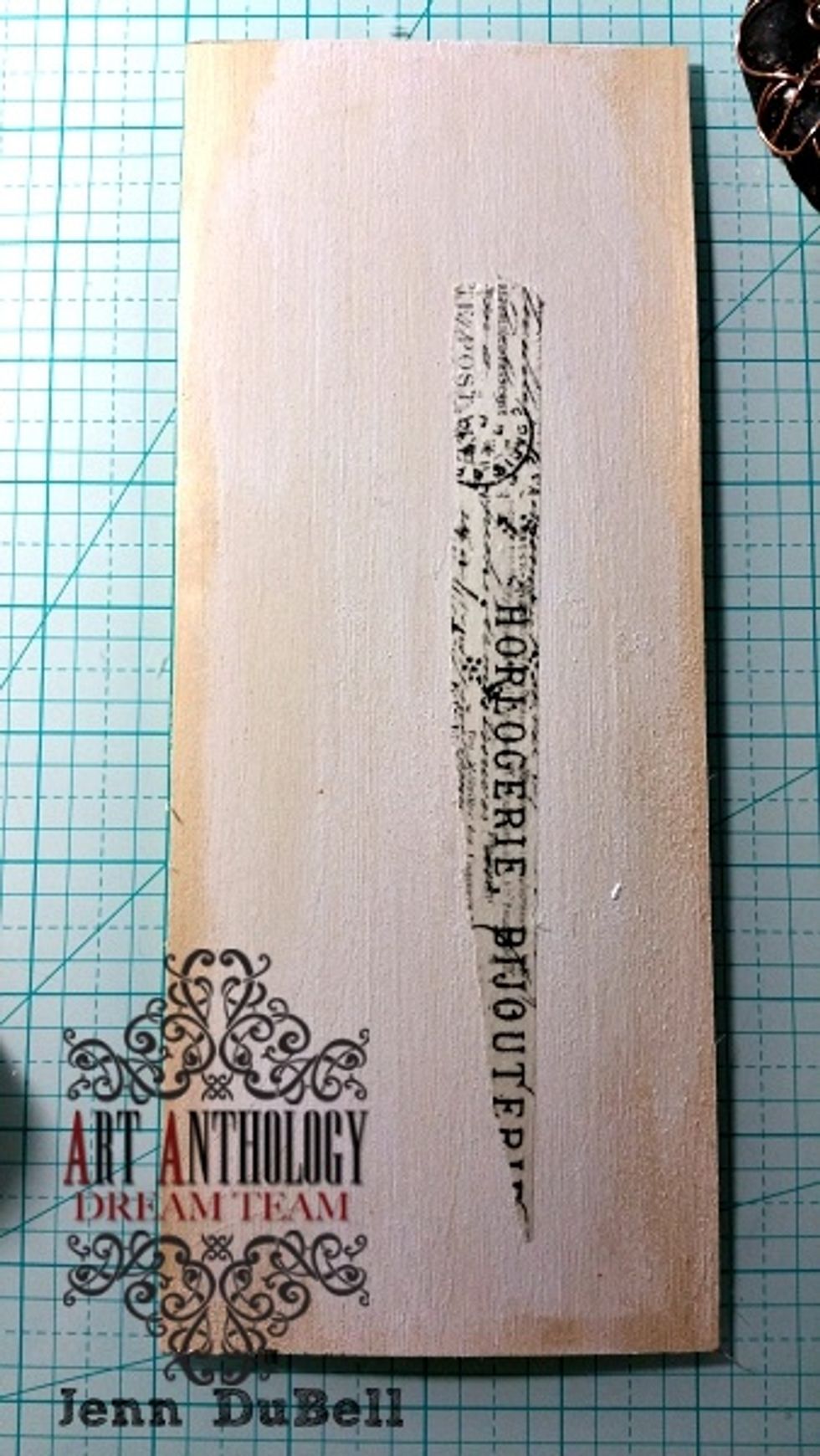 Lightly paint wood with white gesso, leaving about 1/2" around the sides. Paint over with clear gesso. Add some strips of printed washi tape.
Use Art Anthology Mud through the Blocked stencil down the middle and dry. Wrap jute string as shown and secure with adhesive on back.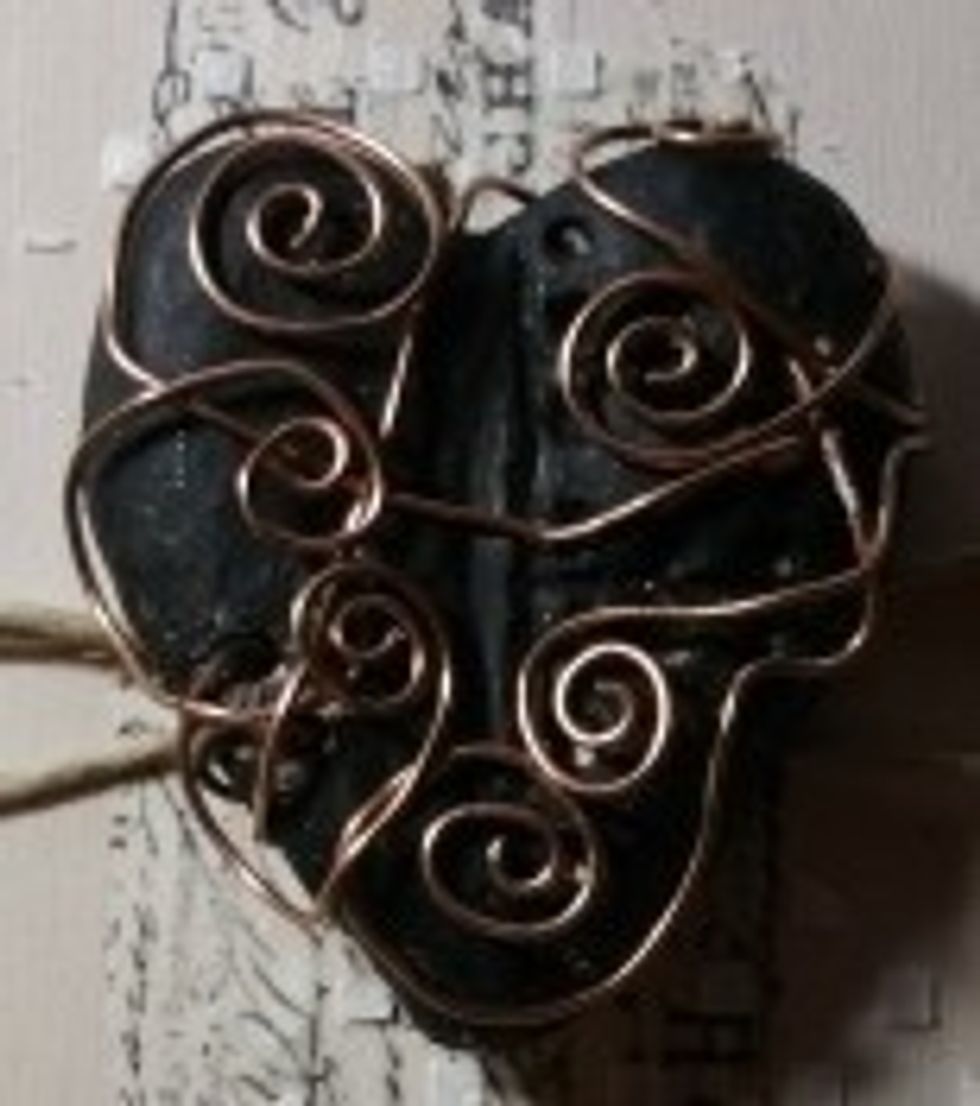 Form a heart using air dry clay or other modeling material. Use copper wire to create a swirl pattern wrapping the wire through holes made in the clay. Allow to dry before creating the wire part.
You do not need to paint the heart black. Mine was already made prior to creating this piece.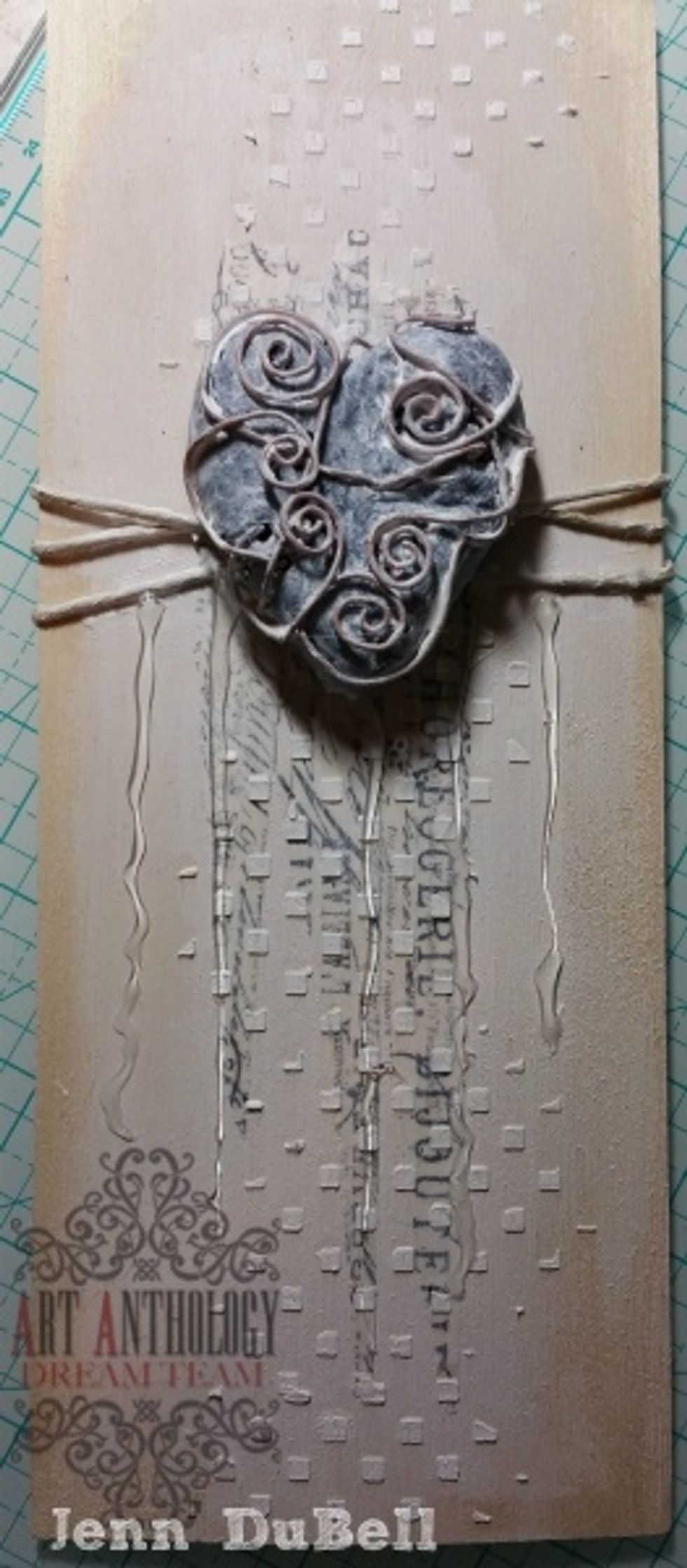 Once heart is dry and complete, adhere to your piece and add some hot glue drips under it. Let dry completely.

Place all of the gears, flowers, and other embellishments and glue down when satisfied with the look.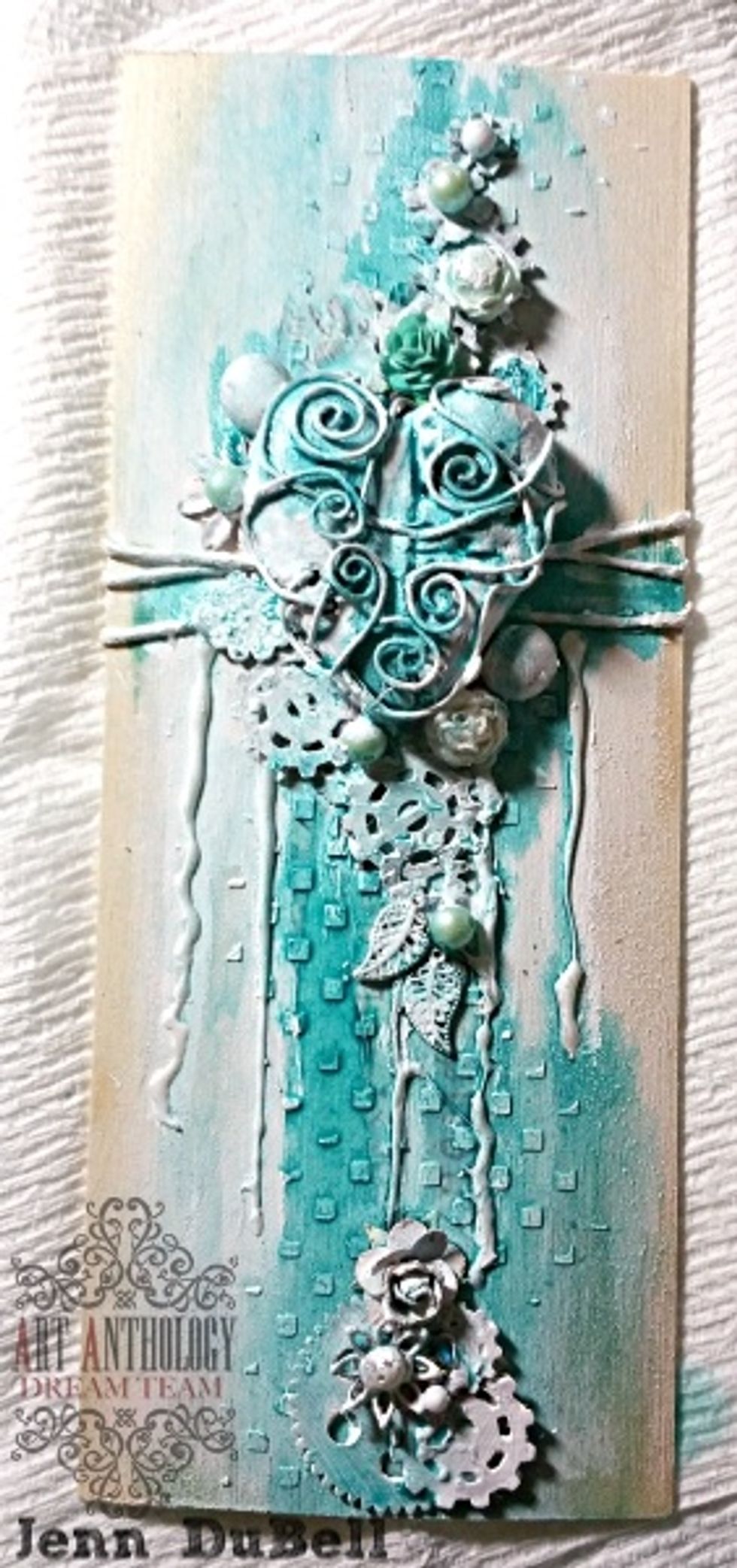 Coat all in heavy white gesso. Add sprays of AA Siesta Key. Spritz with water and stand up to allow it to run. Dry and move on to next colorations sprays drying in between each with heat tool.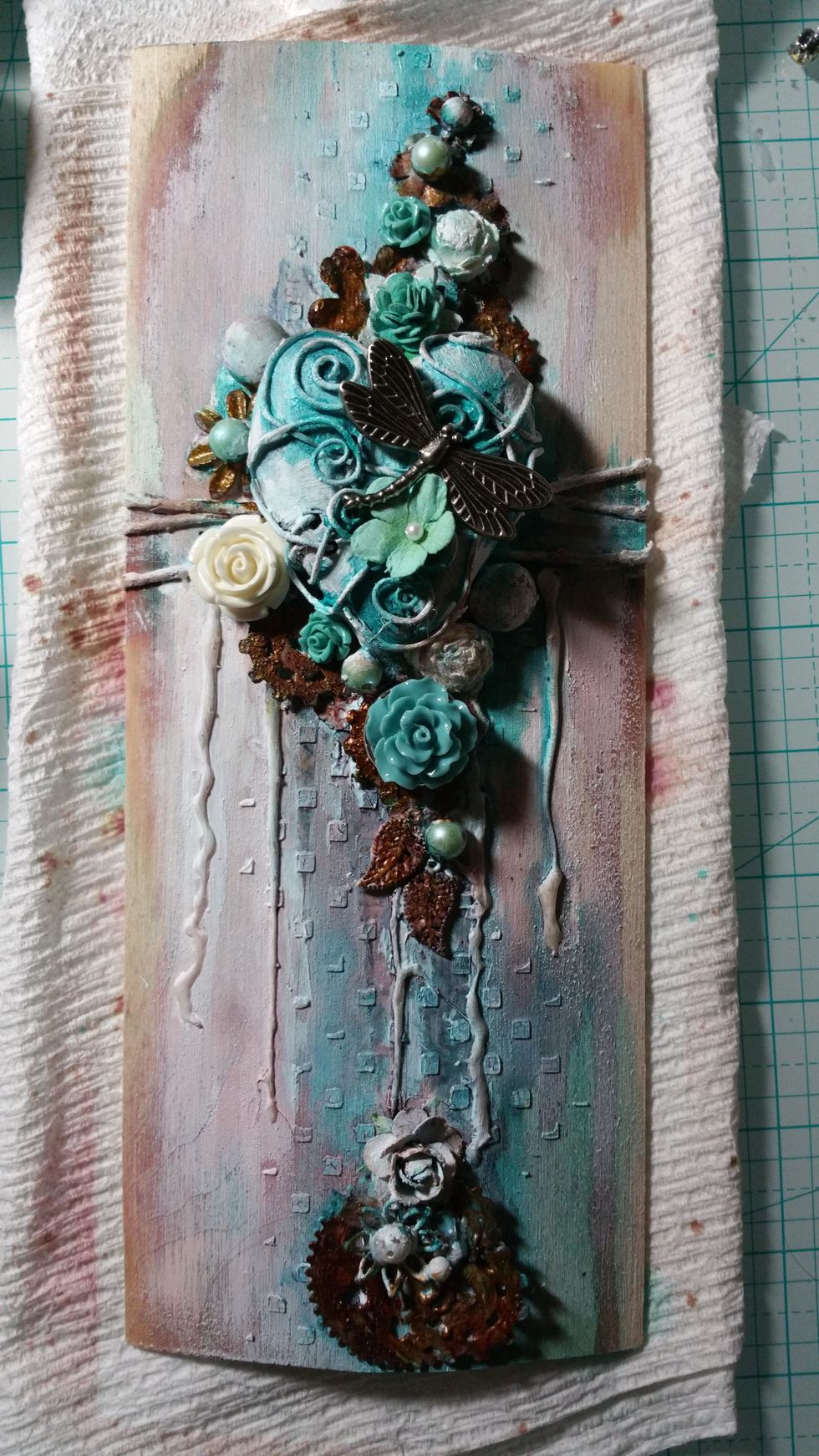 Spray with AA Fairy Dust Ice and dry. Use the AA Rust Set on metal gears and parts.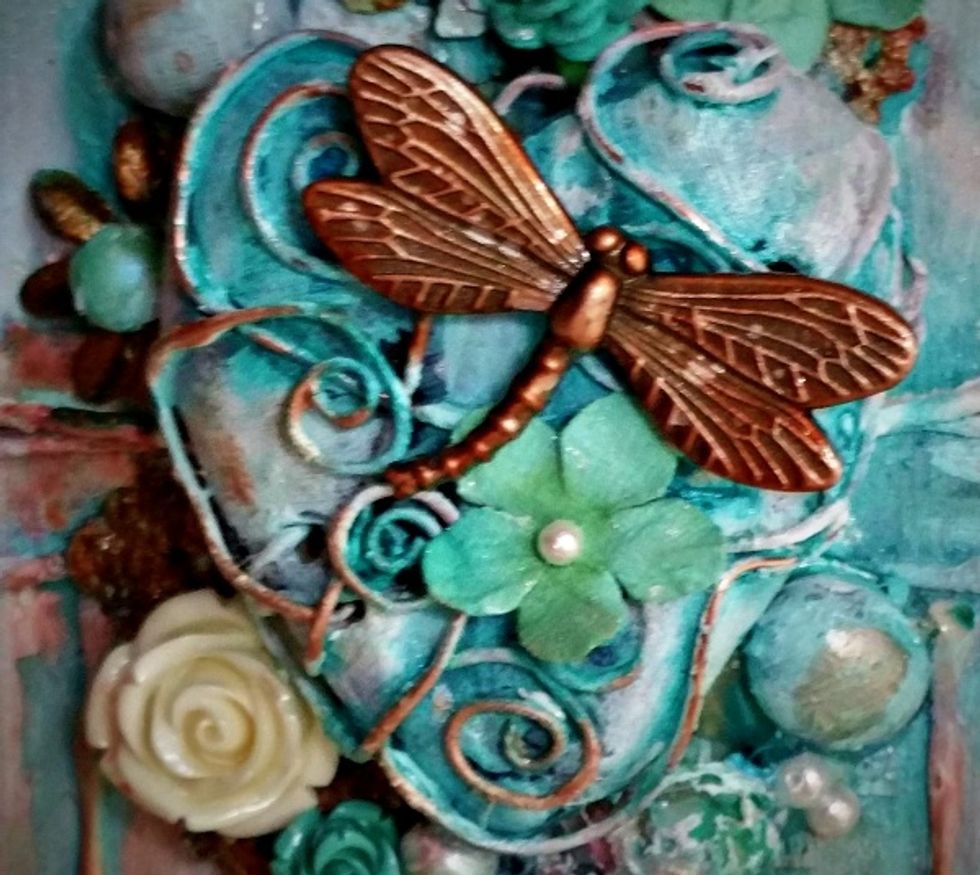 Add your dragonfly or other insect and paint with AA Sorbet in Kenyan Copper. Brush over with the Amber from Rust set.
Add a few flowers that are not painted white for pops of color.
Thanks so much for viewing my tutorial! I hope you have enjoyed it and are inspired to get creative!!
Art Anthology is available online at. https://www.artanthology.net/ Please follow us on facebook too! https://www.facebook.com/groups/741057632686564/
Art Anthology Colorations Spray Sedona
Art Anthology Colorations Spray Siesta Key
Art Anthology Colorations Spray Peacock Feathers
Art Anthology Fairy Dust Spray Ice
Art Anthology Blocked Stencil
Art Anthology Mud
Art Anthology Rust Set
White Gesso
Flexible Copper Wire
Paperclay heart
3D Matte Gel or Strong adhesive
Metal gears and parts
Flowers
Beads
Dragonfly metal embellishment
Small wooden plank
jute string
printed washi tape
Art Anthology
Art Anthology is a manufacturer of dimensional mediums.\n\nCome chat with us in our Facebook Group: Art Anthology Adventures in Art