How to create an art journal page with art anthology (monica downing)
Create an Art Journal Page With Art Anthology (Monica Downing)
13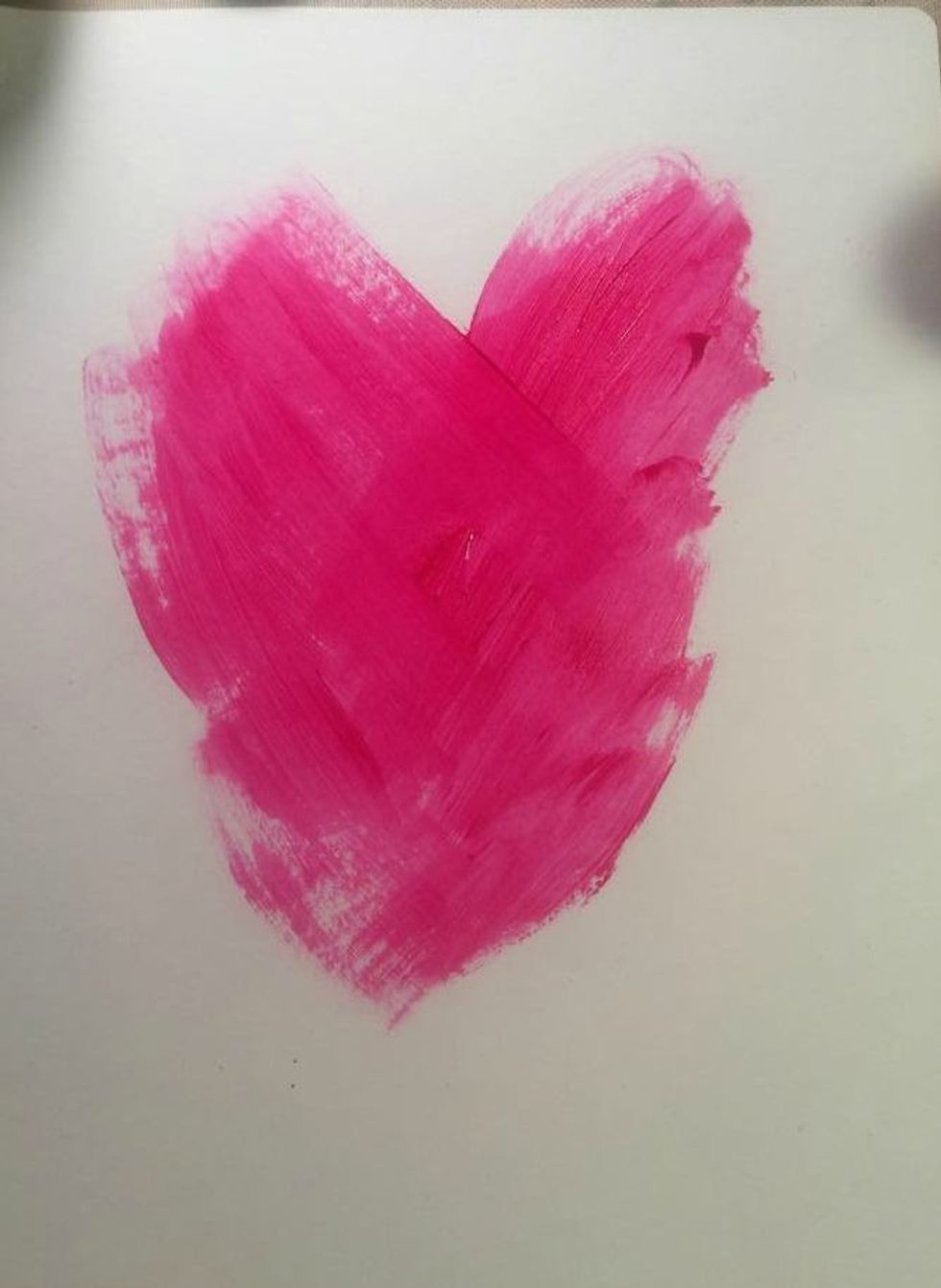 Using Rhodolite roughly paint the shape of a heart on your art journal page or canvas. It does not have to be perfect. Just a general heart shape. Dry with heat gun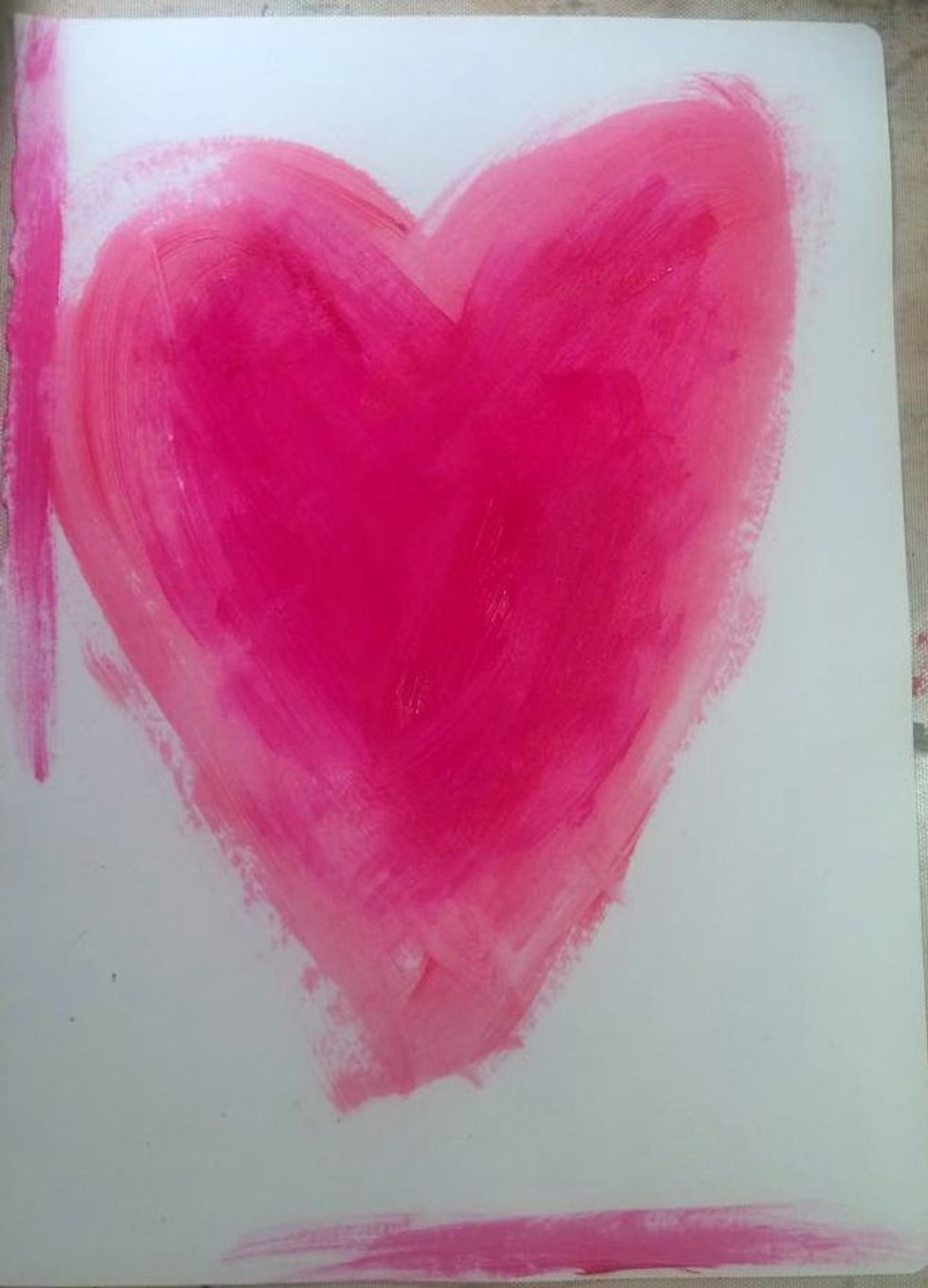 Using Velvet Fiesta, fill in the outline of your heart to a more solid heart shape. I also had some Rhodolite left on my brush and I brushed that on the lower right and upper left of my page.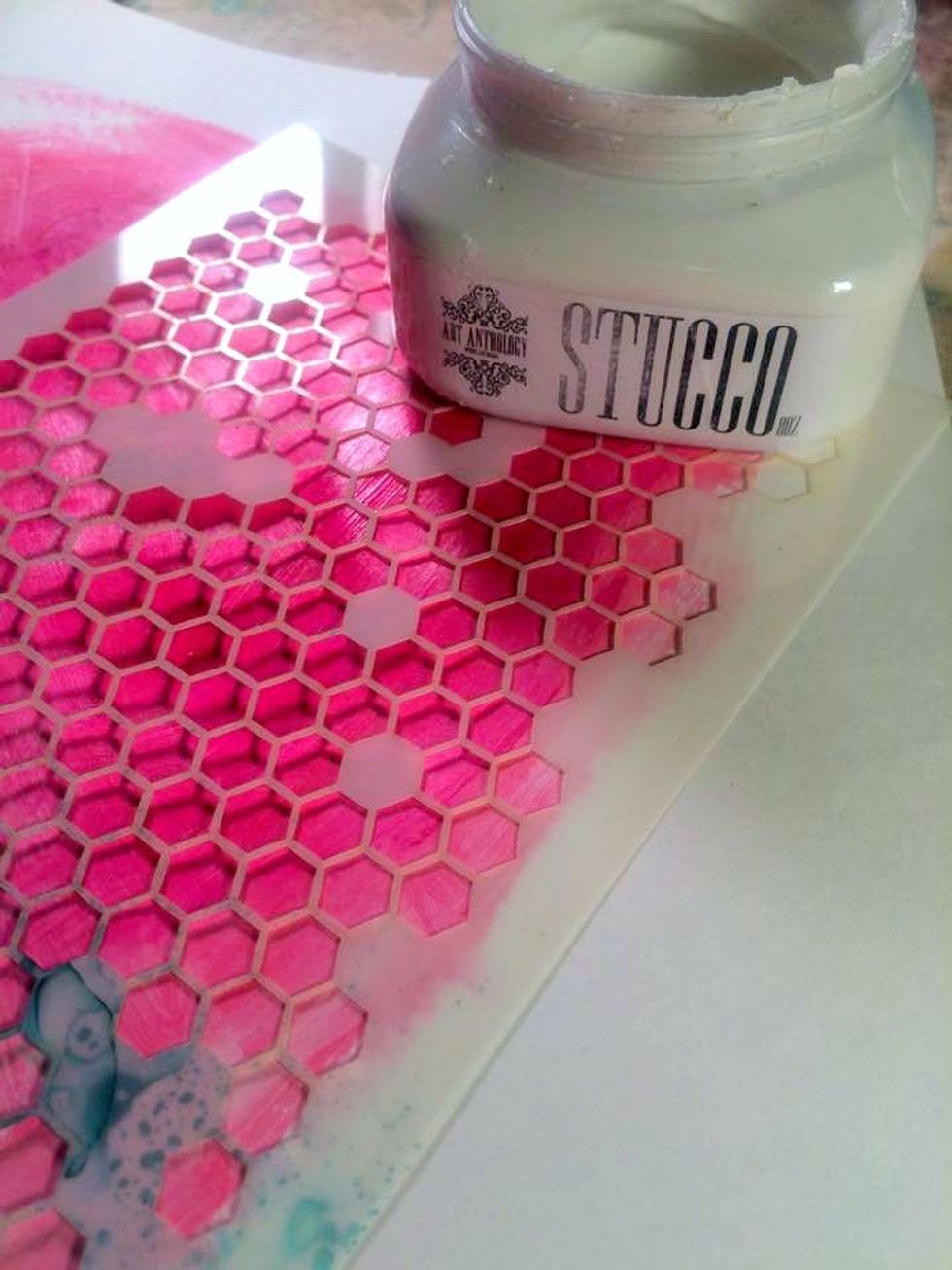 Using Stucco and the Beehive stencil, you are going to apply some texture to your heart. Get some stucco on your palette knife and drag it over the stencil where you would like texture added.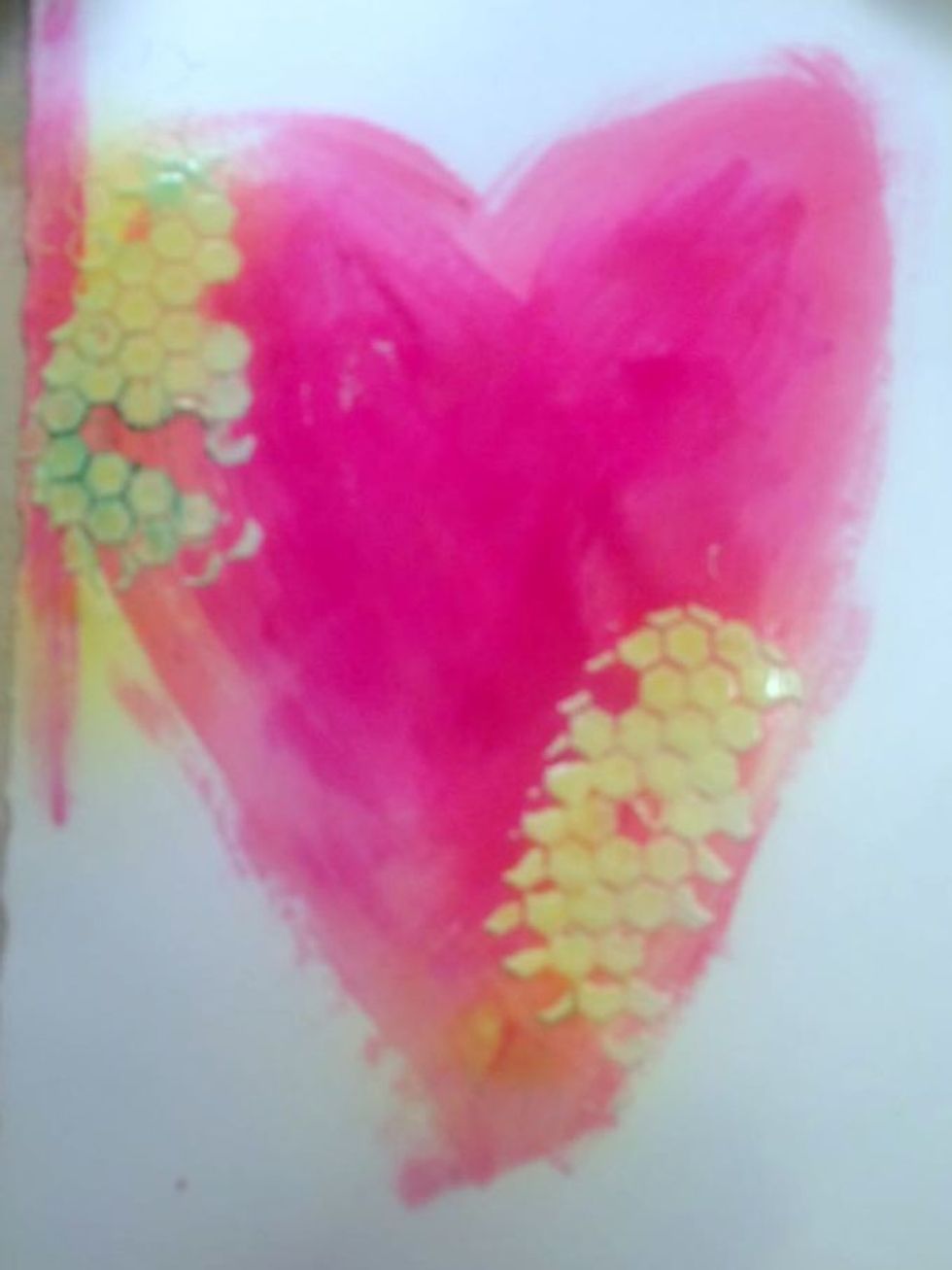 Here you can see the texture. While it was still wet I misted the textured areas with Glorious Colorations Spray. Dont worry about over spraying, it adds color. I then dried it with a heat gun.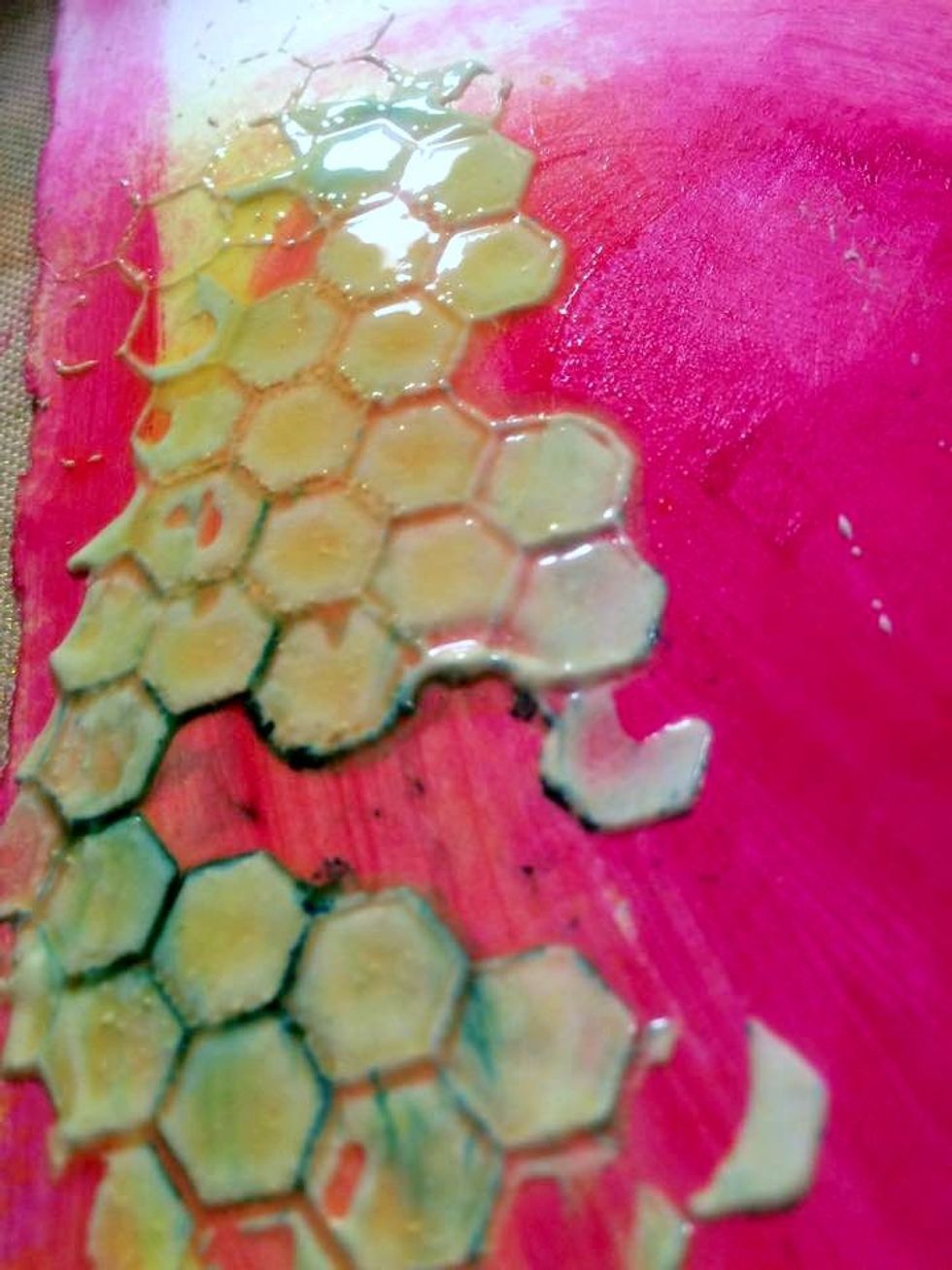 Here is a close up of the Stucco texture. There was some blue on my stencil from a previous use. I didn't plan on that being there but I LIKE IT!!!!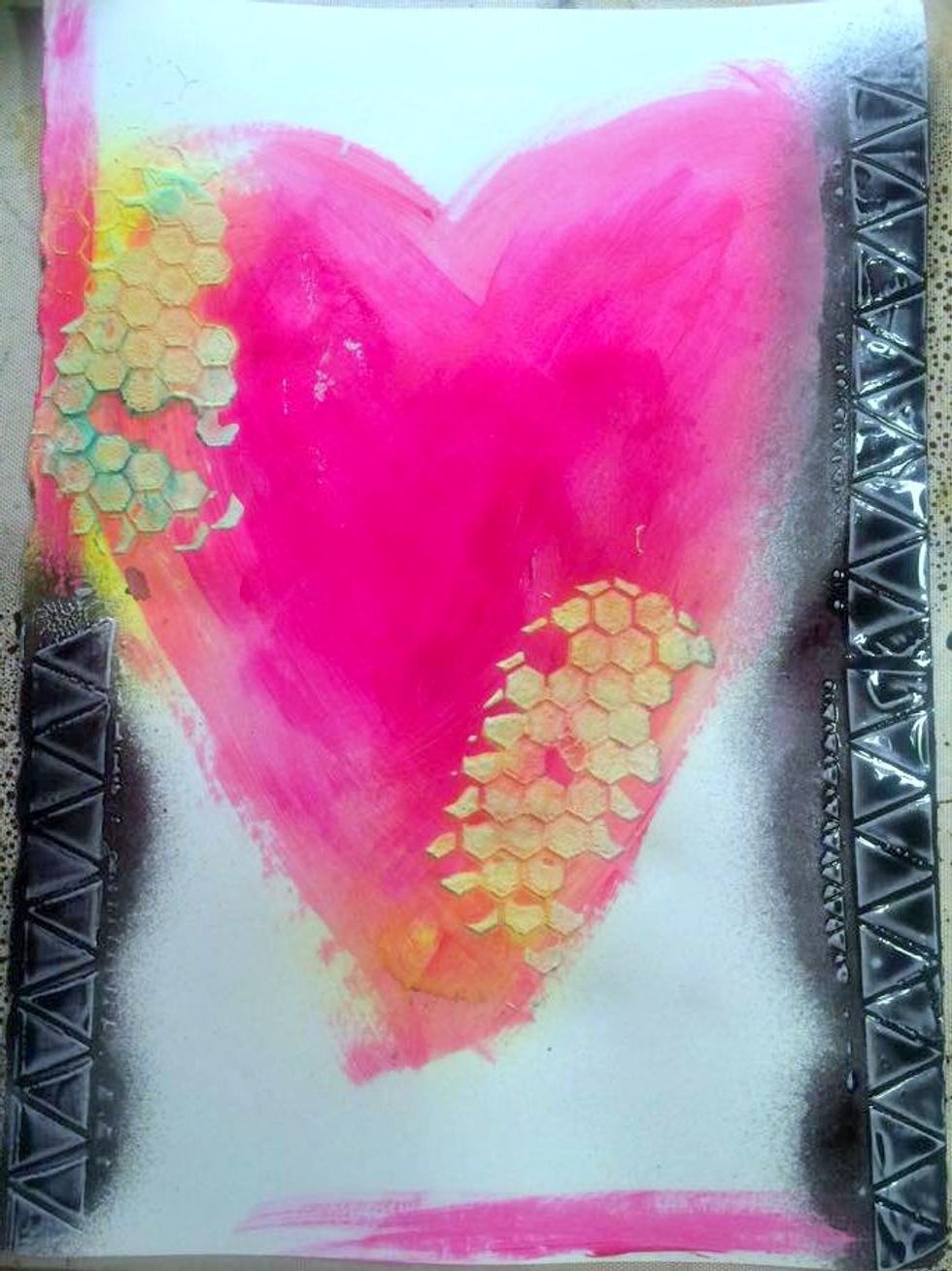 Now we are going to add texture to the sides using the Triangle stencil. I used Mudd for this. Apply the mudd through the stencil using the palette knife like we did before with the beehive stencil
I dried the Mudd with my heat gun. I then misted over the Triangle shapes with Colorations in Raider. Again, don't worry about over spray. This is all going to change when we put the bleach in the mix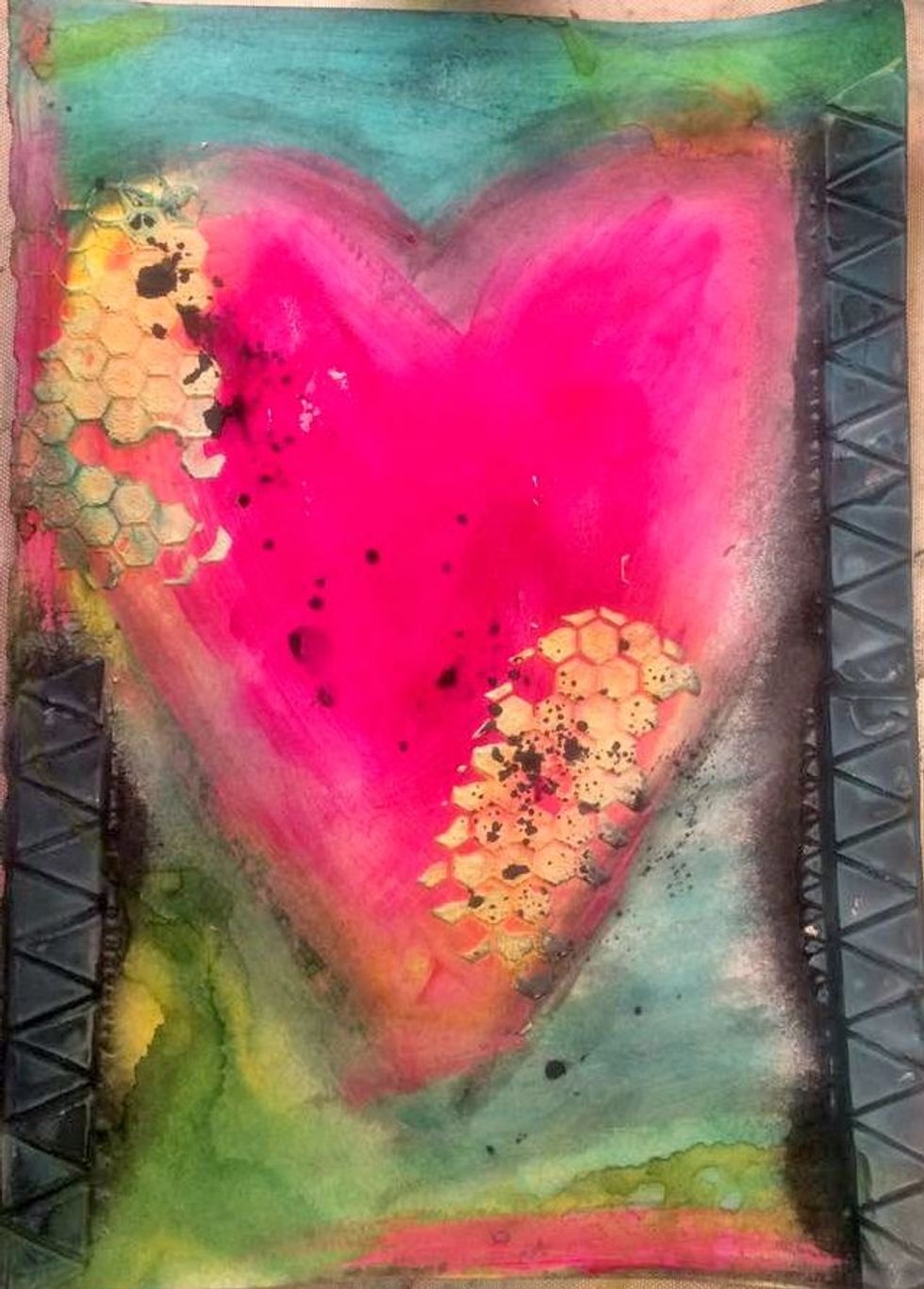 Now dry brush on some Velvet Fiji above and below the heart. Spread it thin. Dont worry about the black mixing in with it. Now mist with Glorious and Grass. The black on the heart is leftover mist.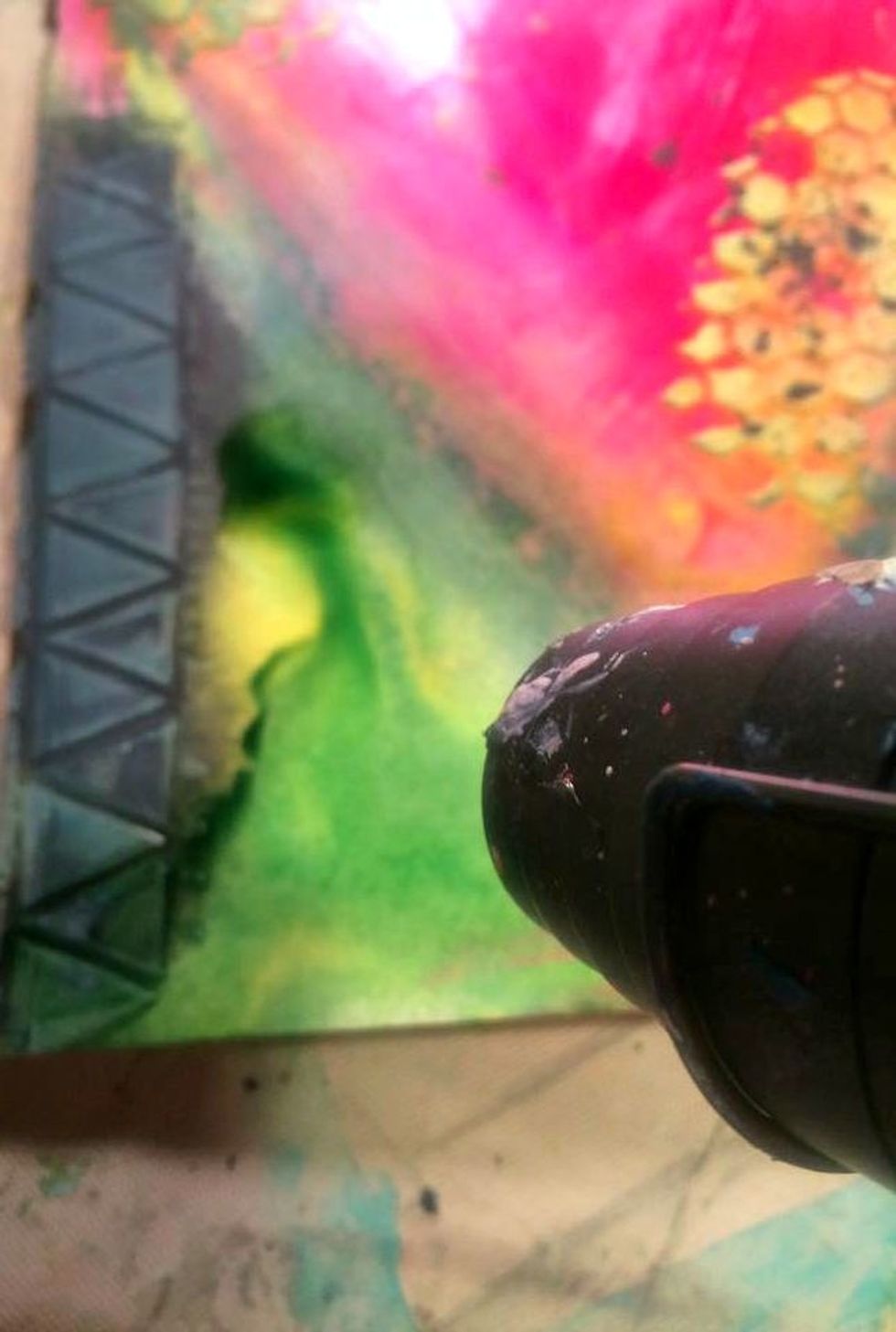 If you have black mist on your mat just turn your page over and smoosh it into the mat. I also like to let my mists pool then dry them with my heat gun. It creates a cool effect and different colors.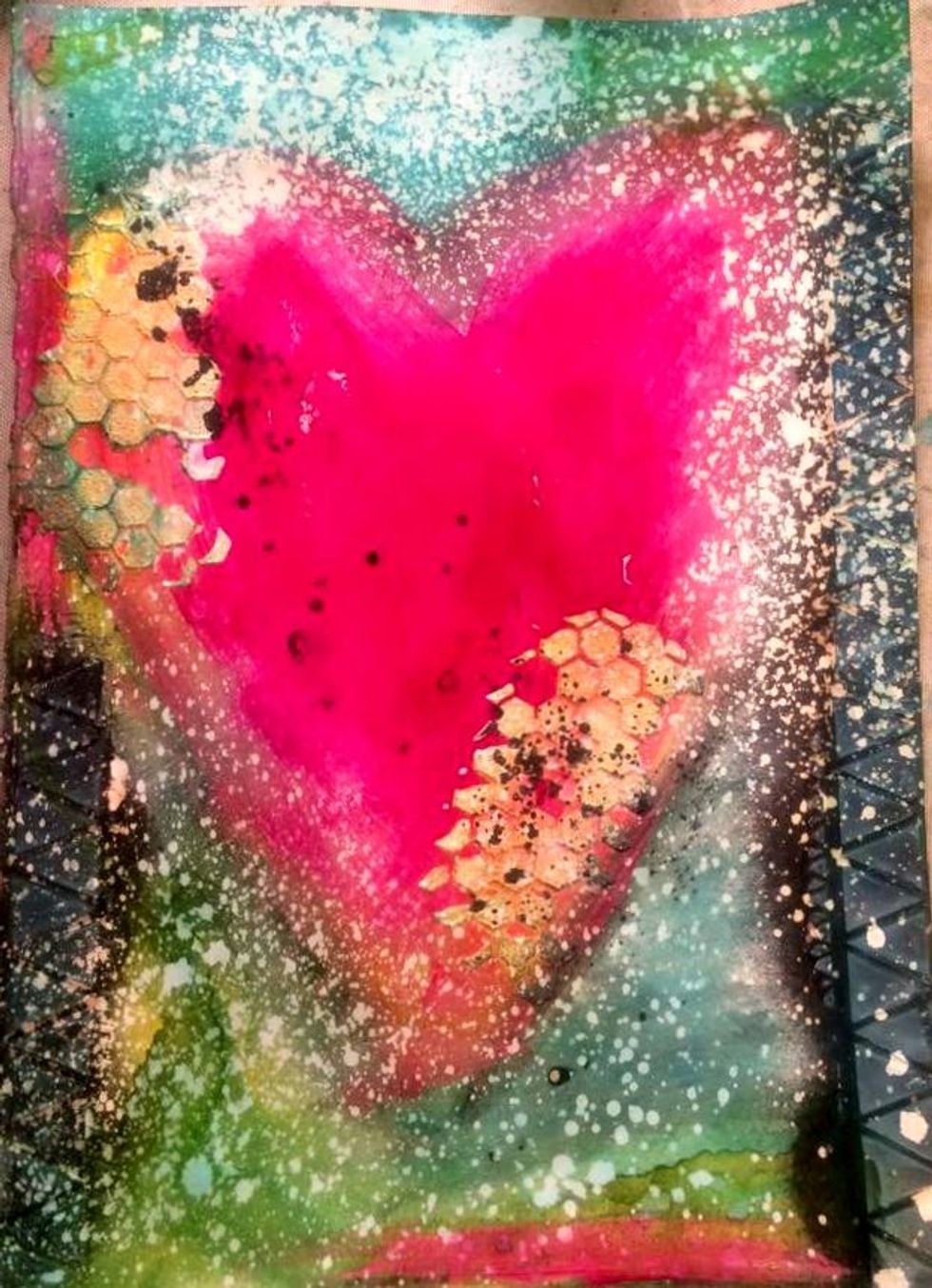 Grab your mistinging bottle filled with bleach and mist lightly onto your journal page...If you mist too heavy it will take a lot of the color away so you want to mist lightly. Dry with a heat gun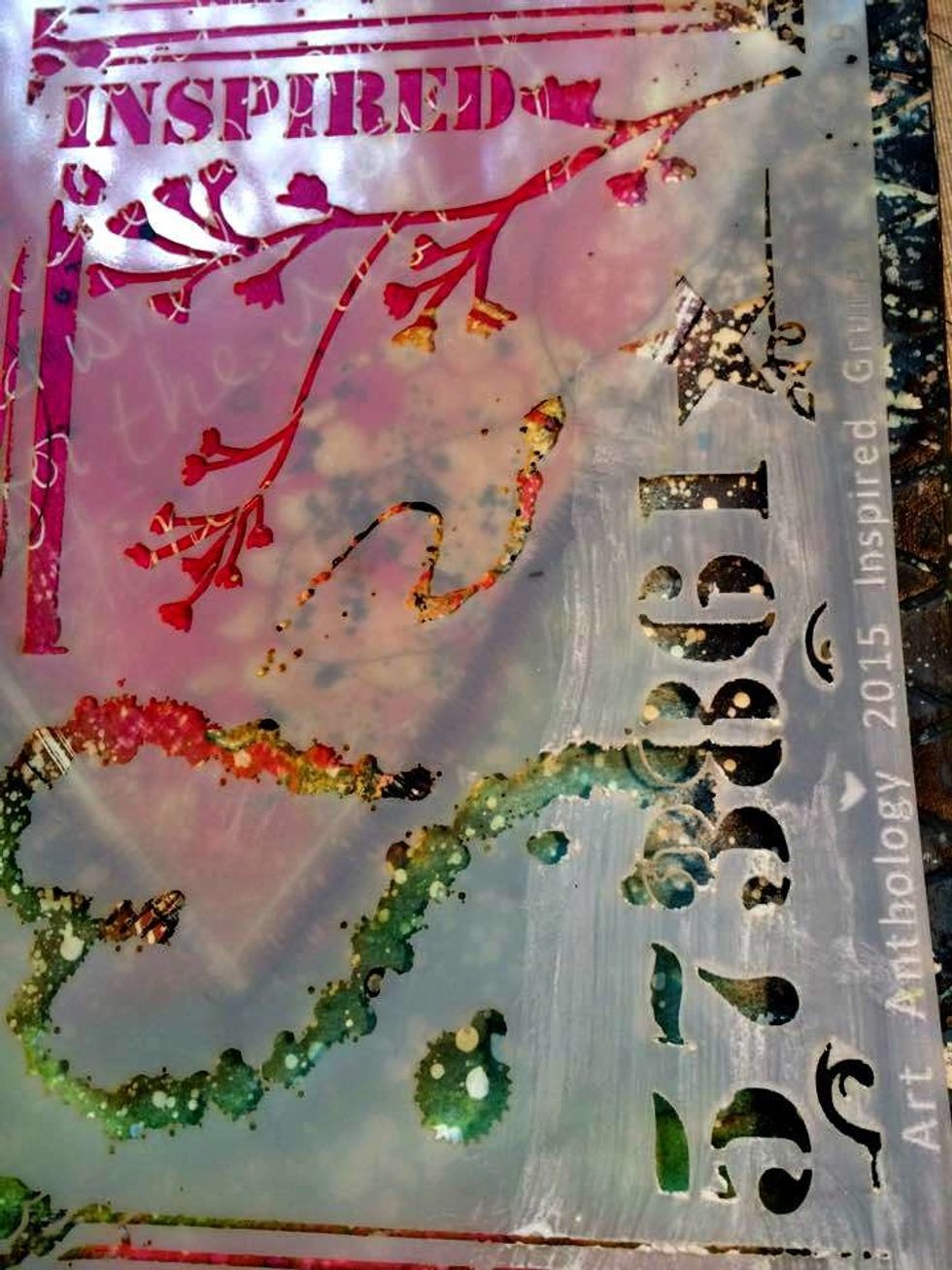 I decided it needed something more. So I reached for my Art Anthology Stencils and added some numbers to the page using the Inspired Grunge stencil and some Art Anthology Mudd.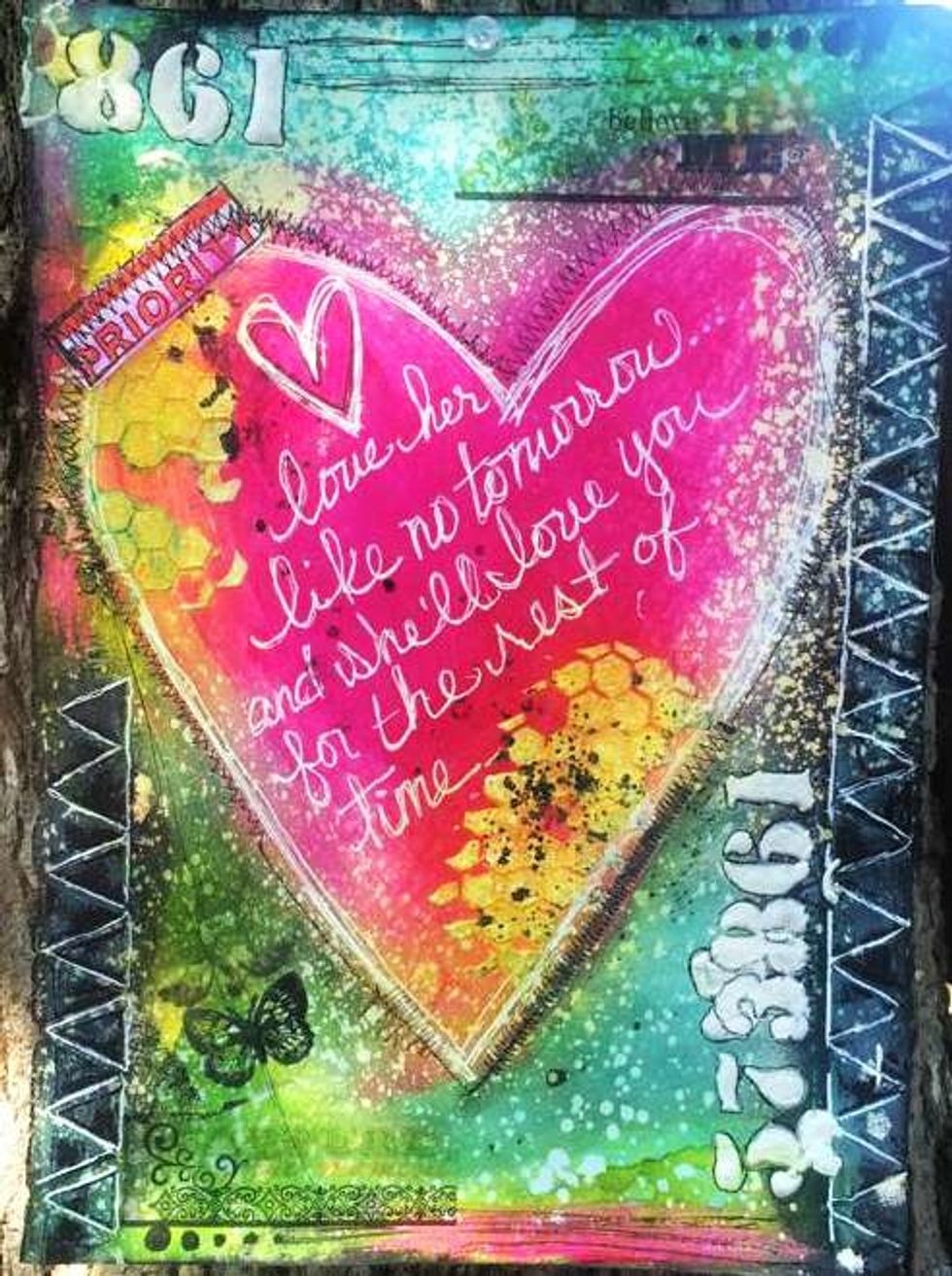 I added a little more doodling and a butterfly stamp and I outlined the numbers with a black pen. I love how this page came out and I hope you are inspired to try a journal page with texture and color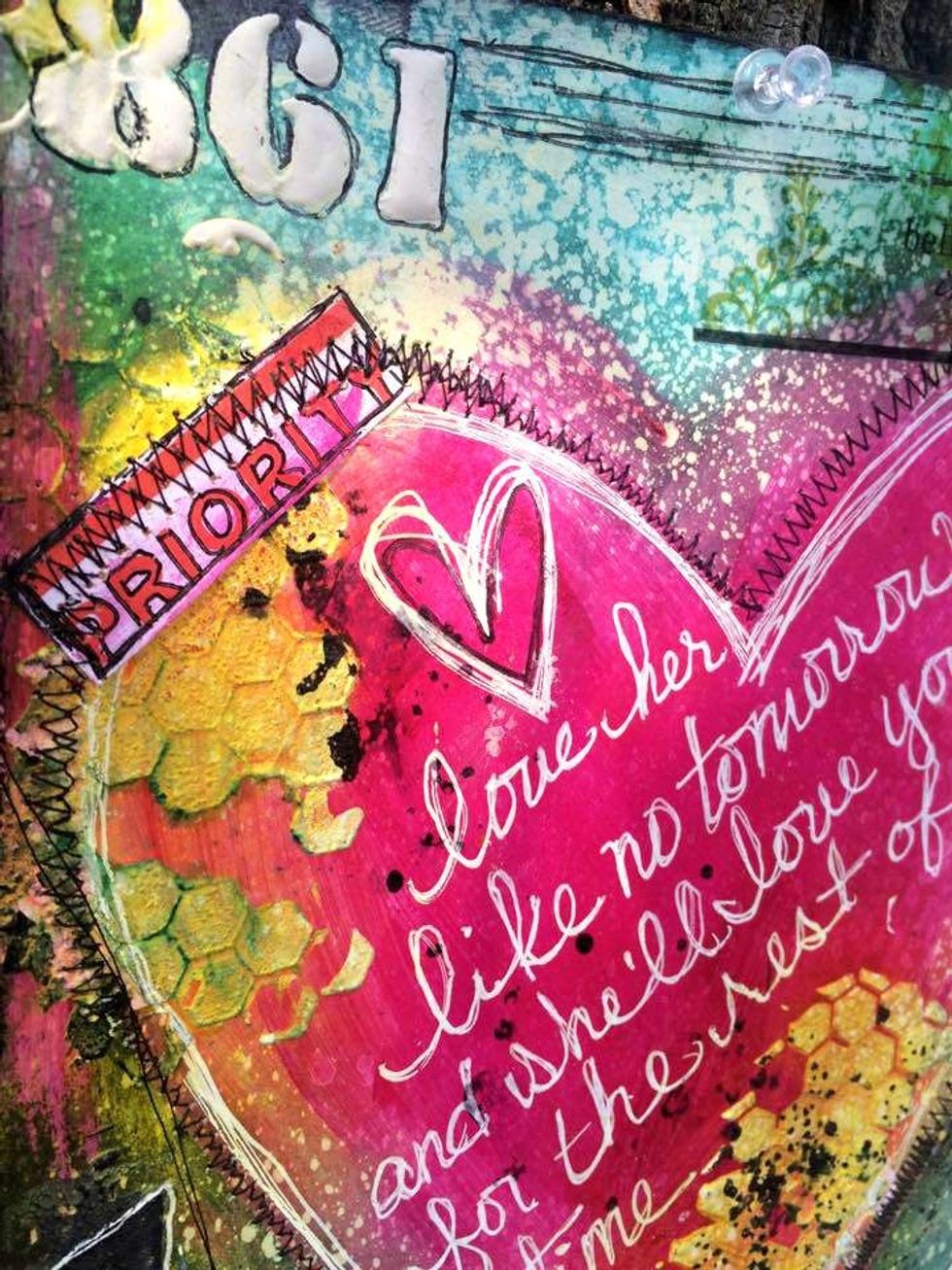 I really love the affect the bleach has on the mists. It adds an additional layer and also more depth to the page. It also adds a grunge affect which I absolutely love.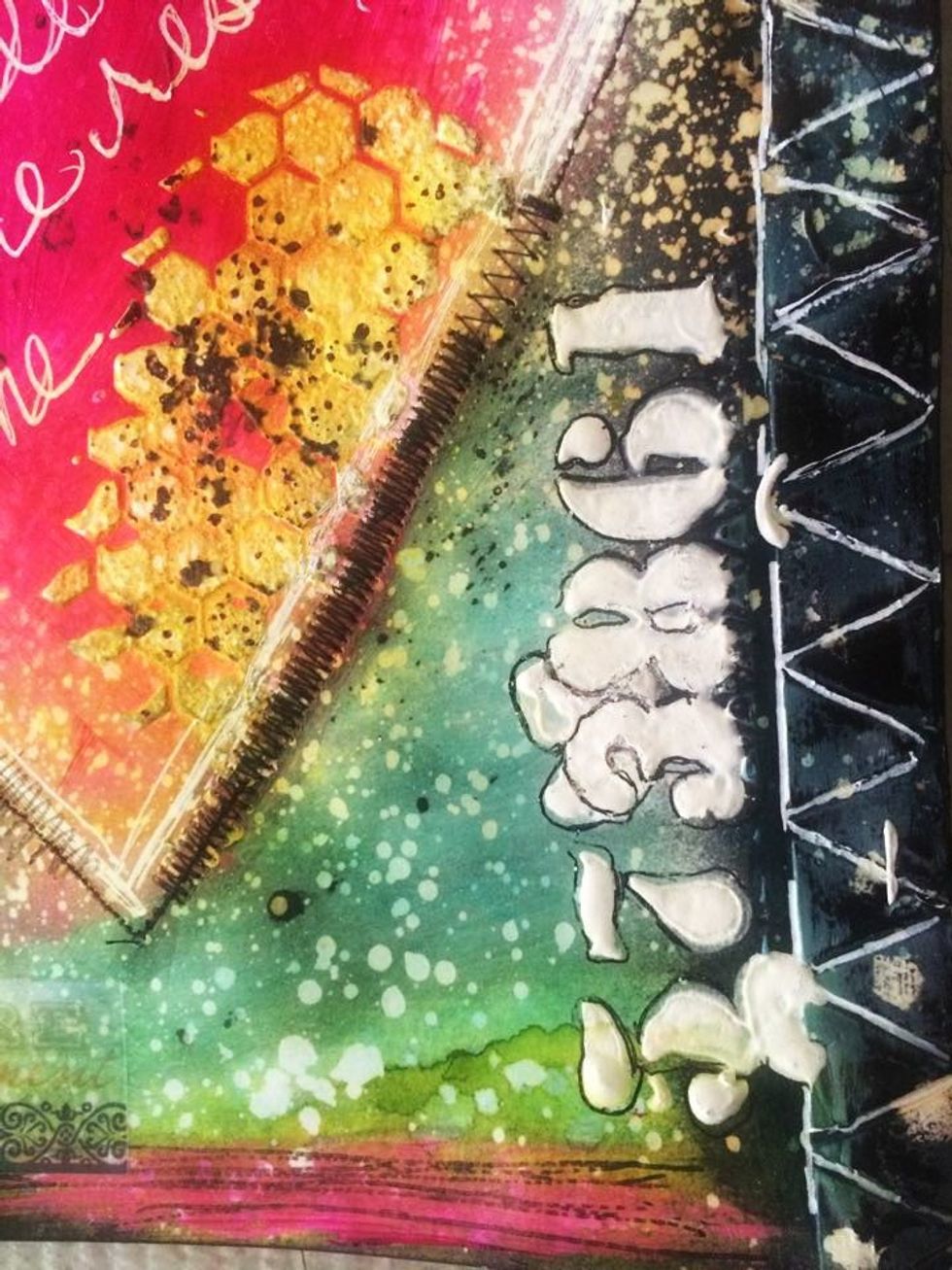 Here you can see some of the sewing I did and also a close up of the numbers. Just have fun with it and experiment. Thanks for checking out my guide. Stay tuned for more. Monica Downing x0x0x
Art Anthology Gemstone Rhodolite
Art Anthology Velvet Fiesta
Art Anthology Velvet Fiji
Art Anthology Colorations Spray Raider
Art Anthology Colorations Spray Glorious
Art Anthology Colorations Spray Grass
Art Anthology Stucco
Art Anthology Mudd
Art Anthology Beehive Stencil
Art Anthology Triangular Stencil
Palette Knife
Mist bottle filled with bleach.
White Signo Pen
Art Journal or canvas
Art Anthology
Art Anthology is a manufacturer of dimensional mediums.\n\nCome chat with us in our Facebook Group: Art Anthology Adventures in Art