How to create an art journal page by céline regnier
Create an Art Journal Page by Céline Regnier
9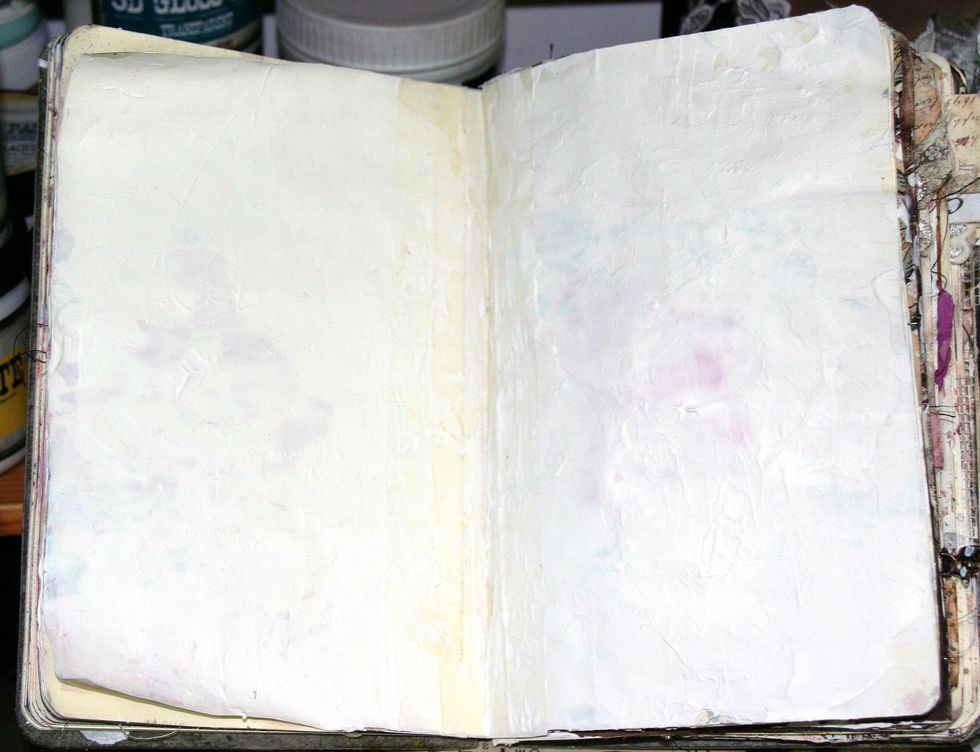 Spread 2 or 3 layers of white gesso on your background with a palette knife.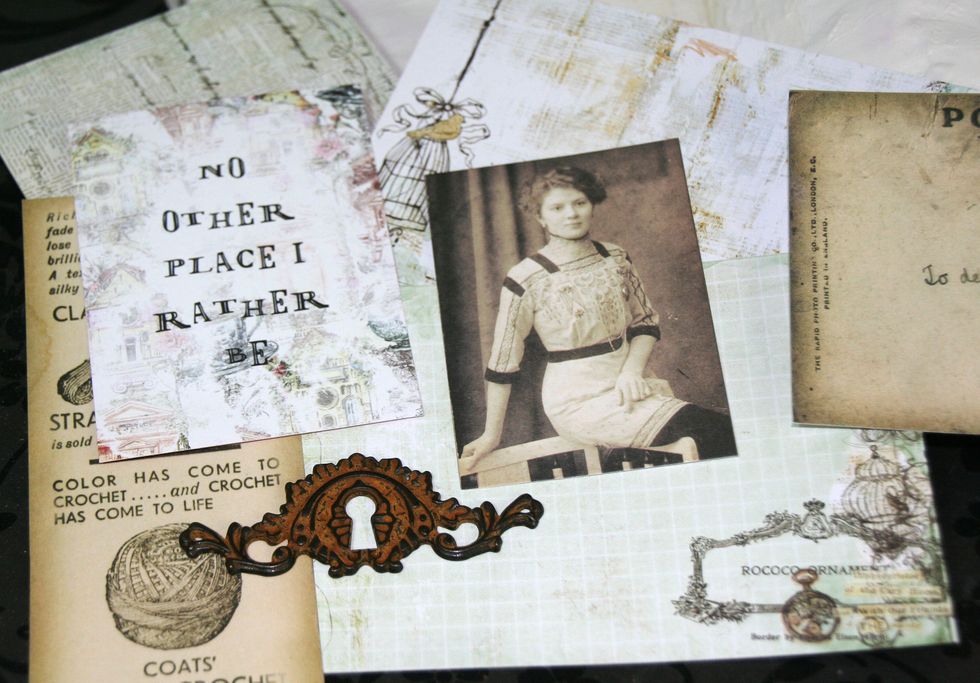 Choose a photo, patterned papers, and embellishments.
Make small marks using a pencil where you want the picture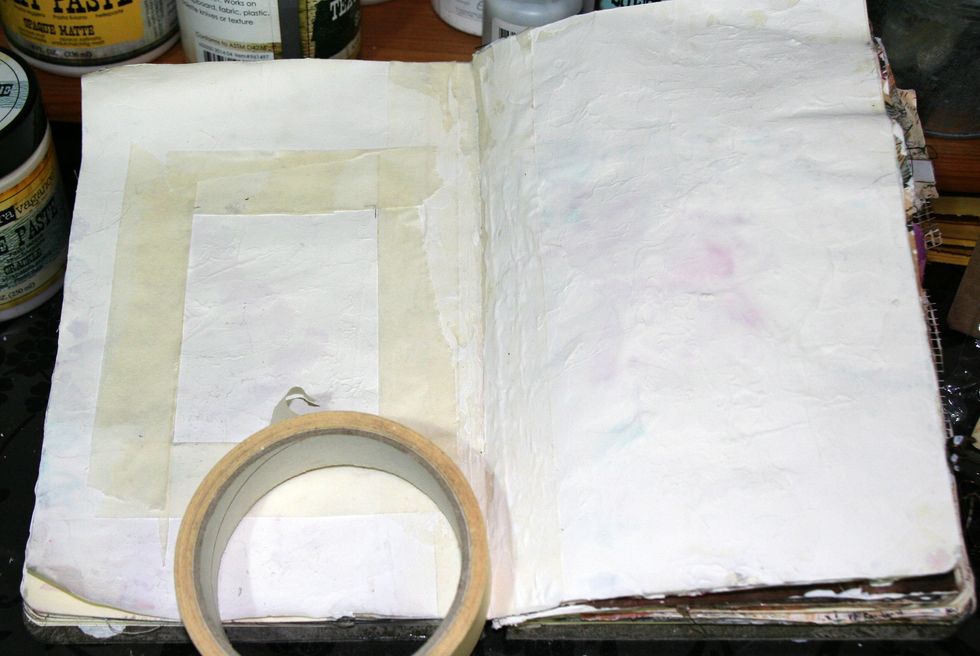 Add paper tape to outline the marks.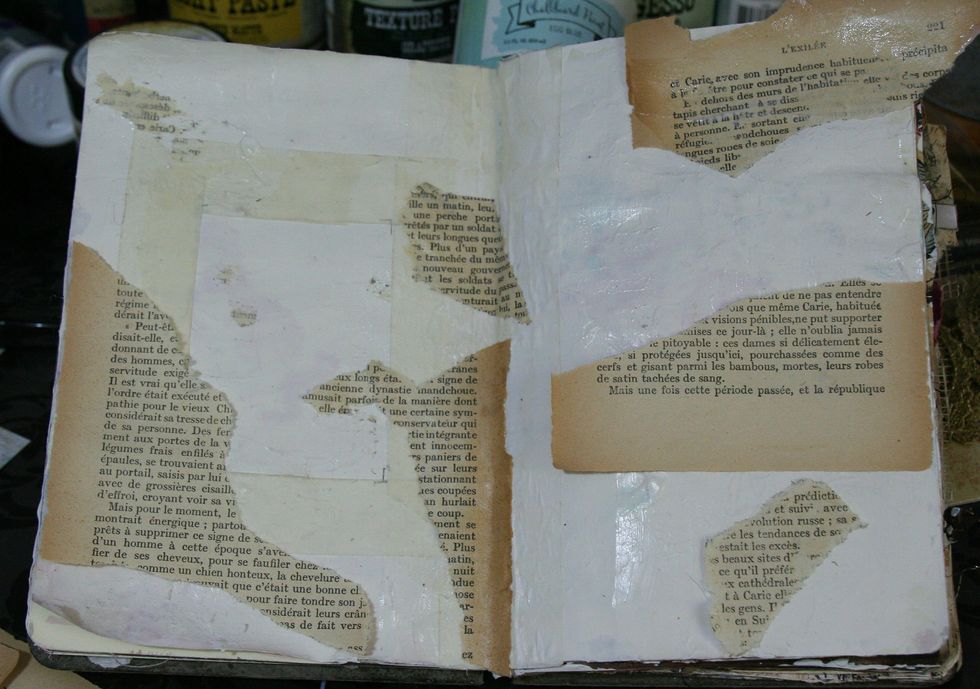 Glue old paper to pages. Don't let them dry too much. Tear off randomly.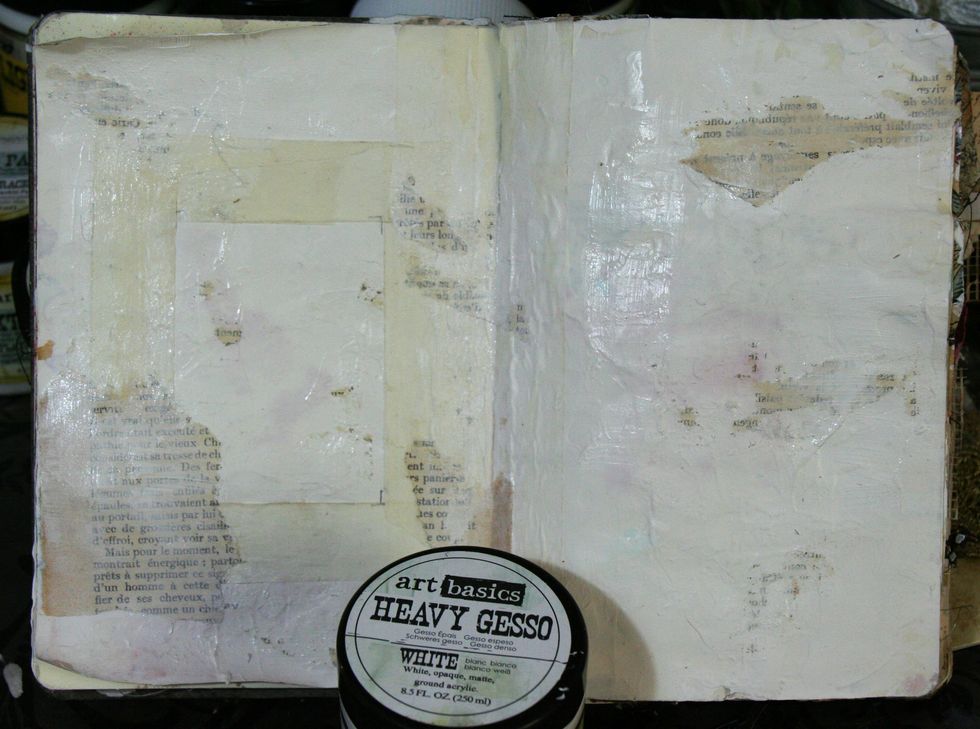 Add a thin layer of white gesso over both pages.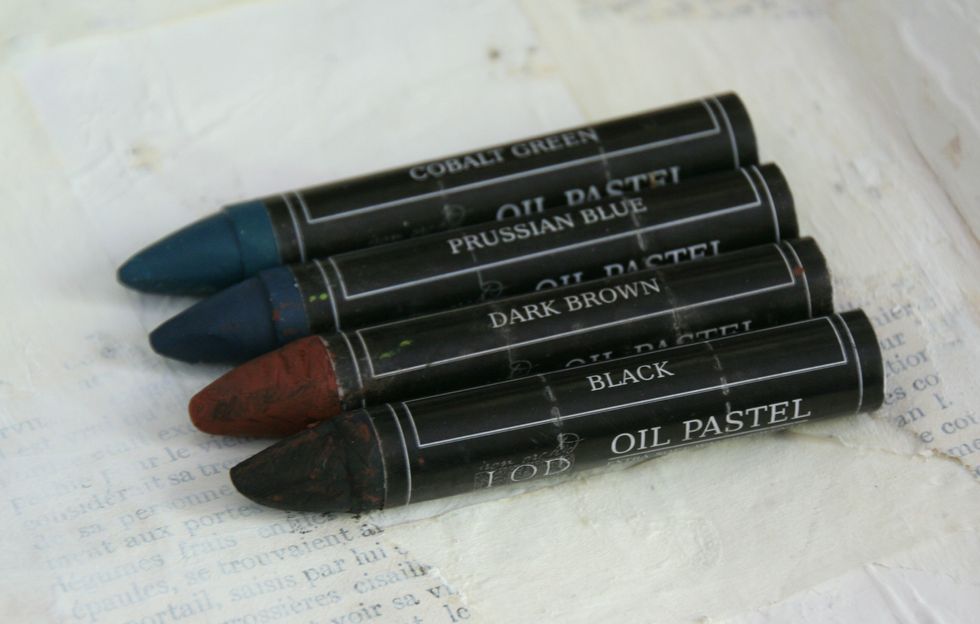 Choose 4 oil pastels. I used Black, Dark Brown, Prussian Blue, and Cobalt Green.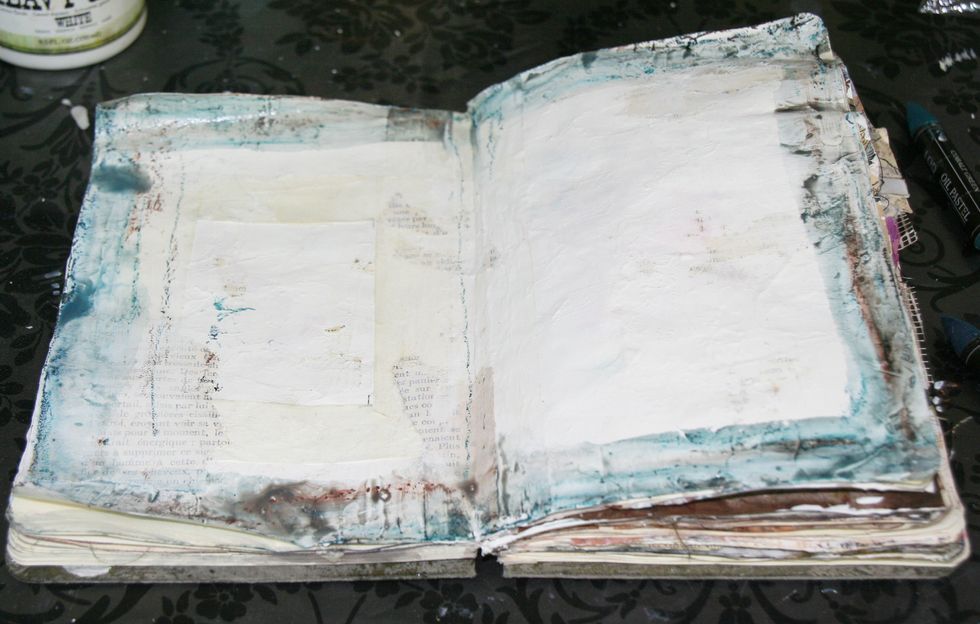 Draw all around your art journal with Prussian Blue and Cobalt pastels, add a little water to blend it in.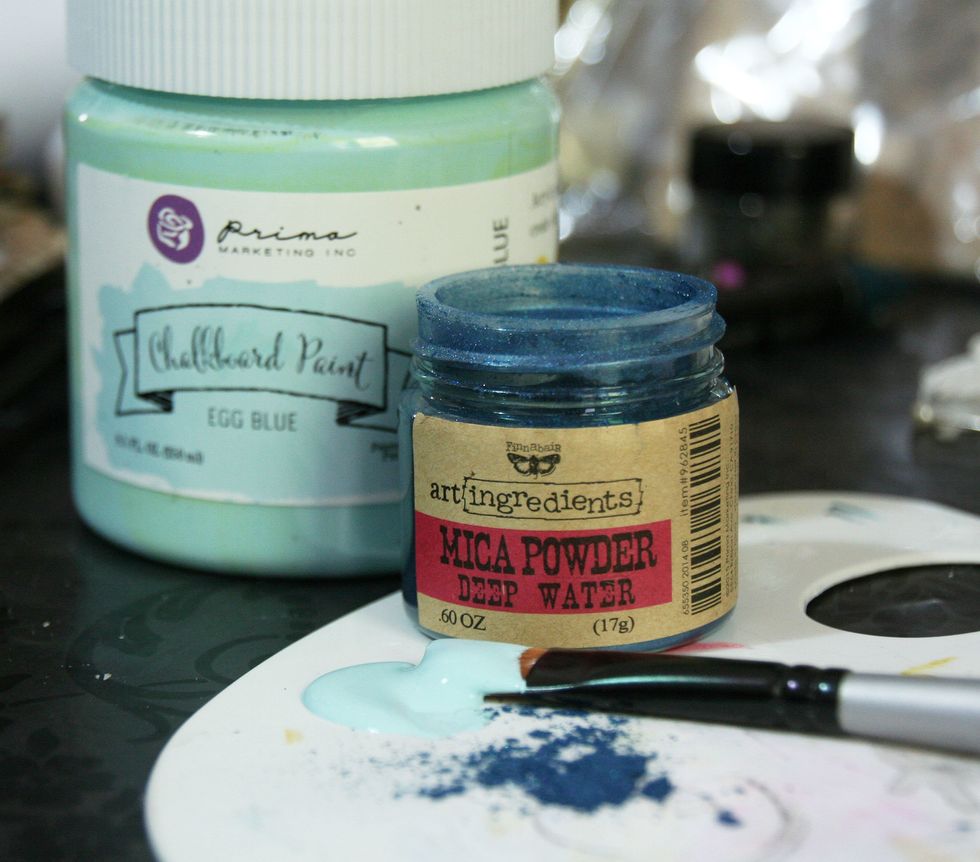 Mix on a palette: Chalkboard Paint Egg Blue and Mica Powder Deep Water.
Paint your sparkly paint all around your Art Journal.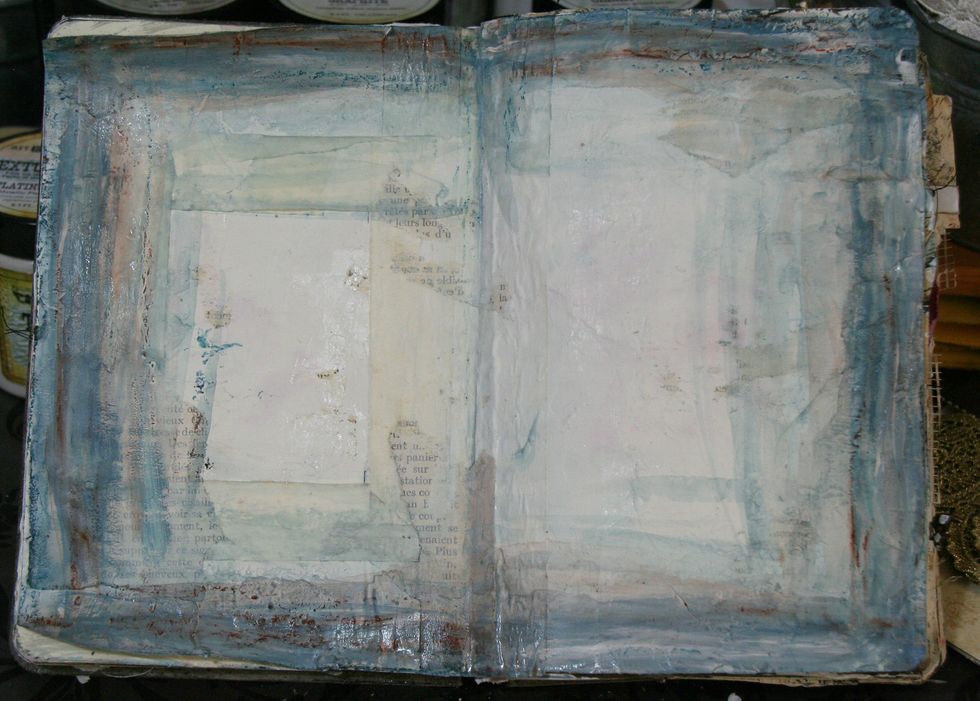 Do the same with the Dark Brown and Black oil pastels.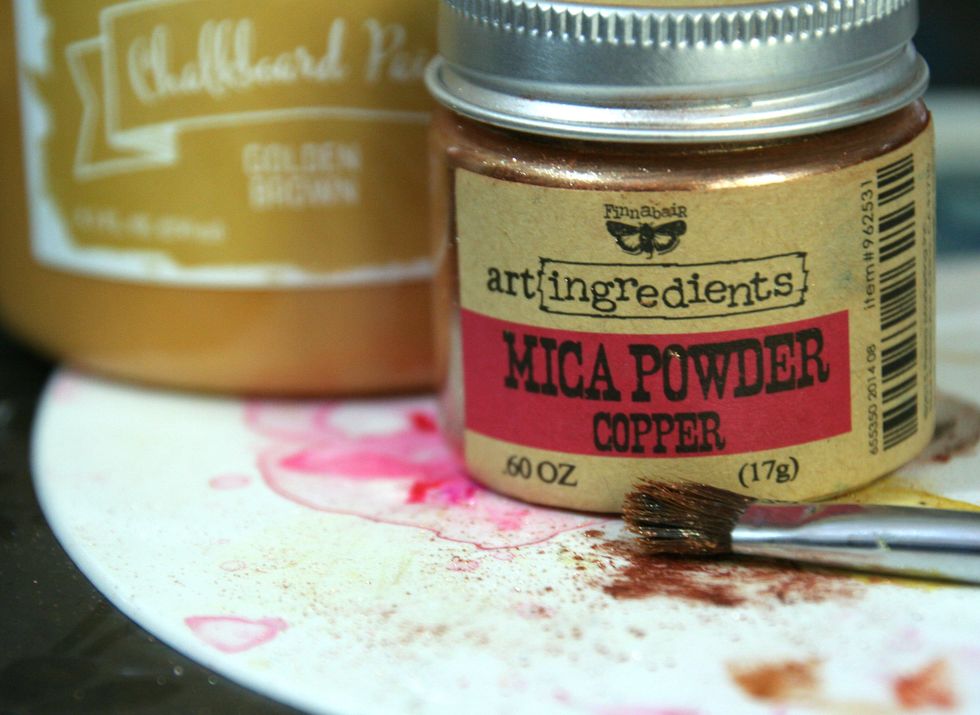 Mix on the palette: Chalkboard Paint Golden Brown and Mica Powder - Copper.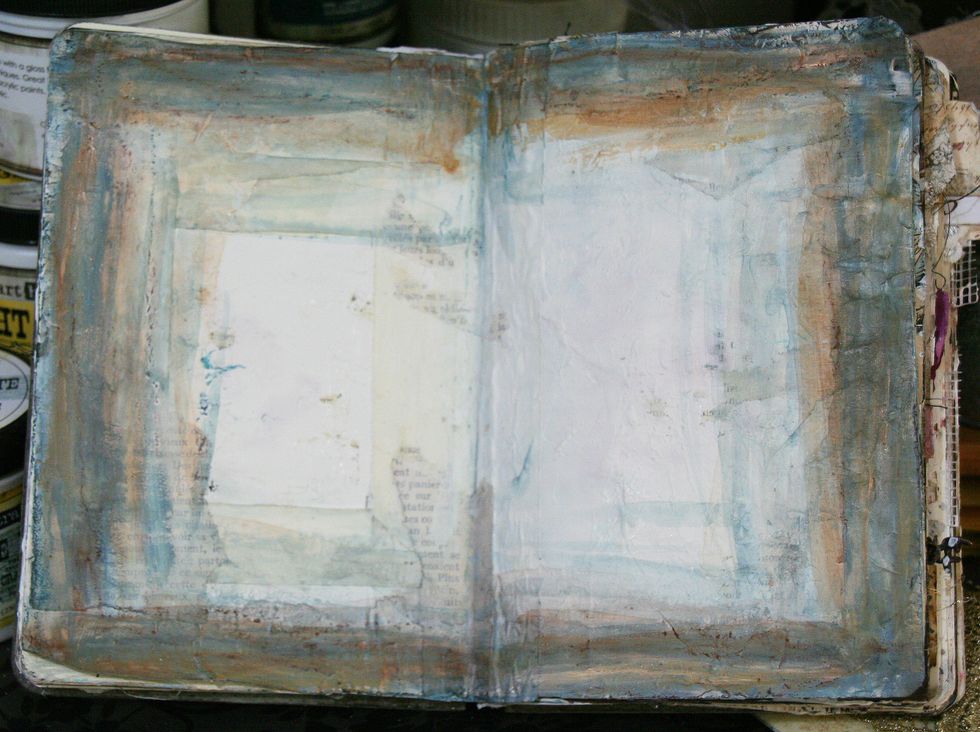 Apply randomly to page. Let it dry, or dry with heat gun.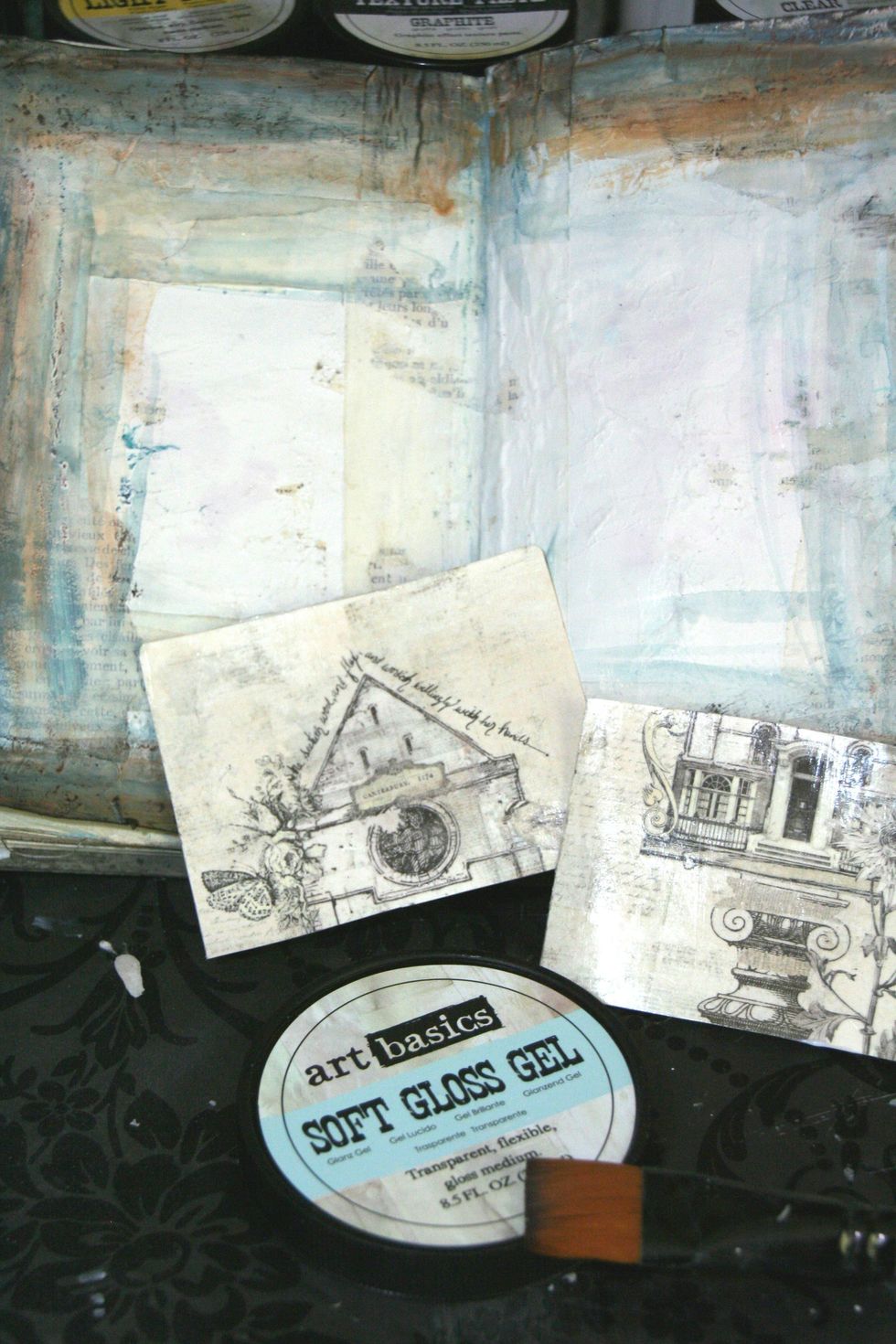 On an IOD Paintable card, brush on three coats of Soft Gloss Gel, horizontally, vertically, and diagonally, letting it dry between each coat. Cut card in half.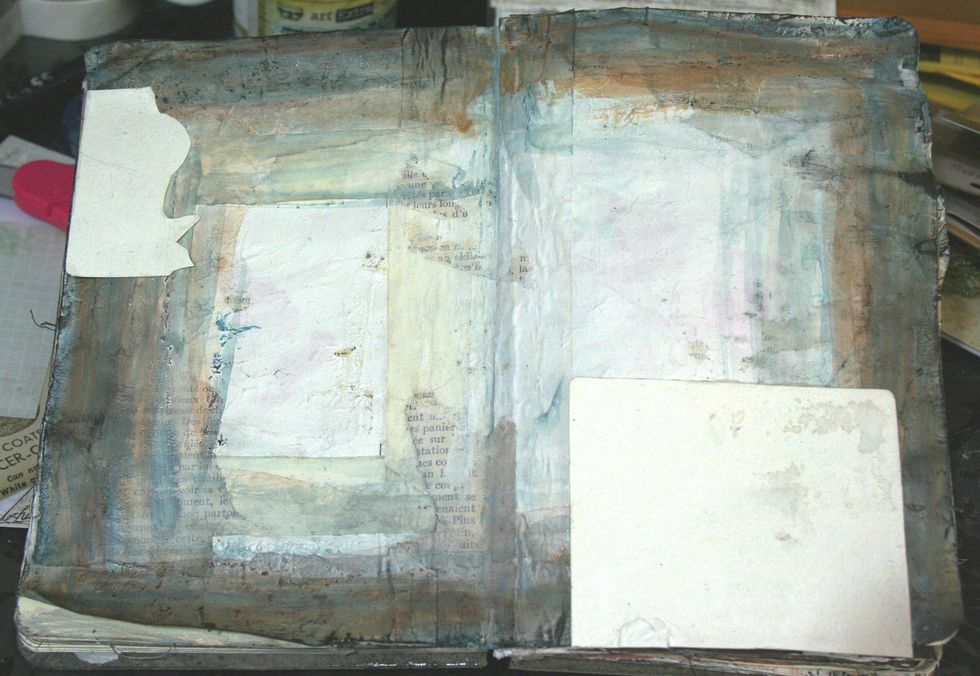 Glue IOD Card face down on the background, to make an image transfer.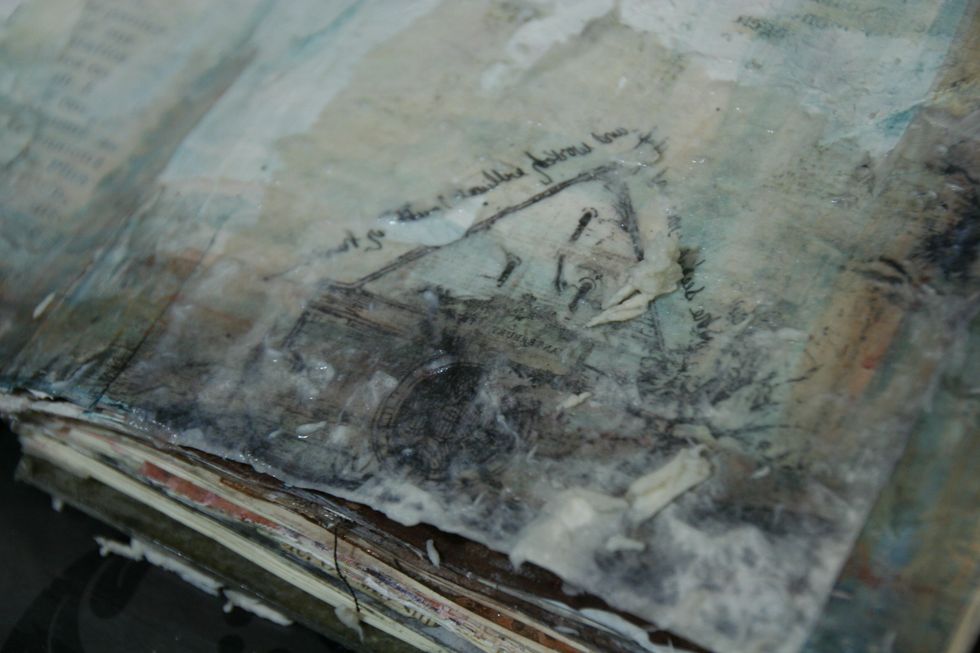 Gently use your finger to roll away the paper backing. When the paper is off, remove the remaining paper residue with a soft cloth. The card image should be left behind. Let it dry.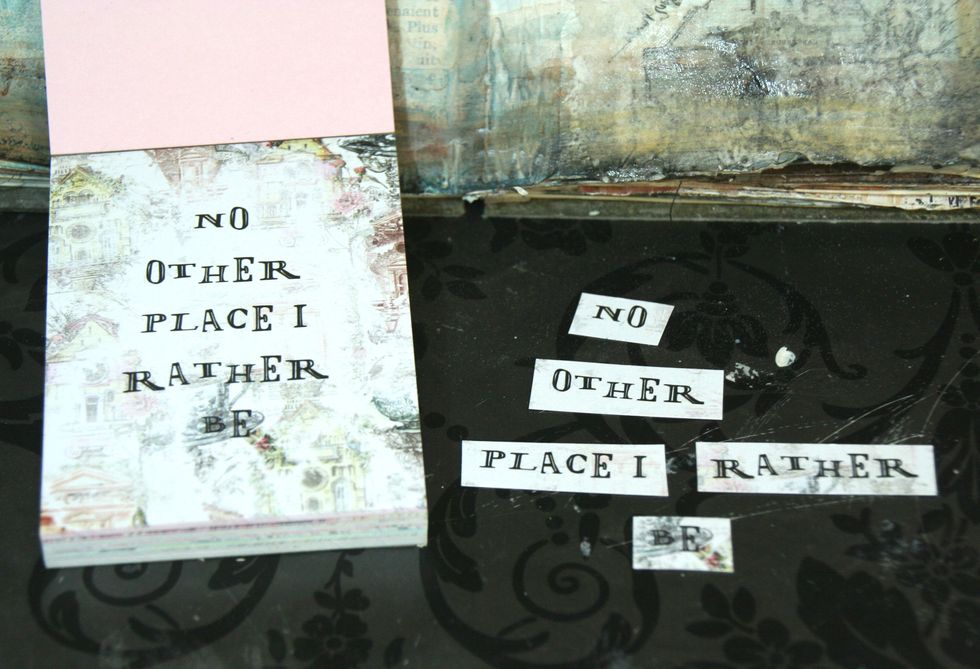 Cut a title from a 3x4 Journaling Note Cards from the Garden Fable Collection - (A gorgeous collection !)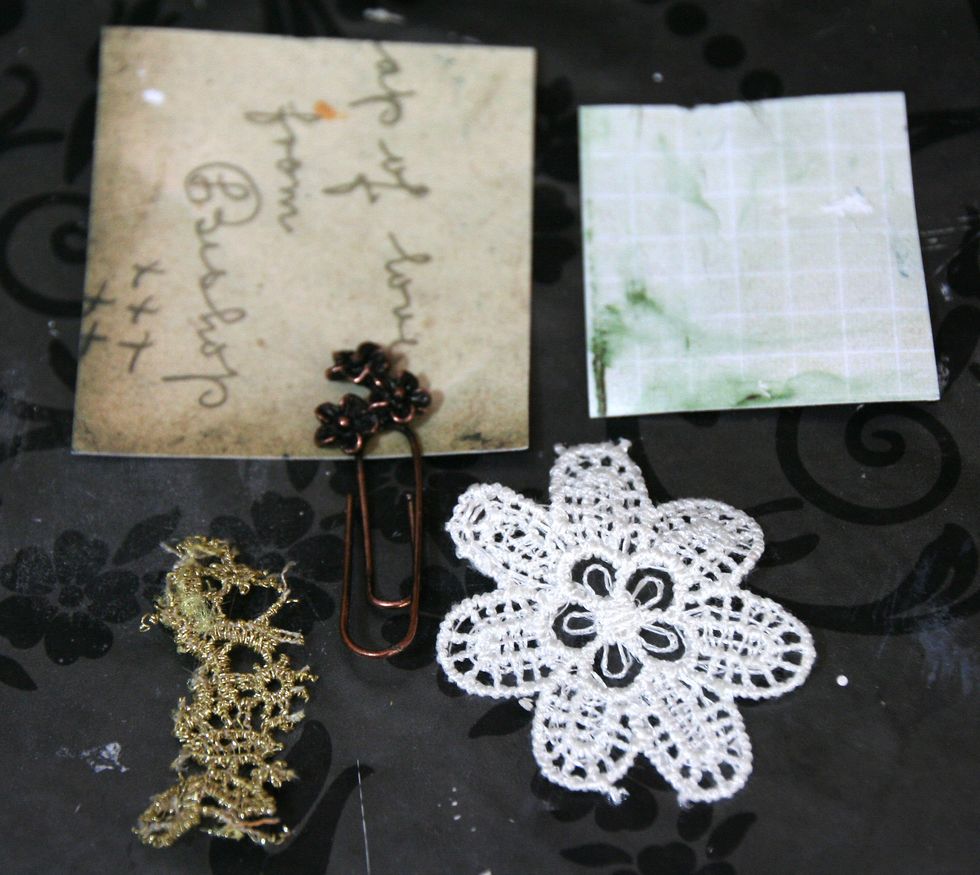 Cut two small pieces of paper, a trim flower, a paperclip, and a small Rocquencourt Doily Lace piece. Destroy it a bit! (Frank: sorry about that !)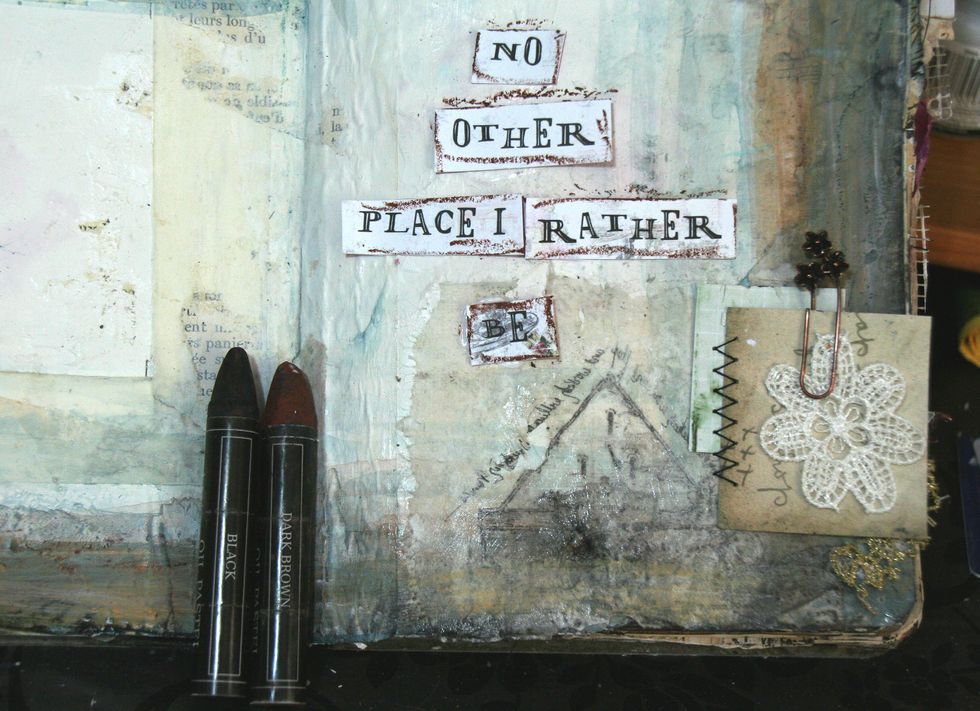 Glue the title on, then use Dark Brown and black pastels (+water) to darken it. Glue papers, lace flower, clip, letter, and butterfly on the page. I also used my sewing machine to add stitching.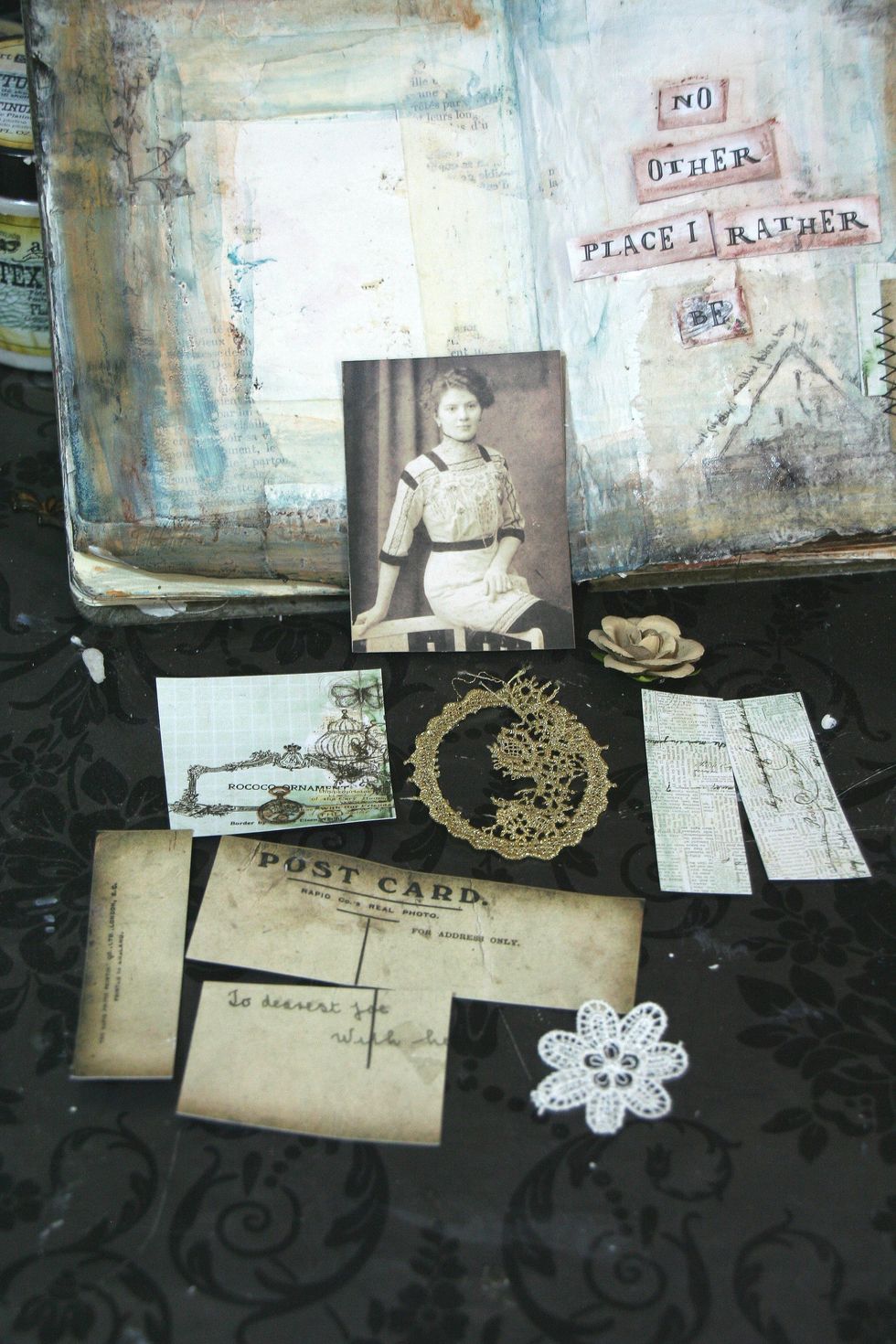 Cut pieces of different papers, Post card from Ephemera Melange Finnabair, and 4x6 Note Cards from Epiphany Collection.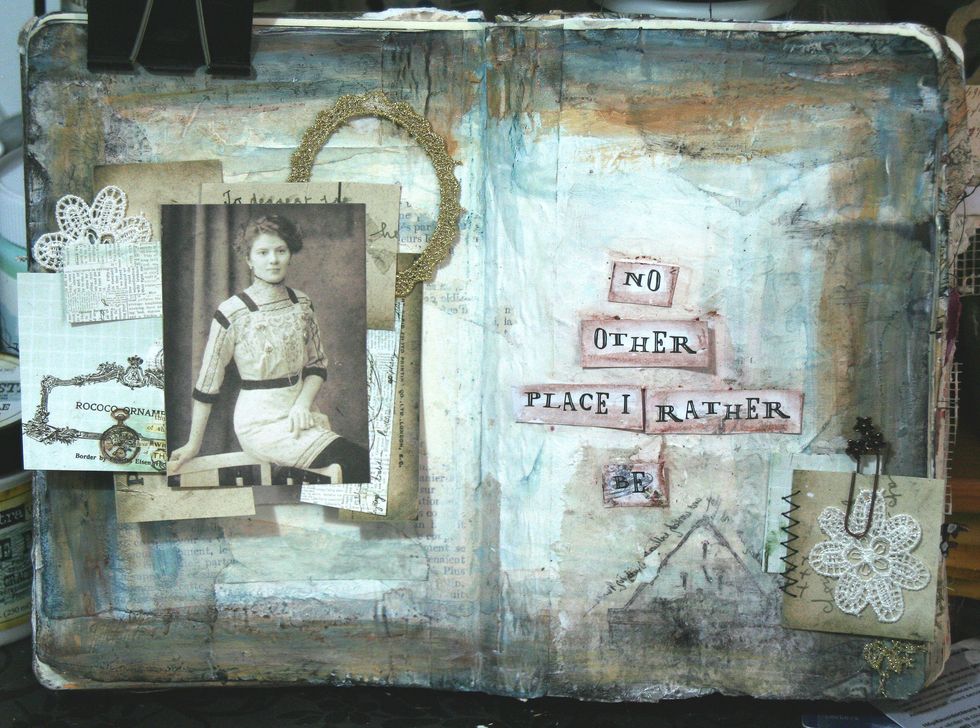 Start the layering on the left page and glue the picture from "Ephemera Vintage Collectibles" down on the page. Glue embellishments as shown on the Art Journal and add a few stitches to finish it off!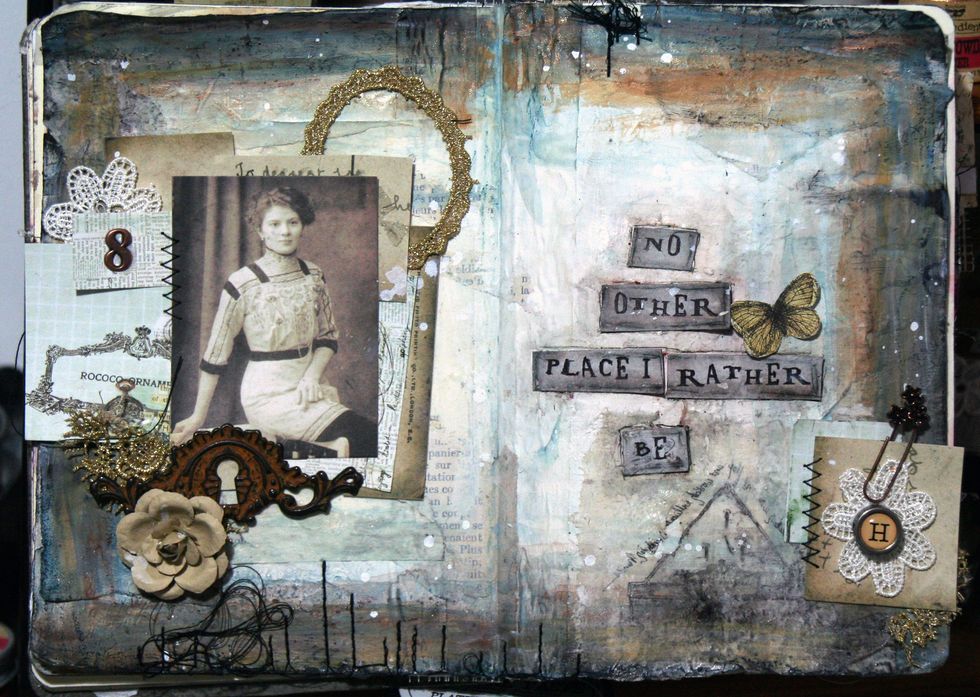 Your art journal entry is now complete!
961442.0 Art Basics-Gesso white
962845.0 Mica Powder Deep Blue
962531.0 Mica Powder Copper
577216.0 Chalkboard Paint Egg blue
577131.0 Chalkboard Paint Golden Brown
814328.0 IOD Oil Pastels
962890.0 Ephemera Vintage Collectibles
962883.0 Ephemera Melange
581121.0 Prima Coy Adelle Flower
582746.0 Paper Clips
575724.0 4x6 Journaling Notecards Epiphany
578954.0 3x4 Journaling Notecards Garden Fable
991043.0 Trim Rocquencourt Doily Lace
583569.0 Metal Embellisments
814175.0 IOD Paintables Cards
Prima Marketing
Prima Marketing, Inc. is an established leader in flower embellishments in the scrapbooking and crafting industries!