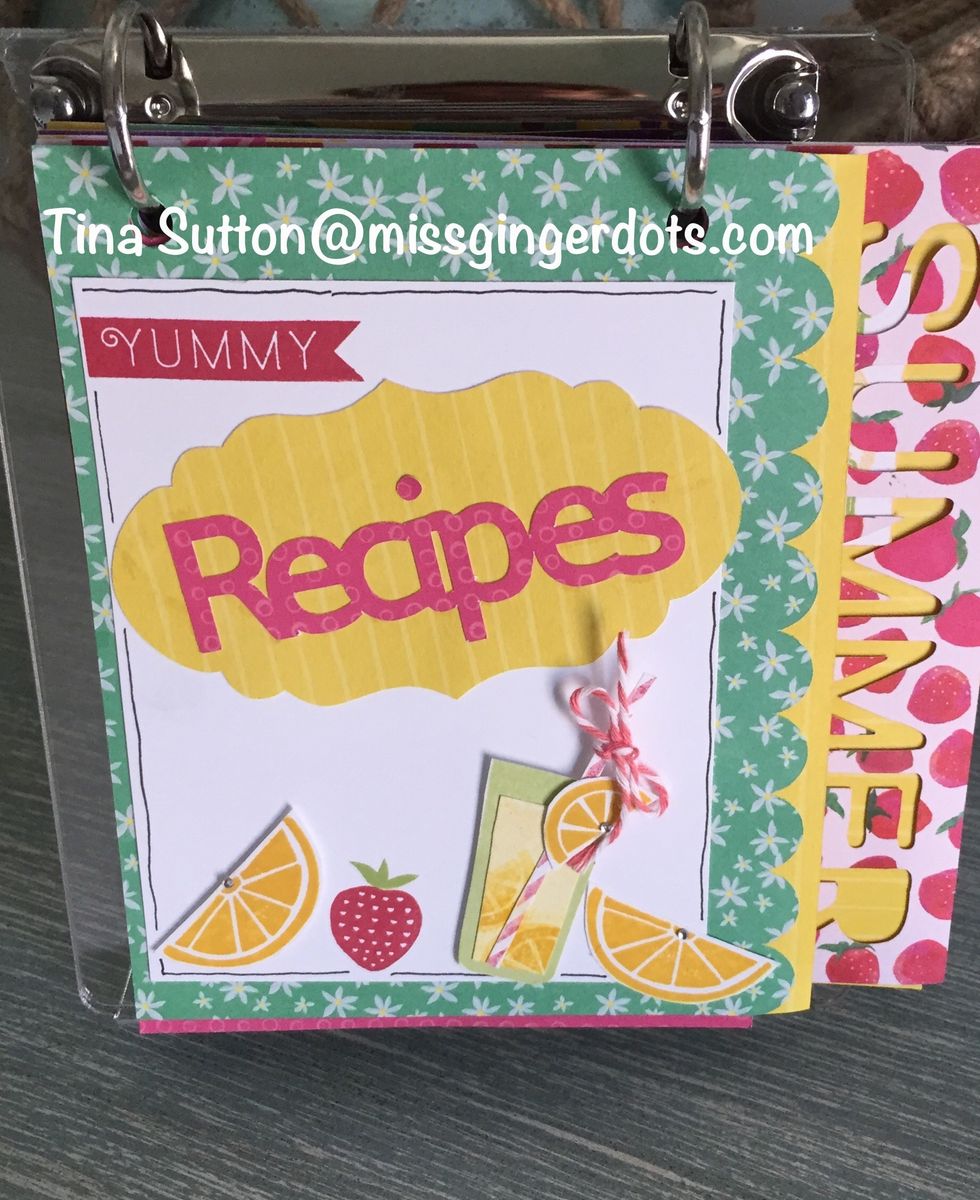 Glue green flower paper to yellow paper. Glue the word RECIPES to the yellow striped cut out shape. on 3 1/2 x 4 3/4 white paper, stamp the word YUMMY in cranberry on the top of the page.
You will have an additional sheet of white paper in kit for all your stamping. Use that white sheet to stamp two half lemons in canary ink from Taste of Summer Stamp Set.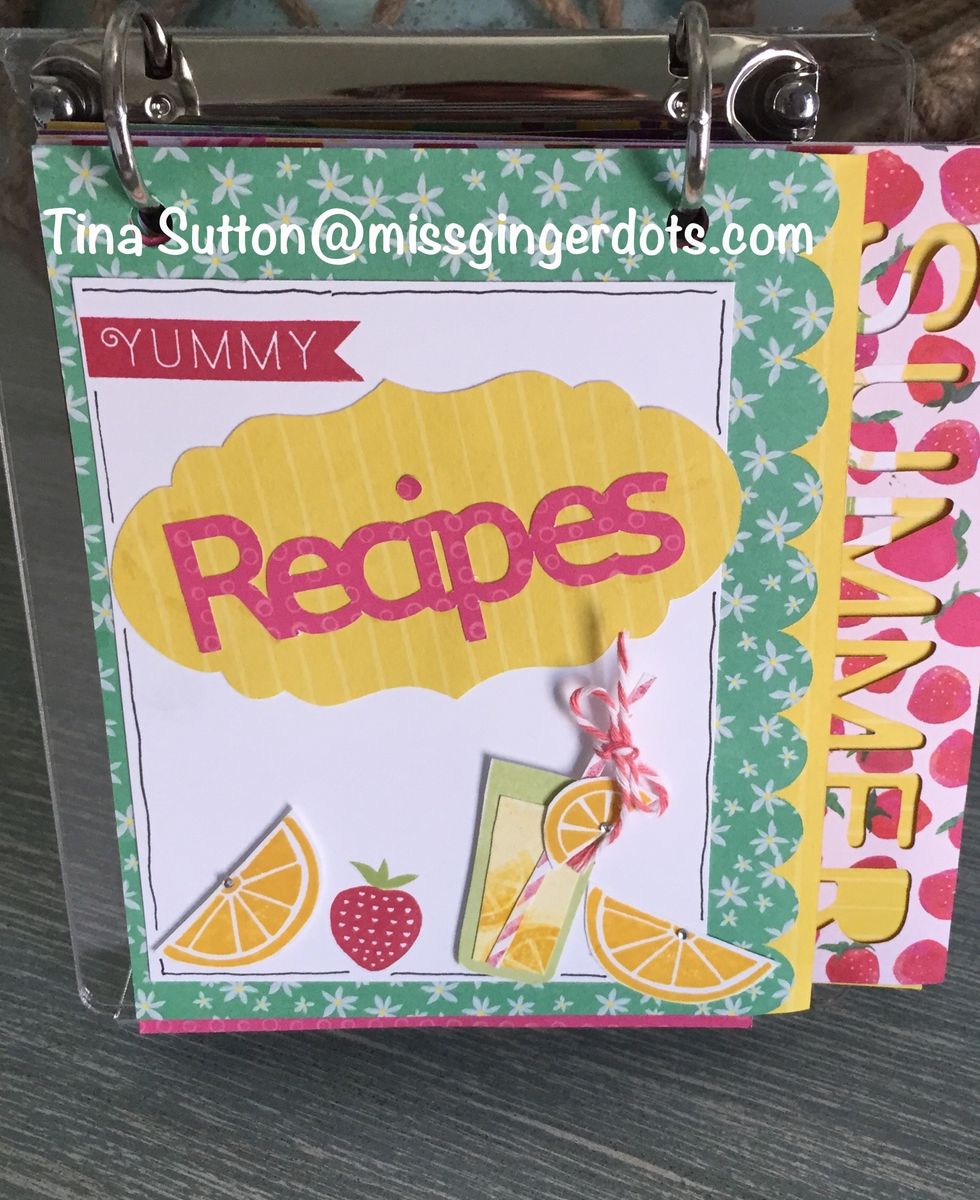 Using Ice Cold stamp set- stamp one small lemon on extra white. Stamp the glass in pear ink. Stamp the glass a second time in second generation Canary ink. Cut out that image smaller than outline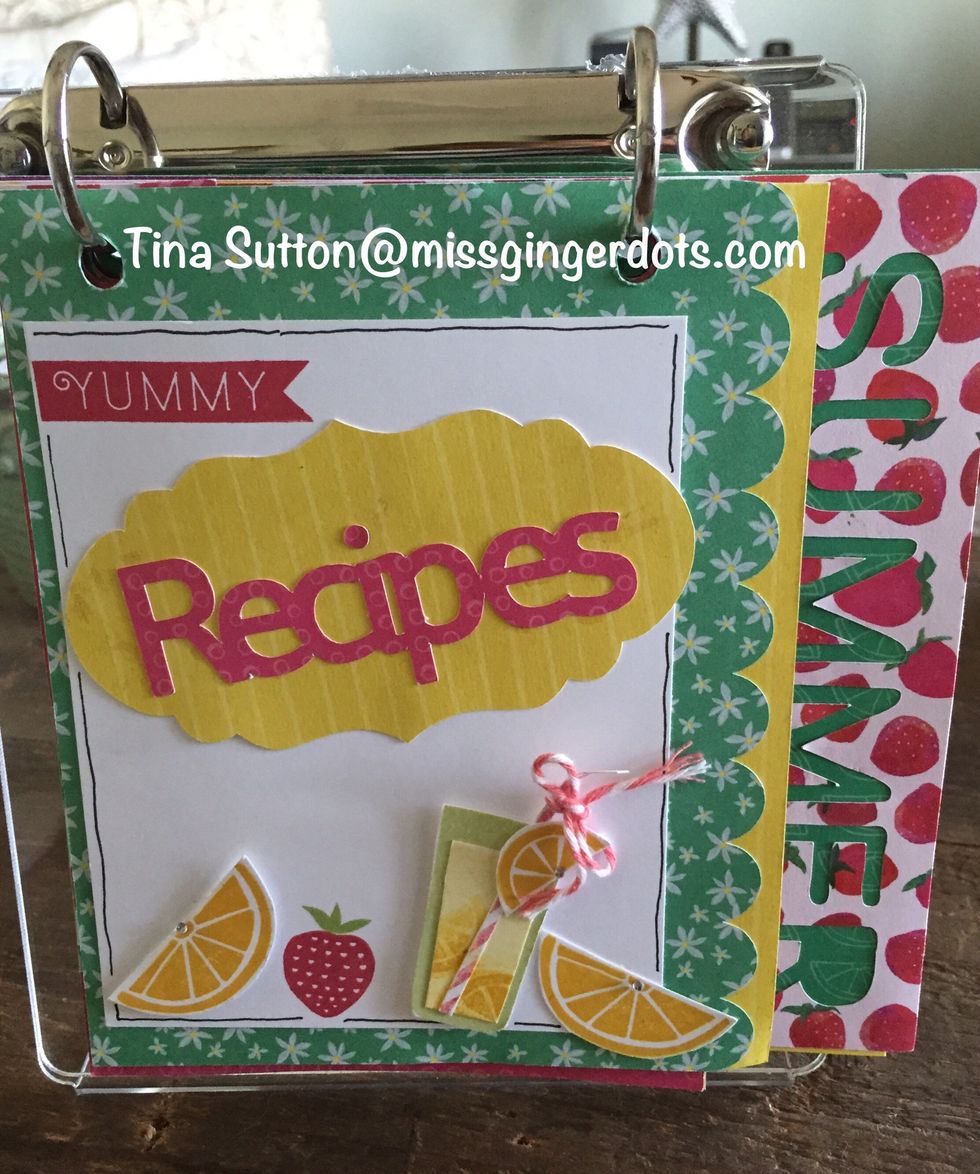 Stamp a few small lemons partly on the yellow glass. Glue yellow lemon aide to pear glass. Stamp the straw in light cranberry- 2nd/3rd generation. Glue to front of glass. Tie string around straw.
Glue straw to glass. Glue small lemon with a sparkle to glass. Stamp Strawberry with Cranberry and Topiary directly on white piece about an inch from the left side of cardstock cover.
Pop dot the two lemons and glass to the white cs to add dimension to project. Use the outlining/ doodle pen to add a border of white page. Glue white page to green and yellow layer! Cover done!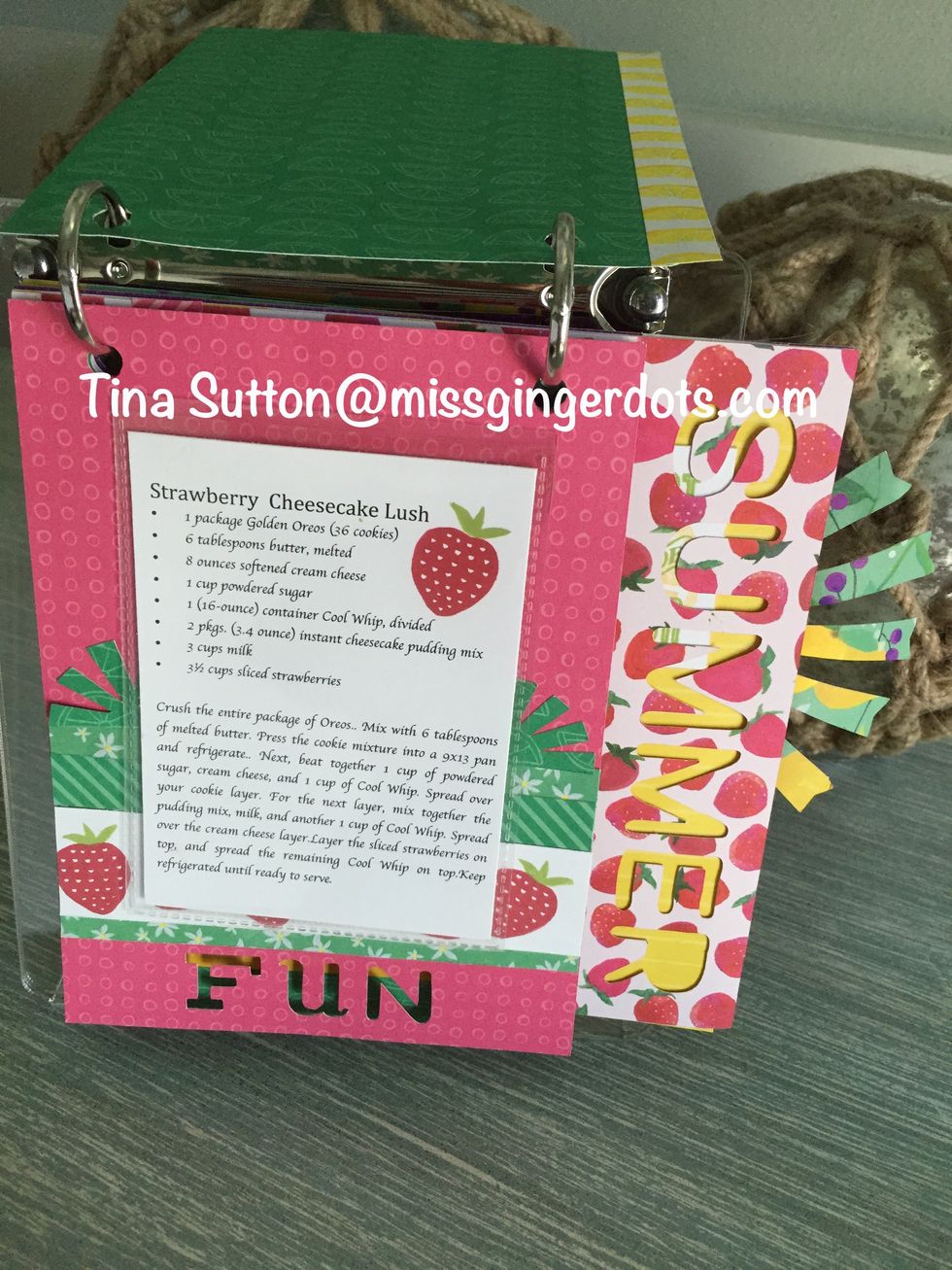 Note- you are seeing pages behind the first page . You will only be doing a small red page that says fun. The strawberry paper is a different page.
If you don't have room to write your recipe on the 3 x 4 cards you can use the back of cards. I am going to add a photo under the 3 x 4 flap of either the recipe or the person who shared it with me!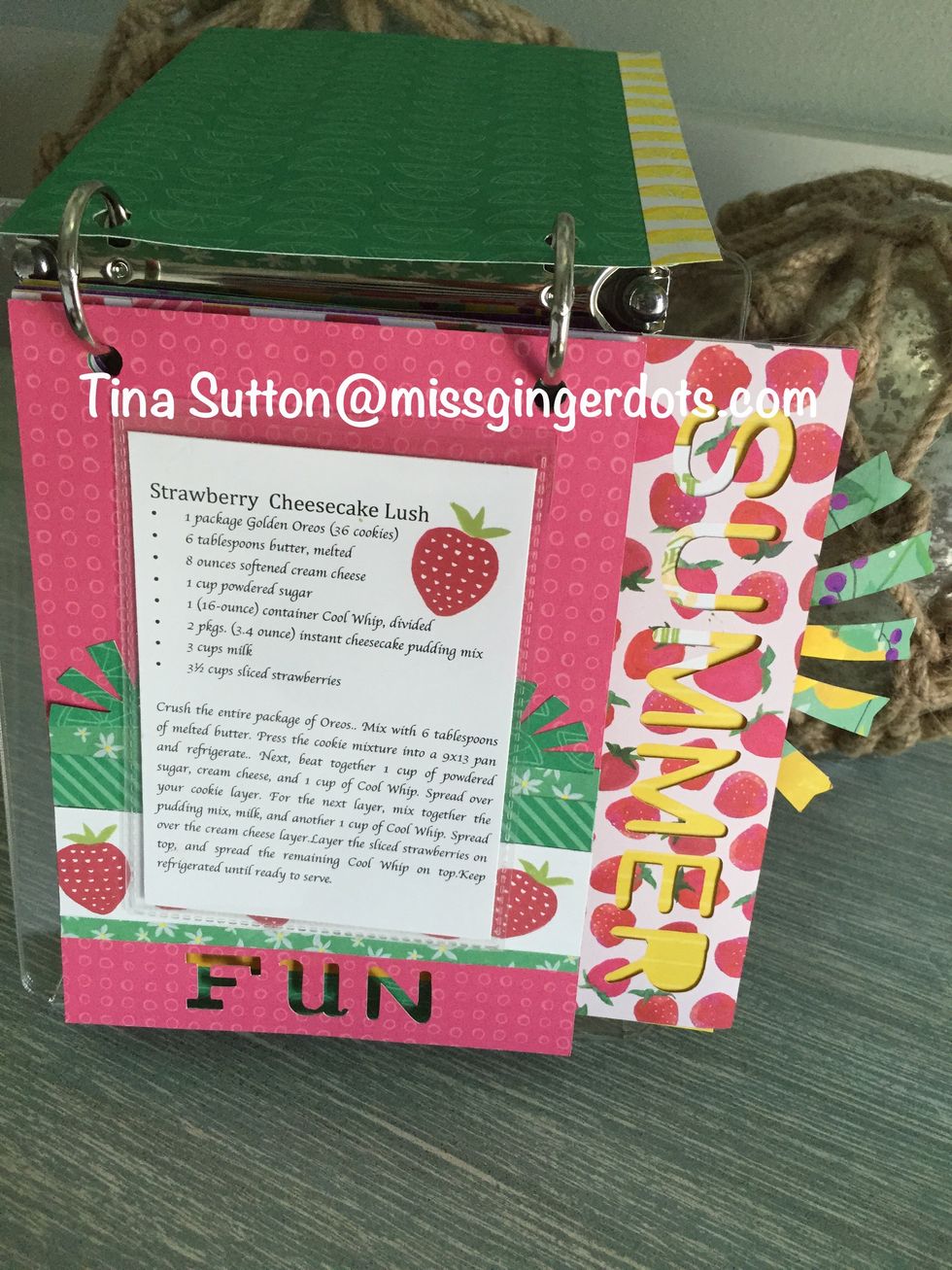 Glue paper together as shown. On the white strip of paper stamp the strawberries and leaves. Type of write your recipe on 3 x 4 card. Use back of flip flap if needed.
Not shown in photo but there is a yellow piece of paper that I inserted on the back of fed paper. That makes the word fun pop! Don't forget to attach flip flap. You can add photos under the flip flap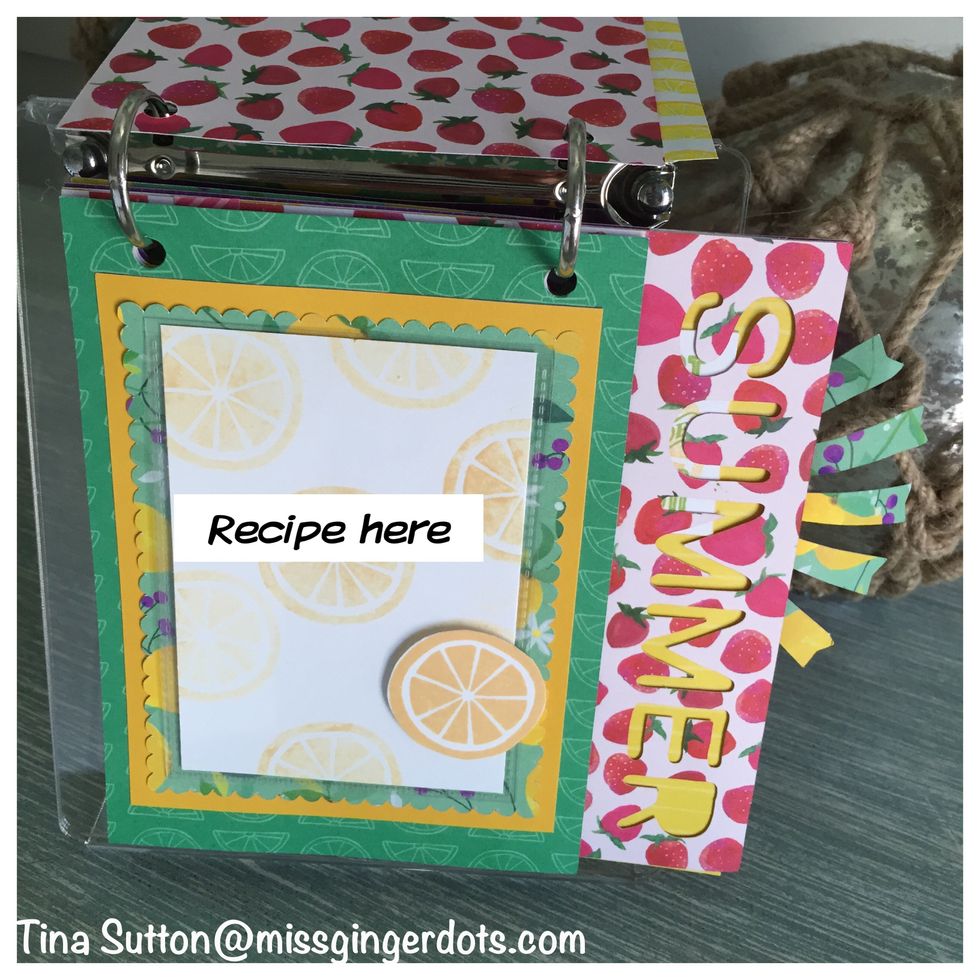 Glue papers. 2nd generation stamp your lemons on the white paper, 3 x 4 card. Add recipe. Stamp the extra lemon-first generation on a different sheet of paper. Cut out and attach with 3 d foam!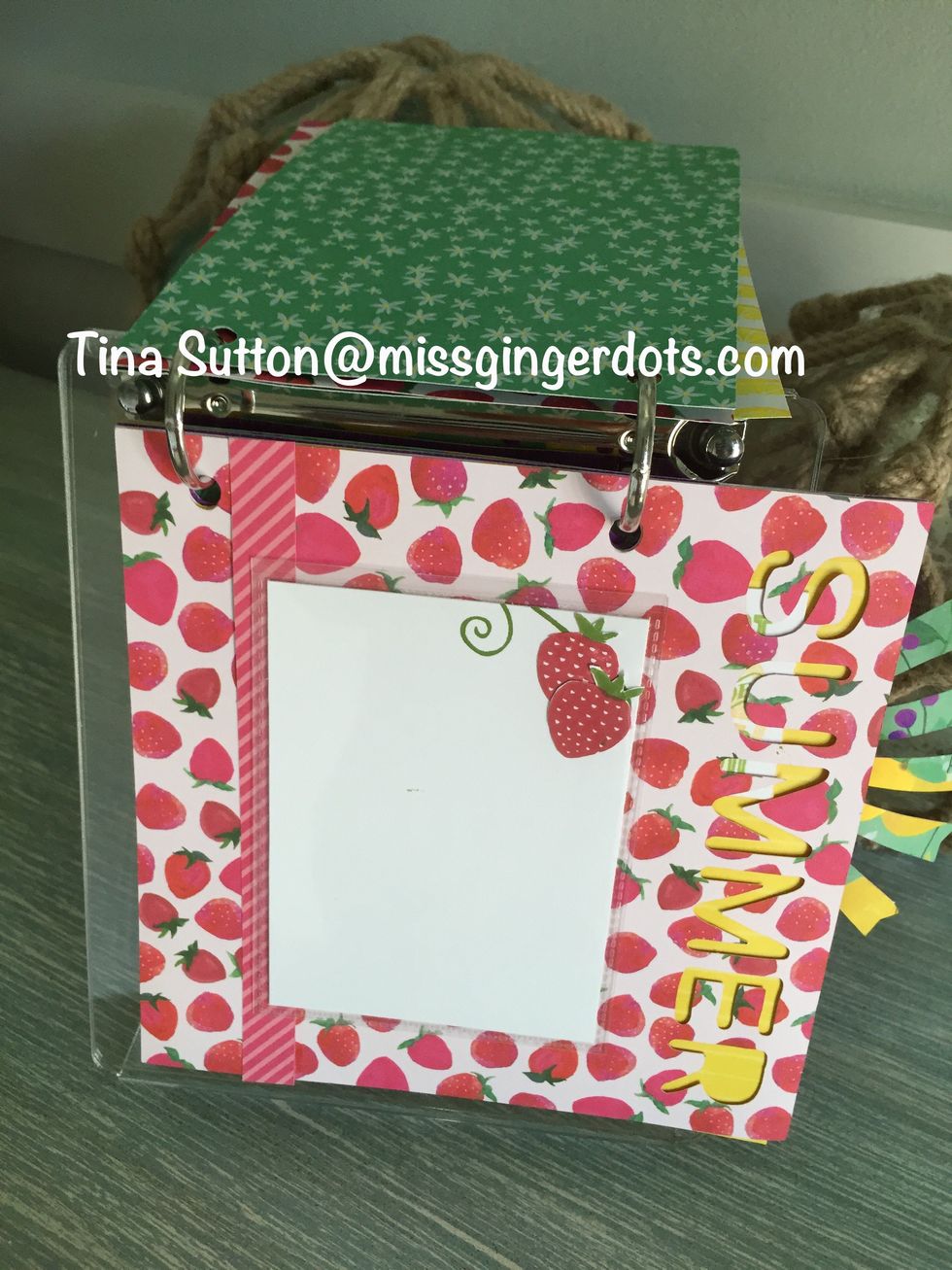 Glue zip strip to strawberry paper. Add recipe or photo to 3 x 4 card. On 3 x 4 card stamp part of vine. Stamp 2 strawberries on extra white paper. Cut out and glue on card. Insert in flip flap.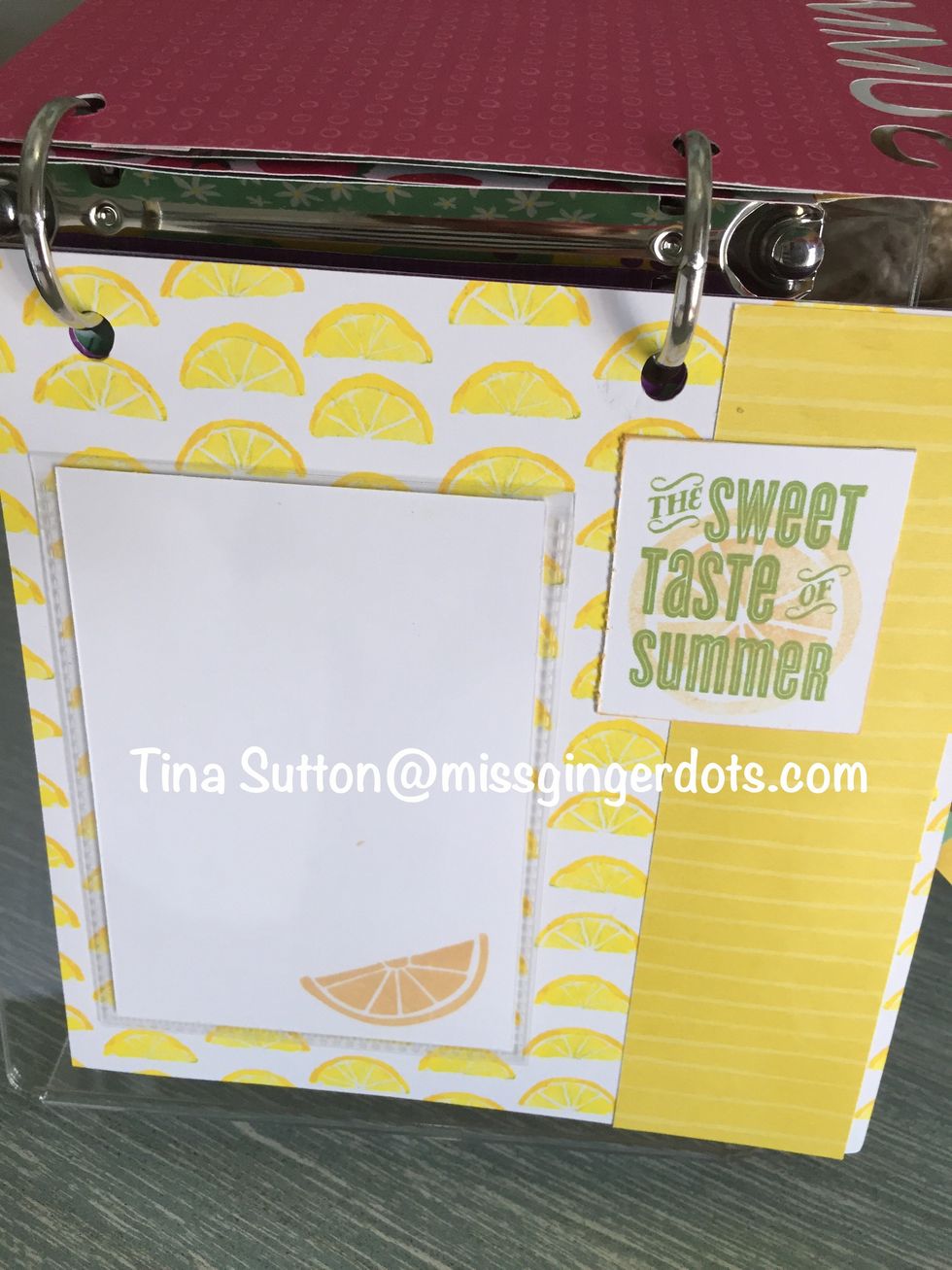 Glue paper. On 3 x 4 card- stamp half lemon. Add small sparkle to middle of lemon. Add to flip flap. Take the 2 x 2 square. Lightly stamp full lemon on paper in canary ink
On 1 1/2 x 2 square, lightly stamp the lemon (full) in Canary Ink. Directly on top of lemon, stamp The Sweet Taste of Summer in Pear or Topiary ink. Glue to page.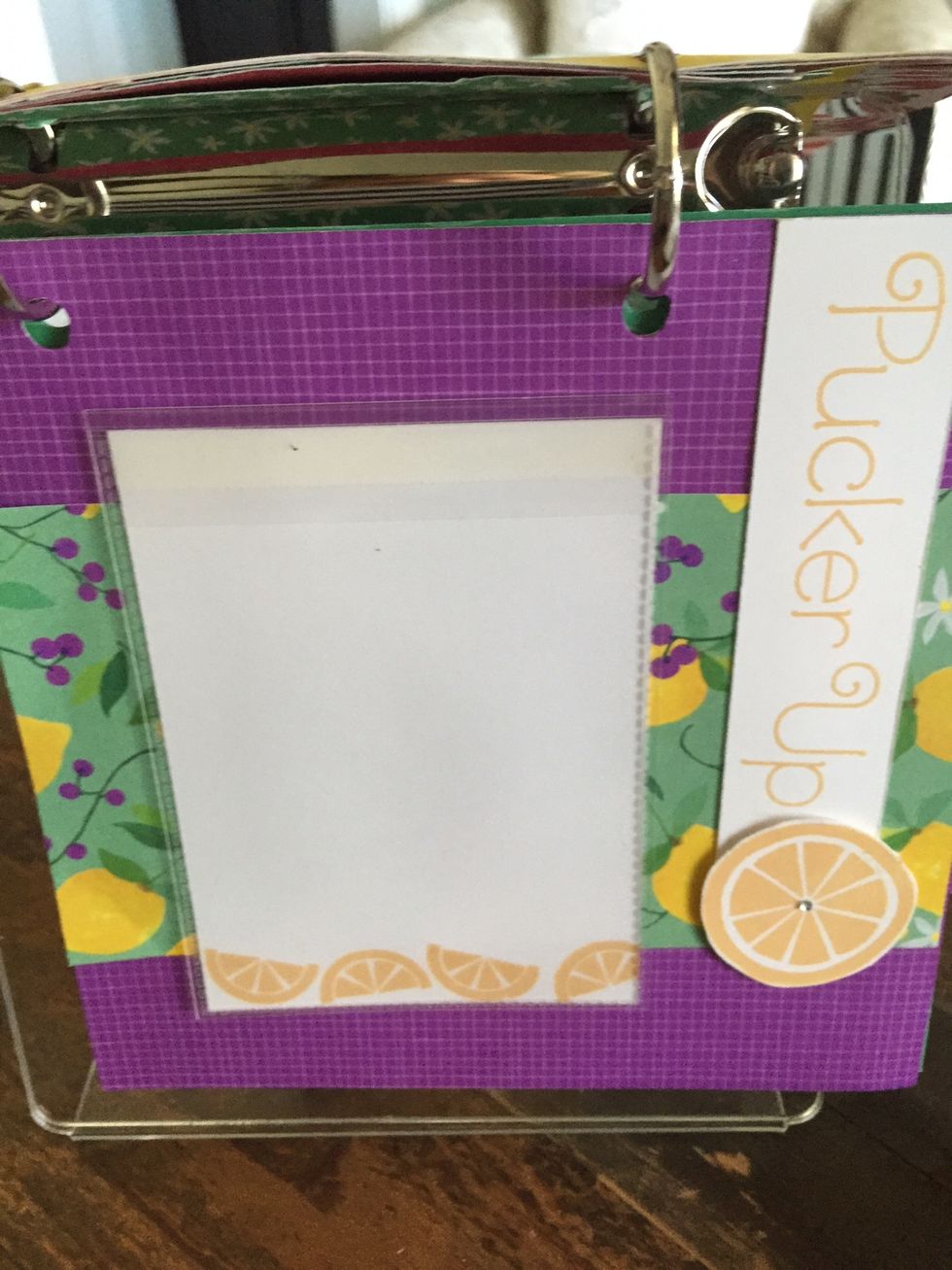 Glue paper as shown. Stamp lemons in canary on bottom of 3 x 4 card. Stamp PUCKER UP on long strip. Stamp single lemon on white paper. Cut out and add a small sparkle to middle of lemon!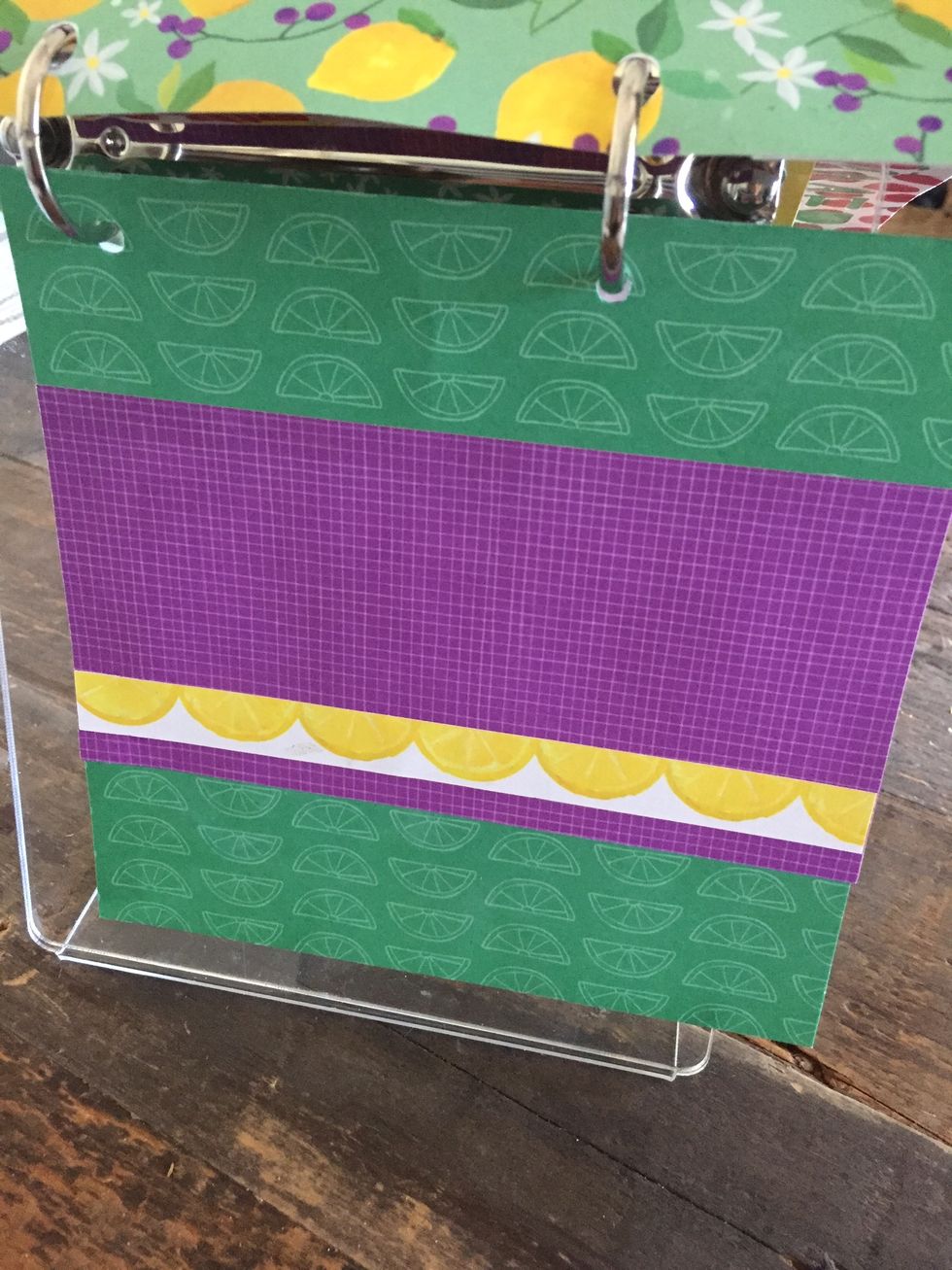 Glue paper as shown. Add zip strip.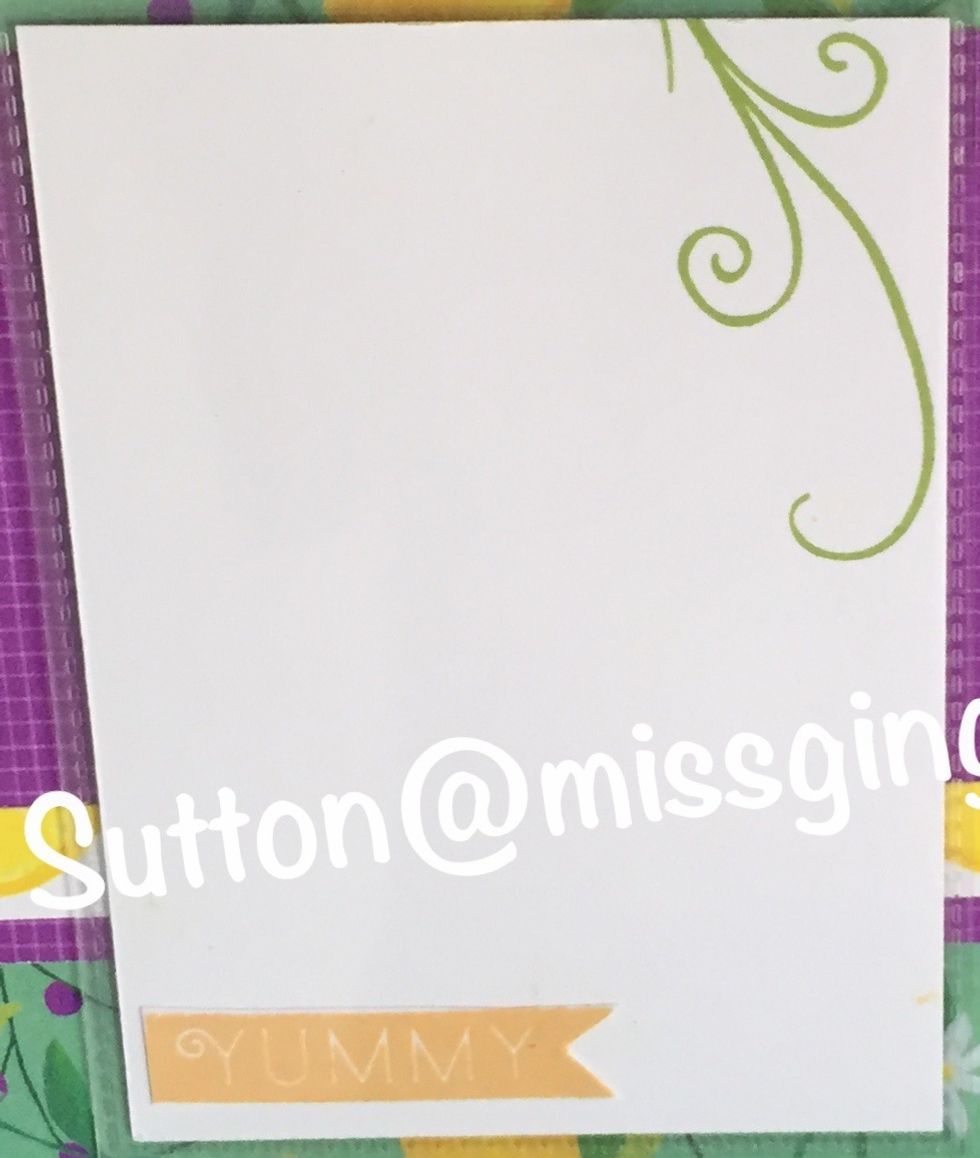 Stamp your 3 x 4 card. Add a vine stamped in Topiary in corner. Stamp Yummy on bottom. Add recipe and add to last page of book!
To cut the pages, I used the CTMH artbooking cartridge. I cut out the mini summer book using the recommended sizes from CTMH! I did not use all the pages or images but most of them.
If you want my CVS file in design space- here is the link. I have made my file sharable- https://us.cricut.com/design/#/canvas/27050790
Thank you for looking. All supplies can be purchased at www.missgingerdots.ctmh.com
1.0 Taste Of Summer Paper Packet
1.0 Artbooking CTMH Cartridge
1.0 Taste Of Summer Stamp Set
1.0 B1478 CTMH Ice Cold Stamp Set
1.0 Inks- Cranberry, Thistle, Canary ,Topairy, Pear
1.0 1 package of Bitty Sparkles
1.0 Package of 3x4 flip flaps
1.0 Fine Line Pen (optional)
Adhesive of choice ( I used bonding memories)
Acrylic Easel
Tina Sutton
Presidential director with Close To My Heart! Celebrating 20 years with the company! www.missgingerdots.com