prepare canvas with white gesso and then add texture paste through your stencil. Add jute with stapler. (I used a palette knife to flatten sharp staples) Let this dry completely before moving on.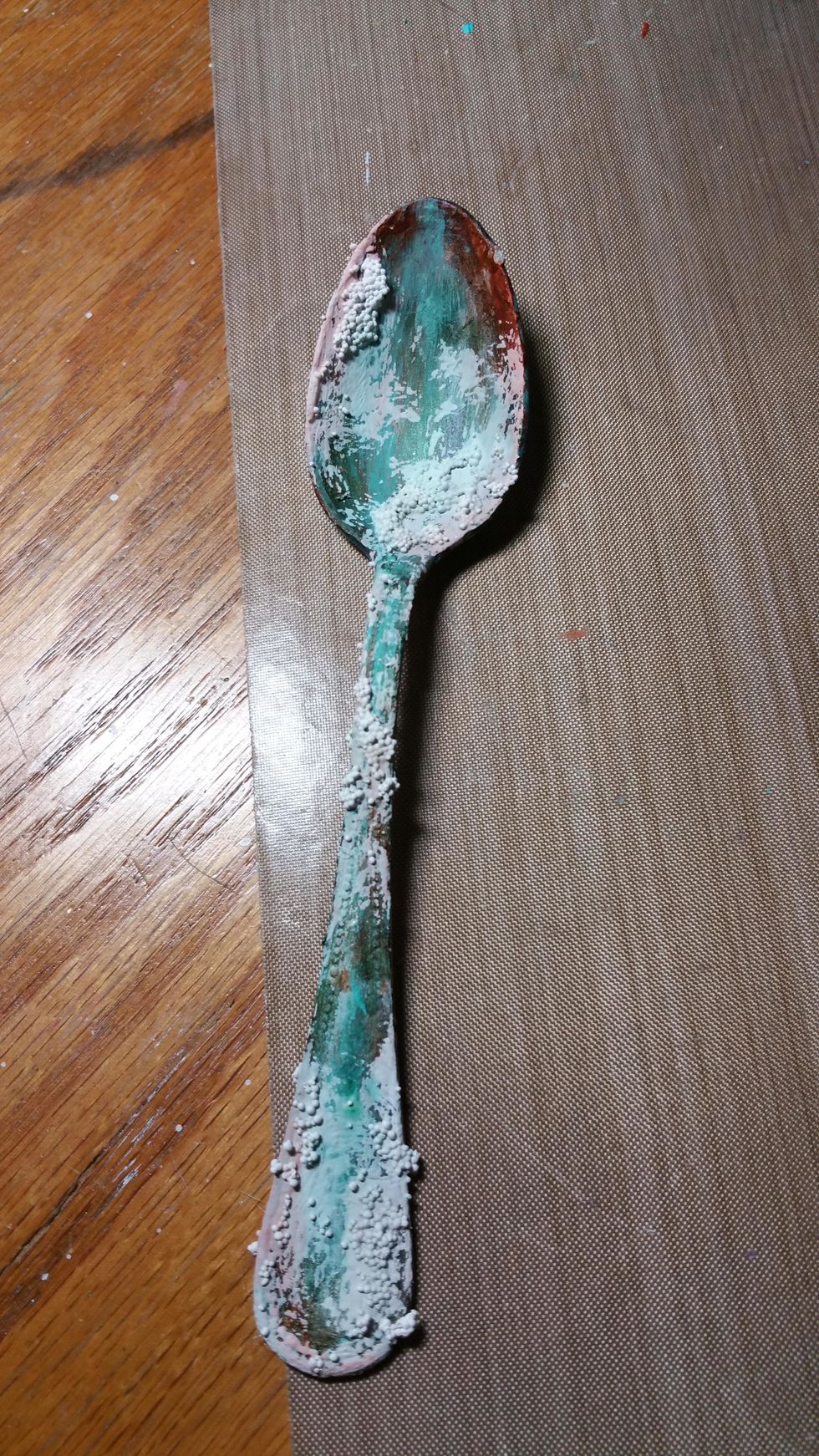 To prepare spoon or metal object of choice. First apply white gesso and dry. Add acrylics in two shades of aqua. Add Art Anthology Terracotta velvet.
Continue adding layers of paint and drying until your object looks like this.
Adhere object to your canvas and use your Art Anthology sprays to create background color while adding more to object at the same time. Allow to dry. Jute burns with a heat gun so be very cautious.
once dry add random stamping with black or dark brown Archival Ink.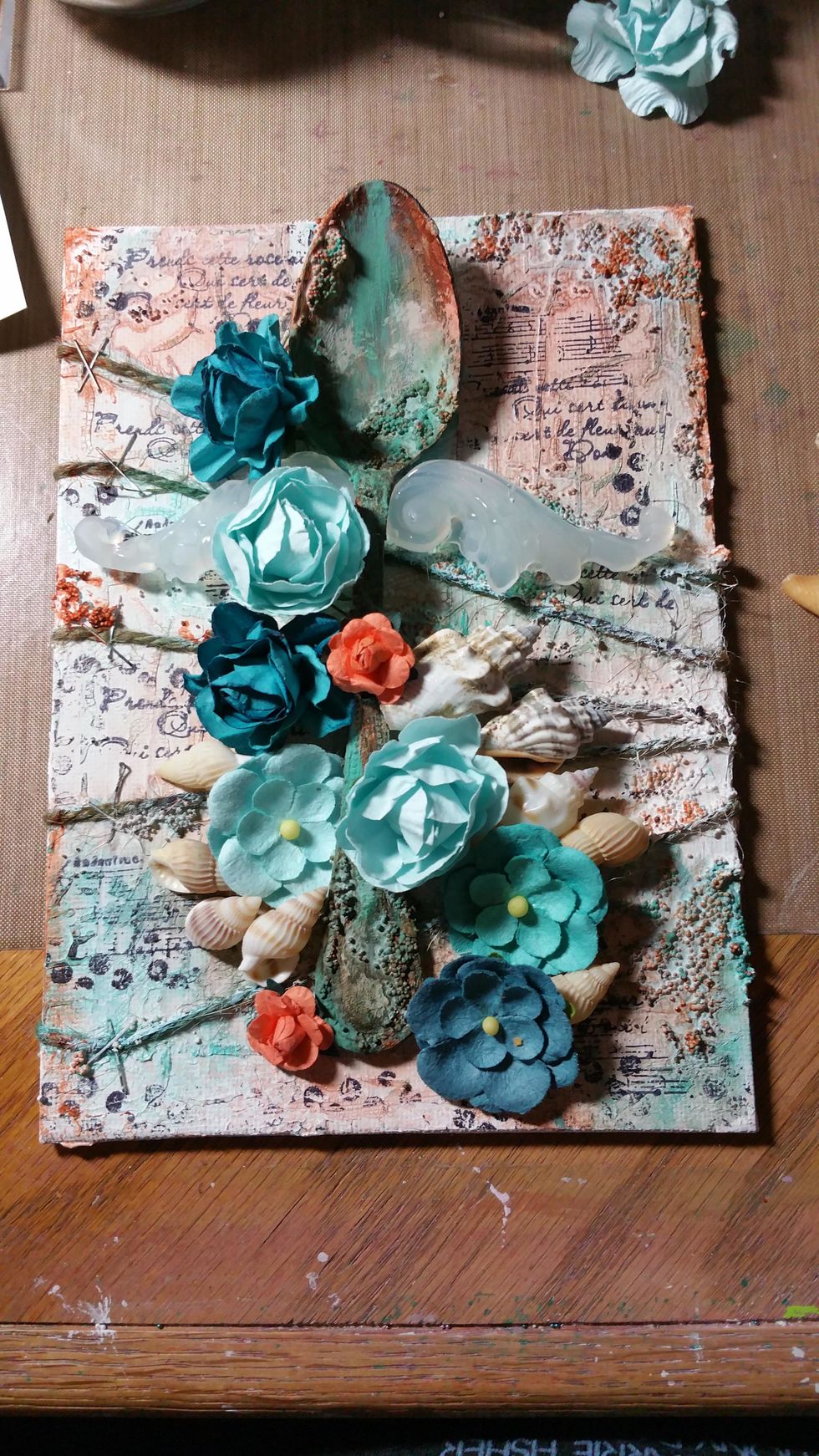 I used silicone molds with hot glue to create the scrolls and added here. add your florals and shells using 3D matte gel or other adhesive.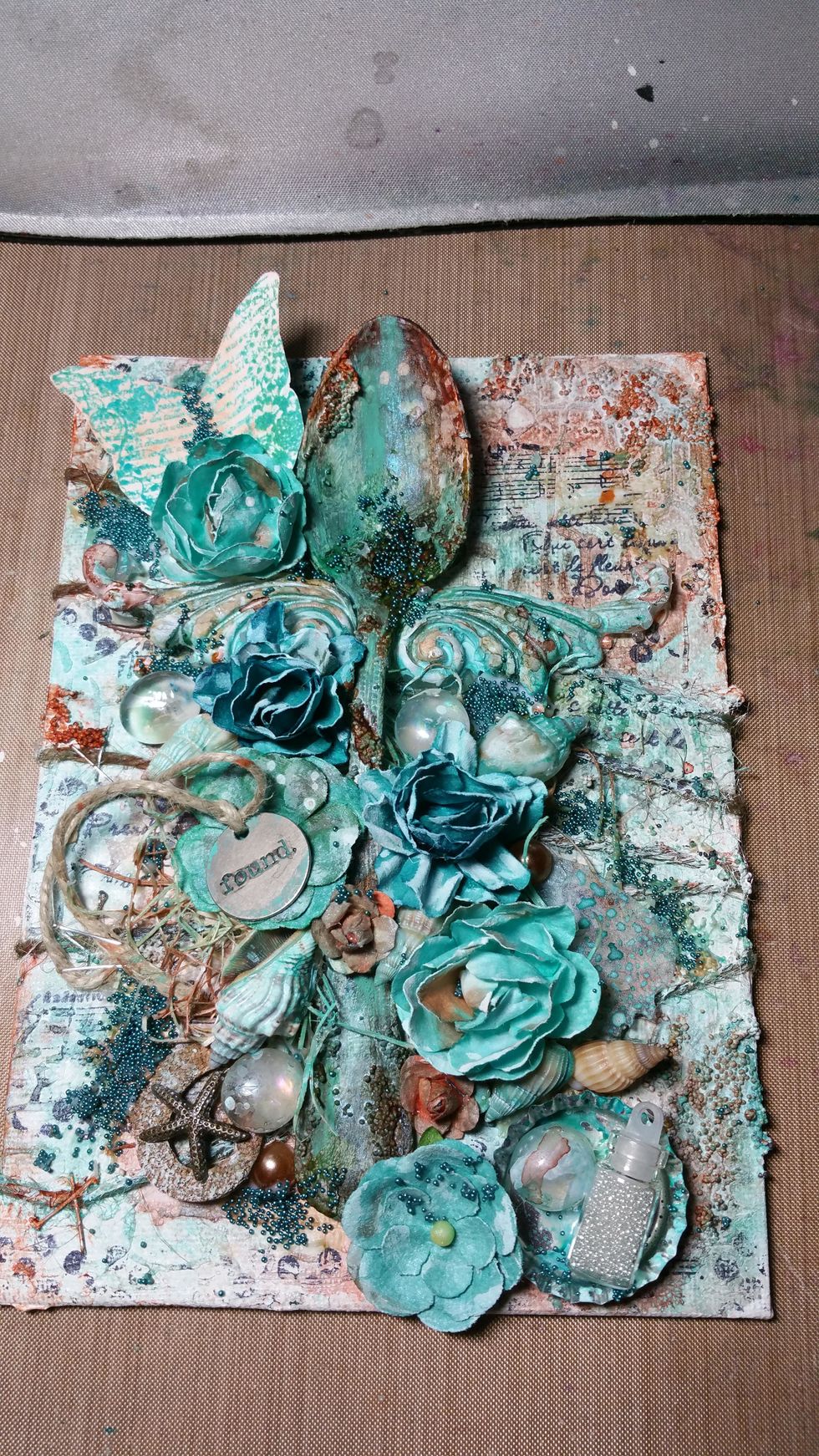 Add micro beads, sentiment and melange stones. Splatter with white acrylic watered down a bit. At this step I also added more terracotta velvet to create even more rust around the canvas.
Add white gesso lightly with a brush over florals, molded pieces and small area of your metal object. When dry, add more of the sprays for a bit more color.
I hope that you love this project and that you are inspired to create your own! I love the way this looks like it came from the ocean!
You can purchase Art Anthology products here: https://www.artanthology.net/ Please join us on Facebook and share what you make too! https://www.facebook.com/groups/741057632686564/
Art Anthology ColorationsTimelss
Art Anthology Colorations Glorious
Art Anthology Colorations Siesta Key
Art Anthology Colorations Rustic
Art Anthology Colorations Peacock feathers
Art Anthology Terracotta Velvet
Texture paste
Adhesive
Paper flowers
Metal Spoon
pale Teal acrylic paint
White acrylic paint
Stamps and stencils of choice
micro beads or glass beads
3D matte Gel
mini shells
silicone molds and glue gun
word coin or other sentiment embellishment
glass or melange stones
Glossy accents
Art Anthology
Art Anthology is a manufacturer of dimensional mediums.\n\nCome chat with us in our Facebook Group: Art Anthology Adventures in Art