A green holiday craft perfect for small festive spaces.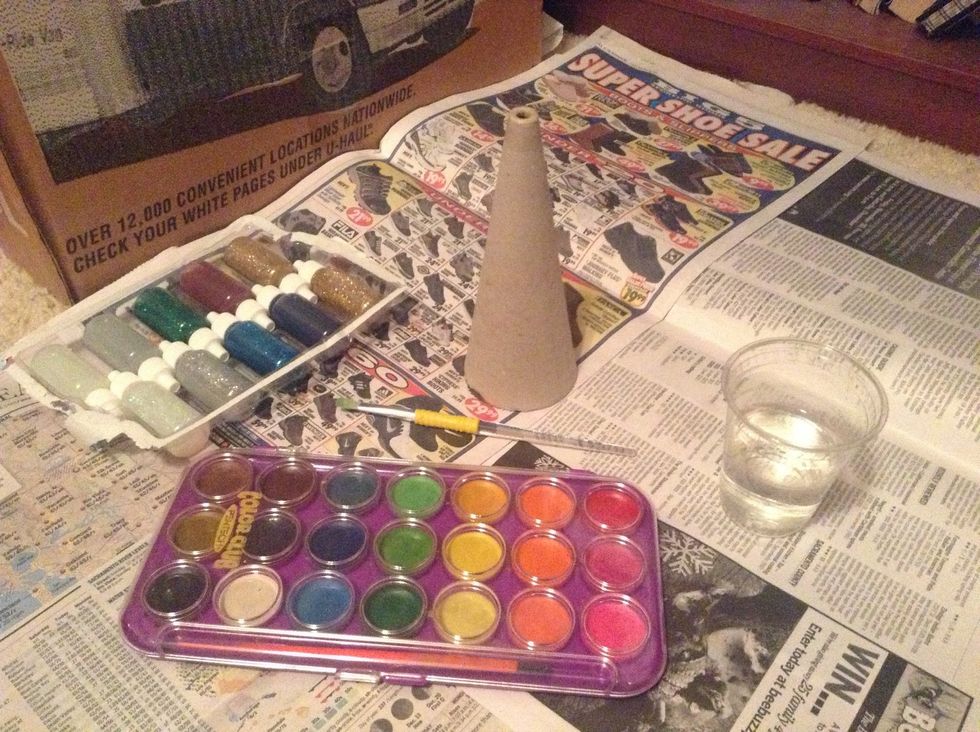 These are my supplies. The newspaper is to protect your working surface.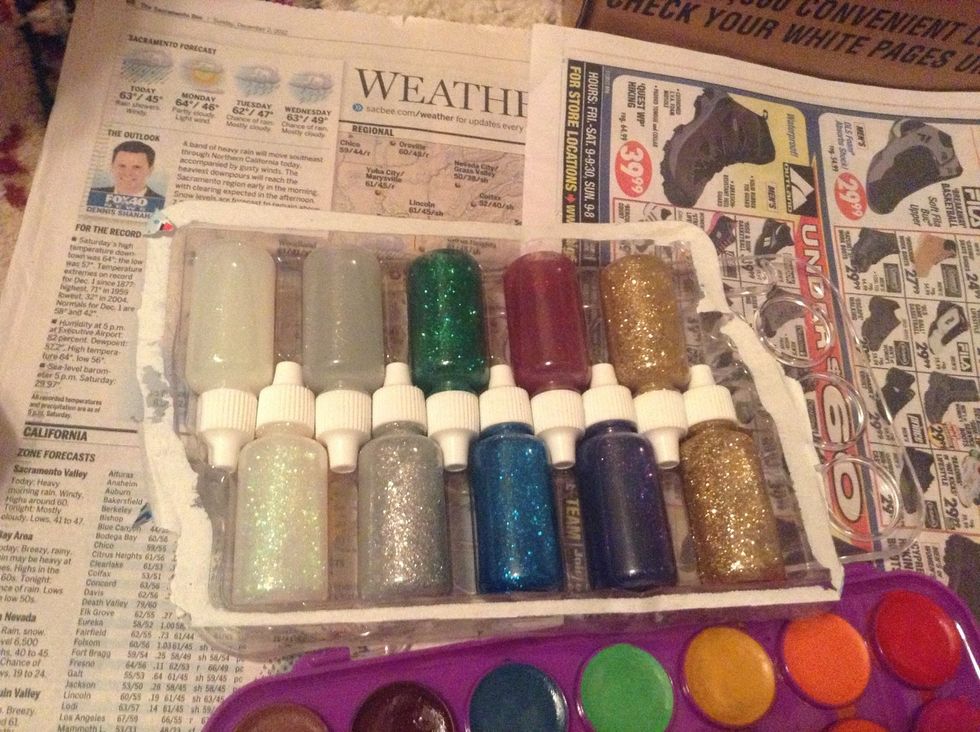 This is an old glitter glue set which I decided to use. It has silver, green, blue, red, purple, gold and 'clear' or opalescent. I will be using all, but you can choose whichever colors you want.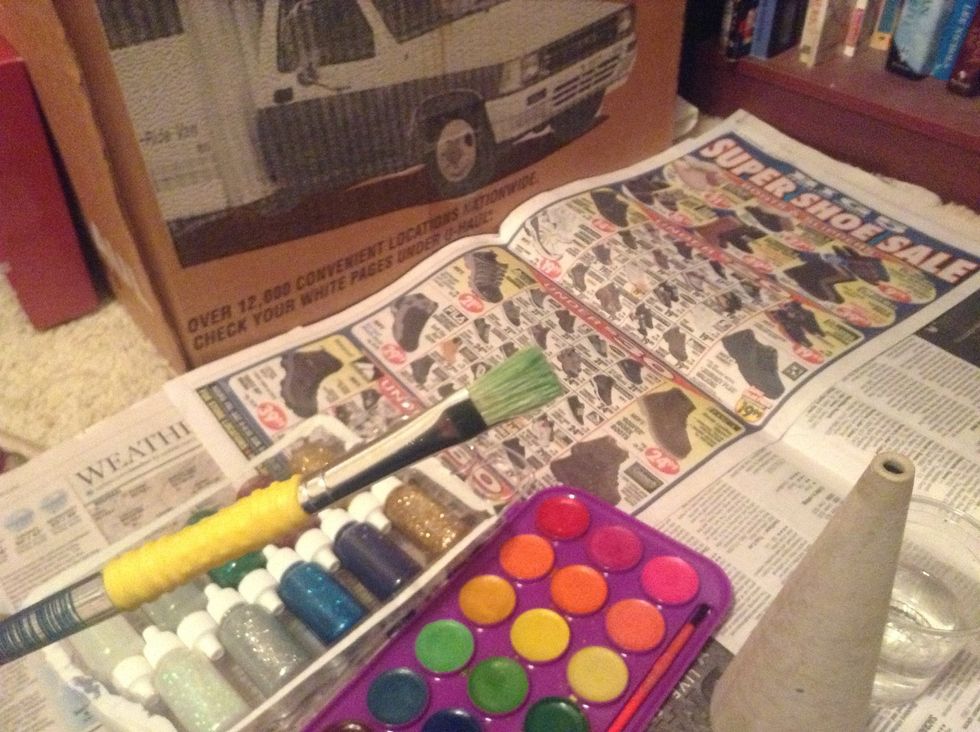 Using a flat, wide brush will make it easier to paint a wide area with one color.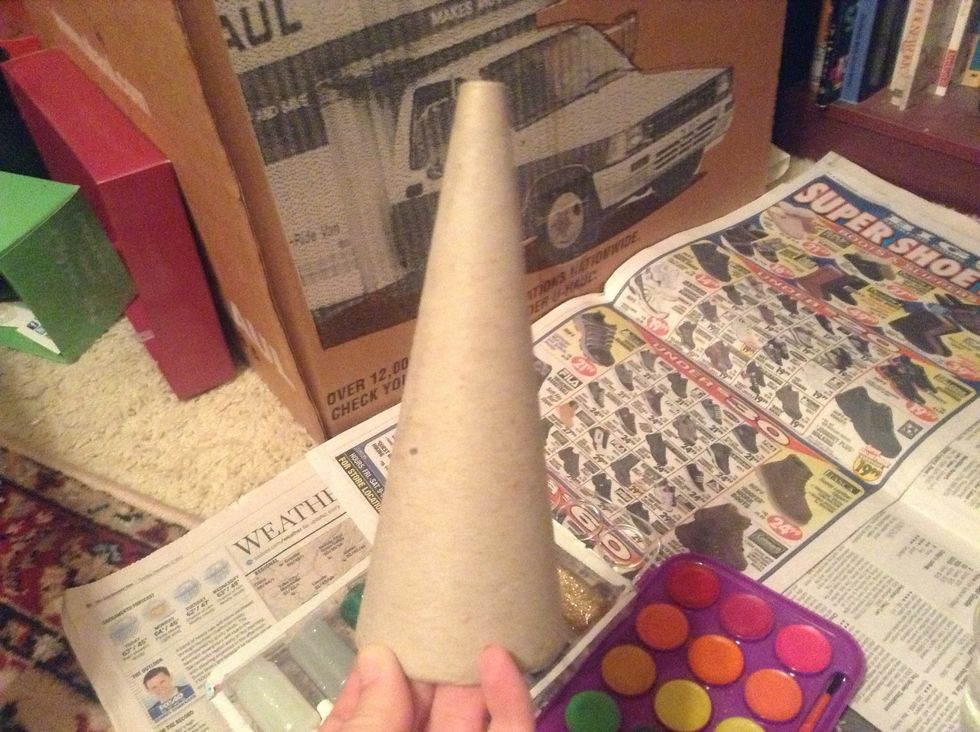 This cone is left over from a Lily's Sugar 'n' Cream jumbo yarn skein. Make sure whatever cone you use is not laminated, or the watercolor won't stay. Alternately, you can use acrylic if it is.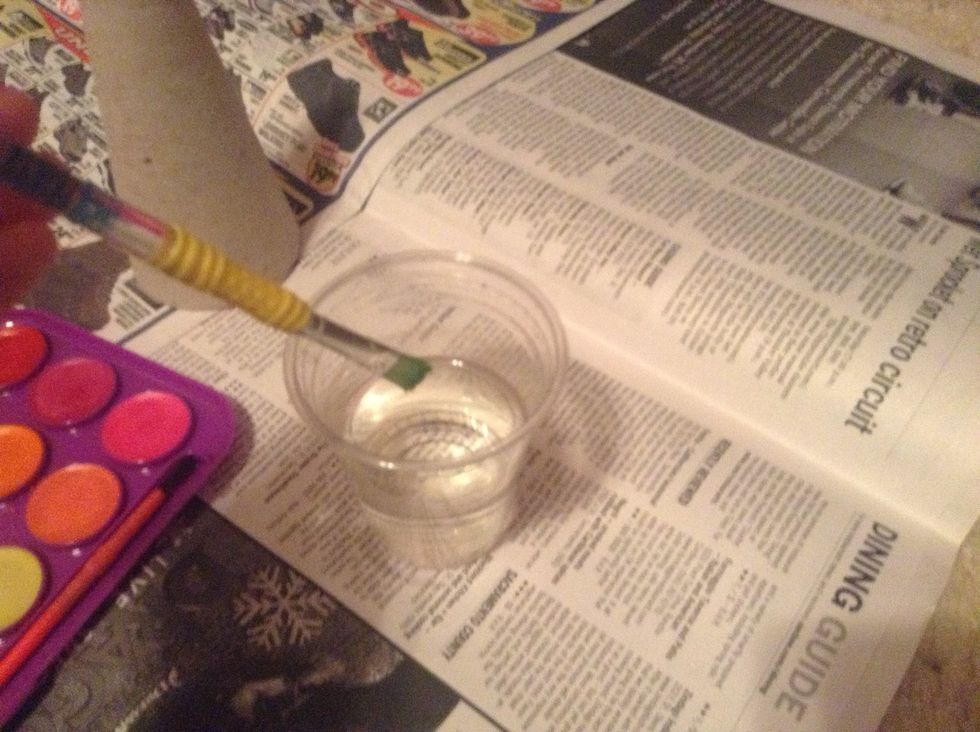 Wet your brush, load it with water.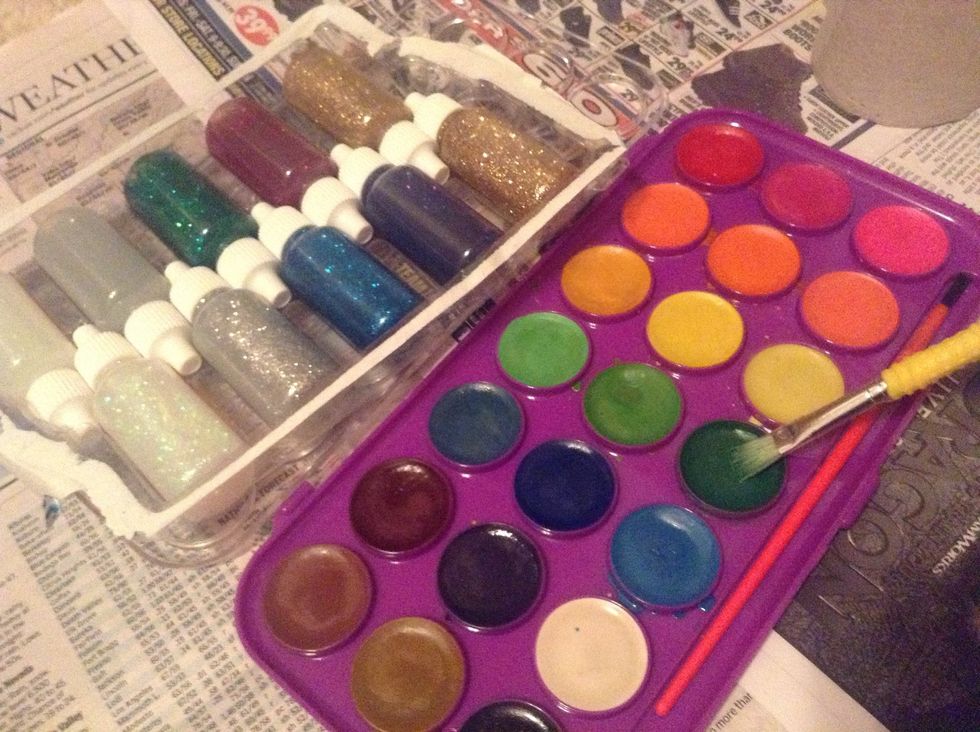 Choose the darkest green you have. (You can choose a lighter green if your paint is acrylic or opaque.)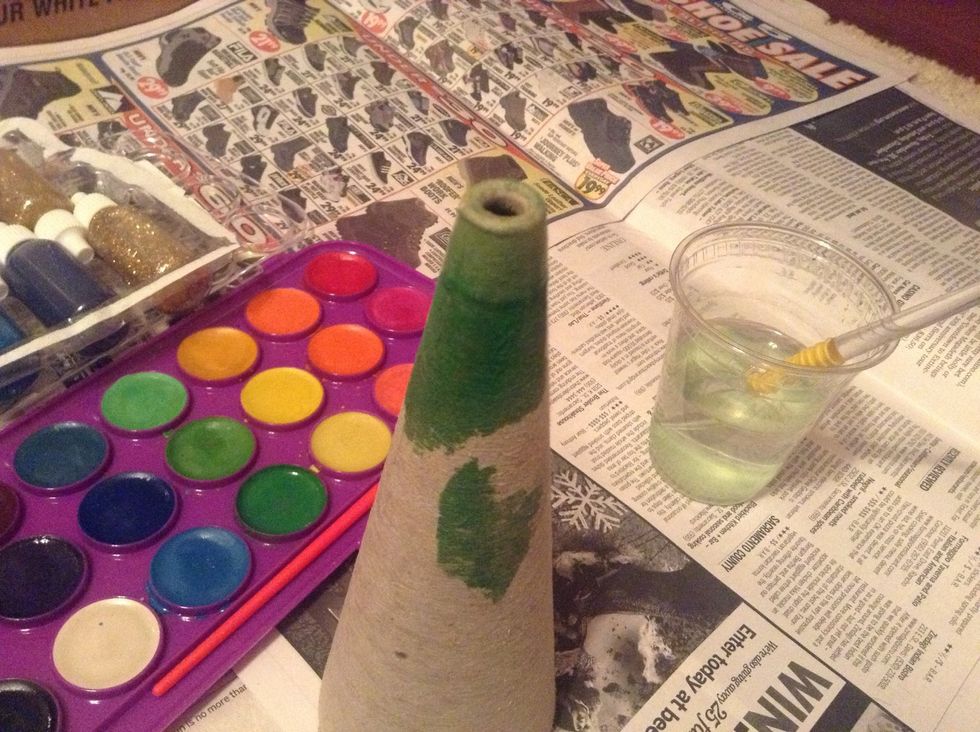 Start painting your cone.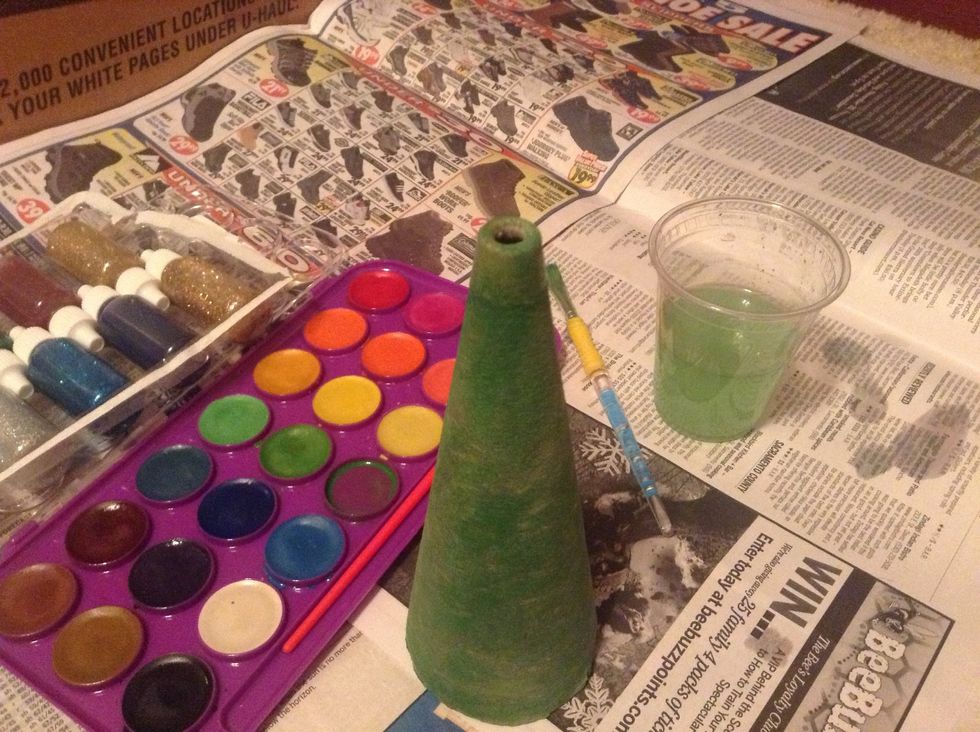 Make sure the color is even.
Let dry. Add another coat if you are using watercolor. Make it as dark as you want it to be in the end, you can't paint over glitter glue. I ran out of dark green so I will only have one coat.
Only use a tiny amount of glitter glue! It will dry leaving the glitter. If you use too much it may end up dripping and your "ornaments" will not be round.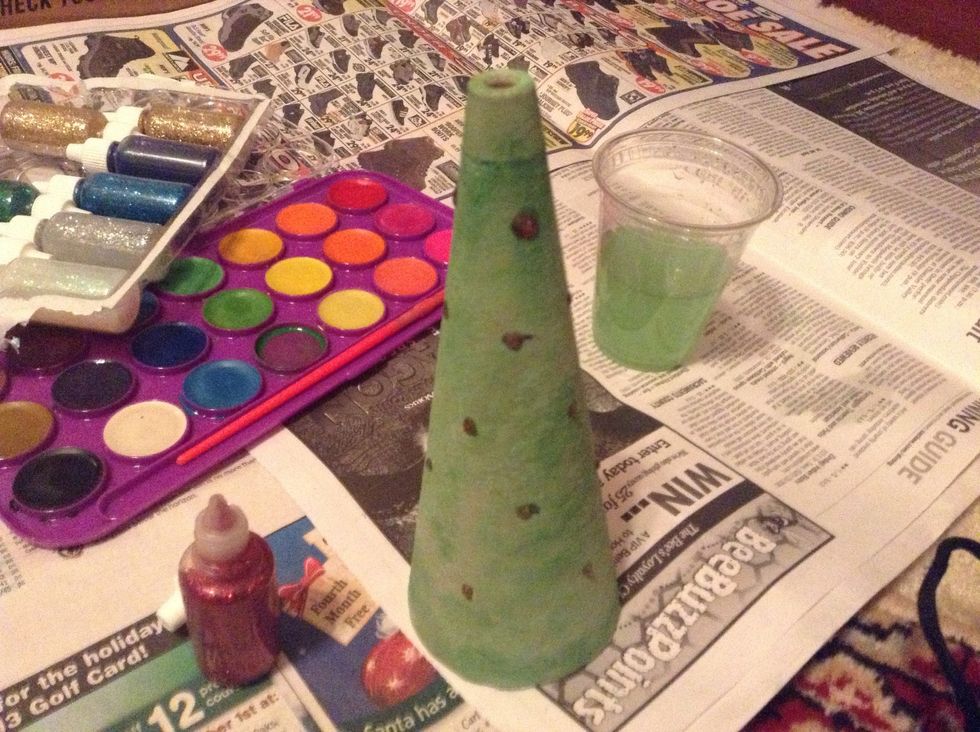 Leaving an inch on the top and bottom, add red dots of glitter glue evenly. My rows went 3-4-4-4-4.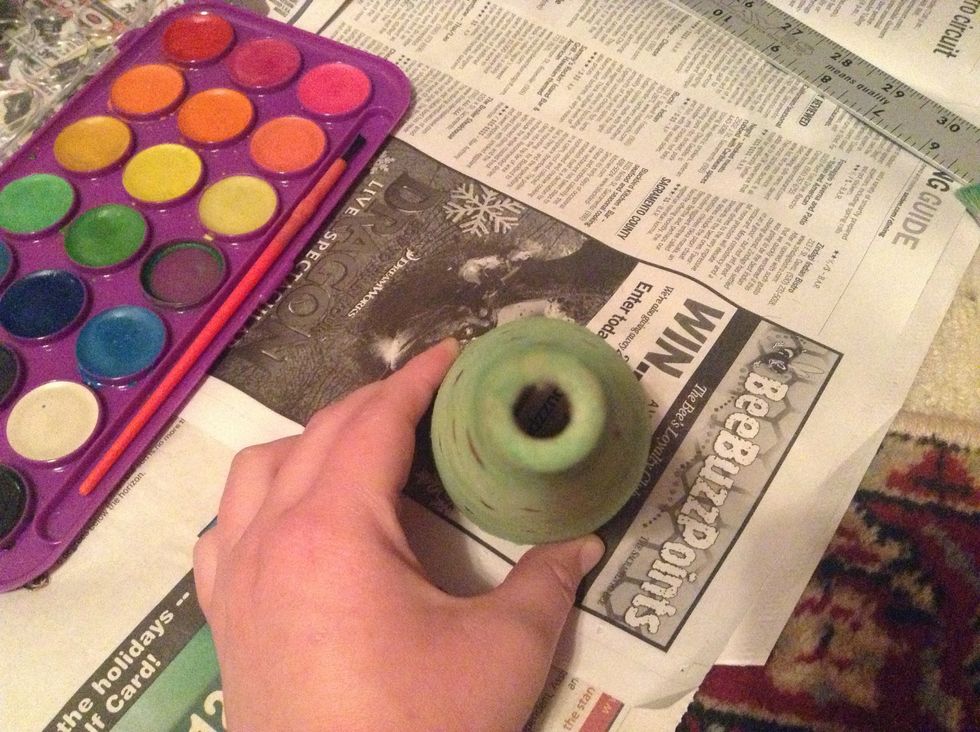 Look from top down to check spacing.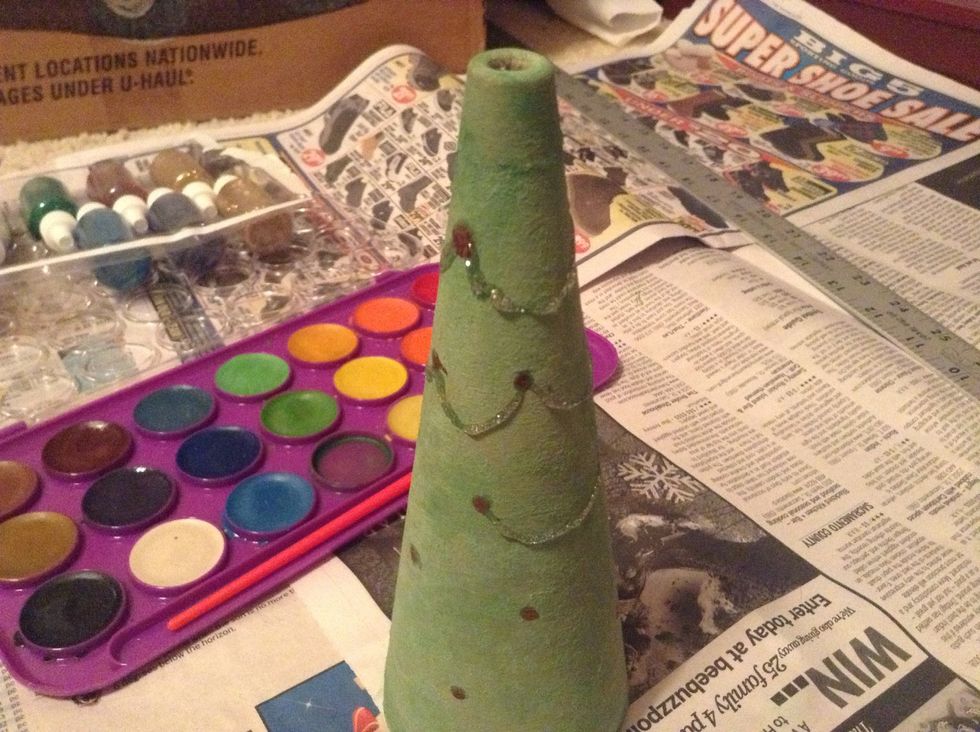 Add silver glitter glue in half circles from red dot to red dot to make garland. The bottom of the curve should only reach halfway between the rows of "ornaments".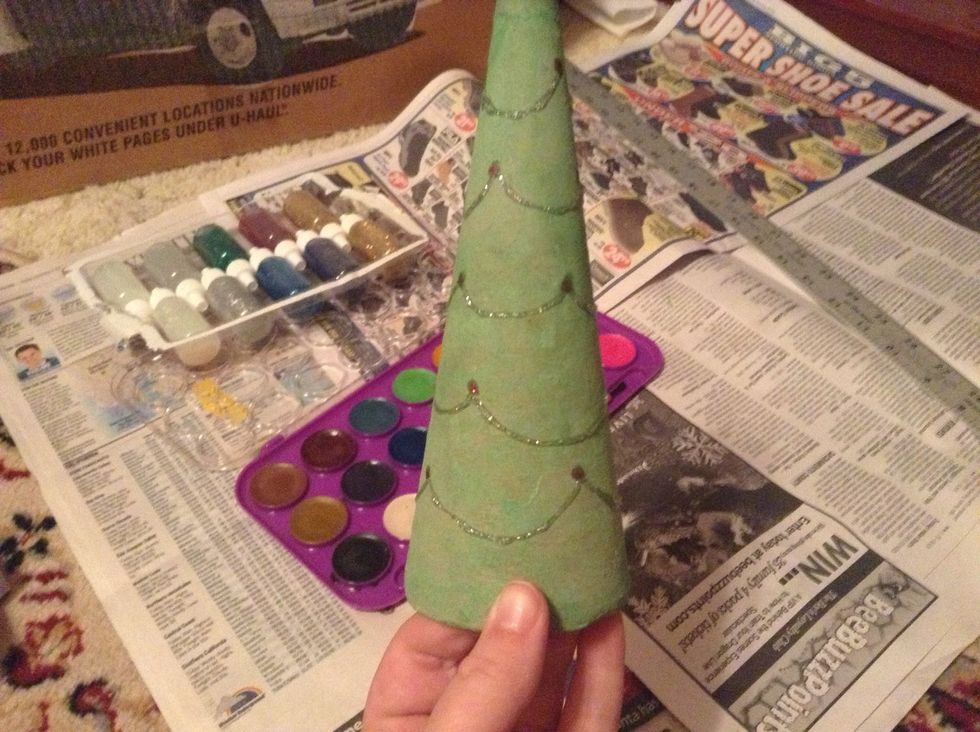 Hold from the bottom like this to keep your fingers clean.
You can let it dry in between each step for less chance of messing up or making a mess.
You can make a color scheme by only using some colors. Mine will be colorful because I don't usually use color schemes.
I put blue between each red, on the same line. (3-4-4-4-4).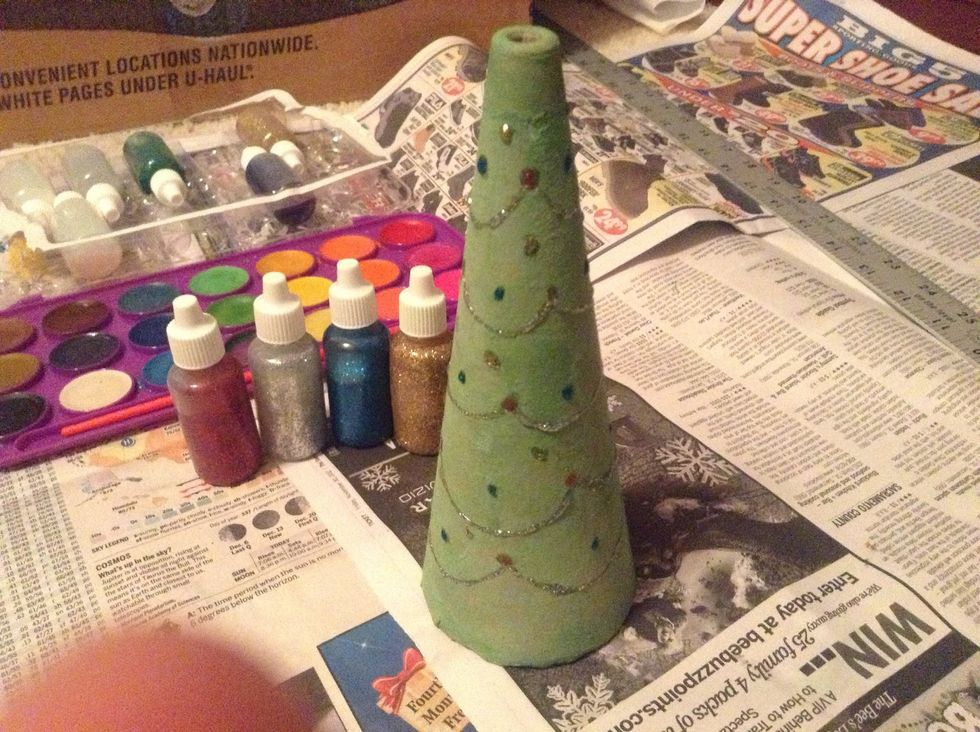 Here I added gold in a new row between the red/blue ones. I made triangles of blue on left-bottom, gold top, red right-bottom. Make sure to put glitter above the "garland".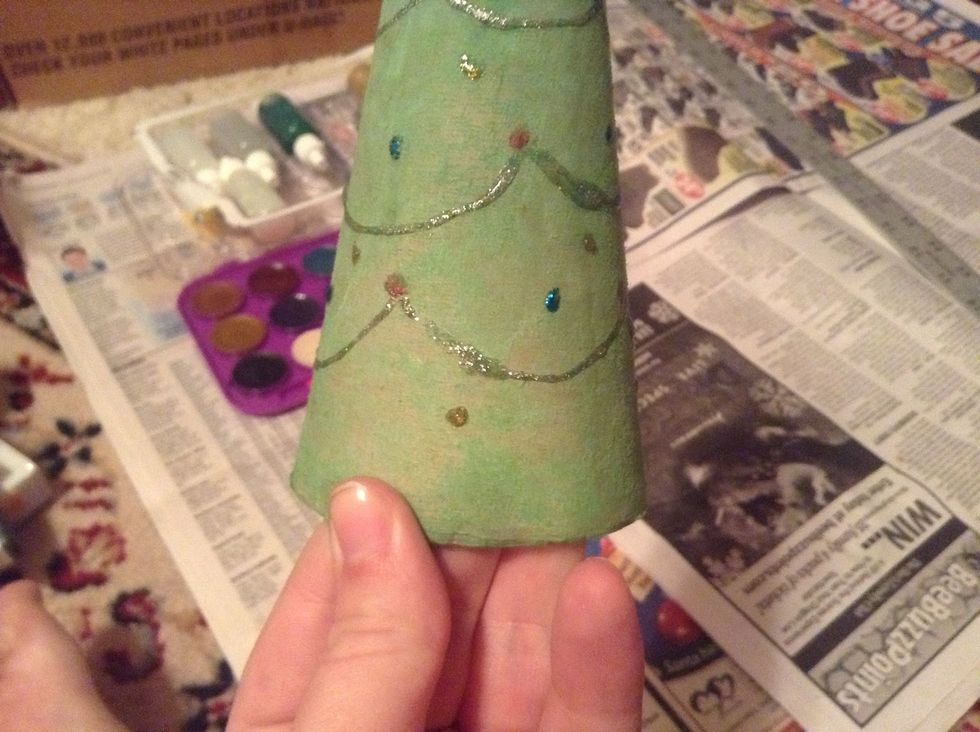 Also put glitter below, and leave room for fingers. I made down-facing triangles of red top-left, gold bottom, blue top-right.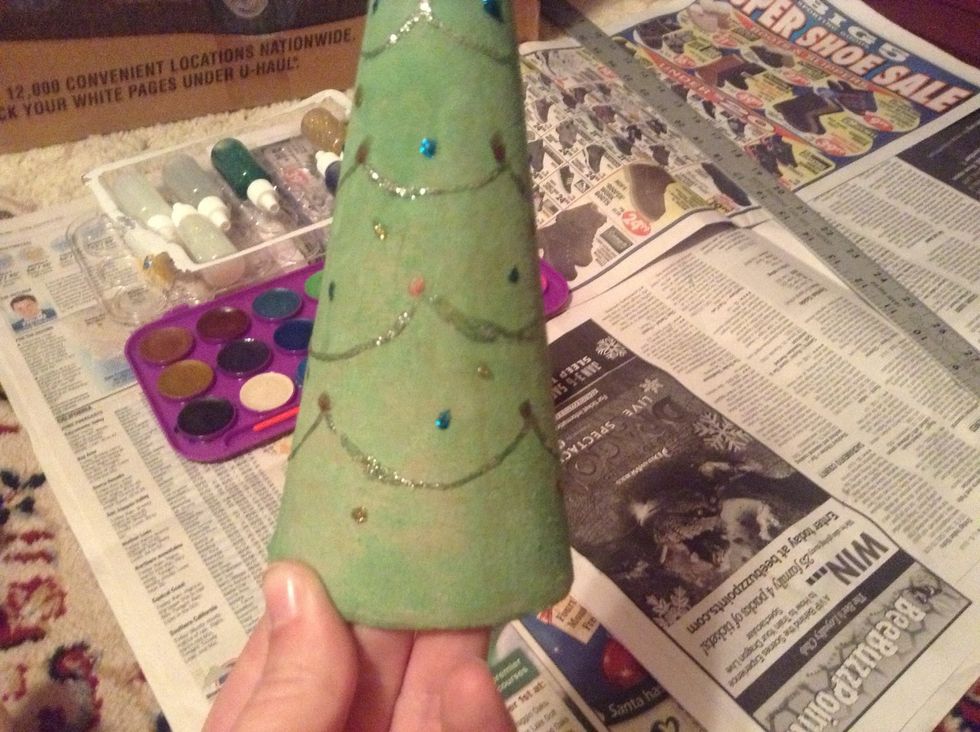 The glitter forms spiral rows up, one row red, the other alternating blue and gold. You can decorate depending on how you see the patterns.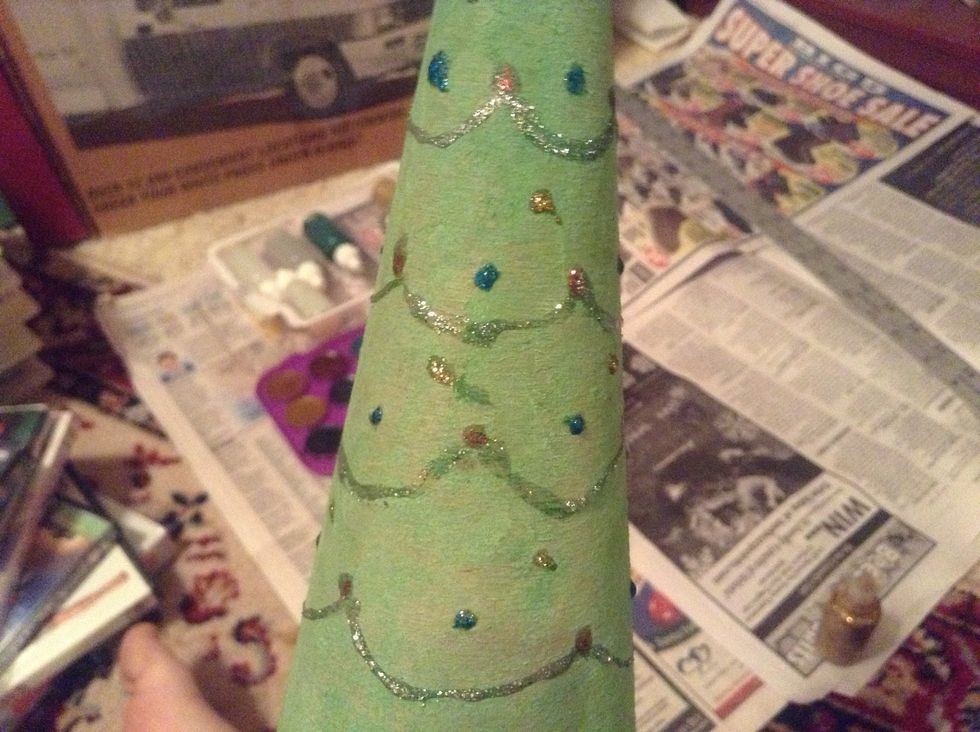 If you mess up like I did here, wipe it off with your finger, then wipe your finger on the newspaper. Easy cleanup!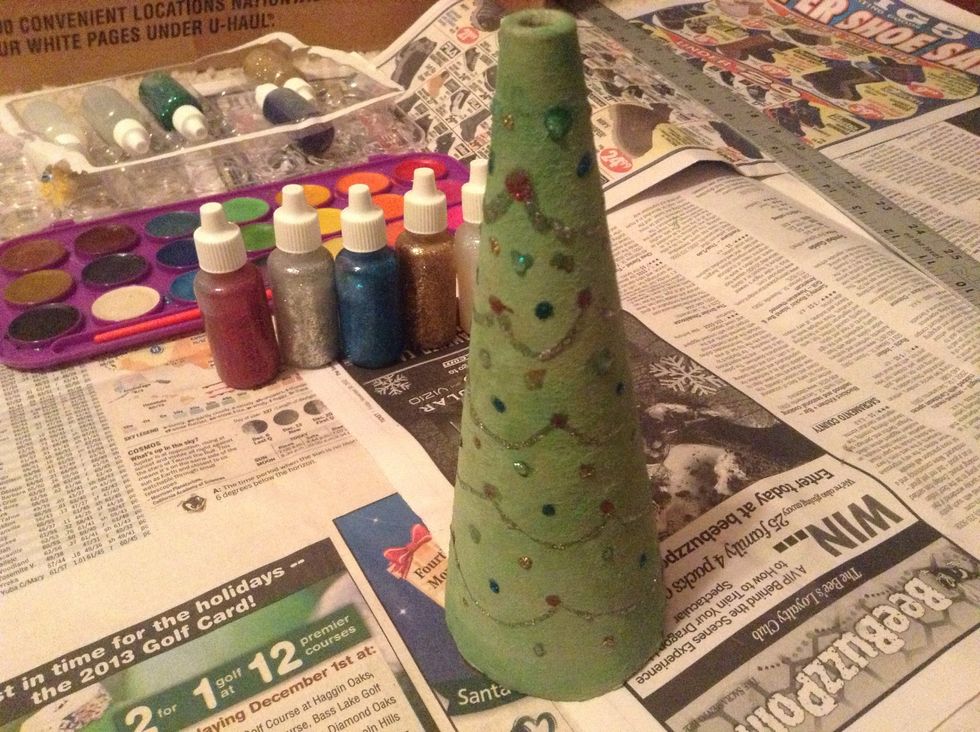 Added opal very other gold horizontally, every other red spirally, up triangles red-opal-blue, down triangles blue-opal-red.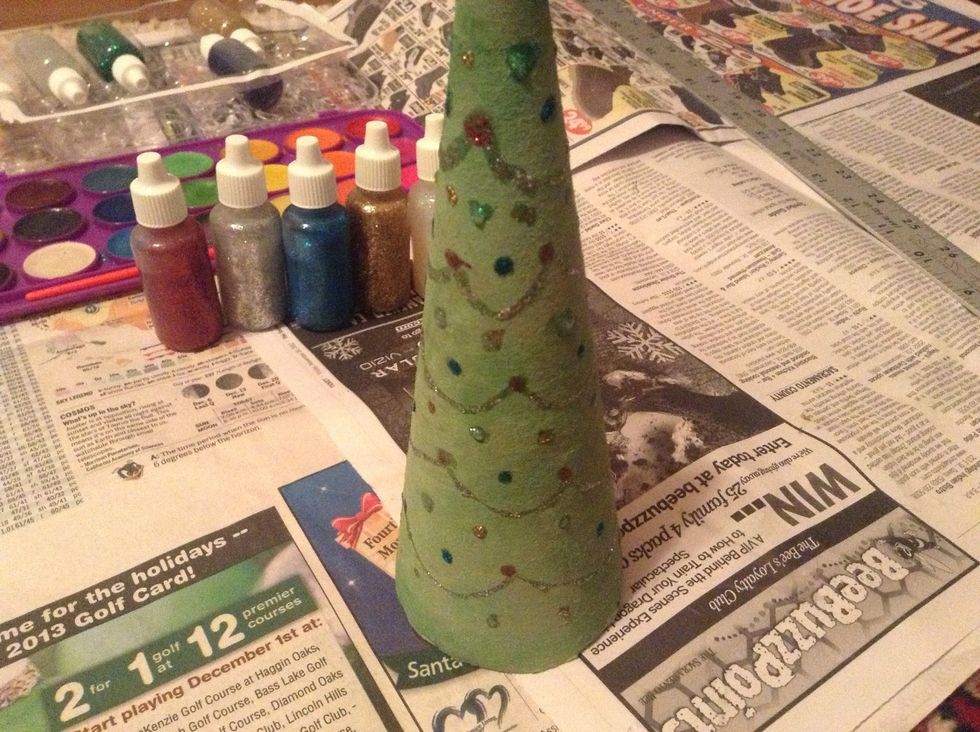 Check both horizontal rows and spiral row to make sure you have even coverage.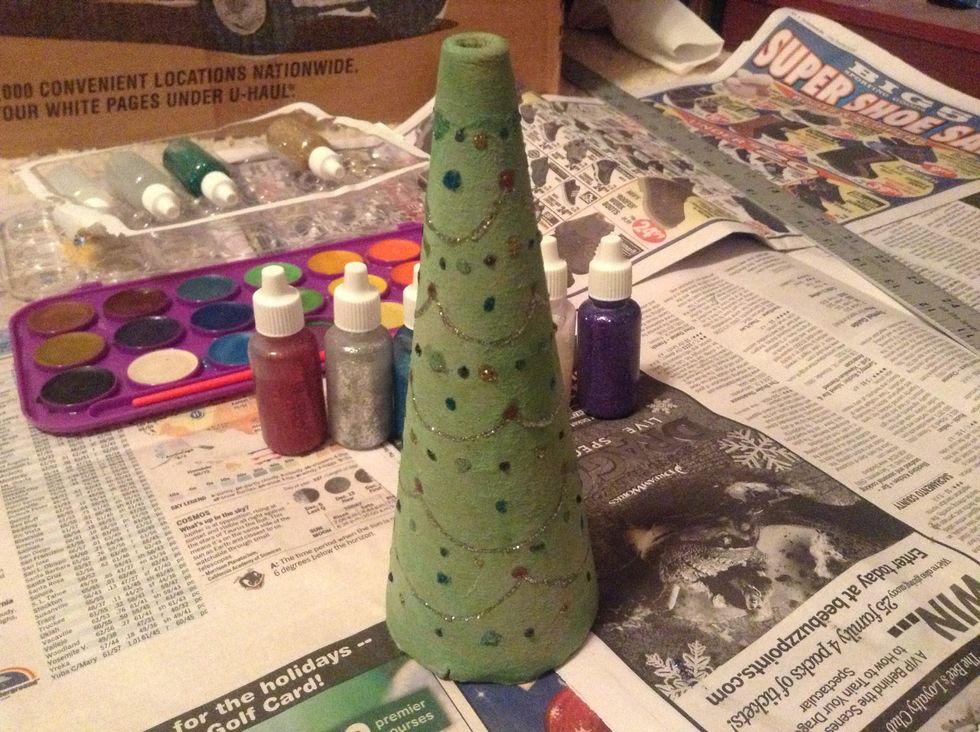 Purple every other dot on the gold-opal horizontal row.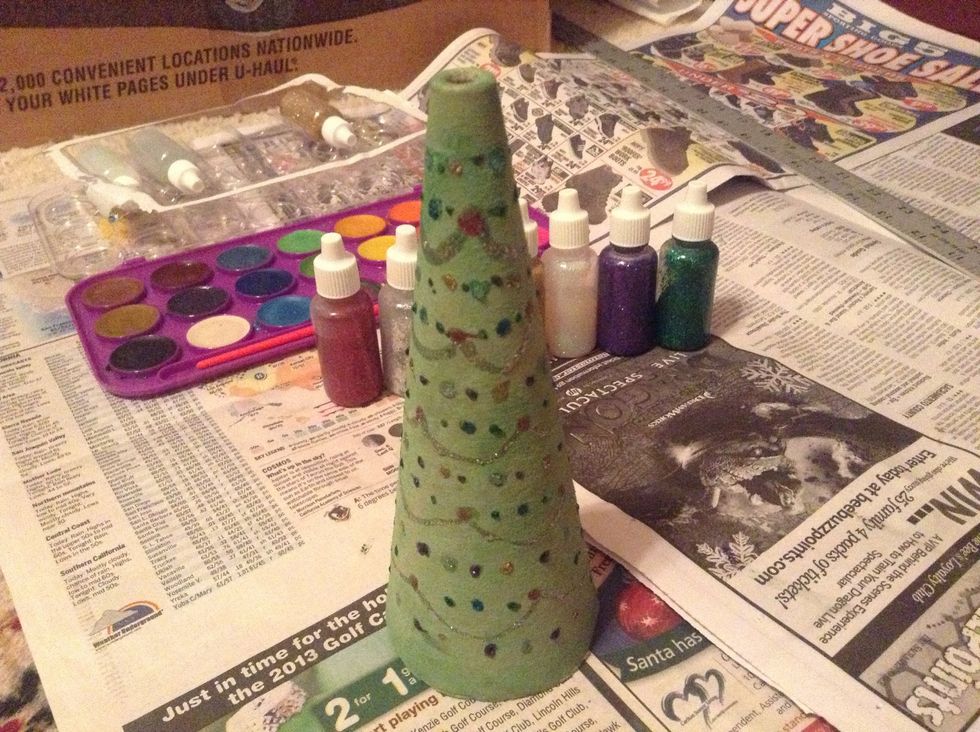 Green every other dot on the red-blue row. I now have a third spiral row, green-purple.
This has the most even coverage, but it may look a little weird because of the strict patterns. Play with spacing or randomize a little to make it more realistic.
Once you are done adding glitter, you can add a topper. Do this last so you can use the top/tip to hold the cone.
I will use glitter since I don't have anything better. Another good idea is a sparkly gold pipe cleaner star with a long end taped inside. Or even both!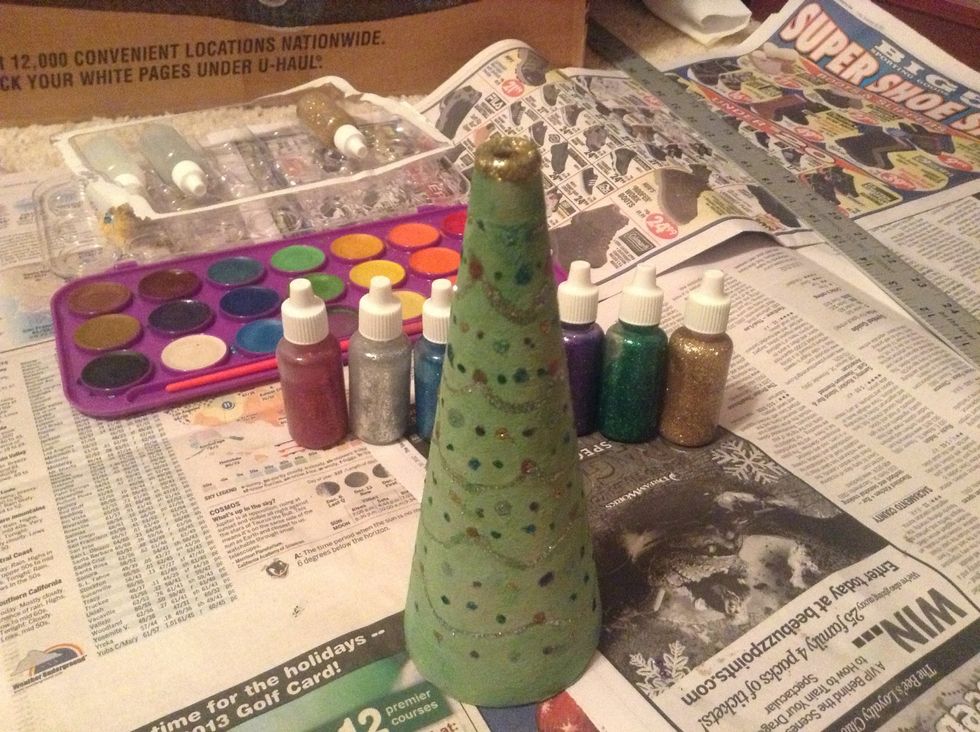 Put glitter on the top, and also a little of the sides to make it visible from a mantle, shelf, etc. Let dry completely, then put it on display!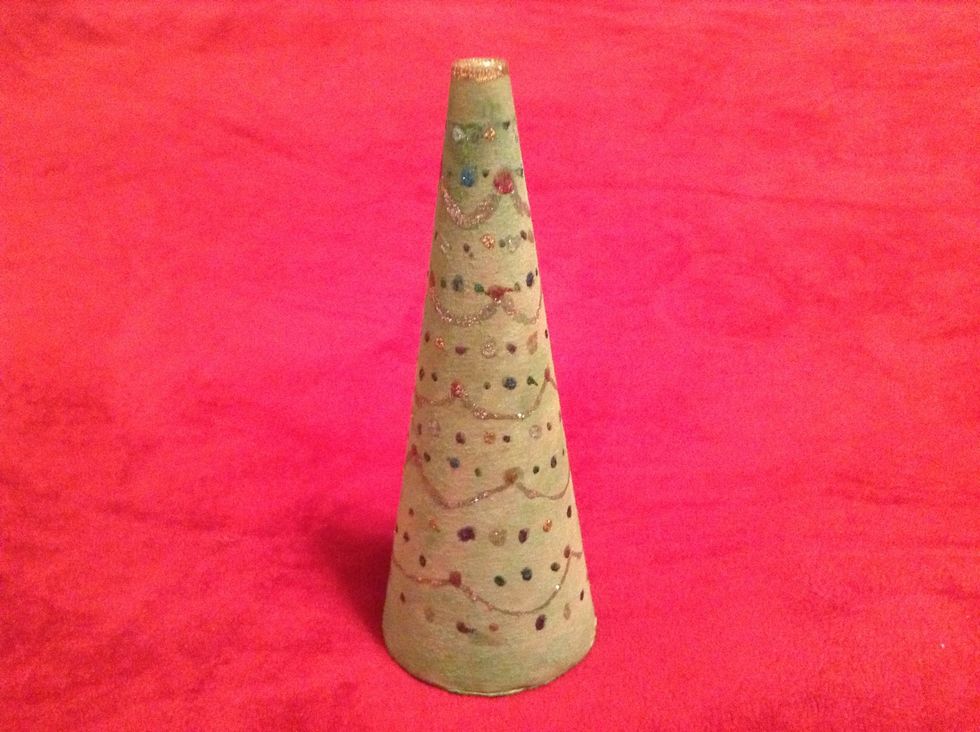 All done!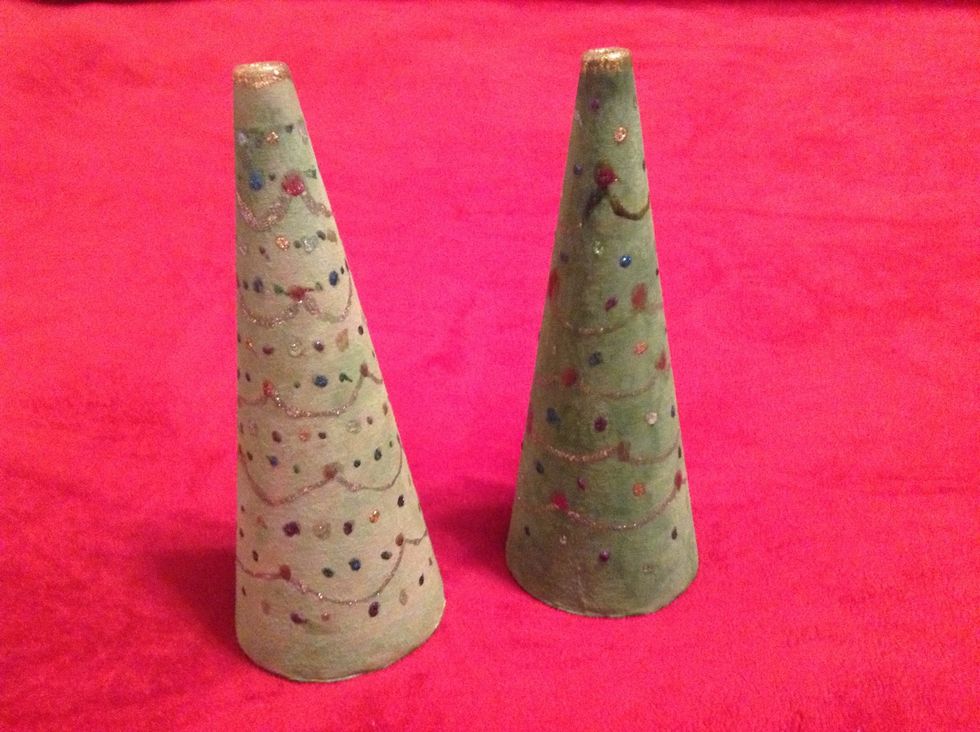 The one I just finished on the left and my first one on the right. Mt first one was more randomized and more spaced out, darker and with more mistakes.
Happy holidays and happy crafting! 🎅🎄🎁
Watercolor paint (dark green)
Water
Paintbrush
Glitter glue in whichever colors you like
1.0 Cardboard cone
Newspaper