How to create a pocket atc with graphic 45 couture papers
Create a Pocket ATC With Graphic 45 Couture Papers
40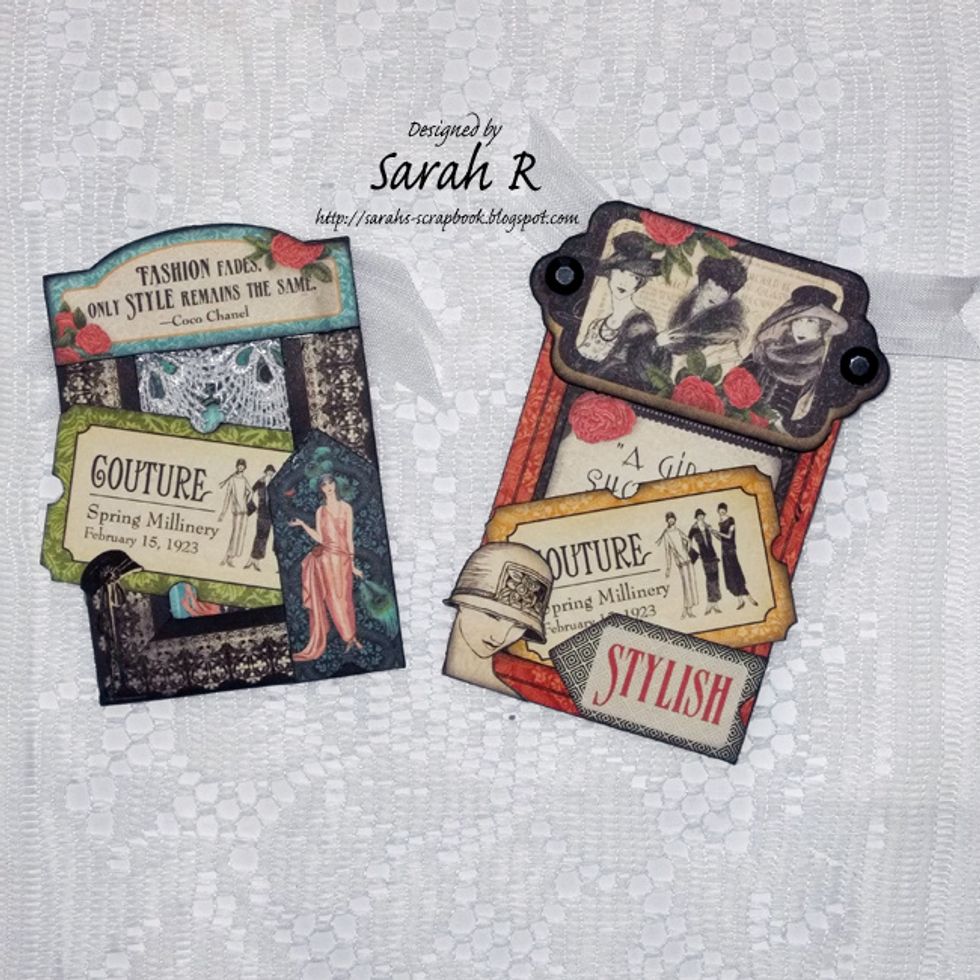 This tutorial will demonstrate how to make the "Stylish" ATC Pocket.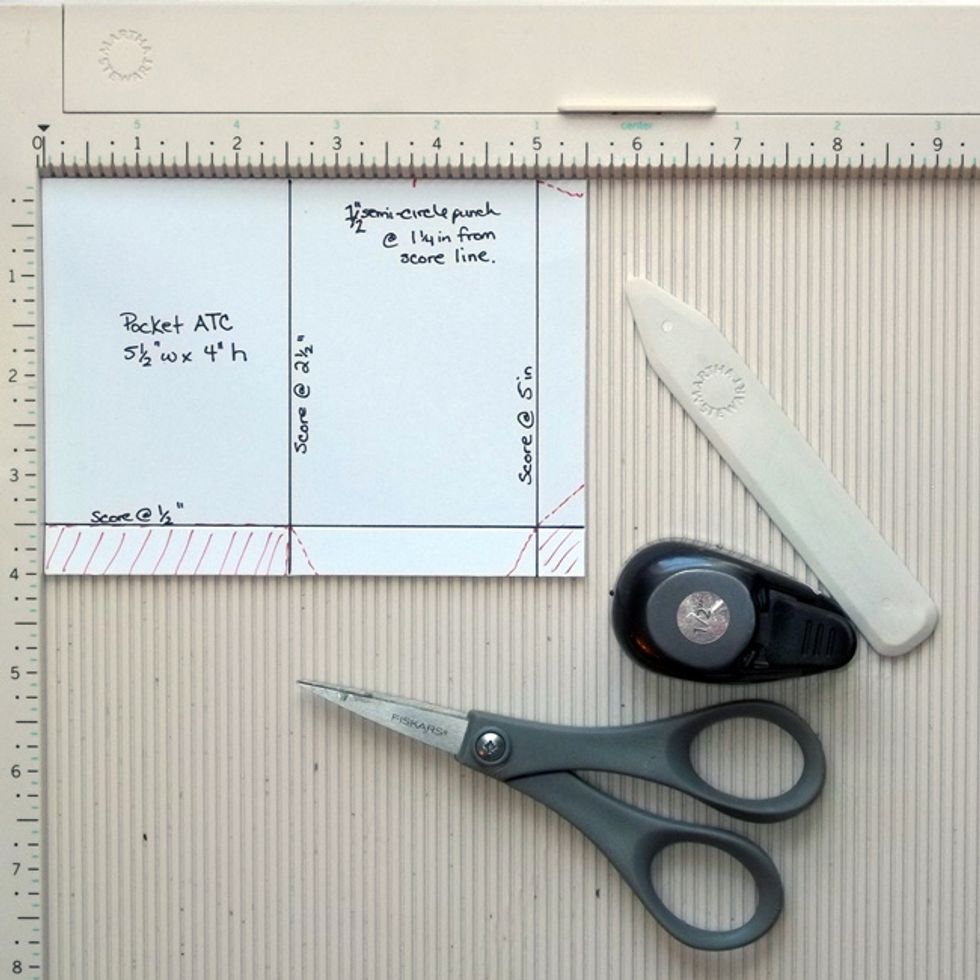 Cut cardstock to 5.5 in wide by 4 in. high. Score at 2.5 in. and 5 in. Turn and Score bottom at 1/2 in. Cut away areas marked with red pen.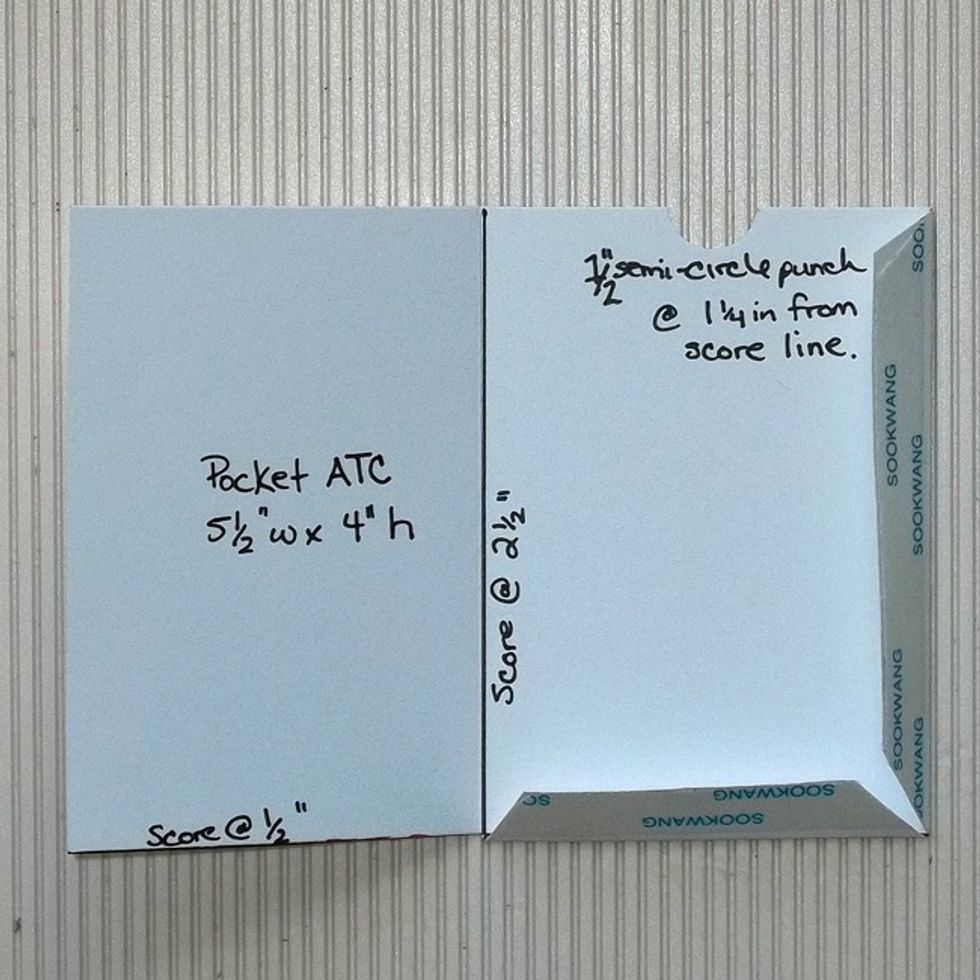 Punch a semi-circle 1.25 in. to the right of the centre score line using a 1/2 in. punch. Fold hinges inward and add 1/2 in. Scor-Tape to them.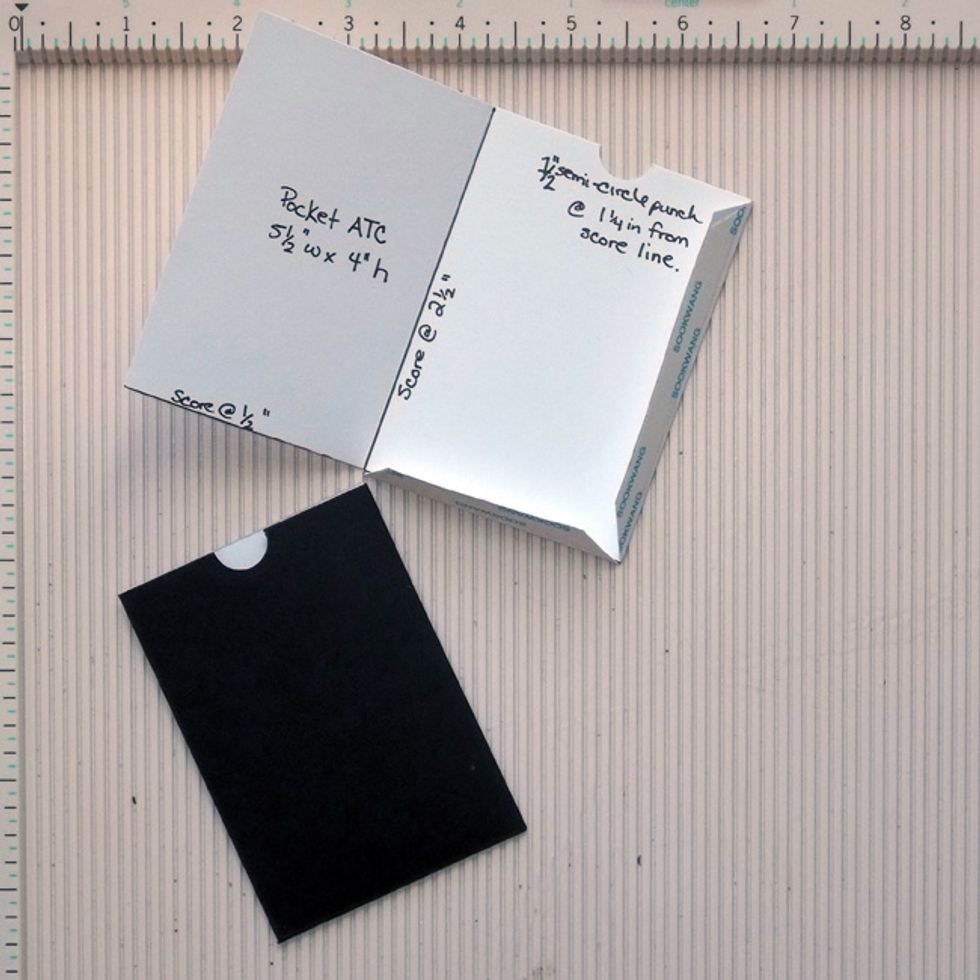 Complete your pocket by folding the left section over and adhering it to hinges. The finished pocket we'll use for the ATC Pocket is shown in black. The ATC pocket is now 2.5 in. wide by 3.5 in. high.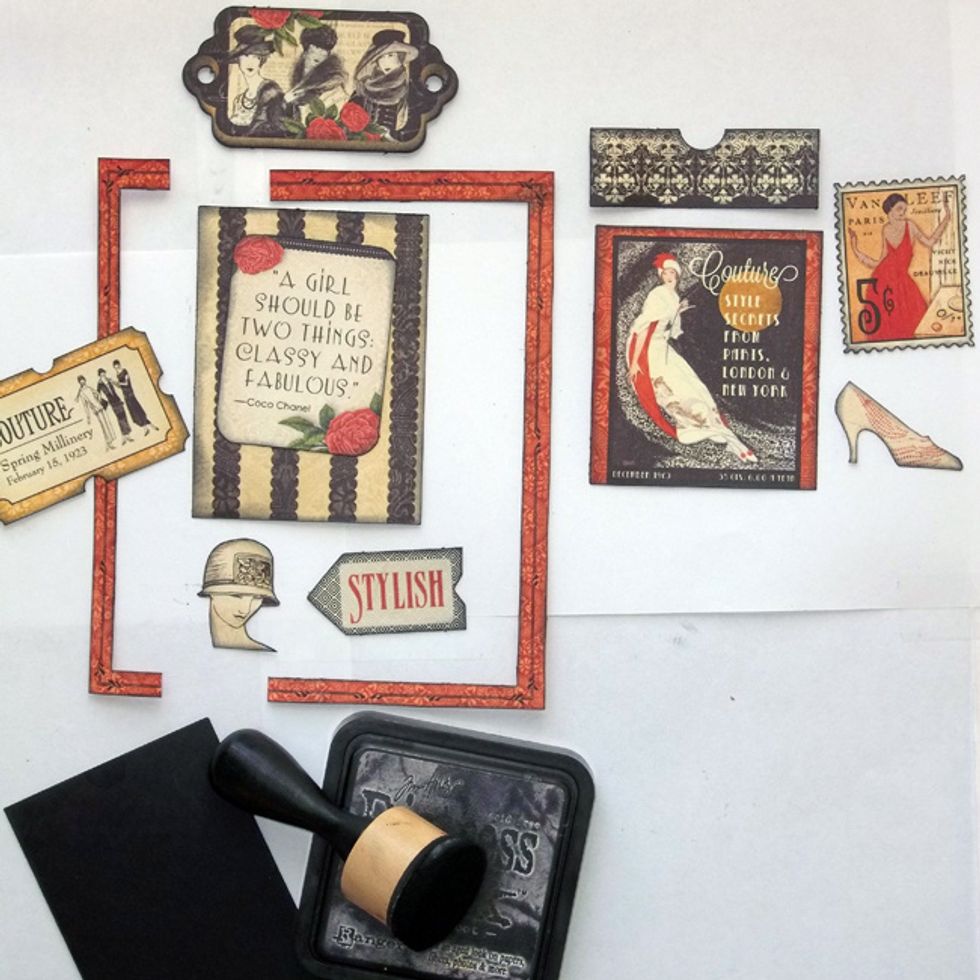 Gather your papers, tags, chipboard for each side of the pocket. I have used fussy-cuts from the 12x12 paper, tags and a chipboard piece. Ink the edges with Black Soot Distress Ink if you wish.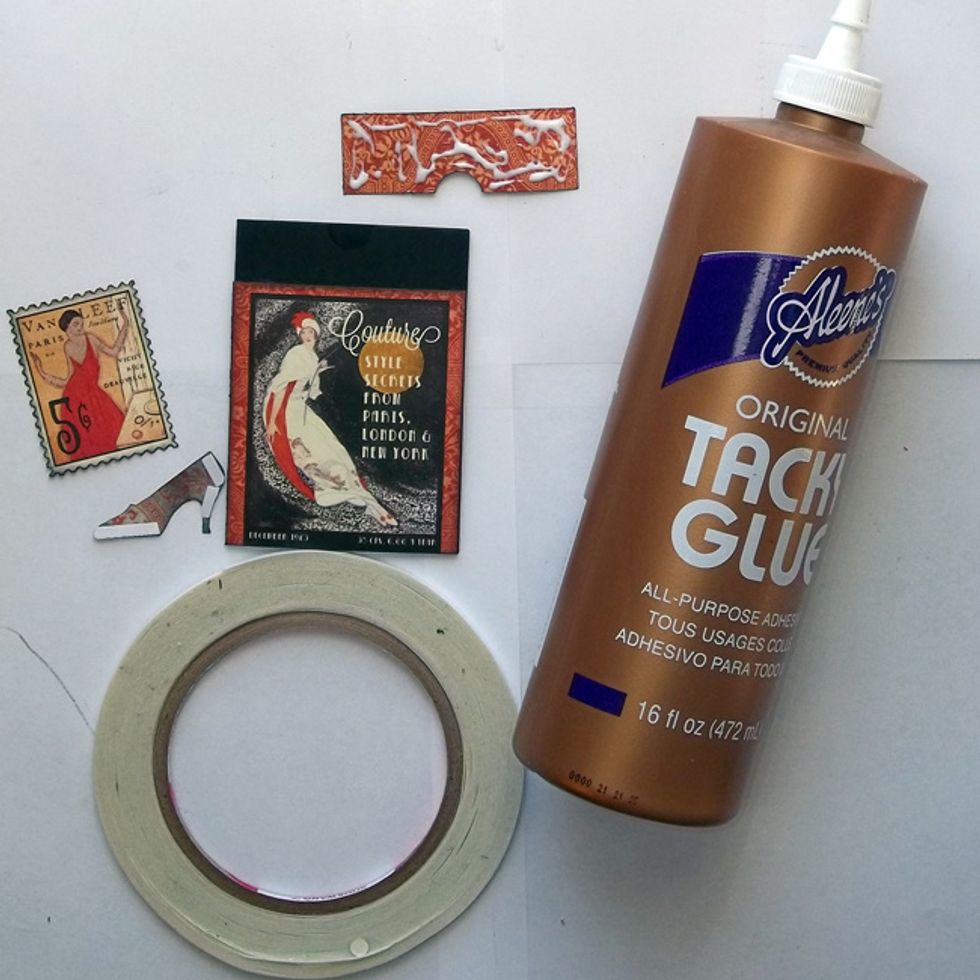 Assemble the first side of the card-don't forget to semi-circle punch your patterned paper. I've used 1/8 in. Scor-Tape around the bottom & side of the fussy cut shoe so that I can tuck the stamp in.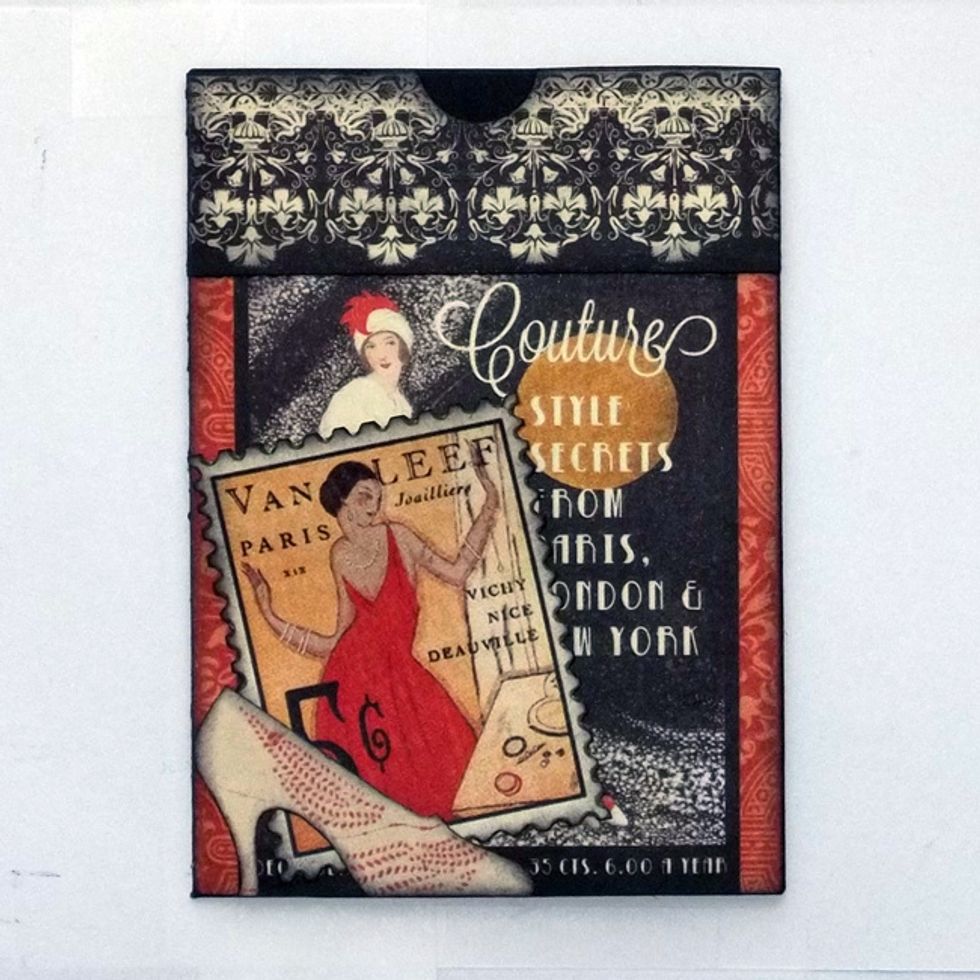 Side 1 is finished!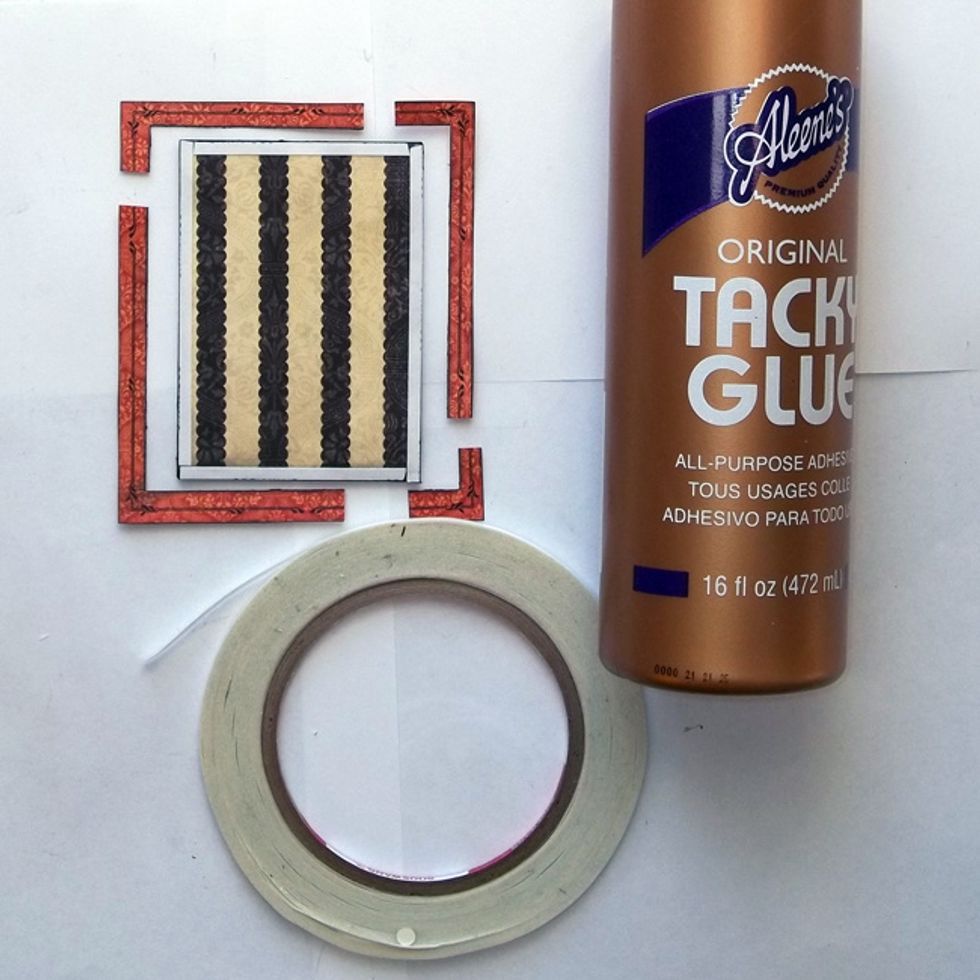 Piece together frame using 4x6 frame cut from the 12x12 papers. Don't worry-embellishments will cover seams. Use 1/8 in. Scor-Tape around edge of ATC to adhere frame. Liquid glue the overlaps.
Since the chipboard piece will sit above the top of the ATC, we don't want to see bare chipboard on the back, so glue some patterned paper to the back, cut around it with your craft knife & ink edges.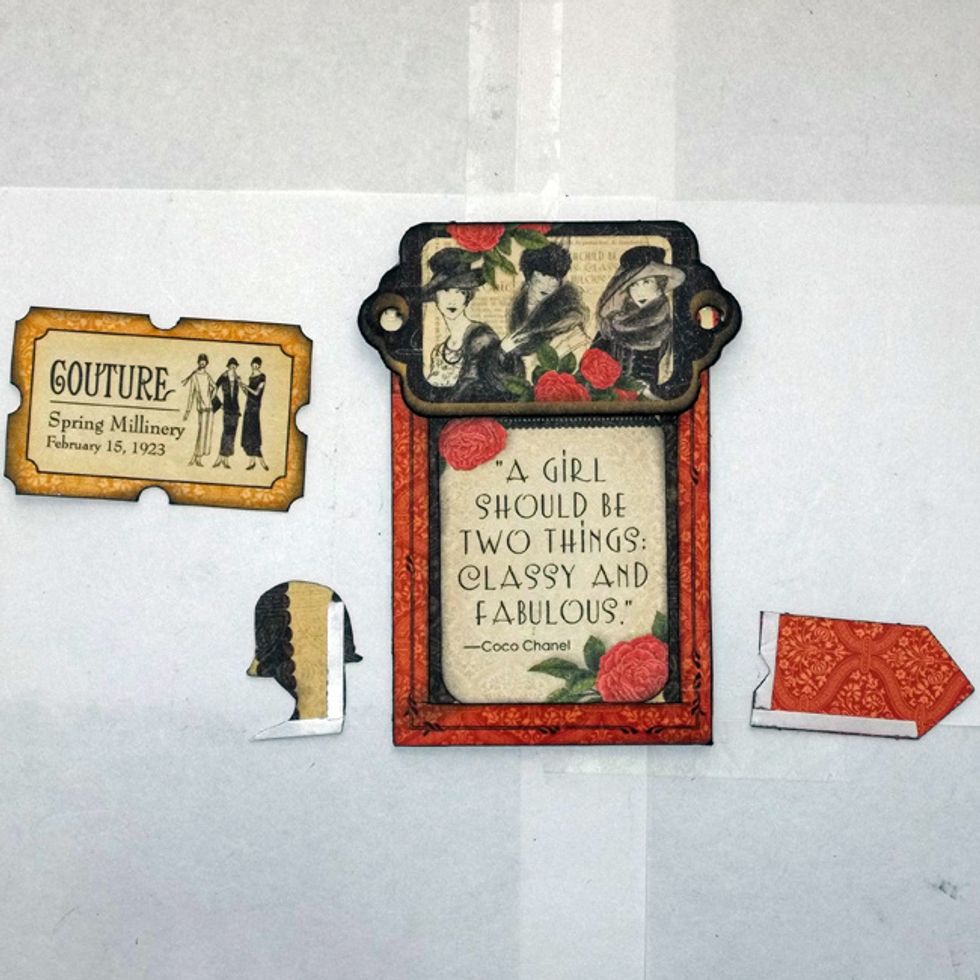 Adhere chipboard at top of ATC Pocket and image cut from tags in centre. Use 1/8 in. Scor-Tape at outside edges of tag and fussy-cut piece so ticket can tuck in behind them.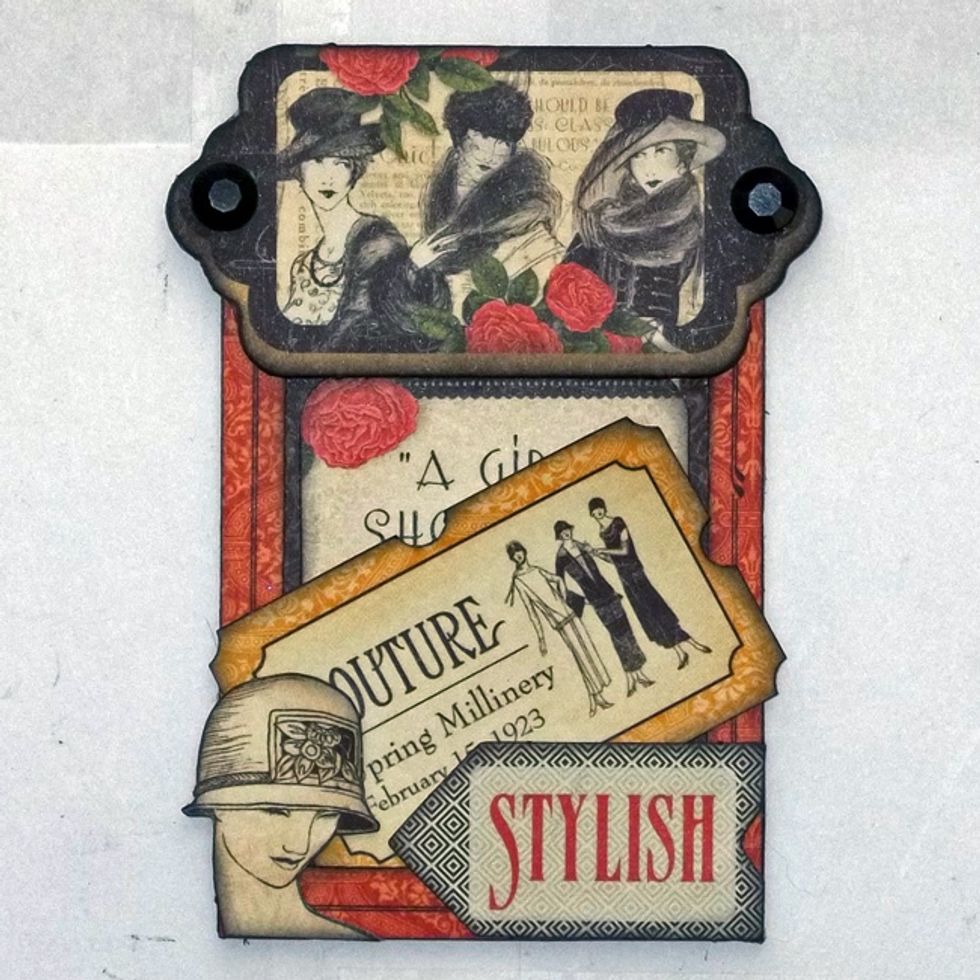 Side 2 is finished! I've also added two black rhinestones to cover the holes in the chipboard piece.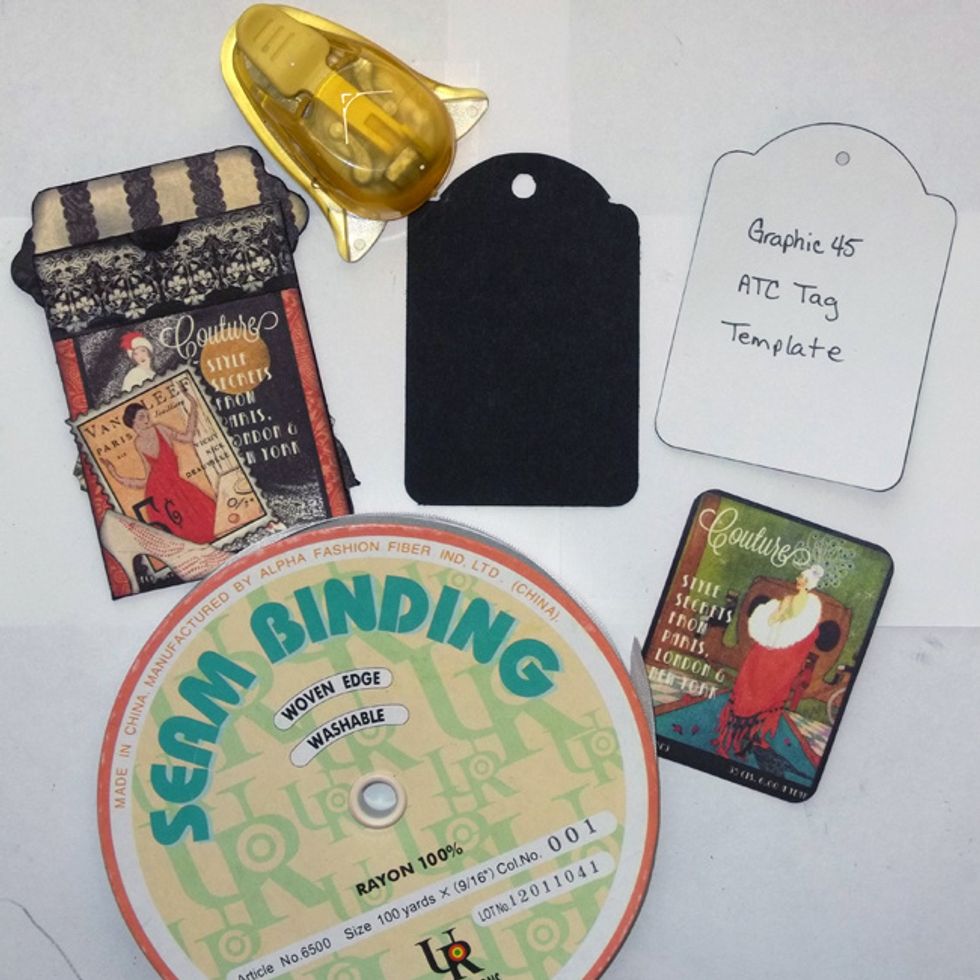 Now we need something to put in the pocket! Use the Graphic 45 ATC tag template and cut one tag - trimming each side by ~.25 in. Cut an image from the papers and round corners to mirror tag shape.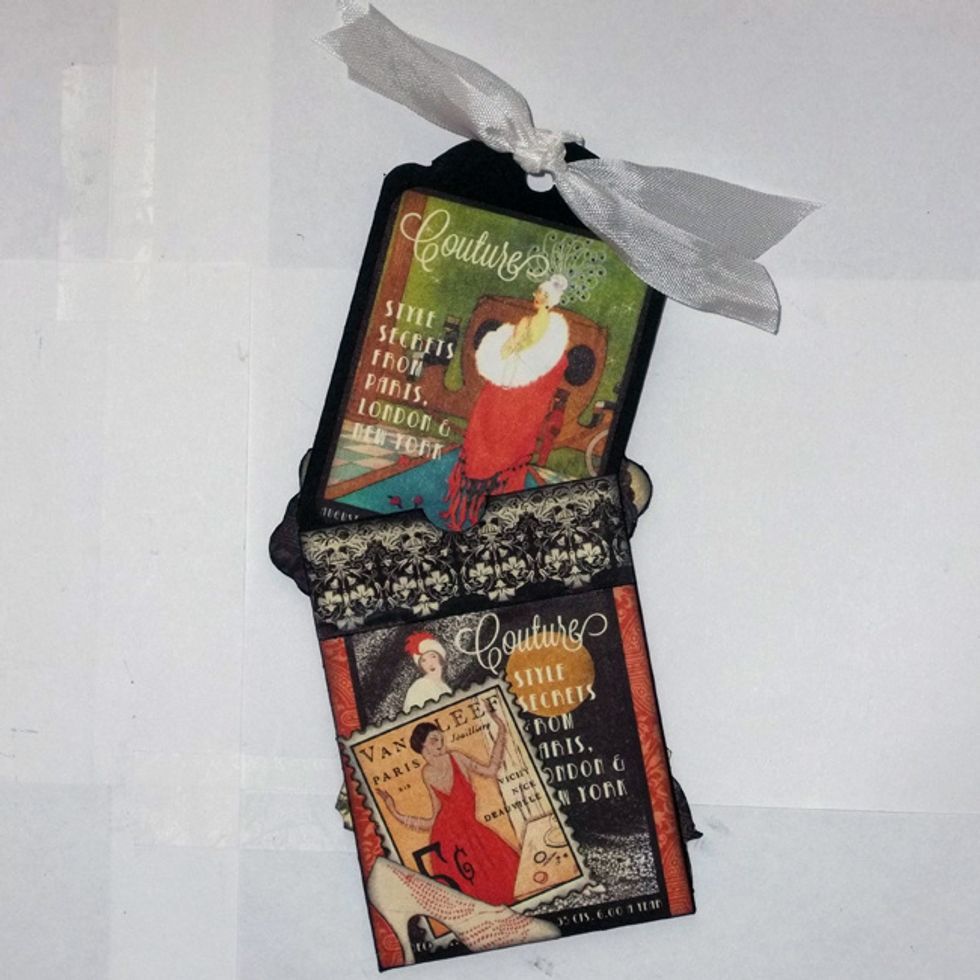 Adhere your image, add some seam binding to the tag hole and tuck your tag inside the pocket!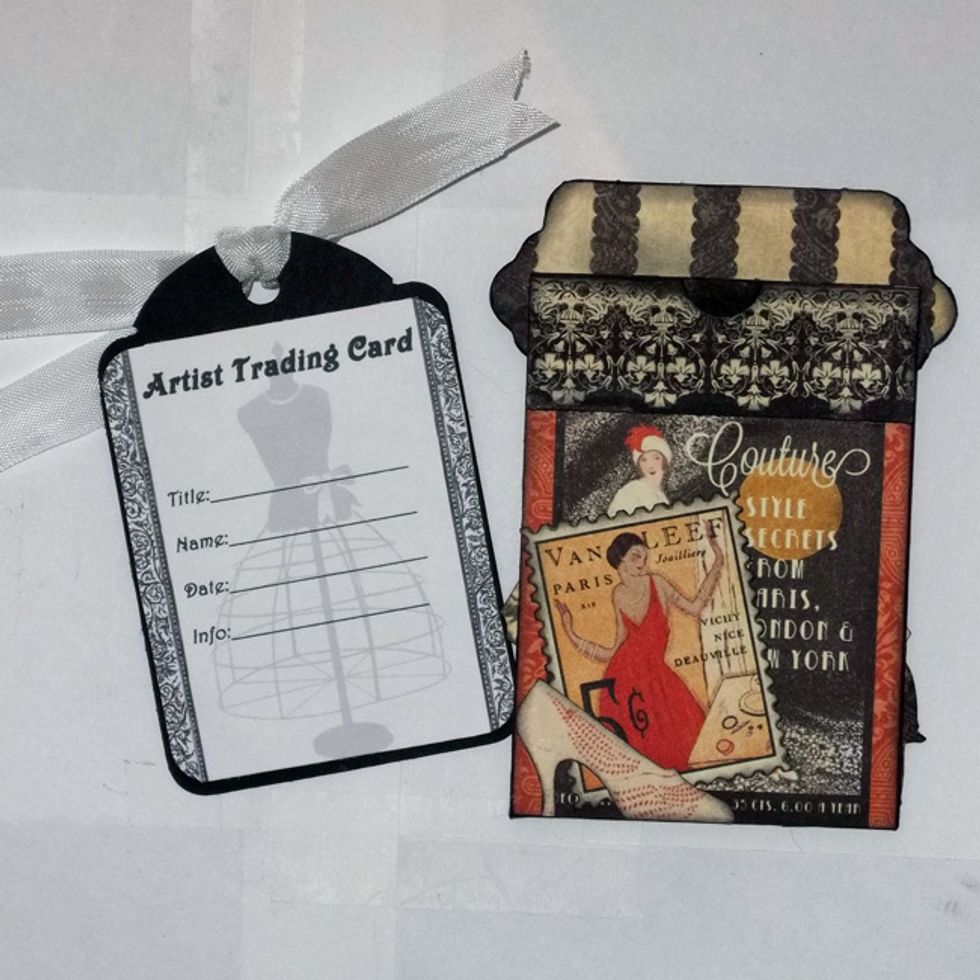 This step is optional - but since I like to trade ATCs with fellow paper-crafters, I printed this ATC label and added it to the back of the tag. Label source: http://freevintagedigistamps.blogspot.ca/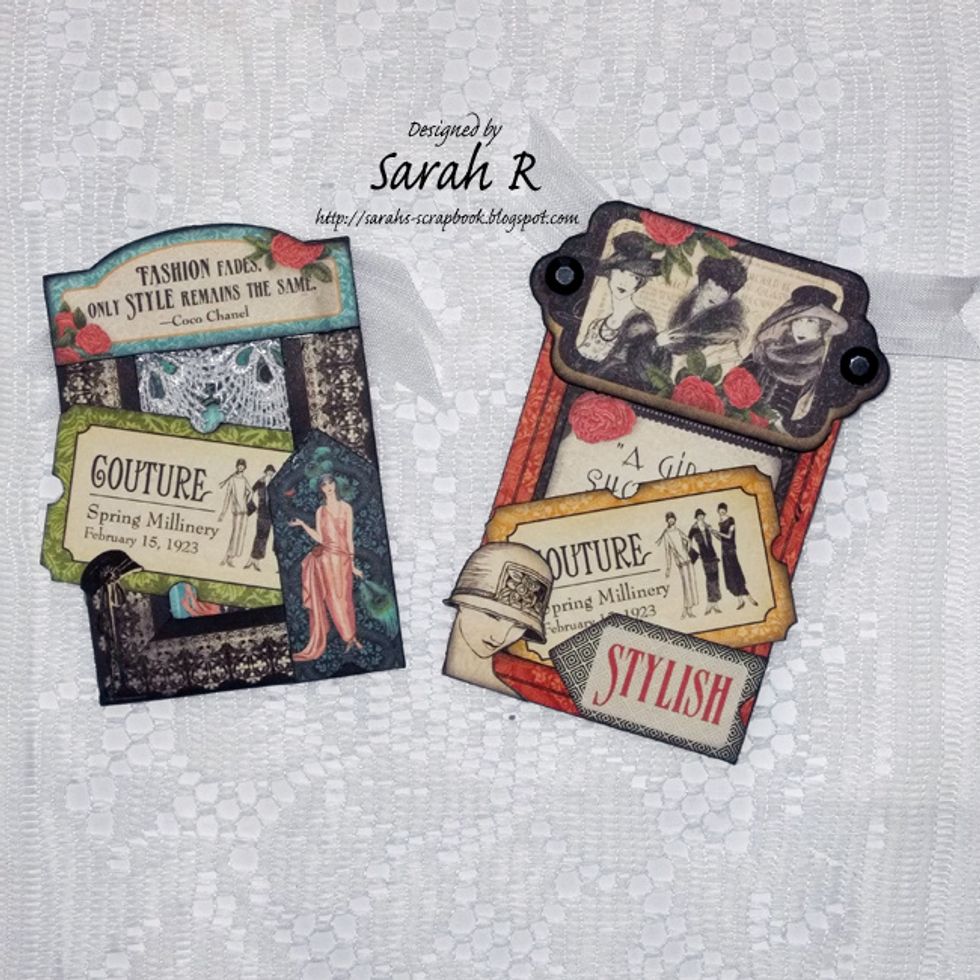 Completed ATC Pockets - Front.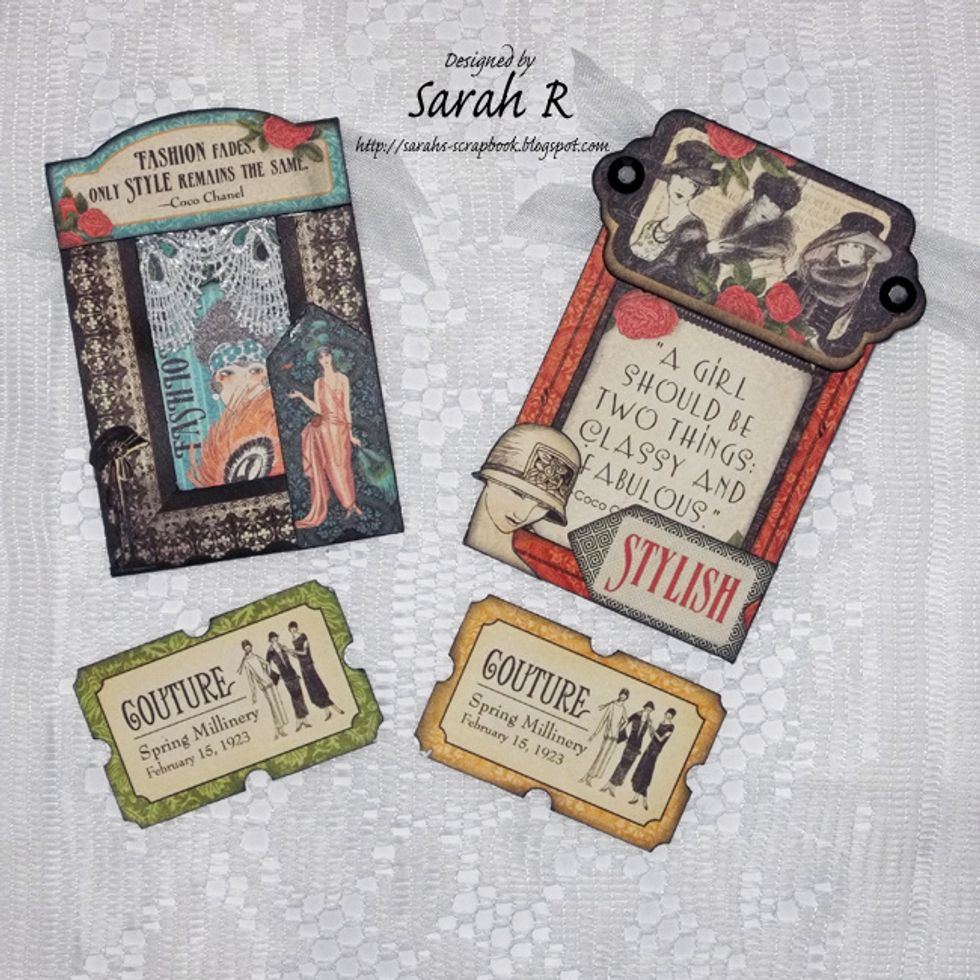 Completed ATC Pockets - Front. Tickets removed.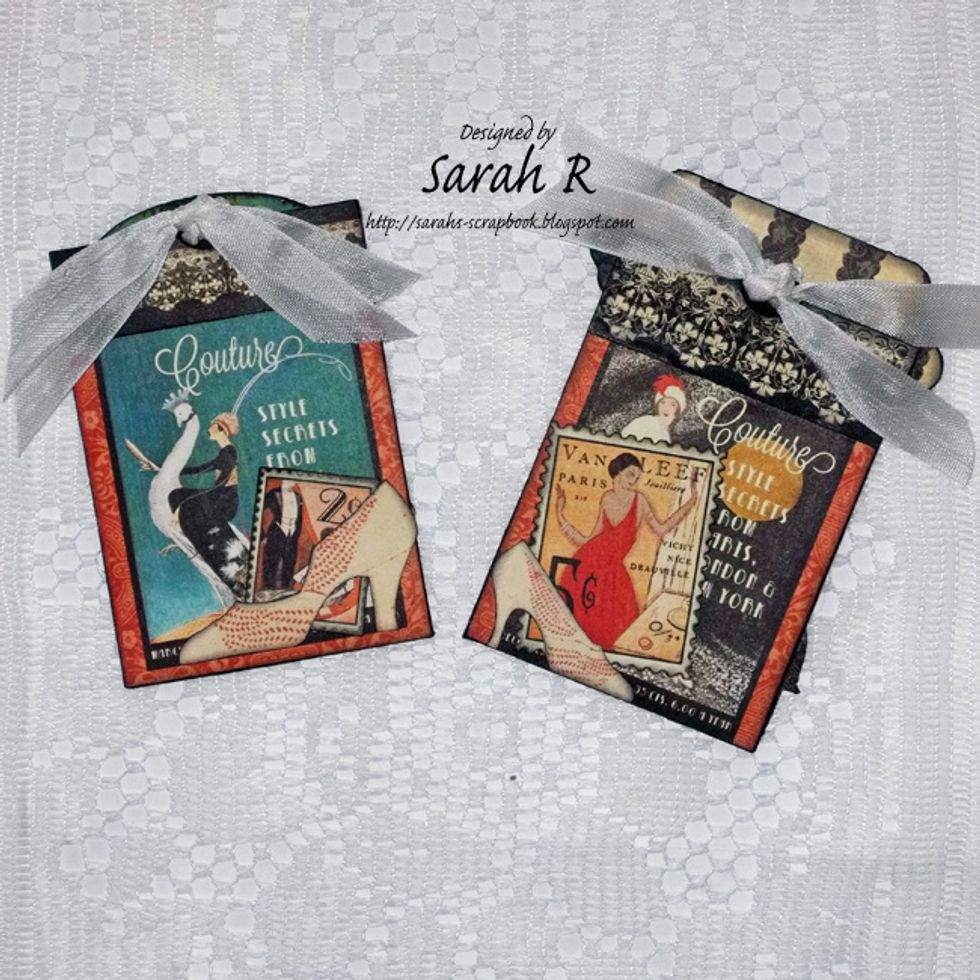 Completed ATC Pockets - Back.
Completed ATC Pockets - Back. Stamps and Tags removed.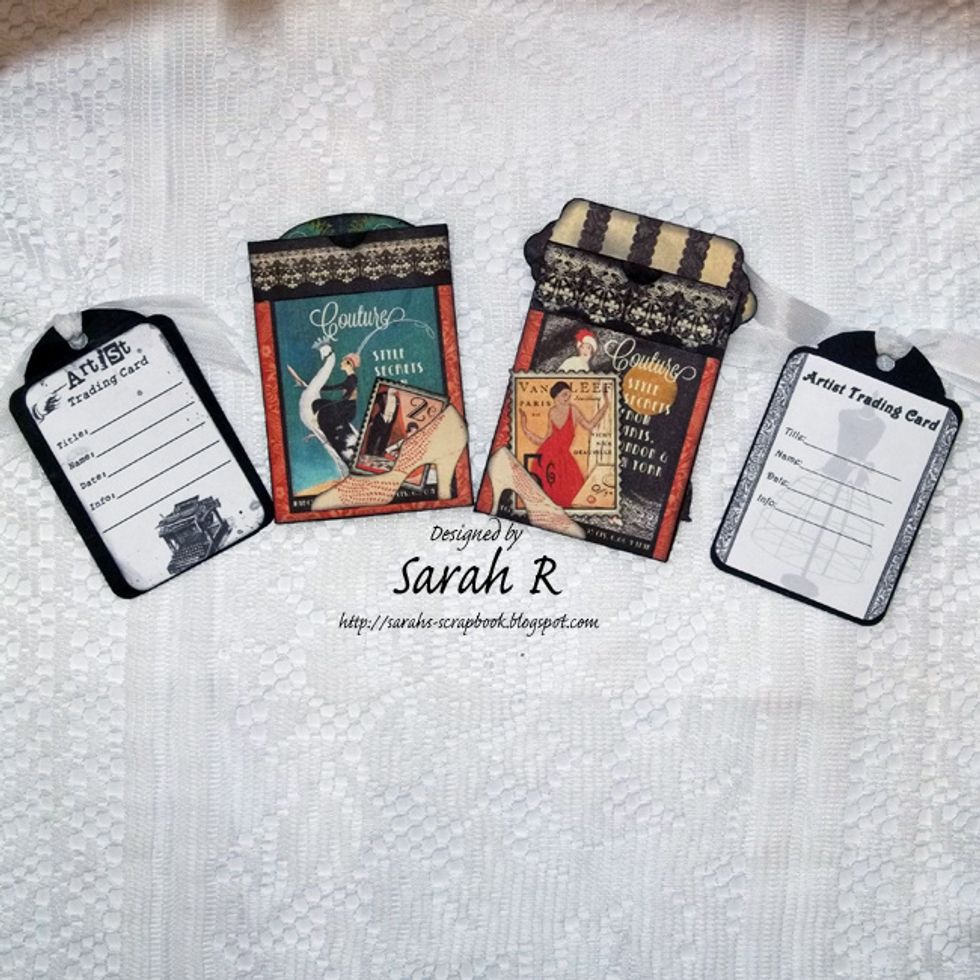 Completed ATC Pockets - Back. Showing back side of tag insert.
1.0 8.5x11 Black Cardstock
Couture Collection Paper, Tags/Pockets, Chipboard
1/8 in. & 1/2 in. Scor-Tape
Liquid Glue
Sharp Scissors & Craft Knife for Fussy Cutting
Distress Ink - Black Soot
12.0in White Seam Binding
1/2 in. Circle Punch
Corner Rounder