How to create a mixed media assemblage with deedee catron
Create a Mixed Media Assemblage With DeeDee Catron
22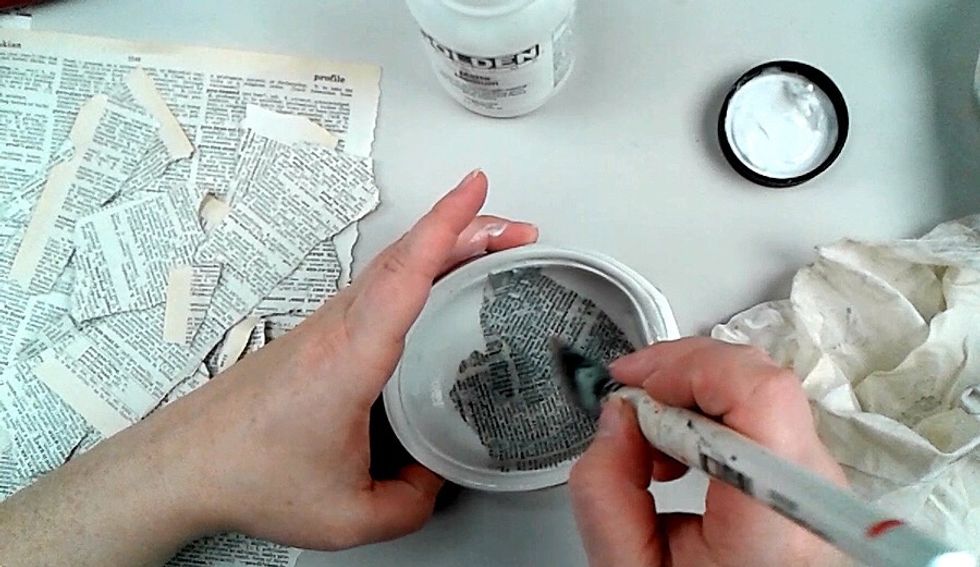 Using vintage dictionary text & Golden matte medium, collage the inside of the Egg Shrine. Apply medium to the resin shrine, then the paper.Press paper to shrine & cover the top with medium.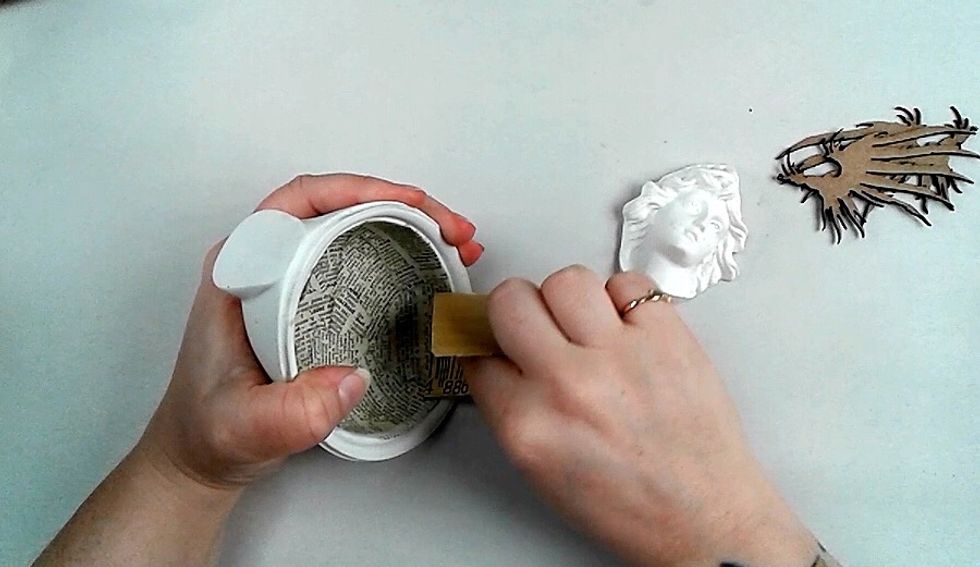 Once dried, sand back rough edges of paper that my occur. A high grit helps achieve a smoother finish. Blow or wipe off excess dust from the sanding.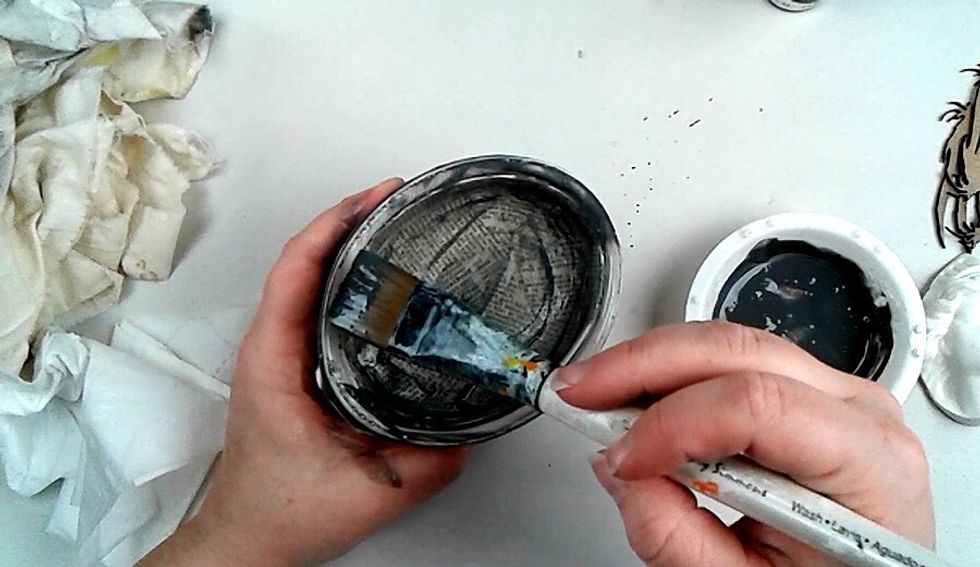 Using a mixture (60/40 ratio) of DecoArt fluid acrylic & Liquitex glazing medium, completely cover the egg shrine inside, edges and back. Work quickly through this step & the next.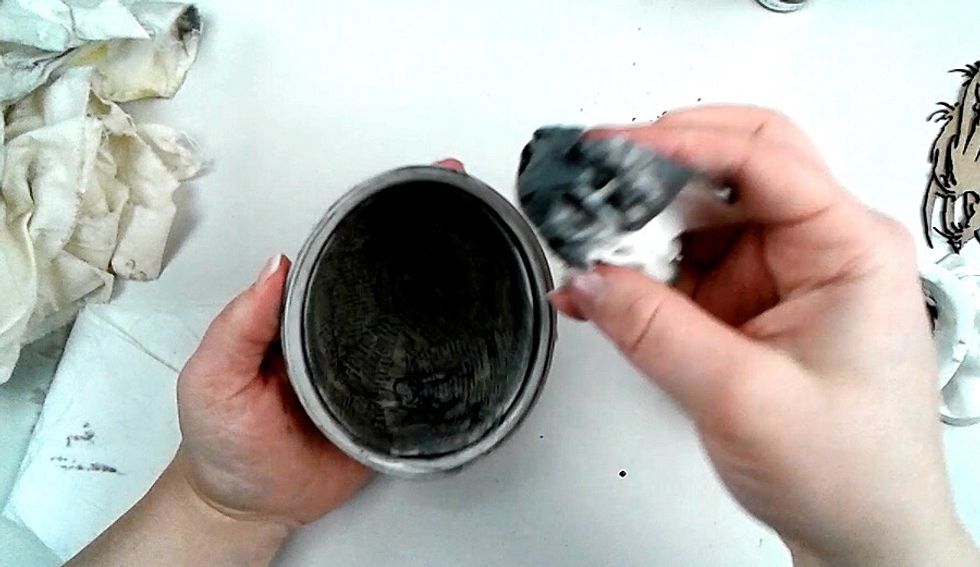 With a baby wipes at hand and while the paint is wet, wipe away excess . You are now glazing! The desired effect of glazing is a nice dark tone of paint in the cracks with a light haze over the raised
Allow the glaze layer to dry & sand back parts to reveal the beautiful creamy white texture of the resin below.It's sort of a dance,add a little,take a little.This is how intriguing layers r achieved.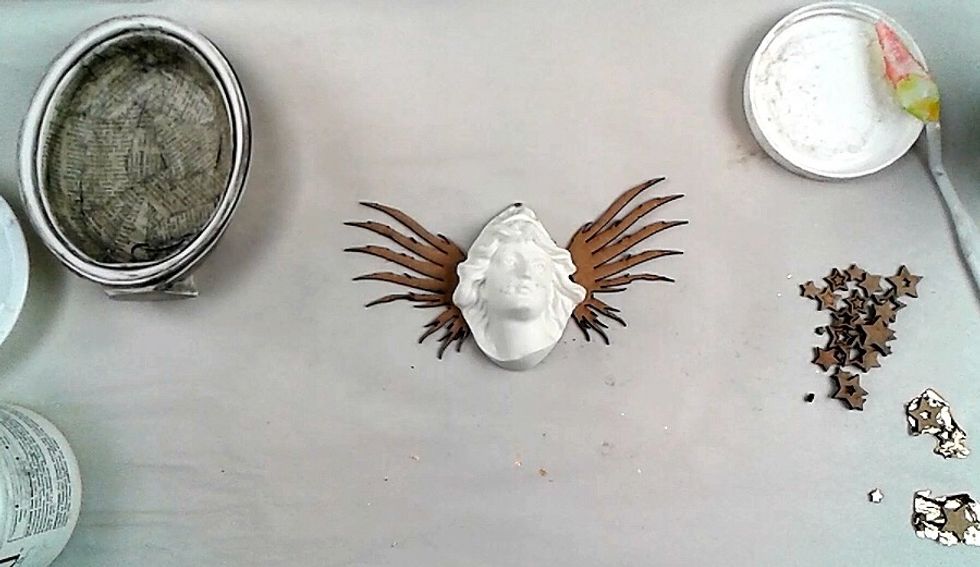 Using gel medium attach a pair of UmWowStudio chipboard wings to the face from the Archangels. apply a small bit of gel to a few pieces of chipboard confetti and lay them onto a piece of gold foil.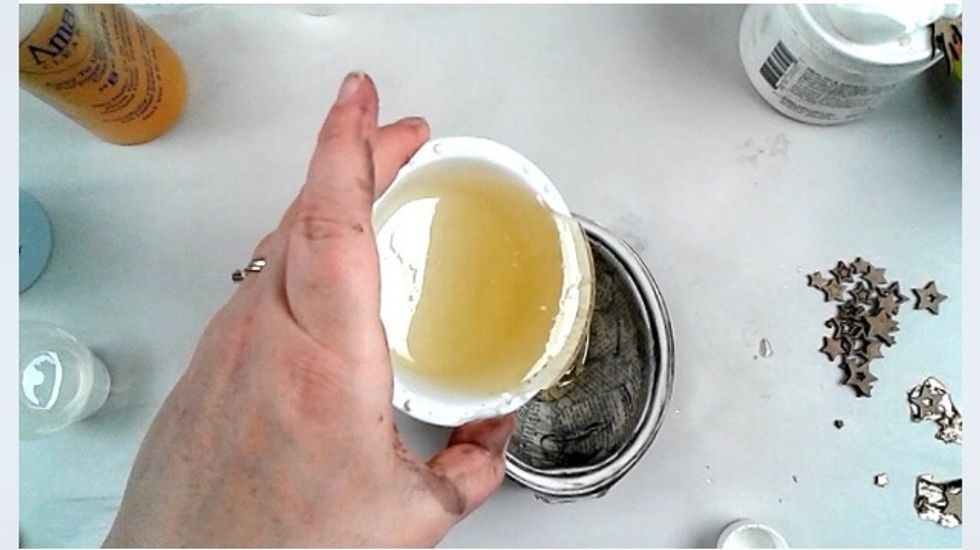 It's time for some resin! Mix Amazing Casting Resin (2 equal parts) and poor into the egg shrine. Fill about 1/3 of the way and let cure. This takes 24 hours... so you have a little work time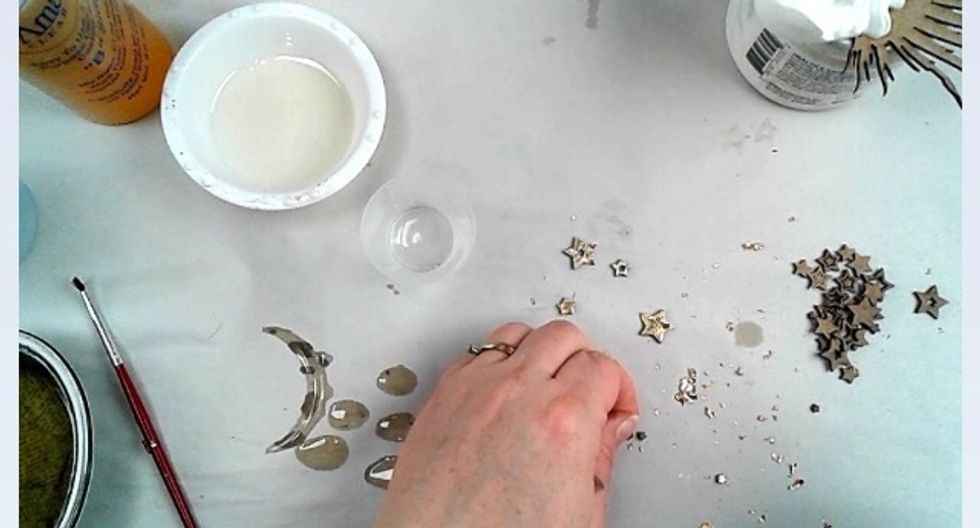 Finish prepping your gold foil stars.. using a wire brush clay tool you can lightly brush away the excess gold foil. Leave some of your stars plain with foil..good contrast can be achieved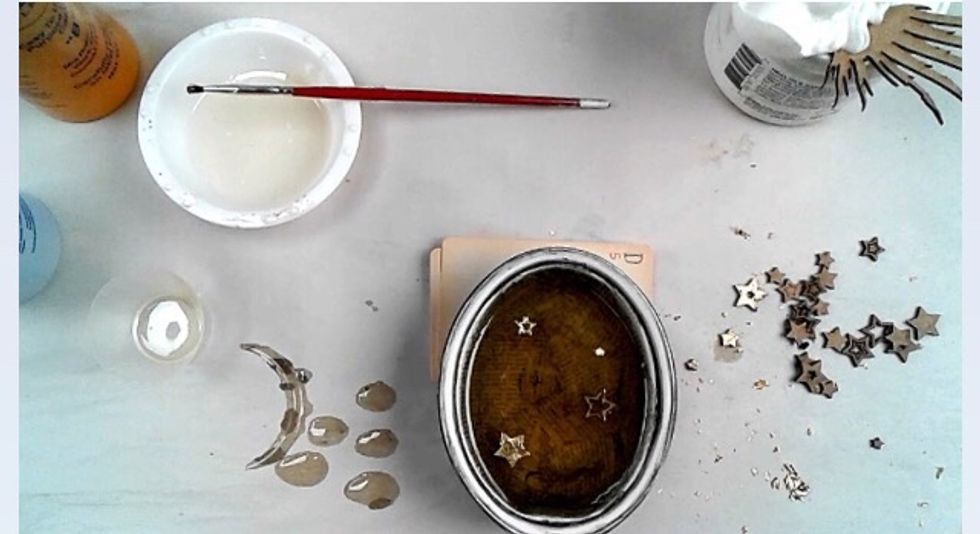 mix up a smaller batch. Pour into the egg and submerge a mix of gold foiled and non gold foiled stars.The cured resin from below will act as as a ledge,the two layers will appear seamless once cured.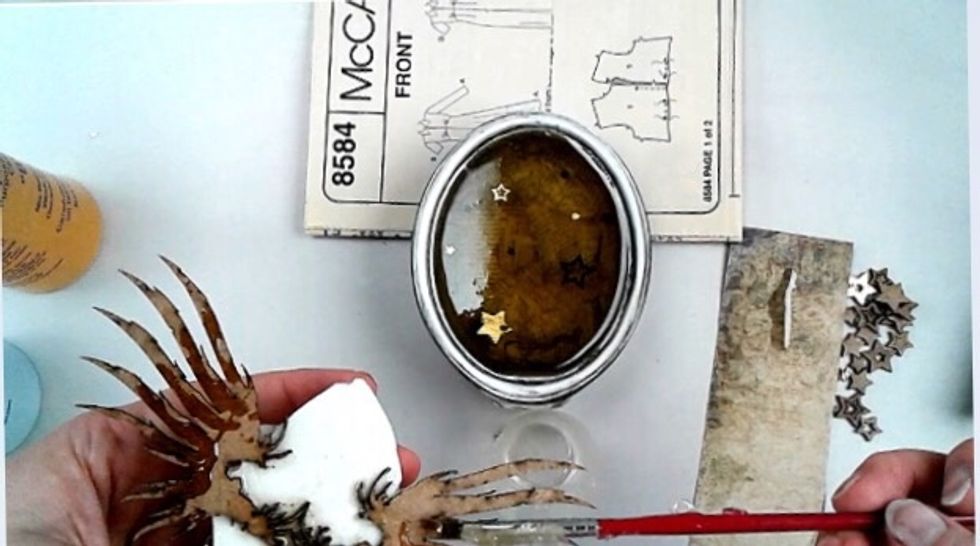 Repeat step nine as many times as you like until the egg is full but not overflowing. On your last pour, reinforce the wing & archangel connection. use the resin to attach the archangel to the shrine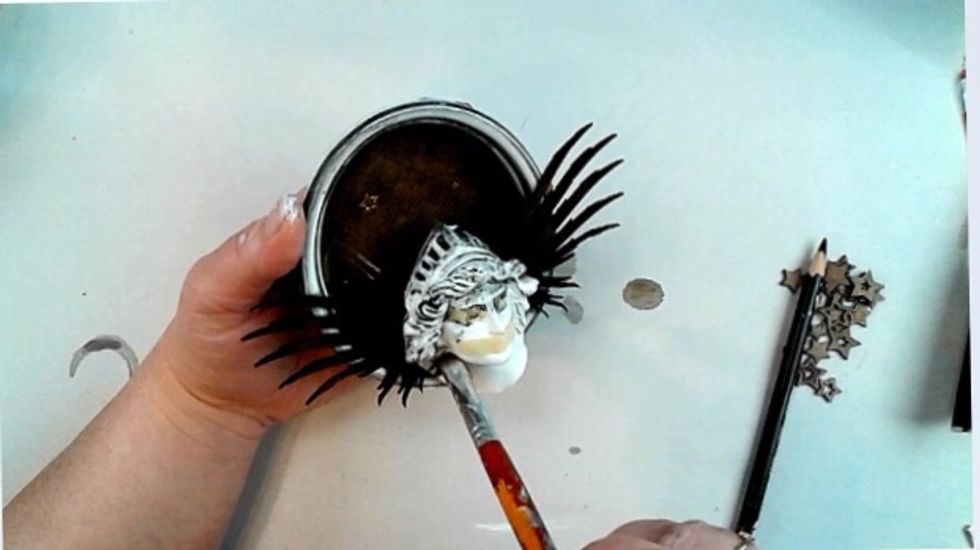 Using 1/8inch masking tape, cover up the eyes & mouth of the archangel.color the archangel's recesses with the stabilo and activate with water. Don't overwork the stabilo.Apply TOIL rubon to the neck.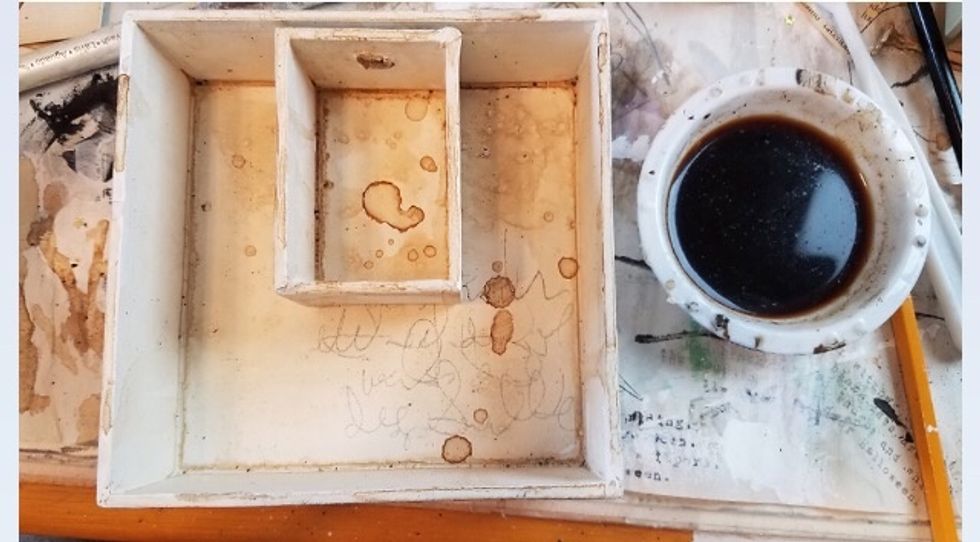 Paint a Configurations box in 4 layers of gesso. Mix instant coffee and paint the box with washy and drippy layers. Do a bit of journaling in the background, secure the box in place with gel medium.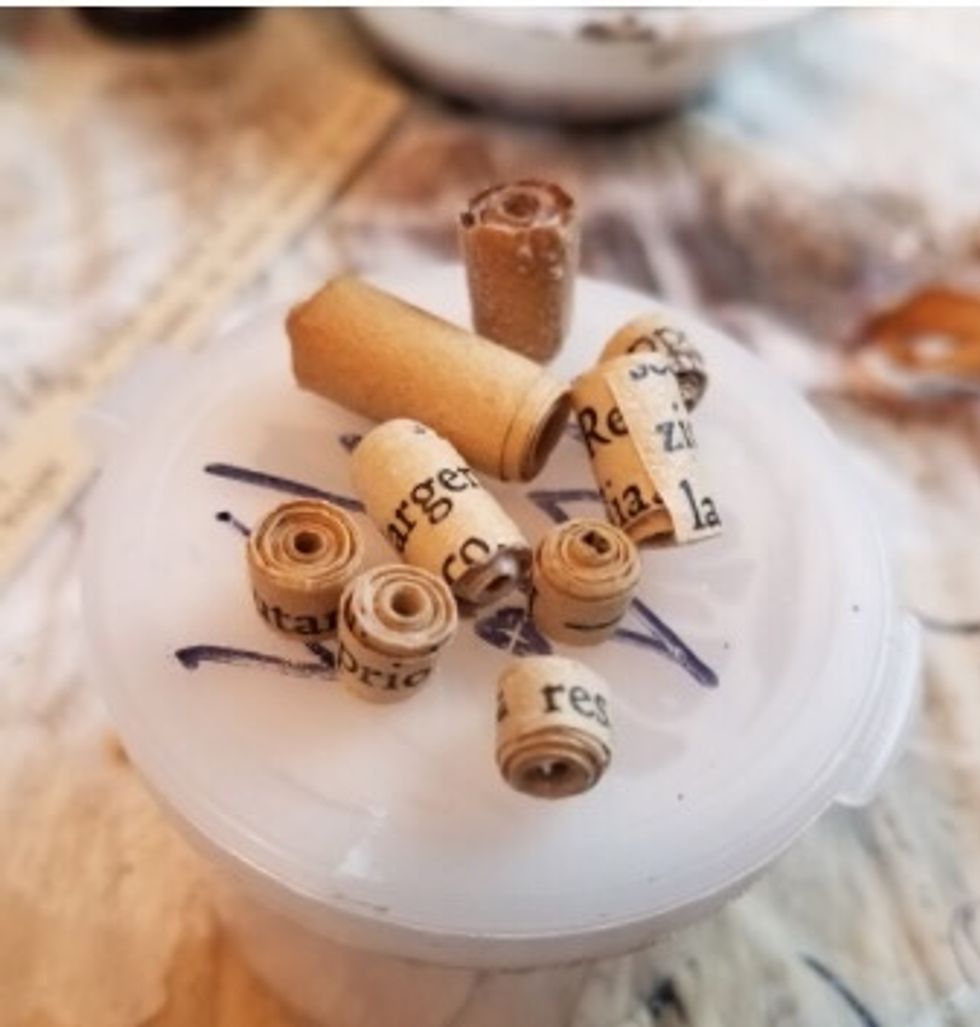 Trim some pieces of vintage Italian text into long thin strips. With a mixture of clear gesso & gel medium wet and roll the strips to create paper beads. Allow to dry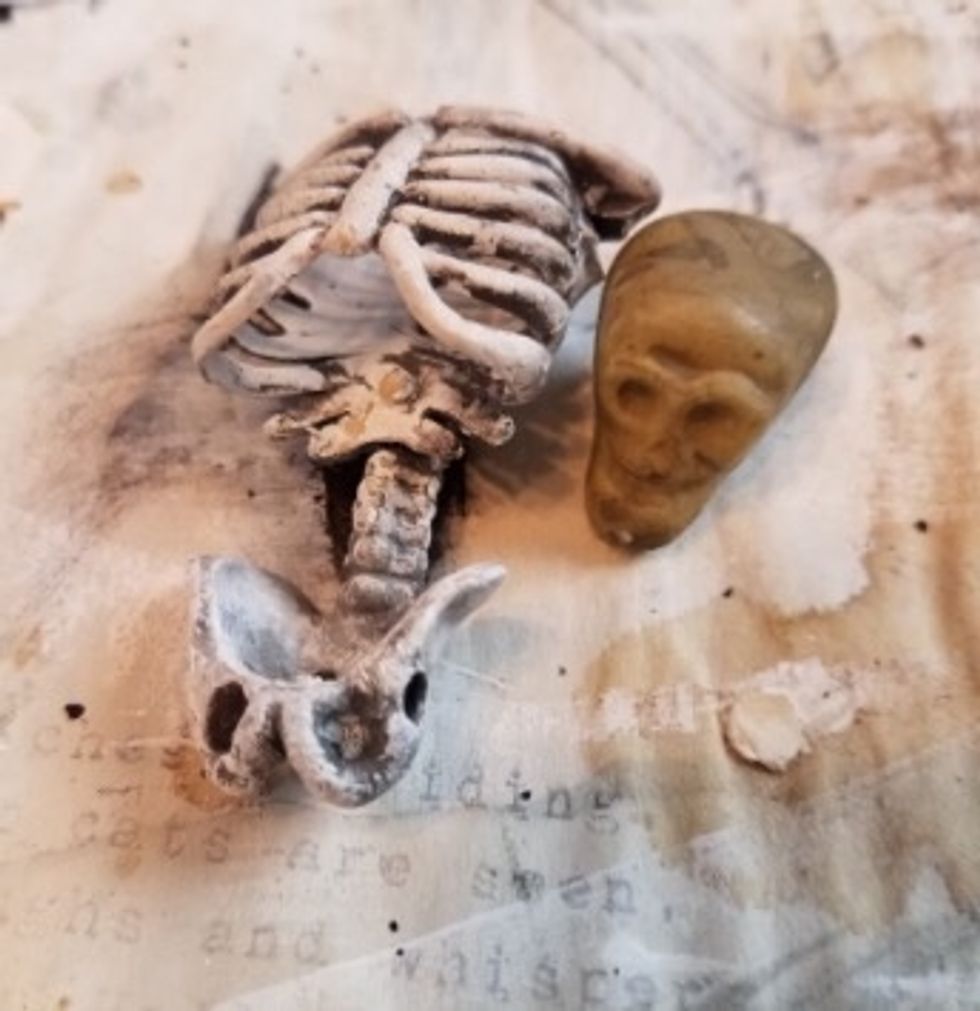 Trim off parts you don't need. Paint the skeleton to resemble a realistic version.Paint with gesso and add a thin layer of gray wipe excess.Repeat the gray until you've achieved desired effects.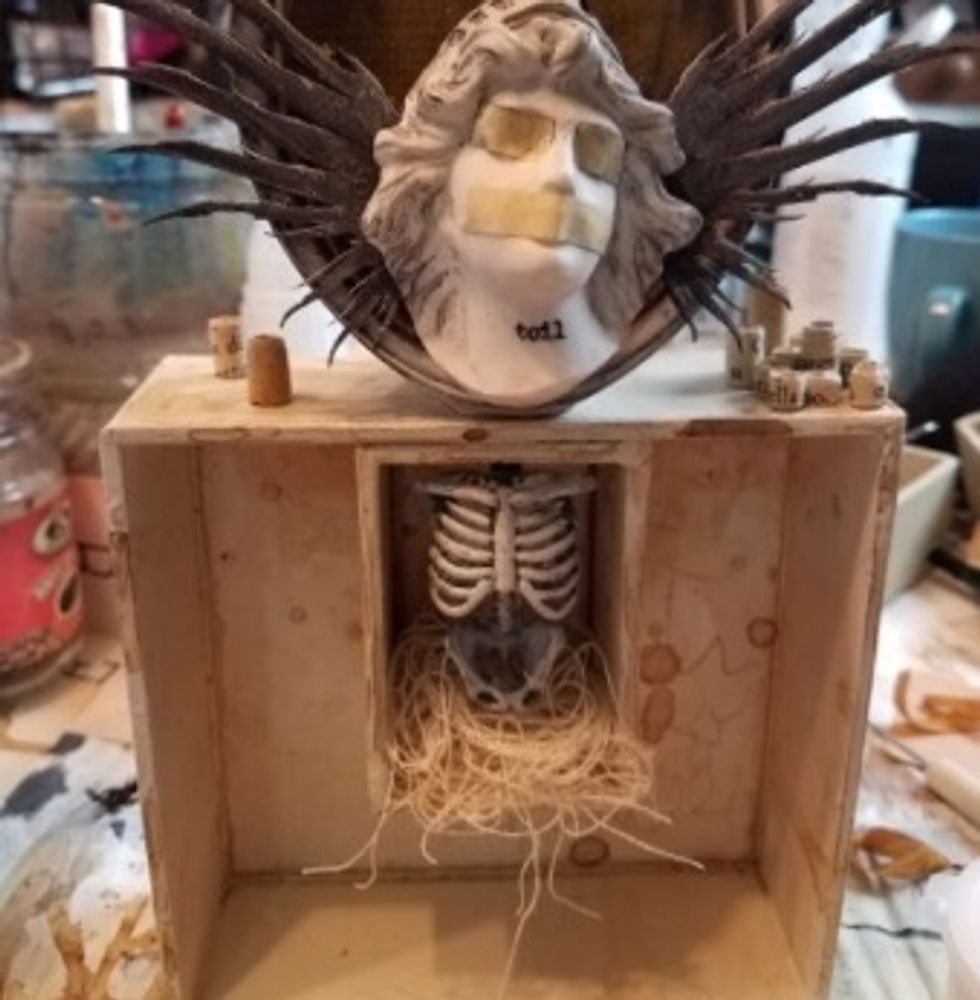 Paint the wings&begin assemblage!Use gel medium to glue in place.it's such a great adhesive for heavy objects.plan ahead and drill a hole through the shrine & box.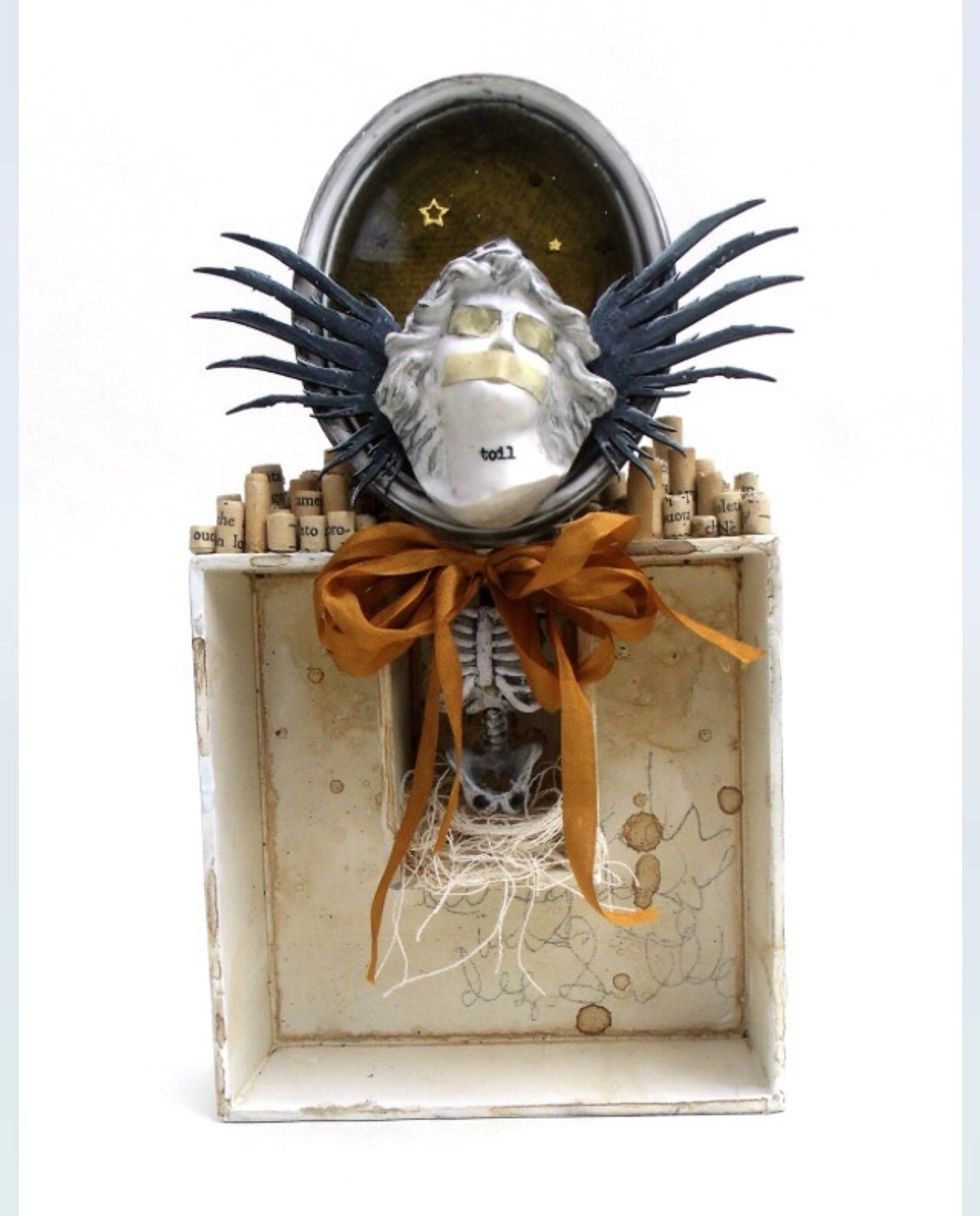 Use twines & fibers like canvas threads and silk ribbon to add dimension and texture to your piece. The rolled beads resemble candles and the whole pieces has a mausoleum inspired feel
Relics and Artifacts egg shrine
R&A Archangel
Golden fluid matte medium
Gonden carbon black fluid acrylic
Golden heavy gel
Liquitex glaze medium
Liquitex gesso white and ckear
Deco art grey fluid medium
Um wow studio chipboard stars and wings
Stabilo
Amazing crafting resin
Mona Lisa gold foil
May arts ribbon
Configuration box
Relics & Artifacts
RELICS & ARTIFACTS ® matte white resin craft blanks by designer Sandra Evertson for Prima Marketing Inc.