I love these journals. Notice how it says "mixed media?" That simply means it's really sturdy paper that can handle water, glue, permanent markers, etc. Pick a size that won't overwhelm you.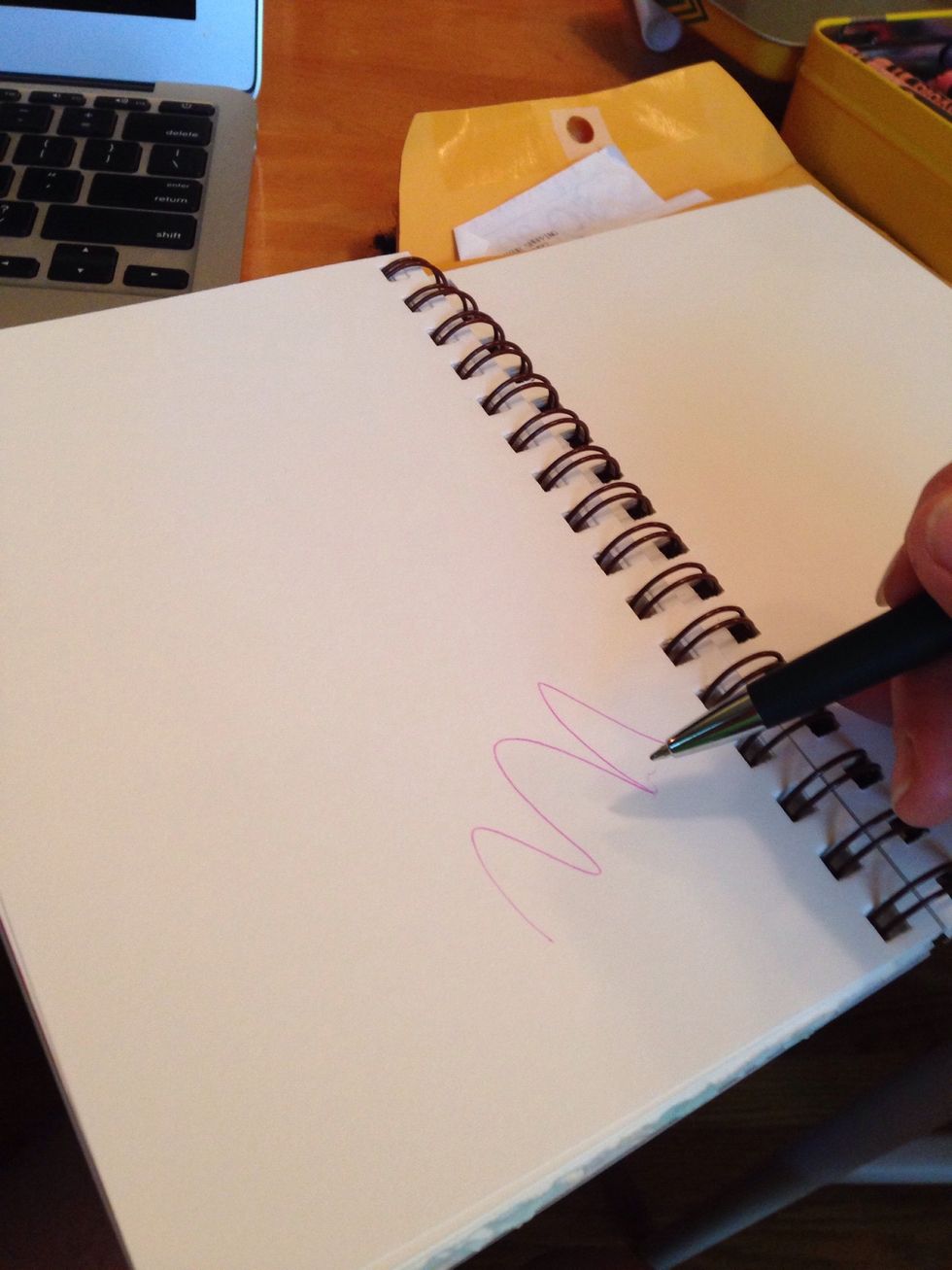 Christen your journal with a mark on every page. This should take away the fear of the blank page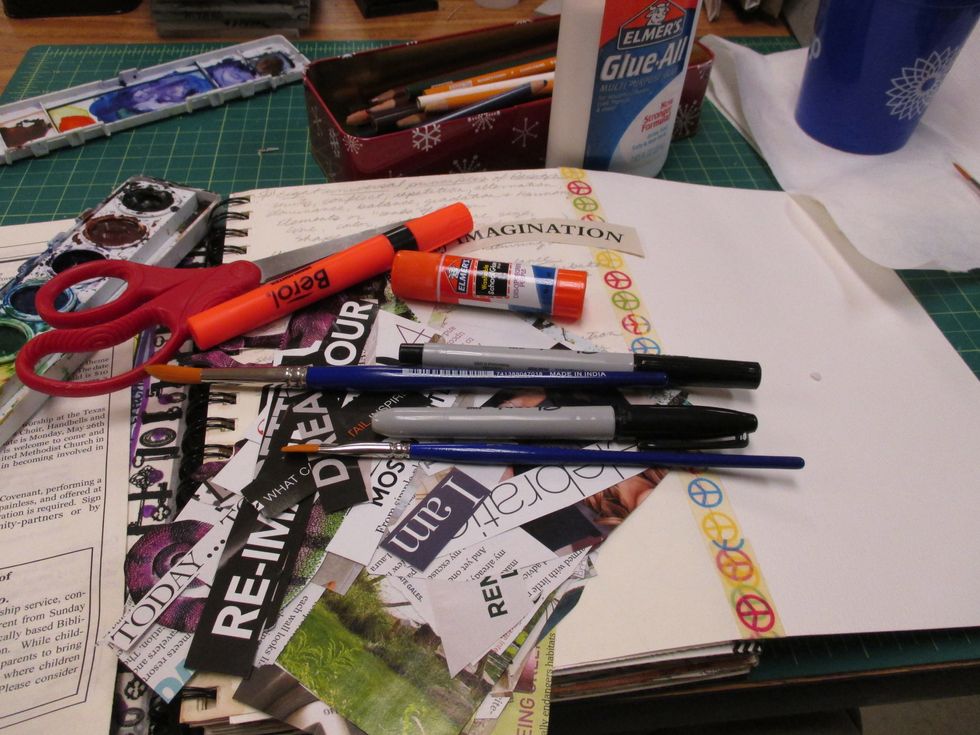 Gather supplies and collage materials. I'm constantly cutting things from magazines, greeting cards and old mail.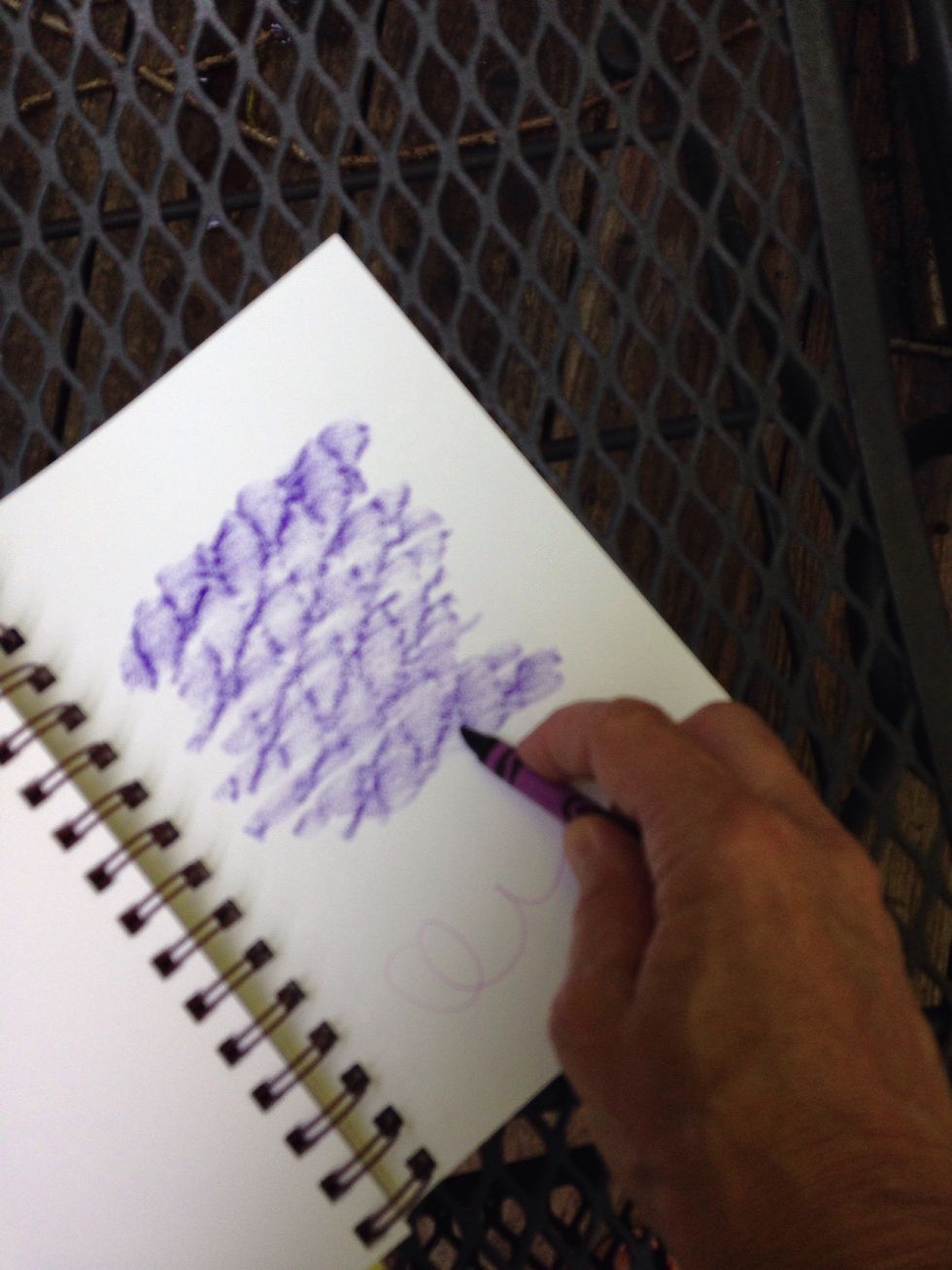 Try different techniques to cover pages with color. This one I'm getting a texture rubbing by putting the paper on a chair and rubbing a crayon over it.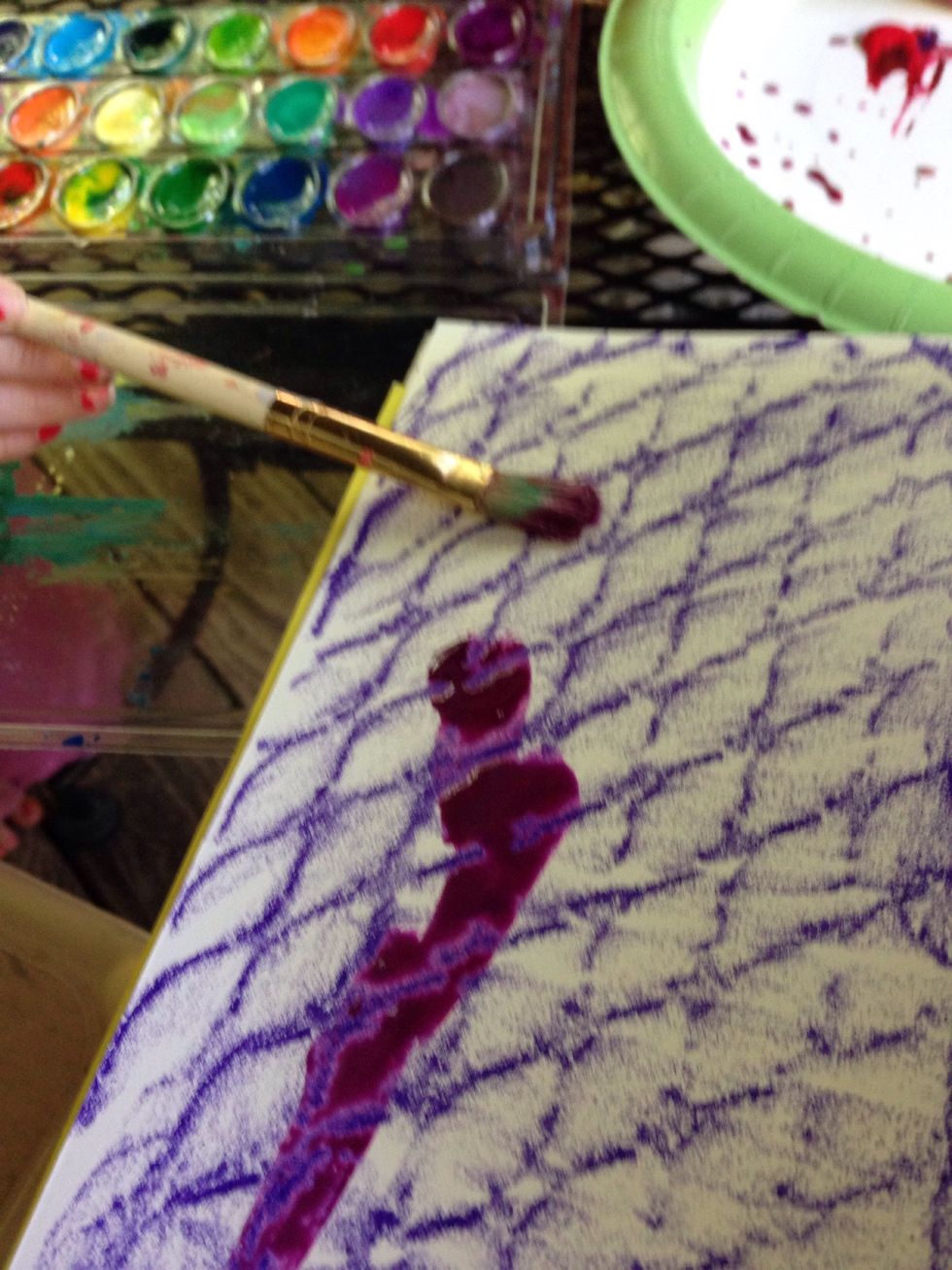 The texture rubbing makes a great pattern and when I paint it with watercolors it resists the paint.
Another way to add color is to use a strong cup of coffee or tea as your paint.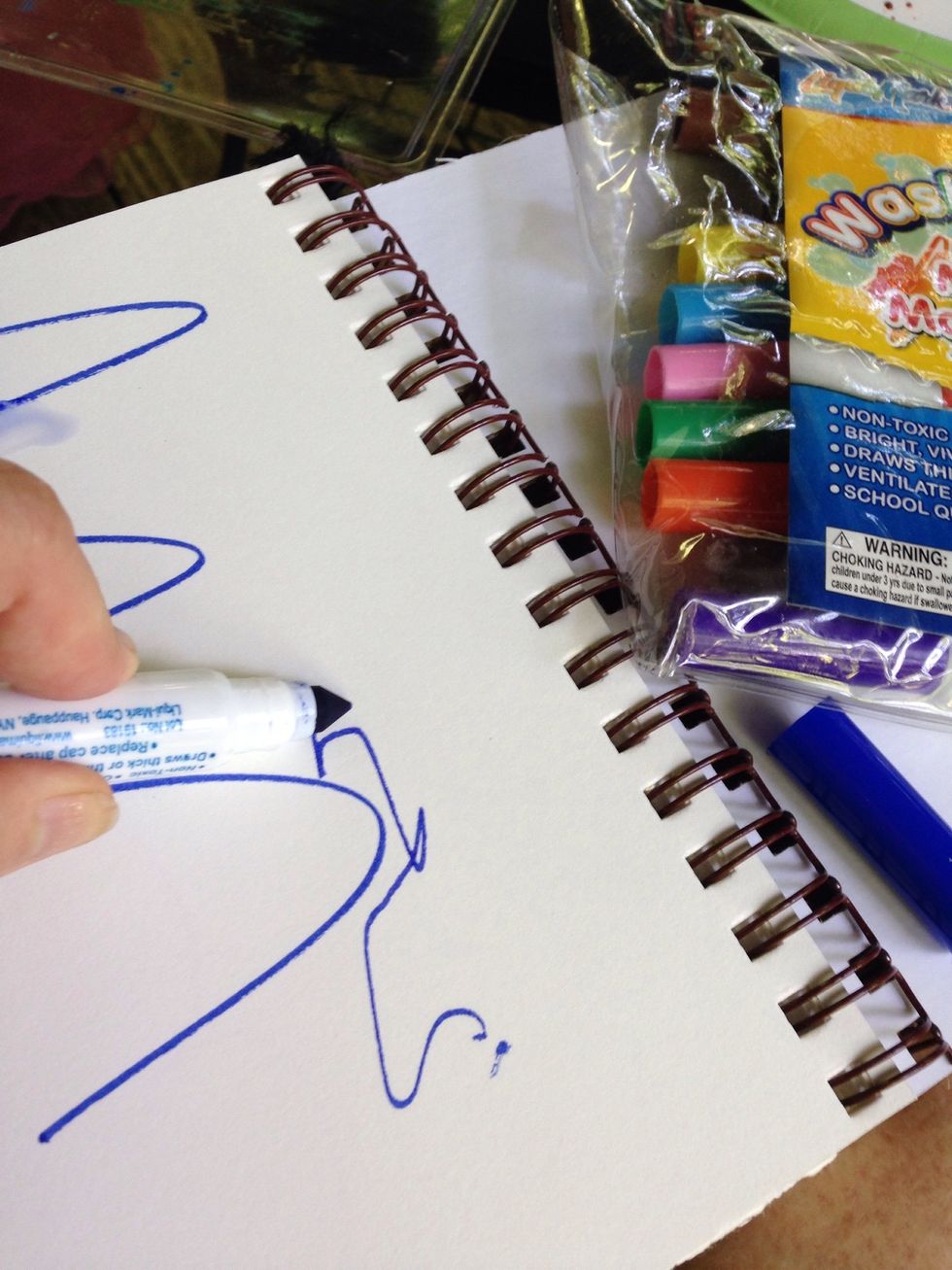 Washable markers give you a variety of colors for the blank pages.
They come beautiful blends when you stroke them with a wet brush.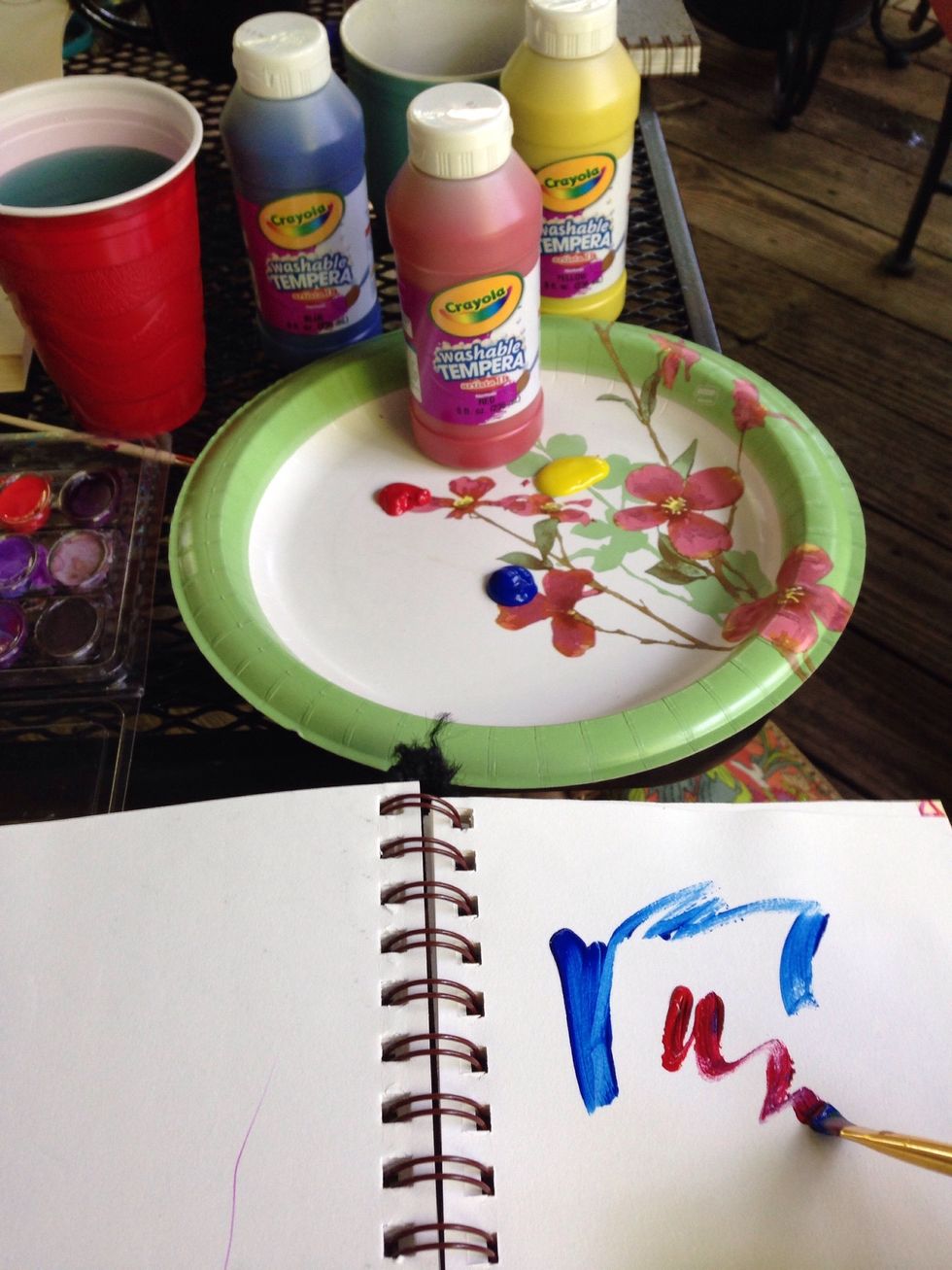 Tempra and acrylic paints will give you more opaque coverage on the paper.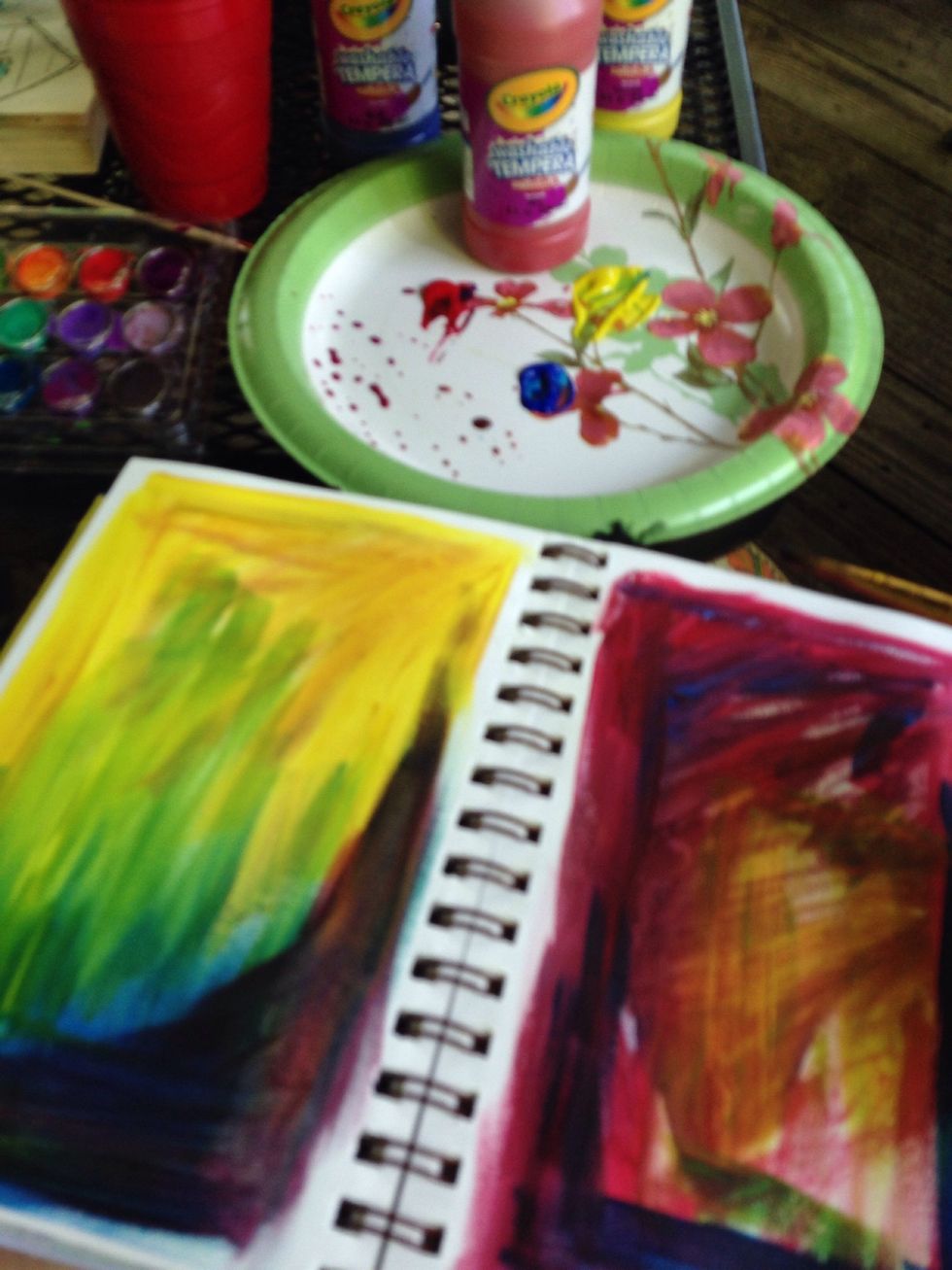 Blending the primary colors (red, yellow and blue) will give you a wide variety of options. And sometimes "mud."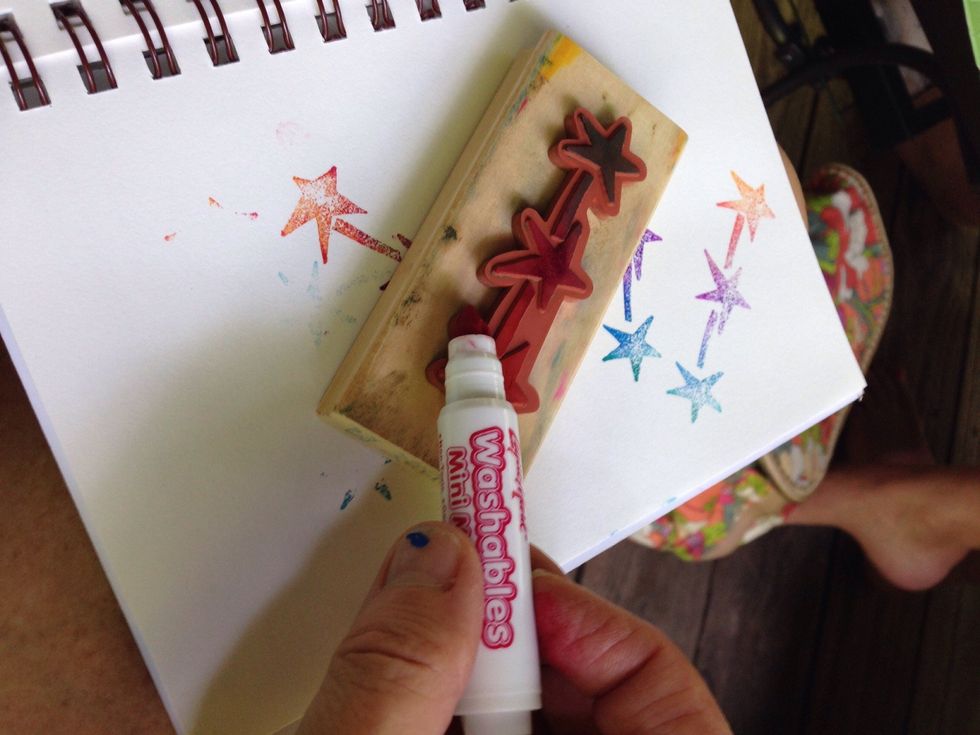 Stamping patterns on the page can give you an interesting base too. Washable markers come in handy here.
You'll now have a variety of pages ready to be filled with images, words, patterns and doodles. The next few slides will show the process I use to work on a page.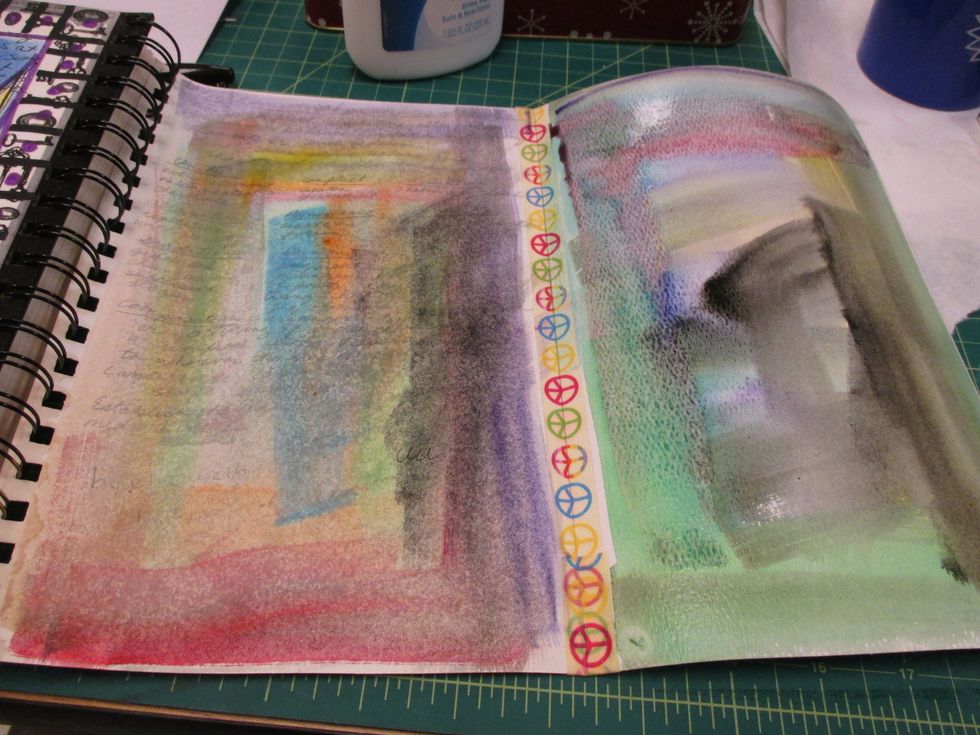 Page full of color
Write lyrics to songs, lists, values, or some ideas on the pages with a sharpie.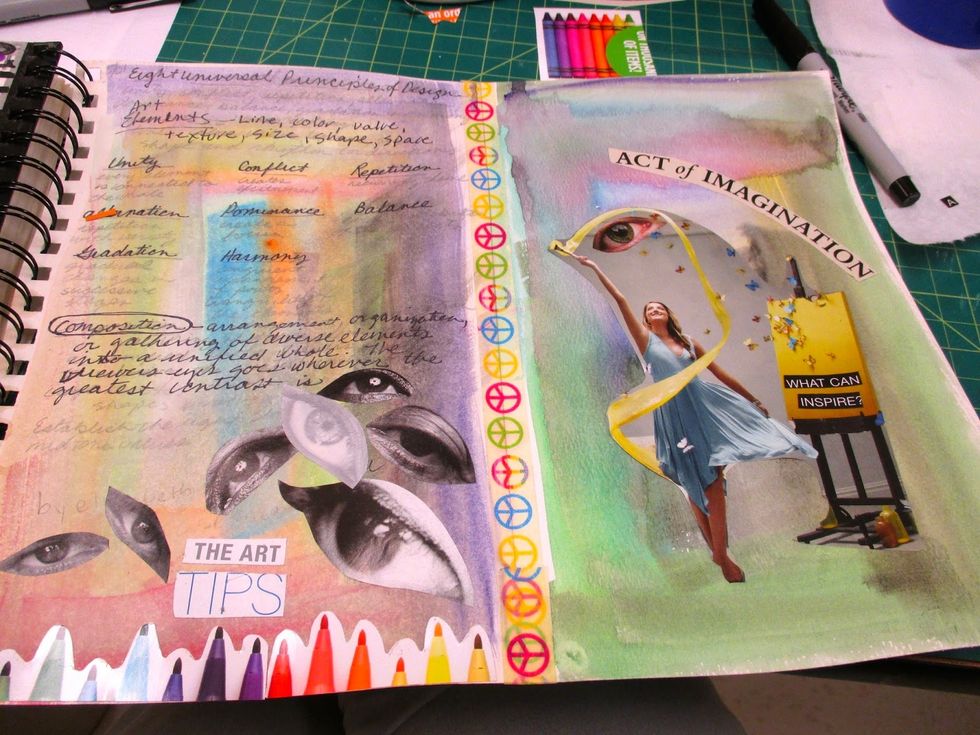 I sorted through my lists of words and images deciding these pages were about looking at art creation. I found a wide variety of facial features in my idea file. I secured these with a gluestick.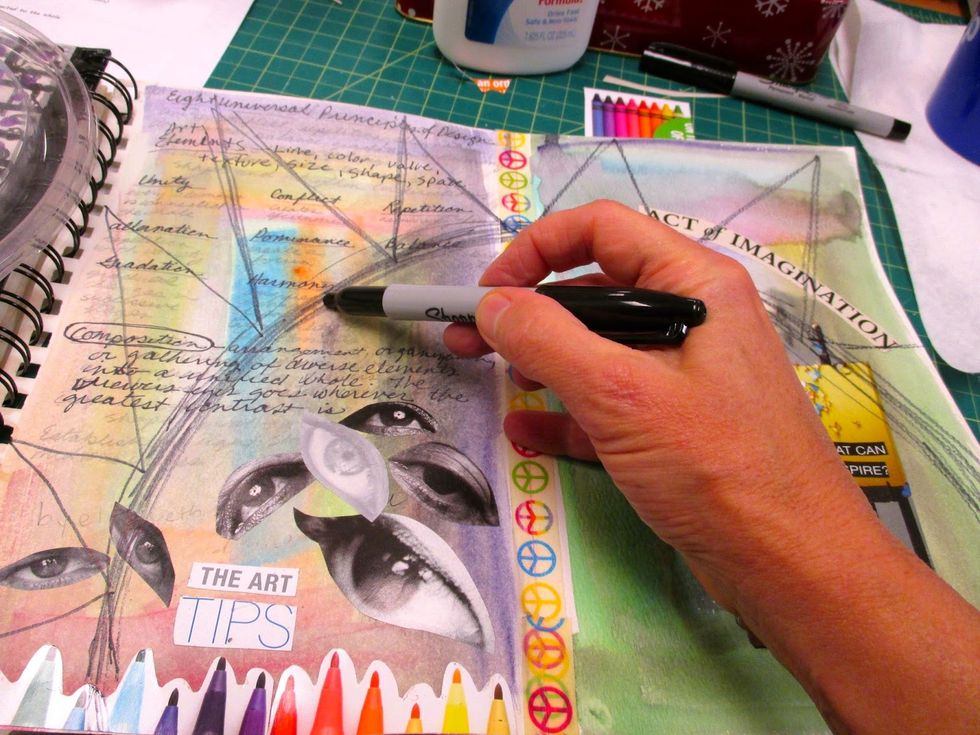 I wanted to bring together the images so I sketched a semi circle around them. It then became a sun - bright idea!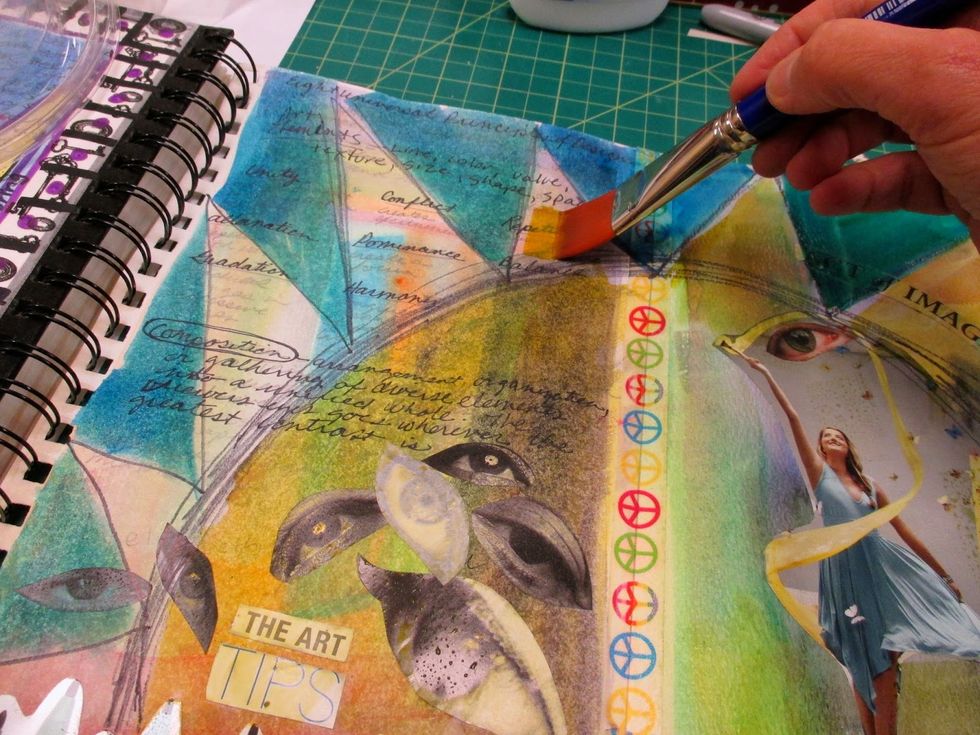 Another layer of watercolor enhanced the sun shape. I love how the transparency lets words and images show through.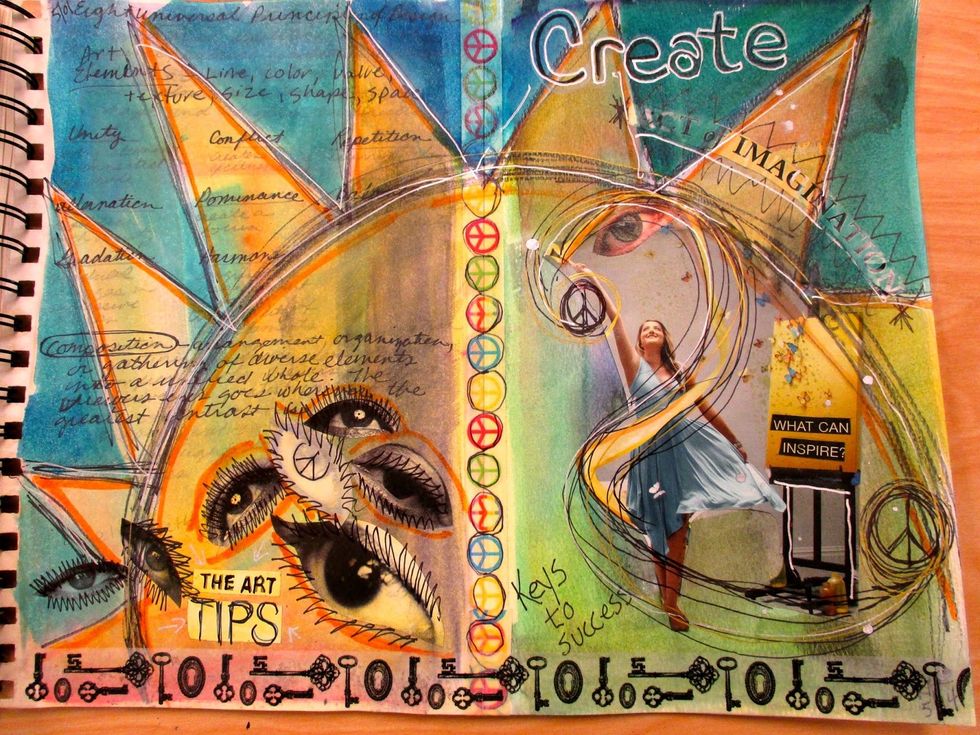 Here's the finished pages. I added a few more words and doodles using a fine point pen and a white out pen. The next few slides show some more pages completed using this method.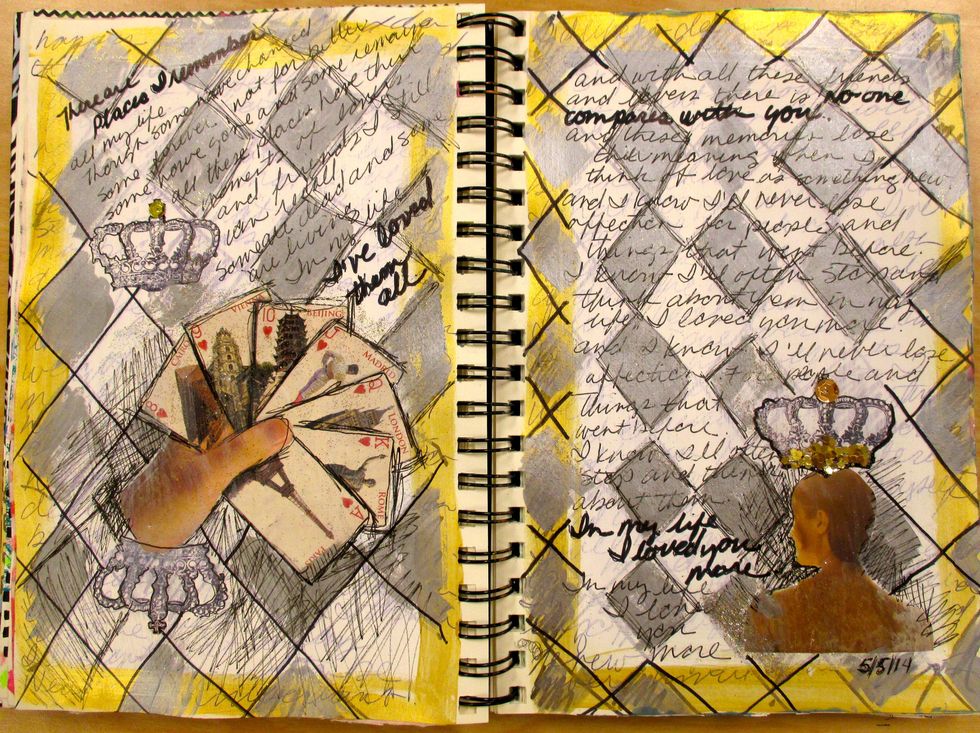 My favorite song pages. To prepare these pages I used acrylic paints (white, gold and silver). I added collage, then wrote and doodled with a fine point sharpie. Lastly the crown stamp and glitter.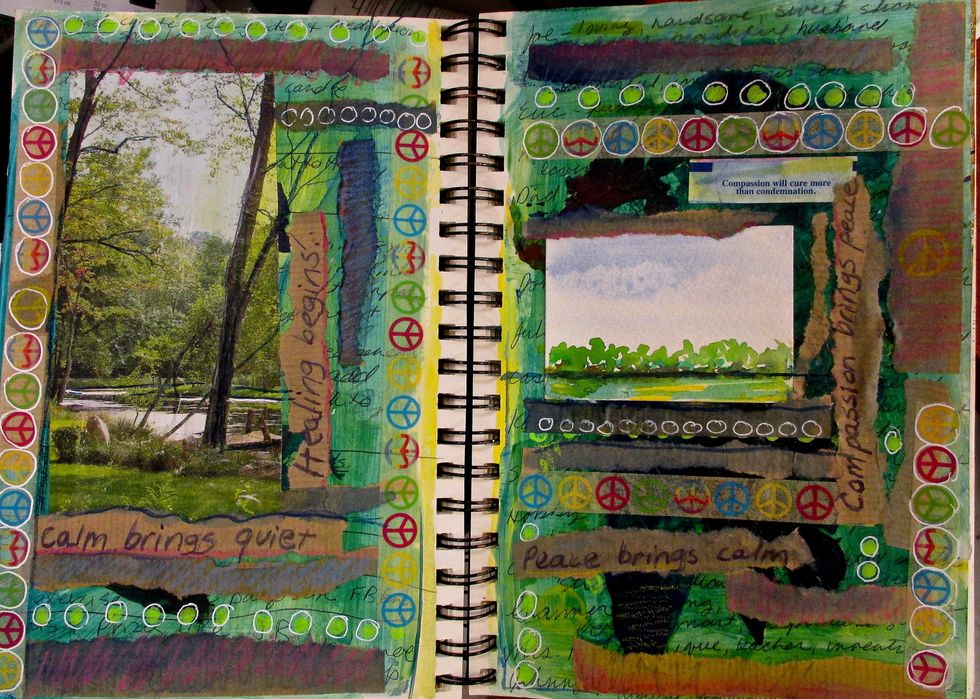 Here I incorporated an Artist Trading Card on a page about the river. Underneath the paint and collage is where I wrote a list of my favorite people and places.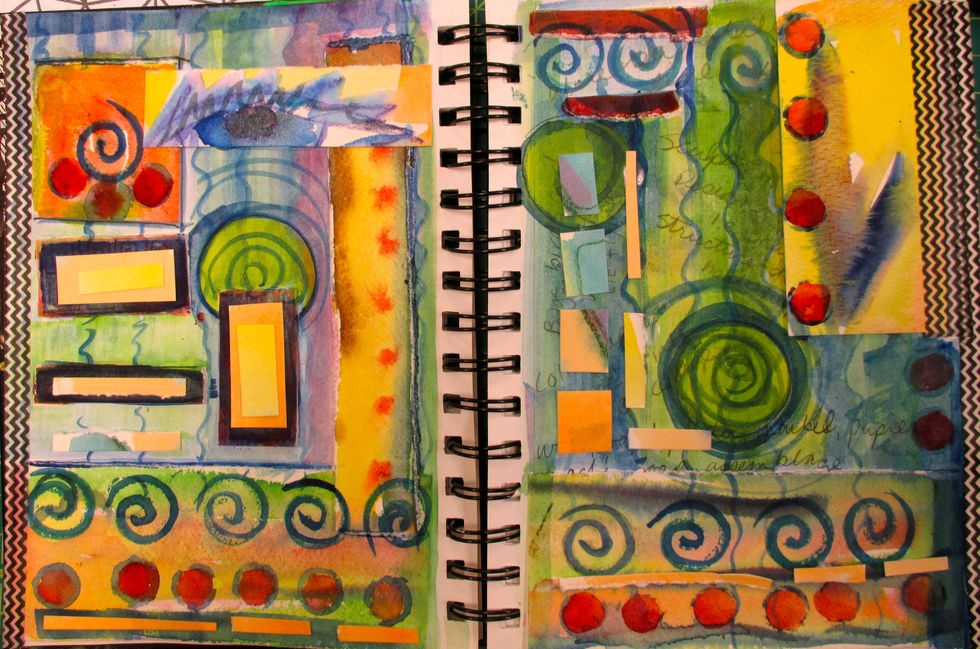 These are just playful, colorful collages using scraps from varous practice paintings.
You don't need all of these supplies.
Gather what you have
Sketch book
pencils (color and regular)
markers (water based and permanent)
paints (watercolors, tempra, acrylic)
scissors, glue sticks, glue, matte medium
magazines and other images
assorted stamps and stamp pads
miscellaneous "stuff"
Karen Richards
I am an artist, a teacher, and health coach. My mission is to inspire people to discover the power of their imagination. Dare to create your better life!
www.karenarg.blogspot.com