Create a Halloween Tag Using Julie Nutting Stamps
9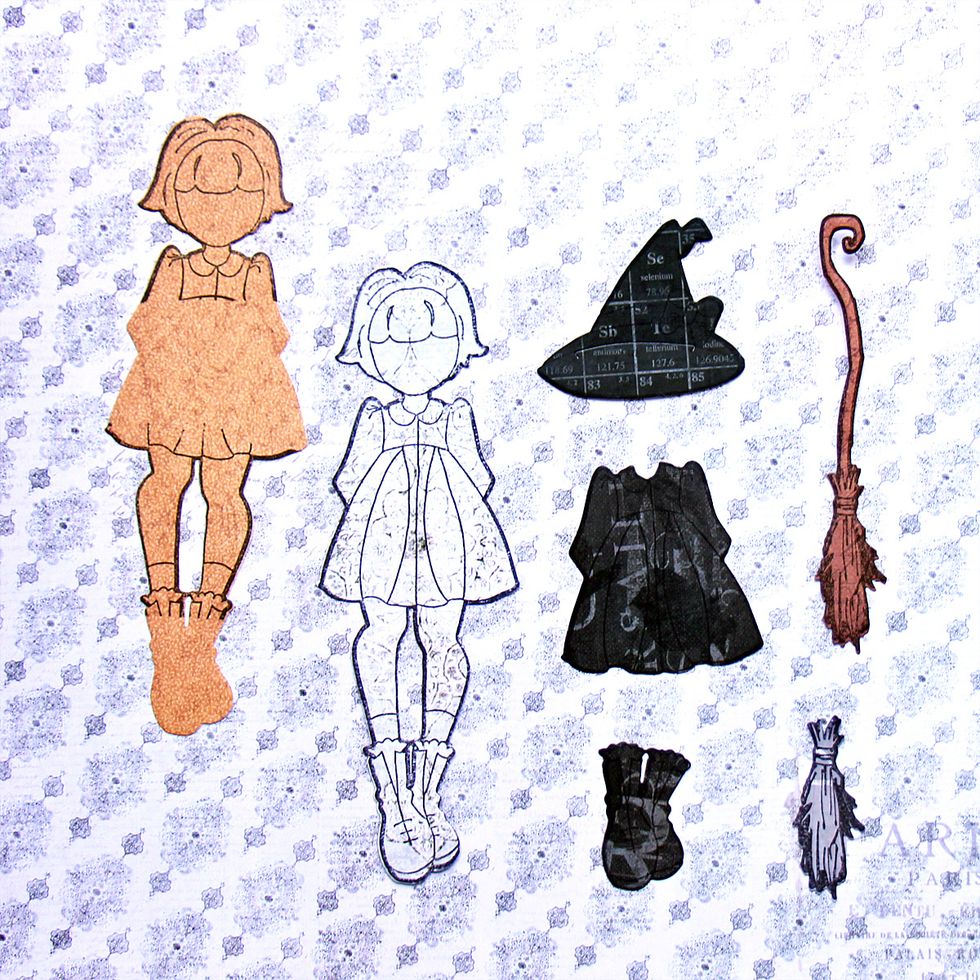 Stamp images and cut using dies.
Begin to assemble the doll using the cut pieces.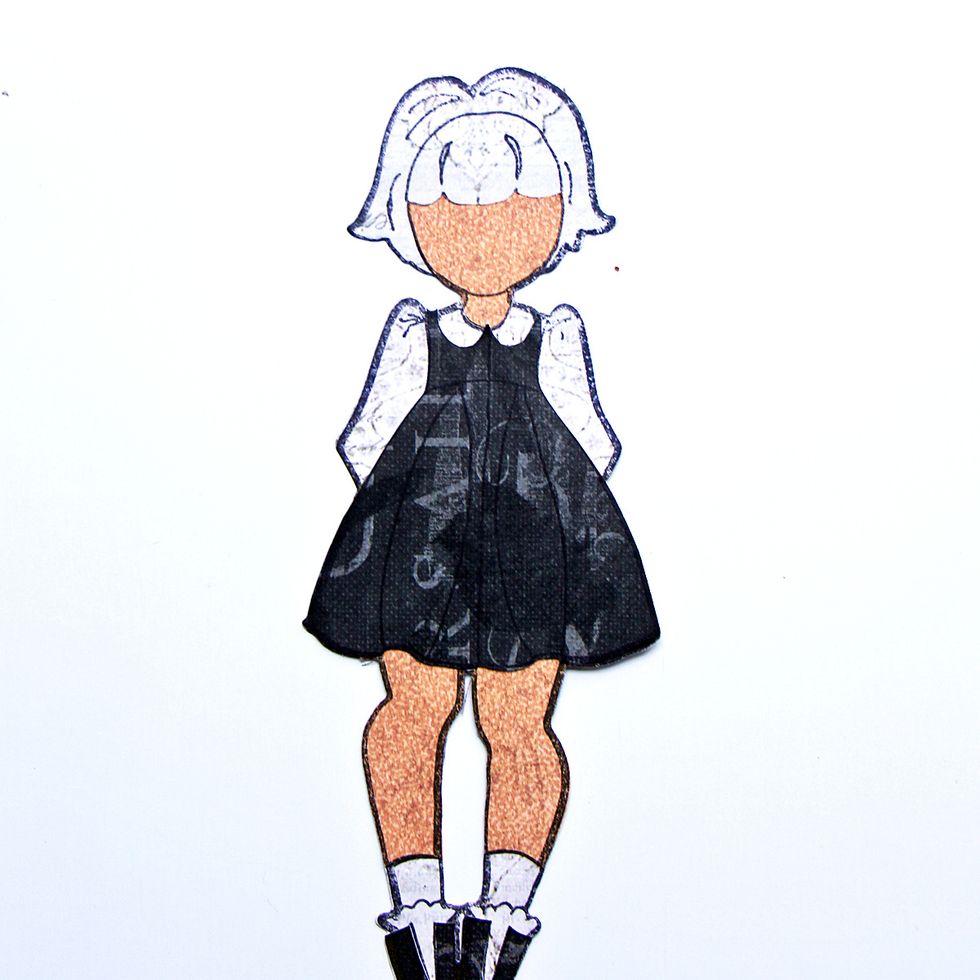 Using the dies makes it quick and easy to cut the exact dimension of the doll's accessories.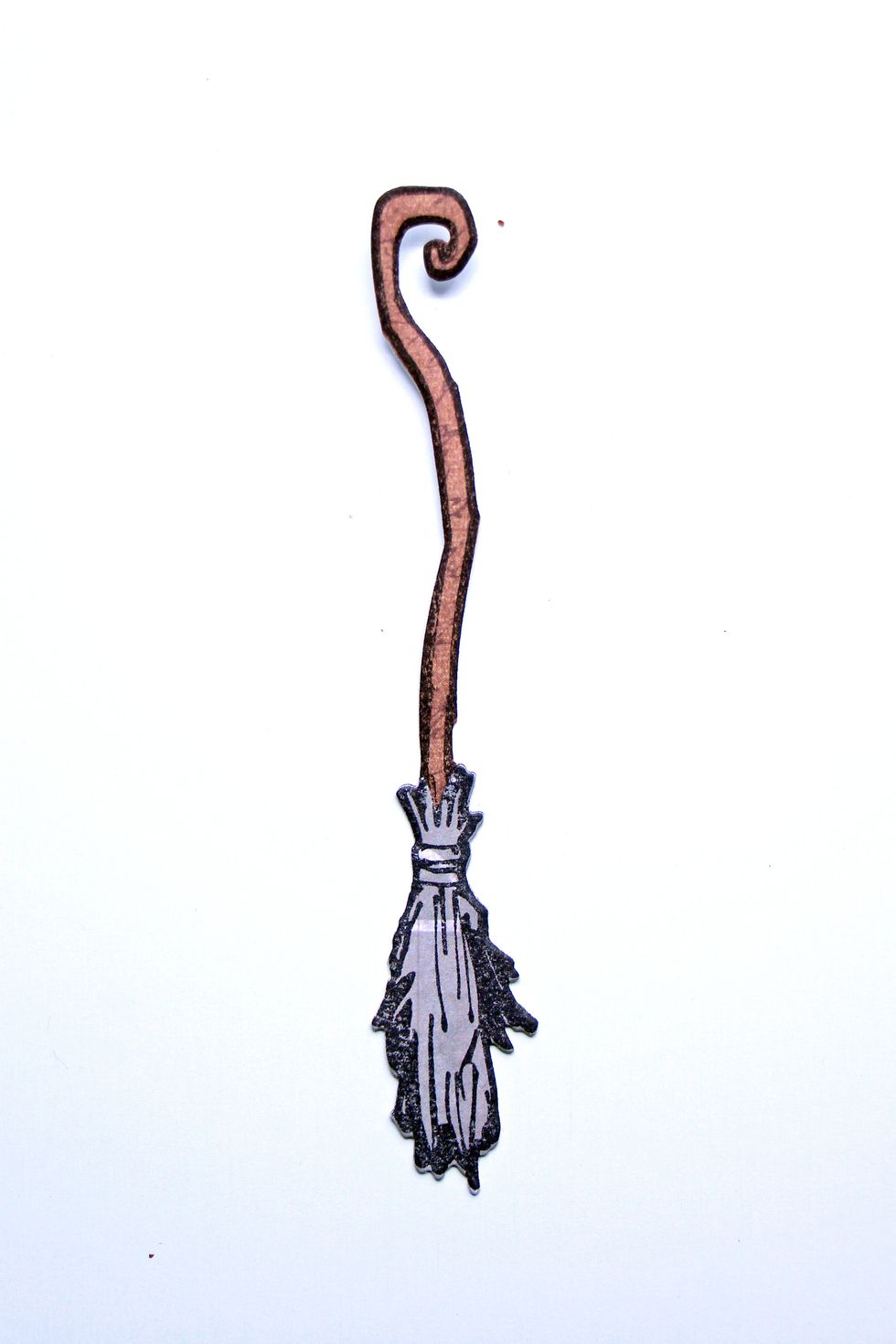 Assemble broom pieces.
You can also add different colors as accents. I decided to use purple cardstock.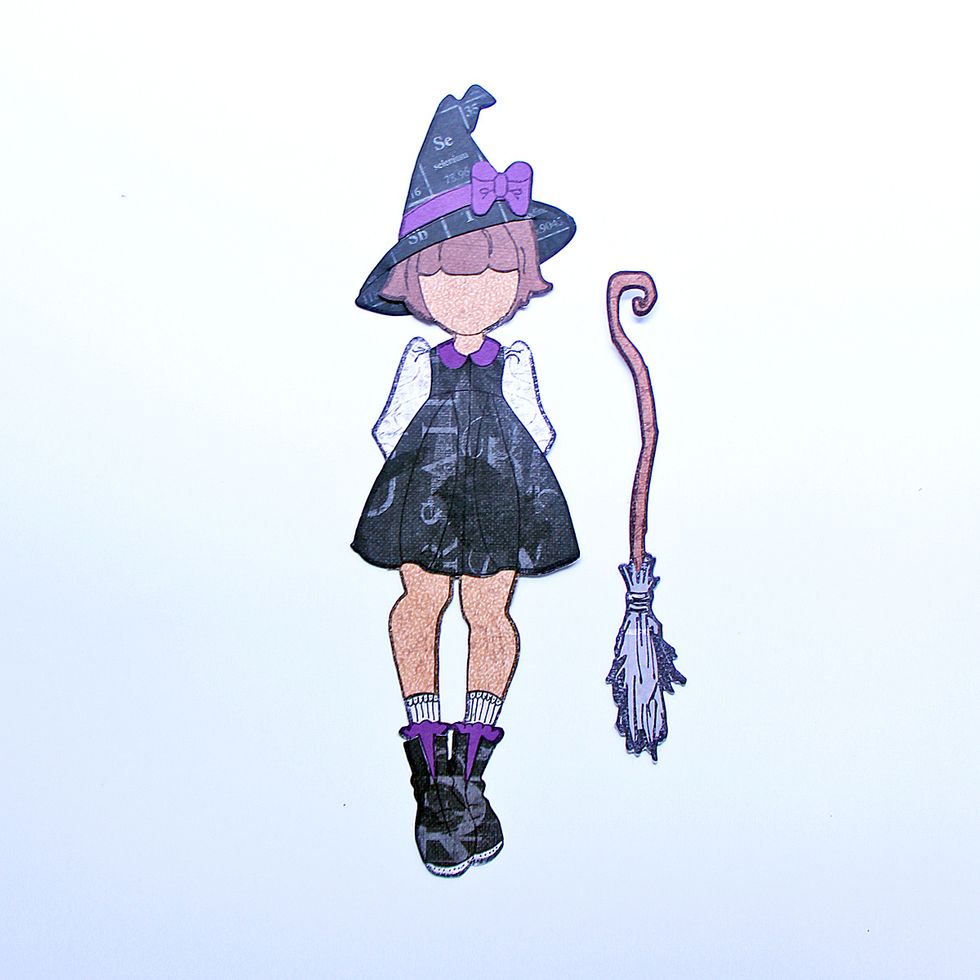 Your doll is now complete and ready for you to add your own details.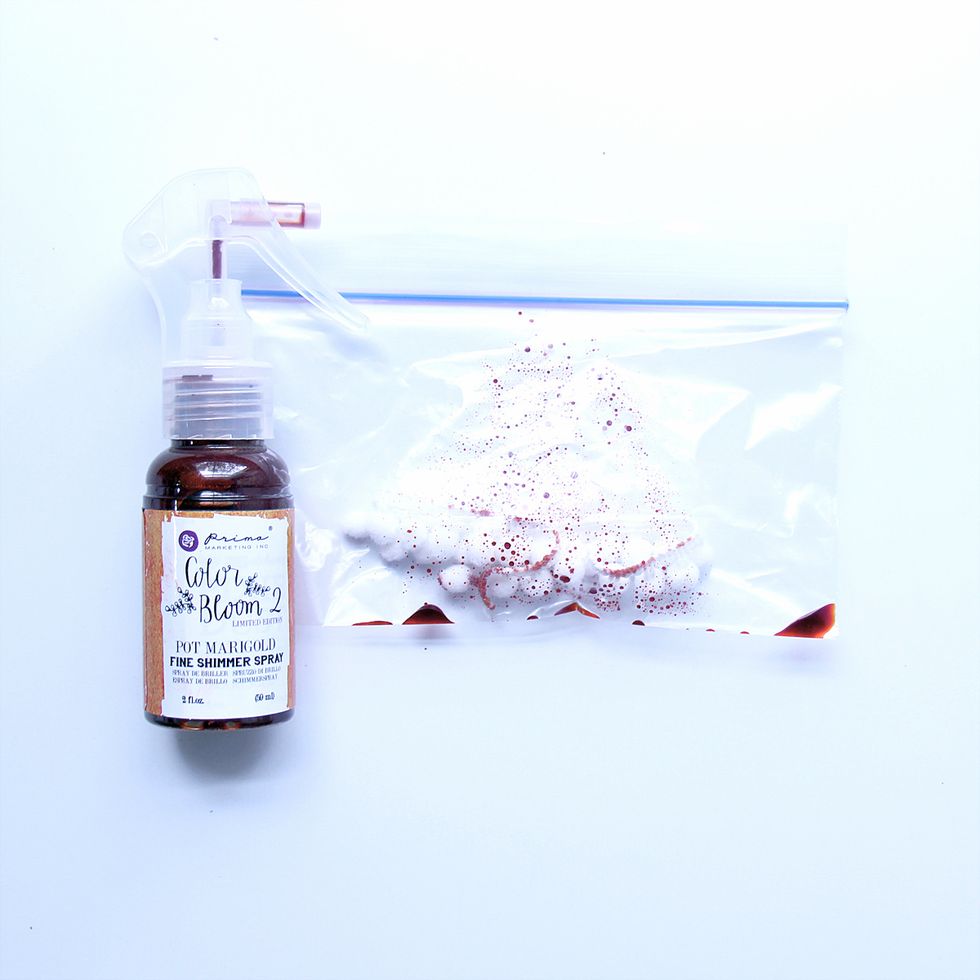 To create custom colored trim, place trim in a plastic baggie and add colored spray. Seal the bag and press the color into the trim. You can adjust the saturation by adding more spray.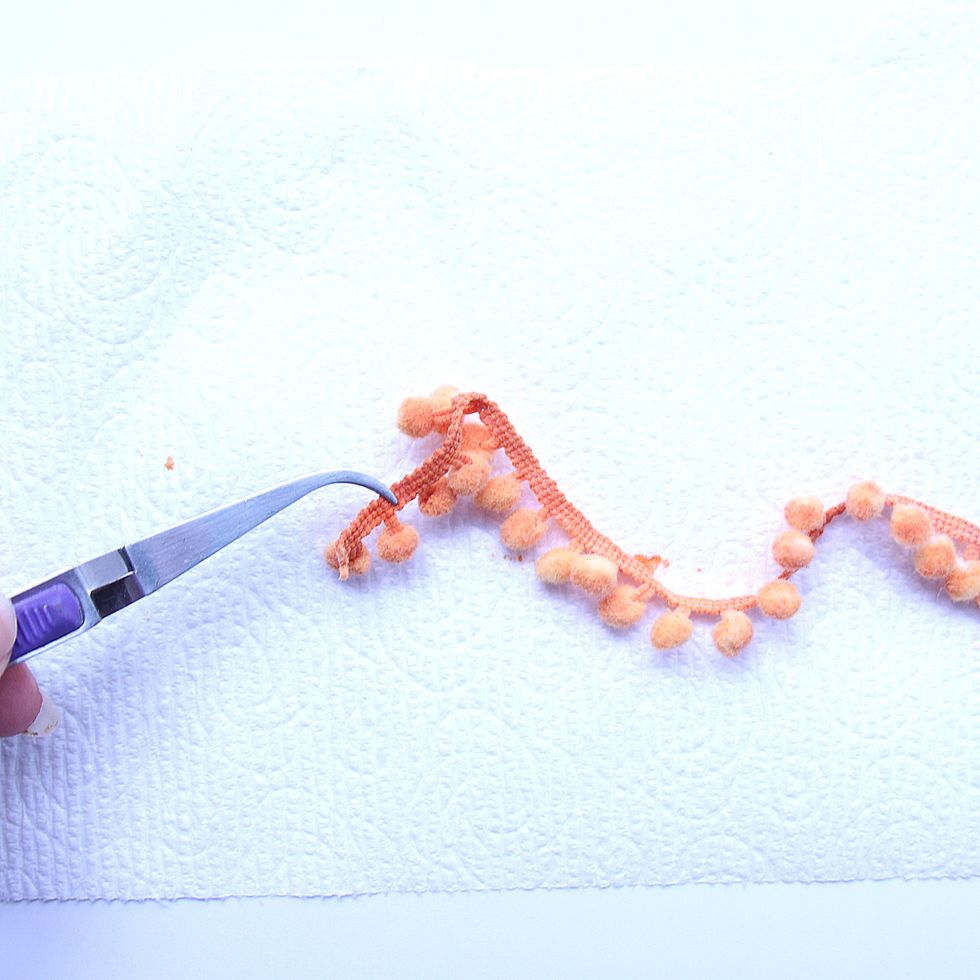 Remove trim and dry using a heat tool.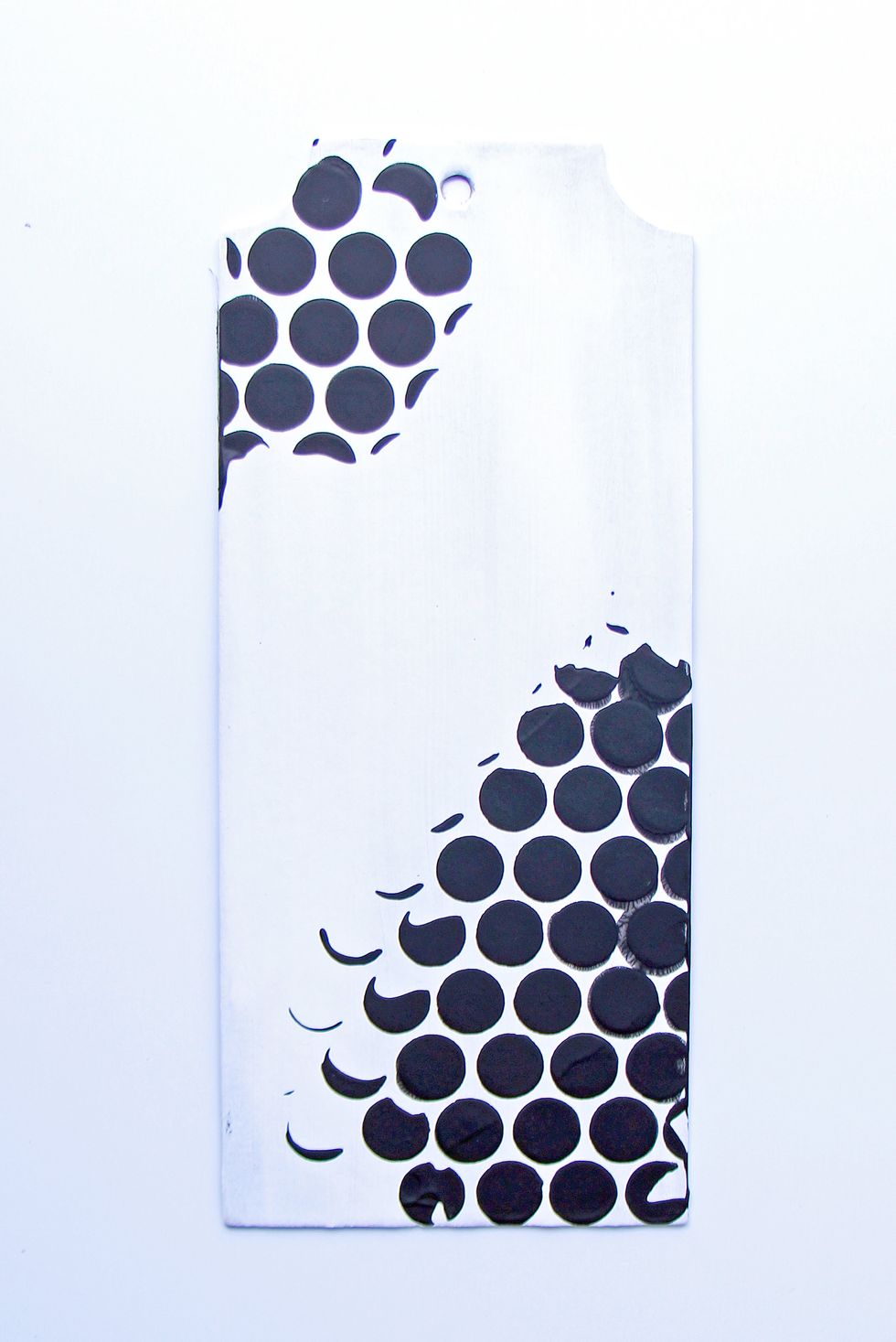 Cover a chipboard tag using white gesso and dry. Add texture by using the honeycomb stencil and heavy black gesso.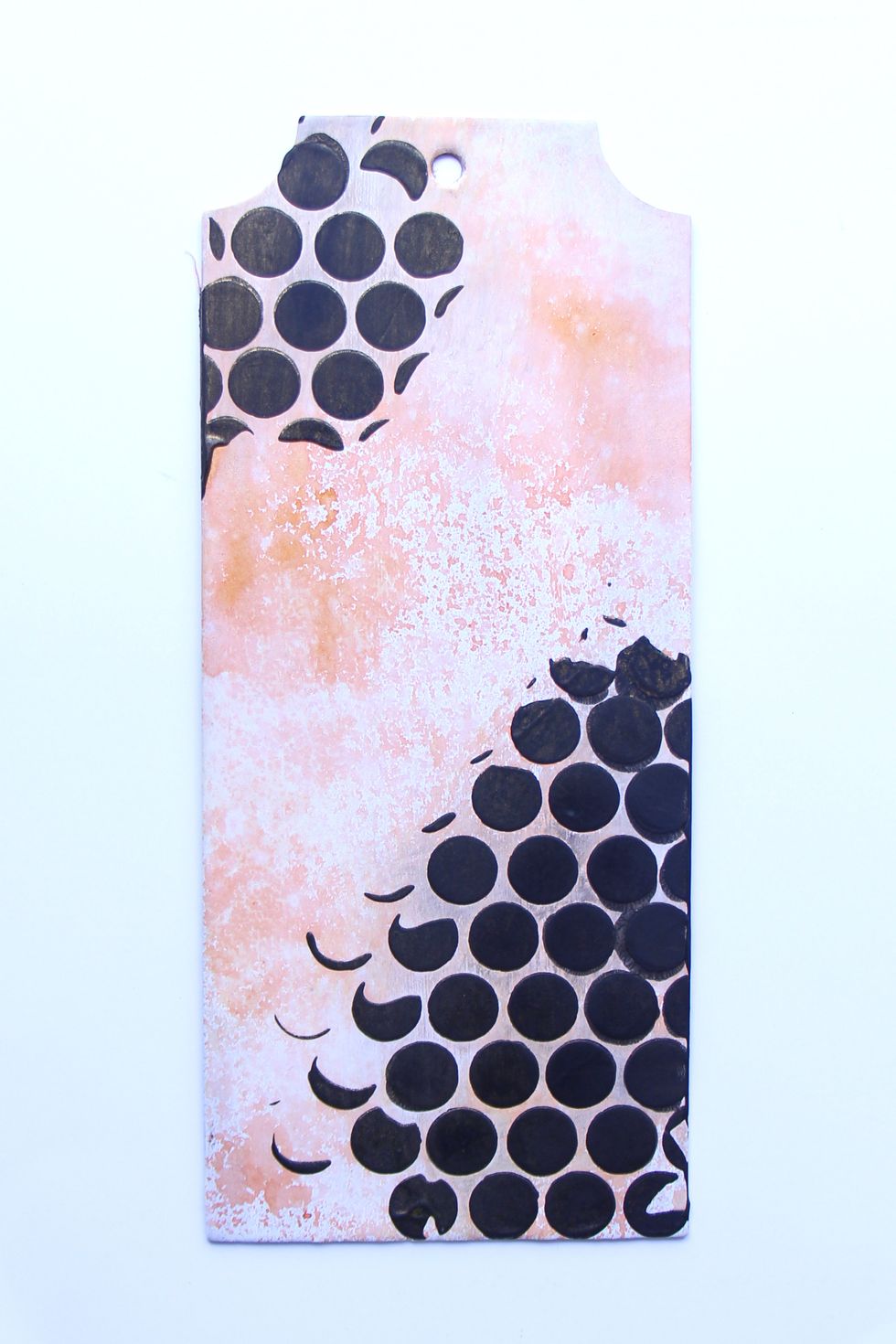 Spray "Gilded" color bloom spray sparingly to the tag, dry.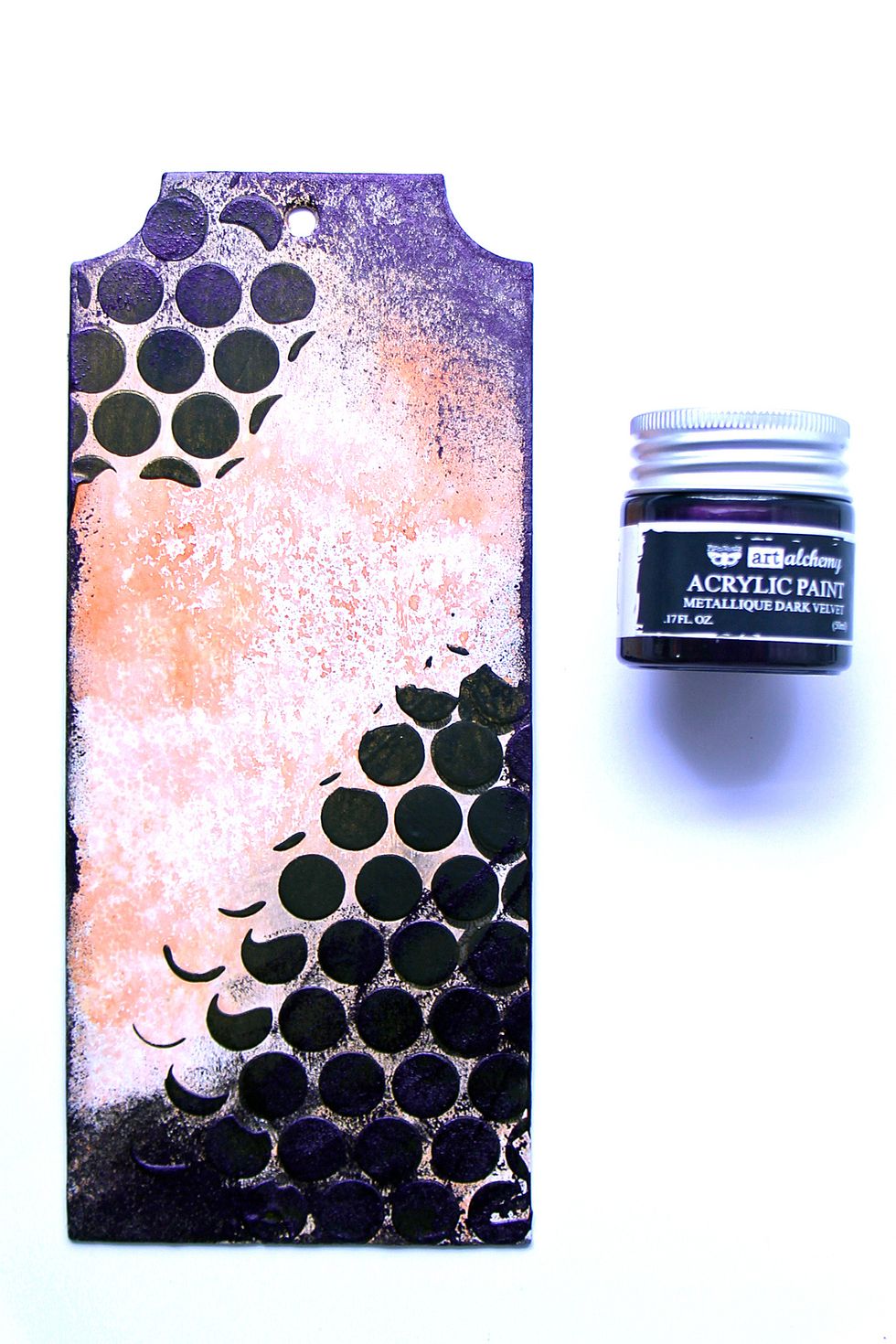 Add "Dark Velvet" acrylic paint to the outer edges and border of the tag as shown.
Stamp random images using embossing ink. Spread embossing powder over the stamped images and heat emboss.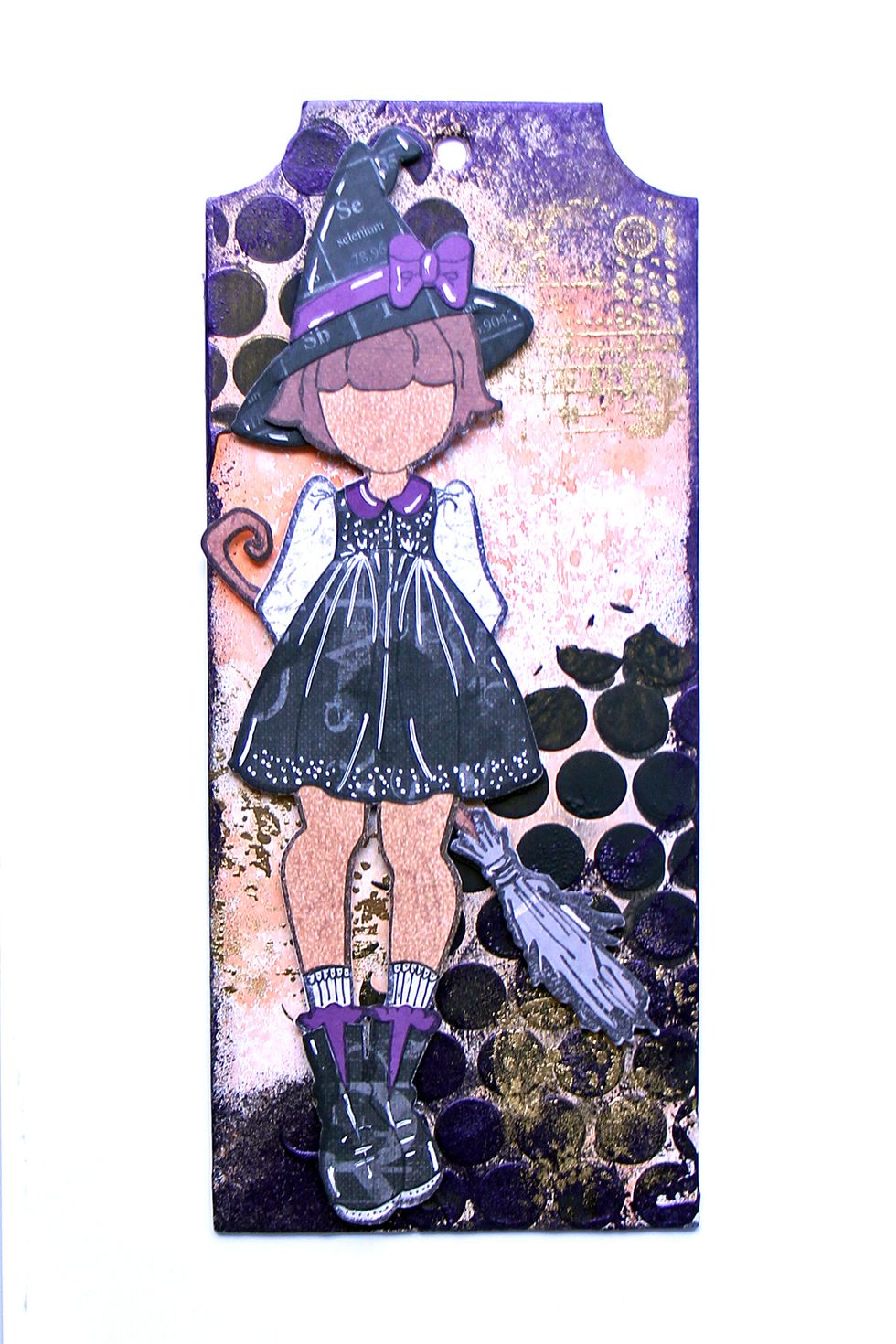 Add the doll and broom using dimensional foam squares/tape.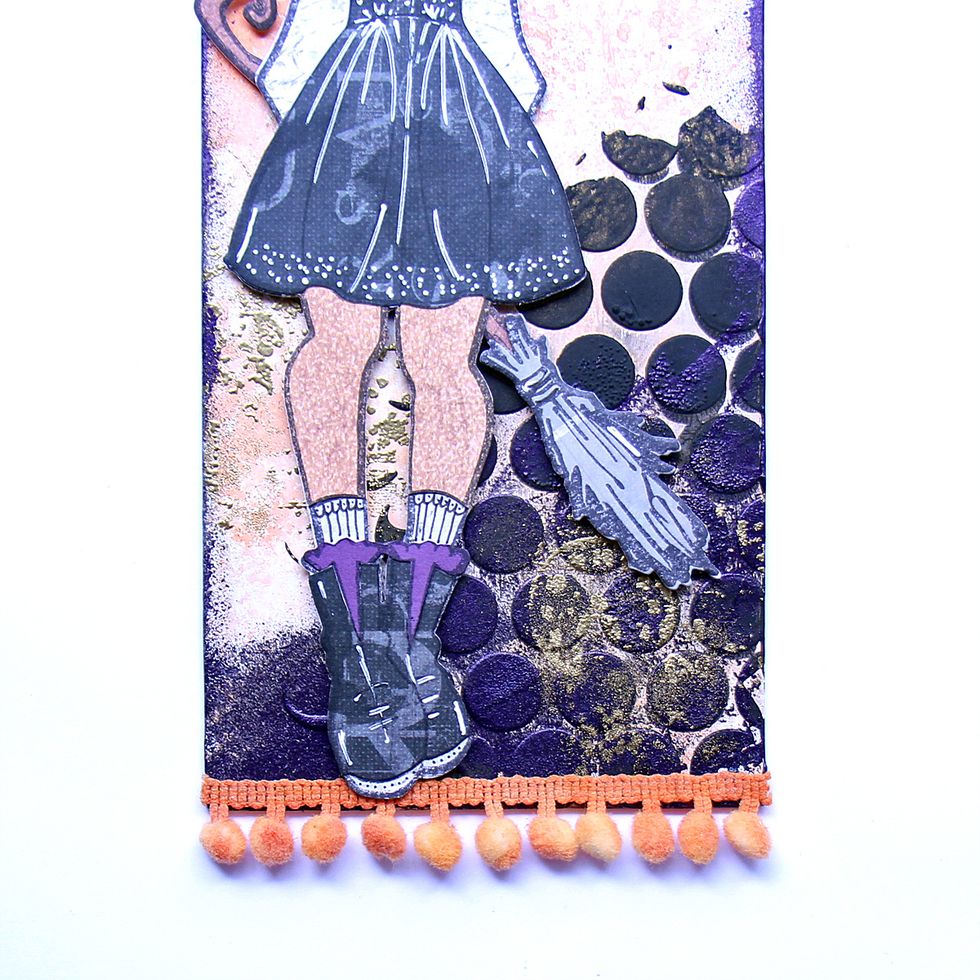 Add trim to the bottom of the tag.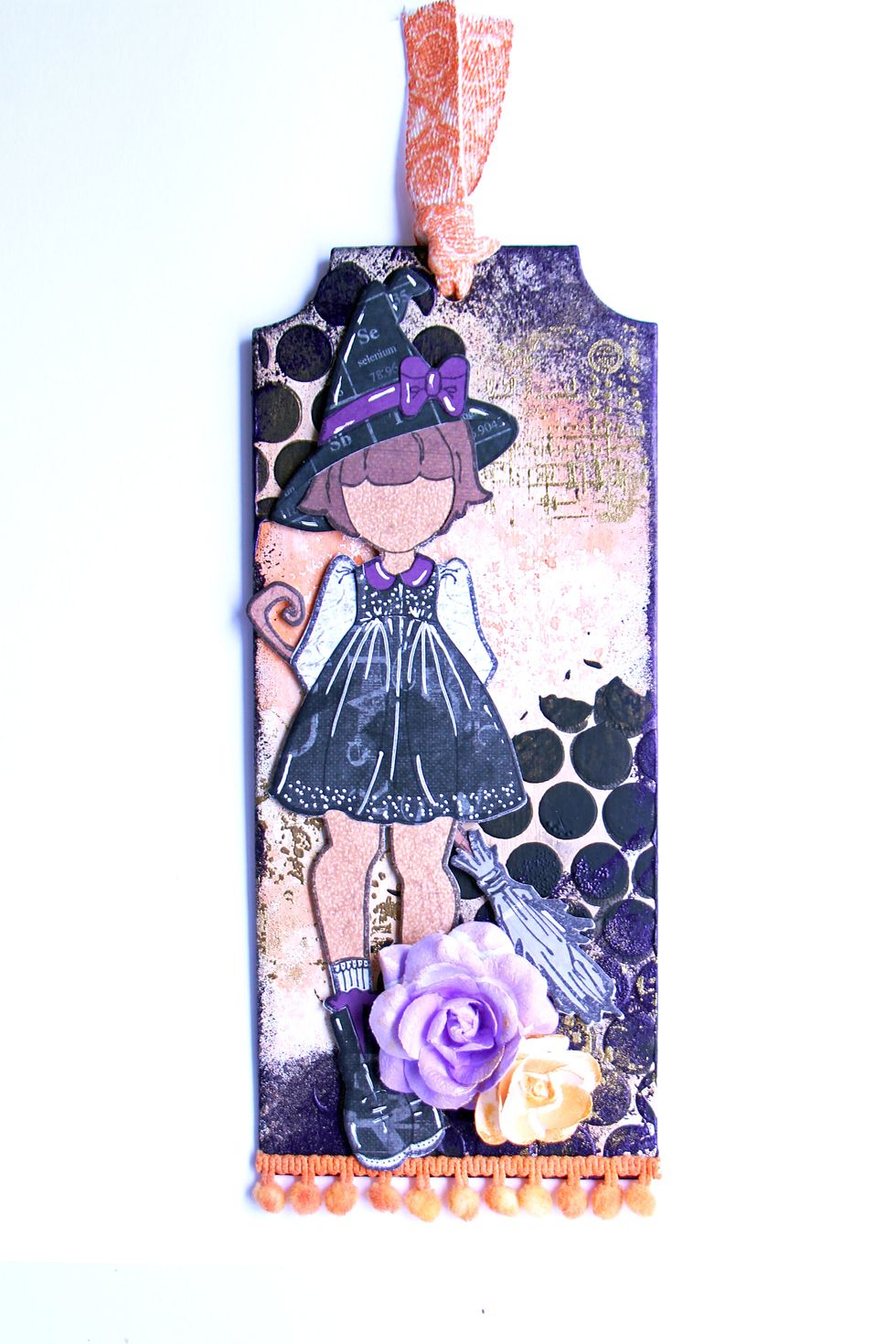 Add ribbon to the top of the tag, as shown.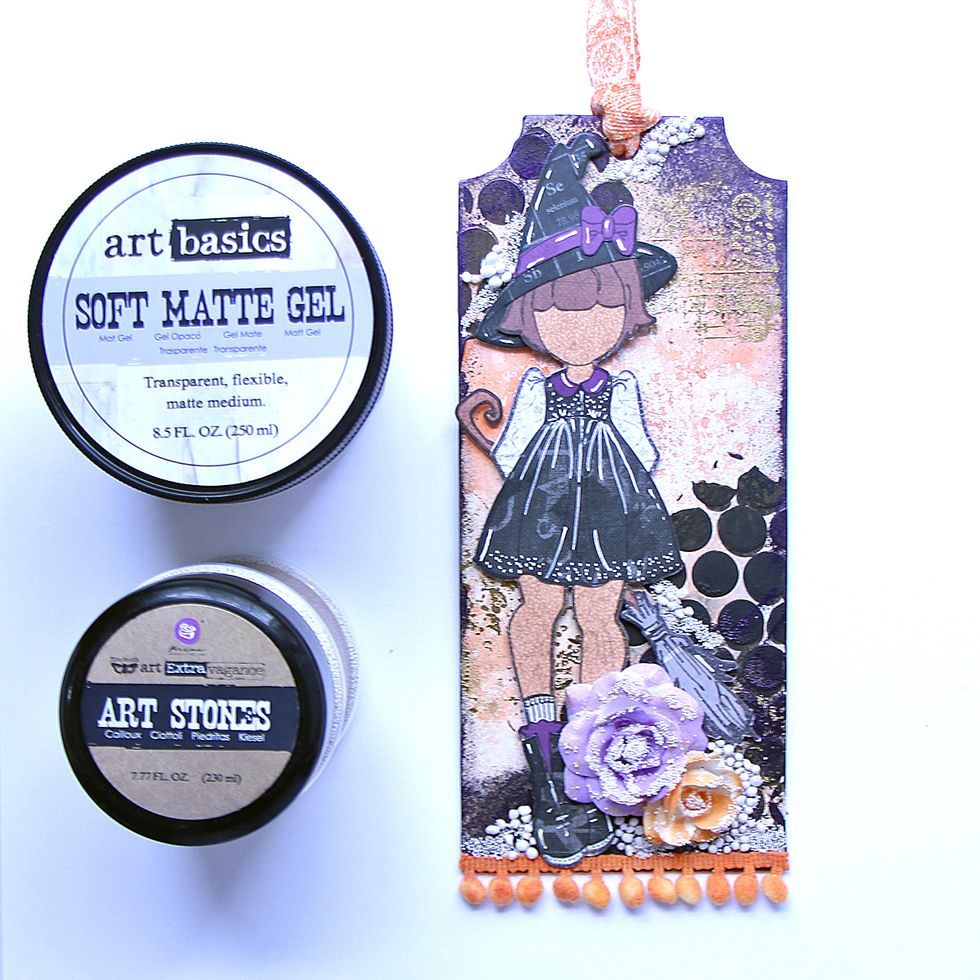 Spray white rosettes using Iris and Gilded color bloom spray. Add Art Stones as accents to your flowers and to various areas of the tag.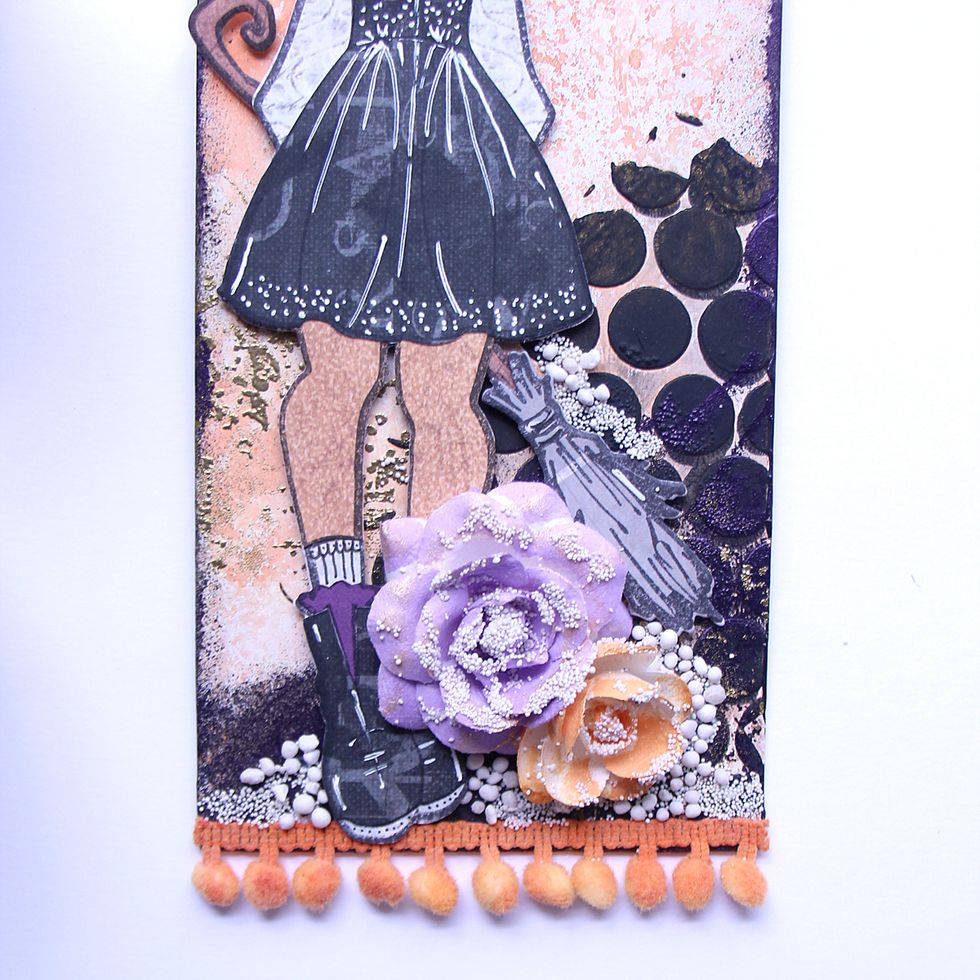 Here you can see the beautiful detail that the Art Stones add to the design.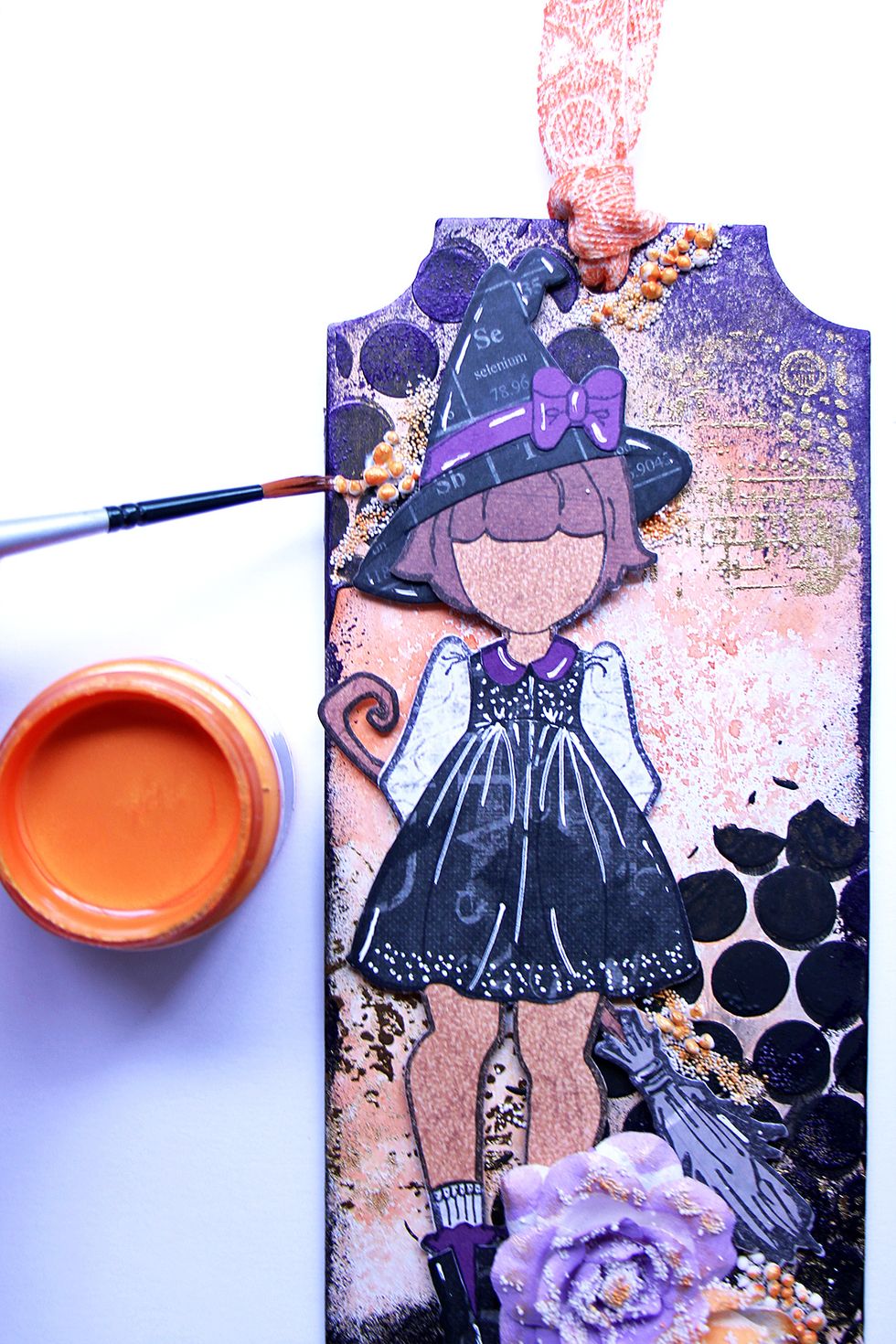 Paint the art stones using "Fresh Orange" acrylic paint.
1.0 961442 – Art Basics Gesso
1.0 584979 – Chipboard Tags – Large
1.0 910327 – Julie Nutting "Buff" A4 paper pad
1.0 911614 – Julie Nutting Cling Stamps - Metal Dies
1.0 584337 – Salvage District 12x12 Collection Kit
1.0 589691 – Planner Glue Pen
1.0 963125 – Art Alchemy Acrylic Paint – Dark Velvet
1.0 963194 - Art Alchemy Acrylic Paint – Fresh Orange
1.0 588755 – Color Bloom 2 – Pot Marigold
1.0 573911 - Color Bloom – Gilded
1.0 588540 – Planner Flowers – Carrie
1.0 573744 – Color Bloom – Iris
1.0 962968 – Art Basics – Heavy Black Gesso
1.0 586744 – Prima Flowers
1.0 963705 – Art Stones
1.0 586478 – Salvage District Flowers
1.0 584726 – Salvage District Clear Stamps
1.0 586461 – Salvage District Flowers
1.0 961428 – Art Basics – Soft Matte Gel
1.0 961268 – Elementals Stencil – Honeycomb
1.0 Gold Embossing Powder - Fine/Detail
1.0 Heat Tool
1.0 Colored Cardstock - Purple or desired color
1.0 Embossing Ink
1.0 Foam Tape/Squares
1.0 8" Decorative Orange Ribbon
1.0 Medium Rosette
1.0 Small Rosette
Prima Marketing
Prima Marketing, Inc. is an established leader in flower embellishments in the scrapbooking and crafting industries!