How to create a dramatic pink textured canvas
Create a Dramatic Pink Textured Canvas
25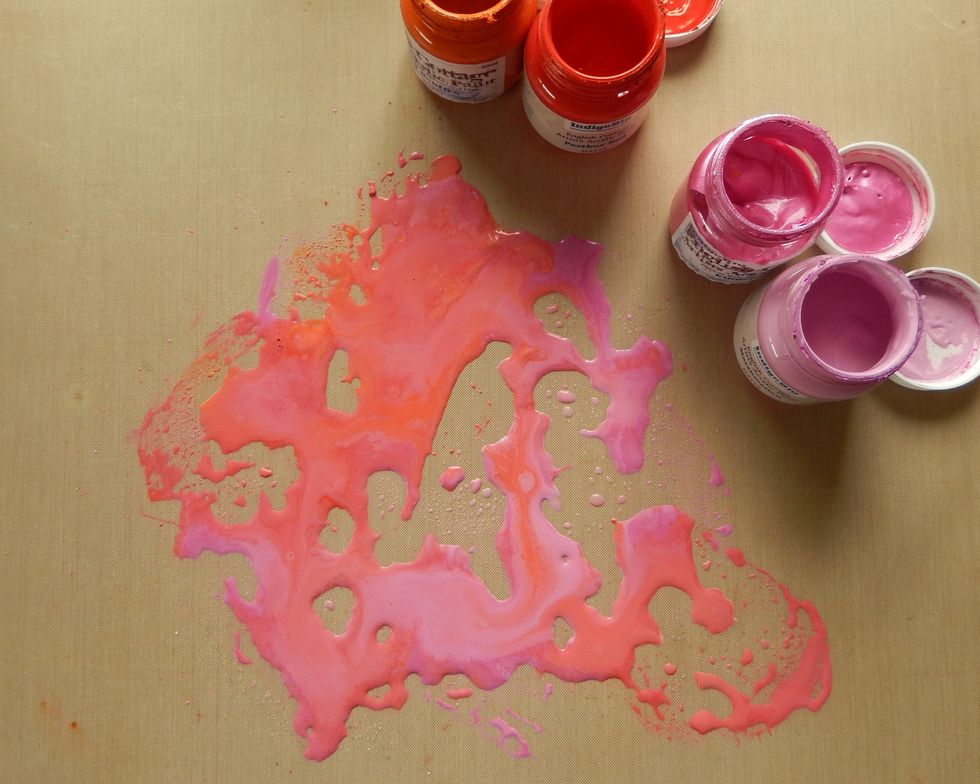 Mix a blend of the pink, red and orange acrylic paints on your craft mat with water. Don't blend too thoroughly as you want a non-uniform finish.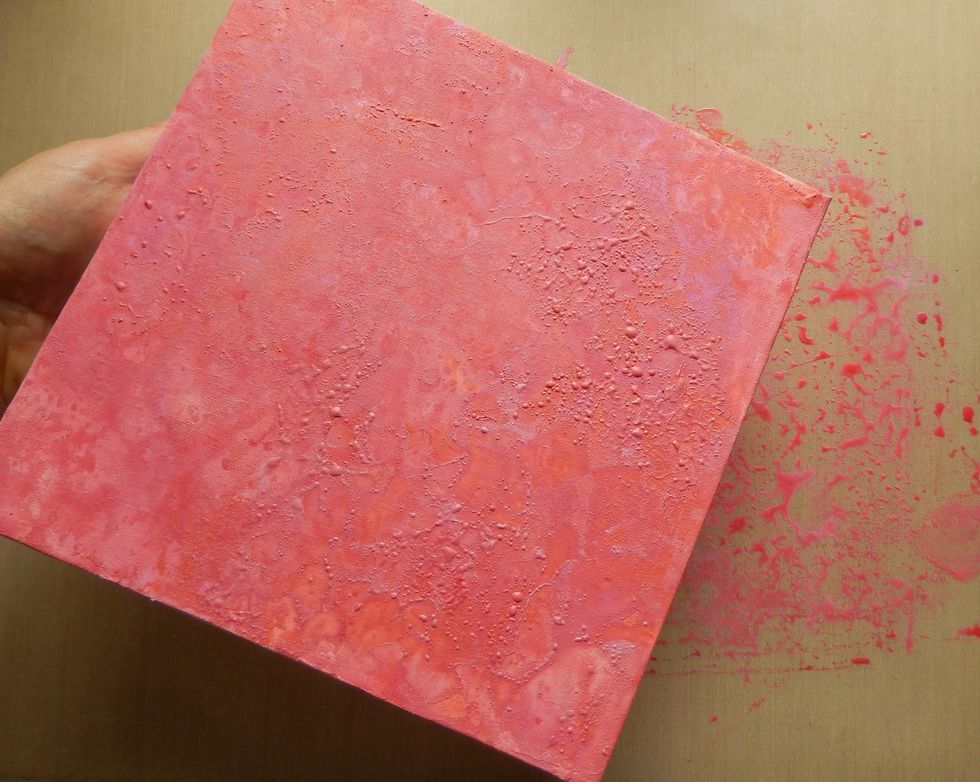 Cover your canvas with a thin layer of texture paste. When dry dip into the paint and heat set several times until covered. Overheating will cause lovely bubbles on the surface.
Add extra water to the remaining paint on your craft mat and brush it on to three paper flowers. When dry, brush a little more of the Cinderella and some white gesso on to the edges of the petals.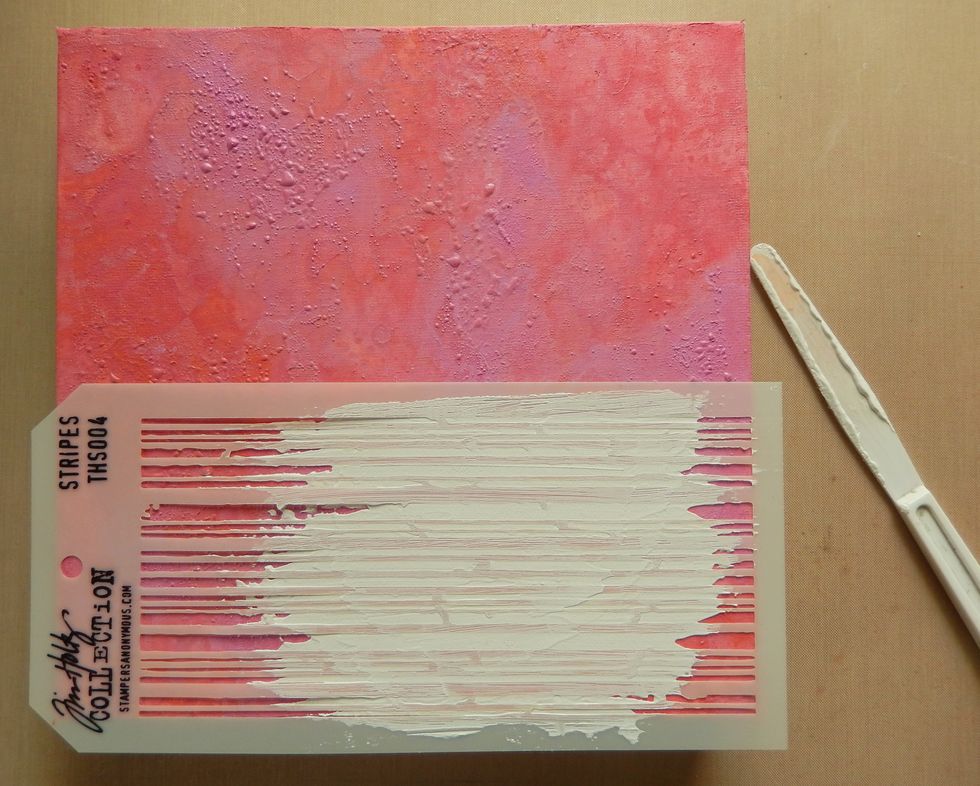 Apply stripes of texture paste through the Stripes stencil across the canvas, working in one direction until you have covered it all.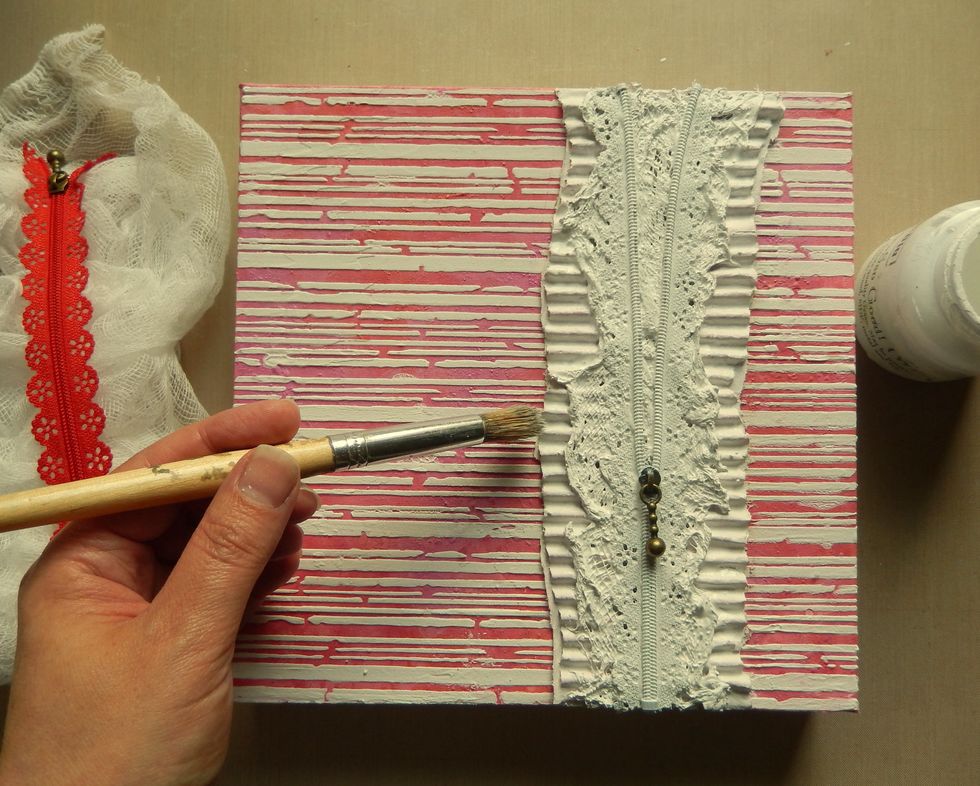 Add a strip of torn corrugated card, gauze dipped in texture paste and a lace edged zip to the dried canvas. Cover all of this in white gesso.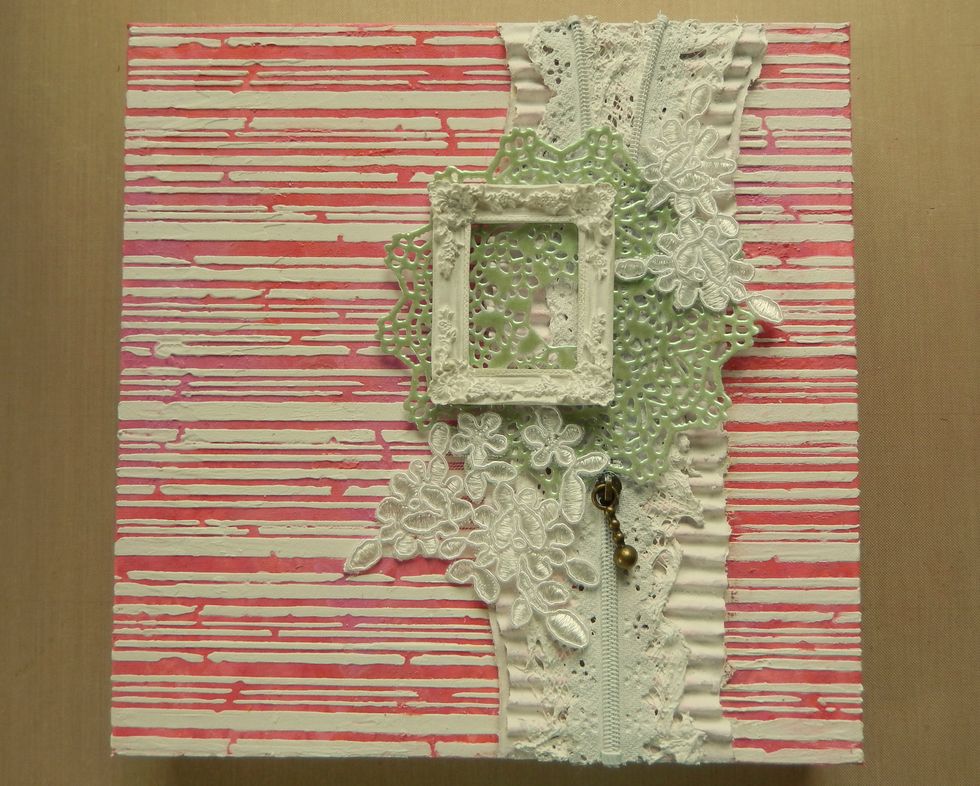 I added pieces of lace, a doily and a small fancy resin frame painted with the white gesso as a base for the final embellishments.
To finish I added the flowers with painted leaves, filigree brass pieces and pearls. The Dinkie Butterfly was covered with the Mega Flakes and heat embossed in black. The words were Big Chat stickers
1.0 IndigoBlu Acrylic Paint Marshmallow
1.0 IndigoBlu Metallic Acrylic Paint Cinderella
1.0 IndigoBlu Acrylic Paint Postbox Red
1.0 IndigoBlu Acrylic Paint Burning Bonfire
1.0 20cm (8 inch) Square Canvas
3.0 Paper Flowers
1.0 White IndigoBlu Gee-Sso Good! Gesso
1.0 Tim Holtz Texture Paste
1.0 Tim Holtz Layering Stencil Stripes
1.0 Corrugated Card
1.0 Gauze (or similar)
1.0 Fancy Lace Edged Zip (or similar)
1.0 Small Doily
2.0 Pieces of Lace
1.0 Small Fancy Resin Frame
1.0 IndigoBlu Stamp Dinkie Butterfly
1.0 IndigoBlu Mega Flakes Chariot of Fire
1.0 IndigoBlu FlitterGlu
1.0 Black Fine Embossing Powder
3.0 Leaf Stems
2.0 Filigree Brass Pieces
2.0 Tim Holtz Idea-Ology Big Chat Stickers
6.0 Small Pearl Embellishments
Jenny Marples
Mixed Media Designer, Educator, television and retail/trade demonstrator and contributor to several International publications.
Staffordshire, United Kingdom