How to create a decor piece using minialbum base
Create a Decor Piece Using Minialbum Base
4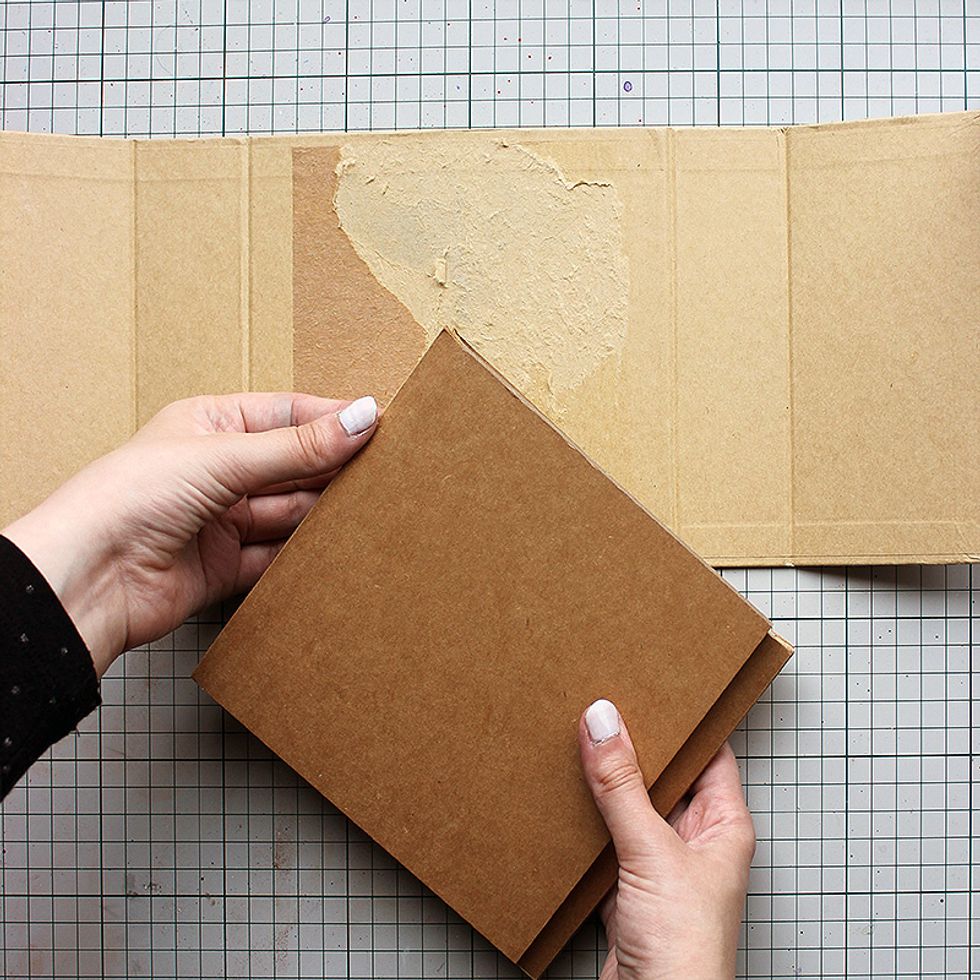 First remove the inner pages from your "Gatefold Memory Hardware Journal". Be careful not to completely rip the journal apart, but small damage is ok.
Collage some old book pages and a sheet from the 6x6 Vintage Emporium Paintable Pad to the middle piece inside the album. Use Soft Matte Gel as your adhesive.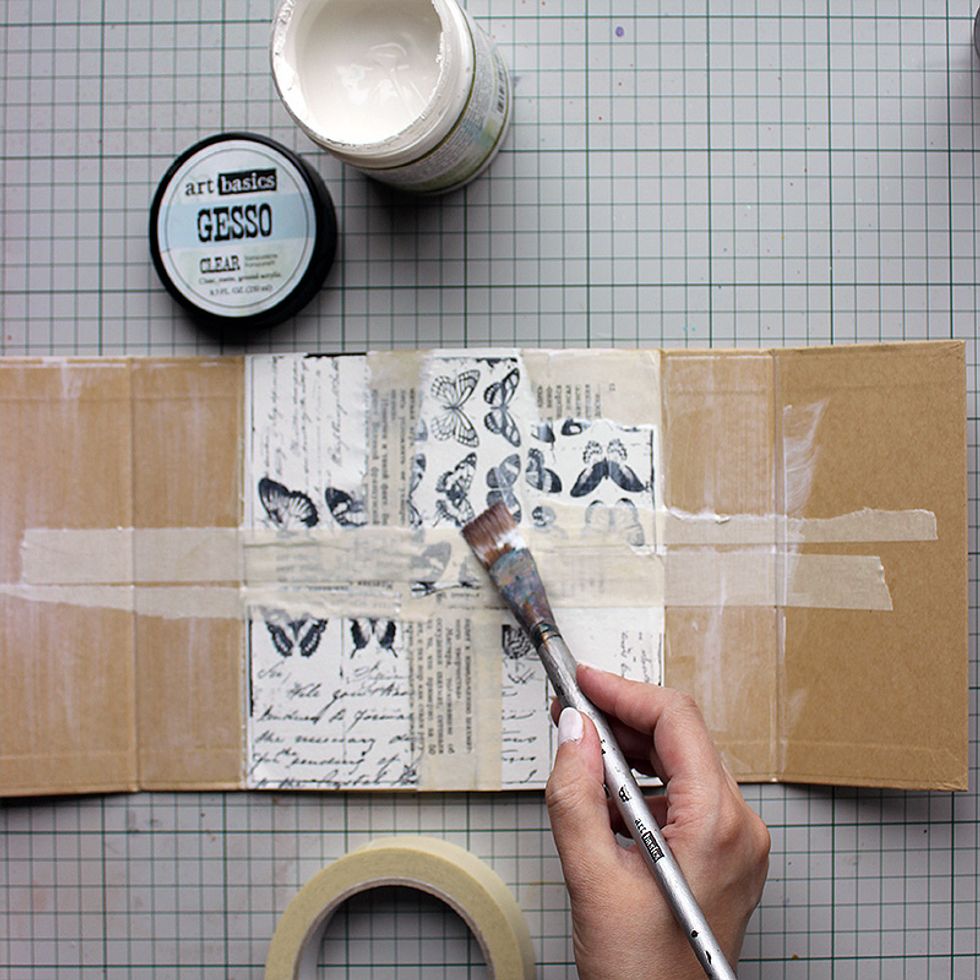 Add some masking tape in the mix, and then coat the whole inside of the album with Clear Gesso.
Time to add color! Use both Watercolor Confections and Oil Pastels to add rusty, vintage colors to your project. Add a mist of water on top and let the colors run.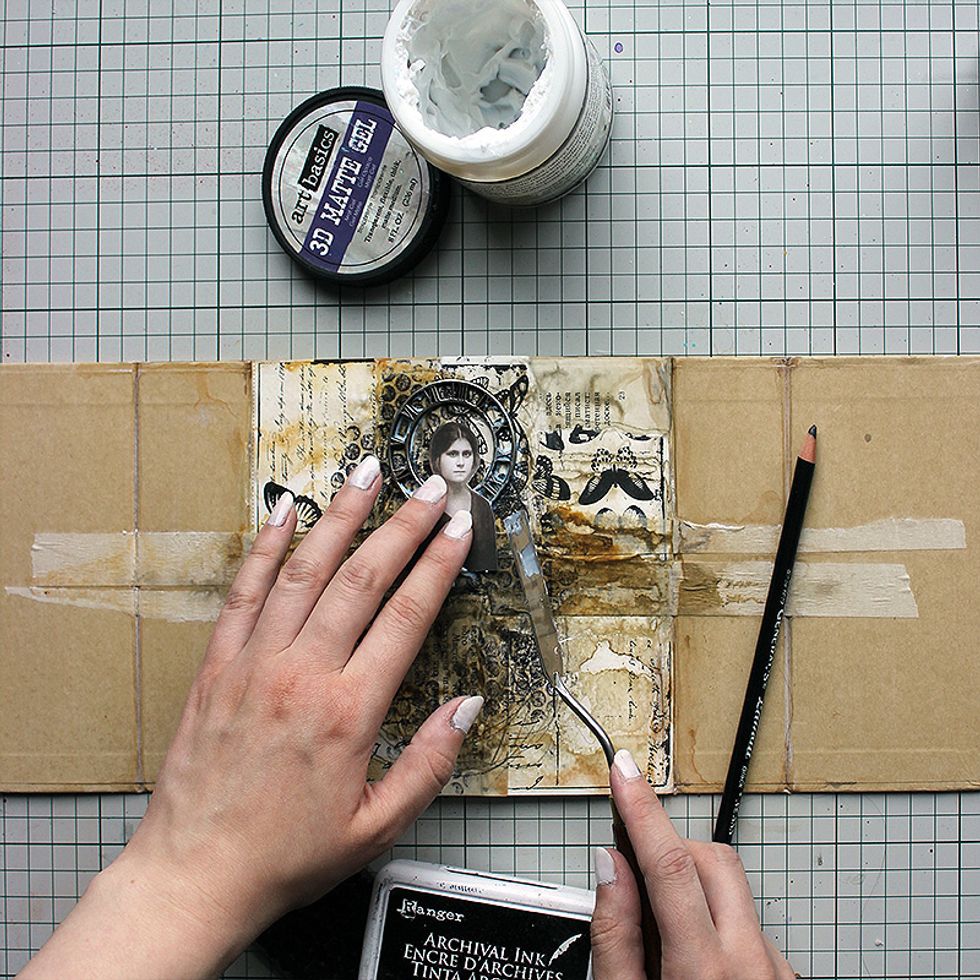 Start making the focal point. Stamp some texture to the middle of the page. Cut the lady from the Ephamera set and layer her on top of the clock piece. Use 3D Matte Gel as your adesive.
Color a piece of muslin with watercolors, then fold and gather that to make the dress for the lady. Use 3D Matte Gel to adhere here and there so the fabric stays soft but also in place.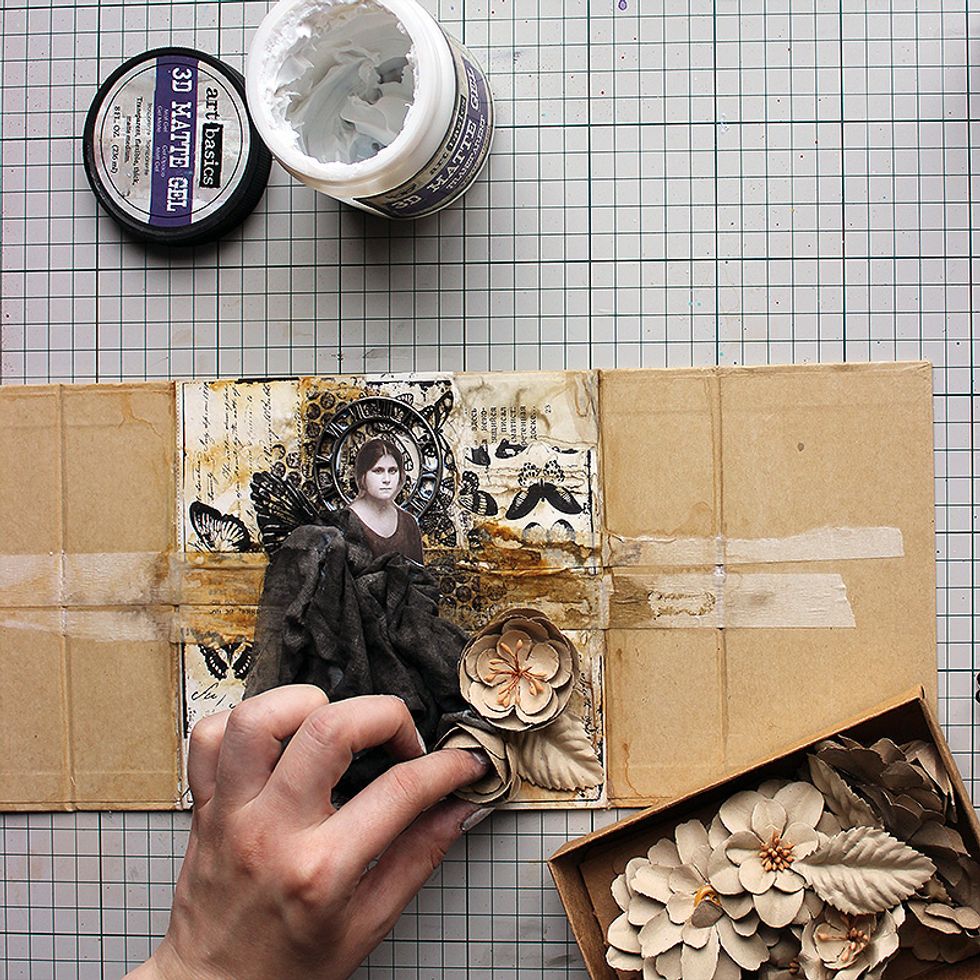 Decorate your design with some flowers and metal embellishments. Again, use 3D Matte Gel to get everything to stay in place.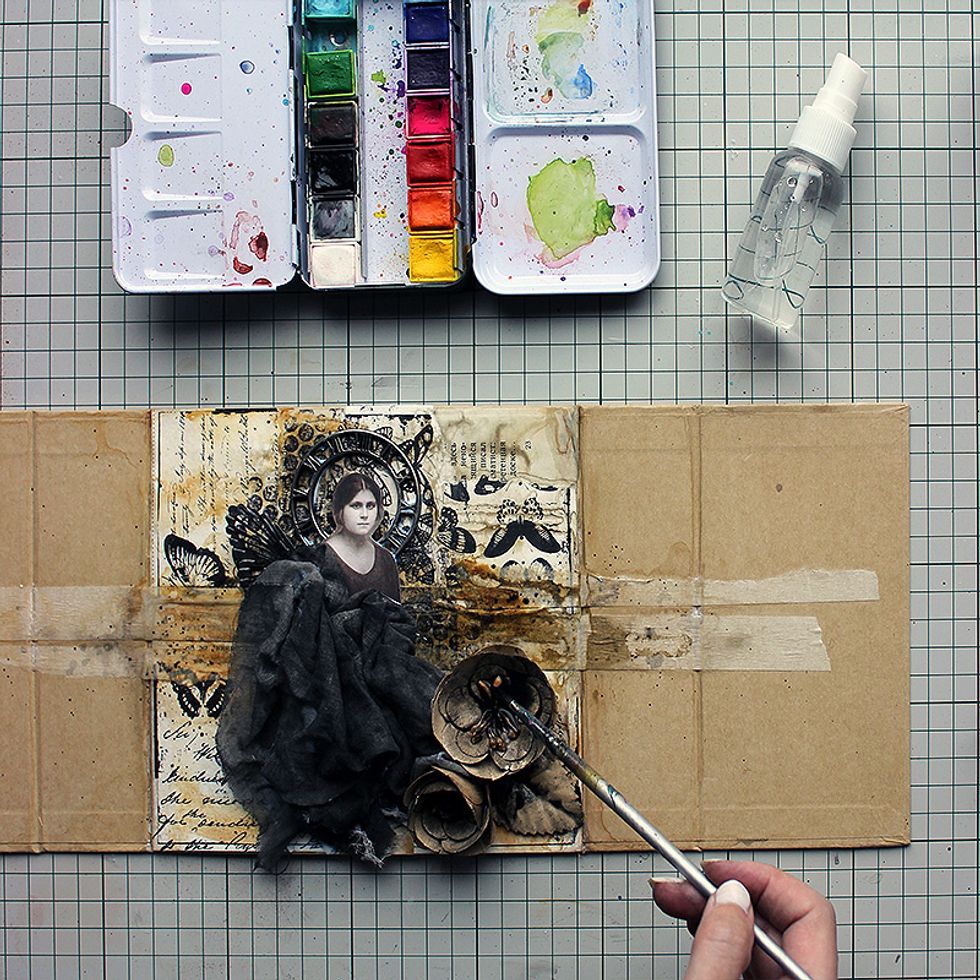 Use Watercolor Confections to color your embellishments to match the dark color palette. Make sure you wet the blooms thoroughly so there's no blotch of color in the blooms.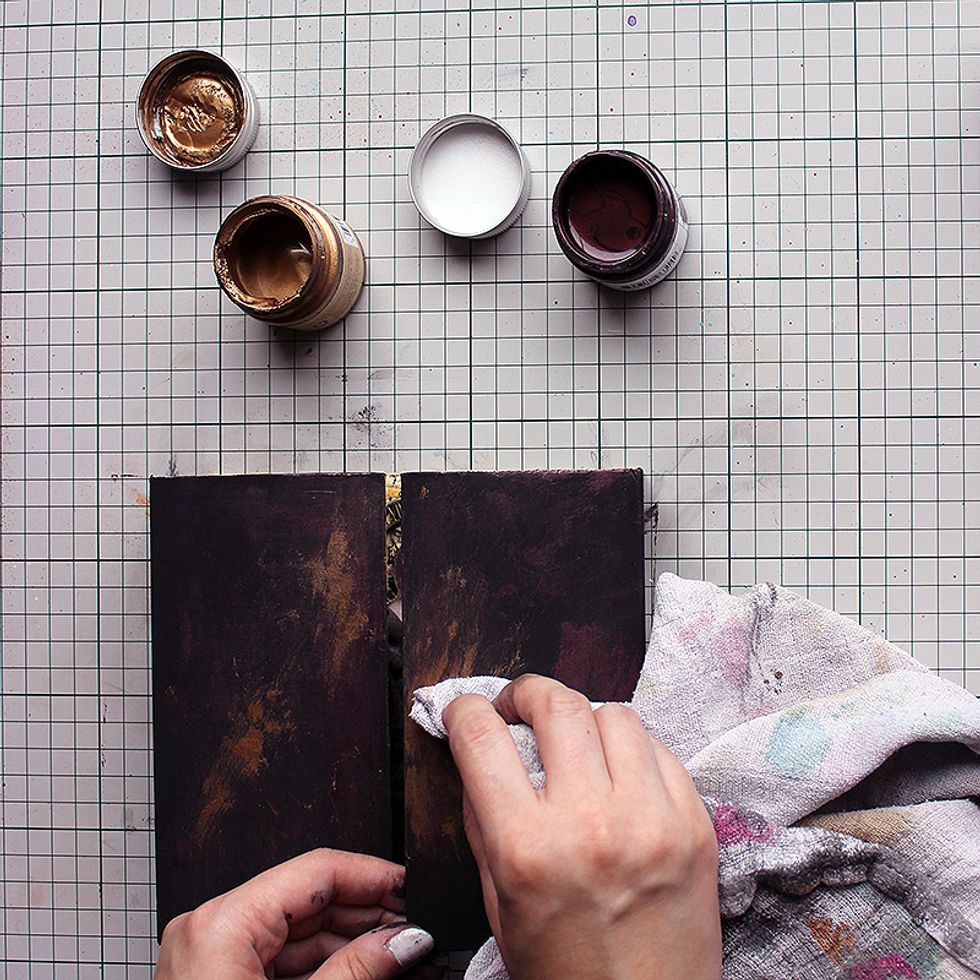 Time to decorate the outside of the piece as well. Start by adding a coat of Black Gesso and let dry. Then, using a rag, add Art Alchemy Metallique paints to the cover. Go for a marble style look.
As the final step, create a closing mechanism using twine, some metal embellishments and 3D Matte Gel. Let dry thoroughly before tying the twine around your piece the first time.
990367 – Gatefold Memory Hardware Journal
584153 – Vintage Emporium 6x6 Paintable Pad
963941 – Fabric Pack
963941 – Fabric Pack
961428 – Soft Matte Gel
584269 – Watercolor Confections Tropicals
584252 – Watercolor Confections The Classics
814328 – Water soluble Oil Pastels
961466 – Clear Gesso
961459 – Black Heavy Gesso
961398 – 3D Matte Gel
963149 – Art Alchemy Metallique Eggplant
963064 – Art Alchemy Metallique Steampunk Copper
586720 – Box Flowers Sandstone
963408 – Mechanicals Grungy Butterflies
960261 – Mechanicals Numbers
960285 – Mechanicals Vintage Clock Faces
990725 – La Rochelle Antique Trinkets
960902 – Clear Stamp Circles
962760 – Brush Set
Prima Marketing
Prima Marketing, Inc. is an established leader in flower embellishments in the scrapbooking and crafting industries!