Create a Collage Canvas Using Artist-Tac by GRAFIX
105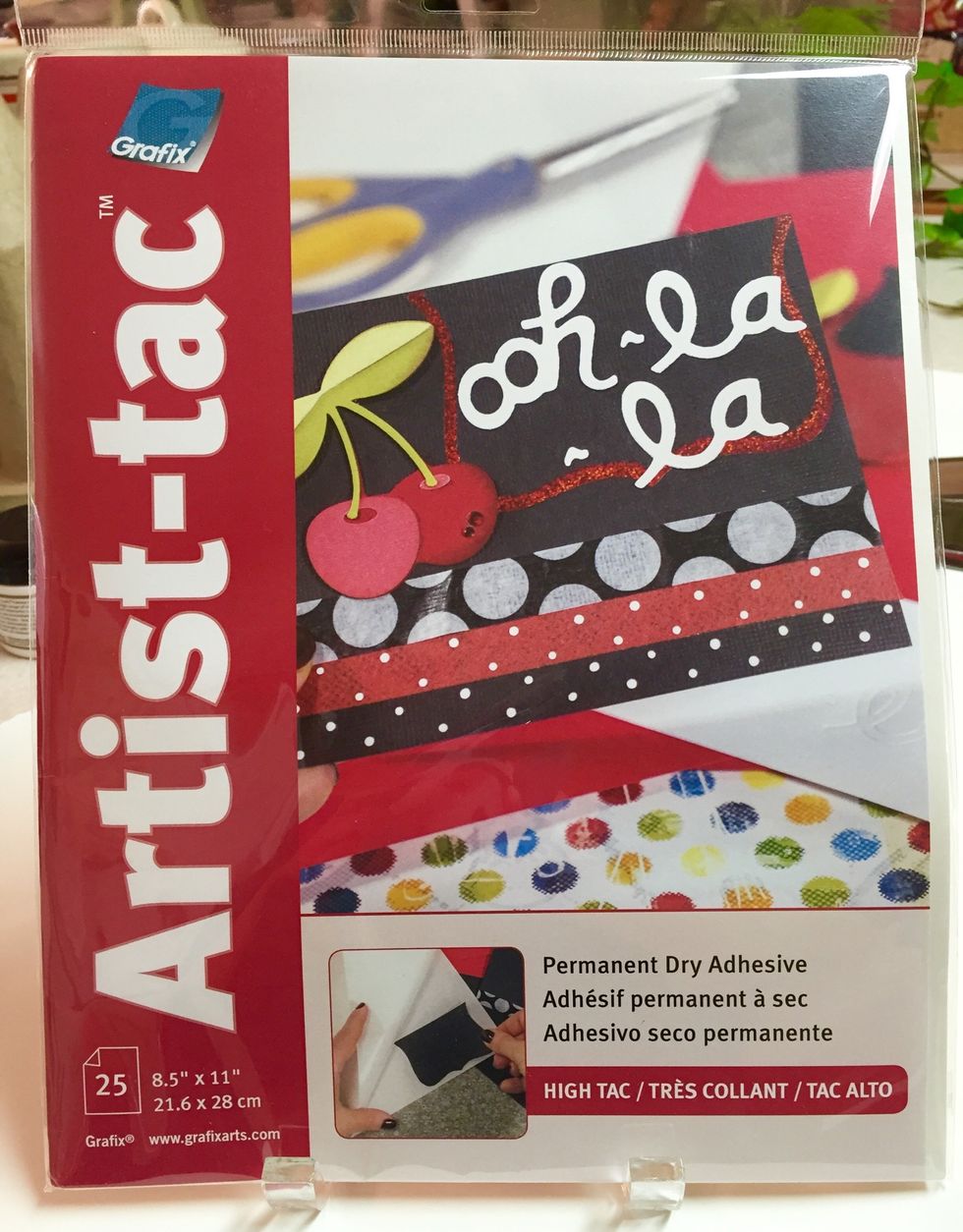 ARTIST-TAC by Grafix is a permanent dry adhesive that is neat, clean and easy to use. it comes in sheets that can be cut to size or punched or diecut for shapes.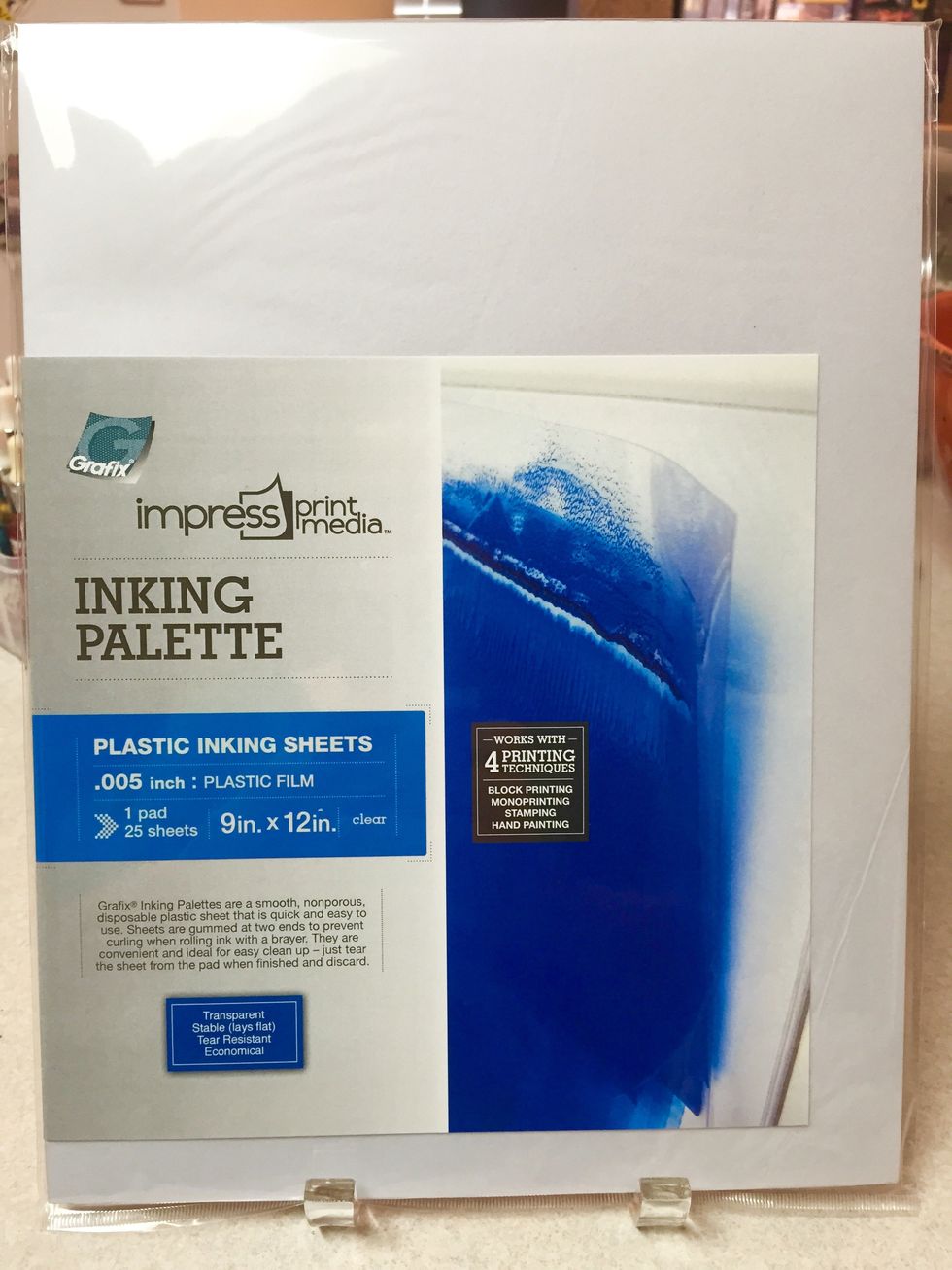 the Inking Palette from Grafix has 25 disposable plastic sheets, separated by white paper. the sheets are anchored at each end of the stack keeping the palette stable during use.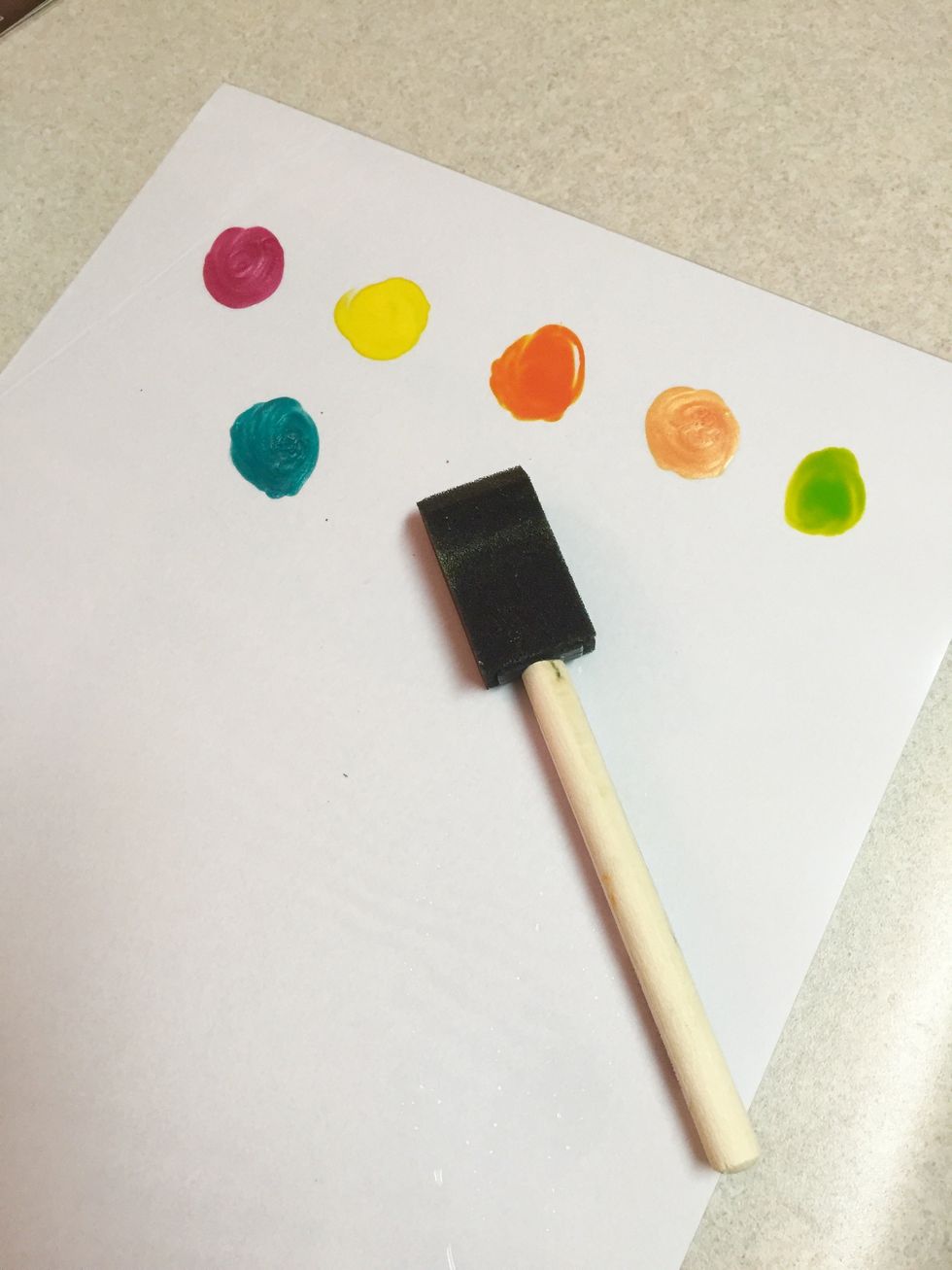 use the palettes for staging your ink. the white paper separators make your colors appear true and make them easy to see.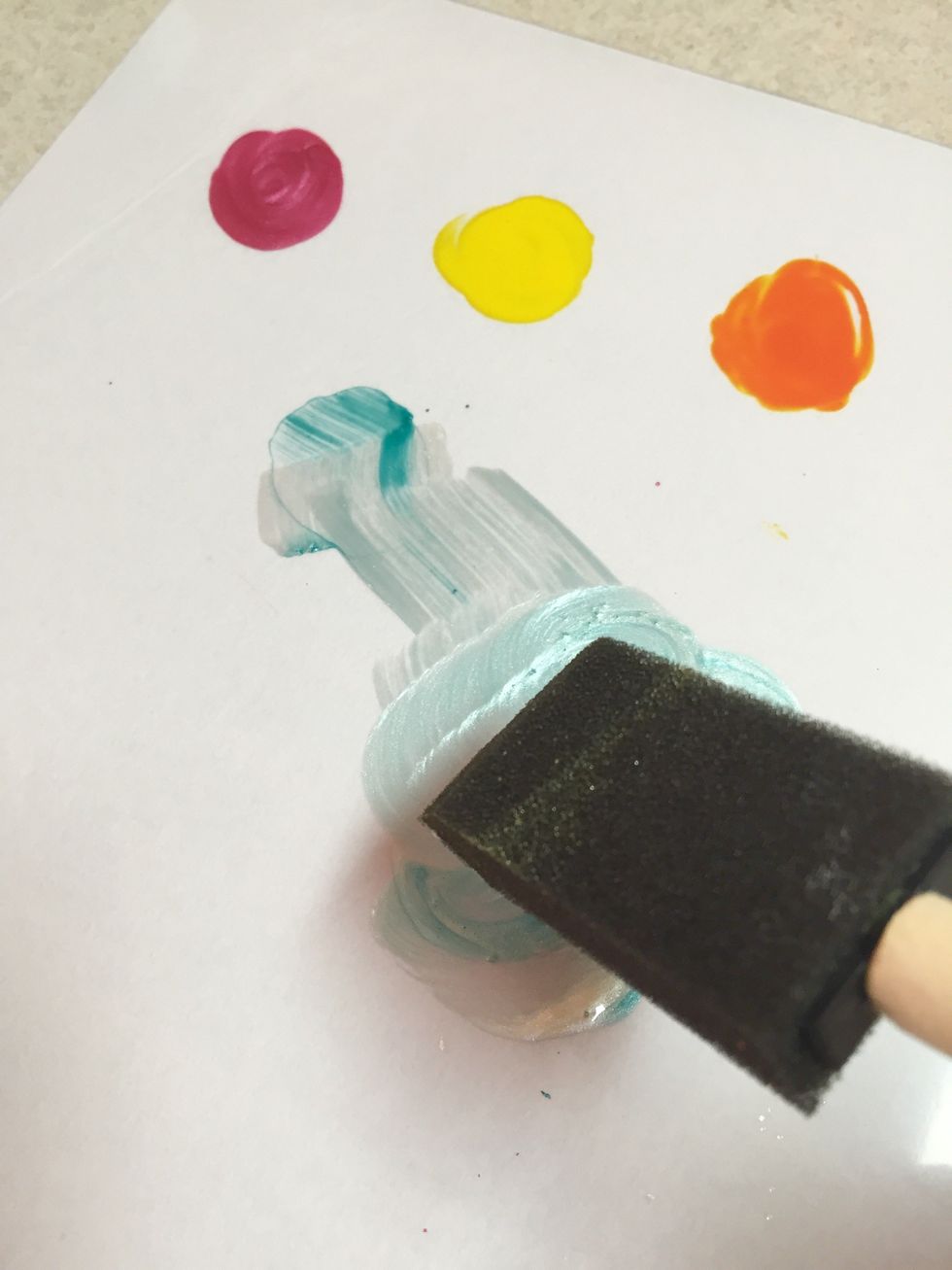 the palettes are also great for blending colors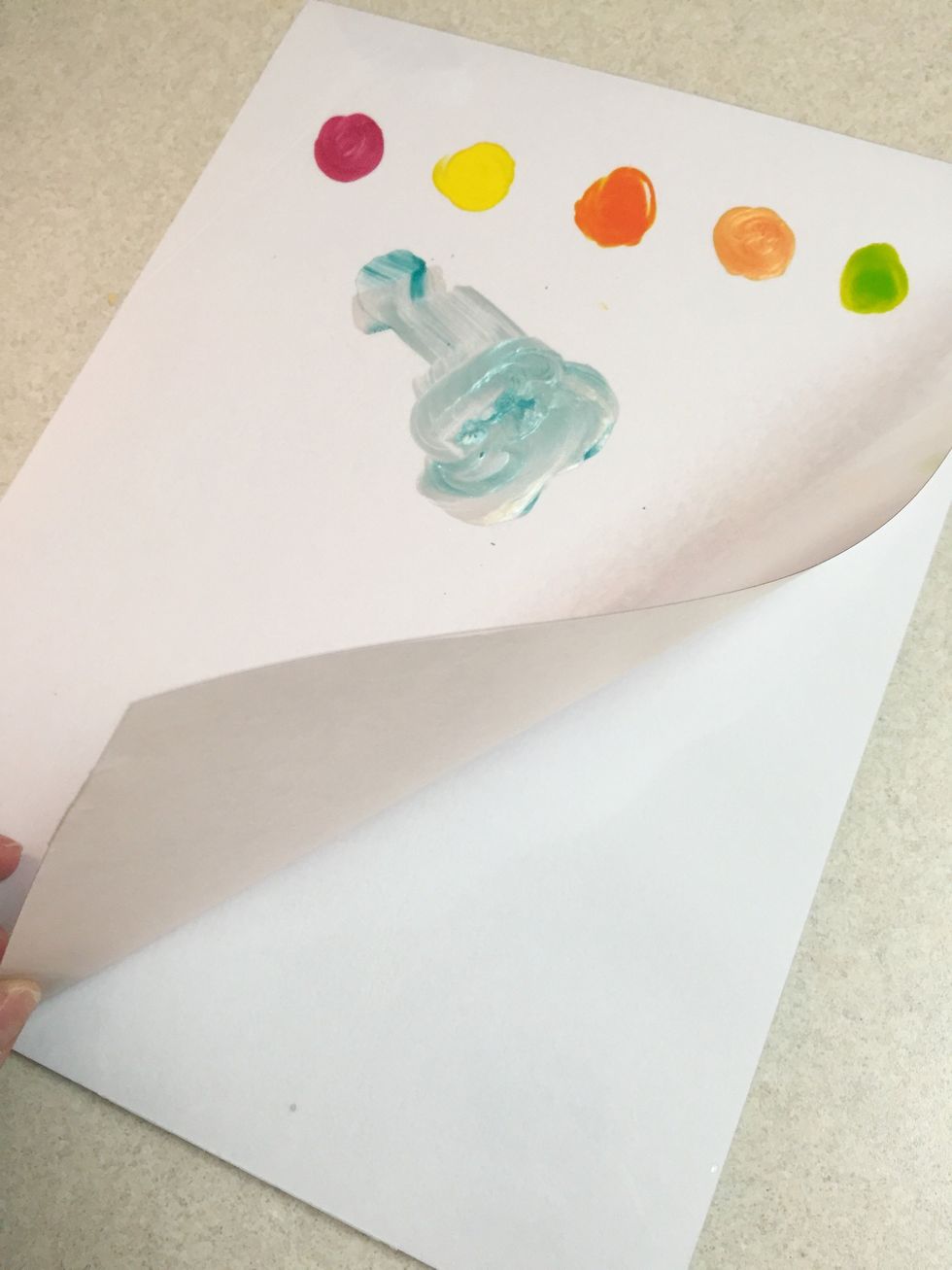 once you are done, tear your used palette off the stack to reveal the next clean palette.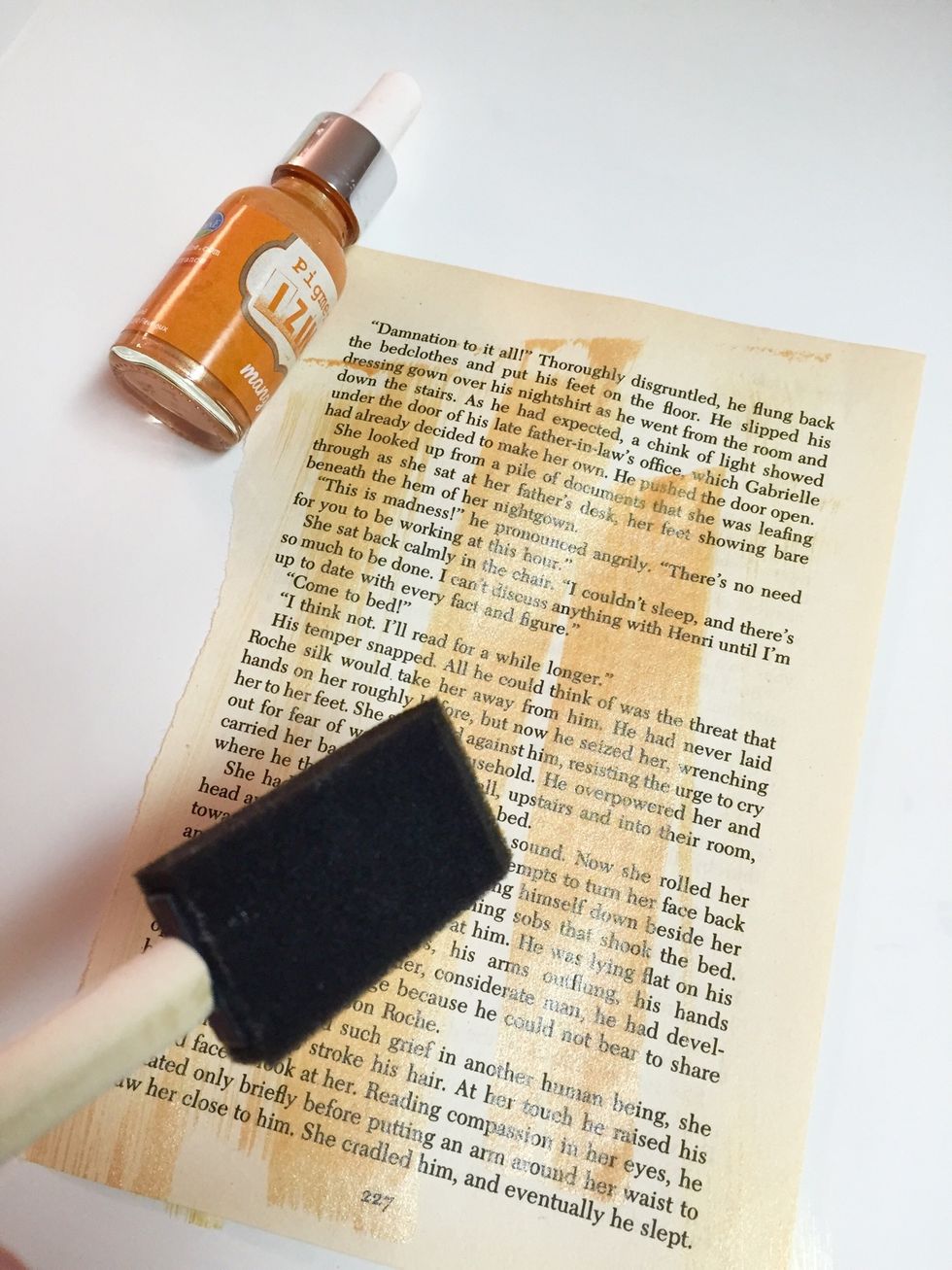 apply and work with Izink Inks on Inking Palette... paint 3-4 book pages with different colors of Izink, varying intensity of colors on pages.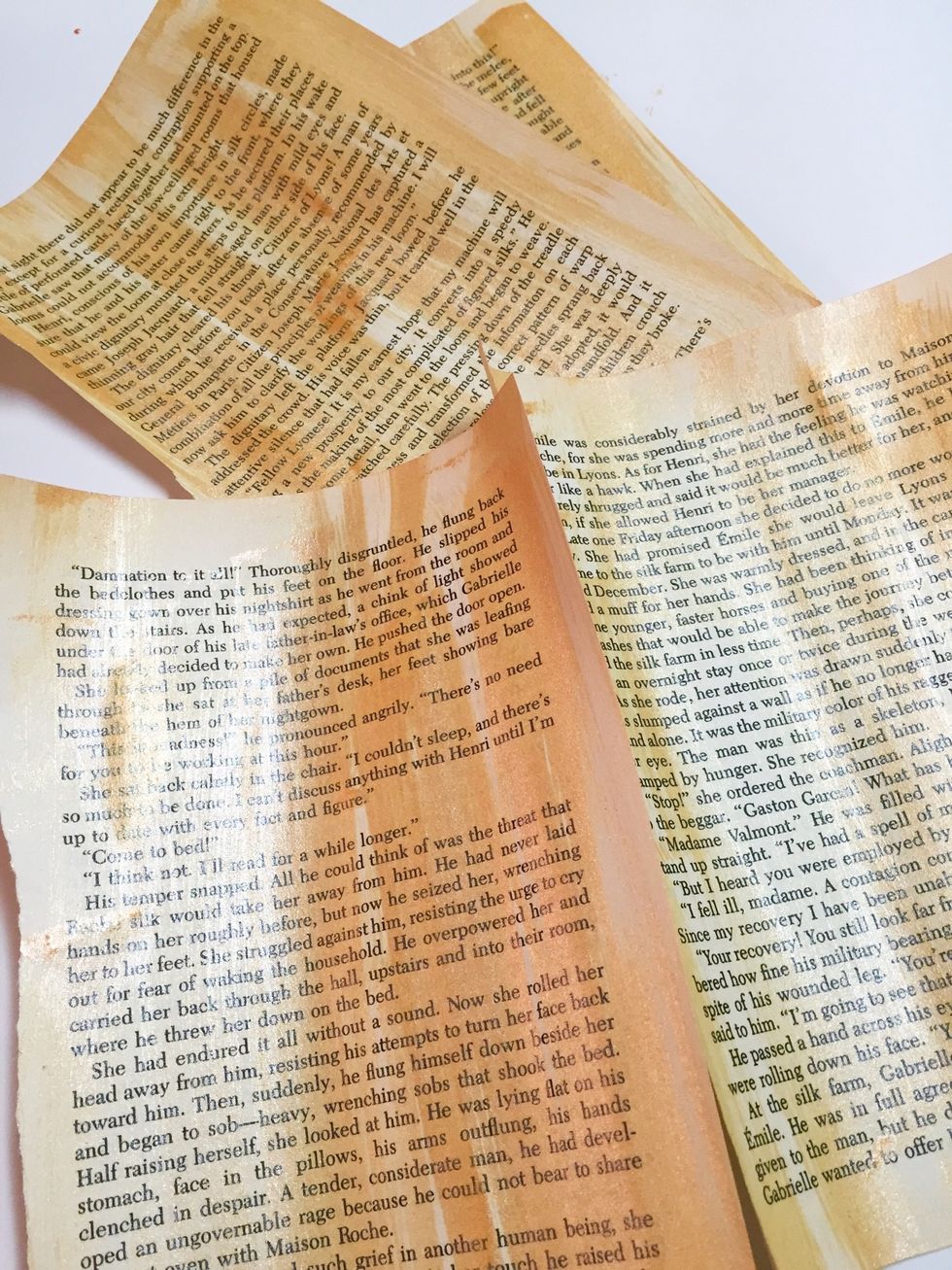 painted pages. the thin book pages may curl, just reroll the other way to flatten. pages don't need to be perfectly flat - they will smooth when adhesive is added to back.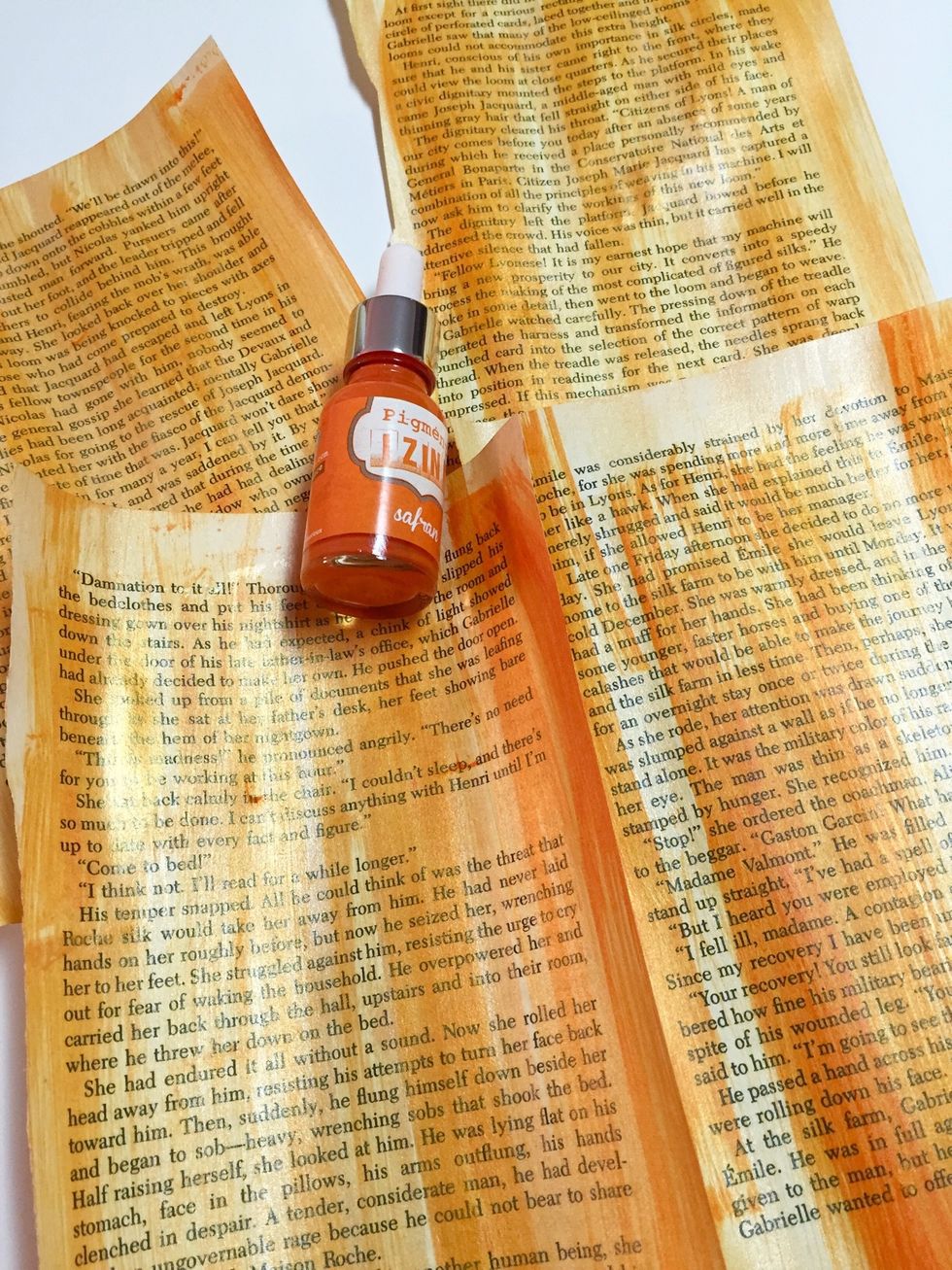 for sample, pages were painted using: Mango mixed with some Citronella, Safran, Orchid, Topaz, Cactus with some streaks of Bamboo and Ambre with some Caviar.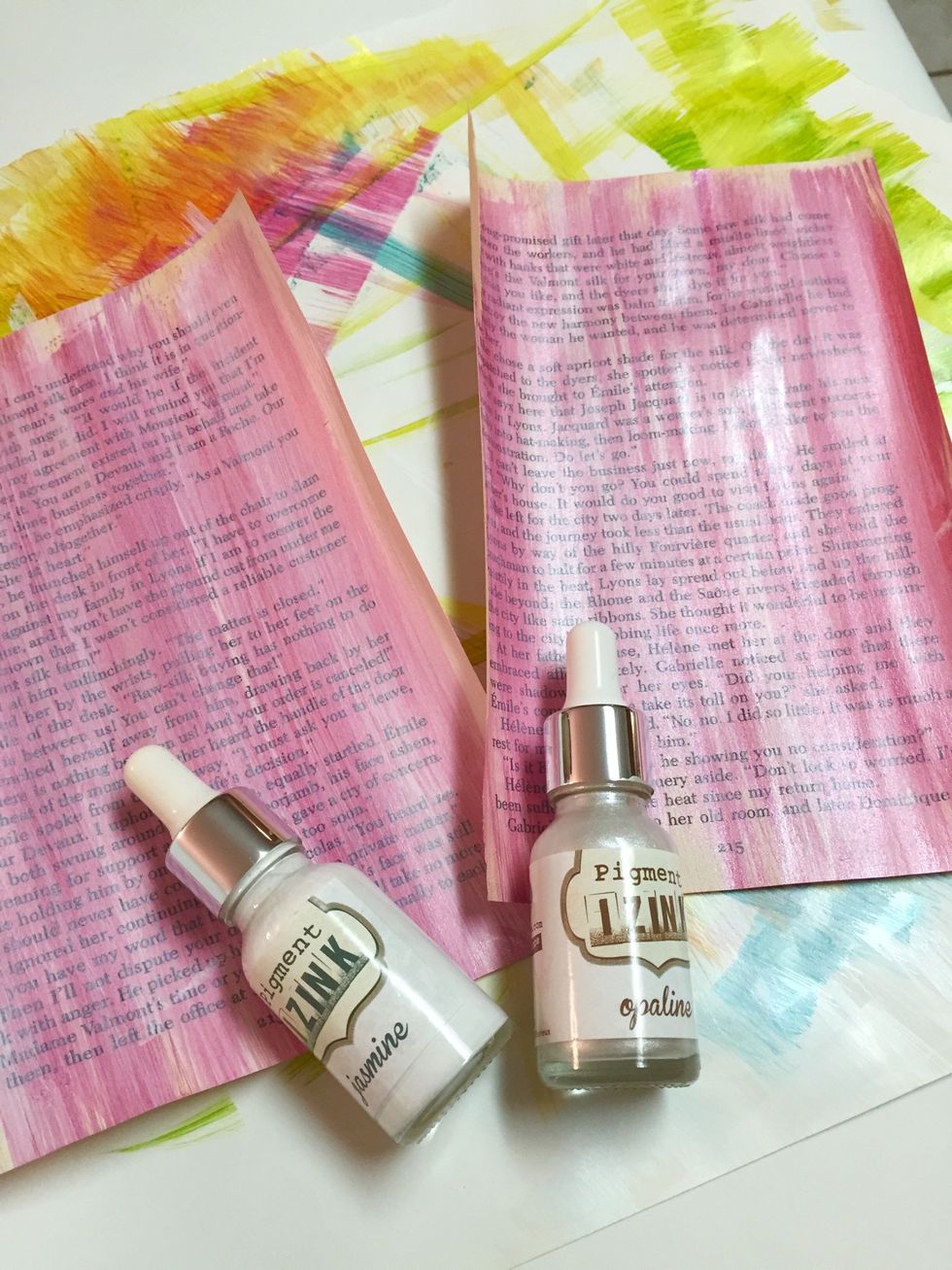 for some added variety in colors to help with shading, repaint 1 of each color of pages using Jasmine - which is an opaque white and 1 page using Opaline - which is sheer with shimmer.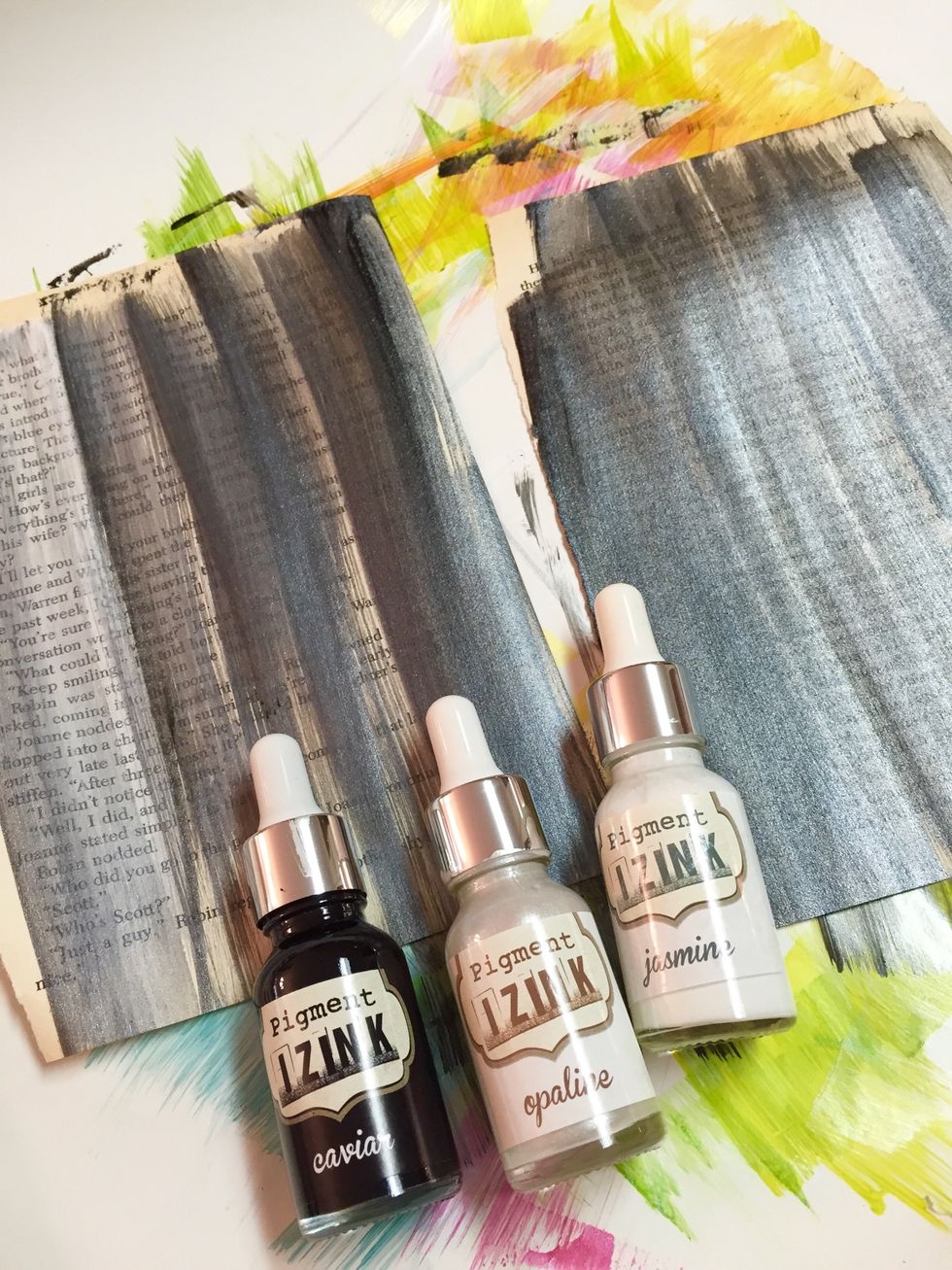 for background and accents, paint a few pages using Caviar, then lighten 1 page with Opaline and 1 using Jasmine.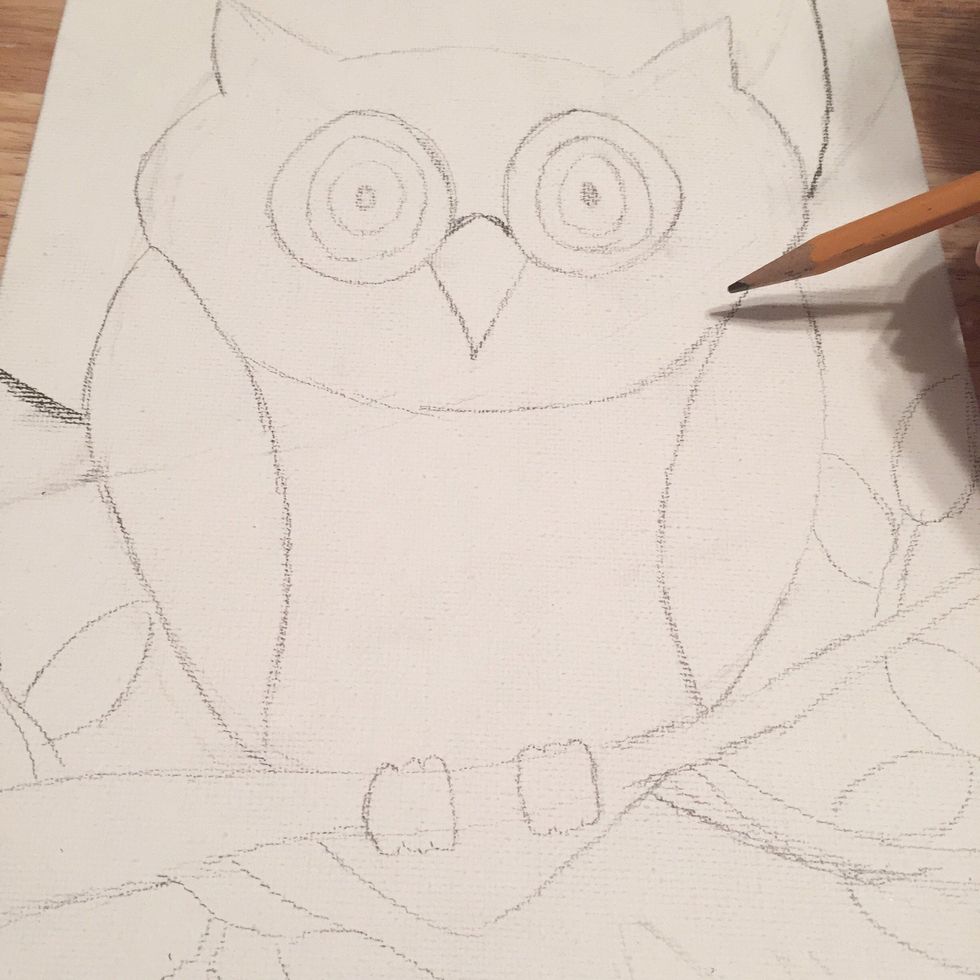 sketch design onto canvas using pencil. no need to erase corrections completely, they'll be covered.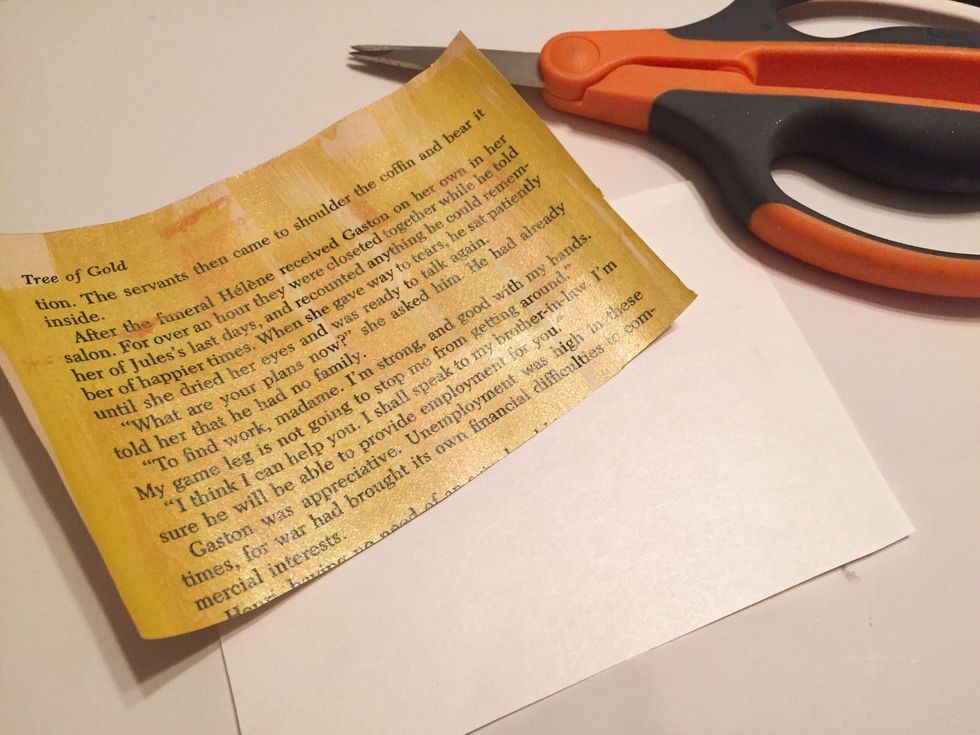 cut page of color you want to start with in half - in this case a yellow page for the "moon". then cut a piece of Artist-Tac a little bit larger.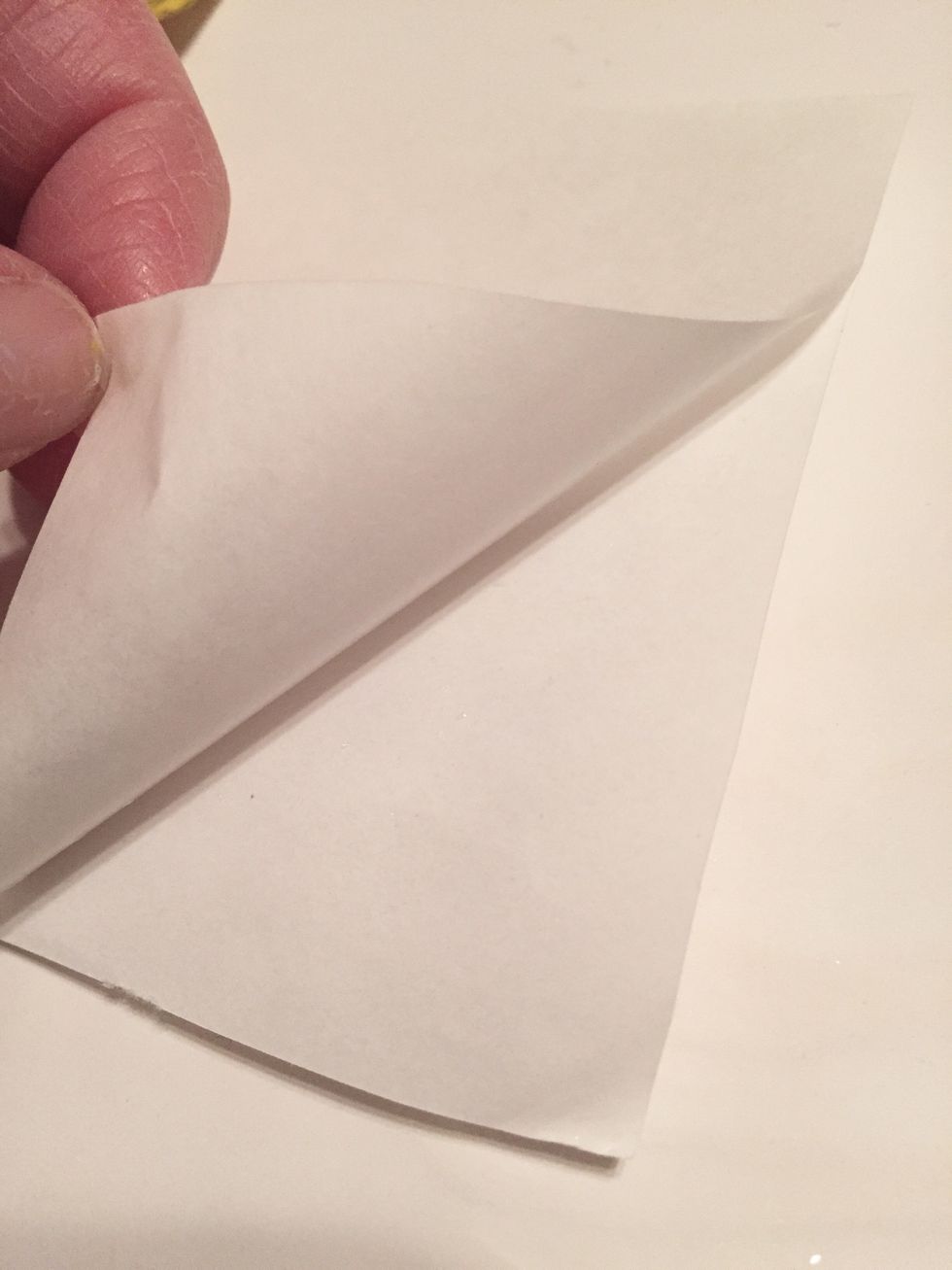 remove white backing from adhesive.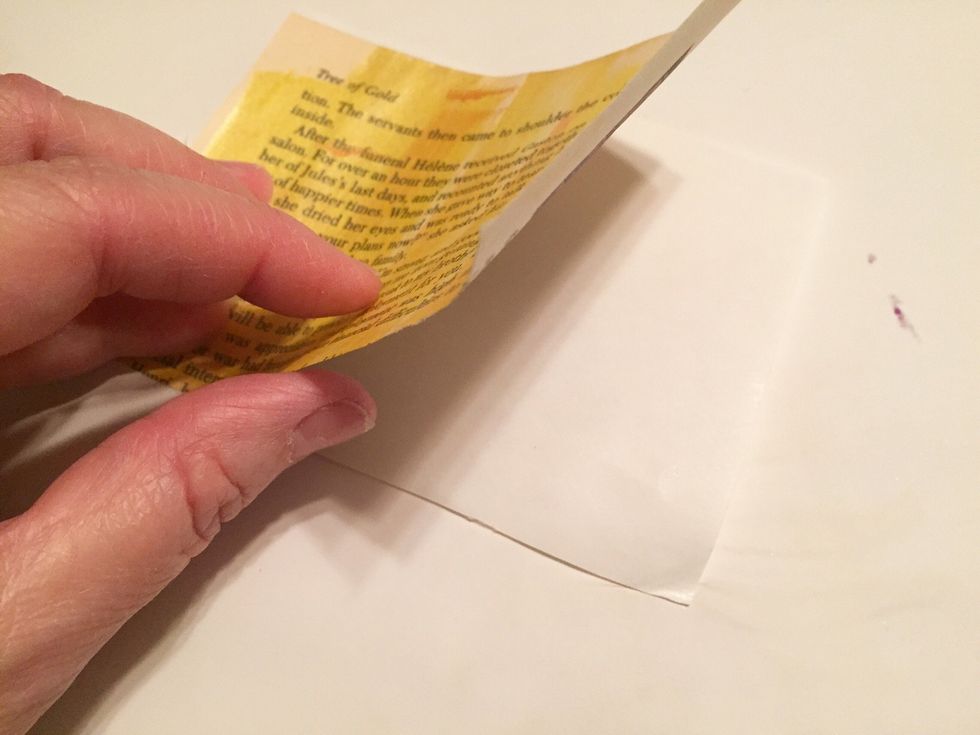 carefully position and place paper over adhesive. work CAREFULLY - once paper touches adhesive it's STUCK!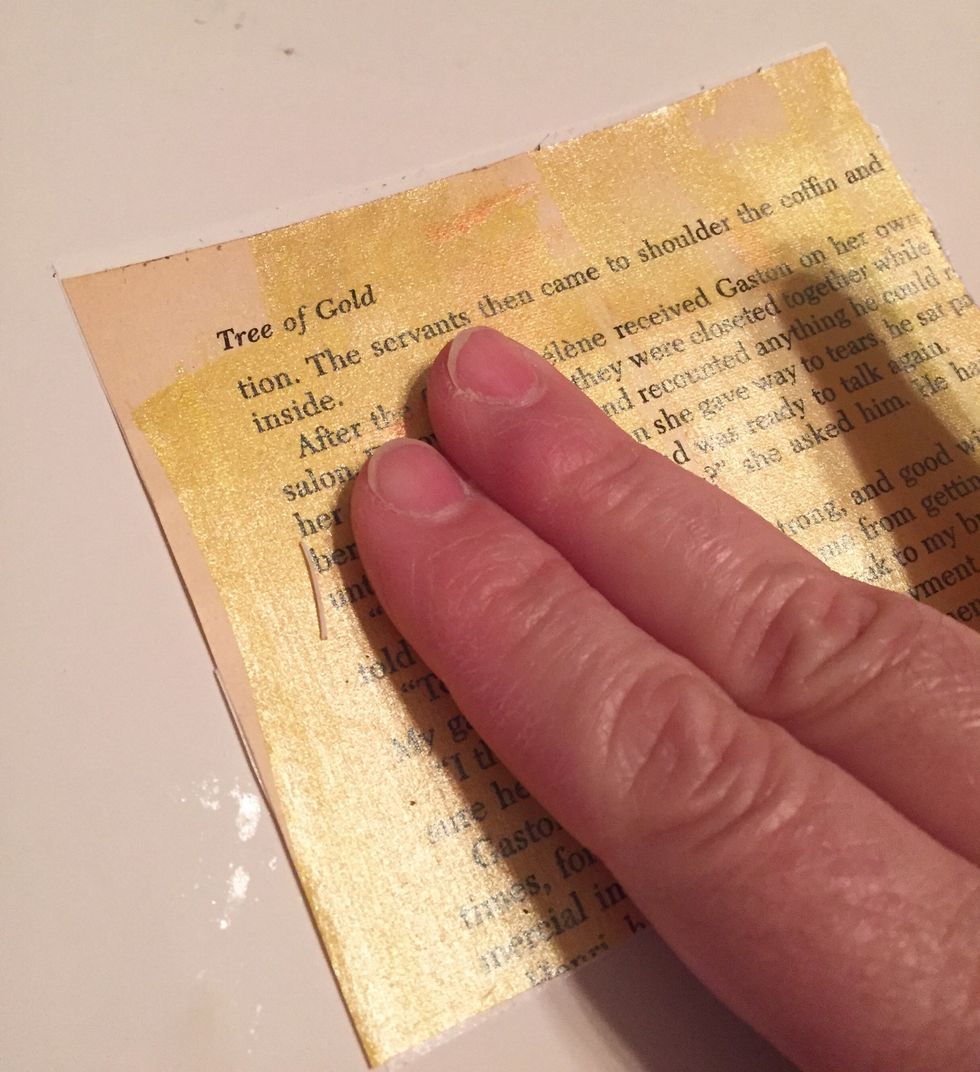 smooth paper using your fingers to transfer adhesive to paper.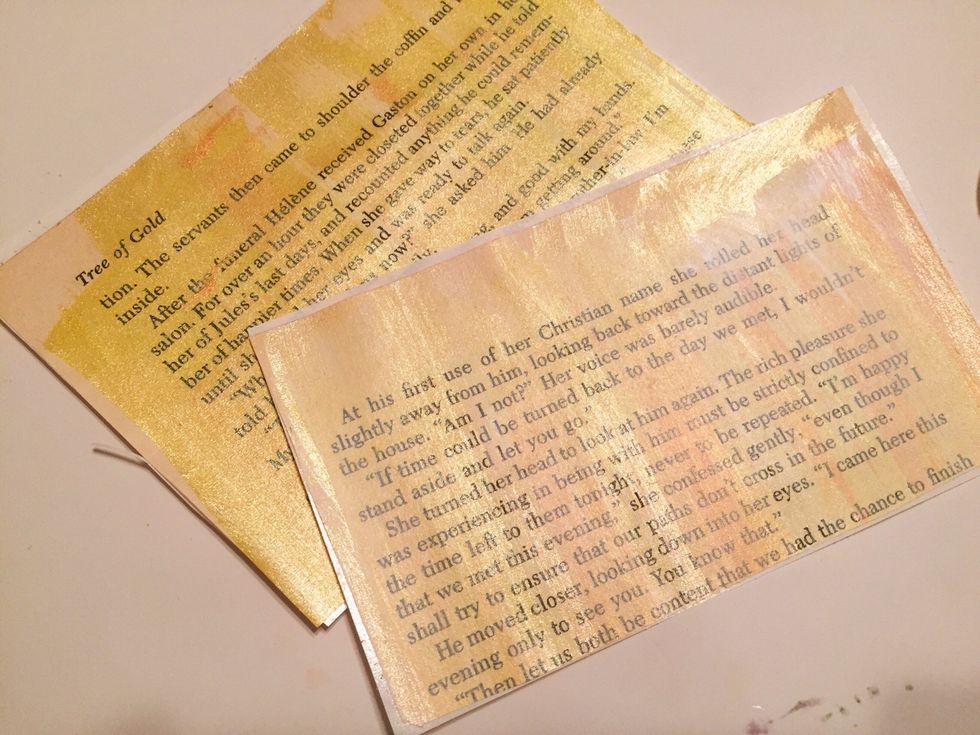 apply adhesive to several "shades" of yellow to use to fill in "moon" section of collage. i started with the "moon" as i prefer to fill in the background designs first.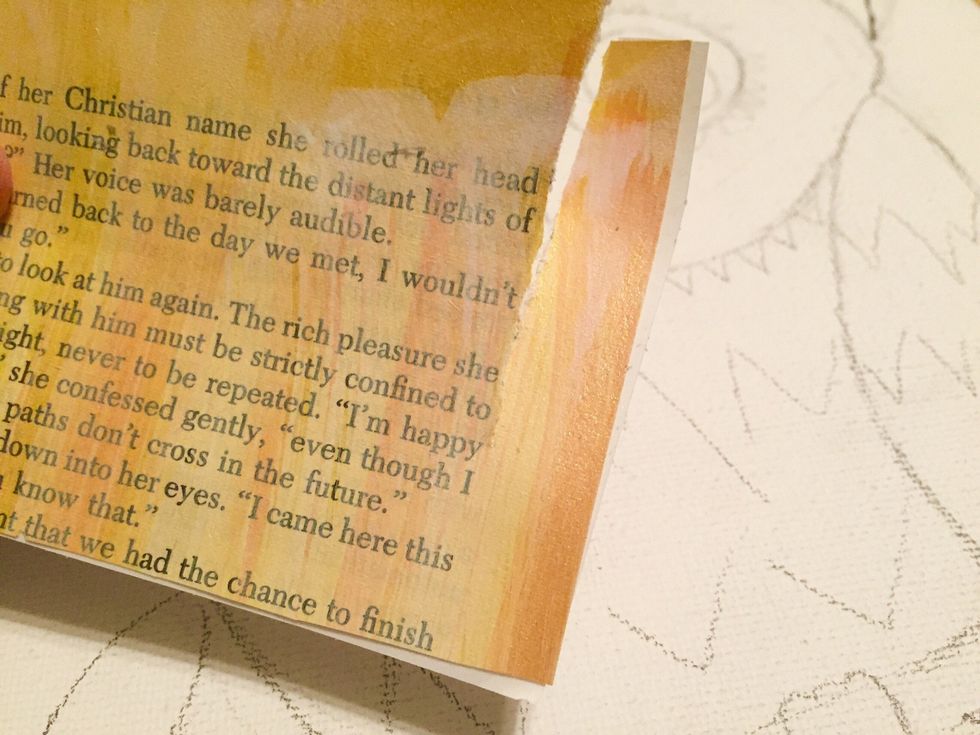 tear adhesive backed paper into strips, then tear strips into small pieces.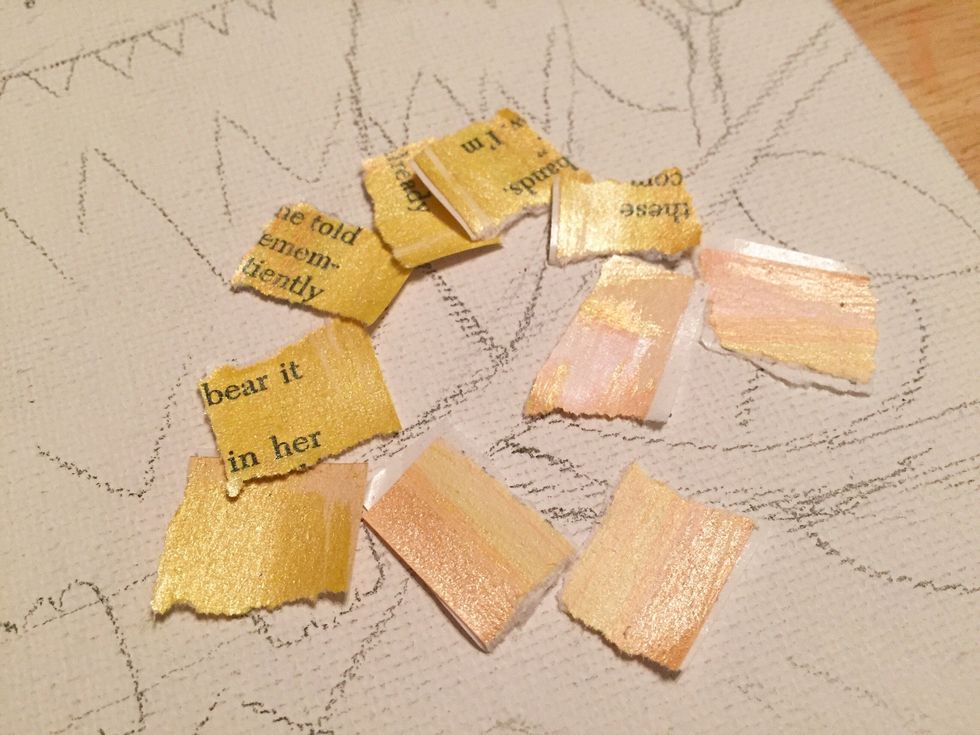 small pieces make it easier to fit them into the sections of your collage. use a mixture of the painted and whitened sheets to add shading.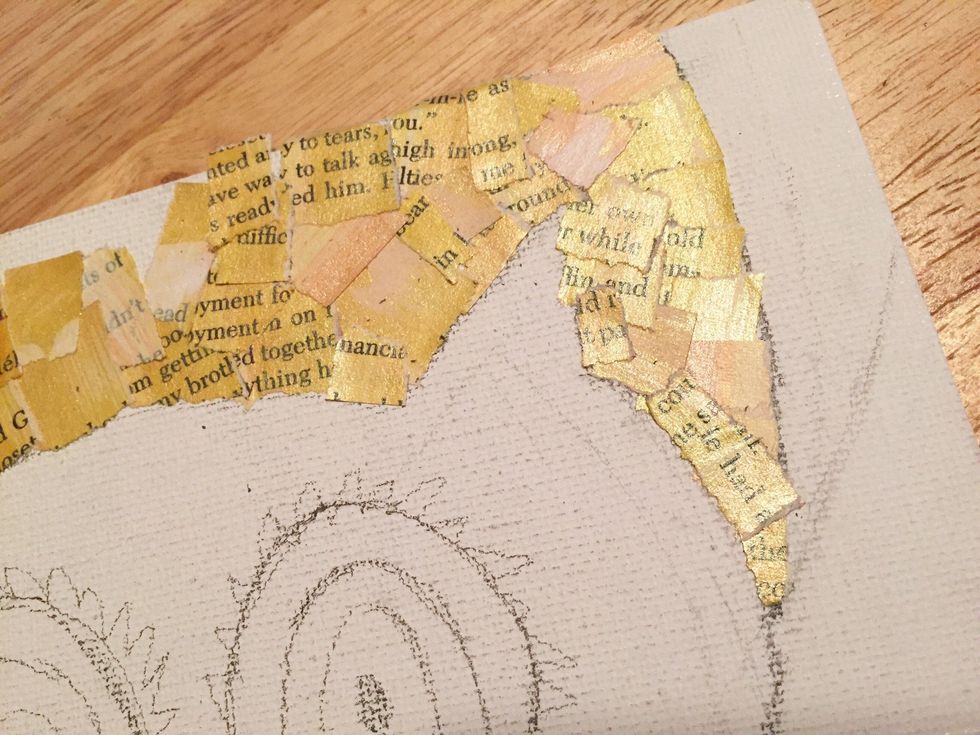 peel backing off pieces - bending a corner makes it easier to remove - and begin to fill in "moon". don't worry if small bits go over lines, you'll be adding more collage bits on top and can define.
you can trim away any portions that extend past board with scissors or a kraft knife.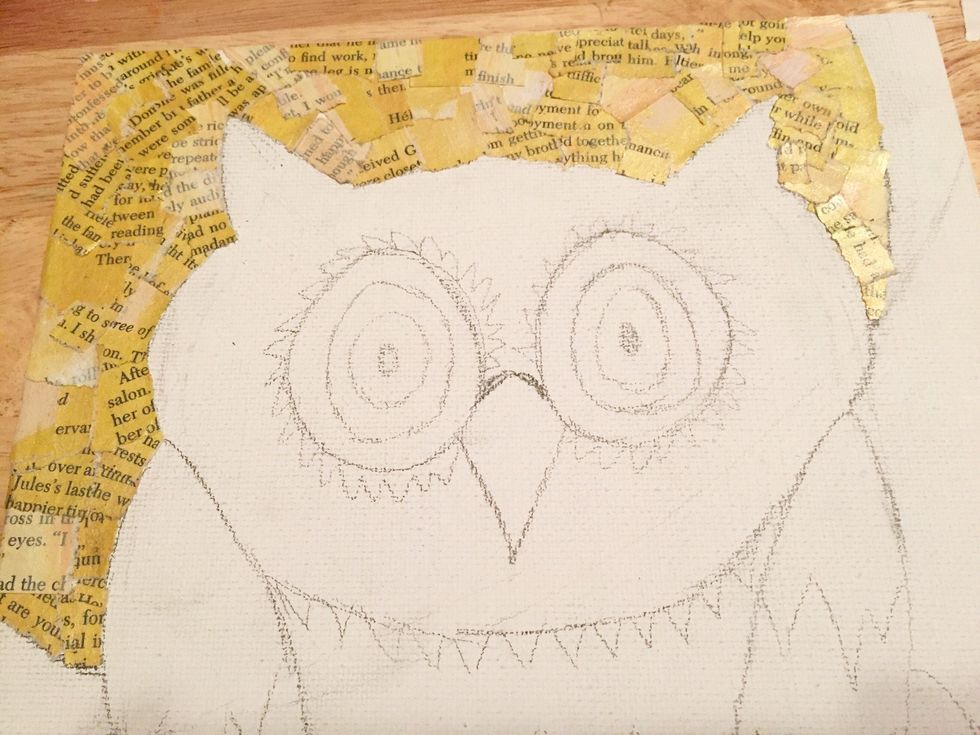 canvas with moon area added.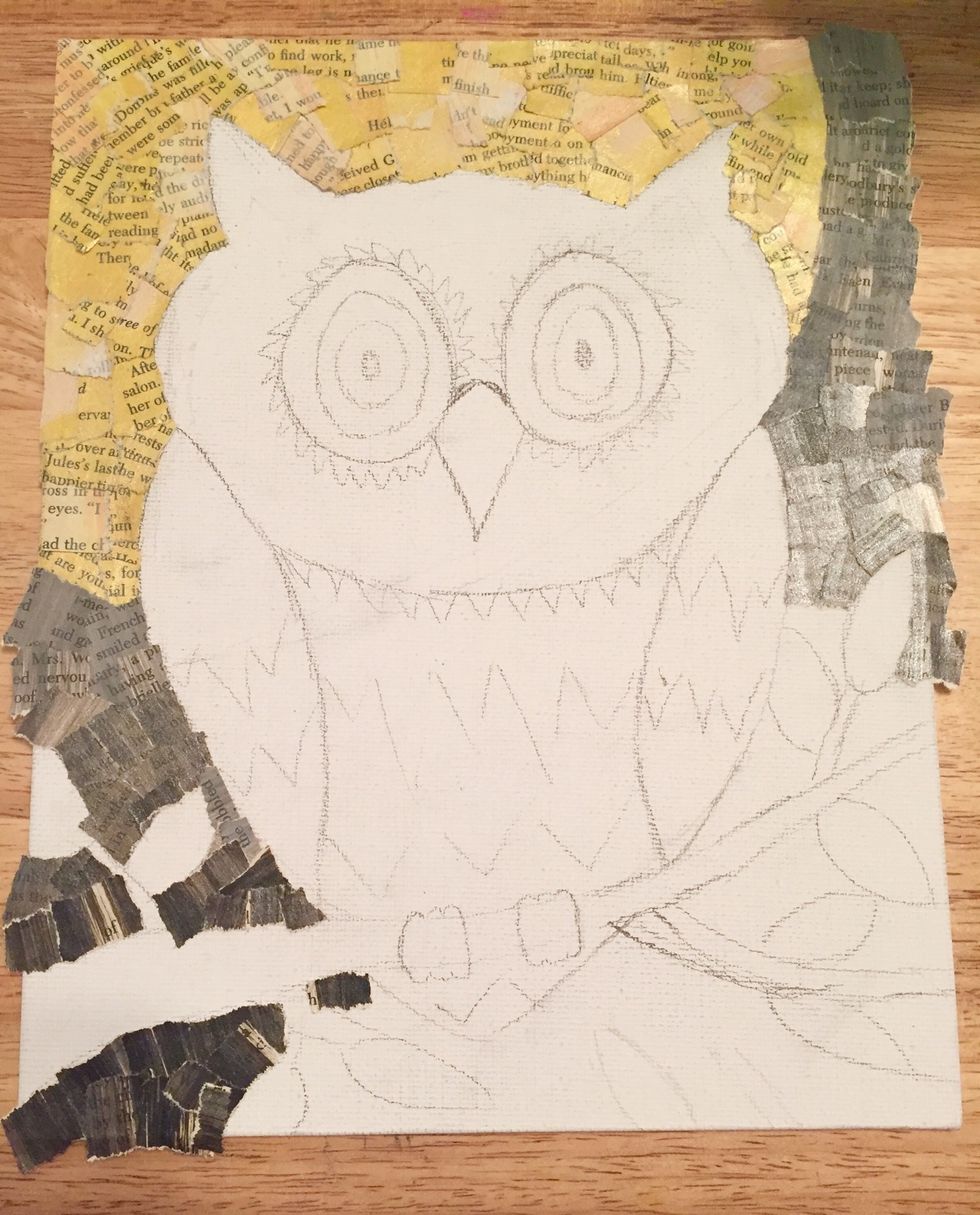 next, i repeated the process using the black and gray pages to begin to fill in the "night" portion of the background.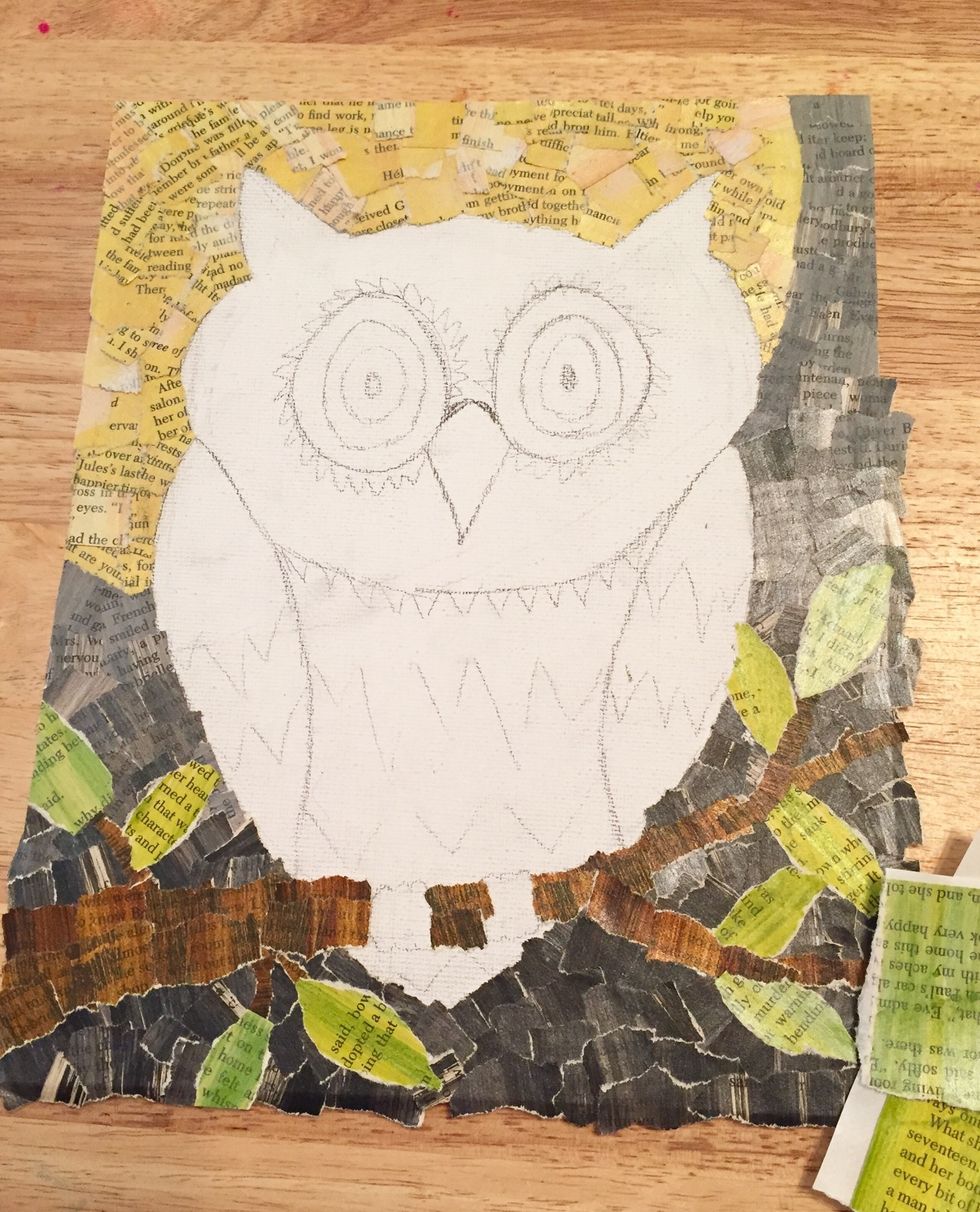 once the "night" background was finished, the branch and leaves were added. doing the background first makes it easier to define the areas of the main design and makes it stand out from the canvas.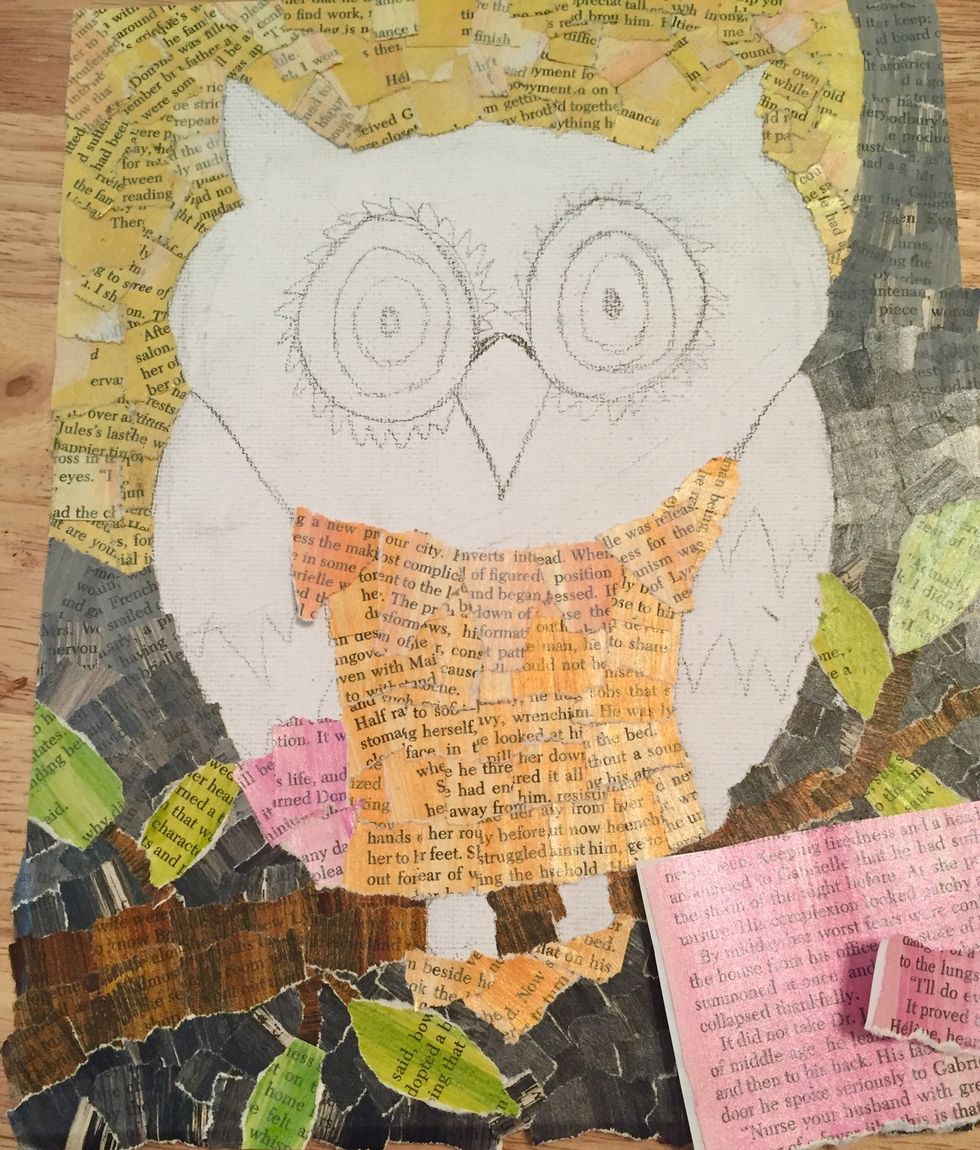 begin to fill in the detail areas of the main design. i decided to add triangular pieces just below the head.
to make the triangular pieces show up, they were outlined with narrow strips of black and gray leftover from the background. you can tear the adhesive backed sheets VERY thinly. or cut if you prefer.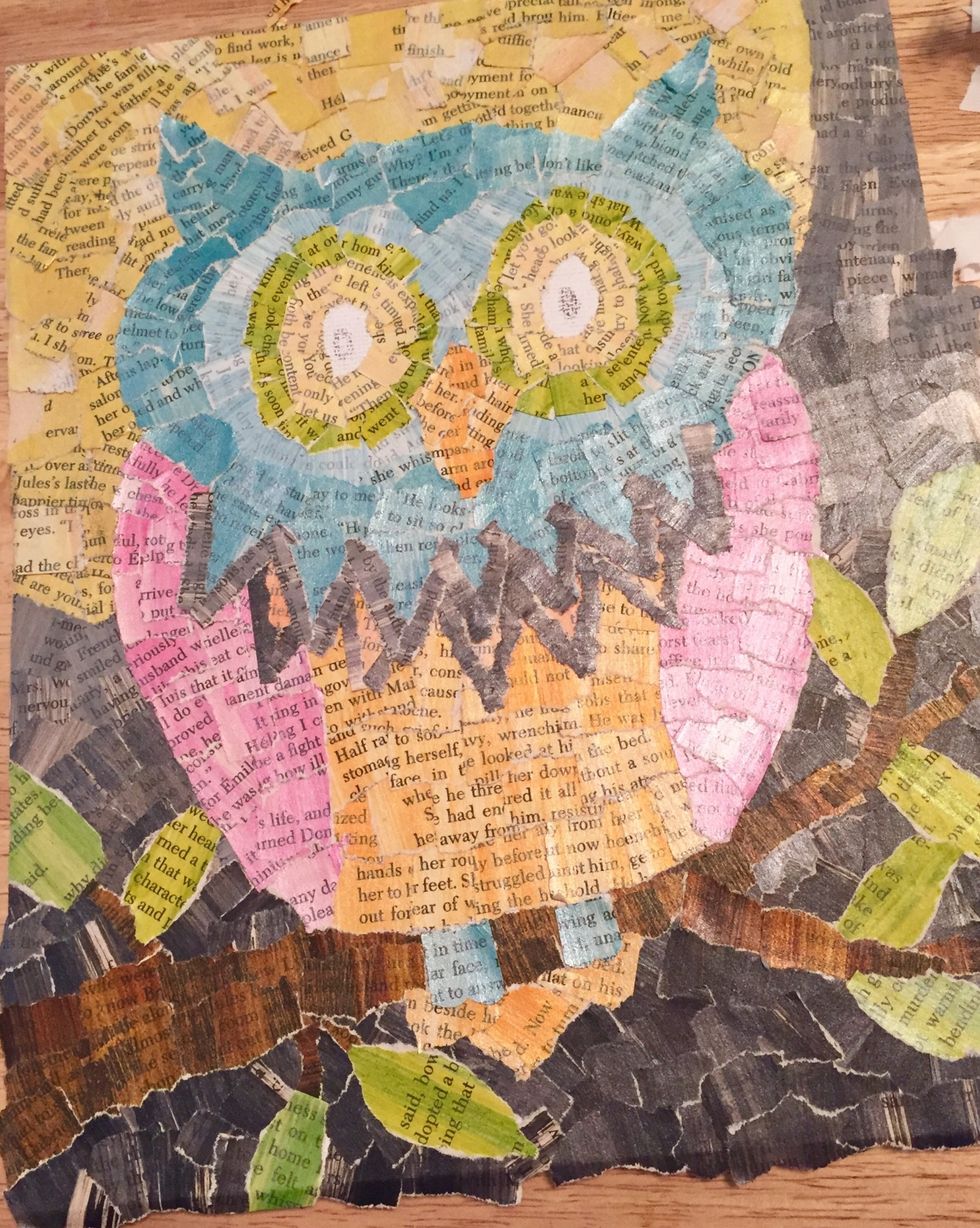 the face and eyes are almost finished and another set of triangle shapes was added and defined. all that's left it to tear out ovals from black for centers of eyes.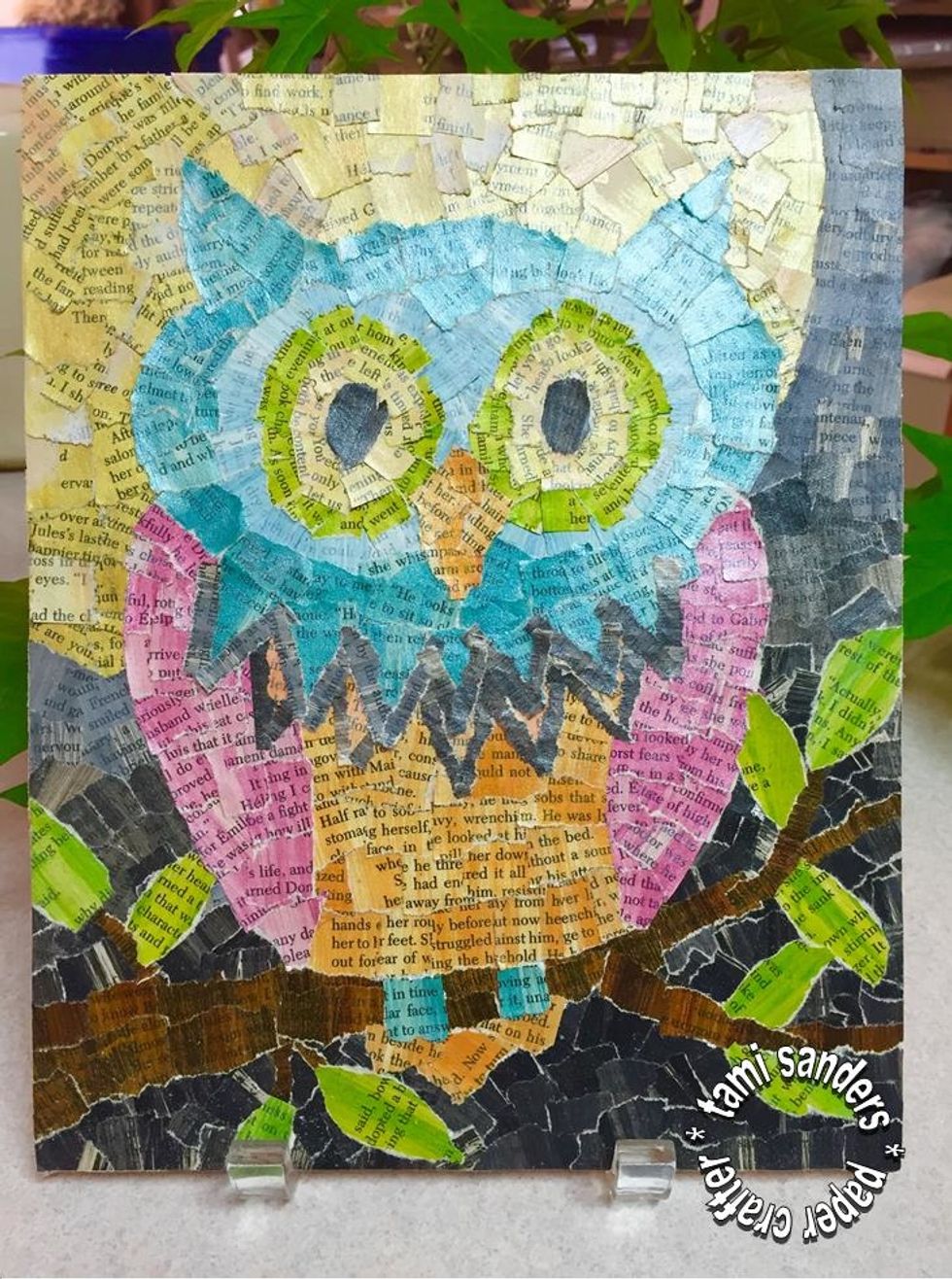 finished collage. you can seal it if you'd like. *** project by tami sanders * paper crafter --- www.tamisanders.com for GRAFIX --- http://www.grafixarts.com
Grafix: Artist-tac - Permanent Dry Adhesive
Grafix: Inking Palette
Clearsnap: Izink: Orchid
Clearsnap: Izink: Cactus and Bamboo
Clearsnap: Izink: Topaz
Clearsnap: Izink: Mango and Citronella
Clearsnap: Izink: Safran
Clearsnap: Izink: Jasmine and Opaline
Clearsnap: Izink: Ambre
Clearsnap: Izink: Caviar
8 X 10 flat canvas
bnch Book Pages
Scissors
Pencil
Tami Sanders * Paper Crafter
* i LOVE to craft * scrapbook, paper arts, mix'd media, jewelry, stamp and more. * i design for clearsnap and grafix. * i also teach