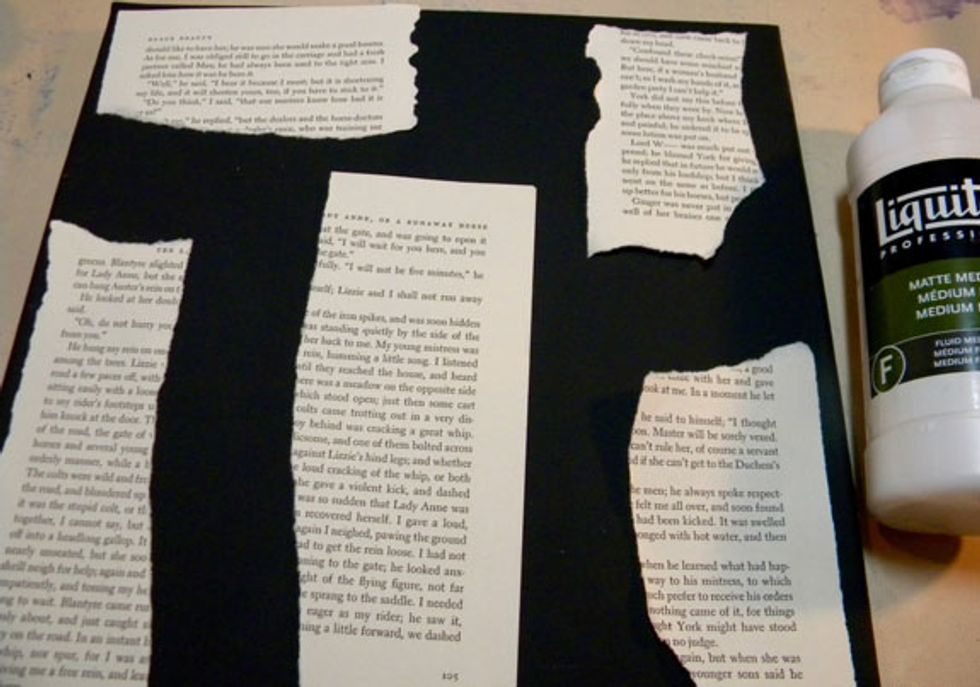 Randomly add book text to the canvas using Matte Medium.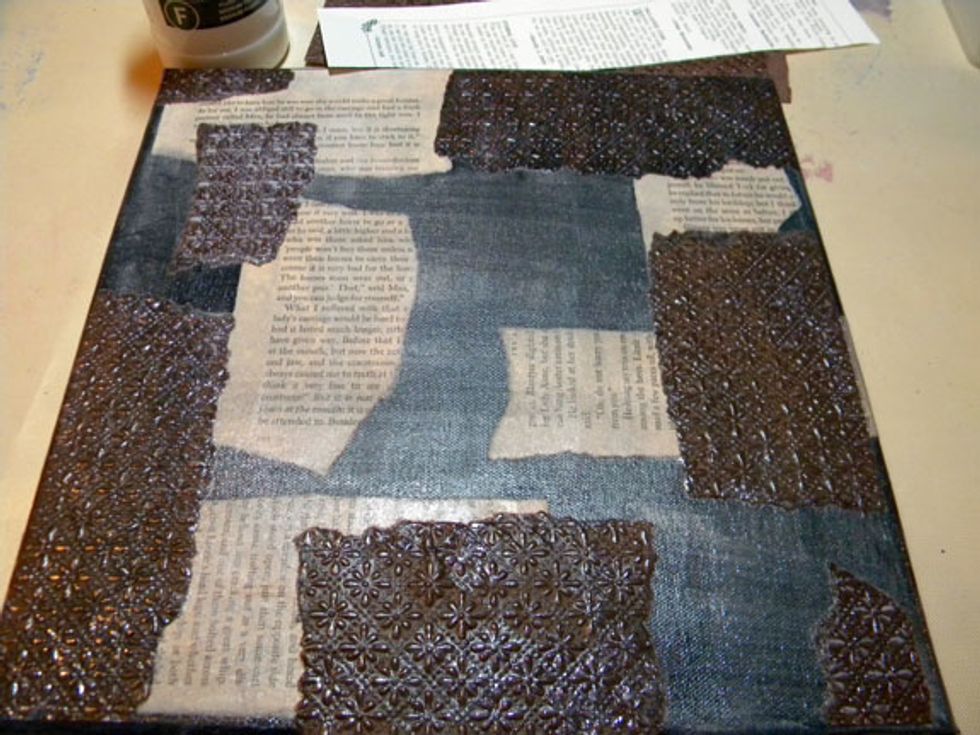 Add embossed paper randomly on top of the book text. I wish I had added more when it was finished. I left the middle open because my die cut quote was going there but it really didn't matter!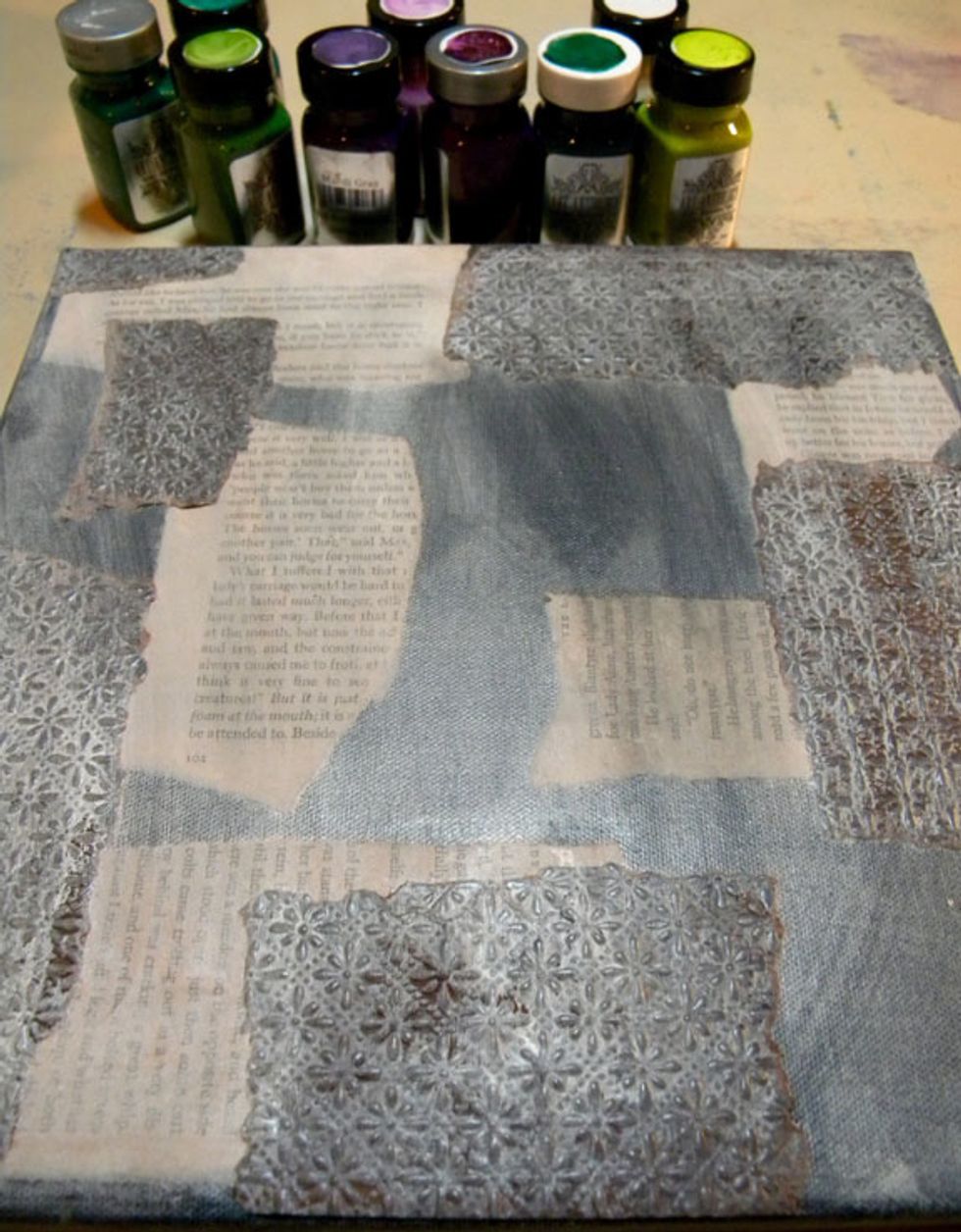 I gathered my paints. If you are wondering why there is a haze over the canvas, I got the bright idea to add a coat of iridescent medium. In the end, the whole thing gets covered anyway.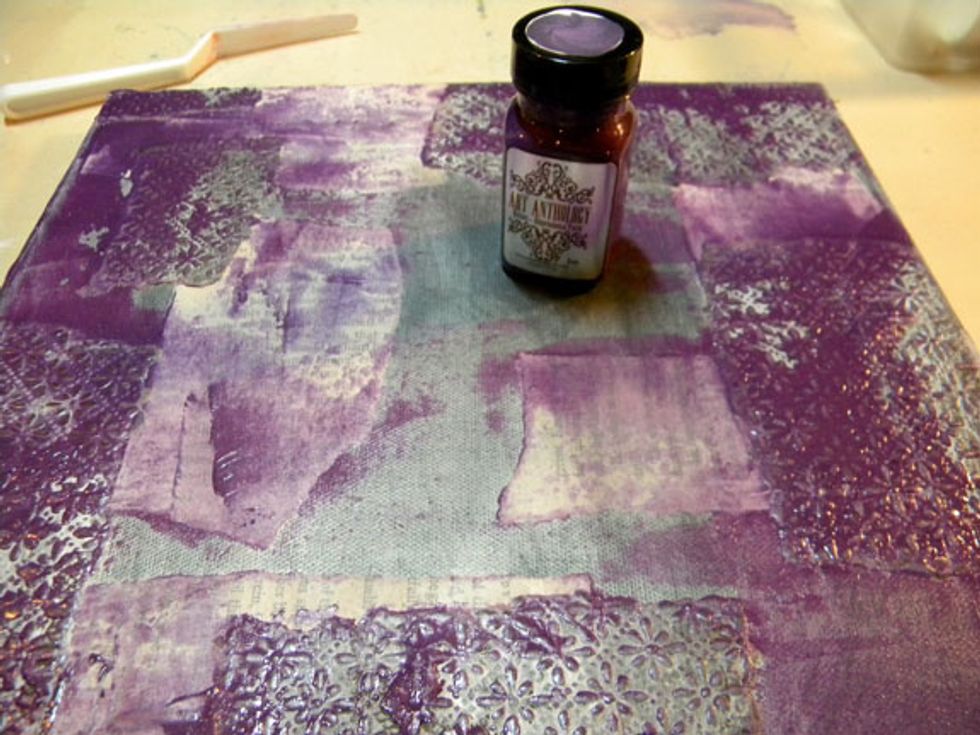 Start with the darkest color first and add paint randomly using a palette knife. Don't cover the entire canvas with each layer. It will eventually be completely covered if you add enough layers.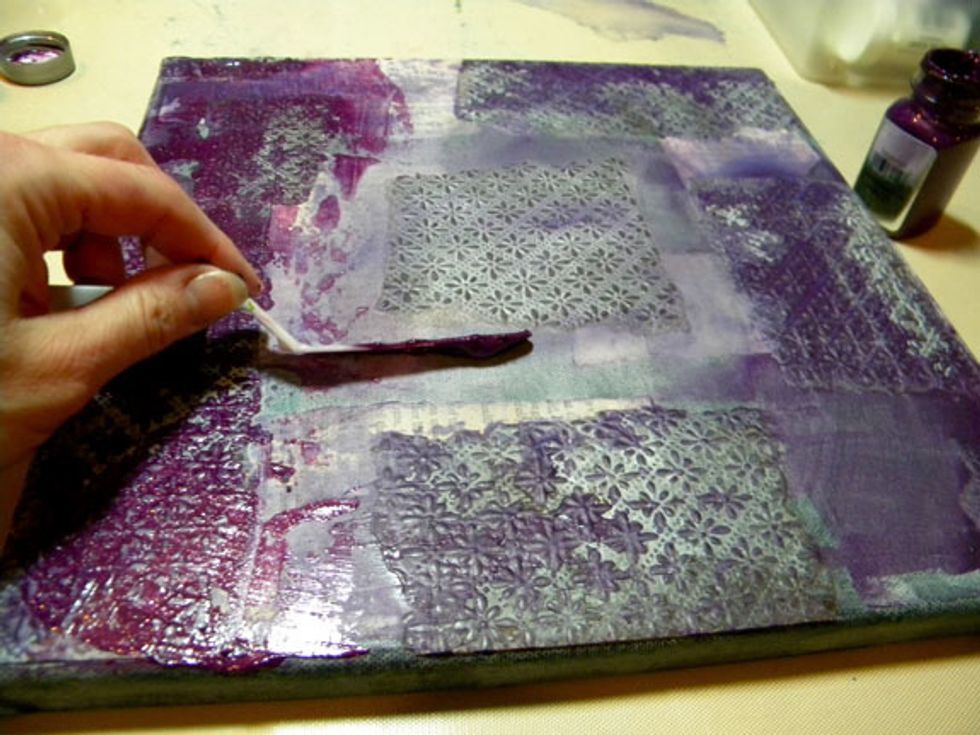 Continue adding colors from dark to light, drying the layers in between.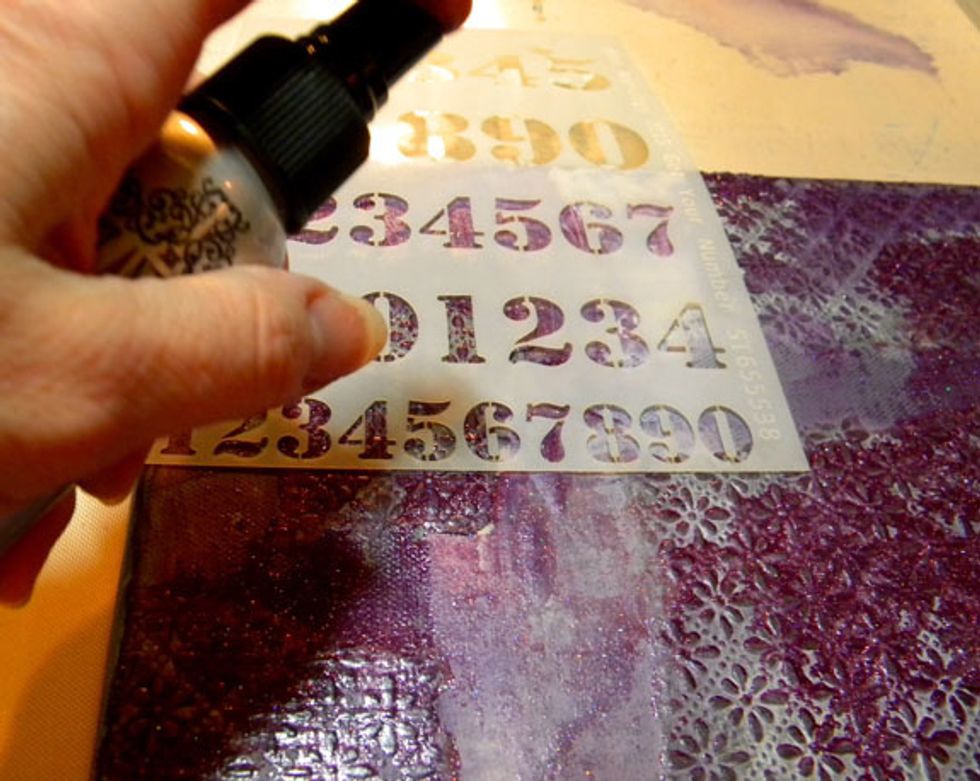 To add more interest to the background, I used the number stencil and Raider Colorations spray, avoiding the middle. Dry completely before adding the next layer.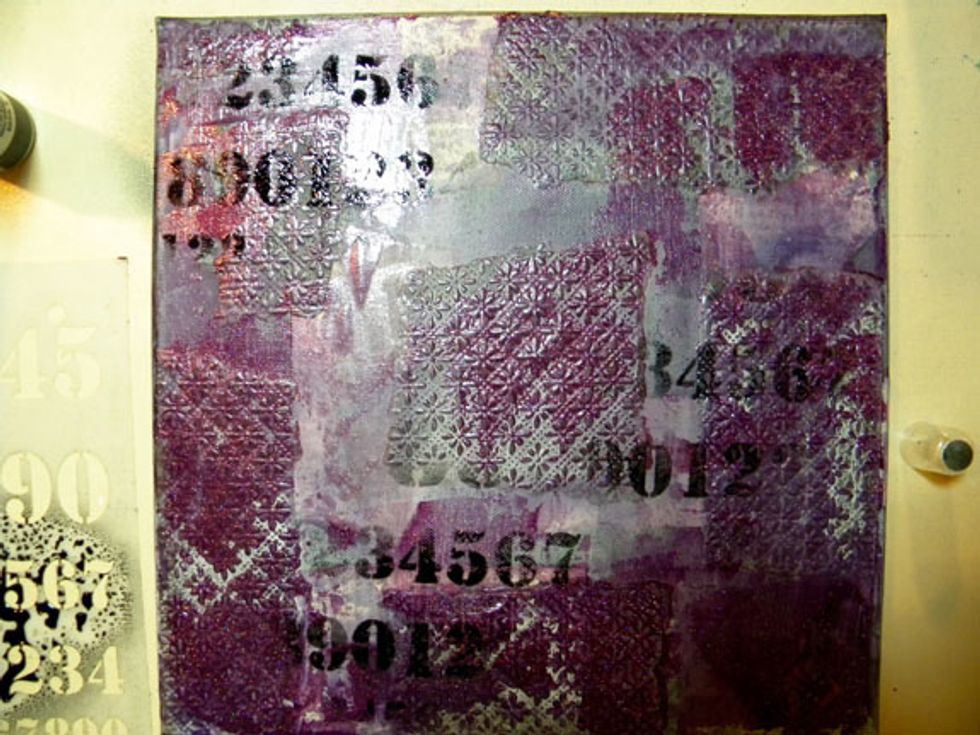 This is what the canvas looks like so far. Still more layers needed!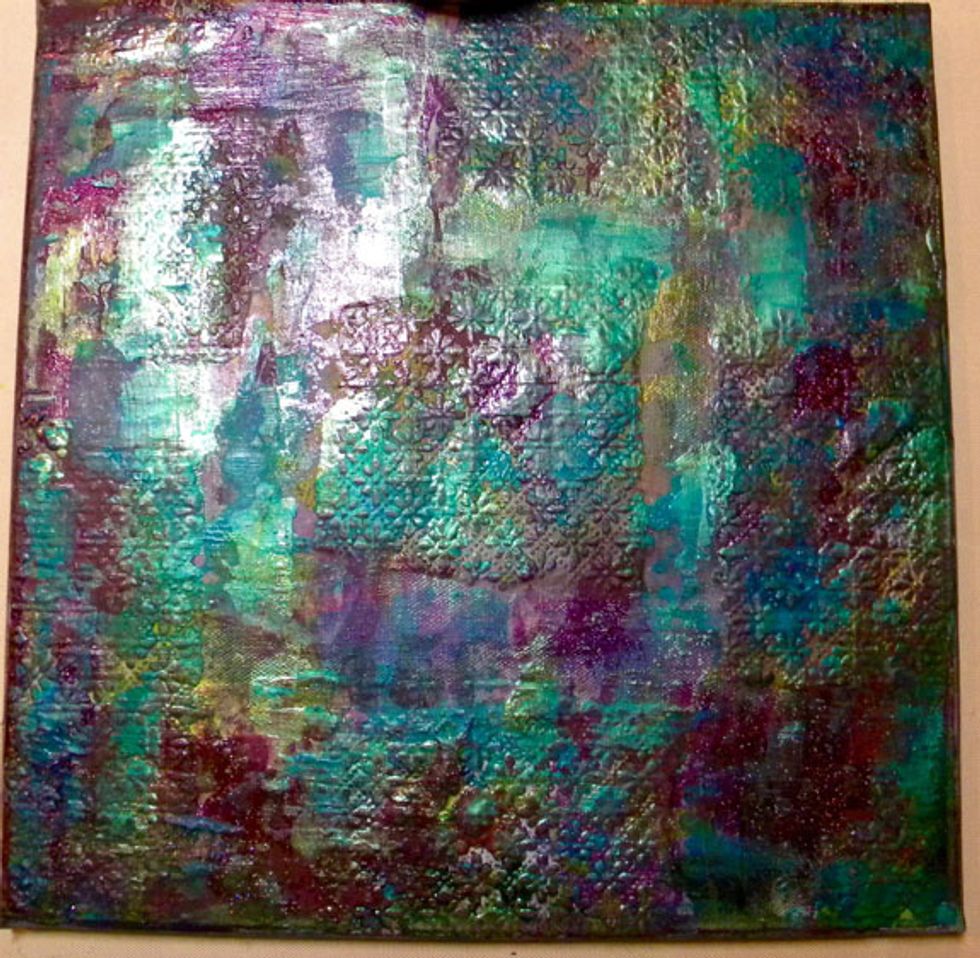 I kept adding more layers using lots more colors and applying them with the palette knife, my fingers, and an old key card until I liked the results.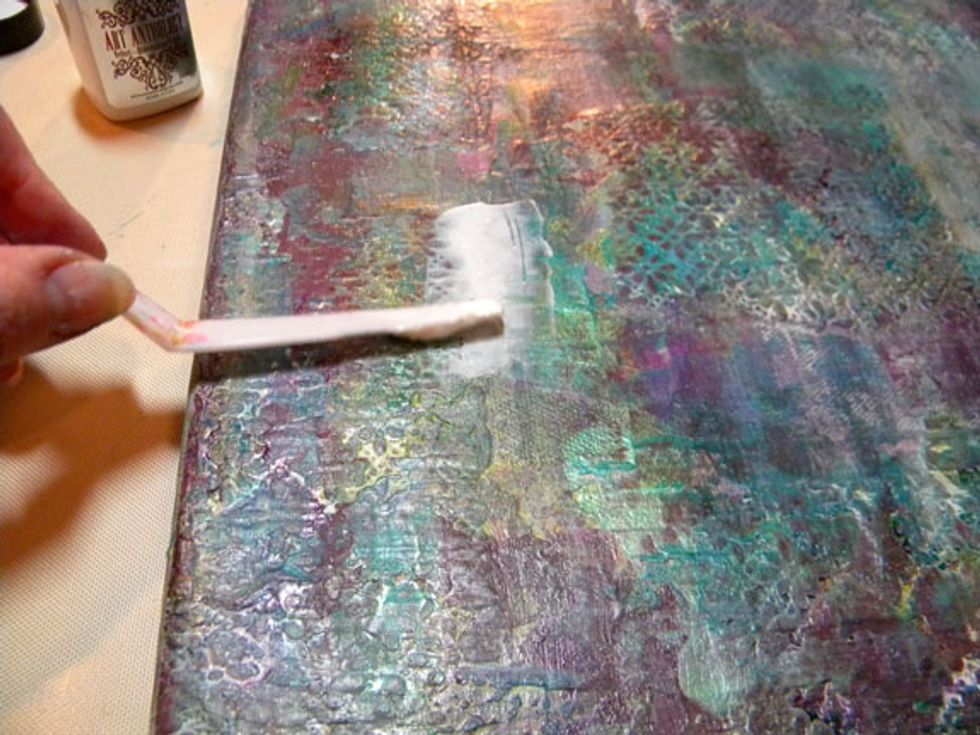 I added Cotton Velvet to lighten up the canvas a bit so that my quote would stand out more.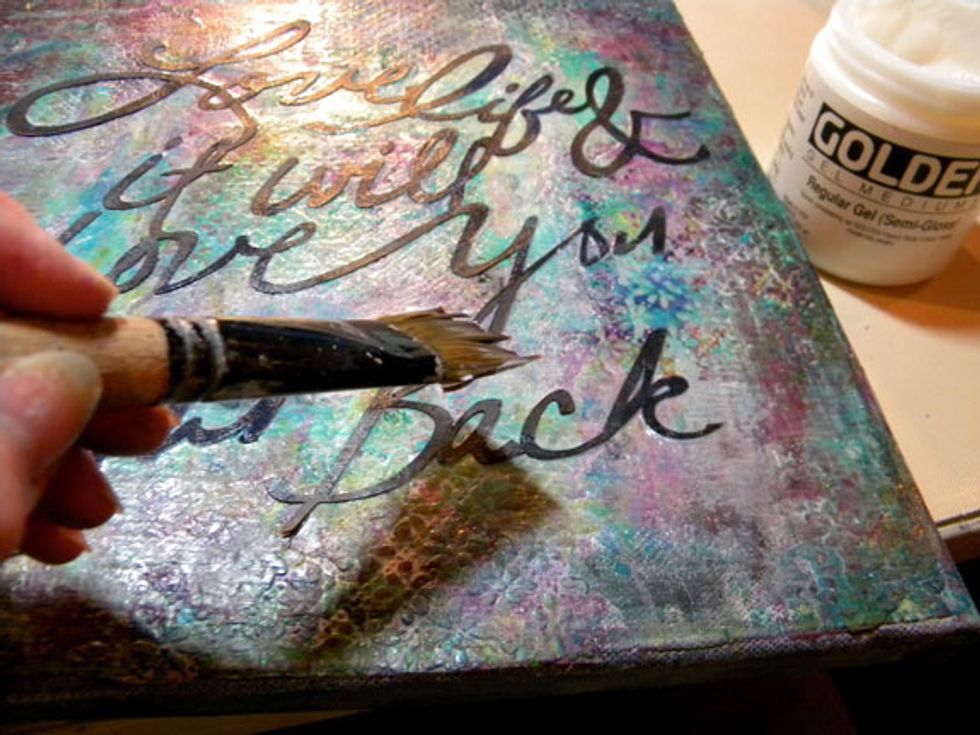 The quote was cut using my Silhouette Cameo, a cut file and black card stock. Gel medium was used to glue it to the canvas.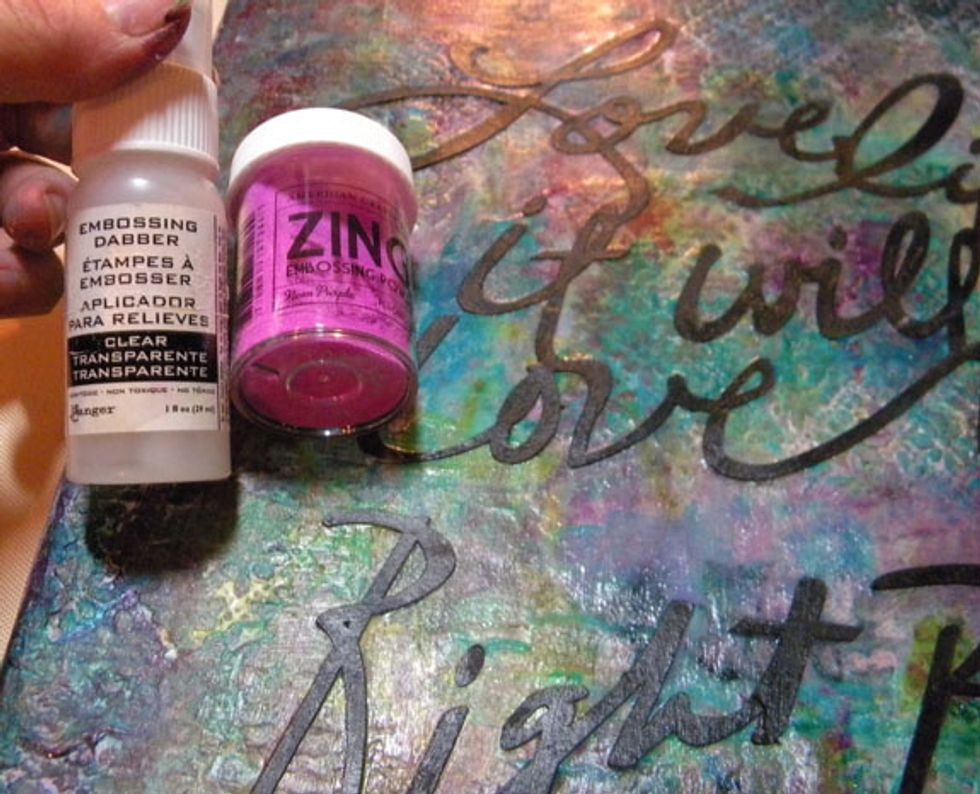 Next, add clear embossing ink and purple embossing powder to the edges of the canvas and heat set.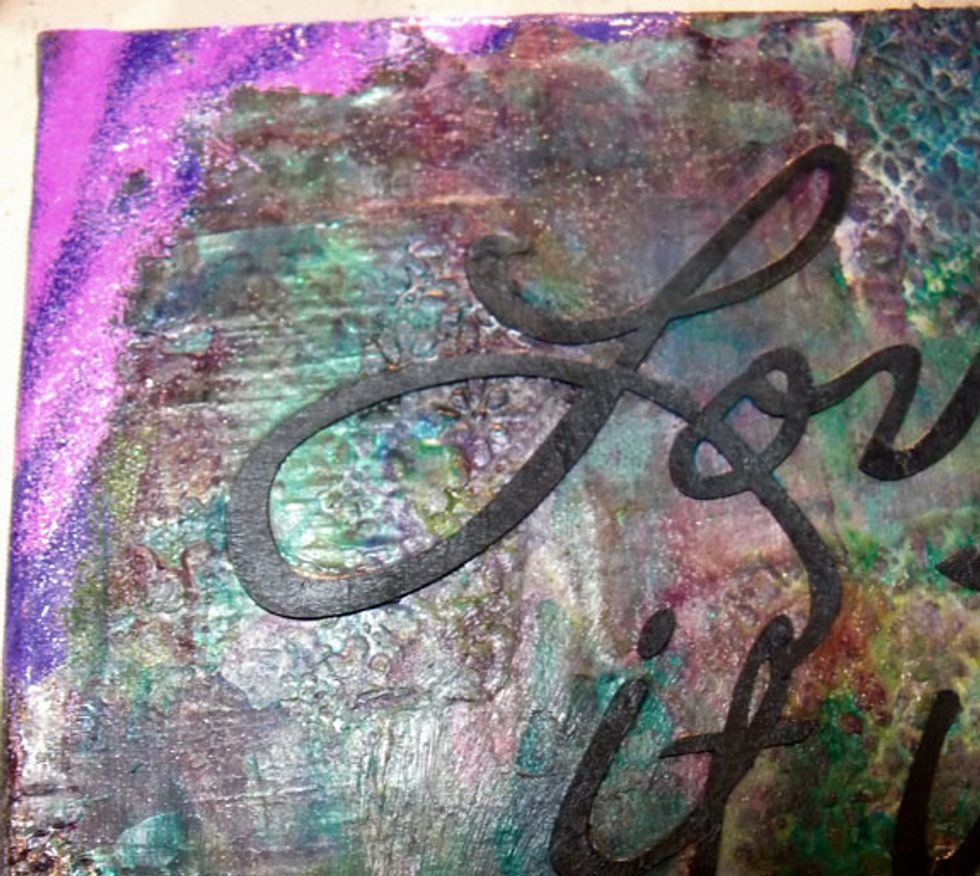 I added more Imperial Sorbet paint over parts of the embossing to integrate it more into the canvas.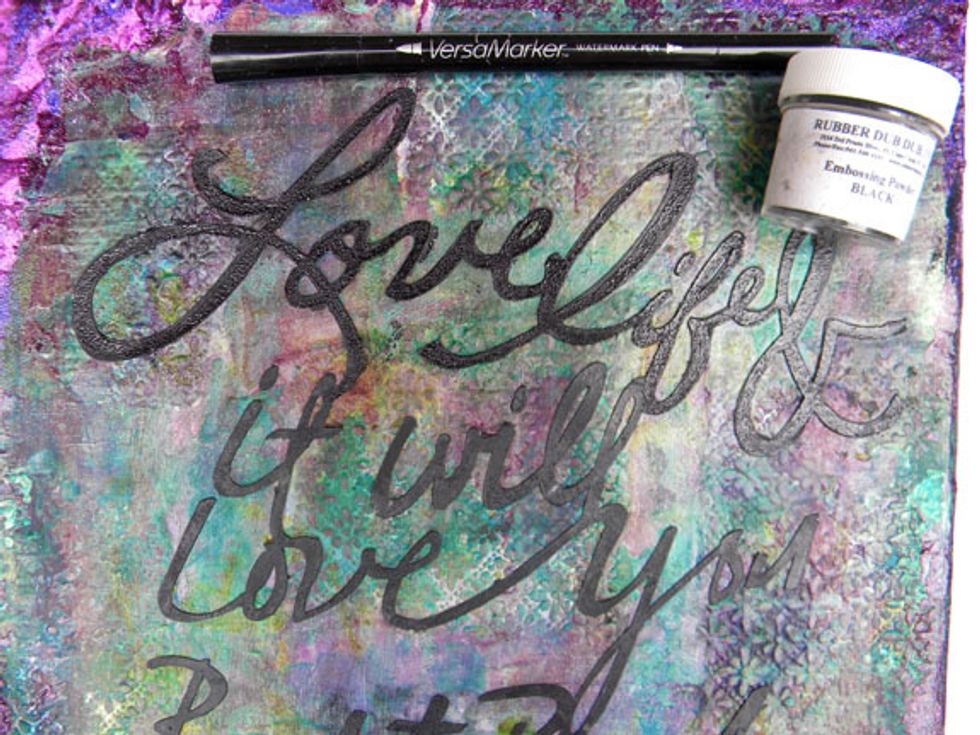 The quote needed a pop so I decided to go over it with a VersaMarker and emboss it with black embossing powder. In the photo, "Love Life &" is embossed and the rest isn't. That did the trick!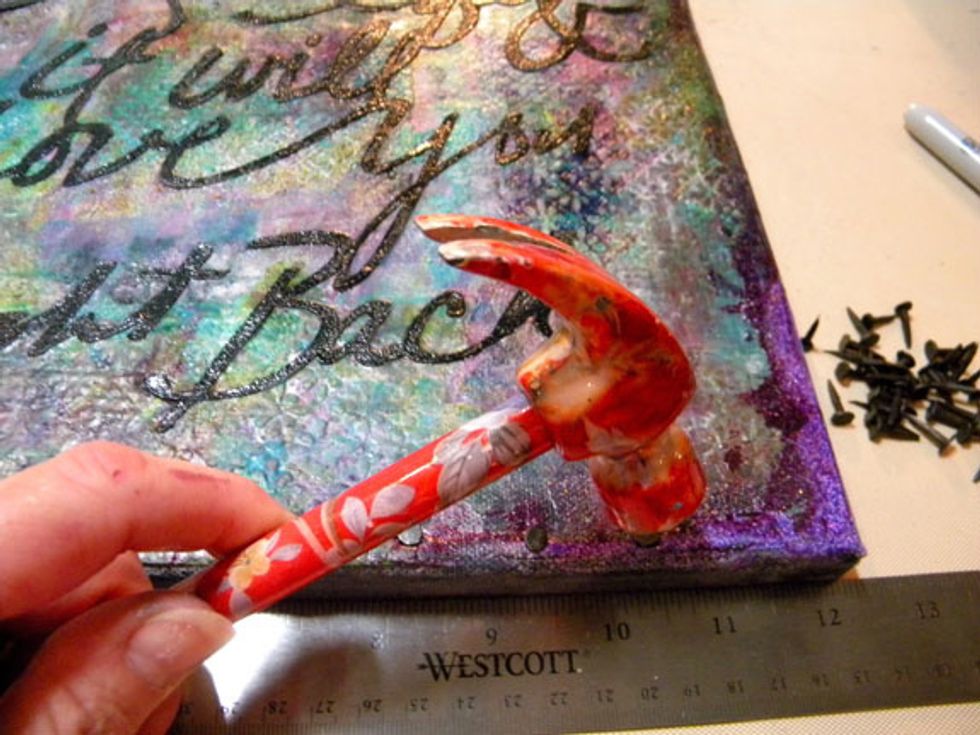 I added black tacks (from a hardware store) around the perimeter of the canvas at 1 inch intervals. They added a really cool industrial "frame" look to the canvas.
Lastly, I painted the edges of the canvas with Tuxedo Velvet to finish it off. Look at that texture! You can't achieve that without lots of layers and paint.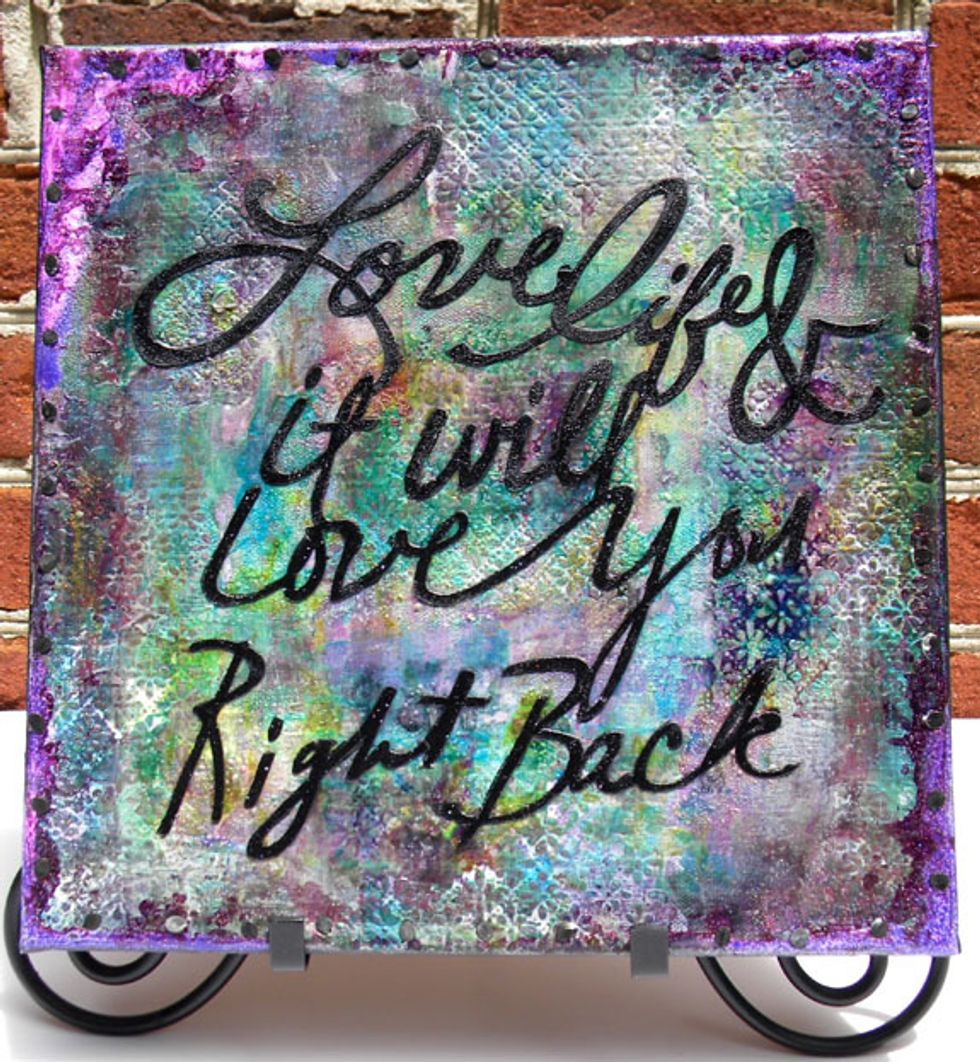 My daughter will love this for her dorm room! I have a feeling I'm going to make more of these.
Emerald Genstones
Imperial Sorbet
Viridian Sorbet
Pixie Sorbet
Tink Sorbet
Vegas Gold Sorbet
Tuxedo Velvet
Cotton Velvet
Limeade Velvet
Mardi Gras Velvet
Orchid Velvet
Fiji Velvet
Lagoon Velvet
Raider Coloration Spray
Got Your Number Stencil
Matte Medium
Purple Embossing Powder
VersaMarker Brush Tip Pen
Palette Knife
Black Tacks
12" x 12" Canvas painted black
Ranger Embossing Dauber
Art Anthology
Art Anthology is a manufacturer of dimensional mediums.\n\nCome chat with us in our Facebook Group: Art Anthology Adventures in Art