Create a Butterfly Garden Mixed Media Card
24
To begin, you will need one 12 x 12 sheet of Canvas Corp Brands Mixed Media Origins "Wings" paper. It's double sided, but we are using the butterfly/script side.
Cut this 5x5" section with the large butterfly image from the paper. Include the black border at the top and bottom.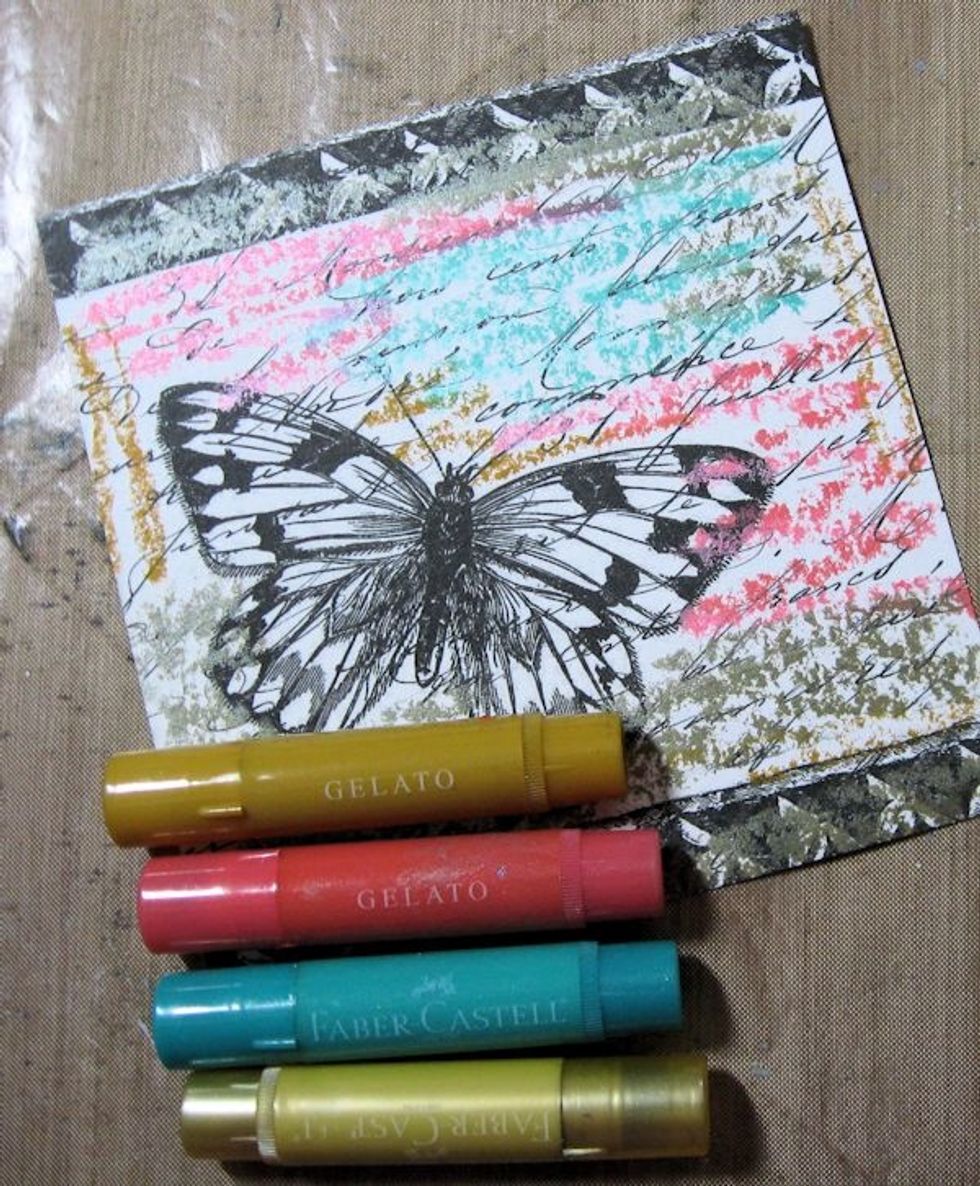 Using gelatoes, lay down some color on the background. We will be coloring the wings separately, so leave them for now.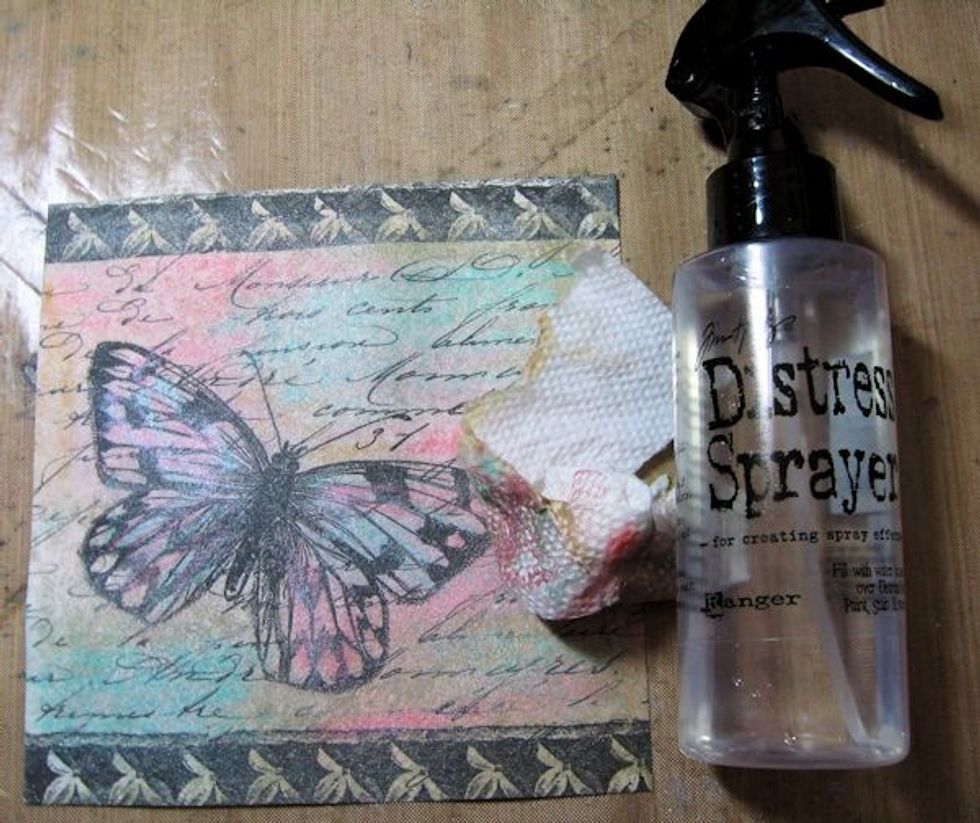 Use a Distress Sprayer to add a very light misting of water to the panel. Use a paper towel to blend the colors. Add more color and repeat if desired.
Add shimmer and more intense color by spritzing and spattering with Glimmer Mist.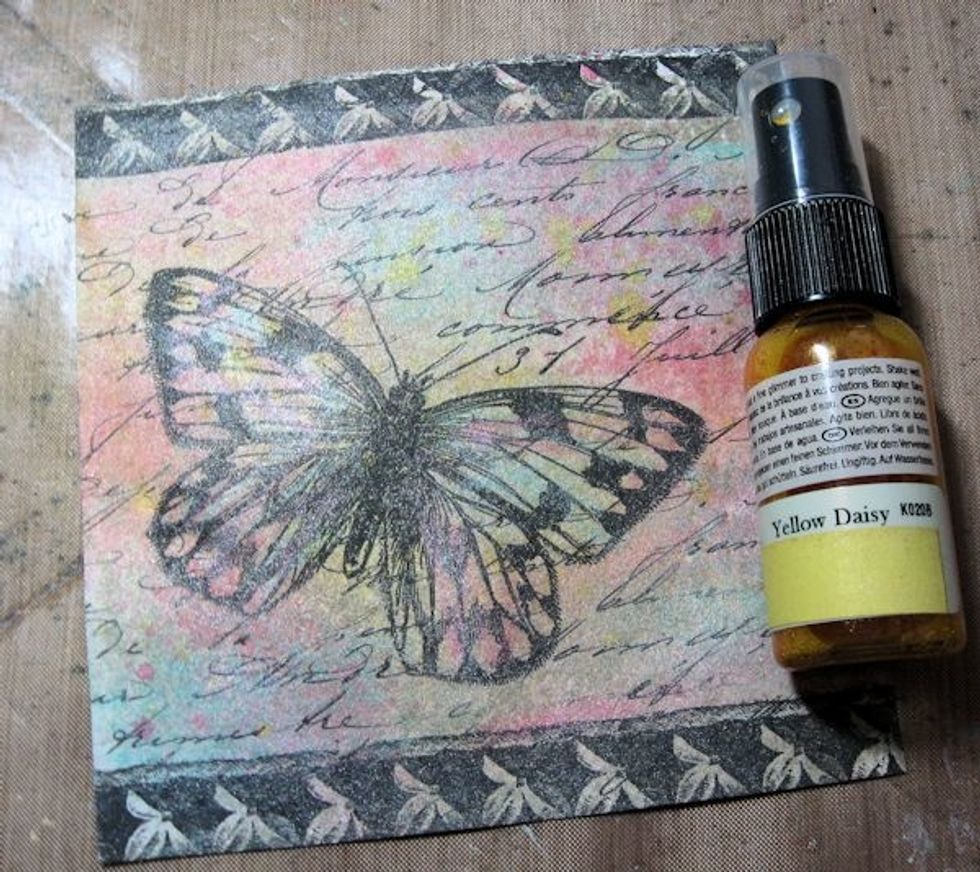 Lay down another layer of color and ink splatters.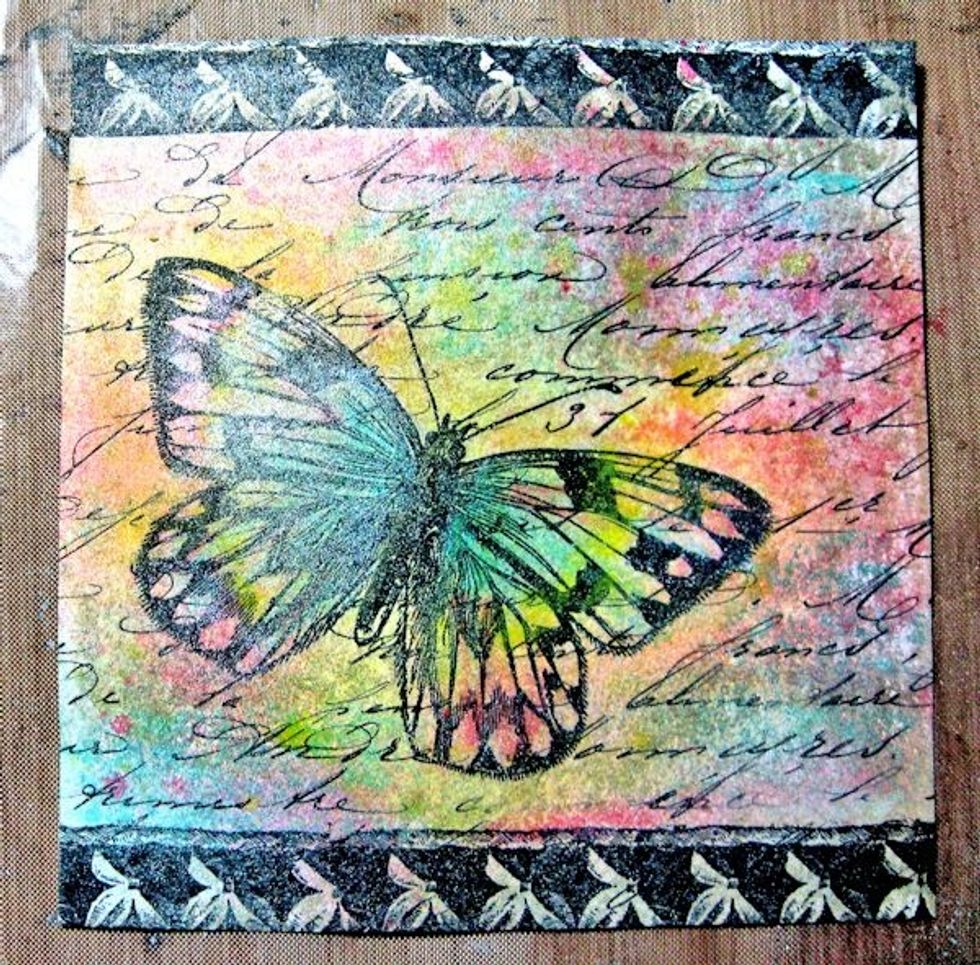 Use a waterbrush to pick up color from the gelatoes and paint the interior of the butterfly wings. Just brush the bristles directly onto the gelato, then paint. Clean your brush between colors.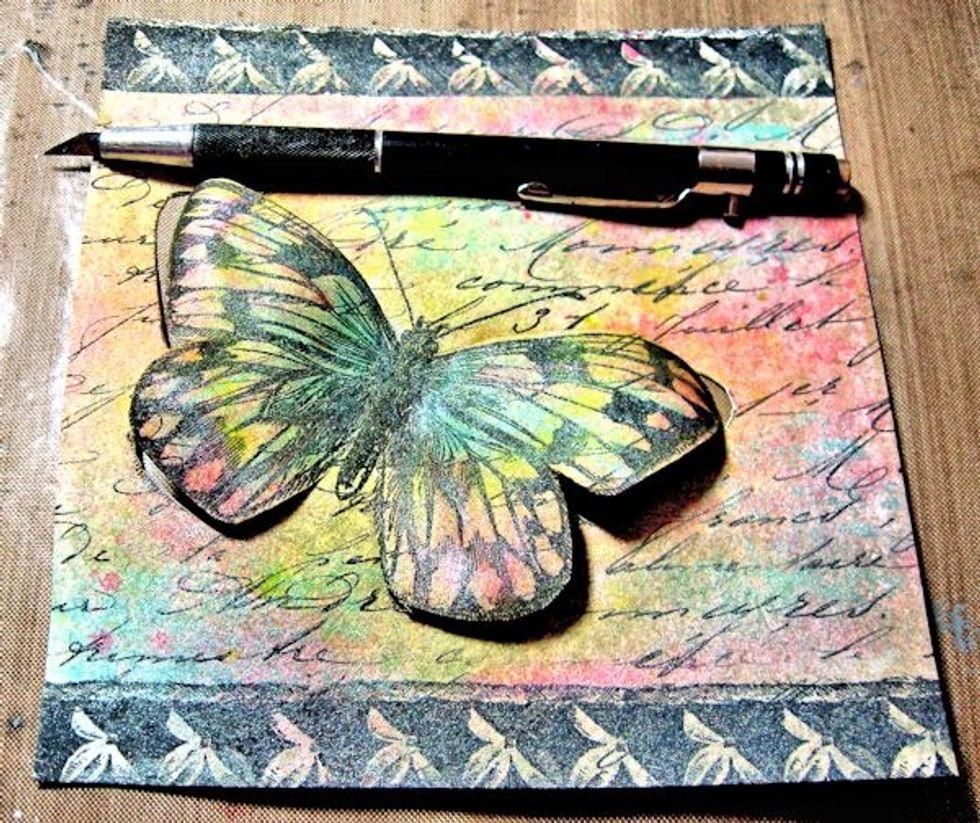 Use a craft knife to trace around butterfly wings. Just the wings, not the body! Spritz with water and shape with your fingers. If you cut on a glass surface, it will cut like buttah!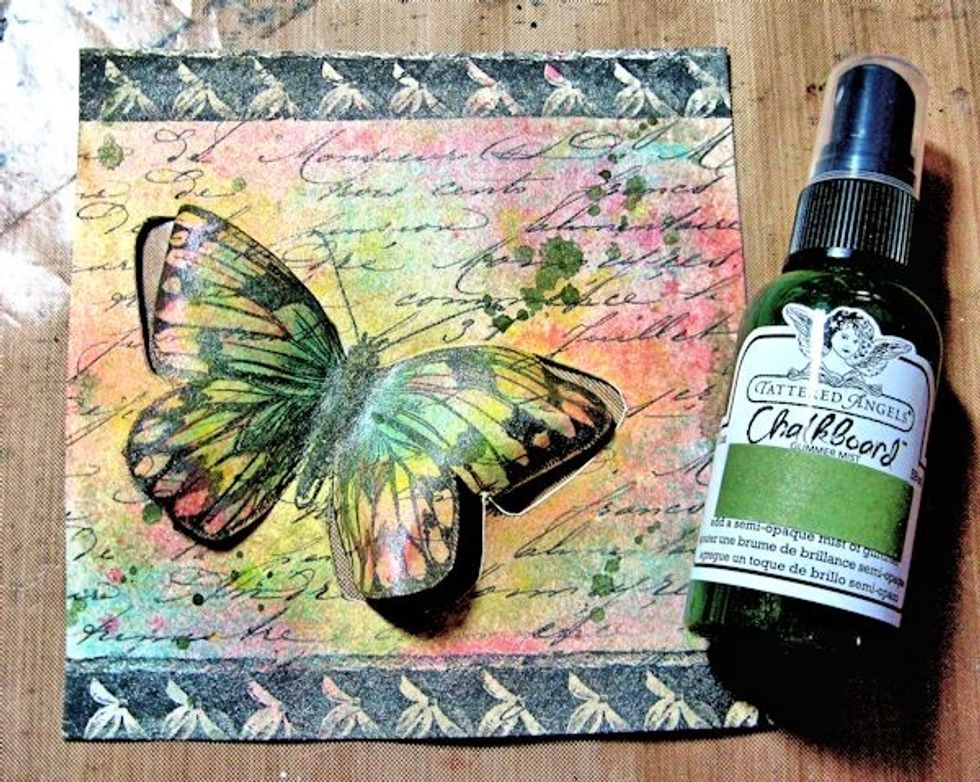 Add some ink spatters with Clover Chalkboard Mist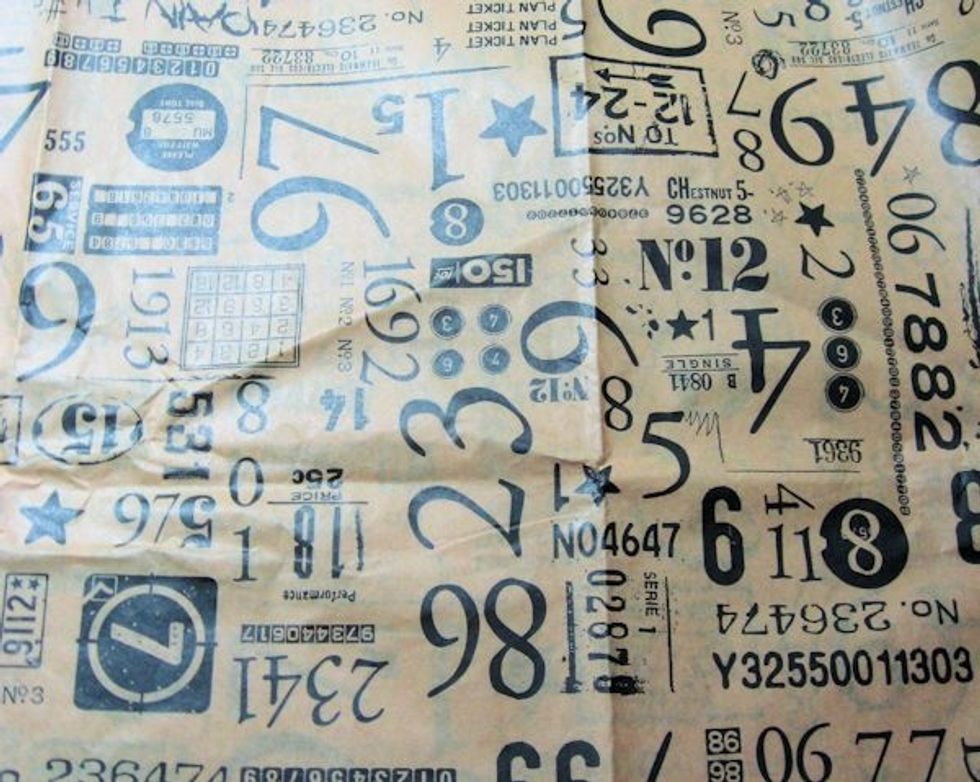 Cut a piece of tissue stock that is slightly larger than the butterfly panel. Spritz with inks, crumple and heat dry. Glue beneath the butterfly panel so the tissue stock will show beneath the wings.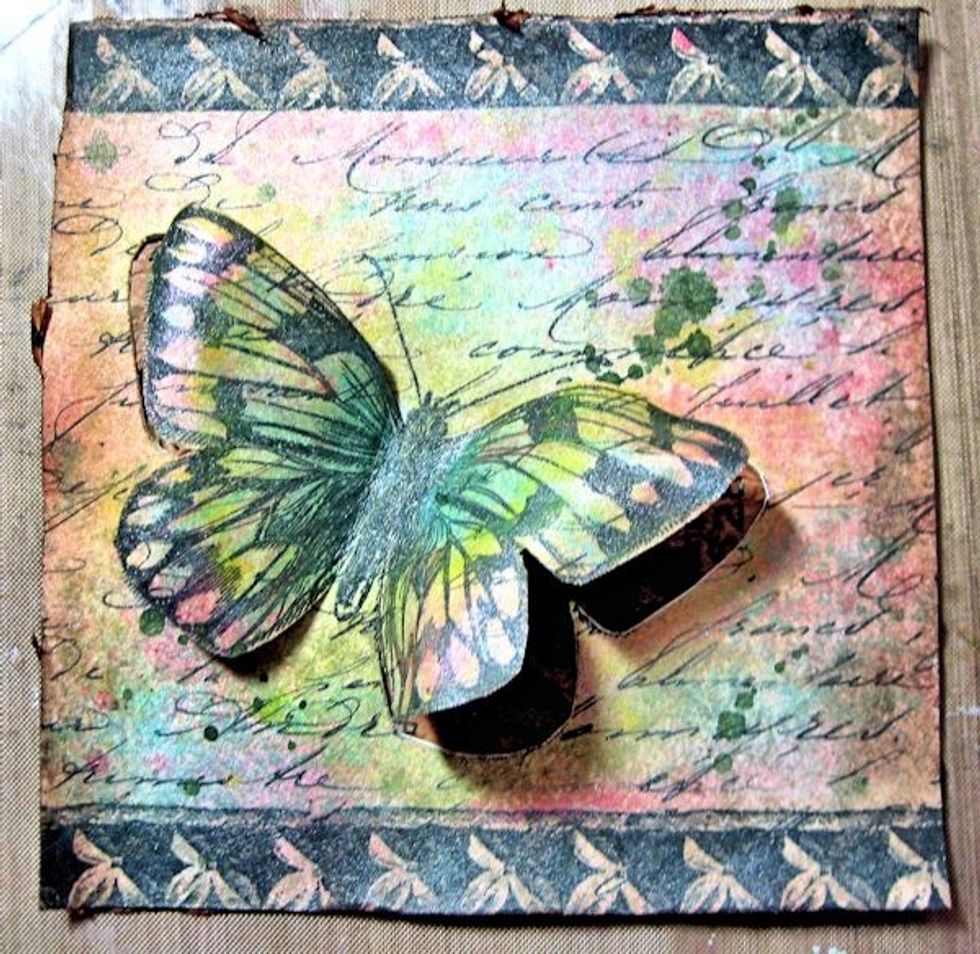 It will look like this. Keep lifting and shaping the wings. This paper will keep its shape once it is heat set. It's pretty amazing!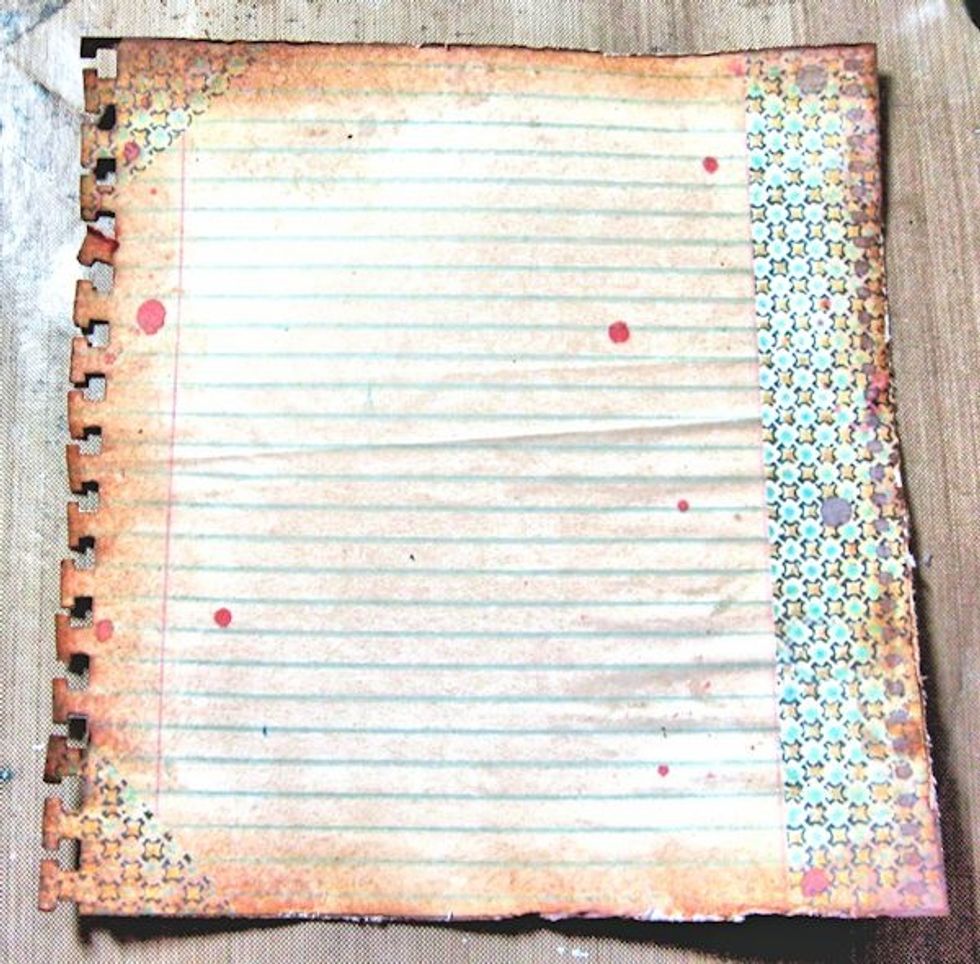 Cut this 6" panel from 7 Gypsies Ordre du Jour Seize the Day paper. Use a notebook punch on one side. Ink and heavily distress the edges. Spatter with Pink Poodle Glimmer Mist.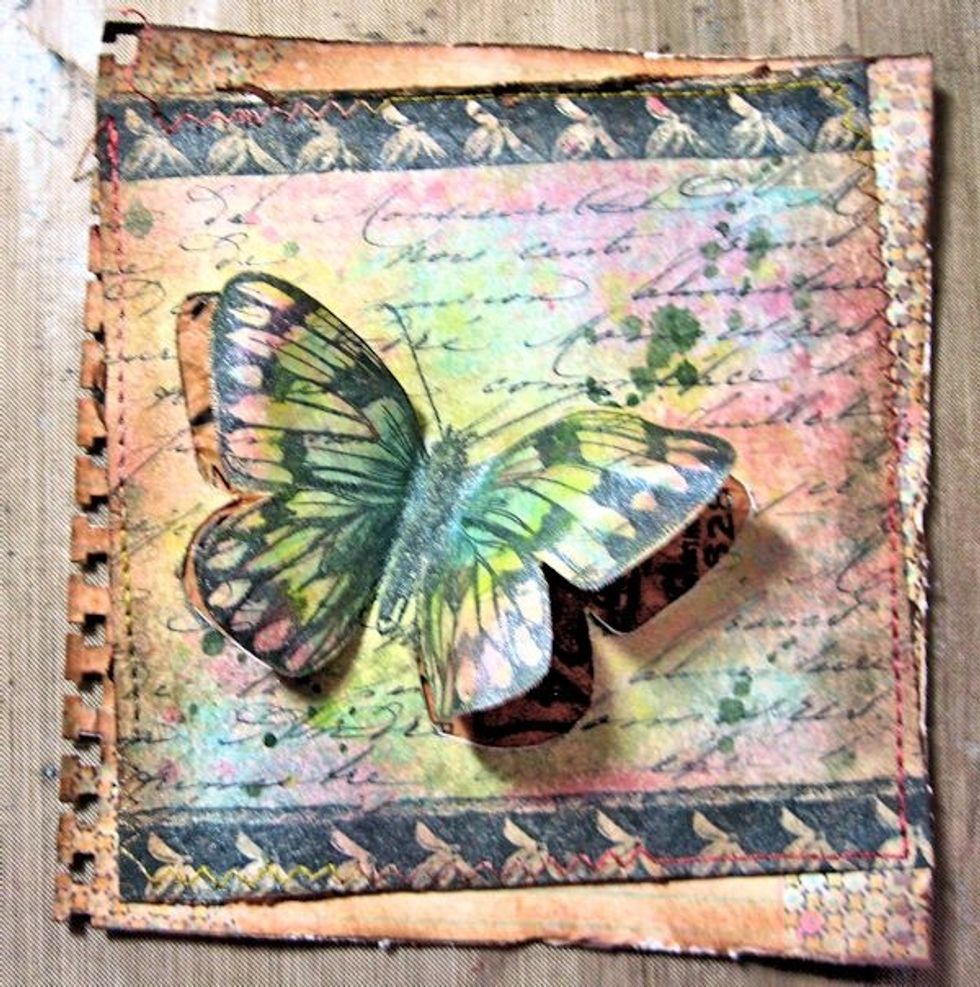 Place the butterfly panel at an angle on the Seize the Day paper. Machine stitch.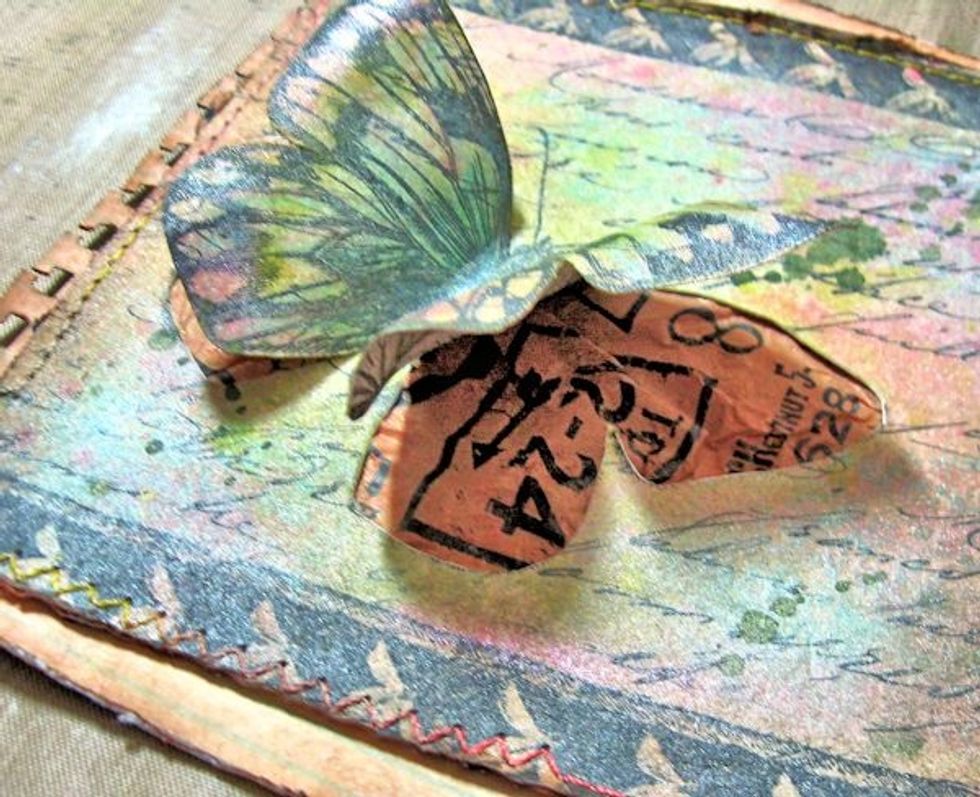 Create a 6" square side fold card base from Kraft Cardstock. Paint the edges with Gold Texture Paste. When dry, glue the prepared butterfly panel to the card base. Now add your embellishments.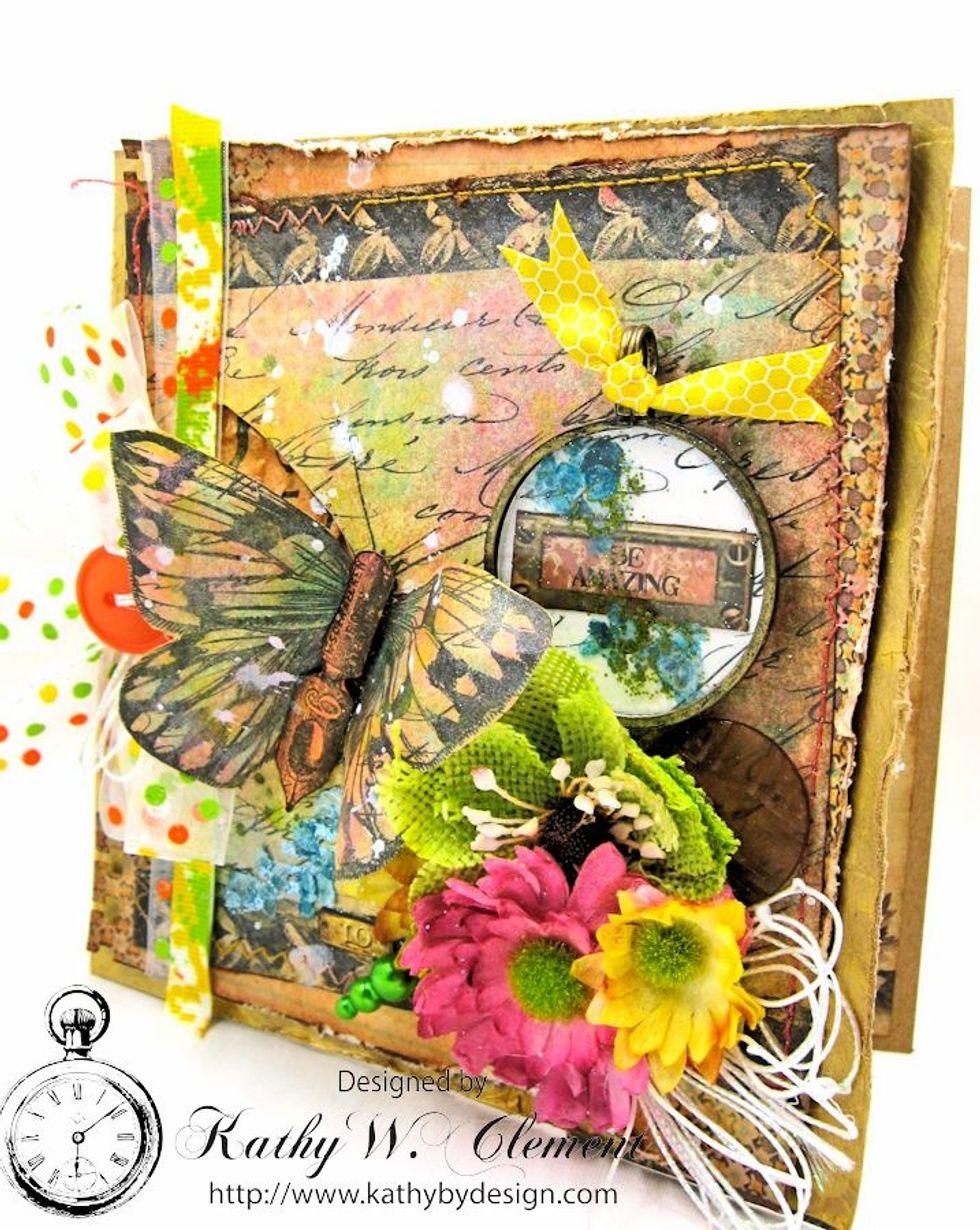 Back the optical lens with a scrap from the mixed media paper. Fussy cut library drawer from Ordre du Jour and place on top. Add mica chips. Top with honeycomb print ribbon. Secure with foam tape.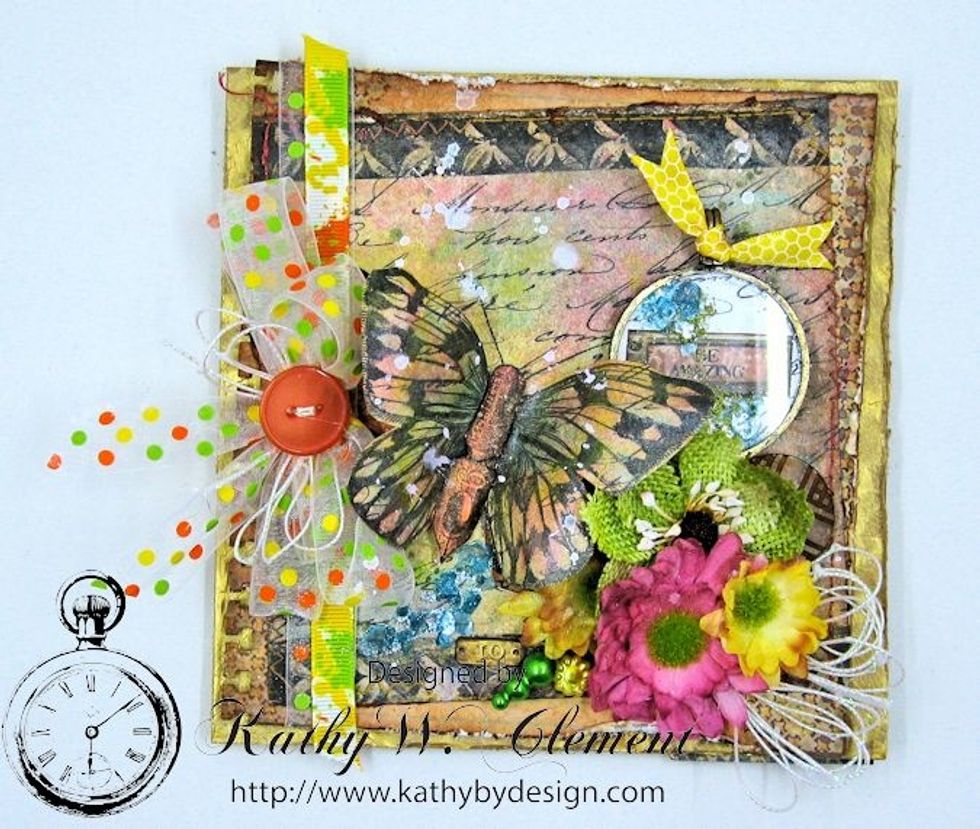 Add ribbon border on left hand side with Scor-Tape. Top with Sheer Citrus Dots Bow, string bow and button. Fussy cut pen nib, color ad add as body on butterfly. Spatter white paint if desired.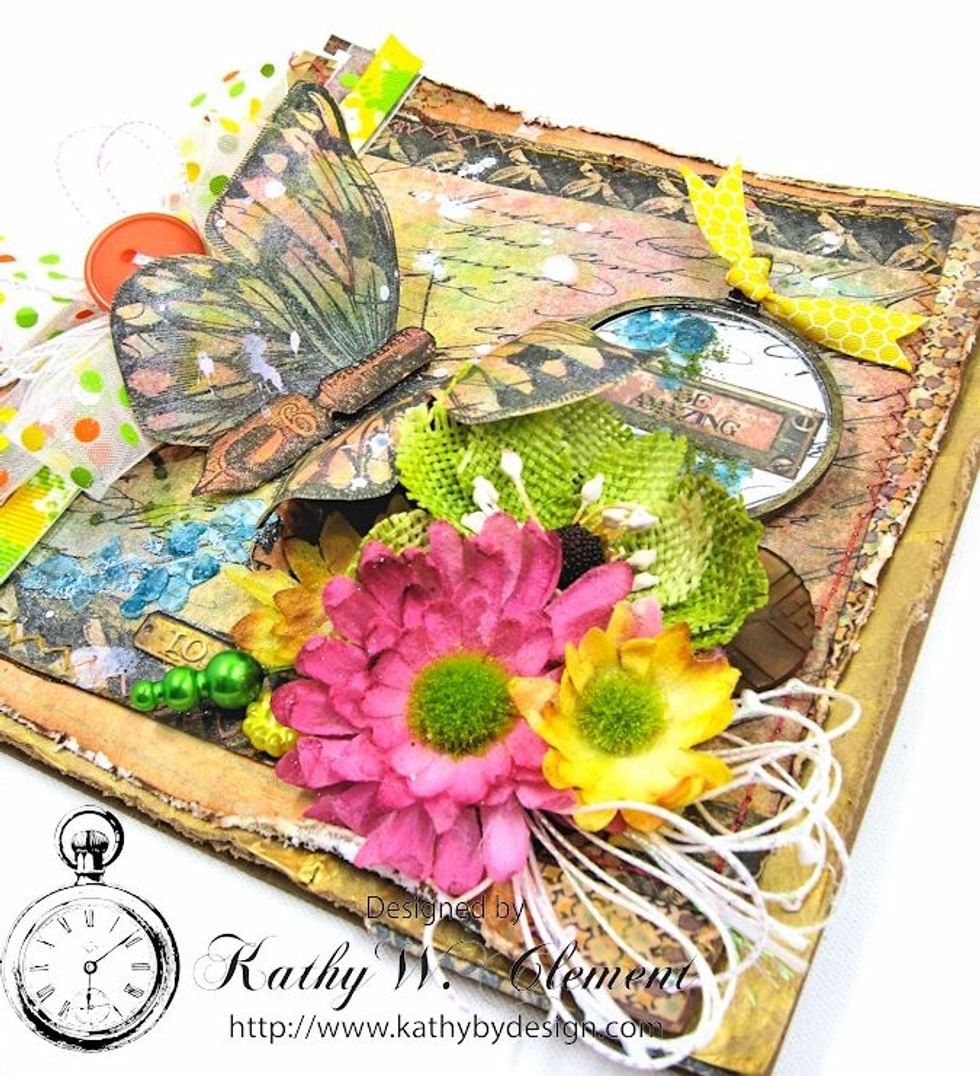 Use hot glue to attach Petaloo Pistachio Burlap Blossoms, Large pink Gerbera Daisy and Small yellow Gerbera Daisy. Add string bow. Add stick pins.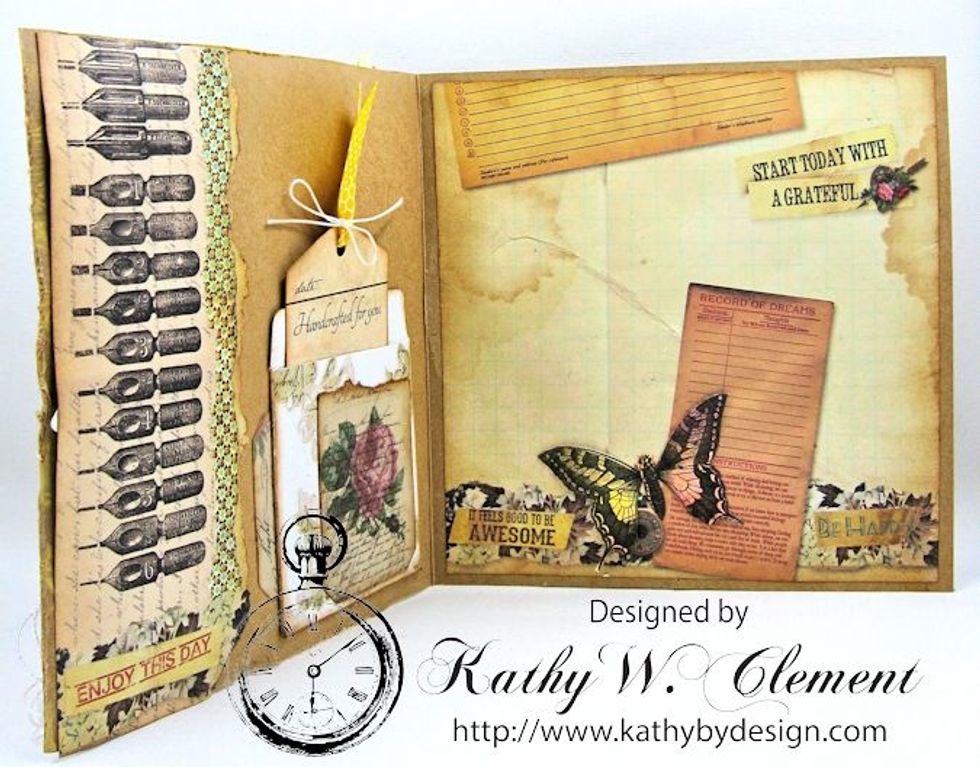 Decorate the inside of the card with Ordre du Jour 8x8 papers.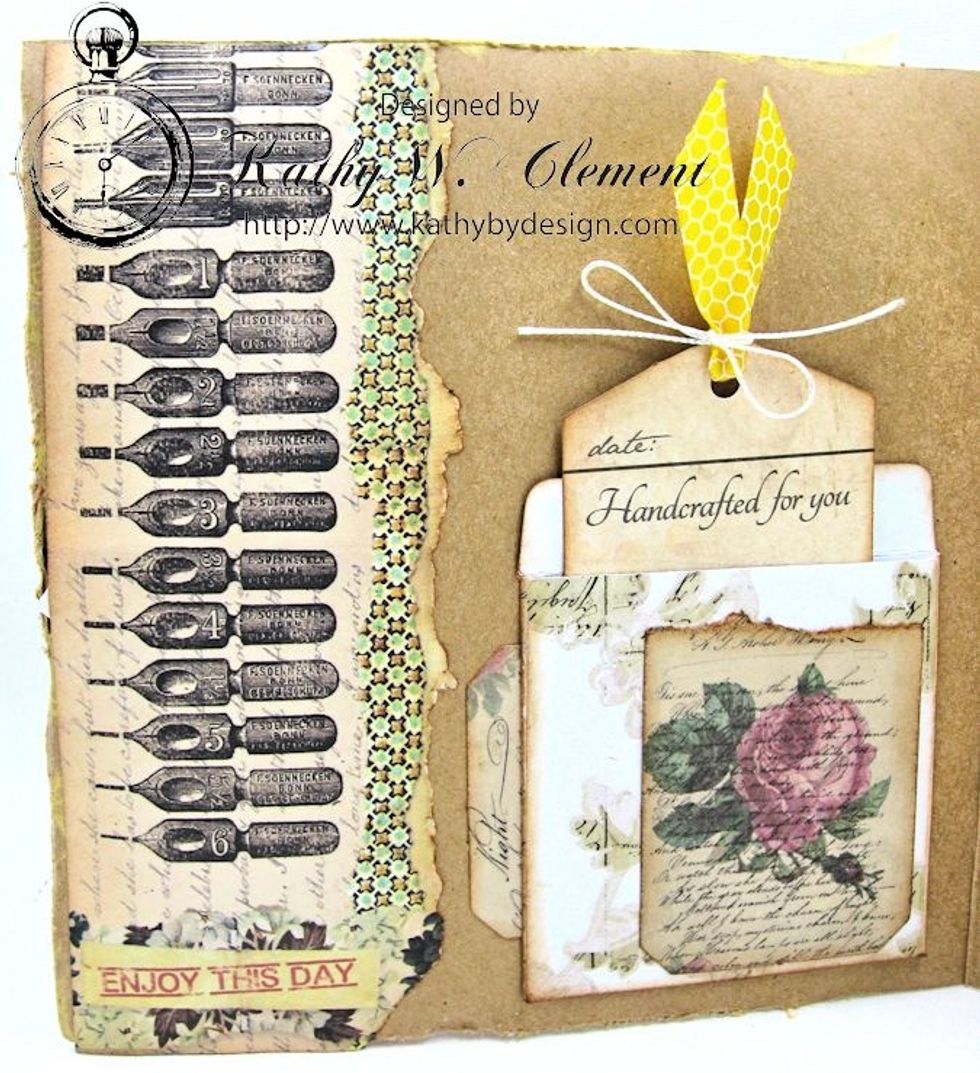 Create a gift card/tag pocket using the envelope pocket. Top the tag with honeycomb satin ribbon and tuck into the pocket.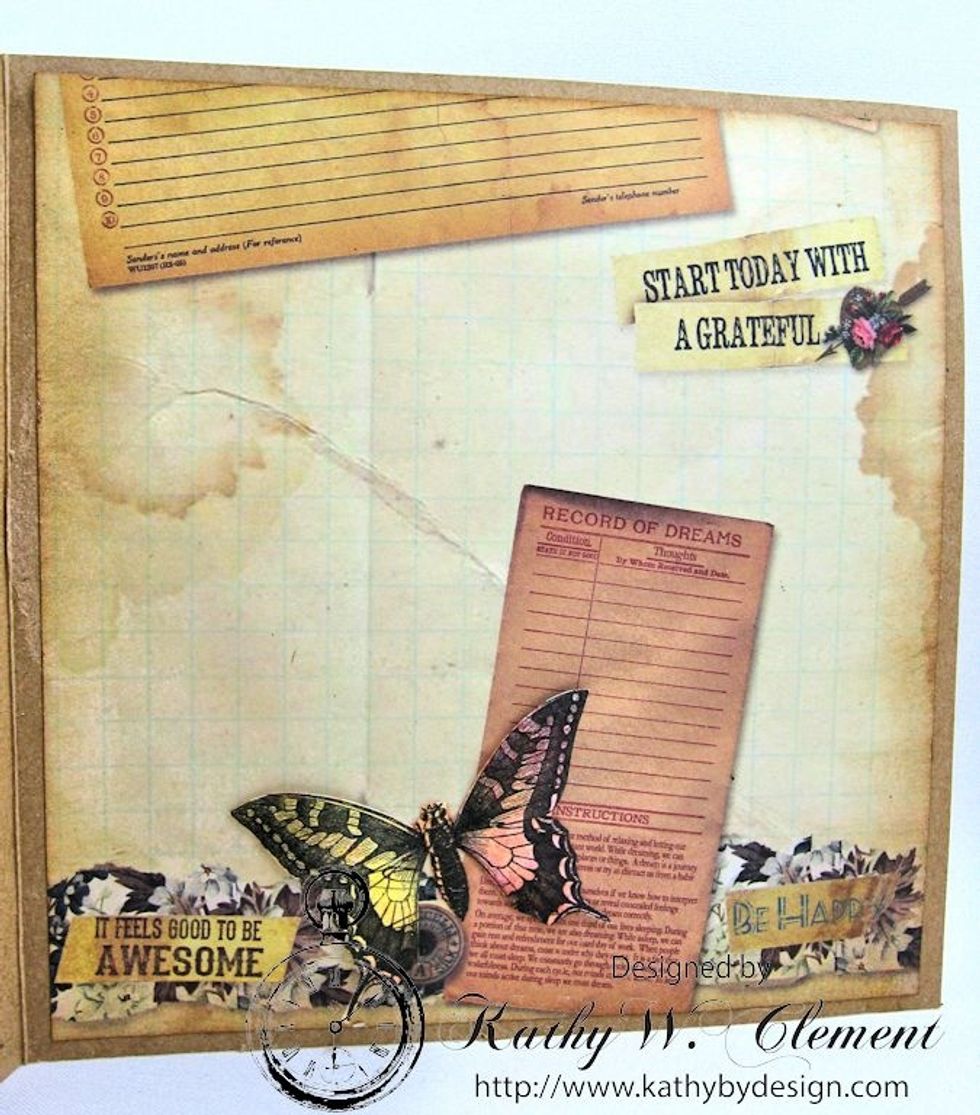 Use the 8x8 Ordre du Jour collage paper on the right hand side of the card interior. Fussy cut the small butterfly from the Mixed Media Origins paper. Color and add to the collage.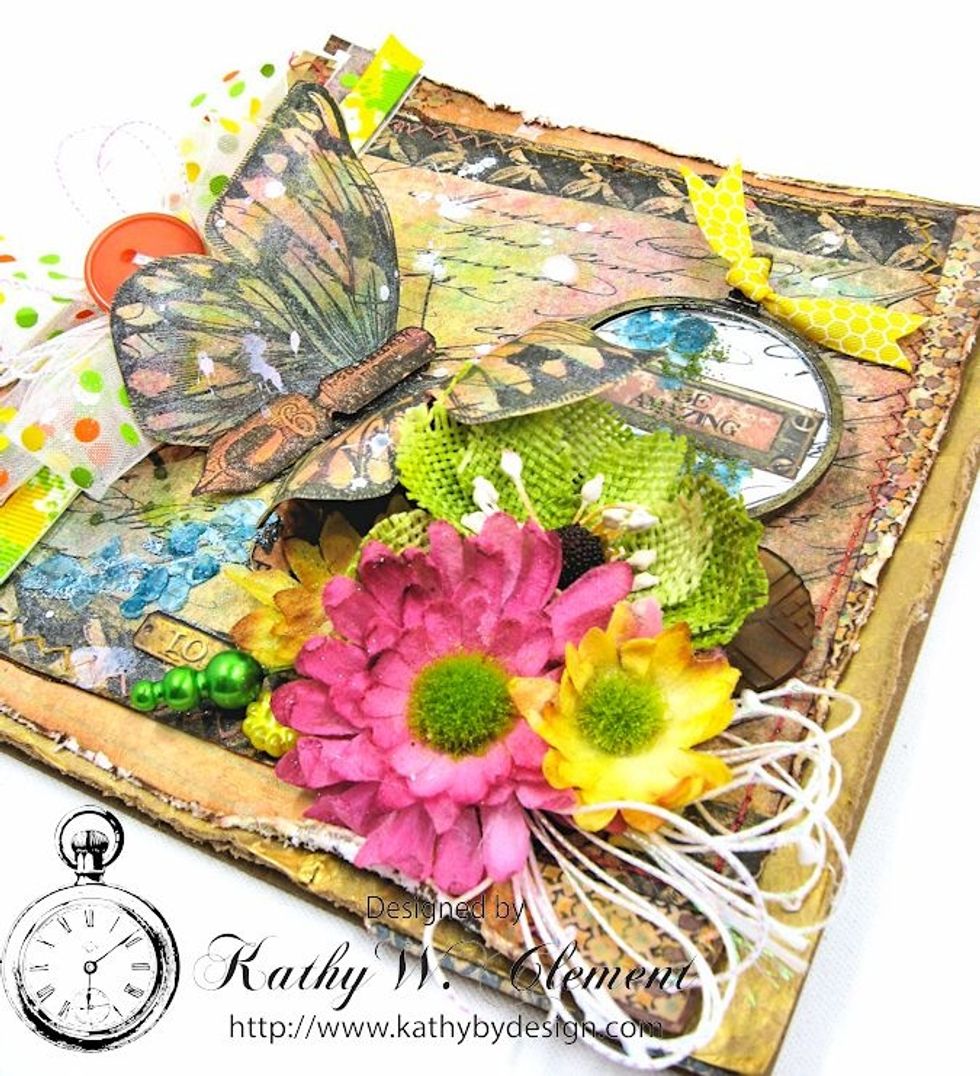 Now your gorgeous Mixed Media Butterfly card is complete and ready for gifting! Thanks for joining me! Visit me at http://www.kathybydesign for more ideas and inspiration. Now go get your craft on!
Canvas Corp Brands Wings Mixed Media Origins Paper
7 Gypsies Ordre Du Jour 8x8 paper pad
7 Gypsies 12x12 Seize the Day Paper
Canvas Corp Heirloom Pen and Ink on Ivory
7 Gyspies Brass Optical Lens
Petaloo Gerbera Daisies
7 Gypsies Cream Tissue Paper Metro
12x12 Kraft Cardstock
Prima Gold Crackle Texture Paste
Really Reasonable Ribbon Sheer Citrus Dots Ribbon
RRR Citrus Paint Splatter Ribbon
RRR Maize Honeycomb Satin Ribbon
7 Gypsies Gypsy Moments Handcrafted Tag
7 Gypsies Charming Tag Envelopes
Mica Chips
Stick pins
orange buttons
Tattered Angels Mist: Pink Poodle
Tattereed Angels Mist /Yellow Daisy
Tattered Angels Chalkboard Mist/ Clover
Gelatoes: Gold Champagne, Metallic Melon, Mint
Kraft knife, heat gun, hot glue, Scor-tape,
sewing machine, distressing tool, string
notebook punch
water brush and paper towel
Kathy Clement
I'm a wife, a mom and a Nana who loves to play with paper. Married for 40 years, I am a full time designer, life long learner, and pretty darn good cook.