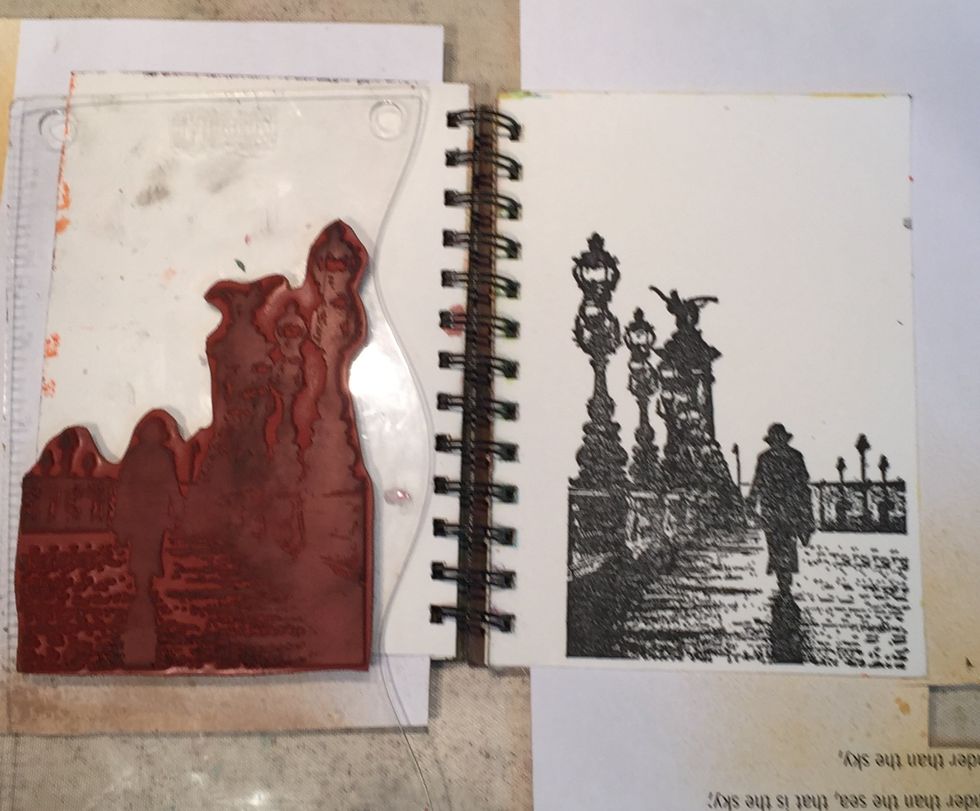 On the right side of your journal spread, stamp the Pont Alexander III stamp using Versafine ink.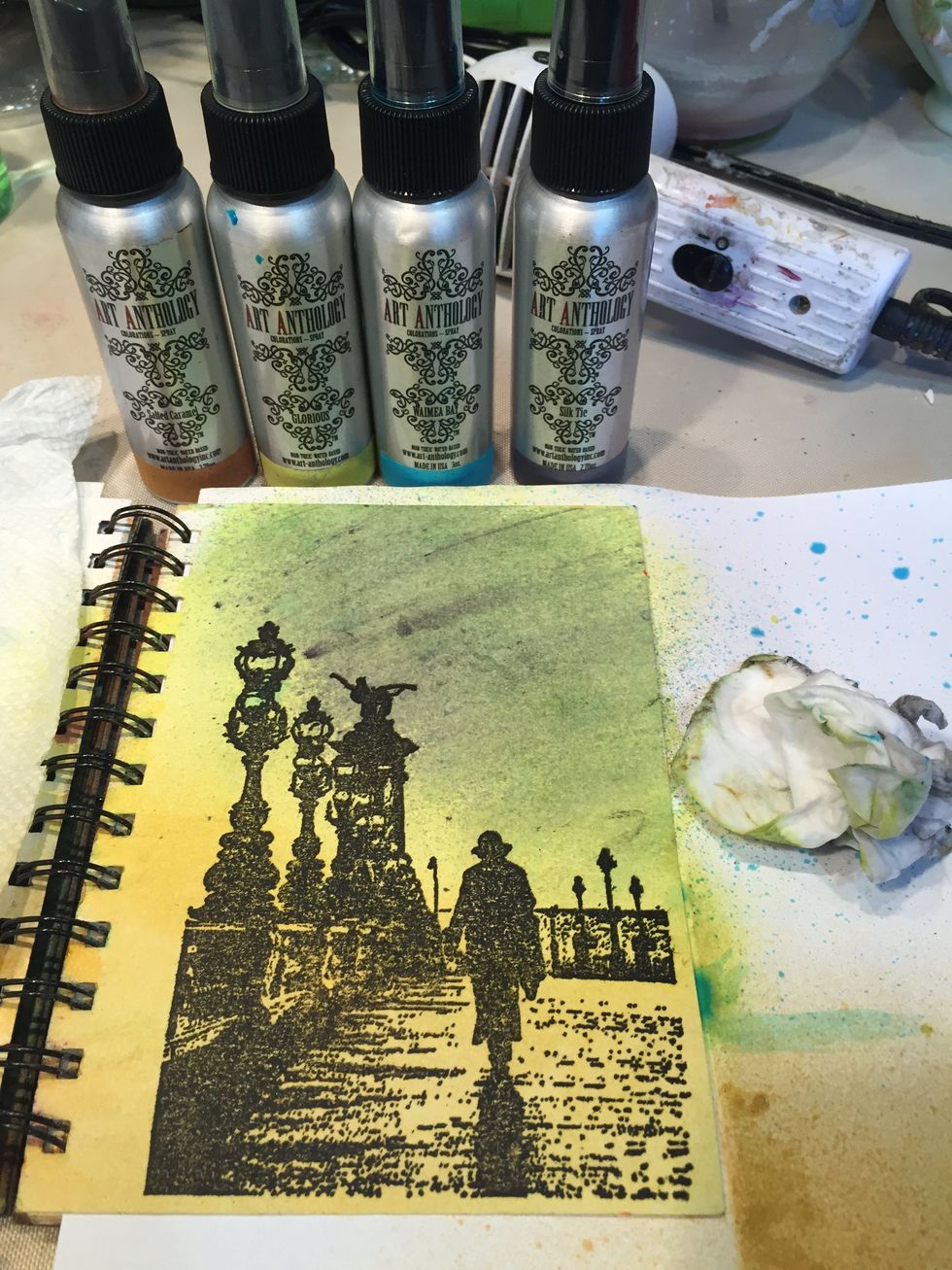 Spray Waimea Bay, Glorious, & Silk Tie across the top part of the page, wiping with a baby wipe in between colors. Spray Salted Caramel toward the bottom of the page & wipe with a baby wipe.
Spray Juicy in the middle of the page then wipe with a baby wipe.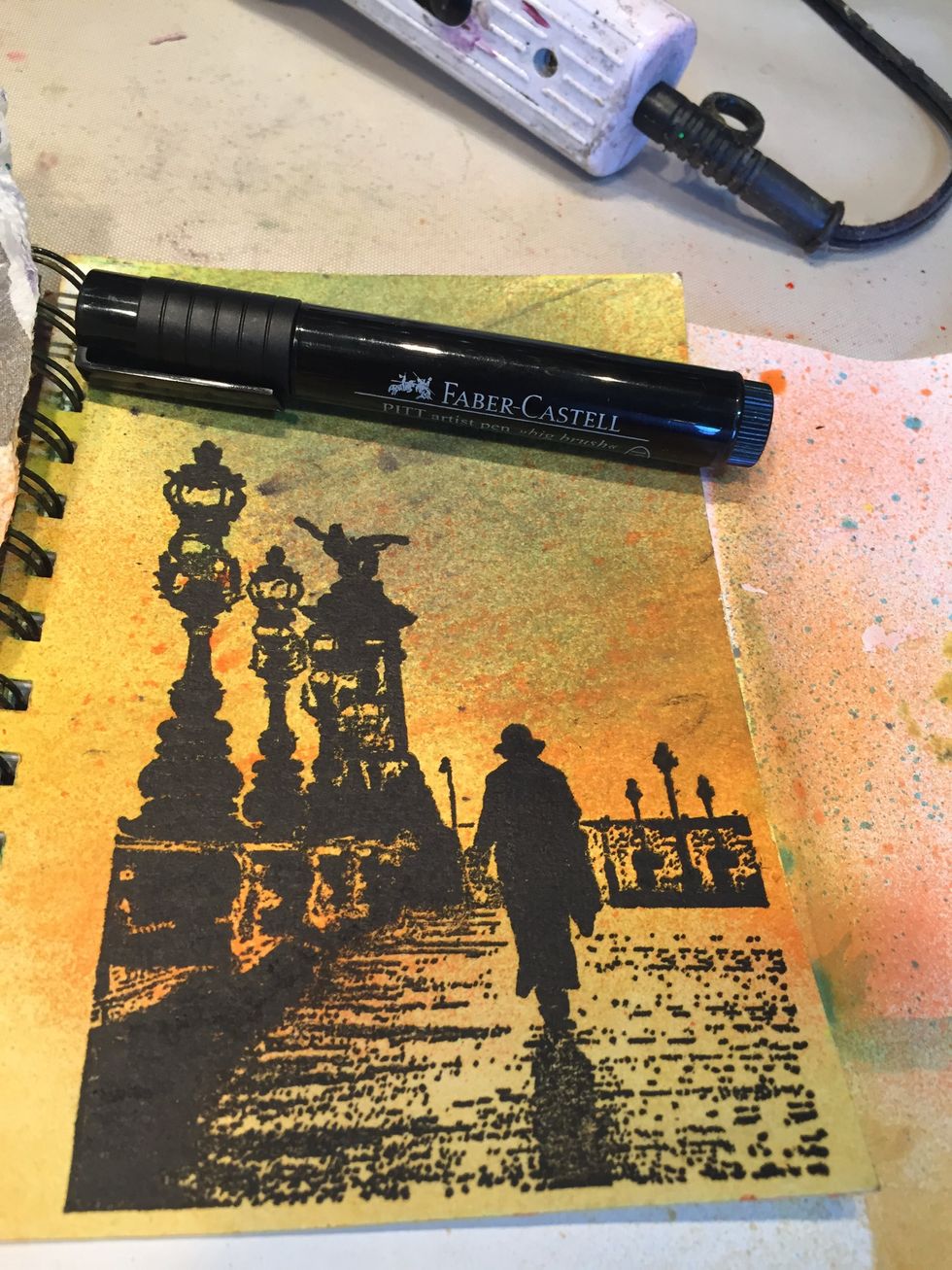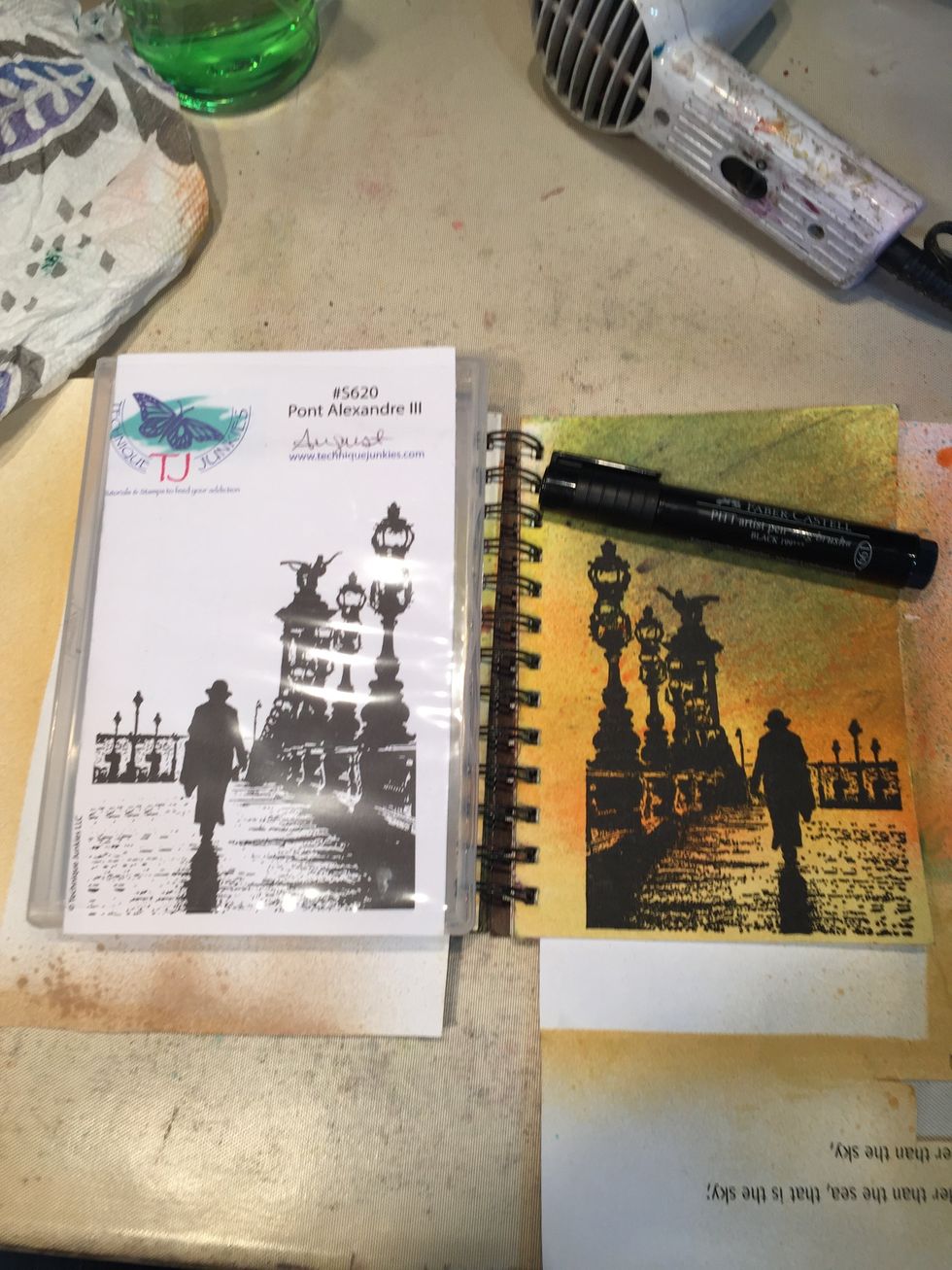 Compare your image with the stamped insert. Darken more if needed.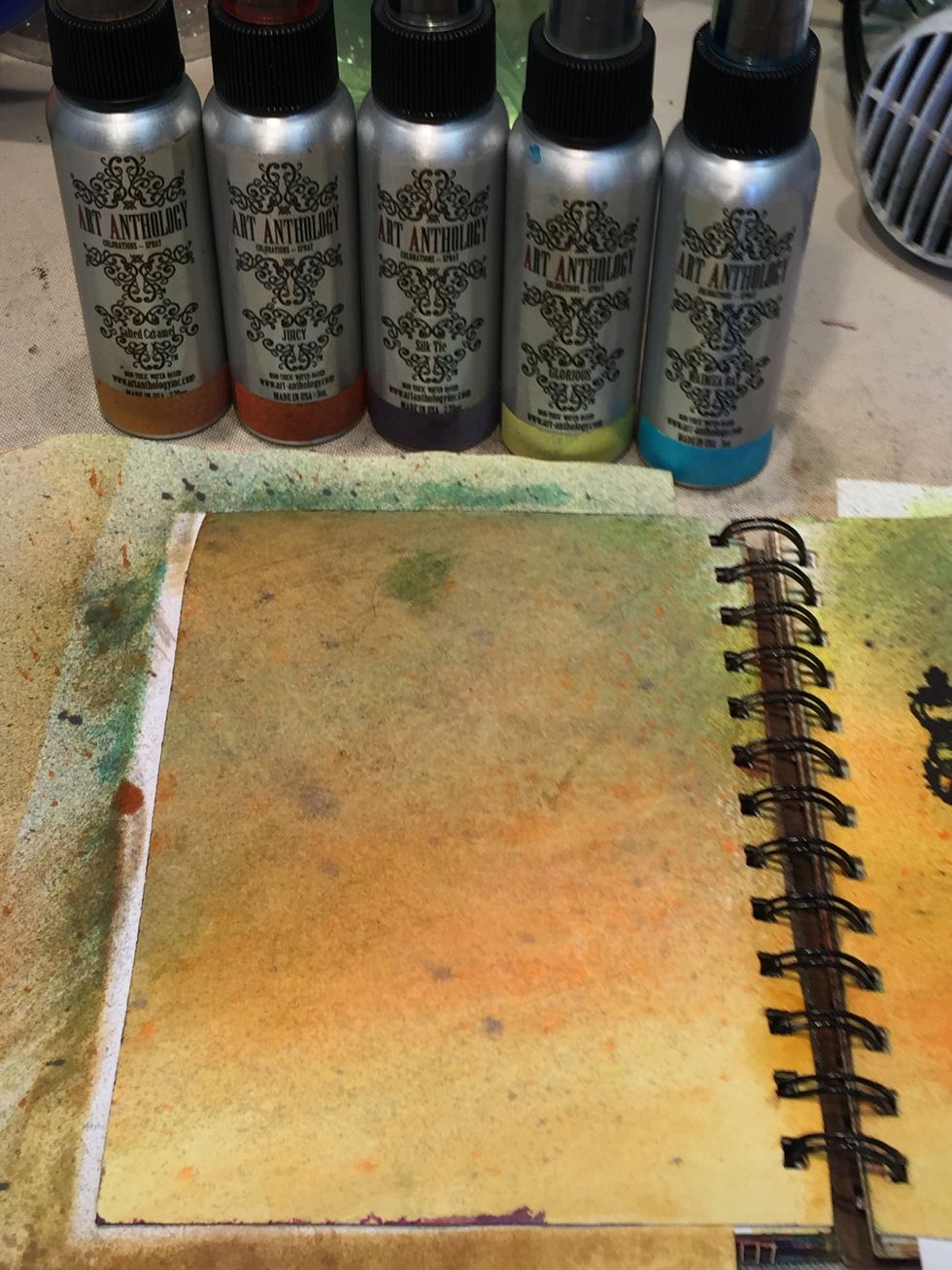 Spray the left side of your journal with Waimea Bay, Glorious, Silk Tie, Salted Caramel, and Juicy, wiping in between colors. I tried to duplicate what I had on the right side.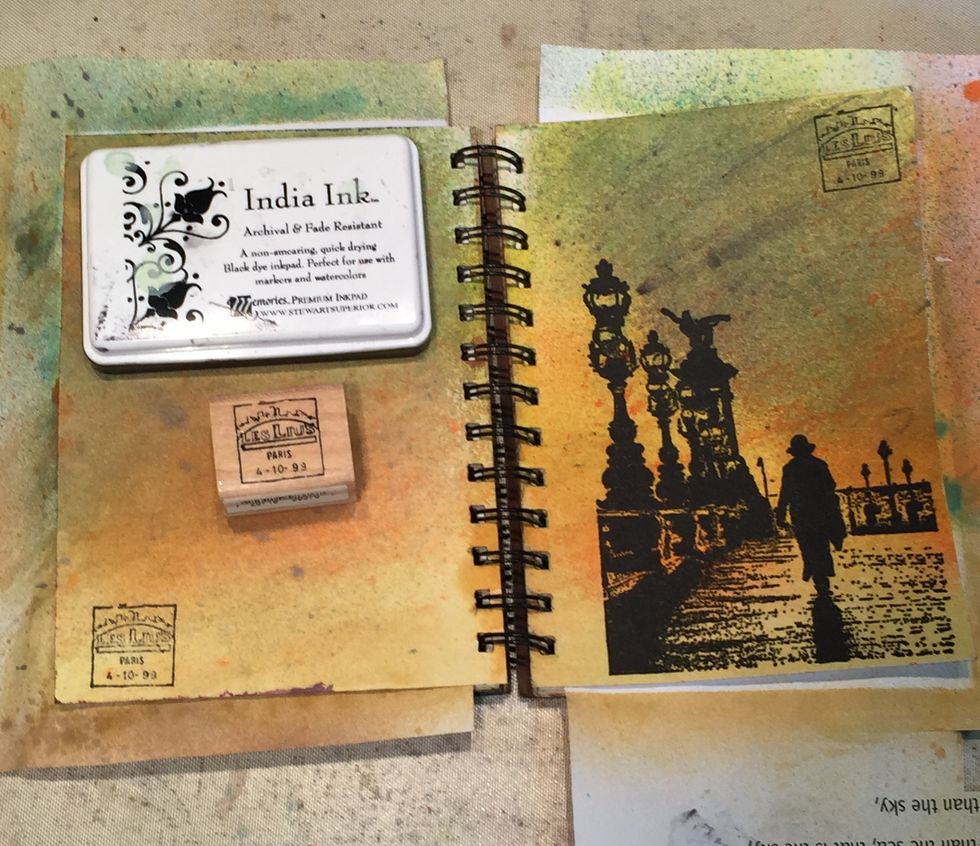 Now stamp both pages with a Paris postmark stamp and black ink.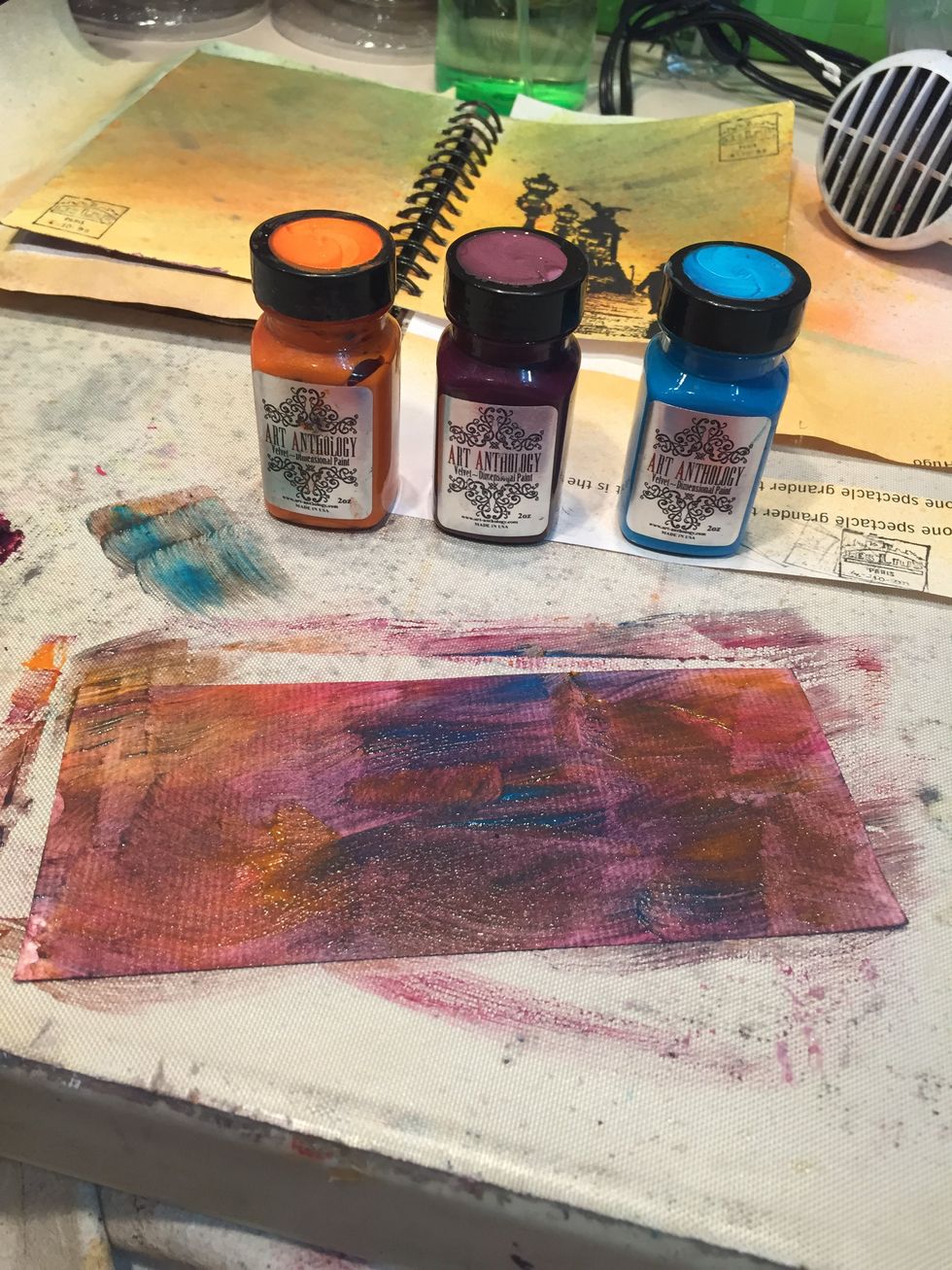 Dampen a piece of Bristol (or watercolor) paper and paint on layers of Tango, Figi, and Wineberry Velvet. Blend.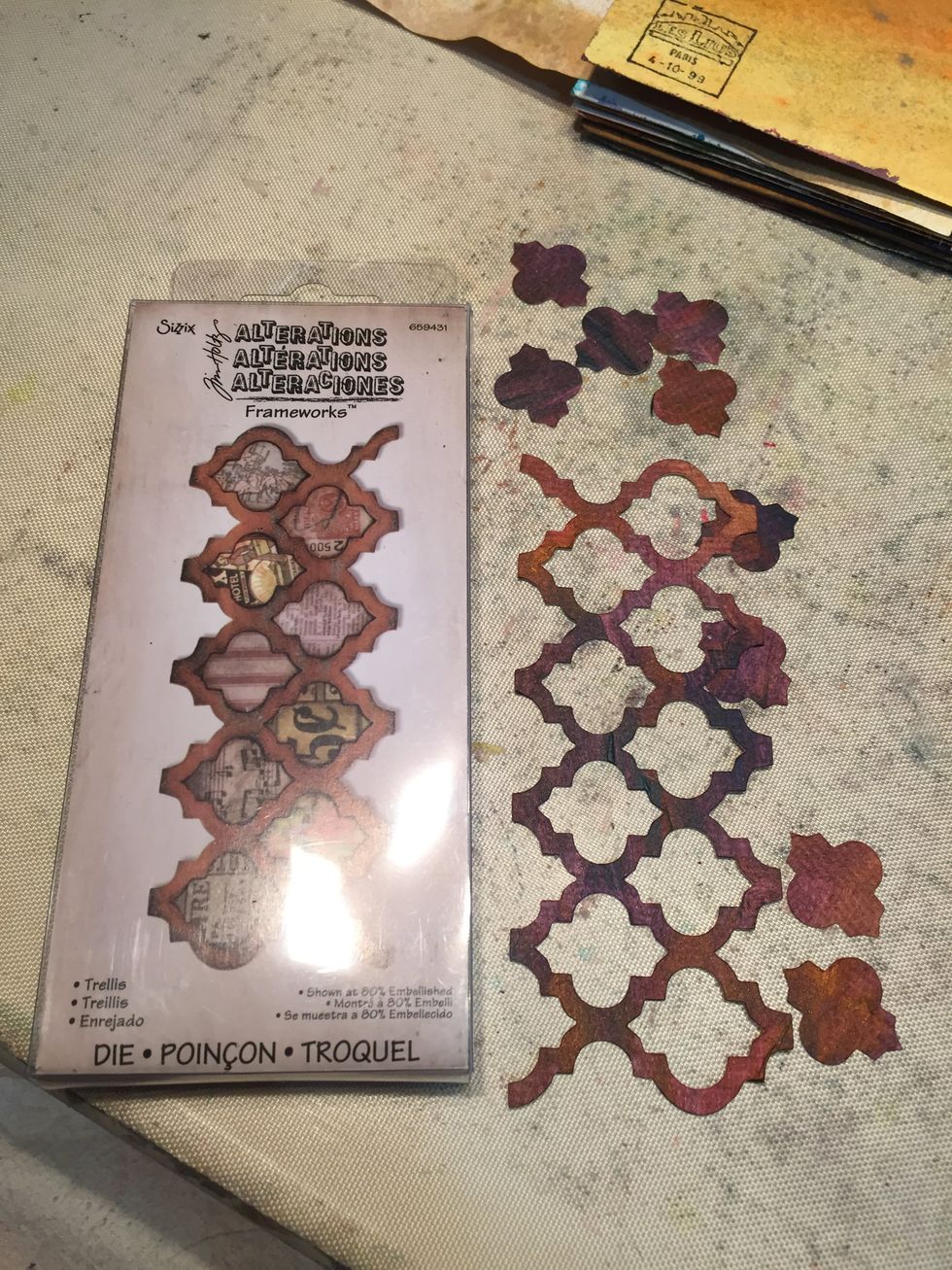 Using the Sizzix Trellis die, cut out the paper you just painted plus a piece of paper from the Tim Holtz Lost and Found paper pad. Save all pieces.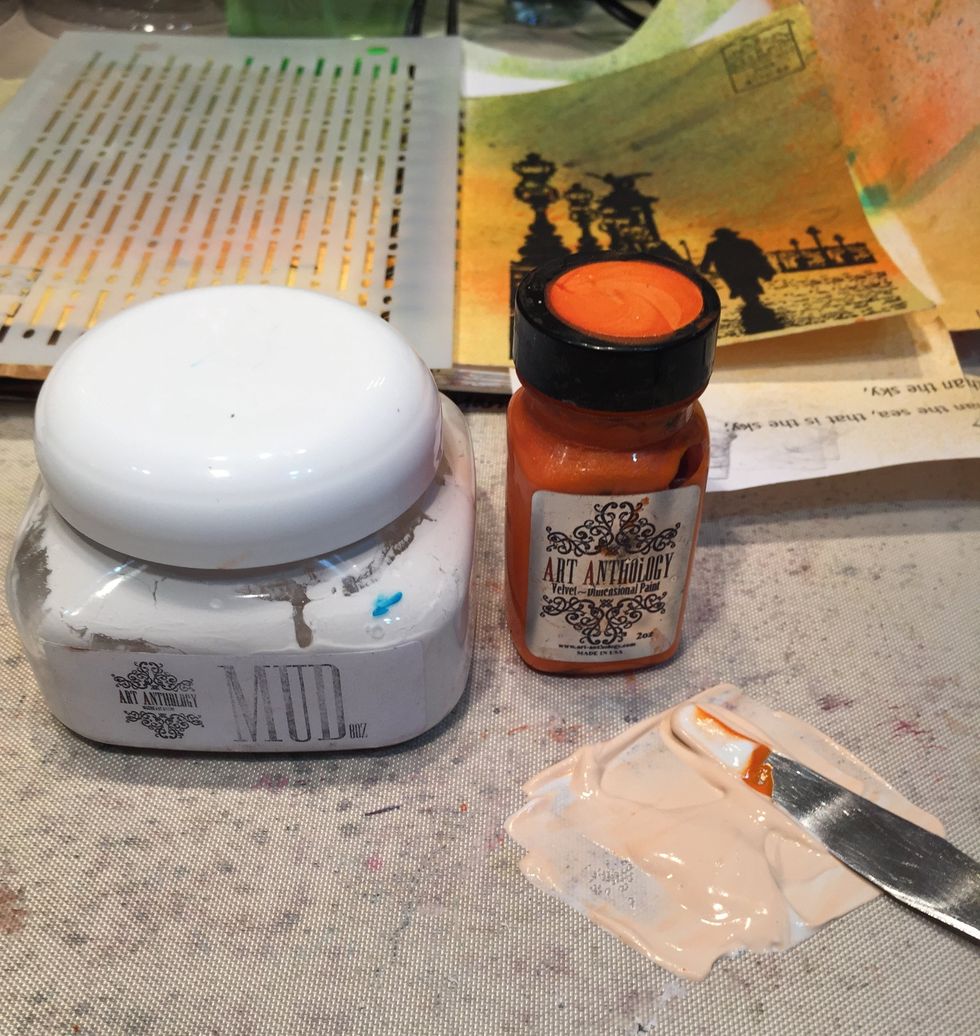 Mix in a little Tango Velvet with Mud.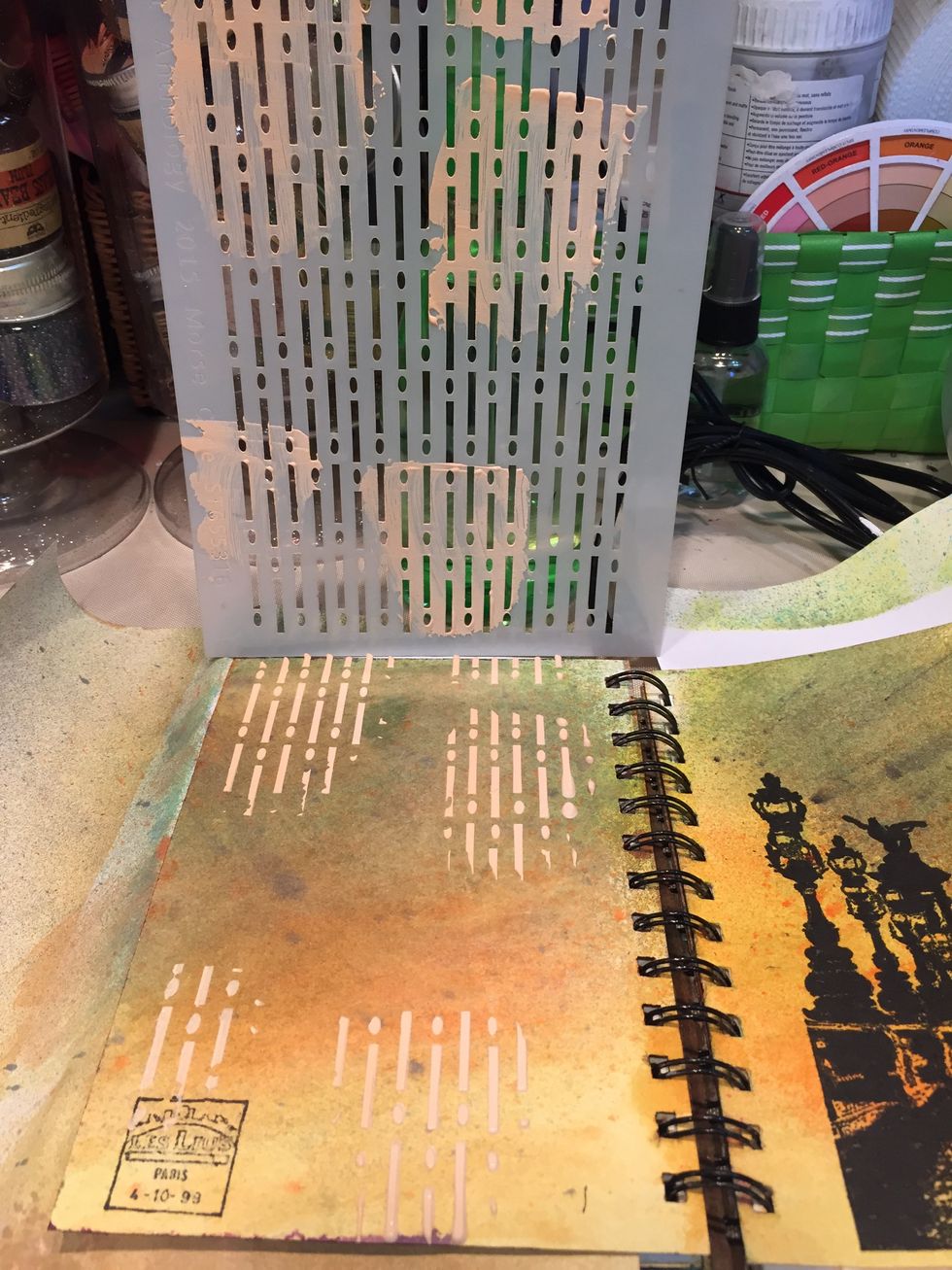 Add some background stenciling with the Mud you just mixed and the Morse Code stencil.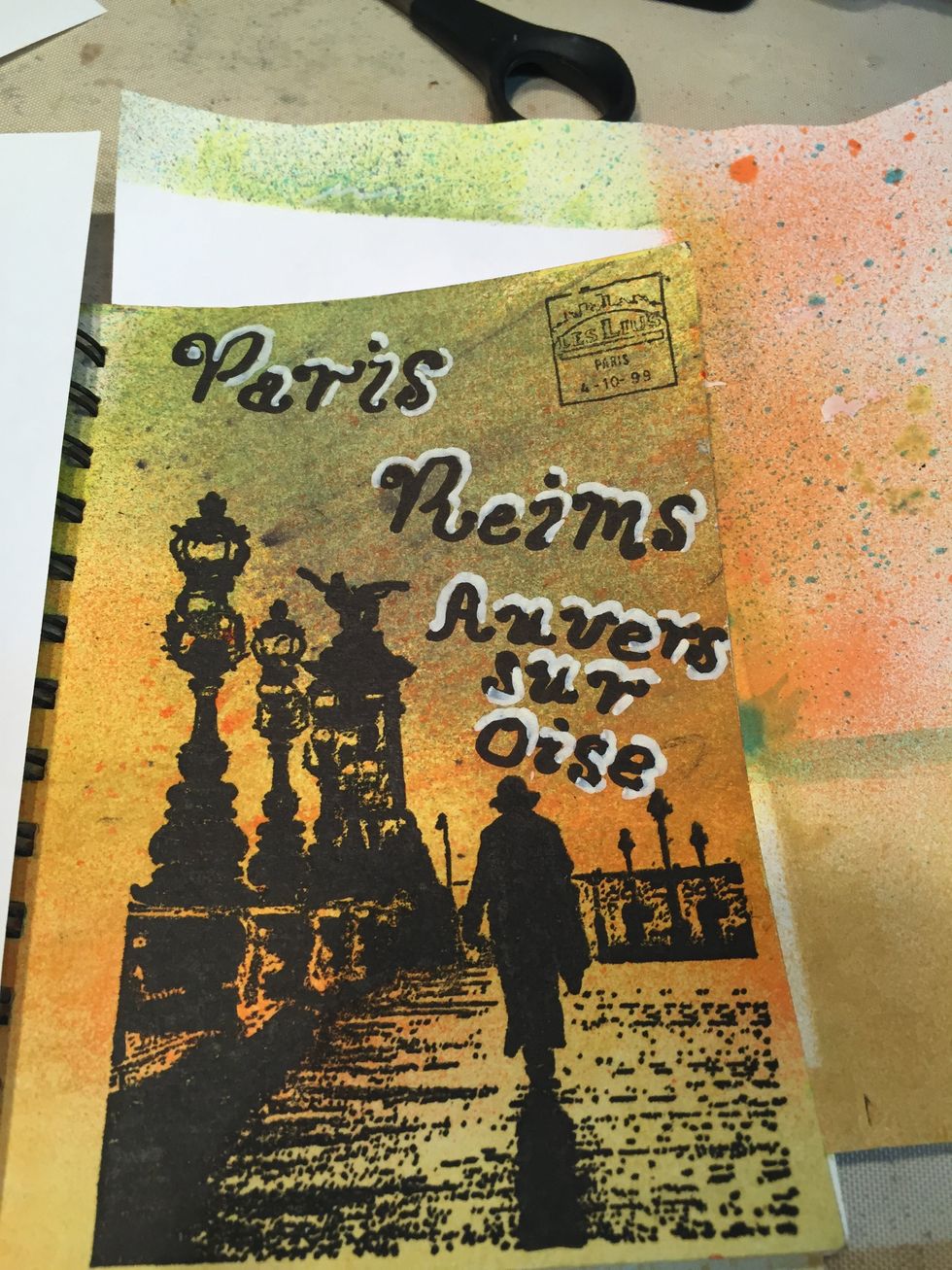 Add some handwriting on the right side. I listed a few towns in France using a black marker and then adding highlights with a white marker.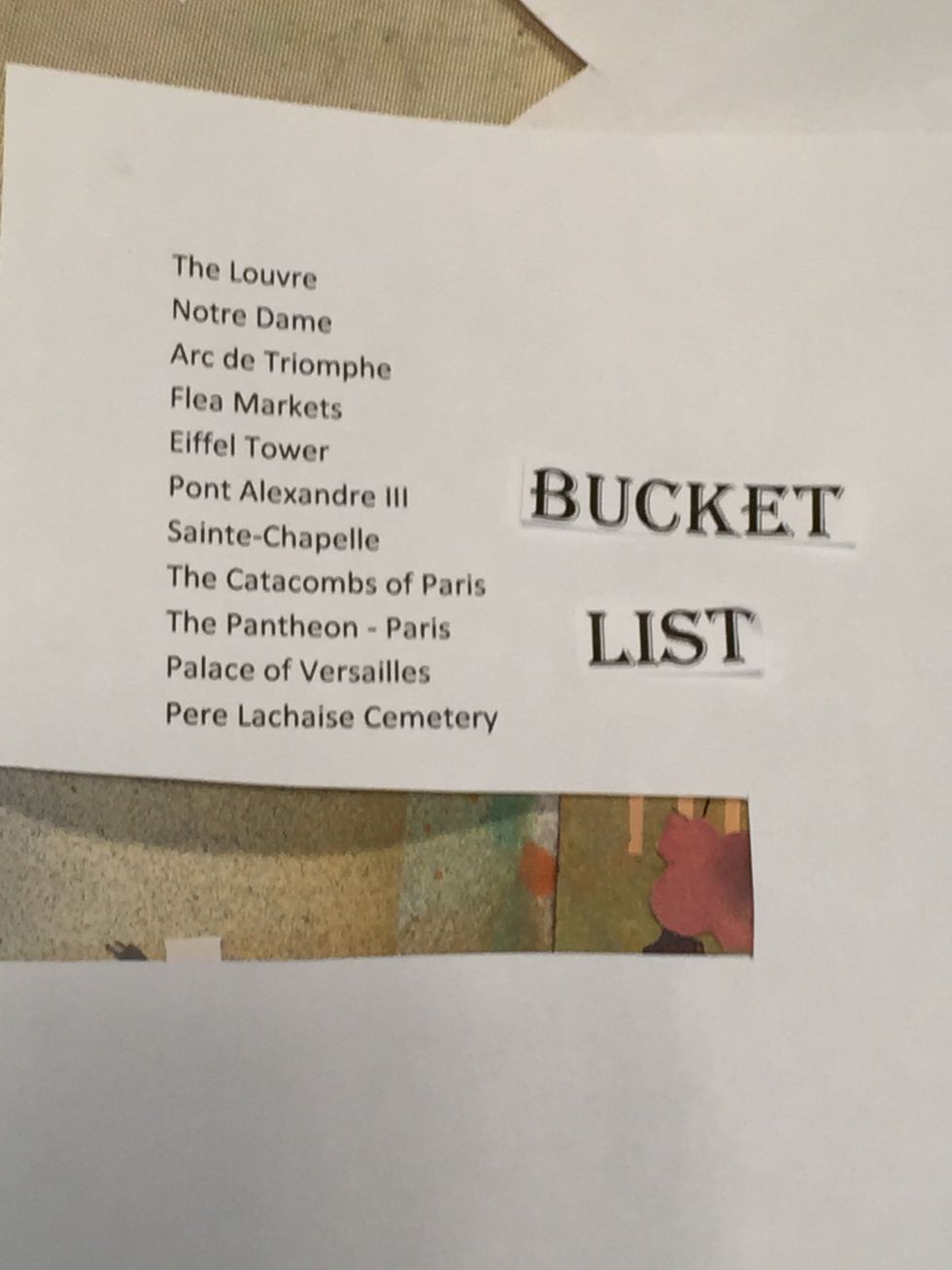 Using a computer or typewriter, type up your bucket list item. I want to tour Paris so listed several places to that would be worth visiting.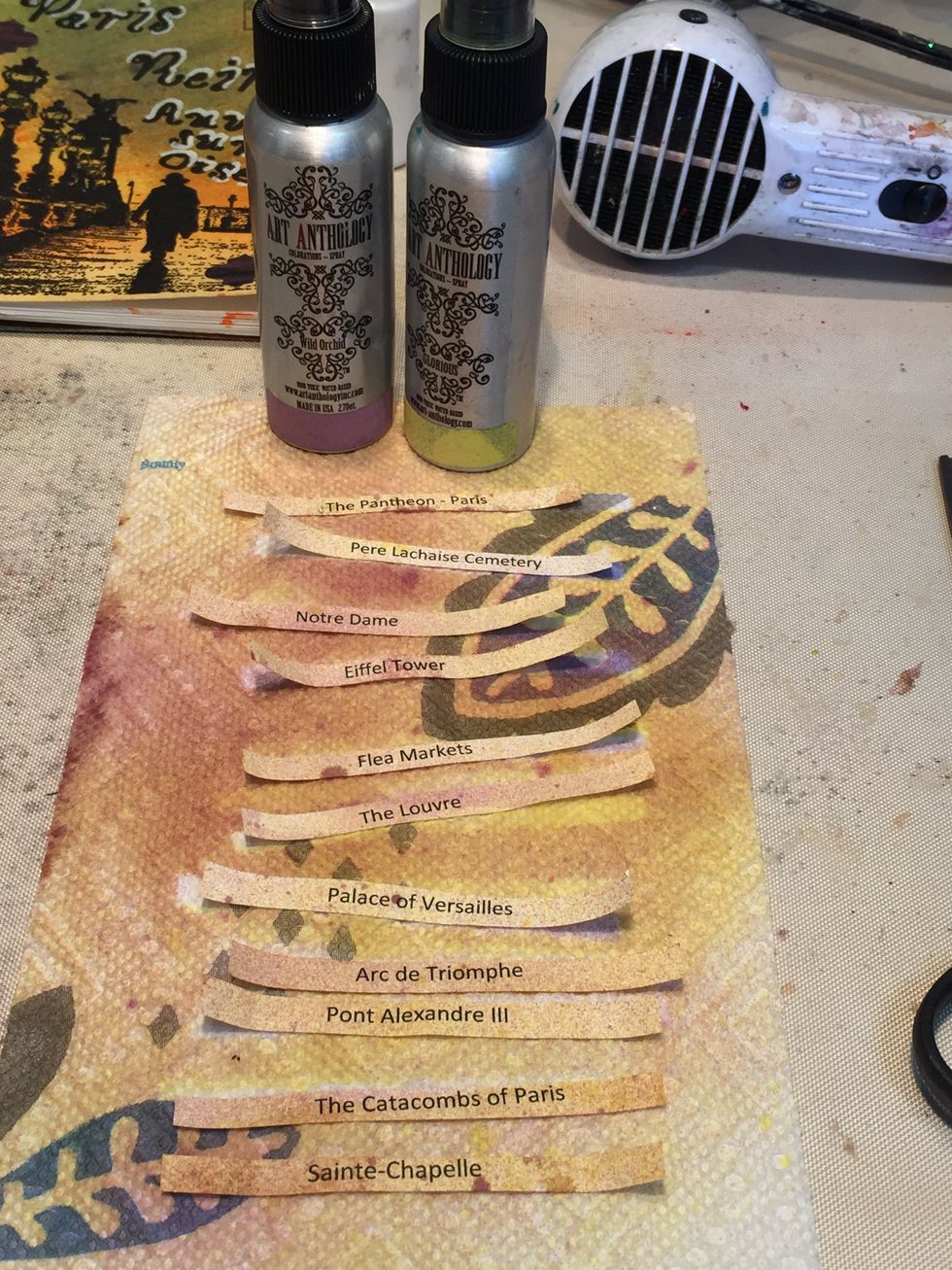 Cut out the places to visit and spray with Wild Orchid and Glorious.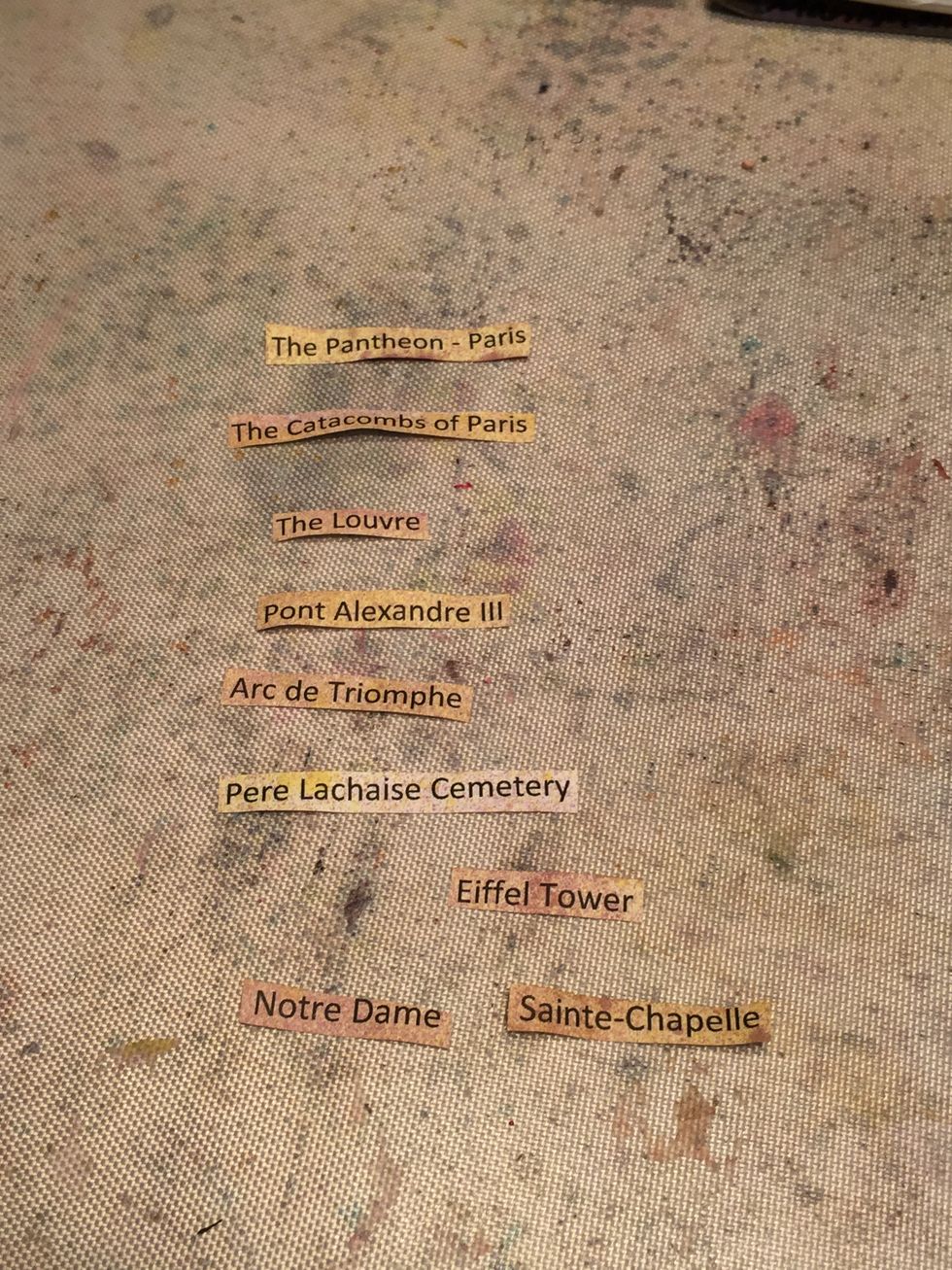 Trim and set aside.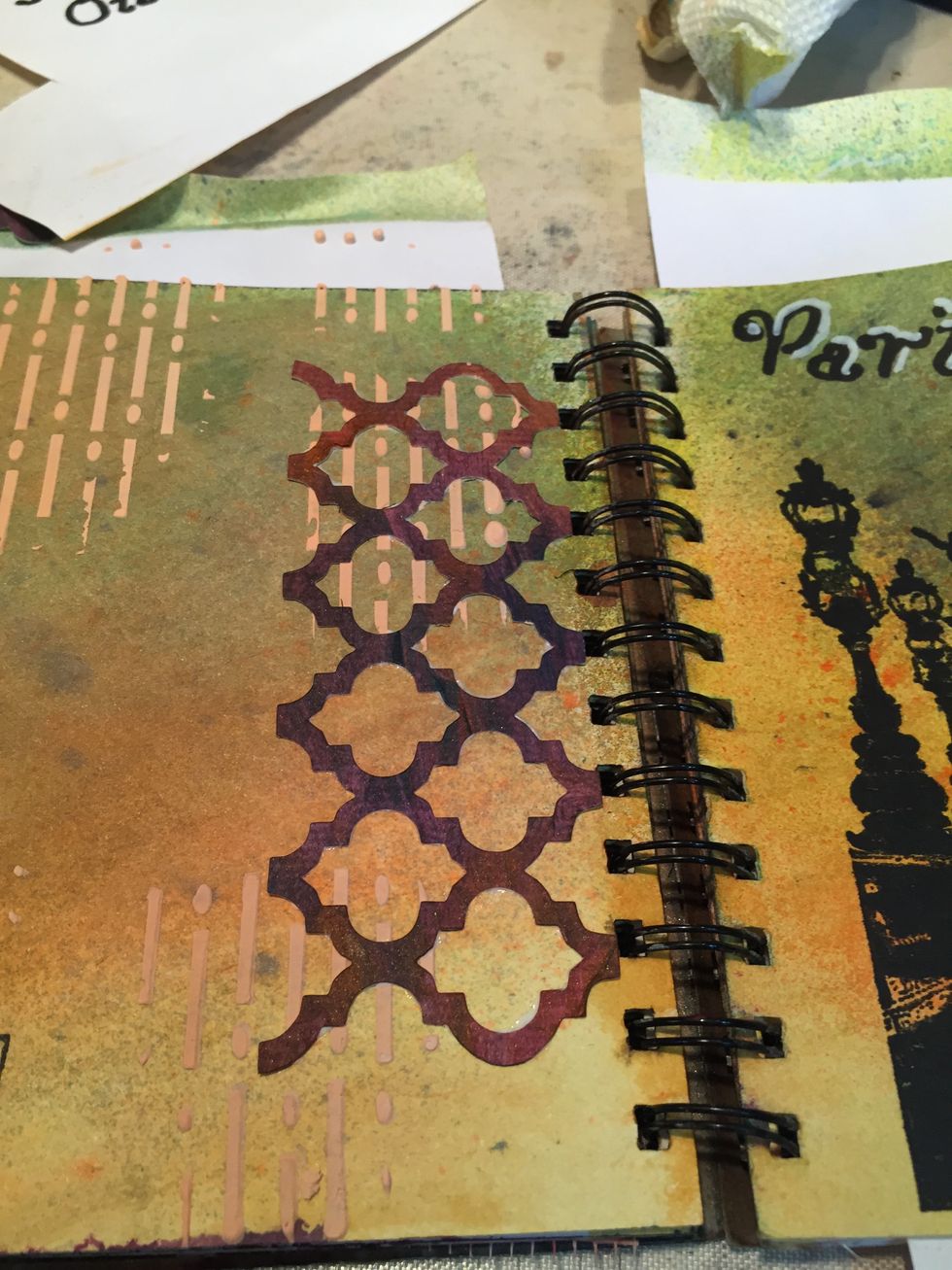 Place the trellis you cut from the painted Bristol paper on the far right of the left page.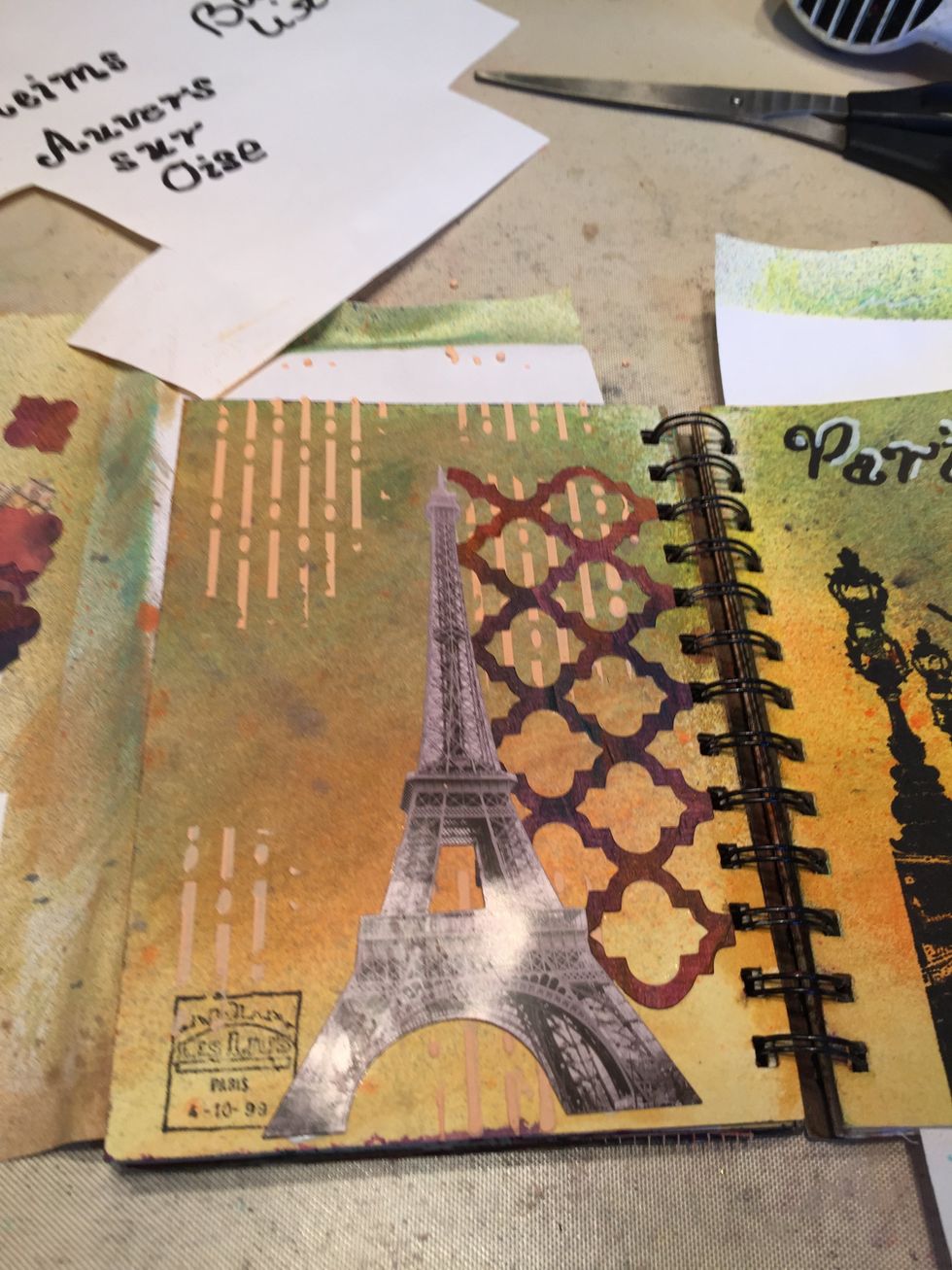 Adhere a picture of the Eiffel Tower to the page, overlapping the trellis.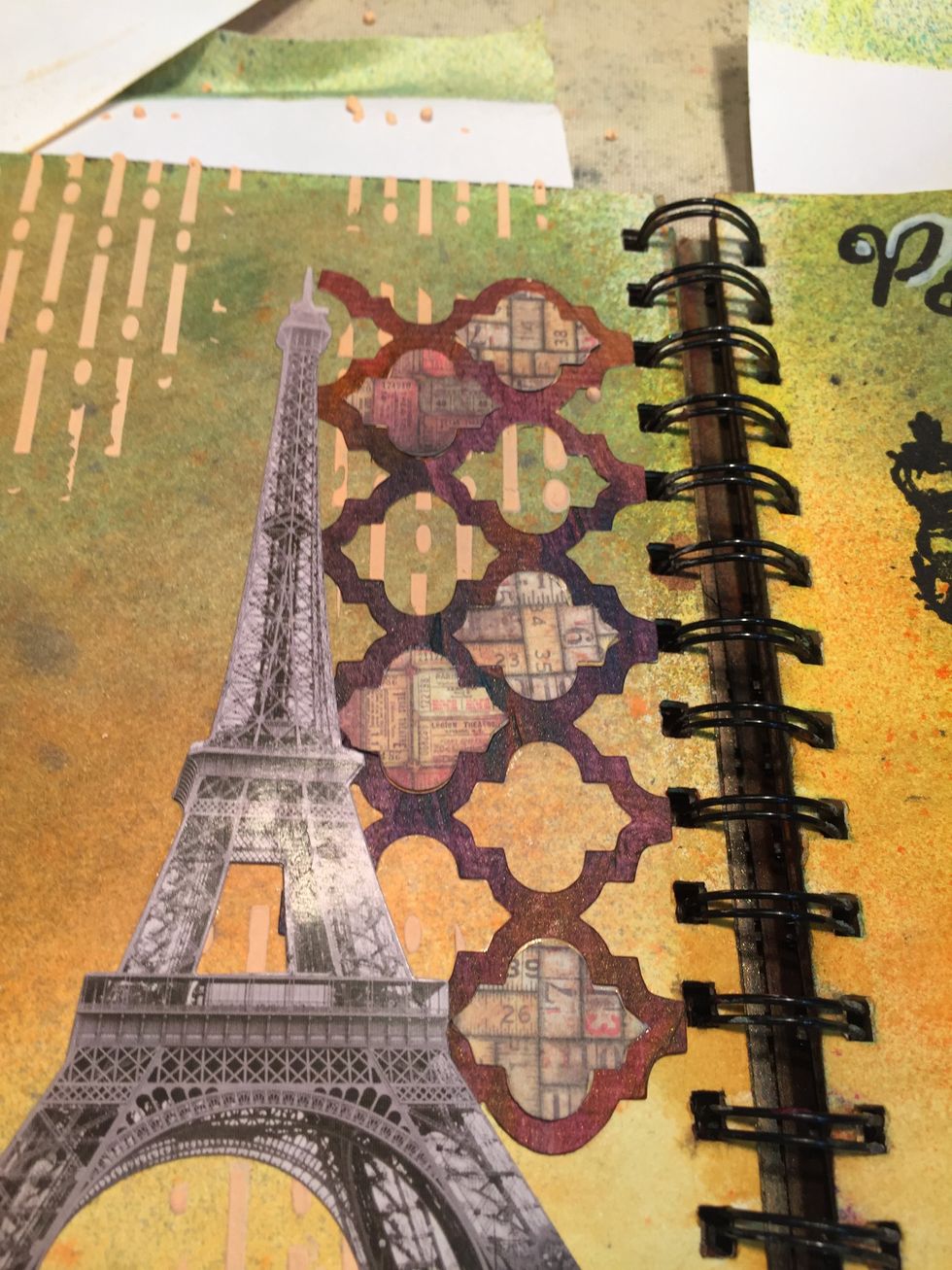 Using the inside pieces of the trellis you set aside earlier, alternate with the painted Bristol paper and the pieces cut from the Lost and Found paper pad.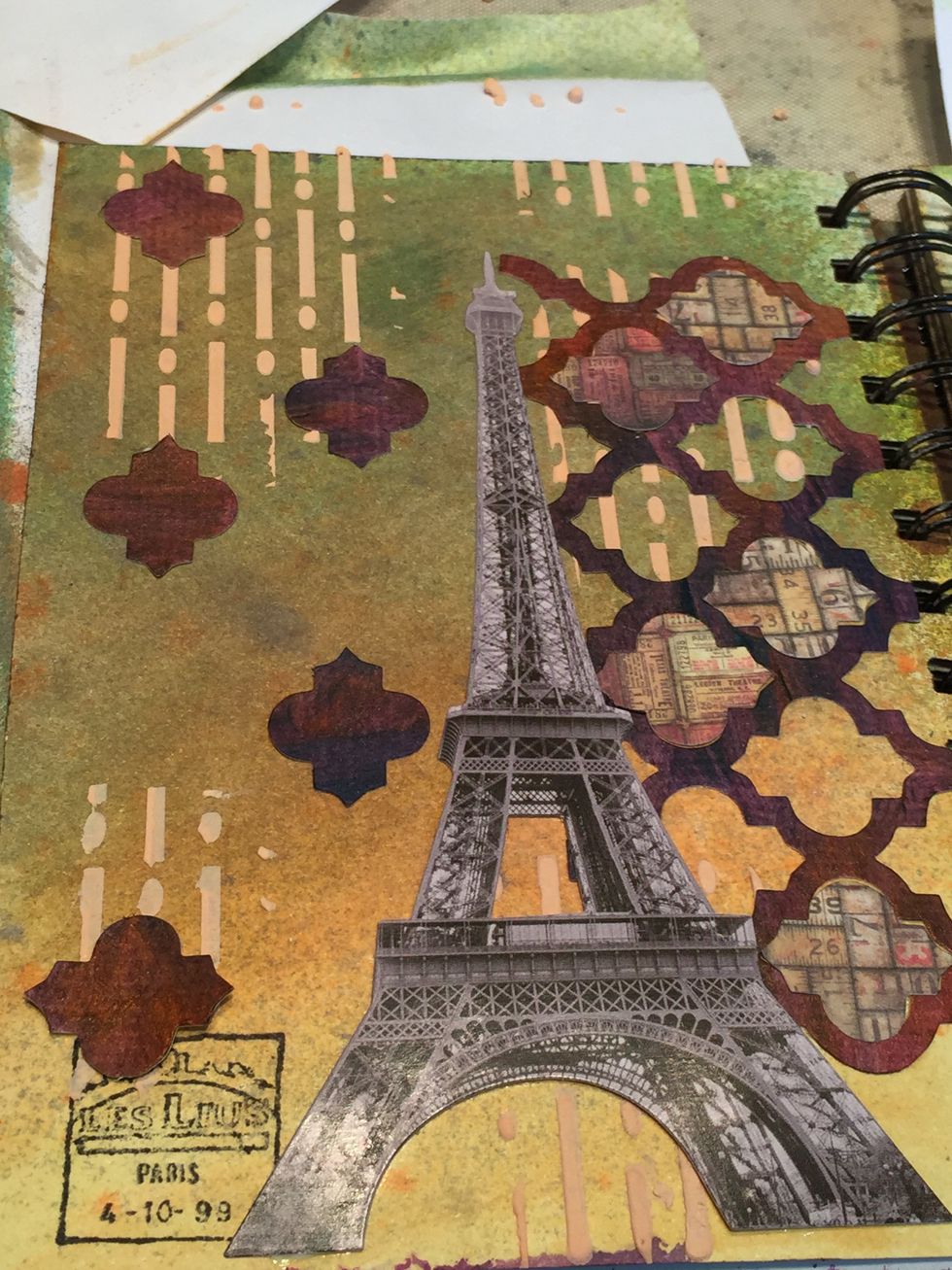 Add a few more of the Bristol paper pieces to the left of the Eiffel Tower image.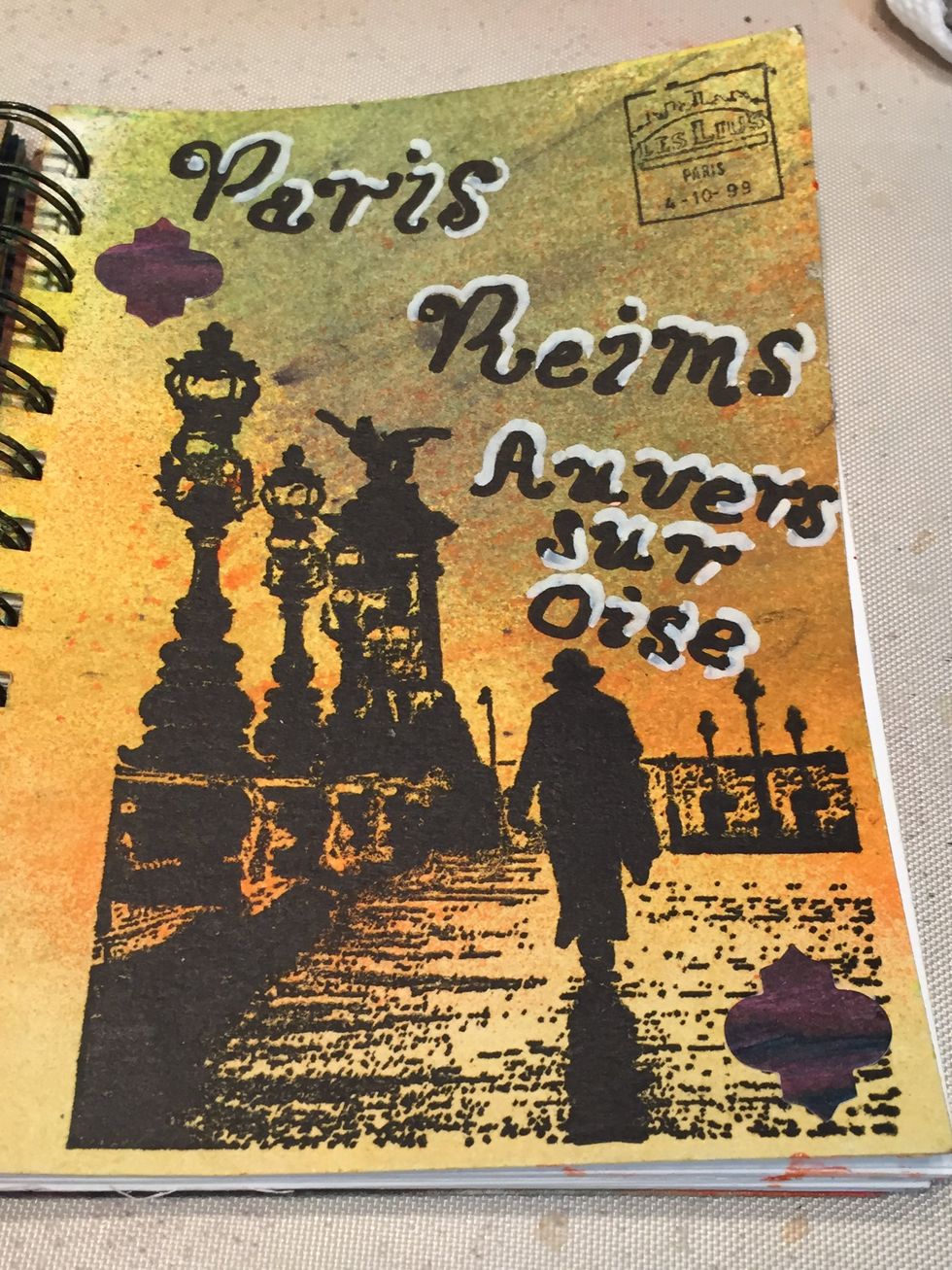 Add a few of the Bristol pieces to the right page of the spread. You want to make sure your pages are cohesive and not standing alone.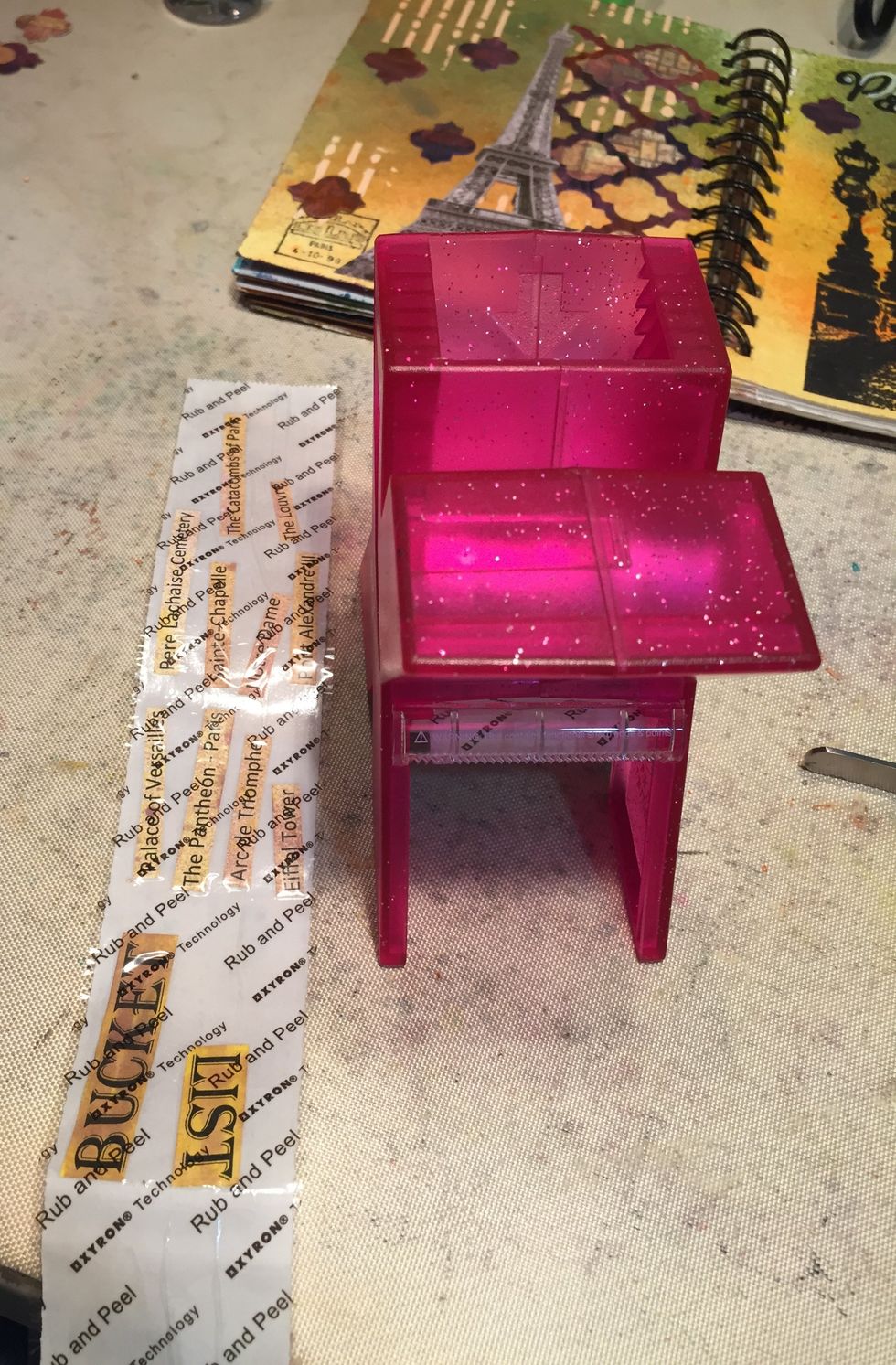 Take the places you set aside earlier and run them through a Xyron machine.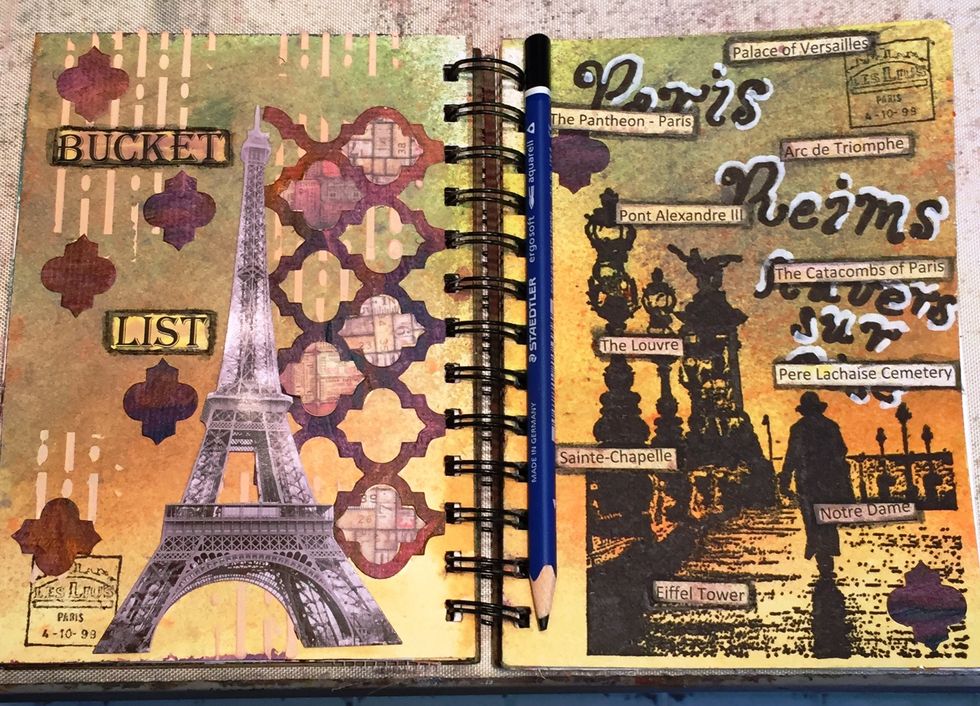 Place the works Bucket List on the left and the places on the right. Outline them with a watercolor pencil (I used a black Staedler ergosoft Aquarelle pencil) and then blend with a wet brush.
Spray both side with Sterling Fairy Dust (hard to see in the picture but it adds a great shimmer to the pages).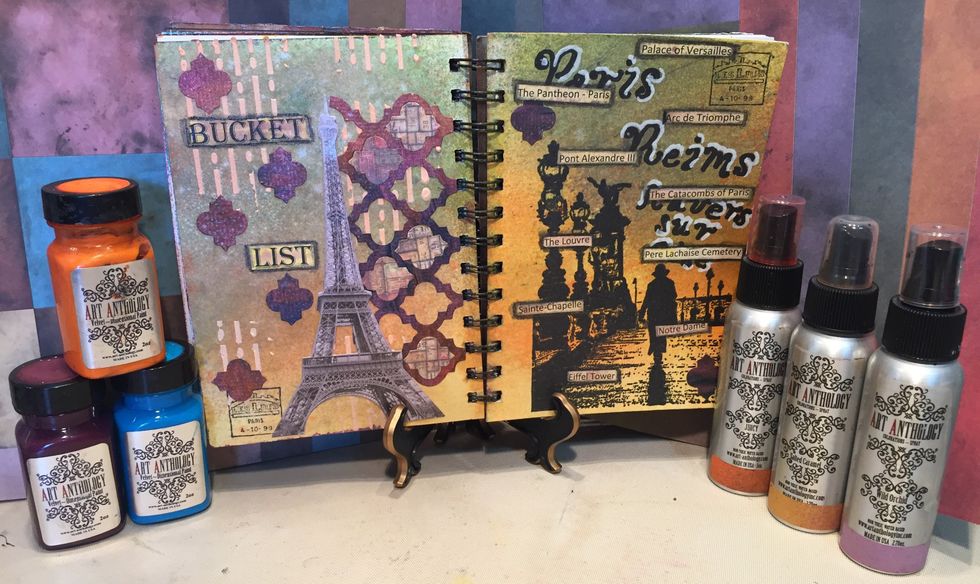 Finished!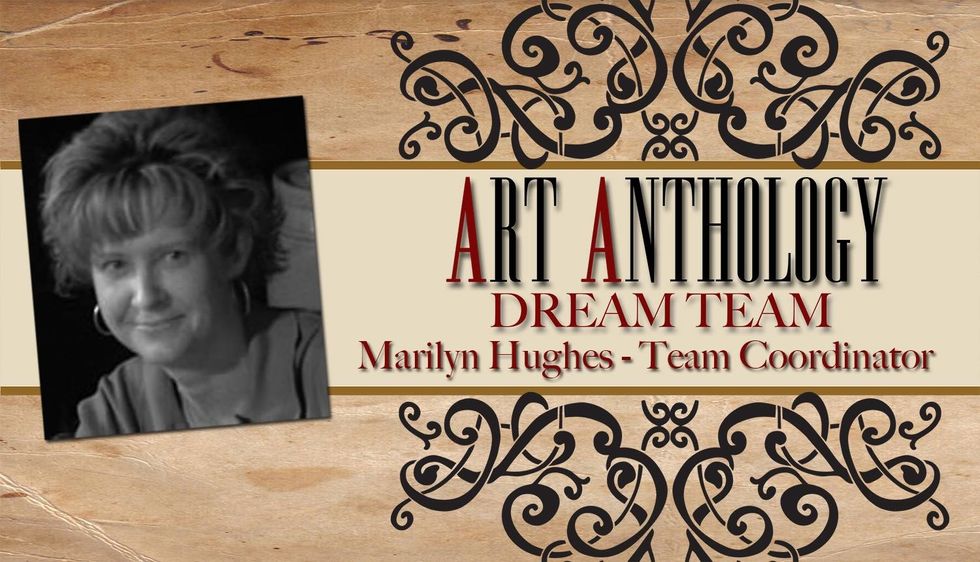 Colorations: Waimea Bay, Glorious, Silk Tie
Colorations: Salted Caramel, Juicy, Wild Orchid
Velvet: Figi, Wineberry, Tango
Mud
Morse Code stencil
Sterling Fairy Dust
Technique Junkies Pont Alexander III stamp
Sizzix Trellis die
Tim Holtz Lost and Found paper pack
Paris stamps by dawn hauser
Art Anthology
Art Anthology is a manufacturer of dimensional mediums.\n\nCome chat with us in our Facebook Group: Art Anthology Adventures in Art