Create a Bloom Girl Christmas Tag by Joanne Bain
1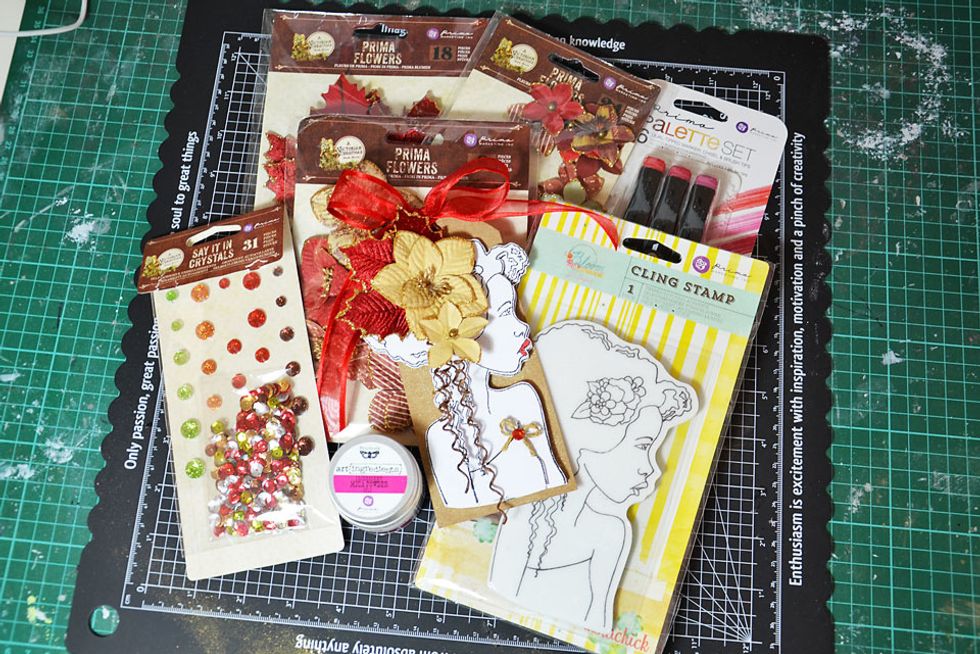 Prima materials used to create this tag.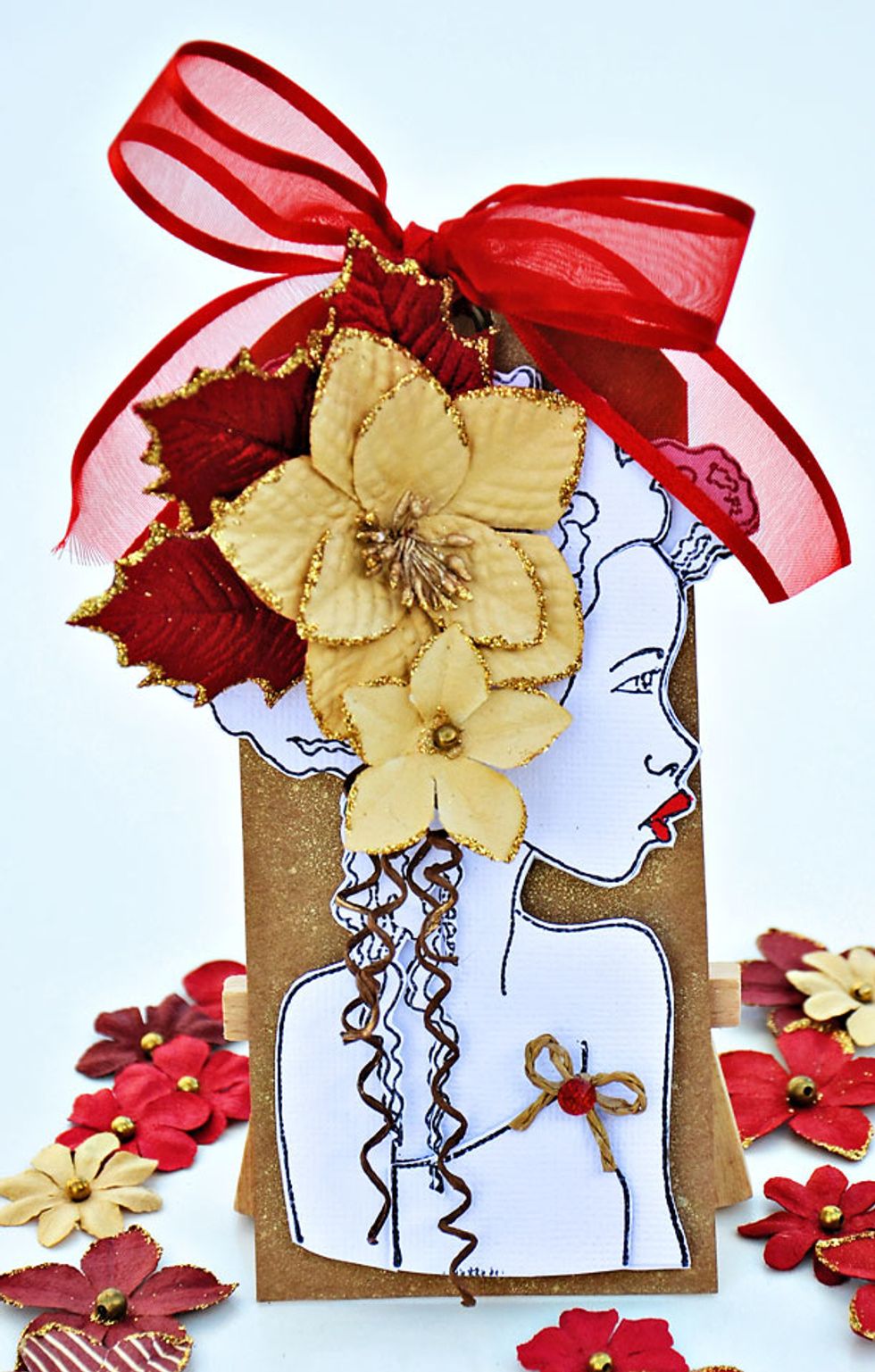 This is the tag we will be creating, so lets get started! :)
Stamp and emboss 4 Bloom Girl images with the Hope stamp.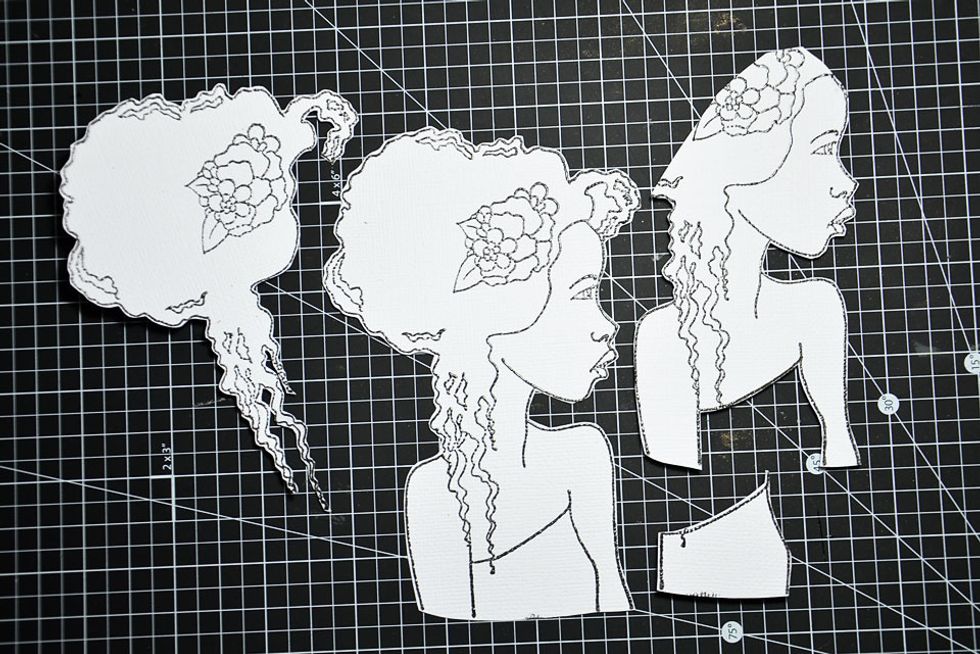 Cut out all Bloom Girl images. Leave one entirely whole and cut the other pieces from the other stamped bloom girl images as shown.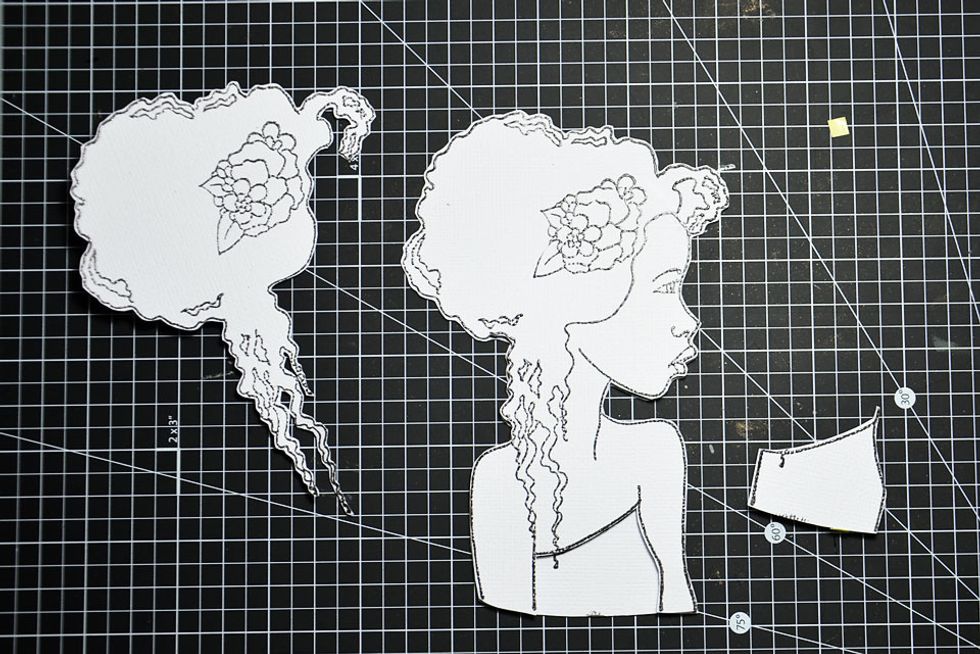 Start to layer the stamped images. The body and face image is the first layer.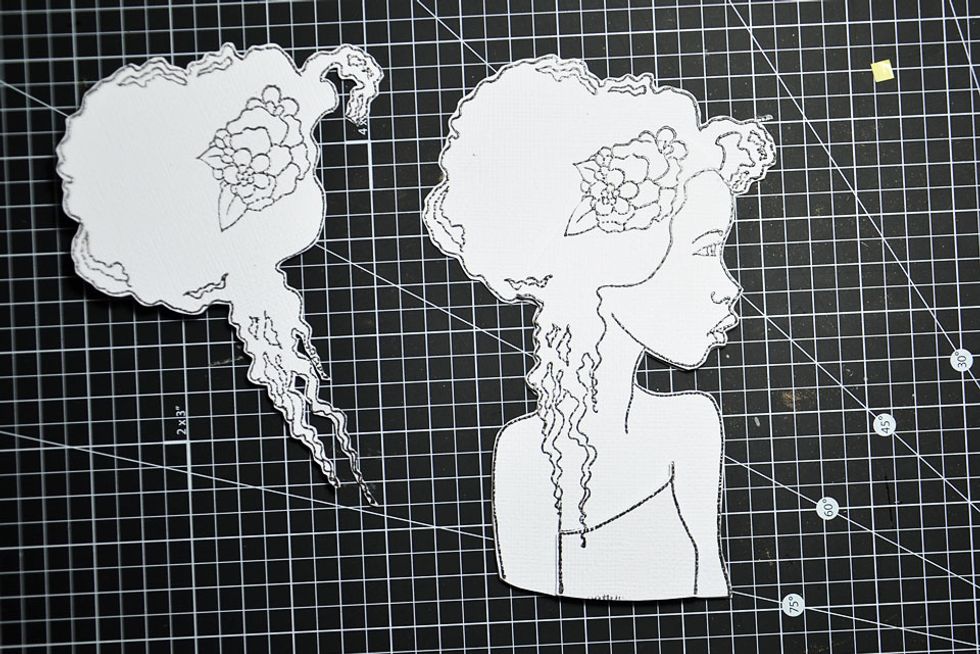 Next layer the small dress piece. You will have to double up on your dimensional dots to create the layer.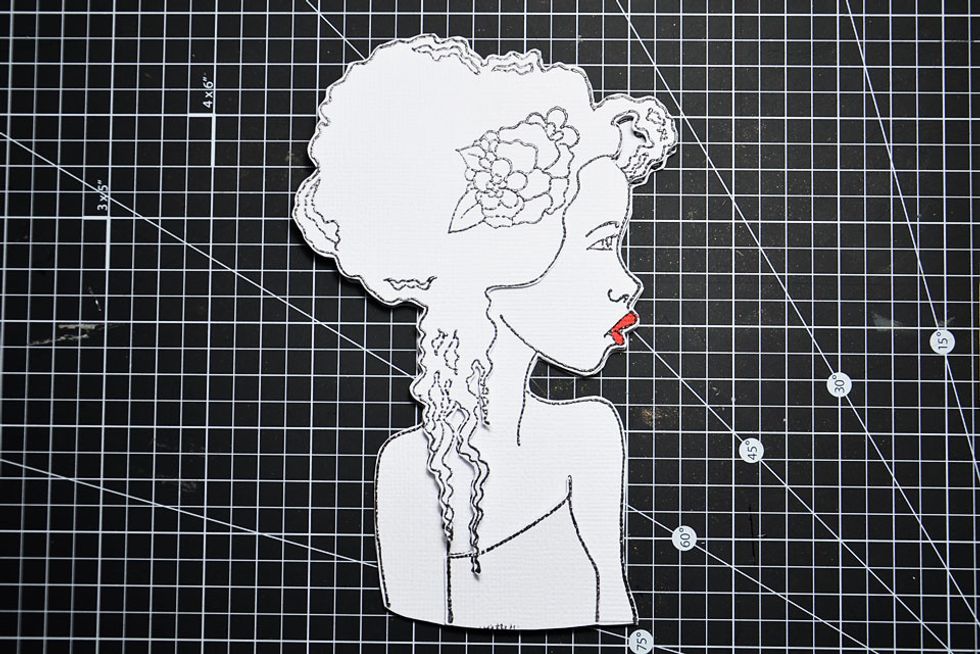 Final layer is the Bloom Girl hair. Once all layers are done use the Palette marker to add some color to her lips.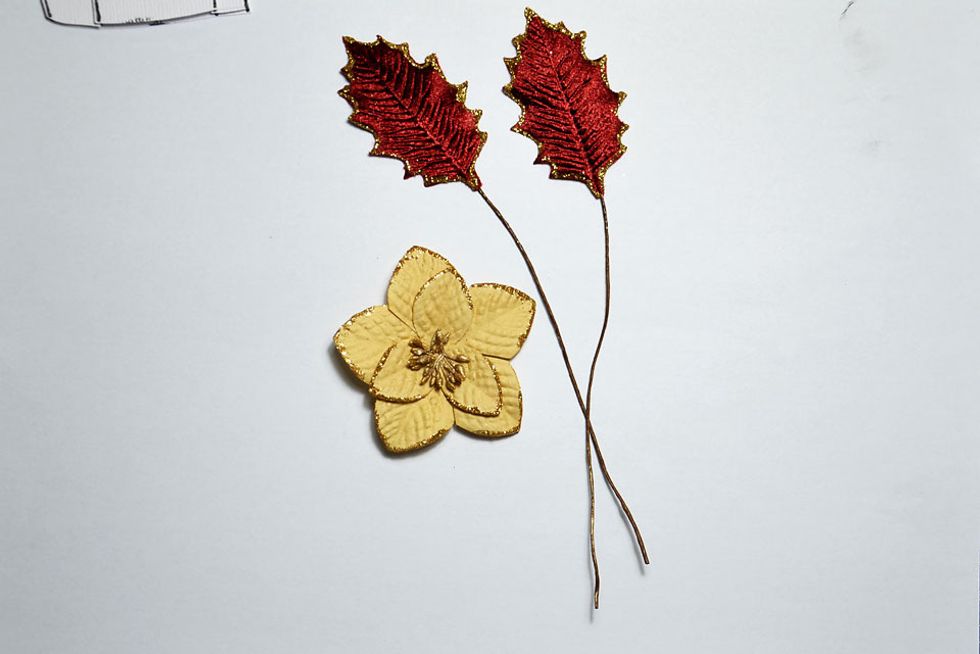 These are the floral pieces needed to create the first part of her headpiece.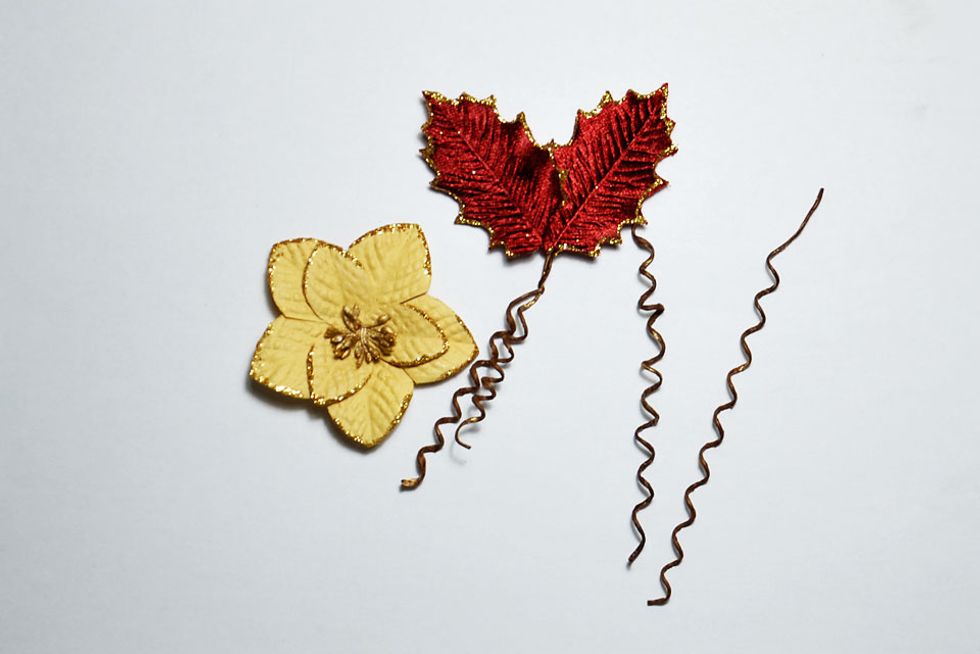 Twist the leave stems together to join them and, with the excess length, wrap it around something round (like a paintbrush) to create twisted stems as shown.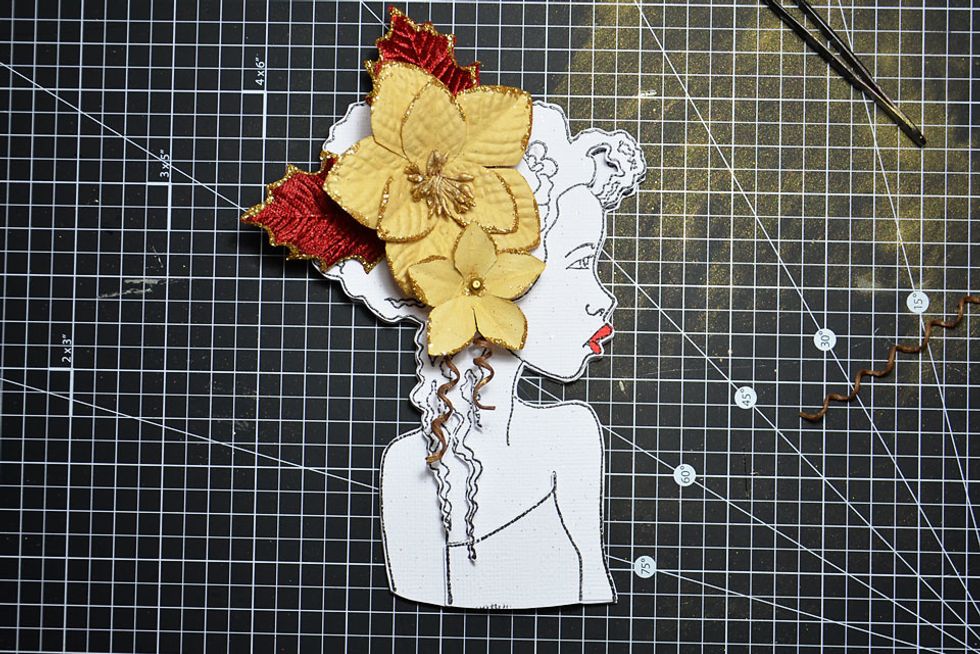 Now attach the flowers and leaves to make a cluster on the Bloom girl hair as shown.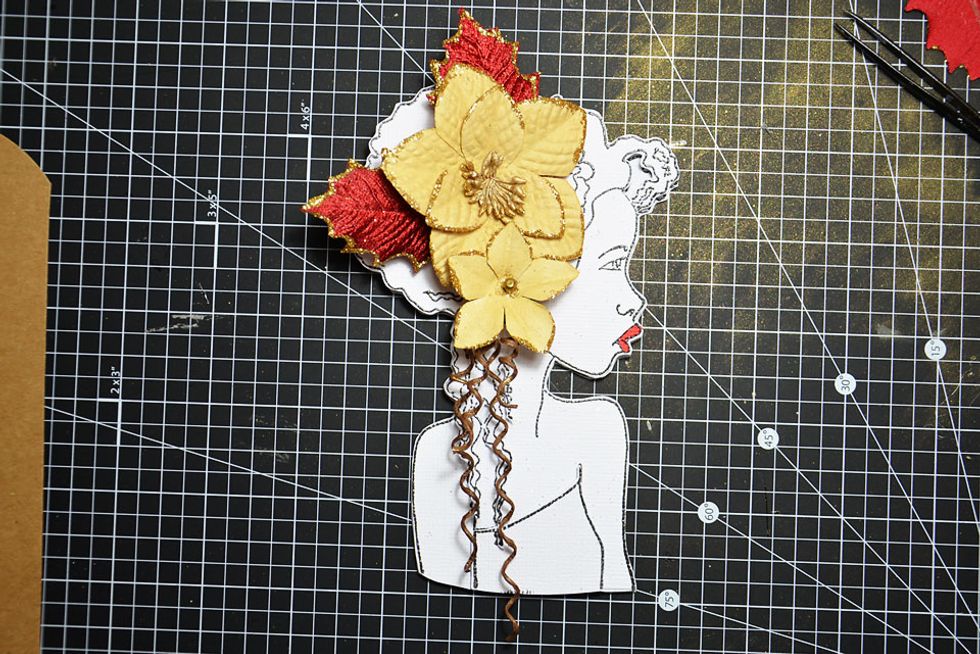 Add the extra flower and 2 extra twisted stem pieces as shown.
This is a leaf that has been pulled off from the wire stem.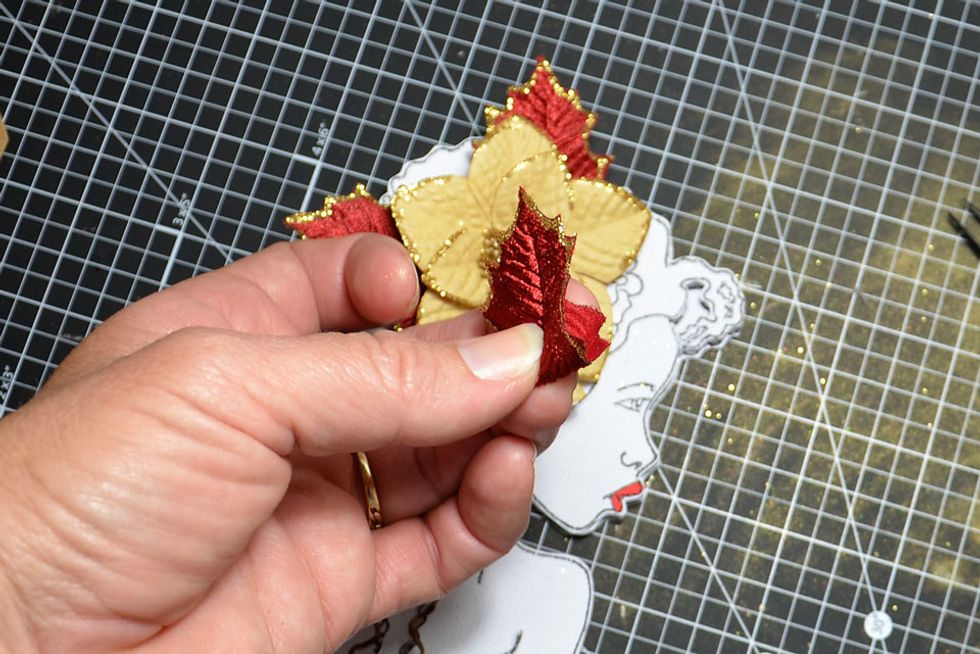 Fold the leaf as shown above.
Insert the folded leaf in the centre of the cluster behind the main flower as shown.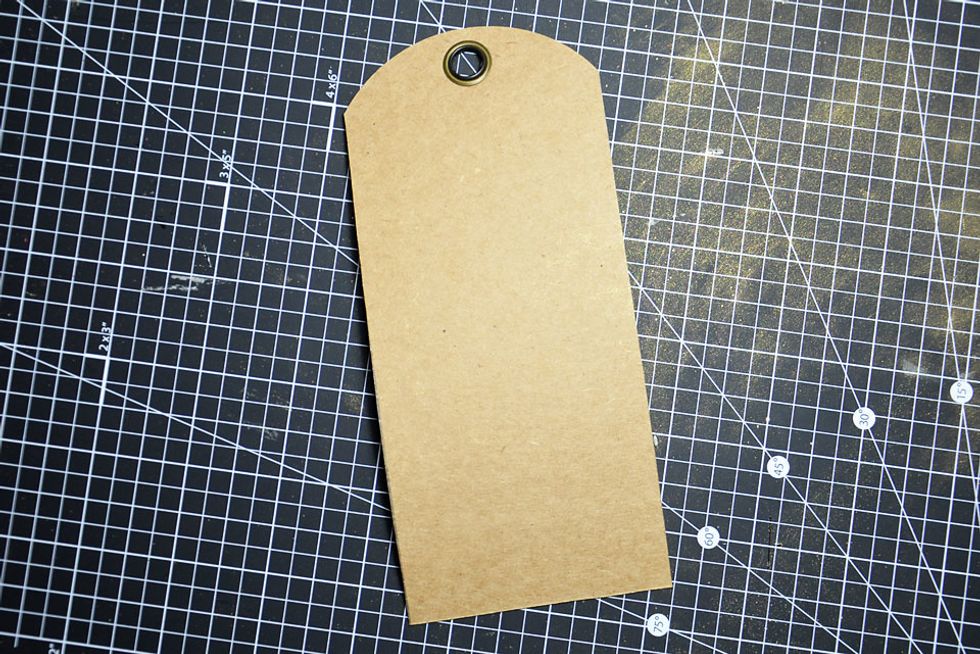 You will now need a tag. I have chosen to use a Kraft-coloured tag for mine.
Using the Gold Iridescent Mica Powder, add a little to some water in a spritz bottle to create a mist and lightly mist the tag. It gives a gorgeous, shimmery gold effect.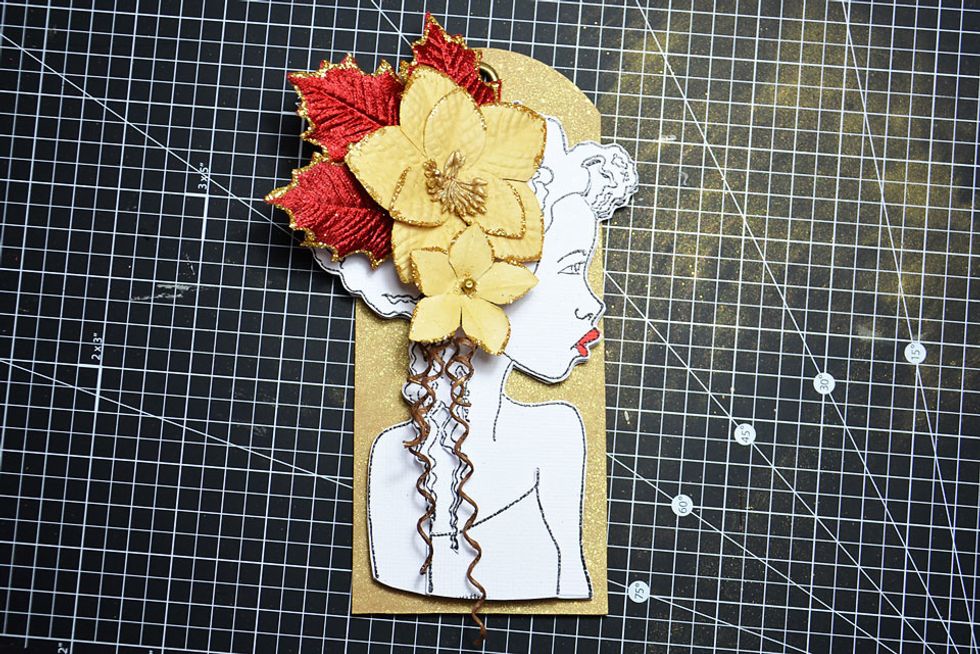 Now attach your finished Bloom girl to the golden tag.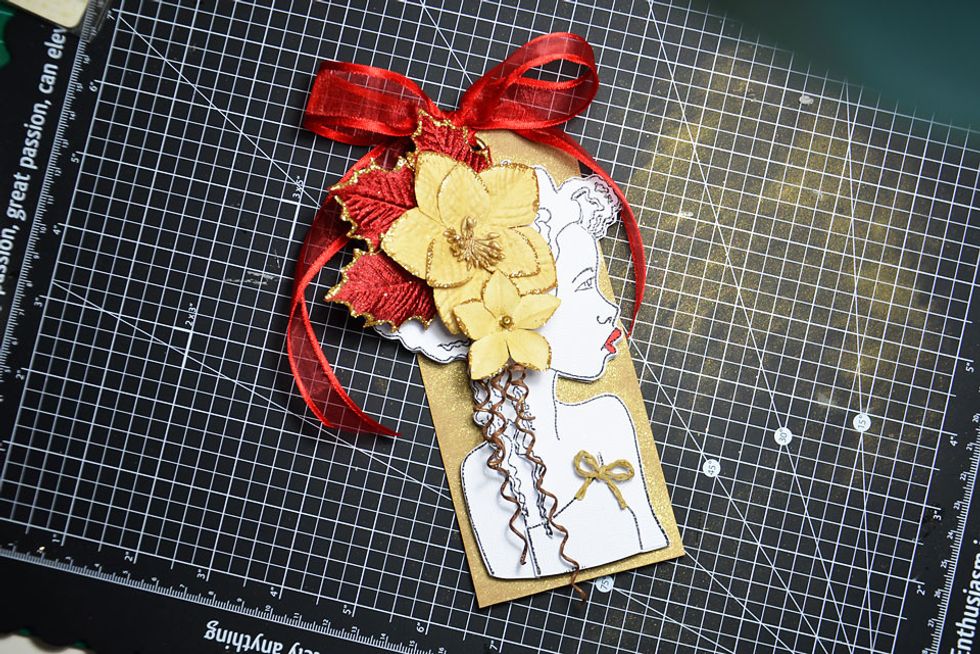 Add a ribbon bow to the top of the tag. I have added a small string bow to the corner of her shirt for added interest.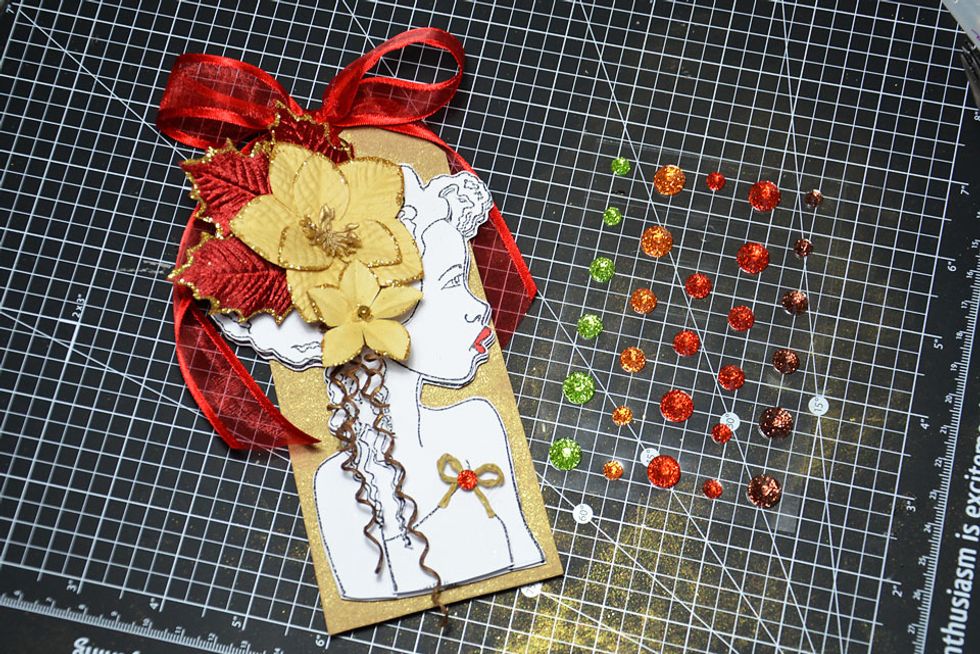 For the final touch add a red crystal to the bow centre.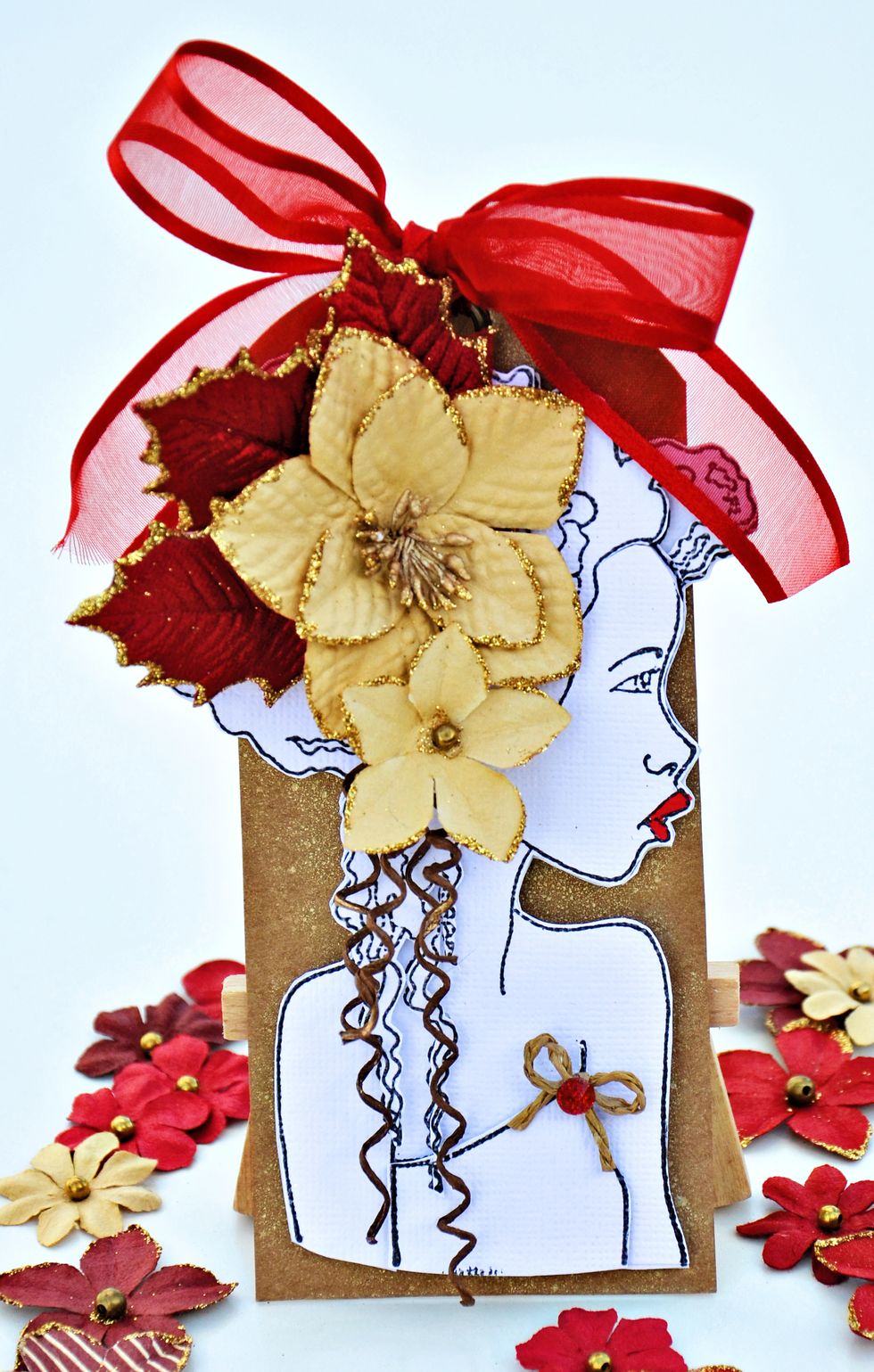 Your tag should now be finished.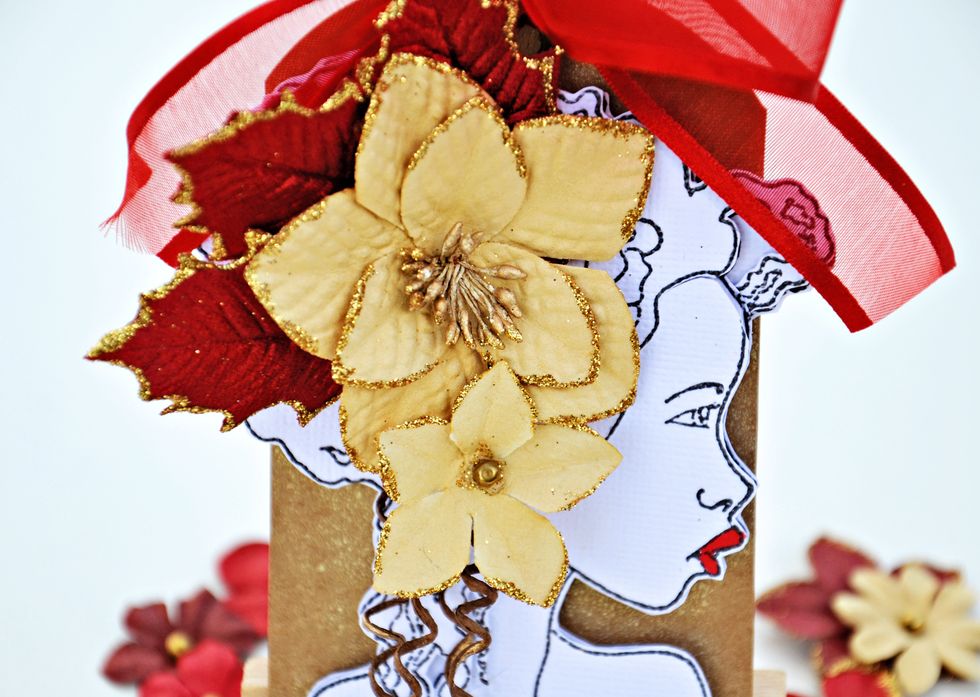 Hope you enjoyed the tag tutorial. Joanne Bain - www.scrappinforme.blogspot.com.au
#980047 Instachick Bloom Girl Stamp-Hope
#582333 Victorian Christmas Say It In Crystals
#576516 Pallete Marker Set - Ruby
#963552 Iridescent Mica Powder - Gold
#583392 Victorian Christmas Twelfth Night Flowers
#583439 Victorian Christmas Christmas Eve Flowers
#583491 Victorian Christmas Sleighbells Flowers
Ribbon
String
Kraft Card Tag
Prima Marketing
Prima Marketing, Inc. is an established leader in flower embellishments in the scrapbooking and crafting industries!