I was silly enough to forget to take photos - which I realised as soon as my hands were full of chicken... So you will have to bear with me I'm afraid.
Chop all the ingredients. I only roughly chopped them because I used a food processor, but it's really not necessary. Just chop the ingredients as fine as you prefer.
If using a processor, mince the onion, sundried tomato and mushrooms together, chicken separate. The chicken doesn't need to be very fine. Fry the onion mixture in half the olive oil on medium heat.
After about ten minutes (about the time your kitchen starts smelling awesome) remove the onion mixture from the pan and keep separate. Season your chicken and fry in the rest of the oil on high.
When the chicken is almost done, add the garlic and the onion mixture. Lower the heat and stir thoroughly. Now it's time to add the creaminess: add the ricotta to your pan. Mix properly!
If your mixture is a bit dry, you can add a little milk or water. I only needed a small amount (about 3 tbsp). When you're happy, put the pan in the fridge so your filling can cool.
Pre-heat the oven according to the phyllo packet instructions. Also, don't forget to defrost your pastry like I did!
Prepare the phyllo pastry according to packet instructions. I layered 4 sheets on top of each other using a tiny bit of olive oil for my parcels.
Cut the pastry into squares slightly bigger than your muffin pan (greased with butter). Place the pastry in your pan and add your filling until only the four corners of the pastry square are uncovered
Fold the corners inward and press down to loosely cover your parcels. Bake in the oven until golden brown - and ENJOY! I served the parcels with a carrot salad.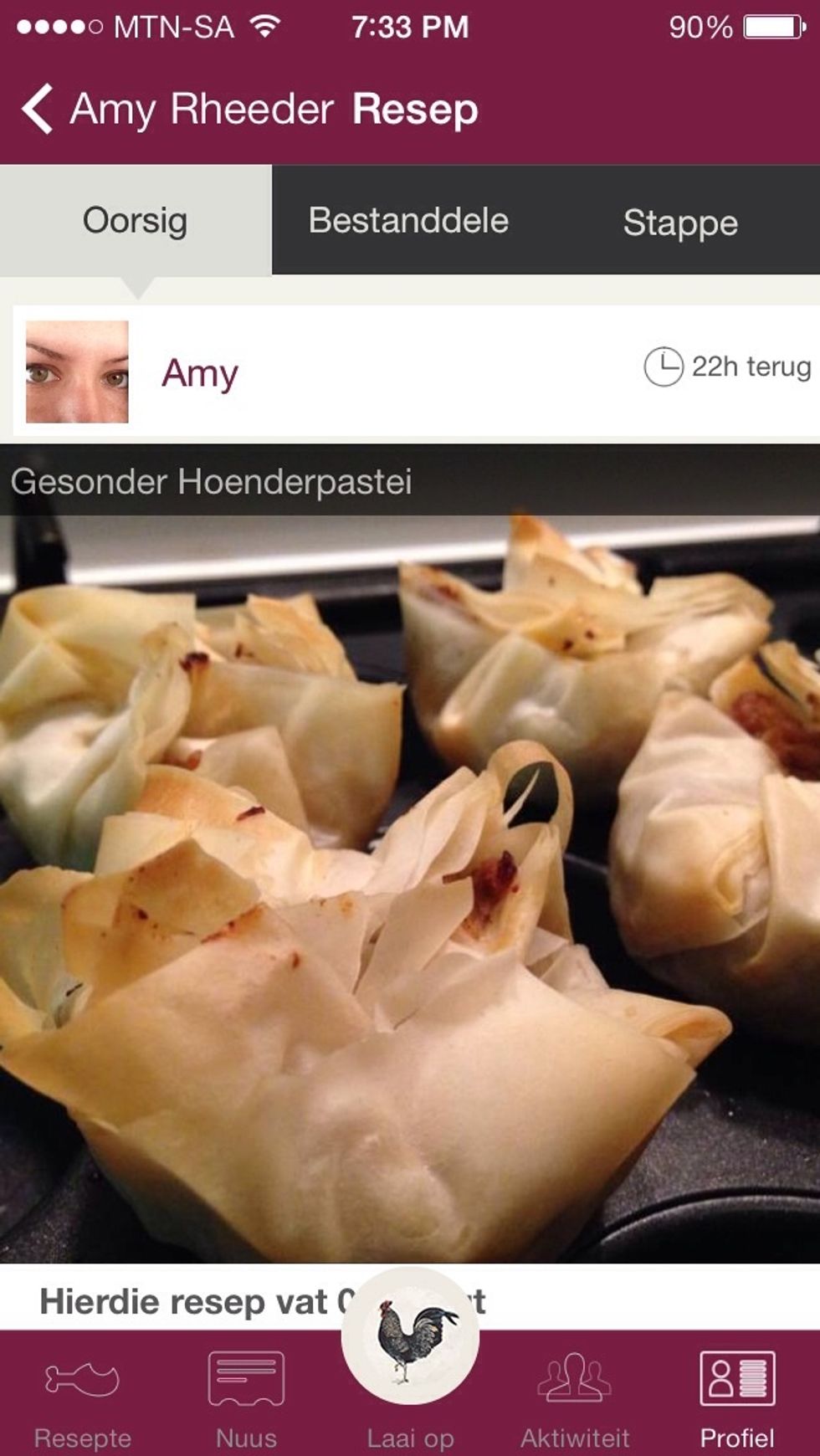 Although these would not fit into the "eat salad and broccoli or die" diets, they're definitely part of a balanced, healthy and nutritious diet.
1/4 Sundried tomato
1.0tsp Garlic
1.0 Medium onion
8.0 Deboned skinless chicken thighs
125.0g Button mushrooms
1/2 Packet of phyllo pastry
1.0Tbsp Olive oil
1.0tsp Butter
1/2c Ricotta