How to cook vegetarian and vegan chiles en nogada
Cook Vegetarian and Vegan Chiles en Nogada
29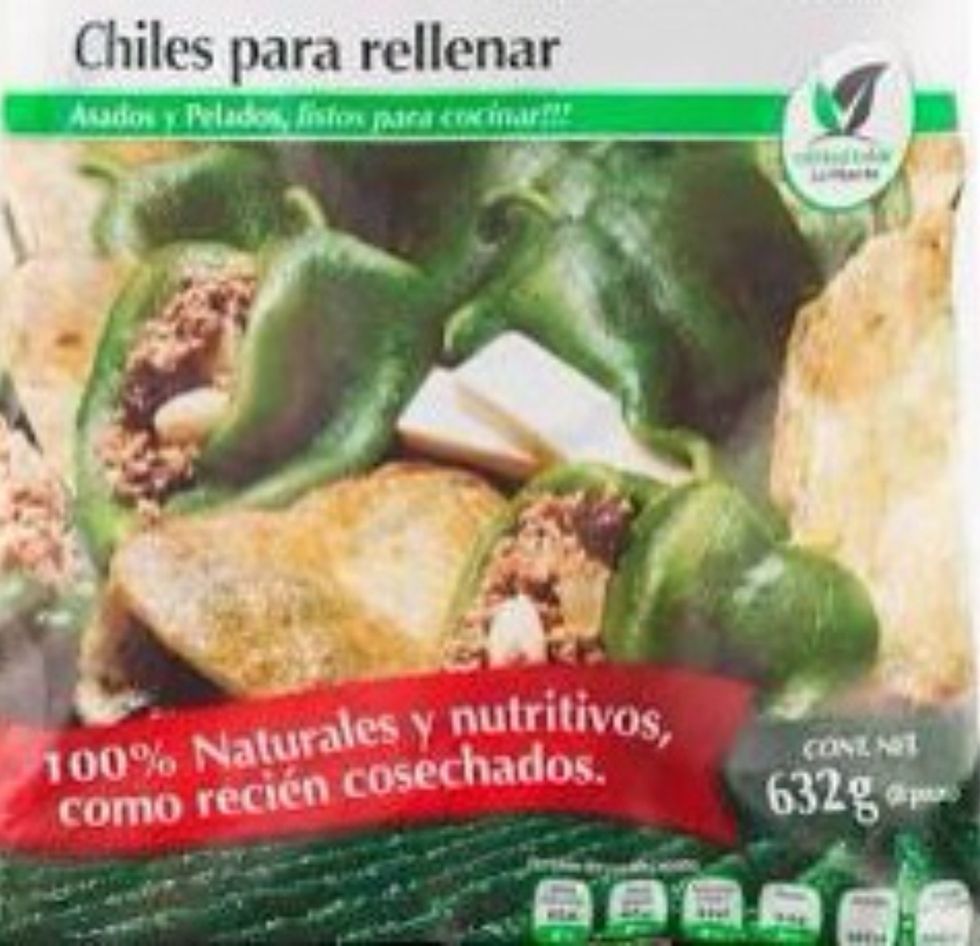 In some places you can buy roasted and peeled chiles poblanos, they come frozen. They are also a good option and save you lots of work. You will have to take out seeds and veins before filling them.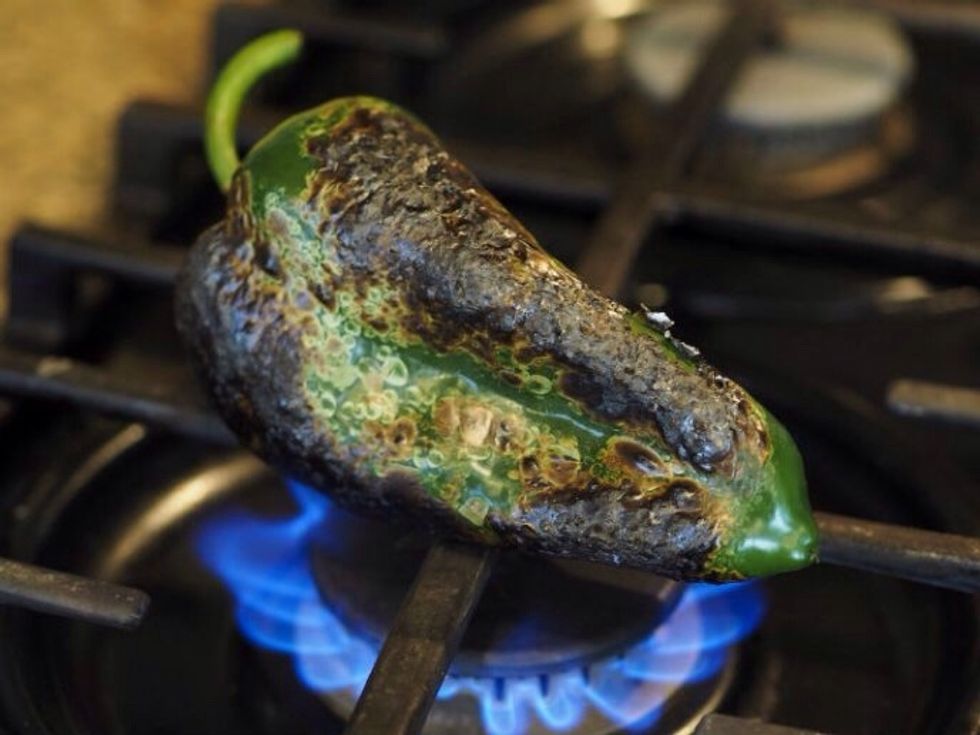 Wash and dry the fresh chiles, and then burn the outside on the stove as shown in the picture. You should see many blisters and dark spots all around. You can turn the chile with cooking tweezers.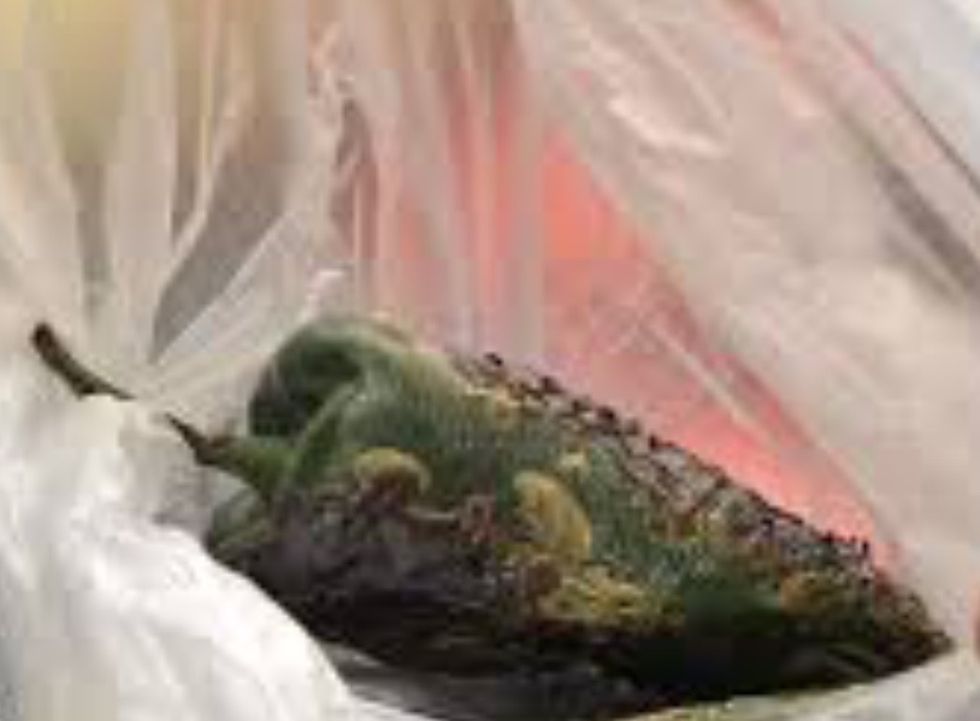 Place warm chiles inside a plastic bag and close it so the chiles sweat. You can also wrap them in a moist cloth. Let them rest and then scrape off skin with a knife or towel. Or rinse off the skin.
Carefully cut an opening lengthwise in the chile starting by the stem side. Just cut enough so you can rinse out seeds and remove veins. For less spicy chiles, soak them in warm salt water. Drain.
In a large pan warm oil at medium heat, cook garlic and onion until glazed, then add finely chopped mushrooms. Important, don't add salt to keep mushrooms from getting soggy. Stir often.
Blanche the tomatos. Boil them for 30-60 seconds and then immediately put them into ice water. Peel off skin, remove seeds and chop into small pieces. Add to the cooked mushrooms and stir until dry.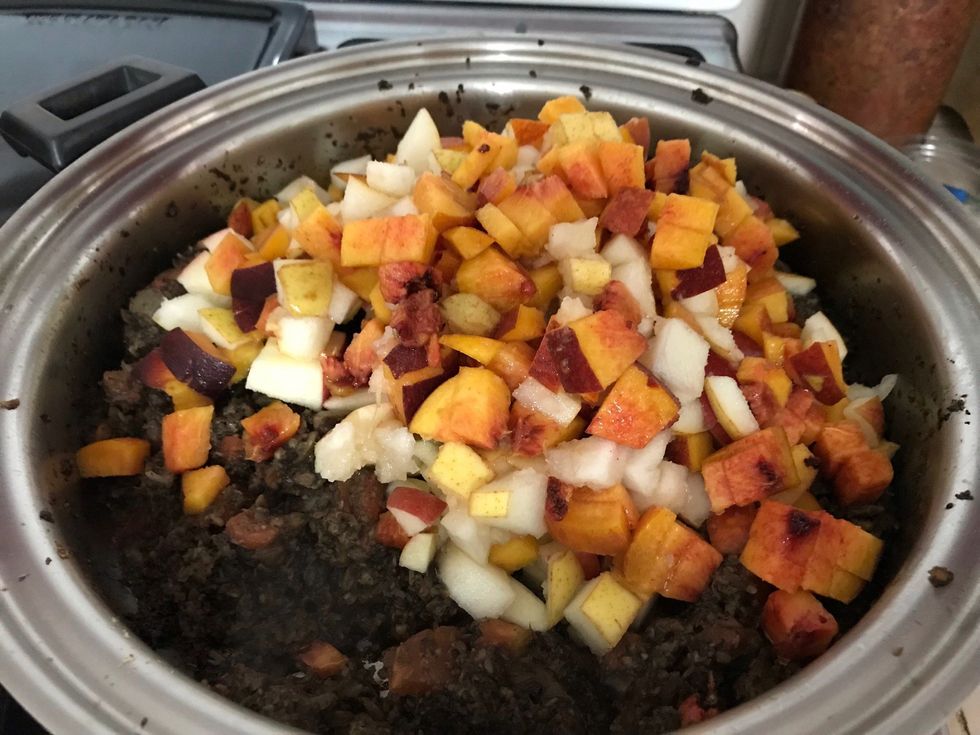 Add spices, fruit chopped into small pieces and raisins. Add vegan consommé powder or salt to taste and a teaspoon sugar.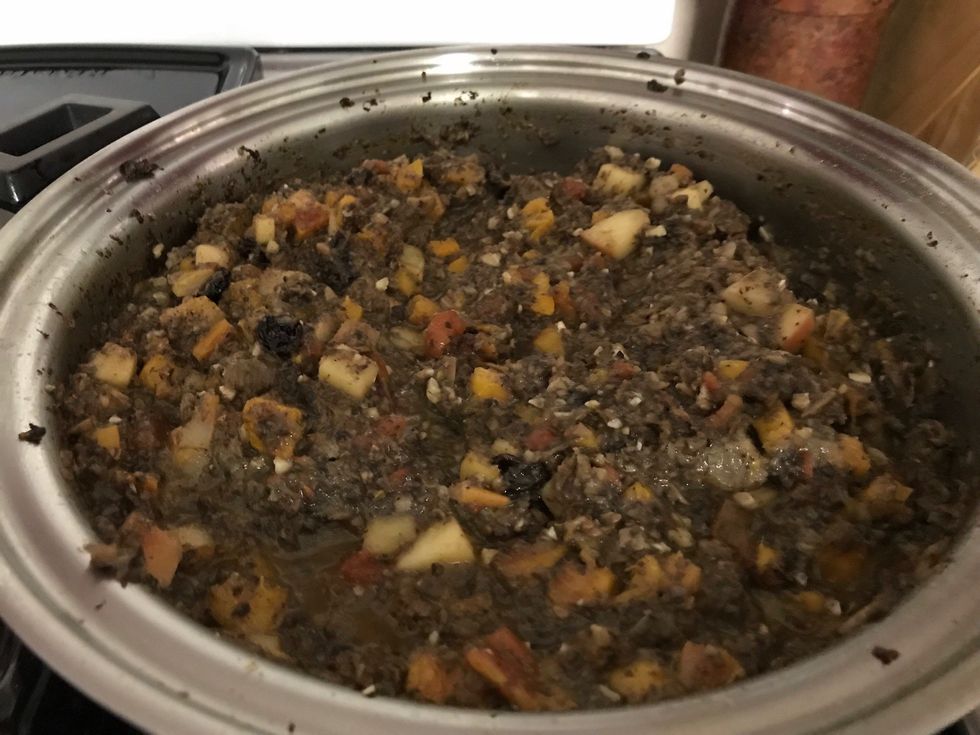 Stir often, let the mix thicken, check taste and add pepper and salt as needed, then turn off the heat and let it cool off. Now you can fill the chiles by using a tablespoon.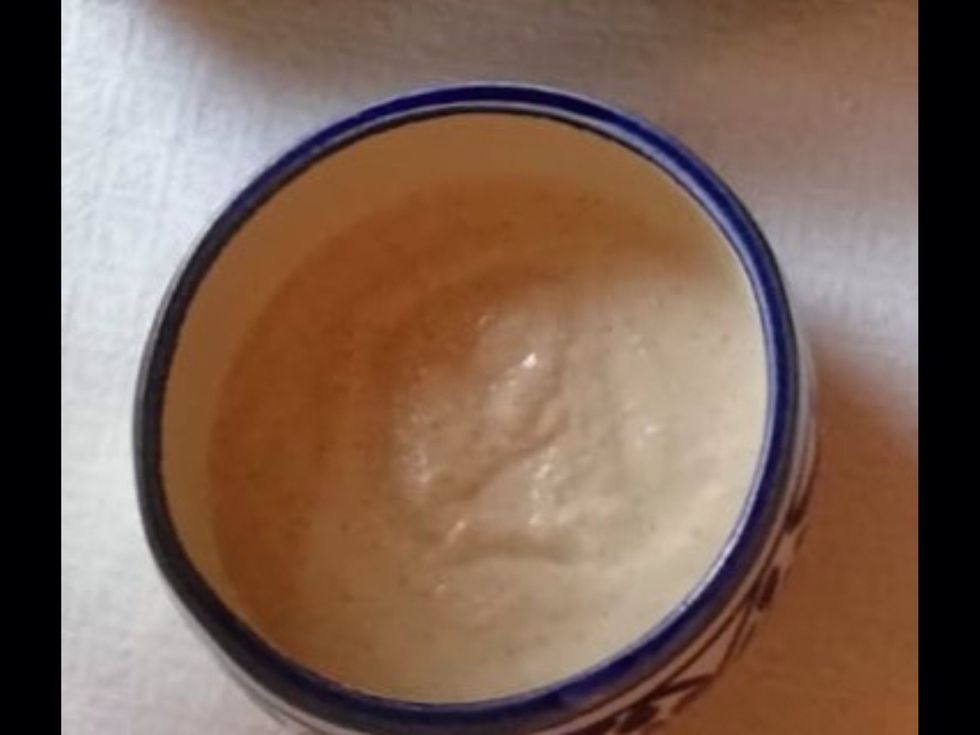 For the vegetarian sauce. Soak pecans in water, drain and rinse. Place in food processor with soaked bread, goat cheese, cinnamon and sugar to taste and puree with water until creamy but not too thick
For the vegan sauce soak cashew nuts and pecans separately in water. Drain and rinse, then puree in food processor with moist bread, sugar and cinnamon to taste. Add water as needed until creamy.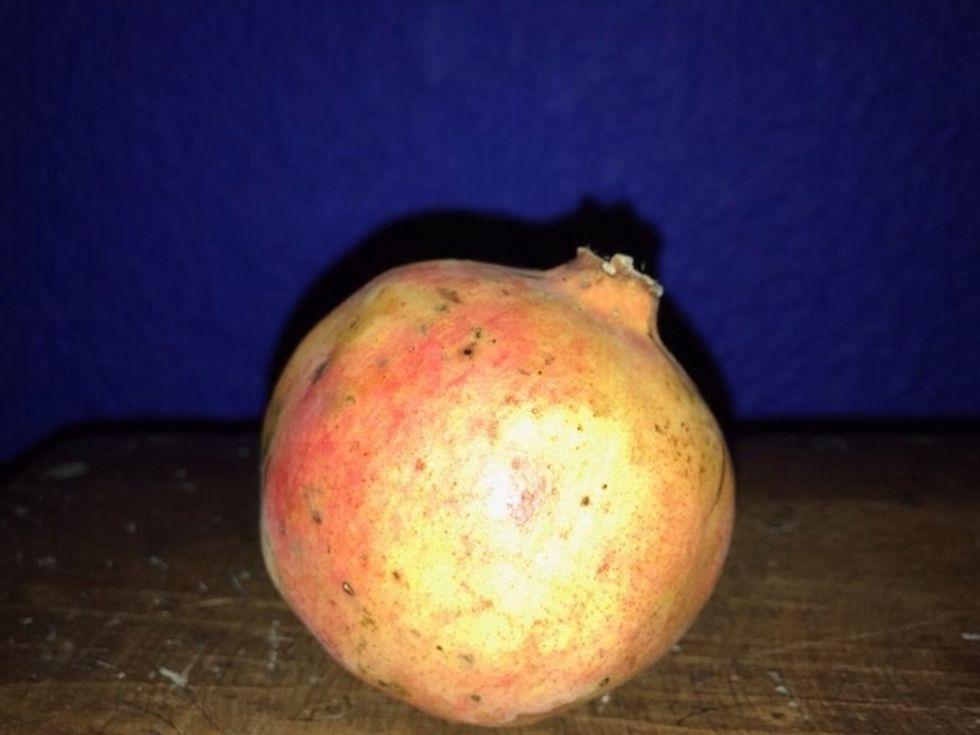 Peel the pomegranates. Tap the skin with the back of a large wooden spoon. Then cut the skin in 4ths and in a bowl with water I remove grains. The white skin and peel float. In a sieve clean grains.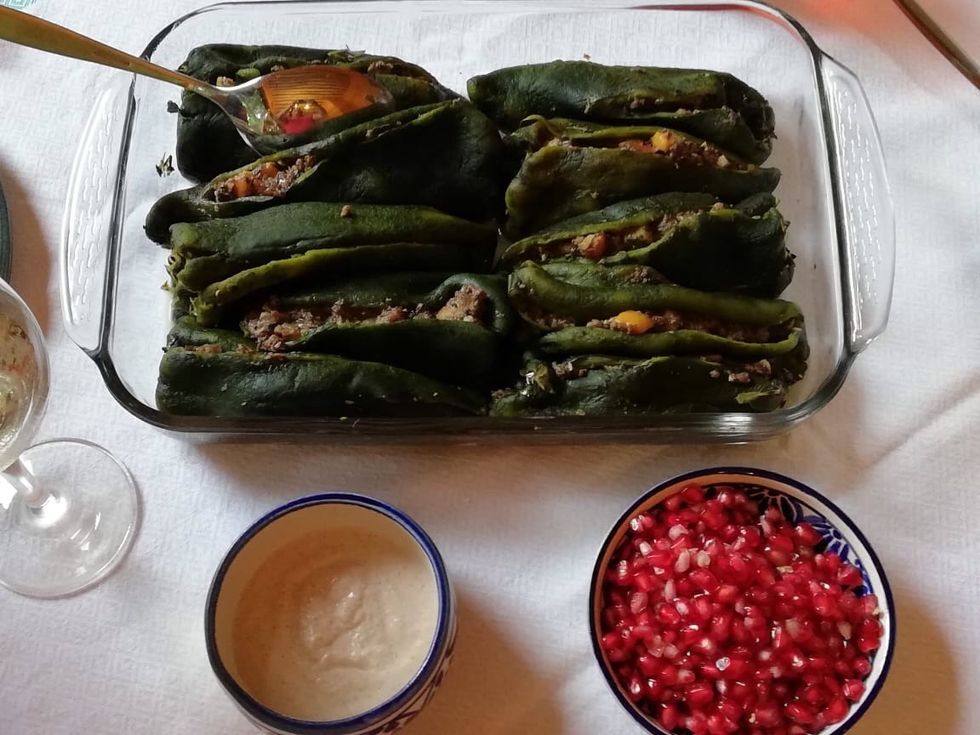 Chiles are served warm but not hot. You can serve the chiles, sauce and pomegranate separately and let guests make their own, or serve it for them by putting some sauce on and sprinkling granate on it
Chiles en nogada are generally served with rice and a salad. But you can get creative and serve it with quinoa or something else also. Enjoy!
18.0 Fresh or frozen chiles poblanos
3.0Tbsp Vegetable oil (I use olive)
1.0 Large garlic clove, minced
1/2 Medium to small onion, minced
700.0g Mushrooms (champignons), chopped very small
3.0 Medium tomatos without skin and seeds, chopped
2.0Tbsp Vegan powded consommé/broth
2.0pch Saffron
1.0pch Powdered cloves
2.0pch Powdered cumin
1/4tsp Powdered cinnamon
1.0 Apple
1.0 Pear
2.0 Peaches
30.0 Raisins, soaked in water
30.0 Almonds
1.0tsp Sugar
Salt and pepper to taste
200.0g Pecans or walnuts, soaked in water
200.0g Creamy goat cheese (omit for vegan version)
100.0g Raw cashew nuts, soaked in water (only for vegan)
1.0 Slice of bread soaked in water
Cinnamon and sugar to taste
2.0 Large pomegranates
1.0c Water