How to cook the apple christmas tree $11.40 with michel
I heard that the world will end on the 21st. Well, I better pack my sun cream and Apple Bombs for sugary sustenance. Yummy! Dear world, can you end after Christmas, I'd like my presents and a holiday.
13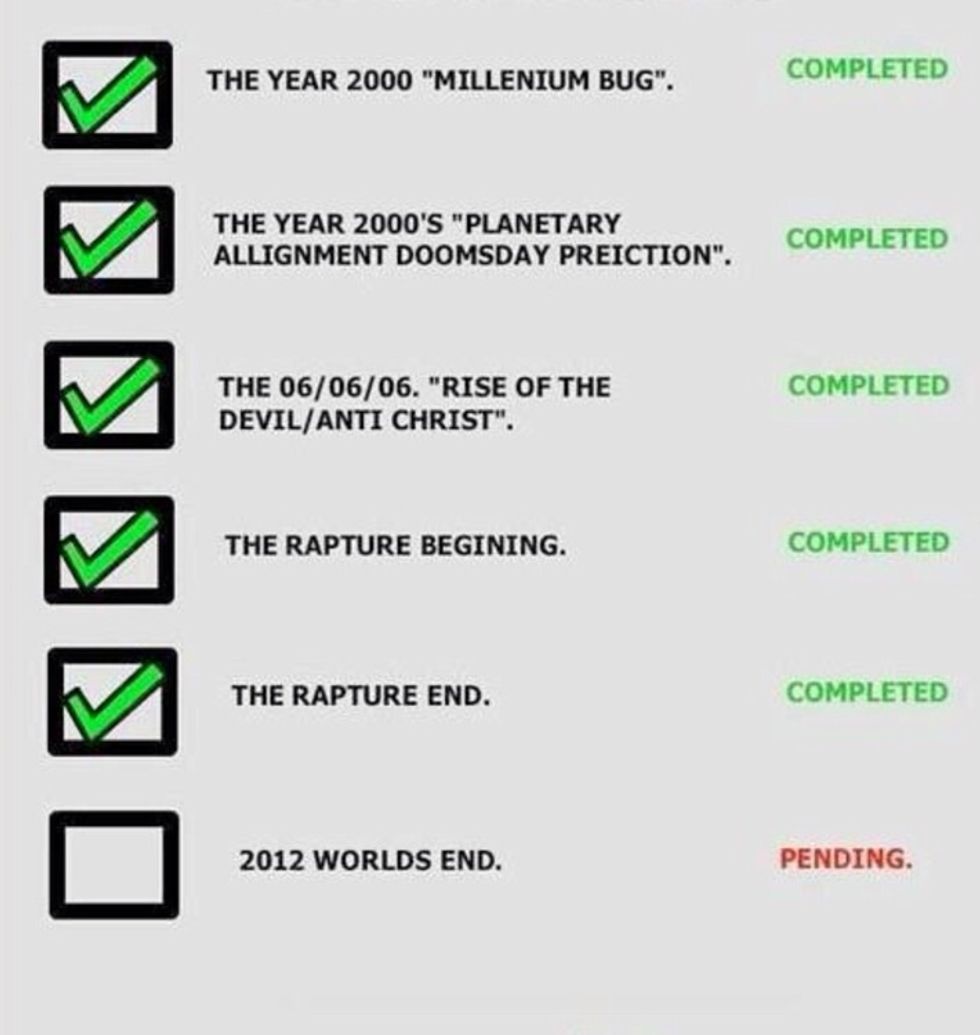 Now I did make a note about working hard to do these snap guides right? Well today's no exception. I had to copy and paste this from my BFF's Facebook to share with you lol. I'm so excited!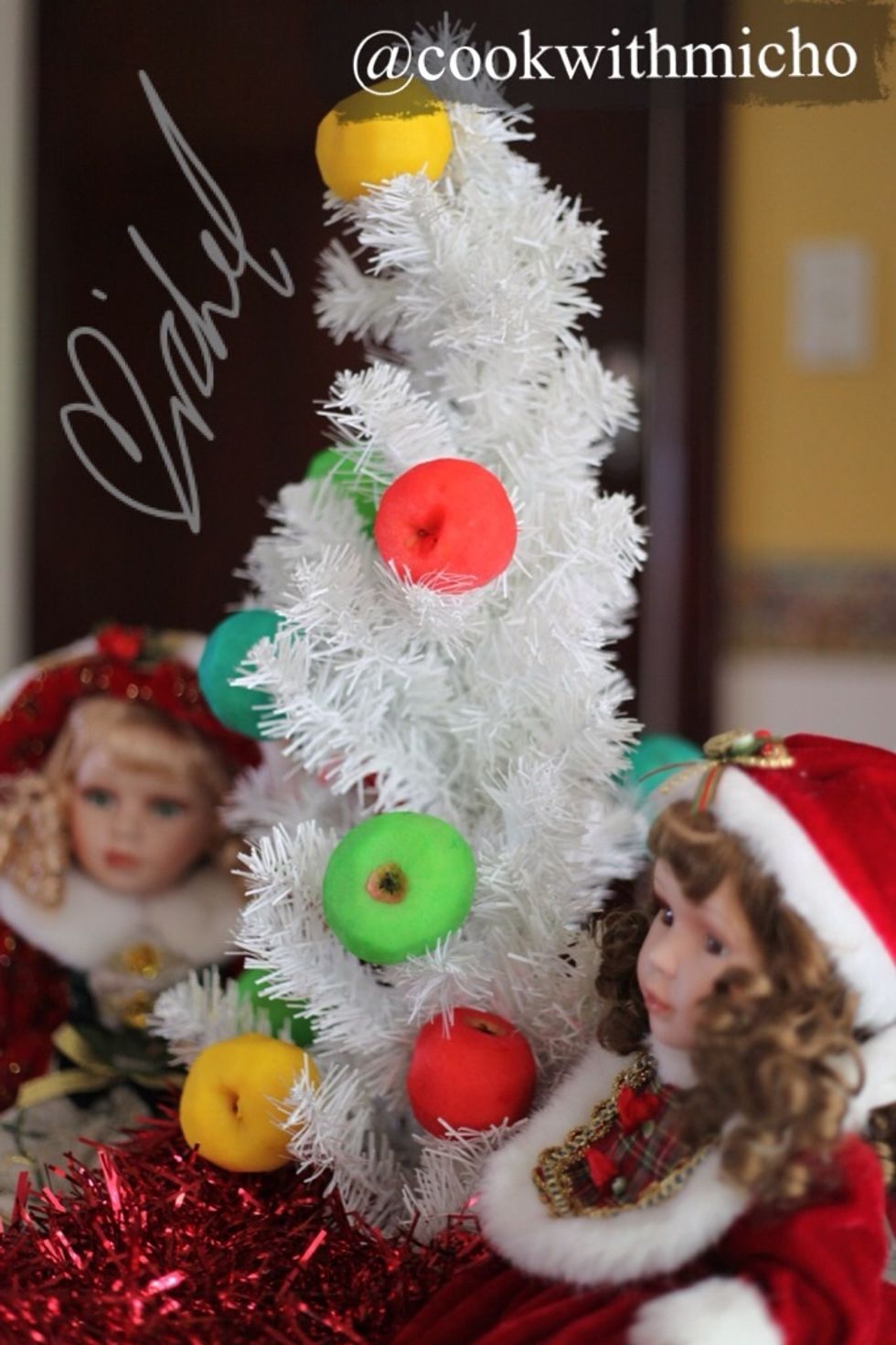 So we're going to be making a simple tree of edible colourful apples for Santa's visit. Santa is on a diet this year and we're giving him apples. No cookies! I'm seriously excited. Let's boil...
Peel the apples leaving the core in tact. Just peel and place in icy cold water while we boil up some water.
Do you remember those delicious apple bombs from a previous guide I made. Well this is the same theory but a lot easier. Grab 4 pots with 500 ml of water in each and get ready to boil.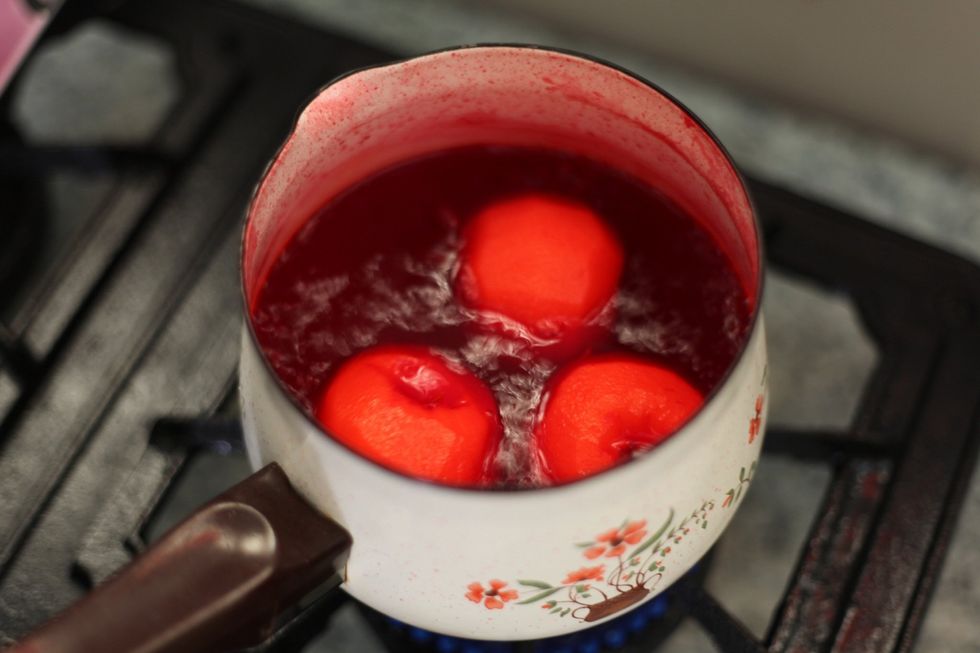 Unlike the apple bombs you need to boil 1 full flavoured gelatine with 1 tablespoon of food colour. Add 3 apples to each colour. Example: 3 apples, 500 ml of water and 1 red jelly, 1 tbsp of colour.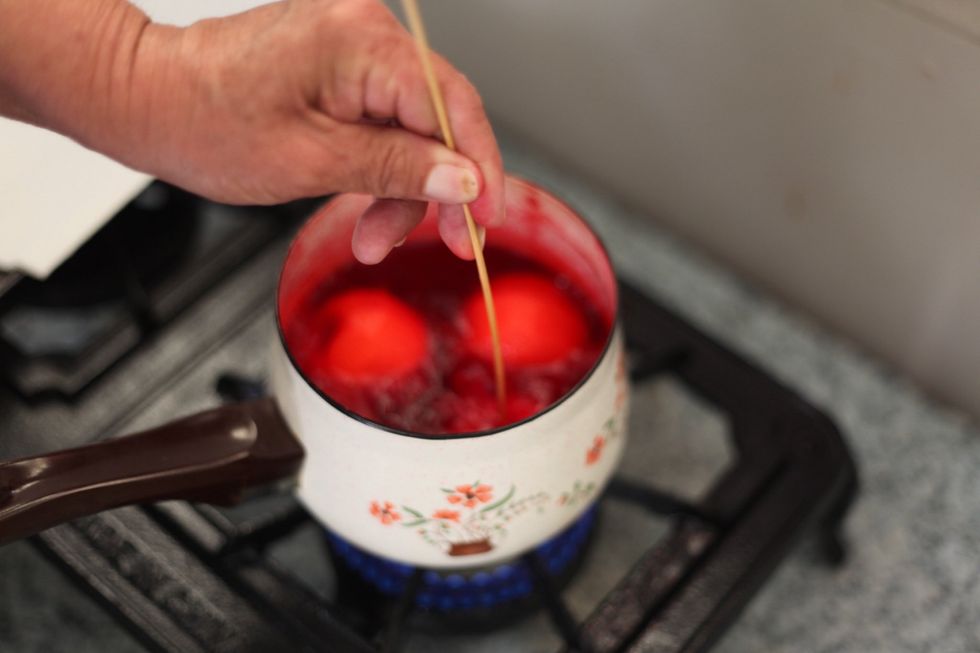 Using a skewer, poke an apple to check that they're not too soft. Boiling time is about 2 minutes only. We boil in jelly crystals to preserve the apple. Each colour will be a different flavour ;)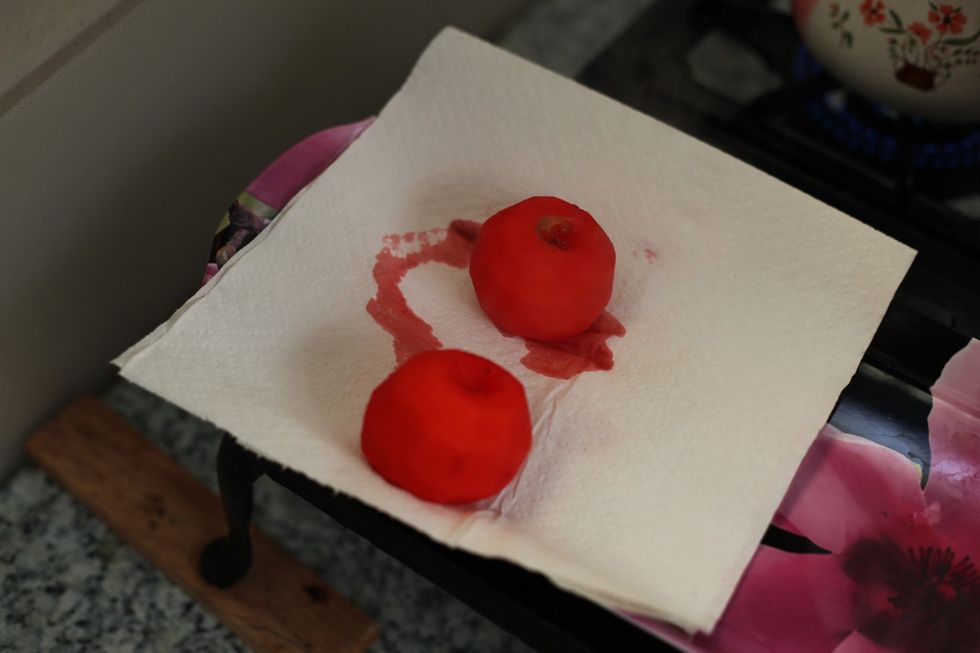 Take them out, place them on lots of paper towels. Let all the water drain out and the apples dry. If you're going to use your hands, wear gloves. This will get messy.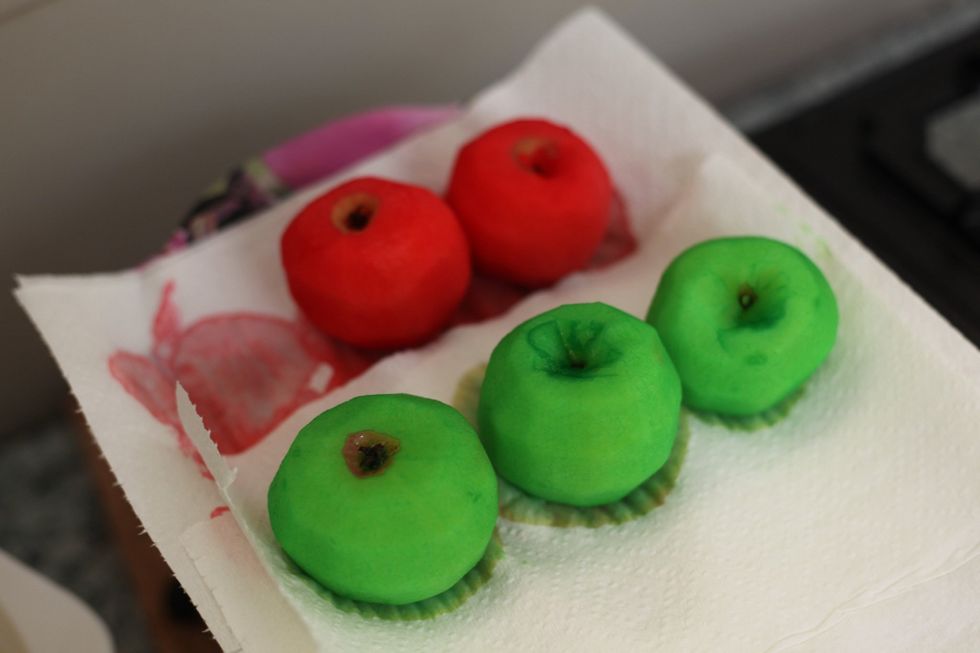 If you're using only one pot of coloured apples at a time, that's totally fine but just make sure you have dry apples or you'll make a total mess. Of course wash the pot between each colour.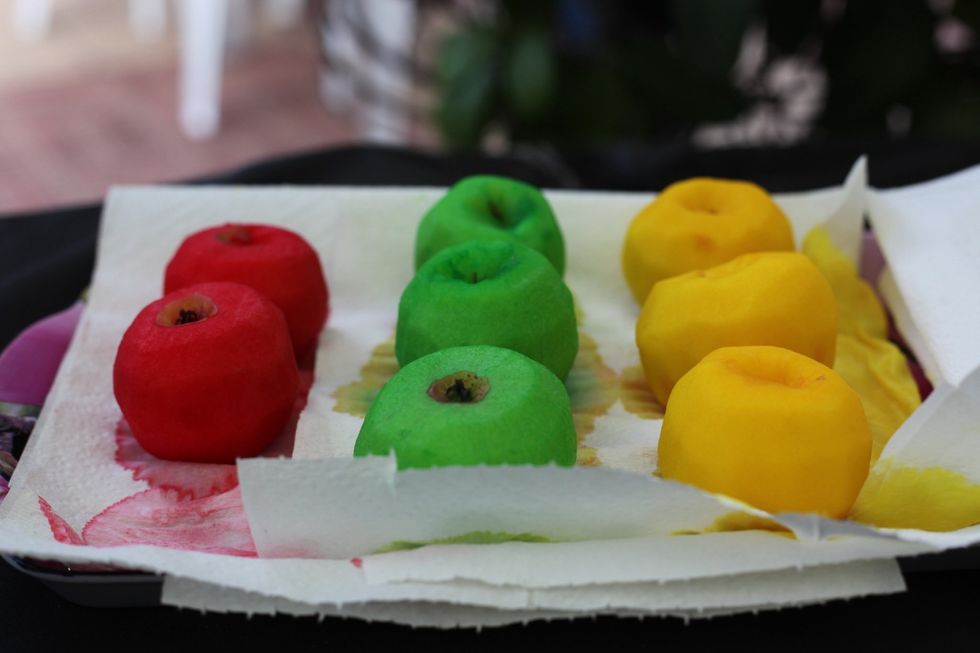 God created colour for us to enjoy. Now I'm sure some of you might give me the "food colour is bad for you" speech. However this is Christmas and colour is more important hahaha. I'm not listening!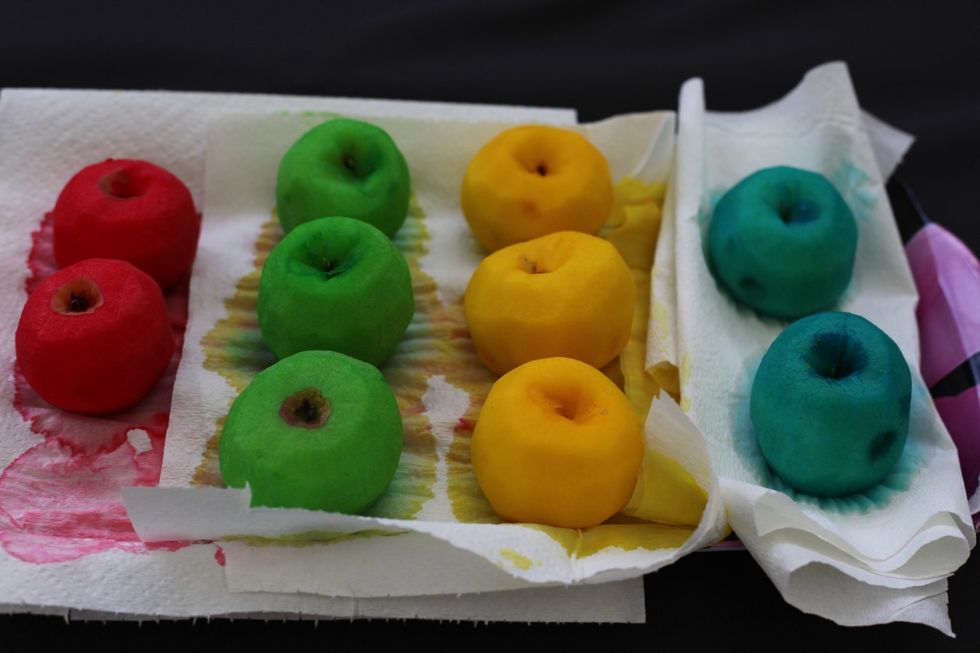 Dry Apples? All colours boiled? Great!! 😍Now, stick the apples in the fridge for a few hours. Gloves on??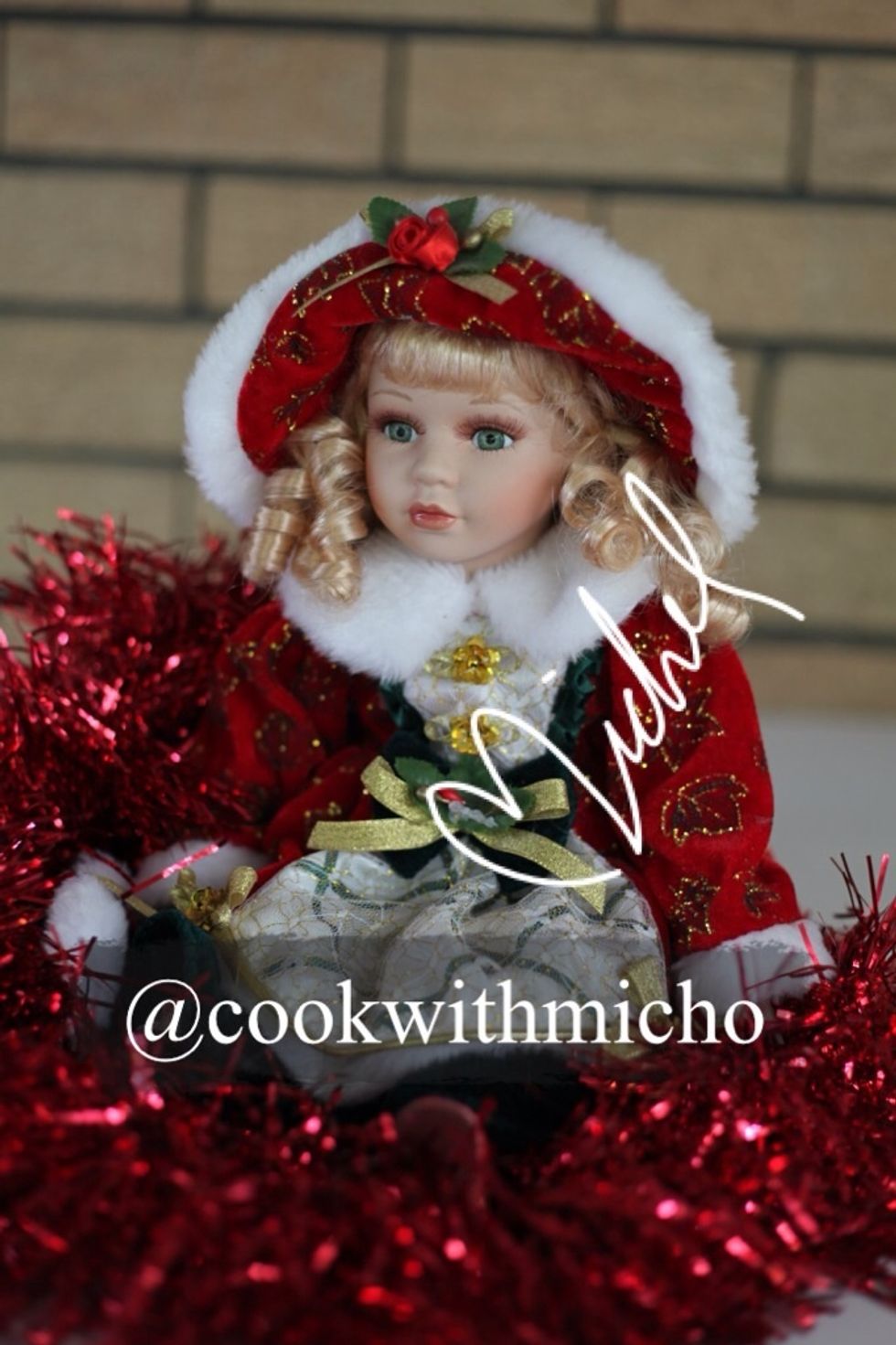 Optional: Get your Mum's creepy looking Christmas porcelain doll for decoration purposes and take her picture. She's creepy!!!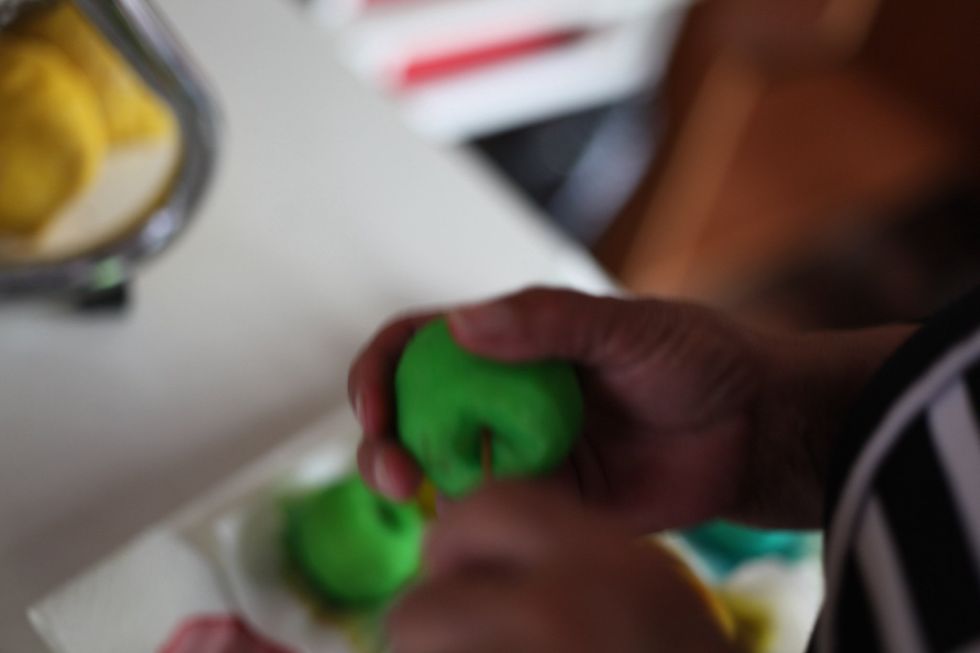 Now we just prick a tiny hole at the beginning of the core of the apple. Just a small poke, don't go through he apple. We're going to stick them into the branch of the tree.
Just like this. Looks the same doesn't it. Lol. I promise we did prick the core with the skewer.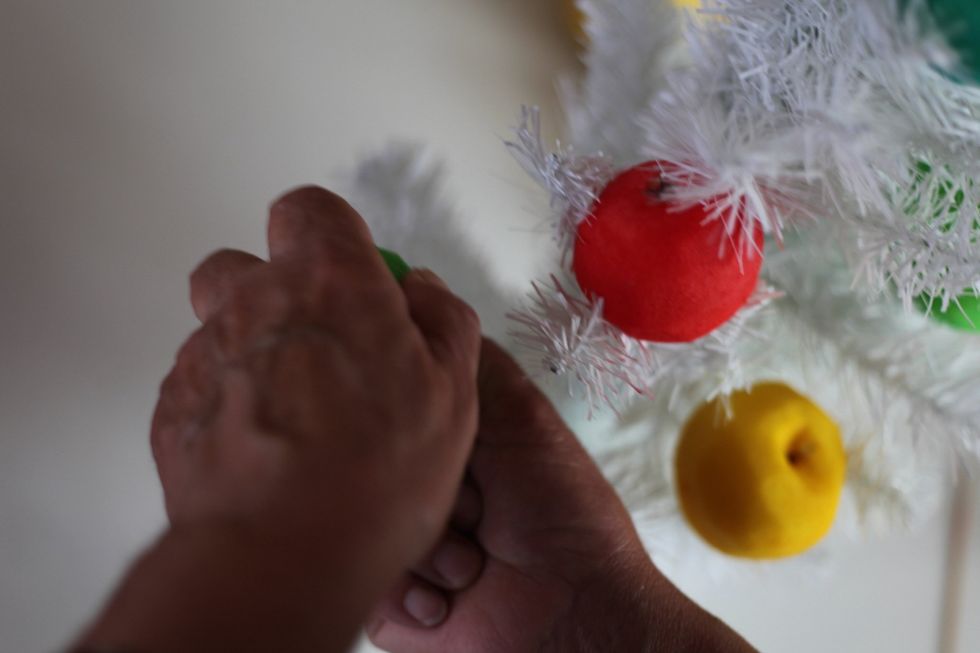 Warning: Only do this with gloves on. Don't blame me if your hands a rainbow mess afterwards. ;) Simply stick the apples on the ends of the branches and gently push half way into the apple.
The tree is a 50cm Christmas tree I bought for $5.90 from the supermarket. It's just perfect for a table setting.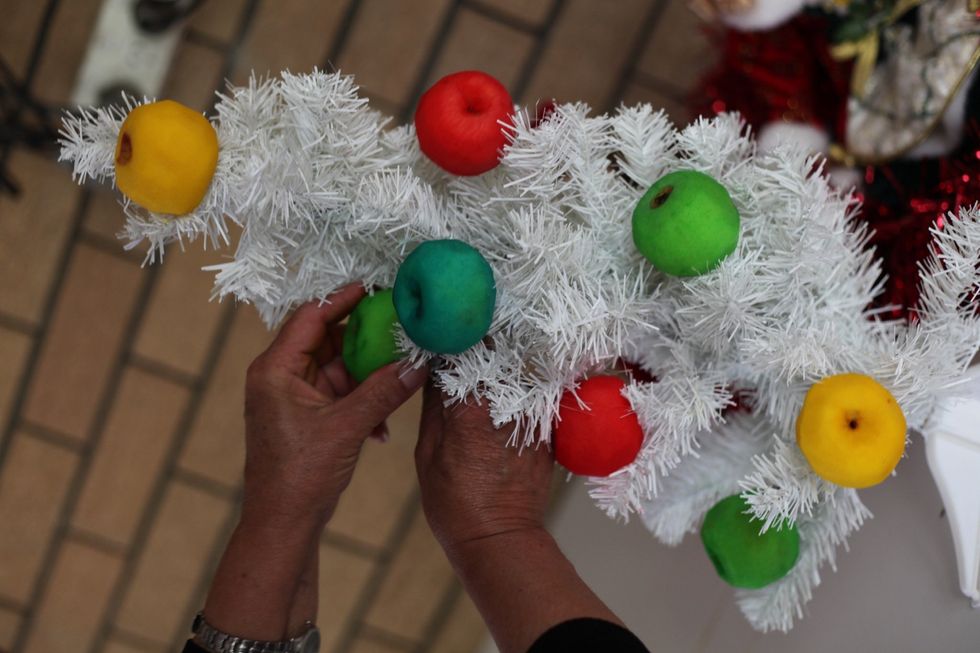 The apples won't fall off if you have pushed them well into the branches. You see we are environmentally friendly. No electricity used to light up this tree and we get to eat the decorations lol.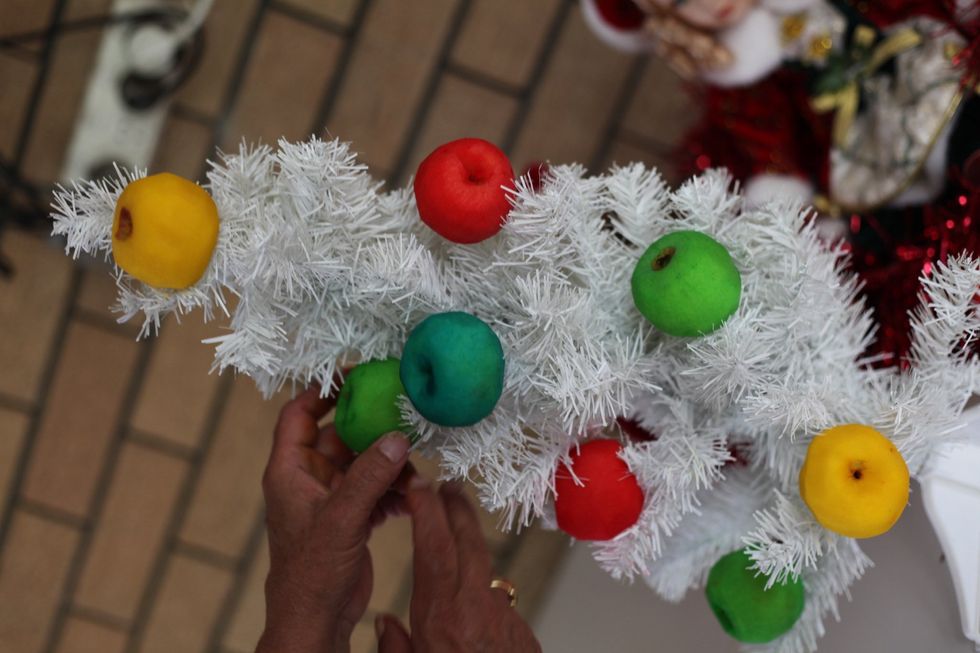 Don't like the idea of a tree or you're just simply too lazy to decorate a giant tree. Grab your gloves and a bunch of skewers... We're making a ....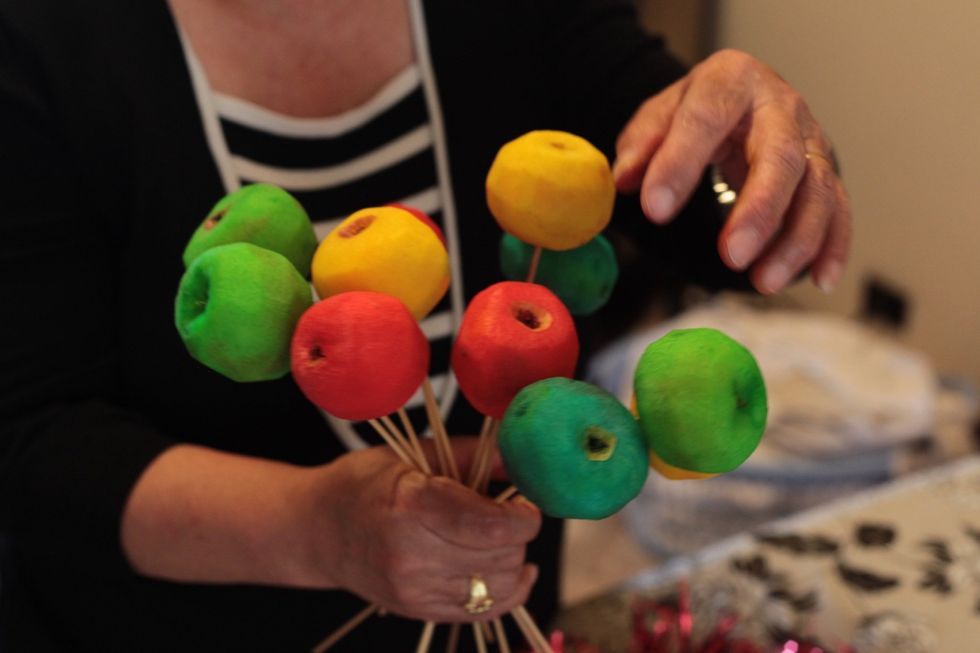 Flower Bouquet??? Noooo!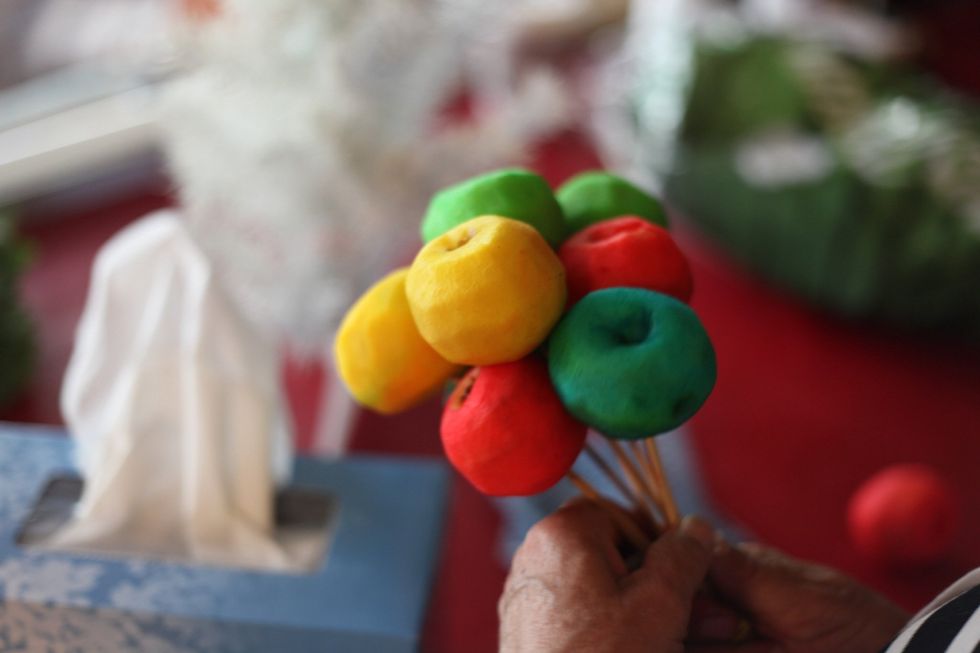 Lollipops?? To get kids to eat their fruits??? Nooooo!! Get your creative minds working snap guiders.....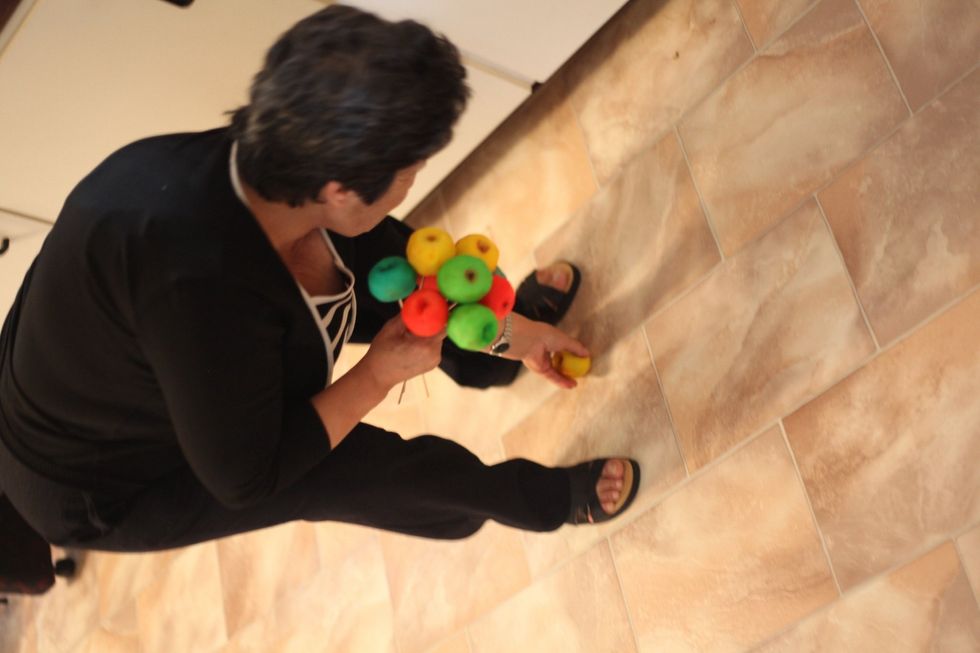 See!!! Naughty me... Play play play.... Lost an apple... Lucky Mum was there to save the day.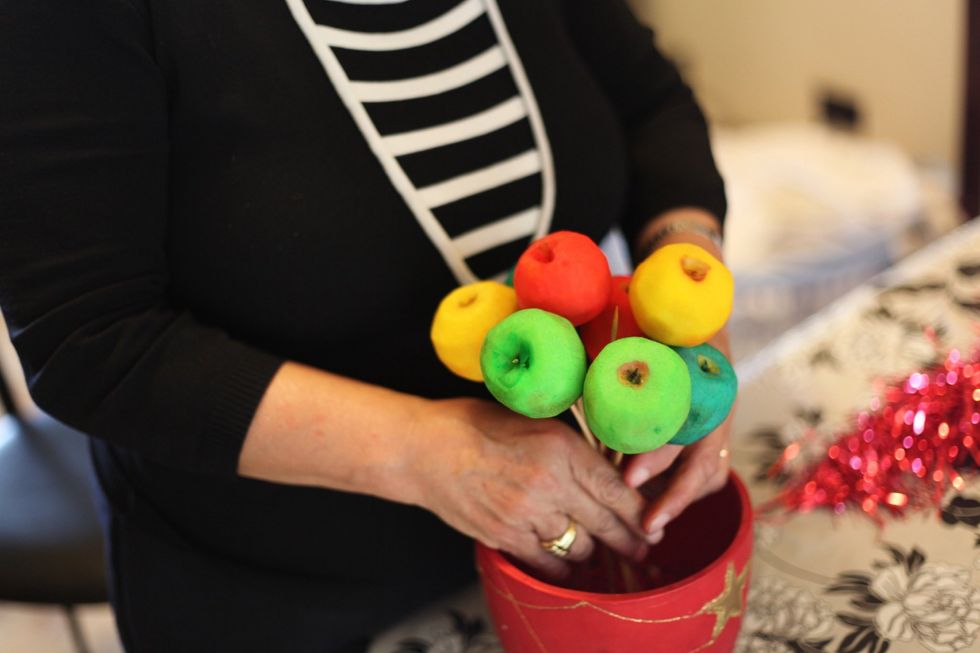 In a large deep vase put rice in the bottom and fill the vase to about 1/2. Stick the skewered apples into the vase, get your Mother's creepy Christmas dolls (I swear they are Mum's) Lol.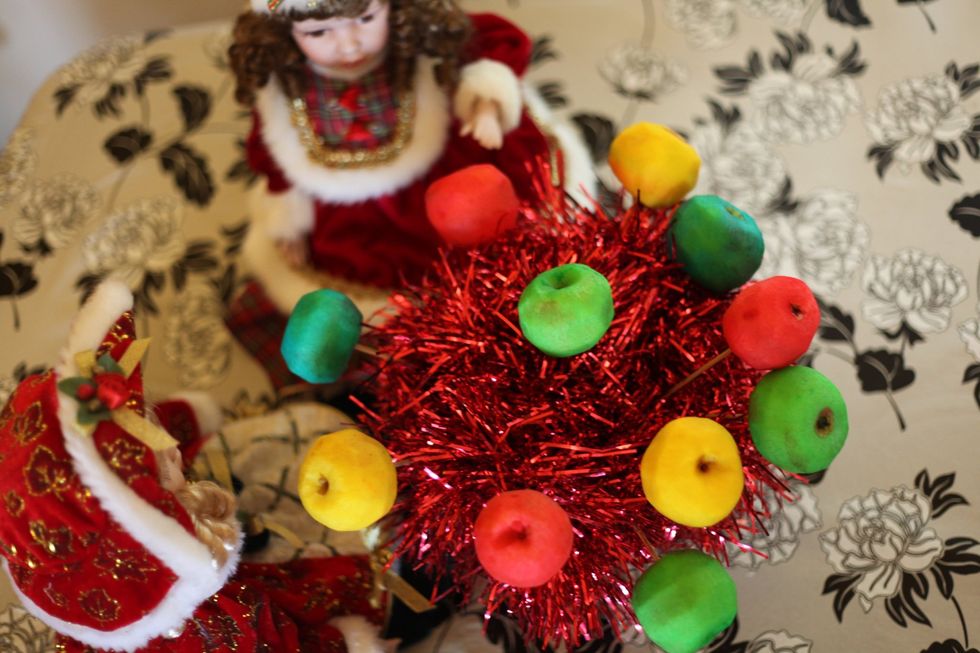 And you have a Christmas floral arrangement for your table setting.
These apple flowers are for you. A big Thank You for all your support and helping us share our guides. You guys are amazing. :)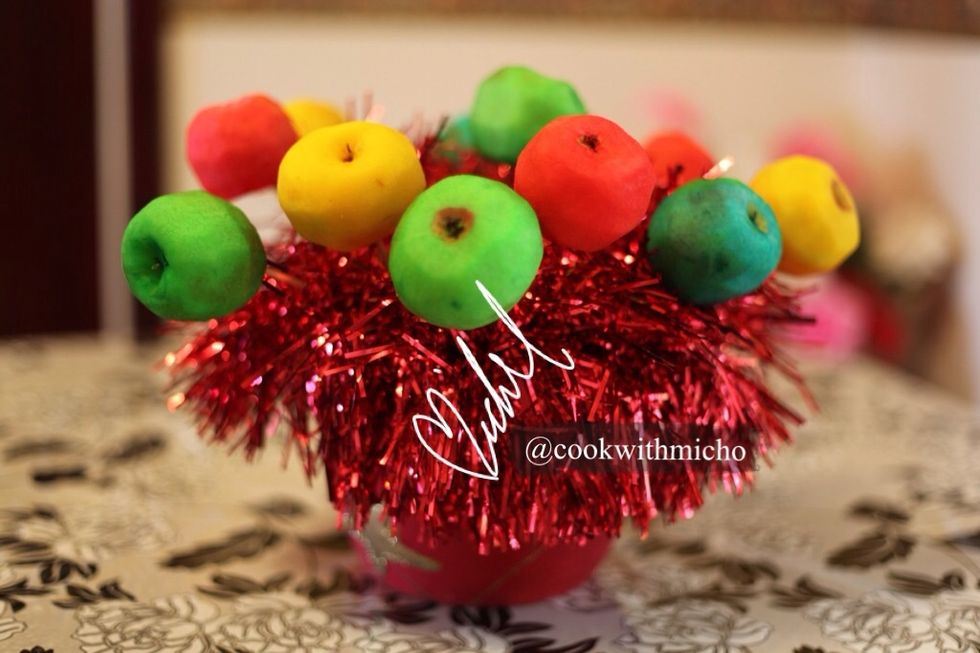 From our amateur kitchen in the hills of Perth, we wish you the most amazing Christmas and a happy new year. With lots of love, Michel and family.
And if it is going to be the end on the world, thank goodness I have a sexy colourful tree and 2 creepy dolls to entertain me. Lol. Enjoy every day like it's Christmas!! Cherish your family. 💗
12.0 Fuji Apples
4.0 Different Food Colouring
4.0 Jelly Crystals to match food colour
4.0 Pots
2.0l Water
1.0 Optional: Creepy doll for decoration
Michel Daher
Micho here. Amateur experimental chef and lover of food. Thanks for all your support. Join my Food Journey www.naturallygoodfood.com