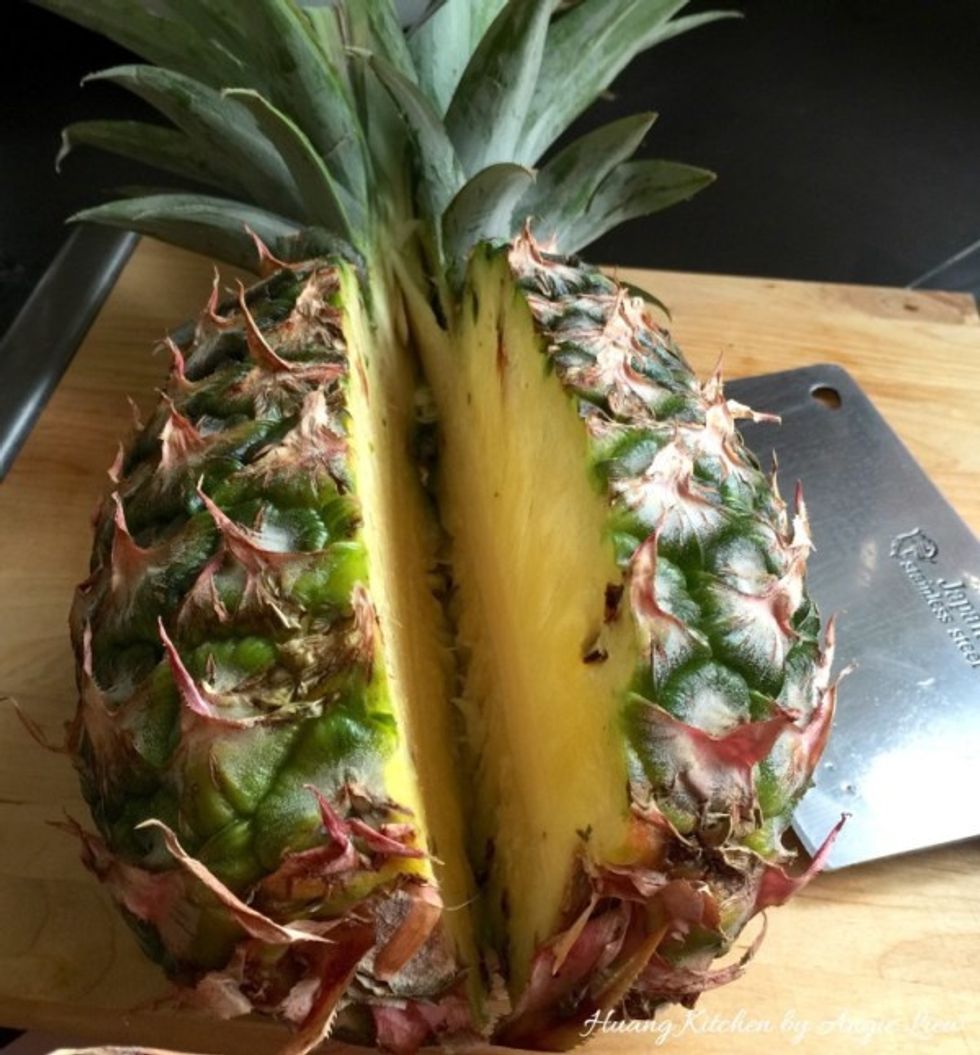 First, buy a whole fresh pineapple that is ALMOST ripe and cut it lengthwise.
Using one half of the pineapple, carve out the flesh of the pineapple into cubes, leaving a firm border.
Cut the pineapple cubes into smaller pieces and set them aside.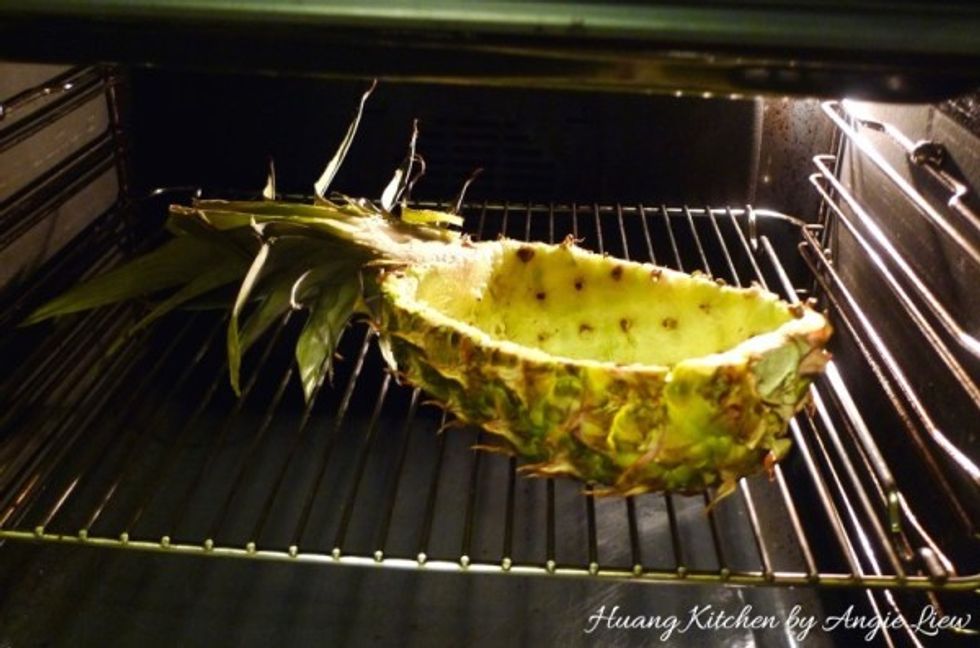 Dry the carved pineapple boat in the oven at 160 degree C (320 degree F) for 2 - 3 minutes.
Have ready some cooked rice, preferably overnight rice. The rice should not be too soft.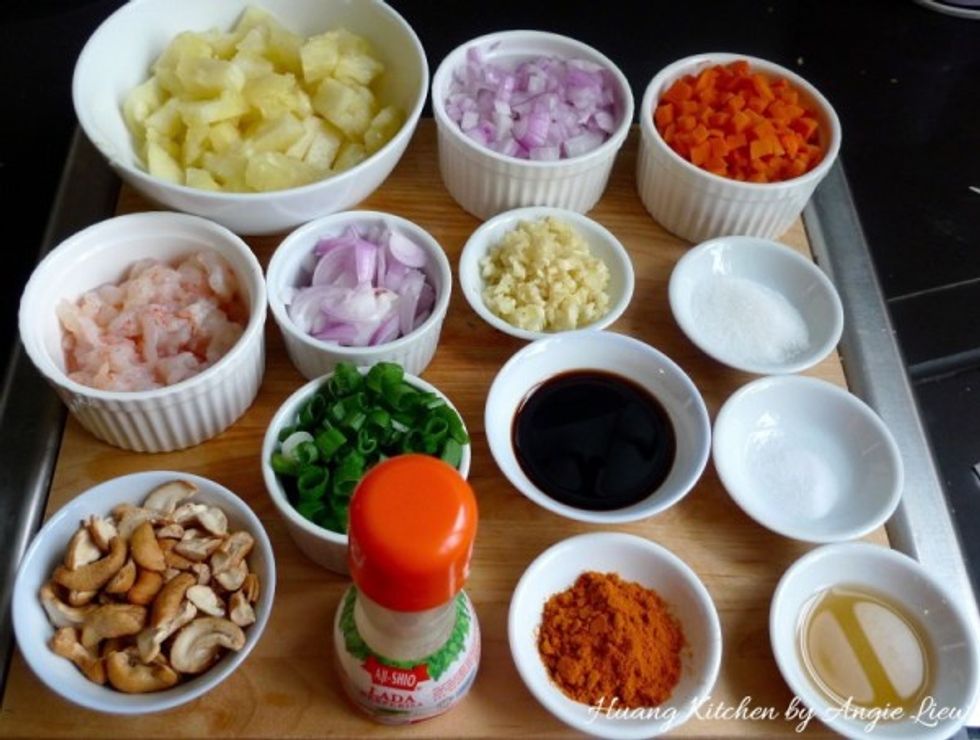 Before we start to cook, have ready all the ingredients needed for this fried rice.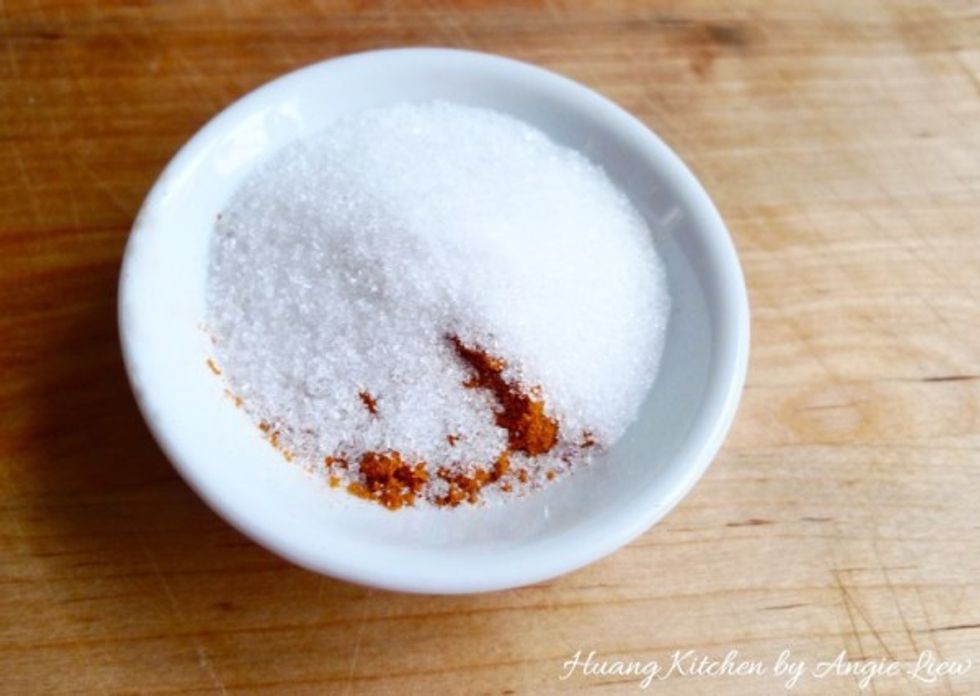 In a small bowl, mix the DRY spice (curry powder, sugar, salt and pepper) together.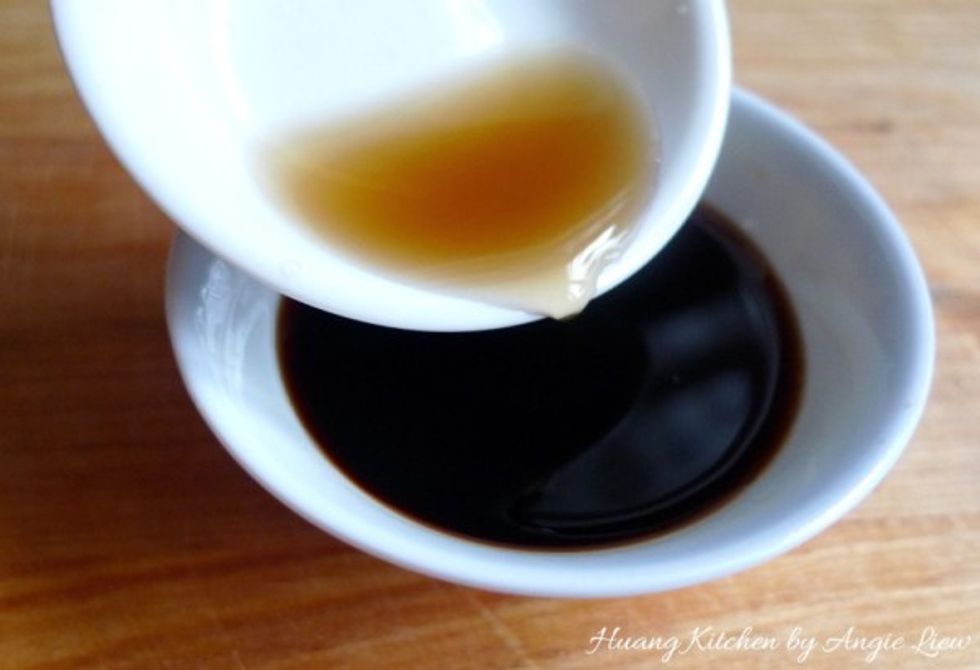 Then combine the WET ingredients together by mixing the fish sauce and soy sauce together.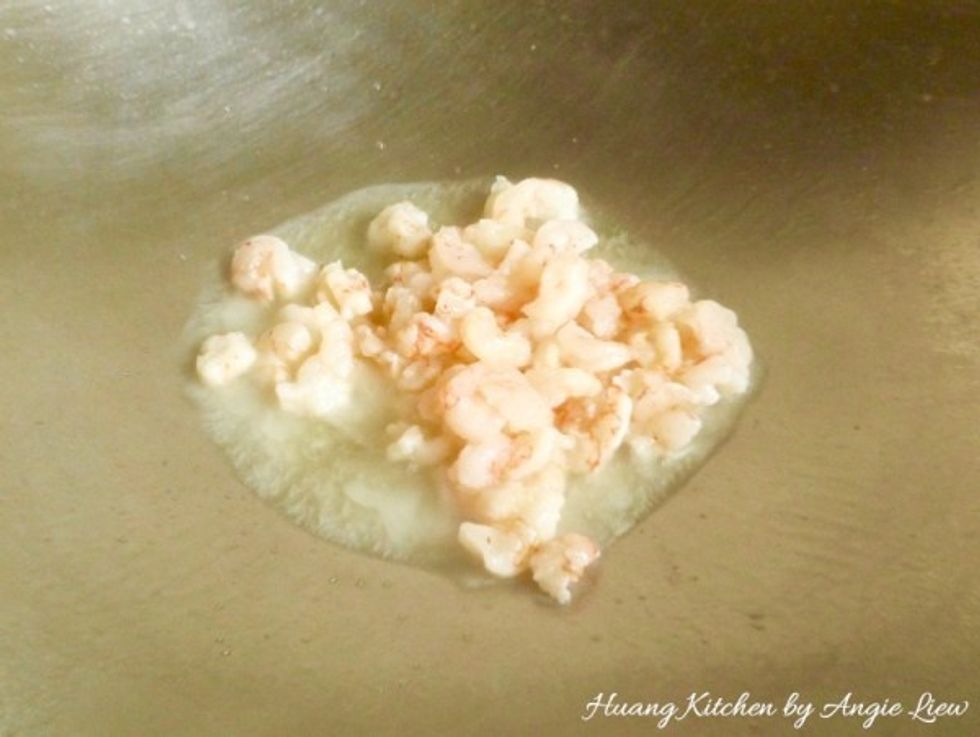 Next, heat up oil in wok on medium high heat. Add and saute the cut shrimp. They should turn opaque and just cooked through. Set aside.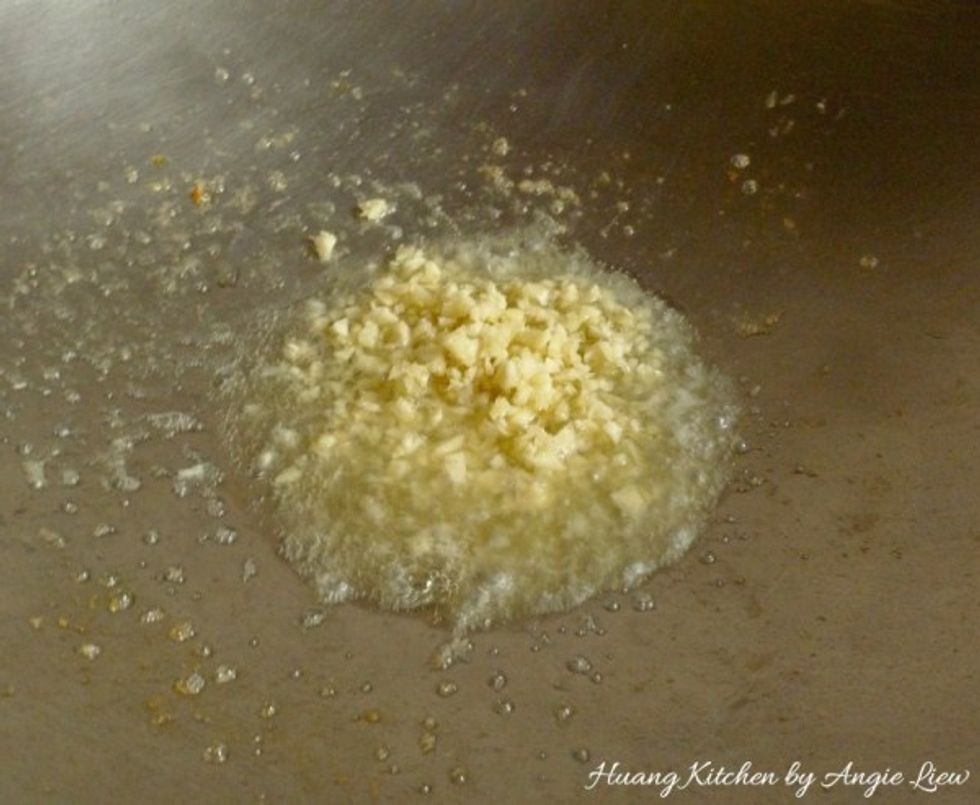 Using the same oil, add in minced garlic. Fry till lightly golden in colour.
Then add shallots. Continue to fry till fragrant.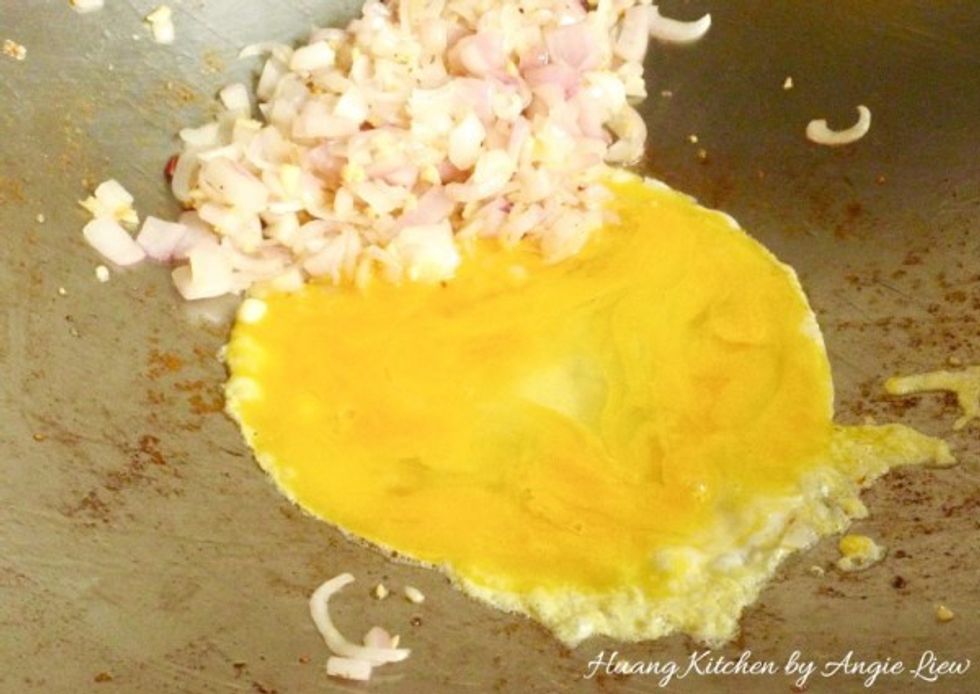 Add a little more oil if need to and add in the lightly beaten eggs.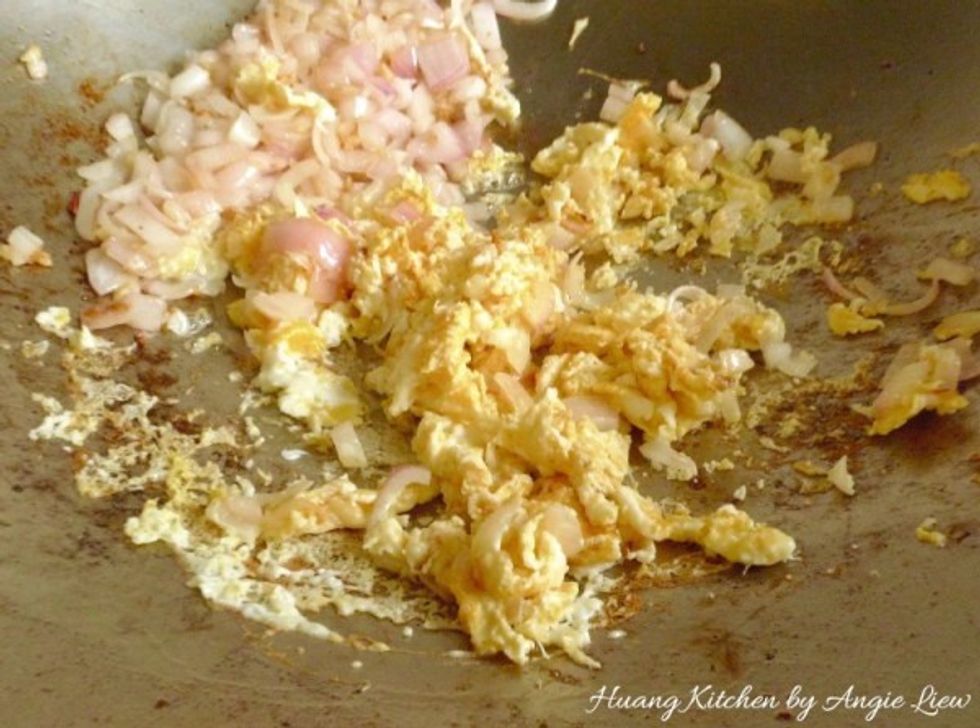 Break the eggs up a little bit and scramble it quickly.
Just before it has the chance to set completely, add in the prepared rice. This way, the egg will be mixed into the rice and not be chunky and separated.
Stir fry on high heat, tossing well till thoroughly mixed breaking up any lumps.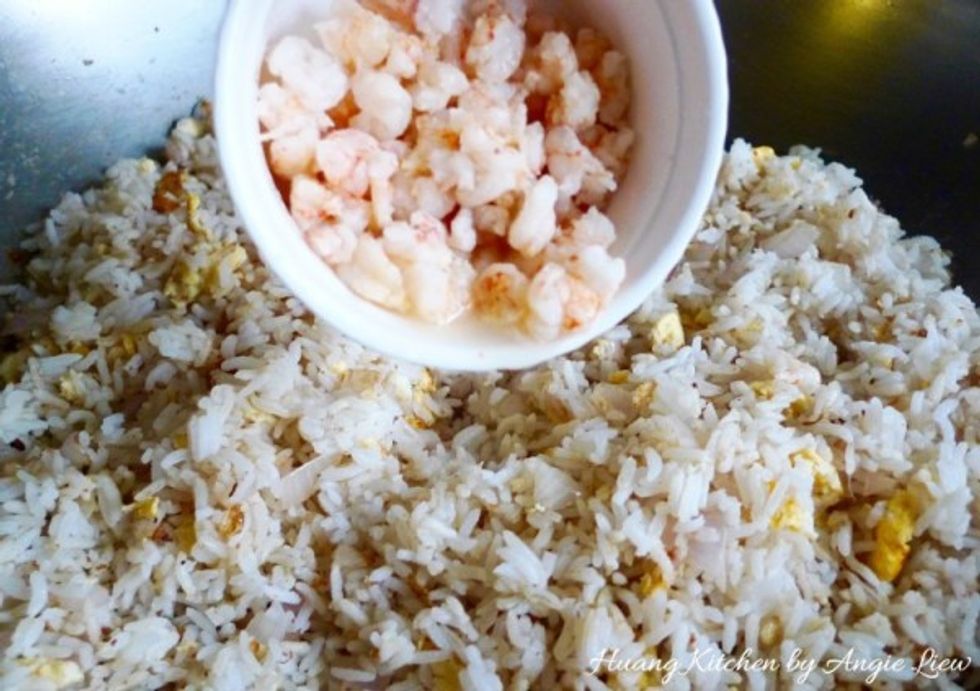 Once the rice has all been mixed with the egg, add in the cooked shrimp.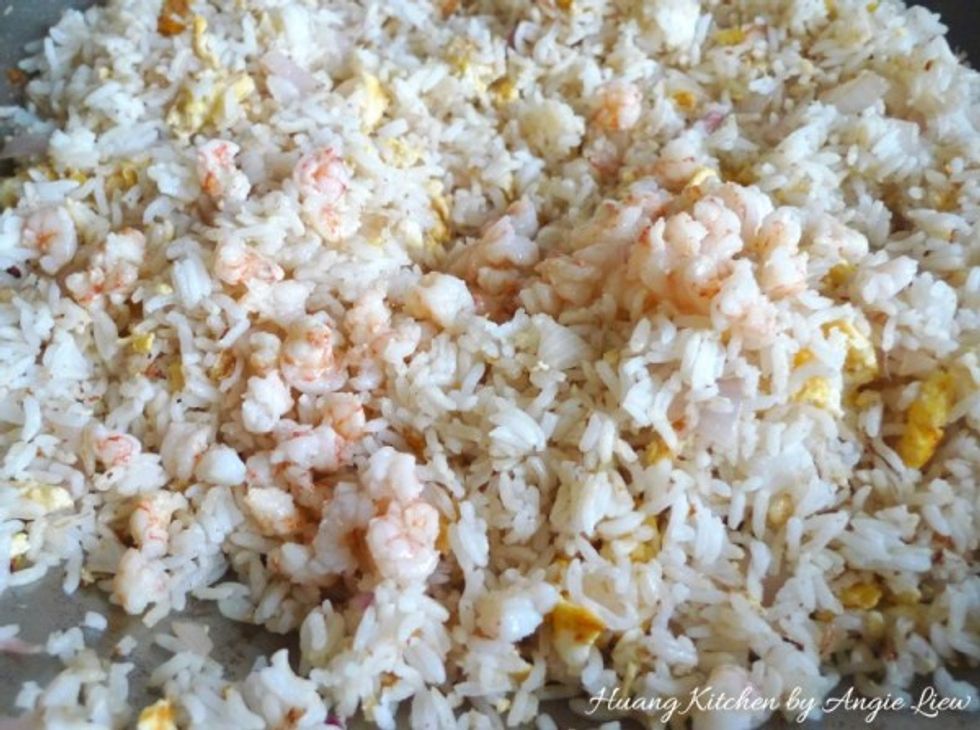 Sti fry to mix the shrimp into the fried rice. This will ensure that almost every bite of the fried rice there will be shrimp bite.
Then add in the dry seasoning mixed earlier.
Next add in the fish and soy sauce. Stir fry till heated through.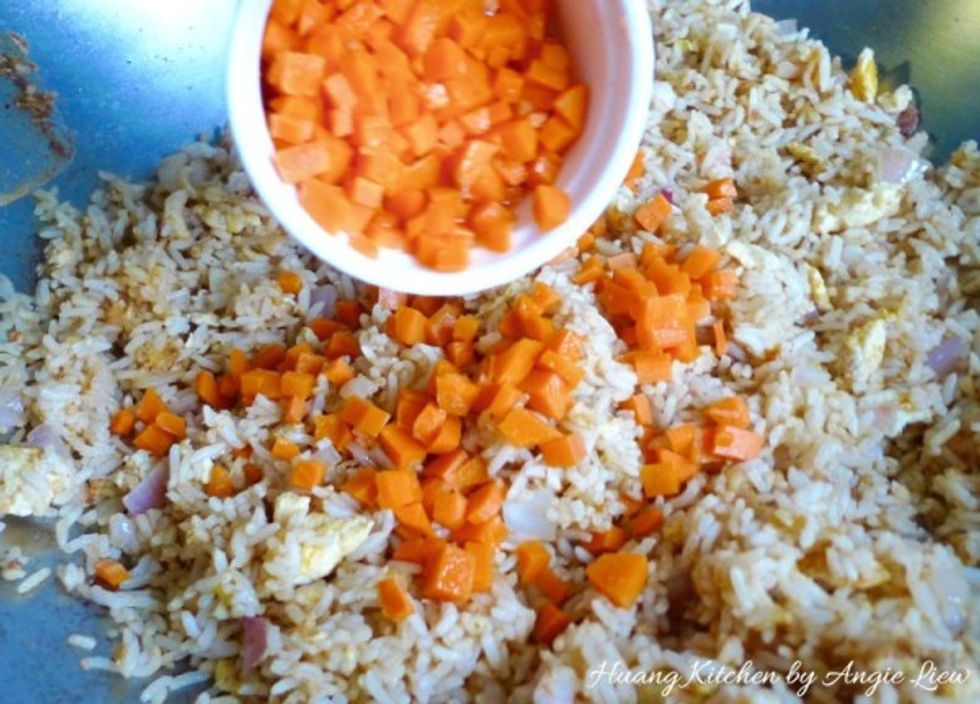 Then add in the blanched carrots for colours. Continue to fry and really make sure the rice is well mixed and broken apart.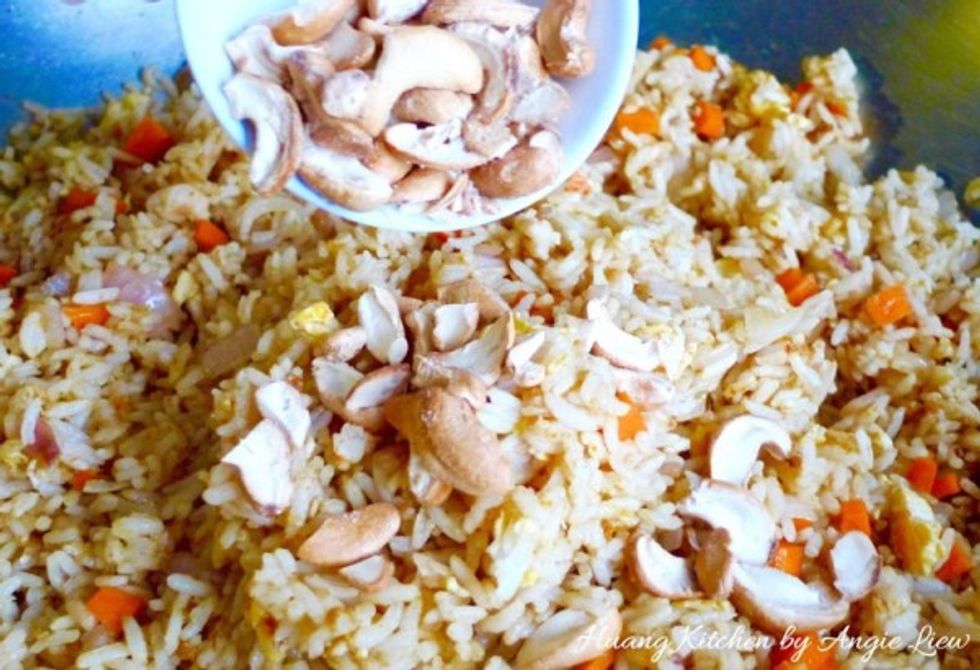 Then add in the cashew nuts.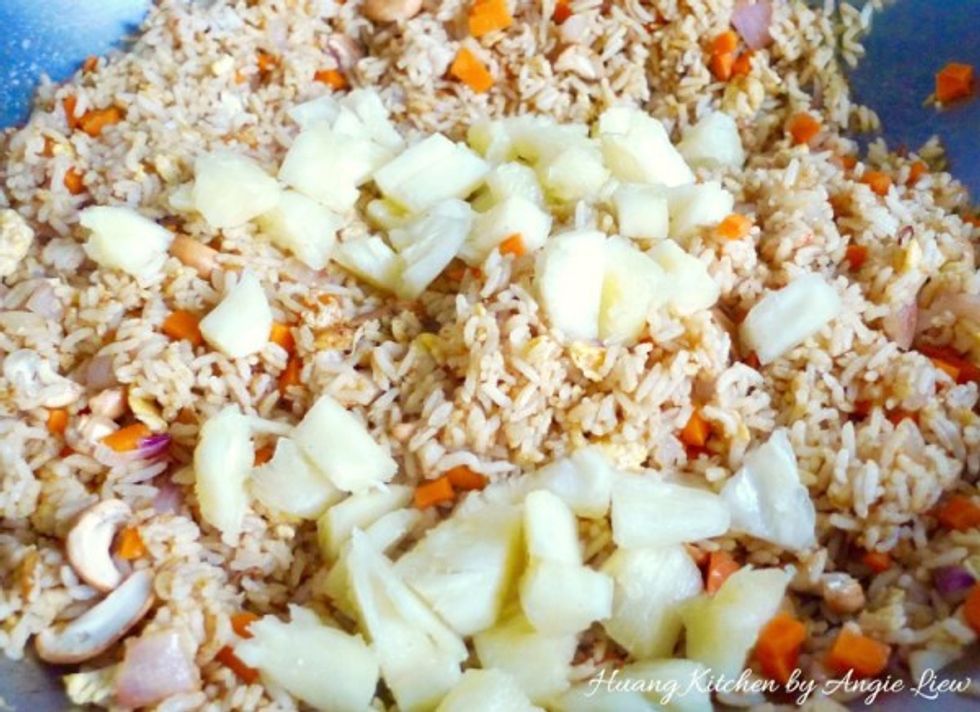 Lastly add the cut fresh pineapples. Don't cook this any longer than you need to. Fry till the pineapple starts to be a darker yellow and is a little translucent on the outside.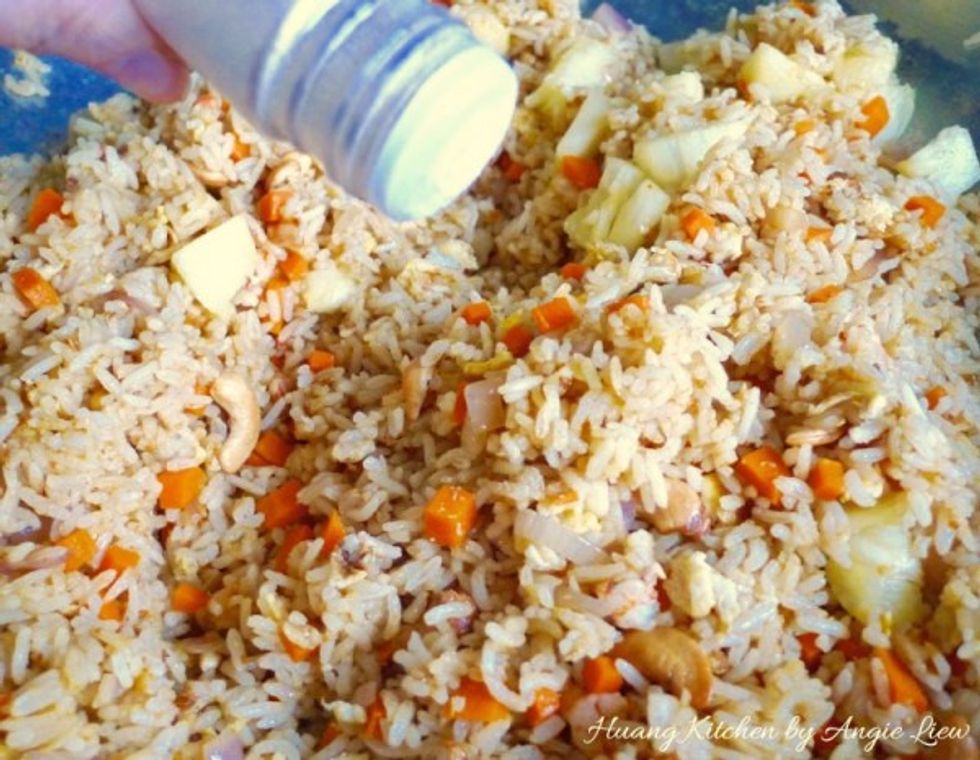 Stir fry briefly to dry out the rice and sprinkle some more white pepper over it (if desired). At this point, season to taste.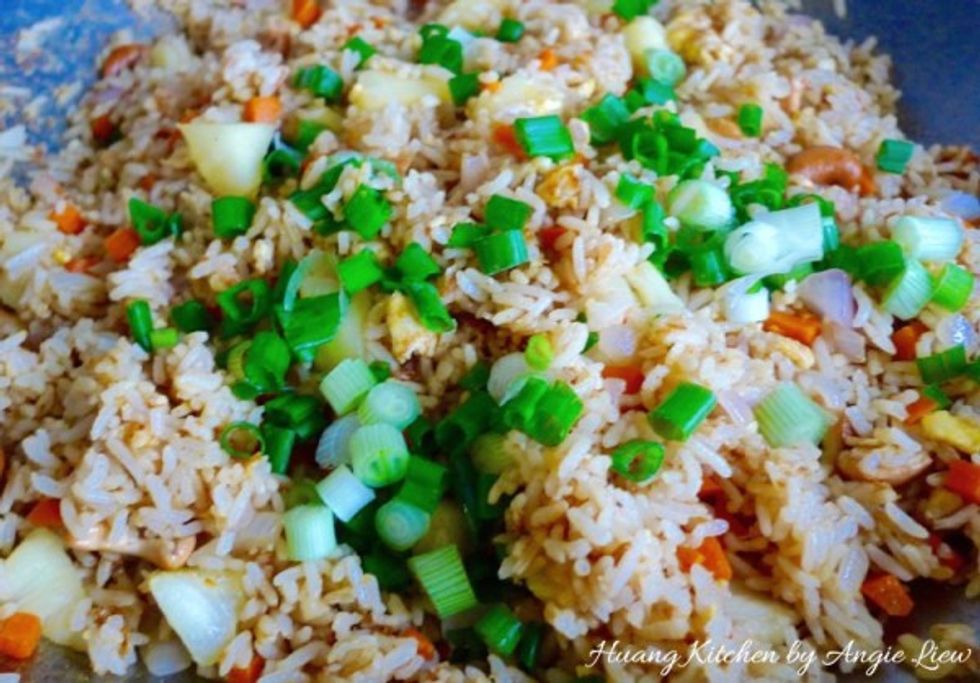 Turn the heat off. Then add the chopped green onions for colours and mix well. And we're done!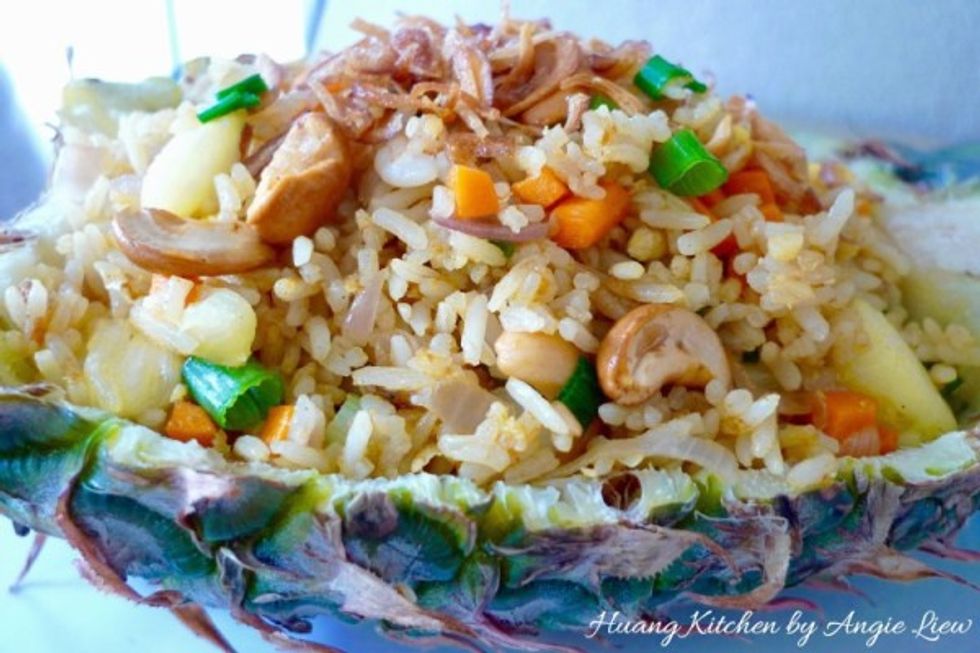 Serve this tropical fried rice in the carved pineapple boat.
100.0g fresh shrimp, cut into small cubes
2.0 eggs, lightly beaten
3.0c cooked rice, cooled
1/2c shallots, chopped
2.0Tbsp soy sauce
2.0tsp fish sauce
2.0tsp sugar
2.0tsp curry powder
1/4tsp salt
1/2tsp white pepper
1.0c carrot, diced, blanched
1.0c fresh pineapple, diced
1/3c cashew nuts, toasted
1/4c green onions, chopped
1.0 cucumber, sliced
1/4c Garlic, minced
Huang Kitchen
For more step-by-step recipes and cooking tips, visit my website at \nhttp://www.huangkitchen.com