How to cook super healthy black bean & corn burgers!
Summer time means I have to go back to watching my waist line 😢 these burgers make the transition from fatty winter foods to fresh summer treats more manageable (;
12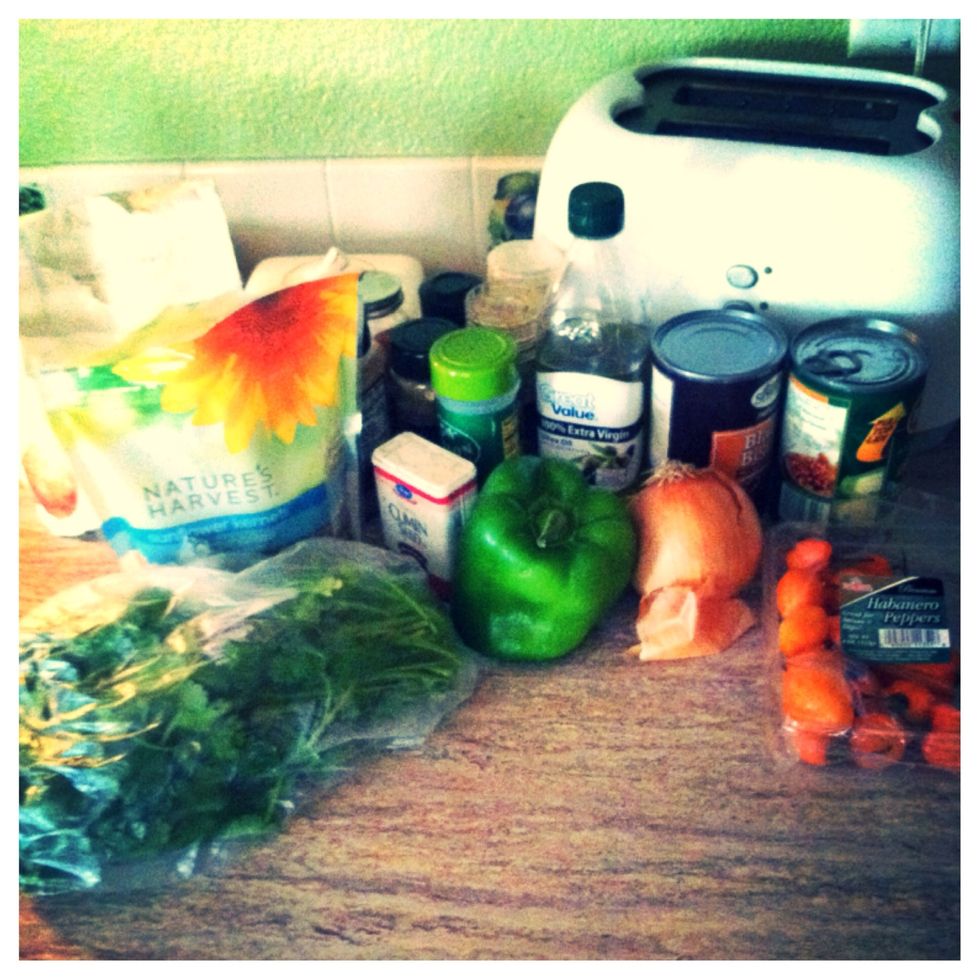 Everything going into these burgers has some sort of positive nutritional value. That's the point! More bang for your calorie buck! Whoop!
Before we get to cookin, lets prep!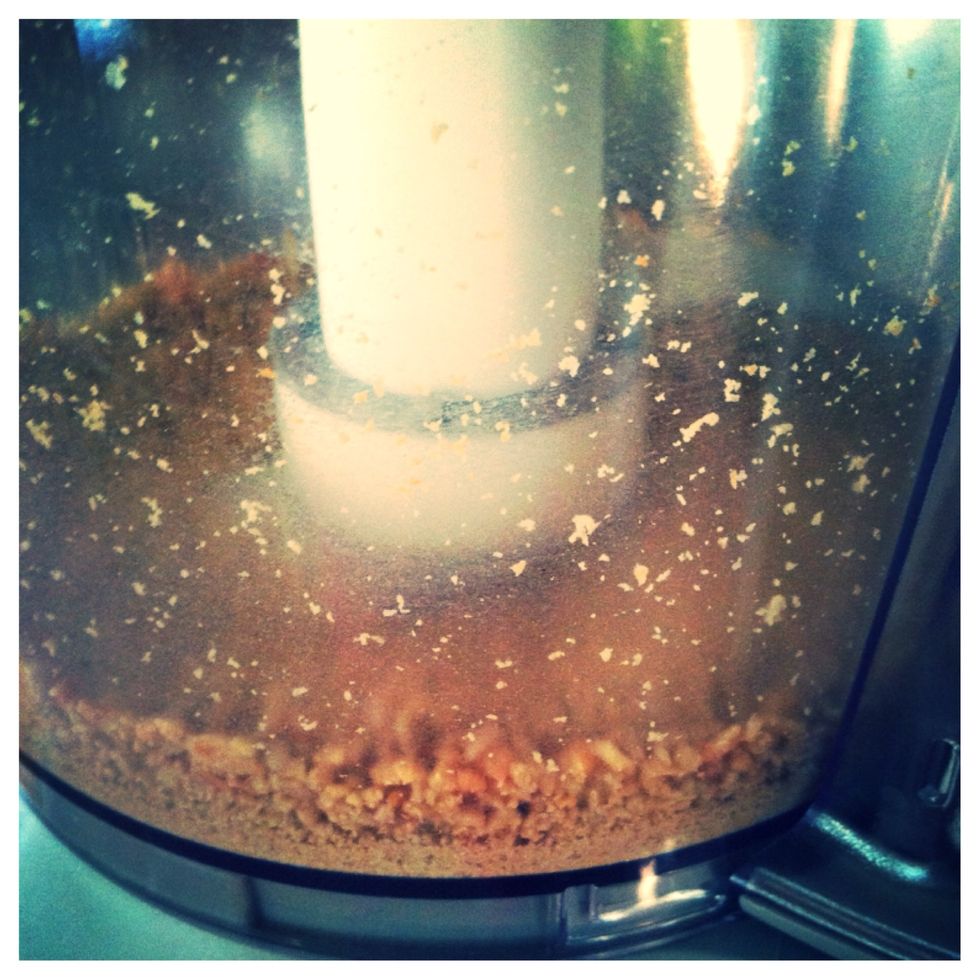 Grind up the sunflower seeds. This is going to act as our breadcrumbs. Gluten free & adds some more protein! Yay! Alternately you can use flour.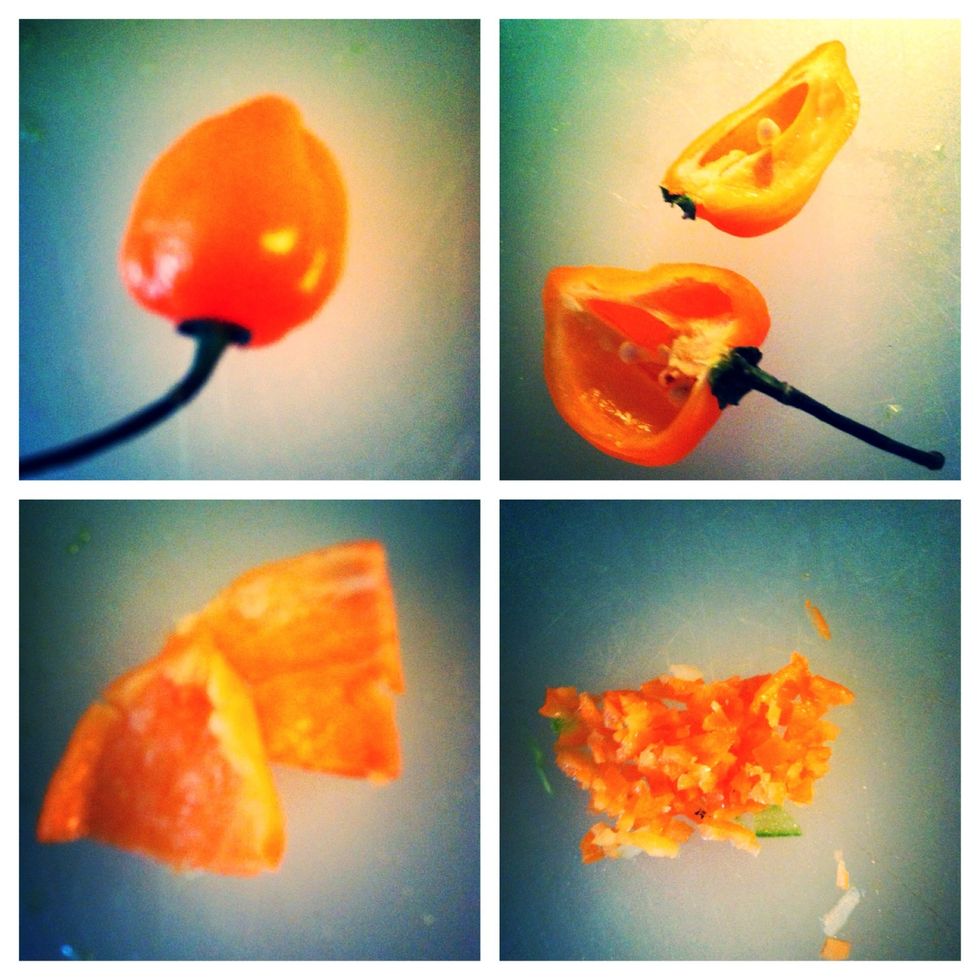 Habanero peppers are super hot. I take out the seeds so it's not as overwhelming. Dice it up! You can use a jalapeño if you're looking for something milder.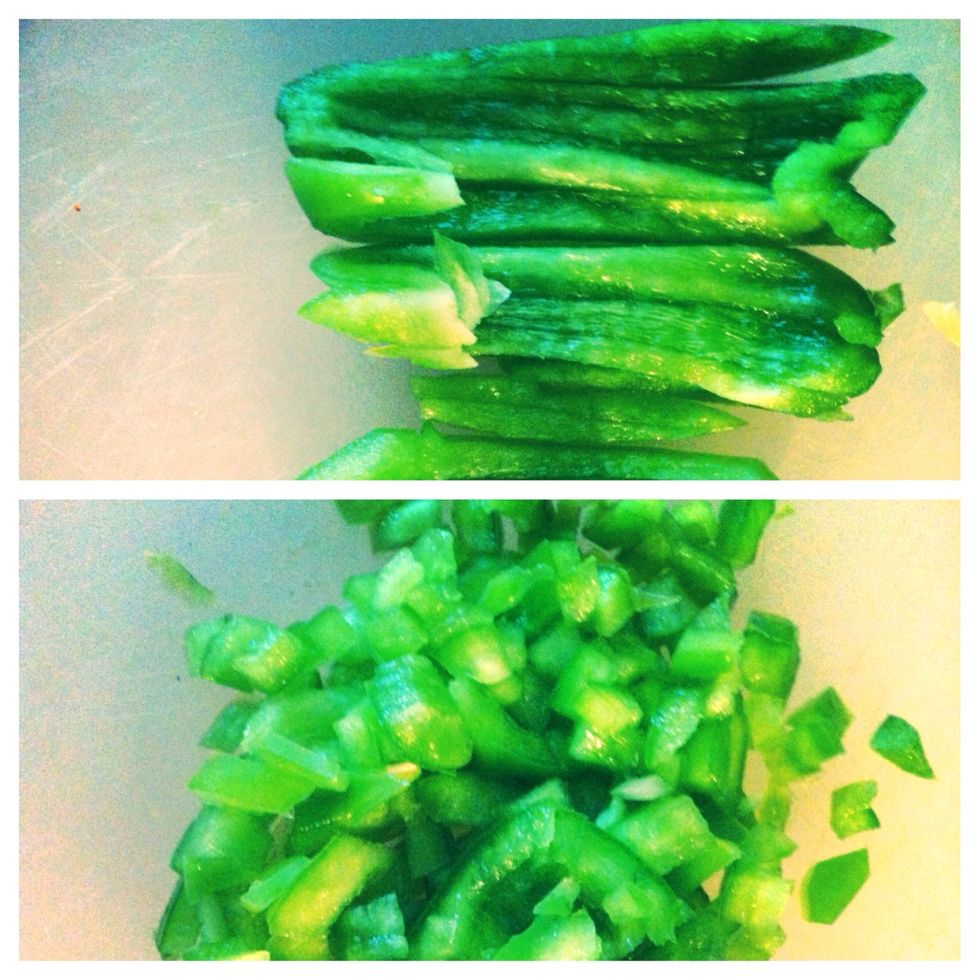 Dice your pepper. A red one would be pretty but I'm out 😢
The chili power, cilantro, cumin and salt can all go in together! DO NOT ADD THE OREGANO TO THIS. My taste buds are super sensitive to salt, you may need to add another 1/2 tsp for your taste 😊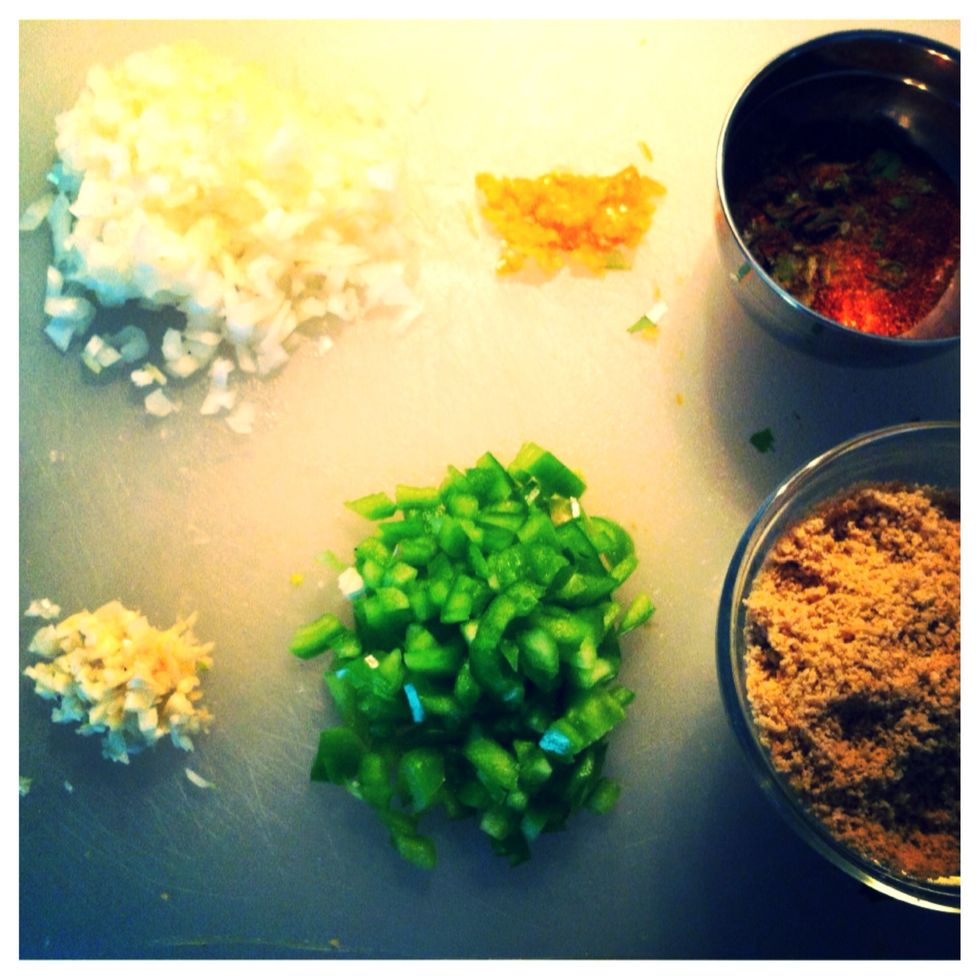 Prep work is done!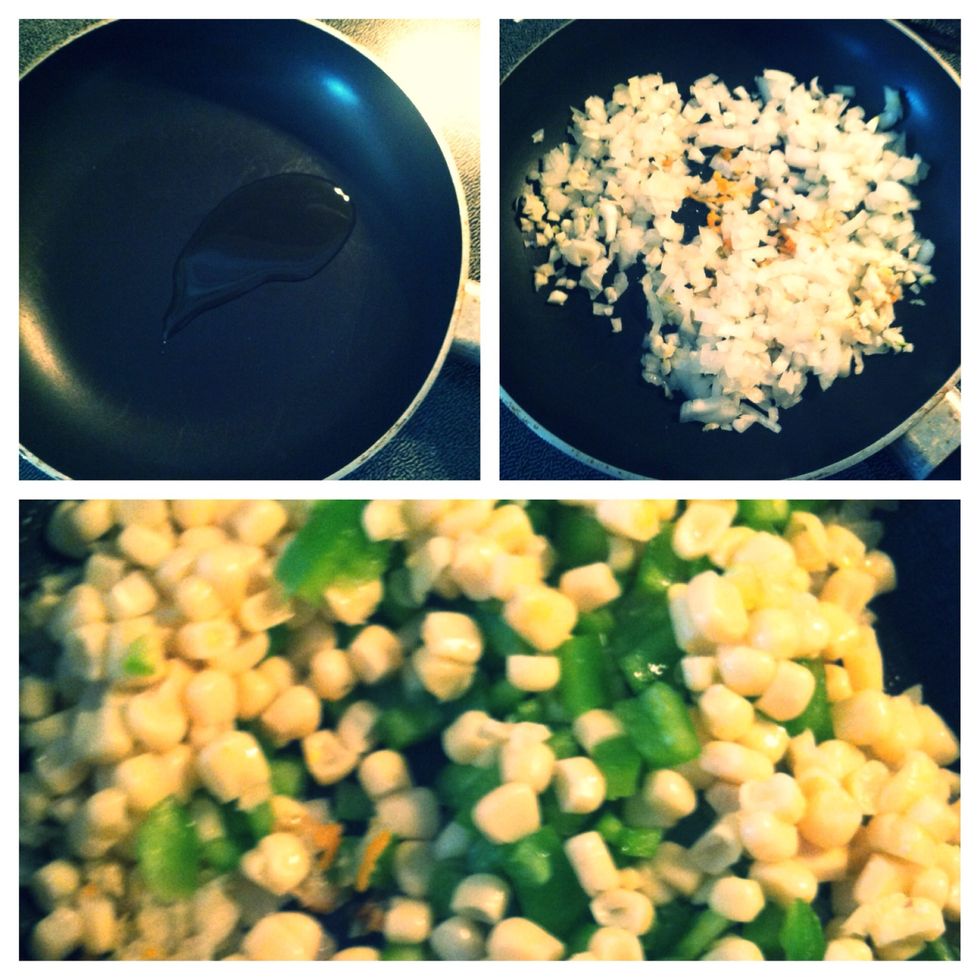 First add the olive oil, onion, garlic & oregano to the pan. Cook for about 8 min or until onion is transparent. Then add the corn and pepper. Cook for 2-3 min or until the peppers are tender.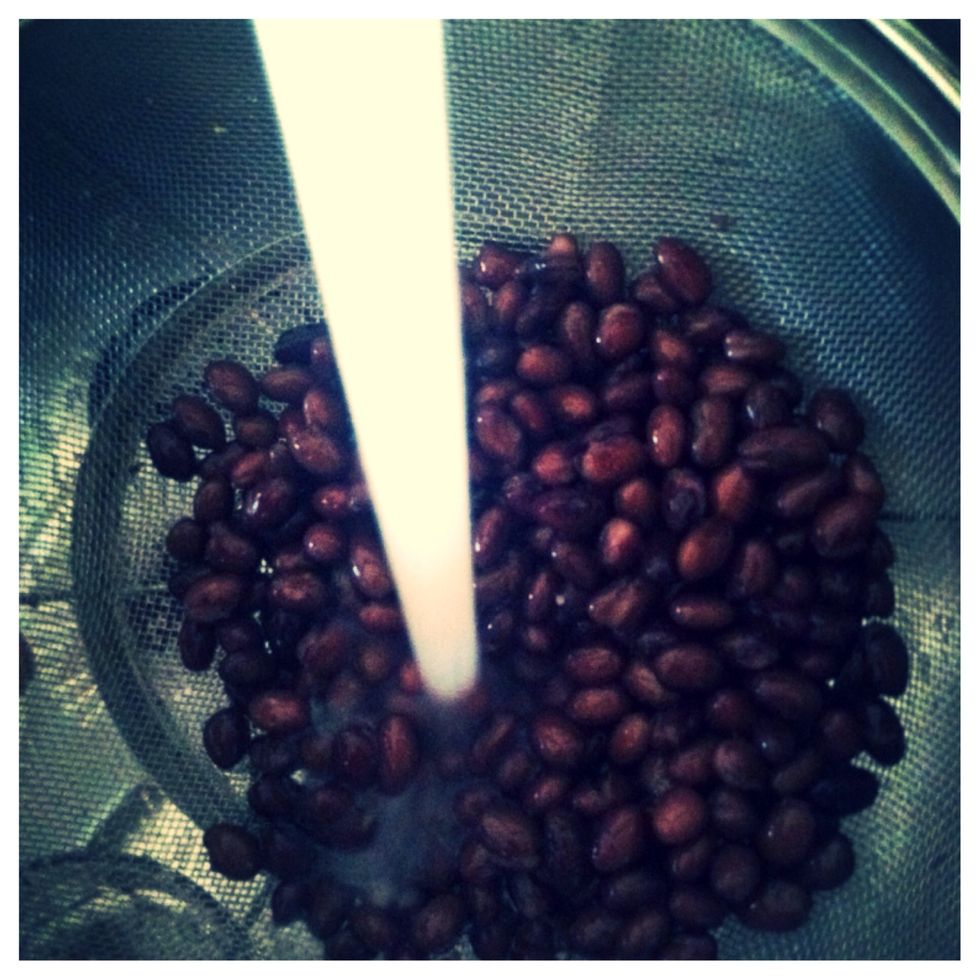 While you're waiting on the onions and garlic drain and rinse your beans!
I forgot to take a picture of this! Mash up your black beans. Take a fork to them until about half are still whole-ish. It should make a chunky paste like thing...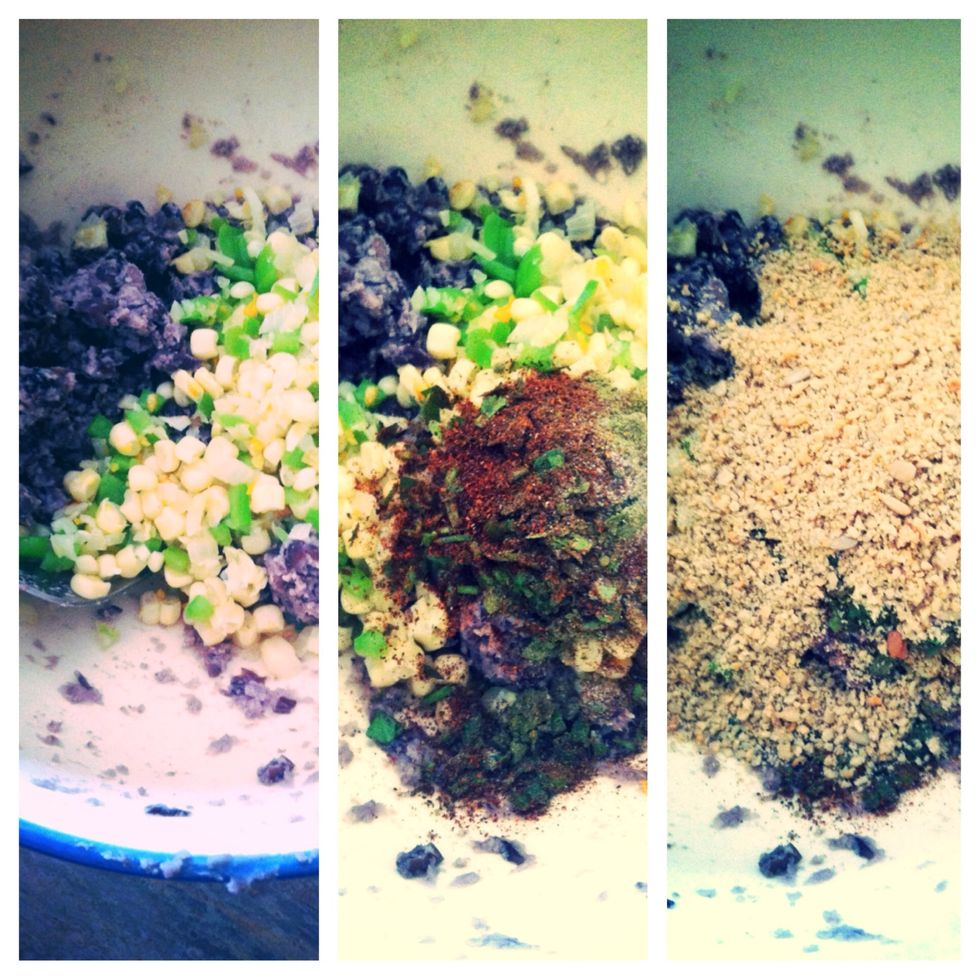 Add corn mixture, spice mixture & ground sunflower seeds to the beans when everything is done cooking.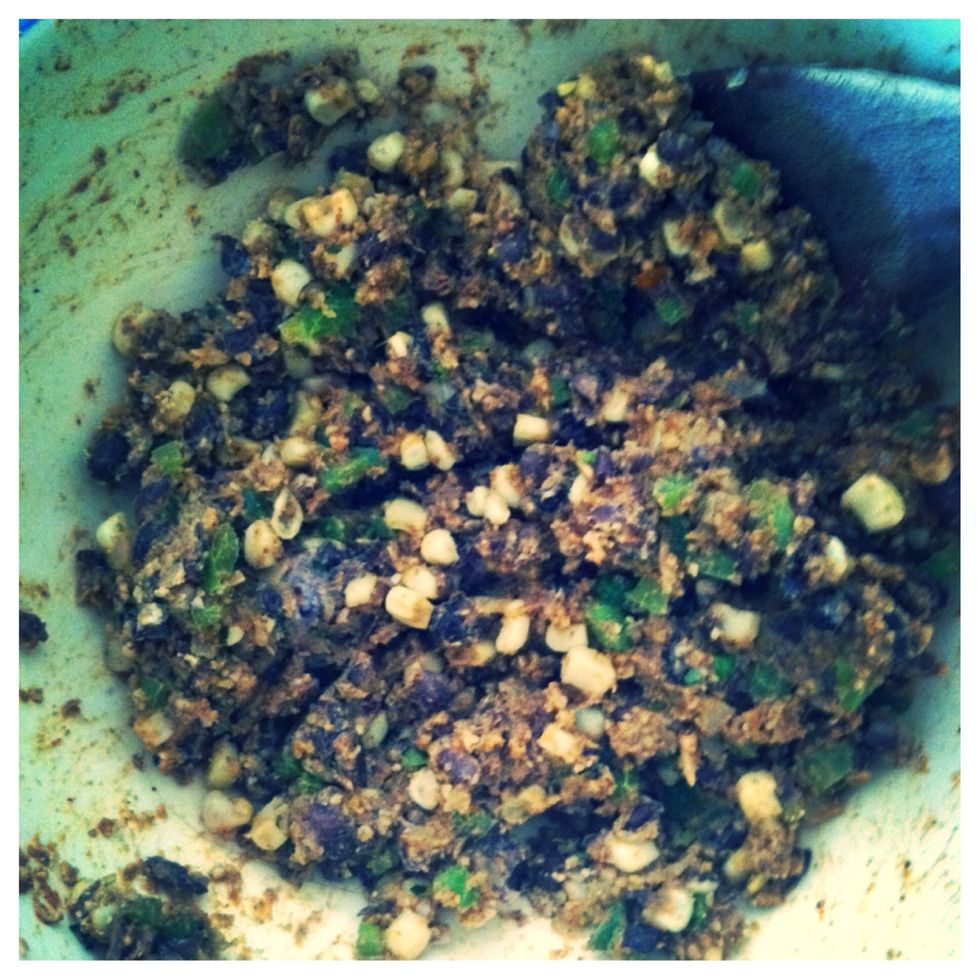 Blend it all into one giant mixture!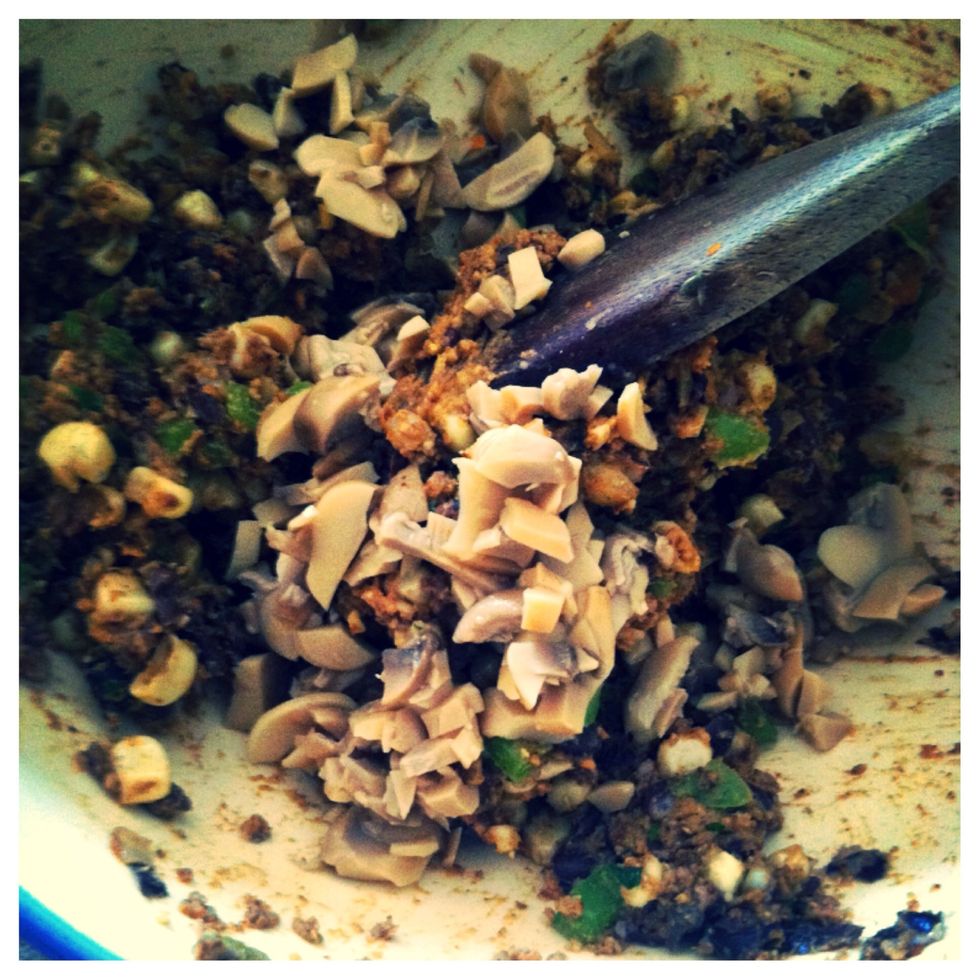 Mushrooms are completely optional but I love them soo I kinda add em to everything. If you're about the mushroom life you can add about 1/3 cup of them like I did!
Form the mixture into patties!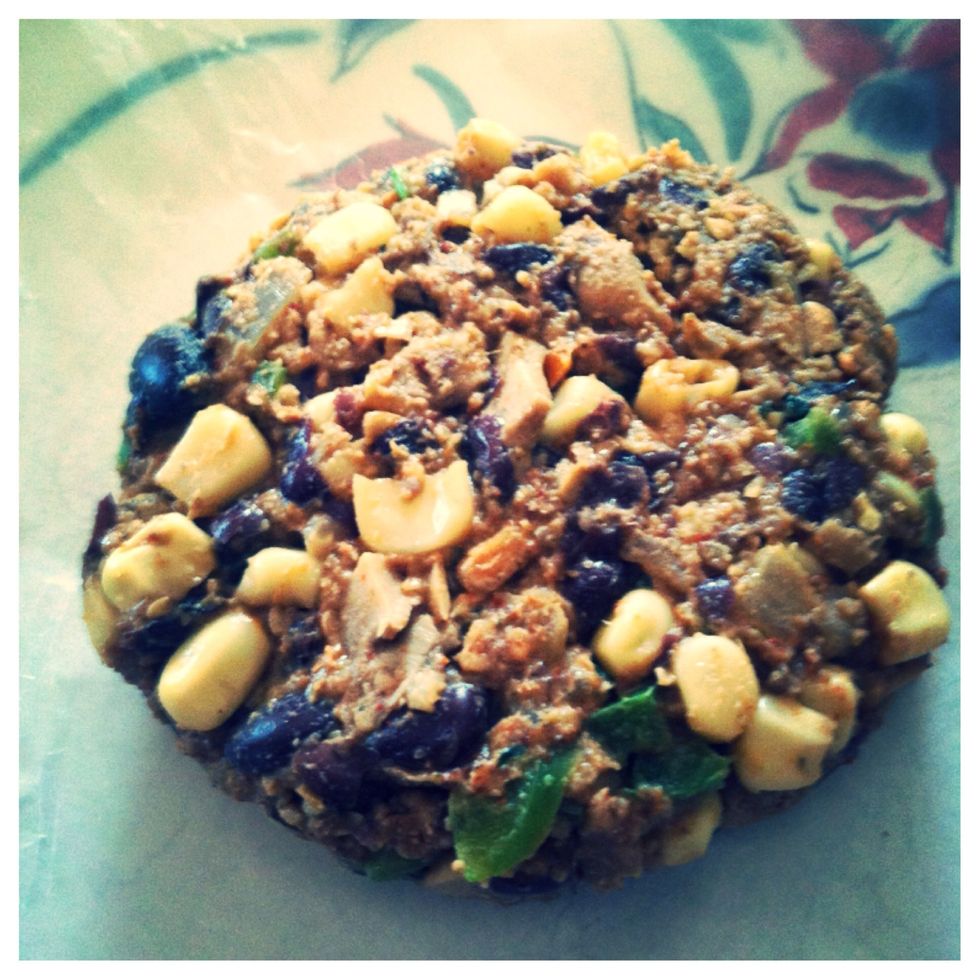 Take a moment to admire your handy work.
Line a plate with wax paper to set your patties on. If you have more than four patties put another layer of wax paper on top of them and then stack all the extras on top!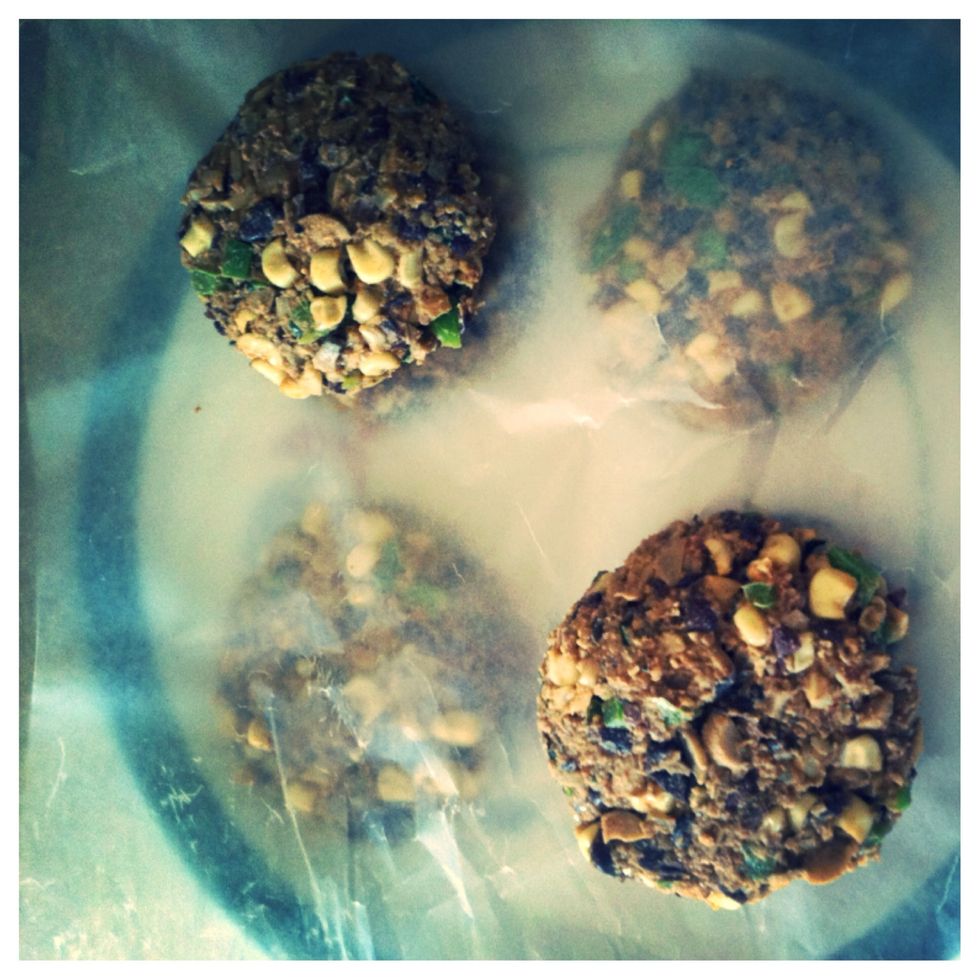 Like so
At this point you have two options. The first is to be impatient and fry up the patties now or you can do it the "right way" and stick em in the fridge to set up for half an hour before cooking.
I'm impatient so I just went for it! Be super careful if you're doing this, the patties are fragile. Dust with more sunflower seeds if you're having issues.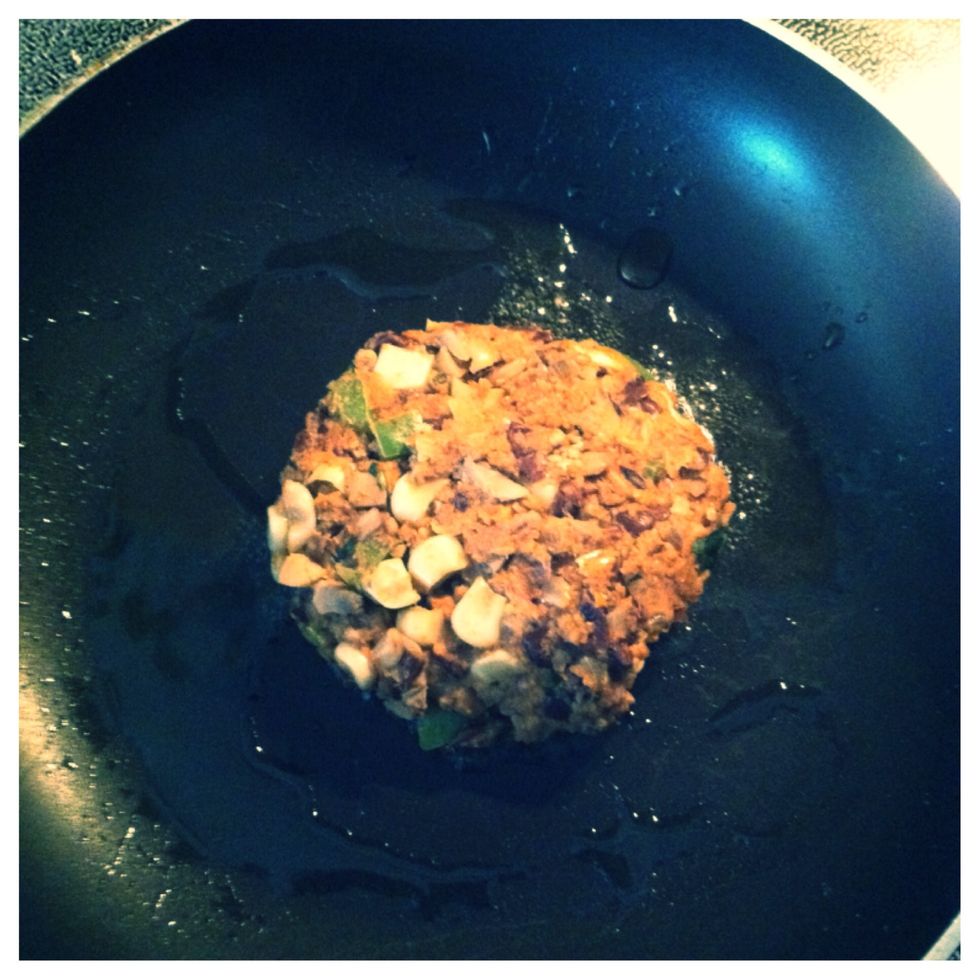 Ight. Now we're ready. Throw down some olive oil and cook dem burgerz. Keep em on the heat until they get a nice crust on both sides. About 3ish minutes per side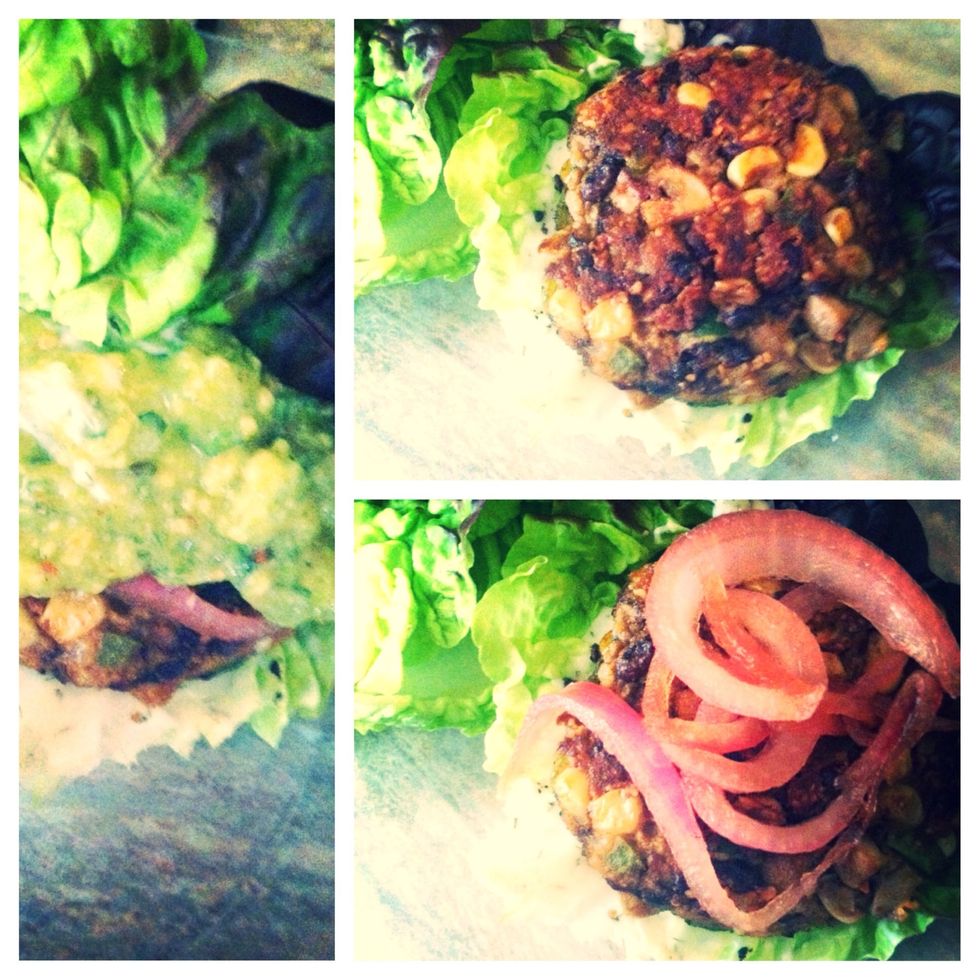 I topped mine with a gorgonzola & dill sauce, pickled onions & some guac! I had to get creative cuz I didn't have buns :(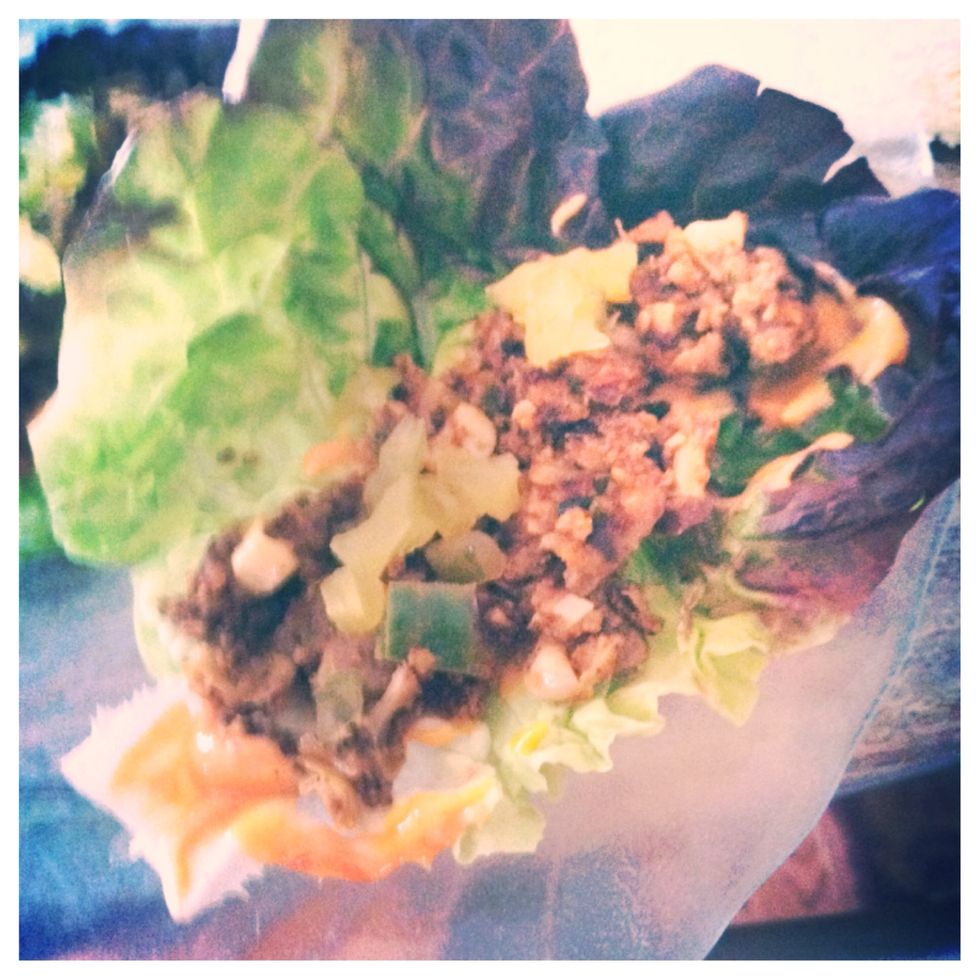 The kids love when I put ketchup, mustard and mayo down on the lettuce and then top with chopped pickles 😊
Honestly, they taste a ton better if you just dress it like a normal burger. Do your thing. Enjoy!
1.0 Can (15oz) black beans
1/2c Canned corn (or fresh)
1/2 Bell pepper
1.0 Small Onion
2.0 Cloves garlic
1/2c Sunflower seeds
1.0 Jalapeño or habanero pepper
4.0tsp Chili power
1/2tsp Ground cumin
1/2tsp Garlic salt
1.0Tbsp Cilantro chopped
Olive oil for sautéing