How to cook special chinese-style stir-fried egg noodles
Cook Special Chinese-Style Stir-Fried Egg Noodles
114
Assemble your ingredients: egg noodles, pork, fish tofu, Chinese sausage, garlic, medium red and white onion, green beans, carrot, parsley, red bell pepper.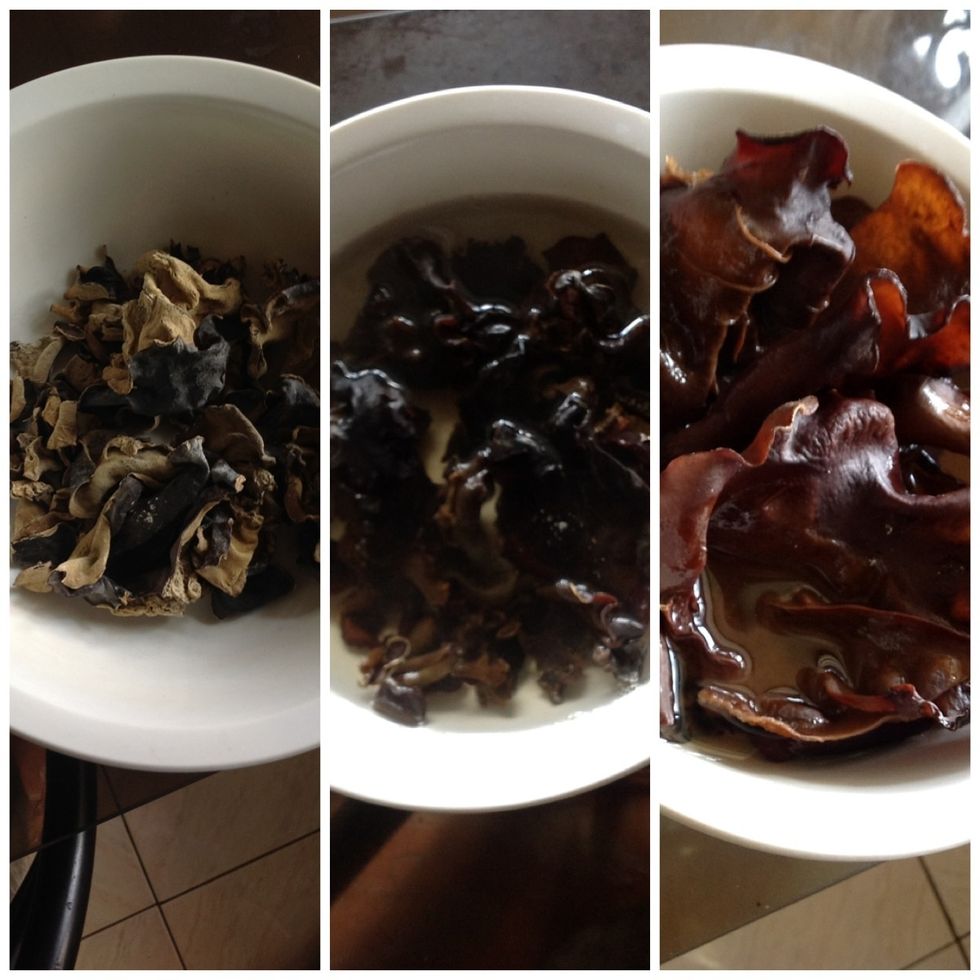 Dried black mushroom. Rehydrate by pouring hot water. After 15 minutes, the mushroom is now ready to be sliced in thin strips (julienned). Tip: discard the hard part (stem)
Dissolve 5 tbsps of cornstarch in 6 tbsps of water. Set aside. This is your thickening agent.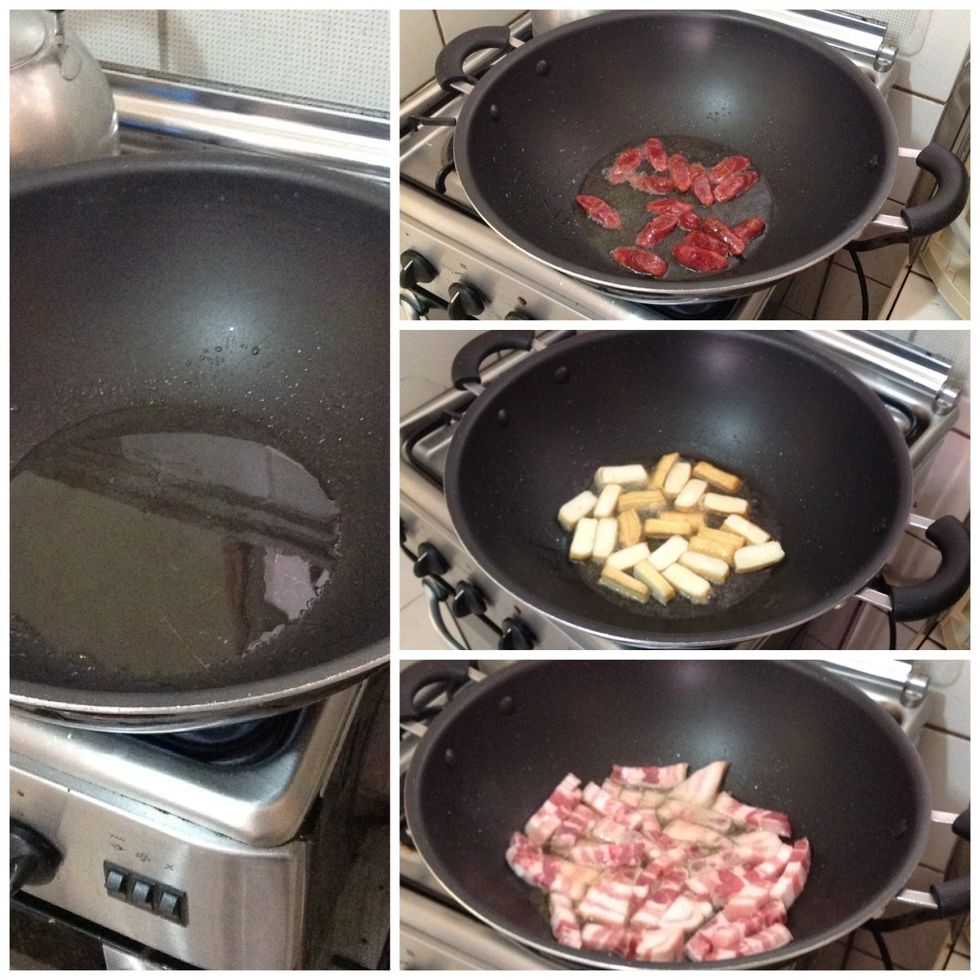 Heat oil in wok. Separately fry (lightly) the Chinese sausage, fish tofu, and pork. Set aside and leave oil.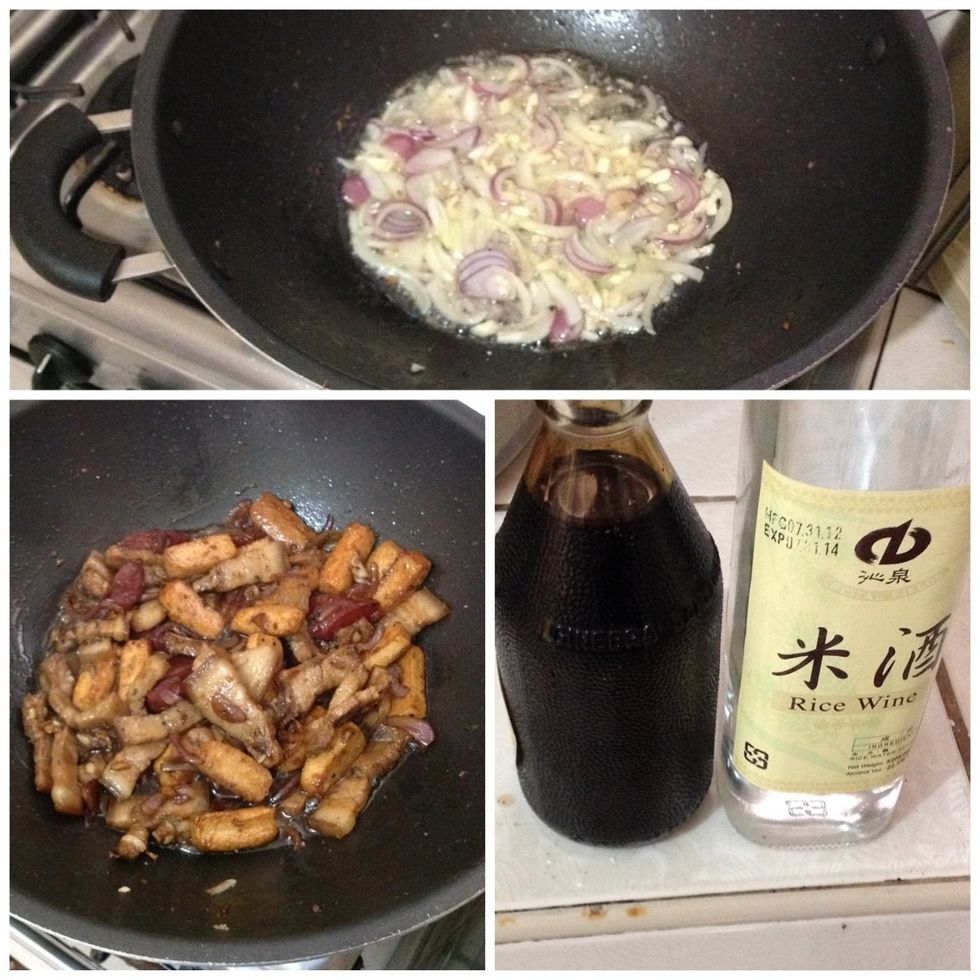 Saute onions and garlic. Dump in lightly fried sausage, tofu, and pork. Stir for 2 mins. Add a splash of rice wine. Let alcohol evaporate. Add in soy sauce. Season with black pepper. Stir for 5 mins.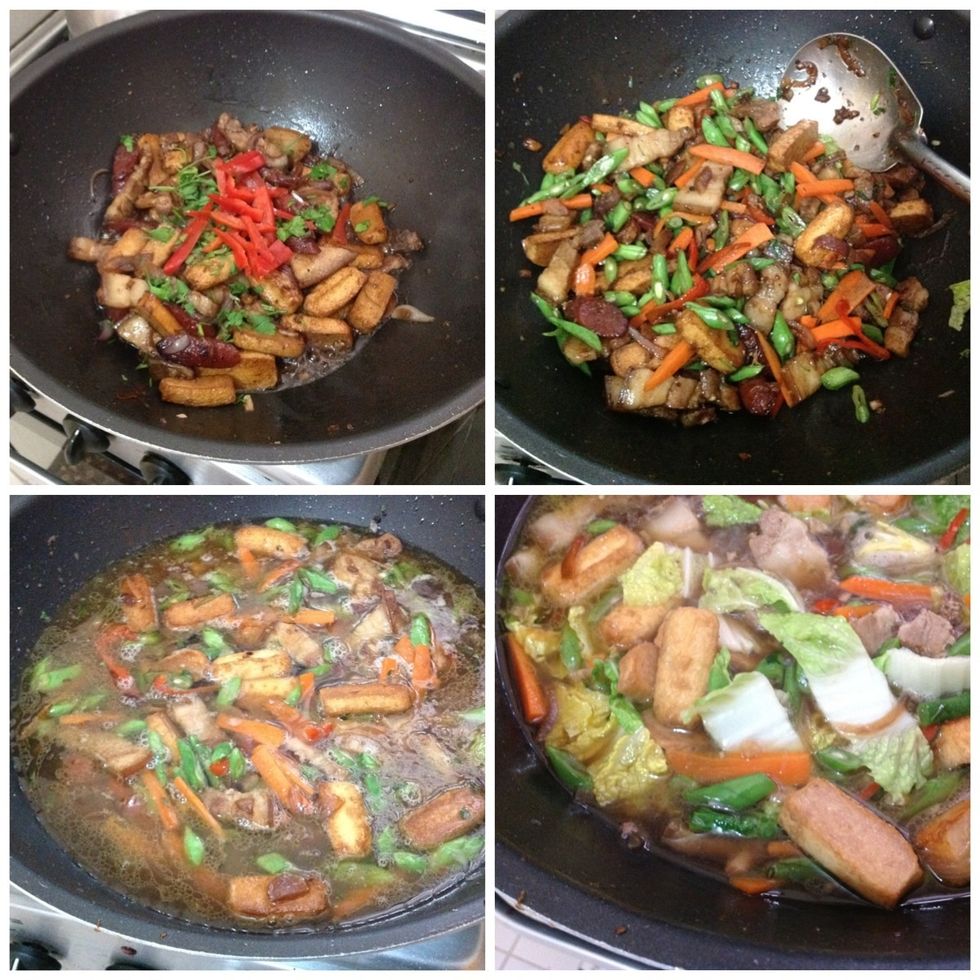 Stir in parsley and red bell pepper. Then the carrots and green beans. Add 6 cups of water and bring to a simmer. Add Chinese cabbage and simmer for another 2 mins.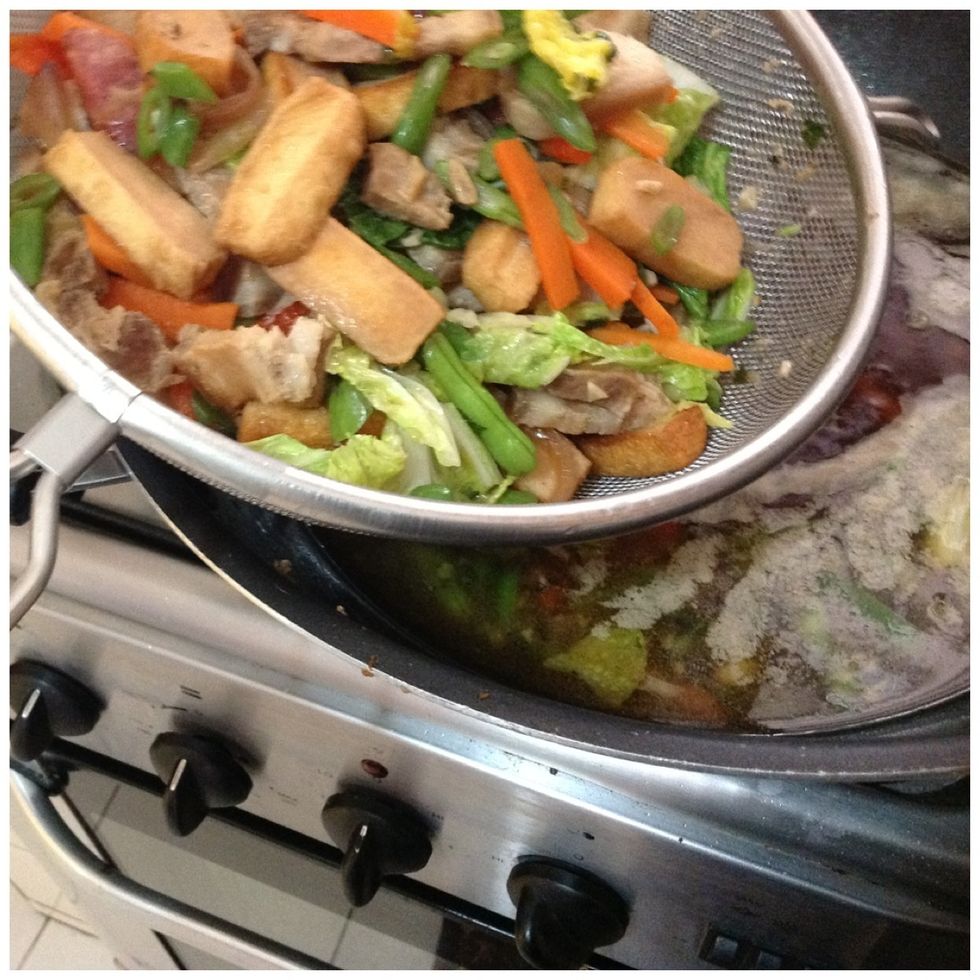 Take out all ingredients out of the liquid by using a strainer. Set aside.
Bring sauce to a boil. Gradually stir in the cornstarch dissolved in water. (Tip: give the cornstarch-water mixture another stir before pouring) Stir continuously until sauce thickens.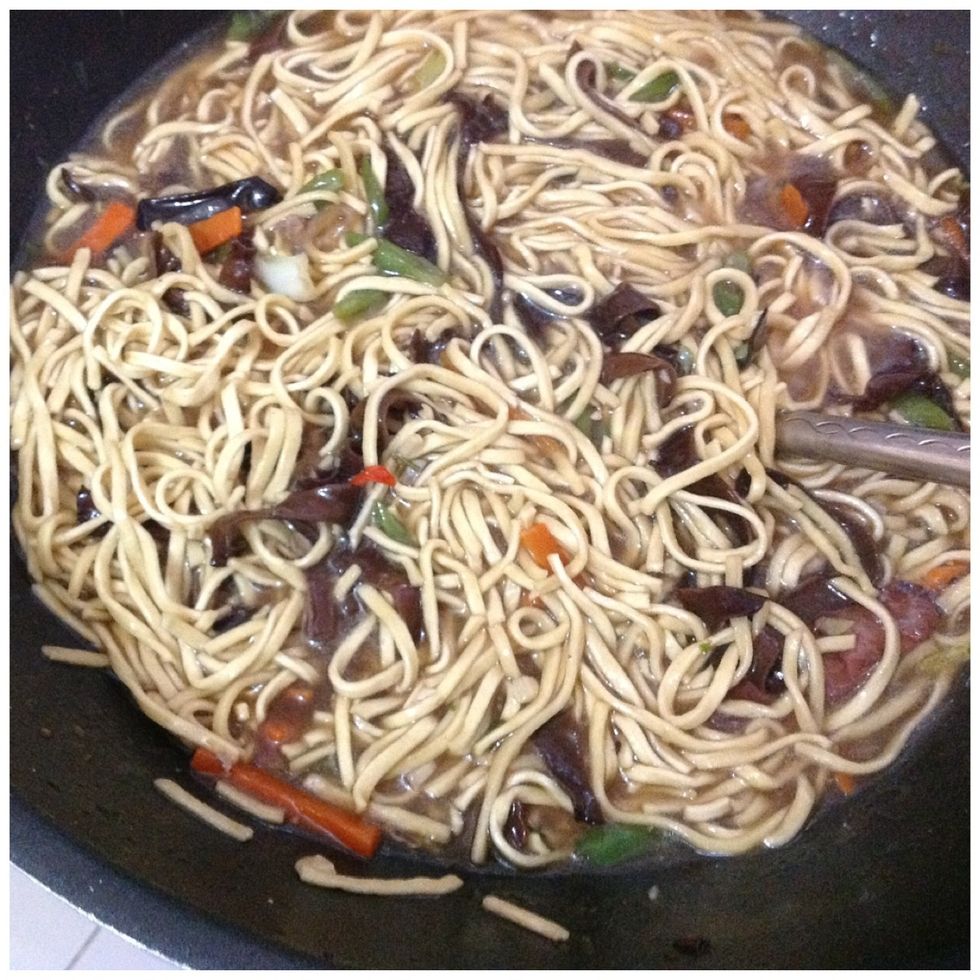 Add egg noodles. Stir for 5 mins. Stir in sliced mushroom, meat and vegetables that you set aside earlier.
Give it a splash of sesame oil.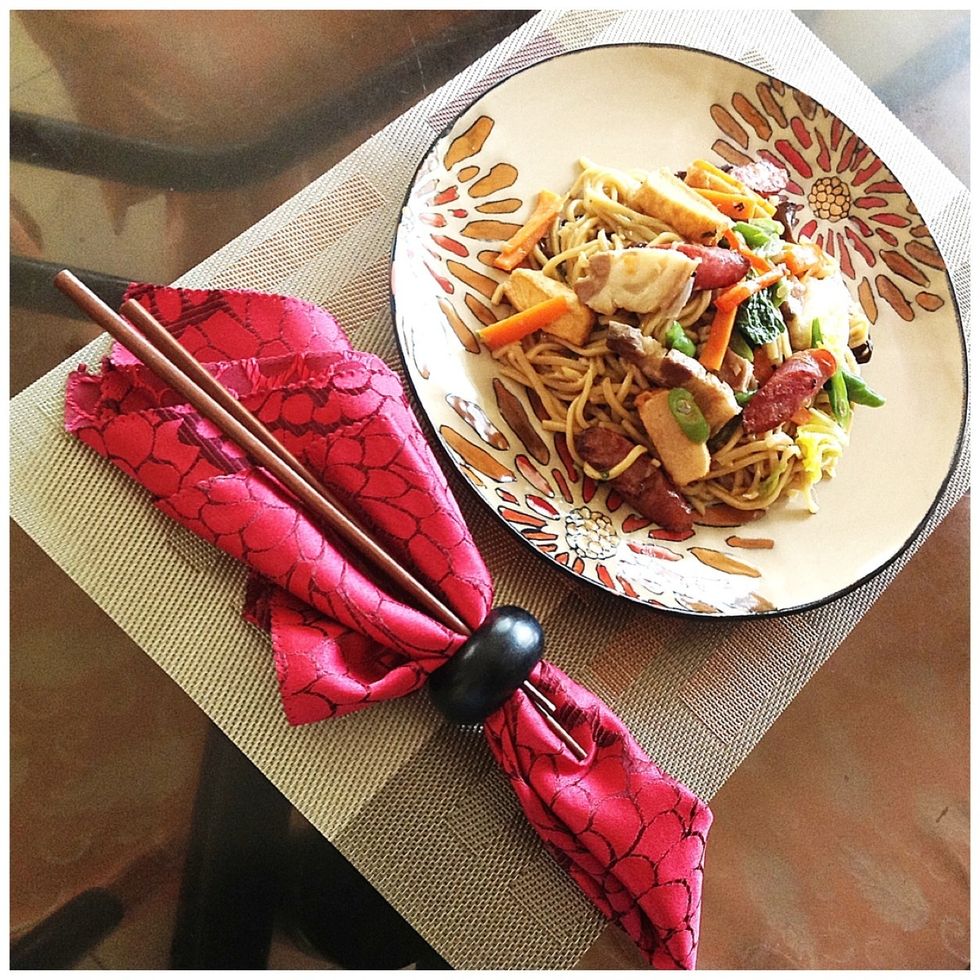 Plate and serve...with chopsticks no less! Enjoy!
400 grams egg noodles
250 grams pork, sliced into half-inch strips
250 grams fish tofu, sliced into half-inch strips
3 pcs Chinese sausage, sliced on a bias
5 cloves garlic, minced
1 medium red onion, chopped
1 medium white onion, chopped
1 cup green beans, sliced thinly on a bias
1 carrot, julienned
1 red bell pepper, julienned
1/4 cup parsley, chopped
2 cups Chinese Cabbage, sliced into 1-inch wedges
1/2 cup rice wine
1/2 cup soy sauce
100 grams dried black mushroom
6 cups of water
5 tbsps cornstarch dissolved in 8 tbsps water
Dash of Sesame oil